GDP "No Guarantee" of quality of life
Higher GDP per capita alone does not determine real quality of life. This is according to the Social Progress Index (SPI) 2016 published by US-based nonprofit, the Social Progress Imperative. The Index ranks Finland the world's most socially progressive country, Canada in second place tops the G7 nations.
Economic growth is not the sole determinant of quality of life
The 2016 Index finds that whist social progress – which includes measures of opportunity, healthcare, education and tolerance – does tend to rise as GDP increases, economic wealth on its own does not explain social progress outcomes.
As well as measuring absolute performance on social progress, the report compares each country to 15 other nations with similar GDP per capita to establish strengths and weaknesses relative to those countries with broadly equivalent national wealth. Against this benchmark Costa Rica, Uruguay, Ghana and Senegal are among the countries classed as 'overperformers' on social progress this year. Costa Rica – the world's biggest overperformer and with a GDP per capita of $14,232, achieves a level of social progress almost as high as the Republic of Korea at less than half its GDP per capita ($33,629).
Michael Green, Executive Director of the Social Progress Imperative said: "The Social Progress Index proves that GDP is not destiny. We need more countries to be like Costa Rica, which squeezes a lot of social progress out of its modest GDP."
At the other end of the scale, the United States – with a GDP per capita of $52,118 – finishes "a disappointing" 19th on the 2016 Index and is classed as one of the significant underperformers relative to its wealth. The US is the only major Western democracy among the world's most significant underperformers (relative to its GDP), alongside China, Russia, Iran, Nigeria and Saudi Arabia. Finland ($38,535 GDP per capita) and Canada ($42,778 GDP per capita) both outperform the US across a wide range of components including on health, tolerance and personal rights despite lower national wealth. Michael Green, Executive Director of the Social Progress Imperative said: "It's difficult to escape the conclusion that this is yet another disappointing result for the US and that citizens are getting a pretty raw deal when it comes to translating the country's wealth into social progress."
We are Mongolian – average human lived experience is same as Central Asian country
The 'average' social progress of every citizen on the planet is equivalent to that of Mongolia. The Central Asian nation, bordering China and Russia, is the most sparsely populated country in the world. The 2016 Index measured the social progress of 99% of the world's population. The SPI assesses social progress independently of GDP and includes measures of healthcare, education, housing, policing, rights and tolerance, using a total of 53 separate indicators to arrive at a ranking for the issues that matter most to people.
The world as a whole performs best on issues such as hunger, child mortality, and primary school enrollment, showing the impact of the UN Millennium Development Goals. The world struggles most with issues of personal rights and tolerance and inclusion. The toughest challenges for social progress are on environmental quality and health and wellness, which do not tend to improve as countries get richer.
Social progress across the globe is worse for younger people
By dividing the world into three age groups (under-25s, over-55s and those in-between), the SPI 2016 is able to examine the social progress gap across generations. Young people, overall, experience relatively low social progress, with a weighted score of 60.15 (corresponding to a rank of 93), while the oldest population group has a weighted score of 67.63 (rank of 59). The youngest age group lives in countries lagging in nearly every social progress component, particularly in 'water and sanitation' and 'access to advanced education'.
Canada, Australia & UK rival Nordic model for social progress success
Five of the twelve countries that achieve 'Very High' SPI scores are from the Nordic region – Finland (1st), Denmark (3rd), Sweden (6th), Norway (7th) and Iceland (10th=). But the Nordic model is not the only route to success. Canada (2nd), Australia (4th), Switzerland (5th), Netherlands (8th), UK (9th), New Zealand (10th=) and Ireland (12th) all achieve 'Very High' social progress too. Michael Green Executive Director of the Social Progress Imperative, said: "Whilst the Nordic model of social responsibility is rightly seen as a world-beater, in fact, this year's Index demonstrates that you don't need to be from a Nordic nation to enjoy very high levels of social progress. Policy-makers around the world do well to look at countries like Canada and Australia to learn what leaders are successfully doing to improve the lives of their citizens."
David Cruickshank, Deloitte Global Chairman, said: "As the world faces an increasingly complex set of global challenges, the Social Progress Index serves as a roadmap that can guide policy investments, business decisions, and resources." He added, "At Deloitte, we believe that business has both the expertise and the imperative to help address these challenges and improve societal well-being. Our sponsorship of SPI aligns with our belief that the business community has much to give, and benefit from, by working with government and civil society to help drive social progress and achieve growth that is more inclusive and sustainable."
Sally Osberg, President and CEO of the Skoll Foundation, said: "The issues the Social Progress Index identifies and tracks are the very issues people around the world care about because the quality of their lives hinges on them. The SPI has proven invaluable to governments, businesses, and philanthropies like the Skoll Foundation, which invests in social entrepreneurs driving solutions to the world's thorniest and most pressing problems. By shining a light on where we're advancing social progress and where we're still falling short, the SPI helps us all be more effective agents of change."
Former African Envoys advocate for more economic engagements with Russia
Former Ambassadors have strongly urged African leaders and business entrepreneurs to prioritize the most sustainable development needs as the best approach to seeking Russian investors in fixing their economies in Africa when they converge this October for the first Russia-African summit planned in Russia's southern coastal city of Sochi.
In separate interviews, they believed what was abundantly clear how to stimulate African governments into exploring investment opportunities in Russia and Russian investors into Africa within some framework of mutual-cooperation.
Former South African Ambassador, (H.E.) Mandisi Mpahlwa, said that Sub-Saharan Africa has understandably been low on post-Soviet Russia's list of priorities, given that Russia is not as dependent on Africa's natural resources as most other major economies. It is important to point out that Soviet and African relations, anchored as they were on the fight to push back the frontiers of colonialism, did not necessarily translate into trade, investment and economic ties, which would have continued seamlessly with post-Soviet Russia.
"Of course, Russia's objective of taking the bilateral relationship with Africa to the next level cannot be realized without close partnership with the private sector. Africa and Russia are close politically, but they are also geographically distant and the people-to-people ties are still far under-developed. This translates into a low level of knowledge on both sides of what the other has to offer. There is perhaps also a measure of fear of the unknown or the unfamiliar in both countries," according to Mpahlawa.
Former Ethiopian Ambassador, Professor (Dr) Teketel Forssido, said that one of the biggest problems has been keen competition from the United States, Europe, China and India as more developed countries with more advanced technological and development oriented solutions, and have become, for the past decades, " investment patrons" in African countries. These are what Africa need, – foreign policy directed towards the development needs of Africa.
Former Nigerian Ambassador, Air Commodore Dan Suleiman, told me that Africa's drive for sustainable democratic governance backed by an enhanced economically viable environment is of paramount importance. Many African leaders are emphasizing the quest to eradicate poverty and give people a sustainable environment for budding democracy.
"It is Africa's hope that foreign authorities will back us in this direction. It is important to remind foreign investors that investment opportunities for developing large and medium scale enterprises are abound in Africa. The importance of the informal sector in generating employment and promoting self-reliance through higher productivity. We implore Russian investors to take advantage of these new potentials," Air Commodore Dan Suleiman stressed in his discussion.
Undoubtedly, the Russian government stance on supporting the policy of Africa to employ plausible solutions to resolve their infinite problems should be extolled assertively, wrote former Tanzanian Ambassador, Dr Jaka Mgwabi Mwambi.
He said, for instance, "Tanzania is currently on the verge of a bitter wrangle with iniquitous restraints, in order to redress all government systems, for the bright future of its wrath citizens. Thanks, it is discernible that the country is proactively moving steadfastly in a middle-income economy."
Former Kenyan Ambassador to the Russian Federation, H.E. (Dr) Paul Kibiwott Kurgat explained in a recent interview discussion that any platform created for African leaders has to address thoroughly development-oriented questions, Kenya's diplomacy has mostly focused on strengthening economic cooperation with foreign countries.
"Looking at the global development, Kenya would always like to build on this long history of strong and comprehensive engagement, first and for most, through developing closer ties with Russia in trade, investment and economic cooperation. So, my advice is that African leaders have to think objectively, first about effective ways how to improve the economy," he said.
The Government of Kenya's priority sectors range from infrastructure and energy development, industrialization and agriculture, manufacturing, tourism and among others. The development opens a myriad of investment opportunities to all potential foreign investors across the globe including Russia, Paul Kurgat added in his emailed comments from Nairobi, Kenya.
Former Mozambican Ambassador to Russia, Dr. Bernardo Marcelino Cherinda, emphasized that the changes in Russia have provided a greater impetus for forging new diversified relations, especially in the economic sectors, in Africa.
By this measure, African leaders have to relentlessly work towards a more effective cooperation and use political dialogue to remove obstacles that might hinder smooth progress and development. Whether they like it or not, African leaders have to make rational decisions to align their efforts and policies with this key goal of developing or building their economies, according to him.
Both Russia and Africa have to facilitate participation in the private sectors, to get also involved in medium-sized economic partnership, joint ventures, agro-processing industries, health and education. African leaders do not have to, in the least, doubt the enormous potentials that exist for these, according to the former envoy.
"And, I think it's equally important Russia and Africa focus seriously on cultural aspects in their activities in order to bridge the widening information gap between the two countries. Russia has made the mark and it's respected for its indelible historical achievements, literature and for the human values. The use of soft power as an instrument for new image-making initiatives has to be intensified," Cherinda concluded.
Stergomena Lawrence Tax, Executive Secretary of the Southern African Development Community (SADC), assertively stressed in discussion with Russian authorities that strengthening ties in a broad range of economic fields would show that SADC truly remains as one of Russia's key partners in Africa. SADC is an inter-governmental organization with its primary goal of deepening socio-economic cooperation and integration in the southern region.
Foreign Minister Sergey Lavrov and H.E. Dr. Nkosazana Dlamini-Zuma, the first woman to lead the bloc of 54 states, had discussed several times about Russian companies or industries participation in major infrastructure projects on the continent. Currently, Chad's Moussa Faki Mahamat has also held discussion on Africa's Fourth Industrial Revolution and has made efforts at enlisting Russia's effective support for the Agenda 2063 of the African Union (AU).
For the past one and half decades (since his appointment in 2004), Foreign Minister Lavrov has held in-depth discussions on the current situation in Africa and always pointed to the possibility of continuing to promote effective bilateral cooperation in many spheres and to work together towards using fully the existing potentials. He always reminds that Moscow firmly supports the principle "African solutions to African problems" within a framework of achieving the Sustainable Development Goals (SDGs) formulated by the African countries.
Business disorder between Europe and U.S.
The European Union remains cautious in the economic battle with the White House. U.S. President Donald Trump continues to pursue his protectionist policies in international trade system. This has led to raising concerns and serious discontent among the United States' European partners.
Disputes between the United States and other countries around the world are continuing on trade and economic issues. The fact is that U.S. President Donald Trump intends to exacerbate tensions until the presidential elections of 2020. Many international experts and analysts believe that a major part of the economic approach to the world of Trump has an electoral and political goal.
Many international analysts now talk about the conflicts between the United States and Europe over imposing sweeping steel and aluminum tariffs as a transatlantic "trade war".
Conflicts that may extend in the near future and affect the widespread relations between Washington and Europe.
On the other hand, the authorities of Germany, Britain and France have not taken a proper approach to the policies of the President of the United States.Though politicians such as Emmanuel Macron, Angela Merkel and Theresa May seek to manage the situation and prevent the exacerbation of tensions with Washington, but people, business owners and European opposition parties are so angry at Trump and the U.S. government that the European troika's authorities aren't capable to control or even hide it.
One of the most important reasons for the continuation of Trump's economic policies in the world is the passivity of European leaders against the White House. Under such circumstances, Europe has threatened to retaliate against the U.S. if Trump imposes steel and aluminum tariffs on European exports.
After Trump made his first announcement on the tariffs, European Commission President Jean-Claude Juncker threatened to put tariffs on American goods in response to Trump's decision. That could decrease demand for those products inside EU borders and consequently lead to U.S. workers losing their jobs. But practically, European countries did not do anything about this.
Although some European citizens thought that the Chancellor of Germany would have a more determined approach than other European politicians, this was also a mistake!The German Chancellor stated that European Union member states must give the EU trade commissioner a clear mandate for negotiations with the United States over a long-term exemption from U.S. metal tariffs. Markel added: "Of course, we think it's important that there are exemptions not only for a limited period of time … So far, we have had a very united stance, namely that we view these tariff demands as unjustified and that we want a long-term exemption."
The fact is that Merkel's implicit threat, which she didn't address directly and explicitly because of her conservative policy towards the United States, is the same as the "European countermeasures" against the United States.
For months now, there have been months of anti-European measures taken by the White House and customs duties on European aluminum and steel. However, European countries have preferred to keep Silent instead of confronting Washington!
Indeed, the prolonged U.S.-EU talks on steel and aluminum tariffs is going to increase the dissatisfaction and anger among the European public opinion. It will also affect the performance of American companies in Europe.
First published in our partner Tehran Times
Citizen Capitalism: How a Universal Fund can provide Influence and Income to all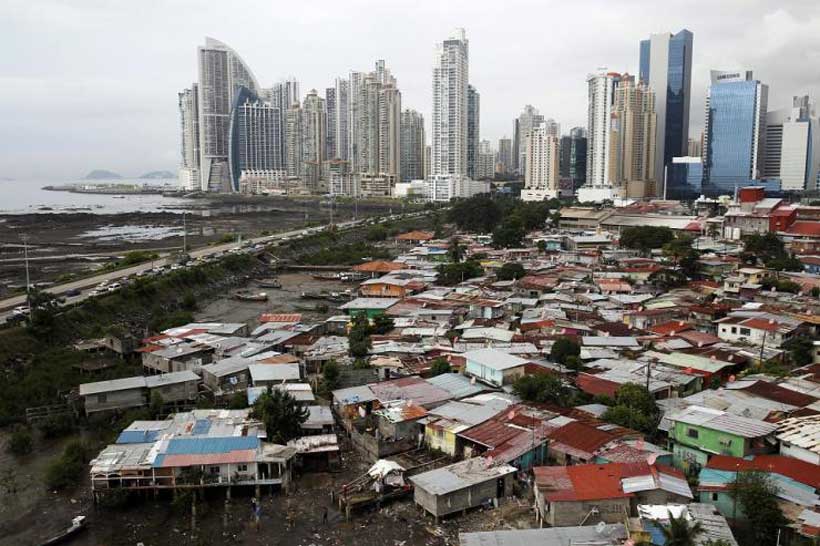 In the face of growing wealth inequality worldwide, more and more people are discussing alternatives to the current laissez-faire capitalism status quo.  Tamara Belinfanti, Sergio Gramitto and the late Lynn Stout offer up their own solution in Citizen Capitalism: How a universal fund can provide influence and income to all.
Our authors have devised up a concept they call the Universal Fund.  It's like a sovereign wealth fund, but is privately created and funded via private ordering. That means that the Universal Fund is to be created from donations of stocks by companies and philanthropists.  The government would hence be uninvolved; the Universal Fund is not a socialist venture.  Rather, it is in part modeled on the structure of NGOs like the Sierra Club and the Red Cross. The Fund would provide an annual dividend to every citizen, with no maximum income cap.  Though it may seem absurd to send welfare payments to the wealthy, it's politically savvy framing.  A free public college bill was passed in ultraconservative Tennessee thanks to having no maximum income cap; conservative detractors weren't able to use the "class warfare" and "welfare queen" arguments. It should be noted that charitable tax deductions, estate tax reductions and lowered tax brackets would act as a de facto government incentive for the wealthy to donate to the Universal Fund.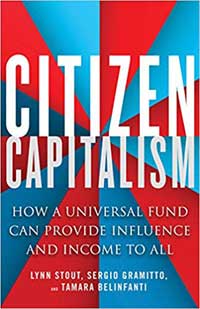 The goals of the Universal Fund would be to decrease wealth inequality, encourage long-term investment and increase civic engagement in corporate culture.  On the last point, the authors remind us that, "The top 10% [of wealthiest Americans] hold more than 90% of all shares."  Even in regards to the other 10% of shares owned, most of them are passively owned.  Most small-time investors don't have time to vote in the annual general meetings of every company in which they are invested in.  Thus, boardroom votes are dominated by two shareholder proxy advisory firms and individual investors who own a substantial percentage of shares, as well as fund portfolio & hedge fund managers.
These Wall Street elites naturally tend to vote based upon their elitist interests.  Thus, they usually make decisions that are insane in terms of employee welfare, long-term corporate growth, executive pay and the environment. For example, `the authors remind us of the recent case of Martin Shkreli, the hedge fund manager who acquired Turing Pharmaceuticals and then raised AIDS medication prices from $13.50 to $750. This is the embodiment of the Reagan-era Golden Rule of maximizing shareholder value.  Not only is this Gordon Gekko truism objectively crazy, it's actually legally unfounded.  Contrary to what you hear on CNBC or Fox Business, there's no legal requirement that companies only focus on maximizing shareholder value.  The book relates the following quote from Supreme Court Justice Samuel Alito comments in the recent case Burwell v. Hobby Lobby:"Modern corporate law does not require for-profit corporations to pursue profit at the expense of everything else, and many do not do so."
CITIZEN CAPITALISM points to the ongoing successes of the sovereign wealth funds of Norway and Alaska, an ultraliberal and an ultraconservative society, respectively.  The Alaskan fund generally provides each citizen with a dividend payment of a few thousand dollars each year, via the state's oil revenues.  The Government Pension Fund Norway is a more pertinent example, since it's funded through a $1T stock portfolio.  Norway is not only able to fund its citizens' pensions through the Fund, but also exert a moral influence on the market.  The Fund boycotts various egregious companies, like cigarette manufacturers, and will sell its shares in a company that gets exposed for abusive practices, like say employing child labor.  Our authors likewise want the Universal Fund to use a carrot-and-stick approach in regards to corporate ethics.
The thesis of CITIZEN CAPITALISM is, as the title suggests, rooted in optimism for capitalism.  Though they write about the success of socialist program in Alaska specifically, a conservative state in the US, the authors are convinced that a sovereign wealth fund bill could never be passed in Congress.  Recent polls and election results, however, show that Americans are starting to overwhelmingly favor ambitious government-program proposals like Medicare for All and a Green New Deal.  As I wrote before, the Universal Fund would mostly be feasible due to tax incentives; these government incentives would likely need to be greatly expanded in order to encourage enough stock donations to build the Fund to a substantial size.  Even America's greatest philanthropists still stockpile billions of dollars in their offshore bank accounts.  Thus, one shouldn't expect the Universal Fund or other private UBI schemes to become a replacement for state management of wealth inequality through programs like public school funding and marginal taxation.  Nonetheless, CITIZEN CAPITALISM is a stimulating little primer for rethinking the relationship between Wall St and Main St, managing the looming crises of a rapidly aging workforce and automation, plus the balancing of private and public sectors in regards to solving societal problems.