The Anti-Islamic Culture War of EU Populist Leaders: Déjà Vu?
"Multiculturalism is a charade"–Angela Merkel
Across Europe, populist leaders of various right-wing parties are pointing a finger of blame at Islam for threatening domestic cultures and security even as critics decry such statements as a serious threat to freedom of religion and minority rights. That this phenomenon is having an effect on the general population of EU member countries can be ascertained by simply taking a look at the above poll.
Let's take a look at the statements made by some of those extremists in nine countries of the EU (Germany, Austria, the Netherlands, the Check Republic, Slovakia, Italy, France, Poland, Hungary. I have eliminated the UK since it no longer is a member of the union, but there too there has been, and continues to be, plenty of anti-immigrant and anti-refugee rhetoric. In any case, anti-Islamic sentiments are not exclusive to those nine countries; they are present in varying degrees in most of the 26 EU countries, not excluding northern Scandinavian countries like Denmark, Sweden, Finland, long considered a bastion of liberal thinking.
In Germany we have Alexander Gauland, deputy chairman of the Alternative for Germany party who has said this about Islam: "Islam is not a religion like Catholic or Protestant Christianity, but a faith linked intellectually with a takeover of the state. Therefore, the Islamization of Germany is a danger."
In the Netherlands we have Geert Wilders, founder and leader of the Party for Freedom who said this: "Recently thousands of Arab men sexually attacked, humiliated and raped hundreds of women. All women are fair game. I call the perpetrators 'testosterone bombs.' We have seen what they are capable of. It's sexual terrorism. A sexual jihad. And it is happening all over Europe."
In Slovakia Prime Minister Robert Fico said this: ""Islam has no place in Slovakia."
In Austria, former Freedom Party presidential candidate Norbert Hofer said this: ""We must stop this invasion of Muslims."
In Austria, Johann Gudenus, vice mayor of Vienna, said this: "The new fascism in Europe is Islamism.""
In France, Marine Le Pen, head of the National Front party said this: "We have to oppose all demands that aim to shatter secularism — demands for different clothes, demands for special food, demands for prayer rooms. Demands that create special rules that would allow Muslims to behave differently."
In Hungary, Prime Minister Viktor Orban said this: "Islam was never part of Europe. It's the rule book of another world."
In Poland, former prime minister Jaroslaw Kaczynski, said this: "There are already signs of the emergence of very dangerous diseases which haven't been seen in Europe for a long time: cholera on Greek islands; dysentery in Vienna; various types of parasites, protozoans, which aren't dangerous in the organisms of these people but which could be dangerous here."
In Italy, Matteo Salvini, federal secretary of the Northern League party, when asked to opine on the election of a the first Moslem major of London, said this: "For me it is a worrying sign. … I think of London itself, where there are already some abusive courts applying Islamic law."
The above statements speak for themselves and need no comments. But they do need some historical interpretation. Without an historical context they will surely be misinterpreted. Many of their proponents are in fact counting on such a misinterpretation. One of them is that of blaming the present turmoil on the refugees seeking asylum, when in fact they are the victims of a vicious war in Syria and elsewhere in the Middle East, often enough stirred up by the former colonial powers who drew misguided nationalistic borders ensuring ethnic strife, and are now parading as saviors and harbinger of democracy and freedom.
The above quote by Angela Merkel is indicative. She is decrying there the lip service given to multiculturalism, all but violated in practice. It is an ironic statement. But there are more cynical approaches and those are not necessarily from fascist-leaning extremists, but also by those who are part of the established political order. For example, in the aftermath of the devastating attack in Nice, Poland's interior minister, Mariusz Blaszczak, (a member of Law and Justice Party) told reporters that the blame lay with the embrace of multiculturalism. "Have we not learned lessons from previous attacks in Paris and Brussels? This is a consequence of the policy of multicultural politics, and political correctness."
There is little doubt that France has embraced multiculturalism and diversity better than Poland. The French like to portray themselves as largely tolerant and indifferent to ethnic and racial diversity. They also feel that they have a more positive view of Muslims than much of the rest of Europe. It has in fact one of the largest Muslim population in Europe (probably 10% of its total population). This tolerance may also be partially true for England and Germany, but it may not be the case in Hungary, Poland, Italy or Greece, as the above statistics bear out. In any case, it is all relative to what is being compared. To have one eye is better than being blind but it is not an optimal situation.
France's relationship with its Muslim minority is a complicated one and it has to do with secularism vis a vis religion, as I, for one, have repeatedly argued in the pages of this magazine. Despite the ideals of the Enlightenment and the French Revolution regarding equality, freedom and brotherhood (noble sounding principles in the abstract), research reveals that Muslims face discrimination in the French job market and Muslims, similar to the Blacks in the US, make up a disproportionately large percentage of its prison population. France has passed laws prohibiting the wearing of full-face veils, which Muslims interpret as religious discrimination against them.
What seems to be at work is the normative level of French identity which is not based on its Christian heritage, largely ignored and even debunked as retrograde and "medieval", but on a guarantee of diversity and neutrality based on a secular citizenship. To be sure, religion is tolerated and even protected but it is to remain a private affair with no voice in the public square. This might have worked if it were wholly voluntary, but many Muslims feels that it is imposed on them as a political ideology. They perceive France's secularism as a schizophrenic attitude: it wants to foment ideals of liberty, tolerance and solidarity, but it also wants to impose secular norms on its minorities in the name of modernity and progress.
The situation in Germany, the other EU country with a large Muslim population does not fare any better. Once a libertarian force opposed to the euro and Greek bailouts, the fast-growing Alternative for Germany party has now squarely joined the anti-Islam ranks. In recent weeks this party has unveiled a scathing denunciation warning against "the expansion and presence of a growing number of Muslims" on German soil. Its rationale, if indeed there is one, is that it wants to protect women's rights, national security and German culture. The party is fast growing and is now supported by almost 1 in 6 voters. It is is calling for a ban on headscarves at schools and universities and is preparing to release an anti-Islam "manifesto" based on "scientific research." Echoes of Hitler's "scientific" racial laws? In the formerly communist east meanwhile, the party has gone even further, startling local Muslims by launching an effort to stop the construction of Erfurt's first mosque. Many of these Germans who wish to protect German culture, don't usually bother worshipping on Sunday; they may identify as Christians in mane, but their religion seems to be soccer games on Sunday; some 75% of Erfurt's 200,000 residents declare themselves as non-religious, but then they wish to prevent the construction of mosques because they do not fit well with ancient traditional Christian churches. Here again, cultural schizophrenia seems to be at work. It may indeed have to do with religion reduced to nothing but cultural embellishment, to mere "patriotism," a religion bereft of its transcendent symbolism and mystical vocation.
There are even more ominous signs harking back to the Germany of the 30s and its treatment of the Jews. At least two German universities have closed Muslim prayer rooms, arguing that places of higher education should be secular and that Islam should not receive "special treatment." They are encouraging Muslims who want to pray to use generic "rooms of silence" designed for all students. In Germany, as in other parts of Europe, there has also been a recent spate of attacks on mosques, including attempted arsons and vandalism. It may be worth remembering that the crematoriums for the concentration camps were built in Erfurt; that the Buchenwald was here. Here the majority, meted out terror and injustice on a minority, their fellow Jewish citizens. The question arises: will Germany allow this outrage to happen again?
Also alarming on a global scale is the rising opposition to Moslems, which has overtones of racial and religious persecution, as a campaign issue in the US (where Trump wants to prevent all Muslims from entering the country), in France, Austria, the Netherlands, Poland and other nations of the EU. Just to give a few examples of what have become fierce campaign issues: In France, acts of violence against Muslims surged more than threefold in 2015, jumping from 133 incidents to 429, according to the country's Interior Ministry. In May, Polish police entered university dorms in Krakow to question a number of foreign students about connections to terrorism, prompting allegations of racial profiling and Muslim-bashing. In January, the Danish city of Randers passed a resolution requiring public institutions to serve pork. Supporters rallied in favor of the bill by saying Danish food culture should trump the religious requirements of Muslim immigrants. In April, the Italian province of Veneto adopted a change in a law that critics say makes it harder to build mosques. "I'm absolutely against the construction of new mosques," Luca Zaia, Veneto's governor from the right-wing Northern League, told the Nuova di Venezia newspaper. "I've already met some of these preachers, and I told them clearly that sermons need to be pronounced in Italian, for reasons of transparency."
In an open letter to these extremist anti-Moslem groups Mina Ahadi, an Iranian dissident and critic of fundamental Islam, writes that they "basically represent the same authoritarian, homophobic and sexist — in short: inhumane — position as ultraconservative Islamic associations." In response the Alternative for Germany party is relying on authorities such as Tilman Nagel, a former professor of Islamic studies at Göttingen University, who in a telephone interview, lashed out at political correctness and stated that "The fundamental principles of Islam can't be reconciled with our free constitution." One can wager that the same professor, if placed in an academic setting, will proceed to wax eloquent about freedom of religion and respect for foreign cultures and civilizations. Talking of schizophrenia! Europa, nosce te ipsum.
The Rise of Far Right Populism in Europe Ahead of EU Elections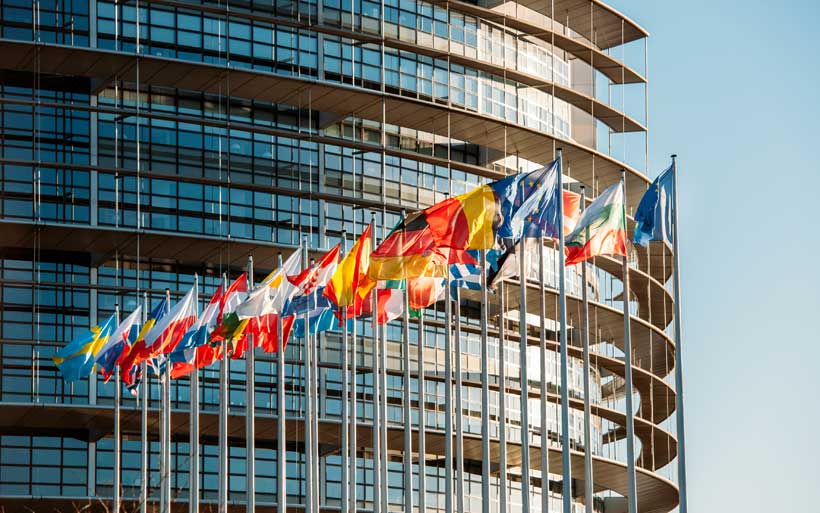 Authors: Punsara Amarasinghe and Eshan Jayawardane*
Populism in Europe as a civilizational legacy has a deeply rooted history which dates back to Greco Roman antiquity and as it has been recorded by classical historians like Livy, the overarching political structure of Roman republic nailed by populism that arose as a result of the loopholes of the system. The role of Publius Cloudius against Roman nobility during the late republic was a reflection of how populist discourse functioned in classical world. Nevertheless the principles emerged after the post second world war Europe such as social welfare system, social democracy and cultural integration reduced the gravity of populist discourse as a powerful political tool. Moreover the mass migration of political refugees from Eastern Europe to Western Europe during cold war was a phenomenal factor that encouraged west and its citizens to accept refugees or asylum seekers more dearly and it was rather a display of European values. But  as all good things come to an end this wave of immigrations from Non-European countries to Western Europe gradually conceived the seeds of socio economic and political turmoil in the continent that finally paved the path for a greater revival of populist politics in Europe.  Especially the political trajectory created with the Syrian refugee crisis since 2015 in Europe has compelled the people to look for Right wing politics as an alternative. Recent discussion held in Warsaw, Poland between Italian deputy prime minister Matteo Salvini and Jaroslaw Kaczynsi shows the spark of far right populist coalition in European Union against its center right more socio democratic leadership of Germany and France. The significance of this meeting lies in the fact that how EU politics has been changed in the recent years before its troubled policies over the illegal immigration and refugee crisis and this Polish Italian axis seems to create a decisive impacts upon the upcoming elections to EU parliament.
As a matter of fact in the past, it never really mattered much if the Euro election was carried by the left or the right: the result was the same anyway. The parliament has always been keeper of the federalist flame, but the unorthodox political upheavals Europe envisaged for past two years have such as BREXIT in 2016 and Trump's victory in US presidential elections have upset the center right liberal orthodoxy in EU. Moreover it is a fact not be ignored that how national politics in European countries have taken a populist bend as a consoling since most of the common people in Europe are gutted by the refugee crisis and economic deprivation.  Especially being the undisputed forerunner in EU Germany has faced severe social issues since 2015 as Angela Merkel  decided to not to close Germany's borders resulting in the arrival of more than one million of people.  Last August in Italy the Migrants mainly coming from former Italian colony Eretria had been stranded at a port in Sicily before Italian deputy premier Salvini finally allowed them to disembarked after Ireland and Catholic Church in Italy agreed to take most of them in. Apart from Italy most of European states have been exposed to the wave of populism mixed up with far right ideological elements. For an example elections held in Sweden in 2018 September dragged the country into a political limbo as the results of the elections did not leave either main parliamentary block with a majority and its far right anti-immigrant party Sweden democrats won 17.6% of the votes. Being a country that has resisted populist politics and far right wing ideology since the end of its notorious dictator Farco's era, Spain too has witnessed the new wave of populism in its national level politics. The dazzling impact created by Santiago Abascal's Vox party at the election held in Andalusia by gaining 10.97 % of the votes and 12 out of 109 cannot be ignored despite the fact that his party is still in its infancy stage.
Populist discourse spreading across Europe has not been emerged out of the blue as it is imbued with how common people in Europe perceive the socio economic and political circumstances currently. It was a misconception that many analysts believed that rise populism sprang from the financial collapse and unemployment, because it is evident that the rise of populism has not been solely attributed to the economic crisis. If economic growth had been decisive in Poland, which enjoyed the faster growth rate in Europe between 1989 and 2015, the populist Law and Justice Party would never have become the country's dominant political force. The bitter truth portraying from the rise populism is non-other than Europe antipathy over mass immigration and their concern for preserving common European values. This aptly shows from how Hungarians have rallied around Mr. Victor Orban as he triumphantly calls himself the defender of Christian Europe. On the other hand such xenophobic notions like cultural preservation, growth of Islam have been clearly captured by populist parties as drawbacks created by the apathy of European Union and its center right liberal democracy. Perhaps the influence coming from Putin's Russia can be taken as one pivotal factor that has intensified the populist discourse, because president Putin's knack on ethno nationalism and religious traditionalism seem to have allured the populist movements in Europe.
It is a fact beyond dispute that the rises of populist political parties under its far right ideologies in the backdrop of European Union parliamentary elections have destabilized the continuation of European integration under liberal center right outlook. The populist plan to expand their numbers in EU parliament in 2019 May elections have begun to upset the ostensible stability of EU and its French German leadership or perhaps this year Europe will face the arch encounter between newly emerged far right populism and the social democracy that has been the ruling slogan in Europe since 1968 in an open space.
*Eshan Jayawardne holds BA in Sociology from Delhi University and MA in International Relations from Jawaharlal Nehru University in New Delhi. He is currently serving as a guest lecturer at Sri Lanka Open University. He can be reached at eshan.jayawardane[at]gmail.com
Europe-US: Results of 2018 and prospects for 2019
Speaking at a December 4 news conference in Brussels following a two-day meeting of NATO foreign ministers, US Secretary of State Michael Pompeo said that the rule-based multilateral world order that for many decades has served the collective interests of the Western nations is no longer working. He backed up this claim by citing the weakness and incapacity of the United Nations, the Organization of American States, the African Union and some other international organizations.
Much to the Europeans' surprise, while holding up the NATO alliance as an "indispensable" institution, Pompeo also put the European Union on the list of outdated and unviable ones. These "shocking" comments wrapped up the past 12-month period, probably the most tense in trans-Atlantic relations since 1945.
By the start of 2018, relations between the US and the EU were characterized by a great deal of uncertainty. On the one hand, in the US National Security Doctrine published in mid-December 2017, Trump finally reiterated Washington's commitment to Article 5 of the North Atlantic (Washington) Treaty, which is something Europeans had been waiting for. He also promised to support America's European allies against the imaginary "threat" from Russia and China, which he described as "revisionist countries" out to change the existing world order.
On the other hand,the US National Security Council's view of the countries' competition in the world conforms to Hobbes' "all against all" principle. In other words, it rejects the idea of multilateralism, which is a fundamental principle the countries of "old" Europe stick to. Moreover, the entire world order that the US helped establish after 1945, is described as the source of a flurry of serious challenges to America. The Strategy section, devoted to the "world of universal competition," makes no mention whatsoever of America's "allies," while the repeated mention of the obligatory "mutual benefit" of allied relations looks like an undisguised desire to "monetize" friendship.
Washington's practical steps made in 2017 left Europeans wondering about the price (in the financial sense of the word) Trump would expect them to pay for honoring America's trans-Atlantic obligations. As a result, Europe was torn between the desire by a sizeable part of its establishment to retain the US leadership , even at the cost of far-going concessions, and a growing disillusionment with the policy of its overseas partner.
The past year confirmed the Europeans' worst fears: the world, according to Donald Trump, is a world without global rules, a world where the strongest always comes out on top. The White House acted as if it viewed the European Union not so much an ally, as a competitor to fight with. In the spring, Trump suggested to the French President Emmanuel Macron that he pull France out of the European Union in return for a lucrative bilateral trade deal with the US.
Trump supported the UK's exit from the EU, and even threatened the British Prime Minister Theresa May with economic "measures" in the event of a "softer" Brexit. On June 1, Trump imposed duties on steel and aluminum imports from Europe and threatened to slap new ones – this time on imported European autos.
During the G7 summit in Canada in June, President Trump tried to drive a wedge between the Europeans. Finally, during the NATO summit in July, Trump made it clear that if Europeans refused to "cooperate," Washington could roll back its military support and even withdraw the US military contingent from Germany. Washington has also made it clear that he considers any further EU foot-dragging on defense spending hikes as a deliberate policy by Europeans, who view the United States as an unfailing guarantor of their security.
During the first half of 2018, the Europeans openly pushed back against Trump's insistence that his G7 or NATO partners accept the dramatic change in Washington's approach to these pillars of the Western world, their goals and objectives.
The emergence of Donald Trump has exposed the "royal nudity" of the European Union, which has not yet outlined a common foreign policy on major tracks, or come up with anything in terms of strengthening its power in order to be able to stand up to Washington's demands.
On the other hand, the heavy-handed and self-serving US policy is too inconsistent as it tries to win over only the partners it can rely on in its fight against Chinese and Russian "revisionism."
And still, watching the growing signs of US hostility, Europeans start asking themselves a virtually existential question, and that is where the current US Administration is going? Is this the beginning of a long-term trend, a fundamental change in US strategy, or a tactical zigzag meant to achieve some short-term goals? If it is the latter, just like it happened before, then will it be enough to just "wait it out"? If it is the former, will the EU opt for strategic autonomy as part of an increasingly amorphous, but civilizationally homogeneous West, or will it have to solve the colossal task  of creating a full-fledged European "power center" that would interact with the US, mainly, if not exclusively, on the principles of "Realpolitik"?
At the same time, a "wait-and-see" tactic could backfire against Europeans. On the other hand, the "all-strops-out" trade war between the US and China, which broke out last year, is forcing the EU to perform a balancing act, maneuvering its way between the world's two largest economies. This necessitates an independent geo-economic policy in the face of a looming global economic recession. The long-term challenge to Europe is to build a new, previously unknown, system of international architecture: "economic bipolarity between the United States and China and strategic bipolarity between the United States and Russia."
Experts believe that if Europeans want to push back against Washington's plans and avoid the EU's fragmentation, they should start thinking about making Europe stronger, and do it now.
By mid-2018, more and more European politicians had realized that, in the wake of the Cold War, Washington's policy in Europe was aimed at undermining Europe's global competitiveness. The question is, however, to what extent the American establishment as a whole shares Trump's stated goal of maintaining or increasing America's dominance, even at the cost of economically destroying the "allies," who are now being perceived by Washington as competitors.
Trump's initiatives are clearly aimed against the very idea of European unity, which fuels European suspicions about his desire to implement the classic "divide and rule policy" in Europe.
Having all these factors in mind, the EU's overarching task was to work out measures to resist Trump's four-pronged "geopolitical attack" in trade, defense, on Iran and migration policy. On June 6, the European Commission approved €2.8 billion worth of import duties on US-made goods. Following the July visit to Washington by the European Commission President Jean-Claude Juncker, the Europeans achieved at least a semblance of a "truce" in their trade relations with the US. Surprisingly to many, the reconciliation had a demonstrative, even flashy character. After meeting Juncker, Trump said that the US was putting on hold the planned introduction of new tariffs on imported European goods, and would work to settle existing trade disputes in order to avoid a full-scale trade war.
According to experts, Europeans have no wish at all to share with the US the burden of a new economic slump, which Trump's "reckless" protectionism may entail. Therefore, the EU could best respond to Trump's policy by assuming the role of the leader of countries committed to preserving the rules of liberalism in international trade. The EU's economic potential matches that of the United States and its economy is almost the only area of international relations where the bloc can act on a par with, or even independently, from Washington.
However, even though unable to compete economically with the US on a one-to-one basis, EU members remain divided on many issues. Fully aware of this, Donald Trump uses every opportunity available to try to pit them against one another.
So, capitalizing on Europeans' discord over migration, Trump has banked on unraveling the traditional European political parties by mixing all the trends. Newly-appointed US ambassadors openly support far-right populist parties in Italy, Germany, Britain, and in Central Europe.
Meanwhile, the traditional European parties are preparing to challenge Eurosceptics in the upcoming elections to the European Parliament, set for May 2019. Internationally, the EU responds by ramping up diplomacy aimed at cobbling together coalitions without the US in a bid to preserve the existing world order. In July 2018, the EU and Japan agreed to set up a free trade zone; Brussels has likewise been intensifying efforts to establish a free trade area also with MERCOSUR, Australia and New Zealand, and is actively engaged in informal efforts aimed at promoting liberal values and institutions.
The EU's stance concerning the US sanctions on Iran, has been equally firm, prohibiting companies and individuals located on the territory of the EU from following American sanctions against Iran. According to the new EU rules, European firms hurt by US sanctions will be able to demand compensation. Brussels also reiterated its commitment to the 2015 nuclear deal with Iran, and is actively looking for ways to circumvent US financial hegemony and sanctions. The EU is mulling an independent system of financial settlements, the European Monetary Fund – an analogue of the IMF – as well as financial instruments that would be "completely independent" from Washington. However, ensuring even a simple majority of "yes" votes by individual EU members on these issues will not be easy.
The biggest hurdle here is security, because without the United States, NATO as a military organization becomes virtually ineffective  making Europe hostage to America when it comes to security. This effectively weakens the EU's hand even on the continent, let alone the world. The European NATO members face the hard choice of either playing the role of US-led partners, which may imply their agreement to weaken European unity to benefit Washington's new foreign policy interests, or stay the course of greater independence, including in matters of collective defense (European army), which, however, is fraught with a great deal of uncertainty.
With the onset of autumn, the issue of "European sovereignty" sprang to the top of the EU leaders' agenda. At the end of August 2018, the French President Macron and the German Foreign Minister Maas went on record emphasizing the need for Europe to play a new role and "strengthen" its position in the global alignment of forcesemerging in the world. In early November, Macron and the German Chancellor Merkel reiterated their call for a "European army," "real pan-European armed forces." Moreover, the US was named among the threats Europe needs to defend against.
During the past year, Europe was making mainly tactical steps aimed at making up for the damage caused by US sanctions. Simultaneously, it was actively looking for a future strategy of trans-Atlantic relations, as well as ways for institutionalizing its independent identity, both in foreign policy and defense.
There is little doubt that all of Europe will not turn its back on America, even though most of the countries of "old" Western Europe have been seeking greater "strategic autonomy" for the EU and a system that could function without relying on the hegemonic might of the United States. By contrast, many Central and East European states are making every effort to strengthen ties, above all military, with Washington, so Europe is still wondering how it can possibly to preserve the "old order."
The outcome of the November 2018 mid-term elections in the US showed  that American voters were losing faith in Donald Trump's way of handling the country's foreign policy and foreign trade. With Democrats regaining control of the lower chamber of Congress – the House of Representatives – Trump may need a positive foreign policy agenda, and what better way to achieve this than to restore constructive relations with traditional allies and negotiate with the Europeans? Including on joint measures to "contain" Russia.
Simultaneously, the notion, whereby the EU project is on the brink of collapse and so the US needs to present NATO as a new unifier of Europe is getting increasingly popular in the United States. This is the idea that was pitched late last year by none other than US Secretary of State Mike Pompeo.
This could pull the rug from under the feet of not only those who seek Europe's strategic autonomy, but even the advocates of a more centralized EU. Therefore, the question of whether the leading European countries will go beyond pacifying voters with talk about the creation of an "independent center of power" remains open. And further moves by the EU in relations with the United States, at least until the May elections to the European Parliament and the change of leadership of the European Commission, will largely depend on Washington's policy towards its European allies.
First published in our partner International Affairs
A clear signal for the German chancellor
It's a difficult time for the Chancellor of Germany. She had to pass the power inside the Christian Democrat Party to her rival, Kramp-Karenbauer. In a conference, Karenbauer rejected claims that she was the "mini Merkel".
"People consider me a 'mini,' a copy, a simple 'more of the same,' but I can tell you that I stand here as my own person, just as life has shaped me and of that I am proud," she said.
Angela Merkel has announced that she will step down of power in 2021, but the polls conducted in Germany has intensively worried her. The results of these polls indicate that the total popularity of the two traditional German parties, the coalition of the Christian and Social Democrats, have fallen below 50%. This suggests the unpopularity of the coalition government among the German citizens. Merkel now has to run the weak coalition government until 2021!
Many analysts of Europe's affairs believe that Merkel's power is actually over. The Chancellor of Germany is no longer the symbol of power in the united Europe. She has lost the power of managing the power equations in her country. In other words, Merkel has become a "passive player" in Berlin, the European Union and the Eurozone.
This is while Merkel had previously said that she hoped her planned departure would end bitter fighting in her weak and fractious right-left coalition, confessing that "the picture the government is sending out is unacceptable".
According to an Infratest dimap survey, the Alternative for Germany (AFD), the Green Party and Liberal Democrats are now increasing their relative popularity to challenge the two ruling parties (Christian Democrats and Social Democrats) and to end the domination of the two traditional German parties on the power equations in Berlin.
Undoubtedly, Merkel can't be now regarded as a successful politician at the head of the political and administrative equations of Germany. At the beginning of the German coalition government, many analysts believed that the presence of Social-Democrats alongside the Christian Democrats was a big mistake.
The anti-EU and anti-immigration party of "Alternative for Germany" has become the main opposition party in the German parliament. On the other hand, as the current trend continues and the popularity of the two traditional German ruling parties drops in the polls, they will lose more votes in the upcoming German elections in 2021.
What is happening today in Germany is a big catastrophe for Merkel, the Christian Democrat and, subsequently, the Social-Democratic Party. It's not possible to restore the political power of these two parties in the near future, that is, as long as they are working together in the coalition government of Germany. On the other hand, the political equations in Germany are so complex that none of the traditional German parties will be able to win the majority of seats in the parliament.
As a result, a large part of the German authorities' time and energy will be consumed by forming a coalition government (which will be a weak one). This will undermine the position of Germany's leadership in the United Europe. In this sophisticated game, the Alternative for Germany (which the other German parties are unwilling to join) have been struggling to broaden its political and social popularity.
This extremist party hopes that other right-wingers, including French national leader Marin Le Pen, will be able to win good results in the elections and other political platforms in their country, and that their victory will influence Germany.
Merkel is no longer the symbol of Christian Democrats' power in Germany's and Europe's equations. Political history of the German Chancellor as the EU leader has come an end at a time when her substitute (in the event of a relative and fragile victory in the country's next general elections), should devote her power to attempts for the formation of a coalition or minimal government in Berlin. Without a doubt, Angela Merkel never imagined that she would have to permanently withdraw from power in Europe by 2021, as an incapable chancellor.
First published in our partner MNA