NATO threatens Russia with invasion
The heads of state and heads of government of the NATO (North Atlantic Treaty Organization), held at the National Stadium in Warsaw, Poland, on 8 and 9 July 2016. The two-day summit was attended by a wide array of world leaders, including German Chancellor Angela Merkel, Turkish President Recep Tayyip Erdogan and US president Obama. In addition to Russia, the member countries are expected to discuss topics like anti-terrorism efforts in Iraq and the rest of the Muslim world, the mission in Afghanistan, and defense spending, but also Brexit and cooperation with the European Union.
The NATO summit opened with alliance chief Jens Stoltenberg and Polish President Andrzej Duda addressing the public in Warsaw on Friday. NATO members discussed a response to what they see as aggressive Russian actions in Eastern Europe, specifically in Ukraine. Poland and other eastern NATO members have demanded more NATO involvement close to Russian borders. Polish President Duda called for "deepening relations" with those countries and establishing "an enhanced presence in Eastern and Central Europe." On Friday, Stoltenberg said NATO had stepped up its capabilities in response to the alleged Russian threat.
In his opening statement, Stoltenberg said NATO "does not seek confrontation." "Russia is our biggest neighbor and the integral part of European security," he said, adding that the alliance would continue dialogue with the Kremlin. "We don't want a new Cold War," Stoltenberg said. "The Cold War is history and should remain history". German Chancellor Angela Merkel has accused Russia of "unsettling" NATO allies with its actions in Ukraine. In her speech before Germany's parliament, the chancellor called for both "deterrence and dialogue" with Moscow. German Defense Minister Ursula von der Leyen backed deployment in Eastern Europe and said NATO should deal with Russia "consistently, calmly and soberly" and signal Moscow that it has nothing to fear. The Kremlin actions can be "completely unpredictable and aggressive," but there is also a Russia that cooperates on the crisis in Iran and Libya, von der Leyen said.
The main focus was the formal ratification of plans to dispatch thousands more NATO troops to Poland and the Baltic republics of Estonia, Latvia, and Lithuania—all countries bordering Russia. In remarks made in the presence of Polish President Andrzej Duda, Stoltenberg praised NATO's opening of military headquarters and missile bases across Eastern Europe as well as the tripling of the alliance's rapid response force to 40,000 troops. "Our presence will be multinational and a clear message that an attack on one ally is an attack on the whole alliance," he declared.
The highlights on the first day of the summit, July 8, include agreement to station four battalions of about 1,000 soldiers each in NATO's east – Poland, Estonia, Latvia and Lithuania -on a rotational basis, starting next year. Canada will lead the battalion for Latvia, Germany in Lithuania, the United Kingdom in Estonia and the United States in Poland. NATO members also agreed to beef up their cyber defenses.
On July 09, the second and final day of the NATO summit, NATO heads of state approved a major military escalation in Eastern Europe and continuing deployments to Afghanistan. These initiatives, together with expanded NATO military cooperation with former Soviet republics, including Georgia and Ukraine, are all aimed at encircling and preparing for war against Russia. Besides shoring up its presence among NATO'S eastern members to deter any possible Russian strike, "We have tripled the size of the NATO Response Force to 40,000 troops with a Spearhead Force at its core able to move within a matter of days.
The alliance approved the largest military buildup in Eastern Europe since the end of the Cold War. President Petro Poroshenko met with leaders of the United Kingdom, Germany, France and Italy as part of the NATO-Ukraine Commission. Regarding Ukraine, while Western allies have stressed that NATO members will reaffirm their support in the struggle against Russia's war, details are still short on specifics and rhetorical backing has outpaced financial support.
Ukraine
Ukraine has also been disappointed by the West's commitment to Ukraine. Obama never visited Ukraine. Ukrainians had hopes at the beginning of the year that, looking at Obama's scheduled appearance in Warsaw, he would take the opportunity after the summit to visit nearby Kyiv in the waning days of his presidency. Instead, Obama has chosen to go to Spain, the largest European country he hasn't visited yet, and a key NATO ally. He will leave office as the first president since Ronald Reagan not to visit Ukraine while in office.
Stoltenberg talked about Ukraine's status at another morning press briefing on July 8 during an experts' forum. "They are focusing on the reforms and will wait with the application until they have moved further and modernize the defense sector, more than is the case today," Stoltenberg said of Ukraine's leaders. "We support them with political support and practical support. We will also step up that support at this summit. What is unchanged is every nation has the right to choose its own path. It applies to Georgia, Ukraine and all other nations. Whether Georgia or Ukraine or any other nation is going to be a member of NATO is up to that nation to decide and the 28 allies. That's a fundamental principle that every nation has the right to decide its own path."
Stoltenberg dismissed the premise of a question that the multinational troop buildup of NATO allies on Russia's border shows that the alliance is the aggressor, not Russia. " We have seen a more assertive Russia.. We are increasing our military presence in the Baltic countries and Poland, but there is no doubt that is something we do as a response to what Russia did in Ukraine," Stoltenberg said. "No one talked about any military presence of the kind we now see in Poland and the Baltic countries before Ukraine, before the illegal annexation of Crimea. What we do is defensive, it is proportionate, and it's fully in line with our international commitments.. We have seen a Russia which has been willing to use military force against sovereign nations in Europe with aggressive actions against Ukraine, the illegal annexation of Crimea.
Ben Rhodes, a US deputy national security advisor for strategic communications, talked about America's commitment to Ukraine. "In particular on Ukraine, it's an important opportunity to reaffirm our support for Ukraine's sovereignty and territorial integrity, to stress the urgency of moving forward with the implementation of the Minsk agreements, and expressing our continued determination to maintain sanctions on Russia should they not follow through on those commitments," Rhodes said.
US Secretary of State John Kerry, speaking in Kyiv on July 7, said Ukraine has a long way to go before it is NATO-ready. "And NATO will also welcome Ukraine's progress on defense reforms, particularly on civilian oversight of the armed forces and its move towards NATO standards. In addition, we have contributed in kind to four of the six trust funds specifically the command and control, the cyber, the medical rehabilitation, and logistics," Kerry said, Ukraine has a long way to go in order to modernize and reform its defense sector and increase its interoperability with NATO, which is part of the discussion that takes place in the context of the NATO-Ukraine Commission." Poroshenko called for stronger pressure by the West against Russia, but did not specify what steps he was advocating. "Pressure on the aggressor must be intensified until the Kremlin fulfills its obligations under the Minsk agreements, reverses the illegal and illegitimate self-declared annexation of Crimea, and comes back under the rule of law," Poroshenko wrote.
During the alliance's last summit, held in Wales in 2014, the leaders agreed a "Readiness Action Plan" to strengthen the defence of its most vulnerable members against Russia. But NATO remains constrained by an earlier agreement signed with Russia in 1997. Under this "founding act", the alliance promised not to permanently deploy any combat troops in any member country east of Germany, provided the "security environment" did not change.
Russian adventurism
Russian President Puitn displayed new brand of Russian assertive politics. In 2014, Russia seized Crimea from Ukraine, annexing the territory of a European country for the first time since 1945. Afterwards, Russia invaded eastern Ukraine, starting a war that has claimed 9,000 lives and driven 1.7 million people from their homes. NATO's eastern members, particularly those who border Russia, want assurances that they will never share the same fate. In one set of war games last March, 33,000 Russian troops practiced how to launch nearly simultaneous attacks on Norway, Finland, Sweden and Denmark. The latter two countries were also the target of simulated nuclear strikes by the Russian air force in 2013, almost every week, Russia dispatches jet fighters and bombers to probe the airspace of NATO's eastern members.
NATO members say Russia might invade the Baltic States sooner or later. And countries like Estonia, along with NATO are other Baltic members, now feel most exposed to Russian ambitions. The NATO idea is to have one infantry battalion each in Estonia, Latvia, Lithuania and Poland. The idea is that they would serve as a "tripwire" for any Russian invasion, demonstrating to the Kremlin that it would have to fight NATO troops and start a war with the entire alliance – including America – if it ever attacked a member state. In this way, the summit in Warsaw aimed to preserve the peace by deterring Russia.
Nonetheless, Russia's war against Ukraine – in its third year – and its illegal military invasion and annexation of the Crimean peninsula – are driving the political-military alliance's priorities.
In a recent interview, former Polish President Aleksander Kwasniewski said that Ukraine should abandon its dreams about joining NATO as he predicted more instability for Europe ahead.
The leaders of the 28 NATO allies and their partners at Warsaw summit agreed on sending four multinational battalions to Estonia, Latvia, Lithuania and Poland, on a rotational basis. NATO's plan to enhance presence in Europe aims to reassure allies on its eastern flank rather than unleash a new cold war. The conflict in Ukraine, the migration crisis and terrorism are among the most dangerous threats to the Western world.
Although the SCO under Moscow's leadership is not considered a serious threat, NATO views the formidable Russo-China military tie ups a dangerous phenomenon.
Tensions
The real cause of tensions around the world and reason for Israel's aggressive attacks on Palestinians has been the North Atlantic Treaty Organization (NATO), established in 1949 to threaten Soviet Union and stop its eastward expansionism. NATO claims responsibility to ensure the security of its member states in both the Mediterranean Sea and Black Sea.
NATO protects all member countries. Under Article V of this agreement, an "armed attack against one" NATO member "shall be considered an attack against them all". On the evening of 12 September 2001, less than 24 hours after the 9/11 attacks, and for the first time in NATO's history, the allies invoked the principle of Article 5 without in fact knowing the nation that attacked USA. But the Neocons readily invented an Islamizing Afghanistan as being the culprit requiring terror attacks by NATO.
Tensions between Russia and the West have skyrocketed in the past two years, with both sides holding large military maneuvers. Moscow and the alliance traded blame for the escalation.
During the two-day summit in Warsaw, NATO members will decide on placing four battalions in Poland and the Baltic countries neighboring Russia as part of the largest military buildup on the alliance's eastern flank in decades.
Russia is becoming increasingly assertive in the Black Sea. Three current NATO member states (Turkey, Romania and Bulgaria) and one NATO aspirant with close ties to the alliance (Georgia) share the Black Sea with Russia. All these countries have expressed serious concern about Moscow's growing assertiveness in the Black Sea region.
In response to NATO expansion and its containment policy, Russia often cites a 1997 agreement in which NATO pledged not to create permanent bases in former Eastern bloc states. US officials, however, claim that the troops would be rotated rather than stationed permanently. Stoltenberg said NATO would "project stability," including in countries that have been confronted by Russia. "We will also affirm our commitment to our partners in the east, to Ukraine, Georgia and the Republic of Moldova, to help them resist outside pressures, and advance reform," Stoltenberg said.
The NATO concerns are still greater because Russia has conducted a series of military exercises, supposedly designed to rehearse the invasion of neighbouring countries. Some of these drills have involved anything from 40,000 to 80,000 troops. Russia repeatedly said it has no empire ambitions and it won't revive the Soviet Union.
While Ukraine's status as victim of Russian aggression is driving NATO priorities, Ukraine remains far from any membership in NATO as it hasn't even applied to join the alliance.
Existential challenge to NATO as permanent terror body
A serious mistake was made by the USA and those NATO member states – primarily France and the United Kingdom – by their joint invasion of Afghanistan on false pretext only to destroy Islamic regime in Kabul, invasion of Iraq in 2003 and Libya in 2011 without a corresponding readiness to engage in post-conflict stabilization. The consequences of this flawed fascist approach have emerged in the form of severe political fanaticism and factionalization, the rise of the Islamic State group and a migrant crisis that has brought thousands to the shores of Europe.
Now NATO has been facing an existential challenge as it has indeed become redundant with the Warsaw Treaty led by Russia was abolished following the end of Cold War. But USA, in order to maintain global military superiority, does not want to dismantle the Western military club saying it is necessary to fight the future threats like terrorism. And in order to prove the argument USA created terrorism by employing Muslims who fought against Soviet occupation of Afghanistan and coolly called it "Islamic fundamentalist terrorism' and directed the media to blast the terror news prominently .
Individual NATO member states such as Turkey, the United Kingdom, France and the Netherlands have directly taken part in airstrikes against the Islamic State group while others have contributed ammunition and equipment. But given the threat to Europe posed by the conflicts in Iraq and Syria, NATO needs to be more involved. At the Warsaw summit, the alliance must express a willingness to augment its role in the fight to roll back and end the terror war launched by Bush Jr.
The alliance currently has 12,000 soldiers in Afghanistan. NATO collectively must commit additional resources to bolster its Resolute Support mission and support Afghan forces. For the USA, their intention to maintain current troop levels in Afghanistan until the end of the yea means retaining 9,800 troops instead of reducing their numbers to 5,500 as planned.
Multinational conflicts in Syria and Iraq led by USA and Russia have generated a refugee crisis of historic proportions that continues to threaten Europe's security and its cohesion. NATO must play a larger role to address these conflicts and bring peace back to the region. .
Turkey is worried that NATO's migrant mission in the Aegean is distracting the alliance from these rising threats. Just as Russian military aircraft have harassed and conducted dangerous overflights of U.S. vessels in the Baltics Sea, they have done the same in the Black Sea. Yet the latter does not receive the same attention as the former.
The NATO terror outcomes and destabilization of Arab world, Afghanistan and Pakistan form the western democratic contribution to the world.
War propaganda
In order to allocate more resources for military, the western powers spread Russian threat and war propaganda.
According to western reports, through an act of invasion of Baltic, Russian president Putin is likely to bid to make Russia a great power again. Former deputy commander of Nato General Sir Richard Shirreff in his new book predicts that the West would be at war with Russia within the year. The Kremlin will invade the Baltic States through Latvia and threaten to go nuclear if NATO attempts a military response.
Poland and the Baltic countries call for a strong response to pre-empt another annexation like that of Crimea. The Germans and French would call for negotiations with Moscow. German Chancellor Angela Merkel, in direct opposition to the Polish president, insisted that the Russia-NATO Founding Act remained valid.
The NATO battalions are touted as a "spearhead" rapid reaction force on the border with Russia that will tackle a range of possible threats. The force will be used to buy the alliance some time to mount a serious counteroffensive but will not stop any type of intervention in the short term. The deployment was unlikely change the balance of power in the region. It will, however, enhance the capability of Allies to maintain, and if required, implement their collective self-defense commitments
The arguments advanced by Stoltenberg for a confrontation with Russia are political lies—above all, the claim that Russia's support for pro-Russian separatists in eastern Ukraine proves it is an aggressive power dedicated to military conquest in Europe. He explained yesterday, "We are increasing our military presence in the Baltic countries and Poland, but there is no doubt that it is something we do as a response to what Russia did in Ukraine."
Terror budget
The Cold War was the period when military spending in many countries grew almost without control. As a result, in some countries military budgets reached a stunning two percent of GDP. When the Berlin Wall fell in 1989 it became clear that the threat from the Soviet Union overinflated, but it was used to justify increased military spending in the West. Lobbying groups have again brought up the Russian threat to politicians and the European public.
NATO and USA had all previously made it clear that the 28-nation bloc did not seek a confrontation with Russia or a new cold war, but all their actions point to the contrary
In February, NATO defense minister approved the deployment of NATO troops to Eastern Europe. Total military spending of the NATO members since 1990 has reached €20.2 trillion. At the same time, Russia has spent only €1.3 trillion on defense since 1990. NATO's demand to increase military spending sounds absurd. Following Russia's invasion of Ukraine in 2014, NATO allies have raised only 5 million Euros in trust fund money for Ukraine, in contrast to Afghanistan, for example, to which NATO trust funds have committed $1.3 billion Euros.
NATO needs more and more money as it seeks to send battalions to every country if finds a "threat", but now Poland and the Baltics. In fact every country that does not support USA in its global terror war is treated in Washington as a threat. The force should be composed of at least 2,000 troops, ideally closer to 4,000. Germany, the United Kingdom and the United States have already agreed to lead three battalions, and the Visegrad Four – Poland, the Czech Republic, Slovakia, and Hungary – have in a separate initiative committed a total of 600 troops to the Baltics.
Why NATO wants its members to increase military spending? The only reason for this requirement is that the United States wants an arms race against Russia and China. Europe should not be involved in this process because Europe is not interested in supporting Washington's ambitions to deter China.
The summit argued the European countries should not increase military spending and instead invest in the EU's defense capabilities, confusing everybody, to oppose the new NATO norm of two percent and adopt a two-percent norm for the EU, including one percent of GDP for defense and one percent for global social and environmental challenges
Does NATO aim at a world war?
One thing is quite certain: USA does not want to end its misguided terror wars even the destabilization of many Muslim nations and loot of their vital resources, including oil, as they coerce the nations to buy their terror goods directly and through their agent for the third world Israel.
The danger that such a conflict could erupt at any time, whether by design or inadvertently, emerged very directly in last month's massive NATO military exercise, Operation Anaconda, involving 30,000 NATO forces in Poland. Moscow responded by mobilizing a comparable number of troops in western regions of Russia, and Russian Foreign Minister Sergei Lavrov announced that Moscow reserved the right to take whatever measures were necessary to defend itself.
What has been going on in the name of terror war is NATO's permanent war. NATO plans for military action in countries ranging from Libya to Georgia and Ukraine, Afghanistan and the regions bordering China are to be the subject of extensive discussion in Warsaw.
The way Obama escalated terror war in Mideast only shows the USA has no intention of ending the fake terror wars only to kill Muslims. The full list of targets identified in NATO Secretary-General Jens Stoltenberg's opening remarks spans much of the globe. He served notice that NATO would step up military action in Iraq and Syria and expand its deployments in the Mediterranean and across NATO's entire "neighborhood."
The purpose of these political lies is to present the imperialist powers' war drive as a defensive effort to preserve "peace and stability," even as it threatens to unleash a war of unimaginable dimensions.
The aggressor in Ukraine was not the Kremlin oligarchy, however, but Washington and Berlin, which ousted an elected pro-Russian government in Ukraine by orchestrating violent, right-wing nationalist protests in Kiev. Washington had spent $5 billion to promote the Ukrainian opposition.
NATO Gen Shirreff points towards the short war between Russia and Georgia in 2008, the annexation of the Crimea two years ago and the separatist strife in eastern Ukraine as part of a grand plan of Russian expansion. Far from laying the basis for a peaceful and democratic capitalist development, Moscow was the opening act of a protracted crisis of the entire nation-state system in Europe and internationally.
German Chancellor Angela Merkel said the NATO does not intend to refuse to cooperate with Russia. "We are unanimous in the position that continuous security in Europe is only possible with Russia, and not in opposition to it. The central place for dialogue with Russia remains the NATO-Russia Council," Merkel told the Bundestag. Gen Shirreff asked USA to position personnel and weapons in the Baltic States and Eastern Europe. NATO is, in fact, in the process of doing just that to the chagrin of the Kremlin which holds this breaches the pledge made by the Alliance to Boris Yeltsin's government in 1997 that it will not have permanent troop presence in any of the former Warsaw Pact states.
NATO defense shield
NATO has put in place NATO defense shield in Eastern Europe, targeting Russian territory. The idea is to attack Russia and not let Russia retaliate back to USA or Europe. However, Russia has put in place advanced technology to deter western missiles and destroy them before they reach Russian territory.
NATO defense shield now in Romania is meant to check any possible Russian missiles. Defense shield gives the NATO member states the power to intercept any missiles fired from Russia once war broke out. But now Russia has said they are going to retaliate and eliminate the threat and that means they will actually destroy the shield in Romania which then the west will use as a pretext to go war with Russia. In the run-up to the summit, the Polish president called for the formal scrapping of the Founding Act.
The Warsaw summit's plans amount to the final repudiation, more or less explicitly, of the 1997 Russia-NATO Founding Act, in which NATO pledged that it would not exploit the dissolution of the Soviet Union to rearm in Europe and pursue an aggressive strategy against Russia. The act stated that NATO would undergo a "historic transformation," "radically" reducing its military forces and ensuring that NATO and Russia "not consider each other as adversaries."
NATO and EU, mediated by the USA, cooperate against Russia. In 2014, NATO suspended practical civilian and military cooperation with Russia amid strained relations over the Ukrainian crisis, as the Alliance accused Moscow of involvement in the conflict. Political dialogue in the NATO-Russia Council, however, was not halted. Russian reaction caused serious economic weakening in Europe. The Greeks, Italians and Spanish make clear that their economies had already suffered enough from the sanctions on Russia after the annexation of Crimea.
NATO has been building up its military presence in Eastern Europe, using Moscow's alleged interference in Ukraine as a pretext for the move. Moscow has repeatedly denied the claims and warned NATO that the military buildup on Russia's borders is provocative and threatens the existing strategic balance of power.
Over the last quarter century, the Eastern European countries and the former Soviet republics were thrown open to capitalist exploitation and imperialist intrigue, joining NATO or the European Union. Particularly after the 2014 Kiev putsch, with the emergence of a pro-Western Ukrainian regime, Russia has found itself surrounded by hostile states allied to NATO and thrown back militarily to the positions it held 75 years ago following the Nazi invasion of the USSR. In this crisis, the policies of all of the capitalist factions are deeply reactionary. The Kremlin oligarchy's attempt to use the military to pressure the imperialist powers for an accommodation only heightens the war danger.
A further factor driving the aggressive policies of the imperialist powers is the increasingly bitter and intractable crisis within NATO itself, exacerbated by the June 23 British vote to leave the EU. Washington and several Eastern European states, including Poland, have called for an even more aggressive policy towards Russia.
Germany, followed by France and Italy, on the other hand, are proposing a more independent foreign policy, i.e., independent of Washington, involving a rapid expulsion of Britain from the EU and a ratcheting down of the confrontation with Russia.
Stoltenberg's rationalization for mass military deployments to Eastern Europe by all of the major NATO powers is extraordinarily reckless and sinister. The best way to secure the NATO alliance, according to Stoltenberg, is to permanently threaten Russia with nuclear war by ensuring that any local conflict involving Russia in Eastern Europe immediately escalates to all-out conflict between Russia and the entire NATO alliance.
Russian military jets have carried out more sorties in a day in Syria than the US-led coalition has done in a month. The Russian navy has launched ballistic missiles from the Caspian Sea 900 miles way. Russian advances in military technology is routine and does not mean that Kremlin is about to launch an attack, although it may add to the argument for increased defence spending.
Unlike American presidents with hidden agendas, President Putin is not a bad person the media make out him to be and he has actually been constantly warning NATO ever since they started talking about installing the missile defence shield in Eastern Europe that all they are doing is undermining the security of their nations. NATO especially the US just kept saying it's not targeted at Russia but they are there to only target Iran. Anyone with a bit of common sense knows that is load of crap meant to fool Moscow.
Twenty-five years after the much heralded victory of capitalism and the USA in the Cold War, USA and world imperialism have shown mankind the true "benefits" of capitalism: ever increasing social inequality and poverty, the promotion of national chauvinism and racism, the drive to dictatorship, and the looming danger of a nuclear Third World War. But America could not the entire world.
Observations
The July 8-9 NATO summit in Warsaw marks an extraordinary escalation of the ongoing wars in Mideast into a global war drive of the capitalist-imperialist powers—above all, the economic, political and military campaign against Russia launched two years ago. The USA and Germany backed putsch toppled a pro-Russian government in Ukraine, leading to the current conflict there.
The Sept-11 hoax perpetrated essentially by anti-Islamic forces in USA let the NATO forces invade and destabilize an Islamizing Afghanistan and gave rise to terrorization of international politics.
NATO faces unprecedented challenges from both east and south. Russia's invasion of Ukraine has caused the alliance to refocus on its original raison d'etre of territorial defense. But unconventional threats from nonstate actors and humanitarian crises fueled by ongoing conflict in the Middle East and North Africa are pushing NATO to become alert and upgrade military equipment. .
The summit's main military objective is to threaten Russia with invasion by massively expanding NATO forces' presence along Russia's borders. More broadly, it seeks to formalize NATO's transformation into an alliance intervening aggressively around the world, beginning with war preparations against Moscow.
The summit finalized the exact contributions from member states amid what NATO Secretary General Jens Stoltenberg has described as a challenging regional security situation.
What these conflicts have revealed is an existential crisis of the entire system of international alliances and all of the institutions of European capitalism.
The air defenses installed by the Russia in Syria and eastern Ukraine would make it extremely hazardous for the West to carry out strikes against the Assad regime or Ukrainian separatists. Any open and prolonged Russian conflict with an Eastern European country might lead to the destruction of the NATO alliance itself.
Why should Russian he President risk all the gains with a risky hot war with an invasion of the Baltic States which, unlike Ukraine and Georgia, are members of NATO and can invoke NATO assistance?
Russia has said it would destroy the missile shield in Romania but if it really does then that would give a pretext cum justification to go for war with Russia.
NATO is also interested in holding another NATO-Russia Council after the Warsaw summit on July 8-9, German Chancellor Angela Merkel said. NATO Secretary General Jens Stoltenberg confirmed the next Russia-NATO Council would be held in Brussels on July 13 and would be focused on the Ukrainian crisis and the situation in Afghanistan.
The escalating crises of NATO and the EU are a warning and a challenge to the international public. The unfolding crisis in Europe threatens humanity with a catastrophe of unimaginable proportions. Its prevention depends on the people developing a politically conscious international movement against NATO terror war and for the overthrow of capitalism and establishment of humane socialism.
USA and Russia will not have direct war of any kind – now or any time in the near future. Apparently, all five plus one veto members have informally agreed to avert and avoid any war among them because that would lead to a world war, officially.
Preparing For The Next Round Of Belligerent Nationalism
"It must not be forgotten that it is perhaps more dangerous for a nation to allow itself to be conquered intellectually than by arms." – Guillaume Apollinaire, "The New Spirit and the Poets" (1917)
More than anything else, a nation-state survives along with the corresponding society's intellectual and moral underpinnings.[1] In the case of US President Donald Trump's patently childish "Space Force," neither precondition is evidenced. And at the same time that Trump has been abandoning essential treaties with Russia and economic arrangements with China, this president acts as if extending belligerent nationalism into space is somehow a rational plan.
Quite plainly, Donald Trump, who prides himself on "attitude, not preparation," is sorely mistaken.[2] Prima facie, any such extension of geopolitical competition would be anything but gainful. Among many other things, Space Force expresses the reductio ad absurdum of a dissembling president's wholesale indifference to wisdom and ethics. It will only heighten the probability that America could be "conquered intellectually," not "by arms."
There is more. Space Force represents an ironic reaffirmation of past Trump policy failures. Where it is correctly understood as a logically derivative posture from this president's "America First," the operational role of his "Force" will be to extend Realpolitik[3] or power politics to places where it has never existed before, still-pristine and "vertical" places. Significantly, as Realpolitik has never worked here on earth,[4] any intelligent observer should feel compelled to ask: Why should belligerent geopolitics now work on a "galactic" level?
There are multiple ironies to be considered. As is the case of Donald Trump's foreign and domestic policies in general, Space Force will be founded upon myriad failures of the past. In essence, these failures are all aspects of the "balance of power world system originally bequeathed at the Peace of Westphalia in 1648. This conflict-oriented state system, an "everyone for himself"[5] pattern of interminable international warfare, was born at Westphalia, immediately following the Thirty Years' War.[6] Though certain "Westphalian" zero-sum interactions might still have been more-or-less tolerable before the appearance of nuclear weapons, they are unsustainable in our bitterly acrimonious and proliferating nuclear world. Unassailably, they are even more dramatically unsustainable at this fearful time of worldwide disease pandemic.
It's not complicated. What America needs today is not just another gratuitous or destined-to-fail weapon system[7] (how could it possibly "succeed" if it doesn't calculably contribute to this country's "assured destruction capability"?), but rather a more conspicuous, well-intentioned presidential commitment to global interdependence/worldwide cooperation.[8] Although true that – at least for the foreseeable future – the United States must take appropriate steps to ensure the overall credibility of American nuclear deterrence, it is not true that such credibility requires retaliatory "coverage" in all prospective theatres of large-scale military engagement.[9]
Even if the Russians should "succeed" in militarizing space first – and even if this militarization were to involve nuclear elements – a fully suitable U.S, countervailing strategy could still remain entirely on this planet. In these calculations, the prospective aggressor (here Russia) would be unconcerned with the geographic origins of any American retaliatory destruction. After all, those origins would have no material consequence as long a US retaliatory strike were judged sufficiently probable and "assuredly destructive."
This is an absolutely key reason why the United States has no identifiable need for maintaining any specific supremacy in space. Expressed differently, this means that an American president can readily maintain an indispensable US "assured destruction" capability vis-à-vis Russian and/or China without adjusting principal target sets according to ever-changing venues of enemy missile deployments. As far as what president Trump has called his newly proposed space force "super-dooper missile" – not exactly the terminology of a scientist or military professional – it represents only a caricatural reference, one more appropriate for 1950s-era children's' television programming than for any seriously complex US strategic reality.[10]
Nuclear strategy is certainly a "game" that an American president should always be prepared to "play," perhaps even for the indefinite future, but not without some conspicuous prior understandings of history, science and very elementary formal logic.
Going forward, US President Trump must remain systematically aware of all conceivable circumstances that could place us in extremis atomicum,[11] but this focus will need to be broadly conceptual, and not childishly centered on American "super" missiles or reassuringly "big" bombs.
Instead of "America First" (Trump's overall term for a system that willfully punishes the Many for the presumed benefit of a contrived Few), a rational American president should reject all derivatives and corollaries of "Westphalian" dynamics.[12] Accordingly, any foreign policy that naively seeks to maximize America's own well-being at the zero-sum expense of other states and peoples would be acting against certain binding norms of international law[13] and contra its own national security interests at the same time.
Sadly, nothing could possibly be more apparent to anyone who bothers to think logically and historically about such literally existential matters.[14]
The world is a system. Everything, therefore, is interrelated. Among other things, no American foreign policy success can be achieved at the willfully sacrificial expense of other countries and peoples. No such presumptive success is sustainable if the rest of the planet must thereby expect a more violent and explosive future. In this connection, it would be difficult to argue that Donald Trump's Space Force could in any way lead us toward a less violent or less explosive global future.
Very difficult.
A manifestly corrosive American national tribalism is being "protected" by U.S. Space Force. Nothing more. When all cumulative policy impacts are taken into careful analytic account, this "soulless"[15] derivative of "America First" and belligerent nationalism will emerge as anything but patriotic. What else should we reasonably conclude about a planned U.S. military posture that would injure this country and various other countries abjectly, unambiguously and at the same time?[16]
Among other basic issues here, it is effectively impossible to calculate the vast number of associated interactive effects of these significant injuries, especially where they would expectedly be "force-multiplying" or synergistic. By definition, wherever a synergistic injury would obtain, the "whole" of any inflicted harm would be greater than the tangible sum of its "parts."
Today, at a time when America's fight against worldwide disease pandemic should represent this nation's very highest-priority security challenge, US Space Force offers a strategic posture that is wholly misconceived and prospectively lethal. Left in place, it will further exacerbate a deliberate presidential choice of gratuitous belligerence as the favored style of American military interaction. Ironically, what is required, instead, is the readily decipherable opposite of Space Force.
This means, in essence, a broadened US leadership awareness of human and societal interconnectedness.[17]
History is duly instructive. From the 1648 Peace of Westphalia to the present fragmenting moment, world politics have been shaped by a continuously shifting balance of power and , correspondingly, by variously relentless correlates of war, terror and genocide. Ideally, of course, and against all calculable odds, hope should continue to exist. But now, even under the most imaginably optimistic circumstances, it should surely sing more softly, unobtrusively, even in a prudent undertone.
For Americans now increasingly endangered by Trump's visceral or seat-of-the-pants foreign policies, more will be required than superficial or sotto voce modulations. Soon, merely to survive on this imperiled planet, all of us, together, will have to rediscover an individual human life, one consciously detached from narrowly ritualistic patterns of conformance, mindless entertainments, shallow optimism or any other disingenuously contrived expressions of some utterly imagined tribal happiness. At a minimum, such survival will demand a prompt and full-scale retreat from what Donald Trump has termed "America First" and from all of its rapidly dissembling correlates. In this regard, Trump's Space Force is the foreseeable result of a much deeper societal pathology, a know-nothing American populism that drives out intellect and reason in favor of incessantly deliberate mystifications and collective self-delusion.
Thomas Jefferson and America's other Founding Fathers had already understood something very basic: There is always a necessary and respectable place for serious erudition. By learning from history, Americans may yet glean something from "America First" that is necessary to opposing any actual iterations of Space Force. They may learn, even during this national declension Time of Trump, that a ubiquitous mortality is more consequential than any glittering administration promises of "supremacy," "advantage" or "victory."[18] Our current time on earth is more meaningfully a time of agony than of algorithm.
In The Decline of the West, first published during World War I, Oswald Spengler asked importantly: "Can a desperate faith in knowledge free us from the nightmare of the grand questions?" This remains a vital query, but one that will never be adequately raised in our universities, on Wall Street or absolutely anywhere in the Trump White House. Still, we may learn something productive about these "grand questions" by studying American roles and responsibilities in a radically changing world politics.
This task must be about intellectual struggles, not weapons per se.
At that point we might finally come to understand what has thus far eluded us. The most suffocating insecurities of life on earth can never be undone by militarizing space and by abrogating pertinent international treaties. To argue otherwise is to further mar a wholesale unfamiliarity with world and national history with inexcusable derelictions of both logic and science.[19]
In the end, even in Trump-era American foreign policy decision-making, truth is exculpatory. In what amounts to a uniquely promising paradox, Space Force could help illuminate a blatant lie that may still let us see the underlying truth. This truth is peremptory and not really mysterious or unfathomable. Americans require, after all, a substantially wider consciousness of unity and relatedness between individual human beings and (correspondingly) between adversarial nation-states.
There is no more urgent requirement.
None.
Though seemingly oriented toward greater American power and security, building an American Space Force would merely propel this country's disordered military strategy from one untenable posture of belligerent nationalism to another. What the proponents of Space Force ignore, inter alia, is that all national security options should always be examined from the standpoint of their cumulative impact. If the credible effect of this new America First policy initiative will be to spawn various reciprocal postures of belligerent nationalism among principal foes (i.e.., Russia and potentially China) the net effect will prove sorely destabilizing and comprehensively negative.[20]
At this exceedingly precarious moment in world and national history, the president of the United States must do everything possible to heed the poet Apollinaire's warning of "intellectual conquest." Though "force of arms" will assuredly remain a derivative source of military power and threat, America's principal emphasis must now be placed on variously promising concepts and ideas, not on expanding the "hardware" or tactics of willful human destructiveness. Instead of withholding funds from the World Health Organization,[21] Donald Trump must finally acknowledge the interminable futility of belligerent nationalism, and – correspondingly – take certain tangible steps toward expanded worldwide cooperation.
Could this actually happen?[22] To be sure, the probable likelihood of any success here is bound to be very small, but the time-dishonored alternatives are all uniformly misconceived and inherently catastrophic.[23] If America's president should retain even a tiny remnant of leadership commitment to rational decision-making, he will quickly understand that U.S. Space Force is the reductio ad absurdum of a long-dying belligerent nationalism or Realpolitik.[24]
It is hardly a medical or biological secret that the factors common to all human beings greatly outnumber those that differentiate one from another. Accordingly, unless leaders of all great states can finally understand that the survival of any one state will inevitably be contingent upon the survival of all, true national security will continue to elude every nation on earth, even the most "powerful."
The bottom line? The immediate security task must remain a proper conceptualization and refinement of national nuclear strategy. Simultaneously, however, President Trump must somehow learn to understand – together with all other far-sighted national leaders – that Planet Earth is an organic whole, a fragile unity that exhibits rapidly disappearing opportunities for avoiding successive war and dismemberment. To seize these residual opportunities, Washington must learn to build solidly upon the foundational insights of Francis Bacon, Galileo and Isaac Newton, and upon the much more recent summarizing observation of Lewis Mumford: "Civilization is the never ending process of creating one world and one humanity."[25]
Obviously, the United States has no inherently special obligations in this regard, nor can it afford to build its own most immediate security policies upon narrowly distant hopes. Still, if expressed as an ultimate vision for more durable and just patterns of world politics, Donald Trump might recognize the indissoluble link between America's own physical survival and that of the wider international system. In the final analysis, merely to keep itself "alive," America will have to do whatever it can to preserve the global system as a whole. For the moment, this is an idea insurmountably far from the consciousness of America's current president.
To instruct still further from Pierre Teilhard de Chardin's The Phenomenon of Man, "The egocentric ideal of a future reserved for those who have managed to attain egoistically the extremity of `everyone for himself' is false and against nature. No element could move and grow except with and by all the others with itself."
---
[1] The seventeenth-century French philosopher Blaise Pascal remarks prophetically in Pensées: "All our dignity consists in thought….It is upon this that we must depend…Let us labor then to think well: this is the foundation of morality." Similar reasoning characterizes the writings of Baruch Spinoza, Pascal's 17th-century contemporary. In Book II of his Ethics Spinoza considers the human mind, or the intellectual attributes, and – drawing further from Descartes – strives to define an essential theory of learning and knowledge. Much of this effort was founded upon familiar ( to Spinoza) certain Jewish sources.
[2] "Who is to decide which is the grimmer sight," asks Honore de Balzac, "withered hearts, or empty skulls?"
[3] See, by this author, Louis René Beres, Reason and Realpolitik: US Foreign Policy and World Order, Lexington Books, 1984; and Louis René Beres, Mimicking Sisyphus: America's Countervailing Nuclear Strategy, Lexington Books, 1983. Regarding philosophical foundations of Realpoliitk: "Right is the interest of the stronger," says Thrasymachus in Bk. I, Sec. 338 of Plato, THE REPUBLIC (B. Jowett tr., 1875). "Justice is a contract neither to do nor to suffer wrong," says Glaucon, id., Bk. II, Sec. 359. See also, Philus in Bk III, Sec. 5 of Cicero, DE REPUBLICA.
[4] Power politics or a "balance-of-power" has never been more than a facile metaphor. Despite its name, it has never had anything to do with ensuring or ascertaining equilibrium. As such, balance has always been subjective, a matter of assorted individual perceptions. Adversarial states in this "Westphalian" dynamic can never be sufficiently confident that strategic circumstances are suitably "balanced" in their particular favor. In consequence, each side to any contest or competition must perpetually fear that it will somehow be left behind, this creating ever wider and even cascading patterns of national insecurity and collective disequilibrium.
[5] Says French Jesuit philosopher Pierre Teilhard de Chardin in The Phenomenon of Man: "The egocentric ideal of a future reserved for those who have managed to attain egoistically the extremity of `everyone for himself' is false and against nature."
[6] International law remains a "vigilante" or "Westphalian" system. See: Treaty of Peace of Munster, Oct. 1648, 1 Consol. T.S. 271; and Treaty of Peace of Osnabruck, Oct. 1648, 1., Consol. T.S. 119, Together, these two treaties comprise the Peace of Westphalia.
[7] The Devil in George Bernard Shaw's Man and Superman observes correctly that "Man's heart is in his weapons….in the arts of death he outdoes Nature herself….when he goes out to slay, he carries a marvel of mechanisms that lets loose at the touch of his finger all the hidden molecular energies…."
[8] We may think here of the applicable Talmudic metaphor: "The earth from which the first man was made was gathered in all the four corners of the world."
[9] Understood at purely conceptual levels, US strategic thinkers must inquire accordingly whether accepting a visible posture of limited nuclear war would merely exacerbate enemy nuclear intentions, or whether it would actually enhance this country's overall nuclear deterrence. Such questions have been raised by this author for many years, but usually in explicit reference to more broadly theoretical or generic nuclear threats. See, for example, Louis René Beres, The Management of World Power: A Theoretical Analysis (1972); Louis René Beres, Terrorism and Global Security: The Nuclear Threat (1979; second edition, 1987); Louis René Beres, Apocalypse: Nuclear Catastrophe in World Politics (1980); Louis René Beres, Mimicking Sisyphus: America's Countervailing Nuclear Strategy (1983); Louis René Beres, Reason and Realpolitik: US Foreign Policy and World Order (1984); Louis René Beres, Security or Armageddon: Israel's Nuclear Strategy (1986); and Louis René Beres, Surviving Amid Chaos: Israel's Nuclear Strategy (2016).
[10] As a child growing up in New York City in the 1950s, I am reminded of "Captain Video" and "Tom Corbett Space Cadet." Plainly, such earlier children's programs are not a proper model for US strategic forces, anywhere.
[11] See, by Louis René Beres at Harvard Law School: https://harvardnsj.org/2020/03/complex-determinations-deciphering-enemy-nuclear-intentions/ See also, by this author, at US Army War College, https://warroom.armywarcollege.edu/articles/nuclear-decision-making/ and at Modern War Institute, West Point (Pentagon) https://mwi.usma.edu/theres-no-historical-guide-assessing-risks-us-north-korea-nuclear-war/
[12] For the most part, these dynamics describe a more-or-less variable condition of "chaos." Though composed in the seventeenth century, Thomas Hobbes' Leviathan may still offer us a vision of this condition in modern world politics. During chaos, which is a "time of War," says the English philosopher in Chapter XIII ("Of the Natural Condition of Mankind, as concerning their Felicity, and Misery."): "… every man is Enemy to every man… and where the life of man is solitary, poor, nasty, brutish, and short." Still, at the actual time of writing Leviathan, Hobbes believed that the condition of "nature" in world politics was less chaotic than that same condition extant among individual human beings. This was because of what he had called the "dreadful equality" of individual men in nature concerning the ability to kill others. Significantly, however, this once-relevant differentiation has effectively disappeared with the continuing manufacture and spread of nuclear weapons, a spread soon apt to be exacerbated by an already-nuclear North Korea and by a not-yet-nuclear Iran.
[13] According to Article 53 of the Vienna Convention on the Law of Treaties: "…a peremptory norm of general international law is a norm accepted and recognized by the international community of states as a whole as a norm from which no derogation is permitted and which can be modified only by a subsequent norm of general international law having the same character." See: Vienna Convention on the Law of Treaties, Done at Vienna, May 23, 1969. Entered into force, Jan. 27, 1980. U.N. Doc. A/CONF. 39/27 at 289 (1969), 1155 U.N.T.S. 331, reprinted in 8 I.L.M. 679 (1969).
[14] One may be usefully reminded here of Bertrand Russell's trenchant observation in Principles of Social Reconstruction (1916): "Men fear thought more than they fear anything else on earth – more than ruin, more even than death."
[15] Sigmund Freud and Carl Jung both thought of "soul" (in German, Seele) as the intangible essence of a human being. Neither Freud nor Jung ever provided any precise definition of the term, but it was not intended by either in some ordinary or familiar religious sense. For both psychologists, it represented a recognizable and critical seat of mind and passions in this life. Interesting, too, in the present analytic context, is that Freud explained his predicted decline of America by making various express references to "soul." Freud was plainly disgusted by any civilization so apparently unmoved by considerations of true "consciousness" (e.g., awareness of intellect, literature and history); he even thought that the crude American commitment to perpetually shallow optimism and material accomplishment at any cost would occasion sweeping psychological or emotional misery.
[16] From the standpoint of classical political and legal philosophy, such a national policy would be the diametric opposite of the statement by Emmerich de Vattel in The Law of Nations (1758): "The first general law which is to be found in the very end of the society of Nations is that each Nation should contribute as far as it can to the happiness and advancement of other Nations."
[17] On this indispensable awareness, we may learn from the ancient Greek Stoic philosopher, Epictetus, "You are a citizen of the universe." A broader idea of "oneness" followed the death of Alexander in 322 BCE, and with it came a coinciding doctrine of "universality" or interconnectedness. By the Middle Ages, this political and social doctrine had fused with the notion of a respublica Christiana, a worldwide Christian commonwealth, and Thomas, John of Salisbury and Dante were looking upon Europe as a single and unified Christian community. Below the level of God and his heavenly host, all the realm of humanity was to be considered as one. This is because all the world had been created for the same single and incontestable purpose; that is, to provide background for the necessary drama of human salvation. Only in its relationship to the universe itself was the world correctly considered as a part rather than a whole. Said Dante in De Monarchia: "The whole human race is a whole with reference to certain parts, and, with reference to another whole, it is a part. For it is a whole with reference to particular kingdoms and nations, as we have shown; and it is a part with reference to the whole universe, which is evident without argument." Today, of course, the idea of human oneness can and should be fully justified/explained in more purely secular terms of understanding.
[18] See by this author, at Oxford University Press: https://blog.oup.com/2016/04/war-political-victories/
[19] Says Jose Ortega y'Gassett about science (Man and Crisis, 1958): "Science, by which I mean the entire body of knowledge about things, whether corporeal or spiritual, is as much a work of imagination as it is of observation….The latter is not possible without the former."
[20] Included in this assessment must be the expanding risks of US Presidential nuclear decision-making. By this writer, see Louis René Beres, The Bulletin of the Atomic Scientists https://thebulletin.onuclear rg/2016/08/what-if-you-dont-trust-the-judgment-of-the-president-whose-finger-is-over-the-nuclear-button/
[21] In stark contrast to President Trump, Tedros Adhanom Ghebreyesus, the Director General of WHO, spoke modestly, intelligently and purposefully: "COVID-19 does not discriminate between rich nations and poor, large nations and small. It does not discriminate between nationalities, ethnicities, or ideologies. Neither do we," he said. "This is a time for all of us to be united in our common struggle against a common threat, a dangerous enemy. When we're divided, the virus exploits the cracks between us."
[22] In partial reply, we may consider Karl Jaspers in Man in the Modern Age (1951): "Everyone knows that the world situation in which we live is not a final one."
[23] Federico Fellini, the Italian film director, once commented wisely: "The visionary is the only realist."
[24] Louis René Beres' earlier book, Reason and Realpolitik: US Foreign Policy and World Order (1984) was already organized around this same core assumption.
[25] There have been prophets of global integration in the modern era, especially Condorcet, Immanuel Kant, Auguste Comte and H.G. Wells. For the very best treatment of these prophets and their still-indispensable ideas, see W. Warren Wagar's The City of Man (1963) and Building the City of Man: Outlines of a World Civilization (1971). Professor Wagar was a great visionary himself, one with whom I earlier had the honor to work at Princeton (World Order Models Project) in the late 1960s.
Gulf Sands Shift as Anchors of Regional Security Loosen
China and the Gulf states are in the same boat as they grapple with uncertainty about regional security against the backdrop of doubts about the United States' commitment to the region.
Like the Gulf states, China has long relied on the US defense umbrella to ensure the security of the flow of energy and other goods through waters surrounding the Gulf in what the United States has termed free-riding.
In anticipation of the day when China can no longer depend on security provided by the United States free of charge, China has gradually adjusted its defense strategy and built its first foreign military facility in Djibouti facing the Gulf from the Horn of Africa.
With the People's Liberation Army Navy tasked with protecting China's sea lines of communication and safeguarding its overseas interests, strategic planners have signaled that Djibouti is a first step in the likely establishment of further bases that would allow it to project long-range capability and shorten the time needed to resupply.
But Chinese strategic planners and their Gulf counterparts may part ways when it comes to what would be acceptable geopolitical parameters for a rejuvenated regional security architecture.
A rejiggered architecture would likely embed rather than exclude the US defense umbrella primarily designed to protect conservative energy-rich monarchies against Iran and counter militancy.
In contrast to China and Russia, Gulf states, as a matter of principle, favor identifying Iran as the enemy and have cold shouldered proposals for a non-aggression agreement. But for that they need the United States to be a reliable partner that would unconditionally come to their defense at whatever cost.
For its part, China goes to great lengths to avoid being sucked into the Middle East's myriad conflicts. Adopting a different approach, Russia has put forward a plan for a multilateral security structure based on a non-aggression understanding that would include Iran.
No doubt, China, unlike Russia, wants to postpone the moment in which it has no choice but to become involved in Gulf security. However, China could find itself under pressure sooner rather than later depending on how Gulf perceptions of risk in the continued reliance on the United States evolve.
One factor that could propel things would be a change of guard in the White House as a result of the US election in November.
Democratic presumptive candidate Joe Biden, as president, may strike a more internationalist tone than Donald J. Trump, though a Biden administration's relations with Saudi Arabia could prove to be more strained. Similarly, Mr. Biden's focus, like that of Mr. Trump, is likely to be China rather than the Middle East.
By the same token, China's appraisal of its ability to rely on the US in the Gulf could change depending on how mounting tensions with the US and potential decoupling of the world's two largest economies unfolds.
China's increased security engagement in Central Asia may well be an indication of how it hopes to proceed in the Gulf and the broader Middle East. China has stepped up joint military exercises with various Central Asian nations while its share of the Central Asian arms market has increased from 1.5 percent in 2014 to 18 percent today.
Founded in 2001 as a Central Asian security grouping, the Shanghai Cooperation Organization (SCO) has expanded its relationships in South Asia and the Caucasus, and admitted Iran as an observer.
Referring to China's infrastructure, telecommunications, and energy-driven Belt and Road Initiative (BRI) that seeks to link the Eurasian landmass to the People's Republic, China and Central Asia scholar Raffaello Pantucci explained that: "China is expanding its security role in Central Asia to protect its interests in the region and is increasingly unwilling to abrogate security entirely to either local security forces or Russia."
"By doing so, Beijing is demonstrating an approach that could be read as a blueprint for how China might advance its security relations in other BRI countries," Mr. Pantucci wrote.
Central Asia may find it easier than the Gulf to accommodate the Chinese approach.
The problem for most of the Gulf states is that taking Chinese and Russian concerns into account in any new security arrangement would have to entail paradigm shifts in their attitudes toward Iran.
Saudi Arabia and the United Arab Emirates – which has recently made overtures to Iran, insist that any real détente has to involve a halt to Iranian support for proxies in various Middle Eastern countries as well as a return to a renegotiated agreement that would curb not only the Islamic Republic's nuclear program but also its development of ballistic missiles.
Caught between the rock of perceived US unreliability and the hard place of Chinese and Russian geopolitical imperatives, smaller Gulf states, including the UAE, in contrast to Saudi Arabia, are hedging their bets by cautiously reaching out to Iran in different ways.
They hope that the overtures will take them out of the firing line should either Iran or the United States, by accident or deliberately, heighten tensions and/or spark a wider military confrontation.
To be sure, various Gulf states have different calculations. Saudi Arabia and Bahrain have adopted the most hardline position toward Iran. Oman and Qatar have long maintained normal relations, while the UAE and Kuwait have made limited overtures.
In the short run, Gulf states' realization of China and Russia's parameters could persuade them to maintain their levels of expenditure on weapons acquisitions. And, in the case of Saudi Arabia and the UAE, to pursue the development of a domestic defense industry, despite the economic fallout of the pandemic, the drop of oil and gas prices, and the shrinking of energy markets.
Probably, so will recent Iranian military advances. Iran last week publicly displayed what is believed to be an unmanned underwater vehicle that would allow the Revolutionary Guards' navy to project greater power – because of its long-range, better integrated weapons systems – and more efficiently lay underwater mines.
The vehicle put Iran in an even more elite club than the one it joined in April when it successfully launched a military satellite, a capability only a dozen countries have. When it comes to unmanned underwater vehicles, Iran rubs shoulder with only three countries: the United States, Britain, and China.
Iran's advances serve two purposes: they highlight the failure of the United States' two-year-old sanctions-driven maximum pressure campaign to force Iran's economy on its knees, and, together with massive US arms sales to Gulf countries, they fuel a regional arms race.
To be sure, Russia and China benefit from the race to a limited degree too.
In the ultimate analysis, however, the race could contribute to heightened tensions that risk putting one more nail in the coffin of a US-dominated regional architecture. That in turn could force external powers like China to engage whether they want to or not.
"China is quickly learning that you can't trade and invest in an unstable place like the Middle East if you don't have the means to protect your interests," said Israeli journalist David Rosenberg. "Where business executives come, warships and commando units follow, and they will follow big."
Author's note: This story was first published in Inside Arabia
The Difficulties of Balancing Military Confrontations in Europe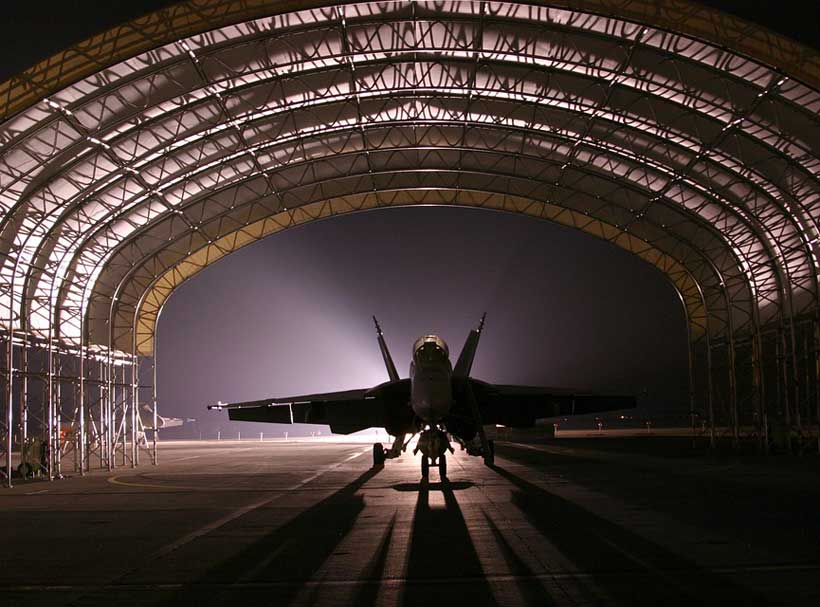 Tensions between the West and Russia since 2014 have created a tense military balance focused on Europe. There is an increasing armed activity that climbs up in the Baltic and Black Sea regions. These activities take forms such as deployment of troops, large-scale exercises, and close contact at common sea areas and borders. Although direct attack is not seen as a realistic scenario for both parties, current trends increase the risks of misunderstandings, dangerous accidents and uncontrolled escalation of tension. Although the existing communication channels have reduced the likelihood of undesirable results to date, the level of interaction between the parties is low.
Traditionally, the dispatch and management of tension-boosting threats is handled through trust-and security-building measures, as well as through weapons control tools. These are created to provide some degree of predictability to confrontations, to provide greater stability between intense political tensions. However, in the last two decades, a serious resolution of arms control mechanisms has been observed at the regional and global level.
This model even prevented the Ukraine conflict, which has its roots in the abolition of the Anti-Ballistic Missile Agreement of America and NATO's reluctance to approve the Conventional Forces (CFE) Agreement in Europe and the Adaptation Agreement of this agreement. Due to the perceived blocking policy of the West, Russia gradually withdrew from the second document after 2007 and also changed its previous positive attitude towards military security.
The process of building a stack of weapons since 2014 has been accompanied by discussions about the renewal of the Vienna document, which systematized confidence building measures, difficulties in the implementation of the Open Skies Treaty and a general sense of hopelessness within the arms control community.
The Treaty of Russian-American Mid-Range Nuclear Forces (INF), which ended on August 2, 2019, was the last element of the old set of institutions that fell from value. The future of the New Strategic Weapons Reduction Treaty, which remains the last solid document on the limitation of nuclear forces, is still pending.
In the midst of these developments, several high-level politicians encouraged the re-stability in Europe through the revitalization of treaty-based restrictions in the military field. For example, in 2016, German Foreign Minister Frank-Walter Steinmeier called for "Restarting arms control as a tried and tested tool for risk reduction, transparency and confidence in Europe".
Subsequently, his successor Sigmar Gabriel called for "preventing the damage of proven agreements". He then suggested: "We must do everything we can to protect and develop these contracts and, if necessary, show the courage to return to a new path, for example, the traditional weapon control system".
Calls for greater predictability in the face of deep divisions in Europe are definitely commendable. Thanks to these calls, arms control has re-entered the international agenda (primarily through the OSCE Structural Dialogue). However, it is not enough to try to protect the mechanisms and even the principles negotiated in the past for the success of the military restrictions.
It is important to reflect on major changes that make the straightforward application of old records less promising and require the redesign of the very basic principles of gun control dogmas.
Russia did not receive enough security guarantees from the West in the 1990s and 2000s. As a result, the level of mobility of the Russian military force and even the degree of unpredictability in the deployment became a compensation for the gap between NATO and conventional forces.
At the same time, it was a logical way to triangulate the combination of a large region, a relatively small population and a reduction in military spending. The drastic structural reforms implemented after 2008 and the large-scale instant exercises carried out by Moscow since 2013 have led to the establishment of new principles that have turned Russia into a more effective military force.
The desire to achieve more mobility also paved the way for NATO to decide to revive two powers related to logistics and transatlantic communication. These developments raised mutual concerns about the unpredictability of the other party in potential crises in Russia and the West.
These criteria may not be fully applied to new doctrinal priorities. Today's armies associate threats over time rather than geography, quality rather than quantity, and integrated networks, not specific weapon types. The size of the armies decreased, but the percentage of units with high readiness increased.
Therefore, applying advanced military systems carries the risk of miscalculations and misperceptions. It is not the real potential of technologically superior skills that have the greatest destabilizing effect, but the uncertainties about untested tools and applications.
For example, the strategic trilogy concept that featured during the Cold War (including intercontinental ballistic missiles, submarine missiles and heavy bombers) opposed the traditional split between the Land, Navy and Air Force. Today, it is important to think equally creatively about reducing complexity while maintaining the validity of any potential limitation in the military field on the one hand.
This does not necessarily mean that they will avoid any commitment. However, the current political transformations undermine European actors in an effort to organize military positions, making possible arrangements more fragile.
However, there is a qualitative difference between the current situations. At that time, concerns about Asia led to changes in regime design, these are very important for the fate of Asia today. Given the ongoing trends in power transition, Europe's prospect of isolation from external influences can be expected to decrease further. In terms of strategic stability, efforts to reinstate weapon constraints will be defined by the transition from a two-factor balance between Russia and the United States to a multilateral equation where China, as well as India and some other states, have a greater role.
This assessment shows that many of the premises developed for arms control in the second half of the 20th century were no longer valid. It is very important to adapt to the features that define modern agile forces to promote meaningful institutions that provide greater predictability and increased control. This requires the ability to regulate dynamic positions, qualitative criteria rather than quantitative criteria, and integration tools rather than only vehicles with striking capacity.
The need to reconsider the basic categories that define the various levels and aspects of military balance is not unimportant. In particular, strategic stability becomes an increasingly reduced concept, with the emergence of new skills that can affect it. Also, there are new ways to harass, force, and overthrow opponents outside of the war, which can disrupt stability. Since the ability to regulate depends on the ability to define regulatory objects, serious conceptual work should be done before possible negotiations on future weapon control.
Finally, global power transitions mean that successful arms control in Europe requires greater sensitivity to developments elsewhere. Regional actors must either find ways to minimize the wider reflections of local regulations in an increasingly interconnected world; either try to turn certain mechanisms into global norms; or design regimes to strengthen them, rather than putting pressure on other major areas of operation.