Tribunal rejects China's claims in South China Sea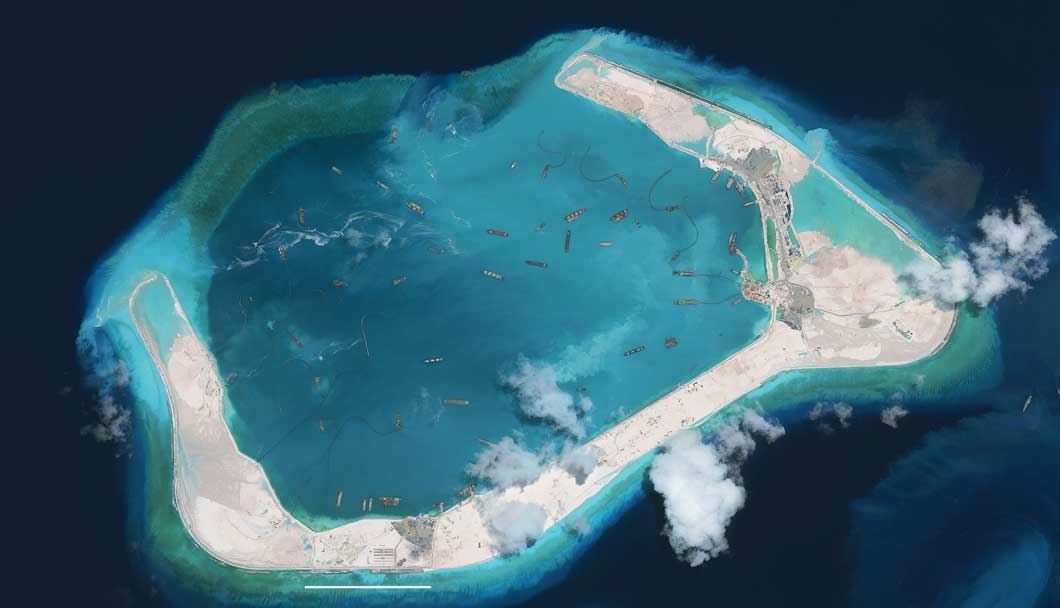 An international tribunal, Permanent Court of Arbitration (PCA), has ruled against Chinese claims to rights in the South China Sea, backing a case brought by the Philippine, declaring that there was no evidence that China had historically exercised exclusive control over the waters or resources.
The tribunal ruling in a sweeping decision on July 12, obviously under strenuous US pressure tactics, that China has no legal basis for claim has further aggravated the seething regional dispute with its large-scale land reclamation and construction of artificial islands that destroyed coral reefs and the natural condition of the disputed areas.
The tribunal also found that China had interfered with Philippine petroleum exploration at Reed Bank, tried to stop fishing by Philippine vessels within the country's exclusive economic zone and failed to prevent Chinese fishermen from fishing within the Philippines' exclusive economic zone at Mischief Reef and Second Thomas Shoal.
Ruling on a variety of disputes the Philippines asked the tribunal to settle between it and China, the five-member panel unanimously concluded that China had violated its obligations to refrain from aggravating the dispute while the settlement process was ongoing.
The Philippines, which sought the arbitration ruling, welcomed the decision, and China rejected it outright. "The Philippines strongly affirms its respect for this milestone decision as an important contribution to ongoing efforts in addressing disputes in the South China Sea," Foreign Secretary Perfecto Yasay said in Manila. He pledged to pursue a peaceful resolution of his country's territorial disputes with China.
The ruling is binding on both countries under a UN treaty that both have signed, but there is no policing agency or mechanism to enforce it. The tribunal said that any historic rights to resources that China may have had were wiped out if they are incompatible with exclusive economic zones established under a UN treaty.
It also criticized China for building a large artificial island on Mischief Reef, saying it caused "permanent irreparable harm" to the coral reef ecosystem and permanently destroyed evidence of the natural conditions of the feature.
China called the ruling "ill-founded" and says it will not be bound by it. China claims almost all of the South China Sea, including reefs and islands also claimed by others.
The ruling came from an arbitration tribunal under the United Nations Convention on the Law of the Sea (UNCLOS), which both countries have signed. The ruling is binding but the Permanent Court of Arbitration has no powers of enforcement. The US sent an aircraft carrier and fighter jets to the region ahead of the ruling. Meanwhile, the Chinese Navy has been carrying out exercises near the disputed Paracel islands.
Philippe Sands, a lawyer for the Philippines in the case, said it was a "clear and unanimous judgment that upholds the rule of law and the rights claimed by the Philippines". He called it a "definitive ruling on which all states can place reliance".
However, the China said that "as the panel has no jurisdiction, its decision is naturally null and void". In a statement, the Chinese foreign ministry said China was the first to have discovered and exploited the South China Sea islands and relevant waters, "thus establishing territorial sovereignty and relevant rights and interests".
The tribunal was ruling on seven of 15 points brought by the Philippines. Among the key findings were: Fishermen from the Philippines and China both had fishing rights around the disputed Scarborough Shoal area, and China had interfered by restricting access; China had "destroyed evidence of the natural condition of features in the South China Sea" that formed part of the dispute; Transient use of features above water did not constitute inhabitation – one of the key conditions for claiming land rights of 200.
There were no celebrations, hardly even a smile in Philippines.. And there's a reason for that. This is not the same government that first brought this case to the Permanent Court of Arbitration three and a half years ago, in the aftermath of a standoff at Scarborough Shoal. Two weeks ago, Rodrigo Duterte was sworn in as Philippine president. All the indications are that he is more willing to seek accommodation with the Chinese than his predecessor, Benigno Aquino. Here in Manila, many believe that the new president may have sought promises of Chinese investment, in return for a quiet, dignified response.
As already declared, China quickly responded saying it does not accept or acknowledge the tribunal or the ruling. China has long maintained that the tribunal did not have jurisdiction over the dispute. China drafted its nine-dash line to demarcate its claims to virtually the entire South China Sea. Manila brought the case because China's claims infringe upon its own 200-mile exclusive economic zone.
China, which boycotted the case, summoned its demobilized sailors and officers for training drills in exercises that apparently started just days ago. The People's Liberation Army Daily newspaper said on social media that Chinese navy reserves have been called up to perform "functional tasks." The post followed online rumors that reservists in central Chinese provinces were called up for an unspecified mission from July 10-22.
The dispute centers on waters through which an estimated $5 trillion in global trade passes through each year and are home to rich fishing stocks and a potential wealth of oil, gas and other resources. The ruling comes as the USA has ramped up its military presence in the region. However a new Philippine leader who appears friendlier to Beijing could also influence the aftermath of the ruling.
China has argued that the tribunal has no jurisdiction and says it won't accept the ruling. It has insisted that bilateral talks between Beijing and other claimants is the only way to address the dispute.
In the Philippines, interestingly, more than 100 left-wing activists marched to the Chinese Consulate in metropolitan Manila, yelling, "Philippine territory is ours, China get out." They called their campaign to push China out of the South China Sea, "CHexit" or "China exit now."
Vietnam, meanwhile, accused Chinese vessels of sinking a Vietnamese fishing boat in disputed waters. Nguyen Thanh Hung, a local fisheries executive in the central province of Quang Ngai, said two Chinese vessels chased and sank the Vietnamese boat around midday Saturday as it was fishing near the Paracel islands. The five fishermen were rescued by another trawler around seven hours later.
Findings of the tribunal are binding on the parties, including China. But the court — without police or military forces or a system of sanctions at its disposal — can't enforce its ruling, so its potential impact remains unclear.
World was looking forward to the Permanent Court of Arbitration in The Hague ruling on July 12 over a case between the Philippines and China over the South China Sea. The case was filed by the Philippines back in 2013 under Annex VII of the United Nations Convention on the Law of the Sea (UNCLOS), the primary treaty governing international maritime law—both countries are party to the treaty.
The ruling was expected to determine who will write the navigation rules for South China Sea, and therefore, control trade in the region, China or Philippines's close ally, the USA. That's why both China and the USA (with its Asia pivot program) stepped up their presence in the area ahead of the ruling.
Many experts concede it really does matter who controls South China Sea trade, considering that 60% of this commerce goes to China, the US in essence presently controls commerce to China. This means that it is very easy to rationalize what China is doing, they argue. In the 1930's it was the USA, France, England and the Netherlands which controlled all the commerce passing through the South China Sea.
It was this control that allowed the USA to impose an economic and oil embargo on Japan. This economic aggression led to Japan's attack on the USA. The aggression against Vietnam was part of the overall plan to keep Vietnam as a colony and in turn retain control of maritime traffic in this part of the world, i.e., China's backyard.
The US has militarized this area from the Philippines to Korea and added a couple of carriers which in air power alone is 10x what China has done in those islets. What China is trying to do is to gain control of its own commerce or to be better able to defend against any US aggression — and this makes perfect sense. For China it is an existentialist endeavor; for the USA, it is trying to keep world hegemony
It is argued that China and its neighbors should use American power to ease rather than escalate the on-going disputes in the region. "China and its neighbors should see and use American power as backing for peaceful efforts to resolve their disputes, not as an excuse for deferring or avoiding settlement of their differences.
The issues of the South China Sea are too trivial to be allowed to spark armed conflict or trans-Pacific confrontation. The rebalancing of US global strategy toward the Indo-Pacific known as the "pivot" is welcome by Americans ad allies as "timely and appropriate". But it should lower military tensions between the nations of the Indo-Pacific and thus between China and the USA, not lock these tensions in, still less escalate them. US diplomat Chas W. Freeman says that all disputes are solvable, if those enmeshed in them are willing to make the effort to imagine and pursue solutions to them. The parties need urgently to get on with this. And they deserve American encouragement to do so.
A debate is taking place around who is right and who is wrong and who will benefit from the tribunal ruling. If modern trade is viewed within the traditional mercantile system, where trade is a vehicle of exploration, it benefits only those who control South China Sea trade. But if the trade is viewed within the modern global system where trade is a vehicle of economic growth and prosperity for all parties involved, it doesn't matter who controls South China Sea trade.
Therefore, China and other regional powers should consider the second option for peace and prosperity for the region, while USA which is not at all linked to the region should help promote peace and tranquility in the region without using the remaining pro-US nations in Asia Pacific against China which is a key financier of US capitalists. While USA opposes and even obstructs development of socialism anywhere in the world by misusing the international financial institutions like World Bank and IMF, China, still claiming to be a communist country, goes all the way out to subsidize US capitalism.
Chinese pneumonia outbreak (2019-nCoV): An emerging threat to global public health?
"People's live and health should be given top priority and the spread of the outbreak should be resolutely curbed". – President Xi Jinping
After decade of neglect, infectious diseases (IDs) have re-emerged as a field of inquiry in the area of global public health and health security. Gradually, the world has come to realize the threat of emerging IDs. Human history is abundant with stories of epidemic infections. Epidemiologically, IDs tend to follow a cyclical pattern, since they often produce immunity in survivors, and microbes await a new generation of hosts to infect. On the other hand, the disease-causing viruses or microorganisms migrate to geographically distant and immunologically vulnerable inhabitants, producing a pandemic, or regional and global outbreak. The historical relationship between the humanity and IDs is fascinating and noteworthy. IDs plagued civilizations long before the development of territorial states during the European Renaissance. Subsequently, epidemic diseases shaped human history, generally, and military conflict, in particular. During the Peloponnesian Wars, disease demoralized the Athenian people, weakened the army, and undermined the political leadership. Subsequently, more than 2,500 years later, the 1918 influenza epidemic killed 25 million people, including 500,000 Americans. The Spanish flu struck 294,000 allied troops in the fall of 1918.Moreover, the 1918 flu pandemic killed 50-100 million, which is more than the combined total casualties of World War I and II.
Until the early twentieth century, plague, smallpox, influenza, and other scourges decimated human populations around the world. Despite exceptional improvement in pandemic control, IDs remain a major threat to global public health. In 1998, 13.3 of the 53.9 million deaths worldwide, or 25 percent of all death, resulted from IDs. Historically, some major disease outbreaks in China, including the 1957 Asian flu, the 1968 Hong Kong flu, and the 2002/03 SARS (Severe Acute Respiratory Syndrome) epidemic, have triggered epidemics elsewhere in the world, killed approximately800 people around the world. In total, SARS infected more than 8,000 people in 26 countries. As demonstrated in the SARS epidemic, the new strain of coronavirus (2019-nCoV), which causes a type of pneumonia that has not previously been identified in humans, resulting spillover of disease outbreaks in China and neighboring countries.
The 2019/20 novel coronavirus outbreak, also known as the Chinese pneumonia outbreak or the Wuhan corona virus, is a viral outbreak that was initially identified during mid-December 2019. Chinese authorities identified the new corona virus has resulted approximately500 confirmed cases in 13 provincial-level regions in country, and additional cases being identified in a growing number of countries internationally. On January 21, 2020, the first case in the United States was also announced. Confirmed cases have also been reported in Macau, Hong Kong, Japan, Thailand, South Korea and Nepal. As of January 22, 2020, nine deaths have occurred all in China. Thus, 2019-nCoV may have serious implications on stability, prosperity, and health security at the global level. Factually, we have now entered in a new era characterized by the dreadful consequences of decade of negligence of IDs at the global level. There is a great desire to know what the future of IDs will bring, and also to know how we should behave in the future to minimize the IDs outbreaks and casualties. Now is the high time to realize that we are in darkness than to pretend that we can see the light.
Tsai's re-election Poses New Challenge to China
Taiwan is never out of news. Taiwan-China ties is now a part of popular folklore with Beijing expressing its resolve a number of times to integrate the island nation with the mainland by all means and if necessary by the use of force and Taiwan defying the might of China's growing military muscle. The political pendulum in Taiwan has swung between parties which are fiercely independent and those which take a softer stance towards Beijing. The latest in this narrative is the resounding landslide victory by the incumbent President Tsai Ing-wen of the Democratic Progressive Party (DPP) when elections were held on January 11. The landslide victory that the voters delivered is also a stunning rebuke of Beijing's campaign to isolate the self-ruled island, handing over its first female leader a second term. It was only in November 2019 that Tsai's DPP suffered a huge defeat in Taiwan's local elections but the political pendulum swung quickly in her favour, with the political resurgence ensuring her victory and another term at the helm to carve out a course for Taiwan' future.
Tsai's victory would surely infuriate China. Soon after her victory, Tsai told the cheering crowd: "Today we have defended our democracy and freedom, tomorrow let us stand united to overcome all challenges and difficulties". Tsai secured 57 percent of the popular vote with a record-breaking 8.2 million ballots, 1.3 million more than her 2016 victory. Her main rival Han Kuo-yu, from the China-friendly Kuomintang, racked up 39 per cent and conceded defeat. The DPP managed to retain its majority in the island's unicameral parliament with 61 out of 113 seats, while the KMT took 38 seats. The result is a blow for Beijing, which views Taiwan as part of China and has made no secret of wanting to see Tsai turfed out.
Over the last four years, Beijing had ramped up economic, military and diplomatic pressure on the self-ruled island, hoping it would scare voters into supporting Tsai's opposition. But the strong arm tactics backfired and voters flocked to Tsai's DPP, fuelled in part by China's hard-line response to months of huge and violent pro-democracy protests in Hong Kong. The US, the main backer of Taiwan and bound by the Taiwan Relations Act and therefore main military ally, rejoiced Tsai's re-election as it felt that it would contribute to maintaining cross-Strait stability.
What is that came in Tsai's favour that led to her victory? She pitched herself as a defender of liberal democratic values against the increasingly authoritarian shadow cast by China under President Xi Jinping. As said, Beijing has vowed to one day retake the island, by force if necessary and loathed Tsai because she refuses to acknowledge the idea that Taiwan is part of "one China". Though Tsai is committed to dialogue with Beijing and wants peace, she is not shy to urge Beijing to halt its sabre-rattling towards Taiwan. She expects that Beijing respects the idea that only the island's 23 million inhabitants can decide its future.
There is yet another angle to Taiwan-China relationship. As with many other Asian countries, China has successfully increased Taiwan's dependence on it economically making the latter as its largest trading partner, thereby increasing Taiwan's vulnerability. Beijing lost no time in reacting that it continues to stand by its policy of opposing any form of Taiwanese independence and its spillitist attempts and that it "uphold(s) the basic principles of 'peaceful reunification' and 'one country, two systems' and the one-China principle."
Taiwan's election results showed that Beijing's carrot and stick policy utterly failed. This was the second major electoral setback for Beijing in recent weeks. In November, Hong Kong's pro-democracy camp scored a landslide win over pro-Beijing parties in district elections as the city convulses with months of anti-government protests. Tsai's landslide victory was indeed a slap in the face to Beijing as Taiwanese voters rejected to its intimidation. In the coming months it is to be seen if Beijing's hardline position towards Tsai shall continue or if Beijing adopts a more 'soft sell' approach that is more carrot and less stick from now on. That is unlikely to happen, though.
For record, Beijing hoped that it could replicate the Hong Kong model of "one country, two systems" in Taiwan with the hope that it can apply the same model on Taiwan if the island ever came to be controlled by Beijing. But as the election outcome demonstrated Taiwanese voters are wary of such a proposal.
What is indeed Tsai's doctrine? As can be discerned from her address on May 20, 2016 after her victory for the first time as President, her international policy vision clearly intended to drive the country away from its reliance on China and toward the rest of the world. In her speech, Tsai articulated Taiwan's New Southbound Policy, which implied that Taiwan shall engage with South and Southeast Asian states and share its expertise and democratic values with an international community.
Beijing has successfully worked for Taiwan's isolation by economic doles to countries that maintained diplomatic ties with Taiwan, leaving only 15 countries now with diplomatic ties from the 22 nations that had diplomatic relations with Taipei when Tsai became President in 2016. Between 2016 and now Beijing successfully campaigned to poach Taipei's allies and pressured international organizations and corporations to exclude Taiwan, from the World Health Assembly to Marriott and American Airlines. Owing to China's pressure, the United Nations, which does not recognize Taiwan, has stopped allowing Republic of China passport holders into its New York headquarters.
The DPP does not recognize the so-called "1992 consensus" considered by Beijing to be indispensable for cross-strait exchanges. While Beijing interprets the consensus as the self-governing island and the mainland as part of a single Chinese nation, Tsai refuses to acknowledge it as the "consensus" limits Taiwan's international space and severs the official cross-strait communications that had thrived under her predecessor, Ma Ying-jeou. Tsai has successfully rebuffed the Chinese pressure and bolstered Taiwan's international presence. Her New Southbound Policy received a boost from the US-China trade war. She realised that by befriending the US, she can garner global support so that she can keep a hostile Beijing at bay and preserve Taiwan's sovereignty. Thus, Tsai hoped that Taiwan can present itself as a more humane, democratic alternative at the international stage.
From its part, Taiwan has worked hard to retain its remaining diplomatic allies despite Beijing's attempts to woo them away from Taiwan to China. For example, in May 2018, Taiwan agreed to assist Haiti in securing a $150 million infrastructure loan from Taiwanese banks. Also in May 2019, Taiwan agreed to extend a $100 million loan to Nicaragua and its embattled President Daniel Ortega. Though both Haiti and Nicaragua are serial rights violators, both states are among Taipei's 15 remaining formal allies. Though the deal is still active, Nicaragua has not yet received its loan as Taiwan has not found a domestic bank to transfer the funds due to fears of US sanctions.
Though Tsai has spoken of creating an 'Alliance of Democratic Values' to stand in opposition to an increasingly overbearing China, some of her diplomatic moves are questionable. This is because Tsai has "rewarded" rights violators like Nicaragua, Haiti, and eSwatini, an absolute monarchy and one of the world's least free states. King Mswati III rules all branches of national government, and critics of the king are subject to imprisonment. In 2018, the king received an honorary degree from a Taipei university, where Tsai thanked eSwatini "for speaking up for Taiwan and always being by our side." Such conduct on the part of Tsai can have few supporters. While continuing her fight to keep Taiwan's remaining allies, Tsai might toy with the idea of replacing Republic of China (ROC) with a "Republic of Taiwan" in preparation to a future declaration of Taiwan independence. Beijing has warned that any such move could trigger a use of force against Taiwan.
Instead, it could be more desirable if Tsai continues to pursue her New Southbound Policy, seen as deepening Taiwan's ties with other Asian states and as a way to build more sustainable ties so that Taiwan could survive as a peaceful nation without worrying much about pressure from China. The New Southbound Policy has won praise for assisting Taiwanese businesses in China in returning to Taiwan. These companies have benefited from government incentives and for relocating to Southeast Asian states. Coming in the wake of the ongoing US-China trade dispute, the initiative announced in 2016 has motivated Taiwanese companies to leave China and avoid high export tariffs. With her re-election, Tsai is expected to continue with her engagement with neighbouring countries and drive Taiwan's foreign policy and trade away from the cross-strait paradigm. What probably is lacking or weak is to inject the new dimension of ethics-based foreign policy in Tsai's narrative.
A lot was at stake for Tsai when she sought a second term. And, now with her win, the global impact of the result is going to be huge. Taiwan has played a key role in the global supply chain as a high-tech manufacturer, mostly notably as an Apple Inc supplier. Its strategic location just off the coast of China and on the edge of the Pacific is equally important. Taiwan is also a potential military flashpoint between the US and China as the former sells arms and provides other assistance to Taiwan. The island nation also lies on major shipping lanes between Southeast Asia and US allies Japan and South Korea, and on the disputed South China Sea, where China has built artificial islands and air bases. Taiwan is also close to a major US military base on the southern Japanese island of Okinawa.
Leading democratic nations honour Taiwan's democratic credentials despite not maintaining official diplomatic ties. It is therefore for this reason when Tsai says it is up to Taiwan, not China, to decide the island's future, and warns of the Chinese threat to democracy and liberty, the world listens. It was also a reason why her main opponent Han Kuo-yu of the Kuomintang party, which ruled China until 1949 when forced to flee to Taiwan after losing a civil war, lost as he favoured close ties with China and believed that it was the only way to ensure Taiwan's security and prosperity. His double-speak was that he also claimed to defend the island's freedom and democracy.
Though China was closely watching the elections and expected a Han victory, the people of Taiwan thought otherwise in reposing faith with Tsai. What China is likely to do now is that it would further ratchet pressure on Taiwan, perhaps even by conducting military drills close to the island to intimidate. China needs to be mindful that a conflict would hugely damage both China and Taiwan that it can ill afford. The real test/danger would come if Tsai declares formal independence and term Republic of Taiwan and if so, if Beijing would use force to reclaim the island as mandated by its 2005 law authorising the use of force against Taiwan if China judges it to have seceded.
Positions of the US and China
As expected, the US rejoiced in Tsai's victory, hailing it as a demonstration of the island's "robust democratic system". Although the US has no formal diplomatic ties with Taiwan, it is bound by law to provide the island with means to defend itself. The US State Department issued a statement, saying that "under her leadership, we hope Taiwan will continue to serve as a shining example for countries that strive for democracy, prosperity, and a better path for their people".
The US saw the election results as a blow to China. Though it did not take any open position, it expressed concern at Chinese efforts at intimidation and influence. When Beijing successfully wooed some of Taiwan's diplomatic allies in Central America and the Pacific, the Trump administration was dismayed, which is why it approved billions in new arms sales to Taiwan so that it can defend its sovereignty when needed. The US is concerned that Beijing has been trying assiduously to wean away Taiwan's remaining allies, trying to see that they stick with Taipei and not give Beijing further foothold.
Even when the US-China trade stand-off continues and elections in Taiwan over, the US transited one of its warships through the Taiwan Strait, a move that irked Beijing. The passage of the USS Shiloh guided-missile cruiser through the narrow waterway, separating the island from the Chinese mainland, was announced by the Taiwanese Ministry of National Defense and confirmed by the US Seventh Fleet as a "routine visit", demonstrating the US commitment to a free and open Indo-Pacific.
Interestingly, the development came a day after President Trump and his Chinese counterpart Xi Jinping sealed a "phase one" trade deal as part of a broader bid to reduce trade tensions that have stirred up global markets for more than a year. The deal, however, is unlikely to resolve persisting and much wider strategic tensions between the US and an increasingly powerful China.
Though Beijing did not react on the passage of the US warship through the Taiwan Strait, it said that it does not oppose "normal passage" of foreign vessels through the strait, though it censures trips aimed at sending a geopolitical signal. Beijing is paranoid that Tsai is getting cosy with Washington, accusing the latter as the main reason for sowing rising discord between the mainland and Taiwan. Beijing is further dismayed that diplomats from Britain and Japan congratulated Tai on her re-election.
Writing in Japan Forward, Robert Eldridge says that like the US, Japan should have its own Taiwan Relations Act. The administration of Abe Shinzo is openly cozy with the Tsai administration. He and his brother Nobuo Kishi are known to be highly pro-Taiwan. There have been a variety of formal and informal interactions between the two countries. In March 2017, Senior Vice Minister of Internal Affairs and Communications Jiro Akama travelled to Taipei for one day to promote tourism. He was the most senior Japanese official to visit Taiwan in 45 years. In response to criticism from China, Abe later responded that Taiwan is "an important partner that shares Japan's values and interests." In addition, Keisuke Suzuki, the director of the ruling Liberal Democratic Party's youth division and a member of Deputy Prime Minister and Finance Minister Taro Aso's faction, visited Taiwan. He again visited Taiwan to attend a Taiwan-US-Japan security-related conference at which he argued for a Japanese version of the Taiwan Relations Act (TRA).
Japan, which chose diplomatic relations with the People's Republic of China over Taiwan, has no such TRA governing its relations with Taiwan, despite the historic, geographic, and socially close ties it has with Taiwan. However, while the US passed the TRA in a matter of weeks, Japan has been unable to do it over the course of decades.
Reactions in Hong Kong
Expectedly, Hong Kong protestors feted landslide election win for Tsai. They saw this as a fillip to their movement that puts pressure on China. The former British colony returned to Chinese rule in 1997 amid promises it would be granted a high degree of autonomy and eventual universal suffrage. But China's tightening grip on the city and Beijing's failure to live up to its promises have fed the unrest. This is one of the biggest popular challenges to the ruling Communist Party since the return.
There is a growing opinion within the DPP that Taiwan owes Hong Kong more concrete support. The election outcome demonstrates that it is a proof that Xi Jinping's strategy of keeping Hong Kong and Taiwan under control is a total failure. The 23 million people of Taiwan are not willing to give up their sovereignty and subject to the authoritarian control of the Chinese leadership.
Taiwan was part of Japan for 50 years before being handed back to the 1911 regime, and has never been ruled by the Chinese Communist Party, nor has it formed part of the People's Republic of China. Tsai argues that the erosion of democratic progress and civil liberties in Hong Kong under China's "one country, two systems" means that Taiwan should never take Beijing seriously when it talks about "unification." Taipei expects Beijing should respect the popular will of the Taiwanese people as reflected in the election outcome. Viewed from all perspectives, Tsai's re-election could prove to be a fundamental turning point for Taiwan. This does not mean to suggest that Beijing would soften its stance any time soon as Beijing made it clear that its position would not change even if Tsai is re-elected. China is committed to promoting "one country, two systems" for Taiwan, a model under which Beijing runs Hong Kong with a high degree of autonomy. Tsai has openly rejected such a system. Given the divergence of positions by both sides, the future is full of complexities with no ready answer in sight.
Neo Illustration of 2020 World: Distinct Dimensions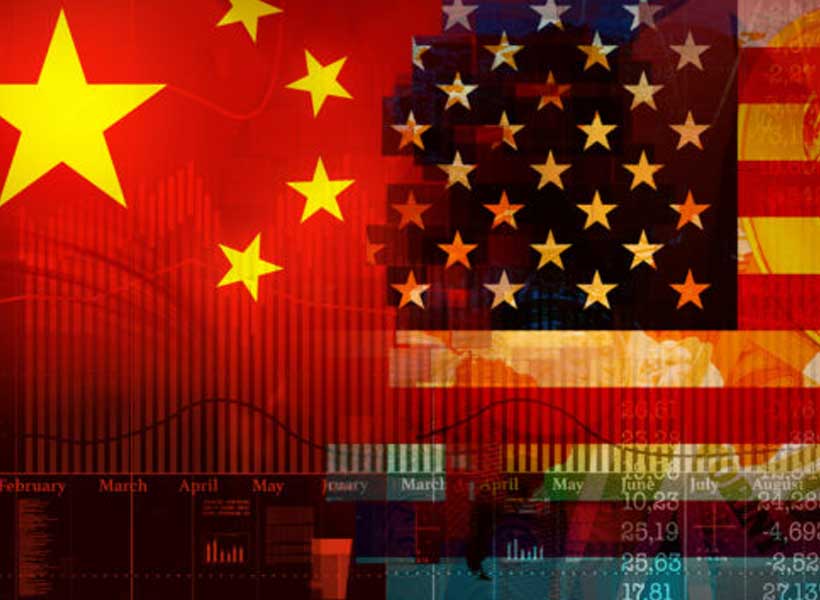 The global set of circumstances in the erstwhile months are revealing a neo illustration of the world for the year 2020. The vying which remained restricted and controlled in the South Asia and Middle East for the preceding years have tossed and turned. The tussle which requires to be untied is that who is the restive yearning to wide wake the likeliness of a wartime and what are its real haves in the view?
Dimension Four
China's upsurge as an economic giant has been nipping the US statecraft since the extensive years. The eighteen months old 'Trade war', a locution floating among US -China fiscal ties is an explicit evidence to it. The pronounced term trade war although not seems a strap butchery breed of war but is casting its hefty footprints all over the Asia and Middle East. With China Pakistan Economic Project-CPEC entering its Phase-II with the dawn of year-2020 the concerns of West and New Delhi seems to multiply. Pakistan's Minister for Planning and Development Asad Umar mentioned that the project Phase-I was based upon the perusal of routes for the transit and transport of goods and speculation of the infrastructure gaps. Here now when the scrutiny has been concluded, the Year-2020comes up with new goals and challenges Pakistan and China. The take aim is to develop the Railways Main Line (ML-1), a $9 billion project, expected to give a swift boost to the steady progress. The prime focus in Phase-II is the establishment of the three Special Economic Zones (SEZs). Rashakai in Nowshera, Allama Iqbal in Faisalabad and Dhabeji in Thatta to enforce greater connectivity. The initiative to SEZs development was taken long ago during the 6th and 7th Joint Coordination Meeting in 2016 and 2017 respectively. It was estimated that the zone scheme would be complete up to year-2030. All eyes are hopefully fixed upon Chinese headway with Washington performing its part to counter its economic rise. The question is will Beijing be able to give its China's dream a real image by the end of this decade? What are the agents that can play an obstacle? Thus the year 2020 and onwards are the finale crucial pivotal years to prove the feasibility in the Chinese Dream.
Dimension Three
The earlier flutter back created through the American president Donald Trump's Kashmir mediation bombshell either fabricated or unfabricated brought Islamabad and New Delhi at the verge of another nuclear conflict. The antagonism in the matter had not diffused yet another stage was devised by the Pentagon's recent play in Baghdad. The killing of the Iranian General Qasem Soleimani, the most powerful figure in Tehran next to 'the Supreme Leader Ali Khomeini' is inevitably a massive blow to the Iranian and Iraqi sovereignty by Washington. The probing query of the moment is why United States is performing all this pursuit? Is it a weird dimension of the US-China Trade War? Is this US manufactured deterioration of the Asia and Middle East a succor to drub the China Pakistan Economic Corridor CPEC circuit. Beijing feat in Pak-China project and Trade war, largely depends upon the stability and sustenance of the South Asia ruined by the prior US disinformation politics and now the hound attacks in the Middle East is a continual effort to fracture CPEC routes and its prime members. The sequence of Iraq incident was right away followed by the Prime Minister Imran Khan inauguration of the mega project of the Special Economic Zone of Faisalabad Industrial Estate Development and Management Company (FIEDMC) under the China-Pakistan Economic Corridor.
Dimension Two
Are we to blame the American population who voted the Republican Party for Donald Trump's stay in the White House for the distorted delineation towards which almost the partial natives of the or bare leading or the great power's proclivity to exploit weak states every now and then for its national gains? Is the United States aiming to exhibit a third world war?
Dimension One
The fact not to neglect is of the spark of First World War with the brutal assassination of Arch Duke Ferdinand not in his own country but in Bosnia. The incident is a thought provoker for the analysts of day to figure why this tally replica episode did not signal another world war three yet. Is the contour of diplomacy and liberalism working well or has the criterion of war fluxed an evolution? Will the future wars be followed by trade conflicts? As of now the world is likely to face the unwelcomed chaos of US-Sino Trade War in substantial magnitude.