Theresa May Britain's new premier
Today Conservative leader Theresa May becomes the second woman politician in British history tasked with leading Britain into talks to leave the EU after her only rival in the race to succeed Prime Minister David Cameron pulled out unexpectedly. Margaret Thatcher had led her country for three terms, from 1979 to 1990. The Conservative Party leadership race of Andrea Leadsom faced criticism for suggesting Theresa was more qualified to be prime minister because she had children. Maybe she is the candidate of the Queen as David Cameron stepped down after six years over Brexit.
Al Jazeera's report from London said May was the choice of many in the ruling party. "Of the five people that contested the Conservative Party leadership, many people regarded Theresa May as perhaps the more establishment figure. She has been the home secretary, the interior minister, for the past six years and because of that she has had intimate knowledge of the workings of the government and has had to liaise very closely with her European counterparts on matters of security and immigration. May has much less of a track record in relation to the economics of European Union, and certainly the issue of Britain divorcing itself from the EU is going to be an issue that she is going to have to come to speed with very quickly.
Born in Eastbourne, Sussex, May studied geography at St Hugh's College, Oxford. From 1977 to 1983, May worked at the Bank of England and from 1985 to 1997 at the Association for Payment Clearing Services, also serving as a councilor for the London Borough of Merton's Durnsford Ward. After unsuccessful attempts to get elected to the House of Commons in 1992 and 1994, she was elected MP for Maidenhead in the 1997 general election. She went on to be appointed Chairman of the Conservative Party and be sworn of Her Majesty's Most Honourable Privy Council in 2002.
Ironically, May was a "Remainer" ahead of the June 23 referendum on EU membership, supporting Britain staying inside the EU. She will now be in charge of Brexit, tasked with uniting a fractured ruling Conservative Party, as well as a divided nation, and steering Britain in fresh waters outside of a declining European Union that has become a byword for economic turmoil. This is a moment for strong, bold leadership from a new prime minister with a reputation for toughness and resolve.
Theresa Mary May (née Brasier; born 1 October 1956), , a 59-year-old clergyman's daughter and British politician who has been the Home Secretary since 2010, faces major challenges when she takes the reins at 10 Downing Street of London. The new PM will oversee Britain's exit from the European Union, a two-year process which begins as soon as the new government triggers Article 50 of the Treaty of Lisbon. As Prime Minister, Theresa May will lead a Britain that is once again a truly sovereign nation, free to shape its own destiny and chart a new path as a global force.
Freed of the shackles of the EU, Britain is in a strong position to project power and influence on the world stage, alongside the USA. . As a Member of Parliament for nearly 20 years, May brings a great deal of political experience in a wide range of positions to her new position. She will head the world's fifth largest economy, with one of the most powerful militaries in the world, and a permanent seat at the U.N. Security Council.
For the first time in over 40 years, Britain will be free to negotiate its own free trade deals. Building a free trade area with the United States will be a top priority.
The US-UK Special Relationship will likely be strengthened rather than weakened by Brexit, and offers far greater opportunities for collaboration between London and Washington.
She would follow the example of the Iron Lady before her, who led her nation with great courage, conviction and fortitude, based upon robust conservative principles, and a willingness to always listen to the beating heart of the British people.
"I am honored and humbled to have been chosen by the Conservative Party to become its leader and, therefore, prime minister," said May in London after she was formally confirmed as the winner of the Conservative leadership contest on Monday afternoon. "During this campaign, my case has been based on three things. First, the need for strong, proven leadership to steer us through what will be difficult and uncertain economic and political times; the need to negotiate the best deal for Britain in leaving the EU; and to forge a new role for ourselves in the world."
May has portrayed herself as the leader who can unite the country following a bitterly divisive campaign, and a tough negotiator who can stand up to Brussels in what promise to be tortuous talks over Britain's exit from the European Union. Leadsom's withdrawal means all the top Brexit campaigners – Boris Johnson, Michael Gove, Leadsom and outgoing UK Independence Party leader Nigel Farage – have now stepped back from leadership roles. "Brexiteers threw rocks through the window, now they're all running away from the house," author Salman Rushdie said on Twitter.
Meanwhile, David Cameron has chaired his final cabinet meeting, with some "wonderful tributes" paid to the outgoing PM. Theresa May is preparing to take over from Cameron, who will hand in his resignation to the Queen on Wednesday. Mrs. May had been expecting a nine-week race for the Tory leadership, but rival Andrea Leadsom withdrew on Monday. "After that I expect to go to Buckingham Palace and offer my resignation," he told reporters outside his office in Downing Street. "So we will have a new prime minister in that building behind me by Wednesday evening." Sitting around the table at his final cabinet meeting were ministers who had taken opposing sides in the referendum. But this was a time for poignant tributes and thanks. And as the team of cabinet ministers later filed out of Number 10, wondering if they would be back and in what job, one member stayed behind – Theresa May, for half an hour.
Mrs. May, who has pledged to make Brexit a success, will appoint her own ministerial team when she takes office. She says she is "honored and humbled" to be taking over as Conservative Party leader Health Secretary Jeremy Hunt said there were some "wonderful tributes" to Cameron led by Mrs. May and Chancellor George Osborne. "There was a feeling across the cabinet of great pride at what David Cameron has achieved over the last six years, sadness that it has ended, in a way, perhaps much quicker than people thought, "But also huge gratitude to him for what's he achieved for the country and the way he's changed the Conservative Party," he said.
Britain has faced the worst political turmoil in generations following June 23's shock vote to leave the European Union, which prompted Cameron to step down. His party has endured a bitter leadership race, while the leader of the main opposition Labour Party, Jeremy Corbyn, is also facing a challenge to his job.
While May supported Britain staying in the EU, she cut a low profile during the referendum and has insisted she will honour the vote. "Brexit means Brexit and we are going to make a success of it," May said on Monday. "We need to unite our country … we need a strong new positive vision for the future of our country, a vision of a country that works not for the privileged few, but that works for every one of us because we're going to give people more control over their lives. And that's how, together, we will build a better Britain."
May wants to begin formal talks to leave the EU by the end of the year at the earliest, despite pressure from Brussels to speed up. Jeroen Dijsselbloem, the Dutch finance minister who heads the Eurogroup of his 19 eurozone counterparts, restated calls for the transfer of power to take place as soon as possible.
The pound, which hit a 31-year low in the wake of the Brexit vote, briefly rose after Leadsom, a pro-Brexit figure with no senior ministerial experience, withdrew from contention to be prime minister. As senior MP Angela Eagle formally launched her leadership challenge against Corbyn, Labour suggested a general election would need to be held soon after May takes office. "It is crucial, given the instability caused by the Brexit vote, that the country has a democratically elected prime minister," said election coordinator Jon Trickett. "I am now putting the whole of the party on a general election footing."
Quietly, calmly, power is passing from one prime minister to the next. At the back of Downing Street, cardboard boxes were carried to a bright blue removal van, the Cameron family's possessions heading for a new home. There hasn't been much time to pack. Theresa May's accelerated ascent to the premiership has hastened David Cameron's departure – his hopes of leading a five-year majority conservative government ended after one. When Mrs. May emerged into the sunshine, she walked one way, hesitated, then went the other – looking for her car. At the steps of Number 10 she gave an awkward wave for the cameras – a ritual she will have many chances to practice. As she left to plan her new cabinet, David Cameron made his last official visit as prime minister to a free school in West London. A moment to reflect on what he had achieved and what might have been!
Mrs. May is to appoint a new ministerial team when she takes over the reins today. The swift transition comes after the expected nine-week leadership campaign was truncated to just a couple of days by leading Brexit campaigner Andrea Leadsom's withdrawal from the contest. Mrs. Leadsom's surprise announcement meant Mrs. May, who had been the front runner, was the only remaining candidate in the race.
After being formally declared the winner of the contest, Mrs. May praised Cameron for his stewardship of the party and the country and paid tribute to Mrs. Leadsom for her "dignity" in withdrawing her leadership bid. But senior Labour MP Jon Trickett has joined the Lib Dems and Green Party in calling for a snap general election. Trickett, Labour's general election coordinator and an ally of leader Jeremy Corbyn, said it was "crucial" to have a "democratically elected prime minister" and said he was putting the party on "general election footing". Mrs May has rejected such demands.
The EU negotiation, controlling immigration and managing the economy were "huge issues" that would challenge Mrs. May's desire for a "steady as she goes" approach. Former chancellor Ken Clarke – who supported Mrs. May in the final ballot – said the new leader and prime minister needed to "balance the party" in her cabinet appointments. "She's got a real problem of bringing the warring wings of the party together. She'll combine her own strong personal opinions about who she wants to work with, with a desire to bring the party together," he said. But he cautioned that the party's small parliamentary majority would not make the task "easy". "To actually get the real head-bangers together on both sides and to see four years of government through will require some political skill… but she's pragmatic, she'll want to get on and do things," he said.
Mrs. May said she had based her leadership bid on the need for "strong, proven leadership", the ability to unite both party and country and a "positive vision" for Britain's future. And in a message perhaps designed to reassure Brexit-supporting colleagues, Mrs. May, a Remain campaigner, said: "Brexit means Brexit – and we're going to make a success of it."
Cameron, who has been prime minister since 2010, said Mrs. May would have his "full support", describing her as "strong", "competent" and "more than able to provide the leadership" the country needs.
David Cameron says he will take Prime Minister's Questions on Wednesday and then head to Buckingham Palace and officially tender his resignation to the Queen and recommend she sends for Theresa May as his replacement. Mrs. May will then go to Buckingham Palace to see the Queen and receive her invitation to form a government. Theresa May should then be in place as UK prime minister by Wednesday evening – it is not yet clear when the Cameron family will move out of No 10.
Several European media outlets say that with Theresa May's arrival in Downing Street, British politics may finally be about to enter a calmer period after the turmoil triggered by Brexit referendum. France's Le Figaro declares that "Theresa May will be the prime minister of Brexit. Deeply divided by the referendum on Europe, the Conservative Party reunites – at least it seems so – behind her and this objective, in a life-saving reflex." A commentary in the left-wing French paper L'Humanite says Tory heads have been "spinning" ever since the victory of the Brexit camp, but the party can now pick itself up and carry on. The Brussels correspondent Deutsche Welle believes that while Mrs May inherits an unenviable legacy from her predecessor, she is an experienced enough politician to be able to ride out the storm. Barbara Wesel says: "At least Britain and the rest of Europe now get a professional politician, not a fanatic. That is in itself good reason for being a little grateful." Frankfurter Zeitung's politics editor, Peter Sturm, takes a similar line, saying the choice of Theresa May provides some clarity for Britain and the European Union. He also cautiously welcomes the fact that she has not so far adopted any "extreme positions". However, Spiegel Online declares that Mrs. May "is considered to be cool but also to thrive on conflict. She may need this, as Brussels will now lie on the pressure."
Some European commentators make comparisons between Theresa May and other strong female leaders such as former British Prime Minister Margaret Thatcher and German Chancellor Angela Merkel. Thomas Kielinger, writing in the German daily Die Welt, says Mrs May shares with both women an aversion to "small talk and media chatter". The Italian daily Corriere della Sera describes Mrs. May as "a bit of Merkel, a bit of Thatcher" and notes that she "is reputed to be an uncompromising politician". Riccardo Scarpa, writing for Italy's Il Tempo, notes that with her declaration "Brexit is Brexit", Theresa May set out her stall "with the enthusiasm and determination of a woman who has already been dubbed the new Thatcher". A commentator calls her the Second 'Iron Lady'- the choice of the London queen.
How a U.S. Colony Works: The Case of Germany
On 15 July 2022, Britain's Reuters news agency headlined "70% of Germans back Ukraine despite high energy prices, survey shows", and reported that "Some 70% of those polled backed Germany's support for Ukraine, … found the survey conducted between July 12-14 by broadcaster ZDF." ZDF is funded by the German Government — German taxpayers.
Germany's AfD Party is one of the two Parties in Germany that are less than enthusiastically backing Germany's anti-Russia position, the other such Party being "Die Linke" or "The Left" Party, which is Germany's only socialist democratic Party, despite West Germany's "Social Democratic Party" calling itself "democratic socialist" while being neither.
The AfD Party issued a press release, on 25 August 2022, "Stephan Brandner: Skandalöse "Politische Filter" beeinflussen NDR-Berichterstattung" or "Stephan Brandner: Scandalous 'political filters' influence NDR reporting." It reported that Mr. Brandner, who is an AfD Member of the German Parliament, said that
After the self-service affair about the now hated RBB director Schlesinger, reminiscent of feudal structures, an online magazine now reports that employees on North German radio complain about 'political filters' from their superiors. According to the report …, public service broadcasting executives act like 'ministerial press officers'. …
As an AfD politician I am not surprised. After all, ARD and ZDF only report on the AfD with a 'political filter' and, for example, no longer invite AfD politicians to talk shows. … Compulsory contributions [by taxpayers, to 'public broadcasting'] should be abolished.
Mr. Brandner provided no evidence for any of his allegations. (That's the way politics is in a dictatorship. How can the public vote intelligently if they are routinely accepting allegations that are being made without supplying documentation? That's a dictatorship by lies and liars, and no democracy-capable public would accept it. In science, what is not documented to be true is assumed to be false — not assumed to be true. A democratic country operates on the basis of science, not on the basis of faith.)
However, this doesn't mean that Mr. Brandner's allegations there are necessarily false. One reason why they could very well be true is that there are six Parties in Germany, and the current governing coalition consists of the three that take the hardest line against Russia, and for America, and for the post-2014, U.S.–coup, anti-Russian, Ukrainian Government. The ruling coalition, those three Parties, are called the "traffic-light coalition", and include the rabidly neoconservative (or pro-U.S.-empire) anti-Russian Green Party, plus the U.S. Democratic Party-allied so-called "Social Democratic Party," plus the rabidly libertarian or "neoliberal" (pro-free-market, anti-regulation, and generally U.S.-Republican-Party-allied) Free Democratic Party; and they EXCLUDE (or give the red light to, and prevent from participating in the Government) the three least-anti-Russian Parties, which are The Left Party (the authentic democratic socialists, or progressives, ideologically opposed to any imperialism), the AfD Party (nationalists), and the U.S.-Republican-Party-allied CDU/CSU Christian Democratic and Christian Social Union Party.
Brandner raised an important question, without providing any evidence regarding its solution. But here are some relevant facts, regarding the extent to which Germany's Government tolerates corruption (which includes corruptness of a Government and of its 'news'-media):
On 14 December 2021, I did an analysis comparing the anti-corruption laws in three nations, and headlined "Political Corruption in U.S., Germany, and Russia". I concluded that
Although this is a very incomplete indicator of a country's corruptness, it does present the U.S. in a very favorable light, and present Germany (11 out of 12 "No"s [meaning no law against corruption]) as being rather astoundingly corrupt. Russia is midway between those two, perhaps because after Yeltsin's abominable rule, Putin cleaned up Russia's Government, but a lot of that job still remains undone, even after 21 years.
Germany's Government was more shaped by Truman than perhaps any in the world except America's own Government. But, from the present indicator, America's vassal nations would appear to be even more corrupt than the imperial center, the U.S., itself, is — at least insofar as their political campaign-finance laws ("what's written in black and white" in the lawbooks) are concerned.
Here was the summary, specifically regarding Germany:
Following here will be answers that are solidly grounded in the written laws of each of these three countries (though not necessarily reflecting how those laws are enforced — or not), regarding the 12 most clearly important questions that were studied. I present those dozen questions in the order that seems to me to provide the clearest sequence in order for the reader to interpret them, not in the order that was employed by the source:
"8. Is there a ban on anonymous donations to candidates?" "There are no explicit provisions regarding donations to candidates."
"2. Is there a ban on donations from foreign interests to candidates?" "There are no explicit provisions regarding donations to candidates."
"18. Is there a limit on the amount a donor can contribute to a candidate?" "There are no explicit provisions regarding donations to candidates."
"10. Is there a ban on donations from corporations with government contracts to candidates?" "There are no explicit provisions regarding donations to candidates."
"4. Is there a ban on corporate donations to candidates?" "There are no explicit provisions regarding donations to candidates."
"6. Is there a ban on donations from Trade Unions to candidates?" "There are no explicit provisions regarding donations to candidates."
"5. Is there a ban on donations from Trade Unions to political parties?" "There are [is] no explicit … ban on donations from Trade Unions to political parties"
"3. Is there a ban on corporate donations to political parties?" "Ban on donation from corporate bodies, but accepted if it is a business enterprise, of whose shares more than 50 per cent of shares are owned by Germans …"
"9. Is there a ban on donations from corporations with government contracts to political parties?" "No."
"14. Is there a limit on the amount a donor can contribute to a political party during a non-election specific period?" "No."
"16. Is there a limit on the amount a donor can contribute to a political party during an election?" "No."
"27. Are there provisions requiring donations to go through the banking system?" "No."
Consequently, Brandner's allegations might be expected to be true, simply because Germany, especially after the U.S. Government blew up the Russian gas pipelines to Germany and yet Germany's Government continues to be a U.S. vassal-nation, despite that U.S. act of war against both Germany and Russia. This indicates Germany's Government to be extremely corrupt, willing to ditch its own population in order to please its U.S. masters.
Europe's former imperial countries are now desperate U.S. colonies
India is no longer a colony of the UK, but Germany and other European countries have become — now quite obviously — colonies of the United States, and their economies will be financially bled by the world-bestriding U.S. imperialist center, just like the UK and other European nations had previously (and infamously) exploited India and its other colonies.
The U.S. Government's having blown-up the Nord Stream gas pipelines from Russia to Europe — after years of efforts to sabotage them more subtly by other, more 'diplomatic' (but less permanent), means — will leave Europe permanently forced to pay vastly higher rates to America and other liquefied natural gas (LNG) suppliers, and no longer with even a hope of receiving the far less-expensive Russian gas, which, until recently, fueled so many European firms to international competitiveness. Now, there's no longer even a hope for Europe to avoid sliding into the usual model of colonies, as being banana republics, of one sort or another.
It was so natural for Russia to be Europe's main energy-supplier, because Russia is a part of Europe, on the same continent as the other European nations, and therefore could pipeline its energy to them, and Russia had a surfeit of energy while the other European nations had a surfeit of need for it. That's the way international capitalism is supposed to function, but imperialistic capitalism is instead international fascism, and it survives and grows only by exploiting other nations. From now on, the European nations, other than Russia, will, for at least a long time (because those giant gas-pipelines have been destroyed) be paying the world's highest prices for energy (containerized and shipped, instead of simply pipelined), and buying much of it from Europe's imperial center, which is increasingly recognizable now as being Europe's real enemy: America. They will be paying tribute to the emperor — the billionaires who control the USA. These are the puppet-masters behind "the free world" (as their 'news'-media refer to it), which is actually the new international-fascist empire. As Barack Obama called it, America is "the one indisensable nation," which means that all other nations (in this case, the ones in Europe) are "dispensable." Now, these former imperial nations will finally get a taste of what it's like to be a "dispensable nation."
Here are some of the key U.S. operatives in Europe, who managed this situation, for the U.S. owners — brought this situation about (before Joe Biden's agents ultimately just pulled the plug on the whole operation):
Boris Johnson, Olaf Schulz, Annalena Baerbock, Robert Habeck, Ursula von der Leyen, Josep Borrell, Anders Fogh Rasmussen, Jens Stoltenberg, Emmanuel Macron, Mario Draghi — and, of course, behind the scenes, the billionaires who funded those leaders' political careers (via political donations, plus those billionaires' news-media and their other mass-public-opinion-forming organizations). These key agents will no doubt be paid well, in their retirements, regardless of what the public might think of them after their 'service to the public' is over.
Exporting Religious Hatred to England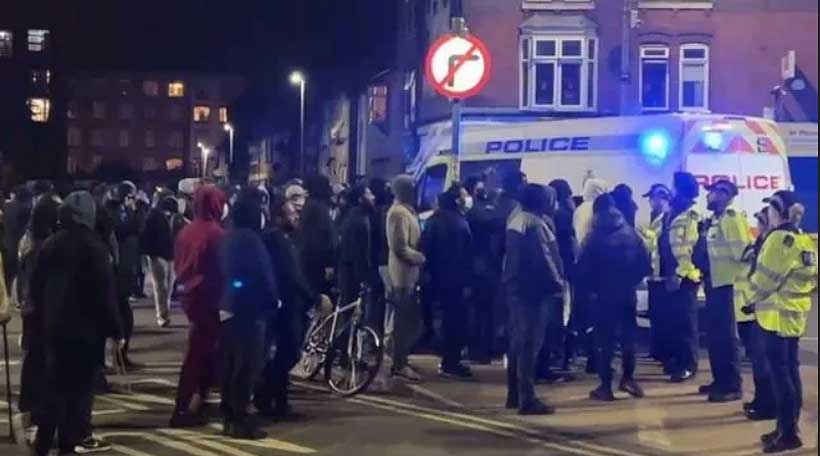 Not a place hitting the main news channels often, Leicester is a small town of 250,000 inhabitants about a hundred miles north of London and 40 miles east of Birmingham the UK's second largest city.
But an imported ideology is now the cause of religious violence that has profoundly affected Leicester's ethnic community of South Asians. This Hindutva ideology represents a belief in the transcendence of Hinduism and its culture.
Leicester prides itself as a city of tolerance and diversity where different religions and races all live together in relative harmony — a sort of 'live and let live and mind your own business' philosophy that had worked until recently. But under the surface simmering tensions burst forth recently. The trigger was a South Asia Cup cricket match between Indian and Pakistan held in Dubai and won by India.
Couple Hindutva with India's win and groups of Hindu young men were keen to demonstrate their might, and did so on isolated young Muslims. The latter then formed their own groups ready for revenge.
Where were the police one might ask. Well, a couple of beaten up Asian teenagers did not register as exhibiting anything more than random teenage violence. They were slow to react and did not discuss the ominous truth of religion as the prime mover behind the violence.
Civic leaders on both sides are now trying to quell the attacks. But the damage has been done and the seeds of ill-feeling have been sown within the community meaning Hindus vis-a-vis Muslims and vice versa.
India's per capita GDP is higher than for Pakistan or Bangladesh, the two countries bordering it, which together constitute the subcontinent. Thus the three countries are similar culturally. The next question to ask is why then is India hugging the bottom on the 2020 World Happiness Report, next to ill-fated war-torn places like Yemen. India is ranked 144 while its rival and neighbor Pakistan, although lower in per capita GDP, ranks a shocking (for India) 66. Bangladesh also ranks much higher than India at 107, despite its devastating floods and typhoons.
Perhaps the answer lies in the pervasive hate that is the currency of the ruling BJP (Bharatia Janata Party), a currency spent liberally during general elections to the detriment of the Congress Party, which has stood for a secular India since independence.
But hate yields more votes as BJP leaders Norendra Modi and Amit Shah know well. After all, they came to power via the destruction of the historic nearly five century old Babri Mosque, built on a Hindu holy site in an effort to ally Hindus by an astute Babur, the Mughal whose hold on India, just wrested from the Muslim Pathan kings, was still weak. It worked for Babur then; its destruction worked for the BJP in the 21st century
Has India become more civilized since?