The Baqee Organization to Washington to denounce cultural genocide
Civilizations are proud of traditions and construct relics to build heritage sites honoring revered personalities. The Saudi government defies normal traditions by destroying the relics & shrines of all religions including Islam. Baqee is a cemetery in Saudi Arabia where Prophet Mohammed's children, wives, companions, and relatives are buried. Since the destruction of Baqee in 1925 AD, it has become a symbol of the atrocities and brutality committed by Saudi Arabia and like-minded terrorist organizations such as ISIS, Al-Qaeda, Taliban, Boko Haram and other offshoots.
This is the exact same ideology that resulted in the destruction of Gautama Buddha statues in Afghanistan, Temple of Palmyra in Syria and the Tomb of Prophet Jonah in Iraq. These atrocities are a direct result of theWahhabi (Salafi) sect teachings, promoted by Saudi Arabia and exemplify their lack of tolerance, respect, peace and humanity. Apart from the destruction of heritage sites, the Saudi police display physical aggression on pilgrims visiting the cemetery especially women, which is a humanitarian issue.
A protest against Saudi Human Rights abuse held on July 13th in Washington DC, organized by The Baqee Organization, to denounce the disappearing of Islam's holy sites.
Since Wahhabism (Saudi Arabia's state religion) first rose its head in the desert of Nejd in the Hijaz, in the 18th century Islam, Christianity, Judaism and all other religious denominations have suffered a veritable cultural genocide.
Over 7000 Islamic sites have been destroyed to assuage Wahhabis' own sense of self-righteous bigotry, still the world has sat in silence. Firmly anchored in intolerance for they think their ideology holy, and pure, Wahhabi clerics have rationalized religious oppression and brutality, turning it into a well-honed system.
Amid the many crimes which were committed over the years one has towered over all as it spoke of a hate so entrenched in itself it could never be defined other than in ideological absolutism.
In 1925, Al-Saud regime took its wrath on al Baqee cemetery, where some of Islam's most noble personalities, including members of the Prophet Muhammad's family, are buried. As it lies in ruins, al Baqee came to represent Resistance – the call of a people against the injustice of radicalism, the need for a people to reclaim its History so that cultural and religious identity would not be lost.
Wahhabism has claimed many holy sites over the centuries — Gautama Buddha statues in Afghanistan, the Temple of Palmyra in Syria and the Tomb of Prophet Jonah in Iraq. Before Wahhabism, the world stands to see its memory erased. It is this violence, this insane pursuit for religious absolutism which the Baqee Organization ambitions to denounce, and oppose so that justice could be reclaimed.
Muslims and non-Muslims – beyond creed, ethnicity, and political persuasions, people from across the United States will stand in solidarity with the embattled citizens of Saudi Arabia and the countries it oppresses. Similar protests were also held at Saudi Arabian Consulates and Embassies in Los Angeles.
In the face of tyranny, we are all minorities. It is how we face injustice which truly defines our character.
Squid Game, Style influence and Sustainable consumption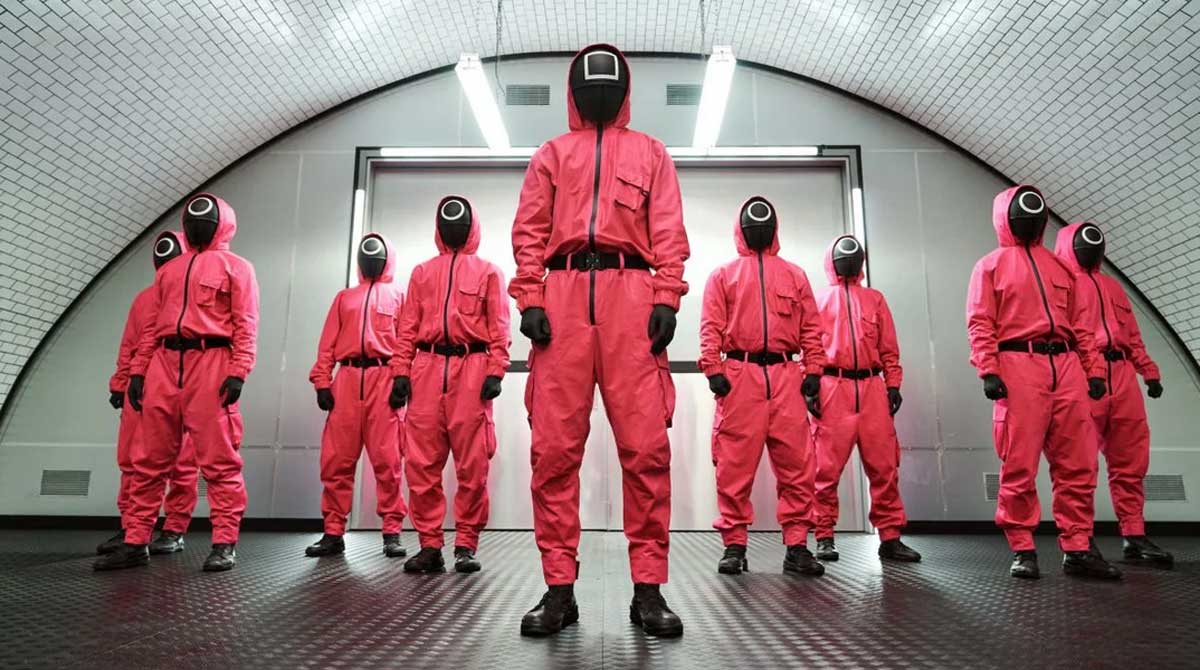 Have you heard about the recent South Korean drama blockbuster named Squid Game yet? It was released on Netflix on Sept. 17, 2021, and has quickly earned a worldwide audience. Since debuting, it has been viewed by more than 100 million people and has become the no. 1 trending in top 10 lists in 94 countries around the world.
Not only topped the list, but the South Korean drama has also created a trend that has influenced fashion style around the world and dominated the online platforms such as Google, Facebook, Instagram, and several online shopping websites: Amazon, eBay, Shoppee, and so on. On Google.com, you will find more than 223,000,000 results in only 0.53 seconds; on Amazon.com, the term "Squid Game costume" has also become a top finding, even when you have just typed only two characters "sq", the full term "Squid Game costume" will appear and you can find more than a thousand of results about this kind of clothes. 6,150 results for Squid Game costume appear when searching on eBay. On Instagram and Facebook, the hashtag #SquidGameCostume has recently become the most popular key hashtag and could be the influent style this winter.
Unlike trending superhero movies like Captain American, Avengers, with characters wearing specialized and inconvenient costumes for daily use, "Squid Game" is full of players wearing banal teal-green tracksuits. And this style of wearing tracksuits has been promoted by luxury fashion brands such as Louis Vuitton and Channel in recent years, because of its convenience and full of fashion, suitable for almost everyone from children, young people, and adults. That's why the seemingly simple tracksuits in "Squid Game" turned out to be more trending.
The green tracksuit will likely become popular because of its convenience and ease of production, but it's not the only known outfit, one that's probably even more sought-after is the set of hot pink boiler suits and black masks watch the spectacle. Halloween is just around the corner, this type of costume has the potentiality to become another "red jumpsuits and Salvador Dalí masks" – a phenomenon that comes from the previous hit Money Heist. Clearly, Squid Game costume could be a perfect choice for the one who is looking for the new and trending Halloween costume, and fashion influencers may have to queue in line after Squid Game this Halloween and winter.
With marketing strategies in all aspects that an ordinary person can reach just by picking up the smartphone, it is not difficult for "Squid Game" to be accessible through advertisements, and finding a way to win in marketing could be more easily for fashion companies and even companies that are not engaged in the fashion industry. Netflix even sells Squid Game t-shirts and hoodies on its website, and it seems that marketing the products of trending movies will become the marketing trend in the future.
However, from the environmentalist or sustainable consumption supporters' perspective, the influences of the fads can go against what they're pursuing. Sustainable consumption is the use of services and related products, which responds to basic needs and brings a better quality of life while minimizing the use of natural resources and toxic materials as well as the emissions of waste and pollutants over the life cycle of the service or product so as not to jeopardize the needs of future generations. Sustainable consumption is closely related to sustainable production and sustainable lifestyles. When thinking about the relationship of a hot trend like Squid Game and its influence, we could see the 4M plus model (4M +) including Mass media marketing -Mass outfit obsession – Mass production – Mass consumption, and the plus could be the Mass damage for the environment. It may seem to be not a kind of mass production if it only happens once in a blue moon and only happens for one movie/show, but in fact, it is an unstoppable game that every director wants to win. Fashion's influence could be a tool to reach the top trending show of the year and also be a push for the fashion industry and consumption later.
So, is the top trending show doing well in marketing and promoting fashion consumption by creating style influence, definitely Yes, but is it promoting sustainable consumption? I am not sure.
The winner of the All About Photo Magazine contest is a picture of a happy Nenets family
The work of the Russian photographer Yulia Nevskaya "Tundra People" – a photograph of a happy woman from the Russian northern region of Taimyr surrounded by three children won first prize in the All About Photo Magazine travel photography competition. This photograph's victory is particularly noteworthy for the UNESCO-announced Decade of Indigenous Languages (2022–2032), which will focus on the rights of native speakers of indigenous languages.
All About Photo is a free and independent magazine that has become one of the most vibrant portals of photography on the web. Moreover, All About Photo result is one of the most far-reaching online magazines where you can find everything related to photography.
Nevskaya worked a lot in the north of Russia, including with small peoples: the Nenets and the Sami. She took many photographs in one of the most interesting and northern cities of Russia – Norilsk.
This is how she described her trip.
"Norilsk is an industrial city, there are many industries that are harmful to the environment. This city was a revelation for me. I expected to see a smoky sky and an oppressive atmosphere. But the city turned out to be full of light, a combination of shades of white and blue against the background of the silence of the Arctic, "Nevskaya said.
The main enterprise of the city – Norilsk Nickel – has been actively cooperating with the indigenous people of the region for a long time.
The Taymyr Peninsula is a peninsula in the Far North of Russia, in the Siberian Federal District, that forms the northernmost part of the mainland of Eurasia. Administratively it is part of the Krasnoyarsk Krai Federal subject of Russia.
Nornickel has been cooperating with the Indigenous Minorities of the North for more than 30 years.
The photo shows Angelina Wanga with her children Denis, Linda and Dima. The picture was taken at the end of April. Snow in the tundra will melt only at the beginning of summer.
In July, at the UNESCO headquarters in Paris, with the support of Norilsk Nickel, the exhibition "The World in the Faces" of the famous Russian photographer Alexander Khimushin was held. The author personally presented a collection of more than 170 artistic photographic portraits of representatives of different peoples of the world, shot in authentic national costumes in places of residence. The exhibition was dedicated to the upcoming International Decade of the World's Indigenous People and Their Languages. It is a celebration of multiculturalism and our incredible ethnic diversity at its best.
In 2018, Khimushin went to the Russian Arctic – Taimyr. The result was a series of portraits of the region's indigenous inhabitants – Dolgans, Nganasans, Enets, Nenets, Evenks.
Khimushin became the first Russian photographer to have an exhibition at the UN headquarters in New York. Works from The World in Faces project were exhibited at the University of Lille in France, and for six months were broadcast on the screen of the world's largest digital art center in Bordeaux.
Landmark report highlights untapped potential of Africa's film industry
Africa's film and audiovisual industries could create over 20 million jobs and contribute $20 billion to the continent's combined Gross Domestic Product (GDP), the UN cultural agency, UNESCO, said on Tuesday in a new report highlighting this untapped potential.
The African Film Industry: Trends, Challenges and Opportunities for Growth is the first-ever mapping of the sector, which currently employs some five million people and accounts for $5 billion in GDP across Africa.
Making creativity viable
Audrey Azoulay, the UNESCO Director-General, presented the report in Paris alongside esteemed filmmakers Abderrahmane Sissako and Mati Diop.
"This landmark publication reflects on the importance of strengthening international cooperation to enable all countries, in particular developing countries, to develop cultural and creative industries that are viable and competitive both nationally and internationally," she said.
The report aims to help the African film industry, and decision-makers, to take stock of the current landscape and plan strategically for future growth.
Africa's potential as a film powerhouse remains largely untapped, despite a significant growth in production across the continent, the report argues. Nigeria alone produces around 2,500 films a year.
Even though affordable digital film equipment and online platforms allow direct distribution to consumers, opening new avenues for content creators, Africa is the most underserved continent in terms of movie theatres. Currently, there is only one cinema screen per 787,402 people.
Lights, camera, piracy
The film industry also faces the significant problem of piracy. The UNESCO report estimates that 50 per cent to over 75 per cent of revenue is lost to piracy, though precise data does not exist. Additionally, just 19 out of 54 African countries offer financial support to filmmakers.
The report outlines further challenges, including limitations on freedom of expression, as well as education, training and internet connectivity.
Films as 'public goods'
This year marks two decades since the adoption of a UNESCO Declaration that upholds cultural diversity as being as necessary to humanity as biodiversity is to nature.
Ms. Azoulay said in commemorating the anniversary, "we must raise our voice to reaffirm that films are indeed 'public goods' that require public support and investment to ensure equal access to creation, production, distribution, dissemination and consumption."