Strategic Hatred: How Putin Maneuvers with Radical Islam
This case study provides an analytical commentary on the article written by Prof. David Bukay in 'Modern Diplomacy' on the issue of why Islam hates the West. Prof. Bukay presents the issue that 'the Western world is ignorant, unacquainted, and in fact stupid concerning Islam. For so many years and so many Islamic attacks, its leaders still reiterate the Pavlovian question: "why do they hate us?"" (Bukay, 2016, April 22). Prof. Bukay compares the West to a battered spouse that is the victim of domestic violence. Instead of seeing the situation clearly like a battered spouse, the West tries to rationalize Islamic violence against the West through examination of the actions the West did to invite the violence.
In essence, continually asking the question what has the West done wrong to invite this treatment from Islam. Instead Prof. Bukay argues that the West should view Islam as a culturally different threat based upon a political religion. Bukay's presentation was supported with evidence taken directly from Islamic scripture which states: "the Qur'ān reiterates the commandment that it is forbidden to associate other gods with Allah, and Islam should be adhered to as the only legitimate religion on earth. It is followed by the swear-belief that Muhammad is his messenger" (Bukay, 2016, April 22). Contrary to the Western view, some critics feel Russia has chosen to view Islam as a political religion/security threat in an intensified way so as to off-set domestic flaws. Russia under Vladimir Putin has effectively maneuvered to utilize Islam as a political religion in order to retain power against potential oppositional forces within the home scene. The following explains this criticizing mentality.
The main critique goes thusly: Putin, faced with a failing economy, weakened military, and internal security issues, has managed to redirect attention for Russia's troubles. Putin executed this plan of redirection through influence in the transnational weapons market throughout the Caucasus, Central Asia and the Middle East. Putin has solidified his power at home by embarking on a war with Islamic extremism. Putin has financed his ambitions in the war with Islamic extremists through selling military hardware, assisting nations that are in pursuit of nuclear ambitions, and making alliances with Iran and Syria. Putin masked his actions by using the Russian security issues posed by Islamic extremists. Putin has been on a clear mission to regain new world legitimacy both at home and abroad while combating the threat to Russia's security posed by Islam.
Putin, in maintaining his power base at home, understands he needs to "blame either unpopular minorities within the country or foreign governments for all Russia's problems. The politics of hatred has a long and, electorally speaking, pretty successful pedigree" (Collier, 2009, September 30). Putin understands that action must be taken to keep power and inaction can lead to destruction of the state. One key to execute this plan is to influence the transnational weapons market to ease economic pressure at home while ensuring Russia's stability by fighting Islam.
As part of Putin's plan to curb the threat from Islamic extremists, Russia opened Kant Air Base in Kyrgyzstan in October 2003. This base provided Russia a forward operating base to enforce interests and a security zone in Central Asia. As detailed:
Security remains the first driver shaping Russia's involvement in Central Asia. The challenges are multiple, as any [destabilization] in the weakest (Kyrgyzstan, Tajikistan), or the most unpredictable (Uzbekistan), of the countries could have immediate repercussions in Russia. This could include an Islamist infiltration; an increase in the inflow of drugs reaching the Russian population, which is already widely targeted by drug traffickers; a loss of control over the export networks of hydrocarbons, uranium mines, strategic sites in the military industrial complex and electrical power stations; a drop in trade… (Peyrouse, Boonstra, and Laruelle, 2012, May, p. 8)
Putin's actions in Kyrgyzstan fit into his plan to blame unpopular Islamic extremist movements to justify military expansion to protect transnational trade routes while ensuring security at home. For Putin the "Russian-Central Asian multilateral framework, the Collective Security Treaty Organisation (CSTO), makes provisions for the sale of military materiel to member countries at Russian domestic market prices, and has revived cooperation between the Russian and Central Asian military-industrial complexes" (Peyrouse, Boonstra, and Laruelle, 2012, May, p. 8). In addition to security agreements to quell any potential extremist threats and to support the transnational arms trade; Putin is willing to become involved in questionable military alliances in the Middle East under the guise of fighting Islamic extremists.
Iran gives Putin a unique religious partner in the Caucasus and gateway to influence Middle East policy and weapons markets. Under Putin's direction, Russia has assisted Iran's nuclear ambitions through technology coupled with military hardware and advisors. The relationship with Iran is even more dangerous to the international community when in "late July [2015] Quds Force command Major General Qasem Soleimani flew to Moscow aboard a commercial Iranian airliner for a weekend visit filled with meetings mixed with R&R—in clear violation of a U.N.-imposed travel ban" (Weiss, 2015, September 1). Shortly after the meeting Putin expanded Russia's relationship with Iran to direct military action in Syria. Putin has used Russian animosity to Islamic extremism, which is quite intense at home, to justify military adventurism. Putin really entered Syria to reassert itself to the top of the world stage and protect his transnational weapons markets.
This examination of a very strident criticism of Russian foreign policy intended to expand upon Prof. Bukay's theory to demonstrate that Islam is a political religion based on a warrior cult from the seventh century. Contrary to the Western view as a victim with Islam, Russia has chosen to view Islam as a political religion/security threat that can be manipulated for power interests. Russia under Vladimir Putin has effectively maneuvered to utilize the threat from Islam as tool to protect transnational weapons markets and to retain power, ostensibly intensifying domestic society's innate fear of the 'other' in order to push certain power angles important to the Presidential administration. While some of this criticism is purposely given to hyperbole, to exacerbate tense relations between Russia and the West (this criticism is born and fostered from within anti-Russian Western think tanks), the atrocities and transgressions that occurred on both sides of the Chechen conflicts make Russian animus to radical Islam very real and well-founded. While Russia is not blameless or pure when it comes to its initiatives toward the Islamic world, it is not possible to argue that Western approaches have been vastly superior. At the very least, Putin's honesty in staking a brazen position against Islam as a political force and radicalist movement is refreshingly fascinating for analysts around the world.
Russia–Africa Economic Forum and Summit Organizing Committee Holds Meeting in Moscow
The Organizing Committee in charge of preparing for and holding the Russia-Africa Economic Forum and Summit in the Russian Federation in 2019 has held a meeting in Moscow. The meeting was chaired by Russian Presidential Aide Yury Ushakov and attended by Advisor to the Russian President Anton Kobyakov, Roscongress Foundation CEO Alexander Stuglev, Russian Deputy Minister of Finance Sergey Storchak, and Special Representative of the Russian President for the Middle East and Africa and Russian Deputy Minister of Foreign Affairs Mikhail Bogdanov. The meeting was also attended by representatives of ministries and departments that are involved in preparing for the events.
The meeting participants discussed organizational issues concerning preparations for business and protocol events as well as their specific details. Ushakov reiterated just how monumental and important the upcoming events in the Russia-Africa format are. "The organization of the Forum is a serious first step towards our economic and political return to Africa. To date, 50 African heads of state have already confirmed they will be attending the Forum, which is a great success," he said.
"Preparations for the most important events in the history of Russian-African relations have reached the finish line. A quarter of the world's heads of state will come to Russia to discuss initiatives and strengthen Russian-African relations. I am certain that the participants in the Russia-Africa Economic Forum and the Summit will demonstrate a readiness to cooperate and develop joint projects in the Eurasian and African spaces, as evidenced not only by their active cooperation during the preparatory stage, but also by the number of them who have confirmed," said Kobyakov, who serves as the Executive Secretary of the Organizing Committee.
"It is essential that Russia-Africa Summit and Forum produce an economic effect, among other things. We have carried out a lot of work to provide the African side with information. We have prepared a large package of Russian expertise and products in 12 areas. Presentations will be given for heads of state and delegates by the leaders of such companies as Rosatom, Russian Railways, Rosgeo, VTB, and others. They will present the opportunities that can be offered to African countries and so having such a large number of leaders take part in the events is a unique opportunity us to realize economic potential," Russian Minister of Economic Development Maxim Oreshkin said.
The main event of the Russia-Africa Forum will be the plenary session 'Russia– Africa: Uncovering the Potential for Cooperation' during which the presidents of Russia and Egypt are expected to speak. A final declaration of the Summit titled 'For Peace, Security, and Development' has been drafted and includes items on the global and regional agendas that are important to Russia as well as proposals on ways to develop the full scope of Russian-African relations.
"At least 23 intergovernmental and interagency agreements and other agreements between African and Russian companies are expected to be signed on the sidelines of the Forum. The Forum will be held under the slogan 'For Peace, Security, and Development', which can serve as the foundation of the Summit's final declaration and was drawn up in cooperation with the participating countries," Bogdanov said.
The Roscongress Foundation is the organizer of the events, and the Russian Export Center and Afreximbank are the co-organizers.
Power is always a sophisticated and ambiguous exercise in its own disappearance.-Les Strategies Fatales, Jean Baudrillard
For a number of years already in the West, and in Europe in particular, they talk of Weimar or Weimar syndrome alluding to the rise of the protest "populism", collapse of political centre and the outcomes of direct democracy (meaning not only the referendum in Britain on Brexit, but the Trump phenomenon as well, i.e. his doing away with all intermediaries, be it party machine, traditional media or donors, in communicating with his electorate). That refers us to the collapse of the Weimar Republic and the Nazis coming to power in Germany. In our case it is already about the fruits, by which they judge the tree. This Weimar tree is neoliberal economics, represented by reaganomics/thatcherism and the Lisbon Agenda of the EU, which has been destroying Western societies for the past 30 years. So, one ought to have started talking of Weimar at least in 2008 when struck the Global Financial Crisis being doused since then with printing money (so-called "quantitative easying"). They realized that there was a problem only when the crisis made itself felt in politics which became averaged, alternative-free and, thus, lost any sense or relevance for the electorate. People lost their trust in traditional media, and social nets restored to the "silent majority" their say in public affairs and provided them with a means of self-organization beyond the elites' control.
Liberal capitalism which reproduces and aggravates inequality brought about the Great Depression and led to WWII. But prior to that the contradictions within a society eradicating illiteracy fast, and the globalization, at the time imperialist, resulted in WWI. In our time all things tend to accelerate and, thus, we witness two parallel and intertwined processes, i.e. those of neoliberal economics and globalization both driven by the interests of the investment classes. While marching back to the future, should we be surprised by the outcomes? Now that war has run its course as a form of collective consumption, it has been replaced with the social state, which, however, has largely come under suspicion at the suggestion of the Anglo-Saxon nations. That turned the crisis into a protracted and irresolvable (French sans issu is closer to the Russian original) affair, all the more so that the elites espousing neoliberalism wouldn't admit to its contemporary Weimar origins.
The US and Britain bet on further tightening neo-liberal screws, which includes cutting taxes and taxes on business among others. This is how Brexit makes sense as a mobilization project of the elites. After all, liberal capitalism is their creature, as well as, by the way, globalization which is being closed down for being obsolete and for its "mixed results", particularly the rise of China and the rest. Given the size of their government budgets in relation to the GDP, the EU cannot afford those cuts: if it ever engages in competition on those terms, the social state would crumble and peace in Europe gone with it. Thus, the past bipolarity resurfaces in the Western community, with the poles exchanging the values they stood for if compared to the two world wars. The EU/Germany are now on the side of democracy and social justice, and the Anglo-Americans willing to throw themselves and all the rest into the dark Hobbesian world of the period between two wars with respective consequences not only for society but also for international relations.
Unlike in the past century, there is no need to invent a bicycle and pay with blood for the experience. We've got, simply, to find ways to preserve the social state under the new circumstances, while reaching the same goal of making market economy compatible with representative democracy of universal suffrage. The talk of fascist threat is not groundless though not all the "populists" come under the definition. Their further evolution is difficult to predict, but the lessons of history remain valid – neither culture nor civilization couldn't prevent our continent's descent into barbarism in the past. All the more so that after the Cold War end the universal meaning of George Orwell's dystopias dawned upon us.
No doubt, the US and Britain, historically attached to hard socio-economic policies, will continue along that path. Brexit is inevitable due both to the democratic mandate of the referendum and the special nature of the British constitutional system with the executive power fully vested in the government, while traditions are also on the side of Prime Minister Boris Johnson. But the departure of the British might serve a powerful mobilizing push for European elites, stuck in their obsession with the status quo. It would wake them up to the reality and the need to take measures to save the integration project, its future depending to a great extent on the Germans. The Germans will have to pay for preservation of the Euro-zone for its collapse and return of the Mark would bring about economic disaster of Germany making her defenseless in the face of the Anglo-Saxon onslaught. The fact that they succeeded in "stopping" M.Salvini, having avoided holding general elections in Italy, is a poor consolation and cannot be a sound substitute for further systemic strengthening of the European integration which plainly cannot remain stuck in the present limbo for long.
How should Russia position herself in this context? We need Europe in peace with itself. We are in a position to shape such a Europe, which we have been doing over the past three centuries, including at critical moments of its history. There were errors as well, for example, when the Comintern underestimated the danger of Nazism and drew lessons from that at its VII Congress, which was late for all. We cannot afford to make that error again, even if we will have to wait for the European political mainstream to understand that one has to change for things to stay as they are. Conventional wars are out of date in the West, being replaced by trade and currency wars. And here Russia must be on the side of the united Europe providing the EU with a strategic depth by way of intensified trade, economic and investment cooperation, as well as a Eurasian entry to East Asia and South-East Asia. It is in our national interest to have an alternative to the dollar in the global monetary and financial system: here, like in other matters, complexity/diversity amounts to freedom (according to Dmitry Bykov).
Together with us, it will be easier for Europe to stand her ground in the face of Washington's demands that it supports American Military-Industrial Complex with her taxpayers' money. Thus, the ghost of war would finally be driven out of European politics. The cause of peace is hugely helped by the fact that, judging by recent events, the American weapons developed in the absence of competitive environment in the area of hard force politics, say F-35s and Patriots, in reality turn out to be badly wanting, sort of Baudrillard's signs of weapons, not real ones fit for real war.
Fortunately, we have been spared the fate of living under direct oligarchic rule (Berezovsky, Khodorkovsky, etc), which makes it so easy to administer Ukraine from outside. Like early in the XXth Century, the Russian authorities preserve their freedom of Bonapartist maneuver, i.e. the ability to stay above the propertied interests. Russia did march towards fascism on the eve of the 1917 Revolution, which made of our country the chief tool of victory over those countries where fascism prevailed in the final count. Ways of History are unfathomable! The Russian proto-fascist figures who emigrated abroad took part in the Nazi project of the West. We have got to remember that and treat with caution the ideological legacy of our emigration (the People's Labour Union, used by both the Germans and the Americans has not disappeared), as well as the efforts of those trying to pass fascism for a "Russian idea." History has shown that fascism is not "our cup of tea." All the progressive ideas of our time, be it existentialism, communicative action or postmodernism in its various shades, are rooted in Dostoevsky's philosophy and fiction. What other ideas do we want?
After 1989 and 1991, we dived into the wrong type of capitalism, not socialism/capitalism with a human face (Swedish, German, etc) that we had dreamed of. Some liked it, but far from everybody. That is why we have many problems in common with Europe, those that generate states of inequality and despair, other forms of alienation. They are easier to solve together. We can draw lessons from each other's mistakes. If we take the pensions reform in France, something could be prompted by the experience of the similar reform in Russia. It has led to a substantial rise in the over-all uncertainty in the country, which might continue well into the 2024 elections, unless a broad maneuver is undertaken at the level of socio-economic policies to improve standards of living and, accordingly, increase the stagnating consumer demand.
These are the reasons why the normalization of the political relationship with the EU is, unreservedly, an imperative for both sides, especially so against the background of the normalization underway between Washington and Minsk. The road lies through settlement of the Ukrainian crisis, which the Presidents of Russia and France are closely working for. Liberalism is no obstacle if it is an idea amongst others, not a dogma. Quite obviously, the words "liberal" and "order" are utterly at odds. No government in Europe is interested in a situation where it equals itself, contrary to Baudrillard's warning. We had it between two wars in Europe, what other Weimar do we need to get us understand that?
From our partner RIAC
Russia and China: New Silent War against US deception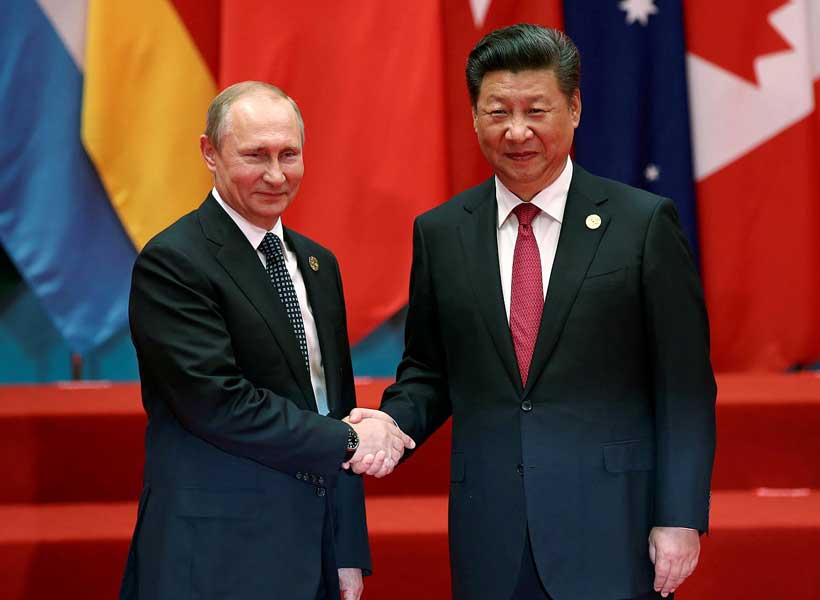 In the doctrine of world politics, US scholars and Political leaders are truly believe, after the entire world, especially Western society, would experience the devastations of world wars, nuclear weapons, and the "balance of terror" during the Cold War; deal with some international issues, or at least push the other powers to make concessions diplomatically and cooperatively . Economic and cultural conflicts have emerged, and soft power has become one of the most sophisticated weapons of many post-Soviet states.
Over past decade or so, new types of warfare and strategies include the "Silent War", which takes place in the interfaces between peace and war, and in a geo-strategically arena between hidden defensive action and offensive force. It is a war on multiple zone strategies than one and specific tactical arena at the same time. Their speed and effective power are often terrifying.
Yet, As Jim Sciutto, A national security expert and CNN's chief correspondent, pointed out on his new entitled book "The Shadow War: Inside the Secret Russian and Chinese Operations to Defeat America." It shows the measures of the secret war to undermined US foreign policy and lessening America's status and credibility led by Russia and China against the United States, which ended up in very significant outcomes.
Cryptic vision
Those who tend to believe in "Silent War" doesn't exist or recognized among big power politics, this cryptically war reveals that the United States is in a state of virtual war waged by Russia without recognition, taking aggressive move against Washington and its allies, from cyberspace to outer space, and around the world. US military policymakers, national security officials and political analysts convincingly understand Moscow as a clear adversary of their homeland security.
However, opinion takes a census to indicate that the American public does not fully understand what's going on behind this scene, especially since President "Donald Trump" did not act in front of the Americans according to that fact, and did not acknowledge that Russia's actions pose a threat to the US soil.
To certain extent, The international relations scholars acknowledge that this skepticism is an essential move of Russian President Vladimir Putin's plan, as the American confusion is the outcome and the main goal of a new kind of silent war by Moscow, a campaign systematically targeting American politics and society which is divided American political ideologies and interrupt American Democratic Community. Therefore, its economy, media environment, and voting systems depend on weak electronic state propagandas technologies.
Additionally, that the goal of this campaign is to attack American interests and undermine US's foreign policy at the international stage, which means that in the current situation Washington does not prompt to make a military response, and then over time Russia is working to extend this silent strategy even further. As Valery Gerasimov (Chief of Staff of the Russian Armed Forces) clarified the aim of the "Silent War" which is to build up a "permanent front across the territory of the enemy state".
The Silent War Strategies of the Russian perspective
This is quite superficial with regards to the paper published in 2013 entitled "The value of science in reading the future," by Gerasimov highlighted that Russian government today is applying new strategies and highly effective mechanism in reversing US public opinion, especially through the social media. During the Cold War, Moscow had inadequate tools to manipulate American public opinion or interfere in American political campaigns. But the emergence of high tech and media platform created vast opportunities for them, and unsafe email systems became also benefit for hackers to take apart with governments in campaigns.
Due to this, some overseas political analysts mentioned that during January 2017, Russia fully intervened in the 2016 US presidential election in order "to discredit and disqualify Hillary Clinton, with a clear preference for President-elect Donald Trump." The analysts add that Russia tried hard to interfere in the November 2018 congressional elections, and all the evidence suggests that Russia eagerly will do the same in the upcoming 2020 presidential election.
At the same time, Russian military preparations continue, with Moscow deploying in outer space weapons designed to destroy American satellites, which have become the foundations of American military and economic supremacy globally. Below the oceans, two new categories of attack submarines and ballistic missiles have been deployed. It is, therefore, better able to expand the nuclear threat to US shores.
On land, Russia invaded and occupied territory in sovereign states, including Ukraine and Georgia, and attempted a coup in Montenegro, threatening treaties and the rule of law that helped maintain peace in Europe for decades.
As noted, the Russian have annexed Crimea in 2014 in clear violation of its peace agreement with Ukraine, the United States, and Europe. Months later, it occupied and seized large lands of eastern Ukraine. In both cases, Moscow sent special forces, pretending not to be regular soldiers in the Russian army, and appeared in non-uniform, and their argument was just to help citizens of Russian origin there who fear for their safety and sustain their protections.
Actually, in last year (2018) an article published by author Gerasimov was severely describing the precise and effectiveness of strategies and tactics that Russian would soon use, pointing out that: "The open use of forces to sustain peace is often under the hands of UN Peacekeeping mission and crisis management are used only at a certain stage, as a final stage in achieving success in any armed conflict or unstable circumstances. "
Chinese rise strategy
With a new strategy concept turned in world order, "It is no coincidence that China is pursuing a strategy that is almost identical to that of Russia, with similar objectives, from expanding in world trade and government bilateral cooperations to the United States to seizing areas of the disputed South China Sea to its sovereignty, and even to its militarization, to the deployment of high effective missiles.
Surely enough, according to the author, American big companies, even though they are fully aware of Chinese trade abduction and marketing diversion, sometimes those large trading firms are refuse to seek US government for help, or identify Internet violations, for fear of isolating their Chinese partners or losing full access to the Chinese market altogether. therefore "China's rise strategy propagates and plans to enlarge sows of fear on US deception towards her," Jim Sciutto points out.
In return for Chinese efforts, the Barack Obama administration did not respond appropriately to Beijing, nor did it properly handle Chinese militarization efforts in the South China Sea. The former US president merely took personal promises from Chinese President Xi Jinping.
Ways of contest
So far, The United States is adjusting its political strategy and foreign policy measures abroad to address these new threats and intimidations especial from big powers. Jim Sciutto confirms that he met several Americans aboard submarines and surveillance aircraft, in NSA operations centers, and in various air overseas bases, all of whom acknowledge silent war is going to take place in this era and also they are becoming aware of the dimensions of Russian-Chinese hostility, and their war against Washington. American people, military leaders, and legislators all agree that an effective and urgent response requires to come from US leadership.
Despite the failures of some of the overseas policies and decision-making plans of the administrations of "Barack Obama" and "George W. Bush"; a many of decision-makers argue that they faced at least Russia directly during its most serious acts of aggression. Condoleezza Rice, the former secretary of state, noted in the Washington Post on August 2018, on the tenth anniversary of Russia's invasion of Georgia, that the Bush administration had returned Georgian troops from Iraq to help protect Tbilisi. It said it had personally warned Russian Foreign Minister "Sergei Lavrov" of the removal of "Mikheil Saakashvili," Georgia's democratically elected president.
Additionally, Some high ranking officials say that "Obama" has advised "Putin" personally twice from interfering in the American elections; the first was in a face-to-face conversation at the G20 summit in China on September 2016, and the second one was eight days before the presidential election in a phone call talks in order to help to prevent world nuclear confrontations.
In contrary, President Trump has shown much fewer concerns to confront Russian and has frequently wondered whether Russia is really an enemy. According to some sayings from within his current administration, his unwillingness to encounter the Russian threat is partly motivated by the perception that recognition of Russian interference in the 2016 presidential election will discredit his nomination of being the new president.
Despite the ignorance and inexperience of "Trump" of the encounter of collusion with big powers particularly Russia, but his continued unwillingness to identify and face the Russian threat greatly hurt US overseas interests, and makes American foreign policy unable to handle its homeland security silent war of the Russian side.
To the end, Jim Sciutto comes up with suggestions on how to deal with Russian and Chinese intimidations more effectively. The author as political analysts does not argue that win Silent war will be easy at all but needs new investments and developments in next-generation weapons systems, such as supersonic weapons. He added that investing in conventional weapons, like warships and aircraft carriers, is not enough to maintain US standing and domination of the international system.
Let's see how the Trump leadership in this Silent War reacts to the threat of their big power and to what extent American foreign policymakers could absorb American public opinion towards Trump's failed overseas policies.