The Ass and the Elephant: Russia and the American Presidency
Whether one truly believes in the old adage that the President of the United States is the 'leader of the free world' and 'the most powerful person on the global stage,' it is unquestionable that whoever holds the Oval Office in the White House wields tremendous influence and impact far beyond the borders of America. As the world looks on with fascination in 2016 at the coming confrontation between Hillary Clinton and Donald Trump, questions remain as to which candidate is favored by which foreign leaders.
While mainstream American media is still basically covering the race with horrified fascination at the popularity and perseverance of the Trump campaign, the reality beyond America seems to show his candidacy is being taken quite seriously by other countries. Some may even be taking it not just seriously but favorably when compared to the anticipated presidency of another Clinton.
At the moment, Russia seems to be one of those countries. However, deeper analysis shows this 'support' might be more of an indictment against past Hillary positions and statements rather than based on real evidence that accurately predicts what a Trump presidency might mean for Moscow. In fact, looking at both candidates strictly from a 'what-this-means-for-Russia?' perspective reveals the next four years of White House-Kremlin relations could be rather problematic no matter who wins.
Hillary Clinton
Before some of the specific statements and positions of Hillary Clinton on Russia are considered, a subtle comment needs to be made about the state of foreign policy within the Democratic Party, especially when it comes to potential candidates for President. Approximately four years ago I published a very popular piece that argued how the foreign policy of President Barack Obama was by and large 'Republican' in its conservative orthodoxy. While I admitted that this traditionalist approach could be partially explained by the personal comfort level of the President himself, American presidential race history also weighed heavily in explaining these right-of-center positions for a left-of-center President. This same heavy weight affects Hillary just as much as Obama and therefore bears repeating.
Why do liberal leaders in America become largely conservative statesmen when it comes to real decision-making on the global stage? Some of this is undoubtedly tied to what Democrats have had to fend off as an entire party in the past generation of presidential races: that Democrats are too focused on domestic affairs and are unfit or inexperienced to handle world affairs. In essence, Democrats always have to defend against the accusation of being foreign policy weaklings. This accusation is never leveled against Republican candidates (even when a particular candidate may be internationally amateurish, his party's reputational legacy is apparently automatically transferred to him. This is clearly happening today with Trump).
This 'Chamberlain Syndrome' (Democrat-as-global-appeaser) has existed for quite some time, but it was surely exacerbated by 9/11 and the new emphasis on national security. It was a major part of the lead-up to the 2004 election, when some analysts warned, 'if Democrats are to have any hope of returning to power in 2004, or even of running competitively and keeping the U.S. two-party system healthy and balanced in the coming decade, they will have to convince the American people that they are as capable as Republicans of protecting the United States from terrorism and other security threats.' While it was assumed that it would be quite some time before Democrats could actually win national elections based on their national security and foreign policy stances, the big hope was to have the party advance far enough so that it would stop losing national elections solely because of these two factors. This was arguably the biggest lesson learned from the Democratic failure of 2004, when Vietnam war veteran, Purple Heart winner, and long-time Foreign Affairs Senate stalwart John Kerry lost to Bush, who had no such international military service accolades to lean on.
While in the past Democrats could always criticize Republicans for being too eager to consider war (all stick, no carrot), the reverse accusation thrown back at Democrats post-9/11 seemed more damning (all carrot, no stick). What Democrats as a party needed to ensure was that Americans could see them as not too weak or awkward when it came to handling said stick. Undoubtedly this was a legacy lesson made disturbingly eternal when Massachusetts Governor Michael Dukakis stuck his head out of a tank in 1988, ostensibly to make people believe in his toughness, and instead became the butt of such jokes and ridicule that it arguably led to his loss to George H.W. Bush.
It seems clear that ever since that debacle Democrats have been quick to overreact to such criticism. They thus tend to be even quicker than Republicans to line up and show the 'military chevrons' symbolically tattooed on their arms, signifying their willingness and capability to defend America as aggressively as the opposing party. This historical weight was prominent on Obama because his past experience as a Chicago community organizer, followed by very limited service as a single-term Senator, created a hyper-sensitivity to 'not being internationally ready.' If anything, this same weight is heavier on Hillary: not only must she fight the traditionally sexist accusations made against all women politicians as being 'peacemakers' and not 'war-makers.' She also must fight her own personal history, which if anything began as classically feminist and liberal, two things never commonly associated with the military or the utilization of hard power. Given this background, both within the party in general and her personality in specific, it becomes much easier to understand why Hillary's comments and positions over the years have been so decidedly skeptical and critical toward Russia. Easier to understand, however, does not necessarily translate into easier to accept.
-Many of Hillary's critics tend to cite her steadfast belief in the mythology of 'American exceptionalism' and the country's self-proclaimed role as 'leader of the free world.' To be fair, most Washington politicians will at least give public voice to these same ideas but few have also been Secretary of State and maintain very close ties to the military-security complex. It was Ralph Nader who decried her as both a 'deep corporatist and deep militarist…never having met a weapons system she didn't like.' Perhaps most significant, this characterization would have been impossible to imagine when she began in Washington as First Lady. One only need look at the failed managed health care initiative Bill Clinton gave to her charge during his first term to see how dramatically her issue foci and temperament have adapted over time.
-Hillary still maintains unofficial and official contacts within her Eastern European team that are, amazingly, highly adaptable neoconservative holdovers from the Bush administration and have succeeded in staying near to the ears of Obama, Clinton, and Kerry over time. Anatol Lieven, the renowned scholar at King's College London, has openly decried that too many of the figures currently surrounding Hillary are old school members of the military, foreign policy, and security establishment that chronically view Russia with Cold War attitudes, regardless of evidence.
-During the Crimea crisis in 2014, Hillary tried to make a connection between Putin policy on the secession/annexation issue with policies pursued by Adolph Hitler in the 1930s. Given that over 20 million Russians died fighting Hitler, a sacrifice many historians the world over consider the crucial lynchpin that ultimately led to Hitler's defeat, and that WWII in Russia is officially known instead as the 'Great Fatherland War,' it was incredibly rash and ill-thought to make such flippantly inaccurate connections given how important Russian-American relations will continue to be to the office Hillary is pursuing.
-At the powerful and influential Brookings Institution, Hillary stated that more needed to be done to 'up the costs' on Russia in general and Putin in specific because of Russian action in Syria. These comments were of course made under the aegis of honoring international law and wanting an end to conflict, even though Russia was formally invited to enter Syria and its intervention was technically in line with said international law. Neither statement can be formally applied to the American assistance given to the chaotically diverse opposition groups trying to overthrow Assad. This type of 'reworking the narrative' is continually irritating to Russia: what it considers to be blatant and untruthful manipulation of the global media covering events actually transpiring on the ground.
-Hillary has not been very gracious when discussing her personal opinion of Putin as a man, having once even described him as having 'no soul.' In her book "Hard Choices", she called him 'thin-skinned and autocratic.' This fuels a general perception within the corridors of power in Russia that perhaps Hillary views this relationship too personally: that as long as Vladimir Putin is President of Russia (which could very well be for the entirety of a Hillary presidency), then she will not strive to achieve better relations with the country nor will she even treat Russia as an equal partner on areas of global mutual interest.
-Hillary has maintained self-serving double standards in interviews, drawing false distinctions between the presidencies of Medvedev from 2008-2012 and the return of Putin after 2012. On the one hand, she would decry Medvedev of simply doing the bidding of Prime Minister Putin, but then on the other hand would praise her ability to work and get things done with Medvedev. Medvedev, therefore, has been both a puppet who does nothing and a puppet master who let the United States achieve a nuclear arms deal, Iranian sanctions, and facilitate further operations in Afghanistan. In a massively publicized interview with the famous television journalist Judy Woodruff, Hillary clearly established a stance marked by distrust and wariness toward Russia, even if begrudgingly acknowledging that it was still a country that had to be worked with.
While many traditional liberals within the Democratic Party have issues with what they consider to be the blatantly 'far right' conservative foreign policy positions of Hillary, the real concern for the Russian Federation is that it sees her as a candidate that, correctly or incorrectly, wants to use Russia and Putin as a convenient scapegoat and whipping boy to establish her own 'toughness' on the global stage and leans on outdated Cold War rhetoric to analyze contemporary strategies and initiatives. If Russia is interested in establishing new 21stcentury relations with the United States not beholden instinctively to the legacies of the 20th, then it is hard-pressed to view Hillary Clinton as the President that would be willing to create such an environment. This is what likely fuels the quasi-positive statements coming from Russia about Donald Trump. Unfortunately, Russia should be wary of wanting a President just because he isn't Hillary. While Donald brings a different style and approach to potential relations with Russia, it does not mean those relations will produce anything new and innovative.
Donald Trump
Having examined some of the more strident comments and commentaries made by Hillary toward Russia, it is hard to avoid the impression that Russia may be 'supporting' a Trump presidency in very much the same way so many Americans are: they simply do not want a Clinton presidency. In my university classes I often caution students from engaging in what I call 'negative voting:' the vote being cast is not so much FOR a particular candidate but rather AGAINST the opposing one. When citizens cast votes based on negation rather than affirmation, then it is not uncommon that the succeeding presidency is ultimately disappointing. I believe this will be applicable to Russia as well if it thinks simply preventing Hillary results automatically in a better presidency for Russian-American relations. To wit:
-Within Donald's campaign has been a penchant for making bold statements that subsequently get walked back soon after. He did it with the building of a wall against Mexicans; did it with the promise to tax the super-rich; did it with the promise to raise the minimum wage; did it with the proposal to simply ban all self-declared Muslims from entering the country. While many Democrats (and Republicans for that matter) lament this as making it impossible to understand just what a Trump presidency will truly look like, many former business associates have warned that this spinning and counter-spinning is what his administration will be: no solid principles, simply a willingness to jump back and forth across diametrically opposed positions with no real logic as to why. Ultimately, the accusation is one of being supremely self-serving. Russia may think this is a personality it can work with, but that makes an assumption that the self-serving egotism will be rational and predictable. Moscow seems to emphasize the word 'pragmatism' with Donald. But the policy spins, flip-flops, and contradictions do not indicate pragmatism. They indicate unreliability.
-Donald has made headlines by saying he is willing to work with Russia, 'but only from a position of strength,' while also adding that the United States should be willing to walk away from Russia if it is 'too demanding.' Since Hillary has so clearly staked out a position openly antagonistic toward Russia, comments like these from Donald make it seem like a dramatically different policy. In real terms, it is not. The key is cluing in to the code words. Whenever a politician in America speaks about positions of strength and not wanting to see an opponent too demanding, it is basically arguing for the very same position crafted by Hillary: the preferences of the United States will take priority and working together only takes place if America is granted the clear leadership role. This attitudinal arrogance has been sanctified in Russian-American relations since the dissolution of the Soviet Union and no President so far has seemed willing to blaze a new path. Donald's comments are not trailblazing: they are secretly masked to hide what will simply be more of the status quo. He will be partner to Putin as long as Putin accepts a subordinate role, which, obviously, seems highly unlikely.
-The previous point is a perfect segue to what will likely be the real fuel between Trump and Putin – ego and machismo. These two things are currency to Donald. It is clearly what he admires about Putin: whether countries around the world approve or disapprove of Putin policies and initiatives, one thing is never denied – his power and undeniable sense of authority over his administration and system. That Donald sees this as something to admire does not in fact indicate a willingness to be 'mentored' by Putin. Rather, it is far more plausible that the relationship devolves quickly into a battle of egos. In America, this is often denigrated as a 'pissing contest.' When Putin called Donald a 'bright person, talented without a doubt,' it inspired Trump to respond: 'I like him because he called me a genius. He said Trump is the real leader.' In other words, substance matters not. Just be sure to stroke the Donald's ego and he will consider you a 'friend' and 'partner.' But what will his mercurial personality do when a disagreement on substance overrides any mutual admiration society based on style? For Donald, it will be the end of partnership, the end of friendship, and thus, the end of 'new' Russian-American relations. Ironically, Russia may find out that only Putin is the pragmatist. Donald is simply a narcissist.
-In a bit of reverse psychology, Russia should be wary when one of the most biting opponents of Putin, the former world chess champion Garry Kasparov, vociferously proclaims how Trump is the American version of 'Putinism' and that Donald's presidency would be the 'best hope' for Russia.[8] Kasparov's logic is that the election of Donald would severely weaken American democracy and rip apart positive trans-Atlantic relations. Put simply, Kasparov treats Donald like a de facto agent of Russian interests, ie, Donald would be willingly subordinate to Putin. As mentioned before, ego and narcissism will not allow that. In the current state of Russian-American relations, when so many Americans are being fed stories about the adversarial aggressiveness of Russia, there simply is no evidence-based thought process to make someone believe Donald would buck American opinion about a so-called enemy. Rather, he is much more likely to sycophantically cater to American paranoia, in order to guarantee his own need for self-aggrandizement.
-Finally, the comments of Konstantin Kosachev, Chairman of the Upper House Committee for Foreign Affairs, illustrate perfectly how much of the hope on Donald is really just about the lack of hope with Hillary:
"New chances may appear only as radically new tendencies in the White House, and we are talking not only about pro-Russian sentiments, we simply need some fresh air, some 'wind of change' in Washington. Then, we can reset certain things and agree on continuation of the dialogue…In the context of these two factors Trump looks slightly more promising…At least, he is capable of giving a shake to Washington. He is certainly a pragmatist and not a missionary like his main opponent Clinton."
What this article has established is how misplaced such faith tends to be when considering Donald. People in Russia are making false connections: if you are not a missionary, then you must be a pragmatist. There are other more dangerous and damaging options in that equation. It is not binomial, 0 or 1. To repeat: just because Donald is not Hillary does not mean he is better or more approachable for Russia. His track record and personality indicate otherwise.
There are in fact some figures of cautious moderation in Russia and they are offering wisdom on the coming election. People like Aleksey Pushkov, head of the Lower House Committee for Foreign Relations, and Fyodor Lukyanov, head of the Russian Council on Foreign and Defense Policy, while admitting their understanding of the immediate Russian attraction of Donald over Hillary, also emphasize how the 'system' of Washington politics tends to bring any incoming President quickly to heel and that it is impossible to truly know what to expect from a Trump presidency. I think it is possible to reliably guess, however. For Russian-American relations to significantly change from its current negative status quo, the incoming President would have to be eager and intellectually motivated to instill innovative new political thinking and diplomatic pathways. Hillary has clearly staked her position in the ranks of the Old Guard of suspicion, skepticism, and distrust. Donald perhaps has not done this publicly. But his need to be adored and admired by the American public (an American public constantly fed a steady stream of negative perception and analysis about Russia and Russian leadership) means he would have to be willing to abandon the feeding of his narcissism for the sake of improved Russian relations. And while there are many mysteries in this world, one thing is most certainly NOT a mystery: the person Donald has always loved most of all is…..the Donald. Thus, Russia needs to be careful as it approaches the coming 2016 American presidential elections. Some loose assumptions and false connections are driving apparent loyalty to a candidate that is unlikely to offer anything close to what is hoped for. Indeed, it may just be the sad news that 2016 goes down simply as the American election that offers Russia option 'C' as the best choice: None of the above.
Russia and Multilateral Diplomacy in East Asia
When Russian Foreign Minister Sergey Lavrov attended the ASEAN Foreign Ministers' Meeting in August 2018 it was revealed that President Vladimir Putin was planning to take part in the upcoming East Asia Summit (EAS) in Singapore this November. This will mark the first time that the Russian leader has attended the event since the country became full member of the EAS. Putin will also pay a state visit to Singapore and take part in the Fourth ASEAN–Russia Summit [1].
The President's participation in the EAS has been a long time coming and his attendance will demonstrate that Russia is taking multilateral diplomacy in Asia seriously and that it cares about the EAS as the main ASEAN-centred security mechanism. Does Vladimir Putin's upcoming trip to Singapore indicate that Russia is pushing a new agenda in its Asian policy?
A List at the End of a List
Just like there seems to be no country whose geographic position is not strategically advantageous, it would seem that there is no area of Russia's foreign policy that is not a priority of some sort. In the official discourse, it is not customary to talk about Russia's own pivot to the East, because formally there was no change in the priorities and East Asia has always been one. But speaking realistically, it can also be said the priories remain unchanged in the sense that Asia is still a secondary focus for Russia's foreign policy efforts compared to other areas that are of priority concern mostly because they are prone with conflict.
At the same time, while Russia and the West seem unable to resolve their protracted conflict, Asia remains an important source of good news for Russia, an area where constructive forms of international relations still prevail over various forms of geopolitical competition. The Eastern Economic Forum held in Vladivostok in early September, which was attended by the heads of state or government of China, Japan, South Korea and Mongolia, is a good example of such positivity.
Perhaps it is image of relative harmony that makes the topic of Asian multilateral institutions less interesting for observers and relegates it to the bottom of the list of the priority areas of Russian policy in Asia. When Russian official speak of the country's Asia policy, they usually start with Russia's bilateral relations with regional leaders – China, Japan, South Korea and India – before turning to the Korean nuclear problem. Only then do they list the various multilateral diplomacy institutions around the Association of Southeast Asian Nations (ASEAN): the ASEAN–Russia Dialogue Partnership; the ASEAN Defence Ministers' Meeting with Dialogue Partners (ADMM-Plus); the East Asia Summit; the ASEAN Regional Forum (ARF); and Conference on Interaction and Confidence-Building Measures in Asia (CICA), among others.
Meanwhile, multilateral diplomacy in Asia is an agenda item that checks several crucial boxes for Russian foreign policy ideology.
First, the region is home to rising powers which, according to the official Russian theory, will build the new 'polycentric world' and these players include both individual countries such as China, India or Indonesia and organizations like the SCO and ASEAN itself. Second, the principle of non-alignment, multilateralism and inclusivity in the form of ASEAN-centric organizations is still in vogue here, that is, there is 'Asian NATO', but instead a dense network of inclusive dialogue platforms (even North Korea takes part in ARF meetings). Third, ASEAN and larger formats around it continue to take the principle of non-interference in the domestic affairs of states very seriously and avoid discussing each other's domestic workings, which is also in the set of values that Russia is promoting on the international arena.
At the same time, all of this ideological affinity is not easily converted into practical cooperation. Every year, dozens of events are held within the framework of the ADMM, ADMM-Plus, ARF and EAS platforms, which are attended by the ASEAN dialogue partners. Diplomats from the partner countries are well aware of how difficult it is to maintain meaningful participation in all of them. It was only last year the Russia – last of the dialog partners – opened a full representation to ASEAN and given the limited international competencies of most Russian ministries, the Ministry of Foreign Affairs and the relevant subdivisions of the Ministry of Economic Development remain disproportionately burdened with maintaining Russia's participation in these formats.
In practical terms, the most visible step taken by Russia in multilateral institutions in Asia was the 2010 initiative to launch a "dialogue on issues of forming a new security and cooperation architecture in the region" within the EAS format. The set of characteristics that make up this system changes from speech to speech, but is usually said to be based on principles of collectiveness, multilateralism, equality, inclusiveness, openness, non-alignment and indivisibility. In the real world, Russia's initiative is embodied in a series of working-level workshops on the regional security architecture. Six such workshops have been held and are usually attended at the level of division chiefs. There are also plans for a format where EAS ambassadors in Jakarta are to discuss the topic.
An initiative of this kind clearly appeals to ASEAN as an organization in the very centre of multilateral diplomacy in Asia, all the more so because the selection of principles proposed by Russia is recognized, at least vocally, by almost every single member of the United Nations. But even this seemingly win-win ideological construct runs into harsh geopolitical realities. In private conversations, ASEAN diplomats have in recent years expressed scepticism about Russia's ideological leadership in this initiative: they say that it is not Russia's place to talk about the indivisibility of security and then conduct joint military exercises with China, which the smaller countries in Southeast Asia evidently fear.
However, the main difficulty for the Russian initiative is different – as with many other processes in ASEAN-centric formats, it is not entirely clear whether an initiative on the creation of a new security architecture will come to life beyond workshops and statements. There is reportedly a collective document that could, following discussions, form the basis for a set of rules of conduct in the Asia-Pacific Region that could then be converted into another document that may even turn out to be legally binding.
Russia's participation in ASEAN-centred multilateral mechanisms is not limited to the initiative. For example, Russia along with Laos is co-chair of the ADMM-Plus Expert Working Group on Humanitarian Mine Action. In 2014–2017, it co-headed (with Thailand) a similar group on military medicine. In 2019–2020, Russia will, alongside Indonesia, co-chair the ARF Inter-Sessional Meeting on Counter Terrorism and Trans National Crime.
The (Not) New Sheriff In Town
Multilateral diplomacy in East Asia has traditionally enjoyed the support of all the key players in the region. However, this is mainly due to its openness and inclusivity. Unfortunately, this inclusivity proceeds from avoiding any kind of hard position or going against the consensus. Serious security issues are discussed on these multilateral Asian platforms that first seek to not offend anyone be uncontroversial and only then to be effective or even meaningful. What is more, the major powers support the ASEAN centrality because they know that ASEAN is in no condition to enforce any decision. This means that the United States and China can act pretty much as they please without feeling any kind of restrictions on the part of the regional community.
None of this means, however, that the numerous dialogue mechanisms that exist in the Asia-Pacific region are purely imitative and decorative in nature. They perform an important function – namely, socialization and the creation of an information flow among states. This mutual awareness of each other's intentions, interests and positions should in theory build trust among all players or at least remind them that when crisis strikes there is a platform where they can talk before taking up arms. In other words, the multilateral security system in Asia works, although it does not meet the grand expectations of observers who want to see it as a safeguard of international security in Asia. On the other hand, recent experience of Europe demonstrates that we relying too much on collective security systems.
When faced with any serious security challenge, the countries in the Asia Pacific rarely rely on multilateral institutions for protection or mediation. And the fact that they turn to more traditional foreign policy instruments underscores the inability of multilateral mechanisms to fulfil their stated functions. The new concepts and strategies that have emerged in Asia and are designed to counterbalance China will be seen by many smaller countries in the region as an opportunity to gain real protection from Chinese assertiveness, at least to the extent possible.
In the coming years, these alternative formats will likely revolve around all sorts of 'Indo-Pacific' initiatives and platforms. The revived U.S.–Japan–Australia–India quadrilateral dialogue – no doubt aimed at new and better containment of China – will also extend its cooperation formats to a wider audience of partners in Asia. The key partners here will most likely be Indonesia, Singapore and Vietnam.
Another example is America's Indo-Pacific Economic Vision announced recently as the economic leg of the 'free and open Indo-Pacific' strategy. The long-awaited trilateral partnership for Indo-Pacific infrastructure investment has also arrived. While these initiatives do not seem to be as ambitious as China's Belt and Road Initiative, they do already have an advantage over it – they are not Chinese. In today's climate of growing fears of debt trapping and Chinese 'sharp power' this gives a measure of hope to U.S. and Japanese infrastructural investors aiming at Southeast Asian and Eurasian markets.
All this creates challenges for the relevance of multilateral institutions in Asia. When the Quad re-emerged November 2017, the news caused concern in Southeast Asian countries: what will this mean for ASEAN centrality? This concern was addressed by a diplomatic appeasement campaign, as Deputy Assistant Secretary of State Alex Wong went on an extensive tour of Asia to calm the waters. An important result of this work was the joint statements made by the Quad foreign ministries following the second meeting on June 7, 2018, with all four texts essentially boiling down to a reaffirmation of ASEAN centrality.
Even without these new plurilateral formats, ASEAN-centred mechanisms were a target for criticism. For example, every time the situation on the South China Sea flares up, ASEAN is criticized for not being able to adopt a unified position. The ten member states of ASEAN are to varying degrees willing – or, rather, unwilling – to upset China. This is why they prefer to adopt a position with the lowest common denominator. ASEAN and China have been developing a Code of Conduct for the parties in the South China Sea for several years now. The document should be an important milestone in the settlement of the conflict, or at the very least reduce tensions in the region. A Single Draft was only agreed upon this year, and it is nothing more than a set of asks from all parties – even the most glaring contradictions have not been removed.
What Russia Brings to the Table
The problems of ASEAN-centred mechanisms are not unique to multilateral diplomacy and, of course, do not diminish the significance of the EAS for Russia. First of all, Vladimir Putin's participation in the East Asia Summit is not as important for the EAS as such as it is for Russia–ASEAN relations. The East Asia Summit is important as a vanity project for ASEAN, a living embodiment of the principle of ASEAN centrality, when all the great powers in the Asia-Pacific Region come together under ASEAN convening power to discuss regional issues. The declaration following the Third ASEAN–Russia Summit in Sochi noted, in typical ASEAN-speak, that more attention on the part of Russia towards the EAS would serve as an important step on the way to upgrading the status of the dialogue partnership between Russia and the ASEAN to 'strategic dialogue.'
In this sense, the President's trip to Singapore in November can only be a success. Russia will remind everyone of its status as a major player in the region and share a vision of the regional security system that will be difficult not to support. President Putin will talk about the Greater Eurasian Partnership – Russia's idea of a vast space with unified rules of the game in trade an investment, stretching all the way from the European Union to ASEAN. Commentators will point to Russia's significant potential to play the role of a third force, whose appeal will only grow as the competition between China and the United States intensifies.
The 'third force' idea has long existed in the Russian discourse on Asian politics but requires critical assessment. There are two key weaknesses in the argument.
First, Russia does not enjoy a high level of influence in Southeast Asia, and its objective ability to bring attractive proposals to the region is also limited. While the countries in the Indo-Pacific currently account for a third of Russia's foreign trade, for none of these countries does Russia itself exceed 3 per cent. Russia has unique products and services in several strategically important sectors – arms trade, information security, minerals and energy. However, this proposal has existed for several decades now, while the results (with the exception of Vietnam) have been spotty. The same goes for the Russian military presence in the Western Pacific; this presence is reasonably limited, which, on the one hand, reduces the risk of Russia being drawn into regional conflicts. On the other hand, it prevents Russia from playing in the same league as the United States and China.
autonomy in Asian affairs. Thanks to the coverage by international media and experts, Russia is increasingly seen as a country whose deteriorating relations with the United States are making it more and more dependent on China. The nuances of Russia's balanced stance on the South China Sea, for example, are no longer seen as such behind the smokescreen of joint military exercises with China and the support of Beijing's refusal to recognize the decision of the Permanent Court of Arbitration in The Hague in 2016.
In this context, Russia may find it difficult to portray itself as a third force in Asia. It may be more worthwhile to invest more in maintaining the existing mechanisms of multilateral diplomacy. For Russia, which does not have the resources of China or the US, a sensible long-term strategy would be to strengthen the institutional framework, especially if it works at the same time to increase trust in Russia as a country that adheres to the rules of international cooperation. Building practical cooperation and developing new initiatives in multilateral mechanisms in Asia to match its rhetoric could have a positive reputational effect for Russia and its influence in Southeast Asia at a relatively low cost, even if it is old-fashioned and naïve to talk earnestly about collective security these days.
Such a strategy would no doubt require more serious investments in the bureaucratic, intellectual and organizational support of Russia's work in multilateral mechanisms in Asia. It is necessary to gain the understanding and support of all stakeholders throughout the executive branch in order for Russia to step up its participation in the dozens of issue-specific dialogues under the ASEAN banner.
[1] At the time of publication, there is no official confirmation that the ASEAN–Russia Summit will take place; however, recent statements made by Deputy Minister of Economic Development of the Russian Federation Sergey Gorkov during his visit to Singapore imply that it will. See: http://economy.gov.ru/minec/about/structure/depasiapacific/201802091
First published in our partner RIAC
Putin Welcomes New Ambassadors in Moscow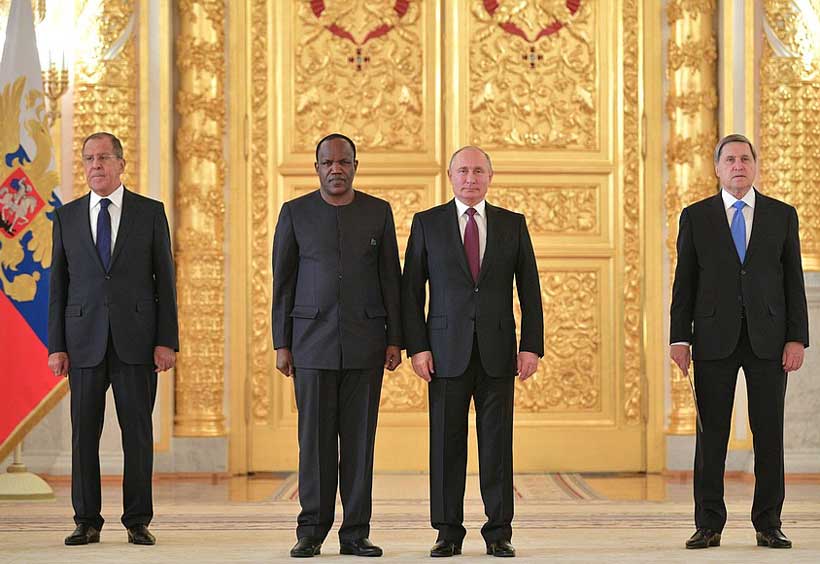 Russian President Vladimir Putin has strongly reminded newly arrived foreign ambassadors of their important mission of promoting relations between their individual countries and Russia, encouraging political dialogue and expanding economic and humanitarian ties.
He received letters of credence from 23 new foreign ambassadors, including four from Africa, in the Alexander Hall of the Grand Kremlin Palace in Moscow. The African ambassadors are: Chol Tong Mayay Jang (Republic of South Sudan), Retselisitsoe Calvin Masenyetse (Kingdom of Lesotho), Komi Bayedze Dagoh (Togolese Republic) and Simon Marco Mumwi (United Republic of Tanzania).
While further addressing them, Putin pointed out that "Russia is dedicated to a peaceful policy and progressively carries out a responsible course in its foreign policy. Russia stands against using politically motivated protectionism measures and sidestepping the norms of international law."
He explained that Russia's active participation in global affairs and openness to mutually beneficial partnerships with all countries and regions were motivated by national interest: to create the most favourable conditions possible for Russia to develop dynamically, to achieve ambitious social and economic goals, and improve quality of life for Russians.
In his speech, Putin told the Tanzanian ambassador, Simon Marco Mumwi, "Russia is open to improving mutually beneficial ties with Tanzania, particularly, in nuclear energy and the military-technical sector. And Kremlin welcomes efforts of the Tanzanian government aimed at maintaining peace and security on the African continent."
Several years ago, Putin rated Tanzania as one of Russia's key partners in Africa and expressed the desire to strengthen ties in a broad range of fields, noting that there was a big potential for cooperation in areas such as exploration and mining operations. That pledged of exploration and mining operations has been re-affirmed many times.
In other fields, Russia and Tanzania have signed an agreement on cooperation in the defense industry, which envisages arms supplies and cooperation in the military goods production. Russia trains Tanzanian citizens in many universities and institutes in the Russian Federation.
Putin told Chol Tong Mayay Jang, who is representing South Sudan in the Russian Federation, that Russia was ready to advocate a prompt resolution of the internal conflict in South Sudan. It would also support the efforts of mediating states, regional organisations and the international community.
In September 2012, Putin acknowledged that building relations with the newly created Republic of South Sudan was an important part of Russia's efforts to contribute to development in Africa. He warmly expressed the hope that the establishment and development of South Sudan and its economy would create many opportunities for carrying out joint projects.
With Ambassador Komi Bayedze Dagoh from the Republic of Togo, the Russian leader indicated that his country is interested in expanding friendly diplomatic ties and has good cooperation prospects in geological exploration and the military-technical area while at the same time continues cooperating in training professionals for the small coastal West African country.
In the context of further development of friendly relations with the Kingdom of Lesotho, Russia would pay attention to implementing joint projects, such as extraction of raw materials using Russian technology and investment. Putin said that Russia was satisfied with the level of coordination on issues on the global and African agenda.
In a friendly traditional atmosphere and due to the fact that Russia attaches great importance to relations with each country, Putin concluded by giving the highest assurance in making [the ambassadors] diplomatic activities as productive as possible and that all their initiatives would be supported, at all times, by the Russian leadership, executive bodies, businesses and society.
The "Russian Card" in the International Game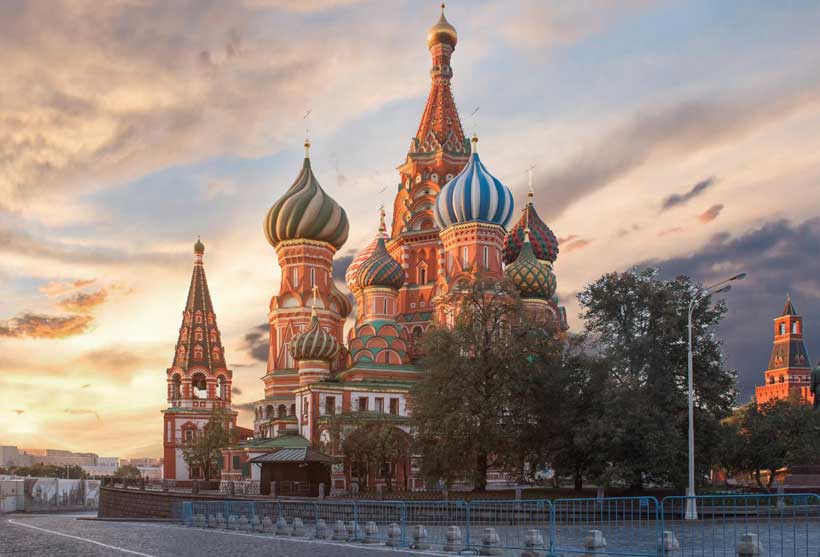 In recent years, Russia has unfailingly found itself the focus of the international community's attention: Russia makes newspaper headlines, appears in TV reports and is the topic of heated public debates throughout the world. It would seem that such popularity is reason to rejoice. However, this attention is becoming rather unhealthy: various political forces actively use the "Russian card" to achieve their domestic and foreign political goals, which are sometimes rather self-serving.
Russia needs to be clearly aware of the fact that they are indeed sharps, unconscionable and mostly unprincipled politicians attempting to make their play using the current political situation. These politicians are ready to paint themselves as either the enemies or best friends of Moscow; they can proclaim right-wing or left-wing slogans, appeal to the future or capitalize on the past. In any case, for them, Russia is nothing more than a convenient instrument for manipulating public sentiments at home or a lever to exert pressure on other global political actors.
In recent years, Russia has unfailingly found itself the focus of the international community's attention: Russia makes newspaper headlines, appears in TV reports and is the topic of heated public debates throughout the world. It would seem that such popularity is reason to rejoice. However, this attention is becoming rather unhealthy: various political forces actively use the "Russian card" to achieve their domestic and foreign political goals, which are sometimes rather self-serving.
While doing so, they sacrifice the interests of Russia and the interests of international stability and truth, and even neglect basic logic and common sense. Let us list but a few recent examples.
In Washington, amidst almost completely suspended Russia–U.S. relations, Republicans and Democrats routinely use the "Russian card" as an instrument in their power struggle. The parties are so taken with introducing various acts and bills and making other decisions intended to hurt the Russian leadership as much as possible that they are becoming oblivious to the interests of their own country, including its immediate security concerns.
In Kiev, the "Russian card" is nearly the principal trump card for national self-assertion, the key argument justifying the inability of the current Ukrainian leaders to make any kind of progress in resolving pressing socioeconomic problems. Therefore, it is vital for Kiev that the high level of tensions in their relations with Moscow is maintained. And we see over and over again that when it comes to achieving this goal, anything goes.
London, still haunted by the ghost of its former power, attempts to find a new place for Britain in the changing global power configuration. Who would be a good opponent for London? Brexit did major damage to Britain's relations with many European countries. Placing itself in the lead of an anti-Russian coalition and calling upon partners to show solidarity with the "victim of Russian meddling," London can divert attention away from the painful and thus far not entirely successful "divorce from Europe."
In many European countries, populist parties actively use the "Russian card," profiteering, in particular, from the costs of the anti-Russian sanctions to their countries. At the same time, however, they do not offer a well-thought-out, long-term vision of the development of their countries' relations with Russia. If they do come to power, they become less interested in the matter or use it as a trump card in their bargaining with Brussels on other issues that are of greater importance for them.
In Ankara, the "Russian card" emerges from the sleeve each time Turkey has a problem with the United States and its other NATO allies. A possible strategic partnership with Moscow is put forward as a possible alternative to Turkey's Atlantic orientation. However, there are no reasons to expect Ankara to make a strategic turn towards Moscow right now.
The list of countries and political forces that include the "Russian card" in their diplomatic arsenal can go on and, unfortunately, it is becoming longer. And the "Russian card" is being played not only along the Russian borders, but even in more faraway regions.
Why is the "Russian card" so popular today? We should bear in mind the fact that, in the coming years and maybe even decades, the shaping of a new stable world order will be incomplete, and international relations will be in a state of permanent turbulence. Such a state is fertile ground for politicians who are ready to use any means to achieve profits here and now.
The foreign policy of the current U.S. administration is the starkest example of this state of affairs. Violating international law and treaties, imposing unilateral sanctions, introducing protectionist measures and intervening in the domestic affairs of other countries has just about become the norm of U.S. international conduct. If playing the "Russian card" becomes a norm, too, it will do progressively greater damage to Russia's standing in the international community and will limit Russia's options in conducting an active foreign policy.
What about Russia? What should our response to the various games played by political card sharps be?
First, Russia needs to be clearly aware of the fact that they are indeed sharps, unconscionable and mostly unprincipled politicians attempting to make their play using the current political situation. These politicians are ready to paint themselves as either the enemies or best friends of Moscow; they can proclaim right-wing or left-wing slogans, appeal to the future or capitalize on the past. In any case, for them, Russia is nothing more than a convenient instrument for manipulating public sentiments at home or a lever to exert pressure on other global political actors. Therefore, it would be a big mistake to bet on those powers and count on long-term strategic collaboration with them.
Second, the best way to knock the "Russian card" out of the hands of political profiteers is to implement a well-balanced, long-term and consistent strategy of Russia's relations with a specific state or groups of states. The most instructive case is Russia–China relations. There have been and there will be many attempts to sow doubts or mutual suspicions, to resurrect old grievances and contradictions, but they all come to naught because of a solid edifice of bilateral relations that has been consistently constructed in recent years and which possesses clearly defined strategic benchmarks.
As far as Russia's relations with the European Union are concerned, attempts to force political manipulators to cease and desist have thus far been unsuccessful. In the early 2000s, Russia and Europe built their relations with the common goal of achieving strategic partnership. Over the course of several years, the parties created a solid legal framework for their relations, increased their trade turnover, reached a new level of mutually beneficial cooperation and expanded educational, academic and public contacts. As these positive trends shrank and the clear benchmarks in Russia–EU relations were lost, the temptation to exploit the topic of Russia began to rear its head. It is a known fact that fishing in troubled waters is a favourite pursuit of many, and this is what we are seeing today in various European countries.
The only way to pull the rug from under the feet of these political profiteers is to develop a constructive dialogue between Moscow and Brussels, define clear and unequivocally exactly what Russia's interests in Europe are, and abandon unconditionally all attempts to achieve tactical victories by playing on the contradictions between individual EU member countries. Such a principled approach is applicable in other areas of Russia's foreign policy as well.
Third, we see that all kinds of provocations are one of the main instruments used by those who attempt to play the "Russian card." These provocations include unilateral sanctions and illegal actions against Russian citizens, Russian businesses, and Russia's property, spreading false information, etc. The intent here is simple: to draw Russia into a fruitless discussion and an endless "exchange of blows," forcing it to divert significant political and material resources from resolving truly important problems in the country's internal development and promoting Russia's interests on the international arena.
How should Russia react to these provocations? We should remember here that a provocation is only successful when people take the bait. Once again, we could look at China here, whose resolve is also tested on a regular basis. In every instance, China does not react in an emotional manner; rather, its responses are always weighed and thought out thoroughly. In some cases, China will retaliate in kind (as with the United States unilaterally increasing tariffs). In other cases, when such a response is justified, China offers a token display of power. Sometimes, Beijing pretends not to pay any attention to the attacks, but the response may be forthcoming at an opportune moment.
Fourth, much in counteracting anti-Russian attacks depends on the reactions to those attacks in the Russian media. Sometimes, one gets the impression that certain printed media and TV channels are waiting for such provocations to engage in lengthy and aggressive discussions on the subject, provoke an international scandal and to call upon the Russian leadership to respond in the harshest possible manner. Such behaviour, on the one hand, instils the false impression in the public consciousness that Russia is surrounded by enemies and needs to brace itself for the worst and, on the other, it objectively prompts the authorities to take sometimes emotional and hasty actions. Of course, a response is necessary. However, this response should not consist of screaming wildly. It should instead consist of dignified and convincing arguments based on Russia's long-term interests. Haste in such matters is inappropriate at the very least.
Of course, there are no universal recipes that work in every situation. Every day, we are greeted by a new surprise. But it is important to be guided in every specific case by the key principle: nothing must be done today that could create even greater problems for Russia tomorrow. And let those who love using the "Russian card" passionately build their political houses of cards. Historical experience shows that those houses are unlikely to last.
First published in our partner RIAC