The War of Civilizations: Back to the Future (A)
If there is one clear observation when analyzing Islamic onslaught/encroachment to occupy and to rule the world, it is elaborated by the Power Vacuum Theory. Ayn Rand has put it so succinctly: The spread of evil is the symptom of a vacuum. Whenever evil wins, it is only by default: by the moral failure of those who evade the fact that there can be no compromise with evil on basic principles.
From its emergence until today Islam works incessantly and relentlessly to impose its socio-political regime and its culture over the Free World, and to make its religion the only legitimate one. The means used were always the same three arms with their many manifestations: Jihad (violence, war, and terrorism); Da'wah (the diplomacy of deceit) and Hijrah (huge immigration to the occupied territories). These were operated in combined processes and according to the circumstances and opportunities.
The Islamic onslaught/encroachment is analyzed on the continuum of Power Vacuum Theory as a recurrent "weakness-containment syndrome." When the Free world weakens, whether from internal or external reasons, Islam marches on in an offensive onslaught and encroachment to conquer, to occupy, to butcher and to enslave. However, when the Free World is strong enough or when it wakes up and sobers up and fights for its life, it succeeds to contain Islamic aggression and to bring Islam at bay and under control. This was the process of power politics of the War of Civilizations that was conducted for 1400 years, in three rounds or stages.
The first round of the War of Civilizations started in year 630 and ended in year 732. The reason for the emergence of Islam to power was the weakness of the Sassanid Empire in Persia, in the east, and the deterioration of the Byzantines Empire, in the west. During that period of time Muslim armies had occupied vast territories, in the Middle East and North Africa to Andalusia in the West, and from Persia to India and North Western China, in the East. The main motivation of the Muslim armies in these territories were Islamization and Arabization of the occupied territories, while slaughtering, butchering, enslaving and converting its indigenous populations. This imperialist and colonialist onslaught/encroachment has ended at the Battle of Tours, near Paris, in October 732. The Christian Franks headed by Charles Martel were victorious, and the Muslim army of Abd al-Rahman was defeated.
This first War of Civilizations at the Battle of Tours has been a decisive turning point in the struggle against Islam, a landmark battle that signalized the high tide of the Muslim advance into Europe. This was one of the most important epochs in the history of Europe that preserved Christianity as the religion in Europeans, and saved Europe from the miserable situation the occupied territories by the Muslim represent. The Free World used its military power and put the Islamic onslaught/encroachment at bay, as a long process of containment.
The second round of the War of Civilizations started with the rise of the Ottoman Empire, in 1299 and the fall of Constantinople in May 1453. The reason for the re-emergence of Islam by the Ottoman Empire was the political and military weakness, in fact the decline of the Byzantine Empire (Eastern Roman Empire). Until the middle of the 17th century the Ottomans gained control over Anatolia, the Balkans, and the Caucasus, and deepened its control in the Middle East, North Africa, and India.
This period was marked as of political stability and success referred to as Pax Ottomana. The Ottomans main occupation was the Islamization of the occupied territories mainly in the Balkans and Eastern Europe while conducting a second round of black and white mass enslavement. This imperialist and colonialist Islamic onslaught and encroachment has ended with the Battle of Vienna, September 11, 1683, after two months of siege.
The defeat of the Ottoman Empire marked the turning-point of the 300-year struggle in the Ottoman-Habsburg wars, and it was culminated with the Treaty of Karlowitz in 1699, between the Ottoman Empire and Austria, Poland and Venice. Following, was the Treaty of Constantinople in July 1700 that ended the Russo-Turkish war of 1686-1700. These defeats marked a new period in European life: the Ottoman Empire ceased to be a menace to the Christian world. The Free World used its military power and put the Islamic onslaught/encroachment at bay for the second time.
Now the Free World is at the very midst of the third round of War of Civilizations. The Islamic push to dominate all other cultures, religions, and regimes has never stopped, and for the first time it is world-wide. There is not even one state in the world that is not under Islamic encroachment, either by Jihad or Da'wah or Hijrah. The question left is if and when the Free World sobers up and wakes up to understand the menace of this reality and evaluate the prices of fighting back. The last round of appeasement was introduced by the Free world to Nazi Germany. Not only its downfall was alarming, but not surprisingly it was precisely Nazi Germany that opened the war by invading Poland. This is indeed the price of defeatism and appeasement.
Douglas MacArthur claimed that the appeasing defeatism breeds more difficult and cruel wars, that there is not even one case in human history that defeatism has brought peace. It was Jan Masaryk, the former Czechoslovakian Foreign Minister once said that a nation with a broken back is doomed, even each and every one of its inhabitants has a tank in his yard and a warplane on his roof. Power ceases when there is no national honor and no commitment to protect the national interests.
It was Sigmund Freud who has stated that when it comes to misconceptions human beings are geniuses. Indeed, as Winston Churchill has noted, if you will not fight for the right when you can easily win without bloodshed; if you will not fight when your victory is sure and not too costly; you may come to the moment when you will have to fight with all the odds against you and only a precarious chance of survival. There may even be a worse case. You may have to fight when there is no hope of victory, because it is better to perish than to live as slaves.
The Free World does not understand that political culture makes the whole difference; that there are different cultures that shape the behavior and conduct of their followers. In its mirror image misconceptions, it visualizes that we are all the same; that it is the "mac-world," the Global Village" of Marshall McLuhan, and the English language that determine. We do not understand, we have no clue to comprehend the Arab-Islamic political culture and what motivates it. History teaches us that more appeasement leads to much higher aggressiveness; more tolerance breeds more violence; more disregard, oblivion, and shutting one's eyes bring more impudence in demands and imposing submissiveness; more financial support and economic aid yield more corruption, poverty and misery.
Alexander Solzhenitsyn has put it correctly: let us not forget that violence does not and cannot flourish by itself; it is inevitably intertwined with LYING. Between them there is the closest, the most profound and natural bond: nothing screens violence except lies, and the only way lies can hold out is by violence. Whoever has once announced violence as his METHOD must inexorably choose lying as his PRINCIPLE. Indeed, as Ayn Rand said: You can ignore reality; but you cannot ignore the consequences of ignoring reality. That is why George Orwell referred to the fact that the most grossly obvious facts can be ignored when they are unwelcome.
Modern Islamic Salafī-Jihādi (Jihad based on the Islamic ancestors' roots) demands that Muslims must solely live by the Qur'an tenets, and at the same time they renounce popular sovereignty and every other sovereignty besides that of Allah and the Sunnah. However, the winning movement today is the Salafī-Takfīrī (Jihad based on accusing the other with infidelity for deviating from the ancestors' roots and strictly abiding by the articles of the Sharī'ah) led by ICS.
The Islamic situation is so dynamic that the extremists of yesterday, the Salafi-Jihadī al-Qaeda, are losing the battle to the more extremists of today, the Salafī-Takfīrī Islamic Caliphate State. Its members look at themselves as al-Tā'ifah al-Mansûrah, the saved or the winning sect, and at their predecessors as Ahl al-Tāghût, the people of mistake and deviation. The interesting thing is that those extremists of the past, the Muslim Brotherhood are now considered as 'moderate' and 'conservative,' Salafī-Taqlīdī.
These contemporary three layers or stages represent in fact the Islamic extremist framework configuration. More important, one has to understand that Salafī-Takfīrī groups are not the last manifestation of Islamic extremism. As long as ICS is considered a winner, it will lead the movement and continues to be the hero model and attracts followers. However, behind the corner there await new groups that will represent a new layer or stage in Islamic millennialism. It is waiting for the right moment and/or opportunity to emerge. They even might renounce ICS as Ahl al-Tāghût and lead the Islamic agenda to a higher extreme stage that will bring humanity to the verge of existence, perhaps with nuclear or chemical-biological terrorism, or by destroying the technological society by employing cyber terrorism.
The emergence of a "more extreme" Islamic movement that marks a higher stage will occur when ICS stops representing the Islamic role hero model and a new ambitious brutal leader emerges. In the past we have seen this process as follows: Sayyid Qutb has challenged his mentor, Hasan al-Banna, the founder of the Muslim Brotherhood, and led the way to the emergence of Bin Laden and al-Qaeda, and to a new extreme stage. Abu Bakr al-Baghdadi challenges Ayman al-Zawahiri, his mentor, and has led the way to the emergence of ICS from within al-Qaeda, to mark a new more extreme stage. The only question left is who will challenge al-Baghdadi and when, not If.
However, this cyclical process of Islamic extremism was marked and continue to be shaped not by Islamic millennialism, but exactly by the Free World's reaction or better say ill-reaction. As long as the Free World continues its policy of weakness, appeasement, ignorance and cowardice; as long as the Free World continues with its mirror image and mental blindness misconceptions; as long as the Free World continues with its empty ideologies of multiculturalism and political correctness and such – Islamic millennialism will step more and more forward with higher brutality and devotion to impose its Islamic values on humanity in its entirety.
This is the history of Islam from its beginning, and just because we continue to ignore the reality of Islam and make artificial and detached from logic differentiations, it does not mean that the reality of Islam will continue to ignore us. In fact, Islam has never ignored its mission to the world nor the ignorance, submissiveness, cowardice, appeasement and irresponsibility of the Free World leaderships and cultural elites – to spread and flourish. The price, when waken up, will be paid with a huge amount of blood unprecedented in history.
It must be put bluntly and straightforward. The origin of the Arabs is from Arabia, mainly its eastern part called Hijaz. The Arabs were part of tribes and clans, and except of Mecca, their main occupation was raiding (Ghazawat) and taking booty (Ghana'em). When they conquered vast territories under the Islamic religious motivational inspiration they were doing the same. This was their main occupation in history. That is exactly what they are doing today, now under Jihad and Hijrah, with the assistance of Da'wah as a propagation, a diplomacy of deceit, a means to mislead and confuse world public opinion.
And still the Free World is in a deep state of denial and confusion. Indeed, one of the great wonders is how people translate information into knowledge. History proves that lack of knowledge stems from mental blindness and selective hearing, not from lack of information. Only politicians, intellectuals and the media could ignore, evade, and deny what Islam really is. When a society declares boldly, 'we have to fight Nazism,' and 'Nazism is evil,' and at the same time afraid to relate these words to Islam, it is no longer a free society. -Enemies can be understood within the context of their declared strategic doctrine. Just as we ignored Mein Kampf prior to World War II, so we now ignore what is clearly written in the Sharī'ah.
Since the 9/11 attack and mid-2015 there have been more than 28,000 terrorist attacks worldwide, all of which were perpetrated by Muslims, in the name of Islam and for the sake of Allah. That is about 5 terrorist attacks every day, in which millions of people have been killed. The tragic fact is that over 95 percent of world terrorism and 70 percent of world violence are Islamic, and these figures are on the rise. Literally, all peoples of the world, in all states were infected and influenced by Islamic aggressive advances, by Jihad, by Da'wah and by Hijrah.
At the same time, the cowardice reaction even beyond politically correctness and ignorance of the attacked leaders is reiterated and replayed as to become a ritual. The narrative never changes: "the terrorist acts are not part of Islam;" "the terrorists are not Muslims but in fact are against Islamic teachings;" "Islam is a religion of peace and compassion," and such oblivion sickening reactions. It is confusing and embarrassing since the unequivocal assertion of the terrorists themselves they are motivated by the teachings of the Qur'an and the examples of their prophet.
Immediately after the terrorist attack has taken place, the president or the prime minister of the Western country declares that this attack had nothing to do with Islam and that the terrorists are evil, while Islam is good and peaceful. This is followed in agreement by other Western leaders, while condemning the terrorist attack, continue the line of rehabilitating Islam being a religion of peace and compassion.
The media joins this lamented horrific situation by Western political leaders and immediately brings an on duty Muslim spokesperson, who emphasizes that Islam does not condone violence and it is totally and absolutely against killing innocent people. The media also interviews the murderers' families who grieve in sorrow and declare how great and peaceful their children were, and that they are Shuhadā' and therefore residing in heaven.
The academic experts are called to declare that we should look at the root cause of the issue, as the terrorists are in fact the poor, the alienated and the wretched, and that we have to understand their motives. They also remind us that the terrorists are a small group of fanatics who actually act against the ordinances of Islam. What the terrorist themselves say we should ignore, as it has nothing to do with the Islamic Sharī'ah. They also explain that the core issues are the injustices done to Muslims by the past Western imperialism and colonialism, so mainly we have to blame ourselves for their desperate acts. The academic experts also emphasize that extremists exist in all religions and the Islamic terrorist acts are part of the pervasive violent situation.
Then comes the psychologist or the social worker who concludes that Christian and Jewish emblems and other religious symbols hurt the religious sentiment of Muslims and they should be removed from public institutions, malls and schools. One cannot insult the religion of Islam and defame its prophet. It is not only not polite but we must be very considerate about the sensibilities of the Muslims. At the same time, Muslims should be given permission to act according to their traditional and religious values and their culture, so that their Sharī'ah must be implemented. If all these are fulfilled, the Muslims will become an integral part of our society.
Professional Muslim groups and organization that employ Da'wah, the diplomacy of deceit, to mislead the infidels, join this line by declaring their condemnation of the terrorist act, but immediately step forward to blame the infidels as the core cause of the problem. They call the police to take all the needed measures to protect Muslim communities from any backlash reprisal. They also call to hold meetings and debates of political and religious leaders concerned to stop violence and endorse peace in the spirit of integration and community cohesion.
To compensate and to facilitate the dire situation they demand for more money to be given to the Muslim neighbourhoods that will bring more cooperation and good mutual spirit in the name of peace. The Organization of Islamic Cooperation (OIC), the second world largest inter-governmental organization after the United Nations, immediately resumes its call to the UN to criminalize "blasphemy" against Islam, as "defamation of religions."
However, as an immediate answer to these flawed declarations, Abu Bakr al-Baghdadi, has once again reiterated in a new audio message: "Islam was never a religion of peace; Islam is a religion of fighting… all Muslims wherever they are, must fight for the Islamic Caliphate." He has urged all Muslims to take up arms and fight on behalf of the Islamic State as to resurrect the Caliphate.
There is another perspective to analyze the Power Vacuum Theory. In October 2006, Mark Steyn said bluntly: The future belongs to Islam. The Muslim world has youth, numbers and global ambitions. The West is growing old and enfeebled, and lacks the will to rebuff those who would supplant it. It's the end of the world as we've known it. One might formulate it as follows: Age + Welfare = Disaster for you; Youth + Will = Disaster for whoever gets in your way. Where is the problem? Islam has youth and will, Europe has age and welfare. What's happening in the undeveloped world is one of the fastest demographic evolutions in history. The median age in the Gaza Strip is 15.8 years. It is UN-supervised European-funded death cult. Demographic decline and the unsustainability of the social democratic state are closely related. The state has gradually annexed all human responsibilities: health care, child care, elderly care, to the point where it effectively severed its citizens from primal survival instincts. The salient feature of Europe, Canada, Japan and Russia is that they're running out of babies. Greece has a fertility rate hovering just below 1.3 births per couple, which is the "lowest-low" fertility from which no human society has ever recovered. And Greece's fertility is the healthiest in Mediterranean Europe: Italy has a fertility rate of 1.2, Spain 1.1. By 2050, 60 per cent of Italians will have no brothers, no sisters, no cousins, no aunts, and no uncles.
By "will," Steyn means the metaphorical spine of a culture. Africa also has plenty of young people, their primary identity is pure tribal without religious political ambitions of global reach as Muslims have. The Western world is too mired in cultural relativism to understand what's at stake. There is a correlation between the structural weaknesses of the social democratic state and the rise of a globalized Islam. If one thinks the UN and other international organizations are antipathetic to America now, wait a few years and see what kind of support you get from a semi-Islamified Europe.
The Norwegian imam Mullah Krekar told the Oslo newspaper Dagbladet in 2006: "We're the ones who will change you. Just look at the development within Europe, where the number of Muslims is expanding like mosquitoes. Every Western woman in the EU is producing an average of 1.4 children. Every Muslim woman in the same countries is producing 3.5 children… Our way of thinking will prove more powerful than yours." It was Qadhdhafi who said back in 1976: there are signs that Allah will grant Islam victory in Europe — without swords, without guns, without conquests. The fifty million Muslims of Europe will turn it into a Muslim continent within a few decades.
The question is, as Ali Sina puts, if international laws would be banning cartoons, does it stop there, or continue to all kind of free speech materials? The grand irony is that banning on the basis that Western free speech defame Islam, than it would also, by logical extension, have to ban the entire religion of Islam itself, being the only religion whose core texts actively and unequivocally defame other religions. Yet, the OIC and other Muslim organization do not seem to bother, as they do believe this is the correct natural situation, Islam being the only legitimate religion.
However, the folly of hedonism and appeasement prevails and hypocrisy combined with ignorance and political correctness, runs rampant: indeed, there are extreme verses as much as there are mild in the Qur'an, and this duality is found in every religion; indeed, there are radicals among the Muslims just as in all societies, but they are just a minority, even weeds. The majority is different.
This is the problem with all of its severity. The relevant questions are accordingly:
If that is the true situation – how do we know this? Are there any corroborating studies and data to substantiate this view? Or we only think this is the reality?
Even if a different peace-loving majority exists, is its voice heard? Does it influence policy and decision-making processes? Or is it only in our mirror imaged personality?
Where is public opinion voice, the political parties, the media, which prove there are other tendencies and voices? Or we just assume this is the situation?
How many peace movements, demonstrations marching in the streets rolling for peace and against terrorist perpetrators can be identified? Was any terrorist attack stopped even denounced by the so-called majority? Do the Arab and Muslim states condemn these atrocities and act against? Or is it our imagination alone?
How many pressure and interest groups are there in the Muslim world which actively function against Islamic fanaticism and Jihad terrorism? And if they do, to what extent do they influence? Or we just ignore reality out of ignorance?
How many NGO's are there acting against the terrorists and preventing aid from their reach? Do they even try to stop terrorism and convince it is act against humanity? Or we just want to believe, we terribly wish that there are such?
If there are moderate peace-loving political leaders, where are they? What influence do they have? Is their voice heard? What do they declare after the horrible acts of terrorism perpetuated, except of blaming the US and Israel? Or is it all our mental blindness and denial?
Indeed, there are Muslim intellectuals and liberals, but unfortunately they are very few. They condemn the atrocious terrorist acts; they plead for openness and democratization; they wish for integration and assimilation. However, not only they have no influence on the events, not only they are persecuted and alienated, but above all, they are a very small minority. The reality is, the questions that should be asked, who controls the Islamic communities and in the streets? Which voice is heard and is written in the communication Media? Who is more influential and admired by the youth; in the Madāris, in mosques and in the media? Who are the heroes of the masses? Who leads the way? And the biggest wonder of all: why do we always supply excuses and explanations to the horrific phenomenon we do not understand culturally and ignorant religiously? Or we just have a death wish?
This is amazing. How can we explain the Free World reactions? Is it appeasement alone? Is it hedonism of living the good life? Is it the Petro-dollar power of Saudi Arabia and Qatar? Is it the guilt remorse of "imperialist-colonialist past?" Or it is just political correctness? Or it is our twisted mirror image? Or it is our ignorance? It is as if we don't want to wake up. We are in a deep state of denial, in a slumber, as if we are on the Titanic and the orchestra continues to play.
However, the uppermost is surely because we are frightened; we are horrified; we are terrorized; because we are cowardice in front of the ruffians, the villains and the savages, and we want to come back to our sanity out of this madness by running away; by giving in; by clothing our eyes in visual amnesia; by paying "protection money," and by appeasing and subduing.
Delivering On Our Promise of Universal Education
Our investment in education – especially for children caught in crisis and conflict – is our investment in a better future.
Co-Signed by: Federal Councillor of the Swiss Confederation, Ignazio Cassis; Federal Minister for Economic Cooperation and Development, Germany, Svenja Schulze; Minister of Education, Niger, Ibrahim Natatou; Minister of International Development, Norway, Anne Beathe Tvinnereim; Minister of General Education and Instruction, South Sudan, Awut Deng Acuil; Minister of Education, Colombia, Alejandro Gaviria; Former UK Prime Minister, UN Special Envoy for Global Education and Chair of ECW's High-Level Steering Group The Rt. Hon. Gordon Brown
As we mark the International Day of Education, world leaders must make good on their promise of providing quality education for all by 2030.
Education is our investment in peace where there is war, our investment in equality where there is injustice, our investment in prosperity where there is poverty.
Make no mistake about it, there is a global education crisis that threatens to unravel decades of development gains, spur new conflicts, and upend economic and social progress across the globe.
As UN Secretary-General António Guterres highlighted at last year's Transforming Education Summit: "If we are to transform our world by 2030 as envisaged by the Sustainable Development Goals, then the international community must give this (education) crisis the attention it deserves."
When Education Cannot Wait (ECW), the United Nations global fund for education in emergencies and protracted crises, was founded in 2016, we estimated that 75 million crisis-impacted children required education support. Today, that number has tripled to 222 million.
Of the 222 million children whose right to an education has been ripped from their hands by the multiplying impacts of conflict, climate change and other protracted crises, an estimated 78 million are out of school all together – more than the total populations of France, Italy or the United Kingdom.
Even when they are in school, many are not achieving minimum proficiencies in reading or math. Think about this terrifying statistic: 671 million children and adolescents worldwide cannot read. That's more than 8% of the world's total population. That's an entire generation at risk of being lost
As we have seen from the war in Ukraine, the challenges of the Venezuelan migration to Colombia and South America, the unforgiveable denial of education for girls in Afghanistan, and a devastating climate change-driven drought in the Horn of Africa that has created a severe hunger crisis for 22 million people, we are living in an interconnected world. The problems of Africa, the Middle East, South America, and beyond are the problems of the world that we share together
Every minute of every day, children are fleeing violence and persecution in places like Myanmar, the Sahel, South America and the Middle East. Every minute of every day, boys are being recruited as child soldiers in Somalia, the Central African Republic and beyond. Every minute of every day, the climate crisis brings us closer to the end of times, and children go hungry because they are denied their right to go to school, where they might just have their only meal of the day. And amid conflict, migration and climate change, governments like Colombia are struggling to secure the most basic living and education conditions for children in hard-to-reach borders.
It's an assault on our humanity, a moral affront to the binding promises outlined in the Universal Declaration of Human Rights, and a giant step backwards in our persistent efforts – against all odds – to find peace in our times.
There is hope. By embracing a new way of working and delivering with humanitarian speed and development depth, ECW and its strategic partners have reached 7 million children in just five years, with plans to reach 20 million more over the next four years.
Imagine what an education can mean for a child of war? In the Democratic Republic of the Congo, 13-year-old Nyota lost her father and brothers in a brutal attack on her village. Her family's home was burnt to the ground.
In a country where 3.2 million children are out of school, Nyota's future was bleak. Would she be a child bride, the victim of sexual violence, another tragic statistic in a forgotten crisis?
No. She did not give up. With the support of an innovative programme funded by ECW, Nyota is back in school. "When I have completed my studies, I dream of becoming the President of my country to end the war here. That will allow children to study in peace and not endure the same horrible things that I have."
Nyota is not alone: we have received inspiring letters from girls and boys in over 20 crisis-affected countries across the world that underscore the amazing value of education in transforming lives and creating a better future for generations to come.
On February 16, world leaders are gathering for the Education Cannot Wait High-Level Financing Conference in Geneva. Hosted by ECW and Switzerland – and co-convened by Colombia, Germany, Niger, Norway and South Sudan – the conference provides world leaders, businesses, foundations and high-net-worth individuals with the opportunity to deliver on our promise of education for all. The aim is to raise US$1.5 billion for the next four years.
As the co-conveners of this seminal event, we are calling on the people of the world to invest in the promise of an education. It's the best investment we could make in delivering on the Sustainable Development Goals.
Nyota and millions like her are not giving up on their dream, and we shouldn't give up on them. We have promises to keep.
Education starts early – or it should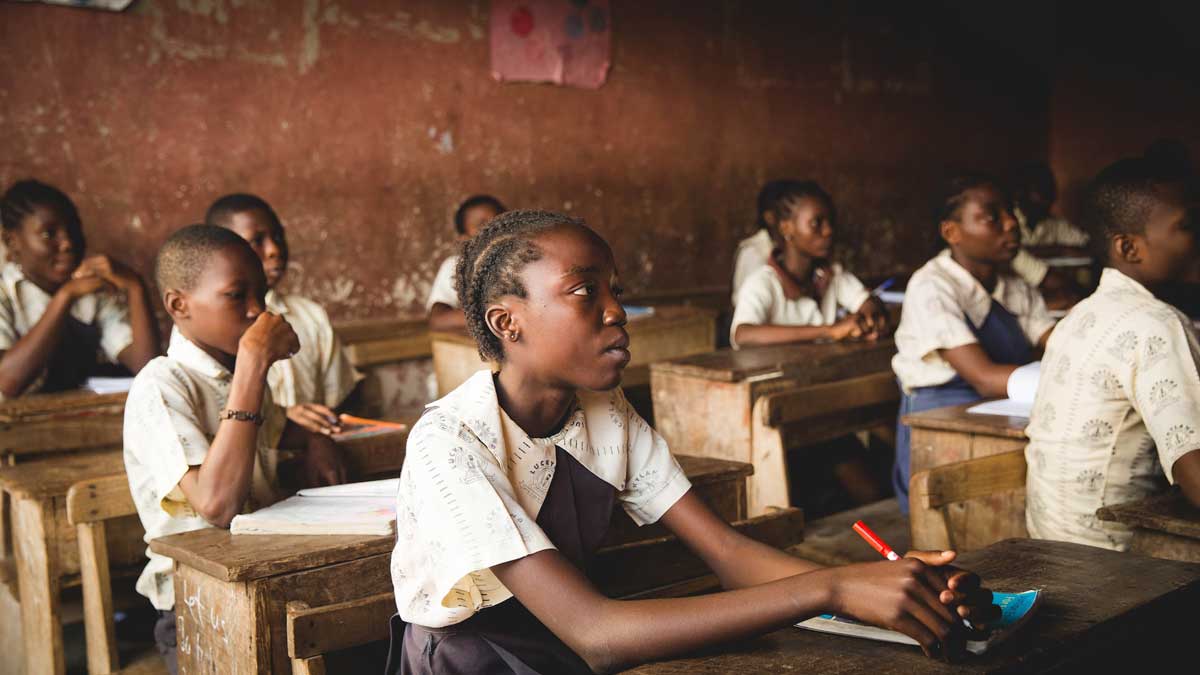 Authors: Manos Antoninis and Silvia Montoya*
When children attend early childhood education, they are not just learning their ABCs and 123s, they are learning how to solve problems, live in harmony with others and communicate effectively. Going to pre-primary education increases the chance to grow and flourish in a nurturing and stimulating environment. It is an opportunity to provide children with the skills they need to succeed in school and in life.
Thankfully, early childhood education is something that more and more children are accessing: over the past two decades, the rates of those attending rose from 65% to 75%. Countries have put pen to paper, committing to taking this up a level. As part of a multi-year exercise, they have set national benchmarks for the progress they feel they can make between now and 2030 on helping more young children start their education in their early years, alongside other objectives. On the occasion of the 2023 International Day of Education, UNESCO published a global report, the 2023 SDG4 Scorecard showing how fast countries are progressing towards their national benchmarks on Sustainable Development Goal 4 (quality education). These benchmarks commit countries to together open school doors to 95% of five-year-olds by the 2030 deadline for the United Nations Sustainable Development Goals.
These ambitions are not messing around. Conversely to what you might expect, countries have actually set their targets far higher than one might expect considering how they've done in the past. Even if they managed to improve at the rate of the historically fastest-improving quarter of countries, they would only manage to reach the stage where 83% of children were going to early childhood education. At present, therefore, barely one in three countries is on track with their self-set targets. How can we help them speed up?
Having monitored education for the past 20 years, a few clear lessons jump out that can help countries break the speed barriers we're keen to impart. While simple education reform is not very common, this first example is at least compact. Our recommendation is for countries to legislate and provide for free and compulsory education, which about a half of countries have done so far. Since 2015, for example, the introduction of three years of free education in Armenia, four years in Uzbekistan and three – and later five – years in Azerbaijan is associated with a large increase in participation rates. While one policy change cannot be assessed out of context, there is a clear jump in children's early education access across these countries post the new legislation.
Where we see these laws lagging is in low income and, more generally, sub-Saharan African countries. For all those who join us in believing in the importance of the foundations that early childhood can bring, Sub-Saharan Africa should be a region where we direct our support over the coming years. Not only are fewer than half of children starting school early, but its population prospects will make the challenge harder over time. It is projected that sub-Saharan Africa will surpass Central and Southern Asia by 2026 as the region with the largest number of 4-5 year olds in the world. This cohort will grow by 1 million on average in the next 20 years. Population growth will slow down but will still reach 100 million in 2069. The region will be the home to a staggering 43% of all five-year-olds on planet earth by the end of the century.
The second recommendation we believe can make a difference is also a governance issue, and relates to the fact that the first education experiences of 40% of children in the world today is with private providers. Much of this trend can be linked to the fact that there was not enough supply related to demand, and private providers grew to fill the gap.
This phenomenon can't be ignored in some areas of the world. In Oceania, for example, some countries have close to 100% of preschool students enrolled in non-state institutions. These can be for-profit and non-profit organizations, such as child-care centers, preschools, and home-based childcare providers, for example. Their presence can bring significant financial implications, and therefore, barriers, to families, and detract from the original reason they exist in the first place: to increase education for all. With the provision part removed from government's control, it means that their ability to regulate the quality and equity of the myriad of alternative early childhood education providers – and monitor them – is vital.
For much of the pandemic, the GEM Report team at UNESCO mapped over 200 country profiles on its PEER website to look further into the regulations countries currently have for private providers in early childhood education. What we found is that those covering equity are in the minority: only 26% of countries support specific vulnerable populations' tuition fee payments and just 15% prohibit non-state providers from operating for profit. On the positive side, however, we also found that turning these numbers on their head could also see a huge surge in participation rates. When governments have regulations in place helping out some of the most marginalized groups with tuition fees, for instance, the percentage of children who participate in organized learning one year before entry to primary school is higher by 13 percentage points, whereas countries with fee-setting regulations have a 7 percentage-point higher participation.
Our third but equally critical recommendation covers the extent to which governments prioritise education in the early years in their spending. We looked at the countries with data from the last two years and found they were spending just 0.43% of GDP on pre-primary education – pittance in comparison to the benefits an early education can bring. There is a clear correlation between how much was spent on public education and the rise of participation rates as a result. Doubling spending from 0.25 to 0.50 of GDP, we found, triples participation rates in public preschools from 20% to 60% on average, and is a clear win for improving progress on this issue.
As any education policy maker will tell you, there is no one easy fix for system reform. Sadly, this is the reason the sector fails to attach the funding it needs to transform and deliver to match our expectations. But, where there are lessons that our past mistakes and successes have taught us, we should take them, and not waste further time. Education can and should start early. If we legislate, regulate and finance appropriately, we can help countries' ambitions to make that happen a reality.
*Silvia Montoya, Director of UNESCO Institute of Statistics
A Cry for Help: Pakistan's Broken Education System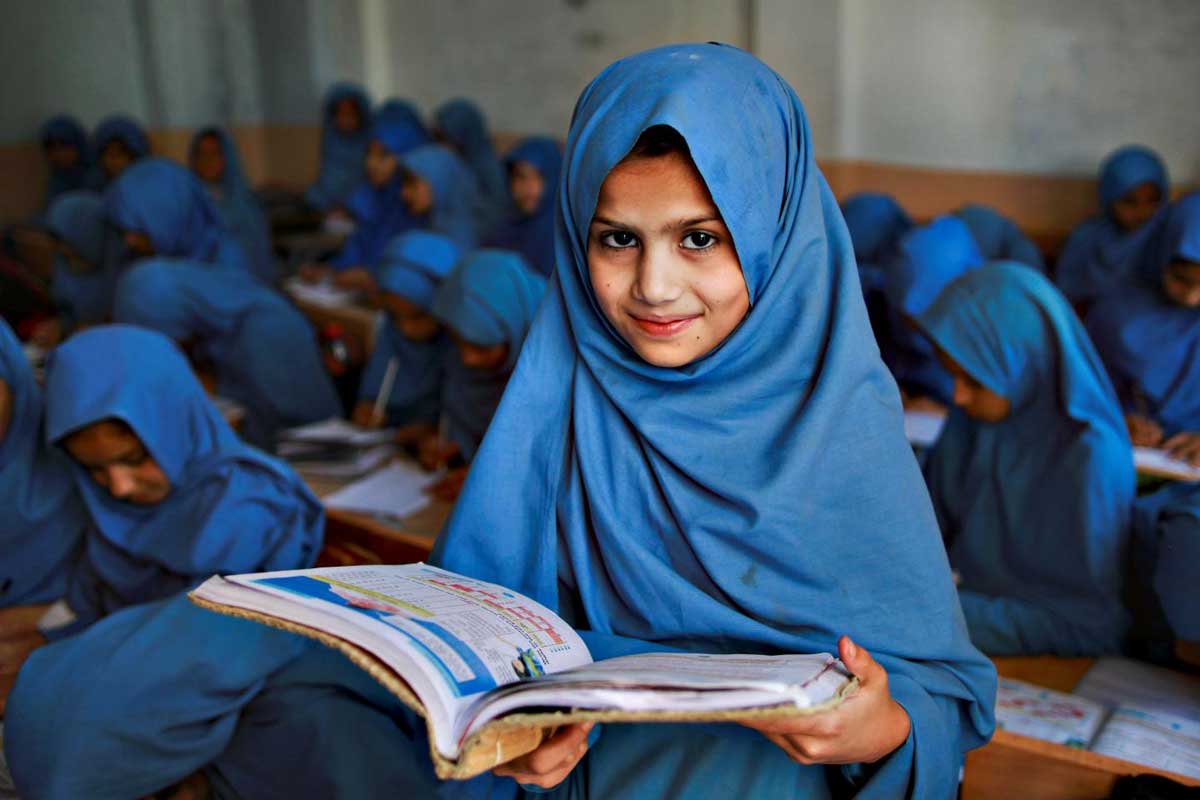 The saying "If you think education is expensive, try ignorance", attributed to Derek Bok – the former president of Harvard University, holds a plethora of resonance for a developing country like Pakistan. Compared to the global standard of spending 4% of GDP on education, Pakistan only spends around 2.3% of its GDP on education, which happens to be the lowest in the South-Asian region. The inadequate spending on schools stems from the government's nonchalant attitude and general disinterest in the education sector. Because of this, Pakistan's budget allocation for education is far less than what is advised by the United Nations Educational, Scientific and Cultural Organization (UNESCO).
The 2019 Annual Status of Education Report shows the overall literacy rate in the country to be 60%, with 71% male literacy rate compared to 49% female literacy. Despite these statistics showing an improvement from the past trends, the Human Development Report of 2019 remained unfazed. According to the findings of the report, Pakistan failed to show significant improvements in key educational indicators concerned with the rate of literacy, overall enrolment ratio, and education related expenditure. In the same year, Pakistan was also ranked 152nd out of 189 countries on the Human Development Index (HDI) under the United Nations Development Program (UNDP).
Comparing Pakistan's Education sector to other developing countries in the region further paints a dismal picture, as Pakistan lingers behind it its quest in providing quality education. Pakistan suffers from the third-highest primary school dropout rates in the region, estimating at 23%, only behind countries such as Bangladesh and Nepal. In a 2016 Global Education Monitoring (GEM) Report titled "Education for People and Planet: Creating Sustainable Futures for All", it was found that Pakistan is 50 years behind in achieving its primary education goals, while adding another 10 years in its path to achieving its secondary education goals.
For the most part, the policy maker's one-stop solution for increasing the level of education in Pakistan has focused on raising the enrollment rates in primary schools. While this approach emphasized more on the quantity of education being provided, it has done little to cater to the quality and expense of the education itself. This is reflected in the learning levels of public schools in Pakistan, which are astonishingly low as student's performance in academics is hugely underwhelming, compared to the acceptable standard. This shortcoming in the public education is mainly attributed to the dearth of incentives for public sector teachers. Which translates into low teaching effort, since any chance at salary increment and promotion is directly related to seniority and experience and not the teacher's actual performance.
In view of these prevalent conditions of the public sector education, Pakistan witnessed a sudden boom in low-fee private education institutions in early 2000's, which outnumbered state-run schools in both quantity and quality. With ample availability of low-cost teachers in rural areas due to lack of other job opportunities, these schools quickly expanded in the region and provided multiple schooling options for the 63% of the population which resides in the rural setting. Despite the private sector teachers being underpaid and under-experienced compared to their public sector counterparts, the learning levels of students in private schools has been much better. This is mostly due to effective teaching pedagogy, curriculum design and proper oversight which gives private schools an edge over public sector ones.
In the Human Rights Watch Report titled "Shall I Feed My Daughter, Or Educate Her?": Barriers to Girls' Education in Pakistan", the Pakistani government's inability to adequately educate the girls also surfaced. Liesl Gerntholtz, the Women's Rights Director at Human Rights Watch commented "The Pakistan government's failure to educate children is having a devastating impact on millions of girls". The report stated that the majority of the 22.5 million children that are out of school are girls, who are simply barred from attaining education.
However, many of the barriers to girl's education lie within the education system of the country itself. The State takes on a lasses-faire approach towards providing education in the country. And instead relies on private sector education and Madrassahs to bridge the gaps in education provision. Thus the girls are deprived of a decent education in the process. The government's inadequate investment in schools is another main culprit for the number of girls that remain out of school. As girls finish primary school, secondary schools are not as widespread and their access to the next grade is hindered. Furthermore, while the Constitution of Pakistan claims that primary schooling be free of charge, it is not actually the case. Hence, most parents with constrained resources opt to educate their sons over their daughters. As a result, once girls are dropped out of schools, there is no compulsion by the state to re-admit the girls into school. Therefore, a chance once lost is lost forever.
Towards the end of 2019, Covid-19, which emerged in the wet markets of Wuhan, quickly took the world by storm. It forced the entire world into lockdown, and resulted in a major humanitarian and economic catastrophe, ultimately affecting the Education Sector as well. This compelled Pakistan to take swift notice of the virus and announce country-wide closure of educational institutes from beginning of February 2020. It wasn't for another six months that educational institutions were reopened with strict SOPs in place, only to be shut down again amidst the second wave of the virus. And so due to these conditions, the education sector in Pakistan faced a devastating loss of learning. The virus not only exposed the cracks in the country's education system, but it also further amplified them.
According to a report published by the World Bank "Learning Losses in Pakistan Due To Covid-19 School Closures: A Technical Note on Simulation Results", it was predicted that a loss of livelihood due to Covid-19 could translate into a severe case of children dropping out of schools. The study estimated an additional 930,000 children that are expected to drop out of the fold of education, and thus increasing out-of-school percentage by 4.2 percent.
Similarly, the report also mentioned that the learning levels in schools could drop to anywhere between 0.3 and 0.8 years of learning. Therefore, an average student now only attains an education level of 5 years due to poor quality of education, despite going to school for 9 years. Furthermore, in wake of covid-19, the share of children who are unable to read basic texts by age 10, represented by "Learning Poverty" are further expected to go up 4 percent from 75 to 79 percent. As schools were shut down across the country, many of them were also unable to transition into online mode of learning. This was because the state failed to provide internet access to remote regions of the country. Hence, Covid-19 proved to be a huge setback for the education sector of Pakistan.
To conclude, while significant steps have been taken to strengthen the education sector of Pakistan, such as the unanimous passing of the Article 25-A of the Constitution of Pakistan and the dedication towards achieving Sustainable Development Goals (SDG) to provide quality and equitable education; there still remains a gap between policy formation and its implementation. Despite the education policies of Pakistan focusing on science and technology, nationalizing private education institutions, increasing the number of student enrollment and improving their access to higher education, it still failed to improve in the education indicator of the HDI in the past decade. In view of this, Pakistan needs to rethink its education policies and fill gaps that currently exist between what is decided and what is implemented.