The War of Civilizations: Back to the Future (A)
If there is one clear observation when analyzing Islamic onslaught/encroachment to occupy and to rule the world, it is elaborated by the Power Vacuum Theory. Ayn Rand has put it so succinctly: The spread of evil is the symptom of a vacuum. Whenever evil wins, it is only by default: by the moral failure of those who evade the fact that there can be no compromise with evil on basic principles.
From its emergence until today Islam works incessantly and relentlessly to impose its socio-political regime and its culture over the Free World, and to make its religion the only legitimate one. The means used were always the same three arms with their many manifestations: Jihad (violence, war, and terrorism); Da'wah (the diplomacy of deceit) and Hijrah (huge immigration to the occupied territories). These were operated in combined processes and according to the circumstances and opportunities.
The Islamic onslaught/encroachment is analyzed on the continuum of Power Vacuum Theory as a recurrent "weakness-containment syndrome." When the Free world weakens, whether from internal or external reasons, Islam marches on in an offensive onslaught and encroachment to conquer, to occupy, to butcher and to enslave. However, when the Free World is strong enough or when it wakes up and sobers up and fights for its life, it succeeds to contain Islamic aggression and to bring Islam at bay and under control. This was the process of power politics of the War of Civilizations that was conducted for 1400 years, in three rounds or stages.
The first round of the War of Civilizations started in year 630 and ended in year 732. The reason for the emergence of Islam to power was the weakness of the Sassanid Empire in Persia, in the east, and the deterioration of the Byzantines Empire, in the west. During that period of time Muslim armies had occupied vast territories, in the Middle East and North Africa to Andalusia in the West, and from Persia to India and North Western China, in the East. The main motivation of the Muslim armies in these territories were Islamization and Arabization of the occupied territories, while slaughtering, butchering, enslaving and converting its indigenous populations. This imperialist and colonialist onslaught/encroachment has ended at the Battle of Tours, near Paris, in October 732. The Christian Franks headed by Charles Martel were victorious, and the Muslim army of Abd al-Rahman was defeated.
This first War of Civilizations at the Battle of Tours has been a decisive turning point in the struggle against Islam, a landmark battle that signalized the high tide of the Muslim advance into Europe. This was one of the most important epochs in the history of Europe that preserved Christianity as the religion in Europeans, and saved Europe from the miserable situation the occupied territories by the Muslim represent. The Free World used its military power and put the Islamic onslaught/encroachment at bay, as a long process of containment.
The second round of the War of Civilizations started with the rise of the Ottoman Empire, in 1299 and the fall of Constantinople in May 1453. The reason for the re-emergence of Islam by the Ottoman Empire was the political and military weakness, in fact the decline of the Byzantine Empire (Eastern Roman Empire). Until the middle of the 17th century the Ottomans gained control over Anatolia, the Balkans, and the Caucasus, and deepened its control in the Middle East, North Africa, and India.
This period was marked as of political stability and success referred to as Pax Ottomana. The Ottomans main occupation was the Islamization of the occupied territories mainly in the Balkans and Eastern Europe while conducting a second round of black and white mass enslavement. This imperialist and colonialist Islamic onslaught and encroachment has ended with the Battle of Vienna, September 11, 1683, after two months of siege.
The defeat of the Ottoman Empire marked the turning-point of the 300-year struggle in the Ottoman-Habsburg wars, and it was culminated with the Treaty of Karlowitz in 1699, between the Ottoman Empire and Austria, Poland and Venice. Following, was the Treaty of Constantinople in July 1700 that ended the Russo-Turkish war of 1686-1700. These defeats marked a new period in European life: the Ottoman Empire ceased to be a menace to the Christian world. The Free World used its military power and put the Islamic onslaught/encroachment at bay for the second time.
Now the Free World is at the very midst of the third round of War of Civilizations. The Islamic push to dominate all other cultures, religions, and regimes has never stopped, and for the first time it is world-wide. There is not even one state in the world that is not under Islamic encroachment, either by Jihad or Da'wah or Hijrah. The question left is if and when the Free World sobers up and wakes up to understand the menace of this reality and evaluate the prices of fighting back. The last round of appeasement was introduced by the Free world to Nazi Germany. Not only its downfall was alarming, but not surprisingly it was precisely Nazi Germany that opened the war by invading Poland. This is indeed the price of defeatism and appeasement.
Douglas MacArthur claimed that the appeasing defeatism breeds more difficult and cruel wars, that there is not even one case in human history that defeatism has brought peace. It was Jan Masaryk, the former Czechoslovakian Foreign Minister once said that a nation with a broken back is doomed, even each and every one of its inhabitants has a tank in his yard and a warplane on his roof. Power ceases when there is no national honor and no commitment to protect the national interests.
It was Sigmund Freud who has stated that when it comes to misconceptions human beings are geniuses. Indeed, as Winston Churchill has noted, if you will not fight for the right when you can easily win without bloodshed; if you will not fight when your victory is sure and not too costly; you may come to the moment when you will have to fight with all the odds against you and only a precarious chance of survival. There may even be a worse case. You may have to fight when there is no hope of victory, because it is better to perish than to live as slaves.
The Free World does not understand that political culture makes the whole difference; that there are different cultures that shape the behavior and conduct of their followers. In its mirror image misconceptions, it visualizes that we are all the same; that it is the "mac-world," the Global Village" of Marshall McLuhan, and the English language that determine. We do not understand, we have no clue to comprehend the Arab-Islamic political culture and what motivates it. History teaches us that more appeasement leads to much higher aggressiveness; more tolerance breeds more violence; more disregard, oblivion, and shutting one's eyes bring more impudence in demands and imposing submissiveness; more financial support and economic aid yield more corruption, poverty and misery.
Alexander Solzhenitsyn has put it correctly: let us not forget that violence does not and cannot flourish by itself; it is inevitably intertwined with LYING. Between them there is the closest, the most profound and natural bond: nothing screens violence except lies, and the only way lies can hold out is by violence. Whoever has once announced violence as his METHOD must inexorably choose lying as his PRINCIPLE. Indeed, as Ayn Rand said: You can ignore reality; but you cannot ignore the consequences of ignoring reality. That is why George Orwell referred to the fact that the most grossly obvious facts can be ignored when they are unwelcome.
Modern Islamic Salafī-Jihādi (Jihad based on the Islamic ancestors' roots) demands that Muslims must solely live by the Qur'an tenets, and at the same time they renounce popular sovereignty and every other sovereignty besides that of Allah and the Sunnah. However, the winning movement today is the Salafī-Takfīrī (Jihad based on accusing the other with infidelity for deviating from the ancestors' roots and strictly abiding by the articles of the Sharī'ah) led by ICS.
The Islamic situation is so dynamic that the extremists of yesterday, the Salafi-Jihadī al-Qaeda, are losing the battle to the more extremists of today, the Salafī-Takfīrī Islamic Caliphate State. Its members look at themselves as al-Tā'ifah al-Mansûrah, the saved or the winning sect, and at their predecessors as Ahl al-Tāghût, the people of mistake and deviation. The interesting thing is that those extremists of the past, the Muslim Brotherhood are now considered as 'moderate' and 'conservative,' Salafī-Taqlīdī.
These contemporary three layers or stages represent in fact the Islamic extremist framework configuration. More important, one has to understand that Salafī-Takfīrī groups are not the last manifestation of Islamic extremism. As long as ICS is considered a winner, it will lead the movement and continues to be the hero model and attracts followers. However, behind the corner there await new groups that will represent a new layer or stage in Islamic millennialism. It is waiting for the right moment and/or opportunity to emerge. They even might renounce ICS as Ahl al-Tāghût and lead the Islamic agenda to a higher extreme stage that will bring humanity to the verge of existence, perhaps with nuclear or chemical-biological terrorism, or by destroying the technological society by employing cyber terrorism.
The emergence of a "more extreme" Islamic movement that marks a higher stage will occur when ICS stops representing the Islamic role hero model and a new ambitious brutal leader emerges. In the past we have seen this process as follows: Sayyid Qutb has challenged his mentor, Hasan al-Banna, the founder of the Muslim Brotherhood, and led the way to the emergence of Bin Laden and al-Qaeda, and to a new extreme stage. Abu Bakr al-Baghdadi challenges Ayman al-Zawahiri, his mentor, and has led the way to the emergence of ICS from within al-Qaeda, to mark a new more extreme stage. The only question left is who will challenge al-Baghdadi and when, not If.
However, this cyclical process of Islamic extremism was marked and continue to be shaped not by Islamic millennialism, but exactly by the Free World's reaction or better say ill-reaction. As long as the Free World continues its policy of weakness, appeasement, ignorance and cowardice; as long as the Free World continues with its mirror image and mental blindness misconceptions; as long as the Free World continues with its empty ideologies of multiculturalism and political correctness and such – Islamic millennialism will step more and more forward with higher brutality and devotion to impose its Islamic values on humanity in its entirety.
This is the history of Islam from its beginning, and just because we continue to ignore the reality of Islam and make artificial and detached from logic differentiations, it does not mean that the reality of Islam will continue to ignore us. In fact, Islam has never ignored its mission to the world nor the ignorance, submissiveness, cowardice, appeasement and irresponsibility of the Free World leaderships and cultural elites – to spread and flourish. The price, when waken up, will be paid with a huge amount of blood unprecedented in history.
It must be put bluntly and straightforward. The origin of the Arabs is from Arabia, mainly its eastern part called Hijaz. The Arabs were part of tribes and clans, and except of Mecca, their main occupation was raiding (Ghazawat) and taking booty (Ghana'em). When they conquered vast territories under the Islamic religious motivational inspiration they were doing the same. This was their main occupation in history. That is exactly what they are doing today, now under Jihad and Hijrah, with the assistance of Da'wah as a propagation, a diplomacy of deceit, a means to mislead and confuse world public opinion.
And still the Free World is in a deep state of denial and confusion. Indeed, one of the great wonders is how people translate information into knowledge. History proves that lack of knowledge stems from mental blindness and selective hearing, not from lack of information. Only politicians, intellectuals and the media could ignore, evade, and deny what Islam really is. When a society declares boldly, 'we have to fight Nazism,' and 'Nazism is evil,' and at the same time afraid to relate these words to Islam, it is no longer a free society. -Enemies can be understood within the context of their declared strategic doctrine. Just as we ignored Mein Kampf prior to World War II, so we now ignore what is clearly written in the Sharī'ah.
Since the 9/11 attack and mid-2015 there have been more than 28,000 terrorist attacks worldwide, all of which were perpetrated by Muslims, in the name of Islam and for the sake of Allah. That is about 5 terrorist attacks every day, in which millions of people have been killed. The tragic fact is that over 95 percent of world terrorism and 70 percent of world violence are Islamic, and these figures are on the rise. Literally, all peoples of the world, in all states were infected and influenced by Islamic aggressive advances, by Jihad, by Da'wah and by Hijrah.
At the same time, the cowardice reaction even beyond politically correctness and ignorance of the attacked leaders is reiterated and replayed as to become a ritual. The narrative never changes: "the terrorist acts are not part of Islam;" "the terrorists are not Muslims but in fact are against Islamic teachings;" "Islam is a religion of peace and compassion," and such oblivion sickening reactions. It is confusing and embarrassing since the unequivocal assertion of the terrorists themselves they are motivated by the teachings of the Qur'an and the examples of their prophet.
Immediately after the terrorist attack has taken place, the president or the prime minister of the Western country declares that this attack had nothing to do with Islam and that the terrorists are evil, while Islam is good and peaceful. This is followed in agreement by other Western leaders, while condemning the terrorist attack, continue the line of rehabilitating Islam being a religion of peace and compassion.
The media joins this lamented horrific situation by Western political leaders and immediately brings an on duty Muslim spokesperson, who emphasizes that Islam does not condone violence and it is totally and absolutely against killing innocent people. The media also interviews the murderers' families who grieve in sorrow and declare how great and peaceful their children were, and that they are Shuhadā' and therefore residing in heaven.
The academic experts are called to declare that we should look at the root cause of the issue, as the terrorists are in fact the poor, the alienated and the wretched, and that we have to understand their motives. They also remind us that the terrorists are a small group of fanatics who actually act against the ordinances of Islam. What the terrorist themselves say we should ignore, as it has nothing to do with the Islamic Sharī'ah. They also explain that the core issues are the injustices done to Muslims by the past Western imperialism and colonialism, so mainly we have to blame ourselves for their desperate acts. The academic experts also emphasize that extremists exist in all religions and the Islamic terrorist acts are part of the pervasive violent situation.
Then comes the psychologist or the social worker who concludes that Christian and Jewish emblems and other religious symbols hurt the religious sentiment of Muslims and they should be removed from public institutions, malls and schools. One cannot insult the religion of Islam and defame its prophet. It is not only not polite but we must be very considerate about the sensibilities of the Muslims. At the same time, Muslims should be given permission to act according to their traditional and religious values and their culture, so that their Sharī'ah must be implemented. If all these are fulfilled, the Muslims will become an integral part of our society.
Professional Muslim groups and organization that employ Da'wah, the diplomacy of deceit, to mislead the infidels, join this line by declaring their condemnation of the terrorist act, but immediately step forward to blame the infidels as the core cause of the problem. They call the police to take all the needed measures to protect Muslim communities from any backlash reprisal. They also call to hold meetings and debates of political and religious leaders concerned to stop violence and endorse peace in the spirit of integration and community cohesion.
To compensate and to facilitate the dire situation they demand for more money to be given to the Muslim neighbourhoods that will bring more cooperation and good mutual spirit in the name of peace. The Organization of Islamic Cooperation (OIC), the second world largest inter-governmental organization after the United Nations, immediately resumes its call to the UN to criminalize "blasphemy" against Islam, as "defamation of religions."
However, as an immediate answer to these flawed declarations, Abu Bakr al-Baghdadi, has once again reiterated in a new audio message: "Islam was never a religion of peace; Islam is a religion of fighting… all Muslims wherever they are, must fight for the Islamic Caliphate." He has urged all Muslims to take up arms and fight on behalf of the Islamic State as to resurrect the Caliphate.
There is another perspective to analyze the Power Vacuum Theory. In October 2006, Mark Steyn said bluntly: The future belongs to Islam. The Muslim world has youth, numbers and global ambitions. The West is growing old and enfeebled, and lacks the will to rebuff those who would supplant it. It's the end of the world as we've known it. One might formulate it as follows: Age + Welfare = Disaster for you; Youth + Will = Disaster for whoever gets in your way. Where is the problem? Islam has youth and will, Europe has age and welfare. What's happening in the undeveloped world is one of the fastest demographic evolutions in history. The median age in the Gaza Strip is 15.8 years. It is UN-supervised European-funded death cult. Demographic decline and the unsustainability of the social democratic state are closely related. The state has gradually annexed all human responsibilities: health care, child care, elderly care, to the point where it effectively severed its citizens from primal survival instincts. The salient feature of Europe, Canada, Japan and Russia is that they're running out of babies. Greece has a fertility rate hovering just below 1.3 births per couple, which is the "lowest-low" fertility from which no human society has ever recovered. And Greece's fertility is the healthiest in Mediterranean Europe: Italy has a fertility rate of 1.2, Spain 1.1. By 2050, 60 per cent of Italians will have no brothers, no sisters, no cousins, no aunts, and no uncles.
By "will," Steyn means the metaphorical spine of a culture. Africa also has plenty of young people, their primary identity is pure tribal without religious political ambitions of global reach as Muslims have. The Western world is too mired in cultural relativism to understand what's at stake. There is a correlation between the structural weaknesses of the social democratic state and the rise of a globalized Islam. If one thinks the UN and other international organizations are antipathetic to America now, wait a few years and see what kind of support you get from a semi-Islamified Europe.
The Norwegian imam Mullah Krekar told the Oslo newspaper Dagbladet in 2006: "We're the ones who will change you. Just look at the development within Europe, where the number of Muslims is expanding like mosquitoes. Every Western woman in the EU is producing an average of 1.4 children. Every Muslim woman in the same countries is producing 3.5 children… Our way of thinking will prove more powerful than yours." It was Qadhdhafi who said back in 1976: there are signs that Allah will grant Islam victory in Europe — without swords, without guns, without conquests. The fifty million Muslims of Europe will turn it into a Muslim continent within a few decades.
The question is, as Ali Sina puts, if international laws would be banning cartoons, does it stop there, or continue to all kind of free speech materials? The grand irony is that banning on the basis that Western free speech defame Islam, than it would also, by logical extension, have to ban the entire religion of Islam itself, being the only religion whose core texts actively and unequivocally defame other religions. Yet, the OIC and other Muslim organization do not seem to bother, as they do believe this is the correct natural situation, Islam being the only legitimate religion.
However, the folly of hedonism and appeasement prevails and hypocrisy combined with ignorance and political correctness, runs rampant: indeed, there are extreme verses as much as there are mild in the Qur'an, and this duality is found in every religion; indeed, there are radicals among the Muslims just as in all societies, but they are just a minority, even weeds. The majority is different.
This is the problem with all of its severity. The relevant questions are accordingly:
If that is the true situation – how do we know this? Are there any corroborating studies and data to substantiate this view? Or we only think this is the reality?
Even if a different peace-loving majority exists, is its voice heard? Does it influence policy and decision-making processes? Or is it only in our mirror imaged personality?
Where is public opinion voice, the political parties, the media, which prove there are other tendencies and voices? Or we just assume this is the situation?
How many peace movements, demonstrations marching in the streets rolling for peace and against terrorist perpetrators can be identified? Was any terrorist attack stopped even denounced by the so-called majority? Do the Arab and Muslim states condemn these atrocities and act against? Or is it our imagination alone?
How many pressure and interest groups are there in the Muslim world which actively function against Islamic fanaticism and Jihad terrorism? And if they do, to what extent do they influence? Or we just ignore reality out of ignorance?
How many NGO's are there acting against the terrorists and preventing aid from their reach? Do they even try to stop terrorism and convince it is act against humanity? Or we just want to believe, we terribly wish that there are such?
If there are moderate peace-loving political leaders, where are they? What influence do they have? Is their voice heard? What do they declare after the horrible acts of terrorism perpetuated, except of blaming the US and Israel? Or is it all our mental blindness and denial?
Indeed, there are Muslim intellectuals and liberals, but unfortunately they are very few. They condemn the atrocious terrorist acts; they plead for openness and democratization; they wish for integration and assimilation. However, not only they have no influence on the events, not only they are persecuted and alienated, but above all, they are a very small minority. The reality is, the questions that should be asked, who controls the Islamic communities and in the streets? Which voice is heard and is written in the communication Media? Who is more influential and admired by the youth; in the Madāris, in mosques and in the media? Who are the heroes of the masses? Who leads the way? And the biggest wonder of all: why do we always supply excuses and explanations to the horrific phenomenon we do not understand culturally and ignorant religiously? Or we just have a death wish?
This is amazing. How can we explain the Free World reactions? Is it appeasement alone? Is it hedonism of living the good life? Is it the Petro-dollar power of Saudi Arabia and Qatar? Is it the guilt remorse of "imperialist-colonialist past?" Or it is just political correctness? Or it is our twisted mirror image? Or it is our ignorance? It is as if we don't want to wake up. We are in a deep state of denial, in a slumber, as if we are on the Titanic and the orchestra continues to play.
However, the uppermost is surely because we are frightened; we are horrified; we are terrorized; because we are cowardice in front of the ruffians, the villains and the savages, and we want to come back to our sanity out of this madness by running away; by giving in; by clothing our eyes in visual amnesia; by paying "protection money," and by appeasing and subduing.
The Tyranny of Opinion: Book Review
Russell Blackford has written The tyranny of opinion: Conformity and the future of liberalism, which explores the conflicts between freedom of expression and political correctness (P.C.).  Much has been made of the P.C. phenomenon by commentators on both the political left and right.  Steering clear of blind partisanship, Blackford is careful to explain the many nuances of such complex issues as Internet privacy, the 1st Amendment and hate speech.
Blackford starts with an in-depth analysis of John Stuart Mill's classic ON LIBERTY.  Mill fiercely wrote about freedom of speech, expression and thought, arguing that these liberties should be respected by not only the government, but society as a whole.  The main reason to curtail these rights, argues Mill, is the harm principle.  People should be shielded from threats and libel.
How exactly the law should define threats and libel can be a tricky process, however.  People have argued that slurs, especially racial slurs, threaten the mental wellbeing of their victims.  Certain ultraliberals argue that even academic discussion of controversial topics, such as sexual orientation, can be threatening.  Libel, if anything, has, as a definable term, experienced the opposite problem.  In the West and especially the US, libel is notoriously hard to prove in court.  Since the authoritarian Sedition Act expired in 1801, the American press and private citizens have had almost absolute power to make unflattering and even unsubstantiated statements about individuals and institutions, under the protection of the 1st Amendment.
Blackford is generally supportive of the harm-principle standard for censorship, but stresses that harmful statements must be defined under very narrow criteria.  In terms of threats, Blackford seems to find only direct threats of violence, doxxing, revenge porn and explicit epithets (which he write de-humanize whole groups of people and thus pave the way for persecution and violence) as necessitating censorship in the name of protecting citizens' wellbeing.  On the issue of libel, Blackford agrees with the legal standard that a statement must be found to be both false and malicious in order to be found libelous.  A newspaper can't be shut down for publishing an honest mistake, since that would create a chilling effect that would neuter a lot of bold reporting.
Such caution with regards to censorship is warranted by Blackford's citations of history.  When people and journalists don't feel safe to speak their mind, this can stifle social and scientific progress.  Blackford cites a Victorian Englishman who knows of many individuals who privately support gay rights, but are too afraid to speak up.  When well-intentioned people are muzzled by the status quo, Blackford concludes, injustices can continue and erroneous beliefs can continue to be treated as fact.
For this reason, Blackford argues that religious fundamentalism may be fundamentally at odds with not just free expression, but free society as a whole.  Theocratic societies have traditionally cracked down on any perceived dissenters, from the Spanish Inquisition to the imprisonment of the revolutionary scientist Galileo.  If eternal salvation through observing divine law is the ultimate goal of life, then civil law would appear inconsequential by comparison, points out Blackford.  Small wonder then that evangelical groups devote decades and countless of millions of dollars trying to erode established legal protections for reproductive healthcare and gay rights.  Blackford writes extensively about the 1989 fatwa demanding the assassination of author Salman Rushdie, issued by the theocratic government of Iran, as being the logical endpoint of the conflict between faith and freedom.
Much of the book is devoted to how political correctness (P.C.) is used as a cudgel by people from both sides of the political spectrum.  This is an important point to make, since the mainstream media mostly focuses on the P.C. of the political left.  Countless news stories are devoted to ultraliberal P.C. culture on college campuses.  Meanwhile, the P.C. of people who refuse to bake cakes for gay couples or who demand that NFL players be fired for peacefully protesting institutional racism is never called out as being political correctness.
As previously mentioned, rightwing P.C. culture usually centers on forcing religious values onto corporate and law codes.  By contrast, leftwing P.C. culture generally revolves around enforcing cultural sensitivity in society.  Ultraliberals are obsessed with virtue signaling via exposing statements that in any way are insensitive to women, LGBT or ethnic minorities.  Frequently, liberal social justice warriors cannibalize their fellow liberals, such as Bret Weinstein.  The Evergreen State College professor was mobbed by hysterical college students after he (correctly, yet civilly) pointed out a case of hypocrisy by racial activists on campus and was eventually forced to resign.  The book also cites the case of Erika Christakis, a professor at Yale who was, like Weinstein, mercilessly harangued by students, to the point of resigning.  Her offense: writing a thoughtful email exploring the nuances of cultural appropriation and policing of controversial Halloween costumes.  Ironically, Christakis the whole point of the email was stick up for the students' freedom of expression.
Modern P.C. culture largely seems to be facilitated by social media.  Every unflattering sound bite or allegation can immediately permeate across the Web.  Tweets and Facebook posts, which encourage spontaneity, can encourage people to post now and think about the repercussions later.  The nature of social media algorithms creates an echo chamber that only shows users content that agrees with their political sensibilities.  As Blackford warns, this leads to group polarization, wherein likeminded people amplify each other's beliefs, causing everyone in the group to become more radical than they were before joining.  This psychological phenomenon is particular evident in the far-Left, where people constantly feel the need to publically pass ideological purity tests, which they then subject to other people.
I wish Blackford had written more about how P.C. affects academic research.  Many biologists, sex researchers and psychologists have spoken out about how studying contentious matters of race and sexuality can be major taboos in academia.  Blackford touches on Alice Dreger's GALILEO'S MIDDLE FINGER, which is about several modern scientists who came under fire for producing controversial, yet scientifically sound research.  Dr. Sandra Soh and Dr. Brian Hanley, among many others, have spoken out about the intense culture of self-censorship in the life sciences when it comes to researching issues relating to human sexuality. Prof. Vernellia R. Randall is one of many who has risked being called a racist for pointing out documented medical disparities between people of different ethnicities, when it comes to maladies like heart disease and sickle-cell anemia.
In my own research, I've found cultural relativists who try to downplay the severe physical harms that female genital mutilation causes, in politically correct deference to non-Western cultures.
I also wish Blackford had conducted some research into the quantitative, as opposed to qualitative, reach of P.C. attitudes across society. Due to the media's frenzy in reporting incidences of P.C. on (mostly elite, blue-state) college campuses, the problem may seem much larger than it really is.  According to The US Faculty Termination for Political Speech Database, only 45 professors were fired between 2015-2017 for political speech… out of the estimated 378,865 full-time professors currently teaching in American universities!  Multiple surveys conducted over several years by the John S. and James L. Knight Foundation find that teenagers equal or even surpass adults in their support for the 1st Amendment.  I suspected that a silent majority of Americans are opposed to many, if not most, of the most extreme positions of social justice warriors.  Almost all of the coverage and analysis of P.C. by the media is negative, which would further suggest that P.C. is not a movement with widespread support in civil society.  Hopefully, Blackford will produce some clarification via quantitative data in future editions of the book or a whole separate book.
The tyranny of opinion is a very impartial book on the implications of political correctness in a free society.  Blackford outlines the framework of freedom of expression through analysis of philosophers such as John Stuart Mill and Frederick Schaeur.  He then explores many concepts of psychology and sociology, such as information cascades, group polarization and the research of psychologists like Solomon Asch and Stanley Milgram.  The book does a good job at exposing the liberalism of both liberal and conservative social justice warriors.  Through historical and empirical analysis, the book both prescribes the dangers of self-censorship in society and offers reasonable solutions.  Anyone who has felt chills after watching a news story about crazy SJWs on a college campus or witnessing a P.C. mob on Twitter should read this book for a more nuanced understanding of political correctness and the 1st Amendment, in general.
World population set to grow another 2.2 billion by 2050
The world's population is set to grow by 2.2 billion between now and 2050, the UN said on Wednesday, and more than half of that growth – 1.3 billion – is likely to be in sub-Saharan Africa, where women's rights are hampered by limited access to healthcare and education, along with "entrenched gender discrimination".
Monica Ferro, Director of the UN Population Fund (UNFPA) in Geneva, said the trend globally is towards smaller families, indicating that more people are making choices about exactly how many children they want, or can afford to raise.
Despite the gradual transition to lower fertility rates, which began in Europe in the late 19th century, no country can claim that all their citizens enjoy reproductive rights at all times, Ms Ferro told journalists at a press briefing. "No matter if it is a high fertility-rate country or low fertility-rate country, in both of them, you will find individuals and couples who say they don't have the number of children they want. They either have too many or too few."
In 43 countries, women have more than 4 children
According to UNFPA's State of World Population 2018, there are 43 countries where women have more than four or more children, and 38 of these are in Africa.
In all but five East African countries, fewer than half of all women surveyed, said they would prefer not to have any more children.
If UNFPA's predictions are correct, Africa's share of the world population will grow from 17 per cent in 2017, to 26 per cent in 2050.
Staying with the African continent, fertility rates are "significantly lower" in cities than in rural areas, the report indicates. In Ethiopia, for example, women have around 2.1 children in cities, whereas they have around five in the rest of the country.
Bigger families in conflict zones
Underlining the link between conflict and insecurity with bigger families, the UNFPA data also shows that Afghanistan, Iraq, Palestine, Timor-Leste and Yemen have higher fertility rates than the overall average of 2.5 children per woman.
The UNFPA official urged all countries to implement a range of policies and programmes that would increase the "reproductive choices" of their populations.
"In developing countries, 671 million women have chosen to use modern contraception," Ms Ferro said. "But at the same time, we know that 250 million in the developing world want to control their fertility, and lack access to modern contraceptive methods."
Prioritizing quality maternal healthcare for all is key, according to the UN report, which highlights the need for access to modern contraceptives, better sex education, and an emphasis on changing male stereotyping of women.
Couples who want to have more children should also be helped to do so, Ms Ferro said, explaining that economic barriers which preventing this from happening could be better addressed, through measures such as affordable child care.
France and Norway had seen their birth rates pick up after taking such steps in recent decades, the UNFPA official said.
Nonetheless, many developing countries lack the resources or political security they require to improve reproductive health and rights for all.
They "are struggling hard to meet the demand for education, the demand for jobs, the demand for even having healthcare services that are accessible to everyone," Ms Ferro said. "What the report tries to show is that in these countries, the unmet need for family planning is typically very high."
Reproductive rights have improved 'substantially'
In the nearly 25 years since the landmark International Conference on Population and Development was endorsed by 179 Governments, people's reproductive rights have "substantially improved around the world", Ms Ferro said.
She noted that States agreed then that it was important for couples and individuals to decide the number, spacing and timing of their children, and that such decisions were made free from discrimination, coercion or violence.
A similar commitment is reflected in the Sustainable Development Goals agenda, agreed by the international community in 2015.
Nonetheless, hundreds of thousands of women continue to suffer from the failure to implement this programme of action, the UNFPA official insisted.
"Every year, 300,000 women die during pregnancy or childbirth because they have no choices in maternal healthcare; every day, thousands of girls are forced into child and early marriage and are victims of female genital mutilation. They have no choices."
Poverty should be our history, not present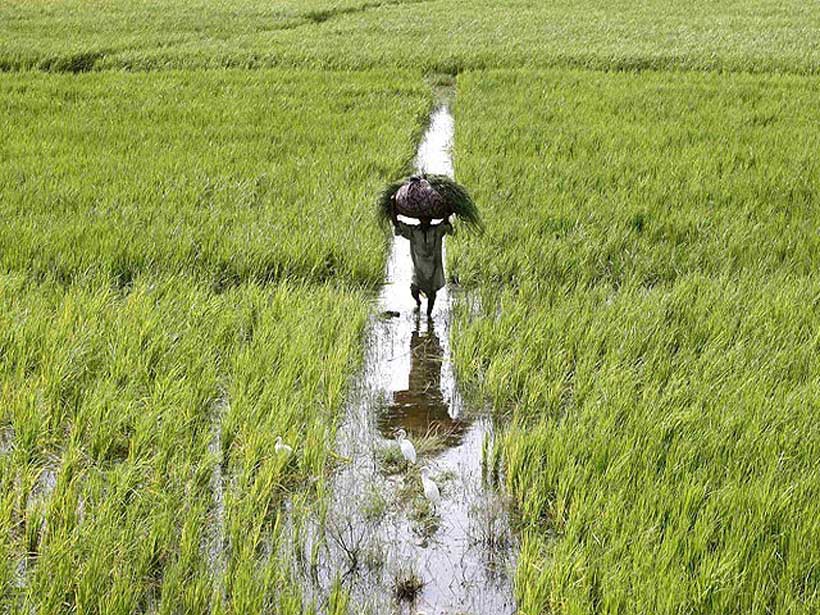 17th October presents an opportunity to not only acknowledge the struggle of our fellow humans suffering from poverty but also gives us a chance to examine what we in our capacity have done and plan to help them in their struggles. Martin Luther King once said "Our lives begin to end the day we become silent about things that matter". Going by that, there should come a time in every person's life when they break the shackles of silence and talk about things which matter on a larger scale. When UN General Assembly adopted the Vision 2030 agenda with 17 SDGs, the first goal out of the these 17 was to eradicate poverty. I have had the distinct opportunity of leading Pakistan's only countrywide rural development programme i.e. National Rural Support Programme (NRSP) for more than two decades. NRSP (combined with NRSP Bank) is the largest microfinance provider in the country focusing on rural areas. A key principle in our strategy for combating poverty is to harness people's potential, enabling them to participate in local development activities.
One of the worst manifestations of poverty is exclusion from participation in decision making process whether at local or national level. Having said that, it is important that we realize that no one intervention is sufficient against poverty. If the challenges are multi-dimensional, the response needs to be the same. From my personal experience, I can state with some certainty that for an effective strategy on poverty eradication, a people-centered approach is the key. A policy that combines infrastructure development and livelihood strategies, with the assurance that the target community is capacitated enough to participate and make their own decisions whether political, economic or about their social life.
NRSP social mobilisation model follows an established three tiered people centric mobilization strategy to organize local communities into sustainable community institutions (CIs). The lowest tier is called community organization (CO). With an 80% representation of local households, a CO is federated into a village level organization called Village Organization (VO). Members from both CO and VO after going through capacity building trainings are federated into Local Support Organization (LSO). Village Development Plan (VDP) and Union Council Development Plan (UCDP) are two important outcomes from these CIs. Because this model ensures participation from the grassroot level, one can be sure that needs and problem identification follows a bottom to top order. Currently NRSP has formed 209,860 COs, 7,574 VOs and 820 LSOs with a total of 3,351,687 community members. 56% of these members are women.
At every CI level, members are requested, trained and facilitated to identify what are the opportunities in their lives which would help them to come out of extreme poverty. Every household makes a Micro Investment Plan (MIP) for their own house. What makes this model unique; are the four qualities that become the guiding principle of these CIs, inclusion, transparency, accountability and good governance. For any CI, to be eligible for development support, it has to meet a stringent criteria. Adherence to these principles makes these CIs sustainable, brings a sense of ownership and empowers them to address their issues themselves.
Based on the plans proposed by these CIs, the activities could be categorized in two different categories, Individual/household activities (Income generating grants, asset transfer for the destitute Access to loans capital e.g. CIF, micro credit, savings, Skills enhancement trainings leading to employment generation) and Community/Village level activities (Access to technical and financial services to accomplish the identified plans, Support for project design, resource mobilization and development of linkages with local government and other development organizations). Individual activities lead to 'private goods' which once sold to the consumer bring financial capital to the seller. Community/Village level activities lead to 'public goods' thus enhancing the functioning of the particular community. Reports on poverty in Pakistan show that as much as 40% of the population, almost half of us suffer from some form of poverty. Poverty in urban areas stands around 10% as compared to 54 % in rural areas. FATA with 73% and Balochistan with 71% poverty rate are the most affected provinces due to poverty. In 2016, Pakistan was declared of having the lowest Human Development Index (HDI) in South Asia. We have a bulging youth population and continuously increasing unemployment rate. These statistics and facts paint a grim picture.
Humans are always willing to improve their lives irrespective of their ethnicity, education, social, education or religious backgrounds.This assertion has to be the key ingredient in the policy making process for poverty eradication. NRSP is currently implementing two large scale five year projects based on the same philosophy in Sindh and Balochistan. Sindh Union Council and Community Economic Strengthening Support Programme (SUCCESS) and Balochistan Rural Development and Community Empowerment (BRACE) with support from European Union (EU) and Local Governments. Especially SUCCESS in Sindh is focused on inclusion of women in the development process and all community institutions formed are women only. Women are leading the change in rural Sindh. BRACE in Balochistan also ensures that 50% of the total beneficiaries and participants of the programme are women.
These are interesting times for Pakistan. The world is changing and so is Pakistan. ICT for development in shape of digital innovation offers a new intervention for poverty alleviation. Improved access of services and products, sharing of information and ideas can open new avenues of positive change (E-Kissan is an example). Whether its health, education, agriculture or capacity building, ICT offers many tools to its users. In terms of accessibility and training, established Rural Support Programmes (RSPs) can play a lending hand. Public-private partnership can act as a catalyst in this digital transformation process. As large as the menace of poverty is in Pakistan, our response needs to be equally larger. A joint platform of all involved stakeholders can be the first step towards policy reforms that safeguard these marginalized communities against threats arising from poverty. We are not short of resources or manpower needed to do the work, what is needed is the will and effort to point us in the right policy direction.