Philosophy and Humanism in a Cynical Machiavellian Age of GeoPolitics
"Philosophy is not something to be used scornfully or as insult, but for honor and glory. People are beginning to think wrongly in that philosophy should only be studied by very few, if any at all, as if it is something of little worth. We have reduced philosophy to only being useful when being used for profit.
I say these things with regret and indignation for the philosophers who say it should not be pursued because it has no value, thus disqualifying themselves as philosophers. Since they are in it for their own personal gain, they miss the truth for its own sake. I'm going to say, not to brag, but I've never philosophized except for the sake of philosophy, and have never desired it for my own cultivation. I have been able to lose myself in philosophy and not be influenced by others who try to pull me away from it. Philosophy has taught me to rely on my own convictions rather than on the judgments of others and to concern myself less with whether I am well thought of than whether what I do or say is evil."–Pico della Mirandola (from his "De Hominem Dignitate" on the Dignity of Man)
The above quote on philosophy by the Neo-Platonic Italian Humanist Pico della Mirandola is perhaps more relevant today, the era of cynical Machiavellian geo-political realities, than it ever was, perhaps even more so than during the first century of the Renaissance in Florence. Today, as in the past, many go about full of pious pronouncements on the intrinsic value of philosophy, how the rejection of philosophy is in itself a philosophy of sort; they even declare themselves devotees of philosophy, but, alas, there are precious few among them who are willing to die, like Socrates, for their ideas or what they truly believe in, with the possible exception of ideological fanatics of various persuasions who confuse the advocacy of mindless outrageous actions and revolutions for serious thinking; and this despite the fact that in many schools in the West philosophy continues to be part of the Liberal Arts curriculum.
Unfortunately, the Liberal Arts curriculum, like philosophy, is more honored in words than in deeds and so the struggle between the two worlds continues; that is to say, the positivistic world of science and the humanistic world of the arts as C.P. Snow taught us in his celebrated book The Two Cultures. On the other hand, a Leonardo Da Vinci, that quintessential Renaissance man, conceived no such dichotomy: he was both a great artist and a great scientist and was able to synthesize and harmonize the two cultures. How did we get to this sorry stage?
I happen to teach introductory college philosophy courses to beginners in philosophy. The first thing I have to disabuse those students of, is the notion that philosophy is some kind of esoteric difficult subject for a few specialists and connoisseurs to be put to rest once and for all once graduation requirements have been fulfilled. In other words, the notion that it's a subject one has to bear and suffer for a while, so to speak, for the sake of a degree, not one that could be greatly enjoyed and profited from, both intellectually and morally, for one's whole life-time.
I begin in a negative mode by having them read an essay of mine titled "What philosophy is not" where I make the point that philosophy is not a mere tool of rhetoric and logic with which to win arguments, persuade people to do one's bidding, and become a "successful" politician. Socrates is of course mentioned as the father of western philosophy and the very antithesis of that sophistic utilitarian stance. He famously said in the Athenian agora that "the unexamined life is not worth living."
The point is then stressed that the subject of philosophy as an academic discipline, despite Plato's enduring academy, does not begin, and it certainly does not end, esoterically in academia; rather, it is first born with Socrates exoterically in the public square in ancient Athens, in the midst of the drama that is human life, from cradle to tomb. Socrates is considered the father and the first martyr of philosophy because he was a man willing to die for his principles and beliefs. It is basically a reflection on the meaning of life, one's own and that of humanity, hence history is always to be considered an essential component of philosophy, so that we don't end up re-inventing the wheel.
I then touch on Boethius' (the second great martyr of philosophy) "The Consolation of Philosophy" to impress upon them that when everything else fails intellectually and existentially, philosophy remains a constant, a reliable consolation, like the sun shining in the sky, ready to encourage us, despite it all; but of course, to get to see the sun one needs first to get out of the cave of ignorance. Plato's myth of the cave is then introduced and discussed at some length.
Eventually we get to the discussion of Pico della Mirandola, a great devotee of philosophy, if there ever was one. He was an Italian Humanist from the 15th century who understood thoroughly that the Renaissance was a harmonious synthesis of faith and reason, something already theoretically mapped out by the great scholastic philosopher Thomas Aquinas a century earlier. It would be enough to look at a painting like Primavera by Botticelli, or the David of Michelangelo to be convinced of that. The harmony between Greco-Roman and Christian culture is unmistakable. The David is not just a perfect naked Greek statue aesthetically pleasing, it is also portraying the moment of faith in a Biblical event. Nowhere in Greek sculpture one will find the face of a David and the spirituality it exudes. Primavera of Botticelli, likewise, is not just a Greek goddess; she is also a Raphaelite Madonna. The synthesis may not be perfect, but it is extraordinary. This is a synthesis that modern man preoccupied with geo-political considerations has all but forgotten.
Kenneth Clark in his famous video series "Civilization" dedicates a whole one hour segment to the discussion of Italian Humanism which admittedly was based on the famous slogan by Euripides that "man is the measure of all things" but he also mentions Pico della Mirandola's "On the dignity of man" which is based not so much on the paradox that everything changes constantly and the only thing that does not change is man's capacity for change, but on the fact that the transformation of man is first and foremost a moral transformation requiring constant intellectual and moral effort and having perfection as its ultimate goal; a perfection which turns out to be a transcendent reality (hence the neo-Platonism of Pico), and aiming at the very divinity of God symbolized by nature which he created. For a neo-Platonist, poetry, at its best, always points to the transcendent. St. Francis of Assisi "Canticle of Creatures" written in the 13th century is exemplary in this respect and that is the reason he is the patron saint of ecology and respect for animals.
So it turns out that while it may be true that man is the measure of all things, as contemporary secular humanists like to insist upon, one needs first to understand what exactly is the nature of man and the goal toward which his nature tends. As it turns out, ultimately the human vocation, its very purpose (telos) and destiny, is a mystical vocation; something that Aristotle and Plato, two non-Christian philosophers, certainly intuited when they postulated a theoretical "isle of the blessed" on which to contemplate the True, the Good and the Beautiful, but which humanists such as Pico (and Thomas Aquinas before him) actually accomplished by the harmonization of reason and faith.
Modernizing Higher Education for Economic Growth
Malawi has fewer affordable universities than it has students who want to go to them, leaving college out of reach for many. Enrollment in tertiary education is low, but more and more Malawians hunger for it. With IDA financing from the World Bank, Malawian citizens now have more options.
The five-year, $51 million Skills Development Project is helping public universities to strengthen and increase public access to programs that cater to sectors critical to Malawi's economic growth. These include engineering, natural resources extraction, agriculture, construction, health services, tourism, and hospitality.
Beyond the establishment of the National Council for Higher Education, project funding supports a range of activities at institutions, including improving course offerings and staff skills, renovating infrastructure, and setting up satellite facilities.
Market-relevant course offerings
To expand the range of scientific skills and mid-level technicians needed to fuel Malawi's economy, 39 new programs have been developed by universities, with the participation of the private sector ensuring their relevance to the economy. By 2017, these programs contributed 44 percent of the new student intake to public universities.
Diploma programs at universities have also been bolstered to increase the training of mid-level career personnel needed by various trades. For example, the University of Malawi's Polytechnic now offers 10 technician-level engineering diploma programs in subjects like mining, telecommunications, and health. By 2019, these programs are expected to have enrolled 750 diploma students.
Modernized facilities
One of the major constraints to increasing student enrollment at public universities has been space. At Chancellor College, where most of Malawi's secondary school science teachers are trained, more and better infrastructure is expected to make it possible to boost student intake by 65 percent. This includes modernized laboratories and four new lecture halls seating 350 students each.
This will go a long way toward meeting an increase in the demand for science teachers, following the introduction of physics and chemistry as separate subjects in the secondary school curriculum.
Mzuzu University is heading to be the country's center of excellence in tourism training. It is constructing a purpose-built tourism and hospitality facility that will produce graduates who are industry-ready.
Online and distance learning
The Lilongwe University of Agriculture and Natural Resources (LUANAR) and Mzuzu have introduced online and distance learning (ODL), resulting in increased enrollment at both. At LUANAR, online students make up 10 percent of the total student population. Between 2014 and 2016, Mzuzu increased its intake of online students tenfold. With more affordable fees and flexible options, the ODL system has helped to open access to higher education for many people nationwide.
"I enrolled through ODL because of its flexibility. I continue with my everyday life and yet I am studying at the same time. This is wonderful," says 45-year-old Joe Mwenye, a father of five and a teacher in Ngabu in Chikwawa district. He is studying at LUANAR for a Bachelor of Science in Agricultural Extension.
LUANAR has three ODL centers: one in the town of Mzuzu, another in Lilongwe, and another in Blantyre. Mzuzu University is opening satellite centers in Balaka, Karonga, Mulanje, and Lilongwe.
The Depth of Taboo: Social Issues in South Asia
Rarely does a geopolitical handbook also make such large and important contributions to uncomfortably critical social issues. This handbook is that rare example. The author Aryal takes our MD readers deep into some disturbing discussions – caste systems, systematic violence against women, rape, honor killings, gender stigmatizing, and societal sexism – not to just anecdotally expose people to some of the continued living horrors afflicting important regions of the world but to systematically analyze such atrocities so that their long-term political, economic, social, and diplomatic consequences are revealed.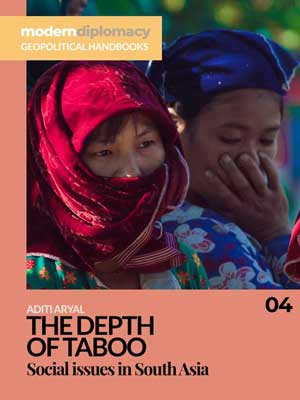 What many around the world do not realize is how crippling these gross abuses of human decency can be for a nation and region writ large: these are not just individual crimes to be noted and then forgotten. The failure of societies, the failure of GLOBAL society, to make more effective progress and take a more rigid stand against injustice is a black mark on all countries, on all of us. This handbook in its own small way strives to be a light within that darkness and as such it is both informative and courageous. While the readers of MD will not find the content of this particular handbook for the faint of heart, the importance of acquiring this knowledge, of becoming more aware of the world that we live in as it truly is in so many places, should be considered a duty of all those fortunate enough to not be born into states where such systemic violence still exists and largely goes unchallenged.
The title of this work is no accident and no shameless marketing attempt to attract more readers. Rather, it is exposing in a single word the reason why overcoming systemic violence based on gender is so difficult. Social taboos run deep in every region, state, city, town, village. We will likely not succeed in eliminating them from the social conscience of people. But the attempt to ameliorate the power of taboo, its power to push rationality out and pull insanity in, is a noble one that all of us at the editorial staff at MD recognize as silently essential for the cause of future peace on so many different levels. The battle against taboo is the secret front end of the war against gender violence and oppression. Ultimately, the criminal justice systems of societies must improve to remedy those actions not prevented from occurring. But the real long-term comprehensive solution will be the effort to eliminate the fear of social taboos, to eliminate the stigma that drives many to commit ignorant violence in the first place.
Women and girls with autism must be empowered to overcome discrimination they face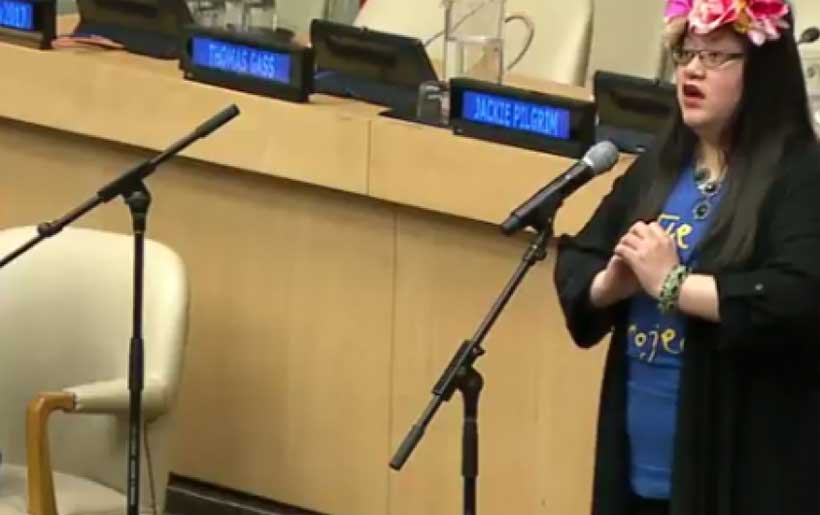 On World Autism Awareness Day, United Nations Secretary-General António Guterres has joined the global call to empower women and girls with autism and involve them and their advocates in policy and decision-making to address the discrimination and other challenges they face.
"They face […] barriers to accessing education and employment on an equal footing with others, denial of their reproductive rights and the freedom to make their own choices, and a lack of involvement in policy making on matters that concern them," said the Secretary-General in his message on the Day.
Emphasizing that "our work for gender equality and women's empowerment must reach all the world's women and girls," he stressed that the international community's efforts to achieve the Sustainable Development Goals (SDGs) must uphold the 2030 Agenda's core promise to leave no one behind.
The Goals and the landmark framework from which they emerged were adopted by UN Member States three years ago. Together they aim to wipe out poverty and boost equality by putting the world on a more sustainable economic, social and environmental path by 2030.
"On World Autism Awareness Day, let us reaffirm our commitment to promote the full participation of all people with autism, and ensure they have the necessary support to be able to exercise their rights and fundamental freedoms," concluded the Mr. Guterres.
Autism is a lifelong neurological condition that manifests during early childhood, irrespective of gender, race or socio-economic status. The term Autism Spectrum refers to a range of characteristics.
Autism is mainly characterized by its unique social interactions, non-standard ways of learning, keen interests in specific subjects, inclination to routines, challenges in typical communications and particular ways of processing sensory information.
The rate of autism in all regions of the world is high and the lack of understanding has a tremendous impact on the individuals, their families and communities.
The World Day is marked annually on 2 April, and this year's official UN commemoration will be on Thursday, 5 April, with a half-day programme in New York entitled Empowering Women and Girls with Autism, that will feature a keynote address from Julia Bascom, Executive Director, Autistic Self Advocacy Network.