Ensuring Inclusion and Integration through Intercultural Education
India has undergone significant social, cultural, demographic and economic change since the year 1991, with the adoption of new economic policy of Liberalisation, Privatisation and Globalisation. Until that stage, the population was heterogeneous, to a limited extent. But after the LPG policy the migration patterns changed in India.
There has been a significant increase in migration to urban areas along with transnational movements, both among males and females. The new destination for them in the process of migration presents the state of transition of the cultures of migrated people. The benefit of migration is the opportunities to develop into both a multi-lingual and intercultural society, (only if the process of integration in host countries works efficiently and the policies change periodically). Thus new set of Diaspora population profile presents us with both new opportunities and challenges. One of the challenges and opportunity is to acknowledge, appreciate and celebrate the cultural heritage unique to each different group whilst at the same time realising that this is contributing to a shared collective awareness of Indian identity, which is constantly evolving. Migrants in India, represent some 200 nationalities, and a heterogeneous group. They have different cultures, languages and levels of education. A minority may not have received a basic education prior to arriving in India, whilst the majority are highly educated, many to post- graduate level. Some may not be working in jobs commensurate with their qualifications and experience. There is need of heterogeneity approaches which see continued cultural difference and highlight local cultural autonomy, cultural resistance to homogenization, cultural clashes and polarization and distinct subjective experiences of globalization. (Robinson, 2007). Thus, in a world that is experiencing rapid changes education has a major role to play in promoting social cohesion and peaceful coexistence, through programmes that encourage dialogue between students of different cultures, beliefs and religions. Education can make an important and meaningful contribution to sustainable and tolerant societies.
Intercultural Education
Interculturality is a dynamic concept and refers to evolving relations between cultural groups. It has been defined as "the existence and equitable interaction of diverse cultures and the possibility of generating shared cultural expressions through dialogue and mutual respect. Interculturality presupposes multiculturalism and results from 'intercultural' exchange and dialogue on the local, regional, national or international level. As a minimum, intercultural education requires majorities to learn about the minorities and their cultural and traditions while minorities must similarly learn about other minorities in the same society as well as about the majorities. (Eide, 1999). Intercultural education, according to the National Council for Curriculum and Assessment (NCCA, 2006), sensitises the learner to the idea that humans have naturally developed a range of different ways of life, customs and worldviews, and that this breadth of human life enriches all. It is education, which promotes equality and human rights, challenges unfair discrimination, and promotes the values upon which equality is built. Thus, Intercultural Education Strategy aims to ensure that all students experience an education that respects the diversity of values, beliefs, languages and traditions in Indian society and is conducted in a spirit of partnership. Therefore, schools can play a role in the development of an intercultural society when they are assisted with ensuring that inclusion and integration within an intercultural learning environment become the norm. Intercultural education in schools cannot be just a simple 'add on' to the regular curriculum. It needs to concern the learning environment as a whole, as well as other dimensions of educational processes, such as school life and decision making, teacher education and capacity building, curricula, languages of instruction, pedagogy, teaching learning materials etc. This can be done through the inclusion of multiple perspectives and voices. The development of inclusive curricula that contain learning about the languages, histories and cultures of non-dominant groups in society is one important example.
Existing Scenario in India
Fundamental values underlying Intercultural education are respect for human rights and rule of law, intercultural values, and openness to world democracy. In India there already exist diversity in cultures and tradition. Indians are subconsciously more aware about other cultures and this awareness subtly contributes to an understanding about other's viewpoint. Indians have by default an implicit compassion for other cultures. Indian schools deal with students from different cultures. Their backgrounds differ in terms of parent's education, religion, socio economic status, household and family norm, also they differ in values and attitudes, lifestyles, abilities/disabilities, and ethnicity, in case of urban schools even nationality. Ethnicity or nationality is therefore only one of the factors that make our classrooms diverse and thus influences our student's culture. But in the existing Indian scenario the contemporary education is at a crossroads and facing multiple challenges related to equity, equality and quality, there is a need to evolve multi-pronged, context-specific strategies for addressing the needs of children from diverse backgrounds.
Time and again government policies attempt to address issues related to equity, equality and quality concerns in education. The National Policy on Education, 1968 and the National Policy on Education, 1986 addresses these issues. Both these policies laid special emphasis on removal of disparity and equalize educational opportunity by attending to the specific needs of those who had so far been denied equality. These policies lay special stress upon making education a vehicle of social transformation and empowerment. The Right of Children to Free and Compulsory Education Act (RTE), 2009 is another attempt of government to make primary education for all mandatory. To give effect to the recommendations of commissions, policy initiatives and legal provisions have been made by central and state agencies and civil society to provide education to all irrespective of gender, caste, class, faith and location. A plethora of schools run by different agencies, i.e. government, government aided, private and those managed by minority institutions, provide access to children from diverse backgrounds. Several national schemes such as the District Primary Education Programme (DPEP), 1994, Sarva Shiksha Abhiyan (SSA), 2001 and the Rashtriya Madhyamik Shiksha Abhiyan (RMSA), 2010 have worked towards fulfilling the unfinished agenda of education for all at different levels. SSA also developed and implemented innovative training model, for primary school teachers in the tribal areas of Orissa. The model focused on attitudinal training of teachers and their sensitization to tribal language, culture and knowledge systems
Various innovative experiments in school reforms have been taken up by civil society organizations as well as in the government sector in different parts of the country. These experiments have attempted curriculum design, development of teaching-learning methods and materials, and teacher development with child-centered inclusive perspectives. These have shown encouraging results in terms of the learning achievement of children from diverse backgrounds. Indian schools can transform total school environment with the help of pedagogy that aims at achieving equity and equal educational opportunities for all of the nation's children, including socio-economically disadvantaged and ethnic minorities in the micro cultures. The Activity Based Learning methodology introduced in response to the poor learning levels amongst children and uninteresting classroom processes is a step towards creating inclusive classrooms. The most notable feature of the reform is its focus on changing classrooms, in terms of methodology, the role of teachers, classroom organization and classroom environment as a whole. Although many efforts are made towards making diverse classroom interesting there is a need for preparation of text books, supplementary materials and bridge courses in the mother tongue of the learners for better comprehension of subject. In addition, multilingualism and bilingual approaches needs to be explored. Equity pedagogy also requires teacher to develop an understanding of the different learning styles students develop from their own cultural upbringing so that educators can employ alternative instructional strategies to help all students learn the key concepts, principles, facts, and generalizations in the various content areas and academic disciplines. To be able to do this, teachers will need to develop pedagogical knowledge, skills, and dispositions that allow them to adapt alternative teaching methods or modify instructional strategies in culturally diverse classrooms. School and classroom climates must also be changed so that academic success is achievable by students from all cultural groups. Therefore, dealing with intercultural education requires adequate understanding of the demographics of the students, culture, and race in popular culture, and development of social action skills. It also emphasizes the clearing up of myths and stereotypes associated with gender, age, and the various races and ethnic groups by stressing basic human similarities (Nieto, 1996). Apart from this, Intercultural education promotes developing an awareness of discrimination such as cultural racism, sexism, classism, and other forms of prejudice and discrimination.
Conclusion
There have been many demographic changes in India in recent years. The educational policies and programs therefore are reviewed in light of contemporary circumstances. The development of an intercultural education strategy acknowledged these demographic changes, which are reflected in the education system. But alongside the adequate development of learners' intercultural competence can't be achieved exclusively through policies and programs. Without teachers' sensitiveness and understanding of the diverse student community in the classroom students' progress cannot be achieved. It is clear that professional growth commitment and motivation of teachers is essential. Thus, through the combined effort from institutions and education agencies, teachers can fulfil their responsibilities with a greater confidence. The Schools must create congenial classroom environment that address the emotional make-up of children and encourage them to voice their opinions and feelings without fear of being intimidated. The creation of such an atmosphere would go a long way in strengthening the bonds between teachers, children and the school. Integration of context specific technology in classroom processes and multiple activities conducted in schools would help in skill development of children from diverse origins for self-reliance.
The Depth of Taboo: Social Issues in South Asia
Rarely does a geopolitical handbook also make such large and important contributions to uncomfortably critical social issues. This handbook is that rare example. The author Aryal takes our MD readers deep into some disturbing discussions – caste systems, systematic violence against women, rape, honor killings, gender stigmatizing, and societal sexism – not to just anecdotally expose people to some of the continued living horrors afflicting important regions of the world but to systematically analyze such atrocities so that their long-term political, economic, social, and diplomatic consequences are revealed.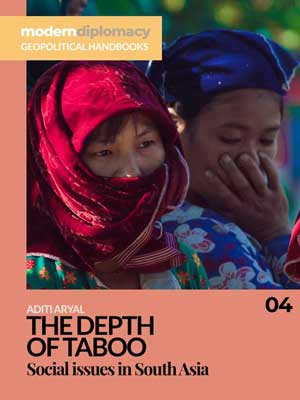 What many around the world do not realize is how crippling these gross abuses of human decency can be for a nation and region writ large: these are not just individual crimes to be noted and then forgotten. The failure of societies, the failure of GLOBAL society, to make more effective progress and take a more rigid stand against injustice is a black mark on all countries, on all of us. This handbook in its own small way strives to be a light within that darkness and as such it is both informative and courageous. While the readers of MD will not find the content of this particular handbook for the faint of heart, the importance of acquiring this knowledge, of becoming more aware of the world that we live in as it truly is in so many places, should be considered a duty of all those fortunate enough to not be born into states where such systemic violence still exists and largely goes unchallenged.
The title of this work is no accident and no shameless marketing attempt to attract more readers. Rather, it is exposing in a single word the reason why overcoming systemic violence based on gender is so difficult. Social taboos run deep in every region, state, city, town, village. We will likely not succeed in eliminating them from the social conscience of people. But the attempt to ameliorate the power of taboo, its power to push rationality out and pull insanity in, is a noble one that all of us at the editorial staff at MD recognize as silently essential for the cause of future peace on so many different levels. The battle against taboo is the secret front end of the war against gender violence and oppression. Ultimately, the criminal justice systems of societies must improve to remedy those actions not prevented from occurring. But the real long-term comprehensive solution will be the effort to eliminate the fear of social taboos, to eliminate the stigma that drives many to commit ignorant violence in the first place.
Women and girls with autism must be empowered to overcome discrimination they face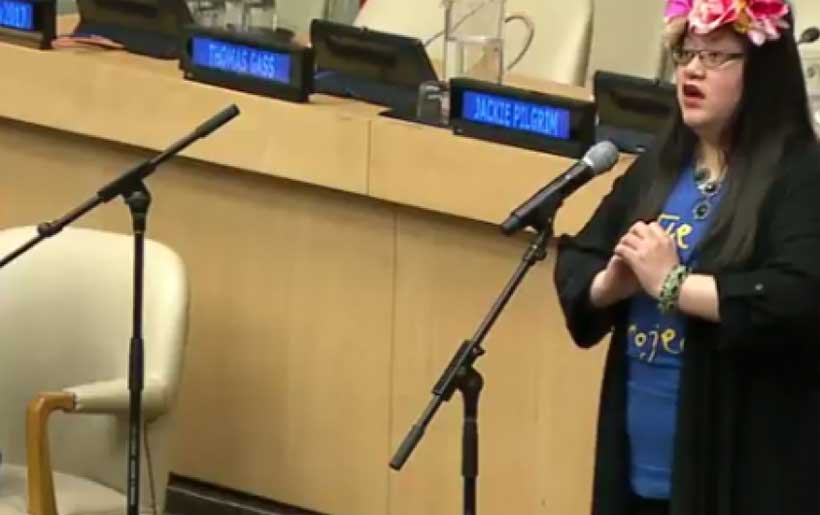 On World Autism Awareness Day, United Nations Secretary-General António Guterres has joined the global call to empower women and girls with autism and involve them and their advocates in policy and decision-making to address the discrimination and other challenges they face.
"They face […] barriers to accessing education and employment on an equal footing with others, denial of their reproductive rights and the freedom to make their own choices, and a lack of involvement in policy making on matters that concern them," said the Secretary-General in his message on the Day.
Emphasizing that "our work for gender equality and women's empowerment must reach all the world's women and girls," he stressed that the international community's efforts to achieve the Sustainable Development Goals (SDGs) must uphold the 2030 Agenda's core promise to leave no one behind.
The Goals and the landmark framework from which they emerged were adopted by UN Member States three years ago. Together they aim to wipe out poverty and boost equality by putting the world on a more sustainable economic, social and environmental path by 2030.
"On World Autism Awareness Day, let us reaffirm our commitment to promote the full participation of all people with autism, and ensure they have the necessary support to be able to exercise their rights and fundamental freedoms," concluded the Mr. Guterres.
Autism is a lifelong neurological condition that manifests during early childhood, irrespective of gender, race or socio-economic status. The term Autism Spectrum refers to a range of characteristics.
Autism is mainly characterized by its unique social interactions, non-standard ways of learning, keen interests in specific subjects, inclination to routines, challenges in typical communications and particular ways of processing sensory information.
The rate of autism in all regions of the world is high and the lack of understanding has a tremendous impact on the individuals, their families and communities.
The World Day is marked annually on 2 April, and this year's official UN commemoration will be on Thursday, 5 April, with a half-day programme in New York entitled Empowering Women and Girls with Autism, that will feature a keynote address from Julia Bascom, Executive Director, Autistic Self Advocacy Network.
Law in societies: Encounters vs. Anarchy
In this essay I will discuss the purpose of law in society but before I go further law refers to the system of rules that a particular country or community recognizes as regulating the actions of its members and may enforce by the imposition of penalties.
Some human beings can be aptly described as weak willed animals. They are easily influenced by the slightest sight or sniff of power and money. This originates from insatiable greed. Greed that can sometimes make even the iron willed loses their head. How many stories have we heard since our childhood where many "heroes" lost their way to the path of glory by being trapped by greed?
Our one aim in life has always been to find balance and serenity in our lives. A utopian society envisages a vision where people govern themselves. People trust each other blindly. They achieve happiness. People set their goals, lead disciplined lives and achieve anything they set their sights on They are able to live their lives to the fullest and all the time feeling secure about it.
However the vision, unfortunately, exists in an ideal world which frankly is almost the opposite of today's real world. Our realistic society is heterogeneous mixture of all kinds of people, people who look to disturb the balance of the natural society. It is here that law plays a very important role in restoring that delicate balance back to the society and making the lives of the people living together cohesive. It is here that law helps to maintain the morality of the people as individuals as well as the society as a whole.
World without Let us imagine a world without any law to punish the wrong doer. Let us assume that the society has till now lived an honest life without any kind of betrayal. Suppose a person, in greed, steals a valuable item from his neighbor's house. He isn't punished but everyone knows what he has done. Some naive person, probably a youngster witnesses this and is tempted to steal because he knows there are no repercussions. This develops into a never-ending chain endangering the very foundations of the society.
Another example might be a survival situation. A group of people are stranded on an island with twenty days of food and water. They know that a rescue team will reach them on the twenty first day. They carefully divide the food such that they get the necessary nourishments by the time they are rescued. A person, out of greed for more, sneaks quietly and consumes two days of food meant for the whole group. When the group discovers what has happened they confront the person who cunningly reasons with the group that there was no rule or law which forbade eating more. As the group consisted of educated men and women, both young and old, they knew his reasoning was correct and they could not do anything to get the food back. As a result, they starved for two whole days during which a few old people fell ill and could not make it.
Law is essential and many do ask why and how but Law is essential in the society and it is there to guide the society towards happiness without bloodshed and in peace and harmony. Law helps us to restrain ourselves in times of great thirst for more money or power. It curbs our greed reminding us that there is someone or rather something out there ready to punish us if necessary. It helps to restore the balance in the society and bring justice to the victimized. The greatest thing about law is that all are equal before it. No man is rich or poor in the eyes of the law. No man is more powerful than the other in the eyes of the law. Law helps to regulate the behavior of the people. It prevents us from descending into anarchy.
Law is dynamic. It is constantly adapting to the changing times so as to close all the loopholes that may be left due to human error. Our Preamble states the ideals of justice liberty sovereignty fraternity and equality which constitute the basic foundation of Our Constitution. However, without law these ideals will be constantly shattered. There will be nothing to protect these ideals.
In a world where 'survival of the fittest' is prevalent, and looking at the size of human population we can say only one thing. Law is needed for survival. We cannot go against each other as it will definitely lead to destruction. Law plants an element of fear which may prevents in killing of fellow human being. It gives each one his or her own share, what they deserve.
Laws tell us what to expect as consequences as a result of our actions. It makes us look before we leap. It is there to protect and to destroy. It restricts people who get carried away due to the freedom given to them by the absence of law if this is the case. They know one abuse of the law will affect them economically, mentally and physically. Some exceptions may be found but this is applicable for the majority.
In addition the natural law which can be refers to Mother Nature herself which follows many rules and laws which help in the sustainability of this world and the life which flourishes on it in abundance. Every living organism, from the tiny unicellular amoeba to the biggest animal the blue whale follows a set of laws to survive.
Let us take the examples of honey bees. They follow the orders of the queen bee and visit hundreds and thousands of flowers to carry the process of pollination which helps in reproduction of these plants. They have to follow a set of rules or laws which will help in this important process. If one of them breaks the law, they are ordered to leave the bee hive. They cannot join another hive nor can they return. It is as good as giving them a life sentence. This life-threatening situation helps to keep the honey bees in check and brings order into the hive.
Same can be said for the birds which migrate every winter or summer depending upon their pattern. They have to follow a set of rules or laws which will help them navigate their way. One abuse of these laws can lead to cases extreme to death.
When in the modern society our modern society has become quite educated and the main question that arises from them is that who has the authority to form these laws which imposes a restriction on their lives. They question and debate upon the authority that makes these laws and rightly so. Once they are satisfied with the authority they know that their lives are secure and they are free to concentrate on their aims and dreams in life. Law is there to attempt to balance the needs of individuals against the needs of the majority. We accept responsibilities, we renounce some of our freedoms (not kill others, not harm others, not steal from other members of the society) to receive in return the benefits of society (not being kill by others, not being harm by others, not being robbed by other members of the society).
Law helps in removal of social stigmas such as dowry and untouchability. For example, in some Constitutions, it talks about untouchability and even though it still exists today, the number of cases has comparatively gone down a lot. This is just one example that law can have in a society which is not perfect, a society where human beings fight, and abuse and kill their own species. This is how law helps in protection of the underprivileged.
Furthermore Law plays a significant role in producing successful societal functions around the world. Law helps regulate social behaviors, ultimately leading to society running efficiently. Without laws, society would have no ethical boundaries or standards, no rules or measures, nor any means of settling even the simplest disputes. Law helps keep the peace in society through governance and standards set forth by all voting citizens. All functions of law in society include peacekeeping, promoting personal freedom, regulating government power, promoting economic growth, promoting social justice, and protecting all of society and the environment. It is important to remember without laws to govern the actions of people in society, it is highly likely all social structure and commerce would collapse. If one can imagine what life would be like if every prisoner in the world were to be released back into society that would be about how unsafe and dysfunctional society would be without laws (Melvin, 2011).
Law and Society The function of law in a society is more or less universal. It acts as a deterrent to control the evil and treacherous behavior of humans, to maintain discipline and imposes restrictions on some freedom. We live in a chaotic and uncertain world. Without an orderly environment based on and backed by law, the normal activities of life would be lacerated with chaos. Law is a social norm, the infraction of which is sanctioned in treat or in fact by the application of physical force or by a party possessing the socially recognized privilege or so acting. It provides a society with order and predictability, resolving disputes, protecting individuals and property, providing for the general welfare and protecting individual liberties. Law and the predictability it provides cannot guarantee us a totally safe world, but it can create a climate in which people believe it is worthwhile to produce, venture fort, and to live for the morrow. It prevents the state of nature, which would be total anarchy had there been no laws. Societies today are more complex and interacting. Maintaining good order and discipline have far reaching implications on a society's prosperity. Laws are in acted daily throughout different societies for the protection and security of individuals, property, businesses and states. It permits an orderly, peaceful process for dispute resolution and provides us with the programs to establish and enable corporately, what would be impossible, or at least prohibitive, to do as individuals. Laws should be designed to protect the individual personal and civil rights against those forces, which would curtail or restrict them. Some examples of this are freedom of speech, religion, the press, the right to a fair trial and the freedom from cruel and unusual punishment. In the United States the respect for the law is paramount and disobedience to the law.
In conclusion it can be implied by common sense that law helps us to survive as a society and it is convenient. Convenient is comfortable and humans look for comfort above all things apart from happiness. Also law helps in getting rid of the social barriers that exist in our society. Through law we survive yet thrive. Hence law is necessary in a society.