Vaclav Havel: the Authentically Humanistic Voice of a European Cultural Hero
After Brexit and its related confusions in the EU political landscape, the time may have come to remember Václav Havel's humanistic philosophy as a powerfully heroic voice of the post-cold War political landscape, advocating that Europe recover its own soul; urging a global revolution in human consciousness; reconnecting the story of man to a transcendent principle within the cosmos; nothing less than the voice of Hope.
With the possible exception of Franz Kafka, I know of no modern Czech writer whose political philosophy, within the Western Humanistic tradition, is more inspirational than Václav Havel's. To my mind the best way to imagine him, is as one of Kafka's "heroes for our time," a powerful voice calling us back home to our humanity and urging that Europe know its cultural soul.
This is not to make Havel an esoteric thinker coming out of some Olympian cloud. To the contrary, he is the last arrival of a long line of Czech visionaries and political philosophers who were formed within the crucible of the Cold War. Like Emanuel Levinas, he also discerned that modern reason had become detached from the world of good and evil, had regressed to a Protagorean clever sophistry detached from the ethical.
Husserl had already conveyed a sense of the spiritual crisis of modern Europe by publishing his famous The Crisis of European Science (1936) where he affirms that in the Western World theoretical knowledge has somehow lost contact with living human experience, and that the morally ordered world of our pre-reflective lived experience is the life-world of humankind. All these ideas are perceivable in Havel's own thinking.
Another strong influence on Havel's thinking is the philosopher Jan Patocka (1907-1977) who had studied with Husserl and then taught Havel. He was instrumental in publishing Charter 77, the statement of resistance to Soviet occupation and communist ideology for which both Patocka and Havel were jailed by the Communist authorities. It was Patocka who had brought Husserl to Prague as a guest lecturer when Husserl was expelled by the Nazis from Freiburg University. In any case Patocka grouped his writings in a book titled Heretical Essays in the Philosophy of History. There, we find ample evidence that the subject which most captivated him was that of the human struggle.
In the last essay of this book titled Wars of the 20th century and the 20th century as War Patocka writes a brilliant commentary on fragment 26 of Heraclitus, and interprets his polemos as "struggle, fight, war," a kind of adversarial relationship with reality, a struggle against the world which ontologically can be compared to realities such as love, compassion, happiness, justice. In fact, for Patocka, polemos, had priority over the other realities. Thus Patocha corrects Husserl's assumption of an underlying harmony within reality.
These "heretical essays" became a sort of manifesto to rally the Czech citizenry against the Soviet forces of occupation. Those essays insisted that when the ontological supports of hope fail, then personal responsibility must be evoked, in order to establish a community of solidarity. Out of this solidarity arises what Patocka calls "the power of the powerless."
The legal basis of this solidarity was the 1977 Helsinki Agreement on human rights which affirms that human beings are obliged to discover and protect a valid moral foundation, and one ought not to expect that it be provided by the state or social forces alone. As Patocka himself explains: "There must be a self-evident, non-circumstantial ethic, and unconditional morality. A moral system does not exist to help society function but simply so that man can be human… it is morality which defines man." This concept of human rights is redolent of the concept of "inalienable rights" which accrue to being human and no state can give or take away, as proclaimed in the American Declaration of Independence.
Be that as it may, what Masaryk, Patocka and Havel have in common is a recognition that as a result of a disharmony which began with Cartesian rationalism, European life and thought were in profound crisis. This of course echoed Husserl's Crisis of European Sciences where the problems of modern philosophy are traced back to Descartes, the beginning of a crisis of self-alienation; something also noticed by Vico, but alas ignored, some two hundred years before in his New Science (1730).
Husserl insists that this profound alienation and dysfunction could not be resolved unless normative status was attributed to Lebenswelt (life-world), the basis of ethical autonomy. Mechanistic science had unfortunately substituted the old awareness that human life belongs to an ordered moral universe. This idea is especially evident in Masaryk's Suicide as a Mass Phenomenon of Modern Civilization. Nineteenth-century science has, in fact, usurped the authority previously accorded to faith and reason. Masaryk is convinced that it is crucial that humans return to a world of primary experience in order to be reconnected to a vital sense of good and evil. This is also the vital concern of Dostoyevsky's existential novels.
Havel is part of an ongoing Czech intellectual tradition which, in order to be able to "live in truth" has recourse to Husserl's Lebenswelt to counter an oppressive Marxist ideology tending toward manipulative, rationalistic and mechanistic theoretical deductions. This is possible only by paying attention to "the flow of life." Indeed, for Havel "time is a river into which one cannot step twice in the same place" (fragment 21 of Heraclitus).
When Havel in his "Politics and Conscience" (1984) makes reference to Husserl's distinction of the natural world from "the world of lived experience" by which to approach the spiritual framework of modern Western Civilization and the source of its crisis, he is by implication also invoking Vico's distinction between the world of nature made by God, and the world of culture made by man. In any case, Havel's brilliant insight is this: there is a fundamental distinction between the world that can be constructed out of an ideological viewpoint and the world rooted in a trustworthy lived-experience.
Impersonal manipulative forces can be resisted only by the one true power we all possess: our own humanity. This is nothing less than Humanism at its very best. It all begs this question: Where does Havel locate the foundation for this humanity which he finds in the phenomenal experiential world?
The answer can be glimpsed in a letter written in 1989, from prison, to his wife Olga: "Behind all phenomena and discrete entities in the world, we may observe, intimate, or experience existentially in various ways something like a general "order of Being" The essence and order of this order are veiled in mystery; it is as much an enigma as the Sphinx, it always speaks to us differently and always, I suppose, in ways that we ourselves are open to, in ways, to put it simply, that we can hear." ("Letters to Olga," letter n. 76)
The reader should notice here that within this "order of Being," the emphasis is not on sight, on clear and distinct Cartesian ideas, but on hearing, on the perception of the mysterious. In 1994, in a lecture at Stamford University Havel also makes reference to "unconscious experience," as well as "archetypes and archetypal visions." This echoes Jung's collective unconscious and the archetypes, or the idea of fundamental experiences shared by the entire human race, found in all cultures, no matter how distant in space and time they may be from one another.
What is unique to Havel is that, like Vico, he sees the history of the cosmos recorded in the inner workings of all human beings: the microcosm reflects the macrocosm. Moreover, the history of the cosmos is projected into man's own creations, it is the story of man, and it joins us together. Even after thousands of years, people of different epochs and cultures feel that somehow they are parts and partakers of the same Being, which they carry part of the infinity of such a Being. As Havel aptly puts it: "all cultures assume the existence of something that might be called the 'Memory of Being,' in which everything is constantly recorded." Which means that the guarantees of human freedom are not found in systems of thought, or ideologies, or programs of action but in "man's relationship to that which transcends him, without which he would not be, and of which he is integral part." (In "Democracy's Forgotten Dimension," April 1995, pp. 3-10)
One of the constant refrains in Havel's political philosophy is that of the loss of respect, including self-respect, apparent in the modern and post-modern world: loss or respect for what Havel calls "the order of nature, the order of humanity, and for secular authority as well." Gone is the sense of responsibility that inhabitants of the same planet ought to have towards one another. Havel sees the causes of this loss of respect in the loss of a "transcendental anchor" which he considers the source of responsibility and self-respect. He pleads that humankind must reconnect itself to "the mythologies and religions of all cultures." Only thus they can engage in the common quest for the general good.
What exactly is the general good? Havel's answer is that a "global civilization" is already in the process of preparing a place for a "planetary democracy." But this planetary democracy here on Earth must be somehow linked with the Heaven above us, with the transcendent. Havel is convinced that only in this setting "can the mutuality and the commonality of the human race be newly created, with reverence and gratitude for that which transcends each of us, and all of us together. The authority of a world democratic order simply cannot be built on anything else but the revitalized authority of the universe." (ibid. p. 9).
Havel does not assume that such an order has already arrived in Europe. To the contrary, his essay titled The Hope for Europe (The New York Review, June 20, 1996) stands as a provocative survey of Europe's enormous influence on human civilization, but this influence is ambiguous; it can be constructive as well as destructive.
Let us examine more closely Havel's views on ideology, European Civilization and the European Union which may be about to come apart up as we speak. In an essay by the title of "Politics and the World Itself" published in 1992, Havel critiques the Cartesian-Marxist assumption, which is the general assumption of philosophical rationalists, that reality is governed by a finite number of universal laws whose interrelationship can be grasped by the human mind and anticipated in systematic formulae. He insists that there are no laws and no theories that can comprehensively direct or explain human life within the context of an ideological fix-all.
Consequently, we need to abandon "the arrogant belief that the world is merely a puzzle to be solved, a machine with instructions for use waiting to be discovered, a body of information to be put into a computer with the hope that, sooner or later, it will spit out a universal solution."
In 1990 Havel addressed the U.S. Congress on the subject of democratic ideals and the rebirth of the human spirit where he reflected on the end of the bipolarity of the Cold War and the beginning of "an era of multi-polarity in which all of us, large and small, former slaves and former masters will be able to create what your great President Lincoln called 'the family of men.'" He also declared that: "consciousness precedes being," by which he simply means that the salvation of the human world lies in the human heart, the human power to reflect, and in human responsibility. More specifically Havel proclaimed that: "Without a global revolution in the sphere of human consciousness, nothing will change for the better in the sphere of our being as humans, and the catastrophe toward which this world is headed—be it ecological, social, demographic, or a general breakdown of civilization—will be unavoidable." This echoes Martin Buber or C.P. Snow's insight on the two cultures: the world of "I-it" of science concerned with manipulation and use of matter out there (what Descartes calls extension into space), and the world of "I-Thou," the world of the humanities and the poetic characterized by dialogue and ethical concerns.
So, what is to be done? Havel answers not with another ideology or a program or a Platonic blueprint but by simply reminding people that the way out of the crisis is dedication to responsibility: "Responsibility to something higher than my family, my country, my company, my success—responsibility to the order of being where all of our actions are indelibly recorded and where they will be properly judged."
In 1995 Havel gave a commencement address at Harvard University where he recognizes that the world has already entered a single technological civilization and in the spirit of Husserl, Masaryk and Patocka he sounded the alarm: there is also afoot a contrary movement which finds expression in dramatic revivals of ancient traditions, religions and cultures. In other words there is an attempt at the recovery of "archetypal spirituality," a searching for "what transcends us, whether we mean the mystery of Being or a moral order that stands above us…Our respect for other people, for other nations, and for other cultures, can only grow from a humble respect for the cosmic order and from an awareness that we are a part of it, that we share in it and that nothing of what we do is lost, but rather becomes part of the eternal memory of Being, where it is judged."
The question inexorably arises: What about Europe? In 1996 in his address at Aachen which he called "The Hope for Europe" Havel surveys and analyzes Europe's enormous influence in world civilization but articulates some provocative thoughts: this influence can be both constructive and destructive. The challenge is to discern the positive constructive influences on which to build. He identifies the best that Europe has to offer the world in "a place of shared values." To talk of shared values is to talk about European spiritual and intellectual identity, solidarity, the European soul, if you will. His sincere hope is that Europe, for the first time in its history "might establish itself on democratic principles as a whole entity." There is a caveat: this will happen only if the values that underlie the European tradition are supported by a philosophically anchored sense of responsibility. More precisely: "The only meaningful task for the Europe of the 21st century is to be the best it can possibly be—that is, to revivify its best spiritual and intellectual traditions and thus help to create a new global pattern of coexistence."
In Havel's "The Politics of Hope" one reads that "in my own life I am reaching for something that goes far beyond me and the horizon of the world that I know; in everything I do I touch eternity in a strange way." With this grounding, politics becomes 'the universal consultation on the reform of the affairs which render man human." There is no doubt that in Havel we have today a rare strong voice of the post-Cold War "new Europe" advocating a sort of "conspiracy of hope." A conspiracy this that insisting that politics must be accorded a transcendental source and foundation or it will be built on sand. In today's nihilistic global world this "conspiracy of hope" will be like the proverbial canary in the cave. If we ignore or suffocate it, it will be a sign that our so called civilization is in the process of committing suicide.
How our Europe will regain its strength
The last few weeks have turned our world upside down. It seems like a lifetime ago that we were going about our everyday business. But by now, some of you reading will have had symptoms, many of you will know someone who is sick and every single one of us are worried about our loved ones.
But what is unique about the situation we are in is that all of us are part of the solution: all of us as citizens, but also companies, cities, regions, nations and the whole world over. Yes, it is true: Europe was initially partly blindsided by an unknown enemy and a crisis of unprecedented scale and speed. This false start is still hurting us today.
But Europe is now standing tall together. And that is being driven by a surge of compassion across our Union. In the last weeks, we have seen retired doctors and nurses answer the call of duty and millions more volunteer to do anything they can to help. We have seen restaurants deliver food to exhausted medical staff, designer labels make hospital gowns and car makers turn into ventilator producers.
That solidarity is infectious – and it is at the heart of our Union. Thanks to that impulse the real Europe is back. The one that works together to do what none of us could do alone. The EU is now delivering and is working flat out every day to save every life we can, to protect livelihoods and kickstart our economies.
In the last weeks, we have taken measures which would have been unthinkable only recently. We have made our state aid rules more flexible than ever before so that businesses big and small can get the support they need. We have relaxed our budgetary rules more than ever before to allow national and EU spending to go quickly to those that need it. This has helped EU institutions and Member States put up €2.8 trillion to fight the crisis – the strongest response anywhere in the world.
And this week the European Union went one step further. We have proposed a new scheme called SURE to make sure that people can keep their jobs and their incomes, as well as ensure that businesses can stay afloat while we hibernate. The scheme will provide €100 billion to help governments make up the difference if your company has had to reduce your hours – and it can support the self-employed too. This will help those in need to pay their rent, bills or food and keep other businesses alive in the process.
And to step up the fight to save lives, we have also decided to put every cent of the remaining money in this year's budget into an emergency instrument to help secure vital medical equipment and scale up testing.
This reflects the fact that in this crisis there can be no half-measures. And that will be the case for years to come as we seek to lift our economy out of the crisis valley. To do this, we will need massive investment in the form of a Marshall Plan for Europe. And at the heart of it should lie a powerful new EU budget. The advantages of this are obvious: the EU budget is a proven instrument of solidarity and modernisation. And with its seven-year term, it creates certainty for investors and reliability for all parties involved.
But just as the world looks very different from the way it did just a few weeks ago – so must our budget. It must be there for the time when economies weakened by the current crisis will need to spark their engines and get our unique internal market going again.
The billions and trillions being spent today to avert a greater disaster are an investment in our future protection and they will bind generations. This is why the money in our next budget must be invested in a smart and sustainable manner. It must help preserve what is dear to us and renew the sense of belonging amongst Europe's nations.
And crucially we need to invest strategically in our future, for example for innovative research, for digital infrastructure, for clean energy, for a smart circular economy, for transport systems of the future. A Marshall Plan of this nature will help build a more modern, sustainable and resilient Europe. This is the Union that I believe can emerge from this – just as it did after we every crisis in our history.
And this enormous effort, this new Europe, will need one thing more than any else: The people of Europe must want a common future where we stand up for each other.
What I see around Europe today shows the way and it fills me with pride. The future of Europe is the Polish doctors going to Italy. It is Czechs sending 10,000 masks to Spain and elsewhere. It is the airplanes that fly sick people from northern Italy to eastern Germany or the trains that bring people across borders to be treated in free intensive care beds. It is the Bulgarians who send protective equipment to Austrians, and Austrians who send masks to Italy. It is the first common European stock of medical equipment, or the respirators and test kits purchased together by almost every country, from Romania to Portugal, to be sent to Spain, Italy and elsewhere. The power and solidarity of this Union was also felt by thousands of Europeans who were stranded in Vietnam, South Africa or Argentina and were flown back home on a European ticket.
With each one of these acts of solidarity, Europe rises back up that little bit more. And I am in no doubt that before long Europe will be back up on its feet. Together.

This article was also published in several European media.
Republic Of Cyprus: Ruling a Country Against Its Constitution
When you hear about Cyprus, one of the things that comes to mind is the word "conflict." Then, its beautiful beaches, paradise-like nature, and warm island culture.
But you could not guess that this island nation, which is also part of the European Union, has been ruled against its constitution for more than half century. What if we also tell you that this fact is even forgotten by its own citizens? This is exactly what is going on.
Cypriots gained their independence in 1960, after living under the control of the United Kingdom for 82 years. However, this was not an end, but the beginning of the pains they will suffer, the nation that did not experience governing their own island for a very long time.
But during the period of British rule, something needed to change, for the sake of their "divide and rule" policy. Cypriots were a community that was living in great harmony in their remote and isolated island far from the mainland that can influence them easily.
But there was a community without a name. In Ottoman censuses, they were called just Muslims. In the books written by European travellers they were called Linobambaki, Cypriots who spuriously converted to Islam to save themselves from the Ottoman oppression. After World War I, with the death of Ottoman Empire and the birth of the Turkish state, Brits had already found an identity for this community of the descendants of Crypro-Christian Cypriots: Turkish Cypriots. But there was a problem and it was the fact that a big portion of this community spoke Greek. Then, the young Republic of Turkey lent a hand by sending Turkish teachers to the British-controlled Cyprus and the Turkification process began.
Until 1960, there were small gang fights between these two communities with the provocations of Turkey and Greece, but nothing serious happened. When the independence day came for Cyprus, the representatives of these two Cypriot communities were at the table. The Orthodox Archbishop Makarios representing Greek Cypriots and the extreme secular DoctorFazıl Küçük representing Turkish Cypriots. And they agreed on the constitution that is "still in force" today in the Republic of Cyprus. Let's point out the main articles of the official Constitution of the Republic of Cyprus.
• "Greek Cypriot President and Turkish Cypriot Vice President with veto right"
• "Greek and Turkish as official languages"
• "70 percent of the parliament, cabinet, government and law enforcement officers made from Greek Cypriots, and 30 percent from Turkish Cypriots"
• "60 percent of its army made from Greek Cypriots and 40 percent of it Turkish Cypriots"
    • "Adoption of new national flag"
• "The authorities and any public corporation or utility body of the republic are not allowed to fly any other flag than Republic of Cyprus flag, except holidays"
Now, have a wild guess about how many of these articles of the constitution are being violated by the Greek Cypriot community who seized the republic since 1963. The answer is all of them except for the "national flag" that they use, which was drawn by a Turkish Cypriot.
I know what you are thinking. How can a country that is part of the European Union, a symbol of democracy, get away with such activity? We must get into more history to see how.
Three years after the independence, the Greek Cypriot President of the republic, Archbishop Makarios unconstitutionally proposed his infamous thirteen points, which took away many rights from the Turkish Cypriots. This attempt made Turkish Cypriots leave the government.
Then, the rest of the unconstitutional activities of the Greek Cypriot administration followed, which includes establishment of Greek Cypriot-only army and adopting the national anthem of Greece as the anthem of the Republic of Cyprus.
The main aim for all these activities was achieving "enosis," which is the idea of a union with Greece. But the Republic of Cyprus and its constitution were the biggest obstacle, since it was clearly based on the idea of an independent republic with equal ownership by Greek and Turkish Cypriots.
While all these events were happening, we cannot say that the Turkish Cypriot administration was innocent either. Like the Greek Cypriot administration, the Turkish Cypriot administration silenced people and groups who believed in the existence of Republic of Cyprus and who demanded more struggle to save the republic, instead of leaving it to the hands of the Greek Cypriots. The reason behind the decision of the Turkish Cypriot administration to not struggle for their rights effectively was their beliefs that the greed of Greek Cypriots would be a shortcut to achieve "taksim," which is the idea of partition.
When we come to 1974, after painful events and internal struggles within each Cypriot community, a group of enosis-dreamer Greek Cypriots tried to overthrow the Greek Cypriot administration, which was not sharing the same enosis dream anymore, with a coup d'état backed by the Greek junta. With this event, Greek Cypriots gave Turkey a chance to intervene in the situation in Cyprus according to international agreements. And, as we all know, this intervention turned into an occupation, which has continued since then.
Today, what is on the table is a United Nations backed "federal solution" for the Cyprus problem. Despite the current status quo, the unconstitutionally Greek Cypriot-governed Republic of Cyprus continues its life with the constitution which was written in 1960. The main reason behind keeping the constitution is the Greek Cypriots' desperate tactic of showing the world they are not the ones who broke the deal. But even the Greek Cypriot population is not aware or educated about their own constitution, since legislation continues like the country does not have one. Greek Cypriot people do not even have an idea of simple facts, such as that Turkish is an official language of the country or that their flag was designed by a Turkish Cypriot artist, İsmet Güney.
But all these seem to be changing. While crypto-Enosis desire and impossible federal solution talks continue, there are organisations like the Union of Cypriots (Ένωσις Κυπρίων / Kıbrıslılar Birliği) that advocate and promote that the only way to end this madness and occupation is restoring the constitutional order—the deal that was already made and a lot of pain and suffering that hit all Cypriots after it was broken. Failing to ease the pain with different dreams, maybe it is indeed the right choice for Cypriots to hold on what they have to delegitimize Turkey's existence on the island. Because the speed of Turkish colonization of Cyprus tells us that Cypriots do not have much time left to save their homeland for good.
A New Twist in the Spanish Approach to Politics in Venezuela: Podemos in the Spanish Government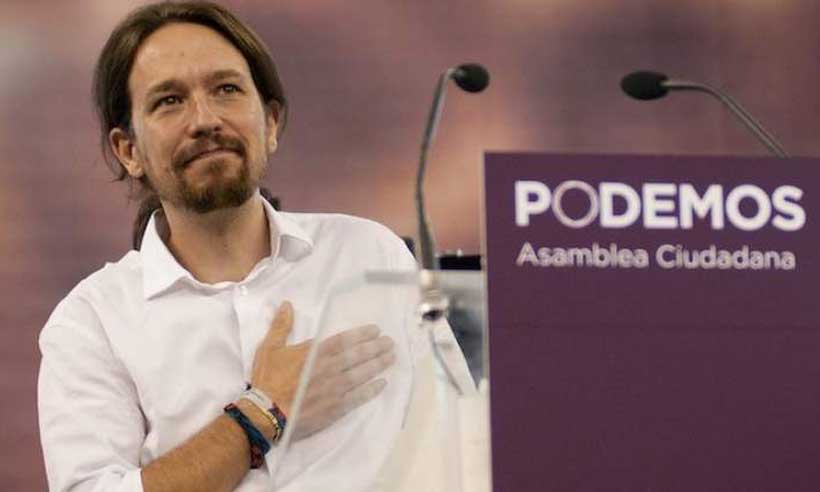 During the last pseudo-legislature in Spain, the position that had been maintained by the Spanish government towards Venezuela and its government was not too far from the quasi-common position that was established at the European level. After the entry of Podemos, a far-left party, into the Spanish government, the Spanish narrative towards the Latin American country and its leaders has taken a turn that calls into question the position of the Spanish government towards Venezuela.
The Special Relationship of Spain with Venezuela
Since 1845, the year the Treaty of Peace and Friendship was signed after the independence of the South American country, Spain and Venezuela have maintained bilateral ties and diplomatic relations. In fact, history has only one instance of no diplomatic relations existing between the two countries, specifically from 1945 to 1949. Despite suffering many serious crises during the Chavista period in face of a number of political disagreements that seriously endangered mutual understanding, the special relationship between the two countries has been maintained constantly.
After the Spanish Civil War and between 1969 and 1990, Venezuela, along with Argentina and Mexico, was the main destination for Spanish exiles and emigrants. Beyond migration, the Hispano-Venezuelan ties are transcendental in nature, both historically and socio-economically. Venezuela is home to more than 150,000 Spaniards; the Venezuelan community, in turn, is the fourth largest ethnic group in Spain. In 2017, exports from Spain to Venezuela amounted to 111 million euros and imports from Venezuela to Spain were worth 318 million euros; however, these figures are quite low compared to those of previous years, for example, in 2014, Spanish exports equaled 550 million euros and Venezuelan imports – 1,325 million euros.
Podemos in the Spanish Government
As a well-known Spanish journalist said, "Venezuela has been a thrown weapon since Podemos appeared on the Spanish political scene in 2014". The relationship with the Latin American country for the political party led by Pablo Iglesias is not only a political issue, but also an ideological link. The core of the party has maintained close ties with the government of Hugo Chavez, including becoming advisers to the then Venezuelan president, and later to Nicolas Maduro; the party also has links with the rest of Bolivarian leaders, such as Evo Morales or Rafael Correa.
After the November 10 general elections in Spain, a coalition government consisting of the historic socialist party PSOE and the far-left party Podemos was created. This coalition marks a period of the greatest political instability in the history of Spanish democracy. The two parties and their leaders devised this joint government to break away from the ungovernability that the country has been facing for almost three years due to the lack of a stable and consolidated government. This is how Pablo Iglesias became the second Vice President of the Spanish government and his current partner Irene Montero – the Minister of Equality.
From "Delcygate" to Guaido
Two recent controversial diplomatic episodes have once again made Venezuela an urgent subject of the Spanish politics. On the one hand, the stopover of the Venezuelan Vice President Delcy Rodriguez at the Madrid Airport of Barajas, where she held a meeting with the Spanish Head of the Ministry of Transport. The Spanish authorities first denied the meeting and then clarified it with different versions, giving rise to a speculation about the case, cosnidering that the EU imposed individual sanctions that restricted Rodriguez from entering the Schengen Zone.
The second mistake of the Spanish Government, according to its critics, was not to receive Juan Guaido, who is recognized as an interim president by more than fifty countries, including Spain and Germany, at the highest official level on his European tour. Throughout his European tour, Guaido met with several heads of state, including Merkel, Macron, and Johnson. Many people deemed Sanchez's gesture upon the Venezuelan leader's arrival in the Spanish capital as a legitimt cause of outrage. In addition, when explaining, the Spanish president called Guaido an "opposition leader." More and more voices have since accused the current Executive of having changed his position with respect to Venezuela by the influence of Podemos.
Spain Flies Alone
A turn at the helm in Madrid would be more than a national decision. The consequences for Venezuela of such a turn cannot be understated, because historically Europe has seen Latin America through the eyes of Spain, and Madrid has been in charge of relations with Latin America. Undoubtedly, Spain will lose a lot if its relationship with Venezuela continues to deteriorate. The human and socio-cultural ties between the two countries are obviously close, but just as relevant are the Spanish economic interests in this South American state, particularly in its oil companies.
Some European countries, such as Italy, did not recognize Guaido as the president-in-charge at the time – Rome still does not. A more neutral, less pro-Guaido Spain would mean aligning with the Italian position, which does not imply neglect, as the Italian diplomacy continues to work on finding solutions to the Venezuelan question through the Contact Group of European and Latin American countries.
What does this mean for the European approach to the crisis in Venezuela? From the point of view of capabilities, it can be said that Spain does not have as much weight as to change the Community's foreign policy; however, because Spain is a traditional filter of relations between the European and the Latin American blocks and the Head of European Diplomacy Josep Borrell is Spanish, a possibility that the positions will be killed exists -"cooling," therefore, cannot be ruled out.
Conclusions
As a victim of its own contradictions, the Spanish government has projected an image of chaos and confusion. It is evident that PSOE and Podemos have disparate positions regarding Venezuela, but it is necessary that the executive government adopt a coherent line of thinking, the continued absence of which deteriorates cohesion within the EU and complicates relationships with its international partners like the USA.
Sanchez defying Guaido is not so much a concession to the former's Podemos partners in the government, but rather a symbol of the latter's waning influence. Guaido has become an awkward figure, who failed to achieve his main objective of free elections. This is why Maduro is stronger today than a year ago.
Nonetheless, too much importance is being attached to the role Podemos really plays in the new Spanish government. Though its power is magnified, it has a minimum effect on foreign matters. When Sanchez came to power in alliance with another party that had more votes, that is PSOE, he assumed that he has no choice but to respect their decisions, whether he likes them or not. He has yet to distance himself from such conformism.
Meanwhile, the shadow of the Venezuelan crisis keeps flying over internal politics in Spain, especially over its progressive government, without facing any of the harshest opposition forces in the country's democratic history. The truth is that a year after half the world placed its hopes in Guaido to find a way out of the humanitarian crisis and the political impasse in Venezuela, the opposition leader is making substantual efforts to prevent the passage of time from opening cracks in his political legitimacy. At this juncture, the whole international community needs to act as a mediator of negotiations between the Venezuelan Government and its opposition to get out of the ongoing stagnation.
From our partner RIAC