China-Africa partnership finds reciprocity
Despite concerns raised by few Western countries, such as Britain and the U.S., over the political, economic and military roles that China has been playing in Africa, China is successful in making inroads to Africa with reciprocal warm gestures from many African countries. The very visible progress in political, economic and diplomatic cooperation between Africa and China is a sheer showcase of this reality.
Why Africa is important to China?
China's vast economy, which is the second largest economy in the world, requires huge raw materials and energy resources. As the Middle East has become a too chaotic supplier-destination for energy, China found African countries as the ideal supplier-destinations for much needed natural resources, such as oil, minerals, timber and cotton. Moreover, African markets are seriously attractive to any export-oriented industrial economy like China because of Africa's large population (around 1.1 billion), who are potential consumers. For China, African fast-growing markets are ideal for immediate export of cheap manufactured goods that China is best in making, and also ideal for the future export of high-end products and services, towards which China is slowly moving.
Africa could be instrumental for China in its counter to the U.S.'s "pivot to Asia," which is a diplomatic, economic and strategic offensive aimed at undermining Chinese influence and preparing for war. "One Belt, One Road" strategy, something that needs no introduction, is China's response to U.S.'s pivot to Asia. China is seeking to include Africa within its "One Belt, One Road" strategy aimed at more closely integrating Europe and Asia via land and maritime infrastructure.
Why Africa prefers China over others?
China has adopted a flexible approach with regard to the African resource market under the "Beijing Consensus": (i) non-interference, (ii) infrastructural development, (iii) friendship and respect (for African leaders, people and sovereignty) and (iv) Chinese model of development (operating in Africa under the influence of China's own development history, which prioritizes "economic development" over other progress). Therefore, Beijing Consensus, according to many African intellectuals, portrays China's intension of maintaining a strict respect for African sovereignty and China's non-interference approach to internal issues of African countries. In line with this policy, China helps Africa with loans and infrastructure building projects without any political strings attached about democracy or transparency. Such Chinese non-interference approach gives African countries enough flexibility to work for immediate economic development.
Efforts have been made toward stronger economic integration in Africa. In 2002, the African Union was formally commenced in order to accelerate socio-economic integration and promote peace, security and stability in Africa. China has been continuously voicing in favour of such African integration in almost all China-Africa summits, symbolizing China's intension to see Africa together as one.
China invests in the construction of African infrastructures, such as roads, railways, dams, ports and airports. Such projects create massive employments for hundreds of thousands of Africans. These (creating jobs and building a developed Africa) are very visible benefits that appeal the African people of all ages and of all walks of life towards mandating for further Chinese involvement in Africa.
China-Africa relations
The U.S., France and Britain are China's main rivals in Africa. France and Britain were once the largest trading partners of Africa. However, from 2008 onwards, China remained Africa's largest trading partner, while the U.S. remained the second largest. China has been giving aid to more African countries than the U.S.
China wants to move away from its low-end products manufacturing trend to high-end products. China intends to build up the low-end industrialization capacities in other countries, helping Chinese companies in their attempts to "go global" as they set up factories in other countries. And, industrialization is just the obsession that many African countries are craving for. Therefore, it seems China's plan to build up the low-end industrialization capacities in other countries and African countries' desire for industrialization coincides with each other, making China and Africa the ideal-most partners for each other in this regard. Chinese Foreign Minister regarded China as a most desirable and reliable long-term partner for Africa to achieve industrialization.
China has been increasing cooperation and exchanges with Africa on the cultural front, particularly in the media and education arena. Over the last decade, China extended its media presence across all major press and electronic media in Africa. The famous CCTV News Channel and China Daily have dedicated Africa editions. Africa hosts a number of Chinese cultural centres and 46 Confucius Institutes, which focuses on the promotion of the Chinese language and culture. Health care development and medical assistance have been one of the main successful areas of cooperation.
Military cooperation between China and Africa goes back to the Cold War period when China backed a number of African liberation movements, while post-cold war era witnessed a military relation based on economic interests rather than ideology. China has been sending troops to Africa to participate in peacekeeping and pledged to increase its support for the peacekeepers in Africa. Apart from peacemaking, China provides military training and equipment to a number of African countries. An increasing number of African countries have shifted their source of supply of defence hardware from traditional providers to China.
The need to protect China's increased investments in Africa have driven China to adopt new diplomatic and military initiatives in order to try to resolve unrest in countries like South Sudan and Mali. China's security assistance to the African Union and national militaries of many African countries is in part designed to boost their capacity to counter threats (such as attack on the Radisson Blu hotel in Mali) to their economic interests from conventional and non-conventional armed forces. China's first ever overseas military facility is planned to be hosted in Djibouti, located in the Horn of Africa.
China-Africa Summit
The ministerial meeting in China in October 2000 was the first collective dialogue held between China and African countries, establishing the Forum on China-Africa Cooperation (FOCAC) in order to strengthen alliances, sign contracts and make important announcements. Since then Chinese and African partners meet every three years for the summit of FOCAC, or otherwise known as China-Africa Summit.
During the 2015's summit, which was held in South Africa, Chinese President Xi Jinping pledged $60 billion over a three-year deal in loans and assistance to the African countries. On the media front, Xi said that China would provide training for 1,000 African media practitioners each year, and would set up satellite TV programs in 10,000 African villages. Xi also pledged to provide funding for 200 African scholars and 500 African students to visit China each year. China would also provide 2,000 education places and 30,000 government scholarship places for Africa. China would establish regional vocational education centres and colleges, train 200,000 technicians and provide the Africans with 40,000 training opportunities in China. Xi pledged some 200 poverty reduction projects, 30 teams of agricultural experts and a limited amount of debt relief to some of the poorest African countries.
As part of China-Africa peace and security program, Xi pledged that China will provide $60 million in free assistance to the African Union to build and maintain its army, both its regular army and crisis response, as well as support UN peacekeeping in Africa. China's new Africa policy paper pledged more military cooperation, including technological cooperation, joint exercises, personnel training and intelligence sharing. China's goal is to build up African capabilities so that the African countries – as well as organizations like the African Union – can ensure their own stability. However, Xi made it clear that through increasing economic and military cooperation, China does not intend to colonize Africa. President Xi clearly stated that China strongly believes that Africa belongs to the African people and African problems should be handled by the African people. Xi also clarified that China's latest military efforts are to combat militancy, and not to engage itself in the local African conflicts.
Criticisms against China
There are widespread accusations that China is a neo-colonial power in Africa. And that China-Africa cooperation have given rise to human rights abuses. Other criticisms are economic in nature. There are accusations that African workers face ill-treatment and poor pay by Chinese companies and that the influx of Chinese workers take away local jobs. The criticisms go further in alleging that African markets are harmed by low-cost Chinese-made products, which put great competitive pressure on local industries and businesses. Some argue that China's involvement in Africa currently benefits primarily the African elites, and not the general Africans.
However, according to several African intellectual corners, these aforementioned accusations are part of a larger propaganda originating from the Western corners in order to undermine China's influence over Africa. According to such African sources, African culture has already been plagued by centuries of Western domination and the imperial economic and social structures.
Observations
Unlike Western economic giants, China made development – not pursuing democracy and transparency – the sole model for its partnership with Africa. With such a flexible approach, China seems to anticipate that African governments would find China a better choice over the West with regard to long term partnership.
China continues to expand its influence in Africa on diplomatic, cultural and commercial fronts, while working to secure and stabilize Africa for China's own long term gains.
It is clearly in the interest of Africa to avoid full alignment with either of China and the West, but to play one side against the other — which might work to decrease raw material prices and to earn other leverages. In this way, it would be well guaranteed that negotiating power remains in the hands of local African policy makers, ensuring end of all sort of exploitation against Africa.
Unified Korea: A stepchild of Asia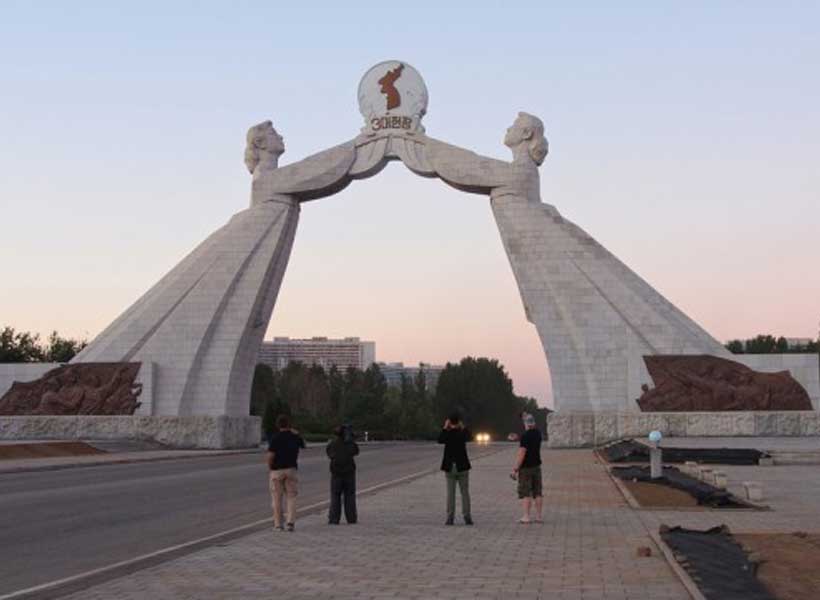 One of the unexpected events that happened during the PyongChang Olympics was the remarkable diplomatic manoeuvre of the three stars: Moon Jae-in, Kim Jong-un and Donald Trump.
Moon Jae-in convinced Kim Jong-un to send a large delegation to PyomgChang and show to the world that North Korea was not a country ruled by an irrational man;
Kim Jong-un told the world that he wanted peace;
Trump made it clear that he was not Obama, who according to Trump did nothing to solve the North Korean nuclear crisis.
Moreover, the "three stars: have made it possible to have two historical summits: the inter-Korea summit and the U.S.-North Korea summit.
That is great, but what can we expect from these summits? One thing is sure; each of the stars seems to have different hopes and expectations. Whatever their hopes and expectations may be, these summit must bring peace in the Korean peninsula after seventy years of unnecessary uncertainty, fragile security, fear and tension.
The PyongChang Meetings
The PyongChang Olympics may have written a new page in the modern history of world diplomacy. The world was expecting the worst scenario of Trump's war against Kim Jong-un and the very success of the Olympics was in doubt. But, the war did not show its ugly teeth, not yet anyway; the youth of the world competed, fraternized, shared the victory and showed sincere friendship in defeat. Yes, the PyongChang was a success as a sport festivity.
But there was something else. We were all impressed with the silent, elegant and dignified diplomacy of Kim Yo-Jong, sister of Kim Jong-un; we were all touched by the honest effort of the North-South combined women hockey team who worked hard together in harmony despite seventy years of ideological separation. The world class performance of the North Korean musical group made us wonder how a country under the constant threats from outside and inhuman sanctions for so long could produce such a team.
Moreover, the PyongChang has provided a diplomatic arena where three stars performed well. Moon Jae-in took an initiative, in consultation with Trump, to invite a huge delegation of North Korea to PyongChang and succeeded in creating a peace mood. In return, Kim Jung-un has invited in early March special envoy of Moon Jae-in to Pyongyang where Moon Jae-in was invited to a summit with Kim at the end of April.
The same envoy went to Washington and reported to Trump of Kim Jong-un's wish to meet with Trump, who accepted Kim's invitation. Trump suggested the end of May as the date of the summit. This drama of diplomacy is so unexpected and so dramatic that the world- frankly speaking- felt a little dizzy.
Another surprising event was the reaction of Xi Jinping and Abe. Both welcomed the double summits and claimed their piece of peace pie evoking their role in international sanctions against Kim Jong-un.
It goes without saying that we all wish for successful summits. But we are not sure how these summits will come out. Nonetheless, we may allow ourselves to have an idea about the motivations of the summit stars. If we know the motivations of the stars, we may able to have an idea about the summit outcomes.
What are the reasons for Kim Jung-un for transforming himself from being a man of reckless worrier to a man of peace? What does Trump hope to gain? What has motivated Moon Jae-in to go between Donald Trump and Kim Jung-un?
Why the summits?
Professor Anis H. Bajrektarevic famously claimed that a 'birth of unified Korea is an end of the US supremacy in Pacific". Is the eventual reunification indeed a geopolitical changer? Is it really so?
Let us begin with Kim Jong-un. His decision to seek for peace with the U.S. and its allies may be explained in terms of internal factor as well as external determinants. Internal factors would include the following. First, after the launch of ICBM Hwasung-15 in November last year, reaching as far as 15,000 km, the Juche regime seems to believe that it can now deter nuclear attacks of the U.S.; this was made clear in Kim Jung-un's New Year Speech.
Second, the successful conclusion of the nuclear programs has made Kim Jung-un's leadership more solid and more consolidated, thus ensuring internal social cohesion and political stability.
Third, the development of private market, the multiplication of mobiles phones allowing the North Koreans the access to outside world's reality may have made them more open-minded and perhaps desire for more economic development and peace. It is very likely that Kim Jong-un is well aware of this reality and that it can endanger the survival of the Juche regime. But young leader seems to think that his leadership is strong enough to ensure the regime's survival.
On the other hand, there are also several external determinants of Kim Jong-un's desire for peace. First, the intensification of nuclear threats and endless sanctions have surely been an important factor of Kim's decision. So far, North Korea has been successfully minimizing the damaging effect of sanctions mainly through underground network of trade and the emergence of private market and, partially, China's aid.
Now, the situation is different. Since Trump took over the power in Washington, the nuclear threats have become more alarming, while the sanctions have become much more damaging, especially since China joined the international sanctions on North Korea. In such situation, North Korea might have concluded that the peace with the U.S. and its allies was perhaps the only way to save its regime.
Another external factor is the regime change in South Korea. For ten years (2008-2017), South Korea was governed by conservative presidents, Lee Myung-bak (2008-2013) and Park Geun-hye (2013-2017). By the way, both are now in prison for bribery, corruption and abuse of power.
One of the chief characteristics of the conservative governments is its anti-North Korea culture. This is partly explained by the past colonial history. The conservative government of South Korea was formed in 1948 principally by Koreans who served, as high ranking civil servants, under Japanese colonial government; they collaborated for torturing and murdering patriots who fought against Japan.
On the other hand, the North Korean government was established by Kim Il-sung and the patriots. Thus, right from the beginning of the era of post-World War II, there has been deep and intense feeling of anger and hostility between the conservative government in the South and North Korean leaders.
This has produced two unfortunate results. First, the conservative governments which have ruled South Korea for sixty years out of seventy years since 1948 have produced a situation where the inter-Korean relation was dominated by mutual hostility, suspicion, mistrust and, above all, tension. Second, the conservative governments have used the inter-Korean tension as a tool of electoral campaign.
Prior to elections, the conservative governments often created an environment of fear by fabricating inter-Korean armed clashes or false rumours in such a way that the votes could go to the conservatives, who pretended themselves as the best guarantee of "security"; South Koreans are very sensitive about the security. This unfortunate phenomenon is called the "Book-Poong-Northern Wind".
Now, in 2017, the liberal government of Moon Jae-in took over the power. Let us remember that Moon was one of the chief architects of the "Sunshine Policy" for ten years from 1998 to 2008. The return of the liberal government under the leadership of Moon could have changed Kim Jong-un's perception of inter-Korea relations.
The young leader of Juche knows that he can trust Moon Jae-in and this might have contributed to his decision to have the inter-Korea summit and even the Washington-Pyongyang summit. It seems that Kim Jong-un relies on Moon Jae-in's mediation role for the success of the Trump-Kim summit.
Now, let us move to Donald Trump. There may be also internal and external factors which might have led Trump to think of meeting with Kim Jong-un. Internally, the "Russia" gate, the sex scandal and his low popularity might have induced Trump to use the U.S.-North Korea summit as means of turning public concerns away from his internal problems. Besides, Trump promised, during his election campaign, to do something with North Korea, something which previous presidents, especially, Obama did not do. The summit with the young leader of the Juche regime may be the realization of his electoral promise.
The external factor motivating Trump to talk to Kim Jong-un is perhaps his perception of the China containment policy. China is getting stronger every day; Russia is developing new arms including powerful and fast under-water drones. Moreover, both Xi Jinping and Vladimir Putin can now rule for long time to come, perhaps for life time.
This could have made trump to re-examine Washington's relation with Pyongyang; he might have decided to solve the North Korean issues once for all so that he could allocate more resource to the strategy of China containment.
As for Moon Jae-in, several good reasons might have led him to take the diplomatic initiatives. First, Moon remembers well that Korea became Japanese colony because of the division of Korean leaders into Pro-Japanese, pro-Chinese or pro-Russia factions. Korea was and is surrounded by military giants trying to use the Korean peninsula for the promotion of their own interests.
For Moon, the reunification or at least the North-South mutual cooperation and united efforts to cope with outside intervention are very important. This point has been often made by Professor Michel Chossudovsky, who has even suggested a North-South peace treaty.
Second, one of the reasons for low FDI in South Korea has been the North-South tension. Hence, Moon hopes, through the summits, to reduce the North-South tension and increase foreign investments in South Korea. Third, the South Korean economy has attained a level of maturity and exhausted its potential growth; Seoul needs new economic frontier to develop further its economy; North Korea is the new economic frontier.
What Can We Expect from the Summits?
Thus, all the three nations have good reasons to engage in dialogues. The interesting question is:"What could be the results of the summits?" "What can the three countries expect from these summits, if they are successful?"
The North-South Summit will be held on April 27th. The main agenda to be dealt with in this summit will be the preparation for the Trump-Kim Summit which may take place at the end of May or early June.
What Trump asks seems to be complete and immediate denuclearization meaning immediate and complete destruction of nuclear arms and missiles. On the others hand, Kim appears to be ready to denuclearize gradually. Kim's position is as determined as Trump's position is. Therefore, if they meet at the summit without prior negotiated compromise, the summit could end up with total failure and the nuclear crisis may become even more risky and even more dangerous.
In this situation, somebody should play the role of go-between and facilitate the Trump-Kim negotiation. Moon Jae-in, President of South Korea is the only person who can play effectively such role owing to his remarkably sincere diplomacy shown during the PyongChang Olympics.. Moon is the only person who has the trust of both Donald Trump and Kim Jong-un.
It appears that there have been sustained discussions between Pompeo, former director of CIA (and now Secretary of State) and Suh Hoon, director of South Korean CIA (National Intelligence Service) and between Chung Eui-yong, Korea's National Security Council chief and John Bolten nominated as Trump's National Security Advisor. It is not known what will be the outcome of these contacts and meetings. However, one thing sure is this; if there are no compromises, there is no use having the Trump-Kim summit.
Even if Trump and Kim come to some agreement on denuclearization, the content and speed of denuclearization depends on the rewards Kim will ask and Trump will be ready to provide them. It seems that North Korea would ask the following: the removal of nuclear assets from the Korean peninsula, end of US nuclear threats, removal of sanctions against North Korea, signing of a peace treaty and normal bilateral diplomatic relations. Trump's intention of meeting this demand is not known.
However, it is quite possible that Trump might accept some of these demands for two reasons.
First, North Korea will not ask the withdrawal of the US troops from South Korea; this means that Washington can continue its strategy of China containment.
Second, it is more than possible that Washington would try to make North Korea friendly to the U.S. through normal diplomatic relations and trade and economic development cooperation. If this happens, North Korea will no longer be effective buffer zone for China.
In other words, the process of North Korea's denuclearization is liable to become an important variable in the dynamics of the Sino-American Thucydides trap. Thus, the denuclearization on the Korean peninsula does not mean the end of the danger of war in the region as long as the U.S. persists on its ambition to dominate China instead of cooperating for global prosperity and security.
An early version of the text A 'Permanent Peace Regime' on the Korean Peninsula at Last? appeared in the Global Research
The violently peaceful struggle for Tibet
Many years later, as he faced how the Dalai Lama became a political inconvenience for an increasing number of world leaders, the former emissary of the Dalai Lama, Gelek Rinpoche was to remember those distant afternoons when the poet Allen Ginsberg, the composer Philip Glass, the author Robert Thurman and the actor Richard Gere jointly planned fully-booked glamorous events for his Buddhist Jewel Heart organizations based in Ann Arbor, Chicago, and New York. At that time, the end of the Cold War was so recent that many notions lacked names, and in order to describe them, it was necessary to invent.
The belief of the Dalai Lama as a "man of peace" was pragmatically shared by all Western politicians, media and left-thinking intellectuals who depicted the people of Tibet as by nature honest, gentle and kind. This belief helped spread the perception of Tibetan culture as a compassionate and non-violent one, and of Tibet as a civilization where, under the Lamas, peace and happiness prevailed and that this condition of happiness could be taken up worldwide.
Just a few years before the end of the Cold War, the film Seven Years in Tibet featuring Brad Pitt posited that Tibetans revere life so much that they refuse to kill even worms and that the "Chinese are brutal; the Tibetans are gentle." The Tibet activist and actor Richard Gere spoke of "Beijing's savage oppression of the gentle Tibetan people." Western media referred to the Dalai Lama as an apostle of world peace and happiness, and the idea that the Tibetan people are naturally peaceful became an obvious truth for all.
The rhetoric of the (cultural) genocide
In 2001, a few days before the International Olympic Committee met in Moscow to award the 2008 Games to Beijing, Gelek Rinpoche, acting as the Dalai Lama's envoy for the occasion, approached the General Director of the International Olympic Committee and confident in the Tibetan struggle narrative that had gained good traction by then, demanded that the Games should be denied because "China has been executing a policy in Tibet of ethnic and cultural genocide against the Tibetan people, and intended to erase the Tibetan people from the face of the Earth."
In 1959 after Gelek Rinpoche accompanied the Dalai Lama in his flight to India, both thought that in the near future China would totally exterminate the Tibetan race. In reports from 1959 and 1960, the CIA-funded International Commission of Jurists (ICJ) claimed that China was committing genocide in Tibet by eradicating the Tibetans through restrictions on religion that were destroying their way of life. A few years later the Dalai Lama mitigated his certitudes and admitted that China's aim was not physical annihilation, but assimilation and subordination, stating that China "seems to attempt the extermination of religion and culture and even the absorption of the Tibetan race."
Today it is historically irrefutable that there were substantial causalities in Tibet due to the vicious actions of Mao-era China, as there were throughout the country. However, there has never been credible evidence showing that physical genocide has been perpetrated in Tibet aiming at the extermination of Tibetans. Claims that a fifth of the Tibetan population was annihilated from 1959 to 1979 through executions, famines, imprisonment, and other means are without any evidentiary roots. Mao was at war with an ideology, not the nation of Tibetan people alone. Absent the nexus to physical genocide, a claim of cultural genocide becomes no more than a rhetorical construct, a conjecture in need of a name that would become the foundation justification for the Tibetan struggle.
The notion of cultural genocide in Tibet resonated in the West because it is a largely unexamined concept. Even where the phrase itself is not used, Western media reflexively alluded to the idea. For example, in late 2017, the US Congressional-Executive Commission on China, headed by Senator Marco Rubio, invited the actor Richard Gere as "someone who is knowledgeable about the political situation in Tibet" to testify before the committee. In his testimony, the actor stated that "under Chinese rule, the Tibetan language and culture have been suppressed". In reality, the education system in Tibet has been tailored to the cultural specificities of Tibetans by developing primary level schooling in the Tibetan language and secondary level schooling on a bilingual basis, adding Chinese languages and supplementary English lessons to the curriculum. Gere's assumed expertise in Tibetan matters has never been called in question because it fitted a definite agenda.
Others have posited that cultural genocide does not only mean killing, it also means limiting births among Tibetans. A lawyer who headed the US-based Tibet Justice Centre advanced such allegations, and the Dalai Lama stated that China is "forcing strict family planning rules on my people" in order "to make us a minority in our own land." The fact is, family planning and the "one child" policy, however, even where coercive, were part of China's policy over the entire Chinese territory for decades, and not just imposed on Tibet.
Some Tibetan leaders in exile and Western NGOs claimed that "Tibetans are not even permitted to undertake routine religious activities". They asserted that 6,000 monasteries were destroyed before or during the Mao's Cultural Revolution and that "the handful of surviving monasteries are being used as public toilets and barracks while monks and nuns in Tibet have been forced by the Chinese to defecate on religious objects". Such claims are anachronisms designed to imply that a second Maoist Cultural Revolution is ongoing in Tibet. Yet mass participation in routine religious activities is evident to even sceptical observers and the occasional tourist.
Western journalists reported that in Tibet many hundreds of Tibetans prostrate themselves at temples daily, while US human rights officials visiting Lhasa saw pilgrims crowded in front of the Jokhang, one of Tibet's most important temples, to perform ritual worship. They do not challenge China's claims that every year more than one million people visit the Jokhang. As for the major monasteries on the Tibetan plateau, Western reporters have noted that the there are now 300 more lamaseries and temples in the Tibet than existed in the region before 1951. Again, such figures are not disputed.
Chinese state efforts to preserve Tibetan cultural accomplishments and popularize Tibetan culture by creating venues for its development are ignored in Western discourse because such efforts conflict with the idea of cultural genocide in Tibet. Rather, exile Tibet leaders and Western NGOs reject performing arts in Tibet as inauthentic and have stated that "in this calculated cultural genocide the Chinese make every effort to remove any vestige of Tibetan character in the performing arts."
Even artists educated in contemporary Tibet who emigrate to India, such as Gongkar Gyatso, are spurned as polluted. Exiled Tibetan authorities are unhappy that the main trend in Tibetan art, in or out of Tibet, has been modernistic. They consider religious scroll painting to be the only authentic Tibetan style, and disapprove all other painting styles produced by ethnic Tibetans as being corrupted by Chinese influences. The reference to the arts and cultural genocide is a classic nationalist juxtaposition of the inauthentic in "occupied Tibet" to the "pure" preserved culture of the exiles and allied Western-based NGOs. One exponent of those NGOs is the New York-based Tibet House, founded in 1987 by Robert Thurman (father of actress Uma Thurman), actor Richard Gere and composer Philip Glass (among others). Ironically, in the fields of literature, architecture, art, film, and music alike, Chinese intellectuals and artists have been turning more and more frequently to Tibet as a source of inspiration.
Lhasa, like many large cities around the world, has abundant outlets for prostitution, gambling, and drugs. Exiled Tibet leaders and Western NGOs try to attribute such "vices" found in Tibet's cities to cultural corrosion due to the Chinese presence. The Washington based International Campaign for Tibet, represented by its main public exponent, the actor Richard Gere, has stated: "We are concerned that more and more young Tibetans are being tempted by the very worst aspects of Chinese culture." However, none of the "vices" complained of are specifically Chinese, and might equally be attributed to the influence of "the West". While exiled Tibetan leaders and Western NGOs object to the cultural impact of the Han-Chinese in Tibet, they are usually much less concerned about the Western influence on traditional Tibetan culture.
Even the late Elliot Sperling, an expert on Tibet and passionate supporter of the exiled Tibetan cause, observed that "within certain limits China does make efforts to accommodate Tibetan cultural expression" and "the cultural activity taking place all over the Tibetan plateau cannot be ignored." Other supporters of the exiled Tibetan cause, including Tibet scholar Professor Robert Barnett and German Green Party leader Antje Vollmer, also recognized the inaccuracy of the cultural genocide claim.
It has been said that the notion of genocide is marked by conceptual confusion, often compounded by its rhetorical and populist use on the part of those seeking to inflame and stigmatise social and political discourse. It is equally common for nationalists to deploy a charge of cultural genocide against changes they oppose in traditional lifestyles. The Dalai Lama often states that he is concerned most of all about the preservation of culture. His main international alliance, however, is with politicians in the US, a country whose hegemony plays a major strategic role in eroding traditional cultures, including in Europe, China and Tibet.
The unanimity on pacifism
But let's go back to the few crucial days before the International Olympic Committee met in Moscow in 2001 to award the 2008 Games to Beijing. Gelek Rinpoche approached the General Director of the International Olympic Committee as envoy of the Dalai Lama, and claimed that there "has not been one single terrorist incident in all the 50 years of the Tibetan struggle for independence". The dogmatic stance on non-violence was always effective in obfuscating memories and attracting consent. Yet Gelek Rinpoche must have remembered the bombings in Lhasa, the large-scale armed revolts, the guerrilla warfare, the large quantity of weaponry airdropped by the CIA, the gangs of rioters that burned dozens of policemen and killed hundred of civilians, the hate campaigns demonizing opponents of the Tibetan government in exile, seen as antagonistic to the authority of the Dalai Lama, the oppressive measures against the Dorje Shugden religious practice banned and considered heretic by the Dalai Lama, the related series of dynamite blasts in the Tibetan Dartsedo and Lithang counties driven by hatred of Dorje Shugden practitioners, the endorsements of terrorism by the largest Tibetan exile organization, the Tibetan Youth Congress (TYC) and its extreme nationalist slogans, like "no Chinese in Tibet is innocent"… while the Dalai Lama encouraged others to use such expressions to make himself look more conciliatory in comparison.
In fact, exile leaders have only in the last few decades claimed that nonviolence is essential to Tibetan culture and underlies Tibetan strategy. While the Dalai Lama gives a speech every March 10 to mark the 1959 Lhasa uprising, his first mention of nonviolence in that speech only came in 1988. And it was only in 1996 that the Tibet Parliament in Exile adopted nonviolence as a fundamental principle of the Tibetan Government in Exile.
Over the years, the Dalai Lama propagated its "middle way" approach of Tibet as an autonomous region inside China, with the use of such terms as "peace" and "non-violence", affecting compassion and benevolence in order to gain international empathy and support. Looking beyond the conciliatory words and charismatic smile, however, it is not difficult to find evidence that the exiled Tibetan leadership has been willing to both threaten and resort to violence, and to carry out violence under the guise of non-violence. In truth they have never abandoned their ultimate goal of "Tibetan independence". This undisclosed intent is explicitly reflected in all known Western-based NGOs advocating for human rights in Tibet which openly proclaim "Tibet Independence" (or "Free Tibet" or in the Tibetan language "Rangzen") as their ultimate objective.
The image of a pacifist Dalai Lama facing a belligerent China has obstructed any settlement of the Tibet question. It has reinforced the idea that a "Free Tibet" can only be possible if China disintegrates. It has allowed Western elites to demand that because the Dalai Lama is perceived as a "man of peace" China has to negotiate with him unconditionally, which it would not do unless he first accepted Tibet as an inalienable and legitimate part of China. Because he refused to do so, the Chinese government linked him to hostile Western forces who seek China's dismantling.
However, in recent years, the massive economic power China has become has made the Dalai Lama a political danger for an increasing number of world leaders and nations, who now shy away from him for fear of inciting China's ire or endangering economic relations with China. Even Pope Francis, considered an audacious religious leader, reportedly declined a meeting in Rome with the Dalai Lama. And President Donald Trump, who might be expected to endorse the decades-long US efforts to destabilize China and to back US-based NGOs active in propaganda campaigns for human rights in Tibet, suggested that financially supporting the "Free Tibet" cause is a "waste of money". Of late, even the Indian authorities hosting the Tibetan leadership and the Dalai Lama have cancelled important commemoratory events with him.
In reality, the Dalai Lama's persona impedes a compromise for as long as the discourse prevents differentiation between his religious and political roles and the narrative remains a binary one which idolises him as peaceful and demonizes China as the brutal perpetrator of a cultural genocide in Tibet. China has over the last three decades relaxed draconian and cruel Mao-era rules, by opening the door to private sector capitalism. With its adoption of capitalistic mechanisms, China has accumulated immense financial assets which are today vital to the nourishment of the worldwide economy, particularly in Western countries that have accumulated huge debts.
Also over the last three decades, China has relaxed the draconian Mao-era rules on religion by allowing individuals to practice a religion of their choice. There are now significantly more adherents of Buddhism than members of the Communist Party – there are 90 million members of Communist Party of China, compared to some 250 million Buddhists and 200,000 registered Buddhist monks. Additionally, the Chinese president, Xi Jinping, is constantly moderating his attitude to Tibet and Buddhism, among other reasons because his wife is profoundly Buddhist.
The reverence for (non)-violence
When in 2001, Gelek Rinpoche approached the International Olympic Committee to protest against the 2008 Olympic Games being awarded to Beijing, he must have remembered the distant years before the Chinese invasion in 1951, when the Tibet was ruled by aristocrats, clerics, and manor owners and had a brutal social hierarchy and a system of serfdom similar to pre-feudal times; he must have remembered the distant year of 1959 when the Dalai Lama and two of his brothers enrolled by the CIA, along with other clerics and aristocrats, launched a large-scale armed revolt against officials stationed in Tibet and massacred local Tibetans who supported Chinese communism. The Dalai Lama was not only well-informed of the action but gave it his active blessing. Years later he wrote in his book My Spiritual Autobiography: "Every one of them is armed to the teeth, and even my personal cook is carrying a bazooka, with his waist belt full of ammunition. He has been well trained by the CIA…"
After the Dalai Lama fled to India, escorted by his entourage of clerics and aristocrats, he reorganized an army and waited to fight his way back to Tibet. In 1960 in Mustang, a county in northern Nepal, he rebuilt an anti-Chinese guerrilla force. In 1962, with support from external powers, he built a Special Frontier Force composed of mainly Tibetan exiles, most of them from aristocrat families. From 1961 to 1965, these forces sneaked across the border 204 times to harass Chinese border troops and Tibetan civilians. According to disclosed US archives, the Dalai Lama first established contact with the US government in 1951. During the armed rebellion in Tibet, the CIA not only sent agents to help the Dalai Lama and his entourage of clerics and aristocrats to flee but also purposefully trained militants to support his forces and airdropped a large quantity of weaponry.
On September 21, 1987, the Dalai Lama made a speech to the US Congress, calling for Tibetan independence. On September 27, in the square of the Jokhang Temple, a group of lamas shouted separatist slogans, attacked police, and injured many civilians. On October 1, a small gang of rioters raided the police station on Barkhor Street in Lhasa and burned seven cars, leaving dozens of policemen injured. The rioters proclaimed that the Dalai Lama was fighting for Tibetan independence. They demanded the support of spectators and the general public and threatened personal retaliation against those who failed to join them. On March 5, 1988, during the Monlam Prayer Festival, a gang of rioters stormed into local Party and government offices and police stations around Jokhang Temple and Barkhor Street, smashing and burning cars and shops, leading to 299 police and civilian casualties. From March 5 to 7, 1989, Lhasa witnessed another riot in which one policeman was shot dead, 40 others were injured, and 107 shops, 24 government offices, primary schools and neighbourhood committees were destroyed. On March 11, 1992, nine Tibetan separatists attacked the Chinese embassy in India with firebombs.
The (non)-violence around the Olympic Games 2008 in Beijing
"The Olympic Games in 2008 in Beijing will be a symbol of peace, friendship, and progress, which is welcomed and cherished by all peoples" commented the International Olympic Committee in 2001, during the ceremony awarding the 2008 Games to Beijing.
In May 2007, the Tibetan independence movement, including exiled Tibetan leaders and Western NGOs supporting them, held a meeting in Brussels and agreed on a strategic plan to launch a campaign to boycott the 2008 Beijing Olympic Games. Later, two NGOs in the US (International Campaign for Tibet and Students for a Free Tibet) and two in India (the Tibetan Youth Congress and the Tibetan Women's Association) advocating for human rights in Tibet put forward a proposal for an uprising in Tibet, believing the 2008 Olympic Games was the last chance to achieve Tibetan independence. They decided to take advantage of this occasion while China was the spotlight of international attention before the start of the Olympic Games.
On January 4 and January 25, 2008, Tibetan independence activists held press conferences in New Delhi, releasing proposals for this uprising, spreading the news on more than 100 websites, and encouraging the instigation of constant large-scale uprisings for March 10, 2008, the date corresponding to the anniversary of the uprising in 1959. On March 10, the Dalai Lama made a speech, urging his followers within Chinese territory to engage in violence. On the same day, the Tibetan Youth Congress (TYC) made a statement, claiming that it would "now seize a most important opportunity never before seen in our struggle for independence – the upcoming Olympic Games," and that it would "spare neither blood nor life for Tibetan independence."
Uprisings took place in Tibet four days later than planned, on March 14, 2008. That day, a mob converged in the downtown area of Lhasa, assaulting innocent bystanders with weapons including rocks, daggers, and clubs, smashing and looting vehicles, shops, banks, the Telecom business offices, and government properties, severely disrupting social order, and causing heavy losses of life and property. During the violent incidents, there were over 300 cases of arson, while 908 shops, seven schools, 120 houses, and five hospitals were severely damaged. Ten bank branches were looted, at least 20 buildings were burnt to the ground, and 84 vehicles were torched. Most seriously, a total of 18 people were burned or hacked to death, and 382 people were injured – 58 of them seriously.
After these incidents, the Dalai Lama himself released a declaration through his personal secretariat, describing the riots as "peaceful protests." On March 16, he said in an interview with BBC that he would not ask the rioters to stop because their demands came from the Tibetan people, and he had to respect their will. In the meantime, the Tibetan Youth Congress (TYC), passed a resolution to "immediately organize guerrillas to infiltrate China for armed struggle." The head of the TYC claimed that they were ready to sacrifice another 100 Tibetans to reach complete victory.
Western NGOs advocating for human rights in Tibet, and in particular activists from "Students for a Free Tibet" engaged in a series of sabotage activities directed at the Beijing Olympic Games. They interfered with important ceremonies, including disrupting the torch-lighting ceremony in Greece, and attempting to grab the Olympic torch during the torch relay in various countries, provoking a strong reaction from the international community and a pandemonium at the International Olympic Committee in Lausanne, as its General Director, Urs Lacotte, revealed during a lunch at the edge of Lake Geneva, explaining how the Committee did not foresee such an organized outbreak.
The main claims of the activists were: China continues its crackdowns on freedom of religion in Tibet; China is using the Olympics to misrepresent the unique culture of Tibet as Chinese, as it has chosen an endangered Tibetan animal, the Tibetan antelope, as one of its Olympic mascots; China has failed to follow the call of the International Campaign for Tibet to end human rights abuses in Tibet and negotiate a peace agreement with Tibet's exiled leader, the Dalai Lama…
The self-immolation marathon after the Olympic Games 2008
After the Western media coverage of riots in Tibet in 2008, in which the Dalai Lama was identified as a peacemaker to whom China refused to talk, the proportion of journalists who saw China as the world's biggest threat doubled. Time magazine named the Dalai Lama the most influential person in the world and the Western general public saw the Dalai Lama as the most respected world leader. The notion he is a pacifist was so pervasive that it circulated from the West to China for some months.
Following some success in drawing media attention during the Beijing Olympic Games incidents, the exiled Tibetan leadership began to encourage Tibetan lamas and lay followers inside China and India to engage in acts of self-immolation, leading to a series of such incidents in a number of regions. This ongoing campaign started in 2009 but had its roots in a few isolated cases that began around 1998 outside Tibet.
The US-based NGOs stated that self-immolation acts by Tibetans were an assertion of the Tibetan identity in the face of "cultural genocide". This proclamation, however, disregarded the fact that suicide is forbidden in Buddhism. The campaign was heavily exploited around the world and praised by NGOs advocating for human rights in Tibet, but also by NATO-backed think tanks. These included Freedom House, whose specific role is to monitor freedom of the press around the world and which ranked Tibet as the worst possible place, saying self-immolations were the result of a lack of freedom. However, the most extreme illustration of the alliance of the US government in the self-immolation campaign can be seen in the documents of The Congressional-Executive Commission on China (www.cecc.gov). This body promotes the self-immolation strategy aimed at achieving "Tibetan freedom" and the Dalai Lama's return in Tibet, and sees the collapse of China as an implicit goal.
In some cases acts of self-immolation were exploited to support fundraising activities, particularly in the US, and to obtain governmental subsidies for NGOs or the exiled Tibetan leadership, with wide support from cultural exponents like Hollywood actors and famous musicians, whose numbers had boomed since those distant afternoons when the poet Allen Ginsberg, the composer Philip Glass, the author Robert Thurman and the actor Richard Gere first laid their plans to drum up support for US-based Buddhist organizations.
On May 29, 2012, at a TYC candlelight rally to glorify Tibetans who had set themselves alight, the leader of the rally claimed, "Tibetan independence will neither fall from the sky nor grow from the earth; rather it relies on our efforts and action and needs sacrifice." From September 25 to 28, 2012, the exiled Tibetan leadership convened the Second Special Meeting of Tibetans in Exile, proclaiming self-immolation as the highest form of non-violence, hailing its victims as "national heroes," building memorials and raising special funds for them. They still vigorously preach that "self-immolation does not go against Buddhist doctrine" and that "self-immolation is martyrdom and a Bodhisattva deed," duping Buddhist believers in Tibet, and particularly innocent young people, and setting them on an incendiary path to ruin. The unavoidable consequence was a rapid increase in self-immolations. In addition, the TYC issued the Martyr Award in 2013 to Monks of the Kirti Monastery who self-immolated and in 2016 to self-immolators in Tibet and in exile who sacrificed their lives.
Investigations by China's public security organs into incidents of self-immolation clearly revealed that these protesters were being manipulated and instigated by the highest levels of the exiled Tibetan leadership. Kirti Monastery in the Aba Tibetan and Qiang Autonomous Prefecture is where the greatest number of self-immolation incidents took place; it has been proved that those promoting these incidents have close links with the Tibetan exile leadership.
The investigation of the security organs revealed that the Tibetan exile leadership has four ways of instigating self-immolation: first, planning incidents from abroad through a so-called "press liaison group" based in the Kirti Monastery in Sichuan and the Kirti Monastery in India; second, sending TYC members into Tibet to incite self-immolation; third, mobilizing activists returning from overseas to assist in self-immolation; and fourth, using the Internet and NGOs' social media reach to hype up self-immolation.
The exiled Tibetan leadership has allegedly released a Self-immolation Guide on the Internet – an instruction manual to incite and instruct Tibetans residing within China to burn themselves. The author of this manual is Chabdak Lhamo Kyab, who served for two terms as a member of the Tibetan government in exile, known now as the Central Tibetan Government (CTA) and was the head of a clandestine resistance movement and also a public relations counsellor of the Dalai Lama. He now resides in France.
The Self-immolation Guide is a book consisting of four parts: the first part advocates the idea that self-immolators are great, honourable and intrepid heroes and that both these male and female heroes should always be prepared to sacrifice themselves for a just cause. The second part gives detailed instructions on preparations for self-immolation, including picking important days and places, leaving written or recorded last words, and asking trustworthy friends to help record videos or take photos. The third part introduces self-immolation slogans, instructing victims to always shout the same slogans. And the fourth part illustrates other activities that might accompany self-immolation. The book also contains the timeline of protests since 2009; the life stories of the protesters; the international community's support for the movement; and the exiled Tibetan leadership's efforts to gain global support. "The book", said one source of the leadership "has nothing to do with encouraging self-immolation". At present, the existence of the book has been officially denied by the exiled Tibetan leadership.
Performing self-immolation in public is itself an act of violence, intended to create an atmosphere of terror and of horror. On this issue of principle, the Dalai Lama played an important role. For example, on November 8, 2011, when a new series of self-immolations had just begun, he said in an interview that the point was that self-immolation demanded courage and that "cultural genocide" was the reason behind these "courageous acts". He thereby both showed his appreciation for and approval of self-immolators and promoted his rhetoric of cultural genocide.
On January 3, 2012, he defended self-immolation on the basis that it was superficially an act of violence, but what differentiated violence and non-violence was the motives and aims behind each act, and only an act driven by hatred and anger could be defined as violence. It was clear that he regarded self-immolation as non-violent protest. On October 8, 2012, he said in an interview that he was sure that self-immolators were sacrificing themselves with a sincere motivation and for the benefit of Buddhism and the well-being of Tibetans, and that, from the Buddhist point of view, it was a positive act. Through these words, he has repeatedly and explicitly offered his approval of and praise for self-immolation. He has also hosted a dharma assembly, in his capacity as a religious leader, to expiate the sins of the dead, chant scriptures and pray for them, a promise which turns out to be very persuasive to believers in Tibetan Buddhism. Only recently has the Dalai Lama revised his views on the effectiveness of self-immolation.
Since the Olympic Games of 2008, over 150 Tibetans have set themselves on fire in protest, including 41 monks and eight nuns. Only very few of Tibet's Buddhist clerics or exponents of the human rights community have dared to speak out in Western countries against glorifying, praising or promoting acts of self-immolation for political gain. Also among exile Tibetans, any advocacy against self-immolation is considered incompatible with the agenda of the Tibetan government in exile, and very few would dare provoke the rage of the Dalai Lama for fear of reprisal. Recently, personalities that dared to speak out against the campaign of self-immolation were systematically attacked on social media in what appeared to be a coordinated slander campaign, organized through anonymous accounts. One luminary who did speak out was Tsem Tulku Rinpoche, the spiritual leader of the Malaysian based Buddhist organisation Kechara, who publicly and forcefully opposed the campaign of self-immolation, particularly after a succession of incidents prior the vote of the US budget bill 2018, which included grants to the exiled Tibetan leaders that were in danger of being rejected by Congress. He was severely punished on the social media for his call for non-violence and was tagged a 'Chinese spy' because he upheld a core Buddhist teaching of non-violence.
The fading unity for the Tibetan cause on the path to the 2022 Winter Olympics in Beijing
These violent initiatives succeeded in gaining world media focus on the Tibetan issue but ultimately failed to change the equation with China and tilt the balance in favour of the Dalai Lama's government in exile. As questions of the Tibetan leadership's adequacy became louder over the years, the Dalai Lama and exile leaders have constantly stoked the flames of division between Tibetans, sowing discord and inciting  inter-religious animosity and divisions. Part of the motivation it was to distract Tibetan refugees from the reality that their exiled Tibetan leaders were unable, after 60 years, to offer a realistic prospective for their return to Tibet, or at least formulate a plan for their integration into Indian society.
Since the failure of the attempted rebellions in 1959 and 2008, a series of particularly divisive issues for the Buddhist community, both within Tibet and abroad have been introduced by the Tibetan leadership. The Karmapa controversy was one where the Dalai Lama created conditions for rivalry to beset the Karma Kagyu sect, the second largest school of Buddhism which prevails until this day. As for the largest Tibetan Buddhism school, the Gelug, enmity was introduced by outlawing the worship of one of the sect's most popular deity, Dorje Shugden, a nearly 400-year old practice that began in the 17th century and has become a major practice in Tibetan Buddhism. The Dorje Shugden de facto ban has already existed for two decades since it was initiated by the Dalai Lama and has slowly stirred disunity in Tibet and among the exiled Tibetan communities, leading the Chinese government to consider the Dorje Shugden conflict an important front for undermining what it says are efforts promoted by the Dalai Lama aimed at destabilizing China.
This religious hostility has been fed by considerable propaganda and counterpropaganda efforts during the last two decades and it is still an ongoing battle. It has been continuously observed that Dorje Shugden followers, monks, and monasteries in Tibet and abroad are used as scapegoat and portrayed as heretic, demonic and sectarian, and are branded as Chinese Communist Party supporters or Chinese spies by most NGOs advocating in western countries for the exiled Tibetan leadership's goals. In historical terms, the situation and implications may call to mind Martin Luther's reformation of Christianity centuries ago.
Most nations acknowledge Tibet as a part of China, while none formally recognizes the exiled Tibetan leadership, the Central Tibetan Administration (CTA) – yet a number of them sustain the cause of the exiles in other ways. Because of the need for Western support of the exiled government and the significant role played by externally-based NGOs supporting Tibetan independence, democratizing elements have been added to self-governance in exile, and the vocabulary of human rights, development, environmental protection, and so forth has been deployed by the CTA and supported by Western NGOs. In reality, spirituality and aristocracy are linked through Tibet's traditional system of theocratic government, in which politics and religion were tightly knit. Many exiled government officials continue to promote this system as ideal for Tibet, including the present prime minister of the CTA, Dr. Lobsang Sangay, who recently reaffirmed the urgency of strengthening efforts to facilitate the return of the Dalai Lama to his native land and his former residence in Lhasa, the Potala palace.
However, the repeated requests of many exile leaders to pass orders banning critical voices from any Tibet-related events, accusing such voices to be Chinese spies and/or Dorje Shugden heretics, stand in stark contradiction to democratic principles. Critical voices expose, for example, claims of corruption inside the CTA; some complain that instead of focusing on practical efforts to improve the everyday lives of Tibetan refugees in India, the CTA has often preferred political point-scoring against China; others still have expressed criticism of the Dalai Lama or of the CTA's theocratic orientation.
The US President's attitude reflects the waning support for the Tibetan cause and a change in perception of the Dalai Lama's role as peacemaker. The cause has suffered a gradual dissipation of international goodwill, particularly among the CTA's immediate neighbours and Indian hosts. Countries such as India, Mongolia, and Nepal have traditionally tolerated the activities of the exile leaders and the Dalai Lama, and by doing so risked annoying China, the region's most powerful nation.
"The Winter Olympic Games in 2022 in Beijing will be a symbol of peace, friendship and prosperity, which is welcomed and cherished by all peoples" comments the International Olympic Committee, recognizing its world-class venue legacy from the 2008 Olympic Summer Games. In the last years, the Dalai Lama has embodied an intensified sentiment of political embarrassment among world leaders who seek stable political and profitable economic alliances with China. Beijing 2022 will form part of the future narrative of Tibet and it will be interesting to see if the support for the Dalai Lama will completely evaporate into the clouds of nostalgia for the poems of Allen Ginsberg, the music of Philip Glass, the books of Robert Thurman or the movies of Richard Gere.
Political leaders often conquer international stature by conducting war, but the personas of only a few men of peace – such as Gandhi, King, and Mandela – are prominent. The Dalai Lama's "apostle of nonviolence" persona was built at the end of the Cold War, alongside a campaign to internationalize the Tibet struggle by fostering protests in Tibet, mobilizing Western converts to Tibetan Buddhism, and exploiting the Dalai Lama's capacity to engage Western political and media elites. Boosted by his 1989 Nobel Peace Prize, US excoriations of China and the expectation of its collapse after the Cold War, the Dalai Lama became an international symbol of peace. He successfully combined his divine significance with his political struggle in exile under a veil of non-violence, compassion and selflessness. After decades of internationalization as he reaches the last lines of the book of his life, synonyms of the Dalai Lama as peacemaker are still discursive givens. Only time will tell whether he will be immortalized on the celestial Olympus with Gandhi, King, and Mandela or exiled from the collective memory of mankind.
Demilitarization between the two Koreas
At domestic level, Kim Jong-Un is pursuing two original and interesting policylines within North Korea: the rise of a new generation to power and the evident and stable economic expansion.
Under Kim Jong-Un's leadership, the private segment of the North Korean economy has undergone great development and the new class of young people rising to power – who epitomize the general rejuvenation of the North Korean society – is also an unknown factor for the forthcoming talks between the two Koreas and the talks between the United States and North Korea.
Certainly Supreme Leader Kim Jong-Un rules without problems, but he shall consider the new climate prevailing within his Party.
At military level, according to the data provided by the US intelligence services, North Korea has an arsenal of 36 nuclear warheads.
Only in 2017 did North Korea fire 23 missiles.
During the bilateral talks with South Korea, however, Kim Jong-Un also said he wanted to impose a moratorium on North Korea's nuclear missile launches between March and April 2018.
Complex signs hard to decode, but certainly designed to creating a new perception of North Korea in South Korea and in the rest of the world.
The summit meeting will take place on April 27, 2018, south of the demilitarized area of Panmunjom, in the Peace House, near the "Truce Village"- the site where the Korean Armistice Agreement was signed in 1953.
An area belonging to South Korea – and indeed, this is a further sign conveyed by the North Korean leader.
The meeting will take place between the two Presidents, namely Kim Jong-Un for North Korea and Moon Jae-In for South Korea.
Two inter-Korean summits had already been held in 2000 and 2007.
The summit meeting held in 2000 took place when the Sunshine Policy had been ended abruptly by the South Korean President, Lee Myung Bak, a politician and businessman recently arrested on charges of bribery, embezzlement and tax evasion alleged to have occurred during his presidency.
The summit meeting held in 2007 focused on the 1953 armistice between the two sides and on the economic relations between North and South Korea, as well as on the issues regarding "human rights".
For the next summit meeting scheduled for April 2018, North Korea has clearly stated its willingness to denuclearize the whole peninsula, maintaining that there is no need for nuclear weapons when the survival of North Korea is fully ensured.
Nevertheless, the United States has the weapons in South Korea – with 23,468 US soldiers and five divisions -as well as the greatest ability to oppose North Korea militarily.
Moreover, US commands in South Korea often organize exercises against North Korea after its hypothetical invasion of South Korea, with evident results for the South Korean population.
Within negotiations, this shall obviously be followed by the cessation of any nuclear threat to North Korea, regardless of its origin -that is from the United States and, with the conventional threat alone, from Japan.
The South Korean President has also said that North Korea wants to have "frank and candid" talks with the United States, especially on the denuclearization of the entire peninsula and on the future mutual recognition between the two countries.
The more we go forward, the less pro-American South Korea will be – not for the influence of North Korea, but for the same effect suffered by Western Germany during the "cold war": the Federal Republic of Germany maintained it was against the German Democratic Republic's regime, but it was aware that if the nuclear conflict had started, it would have been the first and only one to suffer from its consequences.
Hence if results are achieved in the talks with the United States, North Korea will stop any missile or nuclear test in that period.
As reported and certified by all South Korean sources, North Korea really wants to advance quickly along the path of dialogue with South Korea, which is therefore a stable direction of the North Korean strategy.
Hence, regardless of the choice made by the United States, this is a progressive and inevitable decoupling between South Korea and the United States.
Once Kim Jong-Un's offer of dialogue is also made to the United States, the latter can respond in two ways: US adherence to the full denuclearization of the Korean peninsula or the persistence of a "cold war", with hot phases between the United States and North Korea.
In the former case, the strategic transformation of the Asian peninsula would create a severe military void for the United States, which could respond by increasing its forces in the South Pacific Ocean or in Japan, thus maintaining a serious threat to North Korea.
A serious albeit remote threat, posed by countries that are not willing to bend to US wishes, such as Japan.
In the latter case, the constant presence of US nuclear weapons in South Korea – which would be hard for South Korea to manage from a political viewpoint – would cause a not too much symbolic escalation by North Korea.
At political level, the choice for the United States is very sensitive and not devoid of side effects: South Korea could stop granting some bases to the United States or increase the rent significantly. Or it could make the United States understand that it does not want to become a nuclear target for North Korea.
Japan, which is already continuing its autonomous rearmament, could tell the United States that, beyond the current limit of the US military presence, there is no longer room for it, or that the independent Japanese missile and naval apparatus could have very different strategic aims.
Let us imagine that Kim Jong-Un has analysed very well all these logical connections of the negotiations between the United States, South and North Korea.
Nevertheless, the political climate between the two Koreas has changed and some analysts have spoken about the end of the "1990 spirit".
In the previous relations between the two Koreas for this year's Olympic Winter Games, the primary goal of the South Korean leader was above all holding peaceful Games without political tensions.
There had been, at first, Kim Jong-Un's end-of-year speech aimed at peace with South Korea which, however, appeared to everybody as a usual charm offensive, typical of North Korea's foreign policy.
Moreover, South Korean President Moon Jae-In had been elected by a vast majority of voters who wanted peace with North Korea and, above all, wanted to avoid nuclear or conventional war on the Korean peninsula.
This also counted.
In the New Year's Day of 2018, the North Korean leader had mentioned his country's victory in the field of nuclear weapons, saying that by now the optimal standard for a nuclear response or attack had been achieved.
This could make us think that, from now on, the North Korean leader wants to underline the purely economic side of the "Byungjin Line" developed by Kim Jong-Un to pursue the parallel goals of economic development and a robust nuclear weapons program, thus making them interdependent.
Hence, once stabilized national defence, North Korea wants to deal simultaneously with the United States and South Korea.
There had been a diplomatic "offensive" towards the United States a few months ago, but no results were reached.
The "olive branch" offered to South Korea was instead immediately accepted.
The visit of Kim's younger sister and of the President of the Presidium of the Supreme People's Assembly of North Korea, Kim Yong Nam, to South Korea had already taken place – the powerful symbol of a new North Korean policy line, with a subsequent visit paid by some South Korean leaders to North Korea, received by Kim Jong-Un in person.
This happens very rarely.
A first hypothesis is the following: North Korea wants to suspend nuclear and missile tests for a certain period of time and plans to use this period of time to improve relations with South Korea.
Hence North Korea may not be interested in the full disarmament of the country and of the whole peninsula.
China, however, could later play a decisive role in inter-Korean negotiations.
In fact, if the process of dialogue between the two Koreas and between North Korea and the United States continued long enough, China could propose to the UN Security Council a Resolution aimed at lifting at least some of the sanctions on North Korea.
The Resolution could be rejected by the United States and, possibly, by France and Great Britain, but this would enable China to unilaterally reopen its markets to North Korea, by later accepting to act as a broker for other countries wishing to trade with North Korea.
The Russian Federation would follow Chinese operations closely.
In this case South Korea would have two options available: to definitely close the Kaesong industrial zone or accept China's proposal, which would certainly be very attractive from the economic viewpoint.
In this case the United States could not do much more than exert military and political pressure on South Korea.
Another hypothesis is the following: South Korea may not want to go beyond the limit of current sanctions on North Korea – and China would not show any reaction.
Hence we would have the full reactivation of North Korea's missile and nuclear program, with equal and opposite reactions by the United States.
Nevertheless, South Korea must be careful, because military tension could stop also its economic development, not just North Korea's.
Conversely, if the negotiations between South and North Korea thrive, for the United States this will mean a radical rethinking of its military and strategic presence in Asia, from support to Taiwan up to the acceptance of Korean reunification under the auspices of the People's Republic of China.
Therefore, the United States should take part and play an active role in the Korean bilateral negotiations, without preconceived close-minded attitudes towards North Korea which – once new friend of the United States – could influence also the Chinese and Russian policies in a pro-US direction.
The real danger for the United States is nuclear proliferation.
As Kissinger said recently, "if North Korea keeps nukes, other countries will seek them".
The real danger for the United States is a mass of small countries with so many nuclear weapons as to prevent the US military and commercial transit through some very important areas, which could be denied to relations with the United States.
This would mean the end of US global power.
This is the reason why the United States has always and almost obsessively opposed nuclear proliferation outside the traditional China-Russia-India-Pakistan-USA context.
Hence if the negotiation on the freezing of North Korean nuclear power were successful, the United States would gain a free and uncontrolled right of passage to Southeast Asia and the Straits of Malacca, which are still essential for the world market and for the military and intelligence control of the whole South Pacific region.
Will the United States be able to use every aspect of the negotiations between North and South Korea, which will soon extend to the United States?
What role will be played by the selective maintenance of sanctions or by their removal, with subsequent economic negotiations between the United States, China and Russia?
For the time being forecasts are uncertain, apart from the evident goodwill of both Koreas.