China-Africa partnership finds reciprocity
Despite concerns raised by few Western countries, such as Britain and the U.S., over the political, economic and military roles that China has been playing in Africa, China is successful in making inroads to Africa with reciprocal warm gestures from many African countries. The very visible progress in political, economic and diplomatic cooperation between Africa and China is a sheer showcase of this reality.
Why Africa is important to China?
China's vast economy, which is the second largest economy in the world, requires huge raw materials and energy resources. As the Middle East has become a too chaotic supplier-destination for energy, China found African countries as the ideal supplier-destinations for much needed natural resources, such as oil, minerals, timber and cotton. Moreover, African markets are seriously attractive to any export-oriented industrial economy like China because of Africa's large population (around 1.1 billion), who are potential consumers. For China, African fast-growing markets are ideal for immediate export of cheap manufactured goods that China is best in making, and also ideal for the future export of high-end products and services, towards which China is slowly moving.
Africa could be instrumental for China in its counter to the U.S.'s "pivot to Asia," which is a diplomatic, economic and strategic offensive aimed at undermining Chinese influence and preparing for war. "One Belt, One Road" strategy, something that needs no introduction, is China's response to U.S.'s pivot to Asia. China is seeking to include Africa within its "One Belt, One Road" strategy aimed at more closely integrating Europe and Asia via land and maritime infrastructure.
Why Africa prefers China over others?
China has adopted a flexible approach with regard to the African resource market under the "Beijing Consensus": (i) non-interference, (ii) infrastructural development, (iii) friendship and respect (for African leaders, people and sovereignty) and (iv) Chinese model of development (operating in Africa under the influence of China's own development history, which prioritizes "economic development" over other progress). Therefore, Beijing Consensus, according to many African intellectuals, portrays China's intension of maintaining a strict respect for African sovereignty and China's non-interference approach to internal issues of African countries. In line with this policy, China helps Africa with loans and infrastructure building projects without any political strings attached about democracy or transparency. Such Chinese non-interference approach gives African countries enough flexibility to work for immediate economic development.
Efforts have been made toward stronger economic integration in Africa. In 2002, the African Union was formally commenced in order to accelerate socio-economic integration and promote peace, security and stability in Africa. China has been continuously voicing in favour of such African integration in almost all China-Africa summits, symbolizing China's intension to see Africa together as one.
China invests in the construction of African infrastructures, such as roads, railways, dams, ports and airports. Such projects create massive employments for hundreds of thousands of Africans. These (creating jobs and building a developed Africa) are very visible benefits that appeal the African people of all ages and of all walks of life towards mandating for further Chinese involvement in Africa.
China-Africa relations
The U.S., France and Britain are China's main rivals in Africa. France and Britain were once the largest trading partners of Africa. However, from 2008 onwards, China remained Africa's largest trading partner, while the U.S. remained the second largest. China has been giving aid to more African countries than the U.S.
China wants to move away from its low-end products manufacturing trend to high-end products. China intends to build up the low-end industrialization capacities in other countries, helping Chinese companies in their attempts to "go global" as they set up factories in other countries. And, industrialization is just the obsession that many African countries are craving for. Therefore, it seems China's plan to build up the low-end industrialization capacities in other countries and African countries' desire for industrialization coincides with each other, making China and Africa the ideal-most partners for each other in this regard. Chinese Foreign Minister regarded China as a most desirable and reliable long-term partner for Africa to achieve industrialization.
China has been increasing cooperation and exchanges with Africa on the cultural front, particularly in the media and education arena. Over the last decade, China extended its media presence across all major press and electronic media in Africa. The famous CCTV News Channel and China Daily have dedicated Africa editions. Africa hosts a number of Chinese cultural centres and 46 Confucius Institutes, which focuses on the promotion of the Chinese language and culture. Health care development and medical assistance have been one of the main successful areas of cooperation.
Military cooperation between China and Africa goes back to the Cold War period when China backed a number of African liberation movements, while post-cold war era witnessed a military relation based on economic interests rather than ideology. China has been sending troops to Africa to participate in peacekeeping and pledged to increase its support for the peacekeepers in Africa. Apart from peacemaking, China provides military training and equipment to a number of African countries. An increasing number of African countries have shifted their source of supply of defence hardware from traditional providers to China.
The need to protect China's increased investments in Africa have driven China to adopt new diplomatic and military initiatives in order to try to resolve unrest in countries like South Sudan and Mali. China's security assistance to the African Union and national militaries of many African countries is in part designed to boost their capacity to counter threats (such as attack on the Radisson Blu hotel in Mali) to their economic interests from conventional and non-conventional armed forces. China's first ever overseas military facility is planned to be hosted in Djibouti, located in the Horn of Africa.
China-Africa Summit
The ministerial meeting in China in October 2000 was the first collective dialogue held between China and African countries, establishing the Forum on China-Africa Cooperation (FOCAC) in order to strengthen alliances, sign contracts and make important announcements. Since then Chinese and African partners meet every three years for the summit of FOCAC, or otherwise known as China-Africa Summit.
During the 2015's summit, which was held in South Africa, Chinese President Xi Jinping pledged $60 billion over a three-year deal in loans and assistance to the African countries. On the media front, Xi said that China would provide training for 1,000 African media practitioners each year, and would set up satellite TV programs in 10,000 African villages. Xi also pledged to provide funding for 200 African scholars and 500 African students to visit China each year. China would also provide 2,000 education places and 30,000 government scholarship places for Africa. China would establish regional vocational education centres and colleges, train 200,000 technicians and provide the Africans with 40,000 training opportunities in China. Xi pledged some 200 poverty reduction projects, 30 teams of agricultural experts and a limited amount of debt relief to some of the poorest African countries.
As part of China-Africa peace and security program, Xi pledged that China will provide $60 million in free assistance to the African Union to build and maintain its army, both its regular army and crisis response, as well as support UN peacekeeping in Africa. China's new Africa policy paper pledged more military cooperation, including technological cooperation, joint exercises, personnel training and intelligence sharing. China's goal is to build up African capabilities so that the African countries – as well as organizations like the African Union – can ensure their own stability. However, Xi made it clear that through increasing economic and military cooperation, China does not intend to colonize Africa. President Xi clearly stated that China strongly believes that Africa belongs to the African people and African problems should be handled by the African people. Xi also clarified that China's latest military efforts are to combat militancy, and not to engage itself in the local African conflicts.
Criticisms against China
There are widespread accusations that China is a neo-colonial power in Africa. And that China-Africa cooperation have given rise to human rights abuses. Other criticisms are economic in nature. There are accusations that African workers face ill-treatment and poor pay by Chinese companies and that the influx of Chinese workers take away local jobs. The criticisms go further in alleging that African markets are harmed by low-cost Chinese-made products, which put great competitive pressure on local industries and businesses. Some argue that China's involvement in Africa currently benefits primarily the African elites, and not the general Africans.
However, according to several African intellectual corners, these aforementioned accusations are part of a larger propaganda originating from the Western corners in order to undermine China's influence over Africa. According to such African sources, African culture has already been plagued by centuries of Western domination and the imperial economic and social structures.
Observations
Unlike Western economic giants, China made development – not pursuing democracy and transparency – the sole model for its partnership with Africa. With such a flexible approach, China seems to anticipate that African governments would find China a better choice over the West with regard to long term partnership.
China continues to expand its influence in Africa on diplomatic, cultural and commercial fronts, while working to secure and stabilize Africa for China's own long term gains.
It is clearly in the interest of Africa to avoid full alignment with either of China and the West, but to play one side against the other — which might work to decrease raw material prices and to earn other leverages. In this way, it would be well guaranteed that negotiating power remains in the hands of local African policy makers, ensuring end of all sort of exploitation against Africa.
From Patriotism to Humanity: China Leading the Fight of the COVID-19
The outbreak of the novel coronavirus has not only impacted human and social life in terms of disease and infection but also created a controversy in the international media and social network to the point that some western media fell into the trap of racism and xenophobia showing an unusual and an inhuman reactions, instead of solidarity and unity exhibition.
Since China is the first country infected with this virus, so it has already started its fight, the government as a leader has put a clear and effective strategy with successful measures of treatment, protection and prevention. In order to maintain the situation the government dedicated all kind of resources and today's statics shows an increasing of the confirmed infections and death cases and a considered decrease of healed people's number.
As a matter of fact, the World Health Organization' Chief TedrosAdhanomGhebreyesus has defended his earlier praise of China's response to the outbreak and mentioned that all the member of the WHO has praised China for what it did by taking action in the epicenter, helped to prevent cases of being exported to other provinces in china and the rest of the world. This formal statement just confirmed the truth to the world about China's reliability and the sacrifices made to safeguard the world.
All Chinese government's management and measures wouldn't be successful without the great response of the society. As a matter of fact we need to acknowledge the high level of patriotism of the Chinese citizens. No matter their social status;the military, police, engineers, workers, doctors and nurses, business and company owners, celebrities, civilians and ordinary people, students and volunteers, young-middle-old generations, all this people responded to the call of duty applied and followed meticulously all the recommended measures by the government, indeed by their own free will, they sacrificed wealth, made many donations, provided help and assistance donated free masks , free supplies, goods, food and even provided free services, and differently some people made a priceless contribution such the doctors, fully dedicated, working on clock on the front line risking and even sacrificing their lives to save other people's lives.
Meantime, in the other side of the globe the coronavirus kept spreading, the virus is traveling the world it has no boundaries and it's affecting the economy, the social life and the public health, it becomes a public enemy, presenting a threat especially for the African communities, in fact many of them they do not have neither the financial means nor a good health security. But since the outbreak of COVID-19, the Africa CDC (Center for Disease Control and Prevention) took many actions and followed the Chinese in term of union and solidarity.
Indeed Africa CDC collaborated with the World Health Organization to train in-coming analysts in event-based surveillance. Also The Africa CDC has been working with member states to build infection prevention and control capacities in healthcare facilities and with the airline sector to support screening of travelers.
These prevention measures may help control the COVID-19, but African leaders still need to pay attention and follow suit to avoid an outbreak and not reproduce the Italian or Iranian scenarios. Recently, World Health Organization chief TedrosAdhanomGhebreyesus warned about the efficiency of the prevention measures and said mediocre preparations could have fatal consequences. He also said the real struggle lies in management of the situation in case of an outbreak.
Generally, Africa doesn't have a high level of public health. Many diseases and viruses have appeared on the continent, such as HIV, Ebola and tuberculosis. In order to fight and eliminate this threat, a number of African governments have increased expenditures allocated to health and started cooperation for health development with the Chinese government.
China promised to continue to scale up assistance to African countries by creating a health care intuitive allowing the African countries to achieve independent and sustainable development. The plan also contain a long-term strategy of health development, exchange of scientists and new research and technical support for strengthening health-related capacities under the International Health Regulations. China aim to improve African medical and health service and hospital management to provide a better services to the African people by training medical staff, public health workers and administrative personnel. Besides China promised to upgrade its medical and health aid programs for Africa, particularly flagship projects such as the headquarters of the African Center for Disease Control and Prevention.
The cooperation's plan shows the Chinese-African comity, the friendship and the mutual respect and we can clearly see that China is determined to the contribution in the development of the African nations. The actual epidemic situation of the COVID19 in Africa needs more attention and prevention, the collaboration precisely with china will be a wise action considering the Chinese experience of management, logistics, and organization to maintain the situation in case of outbreak and bringing out the best of the Sino-African alliance.
Despite that China is still fighting this epidemic in its own territory, the government express his readiness to help the other infected countries, recently the Chinese Foreign Ministry expresses sincere thanks for the support and assistance provided by many countries such South Korea and Japan, adding that China is ready to improve and strengthen the mechanism of responding to health and epidemic emergencies and promote the exchange of epidemiological information, exchange of experiences, prevention and control, to implement cooperation In the areas of diagnosis, treatment, research programs, and the development of medicines and vaccines.
China is acting heroically; in the middle of its own fight against the virus the PRC still showing gratitude and good will to help others countries. Till now Africa still has the chance to prevent and learn the Chinese experience, sadly some Africans countries still didn't take serious prevention measures but China can provide the help and the assistance.
During the outbreak of the COVID-19 we all have seen the Chinese citizen showing patriotism and helping to maintain the situation, meanwhile the Chinese government have shown the same to the world, the lockdown was a strategy to stop the virus from spreading globally, if the Chinese government didn't take the decision to lockdown cities and stop flights and traffics, experts confirmed that the COVID-19 could infect much more of global population, in fact it was a noble and human act, full of altruism and unselfish, all the matter was the human life.
Now China jumps to the next step which is helping the affected countries and proposing ways of preventions, sharing the genetic code for the virus with researchers around the world and providing medical trials information, treatment, and research programs for the development of medicines.
It's time for solidarity and support and to have hope. This is a matter of life or death, and China can fight against the outbreak with the rest of the world to the safety…. to restore faith in humanity.
Predicting the course of US-China relations in the post Covid-19 era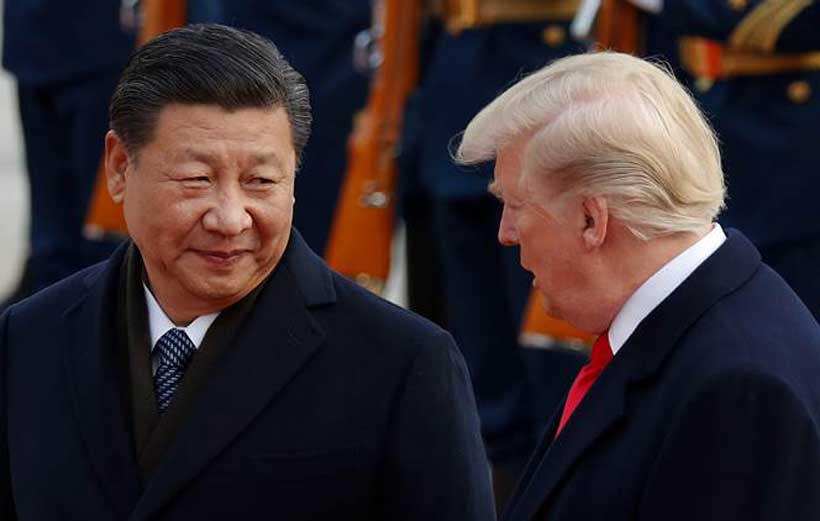 Authors: Ayush Banerjee and Dhritiman Banerjee*
The coronavirus pandemic is a natural threat to the geopolitical order. And it is needless to state that this majorly affects the currently international paradigm in a manner that the world has not seen before. Although there have been a few instances where pandemics have shaken the mortality rates, no pandemic has spread this amount of sheer panic among the public at large. This is largely due to the growing interconnectedness and the advent of the cyberspace. Just as the internet has influenced the lives of the most privileged public, data has been influential in academics and politics alike. However, this argument has its own set of problems that continue to affect public-politic relations in ways more than one.
In the same regard, one of the most strained and keenly debated relations in international politics is that between the United States of America and the People's Republic of China. In the context of the virus itself, the virus originated in Wuhan, a province in China while the most number of fatalities have resulted in the United States of America. This idea fuelled with the new world media at the public level created an atmosphere of tension on such platforms. On Twitter notably, there were several instances of a tweet naming Covid-19 as 'Chinese Virus' spread like wildfire. This sparked a major controversy even at the diplomatic level. Even Donald Trump momentarily subscribed to the idea and deliberately worded his speech to use the phrase 'Chinese/China virus' to refer to Covid-19 at least 20 times between March 16th and March 30th 2020. The US Secretary of State- Mike Pompeo went on to accuse China of its lack of transparency, even scrapping a joint G7 statement after its members refused to refer to the virus as the 'Wuhan virus.' China has remained apologetic ever since. Hence, it can be rightly inferred that the relationship shared between China and USA have strained ever since the Covid-19 outbreak.
However to predict how the outbreak might jeopardise the current paradigm of world politics we must look no further than the Phase One Trade deal signed between the two countries. This deal previously ended an 18-month long trade war between USA and China. Through this deal, China committed to purchasing $200 billion additional foreign goods and services in the sectors of agriculture, energy and manufacturing. However, it is evident that in the post-Covid19 era, it will be rather implausible for China to adhere to the terms of the deal due to reasons more than one. The IMF estimated the reality of an unprecedented economic slowdown in which China is expected to grow at only 1.2% this year. Several reports suggest that investors are planning to pull out their investments from Chinese industries to fit in with the Western bandwagon.
The outbreak turned pandemic coupled with the authoritarian nature of China's response to the entire situation has had a detrimental effect on their domestic economy creating various tremors in the anticipation of demand for various products and services. For instance, the 12 most Covid-19 affected countries account for over 40% of the Chinese exports. Nations like India and Italy that also make that list of twelve may voluntarily pull out of importing to China as they are set to gain from deferring of investments. These nations are also top suppliers of intermediate goods for the Chinese economy. The Chinese economy is quite dependent on external demand stimuli from the US and most western European states such as the United Kingdom. Therefore, until the point in time the US and EU economies completely recover from this pandemic, Chinese policymakers are bound to hold back domestic stimulus efforts as it will only have little effect if the global economy is in shambles.
The Chinese economy has crippled down considerably due to the ongoing trade war that has led to a disproportionate ratio of debt to the annual Gross Domestic Product. This ratio reached an overwhelming 248.8% by the end of March 2019 and it has only increased ever since. China has also been forced to restructure the debts of the Belt and Road initiative (erstwhile OBOR). This restructuring meant that the capital owed to China as loans by the contributing states have been readjusted to affect the projected collection considerably. As Covid-19 nearly decimates the economy of most developing nations, it is becoming increasingly difficult for these states to pay their loan back to China within the stipulated timeframes. Thus adding to the stress on the Chinese economy at large.
There has already begun a region-specific boycott of Chinese goods and industries, especially in conservative parts of USA, among the southern districts. Instances of racial abuse against ethnic Chinese communities have been on an unfortunate rise. These are all deterministic factors of public consciousness, if not, public opinion for the future that lies ahead of us. This reaction has already seen international spillovers and investors have become more anxious about investing in Chinese companies.
According to Deepanshu Mohan, the world may experience radical shifts in the global political economy post-Covid19 based on two factors namely, the relative degree of economic recovery in the affected nations and the existing domestic political scenarios in such nations. He further states that in the post-Covid19 era, protectionist trade policies are likely to increase in the developed nations who in the name of 'supply security' may disentangle trade relations with China which will inversely affect the current geopolitical world order. Donald Trump could also make the pandemic a focal point in the 2020 election campaign and therefore aim to capitalise on the anti-China fervour in the US and thus strain relations even further. There lies evidence for this as well. Trump recently presented his anguish towards China being categorised as a 'developing' state under the World Trade Organisation list and due to the low contributions of China to the World Health Organisation. Although this may seemingly appear appropriate accusations, this is far from the whole truth. The USA, themselves have cut major proportions of its funding capacity towards the United Nations especially concerning peacekeeping and security operations.
Minxin Pei, on the other hand, stated that the Covid-19 outbreak has led the average American to view the Chinese political system with chronic scepticism as Americans blamed the repressive Chinese political system for the pandemic with the Harris poll indicating widespread American dissatisfaction with the alleged Chinese cover-up of the virus. This poll also showed overwhelming support for US punitive measures on China and the removal of US investments and businesses from China. These developments could lock the two countries into a cycle of escalation that could trigger another potential international diplomatic conflict leading to numerous security issues and economic degradation. USA and China remain the two largest economies in the world. Hence, it can be inferred that this fallout of diplomatic and economic ties between the two states might amount to significant damage in the entire global political order and the globalised system of economies and markets. In the US itself, the number of jobs created since the recession in 2008 has been washed away in two weeks.
The trade war between the two economic giants had already shaken the world before the outbreak. And the prevalent fault lines will only widen in the post-Covid19 era just as a global economic slowdown is expected. Thus, it is imperative for the world economy that this US-China relation remains amicable and stable. However, the available narratives indicate a significant detour from the ideal stability that USA and China should normatively maintain to protect the global economy from crumbling down like biscuits. The USA has resorted to legislations that are actively anti-China in terms of financial relations and international trade while China has strengthened its protectionist response system both politically and economically during this outbreak.
The Covid-19 outbreak has not acted as an impediment to Chinese aggression in the South China Sea region either. China has recently renamed 44 features in the disputed region, a decision that is considered illegal under international law. This has been time and again criticised by the US Secretary of State Mike Pompeo. With increasing US-China missile competition a reality in the region post the abrogation of the INF treaty, the post-Covid19 era will likely see more prominent conflicts in the South and the East China Sea regions which is a strategically important waterway for both the countries alongside other nations such as Japan, Vietnam, Philippines and India.
*Dhritiman Banerjee is an undergraduate student at the Department of International Relations at Jadavpur University, Kolkata, India. He has recently published for the Millenniumpost, a Kolkata based newspaper as well as contributed to publications like the Geopolitics and South Asia Monitor. His interests lie in International Relations in general and Strategic Studies in particular.
Political unrest in Hong Kong and Global Pandemic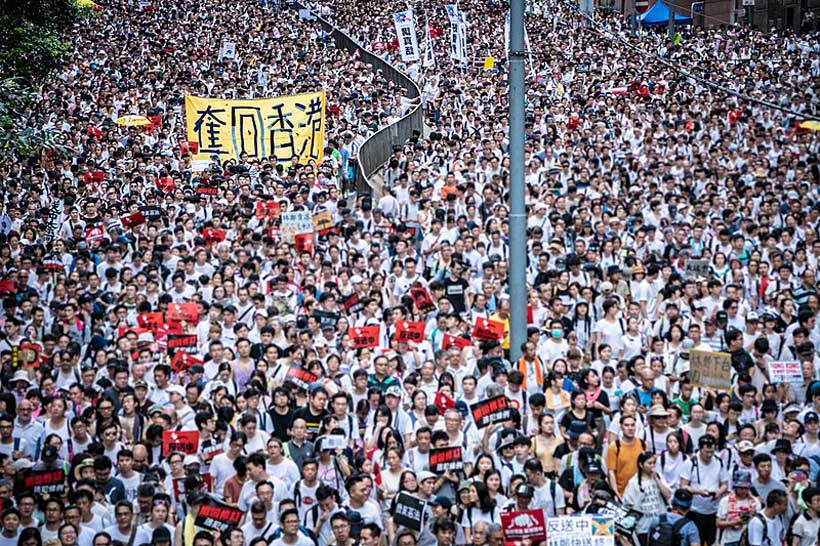 Things started from a murder of a girl in Taiwan ending up into an unseen scenario in Hong Kong. Rising tensions in the region of China and Hong Kong, situation is getting worse. First of all the episode of extradition bill and now becoming the series of different surprises, the advent of National Security Bill is not acceptable among the Hong Kong citizens. According to the 1984 Sino-British Joint Declaration, Hong Kong is ought to be the autonomous and free liberal region along china being constituted as a "one country, two systems." As per this treaty, China is violating International law: which is a direct threat to its soft policy and international image.
Secondly, the role of United States in Hong Kong is mainly concerned about the large number of U.S. Nationals working there especially at naval ports and their security. While on the national level the sustainability of democratic values and freedom in Hong Kong to whom these acts of China's Communist party are challenging. United States being the global hegemon owns the responsibility to protect and keep the check on practice of international laws and its violation in any region of the world. Although the whole global community is concerned about the present situation of Hong Kong and its upcoming outcomes. States sign treaties and agreements on the basis of one's predetermined political and social culture and works accordingly, so following the current scenario the Protest in Hong Kong is going to be game changing event. If the bill passed, Hong Kong will be a Chinese administered territory like another small city of Chinese Communist party but on the other hand if failed to pass this bill Hong Kong can have a victory to win the democracy and write the fate of their state in a new way.
Furthermore, the wave of global pandemic in the form of COVID 19 has already questioned the worth of human security. Millions of people are dying due to this disease originated from Wuhan, China. World is already questioning the Chinese role. Above all the differences, we all are human beings living in the world of chaos. Divisions led towards the more divisions. There is a dire need to fight collectively to this coronavirus. Being humans, we need to apply the only global value that is being human fellow. Social distancing is the new normal now but Hong Kong's political situation is getting more anti distance campaign due to the political unrest. China needs to slow down the process. Human security needs to be the priority. Although to raise the voice of Hong Kong's people social media can be a better platform. Let's shake hands for peace rather than division.