Can Diplomacy Help Navigate an Upcoming Worldwide 'Valley of Disappointment'?
The current worldwide slowdown in productivity gains may reflect a combination of decreasing energy returns on energy investments in fossil fuels, and limitations on productivity gains in the early stages of development of renewable energy replacements.
A review of the development process in terms of non equilibrium thermodynamics concepts is in order. The stresses of the upcoming major worldwide energy transitions, accompanied by climate change protections, are likely severely to test national and international coordination systems, and demand insight into the thermodynamic and economic processes involved on the part of those who participate in international diplomacy.
1.The Current Productivity Problem
Numerous publications have been reporting that rates of productivity gain have been declining in recent decades across much of 'developed world', and, from higher levels, in many 'developing' economies. A recent publication of the highly respected Brookings Institution probes this issue
The National Conference Board in the United States also reports almost imperceptible productivity gains, and some losses, in the most developed economies in the world. The Conference Board's summation on this is as follows:
Zero or even negative total factor productivity growth suggests that improvements in the efficiency by which labor and capital are used have stalled . . . Ultimately declining TFP prevents companies from improving their competitiveness and profitability, and threatens the ability of countries to maintain or better people's living standards.
As of this writing, the International Monetary Fund reports low growth prospects across a broad range of economies, and some difficulty in identifying why this should be so.
2. Current Related Financial Policy Actions
Institutions charged with coordinating national and global financial activities have undertaken attempts to encourage a resumption of 'growth' (typically measured within States as gross domestic product or gross national product). The conceptual basis for such measures seems to assume that growth rates should be those typical of the late 19th and the 20th centuries.
National governments have considered that they had two principal levers for trying to get economic activity back up to accustomed and/or targeted levels, termed 'monetary' and 'fiscal'.
As to 'fiscal' action, the national government is assumed to be able to authorize economic activity directly, and to issue whatever monetary instruments, or forms, will be accepted in the markets supplying goods and services. This may create a current deficit, to be financed over time.
There seems to be more attention given to 'monetary' policy, typically managed by central banks, and institutions to coordinate the policies of national central banks.
National central banks have tended to try to stimulate economic activity by actions which make monetary units more amply available for national and international transactions. A part of this strategy is actions to lower the interest rates which generally apply in such transactions. This is thought likely to increase the levels of activity in investing in the production of goods and services (and in consumer purchases) by reducing the levels of yield needed over time from such activities to attract the 'capital' which will enable such activities.
At this time, most of the institutions with central bank functions, in the 'developed' economies, have been targeting very low interest rates for an extended period of time.
There have been at least two other, external but parallel discussions, with implications for economic activities. This article suggests that these inquiries are particularly significant at this time.
3. Current Awareness of A Need for An Energy Source Transition
It is generally understood that the enormous gains in human populations and activities have come from exploiting the 'energy' in fossil fuel, or earth-stockpiled, hydrocarbons. Discussions of productivity gains over time — generally the 19th and 20th centuries — seem to have assumed that the fossil fuel flows supporting such gains will be available at the same levels and costs as have been the case in these last two centuries. But looking ahead a century or two, this cannot continue to be taken as a given.
First, the prospective climate effects of combusting these hydrocarbons, to get the energy yield, has spurred a global search to replace these energy sources.
At the same time, the net energy yields from mining these hydrocarbons have tended to decrease. And, the limits of the most energy-rich hydrocarbon deposits seem visible, given current and prospective consumption rates.
The efforts to develop 'renewable' or 'sustainable' energy sources have led to a focus on a key measure — the energy returns on energy invested (EREOI) in such renewable technologies. Those tracking the development of renewables are keenly interested in when they will meet or exceed the EROEI of fossil fuels, and whether, and when, such energy yields will be sufficient to support a high energy industrial civilization in the future.
This author suggests that this should lead to shifting the conceptual center of discussion as to economic (and social) activity to the energy flow factors which enable such activity.
4. The Rise Of Academic Understandings of 'Non Equilibrium Thermodynamics'
This dovetails into a stream of academic thought which has steadily expanded in recent decades, often termed 'non equilibrium thermodynamics'.
The foundations of this thought go back at least as far as Heraclitus of Ephesus, born about 560 BC, who saw all things as process. However, in recent decades astronomers, physicists and others have expanded, elaborated, and measured these concepts in universally applicable ways.
Re-casting the productivity issues in thermodynamic terms may help answer a key question.
On the one hand, some suggest that the current slowdown in productivity growth in developed economies is just a pause in the realization of gains from innovations in process as to the economic potentials of current developed societies — e.g. 'big data' computations, self driving cars, the spread of 'digitization' of business and government operations.
An alternative suggestion might be that the combination of restrictions of fossil fuel use, the energy costs of such use, and the energy investment costs of creating and deploying renewable energy sources now imposes or will impose constraints on the rate of productivity gains, if any, which we can project for coming decades.
Given the recent ascent into widespread scholarly discussion of non equilibrium thermodynamics, I should to state at the outset what version of nonequilibrium thermodynamics frames the premises here used in approaching human productivity and 'finance'.
Briefly stated, this essay proceeds from the premise that all ordered structures in the Universe are manifestations of ordered energy flows. All 'tangible' structures are composed of relational systems — systems of correlated elements. Thus, the 'order' In the universe arises from correlations among the elements in the structures. In some, as in 'solids', the correlations are so stable as to stabilize both spatial dispersion, and radial degrees of freedom, over the periods of observation — or interaction with another ordered structure, or system.
Dynamic systems at the macro scale available to humans — processing energy flows and altering its internal conformation and/or relationships with external systems over time, or process — entail both energy intake and dissipation. Ilya Prigogine condensed this seminal insight long ago. A simple and visible astronomic example is the Red Spot on Jupiter.
Thus, 'energy' is in a fundamental sense the sovereign coin of the realm, so to speak, in the creation and maintenance of all ordered systems.
The leading explicant of the underlying dynamic nature of the Universe is Tufts/Harvard professor Eric Chaisson. In a series of exhaustively documented, elegant books and articles, he explains the energy densities, and related complexity levels, of galaxies, suns, ants, plants, humans and human societies. See for example "Cosmic Evolution", Harvard, 2001, and for beautiful illustrations
A critical metric in Chaisson's extensive documentation of energy flows is 'free energy rate density' (the amount of energy flow through a system per unit of mass and unit of time). Life units, for example, embody higher free energy rate densities than do galaxies or suns: animals higher free energy rate densities than plants, and humans, with their artifacts, like cities and particular elements in cities (e.. Jet planes and computers) much higher free energy rate densities than animals as a whole. In the energy scales of the Universe, human civilization is an extremely rare high free energy density phenomenon.
For a somewhat broader context, though condensed, overview for the interested general public, one can consult an article on 'relational order theories'
As humans have organized the world around them, they have identified and constructed systems which have, to the humans, the characteristic of yielding more energy to the humans than the humans invest in them.
In agricultural societies, 'land' was often used as a conceptual catch-all for an energy yielding asset. (However, I understand the the word 'capital' was derived from the indo-european term for cattle, in an semi-nomadic phase of the indo europeans). A fishing resource, or the ocean as a whole, could also be so considered.
Let us focus on a world in which systems other than 'land' (or a fishery area) were made to yield energy returns on energy invested in them.
In the fossil fuel era, such a system could be a coal mine, an oil or gas well, etc. where we have accessed energy bound in hydrocarbons by previously living systems, and learned how to liberate and turn to our use that energy. In this world, more types of resource, and energy flows, are organized more flexibly, by entities including the holders of the symbols of 'capital'.
As we seek to enter a larger scale 'sustainable' or 'renewable' energy era we consider artifactual photosynthetic systems, wind energy systems, nuclear energy systems, etc. As to all such systems specialized so as to yield to humans more energy than humans organize into them, we have come to seek to measure the 'energy return on energy invested'.
5. Initial Application of Non Equilibrium Thermodynamics Concepts to Productivity and Energy Transition Issues.
Assuming that 'productivity', as to humans, corresponds roughly to the 'energy' which the human or the system in which the human functions brings to 'goods and services' — the fabrication, transport, communication, etc. which the human becomes involved in 'producing' — productivity, as measured by the output of units specified per person work unit, would be enhanced by more energy entrainment, and decreased by less.
Generalizing this, one might posit that in a world of high EROEI, per person 'productivity' gains can be high, and in a world of low EROEI, they will be low.
We have noted that some suggest that underlying gains in efficiency — compositional productivity, or multiple factor productivity — are in operation but not yet manifested in ways which register in the statistical identities and measures we now use.
Let us entertain an alternate hypothesis oriented to a nonequilibrium thermodynamics framework, and a simple model which might be used to attempt to test such an hypothesis, over time, with enough data accumulation and analysis.
A candidate hypothesis would be that the energy returns on energy investments in the interconnected global economic systems are now rewarding investment in energy production at lower than historic levels, and at levels which, given all the energy dissipation in cycling energy through the generation and consumption, re-generation cycles does not allow for much increase in the over all activity levels of the societies involved, over time and the continuing cycling process.
Let us consider a simple model in which the key variables are a 'capital' sector, the energy return on energy which is invested into the 'capital' apparatus, and a population. These elements are arranged in a simple linear cycle, and the result which matters most to humans is designated as per capita wealth, in energy terms, as follows.
Per capita (energy) wealth = ((K*EROEI)-ReinvE)/P
That is, the wealth per person, calibrated in energy units (which have correspondences to 'goods' and 'services'), equals the energy flow into the capital apparatus times the energy return from that apparatus per unit of energy investment, minus the energy reinvested in the capital apparatus, divided by the total population.
The physical system is a cyclical, reiterative one, as follows. The population inputs energy into the capital apparatus, the apparatus returns (and distributes) the energy back into the population, the population 'consumes' the energy, building some of it into population and amenities, etc, and returns energy into the capital apparatus. And keep cranking.
Using a model such as this, one can imagine differing endowments in different polities — e.g. higher or lower current capital endowments, populations, EROEI results. Some interesting possible relationships are noted in the footnote.
Malthus's famous views come to mind. If we were to adapt a Malthusian point of view, the K, or capital, factor was largely seen as land. The yield — the EROEI — of land had not shown great increases in centuries prior to Malthus, and nothing like 'geometric', or exponential, or repetitive doubling, would seem plausible at his time. So if one assumed that the total population would increase faster than did energy production from land, using historic forms of agricultural technology, people would live more poorly, or some of them would, or some would have to go — to be subtracted from the equation.
Let us now put in this formula the Industrial (or fossil fuel) Revolution. Suddenly (in historical terms) EROEI skyrockets — let us say up to 50 times the energy input. The population can expand (improving food supply in various energy-fed ways), the energy using apparati generally (goods and services) can expand, and the capital factor can increase. The cycle becomes wonderfully virtuous, and humanity bestrides the Earth beyond its agricultural dreams.
But now let us suppose there are limits to the extent the capital factor can increase, or the EROEI begins to decrease, or both. Depending on how one varies the critical factors of population size, capital stock, and EROEI, many scenarios can be produced, as noted before. But with capital limited or fixed, and no appreciable gains in EROEI, we could be headed back to the Malthus type of calculation.
Let us sketch a more optimistic scenario for a few centuries ahead.
Let us continue to assume that the EROEI on fossil fuels decreases, and/or fossil fuel capacity is capped in order to avoid overheating the whole human complex, with major losses of system function and human welfare.
But our specialists advise us that life on earth taps only a very small fraction of the solar energy impinging on earth, we also tap a small fraction of the wind energy available, and if we are clever, farsighted, and disciplined enough we might replace the fossil fuels, at levels comparable to or above current civilization energy levels, at EROEI ratios sufficient to maintain our population levels and our per capita welfare, and also feed back into the capacity machinery enough energy to keep that machinery, and the whole system, stable and growing.
If humanity is not to go on a severe diet at some point, this is clearly the situation which will have to be managed. We humans have a very big and tricky energy supply transition coming up, and there are many uncertainties involved in it.
We may not know just how rapidly the energy supply transition can occur.
Vaclav Smil counsels that we think in terms of a century or so, and has historical evidence to support his view. Vaclav Smil (2011), Global Energy: The Latest Infatuations, American Scientist.
Others suggest that the coming transition could be managed more rapidly. The current Administration in the United States is pursuing an aggressive program to facilitate adaptation of the electricity system to increased proportions of wind and solar electricity generation.
As of this writing, a 2016 projection of the Bloomberg New Energy Finance group projects that by 2027 renewable electrical energy sources will cost less than operation of fossil fuel plants, and by 2040 renewable technologies will improve their cost levels 40-60% and fossil fuel production will have shrunk to less than 50% of total electrical energy production worldwide. In the advanced economies of Europe and America, the fossil fuel shares will have shrunk to a third or less of total electrical energy supplies. And, as to transportation, electric vehicles would constitute about 35% of new vehicles sold.
We also may not know exactly what system wide EROEI levels are required to maintain the high levels of free energy densities prevalent in highly industrialized civilization. A currently circulating guess is 10/1.
We do not know how well the public in the industrialized areas will understand their situation, and have the patience and foresight to soldier through the required transitions.
Given these uncertainties, we still must attempt to project a path forward.
Let us trace out a scenario reflecting the possibility that we are at or near a difficult point in our energy base transition.
This scenario might be called a 'valley of disappointment' scenario. (That is the pessimistic part. The optimism is reflected in the projection that only a valley, not a cliff, looms before us.)
If and as we are now entering a situation in which the fossil fuel energy recovery rates are declining, and the renewable energy yields are increasing, but are currently only a bit above the base rate needed for advanced civilization , account only a small part of energy supply at this moment and need extensive energy-consuming complements to fill out the entire range of energy uses, we might predict that our societies could encounter the following situation.
●A slowdown in global, composite EROEI levels relative to historic fossil fuel boom era EROEI levels,
and thus widespread, aggregate slowdowns in GDP, or GDP growth
and related slowdowns in per person productivity gains,
and thus slowdowns in consequent 'standard of living' gains.
●Even if the renewable energy sources were eventually to produce high and reliably increasing levels of energy flows in human societies, efficiently spread throughout our societies, we could see
lags between investment in the renewable energy sources, and the related complexes which are required to make them broadly and efficiently usable, and their full effectiveness, and thus
human societies enduring some decades of transiti
●All this leading to
A lull in standard of living gains, if not a period of decline, and
slow progress in improving them again. And, consequently,
● as these slowdowns occur, and a resumption of something like historic welfare gains seems remote, considerable dissatisfaction arising in populations which are accustomed to rapid gains in 'welfare', or standard of living.
Does this picture resemble what we now may be seeing in the 'highly developed', extremely entitled populations of America and Europe?
Were this overview accepted, the 2016 Bloomberg new energy investment scenario seems to suggest that by 2040 renewable EROEI would have increased by 40-60% and even transportation would be moving toward energy efficiency sufficient to service high energy human civilization. Such a rate of progress could make less onerous the 'valley of disappointment'. We could at least better see our way to a more abundant future, perhaps even more abundant than our fossil fed recent past.
6. Implications For Financial Policy
In this sort of scenario would the roles of 'finance' differ from those now prescribed?
'Policy makers' may be unclear whether they may just assume that 'fiscal' stimuli will draw on an underused and available well of production and productivity-increasing opportunities on which to spend money tokens, or whether their justification rests solely on a judgment that they, better than the market, can discriminate between higher EROEI possibilities and less productive ones. However, they may be inclined to choose to funnel resources to long term thermodynamic gain as well as or better than an unguided or unassisted market. We have done well in the past by encouraging canals and railroads, for two examples.
As to monetary tools, on the face of it, a regime in which low interest rates prevailed would seem to accord with a relative scarcity of thermodynamically fruitful (in customary language highly productive) investment opportunities. That is, low interest rates would appropriately reflect generally low returns to investments.
If one expected that 'natural forces' — e.g. 'innovations' — would soon replenish the inventory of potentially rewarding opportunities, one might just hold steady and wait — perhaps a few years.
If on the other hand the 'valley of disappointment' construct more accurately depicts our situation, the 'wait' — the period of low returns on 'capital' generally — might go on for some decades. A great deal of adjustments in matters such as annuities, pensions, bond integrity — indeed, public and private finance generally — would be compelled.
Thus, there would seem to be a strong case for monetary policy functionaries and advisors to focus clearly on non equilibrium thermodynamics, EROEI oriented, analyses of economic phenomena. If this work is done thoroughly and well, the 'valley of disappointment' hypothesis may be confirmed in whole or substantial part, or disconfirmed. We may learn enough to get a better picture of workable paths through the transition before us.
7. Diplomacy
If the more advanced economies are facing thermodynamic/economic constraints in the upcoming Great Energy Transition, whereas on the other hand less developed venues feel entitled to a great deal of economic catch-up, regardless of atmosphere heating results, we have a continuing difficulty in managing world climate protection and acceptable rates of welfare improvement in some large and ambitious countries.
The oil-laden Persian Gulf area is a continuing management problem. The deepest and most easily accessible pools of liquid hydrocarbons are in the hands of archaic political systems, some of whom — like Iran — have felt badly treated by the industrialized 'West'. But USA Investment in an order-maintaining military presence in the Persian Gulf area most directly benefits India and China –the US only indirectly. This has not escaped the attention of one of the presidential contenders in the United States.
Diplomacy will be involved in finding ways to reconcile nativist-nationalist impulses in several European countries, and in the United States, with the economic and social advantages of global integration. The recent 'Brexit' act highlights the significance of this phenomenon.
Notwithstanding all the above, the hierarchy building imperative evident the hierarchical construction of order in the Universe explains at the most basic level currently available the tendency to global human integration evident in the last few centuries. This integration dynamic is fundamental.
But the equally underlying stochastic nature of the Universe counsels that nothing is guaranteed to we weird, extreme, socialized apes who seek to live like high technology, high energy, densely clustered ants, in a dynamic, promising, but perilous journey through life's accumulated energy bounty into a new era of energy entrapment on Earth.
Thus the civilized effort to make light out of international heat, and workable coherence out of urgent parochialisms, has fundamental tasks before it in this era of change in the energy fundamentals. An understanding of the currents moving the ships of state, as well as steady hands on the helms, are needed.
Free-Market Capitalism and Climate Crisis
Free market capitalism is an economic system that has brought about tremendous economic growth and prosperity in many countries around the world. However, it has also spawned a number of problems, one of which is the climate crisis. The climate crisis is a global problem caused by the emission of greenhouse gases, primarily carbon dioxide, into the atmosphere. These externalities are chiefly a consequence of day to day human activities, such as the burning of fossil fuels, deforestation, and conventional agriculture. The climate crisis is leading to rise in temperatures, sea levels, and more erratic weather patterns-The floods in Pakistan and depleting cedars of Lebanon are vivid instances for these phenomena, which are having a devastating impact on the planet.
One of the main reasons that free market capitalism has contributed to the climate crisis is that it prioritizes short-term economic growth over long-term environmental sustainability. Under capitalism, companies are primarily motivated by profit and are not required to internalize the costs of their pollution. This means that they are able to pollute without having to pay for the damage that they are causing. Additionally, the capitalist system is based on the idea of unlimited growth, which is not sustainable in the long-term. As long as there is an infinite demand for goods and services, companies will continue to produce them, leading to ever-increasing levels of pollution and resource depletion.
Another pressing issue that free market capitalism is recently going through is that it does not take into account the externalities of economic activities. Externalities are the unintended consequences of economic activities, such as pollution and climate change. Under capitalism, companies are not required to pay for the externalities of their activities, which means that they are able to continue polluting without having to pay for the damage that they are causing. In her book "This Changes Everything: Capitalism vs Climate" Naomi Klein argues that the current system of capitalism is inherently incompatible with the urgent action needed to address the Climate crisis.
To address the climate crisis, it is necessary to put checks and balances over the free market capitalism and/or make a way towards a more sustainable economic system. This can be done through a number of different effective policies, such as:
Carbon pricing: This can be done through a carbon tax or a cap-and-trade system, which would make companies pay for the carbon emissions that they are producing. In the article "The Conservative Case for Carbon Dividends" authors suggest that revenue-neutral carbon tax is the most efficient and effective way to reduce the carbon emissions.
Increasing renewable energy investments: an increment in the investments in clean energy technologies, such as solar and wind power, can result in the reduction in the use of fossil fuels.
Regulating pollution: Governments can regulate pollution to limit the amount of greenhouse gases that are emitted into the atmosphere.
Encouraging sustainable practices: Governments can encourage sustainable practices, such as recycling and conservation, to reduce the use of resources.
It is remarkable that evolving Capitalism can be harnessed to address the climate change. The private sector has the resources and innovation to develop and implement new technologies and sustainable practices, but they need the right incentives and regulations to do so. Finding the balance between economic growth and environmental protection must be a priority for capitalists.
The free market capitalism has been the driving force behind global economic growth, but at the same time, it has contributed to the ongoing climate crisis. The solution to this problem is not to reject capitalism, but rather to reform it to the societies' suitable demands. Government should consider providing a level playing field so as to make the probable transition from fossil-based energy systems to Green energy technologies possible. The capitalists should not consider short-termism over long term environmental sustainability. Government intervention to put a price on carbon emissions, invest in renewable energy, regulate pollution, and encourage sustainable practices is necessary to avoid the worst impacts of the climate crisis and build a sustainable future for all. However, here is the catch: Is achieving net-zero-carbon emissions by mid-century a probable target? The answer is quite uncertain, however it is critical point to strive for in the face of escalating Climate Crisis.
Egypt's "Too Big to Fail" Theory Once Again at Test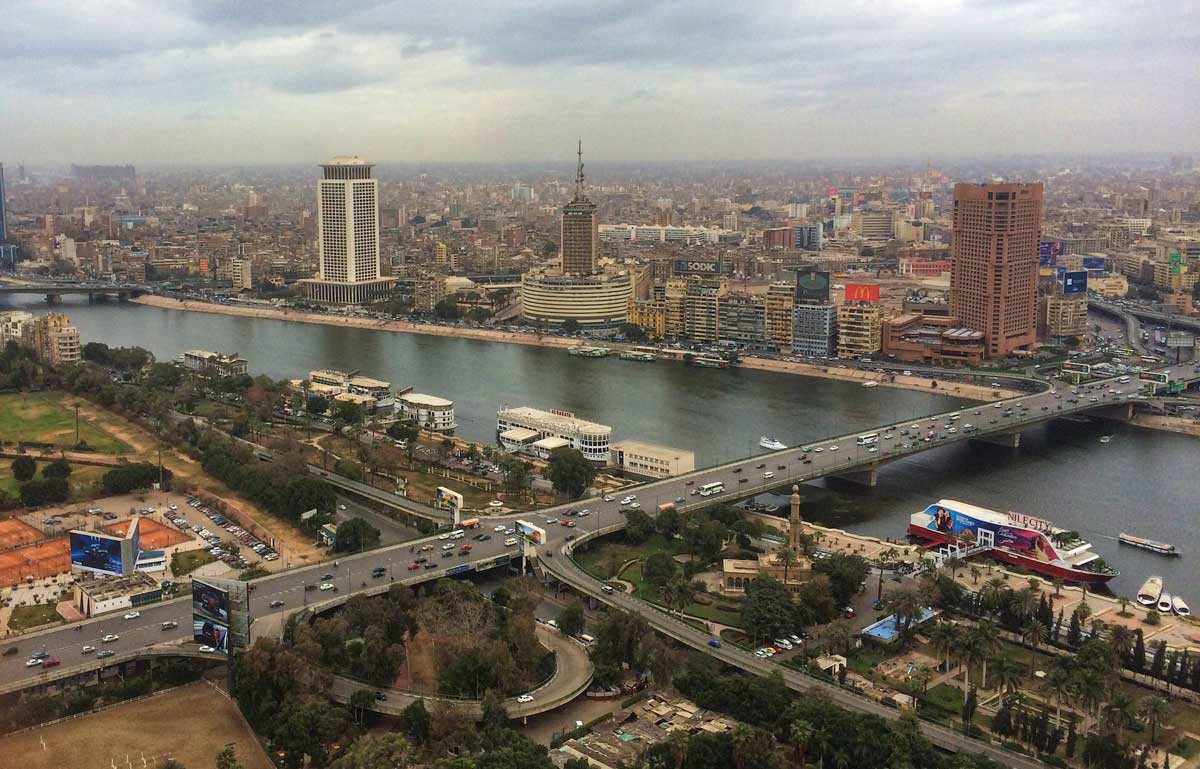 Authors: Reem Mansour & Mohamed A. Fouad
In the wake of 2022 FED's hawkish monetary policy, the Arab world's most populous nation, Egypt, saw an exodus of about USD20bn of foreign capital. A feat that exerted pressure on the value of its pound against the dollar slashing it by almost half. This led to USD12bn trade backlog accumulating in Egypt's ports by December 2022.
Meanwhile, amidst foreign debt nearing USD170bn, inflation soaring to double digits, and a chronic balance of payment deficit, Egypt became structurally unfit to sustain global shocks; the country saw its foreign debt mounting to 35% of GDP, causing the financing gap to hover at USD20billion.
While it may seem all gloom and doom, friends from the GCC rushed to inject funds in the "too big to fail" country, sparing it, an arguably, ill-fate that was well reflected in its Eurobond yields spreads and credit default swaps, a measure that assesses a sovereign default risk.
For the same reason in early 2023, the IMF sealed a deal worth of USD3bn, with the government, which unlocked an extra USD14bn sources of financing from multilateral institutions, and GCC sovereign funds, to fill in a hefty portion of the annual foreign exchange gap, albeit a considerable amount averaging USD6bn per annum is yet to be sourced from portfolio investments.
With the IMF stepping in, the Egyptian government agreed on a structural reform program that requires a flexible exchange rate regime, where the Egyptian pound is set to trade within daily boundaries against the US dollar, rationalize government spending, especially in projects that require foreign currency; and most importantly the program entails stake-sales in publicly owned assets, paving the way for the private sector to play a bigger role in the economy.
In due course, through its sovereign fund, Egypt planned initial offerings for shares in companies worth about USD5-USD6bn, and expanded the sale of its shares in local banks and government holdings to Gulf investment funds.
Through the limited period of execution of these reforms, the EGP hit a high of 32 against the greenback, and an inflow of portfolio investments amounting to USD1bn took place, according to the Central Bank of Egypt.
Simultaneously, Citibank International, cited a possible near end of the devaluation of the Egyptian pound against the US dollar. Also, in a report to investors, Standard Chartered recommended to buy Egyptian treasury bills, and pointed to the return of portfolio flows to the local debt market in the early days of January, 2023. Likewise, Fitch indicated the ability of the Egyptian banking sector to face the repercussions of the depreciation of the pound, and that the compulsory reserve ratios within Egyptian banks are able to withstand any declines in the value of the pound because they are supported by healthy internal flows of capital.
While things seem to be poised for a recovery, the long term prospects may lack sustainability. The Egyptian government needs to accelerate its plans to shift gears towards a real operational economy capable of withstanding shocks and dealing with any global challenges. Egypt, however has implicitly held the narrative that the country is 'too big to fail". This is largely true to the country's geopolitical relevance, but even this has its limitations when the price to bail far outweighs the price to fail.
Former President George W. Bush's administration popularized the "too big to fail" (TBTF) doctrine notably during the 2008 financial crisis. The Bush administration often used the term to describe why it stepped in to bail out some financial companies to avert worldwide economic collapse.
In his book "The Myth of Too Big To Fail" Imad Moosa presented arguments against using public fund to bail out failing financial institutions. He ultimately argued that a failing financial institution should be allowed to fail without fearing an apocalyptic outcome. For countries, the TBTF theory comes under considerable challenge.
In August 1982, Mexico was not able to service its external debt obligations, marking the start of the debt crisis. After years of accumulating external debt, rising world interest rates, the worldwide recession and sudden devaluations of the peso caused the external debt bill to rise sharply, which ultimately caused a default.
After six years of economic reform in Russia, privatization and macroeconomic stabilization had experienced some limited success. Yet in August 1998, after recording its first year of positive economic growth since the fall of the Soviet Union, Russia was forced to default on its sovereign debt, devalue the ruble, and declare a suspension of payments by commercial banks to foreign creditors.
In Egypt, although the country remains to face a number of challenges, signs remain relatively less worrying than 2022, as global sentiment suggests that leverage will be provided in the short-term at least. Egypt's diversified economy, size and relative regional clout may very well spare the country the fate of Lebanon. However, if reforms do not happen fast enough, the TBTF shield may become completely depleted.
Hence, in order to avoid an economic fallout scenario a full fledged support to the private sector's local manufacturing activity and tourism is a must. Effective policies geared towards competitiveness are mandatory, and tax & export oriented concessions are required to unleash the private sector's maximum potential and shift Egypt into gear.
Sanctions and the Confiscation of Russian Property. The First Experience
After the start of the special military operation in Ukraine, Western countries froze the assets of the Russian public and private sector entities which had been hit by blocking financial sanctions. At the same time, the possibility that these assets could be confiscated and liquidated so that the funds could be transferred to Ukraine was discussed. So far, only Canada has such a legal mechanism. It will also be the first country to implement the idea of confiscation in practice. How does the new mechanism work, what is the essence of the first confiscation, and what consequences can we expect from the new practice in the future?
Loss of control over assets in countries that impose sanctions against certain individuals has long been a common phenomenon. The mechanism of blocking sanctions has been widely used for several decades by US authorities. A similar methodology has been adopted by the EU, Switzerland, Canada, Australia, New Zealand, Japan and some other countries. Russia and China may also resort to these tactics, although Moscow and Beijing rarely use them. In the hands of Western countries, blocking sanctions, however, have become a frequent occurrence. Along with the ban on financial transactions with individuals and legal entities named in the lists of blocked persons, such sanctions also imply the freezing of the assets of persons in the jurisdiction of the initiating countries. In other words, having fallen under blocking sanctions, a person or organisation loses the ability to use their bank accounts, real estate and any other property. Since February 2022, Western countries have blocked more than 1,500 Russian individuals in this way. If you add subsidiary structures to them, their number will be even greater. The volume of the property of these persons frozen abroad is colossal. It includes at least 300 billion dollars in gold and foreign exchange reserves.
This is not counting the assets of high net worth Russian individuals worth $30 billion or more which have been blocked by the G7 countries. However, the freezing of property does not mean its confiscation. Although the blocked person cannot dispose of his assets, it formally remains his property. At some point, the sanctions may be lifted, and access to property restored. In practice, restrictive measures can be in place for years, but theoretically, the possibility of recovering assets still remains.
After the start of the special military operation (SMO), calls began to be heard in Western countries to confiscate frozen property and transfer it to Ukraine. Confiscation mechanisms have existed before. For example, property could be confiscated by a court order as part of the criminal prosecution of violators of the sanctions legislation. However, such mechanisms are clearly not suitable for the mass confiscation of property. Blocking sanctions are a political decision that do not require the level of proof of guilt that is required in the criminal process. To put it bluntly, the hundreds of Russian officials or entrepreneurs put on blocking lists for supporting the SMO did not commit criminal offenses for which their property could be subject to confiscation. The sanctions have spurred the search for such crimes in the form of money laundering or other illegal operations. But the amount of funds raised in this way would be a tiny fraction of the value of the frozen assets. To implement the idea of confiscation of the frozen assets of sanctioned persons and the subsequent transfer of the proceeds for them, Ukraine needed a different mechanism.
Canada was the first country to implement such a mechanism. The 2022 revision of the Special Economic Measures Act gives Canadian authorities the executive power to order the seizure of property located in Canada which is owned by a foreign government or any person or entity from that country, as well as any citizen of the given country who is not a resident of Canada (article 4 (1)). The reason for the application of such measures may be "a gross violation of international peace and security, which has caused or may cause a serious international crisis" (Article 4 (1.1.)). The final decision on confiscation must be made by a judge, to whom a relevant representative of the executive branch sends a corresponding petition (Article 5.3). Furthermore, the executive authorities, at their own discretion, may decide to transfer the proceeds from the confiscated property in favour of a foreign state that has suffered as a result of actions to violate peace and security, in favour of restoring peace and security, as well as in favour of victims of violations of peace and security, or victims of violations of human rights law or anti-corruption laws (art. 5.6).
The first target of the new legal mechanism will be the Canadian asset of Roman Abramovich's Granite Capital Holding Ltd. The value of the asset, according to a statement by Canadian authorities, is $26 million.
Roman Abramovich is on the Canadian Blocked List, i. e. his property is already frozen, and transactions are prohibited. Now the property of the Russian businessman will be confiscated and, with a high degree of probability, ownership will be transferred to Ukraine. This is a relatively small asset (from the standpoint of state property), but the procedure itself can be worked out. Further confiscations may be more extensive.
The Canadian experience can be copied by other Western countries. In the US, work on such a mechanism was announced back in April 2022. although it has not yet been adopted at the legislative level. In the EU, such a mechanism is also not finally fixed in the regulatory legal acts of the Union, although Art. 15 of Regulation 269/2014 obliges Member States to develop, inter alia, rules on the confiscation of assets obtained as a result of violations of the sanctions regime. The very concept of violations can be interpreted broadly. So, for example, Art. 9 of the said Regulation obliges blocked Russian persons to report to the authorities of the EU countries within six weeks after blocking about their assets. Violation of this requirement can be regarded as a circumvention of blocking sanctions.
There are several consequences of the Canadian authorities' initiative.
First, it becomes clear that the confiscation rule is not dormant. Its use is possible and is a risk. This is a serious signal to those Russians and Russian companies that have not yet come under sanctions, but own property in the West. It can be not only frozen, but also confiscated. This risk will inevitably be taken into account by investors and owners from other countries, which could potentially be the target of increased Western sanctions in the future. Among them are China, Saudi Arabia, Turkey, and others. It is unlikely that the confiscation of Russian property will lead to an outflow of assets of these countries and their citizens from Canada and other Western jurisdictions. But the signal itself will be taken into account.
Second, the Russian side is very likely to take retaliatory measures. Western companies are rapidly withdrawing their assets from Russia. The representation of Canadian business in the Russian Federation was small even before the start of the operation in Ukraine. If the practice of confiscation becomes widespread, then the Russian side can roll it out in relation against the remaining Western businesses. However, so far, Moscow has been extremely hesitant to freeze Western property. While the US, EU and other Western countries have actively blocked Russians and their assets, Russia has mainly responded with visa sanctions. The confiscation could overwhelm Moscow's patience and make the retaliatory practice more proportionate.
Finally, the practice of confiscation modifies the very Western idea of sanctions. It currently implies, among other things, that the "behavioural change" of sanctioned persons would result in the lifting of sanctions and the return of property. The freezing mechanism was combined with this idea. However, the confiscation mechanism contradicts it. Sanctions now become exclusively a mechanism for causing damage.
From our partner RIAC