The 2016 NATO Summit: What will be on the agenda in Warsaw?
Authors: Dr. Ian Anthony, Dr. Ian Davis(*)
At their Summit in Warsaw on 8–9 July, the heads of state and government of the NATO member countries will have a very full agenda of key topics for discussion. It seems unlikely that the leaders will seek to revise key guidance documents—the 2010 NATO Strategic Concept and the 2012 Deterrence and Defence Posture Review. However, it is widely recognized that both documents contain some language and ideas that are no longer in line with the way NATO members see current security problems.
For example, even if France did not invoke article 5 of the Washington Treaty, there is a consensus among member states that the terrorist attacks in Paris in November 2015 were an act of armed aggression. Since 2010, the Islamic State (IS) group has joined al-Qaeda as an enemy of NATO. Moreover, NATO has now agreed that a cyberattack can, under certain conditions, be considered an act of aggression that would require an article 5 response. In addition, the current Strategic Concept describes the threat of a conventional attack against the NATO alliance as low and underlines the strategic importance of NATO-Russia cooperation. Today, while NATO stops short of describing Russia in its documents as an enemy, and continues to hold out the possibility of cooperation under certain conditions, it is equally clear that NATO no longer sees Moscow as a partner. How to deal with Russia is one of six broad interlinked agenda items that are likely to dominate the Warsaw Summit:
the conflict in Ukraine and relations with Russia;
strengthening collective defence;
rethinking deterrence and the roles of nuclear weapons, missile defence and cybersecurity;
addressing the 'arc of crises', especially armed Islamist extremism, while staying engaged in Afghanistan;
the 'open door' and partnerships policies; and
the 'burden sharing' debate.
These are discussed below.
1. The conflict in Ukraine and relations with Russia
The relationship between Russia and NATO—and the West more generally—has deteriorated, taking on a radically changed quality. Since the illegal annexation of Crimea, NATO has suspended all practical civilian and military cooperation with Russia, while leaving some channels open for dialogue. In a televised interview in Poland in May, NATO's Secretary General Jens Stoltenberg said that NATO would do its best to avoid escalations and promote an open dialogue with Moscow. The NATO-Russia Council met in April 2016, but Stoltenberg underlined that the meeting only reinforced the existence of what the he called profound and persistent disagreements.
2. Strengthening collective defence
A linked issue on the agenda will be to assess the implementation of the package of measures intended to strengthen collective defence that the leaders agreed at their previous Summit, in Wales in 2014. A number of so-called assurance measures were agreed at the Wales Summit, including establishing a continuous air, land and maritime presence and conducting meaningful military activities in the eastern part of the alliance. After 2014, plans have been developed to ensure that around 4000 troops from NATO countries will be present in the Baltic states and Poland on a rotational basis.
The small but rapid reaction force authorized in 2014 has been created to respond immediately, anywhere in the alliance, in case of need. In addition, the 'follow-on' NATO Response Force has been doubled in size to roughly 40,000 troops. The rotational forces and the NATO Response Force both include all the necessary air, maritime, logistic and other support.
The 1997 NATO-Russia Founding Act stated that, in the circumstances prevailing at the time, the permanent stationing of substantial combat forces in Central and Eastern Europe was not necessary. Some NATO members believe that the security environment has changed in ways that mean that any undertaking given to Russia need no longer be respected. However, recent arrangements have been designed by NATO in a way that all members of the organization believe to be consistent with the text of the 1997 Founding Act.
The Wales Summit also decided to increase the number of military exercises conducted each year, and to design exercises using scenarios closer to the collective defence mission. In 2016 at least 23 military exercises of different sizes are planned, using a range of scenarios and hosted by 20 different nations.
Potential areas of disagreement: The 'frontline' NATO states would have preferred further measures to exploit the flexibility offered by the NATO-Russia Founding Act to the fullest extent possible. In March 2014, for example, Poland urged NATO to station 10 000 troops on its territory on a permanent basis, but the organization has so far resisted doing so. The United States has already taken measures to bolster forces on NATO's eastern flank, but sustaining significant rotational forces with wider participation among member states will be challenging, and from a practical perspective a permanent presence would be easier to manage. It is likely that the USA will contribute a significant share of the 4000 troops to be part of the rotation, but the exact composition is yet to be determined and the Warsaw Summit is expected to finalize exact numbers and the exact locations for the rotational presence.
3. Rethinking deterrence: the roles of nuclear weapons, missile defence and cybersecurity
A third important subject for discussion among NATO leaders will be deterrence: what it means and how it can be assured given deteriorating relations with Russia. This is closely tied to national perceptions of which security problems are the most pressing, and the sense of how far a military response is the most appropriate one.
Nuclear weapons
The role of nuclear weapons in European security has recently become a subject of discussion after many years in which it was relegated to the background. Statements by senior Russian leaders have focused attention on how Russia sees the use of nuclear weapons in its military doctrine, and nuclear-capable weapon delivery platforms regularly participate in Russian military exercises. While it is unlikely that NATO will make any significant modifications to its nuclear policies at the Warsaw Summit, it is re-evaluating the role of nuclear scenarios in its crisis-management exercises. In 2015 NATO Defence Ministers conducted a focused discussion around better integrating conventional and nuclear deterrence.
Russia already undertakes exercises in which nuclear and conventional forces are closely integrated, and NATO currently carries out nuclear exercises of its own—but not in an integrated way with conventional weapons. In 2016 nuclear-capable aircraft, such as the F‑15E Strike Eagles normally stationed at RAF Lakenheath in England, participated in Exercise INIOHOS in Greece, perhaps to remind Russia that the United States has nuclear capabilities in Europe. In addition, the strategic nuclear capabilities of France, the United Kingdom and the USA could also be available to NATO if required.
Missile defence
In 2010 NATO authorized the development of a missile defence architecture that would provide equal protection to European NATO states in case of attack by a small number of short- and medium-range ballistic missiles. The Warsaw Summit will review the implementation of the 2010 decisions. Until now the United States and NATO have defined their missile defence programmes as directed against exclusively non-Russian threats.
Cybersecurity and other multidimensional challenges
There is a new military environment at the periphery of NATO, and a growing sense that it faces a multidimensional challenge. Growing military capabilities are combining with new types of threat posed by dedicated tools for cyberwarfare, the sophisticated manipulation of information in both mainstream and social media, and the strategic use of energy policy. In this case NATO leaders will consider how to combine the military reassurance measures that they have already agreed with an effective, multifaceted response to the new challenges that they face.
In particular, the Summit is likely to designate cyberwar the fifth domain of warfare (the others being air, sea, land and space). The USA did so in 2011. The distinction is important because it suggests that NATO would have the option to treat certain cyberattacks as military attacks, and respond accordingly under article 5 of the Washington Treaty.
Potential areas of disagreement: The fact that Russia is a participant in the major conflicts that are taking place in countries bordering Europe means that NATO leaders will need to consider whether the reassurance measures already defined are sufficient, or, if not, what additional decisions might be needed.
4. Addressing the arc of crises: taking on armed Islamist extremist movements while staying engaged in Afghanistan
A fourth issue that will be discussed in Warsaw is the contribution that NATO can make to crisis management from an arc of crises perspective. The issues this raises are the most complicated and difficult, and the discussion of them may be the most contentious. This narrative was outlined by the previous NATO Secretary General, Anders Fogh Rasmussen, and NATO's former Supreme Allied Commander Europe, Philip Breedlove, in the Wall Street Journal in August 2014: 'Instability rages to the south, with an arc of crises spreading from North Africa to the Middle East. And Russia is resorting to a hybrid war, with snap exercises, secret commandos and smuggled missiles'. While it is unlikely that there will be support for any new combat operations outside the area of application of the Washington Treaty, whether NATO should initiate planning for such a contingency may be discussed.
There is strong support for additional efforts in the area of capacity building, and NATO Foreign Ministers have used the term 'projecting stability' to describe efforts to help partners strengthen their own forces and secure their own countries. The Summit will certainly be an opportunity to assess the impact of capacity building in Afghanistan.
Capacity building in Afghanistan
At the end of 2014 NATO terminated its combat mission in Afghanistan and transitioned into Operation Resolute Support. Since January 2015, the focus of NATO in Afghanistan has been supporting the emerging Afghan National Security Forces (ANSF) and other Afghan security institutions under the Ministry of Interior and the National Directorate of Security as they take full responsibility for ending conflict and building peace.
The number of NATO forces has been reduced and consolidated into locations where training, advisory and assistance roles can be provided for the essential functions set out in the mission support plan agreed between NATO and the Afghan Government. Assistance is being provided on budget planning and execution, reducing corruption, force generation (i.e. how to recruit, train and equip the armed forces and other security forces), logistics, the management of civil-military relations and public diplomacy, how to plan military operations (including how to provide the necessary resources), how to build strategic and tactical intelligence relevant to the overall mission of the ANSF and how to counter the Taliban's information warfare.
In May the NATO Foreign Ministers agreed to extend the Afghan mission beyond 2016, so the Warsaw Summit will have to consider how to ensure the success of Operation Resolute Support in the difficult security environment that still exists in Afghanistan. In particular, given the presence of groups affiliated with IS, NATO will have to consider whether to provide more—and more direct—assistance to the ANSF and other Afghan security institutions, and perhaps even resume a combat role.
The Summit is also likely to review international financial support for the Afghan security forces. NATO officials will be hopeful they can get sufficient financial commitments locked in until 2020 as the previous round of pledges expires in 2017. However, finding the US$ 6 billion a year to continue to fund the Afghan security forces will be a major headache. Since toppling the Taliban in 2001, the USA alone has contributed nearly US$ 93 billion in assistance to Afghanistan, of which more than US$ 56 billion has been spent on training, equipping and supporting Afghan security forces.
Addressing conflict in the Middle East
The role of NATO in conflict-affected locations in the Middle East is also likely to be on the agenda of leaders in Warsaw. For those countries that request it, NATO is likely to offer capacity building and training in those functional areas where it has unique expertise. For example, in discussions with countries in the Gulf Cooperation Council that are trying to build closer military cooperation among themselves, NATO can offer unique insights into joint command systems and the management of collective defence.
NATO has already agreed to send an assessment team to Iraq to explore the possibility of in-country NATO training for Iraq's military to help it better fight IS. NATO has already trained hundreds of Iraqi officers in Jordan. NATO is also considering aiding the US-led Coalition to Counter ISIL by supplying AWACS surveillance aircraft, while Libya's new UN-brokered government is consulting NATO on how it might rebuild its defence and security institutions. Finally, NATO is also looking to do more in the Mediterranean Sea, in cooperation with the European Union (EU) and others. NATO's Operation Active Endeavour is likely to become a broader maritime security operation, taking on new tasks such as upholding freedom of navigation, interdiction and support to maritime counterterrorism.
Potential areas of disagreement: To what extent have NATO member states moved beyond the 'intervention fatigue' associated with the large-scale Western military interventions in Iraq and Afghanistan? Several NATO states and partners are likely to remain very cautious about the future use of force, and concerned about measures that could lead to a 'step-by-step' military engagement. However, reluctance to deploy military force is also now under review given the conflict in Ukraine and growing calls to combat IS in Iraq, Libya, Syria and elsewhere.
5. The 'open door' and partnerships policies
The Summit will also pay close attention to the the composition of NATO, now and in the future, and consider how to strengthen a range of different relationships and partnerships, first and foremost in close proximity to its borders to the East and South.
In May 2016 Montenegro signed an Accession Protocol, which is the penultimate step in joining NATO. Once that protocol has been ratified by all member states, Montenegro will become the 29th member of NATO. After Bulgaria, Romania and Slovenia joined in 2004, and Albania and Croatia in 2009, the decision by Montenegro to seek membership is a further step in consolidating participation in south-east Europe. The decision is also a signal that NATO membership is not fixed, and that additional aspirant countries such as Georgia, Macedonia and Bosnia might join in the future. However, while future enlargement of NATO membership is not excluded, in practice there is widespread agreement that in the short term the prospects for expanding the alliance are limited.
The Summit will also address the issue of how NATO works with various different partners on issues of mutual interest. NATO has built a network of partnerships with more than 40 countries from all over the globe, including countries in North Africa and the Middle East, non-NATO members in Europe—such as Finland and Sweden, which are both so-called Enhanced Opportunity Partners of NATO—and countries further afield, such as Australia, Japan and South Korea. NATO is now looking at various ways to deepen and broaden those partnerships. It might, for example, intensify political consultations by making them more frequent and more focused; or it could engage certain interested partners on specific subjects of common concern by using established forums, such as the Mediterranean Dialogue and the Istanbul Cooperation Initiative, as well as smaller, more flexible formats.
There have been indications of increasingly positive cooperation between NATO and the EU. Federica Mogherini, the EU High Representative for Foreign and Security Policy, and the Foreign Ministers of Finland and Sweden participated in the May NATO ministerial meeting. This was interpreted as a signal that further NATO-EU cooperation could be expected, both on functional issues—such as cybersecurity and strategic communications to counteract information operations—and in operations such as the recent cooperation to address human trafficking.
6. Burden sharing
At the Wales Summit, NATO made a defence investment pledge that will be assessed in Warsaw. The alliance pledged to move progressively towards allocating 2 per cent of member states' GDP to defence and, perhaps as important, allocate at least 20 per cent of their defence budgets to major equipment, including Research & Development. To give substance to this pledge, a number have stopped the successive reductions in military spending that took place in the years before the Wales summit, and in some cases have begun to increase military spending. It is too soon to say how the increased resources will be used.
Potential areas of disagreement: This debate is one of the longest running fault lines within NATO, with accusations that Europe spends too little on defence and is being protected at US taxpayers' expense. While the USA does pick up a disproportionate share of the NATO tab, the imbalance is not as great as is sometimes suggested. At the Warsaw Summit, evidence that the military spending of European member states is no longer falling, and is beginning to increase, is likely to be highlighted as a successful outcome of the decisions taken in Wales in 2014. However, persuading Europe's taxpayers to make further significant increases in defence spending remains an uphill challenge. Moreover, in the light of the complex security challenges that need to be addressed, whether increasing military spending is always the most appropriate response will continue to be contested.
'Future NATO' project
The conflict in Ukraine has forced NATO to go 'back to basics' and focus more on collective defence. However, it is unlikely to prevent the Warsaw Summit from continuing to advance a broader, 'Future NATO', project in which both capabilities and partnerships are strengthened.
NATO does not have, and will not acquire, all of the tools needed to address evolving 21st century security threats. However, the way in which NATO can consolidate and build on its partnerships is perhaps currently its least well defined area of work. As a result, the critical metric for success at the Warsaw Summit will be how the capacities available to NATO will be applied alongside those controlled by states and other international organizations.
(*) Dr Ian Davis is the Director of the SIPRI Editorial, Publications and Library Department.
First published in sipri.org
Revisiting Noah Harari's Existential challenges to our species
As we enter the third decade of 21st century, Humanity faces so many issues and questions and it's really hard to know what to focus on. Three major problems pose Existential challenges to our species. These three challenges are Nuclear wars, ecological collapse and technological disruption. Nuclear war and ecological collapse are already the familiar threats. So, what we need to know more about is the technological disruption. Technology is no doubt the harbinger of ease in social, political and Economic life and change but it can pose threats to our species in numerous ways. Ranging from the creation of a Global useless class to the rise of Data colonialism. First we might face upheavals on the social and Economic levels. The Automation revolution will not be a single watershed event following which, the job market will settle down into some new equilibrium, rather it will be a cascade of ever bigger disruptions. In the past, humans struggled against exploitation and in the 21st century the really big struggle will be against a relevance, and it's much disastrous to be relevant than to be exploited. Those who fail the struggle against relevance would constitute a new useless class. This useless class will be separated by the ever growing gap from the ever more powerful elite.
The Artificial intelligence ( AI), revolution might create unprecedented inequality, not just between classes but also between countries. In 19th century some countries like Britainand japan industrialized first and they went on to conquer and exploit most of the world. If we are not careful the same thing will happen in the 21st century vis Artificial intelligence ( AI ). We are already in the midst of an AI arms race with china and USA leading the race and most of the countries being left far behind. Unless we take action to distribute the benefits and power of AI between all the humans, AI will likely create immense wealth, in a few hi-tech hubs while other countries will either go bankrupt or will become exploited Data colonies. I am not talking about a science fiction scenario of robots rebelling against humans, rather I am talkingabout far more primitive AI, which is nevertheless enough to disrupt the Global balance. Alongside inequality, the other major danger humans face is the rise of digital dictatorships, that will monitor everyone all the time.
This danger can be defined very simply taking assistance from an equation. Biological knowledge multiplied by computing power multiplied by Data equals the ability to hack humans. In other terms if you know enough biology and you are having computing power hacking human mind, personality , dialect and his political thoughts will be like a tip of iceberg. We humans should be aware of the fact that we are no longer mysterious souls. We are now hackable animals. This power can also be used for the benefits and betterment of humans, but if it rests in the hands of a 21st century Stalin, the result will be a worst totalitarian regime in human history.
Finally, technology might also disrupt our biology. In the 20th century people use industrial technology to build different kinds of societies, like Fascist dictatorships, communist regimes and liberal democracies. The same thing will happen in the 21st century. AI and biotechnology will certainly transform the world, but we can use these two to create very different kinds of societies that will benefit the whole world and all the humans. Off course this is not prophecy. These are only just possibilities, because technology is never deterministic. All the three existential problems we face are Global problems that demands global solutions. Whenever a leader say something like my country first, we should remind that leader that no nation can prevent nuclear war or stop ecological collapse by itself. To make something good and beneficial of these problems, we need to embark on Global solutions. Globally and mutually we can tackle these existential posed threats to our species. Undermining Global cooperation will be fruitless and a Global response will yield better results. In order to made this universe a better and safer place for ourselves we need to embark on the policy of Global cooperation and harmony.
'Urgent need' to stop erosion of nuclear order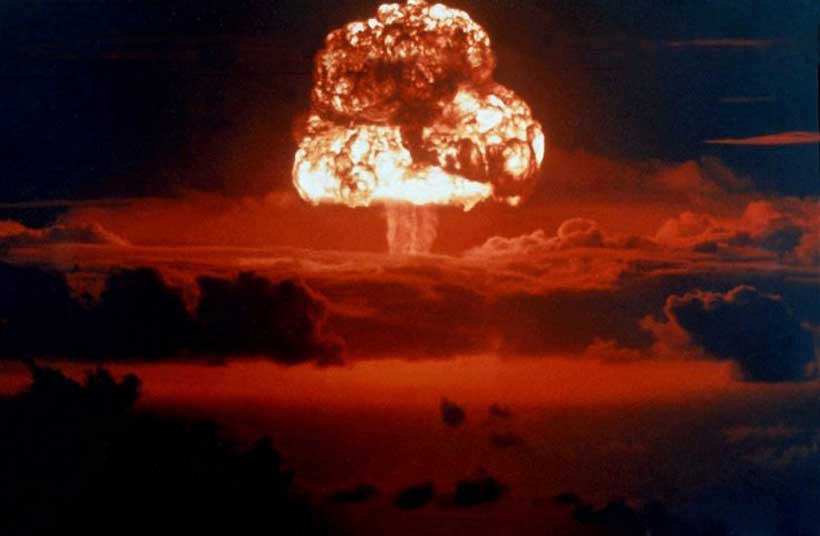 The lack of trust and cooperation among States, and the diminished faith in "the very multilateral institution that was designed to maintain global peace and security", must be overcome, a high-level UN official told a prominent disarmament conference on Thursday.
"There is an urgent need to stop the erosion of the nuclear order. All countries possessing nuclear weapons have an obligation to lead", Director-General of the UN Office at Geneva (UNOG) Tatiana Valovaya, told the Conference on Disarmament, which she also heads.
The multilateral disarmament forum was established in 1984 to negotiate arms control and disarmament agreements, and meets three times a year in Geneva.
The session began with all participants standing to observe one minute of silence in tribute to those killed in Beirut on 4 August, and during the COVID-19 pandemic.
Impetus moving forward
Ms. Valovaya noted that 2020 was a year of important disarmament milestones, including the 75th anniversary of the Organization's founding, and of the atomic bombings of Hiroshima and Nagasaki, along with the 50th anniversary of the entry into force of the Nuclear Non-Proliferation Treaty.
"Remembering these landmark moments from our common history is not an end in itself", she stressed. "Rather, it should provide the impetus to address important questions on the way forward in disarmament".
She maintained that they should generate momentum to do more to counter the erosion of the disarmament, arms control and non-proliferation architecture, encouraging more constructive work to "negotiate new global legal instruments, including in this Conference".
She urged participants to "jointly reflect on these issues" and what they mean for the Conference.
Upholding that the body remains an "extraordinary platform for dialogue and confidence-building", she expressed encouragement over its members' determination to resume meetings and stood ready, with the Secretariat, to support its work.
Funding shortfall
Speaking as UNOG chief, Ms. Valovaya explained that the Secretariat was facing "a severe liquidity crisis".
"While we are sparing no effort to identify ways to re-prioritize and make bridge funding available", she informed that the Office in Geneva "has not received sufficient funding for normal operations through to the year's end".
And this comes on top of "unforeseen expenses related to the COVID-19 pandemic".
She said that her office would soon be briefing Member States in Geneva on the situation, measures and outlook going forward for the rest of the year.
Safety first
"All possible measures have been taken to make these conference rooms a safe place to be in" she said, in relation to the coronavirus.
"Given that our ability to support hybrid meetings for intergovernmental bodies remains limited, I would encourage you to consider resuming physical meetings soon, allowing you to continue your important work to the fullest extent", she said.
"I stand ready with my respective teams to extend the maximum support possible to the intergovernmental process in this vitally important area of peace and security that is the multilateral disarmament efforts of you, the Member States", she concluded.
Growing urgency
The President of the Conference on Disarmament, Shameem Ahsan, spoke in his capacity as the Ambassador of Bangladesh, saying that "a broad majority of the Member States" were not happy that the Conference had not delivered any substantial progress over the last two decades.
Stressing the need to "draw upon collective wisdom and act together towards reaching a broad consensus", he noted that the 75th anniversary of the atomic bombings in Japan, reminded the international community of the "real and harrowing consequences of war" and the growing urgency to free the world of nuclear weapons.
Japan's Security Environment in Asia Pacific: A Tragic or Misery
Authors: Mehtab Ali Bhatti and Kainat Akram*
The security threats can be to a great extent partitioned into two groups; traditional and non-traditional security threats. One's focus would mainly be on the traditional security challenges of Japan. Tokyo deliberately perplexed the world. It emerged as non-western power but no one could expect about its dexterity, and it was serious trouble to Western and Asian powers because they were dependent on its impressive economy. Tokyo's trade surpluses were, $44 billion in 1984, $56 billion in 1985 and $93 billion in 1986, which shows Japanese rulers' strategies, growing technology, education system, and people's countless struggle towards their homeland.[1]But during WWII, they lost their formidable economy as well as some of their major cities like Hiroshima and Nagasaki. Aftermath, Japan experienced a tremendous financial crisis like debt. Ironically, Japan is one of the biggest debtor countries with the highest debt to GDP ratio of 222.2% in the world[2], which is a major threat for Japanese people.
Currently, Japan's security environment is getting significantly severer with the sensational move in the global force balance, the development of new threats, for example, psychological oppression and cyberattacks, and the serious security environment in the Asia-Pacific region. Such threats effectively cross-national borders. In the Asia Pacific region, regardless of the centralization of countries that have enormous scope military ability including atomic weapons states, regional collaboration structures on security are not adequately regulated. North Korea's proceeded with the advancement of atomic weapons and ballistic rocket programs just as its provocative conduct is compromising for Tokyo. China's headway of its military capacity without straightforwardness and its further exercises in the ocean and air space are a danger for Tokyo. In addition, move in the global force parity and fast advancement of mechanical development, multiplication of weapons of mass annihilation, and the rise of threats that cross national borders, remembering international psychological oppression and dangers for the ocean, space, and cyberspace are additionally unavoidable threats to Japan's security. In addition, issues identified with "human security,"[3] including destitution and advancement difficulties, and developing dangers to the global economy.
In this fast-moving world and cut-throat political competition era, the political dynamics of Asia Pacific region is changing with changing strategic environment, due to the geo-strategic consolidation among different countries, the focus of the entire world is tilted towards China's owing to rapid development in terms of economic, political and military means. The ongoing protracted South-China Sea conflict of China with many ASEAN countries who are claimant of the cited territory and aggressive posture of nuclear power North Korea has made the region more prone to conflicts as well as an arms race in the region has frayed nerves, further, escalated the tensions. In this tense environment, Japan has been facing a potential threat from the opposite bloc to its very sovereignty and territorial integrity.
According to Tokyo, following countries have posed an aggressive posture in the Asia-pacific, which is worrisome for Japan:
China
China-Japan Relations
In the Asia-Pacific region tensions are being seen worrisome as China is becoming more energetic about its claims over the South China Sea, its tactical and evident actions have spotted other surrounding countries and external interested countries like the United States. China and Japan both have flourished and innate abhorrence since 19th century and America is owing more hatred and tensions in the Asia-Pacific region.[4]It might be called upon that there is nothing invaluable in the East Asia-Pacific but historically it is all about pride and honor, and serious issue of Senkaku Island for Japan. And their tensions ousted from the first Sino Japanese war, then islands were given to Taiwan, and due to victory in WWII, these islands were recovered by China after surrendering of Japan. The aftermath of a new threat established from communist country China; US and Japan signed an agreement of San Francisco Peace Conference by allowing Japan to patrol in the island regions, and America provided types of equipment and economically supported Japan to counter rising power China in the Asia Pacific region and tensions rampantly encouraging until today.
In the 21st century, the ascent of Asia has drawn the consideration of the United States to concentrate particularly on the Asia-Pacific region. Because of its geostrategic significance and going to be an economic hub of the world, the development of Asia can be identified with the expanding economic exercises in which rising forces China, India, and Indonesia are assuming their crucial role. The major economic activities happen in the Asia Pacific, for instance, the main trade routes pass through the Asia Pacific, and the Indian Ocean where strait of malacca is a gateway to major economies like China, Japan, and South Korea. Particularly, in the Asia Pacific region, the US has its economic, strategic, and security interests. It includes the economic network all through the region, support of peace and soundness, and making sure about its allies particularly Japan and South Korea, and ensuring the claimants of the South China Sea to resolve their issues peacefully.
China's Response towards American Pivot and Indo-Pacific Strategy
China's rise as a great power in this changing dynamics of world politics does not lag behind and it is important to understand Sino-US relations in the purview of America's past Asia Pivot strategy[5] and Trump's Indo-pacific strategy.[6]There are multiple significant events by which it can be speculated that People's Republic of China (PRC) is emerging as a great player, for instance, it has resisted western intervention three times in collaboration with Russia over the Syrian civil war in the Middle East; it also bring-up with the idea of making BRICS and establishing AIIB which is considered as the counterweight to America's World Bank; through SCO, China has also influenced her role in the international politics; most significantly, it has come up with a 'Belt and Road initiative'' with CPEC which shows China's soft power in the world. However, with this dynamic strategic architecture in the Asia Pacific, two contours are important – what made the US come up with a rebalancing strategy and how China responds to it.
According to official reports, China has responded to the Indo-Pacific policy of America in two levels. Firstly, Chinese authorities have firmly denounced this US expressed policy and that they are mindful that US diplomatic moves would bolster its allies regarding the sea and territorial debates with China. Secondly, Chinese non-official media has harshly castigated US rebalancing strategy towards Asia. Some view this strategy as Cold-war like containment of China which was based solely against China because China's ascent is representing a possible danger to America's authority and its allies. "China in countering Pivot's response has come up with 'Marching West' strategy, which aims at focusing China's diplomatic and economic relations with the Eurasian countries," according to Aaron Jed Rabena.[7] She is also of the view that China's ascent is representing a likely threat to America's hegemony.
Moreover, China's reaction to the Asia-Pivot policy in past and current procedure of Trump can be shown by means of diplomatic and economic activities, for example, Belt and Road activity, Asian framework venture bank and reinforcing respective relations. The OBOR activity of China will fill two needs. Right off the bat, it will merge China's delicate power, and besides, enhance economic collaboration with in excess of 60 nations. The Chinese reaction and its military modernization have made a serious mix and unsafe circumstance to the US Indo-Pacific technique with pervasive interests in the Asia-Pacific region. In this universe of complex association, war is certifiably not an attainable choice. America will never do battle with China since China is the second the biggest exchanging accomplice of America. Additionally, the Chinese reaction to this US procedure has been delicate as is obvious from March West methodology, OBOR, and AIIB activities. These steps are the projection of Chinese Soft power response to Obama's rebalancing and Trump's Indo-pacific strategy towards Asia.
North Korea
Rivalry is not Old-fashioned
Korean Peninsula has been remained a play chess match for foreign powers like Japan, the US, Soviet Union, and China—in 1910 Korean Peninsula was occupied by the Japanese empire but after the demise of Japan in 1945 and WWII, Korean Peninsula was partitioned into two South and North. Whereas, the North was occupied by the Soviet Union and the South was occupied by the United States. In 1948, re-unification negotiations were failed and two governments were stimulated; the Socialist Democratic People's Republic of Korea (DPRK) in the North and the Capitalist Republic of Korea (RK) in the South. In addition, the Korean War occurred in 1950's, initiated by North Korea for invasion and the ceasefire occurred but peace treaty was not endorsed.[8]
In the contemporary era, the security environment of North Korea is very complex and instrumental. North Korea has one of the world's biggest regular military powers, which, joined with its rocket and atomic tests. North Korea spends almost a fourth of its total national output (GDP) on its military, as indicated by U.S. State Department gauges.[9] Its brinkmanship will keep on testing regional and international associations planned for protecting stability and security.
However, North Korea has remained a part of Communist bloc, where Russia and China have been the back supporters. In the realist paradigm, 'enemy of an enemy is friend,' likely in this case, Russia supports North Korea and the US supports South Korea economically, politically, and militarily. Therefore, in the North Korean nuclearization, the role of China and Russia is very evident. On the other hand, in the economic advancement of South Korea, the American role is not far-seeing as evident.
North Korean Nuclearization a Dwelling Threat for Japan
North Korea's quest for atomic weapons is a sensible procedure given that the system's greatest security probability from international intercession. Additionally, for the North Korean system, atomic weapons have three strategic capacities, and with everyone, the US is directly in the middle. After that, they fill in as impediments; also, an instrument of international strategy; and thirdly, they are an instrument of residential legislative issues. The atomic weapons have given influence and a negotiating concession diplomatically associating with all the more impressive and increasingly effective on-screen characters, similar to the US and its partner South Korea and Japan.
North Korea's nuclear missile testing has raised tensions in the Asia-Pacific region and created a global threat. It is an imminent threat to Japan as an ally of the US. Since 2006 North Korea has conducted 6 nuclear ballistic missile tests and one of them flew over Japan in 2017.[10]Due to nuclear tests, 15 members have voted against North Korea to the Security Council with US-drafted resolution, and new sanctions of North Korea's textile exports have been alleged. In the reaction, North Korea had shown the backing of veto powers like China and Russia and aggressively indicated to devastate the US, Japan, and South Korea.
According to South Korean President Moon, they were against nuclear weapons in their state and they had withdrawn their nuclear weapons in the 1990s, "Nuclear weapons could not prolong the peace in the region," said Moon, "They have provided $8 million through the United Nations to North Korean citizens for women pregnancy and to aid the poor and infants.[11]In the words of war, North Korea called South Korea as "traitors and dogs" of America and "dancing tune" to Japan and alleged that the US has troops in South Korea to destroy the North and its Asia- Pacific allies. Because of nuclear capability and conflict of the 1950s, in which America and South Korea were allied and had an aim to force North Korea for peace treaty but it rejected. North Korea continued to develop a ballistic missile program (Hwasong-14 with the range of 10,000 and Hwasong-15 with the range of 13,000 KM) which has been an impendent threat to Japan, South Korea as well as America. By measuring, America has put North Korea at the top list of terrorism promoter and designed unravished sanctions on North Korea.
De-nuclearization Fiasco
Tokyo is currently carefully watching the process of dialogue moving toward a U.S.- North Korea exchange and is worried that dealings on denuclearization on the Korean Peninsula may reject Japan's unsafe perspectives. A senior authority of the Japan Ministry of Defence concerning the highest point among Trump and Kim Jong-un of 2018 stated, "We ought not to have an idealistic view that North Korea will relinquish the atomic weapons which it has at long last obtained."[12] Therefore, to adapt to the North Korea emergency, Abe regularly underscores the significance of the U.S.- Japan partnership. There is no uncertainty that security ties among Japan and the U.S. have fortified further under the Abe administration.
Other Global Threats to Japan
According to the realist school of thought in international relations, global world order is anarchic, and power centric; its effects are, no trust in Anarchy, constant competition for power, zero-sum game, and relative gains. Further two types, 1. Defensive realism (states are security maximizers and seek survival, status quo, and states are not inherently aggressive) and 2. Offensive realism (States are power maximizers, in the absence of complete hegemony states act offensively and use its power as any can i.e. the US invasion of Iraq 2003).
The rapid progress of technology and shift in the global power is a major threat for all states but Japan has regular emerging threats like in the Asia-Pacific region. The proliferation of conventional and unconventional weapons is increasing which indicates threats at large, besides this, global terrorism, maritime risks, and cyberspace are disparate challenges to Japan. Japan is actively seeking an active role of self-defence and peacekeeping and increasing its technology to combat in the Korean Peninsula and to counter China's growing power in the Asia-Pacific as well as in the World. State sovereignty is absolute, particularly which showed Japan through its heavy Defence budget and its measures taken in the Senkaku island, recently fiscal defence budget in 2016-17 was nearly $42 billion.[13]It was a non-western state which defeated Russia and attacked the US and its economy was second largest in the world. No doubt, Japan is the most industrialized and thick technological country that emerged again after World War II.
Concluding Remarks
The dynamics of the international geostrategic environment in which the world politics is transforming from unipolarity to multipolarity with China emerging as a great power due to its military modernization, advanced technology, and growing economy and commercial connectivity in the entire Asia, which is alarming for the US but regionally it is an irked threat for American allies particularly Japan and South Korea.
By witnessing China as emerging power, American Asia pivot/rebalancing strategy and Trump's Indo-Pacific strategy towards Asia in order to counter the growing influence of China. America and its allies should not perceive Chinese rise in terms of military and economy as a threat to world peace and aggressor because PRC has always been peaceful in dealing the problems of the world and the norms of non-interference are prevailing but no compromise on territorial claims—have been immersed in the Chinese foreign policy.
The United States' concern over denuclearization of North Korean nuclear assets is not acceptable to Kim's regime due to the prestige and status quo of the state but has vague threats from the US forces in South Korea. Even after the President Trump's summit with Kim Jong Un in 2018, the US ally Japan is claiming that North Korean regime poses a genuine and inescapable danger to their security regardless of bringing down of regional pressures following the summit.
China has reacted to America through the procedure of 'Looking West and Marching West'. A few researchers are of the view that the opposition between two significant forces depicts another virus war, however, I differ that since China won't utilize its military alternative, China wants to grow economically and it wants to have an influence on the world through soft power. In a nutshell, I would say that the US must integrate with China rather than to contain it and appreciate its emergence as a responsible stakeholder.
Nonetheless, Japan's reaction should comprise of two distinct methodologies: the anticipation of decay and the improvement of its security environment the essential reaction will be the discouragement of heightening through the improvement of Japan's safeguard capacity and the upgrade of the Japan-US collusion. It is additionally significant for Japan to acquire and fortify international comprehension and backing for its position through protection discretion remembering that for multilateral exchanges. International help can upgrade Japan's situation in managing the difficulties, and yet, the effect would stay roundabout. Japan can't depend on unrealistic reasoning and ought to investigate other options too.
* Kainat Akram did Bachelor of Arts from Government College University Faisalabad. She also did Masters in Science (M.Sc) in Gender and Women Studies from Allama Iqbal Open University, Islamabad.
---
[1] Robert C. Christopher, "Don`t Blame The Japanese," The New York Times Magazine, Oct. 19, 1986 (https://www.nytimes.com/1986/10/19/magazine/don-t-blame-the-japanese.html), accessed on July 20, 2020.
[2]H. Plecher, "Japan: National debt from 2014 to 2024," Statista, May 6, 2020 (https://www.statista.com/statistics/270121/national-debt-of-japan/), accessed on July 18, 2020.
[3] Catia Gregoratti, "Human Security," Encyclopaedia Britannica, Dec. 14, 2018 (https://www.britannica.com/topic/human-security), accessed on July 20, 2020.
[4] Kerry Brown, "The Most Dangerous Problem in Asia: China-Japan Relations," The Diplomat, Aug. 31, 2016 (https://thediplomat.com/2016/08/the-most-dangerous-problem-in-asia-china-japan-relations/), accessed on July 19, 2020.
[5] Matt Schiavenza, "What Exactly Does It Mean That the U.S. Is Pivoting to Asia?" The Atlantic, April 15, 2013 (https://www.theatlantic.com/china/archive/2013/04/what-exactly-does-it-mean-that-the-us-is-pivoting-to-asia/274936/), accessed on July 18, 2020.
[6] Sun Chenghao, "What is the prospect of the U.S. Indo- Pacific strategy?" News CGTN, Nov. 07, 2019 (https://news.cgtn.com/news/2019-11-07/What-is-the-prospect-of-the-U-S-Indo-Pacific-strategy–LqCA9M3YKA/index.html), accessed on July 18, 2020.
[7] Niklas Swanstrom and Par Nyren, "China's March West: Pitfalls and Chalenges in Greater Central Asia," Institute for Security & Development Policy, Jan. 10, 2017 (https://www.isdp.eu/publication/chinas-pitfalls-challenges-gca/), accessed on July 20, 2020.
[8] Liam Stack, "Korean War, a 'Forgotten' Conflict That Shaped the Modern World," The New York Times, Jan. 02, 2018 (https://www.nytimes.com/2018/01/01/world/asia/korean-war-history.html), accessed on July 21, 2020.
[9] Eleanor Albert, "North Korea's Military Capabilities," Council on Foreign Relations, Dec. 20, 2019(https://www.cfr.org/backgrounder/north-koreas-military-capabilities), accessed on July 17, 2020.
[10] David E. Sanger and Choe Sang-Han, "North Korean Nuclear Test Drawn U.S. Warning of 'Massive Military Response,' The New York Times, Sept. 02, 2017 (https://www.nytimes.com/2017/09/03/world/asia/north-korea-tremor-possible-6th-nuclear-test.html), accessed on July 19, 2020.
[11] Choe Sang-Hun, "Kims Says He'd End North Korea Nuclear Pursuit for U.S. Truce," The New York Times, April 29, 2018 (https://www.nytimes.com/2018/04/29/world/asia/north-korea-trump-nuclear.html), accessed on July 20, 2020.
[12] Koji Sonoda, "Japan's Security Alliance Dilemma," The Diplomat, March 24, 2018 (https://thediplomat.com/2018/03/japans-security-alliance-dilemma/), accessed on July 21, 2020.
[13] Japan-Defence Budget, Global Security.org, 2015 (https://www.globalsecurity.org/military/world/japan/budget.htm), accessed on July 21, 2020.