China-Indonesia clash of interests in South China Sea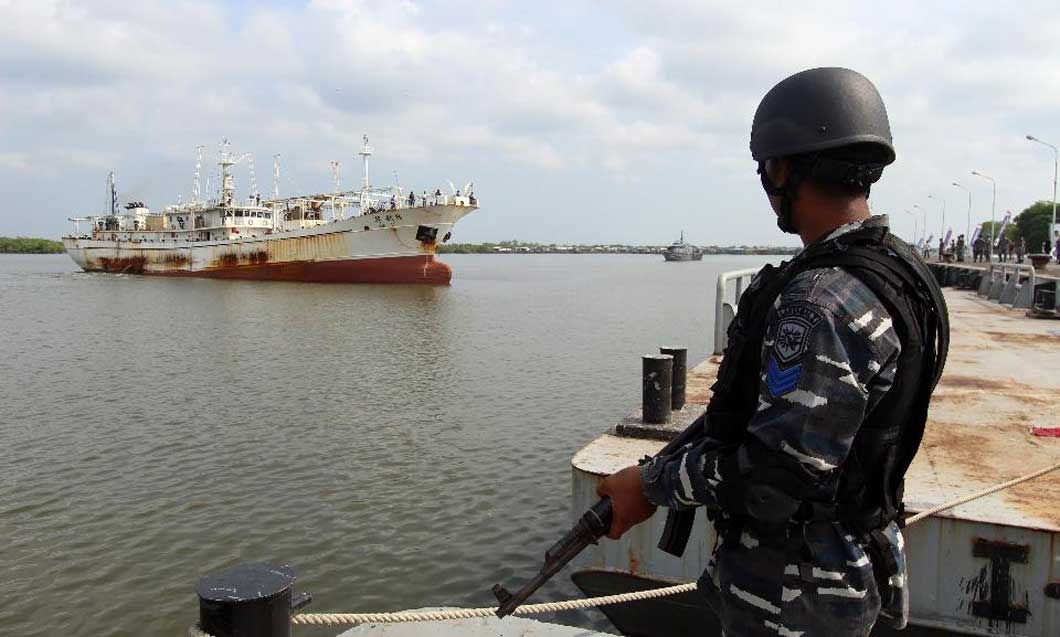 Even as China claims most of the South China Sea where it has been building islands, Indonesia has formally protested to China over an infringement of its waters. On June 18 an Indonesian patrol ship attempted to detain a Chinese fishing boat it says was fishing illegally in the Natuna Sea of Indonesia. But it was prevented from doing so by the Chinese coastguard. Eight crew members of the fishing vessel Kway Fey were detained, however.
Natuna is the furthermost island in Indonesia, and it's on our border in the South China Sea. Natuna Island is located up north in the South China Sea and the potential conflict zone where China's nine-dash line and Indonesia's exclusive economic zone off the coast of Natuna overlap.
While Chinese fishing boats and their coastguard escorts were encroaching deeper into Indonesia's exclusive economic zone, it was not clear how far this was driven by strategic as opposed to commercial objectives.
Chinese fishing fleets, whether directed by the state or not, are going further and further south because they have overfished the waters near Hainan. It may also be strategically driven because Indonesia has stepped up fisheries enforcement in the Natuna Sea and China may want to send a message that it won't be pushed around."
It is unclear whether the fishermen are still being detained by Indonesian authorities.
China claims most of the South China Sea, where it is building islands and extending its infrastructure, and there are often flare-ups with regional neighbours with competing claims. Indonesia would release them sooner than later since, unlike other South East Asian countries, Indonesia is not involved in the territorial disputes in the South China Sea.
China accepts the Natuna islands and the seas around them belong to Indonesia, but the two sides have confronted one another there before, typically over illegal fishing.
Friday's incident was the third altercation between Indonesia and China in waters near Natuna this year. In March, Indonesia lodged an official protest after an Indonesian patrol ship tried to detain a Chinese fishing boat in the Natuna Sea, but was prevented from doing so by the Chinese coastguard.
China's acting charge d'affaires in Jakarta Sun Weide demanded the release of the crew, saying the incident occurred in "traditional Chinese fishing grounds". Sun told press "When it comes to fishery disputes, or maritime issues, China is always ready to work with Indonesia to solve these disputes trough negotiations and dialogue." Unlike other South-east Asian countries, Indonesia is not involved in the territorial disputes in the South China Sea. After meeting with Chinese embassy officials on June 20, Indonesia's Foreign Minister Retno Marsudi said: "At the meeting we conveyed our strong protest over the breach by the Chinese coastguard of Indonesia's sovereign rights."
Indonesia said it's obvious how much that stability of Natuna is prized among the local population. This island is a picturesque, idyllic place – but it stands on the frontline of a potential clash between Indonesia and China.
Meanwhile, China has accused the Indonesian Navy of opening fire on a Chinese fishing boat in disputed fishing grounds. China's foreign ministry said on Sunday that one fisherman was injured and several detained. The incident happened on Friday near the Natuna islands, off the coast of Borneo in the South China Sea. A spokeswoman for the Chinese foreign ministry described Indonesia's actions as an "indiscriminate use of force", adding: "We urge the Indonesian side to refrain from any action that complicates or magnifies the dispute, or impacts the peace and stability of the region." The ministry said the incident had happened in a "traditional Chinese fishing ground".
The Indonesian Navy said it had fired warning shots on Friday at Chinese fishing boats operating in the Natuna Sea, in Indonesia's exclusive economic zone, the third such confrontation reported this year. Indonesian Vice-President Jusuf Kalla said that China would be asked to respect his country's sovereignty around the islands. "This is not a clash, but we are protecting the area," Kalla said. Indonesian Fisheries Minister Susi Pudjiastuti said that the navy "made the right move by maintaining the sovereignty of our seas". "Stealing fish is a crime," she said.
China's foreign ministry said that one boat had been damaged and one sailor shot and injured during the altercation, which it said occurred in "traditional Chinese fishing grounds".
Beijing and Jakarta have tried to play down their maritime differences over the past two decades but the recent run of incidents and hardening rhetoric from China are undermining that stance.
Indonesia's government insists that Indonesia and China won't clash over the South China Sea, and that the two nations will solve Although the possibility may seem remote at the moment, Indonesia has to balance its interests delicately while making sure it keeps its borders safe.
China's "nine-dash line" claim to almost the entire South China Sea cuts through Indonesia's exclusive economic zone in the Natuna Sea, although Beijing has accepted that Jakarta has sovereignty over the Natuna islands themselves. China's foreign ministry said the latest incident occurred in waters "where China and Indonesia have overlapping claims for maritime rights and interests", suggesting its ambitions in the gas-rich Natuna Sea stretch beyond mere "fishing grounds". "This is the first time in a long time that China is openly declaring that there are overlapping maritime claims. If China is enforcing its maritime claims, it becomes harder for Indonesia to maintain its neutrality.
Jakarta has long maintained that this does not amount to a territorial dispute because China has never formally clarified its nine-dash line claim under international law. But the spike in fisheries clashes, which have occurred ever closer to Indonesia's territorial waters, has angered some within the Indonesian government.
South China Sea
The South China Sea is a contested waterway – China, Malaysia, the Philippines and Vietnam all lay claim to it. Indonesia says it has no territorial interests in these waters – but look closely at the map, and it's a different story.
A series of violent fisheries clashes with China is adding to domestic pressure on Indonesia's government to take a tougher stance towards Beijing, with which it routinely claims to have no maritime disputes. The latest clash comes at a testing time for the region, with Southeast Asian nations deeply divided over how to respond to Beijing's assertive approach. Tensions are set to rise further in the coming weeks, when an international court in The Hague is expected to rule on a case brought against China's maritime claims by the Philippines. Susi Pudjiastuti, Indonesia's fisheries minister said that shots were fired "according to procedure" as the navy defended Indonesia's sovereignty.
China is locked in a dispute with several countries over maritime claims in the South China Sea. China says its land reclamation work in the South China Sea is "totally justifiable" as it has "sovereignty" over the area. Its foreign affairs ministry spokesman Hua Chunying was responding to the issue of China's construction work in disputed waters. In May the Philippines released photos appearing to show Chinese land reclamation on Johnson South reef, saying China appeared to be building an airstrip. Aside from the Philippines, Vietnam, Brunei, Malaysia and Taiwan also have competing claims with China over various islands, reefs and shoals in the region.
Separately, relations between China and Japan are also currently under strain over a territorial row involving islands in the East China Sea. The Philippines has accused China of illegal building in the area. China is reportedly building new islands on five different reefs. Chinese work is progressing to dredge tonnes of rock and sand from the sea floor to pump into Johnson South reef in the Spratly islands, which are also claimed by Manila. The works appear to have been going on for months. They are privately calling for President Joko Widodo, , who has largely side-stepped foreign policy to focus on boosting the economy and has shown a reluctance to upset China, to abandon the country's neutrality on regional maritime disputes and lend more support to neighbours such as Vietnam and the Philippines, which have stood up to China more forcefully.
China also asserts indisputable sovereignty over the Nansha Islands and the adjacent waters, and China's activities on relevant islands and reefs of the Nansha Islands fall entirely within China's sovereignty and are totally justifiable." Asked whether the reclamation was for commercial or military use, Chinese foreign affairs ministry spokesman Ms Hua Chunying replied that it was "mainly for the purpose of improving the working and living conditions of people stationed on these islands".
China has been building artificial islands in the Spratly Islands on top of reefs and atolls to bolster its claims and to gain fishing and resource rights to most of the South China Sea.
More recently, the Chinese have signaled they may begin construction of a new island atop Scarborough Shoal, which lies only 140 miles from the Philippines' capital. An international court is set to rule soon on this dispute. The looming decision, along with stepped-up US patrols, has led to mounting tensions in the disputed region.
USA steps in
The USA has sent a strong message to China by putting into operation its Navy destroyers in South China Sea, the world's most contested body of water. US Naval destroyer Stennis left the South China Sea on June 5 after arriving in early April in what was intended as a demonstration of the U.S. commitment to the region after aggressive moves and island-building by China raised concerns among U.S. allies and partners there. The months-long patrol was shadowed almost the entire time by People's Liberation Army-Navy vessels, and certainly raised the ire of Beijing. In May, the Chinese government cancelled a port visit in Hong Kong, saying it was "inconvenient" for the flattop to pull in.
Not long after departing the South China Sea, the Stennis participated in a massive show of force in the Philippine Sea as it rendezvoused with carrier Ronald Reagan. In a release, Navy Task Force 70 headlined the dual carrier flight operations as "Two carrier strike groups double down in Western Pacific," noting that this showcases "United States unique capability to operate multiple carrier strike groups in close proximity."
During the three months, Stennis frequently became a symbol of the U.S. response to increasingly aggressive Chinese moves across the region. China claims nearly all of the South China Sea as its sovereign territory and has reinforced its claims by constructing man-made islands on rocky outcroppings, reefs and atolls in the region. Its neighbors claim China is bullying them, and the USA has opposed what it sees as China's coercive tactics to enforce its claims.
Infrastructure Drive, Strong Domestic Demand to Sustain Philippine Growth
The Philippines' economic growth is expected to sustain its quick pace in 2018 and 2019 as the government's infrastructure program is rolled out, says a new Asian Development Bank (ADB) report.
In its new Asian Development Outlook (ADO) 2018, ADB projects Philippine gross domestic product (GDP) growth at 6.8% this year and 6.9% in 2019, up from 6.7% in 2017. Rising domestic demand, remittances, and employment, in addition to infrastructure spending, will drive growth. ADO is ADB's flagship annual economic publication.
"Along with domestic demand, the government's infrastructure investments will fuel the country's growth in the next few years, supported by a sound economic policy setting," said Kelly Bird, ADB Country Director for the Philippines. "We expect this growth to further lift wage employment numbers, add to household incomes, and benefit more poor families across the archipelago."
The Philippines remained one of the strongest growing economies in Southeast Asia in 2017. Domestic investment recorded 9% growth last year, moderating from a brisk 23.7% in 2016, although growth in fixed investment in industrial machinery, transport equipment, and public construction remained robust. Household consumption grew by 5.8% in 2017, from 7% in 2016, on the back of higher remittances and employment, with the unemployment rate falling by 1.3 percentage points to 5.3% in January 2018 as 2.4 million jobs were added. Public spending rose by 7.3% last year from 8.4% in 2016.
Consumer price inflation reached 3.2% last year from 1.8% in 2016 due to strong economic growth, higher international fuel prices, and Philippine peso depreciation, but well within the 2% to 4% target by the Bangko Sentral ng Pilipinas—the country's central bank. The country's external debt further declined to 23.3% of GDP in 2017, from 24.5% of GDP in 2016.
Moving forward, ADB projects services will continue to drive GDP growth, along with manufacturing and construction industries. The approval of the Tax Reform for Acceleration and Inclusion law in December 2017 will augment tax revenues and provide additional fiscal space for more progressive public spending. The policy reforms are expected to yield additional 90 billion to 144 billion Philippine pesos ($1.73 billion to $2.76 billion) in tax revenue collection in 2018 and 2019, respectively.
With economic growth gaining momentum, inflation is projected to reach 4% in 2018 as global oil and food prices rise, and higher excise taxes on some commodities take effect. In 2019, meanwhile, inflation is expected to marginally decline to 3.9%.
The report notes there are external risks to the Philippines' growth outlook from heightened volatility in international financial markets and uncertainty about global trade openness, although the country's strong external payments position would cushion these effects.
A major policy challenge to the country's growth outlook, according to the report, is managing the rollout of the government's "Build, Build, Build" infrastructure program, which is expected to raise public infrastructure spending to 7.3% of GDP by 2022 from 4.5% in 2016. The report provides suggestions on ways to enhance government capacity, including strengthening coordination between government agencies and improving technical capacity of staff within these agencies, and fostering stronger partnerships between government agencies, the private sector, and development partners.
Securing the future prosperity of the Greater Mekong Subregion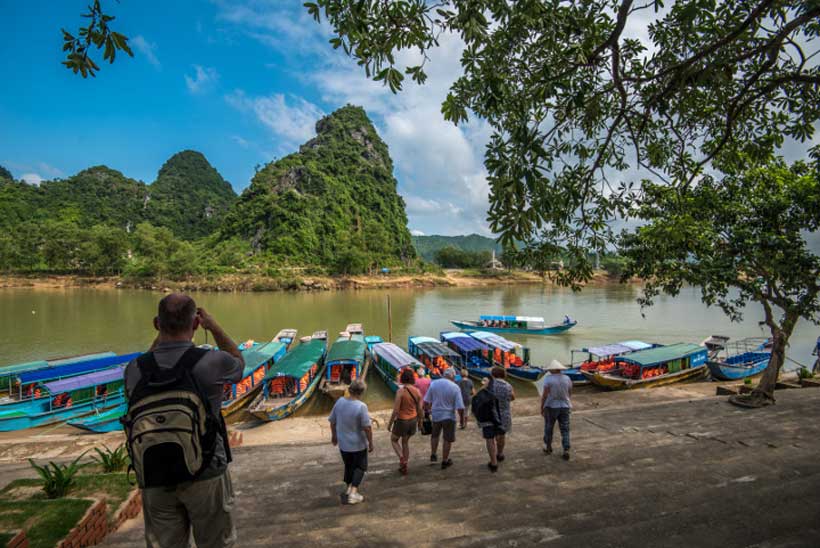 The Greater Mekong Subregion (GMS) countries have made stunning progress over the past quarter century. Once plagued by poverty, they are now economic success stories.
The GMS Economic Cooperation Program has contributed significantly to this transformation. Since it was established in 1992 as a means to enhance economic relations and promote regional cooperation, its six member countries—Cambodia, the People's Republic of China, Lao People's Democratic Republic, Myanmar, Thailand, and Viet Nam—have built a platform for economic cooperation that has mobilized almost $21 billion for high-priority infrastructure projects. Foreign direct investment into the subregion has surged ten-fold and trade between its countries has climbed from $5 billion to over $414 billion.
But the subregion faces challenges to its prosperity. Further reducing poverty, climate change adaptation and mitigation, energy efficiency, food security, and sustainable urbanization remain priorities of the GMS Program. Countries also face new challenges, including growing inequalities, rising levels of cross-border migration, and the potential impact on jobs of the fourth industrial revolution.
Moreover, GMS countries have agreed to significant commitments under the Sustainable Development Goals and the Paris Agreement on climate change.
There are also emerging opportunities for the region, including incorporating new technologies in various sectors such as education, agriculture, health, and finance. GMS countries are situated at the crossroads of South and Southeast Asia, and hence they can benefit from the increased momentum for growth in South Asia.
As GMS leaders gather this week in Ha Noi to chart the future of the program, it's a good time to consider how a new generation of initiatives can ensure the GMS Program remains relevant and responsive to the subregion's needs.
The Ha Noi Action Plan and the GMS Regional Investment Framework 2022, both proposed for adoption at the Summit, provide a platform for countries to strengthen their cooperation through continuous innovation. These two documents will have a sharpened focus on the GMS Program's strategic goals of enhancing connectivity, competitiveness, and community in the subregion.
Connectivity, the first objective, has been dramatically improved. More than 10,000 kilometers of new or upgraded roads and 3,000 kilometers of transmission and distribution lines have been added under the program. These transport networks have been transformed into an interconnected network of transnational economic corridors, building on 25 years of work to extend the benefits of growth to remote areas. The Ha Noi Action Plan calls for the continued expansion of these economic corridors to boost connectivity both between and within countries.
The subregion's competitiveness is improving through ongoing efforts to facilitate transport and trade flows, enhance agriculture exports, and promote the GMS as a single tourism destination after receiving a record 60 million visitors in 2016. Looking ahead, it will be important to continue cutting red tape and to remove remaining barriers to transport and trade.
Finally, communities are being strengthened through cross-border initiatives to control the spread of communicable diseases, expand educational opportunities, protect the subregion's rich biodiversity, and mitigate the impacts of climate change.
GMS countries have identified a new pipeline of 227 projects worth about $66 billion under the GMS Regional Investment Framework 2018–2022. These projects will expand economic prosperity by developing cross-border transport and energy infrastructure.
ADB, which has been the program's secretariat since its inception, expects to provide $7 billion over the next 5 years for a range of projects supporting transport, tourism, energy, climate change mitigation and adaptation, agribusiness value chains, and urban development. This builds on more than $8 billion in financing provided by ADB so far under the program.
To deliver these projects and make headway on other priorities such as infectious disease control and environmental preservation, strong partnerships are vital. The GMS Program depends on the collaboration of many stakeholders, including local administrations and communities, development partners, academia, and the media.
The GMS will benefit from strengthened partnerships with other regional and global cooperation platforms, leading to new opportunities for future development.
Partnerships with the private sector will also be increasingly important, and it is gratifying to see them deepening through the GMS Business Council, the Mekong Business Initiative, the e-Commerce Platform, GMS tourism and agriculture forums, and the recent Finance Sector and Trade Finance Conference.
I am optimistic that the subregion will meet its challenges and capitalize on emerging opportunities. By working together, GMS countries can deliver rapid, sustainable, and inclusive growth for another 25 years and beyond. ADB will continue to be an important and trusted partner in that endeavor.
Vietnam continues to reduce poverty
Poverty in Vietnam continues to fall, particularly amongst ethnic minorities, who saw their rate of poverty decline significantly by 13 percentage points, the largest decline in the past decade, says a new World Bank report.
According to Climbing the Ladder: Poverty Reduction and Shared Prosperity in Vietnam, released today by the World Bank, improving income from highland agriculture can help Vietnam further reduce poverty, which has fallen by almost 4 percentage points since 2014, to 9.8 percent in 2016. Ethnic minorities – many of them living in highland areas – account for 72 percent of Vietnam's poor, and encouraging them to grow more profitable industrial crops may improve their earnings.
"Vietnam has achieved tremendous results in reducing poverty and improving the quality of life for millions. The decline in poverty amongst ethnic minorities is encouraging, and more focused efforts on improving their incomes can further broaden their opportunities and reduce persistent inequalities," said Ousmane Dione, World Bank Country Director for Vietnam. "The aspirations of those with less opportunities cannot be ignored."
Outlining recent trends and patterns of poverty in Vietnam, the report proposes solutions for that untapped agriculture potential in highland areas where the poor are concentrated. Land use and cropping decisions, for example, contribute more to agriculture income differences between households. Low-income families in highland areas use their land to grow basic crops such as rice or maize instead of raising more profitable crops such as coffee, black pepper, or rubber.
Improving access to credit may help highland farmers make the necessary investments for higher-earning agricultural production. Strengthening earning capacity can help narrow inequalities between groups.  The average per capita consumption of ethnic minorities, for example, remains less than 45 percent of the Kinh and Hoa. Moreover, the poor faces a widening gap in terms of access to upper secondary education and improved water and sanitation.
At the same time, the report recognizes that 70 percent of Vietnam's population is now classified as economically secure, including the 13 percent who are now part of the global middle-class. These income classes are growing rapidly, rising by over 20 percentage points between 2010 and 2017. An average of 1.5 million Vietnamese joined the global middle class each year since 2014, confirming that households continue to climb the economic ladder after escaping poverty. The rise of the consumer class changes society's aspirations and the focus of the poverty and shared prosperity agenda shifts from combatting extreme poverty to effecting broad improvements in the quality of life and supporting the further expansion of the middle class. Rapid job creation and an ongoing transition to wage employment are driving gains in poverty reduction and shared prosperity.
The report suggests several areas of strategic priorities to further reduce poverty and promote shared prosperity, including:
Boosting labor productivity and investing in infrastructure to sustain job creation and wage growth without losing competitiveness.
Implementing education reforms designed to equalize opportunities and develop workforce skills.
Spurring agriculture structural transformation through changing farmland use patterns, strengthening land user rights, and improving skills of the poor farmers.
While reducing inequality remains a challenge, the report notes that the number of individuals vulnerable to falling back into poverty declined to only 2 percent between 2014 and 2016. In contrast, the period saw the middle class expanding by more than 3 million people.
One of the prioritized areas under the new World Bank Group Country Partnership Framework with Vietnam for the period from FY18 – FY22 is inclusive growth, with a specific objective for the "economic integration of the poor and vulnerable groups" under which the Bank will provide support for targeted interventions to expand economic opportunities for people in lagging areas.