China-Indonesia clash of interests in South China Sea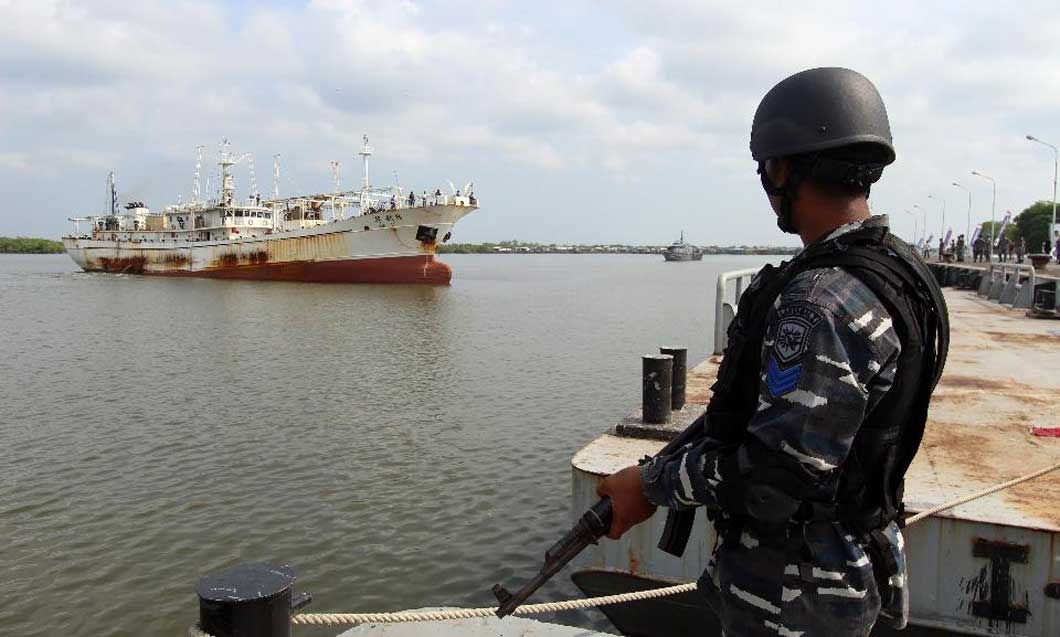 Even as China claims most of the South China Sea where it has been building islands, Indonesia has formally protested to China over an infringement of its waters. On June 18 an Indonesian patrol ship attempted to detain a Chinese fishing boat it says was fishing illegally in the Natuna Sea of Indonesia. But it was prevented from doing so by the Chinese coastguard. Eight crew members of the fishing vessel Kway Fey were detained, however.
Natuna is the furthermost island in Indonesia, and it's on our border in the South China Sea. Natuna Island is located up north in the South China Sea and the potential conflict zone where China's nine-dash line and Indonesia's exclusive economic zone off the coast of Natuna overlap.
While Chinese fishing boats and their coastguard escorts were encroaching deeper into Indonesia's exclusive economic zone, it was not clear how far this was driven by strategic as opposed to commercial objectives.
Chinese fishing fleets, whether directed by the state or not, are going further and further south because they have overfished the waters near Hainan. It may also be strategically driven because Indonesia has stepped up fisheries enforcement in the Natuna Sea and China may want to send a message that it won't be pushed around."
It is unclear whether the fishermen are still being detained by Indonesian authorities.
China claims most of the South China Sea, where it is building islands and extending its infrastructure, and there are often flare-ups with regional neighbours with competing claims. Indonesia would release them sooner than later since, unlike other South East Asian countries, Indonesia is not involved in the territorial disputes in the South China Sea.
China accepts the Natuna islands and the seas around them belong to Indonesia, but the two sides have confronted one another there before, typically over illegal fishing.
Friday's incident was the third altercation between Indonesia and China in waters near Natuna this year. In March, Indonesia lodged an official protest after an Indonesian patrol ship tried to detain a Chinese fishing boat in the Natuna Sea, but was prevented from doing so by the Chinese coastguard.
China's acting charge d'affaires in Jakarta Sun Weide demanded the release of the crew, saying the incident occurred in "traditional Chinese fishing grounds". Sun told press "When it comes to fishery disputes, or maritime issues, China is always ready to work with Indonesia to solve these disputes trough negotiations and dialogue." Unlike other South-east Asian countries, Indonesia is not involved in the territorial disputes in the South China Sea. After meeting with Chinese embassy officials on June 20, Indonesia's Foreign Minister Retno Marsudi said: "At the meeting we conveyed our strong protest over the breach by the Chinese coastguard of Indonesia's sovereign rights."
Indonesia said it's obvious how much that stability of Natuna is prized among the local population. This island is a picturesque, idyllic place – but it stands on the frontline of a potential clash between Indonesia and China.
Meanwhile, China has accused the Indonesian Navy of opening fire on a Chinese fishing boat in disputed fishing grounds. China's foreign ministry said on Sunday that one fisherman was injured and several detained. The incident happened on Friday near the Natuna islands, off the coast of Borneo in the South China Sea. A spokeswoman for the Chinese foreign ministry described Indonesia's actions as an "indiscriminate use of force", adding: "We urge the Indonesian side to refrain from any action that complicates or magnifies the dispute, or impacts the peace and stability of the region." The ministry said the incident had happened in a "traditional Chinese fishing ground".
The Indonesian Navy said it had fired warning shots on Friday at Chinese fishing boats operating in the Natuna Sea, in Indonesia's exclusive economic zone, the third such confrontation reported this year. Indonesian Vice-President Jusuf Kalla said that China would be asked to respect his country's sovereignty around the islands. "This is not a clash, but we are protecting the area," Kalla said. Indonesian Fisheries Minister Susi Pudjiastuti said that the navy "made the right move by maintaining the sovereignty of our seas". "Stealing fish is a crime," she said.
China's foreign ministry said that one boat had been damaged and one sailor shot and injured during the altercation, which it said occurred in "traditional Chinese fishing grounds".
Beijing and Jakarta have tried to play down their maritime differences over the past two decades but the recent run of incidents and hardening rhetoric from China are undermining that stance.
Indonesia's government insists that Indonesia and China won't clash over the South China Sea, and that the two nations will solve Although the possibility may seem remote at the moment, Indonesia has to balance its interests delicately while making sure it keeps its borders safe.
China's "nine-dash line" claim to almost the entire South China Sea cuts through Indonesia's exclusive economic zone in the Natuna Sea, although Beijing has accepted that Jakarta has sovereignty over the Natuna islands themselves. China's foreign ministry said the latest incident occurred in waters "where China and Indonesia have overlapping claims for maritime rights and interests", suggesting its ambitions in the gas-rich Natuna Sea stretch beyond mere "fishing grounds". "This is the first time in a long time that China is openly declaring that there are overlapping maritime claims. If China is enforcing its maritime claims, it becomes harder for Indonesia to maintain its neutrality.
Jakarta has long maintained that this does not amount to a territorial dispute because China has never formally clarified its nine-dash line claim under international law. But the spike in fisheries clashes, which have occurred ever closer to Indonesia's territorial waters, has angered some within the Indonesian government.
South China Sea
The South China Sea is a contested waterway – China, Malaysia, the Philippines and Vietnam all lay claim to it. Indonesia says it has no territorial interests in these waters – but look closely at the map, and it's a different story.
A series of violent fisheries clashes with China is adding to domestic pressure on Indonesia's government to take a tougher stance towards Beijing, with which it routinely claims to have no maritime disputes. The latest clash comes at a testing time for the region, with Southeast Asian nations deeply divided over how to respond to Beijing's assertive approach. Tensions are set to rise further in the coming weeks, when an international court in The Hague is expected to rule on a case brought against China's maritime claims by the Philippines. Susi Pudjiastuti, Indonesia's fisheries minister said that shots were fired "according to procedure" as the navy defended Indonesia's sovereignty.
China is locked in a dispute with several countries over maritime claims in the South China Sea. China says its land reclamation work in the South China Sea is "totally justifiable" as it has "sovereignty" over the area. Its foreign affairs ministry spokesman Hua Chunying was responding to the issue of China's construction work in disputed waters. In May the Philippines released photos appearing to show Chinese land reclamation on Johnson South reef, saying China appeared to be building an airstrip. Aside from the Philippines, Vietnam, Brunei, Malaysia and Taiwan also have competing claims with China over various islands, reefs and shoals in the region.
Separately, relations between China and Japan are also currently under strain over a territorial row involving islands in the East China Sea. The Philippines has accused China of illegal building in the area. China is reportedly building new islands on five different reefs. Chinese work is progressing to dredge tonnes of rock and sand from the sea floor to pump into Johnson South reef in the Spratly islands, which are also claimed by Manila. The works appear to have been going on for months. They are privately calling for President Joko Widodo, , who has largely side-stepped foreign policy to focus on boosting the economy and has shown a reluctance to upset China, to abandon the country's neutrality on regional maritime disputes and lend more support to neighbours such as Vietnam and the Philippines, which have stood up to China more forcefully.
China also asserts indisputable sovereignty over the Nansha Islands and the adjacent waters, and China's activities on relevant islands and reefs of the Nansha Islands fall entirely within China's sovereignty and are totally justifiable." Asked whether the reclamation was for commercial or military use, Chinese foreign affairs ministry spokesman Ms Hua Chunying replied that it was "mainly for the purpose of improving the working and living conditions of people stationed on these islands".
China has been building artificial islands in the Spratly Islands on top of reefs and atolls to bolster its claims and to gain fishing and resource rights to most of the South China Sea.
More recently, the Chinese have signaled they may begin construction of a new island atop Scarborough Shoal, which lies only 140 miles from the Philippines' capital. An international court is set to rule soon on this dispute. The looming decision, along with stepped-up US patrols, has led to mounting tensions in the disputed region.
USA steps in
The USA has sent a strong message to China by putting into operation its Navy destroyers in South China Sea, the world's most contested body of water. US Naval destroyer Stennis left the South China Sea on June 5 after arriving in early April in what was intended as a demonstration of the U.S. commitment to the region after aggressive moves and island-building by China raised concerns among U.S. allies and partners there. The months-long patrol was shadowed almost the entire time by People's Liberation Army-Navy vessels, and certainly raised the ire of Beijing. In May, the Chinese government cancelled a port visit in Hong Kong, saying it was "inconvenient" for the flattop to pull in.
Not long after departing the South China Sea, the Stennis participated in a massive show of force in the Philippine Sea as it rendezvoused with carrier Ronald Reagan. In a release, Navy Task Force 70 headlined the dual carrier flight operations as "Two carrier strike groups double down in Western Pacific," noting that this showcases "United States unique capability to operate multiple carrier strike groups in close proximity."
During the three months, Stennis frequently became a symbol of the U.S. response to increasingly aggressive Chinese moves across the region. China claims nearly all of the South China Sea as its sovereign territory and has reinforced its claims by constructing man-made islands on rocky outcroppings, reefs and atolls in the region. Its neighbors claim China is bullying them, and the USA has opposed what it sees as China's coercive tactics to enforce its claims.
Seven Years of UNITE Thailand: Freedom to be Free
BANGKOK – During the peak of Thailand's political warfare between the Red and Yellow shirts, I was a graduate student at Teachers College, Columbia University pursuing a Doctorate in Political Science with a specialization in Comparative and International Education.
As Bangkok's buildings were burnt down, I sat in tears in front of my computer could not comprehend nor tolerate the sights and senses of such catastrophe.
What's happening to Thailand? A place we once called the land of smile.
I put myself together and defended my proposal. I came home for my dissertation research. But once I landed, I began something entirely different.
I called my friends from all walks of lives: academics, businesses, politics and civil society and we started talking about the future of Thailand what to do, what can we do?
Inspired by the KEEPS project at the London School of Economics, where I did my Master of Sciences in Development Studies, we initiated an art project for political liberation.
Something Freire would be proud of.
We took paint colors, brushes and canvases to rural areas and began using art as mean to break political deadlocks – to initiate a conversation. We asked our students to paint the future of Thailand in their visions.
From a humble beginning in 2011, we grew in size and scope. UNITE Thailand is now a global youth networks of like-minded individuals who want to make a difference for Thailand. We are an educational project with 3,000 members.
We have collaborated with the Open Society Foundation in 2012 to create the 1st IDEA Asia Youth Forum where we brought together 200 Asia youth from 22 countries to work with Thai university students in Thailand for 2 weeks.
We have worked with the International Labour Organizations in 2013 – 2014VDO to promote the Sapansiang Campaign that addresses the positive images of migrant workers in Thailand.
Anna Olsen, the Technical Specialist TRIANGLE in ASEAN program of the ILO said, "working with UNITE Thailand allowed us to reach young Thai people with our messages of protection and promotion of the rights of migrant workers who contribute so much to Thai society and development."
Since its inception, MCOT Thailand and the Anandamahidol Foundation have helped to scale up our 20 art camps for our students nation-wide by creating ongoing documentaries that capture the essences of what we try to do on the ground.
Sitting here on the eve of International Youth Day of 2018, I am writing to my students globally that never let anyone tell us what we are and are not capable of. The power of the young is momentous and paramount. Never let your inspiration, motivation and determination die down just because what we think seem impossible or someone else tell us so.
Thailand is far from where we want it to be. It's still rotten with corruption, rampant inequality and lack democracy. But each brush we stroke, each project we strike, we do it with hope and dignity, we do it to empower and we aspire to make a difference.
Mayaclear Aphornsuvan, UNITE Thailand Youth Representative, encapsulates her seven years experiences with the movement.
"Opportunities, dreams, and chances seem so far away when no one is by your side. That's how it felt to me when I was in high school, at least. But I crossed paths with UNITE Thailand by chance, and it was the first time a group of people believed in me. And in turn, this gave me all the strength I needed to believe in myself and others. UNITE Thailand gives opportunities to those who often get ignored. But the first opportunity in one's life is oftentimes the most important.  UNITE Thailand means the world to me, because they gave me a whole new world of opportunity and dreams."
On behalf of UNITE Thailand, we thank our friends from all over the world for showering us with your trust and enabling us to keep dreaming.
We, 3,000 of UNITE Thailand, dedicate this project to His Majesty the King Bhumibol Adulyadej, Rama the ninth to the Chakri Dynasty, our King of Education, for not only sponsoring my transatlantic education through the Anandamahidol Foundation, but for providing Thailand with a necessary guiding light. We wish his soul rest in peace. We wish him well.
We promise to be kind and find peace from within outward.
What are the causes of the current calamity in Laos? An Interview with Dr. Lia Genovese
The Xe Pian-Xe Nam Noy hydropower project is financed by companies from South Korea (SK Engineering and Korea Western Power), Thailand's Ratchaburi Electricity Generating Holding and the Lao government. A statement issued by Mekong Eye on 31 July 2018 stated that Japan is also involved in its financing.
A devastating incident occurred in the Sanamxay district of Attapeu province in southern Laos. On the evening of 22 July 2018, engineers at SK Engineering discovered that one of the project's supporting dams had been partially washed out and notified the Lao authorities. Apparently, efforts to repair the damaged structure were hampered by the state of the roads, which delayed the necessary heavy equipment reaching the area before disaster struck the very next day. On 23 July, the top of a saddle dam at one of the Xe Pian-Xe Nam Noy reservoirs collapsed, releasing billions of cubic feet of water. Over 6,000 people have already been evacuated to emergency shelters. The flood has caused severe damage to private property and infrastructure. The dam collapse has also affected villages downstream in Cambodia.
The precise death toll is still unknown and has oscillated between 31 and 35 victims. On 5 August, the Chinese agency Xinhua stated that 34 people were confirmed dead and scores more are still unaccounted for.
Early official statements calling the catastrophe a natural disaster caused by seasonal rains, are being disputed by experts. During an interview with the BBC World Service on 25 July, Dr. Ian Baird, Associate professor of geography at the University of Wisconsin-Madison, USA, unequivocally attributed the disaster to poor management. Furthermore, the South Korean building company, SK Engineering & Construction, asserts that "it warned the [Lao] government".
The disaster could have been prevented with better management, greater risk assessment and better building standards, according to the Lao government. On 27 July, four days after the dam collapse, the Lao Energy Minister, Mr. Khammany Inthirath, told a press conference in Vientiane that the disaster was caused by substandard construction.
Attapeu province is highly contaminated by unexploded ordnances (UXO, remnants of the Vietnam conflict), and although parts of the province have been cleared of UXO, the UN recommends caution when digging, since cluster bombs are more likely to be buried ('Lao PDR: Flash Flooding in Sanamxay', District Office of the UN Resident Coordinator Situation Report No. 05 (as of 1 August 2018).
Livestock, buffaloes and domestic animals have perished. On 3 August, the Vientiane Times reported the loss at more than 12,000 animals, as well as more than 19,000 chickens and other fowl, while 280 fishponds were damaged.
What are the immediate needs to help rebuild Laos?
Numerous governments have sent funds and humanitarian aid, including Thailand, Vietnam, China, Singapore, Cambodia, the European Union (EU), the US and North Korea. It seems that supplies have reached the affected areas with some difficulty, due to the state of the roads, damaged by the flood and covered in rivers of mud. According to a Voice of America report published on 6 August: "Satellite images show Attapeu lying on a bend of the river with a pre-crisis network of roads, but a later image shows the flooded area as a brown mass of mud with few structures left recognizable".
Cash donations have also been collected. The Lao bank BCEL set up the One Heart fund-raising initiative for people to donate by debit or credit cards. In Thailand, donations collected by Krungthai Bank for the flood victims had reached 25 million baht by the end of July (account number 067-12886-4 of Krungthai Bank, Government House branch, Cash donations are proving effective in helping victims of this disaster, while the delivery of relief aid (blankets, medicines, safe drinking water, food, etc.) is hampered by practical difficulties in accessing the affected areas.
Do you think the country is resilient enough to weather this chaos?
As a concerned citizen of the world, rather than an expert on development strategies, in my view there are good chances that Laos, and particularly the affected areas in Attapeu province, will weather this catastrophe. Laos has much at stake in its chosen development strategy aimed at energy generation. This is a setback in the country's ambitious plan to have a total of 100 dams by 2040. Approximately, 85 percent of the energy generated by these dams is exported.
What needs to be done differently for Laos to recover and sustain?
Since 1971, the UN has classed Laos as a Least Developed Country (LDC), a label the country is trying to shed. Laos is traversed by the Mekong for hundreds of miles, from north to south, before this great river flows into Cambodia and the delta in Vietnam. Laos has said in the past that it is making the best of a punishing geography, due to the country being landlocked.
Yearly, the sale of energy contributes around $650 million to the country's GDP, but still only half of the revenue generated by ore production from mining investment projects approved by the central government, which in 2017 reached around $1.2 billion.
Unlike some of her neighbours (Thailand and the Philippines, chiefly), Laos has shown negligible interest in the potential of renewable energy, despite enjoying an average of 1,800-2,000 hours of sunlight per year, or 200-300 sunlight days per year, particularly in the south of the country. Consequently, progress in sources of renewable energy has been slow and foreign investment has lagged behind, in contrast to the aggressive push for hydropower projects.
What Laos wishes to do is secondary to other countries' vision for Laos. A number of countries, as well as NGOs, environmental and human rights organisations, have expressed their reservations about Laos' stated hydropower goals, because of the cost to the country's ecology, and the human cost caused by the displacement of thousands of families. Laos' potential in generating energy for sale was known to the French colonisers a century ago but, despite a number of surveys shortly after the 1893 annexation of Laos as the fifth province of French Indochina, the French colonial government elected not to exploit the potential of the Nam Theun river, due to the massive investment required in building an often non-existent infrastructure. Only in recent years, was this massive hydropower project built, with funding from the World Bank, among others.
Laos can recover from this tragedy, through its own resources and with help from the international community.
What can the public immediately do to save Laos?
In the immediate aftermath of this man-made disaster, the public should follow events and contribute with cash donations and goods in kind, and pay attention to messages from the Lao government and aid agencies as to the most effective ways to assist the affected communities.
For the longer term, a rethink of Laos' development goals is essential. Much of Laos' energy for sale is exported to its neighbours, where it is squandered on excessive air-conditioning for shopping malls, supermarkets, offices and homes, entertainment places, etc. Laos' energy-hungry neighbours need to understand the hidden "costs" to a poor country like Laos, where the race to become the "Battery of Southeast Asia" is being achieved at the expense of natural resources, human capital and tragedies.
Concerned members of the public can lobby their respective governments for civil society to be respected in Laos, as a forum for free expression. It is essential that Lao citizens are involved in the consultation process for new hydropower projects or other large-scale projects which involve environmental degradation, a high level of risk and loss of a traditional way of life for communities along the Mekong.
Building dams along the Mekong must be discussed as a transnational issue, rather than pertaining to Laos alone, as was made clear in the Xe Pian-Xe Nam Noy disaster affecting downstream villages in Cambodia.
Pressure should be applied on the Lao government to ensure transparency in its investigations of Lao communities affected by the massive flooding in Attapeu province.
The 31 July statement issued by Mekong Watch, mentioned earlier, urges donor countries and development agencies to support the Lao government "in seeking compensation from the dam companies, and re-direct their aid policies that rely on hydropower development".
About Lia Genovese
Lia Genovese holds a PhD from SOAS-University of London for a Dissertation titled 'The Plain of Jars of North Laos – Beyond Madeleine Colani'. Her current research interests include: the Plain of Jars of Laos; French colonial archaeology; the megaliths of South and Southeast Asia; Iron Age mortuary practices; cultural heritage and conservation. She is currently working on a critical biography of the life and work of the French archaeologist Madeleine Colani.
Explaining Gendered Wartime Violence: Rohingya Ethnic Cleansing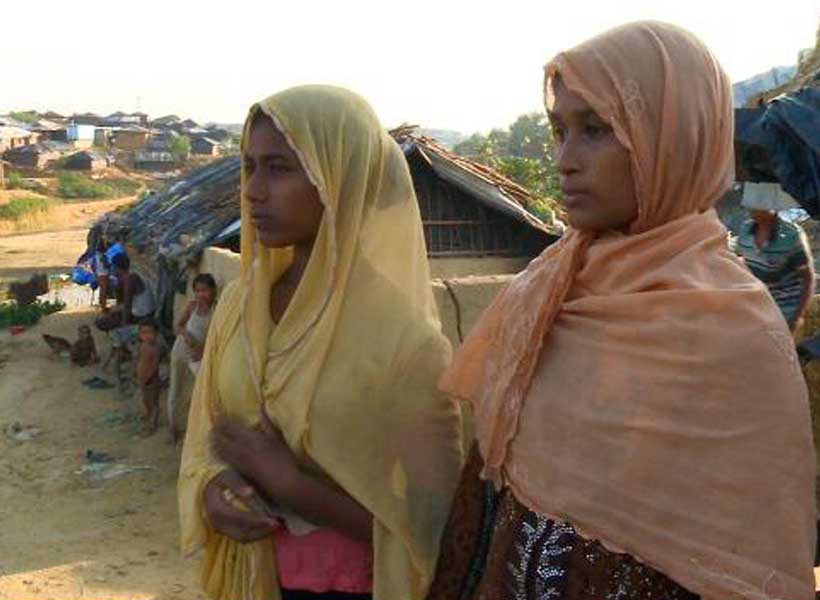 The United Nations described Rohingyas as 'amongst the most persecuted minority groups in the world.' News reports and refugee testimonies have confirmed that the plight of Muslims in Rakhine State of Myanmar is atrocious. The humanitarian crisis taking place in the Rakhine state has led to the death of an appalling number of Rohingya's Muslims. It has been reported, that nearly 500,000 people have fled destruction of their livelihood and, are currently living in refugee camps in Bangladesh. The UN reports suggest that Rohingyas have faced "killings, torture, rape and arson", by Burmese troops. It has been categorised as a 'textbook case of ethnic cleansing' of Muslims in Myanmar.
Rohingya Muslims represent the largest percentage of Muslims in Myanmar, and the majority lived in Rakhine state before the violence broke out. Myanmar is predominantly a Buddhist country which has for decades denied Muslims citizenship, they have been subjected to brutal government and police violence, and their identity has been decreased to that of an 'illegal immigrant.' On the 25th of August, 2017 the Rohingya militant army launched a deadly attack on the Muslims which has culminated into a systematic case of ethnic violence, turning into ethnic cleansing. They have slowly, but successfully forced majority of the Muslims to flee the country, resulting in one of the deadliest case of violence in the 21st century.
Within this Muslim minority exists another kind of minority, 'Rohingya Women' who have been subjected to sexual violence and rape by the army militants. It has been reported that tens of thousands of young girls and women of the Muslim community have been sexually violated and raped by the army militants In the report prepared for the UN Commission on Human Rights, Gay J. McDougall defined wartime rape as "a deliberate and strategic decision on the part of combatants to intimidate and destroy 'the enemy' as a whole by raping and enslaving women who are identified as members of the opposition group." However, wartime rape is not a new phenomenon. Many historical and anthropological researchers have provided us with evidence that rape during war can be traced back to earlier wars. It was reported that during the Second World War, the city of Berlin witnessed extremely high levels of rape and sexual violence against women by the Soviet forces. It has been estimated that around 900,000 women were raped and violated during the war.The infamous 'Rape of Nanking' is another case where Japanese soldiers reportedly raped an estimated 20,000 to 80,000 women in the city of Nanjing, China in 1937.
According to the Human Rights Watch report titled 'All of My Body was in Pain: Sexual Violence against Rohingya Women and Girls in Burma', women and girls are brutally being raped and sexually violated, humiliated, beaten up and even killed by the Burmese militants. They also suffer from the ordeal of seeing their children, parents or partners being murdered in front of them. The Burmese militant army is using systematic rape as a weapon of war in the massacre of the Rohingyas – using women to be the easy target, and thereby making the Rohingya crisis a grave gender concern. Priyanka Motaparthy, a senior researcher in the Emergencies division of the Human Rights Watch, mentions in a Human Rights Watch report, "These horrific attacks on Rohingya women and girls by security forces add a new and brutal chapter to the Burmese military's long and sickening history of sexual violence against women."
It is believed that sexual violence and rape is systematically used against women during wartime due multiple reasons. In addition to women being 'easy targets', they are subjected to this ordeal in order to break down the reproductive cycle of an ethnicity, which thereby can result in eliminating that ethnic population altogether. It is also used to decrease or break down the morale of their enemy population, who are responsible for securing their women and girls, thus weakening their opponents. Therefore, the connecting factor between 'gender based violence' and 'wartime' are the underlying patriarchal values that persists in societies and dictates their culture. Within this structure, it is often assumed that a woman's honor resides in her reproductive system, violating her reproductive system is seen as a way of stripping her honor, subjecting her to humiliation and furthermore gaining 'power.' It is a way of systematically destroying a community as a whole.
This is not the first time the world is witnessing gender based violence. However, the silence on the issue and lack of action by international authorities such as the United Nations is alarming. Urgent and crucial steps need to be taken by the Burmese government along with other International Organizations to bring relief to these women and girls. There is also an urgent need to implement stringent policies and necessary actions must be taken against people who use of sexual violence during wartime. However, the most urgent need of the hour is to overthrow patriarchal values from societies all across the world. Even though this is optimistic, it is important to instill a sense of equality between men and women, which in turn could help in eliminating the use of sexual violence as a weapon of war.