Levinas on the Enlightenment and the European Ethical Tradition
"Clearly the title Europe designates the unity of a spiritual life and creative activity–no matter how inimical the European nations may be toward each other, still they have a special inner affinity of spirit that permeates all of them and transcends their national differences… There is an innate entelechy that thoroughly controls the changes in the European image and directs it toward an ideal image of life and of being. The spirited telos of the European in which is included the particular telos of separate nations and individual persons, has an infinity; it is an infinite idea toward which in secret the collective spiritual becoming, so to speak, strives." –Edmund Husserl
Modern Western Civilization presents us with a Janus-like face: On one side Renaissance Humanism which begins in Italy in the 14th century with Petrarch, on the other side Enlightenment Rationalism which begins in France in the 17th century with Descartes. After Descartes, there is a dangerous tendency to separate the two cultural phenomena and consider Humanism either anachronistic, or superseded. The inevitable result has been sheer confusion in the area of cultural identity; consequently, at this critical juncture of the new polity called European Union, there is talk of a "democratic deficit," that democracy that is integral part of Western Civilization. We are in urgent need of cultural guides to show us how to better harmonize the two above mentioned phenomena. One such guide is Emmanuel Lévinas' humanistic philosophy. In as much as it challenges the Western rationalistic philosophical tradition, it is extremely important for the emergence of a renewed European cultural identity. It explores in depth the threats to the authentic cultural identity of Europe, how modalities of thinking powerfully affect other ideas and shape a whole cultural milieu, sometimes with less than desirable consequences.
A few background biographical details may be useful to better understand Lévinas. He was born in Lithuania in 1902. In 1923 he moves to Strasbourg to study under Husserl and writes a doctoral dissertation on his philosophy. There, he also comes in contact with Heidegger's philosophy. The dissertation on Husserl's phenomenology gets published in France in 1930 and reveals that, even at this early stage, Lévinas is beginning to take his distance from Heidegger. He enlisted in the French army, was captured in 1940 and spent the remaining five years of the war in two prisoner-of-war camps. Upon being liberated he returns to Lithuania and finds-out that his parents and siblings had been killed by the Nazis, while his wife, whom he had left behind in Paris, had survived thanks to the help of French nuns who hid her. He became a teacher and administrator in an institute for Jewish education in Paris (l'alliance Uneversel Juif); there he begins to study traditional Jewish texts under the directorship of the Talmudic sage Mordechai Shoshani to whom Elie Wiesel (who also studied with him) devotes a chapter in Legends of Our Time. In 1961 Lévinas defends the first of his two major philosophical works (Totality and Infinity) before the philosophy faculty of the Sorbonne becoming a professor of philosophy. His second major work bears the title of Otherwise than Being or Beyond Essence.
Those are the basic events that dramatically change Lèvinas' thinking. Prior to World War II he had merely criticized elements of 20th century Western thought; afterward he begins to attack the whole European philosophical tradition, especially its culmination in Heidegger's thought, for what he considers its indifference to the ethical and its "totalizing of the other." He begins to indict western philosophers in general for an uncritical reliance on vast concepts, such as Hegel's "Spirit," or Heidegger's "Being," which assimilate countless individuals to rational processes, thus negating their individuality. To be sure Kierkegaard had also criticized this Hegelian tendency, countering it with his existentialist philosophy. Those who understood his critique only too well, promptly proceeded to relegate his thought to the theological within a false dichotomy (shown absurd by Thomas Aquinas way back in the 13th century) of philosophy/theology, thus insuring that Kierkegaard would never be as influential as a Hegel or a Heidegger. In any case, Lévinas too argues that this taken-for-granted totalizing mode of doing philosophy in the West denies the face-to-face reality in which we—philosophers included—interact with persons different from ourselves. He argues that this "face-to-face" realm is not the same thing as the realm of abstract concepts. It possesses its own texture which is primarily an ethical one. In this domain we are challenged by "the otherness of the other person."
It is this "otherness," which is an integral characteristic of human life, but the Western philosophical tradition has overlooked and even negated it, thus contributing to the dehumanization of Man. Lévinas' life and thinking were deeply affected by the trauma of the Nazi genocide, better known as the Holocaust. But what is unique about his thinking is that it refuses to make those monstrous events its core subject matter. As Derrida, who admired Lévinas' philosophy, aptly expressed it once: the danger of naming our monstrosities is that they become our pets. Lévinas' writings provide no extensive discussion of the Holocaust itself; therefore, the assumption, on the part of those who were thinking and writing on it, has often been that Lévinas could not be considered a valid source of philosophical insight into this dark period of human history. But that is an erroneous assumption, just as invalid as the assumption that he unreservedly admired Heidegger's philosophy because he happened to have translated it into French. As a matter of fact, Lévinas' thinking is a reaction to the Holocaust by the mere fact that it asks the crucial question: What does it mean to be a human being? Were one to encapsulate the whole of Lévinas' philosophy in two succinct words, they would be "being human." This philosophy insists throughout that an extreme, unbalanced rationality devoid of imagination, feelings, senses and spirit, unconcerned with the ethical dimensions of life, is the equivalent to a refusal to be human, to allowing oneself to become a monster.
Not unlike Vico in the 18th century, he individuates such a root in the Cartesian ego, an autonomous center of consciousness which in modern philosophy has assumed the function of a paradigm for thinking about human beings. Lévinas does not deny this world-constituting ego, rather he leads it to the discovery of an ethical core within itself; which is to say, he uncovers another root growing within the first root which he calls the "self." The conundrum seems to be this: if it is true that the ego does the conceptual work of philosophy by announcing what there really is in the world, how can this ego then acknowledge the essentially ethical "self" which lives within itself? Somehow a bridge has to be found between this limitless power and freedom of the independent intellect, and the particular concrete ethical obligations to another person. For, this ethical self, unlike the ego, finds itself caught up with the welfare of the other prior to a conscious, rational decision, in a recognition, even when unwilled, of his/her humanity. Indeed this ethical capacity seems to come from another place than our rational powers of analysis evidenced within the Cartesian ego. Even if we grant that such an ego is adequate in identifying the truths of philosophy, it somehow remains unable to acknowledge a domain where there is no choosing of the connection with the other; in fact the other way around may apply: the other chooses me, one is "already responsible" for the other prior to any rational analysis.
And here is the philosophical paradox: Lévinas' task becomes that of using rationality to take the Cartesian ego beyond rationality, somewhat similar to what Vico does with his concepts of fantasia, which for him precedes rational reason, and the concept of Providence who guides human events and is both immanent within history but also transcendent. Which is to say, the rational ego has to be brought to recognize a sort of enigmatic "ethical" truth which Lévinas calls "pre-originary," i.e., arising outside, prior to the usual time-line of the reflective ego. In attempting this operation, Lévinas will proffer statements such as: ethics is "older" than philosophy, it is "first philosophy," on the scene before the arrival of rational philosophical thinking; something ingrained in being human. Within purely classical categories, that may be equivalent to the Socratic preoccupation with dying well by living a life of integrity and devotion to truth, as exemplified in Plato's Apology. It is this ancient voice of goodness, which even Vico's pre-historical "bestioni" possess to a degree, a voice often overlooked by rationalist philosophers, but powerfully present in Talmudic texts, that Lévinas finds strangely silent in the modern Western philosophical tradition. In mytho-poetic language, it's as if Lévinas were to come face-to-face with the goddess Europa, as she is being abducted by a black bull (Zeus in disguise), to journey to another shore, there to assume a different persona, and he were to ask her, "Europa quo vadis?" after warning her to remember her original identity: "nosce te ipsum"; which is to say, go back to the future and know yourself holistically: know your Greco-Roman origins, yes, but also the Biblical tradition (the foundation for Christianity), the Christian heritage, the Humanistic synthesis of Graeco-Roman and Christian civilizations, Celtic and Germanic cultures with their ideas of freedom, the universalizing Enlightenment rooted in the democratic-scientific tradition born in ancient Greece, the Islamic influences. Voltaire and Descartes yes, but Vico and Novalis too are part of your identity. Your unity will be a chimera if it is only a unity of a bank and neglects its spiritual elements. Undoubtedly this hermeneutics, or re-interpretation of the Cartesian ego, placing at its core an non-refusable responsibility for the other without granting the ego any time to think it over and choose, so to speak, challenges some of the most basic assumptions of modern, and in some way classical, rationalistic philosophy. Not since the times of Mamonides in the 13th century had a Jew dared such a fundamental challenge from within the Western philosophical tradition. It is the challenge of Paul to Greek culture revisited. For indeed Lévinas is saying nothing short of this: the knowing ego does not exhaust what it means to be human. Some have called his philosophy one of "ethical subjectivity," as a way of dismissing it as the raving of a lunatic, just as the ancient Greeks dismissed Paul in the agora. For the serious reader, however, it is rather a re-definition of subjectivity face to face with a totalizing kind of Cartesian reflection.
While Lévinas does not write directly about the Holocaust, other thinkers, who influenced Lévinas, were nevertheless reflecting upon the philosophical implications of this dark event of human history. One such was Berel Lang who wrote an essay titled "Genocide and Kant's Enlightenment," which appeared in his Act and Idea in the Nazi Genocide. In this essay Lang uncovers certain lines of affinity between some classical aspects of Enlightenment thought, and the Nazi genocide. His conclusion is that there are two important aspects of the Enlightenment that formed the intellectual heritage, which needed to be in place, for genocide to occur in the heart of civilized Europe: namely, the universalization of rational ideals, and the redefinition of the individual human being in terms of its possessing or not such a universal rationality. The genocide, Lang argues, was aimed at those groups who stuck to their own ancient pre-Enlightenment sources of particularistic identity, considered "irrational." Hence the racial laws and racial exclusion were expression of ingrained Enlightenment prejudices. Which is to say, the Enlightenment sheds light on everything except itself; it remains to be enlightened. This powerful essay leads many cultural anthropologists comparing civilizations, to begin to wonder: which, in the final analysis, is more obscurantist: religious fanaticism and fundamentalism, or a so called "enlightened" era throwing out the window the baby with the bathwater and arrogantly refusing any suggestion that it ought to enlighten itself, and not with its own light?
This line of thought conjures up that terrible face to face encounter of Dante with the poet Bertrand Del Bornio in a cave in hell doing "light to himself" with its own decapitated head. There we have reason eating its own tail; internal logical thinking and assuming the grammar of lunacy. I dare say that such a question has not been satisfactorily answered yet. In that question lies the challenge of Lévinas' philosophy: in its displacing of the centrality of Cartesian thinking within modernity, in order to re-center it around ethics: the face-to-face encounter with another human being which is always hopeful unless it occurs in hell. Everything we have discussed above begs this particular question: is Lévinas' challenge to the Western philosophical tradition philosophically tenable? To answer the question adequately we need to be first aware that Emmanuel Lévinas, as well as Hermann Cohen and Franz Rosenweig (the author of Echoes from the Holocaust: Philosophical Reflections in a Dark Time, 1988), are representative of learned European Jews with great familiarity with the texts of both the Jewish and the Western philosophical tradition. They challenge the latter exactly because they are so knowledgeable in both.
Lévinas is fully capable of confronting the intellectual traps of those rationalists who would relegate him to the sphere of theology. To the contrary, he insisted on writing in both spheres and claimed that Jewish religious textuality contains hitherto unexplored philosophical insights. For this is a tradition which puts great emphasis on interpersonal, social and familial relationships; phenomena not contemplated in traditional Western philosophy. Which is to say, the challenge is to Western philosophy's totalizing pretense, beginning with Plato's times, that it can gather everything up in one synchronic whole. It is that challenge that irritates control freaks, thought policemen, rationalists and mysologists galore. It goes a long way in explaining their attempt to relegate Lévinas' philosophy to the sphere of the merely mystical.
Finally, let us briefly examine how Lévinas develops this fundamental challenge to Western rationalism. He names both the texts of Jewish tradition and philosophical discourse "the said," while calling the living activity of interpretative struggle (its hermeneutics) with the texts, and the self which suffers for the other, "the saying." The said always tries to capture the saying, which may partly explain the ancient grudge of Plato towards poets (see Plato's Republic, book X, on Homer). In any case, it is the saying which launches the said and puts it into circulation. The saying echoes outside of space and time destabilizing the comfortable, rationally secure positions rationalists take up in the said, in conceptual truths (thought to be universal and eternal), in a secure totalizing kind of knowledge. Yet it is this very destabilizing process that injects the ethical outward-directness into the said.
Lévinas will often contrasts the saying's vulnerable openness to the other (which he calls "being ex-posed) with the said's relative security (which he calls "exposition"). He asserts moreover, that there is a rich unexplored relationship between the way we are "exposed" in ethics, and the life "exposition" we use to analyze and order the world. Indeed, this is a new, essentially Jewish, philosophical reflection which places into question the claim to totalizing completeness, by an appeal to the priority of ethics. It insists that any person that confronts me, needs to be placed outside the totalizing categories seeking to reduce her/him to an aspect of a rational system. Basically, what Lévinas is doing is relocating our dangerous ability to deny others their legitimate sphere of difference; an ability which is capable of destroying our own humanity. This is nothing short than the core struggle for the achievement of moral humanity which was also the root ethical aim of Vico's New Science.
Like Vico, Lévinas shows us the way to keep the benefits of universal Enlightenment ethics while avoiding its perils. For, his ethics is not based on a totalizing sort of universalism, but on the particular concrete needs and demands of each unique individual, every "other' that I meet within time and space. Every time I meet the other, she/he constitutes an ethical challenge to my self, a challenge as to who I am as a human being. This kind of philosophy is a challenge to each one of us to go beyond nostalgic returns to Greek classicism, as important at that may be, in the understanding of Western Civilization; to establish intellectual-background-assumptions which are different from those of the Enlightenment; to search for urgently needed new cultural paradigms, new ways of thinking appealing to the priority of ethics and the importance of the particular as a category of thought, a place in thought wherein genocide and hatred of the other becomes inconceivable; in short to prepare new wineskins for the new wine which is a "Novantiqua Europa."
How our Europe will regain its strength
The last few weeks have turned our world upside down. It seems like a lifetime ago that we were going about our everyday business. But by now, some of you reading will have had symptoms, many of you will know someone who is sick and every single one of us are worried about our loved ones.
But what is unique about the situation we are in is that all of us are part of the solution: all of us as citizens, but also companies, cities, regions, nations and the whole world over. Yes, it is true: Europe was initially partly blindsided by an unknown enemy and a crisis of unprecedented scale and speed. This false start is still hurting us today.
But Europe is now standing tall together. And that is being driven by a surge of compassion across our Union. In the last weeks, we have seen retired doctors and nurses answer the call of duty and millions more volunteer to do anything they can to help. We have seen restaurants deliver food to exhausted medical staff, designer labels make hospital gowns and car makers turn into ventilator producers.
That solidarity is infectious – and it is at the heart of our Union. Thanks to that impulse the real Europe is back. The one that works together to do what none of us could do alone. The EU is now delivering and is working flat out every day to save every life we can, to protect livelihoods and kickstart our economies.
In the last weeks, we have taken measures which would have been unthinkable only recently. We have made our state aid rules more flexible than ever before so that businesses big and small can get the support they need. We have relaxed our budgetary rules more than ever before to allow national and EU spending to go quickly to those that need it. This has helped EU institutions and Member States put up €2.8 trillion to fight the crisis – the strongest response anywhere in the world.
And this week the European Union went one step further. We have proposed a new scheme called SURE to make sure that people can keep their jobs and their incomes, as well as ensure that businesses can stay afloat while we hibernate. The scheme will provide €100 billion to help governments make up the difference if your company has had to reduce your hours – and it can support the self-employed too. This will help those in need to pay their rent, bills or food and keep other businesses alive in the process.
And to step up the fight to save lives, we have also decided to put every cent of the remaining money in this year's budget into an emergency instrument to help secure vital medical equipment and scale up testing.
This reflects the fact that in this crisis there can be no half-measures. And that will be the case for years to come as we seek to lift our economy out of the crisis valley. To do this, we will need massive investment in the form of a Marshall Plan for Europe. And at the heart of it should lie a powerful new EU budget. The advantages of this are obvious: the EU budget is a proven instrument of solidarity and modernisation. And with its seven-year term, it creates certainty for investors and reliability for all parties involved.
But just as the world looks very different from the way it did just a few weeks ago – so must our budget. It must be there for the time when economies weakened by the current crisis will need to spark their engines and get our unique internal market going again.
The billions and trillions being spent today to avert a greater disaster are an investment in our future protection and they will bind generations. This is why the money in our next budget must be invested in a smart and sustainable manner. It must help preserve what is dear to us and renew the sense of belonging amongst Europe's nations.
And crucially we need to invest strategically in our future, for example for innovative research, for digital infrastructure, for clean energy, for a smart circular economy, for transport systems of the future. A Marshall Plan of this nature will help build a more modern, sustainable and resilient Europe. This is the Union that I believe can emerge from this – just as it did after we every crisis in our history.
And this enormous effort, this new Europe, will need one thing more than any else: The people of Europe must want a common future where we stand up for each other.
What I see around Europe today shows the way and it fills me with pride. The future of Europe is the Polish doctors going to Italy. It is Czechs sending 10,000 masks to Spain and elsewhere. It is the airplanes that fly sick people from northern Italy to eastern Germany or the trains that bring people across borders to be treated in free intensive care beds. It is the Bulgarians who send protective equipment to Austrians, and Austrians who send masks to Italy. It is the first common European stock of medical equipment, or the respirators and test kits purchased together by almost every country, from Romania to Portugal, to be sent to Spain, Italy and elsewhere. The power and solidarity of this Union was also felt by thousands of Europeans who were stranded in Vietnam, South Africa or Argentina and were flown back home on a European ticket.
With each one of these acts of solidarity, Europe rises back up that little bit more. And I am in no doubt that before long Europe will be back up on its feet. Together.

This article was also published in several European media.
Republic Of Cyprus: Ruling a Country Against Its Constitution
When you hear about Cyprus, one of the things that comes to mind is the word "conflict." Then, its beautiful beaches, paradise-like nature, and warm island culture.
But you could not guess that this island nation, which is also part of the European Union, has been ruled against its constitution for more than half century. What if we also tell you that this fact is even forgotten by its own citizens? This is exactly what is going on.
Cypriots gained their independence in 1960, after living under the control of the United Kingdom for 82 years. However, this was not an end, but the beginning of the pains they will suffer, the nation that did not experience governing their own island for a very long time.
But during the period of British rule, something needed to change, for the sake of their "divide and rule" policy. Cypriots were a community that was living in great harmony in their remote and isolated island far from the mainland that can influence them easily.
But there was a community without a name. In Ottoman censuses, they were called just Muslims. In the books written by European travellers they were called Linobambaki, Cypriots who spuriously converted to Islam to save themselves from the Ottoman oppression. After World War I, with the death of Ottoman Empire and the birth of the Turkish state, Brits had already found an identity for this community of the descendants of Crypro-Christian Cypriots: Turkish Cypriots. But there was a problem and it was the fact that a big portion of this community spoke Greek. Then, the young Republic of Turkey lent a hand by sending Turkish teachers to the British-controlled Cyprus and the Turkification process began.
Until 1960, there were small gang fights between these two communities with the provocations of Turkey and Greece, but nothing serious happened. When the independence day came for Cyprus, the representatives of these two Cypriot communities were at the table. The Orthodox Archbishop Makarios representing Greek Cypriots and the extreme secular DoctorFazıl Küçük representing Turkish Cypriots. And they agreed on the constitution that is "still in force" today in the Republic of Cyprus. Let's point out the main articles of the official Constitution of the Republic of Cyprus.
• "Greek Cypriot President and Turkish Cypriot Vice President with veto right"
• "Greek and Turkish as official languages"
• "70 percent of the parliament, cabinet, government and law enforcement officers made from Greek Cypriots, and 30 percent from Turkish Cypriots"
• "60 percent of its army made from Greek Cypriots and 40 percent of it Turkish Cypriots"
    • "Adoption of new national flag"
• "The authorities and any public corporation or utility body of the republic are not allowed to fly any other flag than Republic of Cyprus flag, except holidays"
Now, have a wild guess about how many of these articles of the constitution are being violated by the Greek Cypriot community who seized the republic since 1963. The answer is all of them except for the "national flag" that they use, which was drawn by a Turkish Cypriot.
I know what you are thinking. How can a country that is part of the European Union, a symbol of democracy, get away with such activity? We must get into more history to see how.
Three years after the independence, the Greek Cypriot President of the republic, Archbishop Makarios unconstitutionally proposed his infamous thirteen points, which took away many rights from the Turkish Cypriots. This attempt made Turkish Cypriots leave the government.
Then, the rest of the unconstitutional activities of the Greek Cypriot administration followed, which includes establishment of Greek Cypriot-only army and adopting the national anthem of Greece as the anthem of the Republic of Cyprus.
The main aim for all these activities was achieving "enosis," which is the idea of a union with Greece. But the Republic of Cyprus and its constitution were the biggest obstacle, since it was clearly based on the idea of an independent republic with equal ownership by Greek and Turkish Cypriots.
While all these events were happening, we cannot say that the Turkish Cypriot administration was innocent either. Like the Greek Cypriot administration, the Turkish Cypriot administration silenced people and groups who believed in the existence of Republic of Cyprus and who demanded more struggle to save the republic, instead of leaving it to the hands of the Greek Cypriots. The reason behind the decision of the Turkish Cypriot administration to not struggle for their rights effectively was their beliefs that the greed of Greek Cypriots would be a shortcut to achieve "taksim," which is the idea of partition.
When we come to 1974, after painful events and internal struggles within each Cypriot community, a group of enosis-dreamer Greek Cypriots tried to overthrow the Greek Cypriot administration, which was not sharing the same enosis dream anymore, with a coup d'état backed by the Greek junta. With this event, Greek Cypriots gave Turkey a chance to intervene in the situation in Cyprus according to international agreements. And, as we all know, this intervention turned into an occupation, which has continued since then.
Today, what is on the table is a United Nations backed "federal solution" for the Cyprus problem. Despite the current status quo, the unconstitutionally Greek Cypriot-governed Republic of Cyprus continues its life with the constitution which was written in 1960. The main reason behind keeping the constitution is the Greek Cypriots' desperate tactic of showing the world they are not the ones who broke the deal. But even the Greek Cypriot population is not aware or educated about their own constitution, since legislation continues like the country does not have one. Greek Cypriot people do not even have an idea of simple facts, such as that Turkish is an official language of the country or that their flag was designed by a Turkish Cypriot artist, İsmet Güney.
But all these seem to be changing. While crypto-Enosis desire and impossible federal solution talks continue, there are organisations like the Union of Cypriots (Ένωσις Κυπρίων / Kıbrıslılar Birliği) that advocate and promote that the only way to end this madness and occupation is restoring the constitutional order—the deal that was already made and a lot of pain and suffering that hit all Cypriots after it was broken. Failing to ease the pain with different dreams, maybe it is indeed the right choice for Cypriots to hold on what they have to delegitimize Turkey's existence on the island. Because the speed of Turkish colonization of Cyprus tells us that Cypriots do not have much time left to save their homeland for good.
A New Twist in the Spanish Approach to Politics in Venezuela: Podemos in the Spanish Government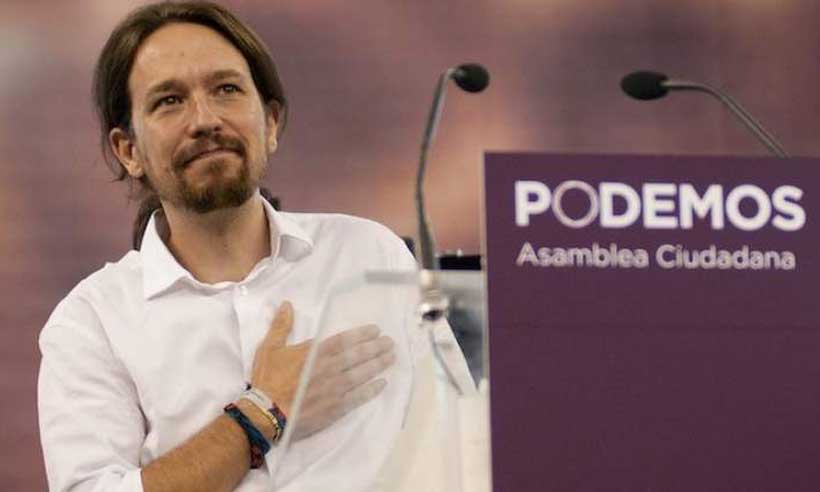 During the last pseudo-legislature in Spain, the position that had been maintained by the Spanish government towards Venezuela and its government was not too far from the quasi-common position that was established at the European level. After the entry of Podemos, a far-left party, into the Spanish government, the Spanish narrative towards the Latin American country and its leaders has taken a turn that calls into question the position of the Spanish government towards Venezuela.
The Special Relationship of Spain with Venezuela
Since 1845, the year the Treaty of Peace and Friendship was signed after the independence of the South American country, Spain and Venezuela have maintained bilateral ties and diplomatic relations. In fact, history has only one instance of no diplomatic relations existing between the two countries, specifically from 1945 to 1949. Despite suffering many serious crises during the Chavista period in face of a number of political disagreements that seriously endangered mutual understanding, the special relationship between the two countries has been maintained constantly.
After the Spanish Civil War and between 1969 and 1990, Venezuela, along with Argentina and Mexico, was the main destination for Spanish exiles and emigrants. Beyond migration, the Hispano-Venezuelan ties are transcendental in nature, both historically and socio-economically. Venezuela is home to more than 150,000 Spaniards; the Venezuelan community, in turn, is the fourth largest ethnic group in Spain. In 2017, exports from Spain to Venezuela amounted to 111 million euros and imports from Venezuela to Spain were worth 318 million euros; however, these figures are quite low compared to those of previous years, for example, in 2014, Spanish exports equaled 550 million euros and Venezuelan imports – 1,325 million euros.
Podemos in the Spanish Government
As a well-known Spanish journalist said, "Venezuela has been a thrown weapon since Podemos appeared on the Spanish political scene in 2014". The relationship with the Latin American country for the political party led by Pablo Iglesias is not only a political issue, but also an ideological link. The core of the party has maintained close ties with the government of Hugo Chavez, including becoming advisers to the then Venezuelan president, and later to Nicolas Maduro; the party also has links with the rest of Bolivarian leaders, such as Evo Morales or Rafael Correa.
After the November 10 general elections in Spain, a coalition government consisting of the historic socialist party PSOE and the far-left party Podemos was created. This coalition marks a period of the greatest political instability in the history of Spanish democracy. The two parties and their leaders devised this joint government to break away from the ungovernability that the country has been facing for almost three years due to the lack of a stable and consolidated government. This is how Pablo Iglesias became the second Vice President of the Spanish government and his current partner Irene Montero – the Minister of Equality.
From "Delcygate" to Guaido
Two recent controversial diplomatic episodes have once again made Venezuela an urgent subject of the Spanish politics. On the one hand, the stopover of the Venezuelan Vice President Delcy Rodriguez at the Madrid Airport of Barajas, where she held a meeting with the Spanish Head of the Ministry of Transport. The Spanish authorities first denied the meeting and then clarified it with different versions, giving rise to a speculation about the case, cosnidering that the EU imposed individual sanctions that restricted Rodriguez from entering the Schengen Zone.
The second mistake of the Spanish Government, according to its critics, was not to receive Juan Guaido, who is recognized as an interim president by more than fifty countries, including Spain and Germany, at the highest official level on his European tour. Throughout his European tour, Guaido met with several heads of state, including Merkel, Macron, and Johnson. Many people deemed Sanchez's gesture upon the Venezuelan leader's arrival in the Spanish capital as a legitimt cause of outrage. In addition, when explaining, the Spanish president called Guaido an "opposition leader." More and more voices have since accused the current Executive of having changed his position with respect to Venezuela by the influence of Podemos.
Spain Flies Alone
A turn at the helm in Madrid would be more than a national decision. The consequences for Venezuela of such a turn cannot be understated, because historically Europe has seen Latin America through the eyes of Spain, and Madrid has been in charge of relations with Latin America. Undoubtedly, Spain will lose a lot if its relationship with Venezuela continues to deteriorate. The human and socio-cultural ties between the two countries are obviously close, but just as relevant are the Spanish economic interests in this South American state, particularly in its oil companies.
Some European countries, such as Italy, did not recognize Guaido as the president-in-charge at the time – Rome still does not. A more neutral, less pro-Guaido Spain would mean aligning with the Italian position, which does not imply neglect, as the Italian diplomacy continues to work on finding solutions to the Venezuelan question through the Contact Group of European and Latin American countries.
What does this mean for the European approach to the crisis in Venezuela? From the point of view of capabilities, it can be said that Spain does not have as much weight as to change the Community's foreign policy; however, because Spain is a traditional filter of relations between the European and the Latin American blocks and the Head of European Diplomacy Josep Borrell is Spanish, a possibility that the positions will be killed exists -"cooling," therefore, cannot be ruled out.
Conclusions
As a victim of its own contradictions, the Spanish government has projected an image of chaos and confusion. It is evident that PSOE and Podemos have disparate positions regarding Venezuela, but it is necessary that the executive government adopt a coherent line of thinking, the continued absence of which deteriorates cohesion within the EU and complicates relationships with its international partners like the USA.
Sanchez defying Guaido is not so much a concession to the former's Podemos partners in the government, but rather a symbol of the latter's waning influence. Guaido has become an awkward figure, who failed to achieve his main objective of free elections. This is why Maduro is stronger today than a year ago.
Nonetheless, too much importance is being attached to the role Podemos really plays in the new Spanish government. Though its power is magnified, it has a minimum effect on foreign matters. When Sanchez came to power in alliance with another party that had more votes, that is PSOE, he assumed that he has no choice but to respect their decisions, whether he likes them or not. He has yet to distance himself from such conformism.
Meanwhile, the shadow of the Venezuelan crisis keeps flying over internal politics in Spain, especially over its progressive government, without facing any of the harshest opposition forces in the country's democratic history. The truth is that a year after half the world placed its hopes in Guaido to find a way out of the humanitarian crisis and the political impasse in Venezuela, the opposition leader is making substantual efforts to prevent the passage of time from opening cracks in his political legitimacy. At this juncture, the whole international community needs to act as a mediator of negotiations between the Venezuelan Government and its opposition to get out of the ongoing stagnation.
From our partner RIAC