Is NATO Undermining Global Stability?
Authors: Lisdey Espinoza Pedraza(*) and Markus Heinrich
The Western Alliance has been one of the linchpins of the post-Second World War world order, but have its recent actions undermined global stability?
In May, the U.S. Aegis Ashore missile defence system in Romania – to be operated by NATO – was declared operational amid pomp and fanfare, stoking fresh tensions with Russia. The missile defence system is the latest example of NATO policies which have proved to be destabilising, but let us rewind for some context. With the collapse of the Soviet Union and the ending of the Cold War, the West, and by extension NATO, found itself in a very advantageous position: there no longer existed a rival in the military sense, European integration continued with the peaceful unification of Germany and the development of east European states which had been separated by the Iron Curtain, and Russia, the former enemy, increasingly became a trading partner. From a Western perspective, the Cold War really could not have ended any better. Why then, when the status quo was so much in its favour and the world was (mostly) stable, has NATO expanded, provoked Russia and arguably contributed to undermining global stability?
While much of contemporary literature, particular in the Western popular press, has been devoted to lambasting Russia's bellicose actions (albeit legitimately), going deeper by also exploring NATO's role in precipitating them has, conveniently, received somewhat less attention. Though Russia's actions cannot be condoned, there are, as always, two sides to the story, and due to its expansion, provocation and interventions NATO has also contributed to the instability and tension which characterises the current international political climate.
Recruiting in Russia's back yard
One of the factors contributing to NATO-Russia tensions has been NATO enlargement – despite pledges that it would not move eastwards, nor recruit former Warsaw Pact members – which Russia says threatens its security. This perception was formalised in its Military Doctrine of 2010 which identifies NATO military infrastructure moving closer to its border as the main external military danger. Since the Cold War ended, Albania, Bulgaria, Croatia, Czech Republic, Estonia, Hungary, Poland, Latvia, Lithuania, Romania, Slovakia and Slovenia have joined the Alliance, with Bosnia and Herzegovina, Georgia, Macedonia and Montenegro (with which an Accession Protocol was signed in May) lined up to join. According to the Alliance its policy on enlargement is that "NATO's door remains open to any European country in a position to undertake the commitments and obligations of membership, and contribute to security in the Euro-Atlantic area." The question can be asked however, has NATO enlargement contributed to security in the Euro-Atlantic area?
Security in the Euro-Atlantic area, though admittedly influenced by a multitude of complex factors, is largely predicated on good NATO-Russia relations. It therefore follows that provoking Russia through expansion – thereby altering the balance of forces as well as the geographic distribution of those forces i.e. the security conditions that have ensured peace since the end of the Cold War – negatively affects NATO-Russia relations and, hence, negatively affects security in the Euro-Atlantic area.
Even if the case can be made that countries in the European Union, or soon to join it, should also join NATO in order to also integrate them into the European defence architecture, this would not cover countries clearly in Russia's "back yard" such as Georgia. If this country joins NATO, then Russia's fear of being encircled by the Alliance would not be paranoia but an undeniable reality. In such a case, it can be expected that Russia will respond, presumably by raising new forces and/or stationing them further west, which in turn could prompt NATO to respond and lead to a tit-for-tat remilitarization to the detriment of Euro-Atlantic security.
Missile shield (not) aimed at Russia
The logical principle called Occam's Razor states that all things being equal, the simplest (or most logical) explanation is usually the right one. From a Russian perspective, if it applied this concept to the NATO missile shield currently coming online in Eastern Europe – which NATO claims is to protect Europe against rogue states in the Middle East and Russia fears is aimed at weakening its nuclear deterrent thereby altering the nuclear balance of power -Russia would (and did) conclude that its explanation is the more likely of the two. Even if one subscribed to the view that the missile shield was aimed at rogue states, NATO officials have been vague about whether it could be reconfigured to be used against Russia.
Although NATO officials have consistently stated that the Aegis anti-missile system would be ineffective against Russian Intercontinental Ballistic Missiles or ICBMs, evidently this has not allayed Russian fears. Russia also claims that the launching platforms could be used to launch cruise missiles, thereby violating the Intermediate-Range Nuclear Forces Treaty, and described it as a threat to regional and global stability. President Vladimir Putin has warned that any attempt to neutralise Russia's strategic deterrent risks a new arms race and that Russia will take responsive steps and develop strike weapons capable of overcoming any missile shield. Thus, regardless of which explanation of the missile shield's true purpose one believes, the reality is that after decades of mutual staged nuclear disarmament, nuclear rearmament is now a distinct possibility and it is NATO that has precipitated it.
Successful interventions?
Stability in the international system is predicated on peremptory norms – or jus cogens – of international law being observed without derogation. One of these norms governs the use of force, specifically the prohibition of fighting wars of aggression, i.e. wars fought not in self defence, unless they are collective actions authorised by the United Nations Security Council (UNSC). NATO's intervention in Kosovo in 1999 – regardless of whether or not it was the right thing to do – did not have the authorisation of the UNSC and therefore undermined the legitimacy of the United Nations and sent the dangerous message that unilateral interventions are acceptable in certain situations.
Another NATO intervention, this time in support of UNSC Resolution 1973, namely in Libya in 2011, though decisive and ending quickly, has also been dubious for a different reason. Libya is now largely lawless, with an array of armed militias controlling different areas of the country. The chaos has resulted in the Islamic State becoming increasingly active in the country, which has also become a paradise for people trafficking networks smuggling refugees across the Mediterranean – usually crammed into unseaworthy boats – as part of Europe's migrant crisis. Although the intervention in Libya was in support of a UNSC resolution, NATO, as the main firepower provider, also carries responsibility for turning Libya into a failed state.
NATO has been, and continues to be, a valuable – if not irreplaceable – institution which serves an important purpose. This does not mean however that it should not be looked at critically, its policies questioned and its dubious actions pointed out. In order for the Alliance to continue to contribute to global stability, rather than stoke instability, the following conclusions are arrived at:
1. Further expansion of the Alliance will bring more disadvantages than benefits (potential candidates bring very little military capability but a range of potential problems) and will provoke Russia which fears NATO is encircling it.
2. The missile shield in Eastern Europe clearly antagonises Russia (weighing the risks of a rogue state striking Europe against the risks of a new nuclear arms race with Russia suggests the latter are the greater).
3. Foreign interventions set a dangerous precedent (when embarked upon without UNSC authorisation) and even when undertaken in support of a UNSC resolution should be carried through properly not to leave the chaos of a failed state in their wake.
(*) Lisdey Espinoza Pedraza is a political columnist and PhD candidate who has spoken at numerous international conferences and published articles on international affairs.
The war of words between India and Pakistan's militaries prove that both South Asian nuclear states are intertwined in a traditional security competition. Indian Army Chief Gen. Bipin Rawat, while delivering the annual Army dinner, stated:"We will call the (nuclear) bluff of Pakistan. If we will have to really confront the Pakistanis, and a task is given to us, we are not going to say we cannot cross the border because they have nuclear weapons. We will have to call their nuclear bluff." Such statements of calling the 'nuclear bluff', 'increased cross- border firing by Indian forces, which coupled with the proclamation of surgical strikes can lead to crisis instability in the region.
Director General Inter-Services Public Relations (ISPR) Major General Asif Ghafoor responded to the Indian army chief's 'nuclear bluff' assertion by saying that such statements are unbecoming from a person of a responsible stature. He further stated that "Well, it's their choice. Should they wish to test our resolve they may try and see it for them..…Pakistan's credible nuclear deterrence is the only thing stopping India from a war." Such statements by the Indian military officials, and a quick calculated response from Pakistan, have raised the concerns of security analysts regarding the regional security and strategic dynamics.
It could be an appropriate tactic of General Bipin for securing finances for the modernization of the Army, but an absurd and destabilizing statement for the strategic stability in South Asia. According to the analysts, such statements by Indian military officials can lead to crisis instability and force the Pakistan to hasten its evolution towards war fighting nuclear doctrine. Another alarming reality is that General Bipin has failed to realize the repercussions of misreading Pakistan's nuclear weapon capability and too much confidence in India's Cold Start Doctrine. Hence, Pakistan's successful test of the 'submarine-launched cruise missile Babur (SLCM Babur)' can be viewed as a befitting response to India.
According to Pakistan's Inter Services Public Relations (ISPR), Babur is submarine-launched cruise missile with range of 450 km. It was fired "from an underwater dynamic platform" and "successfully engaged its target with precise accuracy; meeting all … flight parameters". The development of Babur (SLCM) is a significant component of a "credible second-strike capability" and a step towards reinforcing Pakistan's policy of Credible Minimum Deterrence through self-reliance and indigenization.
Previously, on January 9, 2017, Pakistan conducted its first successful test of indigenously developed submarine launched cruise missile Babur-III.  Babur-III is also advanced, mature and indigenously developed series of cruise missiles. The First test of Babur-III was considered by Pakistan' security planners as a major milestone and a right step in right direction towards reliable second strike capability. After the successful test of  Babur-III, Prime Minister Muhammad Nawaz Sharif, while congratulating the nation and the military on the first successful test-fire of the Submarine Launched Cruise Missile stated: "The successful test of Babur-3 is a manifestation of Pakistan's technological progress and self-reliance." He added: "Pakistan always maintains policy of peaceful co-existence but this test is a step towards reinforcing policy of credible minimum deterrence." Therefore successful test of Babur-III, submarine launched cruise missile finalized the triad of Pakistan's nuclear forces and second test of Babar on March 9, 2018 has enhanced Pakistan's deterrence based on Second Strike Capability.
Another significant factor which forced Pakistan to acquire Second Strike Capability is India's doctrinal transformation as it is clearly transforming its Nuclear Doctrine. New trends are emerging in India's nuclear strategy as it is moving towards a 'first-use' or even a 'first-strike nuclear strategy'. India's nuclear doctrine is based on the 'strategic ambiguity', therefore it has been anticipated that India is shifting its nuclear strategy towards 'counterforce targets' rather than 'counter value targets'. The second emerging trend is that India is moving towards the strategy of "First Use" or "Preemptive strike" from the "No-First Use strategy". The abandoning of no first-use, development of missiles defense shield, fake claims of surgical strikes and calling the nuclear bluff are developments that are perilous for the regional security. Indeed, such events have forced Pakistan to maintain deterrence through qualitative and quantitative developments in nuclear forces. In the strategic landscape of South Asia, the presence of Pakistan's credible second-strike capability is imperative for the continuity of the strategic stability between/among strategic competitors: India and Pakistan.
Subsequently, harsh statements by Indian military, its shifting nuclear doctrines and maturing sea based/ballistic missile defense developments capabilities are threatening for Pakistan. Such developments by India have been countered by Pakistan by carrying out two tests of nuclear-capable missiles, 'Babur-3' submarine-launched cruise missile (SLCM) and 'Babar'. Pakistan's tests of SLCM has further reinforced the debate on South Asian maritime security, second-strike capability and missile defense technologies in the regional landscape. To conclude, it's impossible for the Indians to alter the strategic equilibrium between India and Pakistan. Though Islamabad is not matching the Indian conventional military buildup, yet it is gradually advancing its nuclear arsenal. Hence, Pakistan's successful test of indigenous Submarine Launched Cruise (SLC) Missile 'Babur' has negated India's desire to call Pakistan's 'nuclear bluff' and has augmented the credibility of Pakistan's nuclear deterrence strategy. Addition of 'Babur' in Pakistan's military inventory confirms that Pakistan armed forces are prepared to thwart any kind of Indian armed forces military adventurism.
A Likely Path to Nuclear Annihilation
U.S. President Donald Trump asserted on the morning of April 12th, "Never said when an attack on Syria would take place. Could be very soon or not so soon at all!" This statement from him is interpreted here as constituting a public promise from him to start the overt phase of America's invasion of sovereign Syrian territory, no longer just continue the prior phase, which has relied instead upon America's proxy forces, which originally were the ones that were led by (U.S.-Saudi-Qatari-UAE supplied and armed) Al Qaeda in Syria, but increasingly now are Syria's Kurds, which have taken control over a third of Syrian territory, in Syria's northeast. This area includes the oil-producing region, from Deir Ezzor northward, and the conquest would cripple Syria's economic future, so that U.S-Saudi control of the entire country would be only a matter of time.
On April 4th, Emily Burchfield, a program assistant at the Atlantic Council — NATO's leading PR agency — headlined the following, in order to explain the U.S. military's (i.e., NATO's) objectives in Syria (and the whole headline-bloc is quoted here, because it succinctly states the article itself): Analysis: Washington Still Has Work to Do in Former ISIS Territories
Before the U.S. pulls out of Syria, Washington needs to address a governance gap left in some former ISIS territories. Otherwise, marginalized Arab communities will likely ally with the Syrian government or extremist forces, writes Emily Burchfield of the Atlantic Council.
The U.S. military, in other words, cannot accept that "marginalized Arab communities" will "ally with the Syrian government." Analogous within the United States itself would be if some foreign power refused to accept that "marginalized White communities" will "ally with the U.S. government." In other words: this is clearly a military demand (a demand that came to be expressed here by a paid employee of NATO's top PR agency, the Atlantic Council) to break up the country.
Whereas the prior U.S. President, Barack Obama, had tried everything short of all-out direct military invasion — as contrasted to indirect invasion by U.S. proxy armies of jihadist mercenaries — in order to conquer or at least to break up Syria, the current U.S. President, Trump, is resorting now to the direct military invasion route: he's taking the path that Obama had declined to take.
Syria's allies are Iran and Russia. These allies have enabled Syria to survive this long, and they all would be capitulating to the U.S. if they accepted the U.S. military invasion of Syria. For them to do that, would be for them to display, to the entire world, that the United States is their master. The U.S. Empire would, in effect, be official, no longer merely aspirational.
In the case of Russia, since it is the other nuclear super-power, this would be not just a surrender to the other nuclear super-power, but also Russia's doing that without even waging a conventional-forces war against the U.S. Empire. That is extremely unlikely.
Consequently, Russia is probably now (on April 12th) coordinating with Iran, and with its allies, such as Hezbollah in Lebanon, a conventional-forces war against the invaders.
If that conventional-forces war inflicts more damage to U.S.-and-allied forces than they inflict against Syria, that would, in military terms, constitute a "military defeat" for the U.S.
This would leave the U.S. only two options:
Either accept that Russia is another nuclear super-power (which the U.S. Deep State has refused to accept), and end the previously subterranian war to conquer it that was started by George Herbert Walker Bush on the night of 24 February 1990, or else blitz-attack Russia itself in order to eliminate enough of Russia's retaliatory weapons so as to 'win' the nuclear war — i.e., inflict even more destruction upon Russia than Russia would still possess and control the surviving weaponry to inflict against America in response.
Optical Missile Tracking Systems and Minimum Credible Deterrence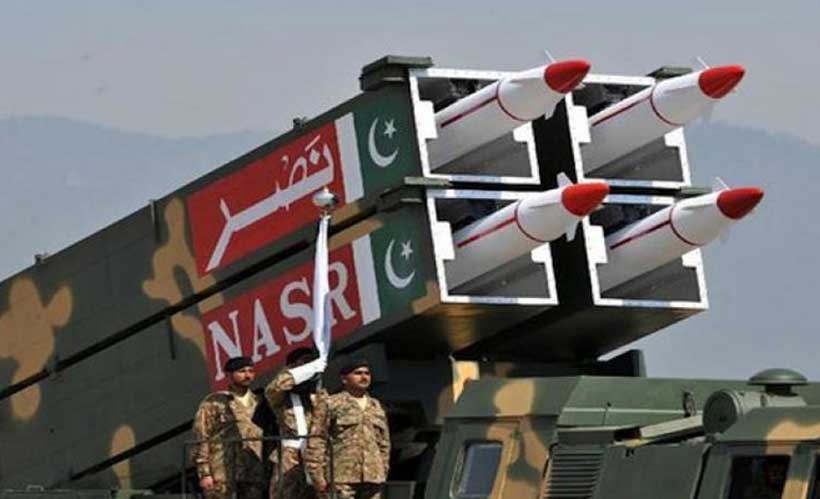 There was a time in human history when nuclear technology was the "it" technology; no one could imagine anything beyond it. The destruction and wrath it brought was not only terrifying but mesmerizing. It was fascinating for ordinary people, leaders, scientists and states that the smallest particle of matter upon breaking can release energy which could burn down a whole city in seconds. Thus, invention of nuclear weapons changed the way of thinking of nations, states and leaders. Mastering the fission of radioactive atom to enable it to release energy is not a child's play; states invest billions in currency to make nuclear weapons.
At the operational level, a nuclear weapon requires delivery systems. In this regard, strategic bombers, ships, submarines and missiles are commonly used delivery vehicles by the states. But, one of the most significant and reliable delivery systems is missiles, With missiles, states can launch nuclear pay load from their own territory or from any other place without risking its human resource, in case of sending bombers. Missile technology all around the world is growing by leaps and bounds. After nuclearization, both Indian and Pakistan pursued missile technologies including ballistic missiles, cruise missiles, ballistic missile defences, Multiple Independently re-entry targetable vehicles and inter-continental ballistic missiles as well. States invest in nuclear weapons because it helps them achieve deterrence which stops states from using nuclear option due to fear of unacceptable damages to one's vital interests. However, to endorse credibility of nuclear weapons, states invest in military modernization.
The main objective behind nuclearization of Pakistan was to create deterrence against India but without indulging into arms race. Thus, policy of minimum credible deterrence was developed by Pakistan. Later on, after India's attempt to exploit the levels beneath nuclear threshold, Pakistan resorted to the policy of full spectrum deterrence without going for arms race. So, to create credible but minimum deterrence at the start of year 2017, Pakistan tested multiple independently reentry targetable vehicle (MIRV), which can deliver multiple nuclear war heads in one go.
Development of MIRV by Pakistan is neither consequence of ambitious national objectives nor is it meant to initiate an arms race in the region. But, it is to make nuclear deterrence viable against India's BMDs which can intercept incoming ballistic missiles through interceptors and destruct them in the air.
Pakistan, due to its economic restraints could not go for BMD in response to India; as it is an expensive technology that has yet to achieve 100% success rate. So, considering its options, MIRVs came out as the most rational choice. However, MIRVs are one of the most complex technologies in which missile can carry more than one warhead in a single launch and with the capability to hit multiple individual targets. They require technological sophistication in not only sending so many vehicles in one launch but also in yield and most importantly in accuracy. With enough yield and accuracy MIRVs provide states the capability to go for pre-emptive strikes. Thus, MIRV have the capability to overwhelm the BMD system and resultantly eliminate the false sense of security under which India could go for first strike.
To increase the accuracy of MIRV missiles, Pakistan bought highly sophisticated, large scale optical tracking and measurement system from China. According to national news agency, Pakistan has deployed this sophisticated technology in battlefield. Before Chinese system, Pakistan was utilizing indigenous systems. Nonetheless, it will help Pakistan record high-resolution images of a missile's departure from its launcher, stage separation, tail flame and, after the missile re-enters atmosphere, the trajectory of the warheads it releases. These functions will be possible because the system bought by Pakistan comes with a pair of high-performance telescopes equipped with a laser ranger, high-speed camera, infrared detector and a centralised computer system that automatically captures and follows moving targets. However, what makes this system unique is its ability to detect missile up to range of several hundred kilometers through the help of its telescopes. The timing of these telescopes are precisely synchronized with the atomic clock. Thus, now Pakistan can track different warheads going in different directions simultaneously. Moreover, through visual imagery, the missile developers can improve the accuracy and design of missile in much better way.
So, with this technological uplift, Pakistan will soon add Ababeel (MIRV) into its operational missile inventory. But, these actions by Pakistan are not to give rise to arms race rather they are the reactions to the actions taken by India. BMDs by India never strengthened nuclear deterrence or stability rather they eliminated the deterrence by nulling the credibility of ballistic missiles. As a result, to maintain credibility of its deterrence though minimum means, Pakistan opted for MIRV, as missile tracking systems are essential in improving the accuracy and designs of missiles. If anything indicates arms race in the region, it is India's ICBMs, naval nuclear fleets and space weaponization.