To impeach or not to impeach (Part II)
The Temer government
Mr Temer's interim government has been marked by aggressive contention measures, polemic decrees, an over homogeneous team of (arguably honest) ministers and an unexpected hesitation in choosing the political leaders in the parliament and planning its next moves.
When it first came to forming an economic team with their origins in the market, the interim president was highly praised and gathered a lot of experts led by Mr Henrique Meirelles, former president of the Central Bank of Brazil. Their first actions were sharp and oriented towards a solution for the economic scenario (or, at least, an insight into a situation of stability) – they redefined the budget bills, assuming a gap of 170 billion reais (Ms Rousseff's staff had agreed on R$96 billion right before she was ousted) and determined that the Brazilian Development Bank (BNDES) would return R$100 billion for public debts, which should also generate savings of R$7 billion.
Nonetheless, there seemed to be still great confusion regarding the general directions and the ministers. So far, there were situations in which the president needed to publicly state a different opinion from his own staff: one can recall, for example, when the Health minister claimed that health could not be a facility to every Brazilian and the Finance minister seemed unsure about the return of the Provisional Contribution on Financial Transactions – CPMF, abolished in 2007, as an extra revenue to help cover the huge fiscal gap in the economy.
Taking out what is left(-wing)
The desperate measures of what had once been called a mandate to solve the financial crisis, in turn, were far more unpopular than that and fomented some extra tension in an already politically divided country.
First, a ministry composed only by white males seriously worried those who defend or represent minorities – and there is a legit reason for that. The interim president has alleged that no woman would accept his invitation for ruling the ministries, but it is the first time in 37 years, therefore, since the military dictatorship in Brazil, that minorities were not represented. Besides, local policies for those minorities are not strong nor effective (Brazil is one of the countries with the highest rates of crimes against homosexuals, for example) , so yes, even though some might argue that the ministers were chosen based on their competence (with which one can only partly agree, since many of the positions meant for a 'government of notables', as Mr Temer used to refer to a team that included congressmen investigated in Operation Car Wash, were promised to allies in a pre-impeachment scenario), there is the need for representation, as a matter of defining how minorities might properly be governed. Once more politicians from different origins take the power together, it becomes way easier for the government, centered in the person of the president, to approve or create accurate and meaningful policies for those groups.
What seems somehow aggressive to Dilma's defenders and leftists in general is that most of the 'new' government's measures are, at the same time, liberal and cost-oriented (which means that, at least for the spotlight, this will not be known as a government that prioritizes social policies, even though Temer said there weren't going to be any cuts in Health and Education budgets).
The interim president is proud to compare his short, aggressive economic goals to Juscelino Kubitschek's (Brazilian president from 1956-1961, whose economic targets were under the motto '50 years of development in 5'), but his foes would rather link him to our years of military dictatorship. If it is to say that his attitudes are authoritarian – which could be more accurately defined as precipitate and vague -, since they don't follow the populist vein that 51,64% of the Brazilian voters chose in 2014, hopefully this will be a time for a 'Brazilian miracle'. But that is hugely unlikely.
The Game of Brasilia
Among all those sensitive measures, one of the most memorable (and rejected) was the mergence of some ministries and the instauration of other two. Mr. Temer temporarily abolished the Ministry of Culture, placing it as a subpart of the Ministry of Education. He did the same to the Ministry of Women, Racial Equality and Human Rights, incorporated to the Ministry of Justice, under the argument that it would save money.
Indeed, it would, but the savings were not significant compared to the debt of the country and didn't pay off the general burst of indignation caused in the artistic class, that occupied public buildings in many capitals in Brazil for more than one week, until the president finally stepped back and restructured the Ministry of Culture.
This first month of government has been marked by ethical incongruences, too. Besides the Car Wash investigated ministers, the leader of the government in the Lower House, André Moura, is facing lawsuits regarding corruption, embezzlement of public funds and even homicide attempts. Furthermore, as I previously wrote here, ministers Romero Jucá and Henrique Alves had audios leaked in which they expressed how convenient it was for the end of the Operation Car Wash that Dilma lost her mandate (the first had to resign, whereas the latter was kept by the president for the 'lack of evidences' to point him as an obstacle to the investigation).
The president's attitudes aiming at strengthening alliances are also questionable. A summary raise of the public employees' salaries was recently approved, which will cause debts to escalate up to 6.9 billion reais until 2019, due to the cascade effect (salaries that are calculated based on other salaries, causing the adjustments in the lawmakers' paycheck to be followed by a raise to a whole lot of other public employees), and seems to be only justified, in times of contention, by another of the president's attempt to monetize his support and stability. This is believed to be especially necessary in a moment when popular demonstrations, like the one that happened on June 10th in at least 24 states and the Federal District, show that not only does Mr Temer not have support from many voters, but he is also rejected by them.
Now, it is for us to wait and see how an already so unpopular government will, within 180 days (until it is decided whether president Dilma will permanently be impeached or not), create measures to improve a forecast of a 3,81% shrinking in the GDP, cause a contraction of SELIC (Special System for Settlement and Custody, a rate that nowadays reaches 14,25%, showing an effort from the Central Bank to control inflation and consumption) and fight to diminish the frightening unemployment rates of 11,2% (in the first trimester of this year) without confronting nor outraging specific and non-specific groups of Brazilians who eagerly await this economic and political turbulence to pass.
Harry Truman, Too, Was a Self-Described Democratic Socialist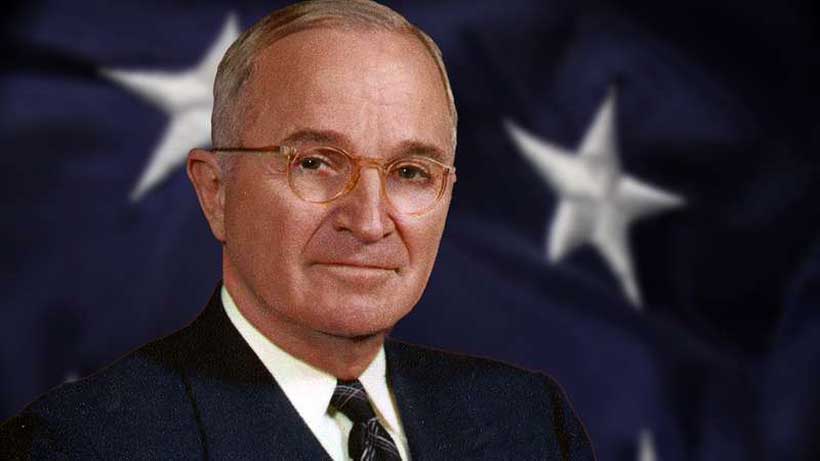 This is from the public papers of U.S. President Harry S. Truman in 1952: "Public Papers, Harry S. Truman, 1945-1953, October 10, 1952" [rail-car campaigning for Adlai Stevenson in N.Y. State to become Truman's successor, against Dwight Eisenhower]
Socialism is a scare word they have hurled at every advance the people have made in the last 20 years.
Socialism is what they called public power. Socialism is what they called social security.
Socialism is what they called farm price supports.
Socialism is what they called bank deposit insurance.
Socialism is what they called the growth of free and independent labor organizations.
Socialism is their name for almost anything that helps all the people.
When the Republican candidate inscribes the slogan "Down With Socialism" on the banner of his "great crusade," that is really not what he means at all.
What he really means is, "Down with Progress–down with Franklin Roosevelt's New Deal," and "down with Harry Truman's fair Deal." That is what he means.
Politico headlined on February 24th, "Sanders sends Democratic establishment into panic mode" and reported that "A renewed sense of urgency washed over establishment Democrats, who fear it's quickly becoming too late to stop Sanders."
Today's Democratic Party Establishment — the Clintonites and Obamaites and the supporters of every one of the current crop of Democratic Presidential candidates except for Bernie Sanders — are not in the tradition of Truman, and of his immediate predecessor Franklin Delano Roosevelt, but are instead in the post-Reagan tradition of the Democratic Party, the tradition that was well represented by Bill Clinton when he, for example, created "don't ask, don't tell," and then joined with the Republicans in Congress to abolish FDR's Glass-Steagall Act and also to allow unregulated trading in investment-derivatives, and generally to deregulate the economy, and to sign into law and promote NAFTA, which expanded U.S. corporate profits at the expense of America's working-class. His wife wanted also that there would be expanded fracking, just like the Republicans wanted, and she wanted Iraq to be invaded, just like George W. Bush and Dick Cheney did. And the Democratic Establishment nowadays is pushing lots of proposals that the Republican Party had pushed for prior to the Reagan revolution, proposals for unleashing the nation's mega-corporations and producing enormous wealth-inequality.
Bernie Sanders is the only Democrat who is running in today's 'Democratic' Party Presidential primaries. All of the other candidates in those primaries are warmed-over pre-Reagan Republicans. Only Sanders is running against the Republican 'Democrats', who are, basically, spitting on FDR's grave.
The revolt against Sanders, by the Democratic National Committee, and maybe by its 700+ superdelegates at the upcoming Convention so as to throw its nomination to Elizabeth Warren or one of the other 'moderate' 'Democrats', is simply the revolt against Franklin Delano Roosevelt's Democratic Party. It is their revolt against progressivism, and for conservatism, so as to keep today's Democratic Party, a liberal instead of progressive party. Liberalism blends progressivism and conservatism. The founder of liberalism was the man who had blended conservatism and progressivism, John Locke, about whom John Quiggin has noted, with an honestly that is stunningly rare: "As secretary to the Earl of Shaftesbury, then chancellor of the exchequer, Locke assisted in drafting the Fundamental Constitutions of Carolina. He was secretary to the Council of Trade and Plantations (1673–74) and a member of the Board of Trade (1696–1700), with responsibility for the American colonies. He was a major investor in the English slave trade through the Royal African Company and the Bahama Adventurers company." This is what today's Democratic National Committe (DNC) represents — that tradition, of the British aristocracy, even the slave-traders amongst them, not the progressive tradition, which FDR created in the Democratic Party, and which Bernie Sanders calls simply "democratic socialism" and cites Denmark and other Scandinavian countries as being contemporary examples of what has worked well elsewhere that can also work well here. (Although FDR created it in the Democratic Party, he was simply copying and adapting from the best of the European nations; for example, Social Security was instituted in 1935 but already six European nations had it by that time — and what Bernie Sanders is trying to do is in that tradition, of copying and adapting the best from abroad, not just continuing exceptionally bad existing U.S. practices.)
Today's DNC, and its 'Third Way' mouthpieces (Third Way is now propagandizing against Sanders in South Carolina) are scaremongering against Sanders being a "socialist," and (as that news-report said) "When Third Way held a meeting in Charleston in June 2019, one of the group's founders referred to Sanders as an 'existential threat' to the future of the Democratic Party." This is the line that the Democratic Party's billionaires are now spreading. They're determined to retain control over the Party, just as the Republican Party's super-rich have always had control over the Republican Party since the very moment when Abraham Lincoln was assassinated in 1865.
Abraham Lincoln had said:
The insurrection is largely, if not exclusively, a war upon the first principle of popular government — the rights of the people. Conclusive evidence of this is found in the most grave and maturely considered public documents, as well as in the general tone of the insurgents. In those documents we find the abridgement of the existing right of suffrage and the denial to the people of all right to participate in the selection of public officers, except the legislative boldly advocated, with labored arguments to prove that large control of the people in government, is the source of all political evil. Monarchy itself is sometimes hinted at as a possible refuge from the power of the people.
In my present position, I could scarcely be justified were I to omit raising a warning voice against this approach of returning despotism.
It is not needed, nor fitting here, that a general argument should be made in favor of popular institutions; but there is one point, with its connexions, not so hackneyed as most others, to which I ask a brief attention. It is the effort to place capital on an equal footing with, if not above labor, in the structure of government. It is assumed that labor is available only in connexion with capital; that nobody labors unless somebody else, owning capital, somehow by the use of it, induces him to labor. This assumed, it is next considered [Page 52] whether it is best that capital shall hire laborers, and thus induce them to work by their own consent, or buy them, and drive them to it without their consent. Having proceeded so far, it is naturally concluded that all laborers are either hired laborers, or what we call slaves. And further it is assumed that whoever is once a hired laborer, is fixed in that condition for life.
Now, there is no such relation between capital and labor as assumed; nor is there any such thing as a free man being fixed for life in the condition of a hired laborer. Both these assumptions are false, and all inferences from them are groundless.
Labor is prior to, and independent of, capital. Capital is only the fruit of labor, and could never have existed if labor had not first existed. Labor is the superior of capital, and deserves much the higher consideration. Capital has its rights, which are as worthy of protection as any other rights. Nor is it denied that there is, and probably always will be, a relation between labor and capital, producing mutual benefits. The error is in assuming that the whole labor of community exists within that relation. A few men own capital, and that few avoid labor themselves, and, with their capital, hire or buy another few to labor for them. A large majority belong to neither class — neither work for others, nor have others working for them. In most of the southern States, a majority of the whole people of all colors are neither slaves nor masters; while in the northern a large majority are neither hirers nor hired. Men with their families — wives, sons, and daughters — work for themselves, on their farms, in their houses, and in their shops, taking the whole product to themselves, and asking no favors of capital on the one hand, nor of hired laborers or slaves on the other. It is not forgotten that a considerable number of persons mingle their own labor with capital — that is, they labor with their own hands, and also buy or hire others to labor for them; but this is only a mixed, and not a distinct class. No principle stated is disturbed by the existence of this mixed class.
Would the post-Lincoln Republican Party assert any such thing as that "Labor is prior to, and independent of, capital. Capital is only the fruit of labor, and could never have existed if labor had not first existed. Labor is the superior of capital, and deserves much the higher consideration."?
To anyone who would spout the line of America's billionaires (either Republican or Democratic ones), Bernie Sanders would, as the Presidential nominee of, and standard-bearer for, a restored progressive Democratic Party, be able to quote both Harry Truman and Abraham Lincoln, in order to expose those persons' frauds and take the White House away from them and restore it to the people.
Officers Exchanged Fire With Troops Near National Palace As Government Announced Carnival
According to reports, Haitian police officers exchanged gunfire for hours on Sunday (February 23th, 2020) with soldiers of the newly reconstituted army outside the National Palace, in a dangerous escalation of protests over police pay and working conditions.
Police officers began protests for weeks from now, and some of the protests being led by Former police officer Madame Yanick Joseph who was fired and other political leaders.
At least three police officers were wounded, fellow officers told AP and other media across the country. The army's high command said in an online statement that a soldier had been wounded by a bullet in the back.
Haiti's raucous three-day Carnival celebration was to have started Sunday afternoon in Port-au-Prince and other major cities but the government announced Sunday night that Carnival was canceled in the capital "to avoid a bloodbath." Police protesters and their backers had burned dozens of Carnival floats and stand at recent protests, saying they did not believe the country should be celebrating during a crisis.
As the afternoon wore on, uniformed officers joined their colleagues in the street outside the palace, firing at the military base with semi-automatic pistols and rifles. Many wore masks along with their uniforms to hide their identities.
Other armed men spotted a drone that appeared to be taking images of the violence and followed it to the offices of Radio Caraibes, then began shooting at the broadcaster's building. There were no immediate reports of casualties in the attack.
"These protests won't stop until the current Haitian Government resigns.", said Mr. Werley Nortreus, a political leader and the founder of Vanyan Sòlda Ayiti and A New Haiti Before 2045 (ANHB 2045).
Police protests began this month after a half-dozen officers were fired over their attempt to unionize. The demonstrations are not directly linked to anti-corruption protests that roiled Haiti for most of last year, but they draw on the same widespread dissatisfaction with Haiti's shrinking economy and President Jovenel Moise's inability to improve the quality of life.
A uniformed police officer in a black-and-white clown mask told reporters outside the palace that officers were demanding the reinstatement of their fired colleagues as well as a pay raise for all officers.
"Until this is done we will not sit and talk," said the officer, who declined to provide his name. "The president has proven that he does not care about our demands."
President Jovenel Moise said at a news conference on Saturday (Feb 22th, 2020) that he recognized the legitimacy of many police complaints and would increase some collateral benefits for officers, but police said Sunday that the concessions were not enough.
According to reports of the shootout between police officers and troops on Feb 23, at least three men were taken to a hospital near the shooting with wounds to the legs and feet that did not appear to be life-threatening. Uniformed police officers told journalists that the wounded men were fellow officers. The uniformed officers spoke on condition of anonymity because they were not authorized to speak to the press.
How Bernie Sanders Will Destroy the Deep State if He Becomes President
Joe Lauria at Consortium News headlined on February 21st, "Apparent US Intel Meddling in US Election With 'Report' Russia is Aiding Sanders", and he noted that,
If the story is true and if intelligence agencies are truly committed to protecting U.S. citizens, the Sanders campaign would have been quietly informed and shown evidence to back up the claims.
Instead the story wound up on the front page of the [Washington] Post, "according to people familiar with the matter." Zero evidence was produced to back up the intelligence agencies' assertion.
"It is not clear what form that Russian assistance has taken," the Post reported. That would tell any traditional news editor that there was no story until it is known.
Instead major U.S. media are again playing the role of laundering totally unverified "information" just because it comes from an intelligence source. Reporting such assertions without proof amounts to an abdication of journalistic responsibility. It shows total trust in U.S. intelligence despite decades of deception and skullduggery from these agencies.
Despite the untrustworthiness of the intelligence agencies that had told President George W. Bush that they would be able to present to the American public a "slam-dunk" case that Saddam Hussein had WMD and was to blame for the 9/11 attacks, and despite their similar serial lying up to the present time, Senator Sanders issued a public statement that "Unlike Donald Trump, I do not consider Vladimir Putin a good friend. He is an autocratic thug who is attempting to destroy democracy and crush dissent in Russia." Regardless of whether he actually believes that Putin is an "autocratic thug," his saying this was necessary in the context of the ceaseless anti-Putin propaganda in America's 'news'-reporting and from America's 'intelligence' agencies, all of which have for decades been effectively controlled by America's billionaires, who are now terrified that Sanders might actually become President. Their agents are consequently smearing him. America's hundreds of billionaires ARE America's Deep State, and those hundreds of individuals are the only people who are actually represented by their media and 'our' Government.
This is the reason why we invaded and occupy and destroyed Iraq, all on the basis of lies.
This is the reason we invaded and destroyed Libya, all on the basis of lies.
This is the reason why we hired Al Qaeda in Syria to lead the hundreds of jihadist groups that have since been trying to overthrow and replace Syria's secular non-sectarian President Bashar al-Assad.
None of the American billionaires' fronts — not the CIA, nor any others — have publicized, but they instead all have hidden, all of these realities and basically all of the really important historical events during the past twenty years which shape the international world in which we all are living. Democracy in America is impossible under such circumstances as this.
Back in 2002, Sanders was able to refuse to authorize George W. Bush to invade Iraq and yet still not have his career in Congress destroyed by that 'unpatriotic' (actually courageously patriotic) act. But in today's environment, any member of Congress who fails to demonize Vladimir Putin is 'unpatriotic' — as if the Cold War which was ended by Russia in 1991 has secretly continued by America ever since — which it HAS.
America's billionaires are even more opposed to ending the Cold War than they are opposed to increasing taxes on the rich up to international standards for industrialized nations. They will accept high taxes — and during the 1950s the super-rich accepted even a 90% marginal rate of taxation — but they will not, under any circumstances, accept ending America's recent quest to replace the U.N as the basis of international law and order; they DEMAND that the U.S. Government, which they control, must control the entire world, including Russia. This is essential to their all-encompassing global empire, the global dictatorship by America's international corporations. That is the core belief of the Deep State, and no Sanders Presidency will be able to succeed unless a President Sanders will strip America's billionaires of the control they enjoy over the American Government through the Deep State. The Deep State is the U.S. billionaires; it is the control they have over the U.S. Government. Only by ending that control will America's Deep State be brought to an end. Sanders is the only viable U.S. Presidential candidate who authentically does threaten the billionaires' control over 'our' government; and the only way that he will be able to succeed is by destroying their Deep State, their control over the Government and over their press or 'news' media. This is an internal U.S. war, right now, between the Deep State and not only Donald Trump on the right (who constantly caves to their demands) but also Bernie Sanders on the left (who has yet to be in a position really to challenge their control over America).
So: how can Sanders do it, if he becomes the President? Fight like hell and be willing to sacrifice even himself, if need be, so as to destroy their control over America. Be what Trump only pretends to be. This is the only way that it might be able to be done. Sincerity. Determination. Mono-focus. And great courage. Never backtracking.
Right now, America accounts for about half of the entire world's military expenditures, and that can't go on if America is to take care of its real problems. Those corporations, such as Lockheed Martin, are not going to yield without there being now a second American revolution, a revolution of control. It will have to be a total revolution of control — not just over Wall Street, and not just over the hedge funds, and not just over the private equity funds, and not just over the healthcare system, and not just over the universities, and not just over the private foundations and other 'non-profits' (which largely privatize to billionaires the decisions as to what 'needs' to be done for the good of the entire country). Why do billionaires get tax-breaks for funding 'nonprofits' which expand their own power not only over commerce but especially over national priorities and the government itself? The corruption is so deep and so pervasive.
Right now, the corruption is focused on getting the Democratic Party's superdelegates, instead of the voters in the primaries and caucuses, to choose whom the Party's nominee for the U.S. Presidency will be.