The Immigrant "Other" in US and EU Politico-Religious Experiences: A Comparative Perspective
Can the EU welcome and integrate the immigrant "other"?
Nowadays this urgent question is often asked by historians, sociologists, and political scientists. It has given rise to a plethora of books and academic conferences on the subject (see below for a sample). In the light of the events of the recent "refugee European crisis" the conclusions and prognosis are, more often than not, rather inconclusive and ineffective. In the short analysis that follows I'd like to examine the reasons for the deficiency, namely that the philosophy of religion is often ignored, if not downright excluded from the diagnosis, thus ending up with the wrong prognosis.
Another aspect of the wrong diagnosis is the lack of comparative perspective on the issue. By that I mean a hard look at the immigrant experiences of both the American and European continents, preferably by scholars who have lived and worked on both sides of the Atlantic. After all, it was European societies that were the primary immigrant-sending regions to America, South Africa, Oceania and Australia and just about every corner of the globe during the colonial industrialization phase of their history (1700-1920); we are talking about some 85 million Europeans; some 60% of which emigrated to the Americas (some 50 millions).
The present paradox is that the flow has now reversed and several Western European societies have now in turn become centers of global immigration. A comparison is logical and in order. There may be hard lessons to be learned from it. There is now a ratio of approximately 10% immigrants living in several European countries (UK, France, Holland, West Germany, Italy). However, they still have difficulty viewing themselves as permanent immigrant societies, the way the US viewed and continues to view itself; or for that matter of viewing the native second generations as nationals irrespective of the legal status of their citizenship. A de facto, second rate citizenship seems to be in place. The question arises: Why is that?
This question can only be answered by analyzing how these Western European countries have tried to accommodate immigrant religions, particularly Islam. Although European laws and regulations are now in place, each nation, deals with immigrant religions in markedly different institutional and legal structures on how the immigrants may publicly express religious beliefs and practices. Here a thorough knowledge of modern Western European history vis a vis religion can be useful in assessing the different reactions of various EU nations.
The French model of laicitè (or secularism) is primary in this respect. In practice secularism means a strict privatization of religion, its elimination from the public forum, while pressuring religious groups to organize themselves into a single centralized churchlike structure and serve as intermediary between it and the state, so as to better regulate and manipulate it. The model is in part the concordat with the Catholic Church established in Italy in 1929. Religion is tolerated but it is a private matter even when its symbols are pervasive in the country's traditional culture. A great wall of separation between Church and State exists, as indeed is also the case in the US whose founding fathers well remembered the disastrous European wars of religions of the 17th century.
Great Britain, by contrast, while maintaining the established Church of England, allows greater freedom to religious associations, who deal directly with local authorities and school boards to press for changes in religious education, diet, etc., with little direct appeal to the central government. Germany, following the multi-establishment model, has tried to organize a quasi-official Islamic institution, at times in conjunction with parallel strivings on the part of the Turkish state to regulate its diaspora. But the internal divisions among immigrants from Turkey, as well as the public expression and mobilization of competing identities (secular and Muslim, Alevi and Kurd) in the German democratic context, have undermined any project of institutionalization from above. Holland, following its traditional pattern of pillarization, seemed, at least until very recently, bent on establishing a separate state-regulated but self-organized Muslim pillar. Lately, however, even traditionally liberal and tolerant Holland is expressing second thoughts, and seems ready to pass more restrictive legislation setting clear limits to the kinds of un-European, un-modern norms and habits it is prepared to tolerate.
But let us now look more closely at the comparison between the EU and the US. If one looks at the European Union as a whole, there are two fundamental differences with the situation in the United States. In Europe, first of all, immigration and Islam are almost synonymous. The overwhelming majority of immigrants in most European countries, the UK being the main exception, are Muslims, and the overwhelming majority of Western European Muslims are immigrants. This identification appears even more pronounced in those cases where the majority of Muslim immigrants tend to come predominantly from a single region, e.g., Turkey in the case of Germany, the Ma'ghreb in the case of France. This entails a superimposition of different dimensions of "otherness" that exacerbates issues of boundaries, accommodation and incorporation. The immigrant, the religious, the racial, and the socio-economic de-privileged "other" all tend to coincide.
In the United States, on the other hand, Muslims constitute at most 10 percent of all new immigrants. it is estimated that from 30 to 42 percent of all Muslims in the United States are African-American converts to Islam, making the characterization of Islam as a foreign, un-American religion even more difficult. The dynamics of interaction with other Muslim immigrants, with African-American Muslims, with non-Muslim immigrants from the same regions of origin, and with their immediate American hosts are, depending on socio-economic characteristics and residential patterns, much more complex and diverse than anything one finds in Europe. A nuance this which escapes the simple-minded approach of a Donald Trump and his cohorts.
The second main difference has to do with the role of religion and religious group identities in public life and in the organization of civil society. Western European societies are deeply secular societies, shaped by the hegemonic knowledge regime of secularism. As liberal democratic societies, they tolerate and respect individual religious freedom. But due to the increasing pressure towards the privatization of religion, which among European societies is now taken for granted as a characteristic of the self-definition of modern secular society, those societies have much greater difficulty in offering a legitimate role for religion in public life, and in the organization and mobilization of collective group identities. Muslim organized collective identities and their public representations become a source of anxiety, not only because of their religious otherness as a non-Christian and non-European religion, but, even more significantly, because of their religiousness itself as the "other" of European secularity. Presently, a post-secular Europe as envisioned by the German philosopher Jurgen Habermas, is not on the horizon yet, if anything, things are going from bad to worse with the advent of right-wing ultra-nationalistic parties resurgent all over Europe and threatening the democratic system buttressed by Christian principles as envisioned by the EU founding fathers, the likes of Aedenauer, Schuman, Monet, De Gasperi, etc.
In this context, the temptation to identify Islam and fundamentalism becomes all the more pronounced. Islam, by definition, becomes the other of Western secular modernity allegedly rooted in a universal European enlightenment. Therefore, the problems posed by the incorporation of Muslim immigrants become consciously or unconsciously associated with seemingly related and vexatious issues concerning the role of religion in the public sphere, which is a question European societies assumed they had already solved according to the liberal secular norm of the privatization of religion. The assumption has resulted premature.
Americans, by contrast, are demonstrably more religious than Europeans. Therefore there is a certain pressure for immigrants to conform to American religious norms. It is generally the case that immigrants in America tend to be more religious than they were in their home countries. I can confirm this on a personal level: I do not remember my parents attending Church on a regular basis on Sunday in Italy while they did so once they emigrated to America. I am quite sure such was the case for my grandfather once he emigrated to New York when my father was born in 1912.
But even more significantly, today as in the past, religion and public religious denominational identities play an important role in the process of incorporating new immigrants. The thesis of Will Herberg concerning the old European immigrant, that "not only was he expected to retain his old religion, as he was not expected to retain his old language or nationality, but such was the shape of America that it was largely in and through religion that he, or rather his children and grandchildren, found an identifiable place in American life," is still operative with the new immigrants. The thesis implies that collective religious identities have been one of the primary ways of structuring internal societal pluralism in American history.
Due to the corrosive logic of racialization, so pervasive in American society, the dynamics of religious identity formation assume a double positive form in the process of immigrant incorporation. Given the institutionalized acceptance of religious pluralism, the affirmation of religious identities is enhanced among the new immigrants. This positive affirmation is reinforced, moreover, by what appears to be a common defensive reaction by most immigrant groups against ascribed racialization, particularly against the stigma of racial darkness. In this respect, religious and racial self-identifications and ascriptions represent alternative ways of organizing American multiculturalism. One of the obvious advantages of religious pluralism over racial pluralism is that, under proper constitutional institutionalization, it is more reconcilable with principled equality and non-hierarchic diversity, and therefore with genuine multiculturalism.
American society is indeed entering a new phase. The traditional model of assimilation, turning European nationals into American "ethnics," can no longer serve as a model of assimilation now that immigration is literally worldwide. America is bound to become "the first new global society" made up of all world religions and civilizations, at a time when religious civilizational identities are regaining prominence at the global level. At the very same moment that political scientists like Samuel Huntington are announcing the impending clash of civilizations in global politics, a new experiment in intercivilizational encounters and accommodation between all the world religions is taking place at home. American religious pluralism is expanding and incorporating all the world religions in the same way as it previously incorporated the religions of the old immigrants. A complex process of mutual accommodation is taking place. Like Catholicism and Judaism before, other world religions, Islam, Hinduism, Buddhism are being "Americanized" and in the process they are transforming American religion, while, much as American Catholicism had an impact upon the transformation of world Catholicism and American Judaism has transformed world Judaism, the religious diasporas in America are serving as catalysts for the transformation of the old religions in their civilizational homes.
This process of institutionalization of expanding religious pluralism is facilitated by the dual clause of the First Amendment which guarantees "no establishment" of religion at the state level, and therefore the strict separation of church and state and the genuine neutrality of the secular state, as well as the "free exercise" of religion in civil society. The latter includes strict restrictions on state intervention and on the administrative regulation of the religious field. It is this combination of a rigidly secular state and the constitutionally protected free exercise of religion in society that distinguishes the American institutional context from the European one. In Europe one finds, on the one extreme, the case of France, where a secularist state not only restricts and regulates the exercise of religion in society but actually imposes its republican ideology of laïcité on society, and, on the other, the case of England, where an established state church is compatible with wide toleration of religious minorities and the relatively unregulated free exercise of religion.
As liberal democratic systems, all European societies respect the private exercise of religion, including Islam, as an individual human right. It is the public and collective free exercise of Islam as an immigrant religion that most European societies find difficult to tolerate, precisely on the grounds that Islam is perceived as an "un-European" religion. The stated rationales for considering Islam "un-European" vary significantly across Europe, and among social and political groups. For the anti-immigrant, xenophobic, nationalist Right, represented by Le Pen's discourse in France and Jörg Haider's in Austria, the message is straightforward: Islam is unwelcome and un-assimilable, simply because it is a "foreign" immigrant religion. Such a nativist and usually racist attitude can be differentiated clearly from the conservative "Catholic" position, paradigmatically expressed by the Cardinal of Bologna when he declared that Italy should welcome immigrants of all races and regions of the world, but should particularly select Catholic immigrants in order to preserve the country's Catholic identity.
Sad to say, when it comes to Islam, secular Europeans usually liberal in their views on religion in general, tend to reveal the limits and prejudices of modern secularist toleration. The politically correct formulation tends to run along such lines as "we welcome each and all immigrants irrespective of race or religion as long as they are willing to respect and accept our modern liberal secular European norms." Revealingly enough, some time ago Prime Minister Jean-Pierre Raffarin, in his address to the French legislature defending the banning of ostensibly religious symbols in public schools, made reference in the same breath to France as "the old land of Christianity" and to the inviolable principle of laïcité, exhorting Islam to adapt itself to the principle of secularism as all other religions of France have done before. "For the most recently arrived, I'm speaking here of Islam, secularism is a chance, the chance to be a religion of France." The Islamic veil and other religious signs are justifiably banned from public schools, he added, because "they are taking on a political meaning," while according to the secularist principle of privatization of religion, "religion cannot be a political project." Time will tell whether the restrictive legislation will have the intended effect of stopping the spread of "radical Islam," or whether it is likely to bring forth the opposite result of further radicalizing an already alienated and maladjusted immigrant community.
The positive rationale one hears among liberals in support of such illiberal restrictions on the free exercise of religion is usually put in terms of the desirable enforced emancipation of young girls, against their expressed will if necessary, from gender discrimination and patriarchal control. This was the discourse on which the assassinated liberal politician Pim Fortuyn built his electorally successful anti-immigrant platform in liberal Holland, a campaign that is now bearing fruit in new restrictive legislation. While conservative religious persons are expected to tolerate behavior they may consider morally abhorrent such as homosexuality, liberal secular Europeans are openly stating that European societies ought not to tolerate religious behavior or cultural customs that are morally abhorrent, insofar as they are contrary to modern liberal secular European norms. What makes the intolerant tyranny of the secular liberal majority justifiable in principle is not just the democratic principle of majority rule, but the secularist teleological assumption, built into theories of modernization, that one set of norms is reactionary, fundamentalist and anti-modern, while the other is progressive, liberal and modern.
In conclusion, from the above considerations and reflections, we can safely assume that sociological-historical considerations, while helpful for the analysis of the issue of religion vis a vis the secular "enlightened" state, are not sufficient by themselves to arrive at a proper diagnosis and prognosis of the problem. What is also needed, and is solely missing in the ongoing dialogue, is an analysis that takes seriously and incorporates the philosophy of religion. Without a philosophy of religion the analysis and consequently the prognosis will continue to remain incomplete and ineffective. But let the dialogue continue among people of good will, be they believers or non-believers.
Europe's former imperial countries are now desperate U.S. colonies
India is no longer a colony of the UK, but Germany and other European countries have become — now quite obviously — colonies of the United States, and their economies will be financially bled by the world-bestriding U.S. imperialist center, just like the UK and other European nations had previously (and infamously) exploited India and its other colonies.
The U.S. Government's having blown-up the Nord Stream gas pipelines from Russia to Europe — after years of efforts to sabotage them more subtly by other, more 'diplomatic' (but less permanent), means — will leave Europe permanently forced to pay vastly higher rates to America and other liquefied natural gas (LNG) suppliers, and no longer with even a hope of receiving the far less-expensive Russian gas, which, until recently, fueled so many European firms to international competitiveness. Now, there's no longer even a hope for Europe to avoid sliding into the usual model of colonies, as being banana republics, of one sort or another.
It was so natural for Russia to be Europe's main energy-supplier, because Russia is a part of Europe, on the same continent as the other European nations, and therefore could pipeline its energy to them, and Russia had a surfeit of energy while the other European nations had a surfeit of need for it. That's the way international capitalism is supposed to function, but imperialistic capitalism is instead international fascism, and it survives and grows only by exploiting other nations. From now on, the European nations, other than Russia, will, for at least a long time (because those giant gas-pipelines have been destroyed) be paying the world's highest prices for energy (containerized and shipped, instead of simply pipelined), and buying much of it from Europe's imperial center, which is increasingly recognizable now as being Europe's real enemy: America. They will be paying tribute to the emperor — the billionaires who control the USA. These are the puppet-masters behind "the free world" (as their 'news'-media refer to it), which is actually the new international-fascist empire. As Barack Obama called it, America is "the one indisensable nation," which means that all other nations (in this case, the ones in Europe) are "dispensable." Now, these former imperial nations will finally get a taste of what it's like to be a "dispensable nation."
Here are some of the key U.S. operatives in Europe, who managed this situation, for the U.S. owners — brought this situation about (before Joe Biden's agents ultimately just pulled the plug on the whole operation):
Boris Johnson, Olaf Schulz, Annalena Baerbock, Robert Habeck, Ursula von der Leyen, Josep Borrell, Anders Fogh Rasmussen, Jens Stoltenberg, Emmanuel Macron, Mario Draghi — and, of course, behind the scenes, the billionaires who funded those leaders' political careers (via political donations, plus those billionaires' news-media and their other mass-public-opinion-forming organizations). These key agents will no doubt be paid well, in their retirements, regardless of what the public might think of them after their 'service to the public' is over.
Exporting Religious Hatred to England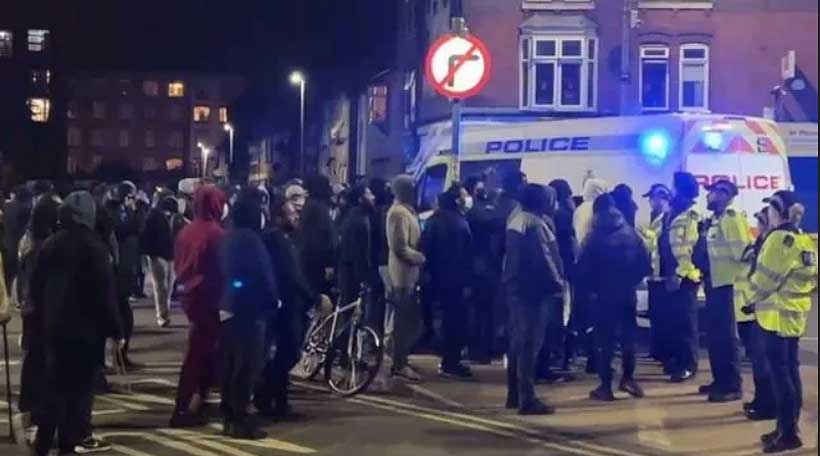 Not a place hitting the main news channels often, Leicester is a small town of 250,000 inhabitants about a hundred miles north of London and 40 miles east of Birmingham the UK's second largest city.
But an imported ideology is now the cause of religious violence that has profoundly affected Leicester's ethnic community of South Asians. This Hindutva ideology represents a belief in the transcendence of Hinduism and its culture.
Leicester prides itself as a city of tolerance and diversity where different religions and races all live together in relative harmony — a sort of 'live and let live and mind your own business' philosophy that had worked until recently. But under the surface simmering tensions burst forth recently. The trigger was a South Asia Cup cricket match between Indian and Pakistan held in Dubai and won by India.
Couple Hindutva with India's win and groups of Hindu young men were keen to demonstrate their might, and did so on isolated young Muslims. The latter then formed their own groups ready for revenge.
Where were the police one might ask. Well, a couple of beaten up Asian teenagers did not register as exhibiting anything more than random teenage violence. They were slow to react and did not discuss the ominous truth of religion as the prime mover behind the violence.
Civic leaders on both sides are now trying to quell the attacks. But the damage has been done and the seeds of ill-feeling have been sown within the community meaning Hindus vis-a-vis Muslims and vice versa.
India's per capita GDP is higher than for Pakistan or Bangladesh, the two countries bordering it, which together constitute the subcontinent. Thus the three countries are similar culturally. The next question to ask is why then is India hugging the bottom on the 2020 World Happiness Report, next to ill-fated war-torn places like Yemen. India is ranked 144 while its rival and neighbor Pakistan, although lower in per capita GDP, ranks a shocking (for India) 66. Bangladesh also ranks much higher than India at 107, despite its devastating floods and typhoons.
Perhaps the answer lies in the pervasive hate that is the currency of the ruling BJP (Bharatia Janata Party), a currency spent liberally during general elections to the detriment of the Congress Party, which has stood for a secular India since independence.
But hate yields more votes as BJP leaders Norendra Modi and Amit Shah know well. After all, they came to power via the destruction of the historic nearly five century old Babri Mosque, built on a Hindu holy site in an effort to ally Hindus by an astute Babur, the Mughal whose hold on India, just wrested from the Muslim Pathan kings, was still weak. It worked for Babur then; its destruction worked for the BJP in the 21st century
Has India become more civilized since?
Giorgia Meloni: a return to Mussolini's Italy?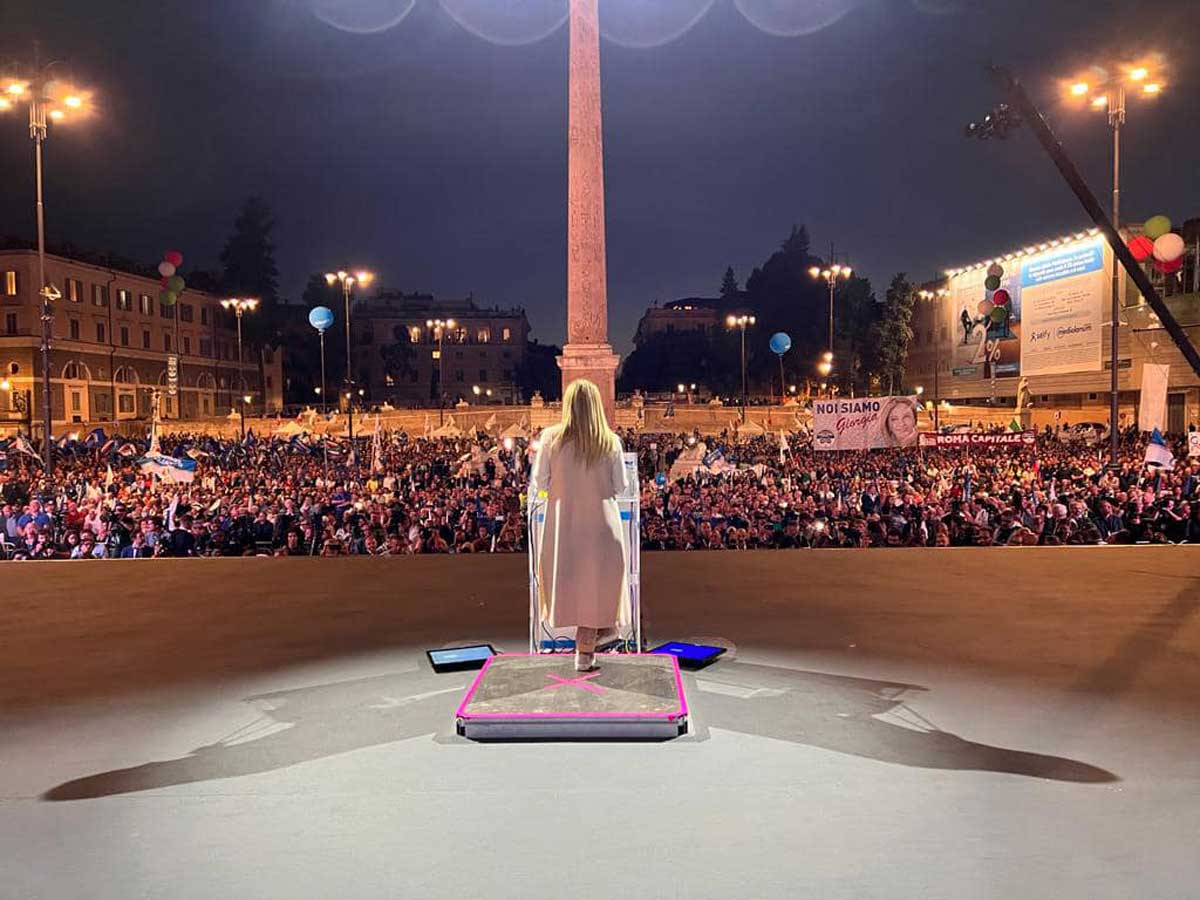 In recent years there has been a dramatic increase in the number of far-right political parties across Europe. They have managed to use the widespread discontent from society with the values and functioning of democracy to establish strong footholds in many countries, including those that were thought to be immune to such radicalisation. The reach of the far right does not recognise boundaries, and it is not a new phenomenon either. It has had a considerable historical role in Latin America, in Indonesia, Japan, Australia, Myanmar, India, South Africa, Germany, Italy, the United States, and more recently in Turkey, Brazil and Hungary which have suffered serious damage to their democratic rules and institutions. It is in this context that the election of Giorgia Meloni in Italy as the possible next Prime Minister.
Italy has a long history with fascism and far-right extremism that has forever characterised Italian politics. Italy's history after the WWII can largely be blamed for this slow but steady radicalisation of its political landscape. Unlike Germany that went through a serious process of denazification after allied victory, Italy was not cleared of vestiges of fascism. After 1945, and with the emergence of the USSR as a rival power, the allies focused their attention and efforts on fighting Communist USSR. Italy, surprisingly, had a considerable number of communist supporters, therefore fascism was seen as something positive in the fight of USSR ideology expansionism. Fascism was good to fight communism, and allies turned a blind eye to it, and the creation of the Italian Social Movement (MSI) in 1946 did not raise any red flags. The party managed to become the fourth largest in Italy in 20 years.
The woman who will become Italy's next Prime Minister leads a conservative party that can be traced back to the MSI: The Brothers of Italy, whose logo revives the MSI emblem. Meloni´s victory should be read against the backdrop of recent triumphs for the far right elsewhere in Europe. In France, despite the loss of Le Pen in the presidential election, the share of popular vote shifted the French political centre to the right; in Sweden the Sweden Democrats are expected to play a major role in defining Swedish politics after having won the second largest share of seats at the general election earlier in September; the same in happening in Hungary and Poland.
This revival of far-right extremism is not new. The collapse of the USSR allowed formerly dormant far right movements to flourish. This resurgence should also be understood as the inability of centre and centre-left parties to connect with voters, and to appear attractive. Italy's recent economic crisis has made Italians particularly susceptible to anti-establishment ideas. Italy was one of the countries that suffered the most during the pandemic specially fairly early on: Lots of people died, a lot of businesses had to close down, Italy found it hard to get support from the rest of the European Union. Meloni and her coalition capitalised this discontent. Meloni has chosen to fight the same enemies as other populist leaders: the LGBTQ+ community; immigrants, the European Union, Muslims; former Italian leaders and multiculturalism. She echoes Mussolini's natalist obsession; Volume Mussolini argued that the Western race was in danger of extinction by other races of colour, Meloni has focused on ethnic substitution, defined as the loss of Italian identity as a result of globalisation and uncontrolled mass immigration fostered by the European Union. This has translated into harsh xenophobic policies.
Meloni's election ironically coincide with the 100th anniversary of the March on Rome in October 1922 that brought Mussolini to power. 100 years later Italians. May have elected its first woman to become a Prime Minister, while this represents a break with the past and it symbolises a good step forward in theory, she also represents one of Italy's worst chapters in its past: Mussolini's Fascism. Meloni was a former MSI activist, and she is likely to form a government deeply rooted in populism and fascism, are very dangerous combination for contemporary European politics. We should not also allow to be fooled by her election as a woman. She has followed a similar path to Marie Le Pen called gender washing. She has adopted unknown threatening image as a female politician to mask the force of her extremism. For someone who is not familiar with Italian politics, her victory could be read as the triumph of female empowerment and gender equality. Throughout her campaign, she posed as a defender of women, however, her party has rolled back on women's rights, especially access to abortion.
Gender washing is particularly predominant among right wing parties, as they do a better job at promoting women. Women like Meloni and Le Pen Are protected by the elite, because they support, the very pillars of male power and privilege, these women very often behave in the same way as the men in power. Meloni's slogan God, Fatherland, and Family echoes the man-dominated and conservative model dating back to the Italy of Mussolini in the 1920s. Meloni's politics should become more important than her gender, especially as she does not advance women's empowerment, on the contrary, her victory means a drawback for women's rights in Italy. Meloni is simply one more far-right candidate that has made it to power.
This should be worrying for Europe as a whole. There has been a constant failure to address the growing threat of the far-right movement at national and on a European level. In recent years, we have seen a slow and steady shift of European politics to the right, and the normalisation of a less inclusive and more racist and discriminatory discourse. This shift to the right should be seen as a ticking time bomb for the pillars of democracy. The pandemic and the current war in Ukraine have not helped the case for democracy.
There are rising living costs in the continent that are undermining governments and European institutions, and making people feel less satisfied with the way their countries are handling these issues. Crises have always been excellent breeding grounds for extremism, whatever political ideology it is. People are more scared during a crisis, allowing the politics or fear to work, and swing voters towards far-right extremists in particular. People that are more likely to vote for far-right alternatives, favour certainty and stability amidst societal changes. Change is perceived as a threat to conservative voters. Under current conditions, there are enough real or perceived changes for extremist to put the blame on. This is one of the greatest paradoxes and dangers of populism and extremism: it often identifies real problems, but seeks to replace them with something worse, the slow and almost imperceptible destruction of democratic values, institutions, and liberties.
The irony behind this is that although populists are usually extremely bad at running a country, the blame will never be placed on them. Populist leaders consolidate support by creating enemies and dividing the population between "us" and "them". Failure in public policies, inability to provide viable solutions to crises will never be attributed to their elected officials, but rather to the enemies they have decided to use as scapegoats. In this way, as populist governments are unlikely to solve crises, things will eventually worsen, and more crises are inevitable; meaning more fear is also unavoidable. This creates a vicious circle that provides populists and extremists with further opportunities for power.
If there is something to be learnt from the current shift in international politics to the right, is the fact that voting behaviour differs from country to country. All politics is local. Voters are influenced by charismatic leaders, local events, regional issues etc. However, when it comes to the rise of extremism, common ground can be found between countries: the existence of a political, economic, or social crisis. Some far-right narratives have been able to cross borders, namely, anti-immigration and white and male supremacism. The Europe of today may be very dissimilar to the Europe of the near future should far-right movement continue to attain power in most countries. Far-right populist parties are a pan-European concern that should be addressed if we want democracy to survive in the long run.