Oil politics: Saudi and Iran take opposite position on OPEC oil output targets
Saudi and Iran, even while fighting each other in order for dominating the West Asia region, seem to have decided to take their fight forward regarding effecting changes in oil output targets.
The Organization of the Petroleum Exporting Countries (OPEC) is one of the forums where both could coordinate their action to stabilize West Asia. But unfortunately they continue to orchestrate their enmity even there. Tensions between the Sunni-led kingdom and the Shi'a Islamic Republic have been the highlights of several previous OPEC meetings, including in December 2015 when the group failed to agree on a formal output target for the first time in years. This time around, strains were less acute, however, as new Saudi Energy Minister Khalid al-Falih showed Riyadh wanted to be more conciliatory and his Iranian peer Bijan Zanganeh kept his criticism of Riyadh to an unusual minimum.
OPEC is pumping 32.5 million barrels per day (bpd), which would give Iran a quota of 4.7 million bpd – well above its current output of 3.8 million, according to Tehran's estimates, and 3.5 million, based on market estimates.
OPEC set for another showdown between rivals Saudi Arabia and Iran when it met on June 02 in Vienna with Riyadh trying to revive coordinated action and set formal oil output target but Tehran rejecting the idea. The Gulf Cooperation Council sought coordinated action at the meeting, a senior OPEC source said, referring to a group combining OPEC's biggest producer Saudi Arabia and its Gulf allies Qatar, Kuwait and the United Arab Emirates. In a rare compromise, OPEC also decided unanimously to appoint Nigeria's
Saudi Arabia and its Gulf allies had tried to propose OPEC set a new collective ceiling in an attempt to repair the group's waning importance. But Thursday's meeting ended with no new policy or ceiling amid resistance from Iran.
Since Saudi is eager to maintain the conflict with Iran for some obscure reasons, any agreement between Riyadh and Tehran would be seen as a big surprise by the market, which in the past two years has grown increasingly used to clashes between the political foes as they fight proxy wars in Syria and Yemen. Saudi Arabia effectively scuppered plans for a global production freeze – aimed at stabilizing oil markets – in April. It said then that it would join the deal, which would also have involved non-OPEC Russia, only if Iran agreed to freeze output.
Several OPEC sources said Saudi Arabia and its Gulf allies would propose to set a new collective ceiling in an attempt to repair OPEC's waning importance and end a market-share battle that has sapped prices and cut investment. New Saudi Energy Minister Khalid al-Falih was the first OPEC minister to arrive in Vienna this week, signaling he takes the organisation seriously despite fears among fellow members that Riyadh is no longer keen to have OPEC set output. "There could be shorter-term situations in which, in our view, OPEC might intervene and yet other situations — such as long-term growth of marginal barrels — in which case it should not," Falih told Argus Media ahead of the meeting.
At its previous meeting in December 2015, OPEC failed to set any production policy including a formal output ceiling, effectively allowing its 13 members to pump at will in an already oversupplied market. As a result, prices crashed to $27 per barrel in January, their lowest in over a decade, but have since recovered to around $50 due to global supply outages. Those include declining output from U.S. shale producers badly hit by low prices but also forest fires in Canada, militant attacks on pipelines in OPEC member Nigeria and declining output in Venezuela, also a member of the group.
Until December 2015, OPEC had a ceiling of 30 million barrels per day (bpd) – in place since December 2011, although it effectively abandoned individual production quotas years ago. OPEC currently produces around 32.5 million bpd. Any ceiling below that number would represent an effective cut. "One of our main ideas (is) to have a country quota. But I don't believe at this meeting we can reach agreement for this," Zanganeh said, adding that Iran was producing 3.8 million bpd and would soon reach pre-sanctions levels of 4 million bpd.
Tehran has been the main stumbling block for the OPEC (Organization of the Petroleum Exporting Countries) to agree on output policy over the past year as the country boosted supplies despite calls from other members for a production freeze. Tehran argues it should be allowed to raise production to levels seen before the imposition of now-ended Western sanctions over Iran's nuclear program. Iranian Oil Minister Bijan Zanganeh said Tehran would not support any new collective output ceiling and wanted the debate to focus on the more radical idea of individual country production quotas. "An output ceiling has no benefit to us," Zanganeh told reporters upon arriving in Vienna and before seeing any fellow OPEC ministers.
The market has grown increasingly used to OPEC clashes over the past two years as political foes Riyadh and Tehran fight proxy wars in Syria and Yemen. Saudi Arabia effectively scuppered plans for a global production freeze – aimed at stabilizing oil markets – in April in the Qatari capital of Doha. It said then that it would join the deal, which would also have involved non-OPEC Russia, only if Iran agreed to freeze output.
Tehran argues it should be allowed to raise production to levels seen before the imposition of now-ended Western sanctions over Iran's nuclear program. Zanganeh said Tehran would not support any new collective output ceiling and wanted the debate to focus on individual-country production quotas, effectively abandoned by OPEC years ago. "Without country quotas, OPEC cannot control anything," Zanganeh told reporters. He insisted Tehran deserved a quota – based on historic output levels – of 14.5 percent of OPEC's overall production.
Understandably, OPEC failed to agree a clear oil-output strategy as Iran insisted on steeply raising its own production, though Tehran's arch-rival Saudi Arabia promised not to flood the market and sought to mend fences within the organization.
Since OPEC failed to agree any policy, it would again convince the market that its main members could try to raise supplies further to gain market share despite low prices. UAE Oil Minister Suhail bin Mohammed al-Mazroui said oil markets were still not close to rebalancing due to a severe glut and a further price correction was possible. The Venezuelan energy minister Eulogio Del Pino also warned that supply outages have propped up prices in recent months but a global oil glut might build up again when missing barrels return. "More than 3 million barrels are out of the market. When those circumstances are removed from the market, what's going to happen?" he asked reporters in Vienna.
Despite the setback, Saudi Arabia moved to soothe market fears that failure to reach any deal would prompt OPEC's largest producer, already pumping near record highs, to raise production further to punish rivals and gain additional market share. "We will be very gentle in our approach and make sure we don't shock the market in any way," Falih told reporters. "There is no reason to expect that Saudi Arabia is going to go on a flooding campaign," Falih said when asked whether Saudi Arabia could accelerate production.
That OPEC could not agree on a benign deal is a sign that political differences are undermining the organization, said Gary Ross, founder of US-based PIRA consultancy. "It is bearish short-term for oil prices. But what is also important is that Saudis are not planning to flood the market," Ross added.
Zanganeh made a few conciliatory remarks, saying he was happy with the meeting and received no signals from other producers that they planned to increase output. Sources say, after the Doha debacle, it actually restores market confidence that Saudi Arabia is committed to OPEC. This is a success compared to three days ago when people had been expecting Falih to walk out of the OPEC room.
The flow of drilling mud is seen in a container while an oilfield worker works on a drilling rig at an oil well operated by Venezuela's state oil company PDVSA, in the oil rich Orinoco belt, near Cabrutica at the state of Anzoategui April 16, 2015.
At its previous meeting in December 2015, OPEC effectively allowed its 13 members to pump at will. As a result, prices crashed to $27 per barrel in January, their lowest in over a decade, but have since recovered to around $50 due to global supply outages. Last week, Brent prices were down 1.5 percent at $49 per barrel after the OPEC meeting but later rallied on data showing a weekly drawdown in U.S. crude stockpiles.
Traditional rivals, Saudi Arabia and Iran, continue to fight to prove their supremacy in OPEC. Neither gives up an opportunity to hurt the other, whenever and wherever they can, and oil seems to be their favorite playground. With Saudi Arabia scuttling any chances of a production freeze in Doha in April, Iran has followed suit by thwarting attempts by Saudi Arabia to introduce a production ceiling on OPEC production in last week's meeting held in Vienna.
Iran, which is close to its pre-sanction levels of production, had earlier agreed to discuss being part of any production freeze after it reached its desired output. However, Iran refused to adhere to any production ceiling, which led to OPEC abandoning the idea.
Iran has been a dark horse since the lifting of sanctions, increasing its market share quickly to the surprise of many investors. Iran has resorted to offering large discounts to its Asian customers, undercutting the Saudi and Iraqi prices to levels not seen since 2007-2008 in order to regain their market share. Iran shipped 2.3 million barrels per day in April 2016, the highest level since 2012. These figures are 15 percent higher than the International Energy Agency (IEA) forecast. Iran has been successful in its strategy until now, but increasing its market share further might prove difficult.
Meanwhile, Saudi Arabia is attempting to cement its market share in the wake of this increased production from Iran and Iraq. Though Saudi Arabia is attempting to transition away from being an oil-dependent economy, its transformation depends on the successful listing of Saudi Aramco. As part of its preparation for the listing, Aramco is gaining market share and improving its efficiency, according to its chief executive, Amin Nasser. "We are preserving our market share, which continues to increase year-on-year," he said in the interview. "This year, as last year, it is increasing. Our market share is picking up," he added, without giving figures, reports Reuters.
Ian Bremmer, the president of political risk consultancy Eurasia Group, said that the Saudi's looked set to increase production after speaking with executives and a member of the Saudi ruling family.
Iran is better equipped to cope with the long-term upheaval because it is less dependent on oil than Saudi Arabia, having raised more through general taxation than through oil duties last year.
The struggle for supremacy between the two West Asian nations doesn't show any signs of abating, and there is no clear winner in this showdown. Though Saudi Arabia has large reserves, it is burning them at a fast rate. On the other hand, experts believe that the Iranian economy is better equipped to withstand lower oil prices because its economy is more diversified and has an educated and hardworking population. The fight between the two for supremacy in the Middle East region is unlikely to end anytime soon. Currently, supply outages to the tune of 3.5 million b/d are supporting the oil prices by creating a balance between demand and supply.
Once Nigeria, Libya, and Canada resume pumping at their normal levels, the effects of the struggle between Iran and Saudi Arabia will be felt. If both increase production, the world will be awash with oil, pulling prices back to the mid $30/barrel levels.
But then the new oil exporters could also play oil politics along with OPEC.
Iran Proposed Five-Nation Bloc for Regional Stability, Peace, and Progress
In February this year, Pakistan's foreign minister Shah Mahmood Qureshi received Syed Mohammad Ali Hosseini, an Iranian Ambassador to Pakistan. Pakistan's foreign minister Qureshi expressed his thoughts through praising the traditionally strong ties between both the nations and showed his consent to further strengthen collaboration in all dimensions which would be mutually beneficial for both Tehran and Islamabad. As for as the historical, cultural, and religious affinities are concerned, both nations enjoy rich support of commonalities including similar views on the foreign occupation which proved as a source of disaster for them. Besides, Iran was the first country to recognize Pakistan after its independence in August 1947. As both Pakistan and Iran's basic factor of the independence was Islam and current scenario portrays a bad picture of Islamic countries which are suffering from a cluster of problems under foreign agenda. In this connection, the role of Islamic nations has not been effective in addressing issues of the Islamic Ummah. Hosseini also expressed his grievances over the Organisation of Islamic Cooperation (OIC) by explaining that it was not producing fruitful results for Muslim Ummah. He further talked about the sufferings of Muslim Ummah and the malicious plan of the United States along with Israel to subdue them.
Moreover, FM Qureshi showed consent to visit Iran for meeting with its leadership to talk about their concerns and disputes and their possible diplomatic solution. Moreover, during a meeting with Hosseini the Advisor to the Prime Minister on Finance and Revenue, Abdul Hafeez Shaikh, told that the government aimed at expanding the bilateral trade with Iran. So, giving more boost to the relation of both the nations, the Iranian Ambassador proposed a new bloc for addressing regional issues and promoting cooperation among themselves. This bloc will include Russia, China, Turkey, Pakistan, and Iran because these nations are capable of forming such an alliance that could effectively handle regional issues for the better future of the region. Similarly, he expressed his consent and help for solving the Afghan problem which is a great hindrance to regional peace and stability along with creating security issues for Pakistan. Iran aims at linking Pakistan's Gwadar Port with Chabahar Port of Iran via rail link which ultimately generates the economic benefits for both the nations.
He dubbed the recent "Deal of the Century" proposed by American President Trump for peace in the Middle East irrational and unjust which consists of many doubts over American-Israeli Alliance. In this situation where the whole world is trapped with the fatal disease of Corona Virus, the United States which considers itself the oldest democracy, protector of human rights and most developed nation on earth, has imposed more sanctions on Iran. While UN Security Council Members and signatories of the 2015 Nuclear Deal with Tehran namely Britain, France, Russia, China, and Germany rejected Trump's call for sanctions on Iran. President Trump's action portrays that he is under stress in whichhe looks unable to understand repercussions and results of the policies and actions taken by him. While at the same time he is ignoring the traditions and values of the founding fathers of his nation as well as he has no respect and obligation for international rules and laws.Furthermore, the Iranian Ambassador showed enthusiasm for increasing and strengthening the multilateral economic cooperation. In this regard, Iran-Pakistan (IP) gas pipeline is an important project and will even become more productive if it is linked with the CPEC which not only brings the huge economic development in both Tehran and Islamabad but also the region through making it more stable and developed.
Thisnew regional bloc could prove productive through solving themulti-faceted issues faced by the countries of this region. Whereas America has remained unsuccessful in eliminating the problems of the region, therefore, it is the responsibility of regional states to become serious in making such bloc which seriously takes the vast problems towards the solution for the development, peace, stability, and progress of the underdeveloped nations of the region. Besides, the Iranian President has also proposed cryptocurrency for Muslim nations for settling payment transactions as an alternative to the US dollar such as proposed by BRICS nations earlier. He further explained that the US always uses economic sanctions as the main tool of domineering hegemony and bullying of other nations. As stated by Iranian President that there is always room for diplomacy, therefore "let's return to justice, to peace, to law, commitment and promise and finally to the negotiating table" which is the last and effective solution for any issue.Iran's proposal of five nations bloc portrays a rational and real picture of solving the staggering and long-lasting problems of the region. Furthermore, the nations which are proposed by Iran in the bloc have no history of worsening or spoiling the situation of the region as America has been involved in generating the multiple problems throughout the region via its policies and actions. All these five regional nations have stakes in the region such as political, economic, social and financial. Therefore if the region is developed, peaceful and protected than they collectively can secure their interests along with giving the benefits to other regional nations as well.
The rapport between Iran and Turkey over Syria: Liaisons or tussle?
The two powers of Iran and Turkey constitute a crucial feature on the map of the Middle East. The influence of the dyadic interactions exceeds sometimes the meanings of any bilateral ties, transcending the political borders to impact the geographical proximity of surrounding states. However, more evident their influences upon the Arab Sphere were at the aftermath of what so-called the Arab Spring, particularly in Syria that became the most prominent playground for their regional competition became.
Syrian tragic conflict has, indeed, a multi-scalar interaction with different players, each of which is driven by complex and contradictory motivations. In the same vein, Turkey and Iran have several aims for intervening into Syria militarily. Nonetheless, the explicit objective for Turkey is to create a 'buffer zone'; thus, it might drive out the Kurdish presence along its border with Syria and address the Syrian refugee issue there. On the other side, the strategic partner for Syria, Iran, is seeking to bolster Assad's government, as it used to work as a safety valve for the regime in Damascus.
In order to prop up Bashar al Assad's regime, Tehran developed close ties with Russia that changed the equation in Syria. But, Moscow founded the rapports with the strategical foes of Tehran; Saudi Arabia and Israel. Likewise, the "marriage of convenience" brought Turkey with Russia, which, subsequently, facilitates carving up northern Syria between them by Sochi agreement, in October 2019.
Although it worked on the opposite front to Turkey's, nevertheless, Iran attempts always to maintain warm and unruffled relationships with it. Tehran has overtly been competing, just as it covertly cooperating with Ankara in Syria for managing the dynamic variables of the surrounding area. Subsequently, the unsatisfactory with Turkey's presence in the torn-war Syria doesn't mean by any means a full conflictual; neither means otherwise, a comprehensive cooperation and peace. After all, seems, Iran needs Turkey shortly both in Syria and beyond.
Upon the US withdrawal from the Kurdish-held zone of northern Syria the dispute between the two-peer regional powers, Iran and Turkey, has surfaced off considerably off. Tehran has continuously been preserving a secret connection with the Kurdish People's Protection Units which backed by the US. It was gaining a margin of leverage by occasionally working as a covert conduit bridging the differences between the Kurdish movement and the al-Assad's regime.
Nonetheless, Iran's substantial concern was a repercussion which might spill over its Kurdish regions if Turkey fulfils its intent to fill the expected power vacuum in the north of Syria.Thus, it was not surprising, once Turkey uncovered its intention by interfering the north-eastern Syria militarily, Iran announced the military exercises under the slogan "one goal … one bullet" in the area barely 20 miles from the Turkish border. Its maneuver, however, implied two-edges; on the one hand, it was against any potential Kurdish movement in its territory.
On the other hand, it gesticulated an external dimensional message, mainly to Turkey. In parallel to this combatant stand, Iran attempted to show, at least rhetorically, its alignment with and understanding of, Turkey's anxieties. As the Iranian President Hassan Rouhani stated in an amicable expression: "We are calling on our friendly and brotherly neighbor Turkey to act with more patience and restraint and to revise its decision and chosen path" of military invasion. Further, Tehran urged Ankara alternatively to work inline with the Adana agreement.
The Adana agreement of 1998 was signed between Turkey and Syria to address the border differences. The broker of the deal, along with the other Arab countries, was Iran, and the primary aim of the agreement was at expelling the Kurdistan Workers' Party (PKK) from Syria.
A complex of causes makes Iran avoid Turkey's dissatisfaction. The latter was always supportive of the Iranian regime in challenging times. Turkey, whether during the war between Iran and Iraq in the 1980s or international sanctions that intensified on Tehran in 2012, opened its borders with Iran to allow the trade that reached Europe. Similarly and lately, it helped Tehran to circumvent the US suffocating sanctions to a large extent.
As well, Turkey attempted to exploit the tensions between Tehran and Riyadh after the attacks on Aramco's oil facilities in eastern Saudi Arabia last September, by denying Tehran's involvement in the attacks. In an interview with Fox News, Turkish President RecepTayyip Erdogan said: "I don't think it would be the right thing to blame Iran."A few days later, when the architect of Iranian expansion in the Middle East the Iranian military leader Qasem Soleimani was assassinated, Erdogan offered condolences to him, though didn't use 'martyr' to describe him.
Notwithstanding, the chapter of persuasive confrontation between Iran and Turkey manifested when the Syrian airstrike hit the Turkish-backed forces in Idlib province on 27 January 2020. That resulted in killing 33 Turkish combatants. While Russia accused the Turkish soldiers of being "operating alongside jihadist fighters" when they had been struck, conversely and simultaneously, Iran emphasized on deescalating and restraining the tension in Idlib. It, further, called for all parties resort to decisions that had been taken by the presidents of Astana Process.
Although the Iranian President and his Turkish counterpart conducted a discussion on the phone regarding the tension over Idlib province, Turkey carried on the retaliation by launching a dozen air and missiles attack against the Syrian troops. The offence begot causalities of the Syrian military as well as several deaths of Iranian-backed forces in the northwest of Syria. As per the official Iranian media reported eight fighters of Hezbollah, and at least 21 militants affiliated with Fatemiyoun and Zaibayoun brigades were among the deaths.
Concurrently, Ankara opened the borders for the influx of the Syrian refugees to head for Europe. By so doing, it attempted to force its allies of the NATO states to pressurize Russia in order to alter its policy in Syria. Again and as always, Russian condemned the Turkish raids, but, its pragmatic rapprochements with Turkey outweigh the differences. Therefore, it is no wondering to see Russian assistance to Damascus minimized notably. Further, a deal will be reached to reduce the tension in Idlib when the Turkish President met his Russian counterpart in Moscow on March 2020.
On the other side, Iran and its affiliates warned Turkey by referring that its troops were within their "fire range". Tehran, however, tried to shun from escalating the situation, and instead, it was accusing the US of getting Ankara into Syrian trap. Meanwhile, it was calling Ankara for holding a new summit for Iran, Russia, and Turkey within the Astana summit framework.
By devoting immense political and financial potentialities to safeguard the Ba'ath regime, Iran was not ready to cede its clout there. So convinced too, it prefers a political triumph over martial achievements. Perhaps, for that reason, it worked to boost connections with the major players in Syria, including Turkey. However, Iran shares Turkey several issues not merely in Syrian circle, but expand to the regional level sometimes. In addition to their shared economic and commercial benefits, they both have a fear of Kurdish ambitions to establish of own state, as they both stood firmly with the government of Baghdad against the Kurdish referendum in the north of Iraq in 2017. Second: Although, Turkey's differences with Washington are mostly temporary; it meets with Iran in several issues that troubled their relations with the US.And thirdly: They were mutually pro-Qatar stand against Saudi and its allies. Qatar's flights switched to the "Iranian airspace and Turkey upped the ante on its military presence in the country as a sign of strength and commitment".
Teething Troubles for Pakistan in Mediating the Saudi-Iran Tension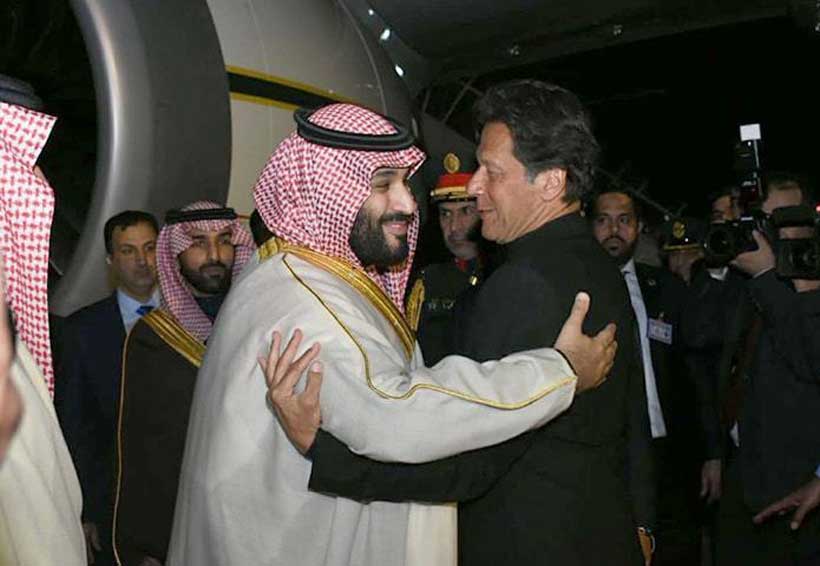 Imran Khan's visit to America, China, Iran, and Saudi Arabia carries much importance concerning the unity of the Muslim community and solution of their long-standing differences and enmities particularly Saudi-Iran Tension. Moreover, these visits are not only very significant for the relations of Tehran and Jeddah but also for Pakistan, being one of the neighbors of Iran. As for as the visit of PM Imran Khan to China is concerned, Beijing, being a rising power and an economic giant, could play a very effective and decisive role in normalizing the relations between Iran and Saudi along with Pakistan because of its economic interests. Islamabad has been experiencing many changes in the national, regional and global dynamics. In this regard, Pakistan wants to balance its side by engaging with China and tries to mediate between Iran and Saudi to end the long-standing conflict between both the Muslim nations.
However, it is not easy to lessen the tensions between both the rival nations as perceived by a large portion of societies because America never allows this to happen smoothly while it will try vigorously to counter this activity because of its long-standing problems with Iran. Particularly looking over the policies and actions of the United States against Iran such as when the whole world is suffering from a fatal disease known as COVID-19/Corona Virus, America imposed more sanctions on Iran which is against humanity. Besides, the killing of Iran's top bras general QasimSulemani in an attack by the US and the scrapping nuclear deal with Iran are condemnable acts. There can be many reasons for opposition from the United States for instance, it never wants China to engage with various nations throughout the globe mainly Iran. Because it creates the environment of friendship and engagement for China with other nations which pose threat and fear for the dominant position of Washington.
Moreover, America considers Iran as one of the staunch opposite nations of the world therefore the conflict between the US and Iran has been continued for very long. In this regard, America has imposed numerous sanctions upon Iran which creates more hardships for Tehran to smoothly run its affairs. While Iran considers it the violation of international and humanitarian laws that should not be bearable for any well-educated, sophisticated and sincere nation of the world. According to Iran, the US has been practicing inhuman and illegal policies throughout the world, especially the Muslim World. In this regard, Iran in the UN General Assembly strongly condemned the policies and actions by Washington in which Iran is on top of the list. On the other side, Saudi Arabia is one of the closest and reliable allies of America because of its economic interests.
Rationally looking over the US-Saudi bond, Washington keeps much influence concerning the economic, political and financial policies of the Kingdom of Saudi Arabia. In this regard, attacks on the oil fields of Saudi Arabia created insecurity for it therefore Saudi King called MBS requested more American forces to protect the security of his country. There are multiple perspectives regarding the control, influence and creating the warlike environment in the oil-rich Muslim nations of the Middle East. For instance, it is considered by a huge portion of the population within the Muslim world that these all issues and conflicts which have generated the deaths, destruction, fear, and insecurity all over the region are created by America to gain its interests mainly economic benefits.
This is the reason for which America intervenes within these countries rich in natural resources in the pretext of saving humanity and the US being a savior of human rights violations all over the world. While within the Western nations it is considered that terrorism and other multiple kinds of evils are generating from this region because of the undemocratic structure of these states. In this regard, the US should intervene to eliminate all evils from the region for protecting the peace and progress of the world. Therefore, Pakistan can play a very significant role through normalizing Saudi-Iran relations though it is very difficult because of sectarian division between both nations. Recent condemnation and opposition by PM Imran Khan about the new sanctions on Iran by the US is a good and positive sign. Besides, it is also considered by a huge population within the Muslim world that they are under the serious threat of Western Powers beneath different agendas so Pakistan being the only nuclear power state within the Muslim countries should seriously take the issue towards a peaceful solution. Though it is also in the interest of Islamabad because in case the spiraling tensions between Saudi Arabia and Iran are not solved and turn into the escalation of the conflict, Pakistan because of Iran's neighbor will face direct impact which could be sectarian violence and increasing oil prices.