Oil politics: Saudi and Iran take opposite position on OPEC oil output targets
Saudi and Iran, even while fighting each other in order for dominating the West Asia region, seem to have decided to take their fight forward regarding effecting changes in oil output targets.
The Organization of the Petroleum Exporting Countries (OPEC) is one of the forums where both could coordinate their action to stabilize West Asia. But unfortunately they continue to orchestrate their enmity even there. Tensions between the Sunni-led kingdom and the Shi'a Islamic Republic have been the highlights of several previous OPEC meetings, including in December 2015 when the group failed to agree on a formal output target for the first time in years. This time around, strains were less acute, however, as new Saudi Energy Minister Khalid al-Falih showed Riyadh wanted to be more conciliatory and his Iranian peer Bijan Zanganeh kept his criticism of Riyadh to an unusual minimum.
OPEC is pumping 32.5 million barrels per day (bpd), which would give Iran a quota of 4.7 million bpd – well above its current output of 3.8 million, according to Tehran's estimates, and 3.5 million, based on market estimates.
OPEC set for another showdown between rivals Saudi Arabia and Iran when it met on June 02 in Vienna with Riyadh trying to revive coordinated action and set formal oil output target but Tehran rejecting the idea. The Gulf Cooperation Council sought coordinated action at the meeting, a senior OPEC source said, referring to a group combining OPEC's biggest producer Saudi Arabia and its Gulf allies Qatar, Kuwait and the United Arab Emirates. In a rare compromise, OPEC also decided unanimously to appoint Nigeria's
Saudi Arabia and its Gulf allies had tried to propose OPEC set a new collective ceiling in an attempt to repair the group's waning importance. But Thursday's meeting ended with no new policy or ceiling amid resistance from Iran.
Since Saudi is eager to maintain the conflict with Iran for some obscure reasons, any agreement between Riyadh and Tehran would be seen as a big surprise by the market, which in the past two years has grown increasingly used to clashes between the political foes as they fight proxy wars in Syria and Yemen. Saudi Arabia effectively scuppered plans for a global production freeze – aimed at stabilizing oil markets – in April. It said then that it would join the deal, which would also have involved non-OPEC Russia, only if Iran agreed to freeze output.
Several OPEC sources said Saudi Arabia and its Gulf allies would propose to set a new collective ceiling in an attempt to repair OPEC's waning importance and end a market-share battle that has sapped prices and cut investment. New Saudi Energy Minister Khalid al-Falih was the first OPEC minister to arrive in Vienna this week, signaling he takes the organisation seriously despite fears among fellow members that Riyadh is no longer keen to have OPEC set output. "There could be shorter-term situations in which, in our view, OPEC might intervene and yet other situations — such as long-term growth of marginal barrels — in which case it should not," Falih told Argus Media ahead of the meeting.
At its previous meeting in December 2015, OPEC failed to set any production policy including a formal output ceiling, effectively allowing its 13 members to pump at will in an already oversupplied market. As a result, prices crashed to $27 per barrel in January, their lowest in over a decade, but have since recovered to around $50 due to global supply outages. Those include declining output from U.S. shale producers badly hit by low prices but also forest fires in Canada, militant attacks on pipelines in OPEC member Nigeria and declining output in Venezuela, also a member of the group.
Until December 2015, OPEC had a ceiling of 30 million barrels per day (bpd) – in place since December 2011, although it effectively abandoned individual production quotas years ago. OPEC currently produces around 32.5 million bpd. Any ceiling below that number would represent an effective cut. "One of our main ideas (is) to have a country quota. But I don't believe at this meeting we can reach agreement for this," Zanganeh said, adding that Iran was producing 3.8 million bpd and would soon reach pre-sanctions levels of 4 million bpd.
Tehran has been the main stumbling block for the OPEC (Organization of the Petroleum Exporting Countries) to agree on output policy over the past year as the country boosted supplies despite calls from other members for a production freeze. Tehran argues it should be allowed to raise production to levels seen before the imposition of now-ended Western sanctions over Iran's nuclear program. Iranian Oil Minister Bijan Zanganeh said Tehran would not support any new collective output ceiling and wanted the debate to focus on the more radical idea of individual country production quotas. "An output ceiling has no benefit to us," Zanganeh told reporters upon arriving in Vienna and before seeing any fellow OPEC ministers.
The market has grown increasingly used to OPEC clashes over the past two years as political foes Riyadh and Tehran fight proxy wars in Syria and Yemen. Saudi Arabia effectively scuppered plans for a global production freeze – aimed at stabilizing oil markets – in April in the Qatari capital of Doha. It said then that it would join the deal, which would also have involved non-OPEC Russia, only if Iran agreed to freeze output.
Tehran argues it should be allowed to raise production to levels seen before the imposition of now-ended Western sanctions over Iran's nuclear program. Zanganeh said Tehran would not support any new collective output ceiling and wanted the debate to focus on individual-country production quotas, effectively abandoned by OPEC years ago. "Without country quotas, OPEC cannot control anything," Zanganeh told reporters. He insisted Tehran deserved a quota – based on historic output levels – of 14.5 percent of OPEC's overall production.
Understandably, OPEC failed to agree a clear oil-output strategy as Iran insisted on steeply raising its own production, though Tehran's arch-rival Saudi Arabia promised not to flood the market and sought to mend fences within the organization.
Since OPEC failed to agree any policy, it would again convince the market that its main members could try to raise supplies further to gain market share despite low prices. UAE Oil Minister Suhail bin Mohammed al-Mazroui said oil markets were still not close to rebalancing due to a severe glut and a further price correction was possible. The Venezuelan energy minister Eulogio Del Pino also warned that supply outages have propped up prices in recent months but a global oil glut might build up again when missing barrels return. "More than 3 million barrels are out of the market. When those circumstances are removed from the market, what's going to happen?" he asked reporters in Vienna.
Despite the setback, Saudi Arabia moved to soothe market fears that failure to reach any deal would prompt OPEC's largest producer, already pumping near record highs, to raise production further to punish rivals and gain additional market share. "We will be very gentle in our approach and make sure we don't shock the market in any way," Falih told reporters. "There is no reason to expect that Saudi Arabia is going to go on a flooding campaign," Falih said when asked whether Saudi Arabia could accelerate production.
That OPEC could not agree on a benign deal is a sign that political differences are undermining the organization, said Gary Ross, founder of US-based PIRA consultancy. "It is bearish short-term for oil prices. But what is also important is that Saudis are not planning to flood the market," Ross added.
Zanganeh made a few conciliatory remarks, saying he was happy with the meeting and received no signals from other producers that they planned to increase output. Sources say, after the Doha debacle, it actually restores market confidence that Saudi Arabia is committed to OPEC. This is a success compared to three days ago when people had been expecting Falih to walk out of the OPEC room.
The flow of drilling mud is seen in a container while an oilfield worker works on a drilling rig at an oil well operated by Venezuela's state oil company PDVSA, in the oil rich Orinoco belt, near Cabrutica at the state of Anzoategui April 16, 2015.
At its previous meeting in December 2015, OPEC effectively allowed its 13 members to pump at will. As a result, prices crashed to $27 per barrel in January, their lowest in over a decade, but have since recovered to around $50 due to global supply outages. Last week, Brent prices were down 1.5 percent at $49 per barrel after the OPEC meeting but later rallied on data showing a weekly drawdown in U.S. crude stockpiles.
Traditional rivals, Saudi Arabia and Iran, continue to fight to prove their supremacy in OPEC. Neither gives up an opportunity to hurt the other, whenever and wherever they can, and oil seems to be their favorite playground. With Saudi Arabia scuttling any chances of a production freeze in Doha in April, Iran has followed suit by thwarting attempts by Saudi Arabia to introduce a production ceiling on OPEC production in last week's meeting held in Vienna.
Iran, which is close to its pre-sanction levels of production, had earlier agreed to discuss being part of any production freeze after it reached its desired output. However, Iran refused to adhere to any production ceiling, which led to OPEC abandoning the idea.
Iran has been a dark horse since the lifting of sanctions, increasing its market share quickly to the surprise of many investors. Iran has resorted to offering large discounts to its Asian customers, undercutting the Saudi and Iraqi prices to levels not seen since 2007-2008 in order to regain their market share. Iran shipped 2.3 million barrels per day in April 2016, the highest level since 2012. These figures are 15 percent higher than the International Energy Agency (IEA) forecast. Iran has been successful in its strategy until now, but increasing its market share further might prove difficult.
Meanwhile, Saudi Arabia is attempting to cement its market share in the wake of this increased production from Iran and Iraq. Though Saudi Arabia is attempting to transition away from being an oil-dependent economy, its transformation depends on the successful listing of Saudi Aramco. As part of its preparation for the listing, Aramco is gaining market share and improving its efficiency, according to its chief executive, Amin Nasser. "We are preserving our market share, which continues to increase year-on-year," he said in the interview. "This year, as last year, it is increasing. Our market share is picking up," he added, without giving figures, reports Reuters.
Ian Bremmer, the president of political risk consultancy Eurasia Group, said that the Saudi's looked set to increase production after speaking with executives and a member of the Saudi ruling family.
Iran is better equipped to cope with the long-term upheaval because it is less dependent on oil than Saudi Arabia, having raised more through general taxation than through oil duties last year.
The struggle for supremacy between the two West Asian nations doesn't show any signs of abating, and there is no clear winner in this showdown. Though Saudi Arabia has large reserves, it is burning them at a fast rate. On the other hand, experts believe that the Iranian economy is better equipped to withstand lower oil prices because its economy is more diversified and has an educated and hardworking population. The fight between the two for supremacy in the Middle East region is unlikely to end anytime soon. Currently, supply outages to the tune of 3.5 million b/d are supporting the oil prices by creating a balance between demand and supply.
Once Nigeria, Libya, and Canada resume pumping at their normal levels, the effects of the struggle between Iran and Saudi Arabia will be felt. If both increase production, the world will be awash with oil, pulling prices back to the mid $30/barrel levels.
But then the new oil exporters could also play oil politics along with OPEC.
Gulf soccer suggests that "The Times They Are a-Changin"
Gulf soccer may be giving Bob Dylan's 1964 hit, 'The Times They Are a-Changin,' a new lease on life.
Qatar surrendered its Arabian Gulf Cup hosting rights to Kuwait two years ago, months into the United Arab Emirates-Saudi-led diplomatic and economic boycott of the Gulf state, after the boycotting countries said they would not participate in a Doha-hosted tournament.
The boycott remains in place more than two years later, but this time round squads from the boycotting countries, Saudi Arabia, the UAE and Bahrain, have no problem competing in this year's Gulf Cup in Qatar.
The decision not to boycott is the latest indication that Gulf states may be gradually moving to a reduction of tensions that have divided the region's conservative energy-rich monarchies, raised the stakes in the rivalry between Saudi Arabia and Iran, and sparked a devastating Saudi-UAE military intervention in Yemen's civil war.
The decision also bodes well for Qatar's hosting of the 2022 World Cup irrespective of whether Gulf states can resolve their differences before that tournament kicks off.
If Mr. Dylan's changing times portend well on the region's monarchical soccer pitches, they could prove more divisive on its republican fields.
Iraqi anti-government activists hope that this week's World Cup qualifier between Iran and Iraq will blow new life into mass protests that denounced Iranian influence in their country and the government's perceived prioritization of Iranian over Iraqi interests.
Protesters blamed Iran and its Iraqi proxies for the harsh response by security forces that has cost the lives of more than 300 people.
The protests persuaded world soccer body FIFA to move the match from the southern Iraqi port city of Basra to the Jordanian capital Amman.
"If our team beats Iran, it will bring more people out onto the streets and lift protesters' spirits," said soccer fan Hussein Diaa as he kicked a ball on Baghdad's Tahrir Square, a focal point of the protests.
One indication of the degree to which a thaw in relations between Gulf monarchies may be on the horizon, is likely to be the way the squads of the boycotting nations handle themselves during the Gulf Cup.
The Saudi and Emirati teams refused to participate in a news conference in Kuwait two years ago because one of the microphones in front of them belonged to BeIN, the Qatari sports television network.
Pro-Qatari and Spanish media reported at the time that Saudi Arabia had offered Bahraini players bonuses if they "defeated the (Qatari) terrorists".
The boycotting countries accuse Qatar of supporting militants and political violence, a charge Qatar has consistently denied. They also demanded that Qatar distance itself from Iran, with whom it shares the world's largest natural gas field.
The decision to participate in the Qatari tournament came days after UAE minister of state for foreign affairs Anwar Gargash called for a diplomatic resolution to the dispute with the Islamic republic, suggesting that "there could be a path to a deal with Iran that all parties might soon be ready to embark on."
Mr. Gargash's remarks followed moves by the UAE to dial down tension in its relations with Iran that included reducing the UAE's military role in Yemen and visits to Iran by UAE officials to discuss the regional dispute as well as maritime security.
Similarly, a Saudi official, in a rare gesture, told reporters in Washington earlier this month that Qatar had taken a step towards resolving the crisis by passing an anti-terrorism funding law, a key demand of the boycotting countries, but needed to do more.
Saudi Arabia, in a further indication that regional players were seeking to ensure that tensions don't spin out of control, has scaled back its military operations in the 4.5-year long Yemen war after Iranian-backed Houthi rebels stopped firing ballistic missiles into the kingdom, the official added.
Resolving the Gulf's monarchical spat may prove easier than addressing differences with Iran over its nuclear and ballistic missile programs and its support for militants in Lebanon, Iraq and Yemen.
The spat has endured for the past 2.5 years because feuding parties appeared unwilling to back away from maximalist positions and search for what would amount to a face-saving formula that would allow for a restoration of diplomatic and economic relations.
If the Gulf Cup is anything to go by, that may be changing.
By the same token, this week's Iraqi-Iranian soccer clash is likely to highlight the greater complexity involved in managing the Saudi-Iranian rift and the who-blinks-first problem against the backdrop of the US withdrawal from the 2015 international agreement that curbed Iran's nuclear program and harsh economic sanctions since imposed by the United States.
Iran has in recent months progressively reduced its adherence to the agreement in a bid to heighten tension to the point that it forces a breaking of the stalemate; pressure the accord's other signatories, the European Union, China and Russia to provide the sanctions relief Iran needs; and force the Trump administration to return to the accord before it is renegotiated.
Ironically, Gulf states that have gone to great length over the past decade to pre-empt popular revolts or limit, if not reverse their achievements, see a silver lining in the mass anti-government protests in Iraq and Lebanon because they target the foundations of Iranian influence in those two countries.
As a result, Gulf rulers may be rooting for Iraq in this week's soccer match against Iran, and not just because Iraq is predominantly Arab, and Iran is not.
Yet, unlike the Gulf Cup that could prove to be an initial node in resolving a debilitating dispute, the Iran-Iraq World Cup qualifier's possible heightening of tensions risks reaffirming the Marxist principle that things have to get worse before they get better.
Indeed, 'the times they are a changin,' but reaping the benefits could prove to be a torturous process.
Beyond the dire needs of Iraq's demonstration: National renaissance and a new challenge to Iran
For many, Iraqis have long been gone into hibernation to hold the politicians accountable for corruption in OPEC's second-largest oil producer. So the first of October 2019 was a turning point when the young Iraqis have taken the streets in Baghdad, and to gather hugely in the symbolic place of Tahrir square, which separates a hundred meters of the Republic Bridge from the green zone. Shockingly the contagion of the protest spilt over into the other Shiite-dominated cities in southern the country, such as Wasit, Basra, Maysan, Dhi Qar, Muthanna, Babylon, and Diwaniyah.
Several demonstrations erupted in different parts of Iraq over last years to be sure, yet none of which was as spontaneous and outstanding as October's one. Youths have taken the initiative without support neither from clerics nor any political party. The grievances have, primarily, limited to the basic needs of offering jobs and making substantial strides in services. Though, quickly, inflated to change the government whom the wrathful youths blame for turning a blind eye to the corruptors.
In this circumstance of the unconscious co-presence, the protestors unprecedentedly overstepped their differences to rally around the Iraqi flag. Concurrently, they lambaste Iran for meddling into their affairs. That was a grave alarming for Iran's policies not only in Iraq but inside Iran also regarding its populace is upset about the current economic crisis due to the US sanctions.
Iraqi government in predicament
In 2018, the Adeel Abdul-Mahdi's government was formed by a fragile contract between al-Fatah and al-Binna Alliances plus Kurd's bloc. Abdul-Mahdi was one of the dissenters who once received by Iraqis with flowers bouquet and festoon when he returned home after the US invasion in 2013. At that time, most of the current adolescent protestors were either had a few years or not yet born; nonetheless, they grew up on the pledges of the successive governments that didn't amount to more than repetitive slogans.
On the 25th of October, the tight deadline for the government to commence decisive reformations came to an end without concrete change. Against this backdrop, the second wave of anti-government campaign erupted, this time more massively to exceed Baghdad to disseminate into the other southern cities of the country. Influx of all walks of life have joined in with the angry mob what put the government between the devil and the deep blue sea.
First option for Abdul-Mahdi was to call for an early election that means dissolving the parliament, as per (64) article of the constitution, that required the absolute majority of its representatives upon the prime minister request and the President's consent. Practically such a process is difficult to achieve timely considering the current government has yielded from intricate coalition of competitive parties. Another troublesome article of the constitution is of the interim sixty days in which the government converts into a caretaker government until new government receive the office, that means to be paralysed to achieve the urgent reforms sought by the angry youths. On similar premise was the answer of the prime minister to the plea of well-known cleric Muqtada al-Sadr for the former to resign.
The second alternative is to actualize swiftly the dire needs of the protestors who are significantly increasing in number and raising their demands. The prime minister, however, preferred remaining in the office so it can work on the people's needs, for the time being at least until the two blocs in the parliament form a new government. The protestors have perceived these gestures suspiciously, arguing whether a pile of pledges haven't realized within years, they wouldn't definitely be achieved over a few months. In a desperate attempt to appease the demonstrators, Iraqi President Barham Salih delivered live televised speech promised to hold an early election, reversely, people's reactions became far more violent.
Whether the government would answer protestors' call to step down, or it would utterly resist, the essential question remains is how to fulfil the rest of their demands. Especially, they made their claim quite lucid; the "real country" is sought for, not merely socio-economic reforms.
From dire needs to National renaissance
There is little doubt that Britain had established Iraq with multi-identities in the 1920s, composing of Sunni, Shiite, and Kurds, that shaped, afterwards, the ruling elites which would be in enduring conflict for decades to come Ironically, after 2003, the same paradigm has been rearticulated by the US civil governor to compose the Iraqi political system of different ethnic and sectarian elites in order allegedly to avoid marginalising any community. These elites, however, adopted increasingly extreme stands on their constituencies' issues for their own political purpose that indulged the country into endless chaos for over sixteen years.
Notwithstanding, in a much similar trajectory to many states of the Arab Spring, some impoverished segments in Baghdad have begun to protest sporadically, then the sentiment has spread rapidly like wildfire amongst Iraqi youths. The protest rose a severe challenge as much to the official government as to the politically active elites. when the demands peaked to expel all the political parties whom the protestors accuse of foreign allegiance. Nonetheless, couple of incidents got the government into a tight corner; on the one hand, students of the colleges and even primary schools abruptly got out of their institution, waving the flag and singing the national anthem collectively. On the other hand, the demonstration blew up in the Shiite holy city of Kerbala which supposedly supports wholeheartedly the Shiite-dominated government. The situation aggravated when the furious people have set fire to the Iranian consulate In Kerbala.
Noteworthy, these public claims have also brought about a couple of neoteric events that might reproduce the Iraqi identity, if not reintroduce it differently. First: the youths who have mainly led the public rally have vowed to fly nothing but Iraq flag despite the majority of them were from the Shiite sect. Second: in unusual phenomenon after 2003, the women from diverse speciality stood shoulder to shoulder with the men despite the brutal reaction of the security forces. Together they are chanting slogans against the politicians and clerics too; some of those women even didn't put a veil on.
Needless to say that the demonstrators founded for a new political practice within which the prospective governments would be responsible not only to their political collations but to the laypeople as well. Ultimately, the protesters need to incarnate their movement as a social entity to maintain constant momentum on political life.
Iran is anxious
At the eve of the collapse of the tyrant government in Baghdad, Iran emerged as the most influential player, benefiting from its historical religious and cultural ties as well as a long shared border of1400 km with Iraq. It developed complicated relationships with all competitive political groups in Iraq, especially with those who took Iran their exile during Saddam Hussein's rule. It has significantly entrenched its clout after defeating ISIS in 2014, by backing up each of Kurdish Peshmerga and Iraqi forces including the Popular Mobilization Forces.
Therefore, the anti-Iranian demonstration shocked the Iranian leaders seeing the protesters are not their traditional foe in Iraq, Sunni sect, instead they are mostly kids from the pious Shiite neighborhoods. Iran, publically, downplayed the effectiveness of the protest, and they connected the Iraqis' movement to US-sedition. Additionally, on October 6, 2019, the Supreme Leader Ali Khamenei tweeted on his official account "Iran and Iraq are two nations whose hearts & souls are tied together through faith in God, love for Imam Hussein and the progeny of the Prophet. This bond will grow stronger day by day. Enemies seek to sow discord but they've failed and their conspiracy won't be effective".
On the contrary, the Iraqi streets exploded in outrage from Iran and its affiliations inside the country, particularly, when anonymous snipers killed dozens of them. While Iraqis accused Iran and its affiliates of the executions, Iran claimed the assassinators are from the Iranian opposition of Mujahedin-e Khalq in Iraq. They sneaked in the crowd of demonstrations, pretending they are Iranian security forces, so the Iraqi would attribute their murders to Iran. However, the demonstrators have attacked the buildings of all parties, and they executed two leaders of full-hearted pro-Iran militia, Asa'ib Ahl al-Haq in Maysan province. Furthermore, many effigies of Ayatollah Ali Khamenei and Qasem Soleimani were insultingly burnt, that even occurred repeatedly in Shiite-dominated cities in southern Iraq.
These rapidly spiralling events in Iraq imposed new burdens on Iran to unobstructedly continue its strategies in the region, chiefly because:
First: As Iraq is a sole conduit for it to elude the US sanctions, Tehran doesn't tend to compromise the domination upon it.
Second: Iraq presents the strategic corridor of what once King Abdullah of Jordan called " Shia Crescent", in which Iran domination stretch from Iraq to Syria and Lebanon reaching to the Mediterranean sea.
Third; Iranians' worry is the Iraqi demonstration might spill over into their constituencies at home, especially Iranians are suffering from the current economic and financial hardships due to the last package of the US sanction. According to the International Monetary Fund (IMF), Iran GDP anticipated to shrink by 9.5 per cent at the end of 2019, after it grew healthy last year to reach 4.8 percent.
Though seems it is not as capable as used to be in the last ten years in Iraq, Iran attempted despairingly to contain the demonstration. For that reason, the Iranian Gen. Qassim Soleimani flew by helicopter to meet with the Iraqi prime minister and politicians. Perhaps he realized now the demonstration is much immense than the heavily fortified of Green Zone where he held his meetings. After all, these social movements of anti-sectarianism would more or less make the Iranian domination upon the surrounding region inoperative in the near future.
Americans return to Syria for oil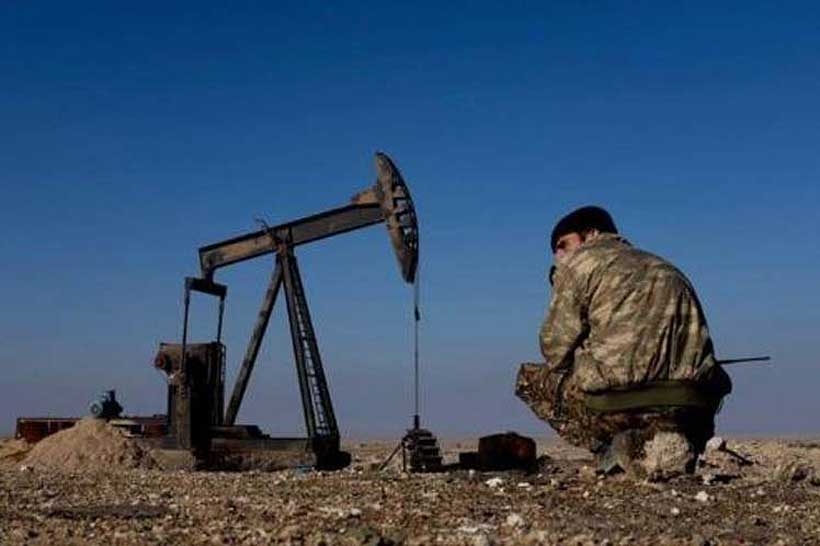 Soon after the adoption of the Russian-Turkish Memorandum on Syria, President Trump, known for his "consistency" in decision-making, made it clear that he had no intention of withdrawing US troops, which had already been moved to Iraq, from the east of Syria. The reason for the US forces to stay on is the need to protect the local oil reserves against the "Islamic State" (which is prohibited in the Russian Federation). The American president even reflected on which company should be contracted to produce Syrian oil, eventually opting for ExxonMobil (who else!).
The Pentagon spoke to this effect as well, in more concrete terms. The oil of northeast Syria will go to the allied Syrian Democratic Forces (SDF), – said US Secretary of Defense Mark Esper, adding: "We want to make sure that the SDF have access to these resources, in order to guard prisons and arm their own units . Our mission is to ensure the safety of the deposits." When asked by reporters whether Syrian and Russian forces would have access to these resources, Esper answered in the negative. Thus, the United States has yet again demonstrated that they do not deem themselves bound by international law. At the same time, they confirmed the American so-called "businesslike" approach to international problems.
The Russian Foreign Ministry has repeatedly insisted that Syrian oil should belong to the Syrian people. Speaking at a press conference following the recent meeting with Turkish and Iranian counterparts, Sergey Lavrov said: the United States plans to protect Syrian oil from Syria.
According to the Russian Defense Ministry, the Americans found it normal to trade in Syrian oil before. Igor Konashenkov, spokesman for the Russian Defense Ministry, the United States extracts oil using de facto "contraband" equipment that was brought on the territory of the Syrian Arab Republic bypassing American sanctions. According to the Russian military, revenue from these transactions exceeds $ 30 million per month.
Compared to neighbors, Syria is far from an "oil giant." Its developed reserves amount to about 2.5 billion barrels, while Saudi Arabia has reserves of 268 billion, Iran – 158 billion, Iraq – 144 billion, Kuwait – 104 billion, UAE – 98 billion barrels. Oil reserves in Syria are not that abundant for the US to "cling" to them. So what's the matter?
Only a fraction of oil reserves are located on the territory liberated by the Syrian army and its allies, the lion's share of the reserves is controlled by SDF units (and the Americans, of course). By means of depriving Damascus of oil revenues, which made a major source of the country's pre-war budget, Washington hopes to weaken Syria's resistance. In addition, the United States won't stop short of supporting the Kurdish state. By "gifting" Syrian oil to their political protégés, the Americans encourage the Kurds to refrain from making an alliance with Damascus and continue to act as a counterweight to Turkey and Russia and play the role of an anti-Iranian bastion.
It's the Americans themselves who will buy this oil. In all likelihood, they will buy it cheap. "I want to bring our soldiers back home, but I want oil too. I'm a civilian, I don't understand why the war in Iraq was needed at all. If my people go to Iraq, let them at least keep the oil," – Donald Trump shared his thoughts not so long ago, criticizing the policies of his predecessors. Bashar al-Assad responded by describing Trump as "the best American president ever" because he is the most transparent and honest." "He says he wants oil, and that's absolutely true – it's American policy," – the Syrian leader concluded.
Simultaneously, while maintaining control of the oil fields, the Americans continue to "punish" Ankara for its "excessive" independence in international affairs. After all, they are not going to pump stolen oil through Turkey, which is trying hard to become the southern energy hub for Europe.
Furthermore, the majority of oil-bearing regions in Syria are populated by Arabs, rather than Kurds. Peshmerga captured the fields during the struggle against the Islamic State, prohibited in Russia. Now, should the Americans change their minds about the "protection" of the oil reserves, they will use this to "explain" their yet another betrayal to the Kurds.
In all likelihood, there will be no serious armed clashes over Syrian oil. The problem could be solved through reaching a power-sharing agreement between Damascus and the Kurds, which means dividing the powers between the central government and the local authorities. The Constitutional Committee, which is currently in session in Geneva, could play an important role to achieve this but for the fact that neither Ankara nor Damascus wants the Committee to comprise representatives of the SDF – a bloc that de facto controls the north-east of the country. As a result, Hikmat Habib the Executive Committee of the Assembly of Democratic Syria said: the outcomes of the Geneva meeting will not mean anything "for the people of northern and eastern Syria" (Kurds – A.I.).
However, Damascus and the Syrian Democratic Forces (SDF) have been taking steps towards each other: after the start of another Turkish military operation, the Kurds allowed Syrian troops to enter the territory under their control, while Damascus proposed that peshmerga should become part of the Syrian army. As it happens, chances to maintain the territorial integrity of the country are there for grabs.
From our partner International Affairs