NATO's provocative maneuver in Baltic
By using its military bases across the globe, set up following Sept-11, USA is getting the NATO effectively contain Russian territories militarily from all possible sides. The enemies of NATO have been communism, Islam and Russia and it has been dealing with each of them simultaneously by employing all available sources, including communists, Muslims, Russians and Jews, others. That is the grand strategy of US super power for dealing with entire humanity.
Yes, the western military corpus NATO with enormous terror resources and military potentials cannot be quiet for too long and it moves about according its regular plans, provoking or even directly threatening Russia as a routine behavior, after all, NATO had come into existence soon after the Second World War to corner and contain Russia all over the world, trying to curtail its enormous influence world over.
Ever since the Cold War officially ended, USA and its NATO team have been very consciously undertaking steps that hurt the mighty Kremlin but Russia could not do anything that would make the western leaders and their media lords declare it a 'dictatorship'.
Even though the end of Cold War formally ended military rivalry between USA and Russia leading to the dismantling of the Warsaw Treaty of Eastern military forces under Moscow command opposed to Western alliance NATO under USA, NATO is still targeting Russia and its allies since Warsaw Treaty has ceased to exist. Moscow's predicament is bad because it cannot revive the Warsaw Pact as most the members of it are now on the side of NATO.
Chess game
As usual, the former ideological adversaries and Cold War rivals, USA and Russia are engaged in a cold chess game, making moves that confuse the world and terrorize the humanity. Many countries also play their own games by taking sides with either of the top nations.
USA has been also busy in using the former allies of Russia in East Europe and Eurasian, Baltic region, Caucasus and Caspian Sea Basin, Central Asia and elsewhere against its global interests. But there is nothing that the Kremlin can do to bring those nations back into its fold. It can only feel proud of its glorious imperial past even as the NATO keeps threatening by targeting its borders, now with the Baltic nations.
The Baltic countries (also known as Baltic States) is northeastern region of Europe containing the countries of Latvia, Lithuania and Estonia on the eastern shores of Baltic Sea. Baltic countries have its name for being bounded on the west and north by the Baltic Sea. Baltic countries usually are referred to the territories east of Baltic Sea which gained independence from the Russian Empire in the wake of World War I.
The republics of Estonia, Latvia, and Lithuania, which became constituent republics of the former Soviet Union in 1940, regained their independence in 1991. Estonia, Latvia, and Lithuania are now parliamentary democracies and oppose Russian domination in the region and hence support the US led NATO.
Baltic region though has clearly moved away from Russian control and has become a part of Western military and political block, the NATO thinks Russia is keenly waiting for a chance and can use the region in future.
The Baltic governments are actively encouraging the deployments and calling for still more NATO military hardware over and above the vast stocks of tanks, artillery and heavy weapons pre-positioned throughout Eastern Europe by NATO since 2014. Backed by the Western alliance, Lithuania, Latvia and Estonia are placing their societies on a war footing. They are putting their armed forces on high alert and awaiting the call for mobilization against Russia.
US led NATO has already brought most of Russia's former allies in Europe and Asia under its control by skillfully playing the terrorism card. As a result, Washington has more military bases across the world than Russia or any other power.
Unequals
Although it lost the super power status it used to enjoy along with USA as an equal nation, Russia still has all the necessary embodiments, including strategic weapons and nuked missiles , to give a strong opposition to USA and NATO.
Now Russia is facing the NATO almost single handedly giving the Washington all hopes of superiority in real War Theater. China and the partners in economic block Moscow leads cannot be taken for granted. India, for instance, is already hanging from the US wings in the hope of obtaining a UN veto inclusive package to retain neighboring Jammu Kashmir by brutality.
Though Israel, feeling the pinch of White House, is trying jump into the Russian bandwagon by coordinating intelligence on Syria and USA in search of New Middle East to control the confused Arab leaders and, mainly, to retain all illegal settlements inside Palestine as its own property and its 'birth rights" to kill Palestinians, their children in order to promote expansionist ideology in Arab world. Perhaps, Israeli shift towards Russia has been facilitated by the Neocons seeking to make Israel a super power to outsmart USA, Russia and China.
With Russia also helping USA advance its military interests in Mideast, interestingly, USA considers the NATO and Israel the perfect tool to advance its global interests. Therefore, the NATO is interested in recreating the Cold War atmosphere world over so that it could sell terror goods to the 'needy' powers with plenty of resources, like India.
NATO plan
The USA-dominated imperialist alliance has relentlessly stoked confrontation with Moscow and laid the foundations for a continental-scale war aimed at breaking up and conquering the Russian Federation. In Eastern Europe, under the guise of "rotational deployments," NATO has established a permanent military force. Put forth for public consumption as a response to Russian "meddling" in Ukraine and alleged provocations by Russia's military along the frontiers of NATO's eastern member states, the real purpose of NATO's spearhead force is to prepare for a ground invasion across Russia's western border even while keeping Russia busy with some other complicated issues.
The continued massing of Western troops along Russia's border makes good on US President Barack Obama's September 2014 promise that the US and NATO powers would provide "eternal" military assistance to the Baltic states. In effect, Obama committed the most powerful military alliance in the world to waging all-out war against Russia should one of the tiny Baltic states claim to be under attack from Moscow.
The charge of "Russian aggression" against Europe is among the central lies employed by present-day imperialism. Seizing on the secession of Crimea from post-coup Ukraine and the enclave's integration into the Russian Federation, the NATO establishment has sought to justify its war preparations as a defensive precaution in the face of a Putin government supposedly primed to invade Central Europe.
The Western military alliance's Secretary General Jens Stoltenberg confirmed NATO is sending 4,000 additional troops to Eastern Europe in the name of reassuring Poland and the Baltic states and "We will agree to deploy by rotation four robust multi-national battalions in the Baltic States and Poland". The announcement of new troop deployments comes in the midst of Operation Anaconda 2016, involving more than 30,000 NATO forces in the biggest war drill held in Poland since the end of the Second World War. Some 12,500 of the 30,000 soldiers are American.
The USA, Germany and Britain will each contribute 1,000 soldiers, with Canada will confirm its own contingent of 1,000. The deployments are among the most provocative actions taken by the NATO high command in the course of its anti-Russian buildup, now well into its second year. With ever greater recklessness, the US and European ruling elites are sowing the seeds of war across the width and breadth of the Eurasian landmass which is under the Kremlin supervision.
According to media reports, NATO officials are looking for Canada to deploy about 1,000 combat soldiers to a base in Latvia on a permanent basis. These Canadian soldiers would be part of a joint German, British and US Baltic deployment totaling 4,000 troops. NATO has apparently singled out Canada to provide troops for a new deterrent force in Eastern Europe.
Since April 2014, Canada has been sporadically deploying small contingents of combat troops to Eastern Europe for brief training exercises. These rotating missions were part of Canada's contribution to NATO's Operation Reassurance, which was triggered by Russia's annexation of the Crimea and the severe unrest in Eastern Ukraine.
The integration of former Soviet republic Georgia into NATO is slated to be a core issue at next month's NATO summit in Warsaw. Russia and the pro-Western government of Georgia fought a brief war in 2008, and Moscow has vociferously opposed the country's joining the US-dominated military alliance. The integration of Georgia would greatly facilitate the projection of USA and NATO power against Russia's southern flank in the Caucasus and Caspian Sea Basin.
The NATO buildup in Eastern Europe is producing levels of militarist frenzy not seen in Europe since the 1930s. Last week's announcement of intensified US military operations in Afghanistan is bound up with preparations to use that country as well to strike against Russia's "soft underbelly" in Central Asia, in particular against Russian interests in Kazakhstan.
Justification
The more hawkish experts breathlessly refer to the Baltic States — Estonia, Lithuania and Latvia — as NATO's eastern "flank" (rather than using the words border or boundary), implying that a war with Russia is already underway.
US, European imperialism is committed to defend the Baltics because it supplies them with a pretext and a staging area for covert and military operations along Russia's flanks. In Washington and some European capitals, powerful elements within the imperialist circles are actively conspiring to engineer further provocations and destabilization operations against Russia.
Citing unnamed NATO sources, British media accused Russia of "circumventing the Vienna accord and building up troop numbers in sensitive locations on Europe's doorstep." Announcing plans to boost military expenditures by $3 billion annually, NATO Secretary General Stoltenberg declared: "This will send a clear signal that NATO stands ready to defend any ally."
US decision to retain the NATO to face "future threats" though the Soviet threat was over, is justified with the "invention" of terrorism. Now the NATO seems convinced that Russian President Vladimir Putin had begun his quest for world domination, and NATO needed to rush terror forces in state uniforms to the ramparts of Fortress Europe. The NATO combat contingents have since long dutifully conducted training operations in Poland and the Baltic, obviously targeting Russia.
Russian involvement in Ukraine and annexation of Crimea and now military strikes in Syria are used for strengthening their strategic position. But Putin's annexation of the Crimea followed a bloodless occupation and a referendum wherein 96.77 per cent of the population chose to join Russia rather than remain a part of the internally collapsing Ukraine. Two years after Russia's annexation, more than 80 per cent of Crimean poll respondents reported that they remain happy with their decision to secede from Ukraine.
In contrast, nine years after Kosovo's declared independence and 17 years after the NATO intervention, residents are voting with their feet: Considered the poorest and most corrupt country in Europe, tens of thousands of Kosovars out of a population of less than two million have joined the mobs of migrants seeking a better life in Western Europe.
In truly hypocritical fashion, then US Secretary of State Hillary Clinton, protecting imperialism and Zionism, denounced the Crimea referendum as a sham and burbled, "You can't just redraw the map of Europe." This would be the same Hilary Clinton whose presidential hubby Bill led 1999's 78-day NATO bombing campaign against Serbia in order to create an independent Kosovo. That bloody intervention cost the lives of thousands of Serbian and Albanian citizens, and when Kosovo did proclaim unilateral independence in 2007, it was done without any referendum.
Furthermore, Putin's "land grab" in the Crimea was something of a strategic necessity given the February 2014 overthrow of President Viktor Yanukovych in Kiev and the subsequent civil unrest across Ukraine. The Crimea was historically Russian and even after Ukraine separated from the Soviet Union in 1991, the Russian Black Sea Fleet continued to lease from Ukraine its navy base in Sevastopol. The current lease was not due to expire until 2040, but Putin could not risk a pro-Western regime in Kiev threatening his fleet's expulsion. Hence the need for annexation!
In the subsequent interval, Putin has made no further claims on additional Ukrainian territory. He has not annexed the rebellious pro-Russian eastern provinces and Russian foreign policy remains committed to the breakaway, self-declared independent republics of Donetsk and Luhansk remaining within a Ukrainian federation — albeit with increased autonomy. Also, against all predictions by those longing for a good old Cold War-style showdown with the 'Russkies', the Minsk II ceasefire agreement continues to hold, with only occasional minor infractions by both sides.
For NATO to move 4,000 combat troops right up to Russia's Baltic borders at this moment has to be seen as a deliberate provocation of Russia, just as things seem to be stabilizing. The question is: When Canada was asked to contribute to this force at the Russian door steps, why are the other European NATO members staying away in droves?
The Baltic Sea is a brackish inland sea, perhaps the largest body of brackish water in the world. As it is inland sea, the water flow between Baltic Sea and the North Sea is small, so the countries around the Baltic Sea are reducing the pollution and trying to make cleaner Baltic Sea.
Unfortunately, USA and NATO are eager to pollute the region by terror wars with Russia. Already the NATO's wars in Afghanistan and Arab world have contributed to the fast changing and deadly polluted enviromental scenario.
NATO is harmful to humanity and atmosphere too!
China manoeuvres to protect its interests while keeping its hands clean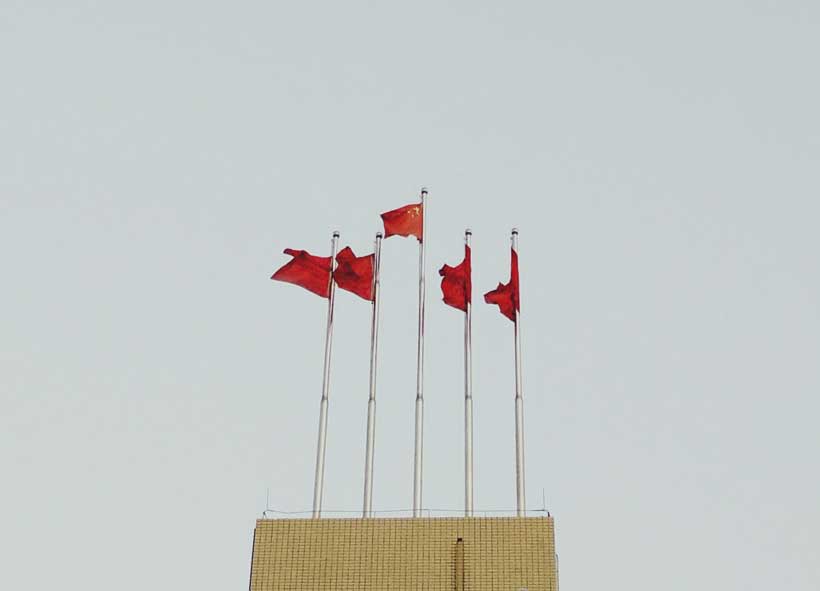 The question is not if, but when the long-standing American defence umbrella in the Gulf, the world's most militarised and volatile region, will be replaced by a multilateral security arrangement that would have to include China as well as Russia.
The United States' perceived diminishing commitment to the Gulf and the broader Middle East and mounting doubts about the deterrence value of its defence umbrella leave the Gulf stuck between a rock and a hard place. The American umbrella is shrinking, but neither China nor Russia, despite their obvious interests, are capable or willing simply to shoulder the responsibility, political risk and cost of replacing it.
On balance, China's interests seem self-evident. It needs to secure its mushrooming political and economic interests in the Gulf, which includes ensuring the flow of oil and gas and protecting its infrastructure investment and the expanding Chinese diaspora in the region. Nonetheless, China has so far refrained from putting its might where its money is, free-riding instead (in the words of US officials) on America's regional military presence.
Indeed, for the longest time China has been able to outsource the protection of its interests to the United States at virtually no cost. For the US, guaranteeing security in the Gulf has been anchored in an American policy which accepted that maintaining security far beyond the borders of the United States was in America's national interest, including the protection of Chinese assets. All China needed to do, therefore, was to make minimal gestures such as contributing to the multi-national effort in the Gulf and adjacent waters to counter Somali pirates.
In the meantime, China could pursue a long-term strategy to bolster its capabilities. This included infrastructure projects related to the Belt and Road Initiative (BRI) with dual-purpose potential (such as the strategic ports of Gwadar in Pakistan and Duqm in Oman as well as commercial investment in Dubai's Jebel Ali), the creation of China's first overseas military facility in Djibouti, and significant expenditure on upgrading the Chinese armed forces.
All that potentially changed with the rise of US President Donald J. Trump, who advocated an America First policy that attributed little value to past US commitments or to maintaining existing alliances. Hence Trump embarked on a trade war with China – viewed as a strategic competitor – and appeared to fuel rather than resolve regional stability by uncritically aligning American policy with that of Saudi Arabia and Israel and targeted Iran as the source of all evil.
This change has yet to translate into specific Chinese policy statements or actions. Nonetheless, the anticipated shift from a unipolar to a multilateral security architecture in the Gulf has cast a new light on the first-ever joint naval exercise involving Chinese, Russian and Iranian naval forces, as well as China's seemingly lukewarm support for a Russian proposal for a multilateral security approach in the Gulf.
China was careful to signal that neither the joint exercise nor its closer military ties with a host of other Middle Eastern nations meant it was aspiring to a greater role in regional security any time soon. If anything, both the exercise and China's notional support for Russia's proposed restructuring of regional security suggest that China envisions a continued US lead in Gulf security, despite the mounting rivalry between the world's two largest economies.
The Russian proposal in many ways fits China's bill. Its calls for a multilateral structure involving Russia, China, the United States, Europe and India that would evolve out of a regional security conference along the lines of the Organisation for Security and Cooperation in Europe (OSCE). While backing Russia's proposal in general terms, Chinese foreign ministry spokesman Geng Shuang stopped short of specifically endorsing it. Geng welcomed 'all proposals and diplomatic efforts conducive to de-escalating the situation in the Gulf region'.
China's reluctance to endorse the Russian proposal more wholeheartedly is rooted in differing approaches towards multilateralism in general and alliances in particular. China shies away from alliances, with their emphasis on geo-economics rather than geopolitics, while Russia still operates in terms of alliances. Despite favouring a continued American lead, China sees a broadening of security arrangements that would embed rather than replace the US defence umbrella in the Gulf as a way to reduce regional tensions.
China also believes that a multilateral arrangement would allow it to continue to steer clear of being sucked into conflicts and disputes in the Middle East, particularly the Saudi-Iranian rivalry. A multilateral arrangement in which the US remained the key military player would further fit the pattern of China's gradual projection of its growing military power beyond its borders.
With the exception of the facility in Djibouti, China's projection becomes less hardcore the further one gets from the borders of the People's Republic. More fundamentally, China's approach is grounded in the belief that economics rather than geopolitics is the key to solving disputes, which so far has allowed it to remain detached from the Middle East's multiple conflicts. It remains to be seen how sustainable this approach is in the long term.
Such an approach is unlikely to shield China forever from the Middle East's penchant for ensuring it is at the heart of the major external parties' concerns. And as Jiang Xudong, a Middle East scholar at the Shanghai Academy of Social Sciences, puts it: 'Economic investment will not solve all other problems when there are religious and ethnic conflicts at play'.
Author's note: first published in Asian Dialogue
Indian DRDO: A Risk In Disguise
At International Aerospace and Defence Exhibition ADEX-2013 in South Korea, India displayed its tactical nuclear missile Pragati, which has been developed by the Defence Research and Development Organization (DRDO). The DRDO authorities on their way back to India, did not load the missile on ship. Instead they left it unguarded and vulnerable at the Incheon port, South Korea, for an entire month. Afterwards, the missile was transported to India in a commercial cargo ship without the safeguards it needed as sensitive military hardware. This is no joke, this is real, an Indian battlefield tactical missile that has the capability to carry a low yield nuclear warhead at a short range was laying unguarded and dangerously exposed.
DRDO authorities did not display a dummy missile intentionally, instead an actual prototype was exhibited to be used for a live firing. Besides, DRDO did not take the responsibility of the logistical handling of the missile, instead it was outsourced to a local shipping company. Now the question is whether it was a major security lapse and breach of international laws, or DRDO intentionally did this to proliferate weapons technology. What happened during that period? Who so ever got access to the missile on that port was kept confidential! The possibility of official involvement in this incident cannot be ignored.
It is not a hidden secret anymore that DRDO and other Indian nuclear organizations have history of illicit nuclear trade and proliferation of missiles technology to other countries, like Libya, North Korea, and Iraq and so on. There is a long list of Indian individuals and entities available in nuclear archives, which are involved in arms race and proliferation.
It is embarrassing that India is a country, which is so poor in security and safety of its strategic weapons along with nuclear program is trying so hard to get into Nuclear Suppliers Group (NSG). Now the mainstreamed nuclear states must realize the Indian ambition behind not signing the NPT and still wanting to be recognized is simply that India will not act responsibly. Instead being a part of the solution, India wants to become a problem for not only the South Asian region but globe as well, by exerting hegemonic designs and military expansion.
India has already taken several actions with regional implications to bully its neighbors and threaten regional peace and stability. For instance, the major incidents of 2017 China-India border standoff and 2019 Balakot aerial combat with Pakistan. There is no point of having such huge military expansion, when one cannot handle it or use it for proliferation or mislead and malign other states to hide its own inabilities. Therefore, Indian DRDO is a risk in disguise, because it cannot assure the secure and safe handling of its own equipment as well as in frustration it is maligning commercial trade between Pakistan and China. This February 2020, DRDO and customs authorities at Deendayal Port, Kandla detained Hong Kong-registered commercial cargo ship Da Cui Yun, bound for Port Qasim in Karachi, Pakistan. They claimed that they obtained intelligence that the ship was carrying a suspicious equipment, which could be used for nuclear missiles.
Indian authorities compelled the ship staff to hand over the equipment stated as an 'industrial dryer' and took it in their custody. Eventually, to save the embarrassment India hid the truth from media. Interestingly, that equipment had nothing to do with military or weapons manufacturing. Instead it was a 'heat treatment furnace' used mainly in the manufacturing of rubber goods, such as, liquid rubber storage tanks and rubber pipes. Both Pakistani and Chinese Foreign Affairs have denied the Indian claims that the equipment was 'Autoclave', which India has alleged was ballistic missile stuff.
India is concerned that Pakistan has emerged as a more responsible nuclear country and India's NSG membership bid is in lumber because of Chinese realistic stance of ratifying NPT condition. Frustrated, Indian authorities have fabricated this incident just to malign Pakistan and China. Indian authorities have made a miscalculated decision. They should realize that such maligning tactics won't help India to divert international community's attention from its illicit nuclear trade and proliferation record. The whole event appears to accuse Pakistan for the illegal trade and nuclear proliferation, while avoiding India's own record on the proliferation of nuclear arms.
This deception shows that the hope of Indian NSG membership has been constantly refused by China and now the Indian frustration has turned to counter-blown false-flag operations in order to undermine growing China-Pakistan co-operation. The international community must stop its material support and technical assistance to India, which has exploited Indian behavior and now India is misleading international community by false flag operations. It will eventually dismantle the peace and stability.
Development of New-age Weapons Systems Becomes Key to Sustaining US Military Superiority
The technological superiority of the United States armed forces is being challenged by new and evolving threats constantly being developed by potential adversaries. To counteract these challenges, the country's Department of Defense (DoD) is expected to spend an estimated $481 billion between 2018 and 2024 to identify and develop new technologies for advanced weapon systems, giving rise to numerous revenue opportunities in this space.
"According to the most recent Defense budget (FY2021), combined spending on research, development, testing, and evaluation (RDT&E) for over 1,100 programs by defense-wide organizations is estimated to reach $106.56 billion," said John Hernandez, Senior Industry Analyst at Frost & Sullivan. "This wide variety of projects provides opportunities for a large number of commercial markets to collaborate with the DoD."
Frost & Sullivan's latest research, US Defense Science and Technology Research Market, Forecast to 2024, delivers an overview of the science and technology (S&T) research market catering to the United States armed forces and provides detailed insights into the related growth opportunities available for market participants.
The RDT&E sector is rife with market opportunities in an array of innovative technological concepts, such as artificial intelligence (AI), autonomous vehicles, robotics, cybersecurity, counter-drone technology, and hypersonics. Pursuing further developments in these areas will prove to be rewarding for companies that can successfully integrate these new capabilities into existing weapons systems.
"Most concepts being explored by the armed forces will have an impact in commercial market spaces as well," noted Hernandez. "Companies working with the DoD on RDT&E development programs will have an advantage toward the development of parallel commercial solutions."
Companies operating in this sector should explore the following opportunities to cultivate growth:
Commercial-off-the-shelf technologies and software are constantly being introduced into the defense S&T research market. RDT&E process stakeholders must be prepared to partner with the patent holders of those technologies and software.
Suppliers of legacy defense systems must continue to invest in their own research and development to keep those systems current and indispensable. This involves constant interaction and communication with defense clients to align development strategies.
Trending innovations such as directed energy weapons, robotics, artificial intelligence, and machine learning are in their growth stages with a substantial amount of development ongoing. Integration companies must envision how these new capabilities can be integrated into the battle management space and have solutions ready for implementation.
US Defense Science and Technology Research Market, Forecast to 2024 is a part of Frost & Sullivan's Aerospace and Defense Growth Partnership Service program, which helps organizations identify a continuous flow of growth opportunities to succeed in an unpredictable future.