Next year 2017, is the centenary year of the Russian Revolution, also called in various circles as the Bolshevik Revolution or the October Revolution. This event of monumental proportion, had sweeping implications for entire humanity and the world was never the same again.
Unfortunately, during the cold war period, populist media succeeded in creating image of Soviet Union as an evil empire clad in Iron Curtain, there by is isolating October Revolution as partisan heritage of section of Global society. It is true that the then Soviet ruling class did not help the cause either.
It was only post 1989, that mainstream Russian/Slavic scholars from the western academic world could freely travel and research the Russian History and once various state archives were thrown open and official files were made available for public scrutiny that an alternate fact based research gathered momentum. Today, more up to date and panoramic view of the history is available about events before and after the Russian Revolution.
Aeschylus, the famous Greek tragic dramatist has said, "In war, truth is the first casualty". In case of Russian Revolution it was three wars combined in one. The First World War, the War with Tsarist forces and the Civil War. This has made development of historiographical narrative of the entire Russian Revolution too daunting a task.
This paper tries to analyse one relatively small but significant event of this saga; The Kronstadt Uprising which was unsuccessful uprising against the Bolsheviks in March 1921, during the closing phase of the Civil War. Kronstadt was a municipal town located on Kotlin Island, 30 kilometres west of St. Petersburg near the head of the Gulf of Finland. The fort of Kronstadt was the seat of the Russian admiralty and the base of the Russian Baltic Fleet guarding the approaches to Saint Petersburg. (formerly Petrograd
Kronstadt sailors had an uninterrupted history of revolutionary activity. They were at the forefront to storm the winter palace, and celebrated the February Revolution of 1917 by executing their officers. In May, they established an independent commune in defiance of the Provisional Government; in July they took part in the abortive rising against Kerensky; in October they helped to bring down his government. In January 1918, they dispersed the Constituent Assembly by heckling Mensheviks and preventing their leader Martov and practically forcing he and other Mensheviks leave the meeting. An early sign of democratic deficit of Bolsheviks. The late Anarchist historian Paul Avrich, writer of an earlier history (Kronstadt 1921, Princeton University Press, 1970) in his book describes life in Kronstadt as follows
For the most part, the citizens themselves administered the social and economic life of the city, through the medium of local committees of every sort (as hallmark of) libertarian atmosphere. Kronstadt's residents displayed a real talent for spontaneous self-organization. Apart from their various committees, men and women working in the same shop or living in the same neighbourhood formed tiny agricultural communes, each with about fifty members, which undertook to cultivate whatever arable land could be found on the empty stretches of the island. During the Civil War, says these collective vegetable gardens helped save the city from starvation.
Cherishing their local autonomy, the Kronstadt population warmly endorsed the appeal for "All power to the soviets" put forward in 1917 by Lenin and his party. They interpreted the slogan in a literal sense, to mean that each locality would run its own affairs, with little or no interference from any central authority.
Avrich considers Kronstadters as volatile champions of direct democracy.
As it is well known now, the infant Bolshevik regime had emerged with a precarious victory. Major Civil war erupted at the heels of revolution. First the former Czarist generals organized White armies and with end of first world war the allied powers, sent expeditionary forces to join white guards against the new regime.
As contingency measures, the Bolshevik government brought in a policy of 'War Communism' with most significantly, the requisition of peasant grain surpluses. This only added fuel to the fire as the successive years of drought and disruption to agricultural distribution had already produced famines and food shortages. War damage to the industrial infrastructure reduced production to levels at 20% of 1914 levels. Most of all, the expected imminent revolutions in the industrialized west either never materialized or were crushed – leaving the Soviets isolated to face all these problems on their own.
It is pertinent to note here, that the white Guards were not only the Tsarist Generals and Nobility or the armies of some 30 countries from all over the world. The Bolsheviks were also fighting with their former comrades like Anarchists, Left Socialists Revolutionaries (SRs) and Mensheviks who all had contributed towards realisation of October dream in their own ways but had differing plans for the future.
Under such dire circumstances, fighting every odd, it may be pertinent to ask the question; what were the pressing ideological consideration to have an all out war against every one there by dwindling resources and creating cracks even in the infantile Bolshevik citadel. After all the 5th All-Russia Congress of Soviets of July 4, 1918 had 352 the Left SR delegates as compared to 745 Bolsheviks out of 1132 total. More over the disagreement with Left SRs were about suppression of rival parties, the death penalty to fellow comrades of all colours and mainly, the Treaty of Brest-Litovsk.
As regards Anarchists, once again I quote Paul Avrich from Russian Review, Volume 27, Issue 3 (Jul., 1968), 296-306.
When the first shots of the Russian Civil War were fired, the anarchists, in common with the other left-wing opposition parties, were faced with a serious dilemma. Which side were they to support? As staunch libertarians, they held no brief for the dictatorial policies of Lenin's government, but the prospect of a White victory seemed even worse. Active opposition to the Soviet regime might tip the balance in favour of the counterrevolutionaries. On the other hand, support for the Bolsheviks might serve to entrench them too deeply to be ousted from power once the danger of reaction had passed. After much soul-searching and debate, the anarchists adopted a variety of positions. A majority, however, cast their lot with the beleaguered Soviet regime. By August 1919, at the climax of the Civil War, Lenin was so impressed with the zeal and courage of the "Soviet anarchists", as their anti-Bolshevik comrades contemptuously dubbed them, that Lenin counted them among "the most dedicated supporters of Soviet power
Here, it is only natural for anyone to wonder What was the mindset of Bolshevik leadership that lump Mensheviks , left SR's and Anarchist with the white guards and Black 100's and other reactionaries? Would it have not been a clever strategy to pool in resources with other left parties and isolate the real counter revolutionaries with an all out attack. Such step would have conserved already overstretched resources, reduced loss of human life and restricted the magnitude of mass discontent among its own populace. Politician Lenin prevailed over the statesman in him.
As expected this all out civil war brought to the Russian society enormous hardships. In 1919 and 1920, famine, disease, cold, and infant mortality had claimed some nine million lives–apart from the military casualties of the civil war. In some, the population had been reduced by a third. The living standard of the Russian worker had sunk to less than a third of the pre-war level, industrial output to less than a sixth of 1913 production. The prices of manufactured goods skyrocketed, while paper currency dropped in value. Nearly half the industrial work force deserted the towns for the villages. The continuing crisis provoked peasant risings all over Russia.
The cornerstone of Lenin's policy of War Communism was the forcible seizure of grains from the peasants by armed detachments from the cities. "We actually took from the peasant," admitted Lenin, "all his surpluses and sometimes not only the surpluses but part of the grain the peasant needed for food. We took this in order to meet the requirements of the army and to sustain the workers." Grain as well as livestock was often confiscated without payment of any kind, and there were frequent complaints that even the seed needed for the next sowing had been seized. In the face of all this, the peasantry resorted to both passive and active resistance. In 1920 it was estimated that over a third of the harvest had been hidden from the governments troops. The amount of sown acreage dropped to three-fifths of the figure for 1913, as the peasants rebelled against growing crops only to have them seized.
For urban workers the situation was even more desperate. Shortage of machinery, raw materials and especially fuel meant that many large factories could operate only part-time. Retreating White armies had destroyed many railway lines, interrupting the delivery of food to the cities. What food there was distributed according to a preferential system which favoured heavy industry and especially armament workers over less valued categories. Less important ones received only 200 grams of black bread a day.
The civil war also resulted in acute shortage of skilled labour. Those who ran factories during Tsarist period refused to cooperate with the new Government unless paid higher wages and better facilities. This led to the gradual abandonment of workers' control in favour of management by "bourgeois specialists." A new bureaucracy had begun to flourish. For the rank-and-file workmen, the restoration of the class enemy to a dominant place in the factory meant a betrayal of the ideals of the revolution. As they saw it, their dream of a proletarian democracy, momentarily realized in 1917, had been snatched away and replaced by the coercive and bureaucratic methods of capitalism …. Small wonder that, during the winter of I920-1921…murmurings of discontent could no longer be silenced, not even by threats of expulsion with the potential loss of rations.
At workshop meetings, where speakers angrily denounced the militarization and bureaucratization of industry, critical references to the comforts and privileges of Bolshevik officials drew indignant shouts of agreement from the listeners. The Communists, it was said, always got the best jobs, and seemed to suffer less from hunger and cold than everyone else.
Once civil war subsided and a White restoration was no longer a threat, peasant and worker resistance became violent. There were mass strikes in Petrograd.
Back in Kronstadt, when news of the Petrograd strikes reached the sailors, they immediately dispatched a delegation to investigate. The delegates reported back on February 28 to a sailors' meeting. Mammoth crowd of 16,000 sailors, soldiers and workers heard the report and then passed a resolution, which was to become the rallying point of the rebellion: The resolution sought; new elections to Soviets by secret ballot, freedom of press and political agitation for all left leaning groups, equalization of food rations between workers and party leaders and the lifting of ban on free exchange for agricultural goods.
At this stage the sailors didn't see themselves as being in open revolt. In fact, they sent a committee of thirty men to confer with the Petrograd Soviet for an amicable end to the strike who were promptly arrested by secret police upon their arrival in Petrograd. The military strategy of the Kronstadters was entirely defensive. They ignored the suggestions of military officers to break up the ice around the island with cannon fire, which could have prevented an assault by land.
On March 5, Trotsky issued an ultimatum in which he promised to "shoot like partridges"(birds found in Europe). On March 7, an aerial bombardment was launched against the island, which continued over several days. After the first attack on 9th March failed, on the night of March 16, the last assault began. 50,000 Communist troops were pitted against 15,000 well-¬entrenched defenders. By morning the battle raged within the city itself. Women as well as men fought ferociously to save Kronstadt, but by evening Bolshevik troops conquered Kronstadt. Had they held out much longer, a plan sanctioned by Trotsky to launch a gas attack would have been carried out.
Kronstadt fell. In all, the Bolsheviks lost about 10,000 men, the rebels about 1500; about 8000 rebels fled across the ice to Finland; another 2500 were captured and either killed or sent to labor camps.
"It was not a battle," said the Bolshevik commander later, "it was an inferno… The sailors fought like wild beasts. I cannot understand where they found the might for such rage."
Contrary to Bolshevik estimate;
The rebels were not necessarily anarchists. They were seeking alternatives within Bolshevik polity
It was in no way, White Guard sponsored conspiracy.
Kronstaders never engaged in any dialogue with outsiders or the dissident groups
Essentially the rebels are probably best defined as a coming-together of those groups alienated by the War Communism policies. Victor Serge the Russian Anarchist who reluctantly sided with Bolsheviks even claimed that the rebellion could have been averted if the government had only introduced New Economic Program a year earlier than it did. The NEP implemented only an year later, replaced War Communism and permitted small-scale private production and a degree of autonomy for the peasants.
At the Tenth Party Congress Lenin commented, "They didn't want the White Guards, but they didn't want us, either," The historiography of Kronstadt offers several varying versions but the one I find most convincing is the following;
Bolsheviks had no experience with administration and no guide book to build socialist state. Under such circumstances when there was no precedence or no written laws, every decision was being taken on the basis of heated ideological debates on party forums in ad hoc manner. These debates were highly polemical and often resulted in reducing problems to polarised absolutes.
Even famous Anarchist Alexander Berman agreed that, there was no other party in Russia capable of defending revolution. Bolsheviks exploited this fear of "return of white guard should there be a deviation from Bolshevik course" to the hilt. Thus fear of deviation became the central tenet of Bolshevik political ideology. Fear of potential left or right deviation prompted Lenin in the 10th party congress to ban factionalism in the party. Increasingly the propaganda acquired universal validity that there is no middle position. You are either with proletariat or with bourgeoisie. There is no third option. The entire population was made to believe in this THEY or US dichotomy. Soon the hallmark of revolutionary mind set got cast into the mentality of absolutes. Unfortunately this had disastrous consequence not only in terms of inner party democracy but the very rise of Stalin. It made the entire ideology simplistic mechanistic decision tree paradigm, which got progressively fossilized and eventually dead. In that sense, Kronstadt was an early warning, which even great ideologue like Lenin missed out. Who knows, he may have thought of correcting this tendency later, for which he never got time. Because by then Stalin a relatively green horn in Ideological matters, had established his tentacles in the party organisation across the country. The tactical political absolutism was convenient to him to build a cadre loyal to him. Because the slogan you are either with Bolshevik or you are a counter revolutionary, was malleable enough to twist into, you are either with Stalin the chosen disciple of Lenin or you are counter revolutionary eminently worthy of elimination of being consigned to gulag.
All sanctions against Russia are based on lies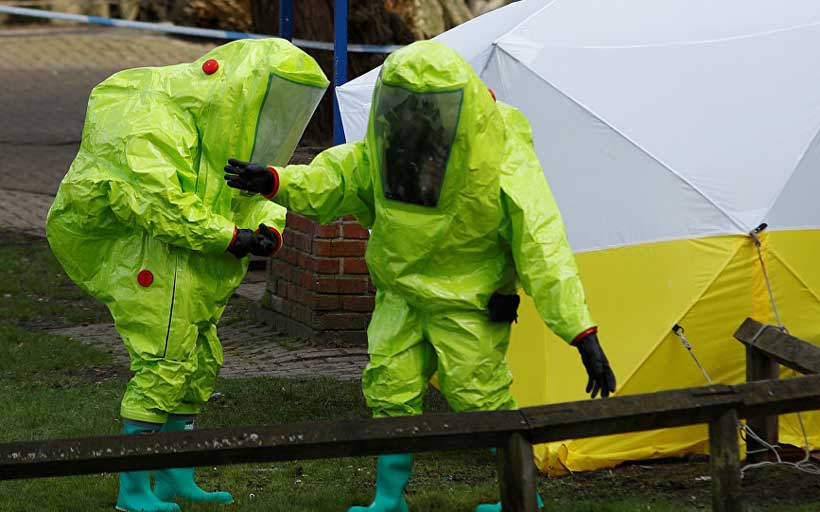 All of the sanctions (economic, diplomatic, and otherwise) against Russia are based on clearly demonstrable intentional falsehoods; and the sanctions which were announced on August 8th are just the latest example of this consistent tragic fact — a fact which will be proven here, with links to the evidence, so that anyone who reads here can easily see that all of these sanctions are founded on lies against Russia.
The latest of these sanctions were announced on Wednesday August 8th. Reuters headlined "U.S. imposes sanctions on Russia for nerve agent attack in UK" and reported that, "Washington said on Wednesday it would impose fresh sanctions on Russia by the end of August after it determined that Moscow had used a nerve agent against a former Russian agent and his daughter in Britain." This was supposedly because "Sergei Skripal, a former colonel in Russia's GRU military intelligence service, and his 33-year-old daughter, Yulia, were found slumped unconscious on a bench in the southern English city of Salisbury in March after a liquid form of the Novichok type of nerve agent was applied to his home's front door. European countries and the United States expelled 100 Russian diplomats after the attack, in the strongest action by President Donald Trump against Russia since he came to office."
However, despite intense political pressure that the UK Government and 'news'media had placed upon the UK's Porton Down intelligence laboratory to assert that the poison had been made in Russia (labs in several countries including the UK have also manufactured it), the Porton Down lab refused to say this. Though the U.S. Government is acting as if Porton Down's statement "determined that Moscow had used a nerve agent," the actual fact is that Porton Down still refuses to say any such thing, at all — this allegation is merely a fabrication by the U.S. Government, including its allies, UK's Government and other Governments and their respective propaganda-media. It's a bald lie.
On March 18th, the great British investigative journalist and former British diplomat Craig Murray had headlined about UK's Foreign Secretary, "Boris Johnson Issues Completely New Story on Russian Novichoks" and he pointed to the key paragraph in the Porton Down lab's statement on this matter — a brief one-sentence paragraph:
Look at this paragraph:
"Russia is the official successor state to the USSR. As such, Russia legally took responsibility for ensuring the CWC [Chemical Weapons Convention] applies to all former Soviet Chemical Weapons stocks and facilities."
It does not need me to point out, that if Porton Down had identified the nerve agent as made in Russia, the FCO [Foreign and Commonwealth Office — UK's foreign ministry] would not have added that paragraph. Plainly they cannot say it was made in Russia.
Murray's elliptical report, which unfortunately was unclearly written — it was rushed, in order to be able to published on the same day, March 18th, when the UK's official response to the Porton Down lab's analysis was published — was subsequently fully explained on March 23rd at the excellent news-site Off-Guardian, which specializes in investigating and interpreting the news-media (in this case, Craig Murray's article, and the evidence regarding it); they headlined "Skripal case: 'closely related agent' claim closely examined'," and concluded their lengthy and detailed analysis:
In short, the ruling cited above, even if read in the most improbably forgiving way possible, shows the UK government does not have the information to warrant any of the claims it has so far made about Russian state involvement in the alleged poisoning of the Skripals. It shows the UK government is currently guilty of lying to Parliament, to the British people, and to the world.
Nothing has been published further about the Skripal/Novichoks matter since then, except speculation that's based on the evidence which was discussed in detail in that March 23rd article at Off-Guardian.
On the basis of this — merely an open case which has never been examined in more detail than that March 23rd analysis did — the Skripal/Novichok case has been treated by the UK Government, and by the U.S. Government, and by governments which are allied with them, and by their news-media, as if it were instead a closed case, in which what was made public constitutes proof that the Skripals had been poisoned by the Russian Government. On that blatantly fraudulent basis, over a hundred diplomats ended up being expelled.
The Porton Down lab still refuses to say anything that the UK Government can quote as an authority confirming that the Skripals had been poisoned by the Russian Government.
All that's left of the matter, then, is a cold case of official lies asserting that proof has been presented, when in fact only official lies have been presented to the public.
The UK Government prohibits the Skripals from speaking to the press, and refuses to allow them to communicate even with their family-members. It seems that they're effectively prisoners of the UK Government — the same Government that claims to be protecting them against Russia.
This is the basis upon which the U.S. State Department, on August 8th, issued the following statement to 'justify' its new sanctions:
Imposition of Chemical and Biological Weapons Control and Warfare Elimination Act Sanctions on Russia
Press Statement
Heather Nauert 
Department Spokesperson
Washington, DC
August 8, 2018
Following the use of a "Novichok" nerve agent in an attempt to assassinate UK citizen Sergei Skripal and his daughter Yulia Skripal, the United States, on August 6, 2018, determined under the Chemical and Biological Weapons Control and Warfare Elimination Act of 1991 (CBW Act) that the Government of the Russian Federation has used chemical or biological weapons in violation of international law or has used lethal chemical or biological weapons against its own nationals.
Following a 15-day Congressional notification period, these sanctions will take effect upon publication of a notice in the Federal Register, expected on or around August 22, 2018.
U.S. law is supposed to be "innocent until proven guilty" — the opposite of legal systems in which the contrary assumption applies: "guilty until proven innocent." However, regarding such matters as invading and destroying Iraq in 2003 upon the basis of no authentic evidence; and invading and destroying Libya in 2011 on the basis of no authentic proof of anyone's guilt; and on the basis of invading and for years trying to destroy Syria on the basis of America's supporting Al Qaeda in Syria against Syria's secular government; and on the basis of lying repeatedly against Russia in order to load sanction after sanction upon Russia and to 'justify' pouring its missiles and thousands of troops onto and near Russia's border as if preparing to invade 'the world's most aggressive country' — the U.S. federal Government routinely violates that fundamental supposition of its own legal system ("innocent until proven guilty"), whenever its rulers wish. And yet, it calls itself a 'democracy'.
Donald Trump constantly says that he seeks improved relations with Russia, but when his own State Department lies like that in order to add yet further to the severe penalties that it had previously placed against Russia for its presumed guilt in the Skripal/Novichok matter, then Trump himself is publicly exposing himself as being a liar about his actual intentions regarding Russia. He, via his Secretary of State Mike Pompeo's State Department, not only is punishing Russia severely for this unproven allegation, but now adds yet further penalties against Russia for it. Trump is being demanded by the U.S. Congress to do this, but it is his choice whether to go along with that demand or else expose that it's based on lies. He likes to accuse his opponents of lying, but, quite obviously, the members of Congress who are demanding these hiked rounds of sanctions against Russia are demanding him to do what he actually wants to do — which is now clearly demonstrated to be the exact opposite of exposing those lies. If Trump is moving toward World War III on the basis of lies, then the only way he can stop doing it is by exposing those lies. He's not even trying to do that.
Nothing is being said in the State Department's cryptic announcement on August 8th that sets forth any reasonable demand which the U.S. Government is making to the Russian Government, such that, if the reasonable demand becomes fulfilled by Russia's Government, then the United States Government and its allies will cease and desist their successive, and successively escalating, rounds of punishment against Russia.
Russia is being offered no path to peace, but only the reasonable expectation of escalating lie-based American 'justifications' to perpetrate yet more American-and-allied aggressions against Russia.
There have been three prior U.S. excuses for applying prior rounds of sanctions against Russia, and all of them have likewise been based upon lies, and varnished with many layers of overstatements.
First, in 2012, there was the Magnitsky Act, which was based upon frauds (subsequently exposed here and here and here) which assert that Sergei Magnitsky was murdered by the Russian Government. The evidence (as linked-to there) is conclusive that he was not; but the U.S. Government and its allies refuse even to consider it.
Then, in 2014, Crimea broke away from Ukraine and joined the Russian Federation, and the U.S. and its allies allege that this was because Russia under Putin 'seized' Crimea from Ukraine, when in fact America under Obama had, just weeks prior to that Crimean breakaway, seized Ukraine and turned it against Russia and against Crimea and the other parts of Ukraine which had voted overwhelmingly for the democratically elected Ukrainian President whom the Obama regime had just overthrown in a bloody coup that had been in the planning ever since at least 2011 inside the Obama Administration. Several rounds of U.S.-and-allied economic sanctions were imposed against Russia for that — for the constant string of lies against Russia, and of constant cover-ups of "the most blatant coup in history,"  which had preceded and caused the breakaway.
These lies originated with Obama; and Trump accuses Obama of lying, but not on this, where Obama really did lie, psychopathically. Instead, Trump makes those lies bipartisan. On what counts the most against Obama, Trump seconds the Obama-lies, instead of exposing them. And yet Trump routinely has accused Obama as having lied, even on matters where it's actually Trump who has been lying about Obama.
Then, there have been the anti-Russia sanctions that are based upon Russiagate and 'Trump is Putin's stooge and stole the election.' That case against Russia has not been proven, and Wikileaks' founder Julian Assange says that what he had published were leaks from the DNC and Podesta's computer, not hacks at all; and yet the sanctions were imposed almost as soon as the Democratic Party's accusations started. Those sanctions, too, are utterly baseless except as being alleged responses to unproven (and likely false) allegations. Furthermore, even in the worst-case scenario: the U.S. Government itself routinely overthrows foreign governments, and continues tapping the phones and electronic communications of foreign governments, and manipulating elections abroad. Even in the worst-case scenario, Russia hasn't done anything that historians haven't already proven that the U.S. Government itself routinely does. That's the case even if Russia is guilty as charged, on all of the U.S-and-allied accusations.
So: Who wants World War III? Apparently, both the Democratic and the Republican Parties do. Obama called Russia the world's most aggressive nation. Trump joins with him in that bipartisan lie. Outside of America itself, most of the world consider the United States to be actually the "greatest threat to peace in the world today." Therefore, why isn't the NATO alliance against America? The NATO alliance is America and most of its vassal-nations: they're all allied against Russia. Their war against Russia never stopped. That 'Cold War' continued, even after the USSR and its communism and its Warsaw Pact mirror-image to NATO, all ended in 1991; and now the intensifying 'cold war' threatens to become very hot. All based on lies. But that seems to be the only type of 'justifications' the U.S.-and-allied tyrants have got.
Either the lies will stop, or else we all will. Trump, as usual, is on the wrong side of the lies. And he seems to be too much of a coward to oppose them, in these cases, which are the most dangerous lies of all. This is how we could all end. Doing something heroic that would stop it, seems to be way beyond him — he doesn't even try. That's the type of cowardice which should be feared, and despised, the most of all. Trump has taken up Obama's worst, and he runs with it. Trump had promised the opposite, during his Presidential campaign. But this is the reality of Trump — a profoundly filthy liar — at least insofar as he has, thus far, shown himself to be. What he will be in the future is all that remains in question. But this is what he has been, up till now.
Author's note: this piece first posted at strategic-culture.org
The importance of the first Russia-Africa Summit
After several years of high-level consultations, Russian President Vladimir Putin has finally hinted that Russia would organize its first Russia-Africa Summit of African leaders and Ministers to roll out a comprehensive strategic road map outlining concrete economic sectors for investment, issues relating to trade and culture for Africa.
Addressing a group of invited African leaders at 2018 BRICS Summit on July 27 in Johannesburg, South Africa, Putin told the gathering "I would like to inform you that we are studying the idea of holding a Russia-Africa summit with the participation of Heads of African states. This could be preceded by meetings of prominent businessmen, policy experts and public figures. And I intend to discuss this with representatives of African countries."
He did not provide specific dates or any further details about the proposed summit, but strongly acknowledged that Russia has always given priority to the development of relations with African countries, based on long-standing traditions of friendship and mutual assistance, and Africa has now emerged as the world's most rapidly developing regions.
The leaders of African countries who attended his special meeting came from Angola, Botswana, Ethiopia, Gabon, Lesotho, Madagascar, Mauritius, Malawi, Mozambique, Namibia, Rwanda, Senegal, the Seychelles, Tanzania, Togo, Uganda, Zambia and Zimbabwe.
Foreign Minister Sergey Lavrov has earlier said in interview with the Hommes d'Afrique magazine that At present, Russia's relations with African countries were progressing both on a bilateral basis and along the line of African regional organisations, primarily the African Union and the Southern African Development Community.
He noted Russia has maintained an intensive political dialogue with African countries on one hand and on other side, representatives from African countries are active participants in international forums hosted by Russia.
"Our African friends note the need for Russia's active presence in the region, and more frequently express their interest in holding a Russia-Africa summit. Such a meeting would undoubtedly help deepen our cooperation on the full range of issues," he explained.
"However, it is necessary to bear in mind that arranging an event of such a scale with the participation of over fifty heads of state and government requires most careful preparation, including in terms of its substantive content," Lavrov further argued.
As such, specific Russian participants in bilateral or multilateral cooperation should be identified, which are not only committed to long-term cooperation but are also ready for large-scale investments in the African markets with account of possible risks and high competition. Equally important is African businesspeople who are looking to work on the Russian market, the Foreign Minister elaborated in his discussion.
Definitely, time was needed to solve all those issues, Lavrov said and suggested, both Russia and Africa could start with experts' meetings, for example, within the framework of the St Petersburg Economic Forum or the Valdai forum and other economic cum business related events where business leaders participate.
He assertively promised that Russia would do its best to raise trade and economic ties to a high level of political cooperation. Currently, Russia's trade with Sub-Saharan countries amounted to $3.6 billion in 2017, compared to $3.3 billion in 2016 and $2.2 billion in 2015.
Maxim Chereshnev, the Chairman of the Board of the Council for the Development of Foreign Trade and International Economic Relations also noted that Russia and African states have a long story of relations. But, what is very important today is the fact that new opportunities are arising for medium size enterprises for collaboration in Russia and Africa.
According to him, nowadays perspectives of business contacts between Russian and African business are actually underestimated, however, there are a huge number of opportunities. For instance, agricultural, high-tech, medicine, energy-saving technologies, logistics and infrastructure projects are really perspective for strengthening Russia-African economic cooperation.
The Russia-Africa summit, would therefore, highlight favorable conditions for active business interaction, participating Russians and Africans establish closer contacts and continue cooperating in key sectors of the economy of both regions. Hence the significance of the proposed summit.
As Professor David Shinn, an Adjunct Professor at the Elliott School of International Affairs, George Washington University, and a former U.S. Ambassador to Ethiopia (1996-99) and Burkina Faso (1987-90), wrote in an email to GNA, Russian government's weakness for investing or boosting economic cooperation compared to many foreign countries has been primarily the question of project financing in Africa.
As authorities have always explained Russia has its own priorities, and Africa is a priority for Russia but it's Russia's own priority to determine the pace and how to raise economic presence in Africa, he argued, and finally added "it neatly makes the argument that the relationship continues to be a low priority. It is difficult to affirm or change policy when key people are not present to make decisions."
As already publicly known, all previous summits held by many foreign countries with Africa, there were concrete financial packages earmarked towards infrastructure development and concrete ways to improve bilateral trade with African countries.
From Russia's perspective, there are undeniably important geopolitical implications working with Africa. Nevertheless, Russia's efforts in the region have been limited thus far which many experts and researchers have attributed to lack of a system of financing policy projects.
Russia–Turkey Relations Need a Stronger Foundation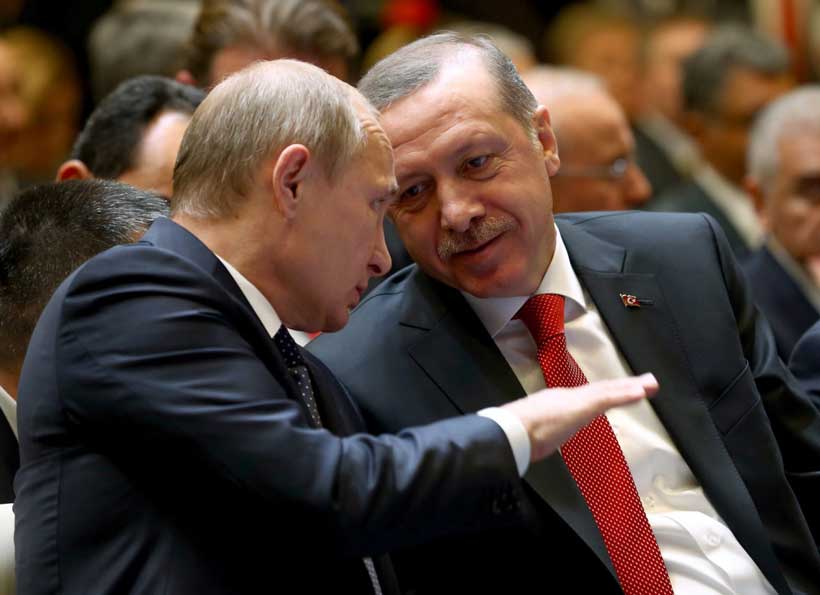 Relations between Russia and Turkey have always been and will always be a controversial subject. Even over the last couple of years, this relationship experienced dramatic ups and downs, sudden U-turns from cooperation to confrontation and back to cooperation.
First, relations between Moscow and Ankara will remain important for both sides. Russia and Turkey are neighbors with extensive and diverse bilateral ties — including trade and investments, energy and construction, as well as a vibrant social, humanitarian and cultural interaction.
Second, there will always be a mixture of common, parallel, overlapping and colliding interests driving Moscow and Ankara in dealing with each other.
Third, various external players — both global powers (the European Union, NATO, and the United States) and regional actors (Iran, Gulf States, and Israel) will continue to have a profound impact on Russia–Turkey relations.
Both sides should be interested in more stable, more predictable and less adversarial Russia–Turkey relations. Let's face it: there will be no real trust between Russia and Turkey until we deal together with the most sensitive, the most divisive, and the most unpleasant issues dividing us.
As the recent history demonstrated, the "agree to disagree" approach is not good enough to move the relationship ahead. Thinking strategically, one can even imagine a more important role for Turkey as a country that might be best suited to facilitate a renewal of the currently nearly dormant NATO-Russian Council.
Russia is not an alternative to Turkey's cooperation with the European Union; neither Turkey is a substitute for Russia working harder to resolve its problems with the United States and Europe. We need Russia–Turkey relationship to acquire a strategic depth of its own.
Relations between Russia and Turkey have always been and will always be a controversial subject. For both countries, this is a very special relationship; it contains a lot of emotions, mythology, prejudices, uneasy legacies of the past, and sometimes unrealistic hopes for the future. The glass remains half-full or half-empty, depending on how you look at it and on whether you are trying to fill it or to drain it.
Even over the last couple of years, this relationship experienced dramatic ups and downs, sudden U-turns from cooperation to confrontation and back to cooperation. The 2015 — 2016 crisis, albeit a short one, demonstrated both the fragility and the resilience of this unique set of connections linking the two countries. No doubt, in years to come we will see more of surprising developments in Russia–Turkey relations that we cannot possibly predict today. Still, there are a number of features of this relationship, which are likely to remain constant in the foreseeable future.
First, relations between Moscow and Ankara will remain important for both sides. Russia and Turkey are neighbors with extensive and diverse bilateral ties — including trade and investments, energy and construction, as well as a vibrant social, humanitarian and cultural interaction. Moreover, they share vast common neighborhood; for both countries, this neighborhood presents tempting opportunities and serious challenges at the same time. Both countries claim a special Eurasian status in world politics that puts them in a league of their own, distinguishing Russia and Turkey from other purely European or Asian states. Therefore, it is hard to imagine the two powers drifting too far away from each other and losing interest in the bilateral relationship.
Second, there will always be a mixture of common, parallel, overlapping, and colliding interests driving Moscow and Ankara in dealing with each other. Elements of cooperation and competition (hopefully, not direct confrontation) will be blended by politicians into a single sweet and sour cocktail and offered to the Russian and Turkish public. We will continue to live with numerous paradoxes. For instance, Turkey is a NATO member, but it plans to purchase the most advanced Russian air defense systems (S-400). The two countries actively cooperate on the ground in Syria, but they have very different attitudes to the current Syrian leadership in Damascus. Russians and Turks are equally interested in stability in the South Caucasus but quite often, unfortunately, they find themselves on the opposite sides of the barricades in the region.
Third, various external players — both global powers (the European Union, NATO, and the United States) and regional actors (Iran, Gulf States, and Israel) will continue to have a profound impact on Russia–Turkey relations. External players can push Moscow and Ankara closer to each other, but they can also push Russians and Turks apart by offering either of them alternative options for strategic, political and economic cooperation. The Russia–Turkey cooperation will also rely on such independent variables as the rise of international terrorism, fluctuations of energy prices, volatility of the global economic and financial system and, more generally, on the fundamentals of the emerging world order.
Both sides should be interested in more stable, more predictable and less adversarial Russia–Turkey relations. It is particularly important today, when the international system at large is becoming less stable and less predictable. Besides, both Russia and Turkey face enormous challenges of economic, social and political modernization in a less than perfect external environment; it would be stupid to add to existing lists of their foreign policy problems a new round of Russia–Turkey confrontation.
So, is it possible to prevent colliding interests from curbing joint work on common problems? What can we do to reduce the risks of potential future crises between Moscow and Ankara? How can we mitigate negative impacts of external factors on our bilateral cooperation?
The immediate answer to these questions is clear — above all, we need to enhance our lines of communication. This is not about preparing the next Erdogan-Putin meeting, nor about generating new technical proposals for the Russian-Turkish Intergovernmental Commission. This is not about mil-to-mil contacts on the ground in Syria. The enhancement of communication should bring it far beyond serving operational needs of political leaders. Let's face it: there will be no real trust between Russia and Turkey until we deal together with the most sensitive, the most divisive, and the most unpleasant issues dividing us. These issues include mutual historical grievances, existing suspicions about one side allegedly supporting subversive and even terrorist groups on the territory of the other side, concerns that the partner country might abruptly reconsider its commitments to cooperation, should it get a better deal from a third party, and so on. If they cannot discuss these issues at the official level today, one should start with a track two format providing for informal expert dialogues.
Even more important would be not to limit such dialogues to articulating existing disagreements and conflicting narratives, but to identify ways, in which disagreements can be bridged, and narratives reconciled. As the recent history demonstrated, the "agree to disagree" approach is not good enough to move the relationship ahead. If resolving difficult problems does not seem possible now, let us at least try to stabilize areas of potential conflict. For instance, Russia and Turkey will continue to disagree on the problem of Nagorno-Karabakh. Nevertheless, they can exercise their respective influence on both sides of the conflict in order to prevent another outbreak of military hostilities and further losses of human lives. Likewise, Moscow and Ankara are not likely to come to a common stance on Crimea. However, Turkey can play an important positive role in preventing any further cultural and civic alienation of the Crimean Tatar population in the peninsula.
Sometimes, what we routinely perceive as a part of the problem might become a part of the solution. For example, the Turkey's membership in NATO is commonly regarded in Russia as an obstacle on the way to more productive security cooperation with Ankara. Counterintuitively, it is exactly the Turkish membership, which can help to reduce risks of dangerous incidents in the Black Sea. These risks started growing in 2014, when both Russia and NATO significantly increased their naval presence here and engaged themselves into ever more frequent naval exercises. Why doesn't Ankara take an initiative in promoting more confidence-building measures between Russia and NATO in the Black Sea? Thinking strategically, one can even imagine a more important role for Turkey as a country that might be best suited to facilitate a renewal of the currently nearly dormant NATO-Russian Council.
It is also important to make sure that cooperation between Russia and Turkey is not regarded by either side as the "second best option" when the "first best option" is not available for this or that reason. Russia is not an alternative to Turkey's cooperation with the European Union; neither Turkey is a substitute for Russia working harder to resolve its problems with the United States and Europe. Situational alliances based on shared frustrations and common complexes of inferiority usually do not last. We need Russia–Turkey relationship to acquire a strategic depth of its own. To quote Saint Augustine, "the higher our structure is to be, the deeper must be its foundation".
First published in our partner RIAC