Obama's foreign policy: Even a leftist president in USA pursues only capitalist-imperialist goals
Entire world stands disappointed by the fact that the first ever black 'lefty' President of USA, a Nobel Peace prize winner laurite, did not do anything for the world peace. Obama, shrewd politician that he is, succeeded, however, in hiding himself behind the terrorism dramatics.
Except that President Obama diplomatically refused to bomb Syria in 2013 and terror attack Iran in 2015 against the advice of Neocons, rich American Jewish leaders and America's Zionist lobbyists operating for Israel, even when Pentagon "specialists" actively supporting arms supply to Tel Aviv, he has always advanced the "traditional" policy militarism, capitalism and imperialism very faithfully and promptly put himself back into captivity.
Not that world had expected Obama to make America read with his new 'leftist' ideas. But he was not expected to be an untrustworthy leader he has turned out to be. Obama just enjoyed like Indian Pm Modi is doing now, happily touring the world.
Sugar coated lies
In late August 2013, with Barack Obama on the verge of launching retaliatory airstrikes against the Syrian military for its alleged role in a lethal sarin gas attack, Director of National Intelligence James Clapper informed the President that US intelligence doubted that Bashar al-Assad's government was actually responsible, causing Obama to pull back from the attack. Obama refused to abide by the available official facts and announced that Assad had used the WMD against the civilians.
Jeffrey Goldberg's opus for 'The Atlantic' on Obama's foreign policy further revealed the details first, but possibly under pressure, Goldberg – in an extraordinary display of cognitive dissonance – then wrote the rest of his lengthy article as if he had forgotten his own reporting, now conformed to the powerful Washington "group think" that Assad had carried out the attack and thus had crossed Obama's "red line" against using chemical weapons. They all wanted the extension of terror war in West Asia beyond Mideast and pressed President Obama to send forces to Syria and Iran forthwith. Israel quickly endorsed the view.
But that US intelligence lacked "slam dunk" evidence implicating Assad's forces confirmed reporting of several outlets in 2013 underscoring how President Obama joined in lying to maintain the anti-Assad propaganda themes.
Not only did the White House issue a "Government Assessment" on Aug. 30, 2013, trying to pin the blame for the attack on Assad's regime – and not only did Obama dispatch Secretary of State John Kerry to make the dubious anti-Assad case to the country – but Obama himself asserted Assad's guilt in his Sept. 24, 2013 address to the United Nations General Assembly. That is the US presidential white lie. Obama said it's an insult to 'human reason' and to the legitimacy of UN to suggest that anyone other than the regime carried out this attack, though the US President knew that many of his own intelligence analysts doubted that the Assad regime carried out the attack. Obama wanted to swim along with liars and frauds, terrorists and he did it voluntarily to keep the hardcore Neocons in good humors and save his own presidency from defeat in 2004.
Obama was asserting that much of the US intelligence community was either dishonest or crazy. But, more likely, Obama was just reading the words of a speech prepared by State Department propagandists who understood the need to knock down the growing suspicion that the attack was a provocation committed by the known "Islamist extremists" trying to trick the US super power to join the war on their side. And Obama did it voluntarily and willingly. Obama's inner circle dictated a military response to foreign challenges like the Syria sarin case. Obama seems relished his refusal to speak the truth and save the humanity while endorsing the anti-Islamic insanity.
Obama knew for sure his words were deceptive but he didn't have the integrity or the courage to strike them from the speech. He just went along like a willing puppet of the foreign-policy establishment mouthing falsehoods prepared for him rather than acting decisively as America's Commander in Chief to protect his own and his nation's credibility. Obama expected the media to boost his credibility anyway as the prestige of USA was in jeopardy.
While Obama's passive-aggressive resistance to the military imperative mandated by the "Washington playbook" made some sense in a way, he eventually succumbed to its propagandistic tactics to justify war. That is US presidential childish behavior as he could not challenge the Washington establishment enough to explain to the American people that US intelligence analysts were uncertain about Assad's guilt.
Obama knew ultimately only the powerful can let him win a second term at the White House. A cleaver manipulator Obama was not wrong in that approach to realpolitik. Instead, Obama allowed his subordinates to pile on the calumnies against Assad and he let those distortions go unchallenged and, indeed, reinforced them in his well prepared UN speech.
Skepticism
There was a lack of consensus about whodunit among UN officials and other international observers in Damascus despite the career risks that they faced by deviating from the conventional wisdom regarding Assad's guilt.
In a world where propaganda is more influential than truth, discovering the origin of the chemicals that suffocated so many Syrians a month ago is an investigation fraught with journalistic perils' Nevertheless, it also has to be said that grave doubts are being expressed by the UN and other international organisations in Damascus that the sarin gas missiles were fired by Assad's army.
As one Western NGO put it 'if Assad really wanted to use sarin gas, why for God's sake, did he wait for two years and then when the UN was actually on the ground to investigate?'"
Later, American aeronautical experts calculated that the one U.N.-recovered sarin-laden rocket could only travel about two kilometers, not the nine kilometers that the Assad-did-it crowd was claiming would trace the flight path back to a Syrian military base.
If Obama had been baited into another war, the U.S. onslaught might have collapsed Assad's military and led to a victory by the Islamic State and/or Al Qaeda's Nusra Front, creating an even worse humanitarian catastrophe in Syria and across the region.
Yet, despite knowing what he knew and understanding many of the risks, Obama went before the United Nations on Sept. 24, 2013, and declared that no reasonable person could doubt Assad's guilt – a lie that has now been confirmed
Obama's falsehood – expressed to the world community on such a weighty issue of war or peace – fits with the pattern of deceptions of President George W. Bush's administration on Iraq and his own administration's obsessive use of propaganda (or "strategic communications") on a wide range of topics, including Libya, Ukraine and Russia.
However, in this pathetic narrative, Obama comes across less as a willful liar than a weak executive who won't assert control over his own foreign policy or even cross out words in a prepared speech that he knows are false. Instead of taking command, he drags his heels on going to war in Syria, gets badgered by his own subordinates and by the Neocons-dominated foreign-policy establishment, before finally saying no.
Obama doesn't even dare let the American people in on why he made the decision that he did.
Choiceless American People
Like people in Third World countries, Americans also suffer from their inability to control the elected representative in the government and opposition, in the US Congress and outside. They have reason to worry that even Israelis and their agents in Washington are able to manage the US congress and control the government but they simply can't do anything about the US terror wars abroad as a practical but undisclosed foreign policy. American people have to share the blame for all illegal war operations launched the government at their cost but without their consent.
Obviously, the present two party system is not answer for plight of educated Americans and people have to see beyond the system.
In fact, world had expected Black Obama to take his case to the American people but he is not "authorized" to reveal the truth to public. He could have given a speech saying that war is too serious and solemn an act for a president to go off half-cocked. He could have said he would not launch military strikes since the US intelligence community wasn't sure who was guilty for the WMD attack in Syria. But blaming Assad for it was seen a better strategy.
US government does not trust even the educated people who voted it with a mandate to rule the nation on their behalf. Americans have not endorsed any war thus far. The American people would have surely understood that point of view – and they would have been empowered by being brought in on what the US government knew and didn't know. Obama feared it would have undermined the propaganda campaign then underway to demonize Assad
Democracy demands the rulers taken the people into confidence because the concept of an informed electorate is bad thing for modern state.
Enemies of Islam badly wanted to weaken Syria and Iran as the mainstream media and leading "human rights" groups who were heavily influenced by the core media, sought to enforce a "group think" justifying the launching of an American-led "humanitarian" war in Syria.
USA had learned nothing from the Iraq War disaster when virtually all the leading publications and nearly all the esteemed commentators had agreed en masse that Saddam Hussein was hiding WMD stockpiles and that a US invasion was justified. A decade later, these anti-war "journalists" showed no more skepticism when the Neocons were pushing another "regime change" in Syria.
The Obama government's refusal to release any of its supposed proof to support its conclusions and the reason for keeping the DNI on the sidelines only meant there was no consensus in the intelligence community supporting the regime's certitude that Assad's regime was responsible. It also made no sense for Assad's forces to use sarin outside Damascus just as U.N. inspectors were arriving to investigate cases of chemical weapons that Assad was blaming on the rebels. Obviously, the attention of the inspectors would be diverted to this sarin attack and American hardliners would use the incident to press Obama to launch a military strike on Assad.
USA, Russia and Mideast
Russia has demonstrated to Middle East leaders that it is a country willing to act, and when its war planes entered Syria to face US forces, the action completely changed the region's perception of the USA as a knotty leader. Former top Obama White House aide on Middle East issues, Dennis Ross readily endorsed this view.
America may seem strong regarding its military capability in the region, but for some reason Arab leaders are becoming frequent visitors in Moscow, not Washington DC. Diplomat Dennis Ross noted that the Arabs as well as Israelis gave up on Obama because of his indecisiveness. "Because perceptions matter more than mere power: The Russians are seen as willing to use power to affect the balance of power in the region, and Americans are not," he explained. According to Ross, the problem lies in Barack Obama's different approach and view on the situation. He believes that the lessons of Iraq and Afghanistan influenced Obama's reluctance to apply force unless his country is directly threatened. It explains why he thinks Moscow will lose eventually as a result of its military operation in Syria.
The Russian military intervention turned the tide in Syria and, contrary to Obama's view, has put the Russians in a stronger position without imposing any meaningful costs on them Middle East countries, including US allies, favor Moscow's policy, the diplomat emphasized.
The Syrian operation didn't just consolidate the position of Bashar Assad but in many respects pushed Moscow out of international isolation. Moreover, it is now President Obama himself calling Putin and seeking his assistance in pressuring Assad, making it obvious who has the stronger position. Middle Eastern leaders recognize it as well and realize they need to be talking to the Russians if they are to safeguard their interests. It would be better for Obama if, internationally, Putin were seen to be losing. But he is not. In order to remedy the situation USA has to perform a number of steps, including threatening Russia to develop safe havens with no-fly zones in Syria. Neocons want Obama to toughen declaratory policy toward Iran, preparing to arm the Sunni tribes in Iraq, etc as necessary actions to make USA reappear to be a formidable power.
That is Neocons and their Zionist allies in Tel Aviv are back to basics of extending terror wars to Iran.
Free thinking but confused Obama
Obama said the US-Russia relations should be recast with a better footing but with is Asia pivot he began targeting both Russia and China.
Obama's conduct of foreign policy envisioned USA as weak nation as he agreed to covert weapons deliveries to Syrian rebels, who were operating in tandem with Islamist extremists, including Al Qaeda's Nusra Front, to appease the Neocons and the liberal hawks, though that strategy worsened the Syrian bloodshed and drove millions of refugees into Turkey and Europe. When Neocons Assistant Secretary of State for European Affairs Victoria Nuland helped orchestrate the overthrow of Ukraine's elected president in February 2014 and sparked a new and costly Cold War with Russia, Obama again went along.
Obama even joined in demonizing Russian President Vladimir Putin though Putin played key roles in two of Obama's most important foreign policy successes, getting Assad to surrender his chemical weapons arsenal as a way to defuse that crisis and persuading Iran to accept tight limits on its nuclear program Rather than hold back Nuland and her cohorts as they pulled off a "regime change" on Russia's border, Obama let this dangerous policy go forward, amid propagandistic charges of "Russian aggression" and personal insults directed at Putin.
Last year, when Islamic State terrorists blew up a Russian charter plane over the Sinai killing 224 people, mostly Russian citizens, Obama couldn't resist citing the deaths to chide Putin for having intervened militarily in Syria in support of the government.
At a Dec. 1, 2015 news conference in Paris, Obama expressed his lack of sympathy as part of a bizarre comment in which he faulted Putin for somehow not turning around the Syrian conflict during the previous month while Obama and his allies have been floundering in their "war" against the Islamic State and its parent, Al Qaeda, for years, if not decades. It is hard to imagine any other time when a Western leader behaved so callously in the face of a terrorist atrocity. But mocking Putin is always good politics in Official Washington, no matter what the circumstances.
In early 2016, with Russian air support, the Syrian army notched victory after victory against the Syrian rebels, including Al Qaeda's Nusra Front and the Islamic State. The successes led to a fragile cease-fire and a delicate reopening of peace talks as well as to Putin's surprise announcement that he was withdrawing the bulk of the Russian military force.
Rather than the pointless "quagmire" that Obama smugly foresaw, Putin seemed to have achieved a successful strategic maneuver at relatively modest cost, a marked contrast to Obama's feeding the violence by having the CIA deliver weapons while also blocking his advisers' more extreme war plans.
Yet, by failing to level with the American people about the relevant facts and his strategic reasoning, Obama continues to come across as a confused and conflicted chief executive. Obama put himself back into captivity over the past two-plus years, shackled at the feet of the Neocons and liberal hawks who still dominate Washington's foreign-policy establishment.
Observation
Perhaps, more diplomacy- as it happened on Iranian nuke issue elegantly handled by the western powers – would have settled the matter in Syria too without such huge blood bath and exodus of Syrians thronging the European states. But the Neocons wanted a twin wars one in Iran and another in Syria. Though Obama averted a war in Iran with devastating consequences for USA in the long run, he could not avoid launching an unnecessary war in Syria, prompting Russia to intervene militarily and almost winning the war for Assad.
Obama has shown to his successor how to manage the capitalist-imperialist affairs.
A self-inflicted wound: Trump surrenders the West's moral high ground
For the better part of a century, the United States could claim the moral high ground despite allegations of hypocrisy because its policies continuously contradicted its proclaimed propagation of democracy and human rights. Under President Donald J. Trump, the US has lost that moral high ground.
This week's US sanctioning of 28 Chinese government entities and companies for their involvement in China's brutal clampdown on Turkic Muslims in its troubled north-western province of Xinjiang, the first such measure by any country since the crackdown began, is a case in point.
So is the imposition of visa restrictions on Chinese officials suspected of being involved in the detention and human rights abuses of millions of Uyghurs and other Turkic Muslims.
The irony is that the Trump administration has for the first time elevated human rights to a US foreign policy goal in export control policy despite its overall lack of concern for such rights.
The sanctions should put the Muslim world, always the first to ring the alarm bell when Muslims rights are trampled upon, on the spot.
It probably won't even though Muslim nations are out on a limb, having remained conspicuously silent in a bid not to damage relations with China, and in some cases even having endorsed the Chinese campaign, the most frontal assault on Islam in recent history.
This week's seeming endorsement by Mr. Trump of Turkey's military offensive against Syrian Kurds, who backed by the United States, fought the Islamic State and were guarding its captured fighters and their families drove the final nail into the coffin of US moral claims.
The endorsement came on the back of Mr. Trump's transactional approach towards foreign policy and relations with America's allies, his hesitancy to respond robustly to last month's missile and drone attacks on Saudi oil facilities, his refusal to ensure Saudi transparency on the killing a year ago of journalist Jamal Khashoggi and his perceived empathy for illiberals and authoritarians symbolized by his reference to Egyptian field marshal-turned-president Abdel Fattah al-Sisi as "my favourite dictator."
Rejecting Saudi and Egyptian criticism of his intervention in Syria, Turkish president Recep Tayyip Erdogan gave the United States and Mr. Trump a blunt preview of what they can expect next time they come calling, whether it is for support of their holding China to account for its actions in Xinjiang, issues of religious freedom that are dear to the Trump administration's heart, or specific infractions on human rights that the US opportunistically wishes to emphasize.
"Let me start with Saudi Arabia," Mr. Erdogan said in blistering remarks to members of his Justice and Development Party (AKP). "Look in the mirror first. Who brought Yemen to this state? Did tens of thousands of people not die in Yemen?" he asked, referring to the kingdom's disastrous military intervention in Yemen's ruinous civil war.
Addressing Mr. Al-Sisi, Mr. Erdogan charged: "Egypt, you can't talk at all. You are a country with a democracy killer." The Turkish leader asserted that Mr. Al-Sisi had "held a meeting with some others and condemned the (Turkish) operation – so what if you do?"
The fact that the United States is likely to encounter similar responses, even if they are less belligerent in tone, as well as the fact that Mr. Trump's sanctioning of Chinese entities is unlikely to shame the Muslim world into action, signals a far more fundamental paradigm shift: the loss of the US and Western moral high ground that gave them an undisputed advantage in the battle of ideas, a key battleground in the struggle to shape a new world order.
China, Russia, Middle Eastern autocrats and other authoritarians and illiberals have no credible response to notions of personal and political freedom, human rights and the rule of law.
As a result, they countered the ideational appeal of greater freedoms by going through the motions. They often maintained or erected democratic facades and payed lip service to democratic concepts while cloaking their repression in terms employed by the West like the fight against terrorism.
By surrendering the West's ideological edge, Mr. Trump reduced the shaping of the new world order to a competition in which the power with the deeper pockets had the upper hand.
Former US national security advisor John Bolton admitted as much when he identified in late 2018 Africa as a new battleground and unveiled a new strategy focused on commercial ties, counterterrorism, and better-targeted U.S. foreign aid.
Said international affairs scholar Keren Yarhi-Milo: "The United States has already paid a significant price for Trump's behaviour: the president is no longer considered the ultimate voice on foreign policy. Foreign leaders are turning elsewhere to gauge American intentions… With Trump's reputation compromised, the price tag on U.S. deterrence, coercion, and reassurance has risen, along with the probability of miscalculation and inadvertent escalation."
Trump's effects on diplomacy
No longer has Trump's haphazard behaviour persisted, more will be easy for his administration to enact actions against China, Iran and Taliban. The state department is in a quandary because of it, on each front. Trump's entrenched eagerness to remain "great" and "first" on the chessboard of International power, could damage the world more ahead than before.
Following the Iran's attacks on the Kingdom of Saudi-Arabia's oil infrastructure, US wanted to deploy troops to the Kingdom. It is primarily a justification for why the US has been imposing sanctions over Iran. Is troops deployment a solution? Or will it provide safe horizon to Kingdom oil's installation? Or will it be revolutionary in oil diplomacy? Or is it the only target retaliated on, by Iran. However, such kind of engagement has short term beneficiary spots, while in broader perspective it has consequential effects for all stakeholders. The episode of nuclear deal has, as a factor of quid-pro-quo, been further dramatised by the state department, withdrawing from. Notwithstanding, the deal has advantageous prospects for the Middle East, and an exemplary for rest of nations, has been further dramatised by the US, in order to seek its diplomatic wins. What significant at this point, is an agreement to reback to the deal.
Embracing a different economic model, China, is plausibly on a runner-up position to the US. Whether it's 5G tech. Or leading status of green energy, or ultra-scales exports or its leading developments for the nations having indigent economies, is a source of chaos for US administration. The current trade war is an antidoting tool for the whole scenario. The US should, I assume, eye China's hegemony a piece of cake, and welcome its come out while securing its interests under the umbrella of cooperation. This logic, while posing no threat, seems to be long term functional. Is it?
Trump, according to many native writers, is psychologically unfit, unstable and fickle, however have had strong narrative to prevent America's engagement into "useless wars" and end "endless" wars. Following this token, Trump announcement of troop withdrawal from Syria and Afghanistan put the world politics and even his administration into chaos. This divided strategists and Washington security officials, which was underpinned by the resignation of James Mattis and recently John Bolton. The ten months of peace process which followed the US's announcement of troop withdrawal, precipitously ended, putting once again the international and national politics into chaos. Trump, grandiloquently fired a tweet that talks with Taliban are dead and futile. The argument he contended was the Attack in Kabil, where one American soldier with 12 other people were lost. The policymakers and high officials in Washington who already negated the policy of troop withdrawal and then after peace deal. They, of course are winner in this policy discourse, have staunch beliefs in their opinion, who may make Trump's change of heart. The Kabil attack was given, probably, an agent of resurgent for Obama's approach. However, Trump's administration had already scripted their policy framework for the region, and pretending Kabul attack was perhaps a way of redemption from the peace talk.
Trump's factor in US foreign policy was chaotic to his subordinates for which, he attempted to compensate by cancelling peace deal with Taliban. However , on the domestic front, it is likely to be more pluses than on diplomatic front given to Trump in next year's presidential election. Let's see which side the wind blow.
Trump Cannot Be Impeached Over Ukrainegate, But Pelosi and Schiff Can Be Charged Criminally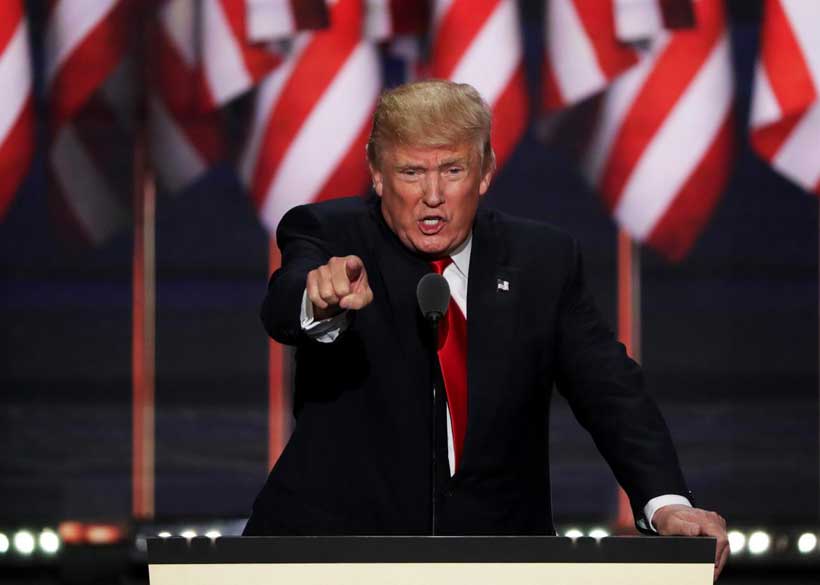 Pursuant to United States v. Curtiss-Wright Export Corp., 299 U.S. 304 (1936), the U.S. Supreme Court issued an unmistakable clear edict concerning the foreign affairs powers of the President of the United States.
In its majority opinion, the Court held that the President, as the nation's "sole organ" in international relations, is innately vested with significant powers over foreign affairs, far exceeding the powers permitted in domestic matters or accorded to the U.S. Congress.
The Court reasoned that these powers are implicit in the President's constitutional role as commander-in-chief and head of the executive branch.
Curtiss-Wright was the first decision to establish that the President's plenary power was independent of Congressional permission, and consequently it is credited with providing the legal precedent for further expansions of executive power in the foreign sphere.
In a 7–1 decision authored by Justice George Sutherland, the Supreme Court ruled that the U.S. government, through the President, is categorically allowed great foreign affairs powers independent of the U.S. Constitution, by declaring that "the powers of the federal government in respect of foreign or external affairs and those in respect of domestic or internal affairs are different, both in respect of their origin and their nature…the broad statement that the federal government can exercise no powers except those specifically enumerated in the Constitution, and such implied powers as are necessary and proper to carry into effect the enumerated powers, is categorically true only in respect of our internal affairs."
While the Constitution does not explicitly state that all ability to conduct foreign policy is vested in the President, the Court concluded that such power is nonetheless given implicitly, since the executive of a sovereign nation is, by its very nature, empowered to conduct foreign affairs.
The Court found "sufficient warrant for the broad discretion vested in the President to determine whether the enforcement of the statute will have a beneficial effect upon the reestablishment of peace in the affected countries."
In other words, the President was better suited for determining which actions and policies best serve the nation's interests abroad.
Period.
It is important to bear in mind that we are here dealing not alone with an authority vested in the President by an exertion of legislative power, but with such an authority plus the very delicate, plenary and exclusive power of the President as the sole organ of the federal government in the field of international relations – a power which does not require as a basis for its exercise an act of Congress, but which, of course, like every other governmental power, must be exercised in subordination to the applicable provisions of the Constitution.
Separation of Powers Doctrine
In other words, neither the U.S. Congress nor the U.S. Senate can say or do very much of anything to prevent or interfere with this power, and if they do, they can in fact be held responsible for violating the Separation of Powers doctrine pursuant to the U.S. Constitution wherein the three branches of government (executive, legislative, and judicial) are kept separate.
This is also known as the system of checks and balances, because each branch is given certain powers so as to check and balance the other branches.
Each branch has separate powers, and generally each branch is not allowed to exercise the powers of the other branches.
The Legislative Branch exercises congressional power, the Executive Branch exercises executive power, and the Judicial Branch exercises judicial review.
National Security and Foreign Affairs
The Curtiss-Wright case established the broader principle of executive Presidential supremacy in national security and foreign affairs, one of the reasons advanced in the 1950s for the near success of the attempt to add the Bricker Amendment to the U.S. Constitution, which would have placed a "check" on said Presidential power by Congress, but that never passed, or became law.
If Speaker of the House Nancy Pelosi and other Democrats really wanted to interfere with or prevent President Donald Trump from engaging in the activity that they are trying to prevent vis-a-vis Ukraine, China, and Joseph Biden's alleged corruption and its effect on National Security, they would have to first draft, propose, enact, and pass sweeping legislation, and this could take years and would most probably never pass.
Even so, it could not affect President Donald Trump's actions already occurred, since the U.S. Constitution prohibits ex post facto criminal laws.
Turning This All Against Nancy Pelosi and Adam Schiff
To that end if Speaker of the House Nancy Pelosi and Congressman Adam Schiff persist in pushing said "impeachment proceedings" against President Donald Trump, it is actually they who could find themselves on the wrong side of the law, with formal and actual charges of Treason, Sedition or Coup D' Etat being levied upon them by the U.S. Government.
The consequences of that occurring, are truly horrific indeed.