What do Scholars say about Jesus' Resurrection: is it just a Myth?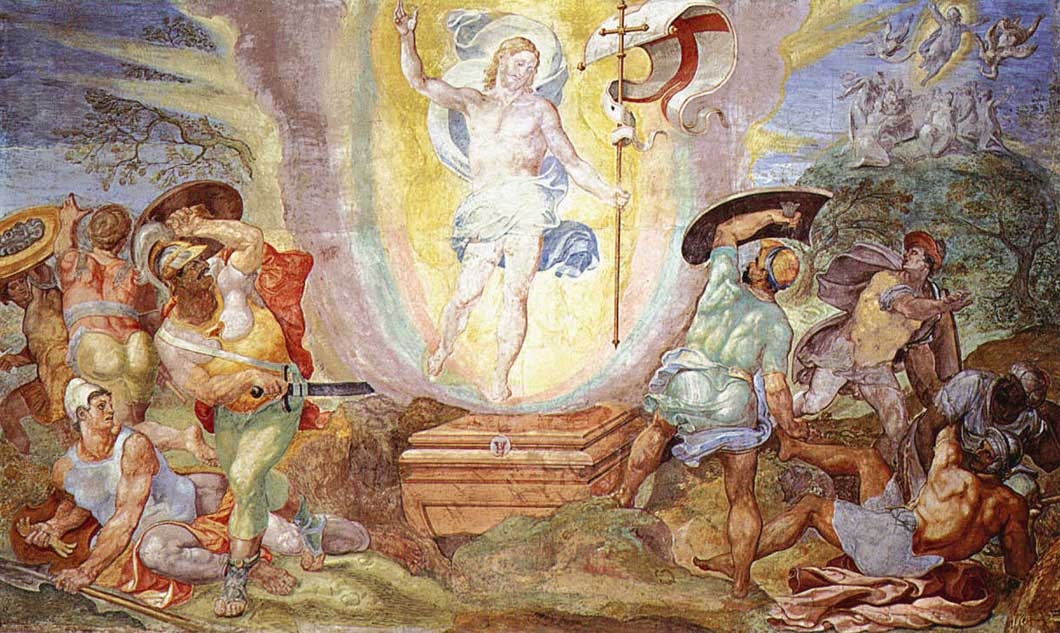 "I am the resurrection and the life. Those who believe in me, even though they die like everyone else, will live again."–Jesus Christ
"When he said that He himself would rise again from the dead, the third day after He was crucified, He said something that only a fool would dare say… No founder of any world religion known to men ever dared say a thing like that." –Wilbur Smith (Bible scholar)
"I believe that when I die I shall rot, and nothing of my own ego will survive." –Bertrand Russell (English Philosopher)
The story of Jesus' resurrection is foundational to Christianity as a religion. To deny it is in effect to dismiss Christianity as just another myth which modern "enlightened" man ought to dismiss, the sooner the better, as a mere legend embellished over time. It is also to declare the whole of the gospels' narration as an hoax perpetrated on human-kind in the last two thousand years. This is usually the attitude of assorted agnostics and atheists vis a vis Christianity and religion in general.
What we read in the gospels is that Jesus appeared alive to his disciples after his crucifixion and burial. They claim not only to have seen him but also to have eaten with him, touched him, and spent forty days with him. If this is false, it invalidates everything he said about himself, about the meaning of life and man's destiny after his death. As Paul aptly puts it: "If Christ did not resurrect, our faith is in vain." It is founded upon a lie. On the other hand, if the claim of resurrection is true, then, as written by theologian R.C. Sproul "Jesus has the credentials and certification that no other religious leader possesses." Indeed, all other religious leaders are dead, but Christianity insists that Christ is alive. So, is Jesus' resurrection a fantastic fact or a vicious myth? To find out, we need to look at the evidence of history and draw proper conclusions.
Many skeptics have attempted to disprove the resurrection. Josh McDowell was one such skeptic who spent more than seven hundred hours researching the evidence for the resurrection. McDowell stated this regarding the importance of the resurrection: "I have come to the conclusion that the resurrection of Jesus Christ is one of the most wicked, vicious, heartless hoaxes ever foisted upon the minds of men, or it is the most fantastic fact of history. McDowell later wrote his classic work, The New Evidence That Demands a Verdict (1999), documenting what he discovered.
There are other skeptics such Bertrand Russell, quoted above, who is not concerned with historical facts but denies the resurrection; the mythologist Joseph Campbell who declares that the resurrection is not a factual event, just as most narrations in mythology are neither factual nor historical; the theologian John Dominic Crossan who seems to agree with Campbell. None of those skeptics present hard evidence for their views.
In advance of his death, Jesus told his disciples that he would be betrayed, arrested, and crucified and that he would come back to life three days later. That's a strange plan! Jesus was no entertainer willing to perform for others on demand; instead, he promised that his death and resurrection would prove to people (if their minds and hearts were open) that he was indeed the Messiah. In other words, it is perfectly logical to suppose that since Jesus had clearly told his disciples that he would rise again after his death, failure to keep that promise would expose him as a fraud.
We know the facts of Jesus' passion and death on the cross. Most scholars do not dispute the fact that there is an historical Jesus who was born in Palestine at the time when Caesar Augustus was Rome's emperor, and who died under Tiberius' reign when Palestine was governed by Pontius Pilate. An even greater darkness of depression annihilated the dreams of those who had become infatuated with Jesus' charisma and joyful vitality. Former Lord High Chancellor of Britain, Lord Hailsham, notes that "The tragedy of the Cross was not that they crucified a melancholy figure, full of moral precepts, ascetic and gloomy … What they crucified was a young man, vital, full of life and the joy of it, the Lord of life itself … someone so utterly attractive that people followed him for the sheer fun of it."
Pilate wanted verification that Jesus was dead before allowing his crucified body to be buried. So a Roman guard thrust a spear into Jesus' side. The mixture of blood and water that flowed out was a clear indication that Jesus was dead. "The dead do not bleed, ordinarily, but the right auricle of the human heart holds liquid blood after death, and the outer sac hold a serum called hydropericardium." Once his death was certified by the guards, Jesus' body was then taken down from the cross and buried in Joseph of Arimathea's tomb. Roman guards next sealed the tomb, and secured it with a 24-hour watch.
Meanwhile, Jesus' disciples were in shock. Dr. J. P. Moreland explains how devastated and confused they were after Jesus' death on the cross. "They no longer had confidence that Jesus had been sent by God. They also had been taught that God would not let his Messiah suffer death. So they dispersed. The Jesus movement was all but stopped in its tracks." All hope was vanquished. Rome and the Jewish leaders had prevailed – or so it seemed.
But it wasn't the end. The Jesus movement did not disappear, and Christianity exists today as the world's largest religion. In a New York Times article, Peter Steinfels cites the startling events that occurred three days after Jesus' death: "Shortly after Jesus was executed, his followers were suddenly galvanized from a baffled and cowering group into people whose message about a living Jesus and a coming kingdom, preached at the risk of their lives, eventually changed an empire. Something happened.
There are only five plausible explanations for Jesus' alleged resurrection, as portrayed in the New Testament: 1) Jesus didn't really die on the cross. 2) The "resurrection" was a conspiracy. 3) The disciples were hallucinating. 4) The account is legendary or mythological. 5) It really happened. Let's work our way through these options. In the first place we need to ascertain that there was a corpse. After all, occasionally "corpses," or people who are believed dead, do recover and walk away.
One place to ascertain that is in the reports of non-Christian historians from around the time when Jesus lived. Three of these historians mentioned the death of Jesus: Lucian (c.120 – after c.180) referred to Jesus as a crucified sophist (philosopher). Josephus (c.37 – c.100 ) wrote, "At this time there appeared Jesus, a wise man, for he was a doer of amazing deeds. When Pilate condemned him to the cross, the leading men among us, having accused him, those who loved him did not cease to do so." Tacitus (c. 56 – c.120) wrote, "Christus, from whom the name had its origin, suffered the extreme penalty … at the hands of our procurator, Pontius Pilate."
Noted skeptic James Tabor stated, "I think we need have no doubt that given Jesus' execution by Roman crucifixion he was truly dead." In light of such historical and medical evidence, we seem to be on good grounds for dismissing the first of our five options. Jesus was clearly dead, "of that there was no doubt."
However, many others have questioned how Jesus' body disappeared from the tomb. English journalist Dr. Frank Morison initially thought the resurrection was either a myth or a hoax, and he began doing research to write a book refuting it. The book became famous but for reasons other than its original intent.
Morison began by attempting to solve the case of the empty tomb. The tomb belonged to a member of the Sanhedrin Council, Joseph of Arimathea. Joseph must have been a real person. Otherwise, the Jewish leaders would have exposed the story as a fraud in their attempt to disprove the resurrection. Also, Joseph's tomb would have been at a well-known location and easily identifiable, so any thoughts of Jesus being "lost in the graveyard" would need to be dismissed.
Morison wondered why Jesus' enemies would have allowed the "empty tomb myth" to persist if it weren't true. The discovery of Jesus' body would have instantly killed the entire plot. And what is known historically of Jesus' enemies is that in fact they did accuse Jesus' disciples of stealing the body, an accusation clearly predicated on a shared belief that the tomb was in fact found empty.
Dr. Paul L. Maier, professor of ancient history at Western Michigan University, similarly stated, "If all the evidence is weighed carefully and fairly, it is indeed justifiable … to conclude that the tomb in which Jesus was buried was actually empty on the morning of the first Easter. And no shred of evidence has yet been discovered … that would disprove this statement."
The Jewish leaders were stunned. They accused the disciples of stealing Jesus' body. But the accusation did not hold water, for the Romans had assigned a 24-hour watch at the tomb with a trained guard unit (from four to 16 soldiers). Josh McDowell notes that these were not ordinary soldiers. "When that guard unit failed in its duty – if they fell asleep, left their position, or failed in any way – there are a number of historical sources that describe the punishment. They were stripped of their own clothes and burned alive in a fire started with their own garments, or they were crucified upside down. The Roman Guard unit was committed to discipline and they feared failure in any way." It would have been impossible for anyone to have slipped by the Roman guards and to have moved a two-ton stone. Yet the stone was moved away and the body of Jesus was missing.
If Jesus' body was anywhere to be found, his enemies would have quickly exposed the resurrection as a fraud. Tom Anderson, former president of the California Trial Lawyers Association, summarizes the strength of this argument: "With an event so well publicized, don't you think that it's reasonable that one historian, one eye witness, one antagonist would record for all time that he had seen Christ's body? … The silence of history is deafening when it comes to the testimony against the resurrection." So, with no body of evidence, and with a known tomb clearly empty, Morison accepted the evidence as solid that Jesus' body had somehow disappeared from the tomb.
As Morison continued his investigation, he began to examine the motives of Jesus' followers. Maybe the supposed resurrection was actually a stolen body. But if so, how does one account for all the reported appearances of a resurrected Jesus? Historian Paul Johnson, in A History of the Jews (1988), wrote that "What mattered was not the circumstances of his death but the fact that he was widely and obstinately believed, by an expanding circle of people, to have risen again." The tomb was indeed empty. But it wasn't the mere absence of a body that could have galvanized Jesus' followers (especially if they had been the ones who had stolen it). Something extraordinary must have happened, for the followers of Jesus ceased mourning, ceased hiding, and began fearlessly proclaiming that they had seen Jesus alive.
Each eyewitness account reports that Jesus suddenly appeared bodily to his followers, the women first. Morison wondered why conspirators would make women central to their plot. In the first century Jewish community, women had virtually no rights, personhood, or status. If the plot were to succeed, Morison reasoned, the conspirators would have portrayed men, not women, as the first to see Jesus alive. And yet we hear that women touched him, spoke with him, and were the first to find the empty tomb. Later, according to the eyewitness accounts, all the disciples saw Jesus on more than ten separate occasions. They wrote that he showed them his hands and feet and told them to touch him. And he reportedly ate with them and later appeared alive to more than 500 followers on one occasion.
Legal scholar John Warwick Montgomery stated, "In 56 A.D. [the Apostle Paul wrote that over 500 people had seen the risen Jesus and that most of them were still alive. (1 Corinthians 15:6ff.) It passes the bounds of credibility that the early Christians could have manufactured such a tale and then preached it among those who might easily have refuted it simply by producing the body of Jesus."
Bible scholars Geisler and Turek agree. "If the Resurrection had not occurred, why would the Apostle Paul give such a list of supposed eyewitnesses? He would immediately lose all credibility with his Corinthian readers by lying so blatantly."
Peter told a crowd in Caesarea why he and the other disciples were so convinced Jesus was alive: "We apostles are witnesses of all he did throughout Israel and in Jerusalem. They put him to death by crucifying him, but God raised him to life three days later … We were those who ate and drank with him after he rose from the dead." (Acts 10:39-41). British Bible scholar Michael Green remarked, "The appearances of Jesus are as well authenticated as anything in antiquity … There can be no rational doubt that they occurred."
As if the eyewitness reports were not enough to challenge Morison's skepticism, he was also baffled by the disciples' behavior. A fact of history that has stumped historians, psychologists, and skeptics alike is that these eleven former cowards were suddenly willing to suffer humiliation, torture, and death. All but one of Jesus' disciples were slain as martyrs. Would they have done so much for a lie, knowing they had taken the body? Moreover, ignorant fishermen could hardly be expected to die for an idea, a la Socrates.
The terrorists on September 11 proved that some will die for a false cause they believe in. Yet to be a willing martyr for a known lie is insanity. As Paul Little wrote, "Men will die for what they believe to be true, though it may actually be false. They do not, however, die for what they know is a lie." Jesus' disciples behaved in a manner consistent with a genuine belief that their leader was alive and they were willing to die for him. No one has adequately explained why the disciples would have been willing to die for a known lie. But even if they all conspired to lie about Jesus' resurrection, how could they have kept the conspiracy going for decades without at least one of them selling out for money or position? Moreland wrote, "Those who lie for personal gain do not stick together very long, especially when hardship decreases the benefits."
Chuck Colson, implicated in the Watergate scandal during President Nixon's administration, pointed out the difficulty of several people maintaining a lie for an extended period of time: "I know the resurrection is a fact, and Watergate proved it to me. How? Because twelve men testified they had seen Jesus raised from the dead, and then they proclaimed that truth for forty years, never once denying it. Everyone was beaten, tortured, stoned and put in prison. They would not have endured that if it weren't true. Watergate embroiled twelve of the most powerful men in the world – and they couldn't keep a lie for three weeks. You're telling me twelve apostles could keep a lie for forty years?" Something happened that changed everything for these men and women.
Could mass hallucination be an explanation? Psychologist Gary Collins was asked about the possibility that hallucinations were behind the disciples' radically changed behavior. Collins remarked, "Hallucinations are individual occurrences. By their very nature, only one person can see a given hallucination at a time. They certainly aren't something which can be seen by a group of people." Hallucination is not even a remote possibility, according to psychologist Thomas J. Thorburn. "It is absolutely inconceivable that … five hundred persons, of average soundness of mind … should experience all kinds of sensuous impressions – visual, auditory, tactual – and that all these … experiences should rest entirely upon … hallucination."
Furthermore, in the psychology of hallucinations, the person would need to be in a frame of mind where they so wished to see that person that their mind contrives it. Two major leaders of the early church, James and Paul, both state forcefully that they encountered a resurrected Jesus, neither expecting, or hoping for it. The apostle Paul, in fact, led the earliest persecutions of Christians, and his conversion remains inexplicable except for his own testimony that Jesus appeared to him, resurrected. The hallucination theory, then, appears to be another dead end.
Some unconvinced skeptics attribute the resurrection story to a legend that began with one or more persons lying or thinking they saw the resurrected Jesus. Over time, the legend would have grown and been embellished as it was passed around. The same may happen with a myth. On the surface this seems like a plausible scenario. But there are three major problems with that theory. First, legends simply don't develop while multiple eyewitnesses are alive to refute them. An historian of ancient Rome and Greece, A. N. Sherwin-White, argued that the resurrection news spread too soon and too quickly for it to have been a legend. Second, legends develop by oral tradition and don't come with contemporary historical documents that can be verified. Yet the Gospels were written within three decades of the resurrection. Third, the legend theory doesn't adequately explain either the fact of the empty tomb or the historically verified conviction of the apostles that Jesus was alive.
Therefore, the legend theory doesn't seem to hold up any better than other attempts to explain away this amazing claim. Furthermore, the resurrection account of Jesus Christ actually altered history, beginning with the Roman Empire; and empire that within three centuries would be wholly Christianized; Constantine making Christianity its official religion. How could a mere legend make such an enormous historical impact within such a short period of time?
Morison was bewildered by the fact that "a tiny insignificant movement was able to prevail over the cunning grip of the Jewish establishment, as well as the might of Rome." Why did it win, in the face of all those odds against it? He wrote, "Within twenty years, the claim of these Galilean peasants had disrupted the Jewish religious establishment … In less than fifty years it had begun to threaten the peace of the Roman Empire. When we have said everything that can be said … we stand confronted with the greatest mystery of all. Why did it win?" Indeed, by all rights, if there were no resurrection, Christianity should have died out at the cross when the disciples fled for their lives. But, to the contrary, the apostles went on to establish a growing Christian movement.
J. N. D. Anderson wrote, "Think of the psychological absurdity of picturing a little band of defeated cowards cowering in an upper room one day and a few days later transformed into a company that no persecution could silence – and then attempting to attribute this dramatic change to nothing more convincing than a miserable fabrication … That simply wouldn't make sense."
With myth, hallucination, and a flawed autopsy ruled out, with incontrovertible evidence for an empty tomb, with a substantial body of eyewitnesses to his reappearance, and with the inexplicable transformation and impact upon the world of those who claimed to have seen him, Morison became convinced that his preconceived bias against Jesus Christ's resurrection had been wrong. He began writing a different book – entitled Who Moved the Stone? (1987)– to detail his new conclusions. Morison simply followed the trail of evidence, clue by clue, until the truth of the case seemed clear to him. His surprise was that the evidence led to a belief in the resurrection.
In his first chapter, "The Book That Refused to Be Written," this former skeptic explained how the evidence convinced him that Jesus' resurrection was an actual historical event. "It was as though a man set out to cross a forest by a familiar and well-beaten track and came out suddenly where he did not expect to come out." Morison is not alone in this. Countless other skeptics have examined the evidence for Jesus' resurrection, and accepted it as the most astounding fact in all of human history. C. S. Lewis, who once had even doubted Jesus' existence, was also persuaded by the evidence for Jesus' resurrection. He writes, "Something perfectly new in the history of the Universe had happened. Christ had defeated death. The door which had always been locked had for the very first time been forced open."
One of those who originally thought the resurrection was simply a myth, only to reverse his position like Morison, was one of the world's leading legal scholars, Dr. Simon Greenleaf. Greenleaf helped to put the Harvard Law School on the map. He wrote the three-volume legal masterpiece A Treatise on the Law of Evidence, which has been called the "greatest single authority in the entire literature of legal procedure." The U.S. judicial system today still relies on rules of evidence established by Greenleaf. While teaching law at Harvard, Professor Greenleaf stated to his class that the resurrection of Jesus Christ was simply a legend. As an atheist, he thought miracles to be impossible. Three of his law students challenged him to apply his acclaimed rules of evidence to the resurrection account. After much prodding, Greenleaf accepted his students' challenge and began an investigation into the evidence. Focusing his brilliant legal mind on the facts of history, Greenleaf attempted to prove that the resurrection account was false.
But Greenleaf was unable to explain several dramatic changes that took place shortly after Jesus died, the most baffling being the behavior of the disciples. It wasn't just one or two disciples who insisted Jesus had risen; it was all of them. Applying his own rules of evidence to the facts, Greenleaf arrived at his verdict. In a shocking reversal of his original position, Greenleaf accepted Jesus' resurrection as the best explanation for the events that took place immediately after his crucifixion. To this brilliant legal scholar and former atheist, it would have been impossible for the disciples to persist with their conviction that Jesus had risen if they hadn't actually seen the risen Christ.
In his book The Testimony of the Evangelists, Greenleaf documents the evidence that caused him to change his mind. In his conclusion he challenges those who seek the truth about the resurrection to fairly examine the evidence. Greenleaf was so persuaded by the evidence that he became a committed Christian. He believed that any unbiased person who honestly examines the evidence as in a court of law would conclude what he did – that Jesus Christ has truly risen. But the resurrection of Jesus Christ raises the question: What does the fact that Jesus defeated death have to do with my life? The answer to that question is what New Testament Christianity is all about.
How divine books guide and socialize an individual into society
When an individual born it interact with social group in which it is present. The term socialization refers to the process of interaction through which the growing individual learns the habits, attitudes, values and beliefs of the social group into which one has been born. … Socialization prepares people to participate in a social group by teaching them its norms and expectations. But why there is need of socialization ? The answer is we are born there is something in our DNA that make us feel there should be some one who we need to follow, that there is someone who make us, who is very superior to us.
Very interesting question. what a religion actually is. As per the Oxford dictionary, "religion" is: "The belief in and worship of a superhuman controlling power, especially a personal God or gods."
That is what religion is very simply put .strictly speaking, all "religions" in the world revolve around this same concept: a belief in a superhuman controlling power. They all build on this central concept, assigning various different attributes and holy books to this superhuman controlling power.
In Hinduism, this "power" is called Brahman and has many forms, manifesting itself in every sentient being, In Islam it is called "Allah" and so on so forth. But the bottom line of all these religions is: There is a god.
There is God who have sent us and give us the way to live the life. Through the learning process one give priority to the religion it follow. The religion guide us through holy book. Divine books are four in numbers revealed to different Prophets i.e.
Tawrat to Prophet Musa
Zabur to Prophet Dawud
Injil to Prophet Isa
Quran revealed to Prophet Muhammad SAW
but Muslim believes that they all carry a same message or guidance for humanity. Divine books provide set of rules to live a life. They can also act as a source of history and motivation for the followers. Quran is last Divine book but it contains some references of all other Divine Books.
Divine books act as source of religion provider. Beliefs, values and practices related to spiritual concerns are described by religion. It is also known as crucial roadway of socialization for many people. In many religious institutions like temples, churches and mosques individual of many religious communities assemble to glorify and to grasp knowledge. Many ceremonies related to structure of family like marriage and birth are also related to religious celebrations. Shared set of socialized value which passes through society are foster by organized religion. Each social theorist define religion according to their own perspective
The purpose of sending divine books to the followers of certain religion was to give them the principles of religion. The teachings of Buddhism, Islam, Hinduism, Christianity are very similar to each other. The conflict occurs in their ideology and oneness of God. Reforms in individual life and society's life like harmony and unity are brought by these books. They act as a balance between life of both the individual and society by safeguarding rights, assigning individual responsibilities which are guided by Divine books. Divine books deals with the demand of society and behave as building block of thinking and behavioural processes and lay stress on Faith , through this human hearts and minds are completely transformed and remodelling of our thinking and behavioural pattern occur which as a result changes the whole society.
Pakistan On Its Way to Promote Interfaith Harmony
People from various cultural, racial, and religious backgrounds live in Pakistan. 96.28 percent of the country consists of a Muslim population. Minority groups make up 4% of the population, with Christians at 1.59%, Hindus at 1.60%, and Ismaili and Qadianis make 0.22 %. Unluckily this diversity is now being mistreated. Whether it is the ongoing violence against non-Muslims or the sectarian violence among Muslims across the nation, these misperceptions about other religions are a major contributor to violence among religious communities. Unfortunately, Pakistan has fallen prey to these social ills.
The government of Pakistan has contributed significantly by carrying out numerous initiatives and plans to guarantee all of Pakistani society with various religious and ethnic backgrounds the opportunity to socialize with one another. The 1973 Constitution of Pakistan specifically mentioned the rights of minorities to preserve interreligious harmony. To represent religious minorities' voices Article 51 (2A) of the Constitution grants ten additional public services to the Christian, Hindu, Sikh, Buddhist and Parsi religious communities in the national assembly. The Supreme Court (SC) of Pakistan mandated the establishment of a National Council for Minorities. The prime objective of the Council is to oversee, the effective application and protection of rights guaranteed to minorities by the Pakistani Constitution. The Council also demands from the Federal and Provincial Governments to structure the policy proposals to uphold and defend the rights of minorities as per the 2014 Jurisdiction of SC.
Since the last decade Pakistan has been working on the issues of protection of religious minority's rights however, the process speeded up in 2018. The Ministry of Human Rights created the Action Plan against Religious Persecution in 2016. The election campaign of the political Party "Pakistan Tehrik-e-Insaf" introduced, in their manifesto to establish a "legally empowered, well-resourced, independent National Commission on Minorities, followed by provincial Commissions/Departments".The strategy outlines a strenuous effort to be undertaken with numerous stakeholders to protect and advance religious minorities so that they are better able to contribute to the peace and development of the nation and become a part of Pakistan's mainstream social fabric fearlessly. It constitutes a task force at the federal level for developing a strategy for promoting religious tolerance. Curb hate speech in social media. The creation of an endowment fund for student scholarships, development of a complaint/redress mechanism, review/proposal of amendments for discriminatory laws, and protection of places of worship are just a few of the initiatives mentioned in the Action Plan. Others include raising awareness and providing training on interfaith harmony, reviewing and revising education curricula at all levels to foster a peaceful and inclusive society, and raising funds for student scholarships.
Subsequently, it is pertinent to mention here that religious harmony is crucial for maintaining interreligious relations. For this purpose, On January 16, 2018, a National Narrative (Paigham e Pakistan) for Peaceful and Moderate Pakistani Society based on Islamic Principles was presented under the watchful eye of government officials. In January 2019, the Paigham-e-Pakistan Centre for Peace and Reconciliation Studies released a fatwa (verdict) signed by over 1800 Pakistani religious scholars denouncing suicide bombings, armed uprisings, and other acts of terrorism committed in the name of Sharia.
One of the main issues facing minorities, which is being echoed around the world, is the forced conversion of young girls. The Hindu Marriage Act of 2017 was passed by the National Assembly in response to this challenge, covering all of Pakistan except Sindh. To make it easier for the Hindu community to get married under the Sindh Hindu marriage Rules, 2019, the Sindh government passed the Sindh Hindu Marriage Act 2016 (amended in 2018). Additionally, to resolve the issue and dispel any negative perceptions about forced conversion, the Pakistan Hindu Council and Ulema confined an agreement. According to this agreement, the law approved by the Parliament will be adopted regarding conversion. Any Hindu who approaches ulema for conversion will be reported to the local Hindu community leader, to meet with their parents (in absence of Ulema), until the law is approved. Still, if he/she wishes to convert will be allowed to do so.
The Pakistani religious and political elite have used religious segregation by emphasizing "divide and rule" and discouraging the idea of "unity in diversity to effectively consolidate their power. Segregation based on religion has become a major tool for encouraging violence against non-Muslims. This encourages extremism by instilling the desire in jihadist groups to commit acts of religious terrorism against members of other faiths. It is therefore essential to oppose any misuse of religion. Likewise, we must guard against religious fanaticism and extremism to promote interfaith harmony. Under the guise of religion, encourage hatred or even terrorist acts are destructive and poses a serious threat to the peace and prosperity of Pakistan.
Betting on the wrong horse: The battle to define moderate Islam
Proponents of a moderate Islam that embraces tolerance, diversity, and pluralism may be betting on the wrong horse by supporting Muslim scholars on autocrats' payroll.
Polling in the Middle East seems to confirm that state-sponsored clerics lack credibility.
Recent research suggesting that non-violent protest has increasingly become less effective magnifies problems posed by the clerics' legitimacy deficit.
The combination of lagging credibility and reduced effectiveness enhances the risk of politically inspired violence.
Add to that that young Muslims gravitate towards militancy in a world of perceived persecution of the faithful.
Tam Hussein, an award-winning investigative journalist and novelist, who has spent time with jihadists in various settings, noted in a recent blog and an interview that a segment of Muslim youth, who see Western militaries operating across the Muslim world, often embrace the jihadist argument that Muslims would not be victims if they had a genuinely Muslim state with an armed force and religious laws that would garner God's favour.
Achieving a state, the jihadists say, has to be 'through blood (because) the rose isn't got except by putting one's hand on the thorns.'
Mr. Hussein cautioned that "this sentiment of young Muslims…cannot be combated with platitudes, ill thought out deradicalisation programmes, and naff websites set up to combat social media."
Mr. Hussein's insight goes to the crux of a rivalry for religious soft power in the Muslim world that, at its core, involves a struggle to define concepts of moderate Islam.
In essence, Mr. Hussein argues that a credible response to religiously inspired militancy will have to come from independent Islamic scholars rather than clerics who do Muslim autocrats' bidding.
The journalist's assertion is undergirded by some three-quarters of Arab youth polled annually by Dubai-based public relations firm ASDA'A BCW who have consistently asserted in recent years that religious institutions need to be reformed.
Commenting on the agency's 2020 survey, Gulf scholar Eman Alhussein said that Arab youth had taken note of religious figures endorsing government-introduced reforms they had rejected in the past.
"This not only feeds into Arab youth's scepticism towards religious institutions but also further highlights the inconsistency of the religious discourse and its inability to provide timely explanations or justifications to the changing reality of today," Ms. Alhussein wrote.
Mr. Hussein warned that "what many…well-intentioned leaders and Imams don't realise, and I have seen this with my own eyes, is that radical preachers…have a constituency. They hit a nerve and are watched" as opposed to "those they deem to be 'scholars for dollars'… There is a dissonance between the young and the imams. …
When the no doubt erudite Azhari sheikhs such as Ali Gomaa seemingly support Sisi's killing of innocents followed up by Habib Ali Jifri's support for his teacher, one cannot help but understand their predicament and anger," Mr. Hussein said, referring to scholars of Al Azhar, a citadel of Islamic learning in Cairo.
Mr. Hussein was pointing to Ali Gomaa, who, as the grand mufti of Egypt, defended the killing of some 800 non-violent protesters on a Cairo square in the wake of the 2013 military coup led by general-turned president Abdul Fatah al-Sisi. The coup toppled Mohamed Morsi, a Muslim Brother and Egypt's only democratically elected president.
A Yemeni-born UAE-backed cleric, Mr. Al-Jifri, a disciple of Mr. Goma, is part of a group of Islamic scholars who help project the Emirates as a beacon of an autocratic form of moderate Islam that embraces social reforms and religious diversity, rejects political pluralism, and demands absolute obedience of the ruler.
The group includes the former Egyptian mufti, Abdullah Bin Bayyah, a respected Mauritanian theologian, and his disciple, Hamza Yusuf, one of America's foremost Muslim figures.
Mr. Hussein could have included Mohammed al-Issa, the secretary general of the Muslim World League, the primary vehicle employed by Saudi Crown Prince Mohammed bin Salman to garner religious soft power and propagate his autocratic version of Islam.
Autocratic reformers such as UAE President Mohammed bin Zayed and Mr. Bin Salman offer an upgraded 21st-century version of a social contract that kept undemocratic Arab regimes in office for much of the post-World War Two era.
The contract entailed the population's surrender of political rights in exchange for a cradle-to-grave welfare state in the oil-rich Gulf or adequate delivery of public services and goods in less wealthy Arab states.
That bargain broke down with the 2011 and 2019/2020 popular Arab revolts that did not spare Gulf countries like Bahrain and Oman.
The breakdown was sparked not only by governments' failure to deliver but also by governments, at times, opening political space to Islamists so that they could counter left-wing forces.
Scholar Hesham Allam summarised the policy as "more identity, less class." In effect, Middle Eastern government were hopping onto a bandwagon that globally was empowering religious and nationalist forces.
Using Egypt as a case study in his just publisjed book, Classless Politics: Islamist Movements, the Left, and Authoritarian Legacies in Egypt. Mr. Sallam argued that" in the long run, this policy led to the fragmentation of opponents of economic reform, the increased salience of cultural conflicts within the left, and the restructuring of political life around questions of national and religious identity."
To revive the core of the social contract, Messrs. Bin Zayed and Bin Salman have thrown into the mix degrees of social liberalization and greater women's rights needed to diversify their economies and increase jobs as well as professional, entertainment, and leisure opportunities.
At the same time, they have cracked down on dissent at home and sought to impede, if not at times brutally, reverse political change elsewhere in the region.
Even so, researcher Nora Derbal describes in her recently published book, Charity in Saudi Arabia: Civil Society under Authoritarianism, discrepancies between interpretations of Islamic guidance as provided by government officials and state-sponsored clerics and charity and civil society groups that have their own understanding.
In one instance, Ms. Derbal noted that the government sought to restrict charity recipients to holders of Saudi national id card. She quoted a representative of one group as saying that "Islamically speaking, any person, Muslim or not Muslim, deserves aid if in need."
Nevertheless, the notion of an autocratic moderate Islam appears to work for the UAE and holds out promise for Saudi Arabia but is on shaky ground elsewhere in the Middle East and North Africa.
Recent polling by ASDA'A BCW showed that of the 3,400 young Arabs in 17 Arab countries aged 18 to 24 surveyed, fifty-seven per cent identified the UAE as the country where they would like to live. Thirty-seven per cent wanted their home country to emulate the UAE.
The survey's results starkly contrast Mr. Hussein's perceptions of discontented, radicalized Muslims and jihadists he encountered in Syria and elsewhere.
The diverging pictures may be two sides of the same coin rather than mutually exclusive. The survey and other polls and Mr. Hussein likely tap into different segments of Muslim youth.
Nobel Literature Prize laureate Orhan Pamuk described the men and women that Mr. Hussein discussed as having a "sense of being second or third-class citizens, of feeling invisible, unrepresented, unimportant, like one counts for nothing—which can drive people toward extremism."
Some of those responding to polls may be empathetic but probably wouldn't pull up their stakes because they are at a point where they have too much to lose.
Even so, recent surveys by the Washington Institute for Near East Policy showed that 59 per cent of those polled in the UAE, 58 percent in Saudi Arabia, and 74 per cent in Egypt, disagreed with the notion that "we should listen to those among us who are trying to interpret Islam in a more moderate, tolerant, and modern way."
Given that in the milieu that Mr. Hussein depicts, the UAE is "seen by many as actively subverting the aspirations of millions of Arabs and Muslims for their own political ends, one can see why these (angry) young men will continue to fight," the journalist said.
"When scholars don't act as their flock's lightning rod, or do not convey their sentiments to power, or are not sufficiently independent enough, the matter becomes hopeless and young men being young men, look for other avenues," Mr. Hussein added.
Pakistan is one place where Mr. Hussein's scenario and Mr. Pamuk's analysis play out. In July, a United Nations Security Council report said that Tehreek-e-Taliban Pakistan (TTP), also known as the Pakistani Taliban, boasted the largest number of foreign militants operating from Afghan soil.
The report suggested that many of TTP's 3,000 to 4,000 fighters were freed from Afghan jails shortly after last year's fall of Kabul.
Recent academic research suggesting that non-violent dissent is seeing its lowest success rate in more than a century even though the number of protests has not diminished magnifies the resulting threat of militancy.
One study concluded that the number of protest movements worldwide had tripled between 2006 and 2020, including the dramatic 2011 popular Arab uprisings. Yet, compared to the early 2000s when two out of three protest movements demanding systemic change succeeded, today it is one in six, meaning that protests are more likely to fail than at any time since the 1930s, according to Harvard political scientist Erica Chenoweth. Ms. Chenoweth suggested that the sharp decline was starkest in the past two years.
By comparison, armed rebellion has seen its effectiveness decline more slowly than non-violent protest, making the two strategies nearly tied in their odds of succeeding. "For the first time since the 1940s, a decade dominated by state-backed partisan rebellions against Nazi occupations, non-violent resistance does not have a statistically significant advantage over armed insurrection," Ms. Chenoweth said.
Ms. Chenoweth and others attribute the evening out of success rates of violent and non-violent agitation to deep-seated polarization, militant nationalism, media echo chambers, increased restrictions on freedom of assembly and expression that cut off avenues to release pent-up anger and frustration, and an enhanced authoritarian toolkit. The toolkit includes divide and rule strategies, digital repression, propaganda and misinformation, and the declaration of emergency powers under pretexts such as the recent public health crisis.
Said Ms. Chenoweth: "As authoritarian movements gain ground, democratic movements worldwide are struggling to expand their constituencies among those who have grown frustrated with the systems of inequality and injustice that continue to plague…countries worldwide."