What do Scholars say about Jesus' Resurrection: is it just a Myth?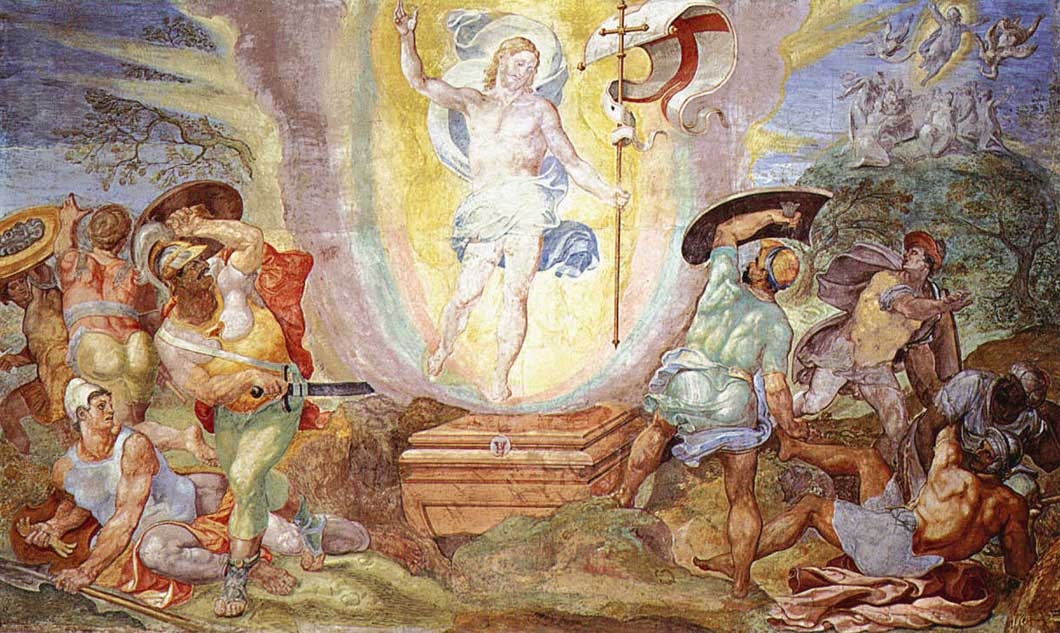 "I am the resurrection and the life. Those who believe in me, even though they die like everyone else, will live again."–Jesus Christ
"When he said that He himself would rise again from the dead, the third day after He was crucified, He said something that only a fool would dare say… No founder of any world religion known to men ever dared say a thing like that." –Wilbur Smith (Bible scholar)
"I believe that when I die I shall rot, and nothing of my own ego will survive." –Bertrand Russell (English Philosopher)
The story of Jesus' resurrection is foundational to Christianity as a religion. To deny it is in effect to dismiss Christianity as just another myth which modern "enlightened" man ought to dismiss, the sooner the better, as a mere legend embellished over time. It is also to declare the whole of the gospels' narration as an hoax perpetrated on human-kind in the last two thousand years. This is usually the attitude of assorted agnostics and atheists vis a vis Christianity and religion in general.
What we read in the gospels is that Jesus appeared alive to his disciples after his crucifixion and burial. They claim not only to have seen him but also to have eaten with him, touched him, and spent forty days with him. If this is false, it invalidates everything he said about himself, about the meaning of life and man's destiny after his death. As Paul aptly puts it: "If Christ did not resurrect, our faith is in vain." It is founded upon a lie. On the other hand, if the claim of resurrection is true, then, as written by theologian R.C. Sproul "Jesus has the credentials and certification that no other religious leader possesses." Indeed, all other religious leaders are dead, but Christianity insists that Christ is alive. So, is Jesus' resurrection a fantastic fact or a vicious myth? To find out, we need to look at the evidence of history and draw proper conclusions.
Many skeptics have attempted to disprove the resurrection. Josh McDowell was one such skeptic who spent more than seven hundred hours researching the evidence for the resurrection. McDowell stated this regarding the importance of the resurrection: "I have come to the conclusion that the resurrection of Jesus Christ is one of the most wicked, vicious, heartless hoaxes ever foisted upon the minds of men, or it is the most fantastic fact of history. McDowell later wrote his classic work, The New Evidence That Demands a Verdict (1999), documenting what he discovered.
There are other skeptics such Bertrand Russell, quoted above, who is not concerned with historical facts but denies the resurrection; the mythologist Joseph Campbell who declares that the resurrection is not a factual event, just as most narrations in mythology are neither factual nor historical; the theologian John Dominic Crossan who seems to agree with Campbell. None of those skeptics present hard evidence for their views.
In advance of his death, Jesus told his disciples that he would be betrayed, arrested, and crucified and that he would come back to life three days later. That's a strange plan! Jesus was no entertainer willing to perform for others on demand; instead, he promised that his death and resurrection would prove to people (if their minds and hearts were open) that he was indeed the Messiah. In other words, it is perfectly logical to suppose that since Jesus had clearly told his disciples that he would rise again after his death, failure to keep that promise would expose him as a fraud.
We know the facts of Jesus' passion and death on the cross. Most scholars do not dispute the fact that there is an historical Jesus who was born in Palestine at the time when Caesar Augustus was Rome's emperor, and who died under Tiberius' reign when Palestine was governed by Pontius Pilate. An even greater darkness of depression annihilated the dreams of those who had become infatuated with Jesus' charisma and joyful vitality. Former Lord High Chancellor of Britain, Lord Hailsham, notes that "The tragedy of the Cross was not that they crucified a melancholy figure, full of moral precepts, ascetic and gloomy … What they crucified was a young man, vital, full of life and the joy of it, the Lord of life itself … someone so utterly attractive that people followed him for the sheer fun of it."
Pilate wanted verification that Jesus was dead before allowing his crucified body to be buried. So a Roman guard thrust a spear into Jesus' side. The mixture of blood and water that flowed out was a clear indication that Jesus was dead. "The dead do not bleed, ordinarily, but the right auricle of the human heart holds liquid blood after death, and the outer sac hold a serum called hydropericardium." Once his death was certified by the guards, Jesus' body was then taken down from the cross and buried in Joseph of Arimathea's tomb. Roman guards next sealed the tomb, and secured it with a 24-hour watch.
Meanwhile, Jesus' disciples were in shock. Dr. J. P. Moreland explains how devastated and confused they were after Jesus' death on the cross. "They no longer had confidence that Jesus had been sent by God. They also had been taught that God would not let his Messiah suffer death. So they dispersed. The Jesus movement was all but stopped in its tracks." All hope was vanquished. Rome and the Jewish leaders had prevailed – or so it seemed.
But it wasn't the end. The Jesus movement did not disappear, and Christianity exists today as the world's largest religion. In a New York Times article, Peter Steinfels cites the startling events that occurred three days after Jesus' death: "Shortly after Jesus was executed, his followers were suddenly galvanized from a baffled and cowering group into people whose message about a living Jesus and a coming kingdom, preached at the risk of their lives, eventually changed an empire. Something happened.
There are only five plausible explanations for Jesus' alleged resurrection, as portrayed in the New Testament: 1) Jesus didn't really die on the cross. 2) The "resurrection" was a conspiracy. 3) The disciples were hallucinating. 4) The account is legendary or mythological. 5) It really happened. Let's work our way through these options. In the first place we need to ascertain that there was a corpse. After all, occasionally "corpses," or people who are believed dead, do recover and walk away.
One place to ascertain that is in the reports of non-Christian historians from around the time when Jesus lived. Three of these historians mentioned the death of Jesus: Lucian (c.120 – after c.180) referred to Jesus as a crucified sophist (philosopher). Josephus (c.37 – c.100 ) wrote, "At this time there appeared Jesus, a wise man, for he was a doer of amazing deeds. When Pilate condemned him to the cross, the leading men among us, having accused him, those who loved him did not cease to do so." Tacitus (c. 56 – c.120) wrote, "Christus, from whom the name had its origin, suffered the extreme penalty … at the hands of our procurator, Pontius Pilate."
Noted skeptic James Tabor stated, "I think we need have no doubt that given Jesus' execution by Roman crucifixion he was truly dead." In light of such historical and medical evidence, we seem to be on good grounds for dismissing the first of our five options. Jesus was clearly dead, "of that there was no doubt."
However, many others have questioned how Jesus' body disappeared from the tomb. English journalist Dr. Frank Morison initially thought the resurrection was either a myth or a hoax, and he began doing research to write a book refuting it. The book became famous but for reasons other than its original intent.
Morison began by attempting to solve the case of the empty tomb. The tomb belonged to a member of the Sanhedrin Council, Joseph of Arimathea. Joseph must have been a real person. Otherwise, the Jewish leaders would have exposed the story as a fraud in their attempt to disprove the resurrection. Also, Joseph's tomb would have been at a well-known location and easily identifiable, so any thoughts of Jesus being "lost in the graveyard" would need to be dismissed.
Morison wondered why Jesus' enemies would have allowed the "empty tomb myth" to persist if it weren't true. The discovery of Jesus' body would have instantly killed the entire plot. And what is known historically of Jesus' enemies is that in fact they did accuse Jesus' disciples of stealing the body, an accusation clearly predicated on a shared belief that the tomb was in fact found empty.
Dr. Paul L. Maier, professor of ancient history at Western Michigan University, similarly stated, "If all the evidence is weighed carefully and fairly, it is indeed justifiable … to conclude that the tomb in which Jesus was buried was actually empty on the morning of the first Easter. And no shred of evidence has yet been discovered … that would disprove this statement."
The Jewish leaders were stunned. They accused the disciples of stealing Jesus' body. But the accusation did not hold water, for the Romans had assigned a 24-hour watch at the tomb with a trained guard unit (from four to 16 soldiers). Josh McDowell notes that these were not ordinary soldiers. "When that guard unit failed in its duty – if they fell asleep, left their position, or failed in any way – there are a number of historical sources that describe the punishment. They were stripped of their own clothes and burned alive in a fire started with their own garments, or they were crucified upside down. The Roman Guard unit was committed to discipline and they feared failure in any way." It would have been impossible for anyone to have slipped by the Roman guards and to have moved a two-ton stone. Yet the stone was moved away and the body of Jesus was missing.
If Jesus' body was anywhere to be found, his enemies would have quickly exposed the resurrection as a fraud. Tom Anderson, former president of the California Trial Lawyers Association, summarizes the strength of this argument: "With an event so well publicized, don't you think that it's reasonable that one historian, one eye witness, one antagonist would record for all time that he had seen Christ's body? … The silence of history is deafening when it comes to the testimony against the resurrection." So, with no body of evidence, and with a known tomb clearly empty, Morison accepted the evidence as solid that Jesus' body had somehow disappeared from the tomb.
As Morison continued his investigation, he began to examine the motives of Jesus' followers. Maybe the supposed resurrection was actually a stolen body. But if so, how does one account for all the reported appearances of a resurrected Jesus? Historian Paul Johnson, in A History of the Jews (1988), wrote that "What mattered was not the circumstances of his death but the fact that he was widely and obstinately believed, by an expanding circle of people, to have risen again." The tomb was indeed empty. But it wasn't the mere absence of a body that could have galvanized Jesus' followers (especially if they had been the ones who had stolen it). Something extraordinary must have happened, for the followers of Jesus ceased mourning, ceased hiding, and began fearlessly proclaiming that they had seen Jesus alive.
Each eyewitness account reports that Jesus suddenly appeared bodily to his followers, the women first. Morison wondered why conspirators would make women central to their plot. In the first century Jewish community, women had virtually no rights, personhood, or status. If the plot were to succeed, Morison reasoned, the conspirators would have portrayed men, not women, as the first to see Jesus alive. And yet we hear that women touched him, spoke with him, and were the first to find the empty tomb. Later, according to the eyewitness accounts, all the disciples saw Jesus on more than ten separate occasions. They wrote that he showed them his hands and feet and told them to touch him. And he reportedly ate with them and later appeared alive to more than 500 followers on one occasion.
Legal scholar John Warwick Montgomery stated, "In 56 A.D. [the Apostle Paul wrote that over 500 people had seen the risen Jesus and that most of them were still alive. (1 Corinthians 15:6ff.) It passes the bounds of credibility that the early Christians could have manufactured such a tale and then preached it among those who might easily have refuted it simply by producing the body of Jesus."
Bible scholars Geisler and Turek agree. "If the Resurrection had not occurred, why would the Apostle Paul give such a list of supposed eyewitnesses? He would immediately lose all credibility with his Corinthian readers by lying so blatantly."
Peter told a crowd in Caesarea why he and the other disciples were so convinced Jesus was alive: "We apostles are witnesses of all he did throughout Israel and in Jerusalem. They put him to death by crucifying him, but God raised him to life three days later … We were those who ate and drank with him after he rose from the dead." (Acts 10:39-41). British Bible scholar Michael Green remarked, "The appearances of Jesus are as well authenticated as anything in antiquity … There can be no rational doubt that they occurred."
As if the eyewitness reports were not enough to challenge Morison's skepticism, he was also baffled by the disciples' behavior. A fact of history that has stumped historians, psychologists, and skeptics alike is that these eleven former cowards were suddenly willing to suffer humiliation, torture, and death. All but one of Jesus' disciples were slain as martyrs. Would they have done so much for a lie, knowing they had taken the body? Moreover, ignorant fishermen could hardly be expected to die for an idea, a la Socrates.
The terrorists on September 11 proved that some will die for a false cause they believe in. Yet to be a willing martyr for a known lie is insanity. As Paul Little wrote, "Men will die for what they believe to be true, though it may actually be false. They do not, however, die for what they know is a lie." Jesus' disciples behaved in a manner consistent with a genuine belief that their leader was alive and they were willing to die for him. No one has adequately explained why the disciples would have been willing to die for a known lie. But even if they all conspired to lie about Jesus' resurrection, how could they have kept the conspiracy going for decades without at least one of them selling out for money or position? Moreland wrote, "Those who lie for personal gain do not stick together very long, especially when hardship decreases the benefits."
Chuck Colson, implicated in the Watergate scandal during President Nixon's administration, pointed out the difficulty of several people maintaining a lie for an extended period of time: "I know the resurrection is a fact, and Watergate proved it to me. How? Because twelve men testified they had seen Jesus raised from the dead, and then they proclaimed that truth for forty years, never once denying it. Everyone was beaten, tortured, stoned and put in prison. They would not have endured that if it weren't true. Watergate embroiled twelve of the most powerful men in the world – and they couldn't keep a lie for three weeks. You're telling me twelve apostles could keep a lie for forty years?" Something happened that changed everything for these men and women.
Could mass hallucination be an explanation? Psychologist Gary Collins was asked about the possibility that hallucinations were behind the disciples' radically changed behavior. Collins remarked, "Hallucinations are individual occurrences. By their very nature, only one person can see a given hallucination at a time. They certainly aren't something which can be seen by a group of people." Hallucination is not even a remote possibility, according to psychologist Thomas J. Thorburn. "It is absolutely inconceivable that … five hundred persons, of average soundness of mind … should experience all kinds of sensuous impressions – visual, auditory, tactual – and that all these … experiences should rest entirely upon … hallucination."
Furthermore, in the psychology of hallucinations, the person would need to be in a frame of mind where they so wished to see that person that their mind contrives it. Two major leaders of the early church, James and Paul, both state forcefully that they encountered a resurrected Jesus, neither expecting, or hoping for it. The apostle Paul, in fact, led the earliest persecutions of Christians, and his conversion remains inexplicable except for his own testimony that Jesus appeared to him, resurrected. The hallucination theory, then, appears to be another dead end.
Some unconvinced skeptics attribute the resurrection story to a legend that began with one or more persons lying or thinking they saw the resurrected Jesus. Over time, the legend would have grown and been embellished as it was passed around. The same may happen with a myth. On the surface this seems like a plausible scenario. But there are three major problems with that theory. First, legends simply don't develop while multiple eyewitnesses are alive to refute them. An historian of ancient Rome and Greece, A. N. Sherwin-White, argued that the resurrection news spread too soon and too quickly for it to have been a legend. Second, legends develop by oral tradition and don't come with contemporary historical documents that can be verified. Yet the Gospels were written within three decades of the resurrection. Third, the legend theory doesn't adequately explain either the fact of the empty tomb or the historically verified conviction of the apostles that Jesus was alive.
Therefore, the legend theory doesn't seem to hold up any better than other attempts to explain away this amazing claim. Furthermore, the resurrection account of Jesus Christ actually altered history, beginning with the Roman Empire; and empire that within three centuries would be wholly Christianized; Constantine making Christianity its official religion. How could a mere legend make such an enormous historical impact within such a short period of time?
Morison was bewildered by the fact that "a tiny insignificant movement was able to prevail over the cunning grip of the Jewish establishment, as well as the might of Rome." Why did it win, in the face of all those odds against it? He wrote, "Within twenty years, the claim of these Galilean peasants had disrupted the Jewish religious establishment … In less than fifty years it had begun to threaten the peace of the Roman Empire. When we have said everything that can be said … we stand confronted with the greatest mystery of all. Why did it win?" Indeed, by all rights, if there were no resurrection, Christianity should have died out at the cross when the disciples fled for their lives. But, to the contrary, the apostles went on to establish a growing Christian movement.
J. N. D. Anderson wrote, "Think of the psychological absurdity of picturing a little band of defeated cowards cowering in an upper room one day and a few days later transformed into a company that no persecution could silence – and then attempting to attribute this dramatic change to nothing more convincing than a miserable fabrication … That simply wouldn't make sense."
With myth, hallucination, and a flawed autopsy ruled out, with incontrovertible evidence for an empty tomb, with a substantial body of eyewitnesses to his reappearance, and with the inexplicable transformation and impact upon the world of those who claimed to have seen him, Morison became convinced that his preconceived bias against Jesus Christ's resurrection had been wrong. He began writing a different book – entitled Who Moved the Stone? (1987)– to detail his new conclusions. Morison simply followed the trail of evidence, clue by clue, until the truth of the case seemed clear to him. His surprise was that the evidence led to a belief in the resurrection.
In his first chapter, "The Book That Refused to Be Written," this former skeptic explained how the evidence convinced him that Jesus' resurrection was an actual historical event. "It was as though a man set out to cross a forest by a familiar and well-beaten track and came out suddenly where he did not expect to come out." Morison is not alone in this. Countless other skeptics have examined the evidence for Jesus' resurrection, and accepted it as the most astounding fact in all of human history. C. S. Lewis, who once had even doubted Jesus' existence, was also persuaded by the evidence for Jesus' resurrection. He writes, "Something perfectly new in the history of the Universe had happened. Christ had defeated death. The door which had always been locked had for the very first time been forced open."
One of those who originally thought the resurrection was simply a myth, only to reverse his position like Morison, was one of the world's leading legal scholars, Dr. Simon Greenleaf. Greenleaf helped to put the Harvard Law School on the map. He wrote the three-volume legal masterpiece A Treatise on the Law of Evidence, which has been called the "greatest single authority in the entire literature of legal procedure." The U.S. judicial system today still relies on rules of evidence established by Greenleaf. While teaching law at Harvard, Professor Greenleaf stated to his class that the resurrection of Jesus Christ was simply a legend. As an atheist, he thought miracles to be impossible. Three of his law students challenged him to apply his acclaimed rules of evidence to the resurrection account. After much prodding, Greenleaf accepted his students' challenge and began an investigation into the evidence. Focusing his brilliant legal mind on the facts of history, Greenleaf attempted to prove that the resurrection account was false.
But Greenleaf was unable to explain several dramatic changes that took place shortly after Jesus died, the most baffling being the behavior of the disciples. It wasn't just one or two disciples who insisted Jesus had risen; it was all of them. Applying his own rules of evidence to the facts, Greenleaf arrived at his verdict. In a shocking reversal of his original position, Greenleaf accepted Jesus' resurrection as the best explanation for the events that took place immediately after his crucifixion. To this brilliant legal scholar and former atheist, it would have been impossible for the disciples to persist with their conviction that Jesus had risen if they hadn't actually seen the risen Christ.
In his book The Testimony of the Evangelists, Greenleaf documents the evidence that caused him to change his mind. In his conclusion he challenges those who seek the truth about the resurrection to fairly examine the evidence. Greenleaf was so persuaded by the evidence that he became a committed Christian. He believed that any unbiased person who honestly examines the evidence as in a court of law would conclude what he did – that Jesus Christ has truly risen. But the resurrection of Jesus Christ raises the question: What does the fact that Jesus defeated death have to do with my life? The answer to that question is what New Testament Christianity is all about.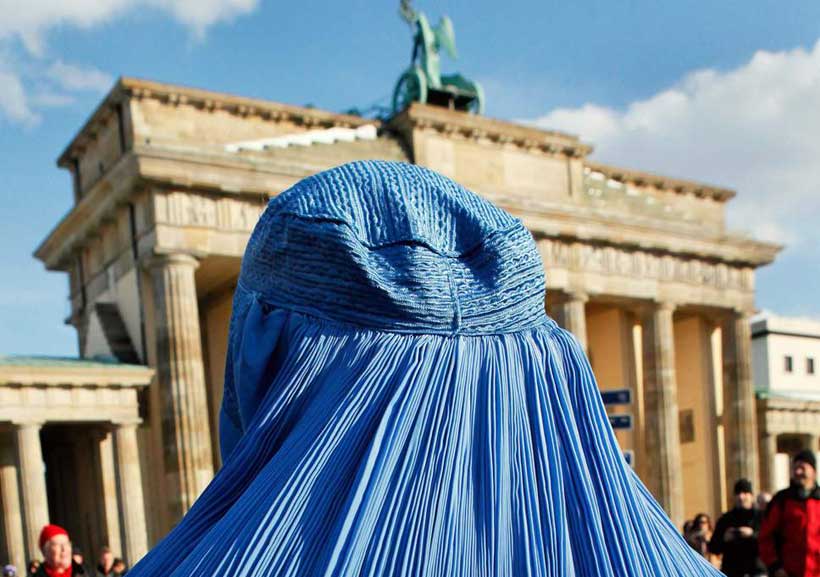 In the beginning of December 2016, Angela Merkel called for a burka ban during the conservative Christian Democratic Union (CDU) party's congress. Specifically, she said "The full veil must be banned, wherever legally possible. Showing your face is part of our way of life," and "Our laws take precedence over honor codes, tribal customs and sharia."
It is really interesting to demonstrate a case where the cross as a European value has the dominant position: the Lautsi case. Lautsi case proved us that religion still travels hand by hand with politics and that political coalitions are still very powerful when cultural memory has to be protected. An Italian national, Ms Soile Lautsi accused Italian Republic for the compulsory display of crucifixes in Italian public schools. According to ECHR's decision there was no violation of any right derived from the Convention. As Marco Ventura has pointed out: "The Grand Chamber has designed a Europe in which every country is free to decide which place to give to religion and to favor Christianity, or rather the dominant churches. For this reason, Italy has been supported by the more confessional of European countries, Russia and Greece, Bulgaria and Cyprus, which the European Court has repeatedly condemned for the oppression of minority religions." The coalition of Vatican State — Italian governments with other Eastern States formed a new ecumenical movement against radical secularism which according to the religious leaders, ECHR tried to promote during its first decision on Lautsi case. His Holiness Patriarch Kirill in a letter to Italian Prime Minister Silvio Berlusconi expressed the following opinion: "Christian religious symbols present in the public space in Europe are part of the common European identity without which neither the past nor the present or the future of this continent are thinkable".
However, does this new ecumenism of Christianity or ultra — secularism lead to Islamophobia? Religious pluralism a new social fact with which European states have yet to come to terms, and, country by country, they are plunging into national debates about religion and public policy. Indeed, Europe has made many efforts to cultivate the interreligious dialogue and to bridge (at least, a theoretical) gap between the relations between Christianity and Islam. The Vatican's effort to reach Islam culminated in a March 2001 visit to Damascus where John Paul spoke about the neighborly relations over the centuries between Christianity and Islam and delivered a message of interfaith peace. On 16th April, Pope Francis with the Ecumenical Patriarch visited the island of Lesvos in show of support to refugees. Leaving for Vatican, the Pope was accompanied by some families of Syrian refugees as a symbolical gesture towards Europe and its strict policies for asylum seeking and the closing of borders. An anti — Muslim sentiment is increasing by placing the blame on Islam's antiliberal tenets and Muslims presumed obedience to those doctrines. Muslims feel that they are second class citizens and victims of discriminatory attitudes and that their religion becomes more important than their education, personal and professional skills, qualifications and virtues in the eyes of the Western community. Are they really free and first class citizens when their religious leaders cannot be educated in Western and national institutions such as Christian clergy? Is this a true religious expression? Many imams are educated in Muslim countries and most probably they have traveled abroad before their religious mission to Europe. This may cause a lot of problems as the majority of those imams does not speak the national language and brings in his suitcase attitudes and traditions totally incompatible with Western values. In many cases, these imams come to carry fundamentalist and extremist messages which may find very welcome ears from disappointed, conservative or marginalized individuals. Beginning in September 2004, New Home Office rules for "overseas ministers of religion" came into effect in Britain. The rules require "imams and priests..to show knowledge of, and engagement, with British civic life, including an understanding of other faiths."
Inside Muslim communities various attitudes towards the position of sharia have been formed. Many scholars, especially Muslim scholars have tried to strike a balance between the implementation of sharia in private affairs and of National Laws in their public life and activities. Furthermore, a movement within Islam, called "Moderate Islam" sees the today context as an opportunity for an Islamic revival movement that focuses on jihad-the individual's believers efforts to master scriptural reading and reinterpretation and aims to redefine all core Islamic concepts, in particular the balance between religious law and individual spiritualism. As Tariq Ramadan, a representative of Moderate Islam writes in his article "Europe's Muslims find a place for themselves" in "Le Monde Diplomatique": Five basic principles were arrived at, and these now provide the basis of a virtual consensus among both Islamic experts and the Muslim communities of Europe : 1) a Muslim, whether resident or citizen, should see himself as involved in a contract, both moral and social, with the country in which he lives, and should respect that country's laws, 2) European legislation (which is secular in nature) allows Muslims to practice the basics of their religion, 3) the old concept of the dar al harb — which does not derive from the Koran, and is not part of the prophetic tradition — is seen as outdated; other concepts have been suggested as ways of reading the Muslim presence in Europe in more positive terms, 4) Muslims should see themselves as citizens in the full sense of the term, and should participate (while at the same time seeking respect for their own values) in the social, organizational, economic and political life of the countries in which they live, 5) in European legislation as a whole, there is nothing to prevent Muslims, or any other citizens, from making choices that accord with their religion.
Our secular societies found themselves in front of a big challenge: the revival of religion and the un-secularization of the world. The most crucial problem is the balance that both individuals and societies have to create in order to avoid a situation of "survival of the fittest". The priority is a society where human rights will not be crucified in the name of religion and where individual spirituality will not be beheaded in the name of National Law or in the name of media.
Recognition of Macedonian schism by Constantinople – Threat Remains
After the publication in Macedonian news agency Sloboden Pecat, many believers of Serbian Orthodox Church gave a sigh of relief supposing that the common sense prevailed and Ecumenical Patriarch Bartholomew discarded his intention to grant autocephaly to the schismatic Macedonian Orthodox Church (MOC). But it appeared that such hopes were premature.
The article in Sloboden Pecat reads that Patriarch of Constantinople had sent a letter to MOC that admitted Serbian Orthodox Church's (SOC) jurisdiction over Macedonian archdioceses and thus he had no rights to satisfy Skopje's request for autocephaly. Ironically Greek mass media used this as an pretext to accuse Fanar of bribery.
A few days ago Ecumenical Patriarchate issued a refutation on its official cite, claiming that they didn't sent a letter to the MOC and haven't even heard of the Serbian gold.
While Serbians keep praying, Constantinople continues secret negotiations with the MOC. According to some sources this is why Metropolitan Amphilochios of Adrianople carries out frequent trips to Macedonia. At the same time statements of Fanar's clergymen and Patriarch Bartholomew demonstrate phyletic intentions with a purpose of establishing the superiority of "Greek" church over all others as "the first without equals". So the threat of the recognition of Macedonian schism by Constantinople is still relevant.
But the Fanar's primary aim now is to force SOC into recognizing the autocephaly of Ukrainian Orthodox Church (UOC) – such a precedent will path the way for Macedonian tomos of autocephaly in the future.
Obviously our Church shouldn't trust fake publications of the mass media. On the other hand there's no point in passive expecting of "His All-Holiness" Bartholomew to declare his will. Considering that the community temporarily believed in a possibility of a "fair verdict" from the Fanar, Serbian Patriarchate's position must be based not only on historical truth and church canons but on public opinion as well. In this regard the separatists' worst nightmares of Constantinople going back to the canonical path can come true.
Constantinople has the right to revoke the tomos of autocephaly of any Slavic church at any time. Recently Archbishop Job of Telmessos. In the same interview he said that the name "Serbian Orthodox Church" is uncanonical and is a sign of ethnophyletism. If it's not a declaration of war, then it's at least a direct threat to Serbian Patriarchate. History shows that accusations of ethnophyletism sound when Greeks need to infringe the rights of Slavic Churches or deprive them of independency.
The Ukrainian example proves that Constantinople easily revokes the historical signatures of its patriarchs and no matter how much gold they were paid and how long ago the papers were signed – 100 or 300 years ago. Will Constantinople be allowed to go on rejecting its own decisions unilaterally and broaden its borders in the future? It mostly depends on the position of Local churches including ours. If we don't react now then Serbian Church will face the fate of Moscow which is losing its territories land by land.
Patriarch Irinej needs Constantinople to officially recognize that the tomos of 1922 still has legal power despite the changing historical circumstances and that the extension of SOC jurisdiction over Macedonian archdioceses is no discussion point. We need a document that will be undoubtedly canonical and impossible to cancel at a moment's notice. At least personal signatures of patriarch Bartholomew are still more trustworthy than fake mass media publications.
"When we returned, we had no bed to sleep, no pots to cook, nor clothes to dress. We went to our house and it was confiscated by others. We rented a room in our house and the whole family lived there."
At Kotsou Street
Mair Maissis is in the Synagogue of Halkida, eager to guide anyone who passes itsdoor and wants to learn more about the Jewish community and the Jewish cemetery of Chalkida. Willing and full of energy, he would start explaining me the architecture of the — the Romaniote type — Synagogue.
"The two columns of our Synagogue prove its antiquity. A large number of scholars regard the Synagogue of Chalkis as the oldest of Europe and many believe that the first presence of Jews in Evia dates back to 586 BC. Around the Synagogue was the Jewish ghetto, the Jewish quarter where most Jews lived until the end of the Ottoman domination.
"On Good Friday in 1854, a great fire broke out which destroyed the biggest part of the Synagogue. Of course it was an arson. Nearly all community archives, books, heirlooms and manuscripts were destroyed. Only three Torah scrolls of the 13th & 14th century have survived until today. The Synagogue was rebuilt in 1855 with the donation of the Dutchess of Plakentia. Luckily today, we do not have any anti-semitic incidents here in our city. We are completely asssimilated."
The families
"We came from Italy. We were doing business with cornflakes and in italian mais means corn. So we were named after the profession. We left when the persecutions of Ferdinand and Isabella began. We crossed the city of Patras, then Mystras and finally Chalkis. At that time, we were traveling in enormous groups. They did not leave each other back. "
With the annexation of Thessaly to the newly established Greek state, several Jews in Chalkida moved to Volos. There, they found a new dynamic community. The mother of Mr Mair came from this community.
"My mother was Sephardi and she was speaking Ladino. Of course, at our house in Chalkida we only spoke Greek, neither Ladino nor Hebrew."
He was born in 1935 a few years before the great disaster. His father Solomon was a merchant like most of the Jews at that time.
"Then the Community consisted of about 300 people. All merchants, spinners, craftsmen, etc. The weekly market in Kriezotu street was 90% Jewish. "
When the war broke out, he had only been able to go to school for a few weeks. The Jewish community had its own Jewish school where students were taught all the lessons and additionally the Hebrew language and Jewish religion.
"We were only able to learn about two or three songs and to dig out some scribbles. Nothing else we've got. "
The Partisans and the Orthodox Church
"We were almost all saved. With the help of the partisans and of the local Bishop Gregory. Without them we would have followed the others. The Bishop saved Jews whohad been prisoned and hide the Sacraments of the Synagogue in a place of the Central Church.
The partisans mobilized the Jewish families to leave Chalkida and go to the mountains. They were hidden in villages such as Steni and Gides.
"We left before the invasion of Germans. We had already been aware for the incidents in Thessaloniki and Athens, and there was no possibility to follow the same fate. The partisans told us to pick up things and by horses, we went up to the mountains. We were hidden in Steni like many other Jews, although this was extremely dangerous. There we stayed in Christian homes. But we knew these Christians. They have been our customers for so many years, we have had personal contact with them. "
Even the Italian Commander urged them to leave as soon as possible. On March 24, 1944, the Germans announced that all the Jews would gather in the synagogue to give them flour to make the enzymes for their Easter. They opened the door and they only saw Rabbi.
"They believed we would follow Rabbi and stay there. But we had chosen to be mobilized and save ourselves. "
22 Jews were lost from the Chalkida community. But how did they get lost?
"Mainly by German traitors", Lili Kosti answered to me.
"So they captured my father and his sister. My father stayed in Chalkida to look after his parents who could not move. A Nazi partner betrayed him and caught him immediately. His sister descended from the mountain to take him out and so caught her. We could not leave our families."
Who were the traitors, I wondered? I asked her to describe me the profile without telling me the name.
"Everything is now publicly available. I can tell you the name if you want. But do not imagine that their traitors and associates were reputable individuals, with family and educated. They were just criminals."
Jews entered the guerrilla I asked them?
"Of course, havent't you heard about Sarika?" And I had never heard her.
"17, 5 year old girl. Sarah or else Sarica Geoshoua. At first she entered the guerrilla and helped with chores. She slowly became a leading figure and propagated in the villages to get everyone into the guerrilla. She focused on girls and after a while she got teamed and had her own team of 12 young girl partisans. "
After the end of the Occupation and with the civil war, Sarica was led to the prosecutor. He told the prosecutor, "I am not with either communists or the right side. I went up there to fight the Germans. "The prosecutor released her with the condition of leaving Greece for ever. She left for Israel and never returned to Greece.
After the Occupation
"When we returned we had no bed to sleep, no pots to cook, nor clothes to dress. We went to our house and they were already others. We rented a room in our house to stay the whole family, "says M. Maisis.
America was first helped by the first time. Huge balls with clothes, beds, kitchen utensils, books for children.
"Many left for Athens, others for Thessaloniki because they thought they would find opportunities there. Others fled for Israel. As early as 1944, 160 people of ours had left for Israel. We then had a Chalkidiki lawyer, Sotiris Papastratis. He organized the mission for Israel. Free spirit, democrat. Later, he was honored with the Yad Vashem Prize for the Law of Nations. "
His family had nothing when he turned from the mountain to Chalkida.
"We went with my father to Athens to get some goods and start over again. As soon as he entered the shop and saw him the merchant shouted: Solomon lives! Download and give whatever he wants. "He knew his money was for sure. We had such a relationship of trust between us."
The community saw a significant reduction in the number of its members. The day-to-day operation of the Jewish school ceases, and the rabbi was stopped in the early sixties.
The current community
"Today we are about 50–60 people. All older in age and we have only 2–3 children. Of course we keep all traditions and customs. We do it as we did before. "
When does the synagogue come to life?
"Every Friday we normally do our Shabbat service. We gather about 20–25 people. For the needs of the function we have a hazzan, that is, a cantor.
But in the great feasts, Ross Ashana, Pesach and Kippur, we bring a rabbi. "
Entering the Synagogue, my eye fell on a shelf with his books. He writes about the history of the Jewish community and the Synagogue and in a few days he will present his second book entitled "The History of the Jewish Community of Halkida since 580 BC. until 2001 The Cemetery. "
" Do tourists and people visit the place in order to learn more about the Jewish community?" I asked.
"In recent years we have a lot of people to visit us. This month, you are the fourth who comes to learn information. Not just tourists. Many local Halkidians are coming too. "
We are preparing to lock down the Synagogue and go tothe exit where we would say goodbye.
"This year, on the anniversary of the Holocaust on January 27, I went to talk to 7 schools. Halls were filled with 350–400 children and neither one stood up. They first heard about all this. Teachers are now mobilized. If nothing is done through education and school, nothing can be done. "