Terrorism in Cyberspace: The Next Generation
Nowadays, it is almost impossible to find a jihadist organization which does not have its own online niche because the Internet provides endless opportunities for extremists, helping to override many traditional problems. Given this operational shift, counterterrorist policies have to be revised and adjusted in order to successfully prevent terrorist activities. Also, control over the online terrorist activities is of utmost importance because, as the attack of the Chechen Tsarnaev brothers in the Boston Marathon shows, counter terrorist professionals underestimated the significance of cyberspace and information collected there.
In light of this, the new book by Weimann can be found timely and valuable for a wide audience of readers. Providing an in deep study of numerous aspects of this important issue, this masterpiece is perfect to start with for students and scholars. Gabriel Weimann's book analyzes the expansion of terrorists' presence on the Internet in terms of its transformation, the impact on terrorist structural organization, and strategical approaches. In particular, the author tries to project the evolution of terrorist threat and how the global community has to confront it.
Articulating the importance of the Internet, the author underlines in part one of the book that terrorist groups began to acquire use of the Internet in the 1990s and since that time, have continued learning and reaching critical results. For terrorists, cyberspace serves many crucial functions that have been a serious problem recently: recruitment, indoctrination, fund-raising, the spread of propaganda material, psychological warfare, information gathering, coordination, communication, and virtual training. Being in constant search for new ways of communication, terrorists have increased their presence on brand-name social platforms such as YouTube, Facebook, MySpace, Twitter, etc. According to the author, it is a serious issue in light of the fact that counterterrorist measures and the efforts of these corporations are not effective enough to prevent the circulation of extremist materials. Interestingly, the active usage of the Internet by terrorist groups alter them structurally: instead of a traditional hierarchical organization of terrorist groups with a direct chain of command, a global jihadist network with semi-independent branches has become more popular.
The second part of the book focuses on three new tendencies produced by active terrorism entering into cyberspace. The author defines the first tendency as "narrowcasting", which means the opportunity to embrace previously unreachable categories of the population: women and children. Another tendency refers to the modification of the lone wolf phenomenon. This form of terrorism is growing and promises to become an extremely serious issue due to the availability of extremist online materials, practical instructions, and the demands for these attacks from terrorist organizations. Stressing the importance of online fatwas and forum discussions, which have become a popular form of communication among terrorists, the author examines these new tendencies in terms of counterterrorism perspectives. Also, Weimann makes a unique attempt to scrutinize Hamas websites through the e-marketing model of Chaffey and his colleagues in order to determine the logic of Hamas's decision makers in cyberspace. Worth noticing is the fact that it is a very promising application in the search for effective terrorism deterrents.
The third part of the book focuses on future threats and challenges. Weimann emphasizes that terrorists, who are aware of the power of the Web, demonstrate a growing intent to conduct cyberattacks on the most important infrastructures of states and are recruiting Internet savvy individuals. So far, the striking difference between jihadist and state-employed hackers is obvious in terms of their capabilities, skills, damage, technologies, targets, etc. However, the author believes that the situation will change soon. While, previously, these attacks were mostly committed by a few jihadist enthusiasts, the day is coming when they will receive serious support from an interested government or governments, who are ready to use terrorists pursuing particular political goals. As the reality of the situation indicates, several states already sponsored cyberattacks, trying to weaken their competitors. In fact, there are a number of reasons why cyberterrorism attracts terrorist organizations: anonymity, the absence of geographical obstacles, vulnerability, the extent of damage, minimal resources, and a larger psychological impact.
The Internet made terrorists more powerful as well as more vulnerable for counterterrorist measures. However, the level of presence and terrorists' efficiency in cyberspace dramatically outpace traditionally oriented government agencies. At the end of the book, Weimann provides recommendations of how to effectively protect society from online terrorism and succeed in the ongoing virtual war. In this regard, he calls on us to revise the negative connotation of the concept of noise, which can interrupt informational flows and communication among radicals. Also, this concept will help to cover the existing theoretical gap in the comprehension of this virtual ideological war. To be effective, counterterrorism agencies have to collect information and monitor online terrorist activities, including the content of their websites, forum discussions, etc. Simultaneously, the agencies have to launch psychological attacks in order to discredit their agenda and to articulate a peaceful alternative.
This book addresses pivotal (and even interlocked) issues about the evolution of terrorism due to increasing reliance on the Web. Despite the essential difficulty and complexity of material, the author establishes a clear structure and masterfully guides readers through a diverse set of topics. It is important to underline that all materials in this book are related to each other in a very understandable manner. Despite the publication date of this book, there is no information or analysis of the most terrifying terrorist organization – the Islamic State. However, this cannot diminish the immense contribution to the terrorism studies this volume presents.
Terrorism in Cyberspace: The Next Generation
Gabriel Weimann, Woodrow Wilson Center Press with Columbia University Press, 2015
Post-Pulwama False Flag Operation: Prediction and Reality
Since the nuclearization of South Asia in 1998, the region has become a major component of international security and stability. The recent military escalation and de-escalation of February-March 2019 between the nuclear armed rivals of South Asia i.e. Pakistan and India, more than a month has passed but the world is still concerned about the situation in this volatile region. There is an ongoing debate in Pakistan about the Pulwama attack of 14th February 2019 as a 'False Flag Operation' in the realm of hybrid warfare which India has launched against Pakistan. The false flag operations are based on deception with pre-determined outcomes to achieve some political or strategic objective.
India has a history of such false flag operations starting from 1971 till now for achieving the predetermined strategic and political goals (whether successful or unsuccessful). The 2016 Uri attack, the PathanKot Air Base attack, the Mumbai attacks 2008are candid examples of the false flag operations which India has carried out. These operations which are now part of history were aimed to divert international attention from Kashmir issue while blaming Pakistan without any evidence. These operations have remained focused of achieving political goals in elections. The most recent example is the Pulwama suicide attack of February 2019, in which 44personnel of Indian Central Police Reserve Force (CPRF) were killed. The BJP election campaign based on hatred against Pakistan to get popular support whereas the timing of attacks i.e. just two months before the elections make it one of the most controversial false flag operations. Within few minutes after the attack India claimed that about 350 kilograms Improvised Explosive Device (IED) was used. There are above 700,000 Indian troops present in Indian Occupied Kashmir (IOK) and most of the times curfew is applicable which makes it impossible for any group to navigate carrying such a huge volume of explosives. As an election stunt the Indian leaders and media blamed Pakistan for backing the attacks without any investigation and evidence.
Pakistan's 'appropriate response' in the after math of February 2019 events is part of history now. On 7th April 2019 Pakistan's Foreign Minister has predicted that another 'Pulwama like attack' in IOK may happen in coming days between 16th to 20th April. India could stage another Pulwama like attack in IOK to justify its military escalation and to increase diplomatic pressure on Pakistan. He further said that Pakistan has authentic intelligence regarding Indian preparations for such attack. In this regard Pakistan has conveyed formally to the diplomatic representatives of the permanent members of UNSC in Islamabad. A meeting of India's 'Cabinet Committee on Defence' was held recently in which Modi gave free hand to the services chiefs to act against Pakistan in upcoming days. The chiefs responded that they have already selected military targets that go beyond Line of Control (LoC).
India under Modi's leadership is intentionally increasing the war hysteria against Pakistan without realizing the reality that any escalation beyond a certain point a may lead to a first ever nuclear exchange between the two countries. The Pulwama attack was no doubt a false flag operation carried out by India with two politico-military objectives. First, to project the freedom fighting movement in Kashmir as 'terrorism' which is at its peak since Modi is in power and second is to gain maximum popular support in context of 2019 elections by spreading hatred against Pakistan. The aftermath of Pulwama has re-assured Pakistan's Nuclear Deterrence at conventional level and proved it a dominant factor over escalation ladder.
In case of a 'new false flag operation' or any February 2019 like escalation from India, Pakistan though lacking in number of conventional forces and weapons will remain with no choice but to respond un-conventionally by using the tactical nuclear weapons i.e. 'NASR' and subsequently short and medium range missiles capable of delivering nuclear war heads. The recent military standoff has proved to be a matter of failure for India vis-à-vis the credibility of the claims. The international media as well as the Indian media and opposition parties have questioned Modi's government for the evidence of targeting militant training camp (killing 350 militants) and proof of Pakistan's jet plane crashed during 27th February dogfight (claimed by India).According to Foreign Policy Magazine US officials have verified that Pakistan's F-16 fleet is complete in numbers and not a single jet is missing.
The February 2019 military crisis and its aftermath didn't prove to be a politico-military success for BJP. Pakistan has proved that it can respond to any Indian aggression appropriately and thus gained a moral and psychological edge over India in the crisis. Pakistan's nuclear deterrence has served as a dominating factor against the Indian conventional maneuvers. Pakistan needs to be well prepared against a new false flag Pulwama like operation in coming days realizing the political hype in India. In case of breach of Pakistan's sovereignty by India in the name of a limited conflict or a surgical strike, this time the response might be a 'nuclear' staying below the nuclear threshold.
Is Designating IRGC a Terrorist Organization a Right Decision?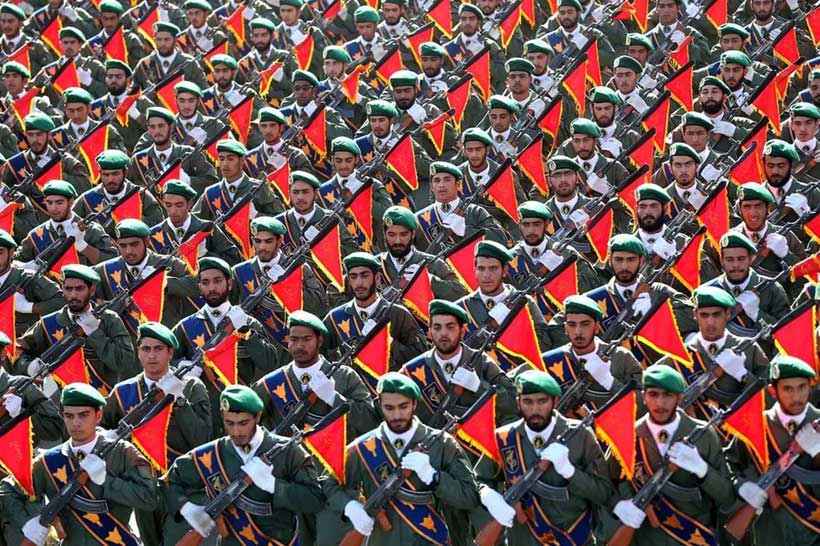 Iranian Revolutionary Guard Corps (IRGC), otherwise known in Iran as the so-called 'Islamic' Revolutionary Guard Corps, is designated as a terrorist organization on Monday (April 8, 2019). What followed is a heated-up debate on broadcast-media across the world as well as on various social-media platforms.
Whether the decision was right and whether it is a sensible one — needs no further consideration. Yet the debate that followed on mainstream broadcast-media and various social-media platforms need to be addressed. For this, a bunch of incidents and happenings that have been taking place in Middle East have to consider along with their connection to IRGC. Syria seems the appropriate conflict zone to start with.
In Syria, a 13-year-old boy's penis was cut off by the brutal mukhabarat (which is the secret police of Syrian dictator Bashar-al-Assad) in 2011. The boy, named Hamza Al-Khateeb, was returned to his family with his body mutilated. His head was swollen, purple and disfigured, body was a mess of welts, cigarette burns and wounds from bullets fired to injure, not kill. Kneecaps smashed, neck broken, jaw shattered. The most brutal part of the torture was that, as mentioned earlier, his penis was cut off. After a video of his tortured-body was posted on YouTube, thousands of Syrians rallied and chanted "We Are All Hamza!".
The boy was among hundreds of children and teenagers who faced the same fate in the hands of Assad's police and army, though it was the boy's story that attracted more coverage during the time from the mainstream media.
As Iran's leaders always try to portray themselves as the symbol of moral values against, what the Iranian leaders call, 'imperialism', many in Iran and elsewhere expected them to act — or at least speak — for the splayed victims and against the heinous activities of Bashar-al-Assad and his loyalists. Iranian leadership instead chose to side with the longtime ally Assad, who was already named — by the people from his own country, the region and world — as the "Butcher".
What followed was horror, terror and death. First, Iranian leadership's military arm, the IRGC, had led the campaign of killing the Sunnis and non-twelver Shias in thousands to depopulate many areas from Sunnis and non-twelver Shias — something which is no less than a genocide.
This fear of being killed for their sectarian identities had compelled a portion of the remaining Sunni and non-twelver Shia population to leave their homeland and seek refuge in other countries (particularly neighbouring countries and Europe) so that they could escape the genocide — something which is no less than an ethnic cleansing.
In Syria, the IRGC had carried out the campaign with the help from Assad's army and Iran-backed Lebanese militant group named Hezbollah. In Iraq, the IRGC had carried out the campaign with the help of sectarian elements in Iraqi army, Iran-backed twelver-militias in Iraq and Hezbollah.
Everyone with the slightest interest in Middle East affairs is well-informed about the sectarian cleasing that happened in Iraq's Fallujah with the backing of the Iranian leadership and IRGC. The Iraqi forces and Iran-backed militias killed thousands of innocent Sunnis and non-twelver-Shias in the cover of "liberating" the area from ISIS.
All of the above said killing campaigns had been monitored, aided and managed in the ground-zero by the Iranian Revolutionary Guard Corps (IRGC), which is designated as a 'terrorist' organization just the other day.
The IRGC-members themselves had engaged in the killings of innocent Sunnis in these two countries, particularly in Syria. For years, the IRGC has been training the terrorist proxies inside both Iraq and Syria as well as in other regional countries.
IRGC had also helped Bashar-al-Assad to carryout gas/chemical-bomb attacks on innocent civilians in rebel-held areas in Syria. Every mainstream global media had either published articles or broadcasted the footages of the aftermath of these repeated gas/chemical attacks on civilians. The broadcasted-footages clearly show how civilians, especially the children, died from these attacks. The worst part is that these children had to go through enormous sufferings and pain before ultimately losing their lives.
All the atrocities committed directly or indirectly by the IRGC suggests that if it is wrong to designate the IRGC as 'terrorist' organization, it would also be wrong to designate any other atrocious group as 'terrorist'. If it is right to designate any atrocious group (including ISIS) as 'terrorist', it should equally be right to designate IRGC as 'terrorist'.
If one poses the question "What we should call a terrorist?", the obvious answer would be "a terrorist", and so is the Iranian Revolutionary Guard Corps (IRGC) and its leadership.
The Christchurch Shooting and Definitional Problem of Terrorism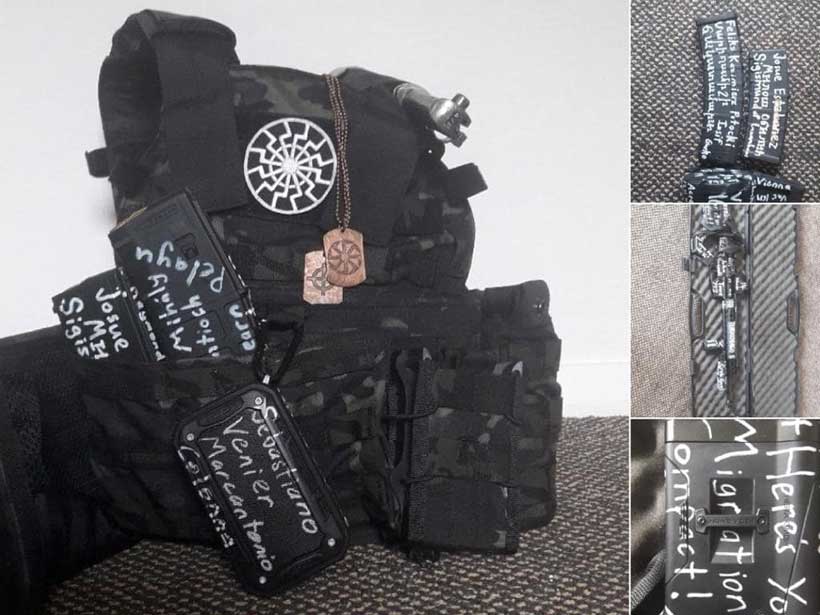 On Friday, March 15, 2019, the world was shocked by the news of shooting attack in two different mosques in Christchurch, New Zealand. Fifty people were killed, while thirty-nine others were injured in the shooting and are currently receiving care in hospitals. The attack was unpredicted since it occurred in a relatively peaceful and stable country. After the incident, the suspect, a 28-year-old Australian, Brenton Tarrant, appeared in court with a charge of murder. A debate arises on whether the Christchurch shooting should be categorized as terrorism.
Indeed, defining whether an attack can be categorized as "terrorism" remains a complex task for scholars and counterterrorism agencies. The definition of terrorism is critical since our perception is heavily influenced by how the concept is elaborated. It also affects our communication and responses to the issue which potentially affects states' politics and social dynamics.
One reason for the lack of clarity is because terrorism is difficult to measure. Unlike conventional war between states, terrorism always shows inconsistent metrics because it exploits the position of weaknesses. Some questions that are frequently asked to define terrorism include: when can violence be justified as an act of terror? How does terrorism distinguish itself from regular assault and other violent or criminal act? Also, how can we differentiate morally culpable terrorists from legitimate insurgents and freedom fighters?
Currently, scholars on terrorism studies have written several definitions of terrorism that emphasize the use of violence, politics, sociology, and psychology. There are common traits that are found in every definition. First, terrorism is defined as an act of "extranormal" violence that generates widespread disproportionate emotional reactions from its audiences such as fear and anxiety that influence their attitude and behavior. Second, the violence is systematic, unpredictable, and usually directed on a symbolic target. Third, the violence conveys political messages and threats to communicate their demands and gain social control.
Based on the definitions above, we can categorize the Christchurch shooting as an act of terror as it adheres to most of the criteria. Some prominent actors even have adopted this term to describe the incident. The Prime Minister of New Zealand, Jacinda Arden, for example, called the shooting as "the worst case of terrorism in the Pacific Islands", followed by her refusal to mention the perpetrator's name and proposal to ban semi-automatic weapon in New Zealand. However, this label is not yet adopted by the wider public, since many government officials and media still regard the Christchurch shooting as a mere hate crime.
The semantical difference of the Christchurch shooting perhaps can be traced from two main arguments: First; because there are differences in how terrorism is securitized in every state, what terrorizes a particular population may vary depending on their historical and cultural values. In most societies, the definition of terrorism is still associated with the US's "War on Terror" after the 9/11, which resulted in affiliation between terrorism and Islamic Extremism. The term "terrorism" was suddenly over-generalized as a product of extreme Islamic ideology; the opposition against the West; and a global multi-faceted threat that should be contained. That is why the idea of "right-wing terrorism" feels strange to most society since it does not fit the description of modern day terrorism.
Second, labeling the Christchurch shooting as terrorism might contradict governments' effort in securitizing terrorism. The term "terrorism" is generally pejorative and implies a moral judgment which indirectly persuaded others to perceive the labeled party as the common enemy.
For some governments, it is difficult to admit that some of the right-wing terrorism occurred from the backlash of states' counterterrorism narratives. Individuals might have different interpretations on the subject, and some might understand it as dissension against one particular community—such as what happened in the case of the Christchurch shooting. Expanding the image of terrorism to the very own part of states' main audience in securitization process, can hurt states' further efforts in defining the adversaries.
It is apparent that the decision to address the Christchurch shooting as terrorism is very complex, especially because the concept itself is highly subjective, emotionally, and politically driven term where it has a relative meaning to different actors. Nevertheless, looking at recent developments, it is important for us to change how we define terrorism beyond the image of Islamist extremism.
For governments and law enforcers, the outdated understanding leaves them hampered by an inability to define terror acts and criminalize terrorists from outside the Islamist extremist groups. Meanwhile, for the public, redefining the concept of terrorism will help them build a stronger resilience against terrorism narratives and give a more proportional response aftermath a violent attack.
Jacinda Arden's remarkable response to the Christchurch shooting has shown us that it is possible to label the incident as terrorism. Her actions had created a sense that the Christchurch shooting—and other similar right-wing terrorism—pose an existential threat that requires an emergency measure. By the public's reaction, it is clear that her response is well received and it could be the first step to redefine the public's understanding of terrorism.
In the future, we would require more agent of change like Arden, who is able to convey strong narrations and gather a significant number of audiences that accept the designation. Redefining terrorism will not be an easy process, and it should be done with social cohesion, tolerance, and mutual respect. Only after we share the same sense of peril and the need for extraordinary measures, then we can challenge the subjective nature of terrorism.