The Mass-Dumbing-Down of America: Donald Trump as the Canary in the Cave of Ignorance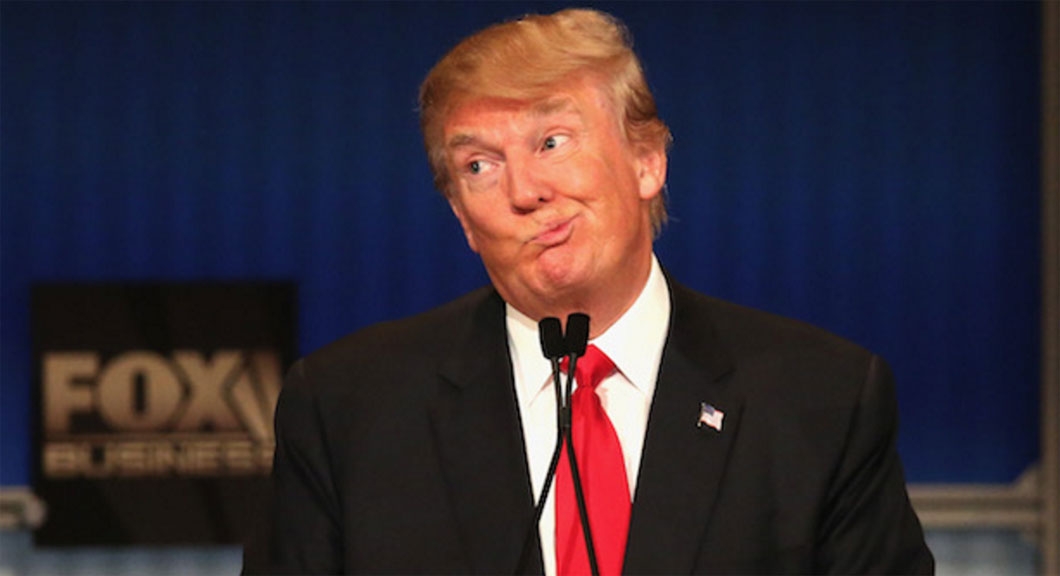 "There is a cult of ignorance in the United States, and there has always been. The strain of anti-intellectualism has been a constant thread winding its way through our political and cultural life, nurtured by the false notion that democracy means that my ignorance is just as good as your knowledge."— Isaac Asimov
The political right in America has been flirting with dangerous ideas for a while now, particularly on issues involving immigrants and minorities. Lately, with the advent of Donald Trump as the leading presidential candidate in the Republican Party, the rhetoric has gotten particularly insane.
To my mind, the most dangerous of those ideas is the idea that democracy means that everybody is entitled to one's own ignorance, even worse, that, to paraphrase Asimov, one's ignorance is as good as one's knowledge.
If you have any doubt about the above quote by Asimov pick up the following recent books on this issue: Anti-Intellectualism in American Life (1964) by Richard Hofstadter; The Age of American Unreason by Susan Jacoby; The Dumbest Generation by Mark Bauerlein; Idiot America by Charles Pierce; American Idyll: Academic Anti-Elitism as Cultural Critique by Catherine Liu. They may convince you that the problem is real indeed. If they do not convince you, you may have grounds to suspect that you have been affected by the general dumbing-down and may indeed be in chain in Plato's cave of ignorance and mere appearances and don't even know it.
The apotheosis of this strange anti-intellectualism which denies even the empirical evidence of science, which Asimov believes has always been integral part of American culture, arrived lately with the bizarre phenomenon of Donald Trump, who in many ways has become an icon for the millions of people who follow him as a savior of sorts and consider anti-intellectualism a sign of liberty and free speech. The question arises: How did we descend this low? The short answer is this: by the dumbing-down of the general population. Trump is nothing less than the proverbial canary in the coal mine: a sign that the oxygen of liberty and democracy is diminishing precipitously, and not only in America, but globally, especially in the West which has always been proud of democracy's invention together with the concept of freedom. Alas, rabid nationalism and even fascism are returning with a vengeance. We seem to be back to square one in the early 30s, brown or black shirts strutting about parading their patriotism. One begins to wonder if World War II was an exercise in futility after all.
But let us explore in some detail what is the essence of this dumbing-down. Let us begin by examining the ecological catastrophe we are currently experiencing well into the 21st century. Time is running out despite the recent Paris Conference on Climate Chance which may mitigate somehow the impending catastrophe but we are hardly out of the woods yet; that will only happen if urgent action follows the empty rhetoric. As it is, the totality of destructive damage that transnational corporations have perpetrated against all forms of planetary life has destroyed the eco-systems of thousands upon thousands of animal and plant species. Of the five times that life on earth has become massively extinct in the past, we humans are rapidly causing the sixth great cycle of mass extinction and the first and fastest due to manmade effects in the form of rising global air and water temperatures and over-polluted water, air and soil. The dead zones across the planet are spreading faster rates of extinction amongst plant and animal life than at any prior time in the earth's known history.
I checked those facts with my elder daughter who is finishing up a master in ecology and the environmental science, and she assures me that such is indeed the case. The facts are there for anybody to digest if one believes in truth. Destruction of our living habitat and eco-system carries perhaps the most damning, ultimate dumbing-down effect that the oligarchs of our brave capitalistic world of the ilk of Donald Trump and company, have caused. But then they no doubt have laid out their own contingency plan utilizing a hidden technology that can save them when the lights go out on mother earth for the rest of us lowly expendables.
Indeed, the powers that-be in the United States have been systematically dumbing-down Americans as a society for a very long time – all by calculated design. Originally the term dumbing-down was used as a slang expression in 1933 by film screenwriters to mean "revising [the script] so as to appeal to those of lower education or intelligence." It actually began as a concept with the oil tycoon John D. Rockefeller who declared that we don't need a nation of thinkers but a nation of workers, that is to say, we need automatons who enrich the elite class and don't do much thinking for themselves, or anybody else.
The most obvious example of how Americans have been dumbed-down is through this nation's failed public education system. At one time not that long ago America reigned supreme as a leading model for the rest of the world providing the best quality free public K-12 education system on the planet. But over the last many decades while much of the rest of the world has been passing us by, it seems an insidious federal agenda has been implemented to condition and brainwash a population of mindless, robotic citizenry that simply does what it's told, and of course the brainwashing commences early.
As a pawn to the military industrial complex, the US government has chosen permanent war over its own people. One can count a minimum of six major wars in the 20th century, not to mention the minor covert ones all over the globe. This misguided decision to opt for power rather than knowledge and wisdom, has decimated the middle class and created a college educated indentured class struggling in heavy debt to find any means to stay afloat. With an outsourced, now vanished manufacturing base, upward mobility and the American dream have become tragic casualties of modern life.
After centuries of carefully orchestrated design, oligarchs of the banking cabal have finally gotten what they've been plotting and scheming, globally enforced austerity and impoverishment reducing life in America and around the world to near Third World status, and absolute control. The oligarchs are counting on a dumbed-down population too busy addicted to their video games or watching sports or Kim Kardashian's latest wardrobe malfunction to even notice that a longtime oligarch eugenics plan is already well underway. The fact that a Donald Trump is in the lead for his party's nomination as the next president of the US speaks volumes by itself.
But this dismal outcome has long been in the making on many fronts. Over numerous decades a grand experiment engaging in social engineering with America's youth has been steadily working to homogenize a lowest common denominator product of sub par mediocrity, creating generations of young Americans who can neither read nor write, nor think for themselves in any critical manner. According to a study last year by the US Department of Education, 19% of US high school graduates cannot read, 21% of adults read below 5thgrade level and that these alarming rates have not changed in the last ten years. Has anybody noticed that the debates or the Republican party are now conducted with language at the fifth grade level, complete with bullying and clownish body language and vituperations? They are not for enlightenment but for amusement and distraction. They resemble more a circus than a deliberative dialogue.
The international test results from the 2012 PISA indicate American students are lagging behind virtually all developed nations even more than in the past. China topped all 65 nations while US teenagers again scored at or below average in math, reading and science. That is because the current educational system is no longer about learning the basic A-B-C's but simply cranking out a subclass of work force laborers. Some concerned educators have dubbed the current education system as "limited learning for lifelong labor." That is to say, education has become training for a job and acquisition of practical skills, and consequently it is no longer education educating holistically the whole man.
But this planned system of a New World Order (NOW) featuring a planned global economy and a planned global education system has been promoted for well over a century now. The Carnegie Foundation outlined its explicit roadmap for absolute oligarch control way back in the 1930's. Department of Education whistleblower Charlotte Iserbyt exposed the conspired downfall of America's educational system in her well documented chronicle The Deliberate Dumbing Down of America. She demonstrates that even national sovereignty gets subordinated to world authority.
The heavy focus of public education today is primarily limited to standardized test performance and the proliferation of privatized charter schools complete with private contractors teaching the tests, usurping the authority at all levels from state, to local communities, to individual teacher's lesson plans, to home schooling parents, largely replaced by instructional software programs.
This lopsided war between fascist run propaganda schools brainwashing a Brave New World youth and the local school boards, teachers and parents battling for their lives to maintain what little choice they still have left with their children is yet another pathetic cautionary tale of what the oligarch agenda is doing to destroy America today.
Instead of encouraging the gifted by teaching to their strengths, too often they are responded to punitively by either overly frustrated and/or rigid, authoritarian adults bent on maintaining some semblance of control. The one size fits all cookie cutter system stifles learning, cognitive and intellectual development and creativity, rewarding those who acquiesce and simply do what they are told as good little boys and girls on their way to being good little employees and citizens who are so easily manipulated, controlled and subdued. They become the lifeless, walking dead who merely go through the daily motions on autopilot, too beaten down, numb and/or fearful.
A substantive quality education should teach the curious developing mind to be critical and discriminating, willing to ask questions, challenging the status quo of preconceived suppositions and accepted dogma. With an educational system that purposely misinforms and indoctrinates young people to respond as Skinnerian rats to a positive reinforcement schedule of operant conditioning, children as future adults are being shaped and programmed to become little robots easily controlled by their oligarch masters.
Another primary means of dumbing down America is through mass media. If the public is busily preoccupied with the superficial garbage spoon-fed to the masses every single day via television, movies, music, internet, video games that all act just as effective as the most potent drug dulling the senses and the brain, again an enormous control over the population is achieved and maintained. Here again Donald Trump is the perfect icon: politics reduced to entertainment. When asked where he derived his knowledge of the facts from, Trump answered "the TV shows."With so much entertainment as the modern day opiate to the masses to divert people's attention, these weapons of mass distraction easily render people oblivious to see what is really happening in the world. We are all being numbed and dumbed.
This too is another form of calculated brainwashing, mind control as well as behavior control that the media as vehicles of propaganda and disinformation constantly utilize. The constant 24/7 sensory bombardment that media puts on humans is one highly effective means of control over both culture and population.
Currently an incredible near 70% of all Americans are taking at least one prescription drug. Between the multibillion dollar alcohol and tobacco industries and the multibillion dollar Big Pharma industry, these corporate entities wield colossal amounts of power in America, buying off politicians, spending billions on advertising, often times killing people whose addiction overpowers them.
Rampant drug addiction in US society becomes yet another very effective means of control over millions of humans who struggle daily with their very real demons. The number of deaths related to drug overdose has jumped 540% since 1980. And whatever collateral damage results from those who die as well as those who engage in criminal activity to support their habit, with both a privatized prison industrial complex and privatized medical system, again the only profiteers feeding off the misfortunes of the afflicted are that same power elite.
The same damage and dumbing down-effects are only added on when considering the detrimental and often lethal effects that chemically processed foods, chemical and hormone injected meat products, genetically altered organisms (GMO's) and pesticide-ridden foods, not to speak of fluoride treated water, that virtually the entire American population consumes on a daily basis. The masses are poisoning themselves to death with built up toxins in their bodies.
In conclusion, after this brief excursus into the byways of mass-dumbing-down, perhaps we can agree that what is most disturbing about Donald Trump is not who he is, for one cannot teach an old dog new tricks, but the obvious evidence, that the ones who think like him and follow him devotedly are legions. That spells disaster even for a democratic society with constitutional checks and balances. Will the canary in the cave of ignorance save us? That would be a silver-lining to be greatly hoped for, but there are no guarantees and democracy may indeed perish in the cave of ignorance together with the witless canary. Time will tell.
Author's Note: this article has previously appeared on December 19, 2015 in Ovi Magazine
How Has the Purpose(s) of American Higher Education Changed Over Time, and Why?
Initially, universities and colleges have been founded on three central promises such as (a) teaching, (b) public services, and (c) conducting academic research (Scott, 2006). Myriad surveys and studies executed regarding universities and colleges echo that the above three purposes of higher education have undergone huge changes over the past centuries, and the origins of these changes were political, social, economic, and demographic upheavals in the in the USA. Considering the three purposes of higher education and the impacts of political, economic, and social factors on them, I want to answer this question that how much the above purposes of higher education have altered over the course of history?
Brubacher and Rudy (1997) state that English Americans founded the colonial colleges in the USA so that their children could preserve the facets of "Old World civilization" which were valuable for their ancestors (p. 23). They add that arguably another factor which led to the establishment of colonial colleges in the USA was the demand for teaching religious matters for literate and educated priests. Likewise, Spencer (cited in Shapiro, 2009) holds that in the eighteenth century, the purpose of universities was to separate erudite men from less erudite men. It indicates that till the end of the eighteenth century, the focus of American higher education was on a typical stratum of the society.
With the advent of new social, political, cultural, and economic changes in the United States of America, the purpose of higher education was also changed. For example, Trepanier (2013) argues that in the early 1970s the purpose of universities was shifted from military research to civilian and commercial research so as to fulfill the needs of the ongoing emerging "global economy" (p. 4). He adds that before the Civil War in America, the primary purpose of American higher education was to train undergraduates as "good democratic citizens and leaders" (p. 6). Thus, the institutions held that to meet this necessity, they offered a liberal arts curriculum.
Thornton and Jaeger (2007) have quite a similar story that how previous American presidents were persuading the higher education institutions authorities to train strong leaders and productive citizens. They, in the article of The Ceremonies and Symbols of Citizenship, cite from President Jefferson that he was in this belief that universities of Virginia had to teach its students how to be responsible citizens and future leaders. Similarly, Lee (2016) in the book of Class and Campus Life writes that Linden College, a pseudonym liberal arts college, instilling this notion into its students that they are preparing them for tomorrow's societal leadership.
Higher education institutions in the USA since their inception by the British Empire have undergone huge changes in terms of demographics. In 1790 there were 10,050 students, 141 faculty, and 11 institutions in the entire USA (Cohen, A. M., &Kisker, C. B., 2010). But after elapsing approximately three centuries and a half, the demographics of students, faculty, and higher education institutions in the USA is incomparable to 1790. For example, today only the University of Missouri accommodates 116,906 students, 1,168 faculty, and instructors, let alone all American higher education institutions (website of the University of Missouri, 2017).
So, booming population and increasing demographics of students led to social, political, and economic changes, and subsequently these various upheavals obliged higher education institutions authorities to expand the scope of their activities; as a result, the huge expansions in educational sectors changed the purpose higher education too. Nowadays, higher education authorities feel responsible for educating all the stratum of society rather than merely educating a privileged layer of the society or differing erudite folks from non-erudite ones.
One of the most political and social factors which disrupted the whole process of higher education and in particular the purpose of higher education was America's Civil War (Shapiro, 2009). He argues that after the Civil War, we have noticed a huge tremendous of changes in the size and nature of the higher education. Shapiro (2009) asserts that the antebellum colleges and universities were not able to fulfill the needs of the society. Upon ending the Civil War, the numbers of higher education institutions increased, students and faculty demographics mounted rapidly, and especially the purpose of higher education shifted from merely teaching religious courses, literature and arts, and moral philosophy towards teaching the subjects and matters that society needed for tackling its social, political and economic challenges.
During the course of history not only the purpose of higher education is changed but also the governance anatomy, leadership models, curriculum, teaching methodologies, scope of higher education, physical body of higher education institutions, political, economic and social approaches towards higher education, and the status of interactions between faculty and students were all altered too. For instance, Bonfiglio (2004) says that in the past faculty-student interactions outside the classroom used to take place at professors' homes – parlor. The faculty parlors were the main places where social, political, cultural, and economic ideas were used to be exchanged between students and professors. He adds that parlors were the main outdoor places where students could improve their social skills and capacities. He continues that when campus clubs such as (a) dining halls, (b) libraries, (c) student centers, and (d) other campus associations were set up, they replaced the faculty parlors. Hence, faculty ceded their dominance on students' spare time.
The same story goes for the purpose of higher education. For example, the American higher education institutions in the colonial era were established with the purpose of teaching the religious matters to teach children but over the passages of time, political, social, economic, industrial, and technological metamorphosis led to the alternation of the purpose of higher education. For example, Scott (2006) argues that globalization and rapid changes in technology effectuated huge changes in the way how educational institutions educate the public. She adds that academic organizations are in the crux of these upheavals in society. Scott (2006) holds that educational institutions so as to embrace these social, political, and economic transformations, must remain exorable. Thus, higher education institutions, to prove their alignment and adaptational capacity with the new changes, nowadays constantly prepare and update their statement of missions based on their updated academic purposes.
Since the beginning of the postmodern era, there is another growing trend in higher education which tries to attract the purpose of higher education in its own direction. This new trend is promulgating the "Aristotelian prudence" (Trepanier (2013, p. 7). He suggests that the primary purpose of American higher education should be based on promoting the "character and practices of Aristotelian prudence" (p. 8). Moreover, he argues that erudition not only fills the gap between theoretical and practical reasoning for students but also it can act as a linchpin to wind the conventional activities of the higher education institutions – teaching, research, and public services. Further, it will capacitate the higher education to align its missions with the society today's needs. Trepanier (2013) says that the propensity of promoting the "Aristotelian prudence" in higher education is originated from the idea of reinvigorating the political philosophy and pedagogy in order to countervail the challenges of postmodern critics regarding questioning the importance of theoretical reasoning in higher education.
It seems that the nature, scope, and constituents of the purpose of higher education have been being discussed by the governmental authorities, academic institutions administrators, and politicians since the inception of academic institutions. As Fortino (2012) says that all our liberal arts colleges with holding 200-year old history – their foci are on training the students for effective and efficient contribution via developing their persona. But nowadays, there are demands that higher education should turn their focus to making ready the students for a career. He believes that the purpose of higher education should be based on creating minds that react to any kind of strange occurrences in society. Similarly, I think, given all the social, political, and economic challenges awaiting higher education institutions to unravel them, higher education authorities should contemplate about the abovementioned challenges via revising their purposes in accordance with the needs and necessities of the society as they did for centuries.
All and all, in my mind, in the 21st century – in the era of technological explosions, entrepreneurial development, business expansion, globalization, internationalization of higher education, privatization, commercialization and corporatization of public sectors, higher education institutions significantly need to converge their main purpose on teaching creative, problem solving and critical thinking skills to student rather than just filling out their memories with some incongruous information so that they can fight with increasing gap between wealthy and indigent strata of the society in the USA, soaring competitive and tough job market, increasing unemployed degree holders, emerging quasi-automatons replacing people at factories, increasing huge intramural and extramural migration, booming population, financial crisis, students debts, and increasing degree completion retardation among the students.
The Secret Logistics of America's Global Deep State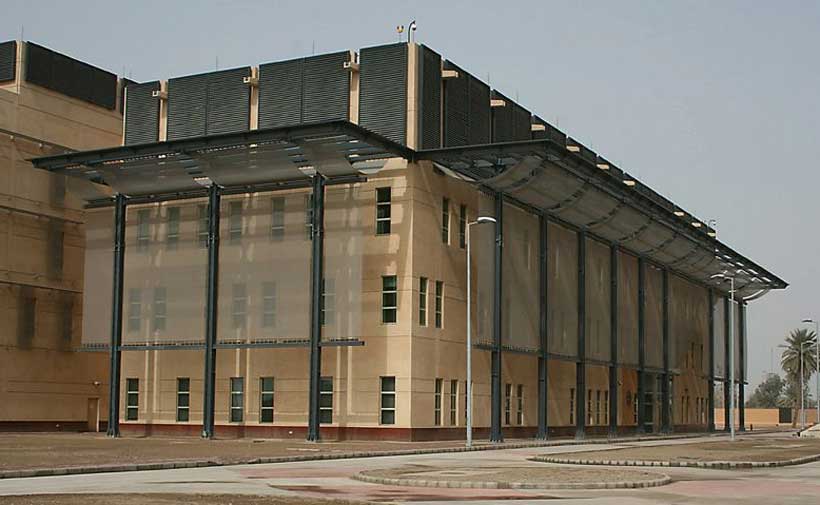 Why is America's Baghdad Embassy the world's largest embassy — and the largest by far?
"It's as if the U.S. Embassy is there not only to protect American interests, but to manage the entire world from the heart of the capital, Baghdad."
— Iraqi Sheikh Qassim Al Ta'ee, as quoted on 27 December 2011 in Al Iraq News and translated by Ibrahim Zaidan from the original Arabic by Nicholas Dagher
Zaidan's article went on to say:
The world's largest embassy is situated in the Green Zone and fortified by three walls, another barrier of concrete slabs, followed by barbed wire fences and a wall of sandbags. It covers an area of 104 acres, six times larger than U.N. headquarters in New York and ten times larger than the new embassy Washington is building in Beijing – which is just 10 acres.
[Editor's' Note: The ten-acre U.S. Embassy in Beijing is the second largest overseas construction project in the history of the Department of State — and the 104-acre U.S. Embassy in Iraq is the largest.]
So, America's largest diplomatic mission is surrounded by high concrete walls, is painted in black, brown and grey and is completely isolated from its environment. … The United States announced several months ago that between diplomats and employees, its embassy would include 16,000 people after the pullout of U.S. forces.
On January 1st, Will Sillitoe headlined at the Helsinki Times, "What does the US embassy in Baghdad export to Finland and dozens of other countries?"  and he reported that:
More than a million kilograms of cargo were shipped from Baghdad to different parts of the world, reveals US embassies procurement documents.
Mysterious cargo shipments from the US Embassy in Baghdad to other American embassies and consulates around the world have been revealed on a Wikileaks' database. Procurement orders of US embassies are public documents, but Wikileaks put them in a searchable database making it easier to analyse.
The database displaying worldwide US embassy orders of goods and services reveals Baghdad as a postal and shipping centre for tonnes of freight.
Though military freight might be expected between the US and Iraq, records show that embassies across Europe, Asia, the Middle East, the Americas and Africa are all receiving deliveries from Baghdad too.
According to Wikileaks' database, orders to ship more than 540 tonnes of cargo to the US were made in May 2018. The same document shows other main delivery destinations included 120 tonnes of freight to Europe, and 24 tonnes to South Africa, South America and Central Africa respectively. …
On December 29th, Sillitoe had headlined "Guarded warehouse near airport and mysterious cargos from Baghdad; what is the US embassy in Helsinki up to?"  and he opened:
Why does the US Embassy in Helsinki need a big warehouse near Malmi Airport and what are the contents of thousands of kilograms of cargo sent to Helsinki from Baghdad?
A dilapidated warehouse in Malmi is being used by the US Embassy for unknown operations after a Wikileaks release revealed its location.
The anonymous looking building on Takoraudantie is notable only for the new 427 meter perimeter fence that according to the Wikileaks' database was ordered by the US Embassy in April 2018.
Situated across the street from the main entrance of Malmi Airport, the warehouse with its 3 meter high security fence appears an unlikely location for official embassy business. Neighbouring companies include a car yard and a tyre warehouse.
Helsinki Times visited the perimeters this weekend. Security personnel, young Finns in uniforms with American flags on their arms, appeared nervous and suspicious when asked to comment on the warehouse. …
Sillitoe closed that article by saying: "The searchable Wikileaks database and info about Finland related activities can be found HERE."
That link leads to a "US Embassy Shopping List" of 24 separate documents, one of which is "RFP 191Z1018R0002 Mission Iraq Shipping Transportation Services", dated "5/17/18."
Item 2 there is "Packing of unaccompanied air baggage (UAB) – Throughout Iraq – U.S. Embassy Baghdad, Baghdad International Zone, U.S. Consulate General in Basrah, U.S. Consulate General in Erbil, U.S. Baghdad Diplomatic Support Center, U.S. Erbil Diplomatic Support Center (Note: under the specified unit of measure the U.S. Government contemplates 'per kilogram' of gross weight in kilograms)"
The "Quantity Estimated" is "100,000" and the "Unit of Measure" is "kilogram."
Item 7 is "Storage Services – Monthly Storage of containers – Throughout Iraq – U.S. Embassy Baghdad, Baghdad International Zone, U.S. Consulate General in Basrah, U.S. Consulate General in Erbil, U.S. Baghdad Diplomatic Support Center, U.S. Erbil Diplomatic Support Center."
The "Quantity Estimated" is "100" and the "Unit of Measure" is "40' Container."
Item "Section B.5 Sub-CLIN:84E" is "From Republic of Iraq to Western European Countries (Austria, Belgium, Denmark, Finland, France, Germany, Greece, Iceland, Ireland, Italy, Luxembourg, Netherlands, Norway, Portugal, Spain, Sweden, Switzerland, United Kingdom, Andorra, Liechtenstein, Malta, Monaco, San Marino, and Vatican City, Nicosia)"
The "Quantity Estimated" is "5,000" and the "Unit of Measure" is "kilogram."
Item "Section B.5 Sub -CLIN:84 F" is "From Republic of Iraq to Eastern European Countries (Armenia, Azerbaijan, Belarus, Estonia, Georgia, Latvia, Lithuania, Moldova, Russia, Ukraine, Albania, Bosnia and Herzegovina, Bulgaria, Croatia, Czech Republic, Hungary, Macedonia, Montenegro, Poland, Romania, Serbia, Slovakia, Slovenia, Kosovo)"
The "Quantity Estimated" is "5,000" and the "Unit of Measure" is "kilogram."
By far the biggest categories for shipments are to the eastern U.S. states: "From Republic of Iraq to the Unites [sp.] States Eastern Time-Zone – the following States: VT, ME, NH, MA, RI, CT, NJ, DE, MD, DC, NY, PA, VA, NC, SC, GA, FL, WV, MI, OH, IN, KY, GA"
There are 11 such categories:
"Section B.5 Sub-CLIN:85A"
"Section B.5 Sub-CLIN:86A"
"Section B.6 Sub-CLIN:84A"
"Section B.6 Sub-CLIN:85A"
"Section B.6 Sub-CLIN:86A"
"Section B.7 Sub-CLIN:84A"
"Section B.7 Sub-CLIN:85A"
"Section B.7 Sub-CLIN:86A"
"Section B.8 Sub-CLIN:84A"
"Section B.8 Sub-CLIN:85A"
"Section B.8 Sub-CLIN:86A"
Each one of those eleven will receive 30,000 kilograms, under the contract.
In each of the eleven, the products will be going "From Republic of Iraq to the Unites [sp.] States Eastern Time-Zone – the following States: VT, ME, NH, MA, RI, CT, NJ, DE, MD, DC, NY, PA, VA, NC, SC, GA, FL, WV, MI, OH, IN, KY, GA"
That's a total of 330,000 kilograms. That's 727,525 pounds, or 364 tons, which are going from the world's largest Embassy, America's in Baghdad, to America's eastern states.
In addition, around another 1,091,287 pounds are going from the Baghdad Embassy to other locations throughout the world.
The RFP, or Request For Proposal, informs its recipient that "The Contractor shall provide the services for the base period of the contract," but "base period" isn't defined in the RFP. However, the contract does specify that there shall be "a firm fixed unit price for any contract line item number in the Base Year," and therefore the obligations under any contract will continue for at least one year, but possibly longer (if renewed). Furthermore, the "Type of Solicitation" here is not "Sealed Bid (IFB)," but instead "Negotiated (RFP)," which means that the U.S. Government officials who are "Soliciting" these offers will choose whom to request to present an offer; and, if two or more recipients are being approached and make an offer, then the U.S. official will select the winner that he or she prefers, and won't be required to accept the lowest-priced one, but can instead take some sort of kickback, as long as there is no evidence of having done that. It can easily be arranged. Furthermore, private arrangements bond the two parties, even if the arrangement is just a one-time deal, because neither party will want the private arrangement to be made public, and if ever it does become public, then both parties will be revealed as guilty; it'll hurt both parties. Moreover, since any contract may be renewed, the offeror of the contract, which is the Embassy employee, holds the power to affect that — the length of term, and everything that's associated with it, will be controlled by the Embassy's side, and not by the contractor's side. And no matter how brief a contract-term might be, and no matter how many non-Americans might be signing any particular type of contract during any given period of years, none of the private parties will have any motive to make public any kickback. Consequently, there is every motive to keep these arrangements private; and the Embassy employee will always be the more powerful one in any private arrangement that is made with any contractor.
Prior RFPs are also online, for example this one from 16 November 2014. The annual amounts seem to be fairly stable.
On 10 October 2007, while the U.S. Embassy in Iraq was still building, the Congressional Research Service issued to Congress their report, "U.S. Embassy in Iraq", and it said:
The U.S. Ambassador to Iraq (currently Ambassador Ryan Crocker) has full authority for the American presence in Iraq with two exceptions: 1 — military and security matters which are under the authority of General Patraeus, the U.S. Commander of the Multinational Force-Iraq (MNF-I), and 2 — staff working for international organizations. In areas where diplomacy, military, and/or security activities overlap, the Ambassador and the U.S. Commander cooperate to provide co-equal authority regarding what is best for America and its interests in Iraq.
By "Patraeus" it meant David Petraeus. He was the person who designed the torture-system that was applied by his assistant James Steele and used in Iraq to extract from prisoners everything they knew about Saddam Hussein's assistance to the 9/11 event. Petraeus subsequently became a regular participant in the annual meetings of the private and secretive Bilderberg group  of representatives of the U.S. and allied nations' billionaires that constitute The West's Deep State. Prior to that, Petraeus and Steele had organized and instituted in El Salvador that Government's death-squads, to eradicate opponents of U.S. control over that country.
The most corrupt parts of the U.S. Government are usually in the military, because the entire Defense Department isn't audited. It is instead financially an enormous dark hole, even to U.S. Senators and Representatives, and even to the U.S. President. Only members of the U.S. Deep State might have an approximate idea of how much money is getting 'lost' in it. After all, the Deep State isn't, at all, answerable to the public. Since it operates in secret, it can't be. The consequences of the Deep State, however, can become public, and may contradict what is shown in publicly available documents and public statements, which have been circulated, to the public, by the press. In any nation where a Deep State rules, such contradictions, between public assertions and the actual outcomes, are so commonplace as hardly to be even news at all, if and when they appear, at all.
On 2 July 2017, the great investigative reporter Dilyana Gaytandzhieva headlined "350 Flights Carry Weapons Diplomatic for Terrorists", and provided documentation of the U.S. CIA's intricate global network, which secretly "sends $1 billion worth of weapons" through many countries to jihadists in Syria to take down Syria's Government. Iraq was mentioned 6 times in the original publication of her article, and is mentioned 9 times in the 29 April 2018 updated version. That secret U.S. supply of weapons to jihadist groups to overthrow Bashar al-Assad and his secular, non-sectarian, Baathist Party, is a secret operation, just like the U.S. State Department's Baghdad Embassy's operations are, and that Embassy could even be this particular operation's headquarters.
The 200-page, December 2017, study, "Weapons of the Islamic State: A three-year investigation", by Conflict Armament Research Ltd., states in its Conclusion:
IS forces, like most non-state armed groups, acquire significant quantities of weapons and ammunition on the battlefield. … Evidence presented in this report, however, confirms that many of the group's weapons — and notably its ammunition — are newly manufactured, having been delivered to the region since the start of the Syrian conflict in 2011. These weapons originate in transfers made by external parties, including Saudi Arabia and the United States, to disparate Syrian opposition forces arrayed against the regime of President Bashar al-Assad.
Here are just a few of the details that this passage in the summary was based upon and summarizing:
On pages 36-9, it says:
CAR has documented and traced numerous weapon systems in service with IS forces. Many derive from shipments made to the US government, or to entities operating under US government contracts. The United States has acknowledged its support to Syrian opposition forces, orchestrated primarily through resupply from the territories of Jordan and Turkey.26  All of the shipments originated in EU Member States; in most cases, US retransfers (exports made after purchase by the United States) contravened clauses in end-user certificates (EUCs) issued by the United States to EU supplier governments. The United States signed these certificates prior to transfer, stated that it was the sole end user of the materiel, and committed not to retransfer the materiel without the supplier government's prior consent. It did not notify the supplier states concerned before [violating that, and] retransferring the materiel. …
On 21 December 2016, Jaysh al-Nasr, a Syrian armed opposition faction active in the Hama Governorate of Syria, published a set of photographs of its fighters.29  In one of these, Jaysh al-Nasr fighters are operating a 9M111MB-1 ATGW30 bearing an identical lot number and a serial number (365) close in sequence to the one CAR documented (286) in Iraq, suggesting both were part of the same supply chain. …
In May 2015, Syrian YPG forces recovered a PG-7T 40 mm rocket from IS forces near Al Hasakah, Syria, where CAR documented it on 20 May 2015. The Government of Bulgaria confirmed that it exported the item to the US Department of the Army through the US company Kiesler Police Supply. The application for the export licence was accompanied by the original EUC issued by the US Department of the Army (with a non-re-export clause) as well as a delivery verification certificate. The item was exported on 23 June 2014.32 …  CAR has yet to receive a reply to a trace request sent to the United States regarding these rockets.
Page 54 says:
Like the United States, Saudi Arabia has provided support to various factions in the Syrian conflict, including through the supply of weapons. Working with the Bulgarian authorities, CAR has traced numerous items deployed by IS forces to initial exports from Bulgaria to Saudi Arabia. These transfers were uniformly subject to non-retransfer clauses concluded between Saudi Arabia and the Government of Bulgaria prior to export. In this respect, onward retransfers by Saudi Arabia of these weapons contravene its commitments to the Government of Bulgaria not to re-export the materiel in question without Bulgaria's prior consent.
Just like in the case of the Baghdad Embassy's agreements with contractors, the powerful party in any contract will be the party whose side is paying (the buyer), and not the party whose side is supplying the service or goods (the seller). Money always rules.
The CAR report, which was issued just months after Dilyana Gaytandzhieva's report, was entirely consistent with, and largely overlapped, hers. The U.S. and Saudi Governments were not only using Al Qaeda as their main proxy in southwestern Syria to lead the jihadist groups to overthrow Syria's non-sectarian Government, but were also using ISIS in northeastern Syria as their main proxy forces there to overthrow Syria's Government. After Russia's entry into the war on 30 September 2015 on the side of Syria's Government, America's assistance to Al Qaeda in Syria (Al Nusra) continued in order to help replace that Government by one which would be controlled by the Sauds. And America's assistance to ISIS was almost totally replaced then by its assistance to ethnocentric Syrian Kurds in the northeast as the Syrian Democratic Forces, which were fighting against both the Government and ISIS. Russia, of course, was against both Al Qaeda-led jihadists and against ISIS jihadists. (Turkey was against ethnocentric Kurds, because those people want to take a chunk out of four nations: Turkey, Syria, Iraq, and Iran. The CIA edited and written Wikipedia's article on Kurdistan conveniently doesn't even make note of that key fact.)  So: America was using a complex combination in order to take over Syria for the Sauds ultimately to control. But Russia's entry into Syria's air-war on 30 September 2015 has overcome that U.S-led and Saudi financed combination against Syria.
Would any secret facility, anywhere in the world, be better situated to manage that operation, on America's side, than America's Baghdad Embassy?
So, the question then arises: who benefits from this enormous Embassy, and from the Deep State of which it is a part? The American public certainly do not.
Generally speaking, the people who get paid to promote endless wars, such as sellers of the constantly receding (propagandistic) "light at the end of the tunnel", support continuing if not intensifying such wars. Typical is the neoconservative (in foreign affairs) and neoliberal (in domestic affairs) David Bradley, who controls and is the Chairman of Atlantic Media, which publishes the neocon-neolib The Atlantic, and many other public-affairs magazines and websites. His "Defense One" site posted, on 22 March 2018, from its Executive Editor, "The War in Iraq Isn't Done. Commanders Explain Why and What's Next", and closed with "'We need to be very careful about rushing to the exit, and secure this win,' said the senior U.S. military official. 'This is a significant win.'" The "senior U.S. military official" wasn't identified, other than to say that he "spoke only on background." But, of course, George W. Bush had already told the world all about this "win," back in 2003. Salespeople just continue their pitches; it's what they are paid to do, and so they never stop.
The annual military costs alone, for the U.S. to keep being, as its propaganda euphemistically puts the matter, "policeman for the world" (such as, in the Syrian case, by means of those proxy boots-on-the-ground warriors, the jihadists, and the ethnocentrists among Syria's Kurds) are actually sufficient, even on their own, to cause America's soaring federal debt — and that's not a benefit, but an extreme harm, to the public. Future generations of Americans will be paying the tab for this. And the costs for being "policeman for the world" are enormous. Even just militarily, they're over a trillion dollars each and every year.
Though current U.S. Defense Department budgets are around $700 billion annually, the United States is actually spending closer to $1.2 trillion annually on the military when all of the nation's military spending (such as for military retirements, which are paid by the Treasury Department not by the Defense Department) are factored in. The only people who benefit from being "policeman for the world" are the billionaires of the U.S. and (though to only a lesser extent) of its allied countries. And, of course, they pay their lobbyists and propagandists. It's really being policeman for those billionaires, who own and control all of the international corporations that are headquartered in this alliance. The U.S. public isn't paying the tab by any cash-and-carry basis; instead, future generations of Americans will be paying the tab, for today's U.S.-and-allied billionaires. Those billionaires today are the chief beneficiaries. It's all being done for them and their retinues. That's why America's Founders didn't want there to be any "standing army" at all. They didn't want there to be any permanent-war government. They wanted military only for national defense — not for any billionaires' protection or 'insurance policy', or what might actually be publicly paid and armed thugs in service abroad as if they were the nation's armed forces — when, in fact, they are the armed forces for only those billionaires and their servants. America's Founders wanted no military at all that serves the aristocracy. They wanted no aristocracy, at all. They wanted no "standing army" whatsoever. They wanted only a military that protects the public, when a real military danger, from abroad, to the domestic public, exists. Of course, that's possible only in a democracy, but the U.S. is no democracy now, even if it might have been in the past.
On 11 December 2017, Montana State University headlined "MSU SCHOLARS FIND $21 TRILLION IN UNAUTHORIZED GOVERNMENT SPENDING; DEFENSE DEPARTMENT TO CONDUCT FIRST-EVER AUDIT", but the Pentagon's promised audit has failed to materialize. A major accounting firm was hired for the task but soon quit, saying that the Defense Department's books were too incomplete to proceed further. Three days before that article was published, a colleague of that MSU team headlined at Forbes, "Has Our Government Spent $21 Trillion Of Our Money Without Telling Us?"  and said that the answer was yes. All of this 'lost' money was spent merely by the Department of Defense. Just managing the more-than-a-thousand U.S. military bases worldwide requires a lot of money. Any actual war-fighting adds to that U.S. military-base cost — the war-fighting costs are extra. Those military bases etc. are the "standing army." Protection of our billionaires' investments abroad, and of their access to raw materials in underdeveloped countries (such as to manufacture cellphones), is an enormously expensive operation. Basically, the American public are hugely subsidizing America's billionaires. But only future generations of Americans will be paying that debt — plus, of course, the accumulated interest on it.
The Department of Defense isn't the only federal Department that has ever been unauditable. On 18 June 2013, Luke Johnson and Ryan Grim at Huffington Post bannered "GAO Cannot Audit Federal Government, Cites Department Of Defense Problems" and opened: "The Government Accountability Office said Thursday that it could not complete an audit of the federal government, pointing to serious problems with the Department of Defense. Along with the Pentagon, the GAO cited the Department of Homeland Security as having problems so significant that it was impossible for investigators to audit it. The DHS got a qualified audit for fiscal year 2012, and is seeking an unqualified audit for 2013." However, on 17 November 2014, the Washington Post headlined "Homeland Security earns clean audit two years running", and Jerry Markon reported that, "For the second straight year, the Department of Homeland Security has achieved a much sought-after clean audit of its financial statements by an independent auditor." Furthermore: "for nearly all of its first decade of existence, DHS was unable to achieve a clean audit because it had been created by combining 22 federal agencies and components into one massive department. That led to inherent challenges." That wasn't the situation at the Defense Department, which was far different. On 8 December 2017, NPR headlined "Pentagon Announces First-Ever Audit Of The Department Of Defense", and opened: "'The Defense Department is starting the first agency-wide financial audit in its history,' the Pentagon's news service says." However, almost as soon as the auditing team began their work, they quit it, because the Department's books were garbage. Only  the DOD is like that — almost entirely corrupt.
On 2 October 2018, Project Censored headlined "$21 Trillion in Unaccounted-for Government Spending from 1998 to 2015". However, it falsified. It opened: "Two federal government agencies, the Department of Defense and the Department of Housing and Urban Development (HUD), may have accumulated as much as $21 trillion in undocumented expenses between 1998 and 2015." None of that was actually HUD, it was 100% DOD. And all of "the alleged irregularities in DoD and HUD spending" were not merely "alleged," but they were, in fact, carefully checked and repeatedly verified, and were only at DOD, despite what Project Censored published. This inaccuracy is important. If people don't know that DOD is the only unaudited federal Department, then they can't possibly understand why that is the case. The reason it is the case, is that almost all of the "waste, fraud, and abuse" in the U.S. federal government is at  the Defense Department. It has never been auditable. How much do America's 'news'-media report this  reality?
DOD is consistently, year after year, and decade after decade, the federal Department or federal or local governmental function, that Gallup's polling has shown to be more respected by the U.S. public than is any other. (It's identified there as "The military". It beats, for examples: "The Supreme Court," "Congress," "The public schools," "The presidency," "The police," and "The criminal justice system.") The most corrupt isn't the most despised; it is the opposite — it is the most respected.
Secret government tends to be costly for taxpayers, and also tends to add a lot to the governmental debt. An unauditable governmental department, such as the Defense Department is, cannot function, at all, without an enormous amount of corruption. This  is the reality about America's military. However, there's much propaganda contradicting it. The news-media also serve those same billionaires.
How likely, then, is it, that America's Baghdad Embassy serves the U.S. public? It certainly does not serve the Iraqi public. But it does serve the people — whomever they are — who control the U.S. Government. And that's the Deep State. That's the reality, but what's promoted is fantasyland. And this fantasyland, which is promoted, is called "American democracy". Just ask Big Brother, and he'll tell you all about it. He always does.
Author's note: first posted at strategic-culture.org
Compromise and Democracy, Trump's Border Wall and Why Immigrants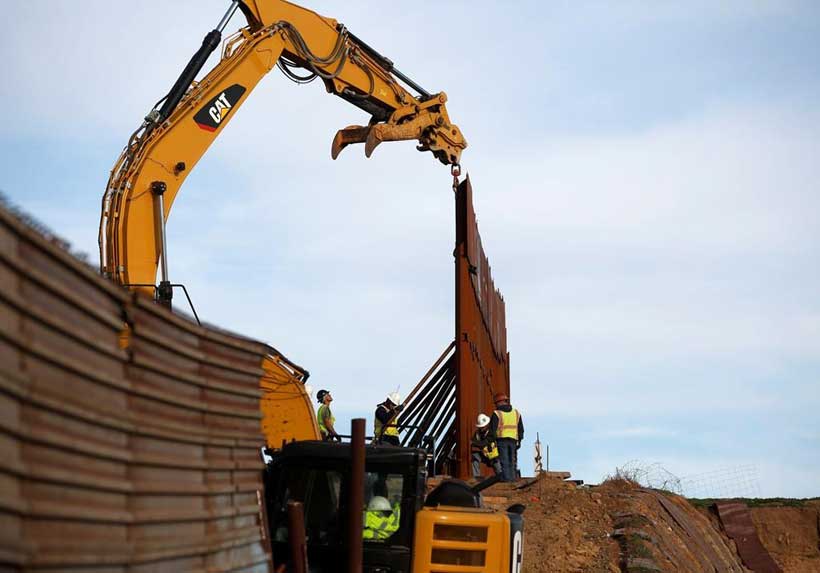 Compromise is the essence of democracy for a good reason.   it is the glue holding it together.  It is how a country can unite after an election; it is when the 51 percent give a little, so the remainder can still feel part of governing; it is when the winning candidate promises to represent all constituents not just those voting for him or her; it is why the Senate requires 60 votes for cloture — a procedure weakened in recent years for nominations, and symptomatic of the antagonism between parties.
The winner-take-all stance only increases resentment as the other side waits for its chance at the helm to do likewise.  Rome suffered the same in the last throes of its republic as parties represented less the demos and more the elite, whose money was relied upon to fight elections — the winners reaping the spoils of power and increasingly ignoring the needs of ordinary people.  One can think of Trump's tax cut for the rich while the country's infrastructure rots.  Of course Mr. Trump already thinks he is Caesar.
So here we are in the midst of a government shutdown, over a border wall characterized by Trump as so vital we are liable to be murdered or robbed any day by a criminal, illegal immigrant … and at the same time we see photos of mothers and children trying to cross over.  The wall costs $5.7 billion and Mr. Trump refuses to compromise, while the Democratic majority in the House has voted a budget without any money for the wall.  The public is divided on their spat.  In the latest poll (Reuters/Ipsos) released Tuesday, 51 percent are blaming Trump for the shutdown (2 percent margin of error) while 32 percent blame the Democrats.  However, a definite majority of Republicans support the president.  There it stands.  No compromise.
The White House is now apparently in preparation to declare a national emergency — not exactly what was intended in the National Emergencies Act of 1976 but Trumpian logic reigns supreme.  Will the declaration be followed by a court challenge?  We have to wait and see.
It might be worth asking why the immigrants keep coming from Mexico and Central America.  Mexican small farmers were put out of business with NAFTA.  Yes, Mexico got the factories just their side of the border so US corporations could reap the benefits of much lower wages while American workers lost well-paying manufacturing jobs.  So stockholders won, but the US has suffered increasing income inequality.  Also US agribusiness won as subsidized corn and wheat were sold to Mexico at prices too low for local small farmers to compete.  Their choice was simple:  starve or trek to the US for a job.  As more came, borders tightened and as borders tightened families could not risk returning after visits, so they stayed.,
Central Americans are often fleeing persecution by newly or recently installed dictators intolerant of labor laws and unions, and coupled to the usual greedy elite.  There are exceptions but not among the countries the migrants are leaving.
Europe, too, is inundated, this time as a a result of America's wars or proxy wars.
Such is the plight of refugees.  A little less greed on the part of our elite, and less paranoia in Israel would help.  So would a little more humanity.