The Mass-Dumbing-Down of America: Donald Trump as the Canary in the Cave of Ignorance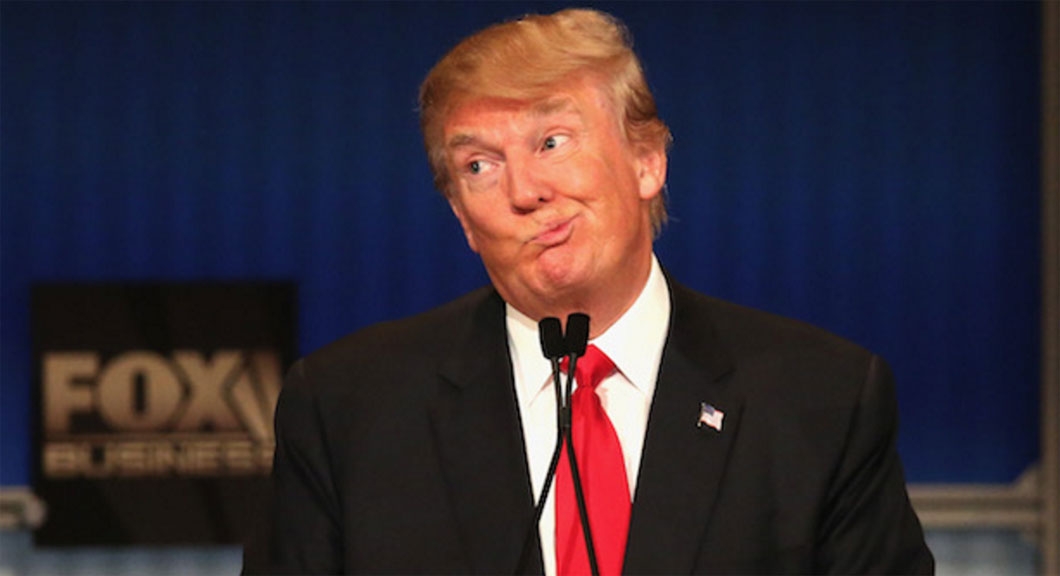 "There is a cult of ignorance in the United States, and there has always been. The strain of anti-intellectualism has been a constant thread winding its way through our political and cultural life, nurtured by the false notion that democracy means that my ignorance is just as good as your knowledge."— Isaac Asimov
The political right in America has been flirting with dangerous ideas for a while now, particularly on issues involving immigrants and minorities. Lately, with the advent of Donald Trump as the leading presidential candidate in the Republican Party, the rhetoric has gotten particularly insane.
To my mind, the most dangerous of those ideas is the idea that democracy means that everybody is entitled to one's own ignorance, even worse, that, to paraphrase Asimov, one's ignorance is as good as one's knowledge.
If you have any doubt about the above quote by Asimov pick up the following recent books on this issue: Anti-Intellectualism in American Life (1964) by Richard Hofstadter; The Age of American Unreason by Susan Jacoby; The Dumbest Generation by Mark Bauerlein; Idiot America by Charles Pierce; American Idyll: Academic Anti-Elitism as Cultural Critique by Catherine Liu. They may convince you that the problem is real indeed. If they do not convince you, you may have grounds to suspect that you have been affected by the general dumbing-down and may indeed be in chain in Plato's cave of ignorance and mere appearances and don't even know it.
The apotheosis of this strange anti-intellectualism which denies even the empirical evidence of science, which Asimov believes has always been integral part of American culture, arrived lately with the bizarre phenomenon of Donald Trump, who in many ways has become an icon for the millions of people who follow him as a savior of sorts and consider anti-intellectualism a sign of liberty and free speech. The question arises: How did we descend this low? The short answer is this: by the dumbing-down of the general population. Trump is nothing less than the proverbial canary in the coal mine: a sign that the oxygen of liberty and democracy is diminishing precipitously, and not only in America, but globally, especially in the West which has always been proud of democracy's invention together with the concept of freedom. Alas, rabid nationalism and even fascism are returning with a vengeance. We seem to be back to square one in the early 30s, brown or black shirts strutting about parading their patriotism. One begins to wonder if World War II was an exercise in futility after all.
But let us explore in some detail what is the essence of this dumbing-down. Let us begin by examining the ecological catastrophe we are currently experiencing well into the 21st century. Time is running out despite the recent Paris Conference on Climate Chance which may mitigate somehow the impending catastrophe but we are hardly out of the woods yet; that will only happen if urgent action follows the empty rhetoric. As it is, the totality of destructive damage that transnational corporations have perpetrated against all forms of planetary life has destroyed the eco-systems of thousands upon thousands of animal and plant species. Of the five times that life on earth has become massively extinct in the past, we humans are rapidly causing the sixth great cycle of mass extinction and the first and fastest due to manmade effects in the form of rising global air and water temperatures and over-polluted water, air and soil. The dead zones across the planet are spreading faster rates of extinction amongst plant and animal life than at any prior time in the earth's known history.
I checked those facts with my elder daughter who is finishing up a master in ecology and the environmental science, and she assures me that such is indeed the case. The facts are there for anybody to digest if one believes in truth. Destruction of our living habitat and eco-system carries perhaps the most damning, ultimate dumbing-down effect that the oligarchs of our brave capitalistic world of the ilk of Donald Trump and company, have caused. But then they no doubt have laid out their own contingency plan utilizing a hidden technology that can save them when the lights go out on mother earth for the rest of us lowly expendables.
Indeed, the powers that-be in the United States have been systematically dumbing-down Americans as a society for a very long time – all by calculated design. Originally the term dumbing-down was used as a slang expression in 1933 by film screenwriters to mean "revising [the script] so as to appeal to those of lower education or intelligence." It actually began as a concept with the oil tycoon John D. Rockefeller who declared that we don't need a nation of thinkers but a nation of workers, that is to say, we need automatons who enrich the elite class and don't do much thinking for themselves, or anybody else.
The most obvious example of how Americans have been dumbed-down is through this nation's failed public education system. At one time not that long ago America reigned supreme as a leading model for the rest of the world providing the best quality free public K-12 education system on the planet. But over the last many decades while much of the rest of the world has been passing us by, it seems an insidious federal agenda has been implemented to condition and brainwash a population of mindless, robotic citizenry that simply does what it's told, and of course the brainwashing commences early.
As a pawn to the military industrial complex, the US government has chosen permanent war over its own people. One can count a minimum of six major wars in the 20th century, not to mention the minor covert ones all over the globe. This misguided decision to opt for power rather than knowledge and wisdom, has decimated the middle class and created a college educated indentured class struggling in heavy debt to find any means to stay afloat. With an outsourced, now vanished manufacturing base, upward mobility and the American dream have become tragic casualties of modern life.
After centuries of carefully orchestrated design, oligarchs of the banking cabal have finally gotten what they've been plotting and scheming, globally enforced austerity and impoverishment reducing life in America and around the world to near Third World status, and absolute control. The oligarchs are counting on a dumbed-down population too busy addicted to their video games or watching sports or Kim Kardashian's latest wardrobe malfunction to even notice that a longtime oligarch eugenics plan is already well underway. The fact that a Donald Trump is in the lead for his party's nomination as the next president of the US speaks volumes by itself.
But this dismal outcome has long been in the making on many fronts. Over numerous decades a grand experiment engaging in social engineering with America's youth has been steadily working to homogenize a lowest common denominator product of sub par mediocrity, creating generations of young Americans who can neither read nor write, nor think for themselves in any critical manner. According to a study last year by the US Department of Education, 19% of US high school graduates cannot read, 21% of adults read below 5thgrade level and that these alarming rates have not changed in the last ten years. Has anybody noticed that the debates or the Republican party are now conducted with language at the fifth grade level, complete with bullying and clownish body language and vituperations? They are not for enlightenment but for amusement and distraction. They resemble more a circus than a deliberative dialogue.
The international test results from the 2012 PISA indicate American students are lagging behind virtually all developed nations even more than in the past. China topped all 65 nations while US teenagers again scored at or below average in math, reading and science. That is because the current educational system is no longer about learning the basic A-B-C's but simply cranking out a subclass of work force laborers. Some concerned educators have dubbed the current education system as "limited learning for lifelong labor." That is to say, education has become training for a job and acquisition of practical skills, and consequently it is no longer education educating holistically the whole man.
But this planned system of a New World Order (NOW) featuring a planned global economy and a planned global education system has been promoted for well over a century now. The Carnegie Foundation outlined its explicit roadmap for absolute oligarch control way back in the 1930's. Department of Education whistleblower Charlotte Iserbyt exposed the conspired downfall of America's educational system in her well documented chronicle The Deliberate Dumbing Down of America. She demonstrates that even national sovereignty gets subordinated to world authority.
The heavy focus of public education today is primarily limited to standardized test performance and the proliferation of privatized charter schools complete with private contractors teaching the tests, usurping the authority at all levels from state, to local communities, to individual teacher's lesson plans, to home schooling parents, largely replaced by instructional software programs.
This lopsided war between fascist run propaganda schools brainwashing a Brave New World youth and the local school boards, teachers and parents battling for their lives to maintain what little choice they still have left with their children is yet another pathetic cautionary tale of what the oligarch agenda is doing to destroy America today.
Instead of encouraging the gifted by teaching to their strengths, too often they are responded to punitively by either overly frustrated and/or rigid, authoritarian adults bent on maintaining some semblance of control. The one size fits all cookie cutter system stifles learning, cognitive and intellectual development and creativity, rewarding those who acquiesce and simply do what they are told as good little boys and girls on their way to being good little employees and citizens who are so easily manipulated, controlled and subdued. They become the lifeless, walking dead who merely go through the daily motions on autopilot, too beaten down, numb and/or fearful.
A substantive quality education should teach the curious developing mind to be critical and discriminating, willing to ask questions, challenging the status quo of preconceived suppositions and accepted dogma. With an educational system that purposely misinforms and indoctrinates young people to respond as Skinnerian rats to a positive reinforcement schedule of operant conditioning, children as future adults are being shaped and programmed to become little robots easily controlled by their oligarch masters.
Another primary means of dumbing down America is through mass media. If the public is busily preoccupied with the superficial garbage spoon-fed to the masses every single day via television, movies, music, internet, video games that all act just as effective as the most potent drug dulling the senses and the brain, again an enormous control over the population is achieved and maintained. Here again Donald Trump is the perfect icon: politics reduced to entertainment. When asked where he derived his knowledge of the facts from, Trump answered "the TV shows."With so much entertainment as the modern day opiate to the masses to divert people's attention, these weapons of mass distraction easily render people oblivious to see what is really happening in the world. We are all being numbed and dumbed.
This too is another form of calculated brainwashing, mind control as well as behavior control that the media as vehicles of propaganda and disinformation constantly utilize. The constant 24/7 sensory bombardment that media puts on humans is one highly effective means of control over both culture and population.
Currently an incredible near 70% of all Americans are taking at least one prescription drug. Between the multibillion dollar alcohol and tobacco industries and the multibillion dollar Big Pharma industry, these corporate entities wield colossal amounts of power in America, buying off politicians, spending billions on advertising, often times killing people whose addiction overpowers them.
Rampant drug addiction in US society becomes yet another very effective means of control over millions of humans who struggle daily with their very real demons. The number of deaths related to drug overdose has jumped 540% since 1980. And whatever collateral damage results from those who die as well as those who engage in criminal activity to support their habit, with both a privatized prison industrial complex and privatized medical system, again the only profiteers feeding off the misfortunes of the afflicted are that same power elite.
The same damage and dumbing down-effects are only added on when considering the detrimental and often lethal effects that chemically processed foods, chemical and hormone injected meat products, genetically altered organisms (GMO's) and pesticide-ridden foods, not to speak of fluoride treated water, that virtually the entire American population consumes on a daily basis. The masses are poisoning themselves to death with built up toxins in their bodies.
In conclusion, after this brief excursus into the byways of mass-dumbing-down, perhaps we can agree that what is most disturbing about Donald Trump is not who he is, for one cannot teach an old dog new tricks, but the obvious evidence, that the ones who think like him and follow him devotedly are legions. That spells disaster even for a democratic society with constitutional checks and balances. Will the canary in the cave of ignorance save us? That would be a silver-lining to be greatly hoped for, but there are no guarantees and democracy may indeed perish in the cave of ignorance together with the witless canary. Time will tell.
Author's Note: this article has previously appeared on December 19, 2015 in Ovi Magazine
Decoding Pompeo's words at US senate
The CIA Director Mike Pompeo, who is nominee for Secretary of State, has recently mentioned meaningful words in his hearing at the Senate on Iran and the nuclear deal. In his words, he acknowledged that Iran was not after nuclear weapons even before the nuclear deal, nor will be in the future.
On the other hand, he has announced that he is seeking to fix and correct the nuclear deal with Iran! This is while the US President Donald Trump is scheduled to announce his final decision on Iran's nuclear deal by May 12. "I want to fix this deal," Pompeo said. "That's the objective. I think that's in the best interest of [the United States]."
At his recent Senate hearing, Pompeo has emphasized that as CIA Director, he didn't find any evidences that Iran has violated the nuclear deal. At the same time, he believes that Tehran can't expand its program shortly after the US withdrawal from the nuclear accord. He emphasized that his goal is to correct the nuclear deal with Iran. Pompeo said:
"If there's no chance that we can fix it, I will recommend to the president (Trump) that we do our level best to work with our allies to achieve a better outcome and a better deal," he said. "Even after May 12, there's still much diplomatic work to be done."
A simple decoding of Pompeo's remarks suggests that, despite the opposition to the nuclear accord, he is trying to deal differently with this issue as the future US Secretary of State. Some analysts also believe that Pompeo has adopted such an approach to face the US Senators' relative opposition to the White House's withdrawal from the JCPOA (Joint Comprehensive Plan of Action).
In any case, according to Pompeo, Donald Trump may not make a final decision on the nuclear deal with Iran on May 12, and he will continue to consult with his European allies on what he calls "fixing the flaws of the JCPOA".
Pompeo's remarks indicate that the White House hasn't come to a determined and clear decision on how to deal with the JCPOA yet. On the other hand, numerous consultations by representatives of the four countries, the United States, France, Britain and Germany, continues in silence.
Western sources have argued that these countries are consulting on the three controversial issue, namely "the Sunset clauses", "limiting Iran's missile power" and "extensive inspections of Iran's military sites". These sources claimed that the only remaining disagreement between the four countries is over deletion of the so-called Sunset clauses from the nuclear deal, and thus putting permanent limitations on Iran's nuclear program.
Pompeo is currently the CIA director, and ironically, he was one of the foremost critics of the Iran nuclear deal when he served as a House Republican from Kansas. Trump fired Secretary of State "Rex Tillerson" over the raised disagreements, and picked Pompeo as his successor in March, just two months before the deadline on May 12 to decide whether to bring back sanctions that former President of the United States waived when the JCPOA was first implemented.
Before this, many Western politicians and analysts saw the nomination of Mike Pompeo for secretary of state by Trump as a sign of Washington's withdrawal from the nuclear deal. Beyond that, John Bolton's appointment as US national security advisor also sent a clear message to the international system that Trump is about to pull out of the nuclear deal with Iran.
John Bolton is now silent about the fate of the JCPOA! The silence seems very meaningful at the current time. It's obvious that John Bolton is one of the main opponents of the nuclear deal with Iran, and he doesn't even believe in negotiating with the European Troika on maintaining the JCPOA.
The important question, however, is whether Bolton's silence reflects the continuing paradoxical and vague approach of the US towards the JCPOA? Or did Trump ask him to be silent in this regard and wait for the final results of their talks with Europe?
American senators still don't have a clear picture of Trump's final decision about the JCPOA. Meanwhile, some Republican senators like "Rand Paul" and "Jeff Flake" are worried about the costs and consequences of Trump's decision to refuse joining other members of P5+1.
Most US senators tried not to mention the nuclear deal with Iran in their speeches during recent weeks. This is while some senators such as "Tom Cotton" and "Ted Cruz" strongly encourage Donald Trump's government to pull out of the nuclear deal with Iran.
First published at our partner Mehr News Agency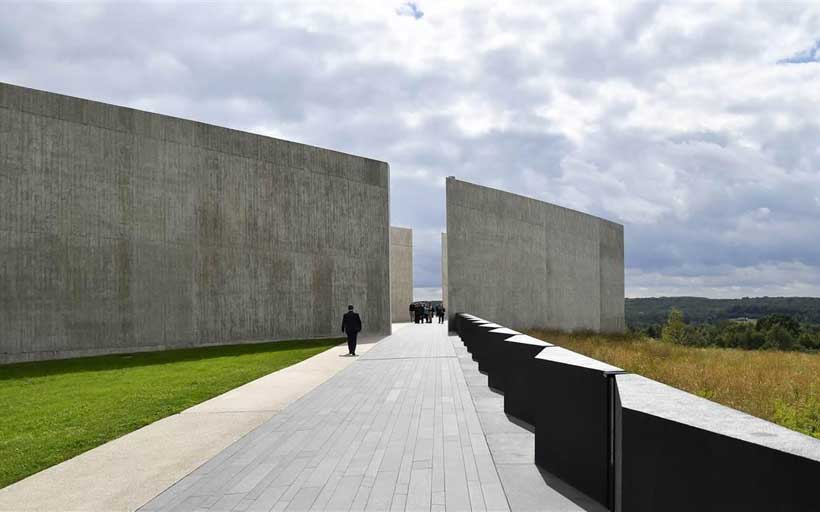 Did you know that Vice President Dick Cheney admitted that on 11 September 2001 he, as President George W. Bush's brief stand-in during the 9/11 attacks that hit the World Trade Center and the Pentagon, issued an order (and it was carried out) to shoot down United Airlines Flight 93 while it was in the air near Pittsburgh? If what he said at the time was true, then the standard 'historical' account of the plane's having been brought down as a result of action by the passengers, would be concocted, not history at all.
Here is the video-clip of V.P. Cheney on 9/11, making this claim and explaining why he gave that order: 

The Wikipedia article on Flight 93 provides the standard account, and fails even so much as just to mention the Vice President'a assertion and explanation that he provided on national TV at the time of the 9/11 events.
So: I edited the Wikipedia article by adding a sentence at the end of its opening paragraph, and by following that sentence with a brief second paragraph, and here is that entire two-sentence addition:
Vice President Dick Cheney alleged that he gave the order to shoot down Flight 93, and explained why when asked about it by Chris Wallace of Fox News as shown in this film-clip
Consequently, the account given below of what brought the plane down — an account inconsistent with what Cheney said — could be entirely false. 
On the web browser that I was using, the addition showed as having been successfully made in the Wikipedia article. However, to be sure, I opened the URL in a different browser, and this time my addition was absent. I then went back to the "Edit" page" and this time to the "View history" page, and clicked there on "(talk)" and found this message, which I saw virtually immediately after I had thought that I had inserted the new information:
Hello, I'm Shellwood. I wanted to let you know that I reverted one of your recent contributions —specifically this edit to United Airlines Flight 93— because it did not appear constructive. 
No other explanation for blocking my addition was provided. "Shellwood" was there saying that mentioning, and linking to the video of Cheney saying, that allegation, which Cheney made on 9/11 about how Flight 93 came down, is not "constructive" to Wikipedia-readers who want information about Flight 93.
Previously, even the BBC published the fact that Wikipedia is edited by the CIA.
Anyone who reads the present article is hereby welcomed to try making the same addition to that Wikipedia article, and I hope that one of the readers here will be able to get it accepted by the editors of that site, so that Wikipedia can be made at least moderately trustworthy, on at least that one article. Perhaps if enough people try, then Wikipedia will come to recognize that Wikipedia's modus operandum isn't merely a very successful system of propaganda, but that it's also something of a PR problem for Wikipedia, which they'll need to do something about, if they're to be able to survive (or at least retain their credibility) at all. Blocking inclusion in an article, of a fact that disproves part of the 'history' (and here the most important part) which is told in that article, is unacceptable in anyone's eyes.
As of today, April 20th, the Wikipedia article on Flight 93 does make one, and only one, mention of Cheney:
Vice President Dick Cheney, in the Presidential Emergency Operations Center deep under the White House, upon learning of the premature crash, is reported to have said, "I think an act of heroism just took place on that plane."[2]
The link there, [2], goes to a CNN article, likewise published on 11 September 2001, which likewise presents Cheney as saying that he ordered the shoot-down of Flight 93:
After the planes struck the twin towers, a third took a chunk out of the Pentagon. Cheney then heard a report that a plane over Pennsylvania was heading for Washington. A military assistant asked Cheney twice for authority to shoot it down.
"The vice president said yes again," remembered Josh Bolton, deputy White House chief of staff. "And the aide then asked a third time. He said, 'Just confirming, sir, authority to engage?' And the vice president — his voice got a little annoyed then — said, 'I said yes.'" 
The phrase that Wikipedia is quoting from Cheney, "I think an act of heroism just took place on that plane," appears later in that CNN article, out of context, when one of Cheney's aides attributes the statement to Cheney, but, since CNN provided no context for it, no reader can intelligently interpret what it had been referring to, if, in fact, the aide did say that Cheney did say it.
Wikipedia grabbed that out-of-context, possibly apocryphal, Cheney-statement, and constructed their 'history' of the plane's crash, upon it, despite the fact that Cheney, on 9/11, clearly stated that he had ordered Flight 93 to be shot down, and that the order was executed — in other words: despite the fact that Wikipedia's account of what brought that plane down is incontrovertibly false, even on the basis of the most reliable evidence that Wikipedia itself links to on that matter. Such a 'history' is fiction.
So: any reader at the Wikipedia article who clicks onto its sources, can easily know that though the Wikipedia article presents a 'history' in which actions by passengers onboard Flight 93 caused the plane to crash there, that 'history' is fake, not at all real (though some allegations in that Wikipedia article might happen to be true).
This means that only readers who click through to sources can even possibly come anywhere near to knowing anything that's at all reliable about the history of our time. And, of course, the longer that any event recedes into history, the more immovably fixed the lies become as being 'history'. We live actually in a world of lies. If modern 'history' is fake, then ancient 'history' is even more so. What about the Bible? What about even recently written 'history' books?
If Wikipedia is the best that 'the market' can come up with for 'a free press' in a 'democracy', then democracy isn't at all possible. Something vastly better than this is definitely needed. What's displayed here isn't democracy at all: it's merely 'democracy'. This means that all of the military invasions by 'democratic' countries (such as America), against other countries, are the actions by dictatorships, not actions against dictatorships (as is always claimed).
So, it's actually rather easy to document that 1984 — the reality, and not merely the novel — has, indeed, arrived, in our time.
However, at least in our time, we possess — for the very first time in all of history — the ability to access, merely a click away, an allegation's actual source, at least in articles such as the present one (since all sources here are linked). The people living in ancient times who were not themselves aristocrats (the people making the key governmental decisions) were unalterably 100% vulnerable to being deceived by aristocrats' and clergies' lies, deceived into doing whatever those decision-makers wanted to manipulate them into doing — such as "fighting for God and country!" Unfortunately, the percentage of today's people who care enough to be skeptical of whatever other people are trying to sell, and to dig deeper than the mere assertions, even just to click onto a link, is too tiny for democracy to be able to function. Unless they become the majority, "democracy" will remain merely a word, not yet even near to being the reality, anywhere.
That, for example, explains why, despite common realities such as this, "74% [of Americans] view Israel favorably, vs. 21% for Palestinian Authority". In order for the national aristocracy to control its mass of voters, it must first deceive its mass of voters; and, in America, they're deceived, and have been so, for decades, at least.
Poll Shows Americans Support the Invasion of Syria – What they Misunderstand About that War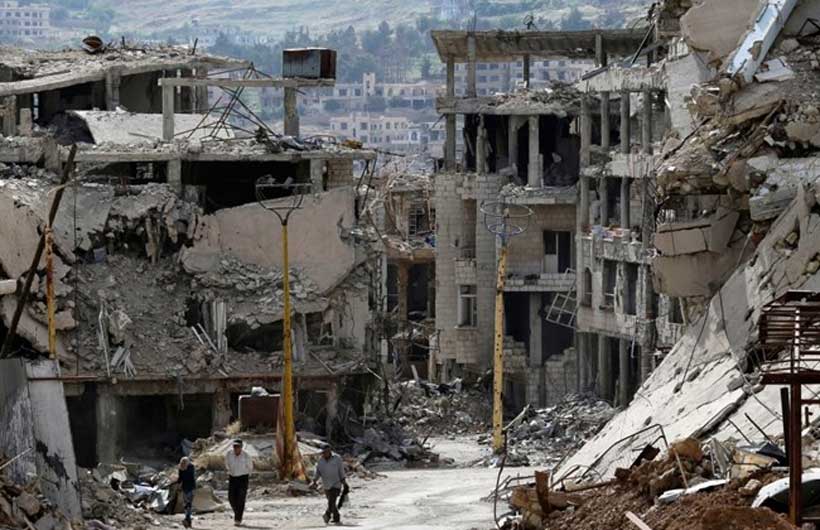 The first even marginally trustworthy poll of American "registered voters" regarding the April 14th U.S.-and-allied missiles-invasion of Syria, shows an overwhelming 66% supporting the invasion (36% "Strongly" and 30% "Somewhat), and only 23% opposing (8% "Strongly" and 11% "Somewhat").
When the 1,995 U.S. registered voters were asked further, in this Morning Consult / Politico poll, "How confident are you that the airstrikes in Syria will prevent the Syrian government from using chemical or biological weapons again?" only 30% are "confident" (8% "Very" and 22% "Somewhat") and 57% are not (21% not "at all" and 35% "not too"). Obviously, all of the 30% who are "confident" on that are also believing that the Syrian government has been "using chemical or biological weapons" and the 57% who aren't "confident" are expecting the Syrian government to continue using such weapons; but the only other option that the pollster offered was "Don't know / No opinion" and perhaps any respondents who disbelieved the U.S. government's allegations that the Syrian government has been using such weapons would have to be among the 12% who said "Don't know / No opinion" (or else such respondents would have quit answering at that point, which was 3 questions into a 7-question poll: the stupid polling organization excluded even the possibility that a respondent believed the Syrian government's denials that it had used such weapons — that's how little consideration was offered regarding even the merest possibility that this invasion had been punishment of a non-guilty nation by guilty invaders: zero).
This invasion, like the one a year earlier, occurred when the U.S. and its allies said that Syria was guilty but didn't provide any evidence of that, and when Syria and its allies said that those charges were lies and that the 'rebels' whom the U.S. and its allies supported had actually set up the incident in order for the U.S. and its allies to invade and overthrow the government. These invasions were lawless — based upon no legal process other than brute accusations, like in any common lynching or other mob-'justice'.
The fact that this poll did not show close to 100% contempt by the American people regarding what the U.S. government and its two allies, UK and France, had just done, indicates not only that the American people are astoundingly ignorant that the U.S. and its allies are international outlaws and warmongers (which makes sense for a nation that invaded and destroyed Iraq 2003, Libya 2011 and has been trying to do it since 2011 in Syria), but that they are also astoundingly misinformed as to which side in this war is guilty, and which side is not. (Hint: It's certainly not Assad, who is simply defending Syrian sovereignty over Syrian territory.) According to the standards that were set in place by the Nuremberg Tribunals following World War II, in which invasions for any other purpose than national self-defense are war-crimes, it's not only the lie-based invasion and destruction of Iraq 2003, and the 2011 invasion and destruction of Libya, that constitute international war-crimes — there's simply no power that's enforcing international law: not policing, not prosecuting, not judging, and not legislating, at all, any such thing. The international outlaw regimes, U.S. and its allies, are simply international gangsters, and the American public overwhelmingly are bored about the whole thing, don't really care whether they are the Nazis of today (and the U.S. government is even proud to be it, not only under Trump, but under Obama before him — all accepted, not resisted in any way, by the American public).
Poll-findings like this implicate the American public, and not only the American government, in such mega-crimes. Even the clear-cut national experience of having been lied into Iraq 2003 hasn't taught the American people that we live in a gangster-regime. And now this regime has destroyed even the last vestiges of the authority that the U.N. once had.
Ironically, the core voter-base for the war-criminal U.S. President Trump seem to have strongly opposed the latest invasion. But, to judge from this latest actual poll in the matter, the American public strongly supports that invasion. Apparently, Americans can't learn from even the most blatant experiences, such as having been lied into destroying Iraq in 2003 — a country that, like Syria, and like Libya, had never attacked, nor even threatened to attack, the U.S.