Piercing the shield: A leaner and meaner Russia beyond nuclear strategies
Authors: Dr. Matthew Crosston & Troy Baxter
Russia's history as a nuclear state is extensive and well-documented. It was the second country in the world to acquire nuclear weapons (after the US) and since that point it has been the world leader in stockpiled nuclear weapons. The only other nation to remain in close contention was the US and it was estimated to have some 10,000 fewer nuclear warheads than Russia at each nation's respective stockpiling peak. Russia has historically placed a significant emphasis on nuclear power and nuclear deterrence as a primary deterrent strategy since it first acquired the capability.
This was best exemplified during the nuclear stock-piling frenzy of the Cold War, where nuclear weapons were acquired at a rate that will likely never be seen again, and more recently with its declaration that it has the capability to punch through the US missile defense system. Yet, despite Russia's historical comfort and reliance on nuclear power as a deterrence strategy, the end of the 20th and beginning of the 21st century saw Russia moving away from strict nuclear deterrence. Treaties such as START I, II, SORT and the New START, which all worked to reduce nuclear stockpiles in the US and Russia, indicated that a trend towards disarmament, coordination and cooperation was the new norm taking over in place of the old one of confrontation, competition and mutually assured destruction. Happily, to some it seemed that a shift in the Russian defense ideology was taking place: from the old hat concept of nuclear deterrence to the new one of slow but steady disarmament and international cooperation. Such an assessment of Russia's defense ideology, however, has now been all but dismissed, as it was recently revealed that Russia has already started dispersing missile defense penetrating technology throughout its military and plans on developing new types of such weapons moving forward. This declaration is saying very publicly that Russia does not consider nuclear deterrence to be an old hat concept. In fact, the nation is saying very loudly and deliberately that nuclear deterrence is as relevant as it's ever been and that it is intent on protecting its geostrategic realm of operations, just perhaps with a leaner and meaner face that is accentuated by nuclear and non-nuclear means.
The US and NATO have been progressively encroaching further into Russia's geostrategic areas of operation and the discussion of a NATO missile defense system has only narrowed the gap further and caused greater Russian consternation. The fear for Russia is that the installation of this missile defense system, which has largely been spearheaded by the US, would significantly reduce its nuclear deterrent capabilities in its very own backyard. However, the US claims the defense system is being put in place in order to counter the potential Iranian and North Korean nuclear threat and that it is not set up in order to defend against a nuclear arsenal the size of Russia's. This may very well be true in logistical or strict military terms, but it fails the perceptional conventional wisdom scratch test: you cannot propose to have missiles in Eastern Europe to 'defend against Iran ONLY' and expect the Russian side to believe it.
Russia does, as previously mentioned, have a massive stock pile of nuclear weapons. The American limited missile defense system would be incapable of defending against an all-out nuclear warhead blitzkrieg. Moreover, it would be short-sighted of the US to believe that a nation as historically skeptical as Russia with a leader as historically Machiavellian as Vladimir Putin would blindly accept this explanation as fact and move on, particularly as Iran and North Korea continue to cooperate in nuclear arms control talks with the UN (though unevenly). It certainly appears as if the US is positioning itself to undermine Russia for reasons other than what it has stated publicly. In any event, this potential subversion is not a fact lost on Vladimir Putin and this has no doubt contributed to the continued strain in US-Russian relations.
These relations are arguably at their lowest point since the height of the Cold War. The conflict in Syria has only served to exacerbate them. Both nations are still engaged in the conflict (despite a Russian 'partial' withdrawal) and appear to be cooperating in the bombing campaign against DAESH. This cooperation, however, has not been free of tension and criticism. Russia appears to be engaged in the conflict largely in order to show its strength on the international stage and loosely-tied claims of stopping DAESH in Syria hurts potential radical Islamist movements in Southern Russia. Russia doesn't just want but needs to be seen as an equal player to the US, which is why the nation wasted no time dropping bombs in Syria a mere 24 hours after it received political approval from the Russian parliament. Ultimately, Russia wants a say in what happens in the region next. It wants the ability to weaken the US presence in the Middle East. This is a higher priority than many first surmised, which was why it deployed a significant military force to Syria despite a sluggish sanctions-hit economy and subsequent depreciating currency. Russia has shown that it is willing to make significant military and financial commitments to Syria in order to protect its geopolitical interests in the area, regardless of the fact that it may be unsustainable economically over the long-term.
It is clear that Russia has not been swayed by the allure of disarmament and international cooperation to such a degree that it is willing to abandon coincident strategies that still push its national and global interests. The nation is still firmly entrenched in its belief that the US must be 'managed' at all times. By all indications the US firmly believes in the same strategy about Russia, as it continues to try and gain the upper hand across several different arenas and strategies. The fact that the proposed missile defense system can also be repurposed as an offensive system, if needed, only adds to the strategic concern for Russia. Russia is fully aware of the US' geostrategic intentions to continue moving into what Russia considers its regional spheres of exclusivity. This is arguably what compelled Russia to move military forces into Syria – not just strategic objectives but PERCEPTIONAL ones.
What this says is two things. First, that both the US and Russia are still firm believers in the maintenance of old school rivalry, even under situations where they share the same objective (like defeating DAESH). Second, Russia is willing to continue to aggressively protect its geostrategic interests even if it means significant risk to itself. Some might call that the Russian penchant for irrational foreign policy behavior but it is also fueled by a strong Machiavellian logic bent on balancing American power by any, and multiple, means necessary. The apex of concern for Russia is that a world powered by American influence unchallenged is an unhealthy world for Russian visions of the future. That influence, even if it cannot be stopped entirely, has to be rivaled and compromised, whether it is politically, diplomatically, or militarily. Its deployment of a military force in Syria weakened this American influence to the point where it is almost impossible to imagine today how any Syrian conclusion will emerge that is fully endorsed or governed by American ideas alone. And that, in the end, may be the most important 'victory' for Russia in this. In the old days of nuclear deterrence, piercing the shield was a purely physical military consideration. Today, that concept has expanded and been enriched by new Russian thinking. And that, moving forward, may be the biggest concern for America.
Why At Least Two Nuclear Super-Powers Are Essential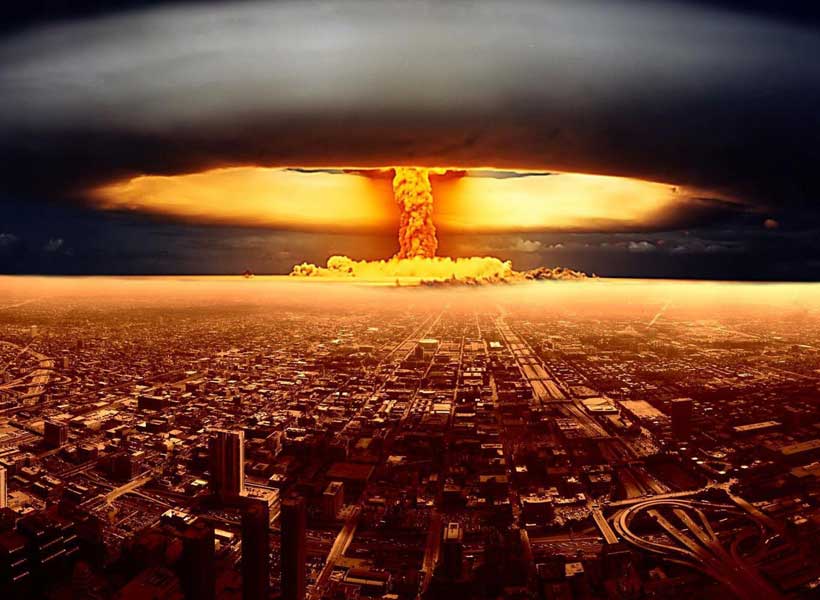 My distinguished colleague at Strategic Culture Foundation, Federico Pieraccini, has recently argued that "nuclear-armed powers decrease the likelihood of a nuclear apocalypse", and this is a response to that:
Obviously, if there were no nuclear-armed powers, then the possibility of a "nuclear apocalypse" would be zero; so, that statement is false on its very face. However, in a carefully modified form, I agree with something not too far different from it; and here is that form:
In the nuclear-weapons era, at least two nuclear super-powers are essential in order for there to be any realistic possibility of warding off a nuclear apocalypse, global annihilation.
Here, the concept of "nuclear super-power" is absolutely core (merely "nuclear-armed power" is not): a nuclear super-power is a nation that possesses second-strike capability, the ability to retaliate so effectively against a nuclear attack from any other nuclear power so as to annihilate that attacking country, even though this responding power might be annihilated by the attacking one.
As I have documented in prior articles (such as here), the United States, ever since at least 2006, has been virtually officially pursuing the goal of achieving "Nuclear Primacy" so as to be able to 'win' a nuclear war and conquer Russia — the prior military geostrategic system, called Mutually Assured Destruction or "M.A.D.," being ended on the American side. (Russia's Vladimir Putin says that it had actually ended when U.S. President George W. Bush made the — as was brilliantly explained here — "decision in 2001 to withdraw from the Anti-Ballistic Missile Treaty, and the bipartisan failure by both the Bush and Obama administrations to engage meaningfully with the Russians over their concerns about American missile defenses."
However, I have argued that, in essence, the U.S. regime had already made the decision for nuclear primacy and secretly imposed that decision upon its allied or vassal-regimes as being henceforth the U.S. side's aim, back on 24 February 1990, and that decision was made by George Herbert Walker Bush but has continued ever since. Putin is politic; so, he needs to filter what he says through a political screen, in which he refers to the United States as being a 'partner,' which I — myself an American and no politician at all and not representing any country at all — do not need to do.
Whereas the U.S. regime has been committed for a long time to achieving nuclear primacy (regardless whether it's since 2006, or since 2001, or since 1990 — the initial decision was actually made on 24 February 1990, and has merely been in its execution-phase on the American side from that time till now), Russia has been responding to that decision as best it has been able to. A crucial effort on the part of Russian President Boris Yeltsin in the 1990s to deal with it produced the so-called "NATO Founding Act," but the U.S. regime trashed that in 2016. President Putin recognized as soon as George W. Bush trashed the ABM Treaty, that unless Russia would somehow block the U.S. from achieving nuclear primacy (if any side even is capable of achieving nuclear primacy now or in the future), then a surprise intended planned nuclear first-strike against and annihilating Russia would be the outcome (given the U.S. regime's by-then clear record on the matter); so, he has carefully worked, ever since that time (2002), so as to not only block it, but, finally, on 1 March 2018, announced to the entire world, that Russia is now able, reasonably and with evidence, to say that Russia is securely in a position so that if the United States attempts a surprise nuclear attack against Russia, then the United States will also be annihilated.
What is crucial here, during the nuclear-military age, is that there be at least two nuclear super-powers, not just one.
As I have argued elsewhere under the heading "The Three Global Suerpowers": "There are currently three global superpowers, three nations that lead the world: China, Russia, and US." However, this is true regardless of whether or not China is a nuclear super-power (I don't think it is), because China is clearly a leading economic power, and may come to lead above the United States in other fields as well. In economic matters, the trend-lines are watched with at least as much and close attention as are the absolute or current numbers, and China, in any case, is clearly one of the three global super-powers already, regardless of whether it's a military super-power.
What, then, will be the result if China comes to be a third nuclear super-power? The problem, if any, is not whether there will come to be a third nuclear super-power: the problem is whether there will, ever again, be a nuclear super-power that is attempting military conquest of the entire world. This was the point that Putin was making in his March 1st speech.
first published at strategic-culture.org
Why Super-Rich Rush to Buy Nuclear-Proof Bunkers
The rush amongst the super-rich started after the key event of 2014; this single stunning event suddenly sparked that rush by the super-rich to buy nuclear-proof bunkers, and the rush has been nonstop since that event. Though many news-media in The West have reported on the existence of this suddenly booming market for luxurious and supposedly nuclear-proof bunkers, none has reported on what actually caused it — the event that had sparked it. In fact, that event is still a secret in The West — not publicly mentioned here; it is, practically speaking, banned from being publicly even mentioned, in The West. So: since that event is necessarily mentioned in this article, and is even linked-to here, so that the reader can see videos of it that were posted of it online while it was happening, and there is even "smoking gun" evidence showing government officials actually planning it, and covering it up, and blatantly lying about what they had done, this report, explaining why the super-rich rush now to buy nuclear-proof bunkers, violates that ban. As a consequence, probably none of the hundreds of major news-media in The West that this news-report is being submitted to for publication, will publish it. But perhaps a half-dozen of the small ones will publish it. After all: a few small news-media cannot have much impact. The government and media don't need to fool everyone in order to succeed, but only to fool the vast majority of people. (However, maybe now they don't any longer even need to continue worrying about public opinion, at all. So: maybe they no longer need to continue such bans. But they do continue them, perhaps simply out of institutionalized bad habit.)
Wherever you're so fortunate as to be reading this: here is the reason why the market for luxurious deep-underground nuclear-resistant bunkers has so suddenly blossomed:
In February 2014, an extremely violent, and US-engineered but 'democracy'-masked, coup in Ukraine on Russia's very doorstep, was successfully culminated by its overthrowing Ukraine's neutralist and democratically elected leader, and then by its installing there a rabidly anti-Russian government, out for Russian blood, just like Hitler had been, and, in fact, strongly inspired by him, in many ways, including an ethnic-cleansing campaign. Within less than a month, Russia responded to that coup by accepting the still predominantly Russian Crimea back into Russia. (Crimea had been part of Russia until the Soviet dictator had arbitrarily transferred it to Ukraine in 1954.) For Russia's having done that, US President Barack Obama (and America's foreign vassals) slapped economic sanctions against Russia and mobilized NATO troops and weaponry onto and near Russia's borders — as if they wanted to out-do 1962's Cuban Missile Crisis, which they are doing, but in reverse direction (against not America, but, this time, against Russia).
Ever since that singular 2014 event — that coup (which destroyed Ukraine) — the hottest market amongst the super-rich has been nuclear-resistant bunkers deep underground: such as here, and here, and here, and here, and here, and here, and here, and here, and here, and here, and here, and here, and here, and here, and here, and here, and here, and here, and here, and here, and here, and here, and here, and here.
I think that the three best of these articles about luxury nuclear bunkers, are this (with the best pictures of one of these facilities) and this (with the best commentary about the entire phenomenon), and this, which discusses the increasing number of builders of these facilities. Some billionaires, however, are instead moving to New Zealand.
So: ever since 2014, private planning to survive a nuclear war is the most booming field amongst the super-rich. This is a real-estate market that no ordinary person could afford to buy into. These people are either principals themselves in the aristocracy, or else prime agents for them and thus likewise extremely wealthy and already well on their own personal ways to entering the aristocracy — the aristocracy of extreme wealth. They're thus all well-connected; they've got the best contacts and sources inside governments. And, since 2014, they are rushing to prepare: to prepare for a nuclear war.
If these people aren't well-informed about the global situation, then no one is. And they're investing accordingly. Lots of people invest in stocks, bonds, gold, etc, but only the richest few can afford to invest in nuclear-resistant bunkers, and that's where the boom nowadays especially is, amongst only the super-rich. (We're not talking here about high government-officials; they've got their Spartan nuclear bunkers long-since paid for by US taxpayers; but these are all just private and extremely wealthy individuals.) Maybe their attitude is: if you've got three-or-more homes, then at least one of them should be designed for the post-WW-III world and near enough to your main home so that maybe you can reach it before any missiles will be flying.
A nuclear war between US and Russia would be over within less than 30 minutes, start-to-finish; so, there won't be any time to plan if the nuclear phase of the NATO-v.-Russia (plus, maybe China) war appears to be imminent — waiting that long in order to depart for one's private bomb-shelter would already be too late. A quick 'vacation' to the secret location would thus necessarily be of the unplanned sort, which means that the system by which the owner will reach the spot, needs to be operational 24 hours every day, and needs to be maintained continuously, until — if and when — the nuclear exchange starts. Therefore, these facilities have airports and helicopter-access, and are continuously staffed, so that the richest people in the US and its allied countries, can arrive there at any moment's notice and receive the full range of services that they are accustomed to.
Any of these billionaires and centi-millionaires could have chosen instead to establish (either alone or in combination with one-another) the first foundation or other propaganda-operation to publicize the fraudulence of the US-and-allied case for sanctions against Russia, and the fraudulence of NATO's continuing assertions after 1991 that it's a 'defensive' military alliance (it's no longer that, at all), and the fact (contrasted against that fraud) of NATO's being nowadays purely an alliance for aggression against Russia and China, as if the Cold War had never ended (and it never really did end except on the Russian and Chinese side, which now recognize that the US and its allies had lied in 1990); so, all of these billionaires rather buy private nuclear-bomb shelters, than establish a foundation to expose to the public the US side's apocalyptic lies, which actually cause the danger that's heading to destroy the entire world.
America's own leading scientists on strategic weaponry have recently (on 1 March 2017) documented that the US nuclear-weapons-modernization program against both Russia and China is "planning to have the capacity to fight and win a nuclear war by disarming enemies with a surprise first strike." Obviously, only the most-insiders of insiders will know in advance about this "surprise first strike." (Otherwise, it wouldn't be a surprise, and the advantage of being the first to attack will be gone.) However, nuclear-proof bunker-space is presumably so limited so that the people who are buying these few spots will be amongst those few. (Of course, high federal officials will be taken care of elsewhere.)
Ever since at least 2006, America's Establishment — its billionaires and their agents — have been virtually unanimously and actively supporting the abandonment of the "Mutually Assured Destruction" concept that had long dominated nuclear thinking on both sides (not only on the Soviet and continuing under the Russian side, but also on that of America and its NATO military alliance) and have been replacing that paradigm, the "M.A.D." paradigm (which has staved off WW III ever since 1945). They replaced it by the US-NATO paradigm (ever since at least 2006) of "Nuclear Primacy," in which The West's nuclear weapons are to be used not to stave off WW III, but instead so as to achieve 'victory' in an actual US-v.-Russia nuclear war. Ever since 2014, US-and-allied military moves cannot be coherently explained on any other basis than that the US and NATO are planning a blitz nuclear attack against at least Russia — and perhaps also against China.
Clearly, whoever are buying these luxury-pads for the post-apocalypse, are hoping for a NATO 'victory' in WW III, and are certainly not favorably inclined to preventing that armageddon, which they know is based on lies (unless they're too stupid to be able to distinguish between their own propaganda versus the actual historical reality, which is documented in the links here, which links show that any decent billionaire in The West would instead be publicly exposing the horrific fraud that's perpetrated by all of themselves, not trying to protect themselves from that fraud's immediate global consequences).
Unfortunately, these people are the ultimate "conformists." It's clear by their 100% unity on this. They've become so gated-community, one-way-glassed, that they've no concern remaining (if they ever did) for the billions of people (not to mention entire planet) that they're placing into the severest form of danger: global annihilation. Instead, their only concern (quite evidently) is to be 'winners'. (Like I had said at that last link: "In military parlance, the side that suffers the less harm is the 'winner', regardless of any other factor. That's the basic reality of military strategy: it's inevitably win-lose, not win-win." However, M.A.D. was the first-ever exception to that strategic principle; and, now, it's gone — as of 2006 in US, and by now also in Russia (if not also in China). M.A.D. is gone; it's been replaced by a real insanity, which is clearly psychopathic and clearly pervasive amongst the super-rich: "Nuclear Primacy".
The psychological reality that had long staved off a WW III is completely gone. And the people who have caused it to end are now buying all these nuclear bunkers for themselves.
In a rare exception to the unanimity of the US aristocracy's voices regarding what's behind this change (which cause is the stifling nazi or racist-fascist ideology at the top in America), the capitol-hill newspaper, The Hill, allowed to be published on 9 November 2017, an article — even with numerous links to high-quality sources — titled "The reality of neo-Nazis in Ukraine is far from Kremlin propaganda". An indication of just how extraordinarily thorough the takeover of the US Government by nazis has become, is that both under President Barack Obama and under President Donald Trump, the US has been among the only 3 countries (in Obama's case) and the only two countries (in Trump's) that officially stood up at the United Nations in support of nazism, even of its Holocaust-denial. On both occasions, Ukraine joined with the US on that vote. On one occasion, Canada also did (thus being the third). This scandal was virtually entirely ignored in the Western 'news' media.
This is the world we are living in today. How many 'news' media are reporting this reality? How many have reported it? Just one billionaire standing out from the pack, so as to reach the masses with these truths, could make a whole world of difference. But, instead, perhaps they're all just buying nuclear bunkers, so as to be amongst the few 'winners', in a war on behalf of the global regime that represents, actually, only themselves.
This is the catastrophe of our times.
First published at strategic-culture.org
5 Missile Test in Two Months: India's Attempt to create Credible Minimum Deterrence in South Asia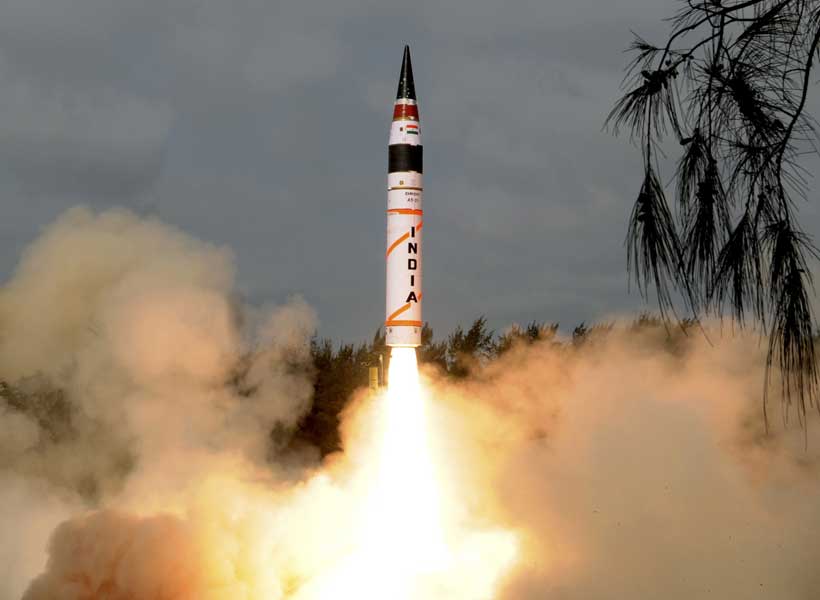 In 2018, the world is more concerned about nuclear issues that the Trump administration is generating whether it is regarding fast growing capabilities of North Korea or infamous Nuclear Posture Review by residing government in Capitol Hill. The focus of all nuclear issues around the globe is the US, which is of the view that its total inventory of 6800 nuclear warheads is not enough to deter North Korea whose total stock of nuclear weapon is not more than 2 dozen.
With all the limelight on the US, continuous and rapid nuclearization by South Asian dark horse is ignored completely. May be this ignorance is a pathway provided to India, to sail freely in the ocean of arms buildup to seize every possible opportunity. India is also not shy of taking advantage of deliberate ignorance of international community on arms race in South Asia. It is improving its nuclear arsenals inventory with rapid speed before Trump administration loses its charm of capturing wider attention. By giving hype to Trump administration's foolish ideas many international issues of significance are sidelined which requires a lot more attention and efforts for greater peace. One of the most important issues is arms race in South Asia and inability of conflicting parties to control it.
Year 2018 is also not very different for South Asia's nuclear pattern, that started two months ago and so far, one side has tested 5 missiles including 4 nuclear capable missile tests and one anti-tank missile tests. This series of test was started by India with rather big explosion by testing its intercontinental ballistic missile Agni V. Agni V is a three-stage solid fueled missile with an estimated operational range of 5,500 to 5,800 km. it is capable of carrying 1,500 kilotons of nuclear payload and is declared as an Indian attempt to strive for credible minimum deterrence against China. Since 2012 it was the fifth time Agni V was tested; it was a developmental test to induct ICBM into operational service.
After the test of ICBM Agni V in January 2018, India tested three more nuclear capable missiles in the month of February. On 6th February 2018, Agni-I which is a short range ballistic missile was test fired by India's Strategic Force Command at annual training cycle to test the operational readiness of India's missile force. Range of Agni-I is 700 to 900 km and can be armed with 1000 kilograms of conventional or nuclear payload. After testing its long range and short-range missile systems India was not satisfied with the effect of these tests and went further ahead with some more display of its credible minimum deterrence. On the very next day of testing Agni-I, India test fired third nuclear capable ballistic missile of 2018. This time India's weapon of choice was surface to surface short range tactical ballistic missile with 350 km range which is single stage, liquid fuel missile capable of carrying 500-1000 kilogram of nuclear or conventional payload and is already in service since 2003.
Then on February 20, 2018 India again tested it's another nuclear capable ballistic missile Agni-II which is medium or intermediate range from Integrated Test Range on Abdul Kalam Island in Bay of Bengal. Agni-II is a two stage, solid fueled with estimated range of 2000-3000 km which can carry conventional or nuclear warhead of 1000 kilogram. Agni-II is considered as a backbone of India's land based deterrent force. Thus, it is road, rail mobile and according to media reports entire trajectory of trial was tracked with sophisticated radars, telemetry observation stations and two naval ships located near impact point in the down range area of Bay of Bengal.
After tests of nuclear capable ballistic missiles ranging from ICBMs to short range, it was not enough and India went one step ahead in display of credibility of its nuclear arsenals and tested its third generation anti-tank guided missiles in desert condition against two tanks.
Testing its nuclear arsenals to display the credibility of its nuclear deterrence to ward off the enemy is the right of every state. However, India's display of its nuclear capability in such massive and fast manner must not be compared to credible minimum deterrence. As on India's part testing all kinds of nuclear missiles and hurrying to operationalize them is the quest for credible deterrence rather than credible minimum deterrence. When India's former National Security Advisor, Shivshankar Menon mentioned in his book "Inside the Making of India's Foreign Policy" that India's nuclear doctrine is much flexible than it is given the credit for, was right. So, even after testing 5 missiles India is linking credible minimum deterrence to military ambitiousness and declaring that these threats are its lowest possible efforts in response to the two tier threat originating from China and Pakistan
Alarming in this regard is silence of international community that is preoccupied with issues Trump administration is causing to seek attention. Moreover, lack of interest by international spectators to resolve the issues in South Asia is triggering the arms race in the region. Another significant aspect of conflict resolution approach suggested by international scholars is the imposition of a lot of conditions on Pakistan which is not a sensible approach for attaining peace and stability as peace and stability are hardly acquired on the basis of discrimination.