Piercing the shield: A leaner and meaner Russia beyond nuclear strategies
Authors: Dr. Matthew Crosston & Troy Baxter
Russia's history as a nuclear state is extensive and well-documented. It was the second country in the world to acquire nuclear weapons (after the US) and since that point it has been the world leader in stockpiled nuclear weapons. The only other nation to remain in close contention was the US and it was estimated to have some 10,000 fewer nuclear warheads than Russia at each nation's respective stockpiling peak. Russia has historically placed a significant emphasis on nuclear power and nuclear deterrence as a primary deterrent strategy since it first acquired the capability.
This was best exemplified during the nuclear stock-piling frenzy of the Cold War, where nuclear weapons were acquired at a rate that will likely never be seen again, and more recently with its declaration that it has the capability to punch through the US missile defense system. Yet, despite Russia's historical comfort and reliance on nuclear power as a deterrence strategy, the end of the 20th and beginning of the 21st century saw Russia moving away from strict nuclear deterrence. Treaties such as START I, II, SORT and the New START, which all worked to reduce nuclear stockpiles in the US and Russia, indicated that a trend towards disarmament, coordination and cooperation was the new norm taking over in place of the old one of confrontation, competition and mutually assured destruction. Happily, to some it seemed that a shift in the Russian defense ideology was taking place: from the old hat concept of nuclear deterrence to the new one of slow but steady disarmament and international cooperation. Such an assessment of Russia's defense ideology, however, has now been all but dismissed, as it was recently revealed that Russia has already started dispersing missile defense penetrating technology throughout its military and plans on developing new types of such weapons moving forward. This declaration is saying very publicly that Russia does not consider nuclear deterrence to be an old hat concept. In fact, the nation is saying very loudly and deliberately that nuclear deterrence is as relevant as it's ever been and that it is intent on protecting its geostrategic realm of operations, just perhaps with a leaner and meaner face that is accentuated by nuclear and non-nuclear means.
The US and NATO have been progressively encroaching further into Russia's geostrategic areas of operation and the discussion of a NATO missile defense system has only narrowed the gap further and caused greater Russian consternation. The fear for Russia is that the installation of this missile defense system, which has largely been spearheaded by the US, would significantly reduce its nuclear deterrent capabilities in its very own backyard. However, the US claims the defense system is being put in place in order to counter the potential Iranian and North Korean nuclear threat and that it is not set up in order to defend against a nuclear arsenal the size of Russia's. This may very well be true in logistical or strict military terms, but it fails the perceptional conventional wisdom scratch test: you cannot propose to have missiles in Eastern Europe to 'defend against Iran ONLY' and expect the Russian side to believe it.
Russia does, as previously mentioned, have a massive stock pile of nuclear weapons. The American limited missile defense system would be incapable of defending against an all-out nuclear warhead blitzkrieg. Moreover, it would be short-sighted of the US to believe that a nation as historically skeptical as Russia with a leader as historically Machiavellian as Vladimir Putin would blindly accept this explanation as fact and move on, particularly as Iran and North Korea continue to cooperate in nuclear arms control talks with the UN (though unevenly). It certainly appears as if the US is positioning itself to undermine Russia for reasons other than what it has stated publicly. In any event, this potential subversion is not a fact lost on Vladimir Putin and this has no doubt contributed to the continued strain in US-Russian relations.
These relations are arguably at their lowest point since the height of the Cold War. The conflict in Syria has only served to exacerbate them. Both nations are still engaged in the conflict (despite a Russian 'partial' withdrawal) and appear to be cooperating in the bombing campaign against DAESH. This cooperation, however, has not been free of tension and criticism. Russia appears to be engaged in the conflict largely in order to show its strength on the international stage and loosely-tied claims of stopping DAESH in Syria hurts potential radical Islamist movements in Southern Russia. Russia doesn't just want but needs to be seen as an equal player to the US, which is why the nation wasted no time dropping bombs in Syria a mere 24 hours after it received political approval from the Russian parliament. Ultimately, Russia wants a say in what happens in the region next. It wants the ability to weaken the US presence in the Middle East. This is a higher priority than many first surmised, which was why it deployed a significant military force to Syria despite a sluggish sanctions-hit economy and subsequent depreciating currency. Russia has shown that it is willing to make significant military and financial commitments to Syria in order to protect its geopolitical interests in the area, regardless of the fact that it may be unsustainable economically over the long-term.
It is clear that Russia has not been swayed by the allure of disarmament and international cooperation to such a degree that it is willing to abandon coincident strategies that still push its national and global interests. The nation is still firmly entrenched in its belief that the US must be 'managed' at all times. By all indications the US firmly believes in the same strategy about Russia, as it continues to try and gain the upper hand across several different arenas and strategies. The fact that the proposed missile defense system can also be repurposed as an offensive system, if needed, only adds to the strategic concern for Russia. Russia is fully aware of the US' geostrategic intentions to continue moving into what Russia considers its regional spheres of exclusivity. This is arguably what compelled Russia to move military forces into Syria – not just strategic objectives but PERCEPTIONAL ones.
What this says is two things. First, that both the US and Russia are still firm believers in the maintenance of old school rivalry, even under situations where they share the same objective (like defeating DAESH). Second, Russia is willing to continue to aggressively protect its geostrategic interests even if it means significant risk to itself. Some might call that the Russian penchant for irrational foreign policy behavior but it is also fueled by a strong Machiavellian logic bent on balancing American power by any, and multiple, means necessary. The apex of concern for Russia is that a world powered by American influence unchallenged is an unhealthy world for Russian visions of the future. That influence, even if it cannot be stopped entirely, has to be rivaled and compromised, whether it is politically, diplomatically, or militarily. Its deployment of a military force in Syria weakened this American influence to the point where it is almost impossible to imagine today how any Syrian conclusion will emerge that is fully endorsed or governed by American ideas alone. And that, in the end, may be the most important 'victory' for Russia in this. In the old days of nuclear deterrence, piercing the shield was a purely physical military consideration. Today, that concept has expanded and been enriched by new Russian thinking. And that, moving forward, may be the biggest concern for America.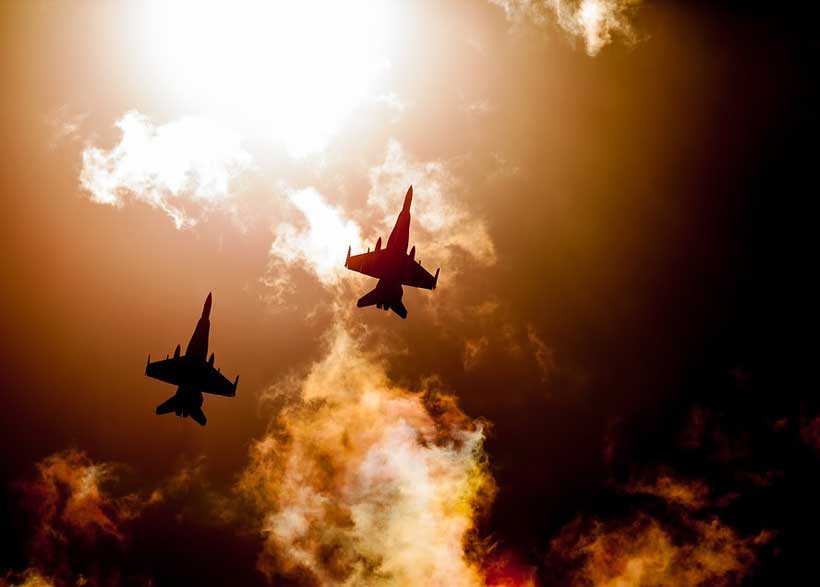 Twentieth century was a century of great events and developments in every part of human life. The century is marked by the deadliest wars, deadliest weapons and unprecedented interconnectedness. The destructive power of A-bombs and the interconnectedness that transformed world into a global village infused traditional wisdom of conflict resolution with great confusions. New conflicts demanded new solutions. Globalization transformed the traditional theatre of conflict; war.
War in twenty first century has acquired a whole new character. State which was once the almighty Leviathan has lost its monopoly over violence, its erosion of monopoly over violence from globalization transformed the character of war. Wars of today are not fought between states rather there is network of state and non-state actors which includes mercenaries, private security companies, hired thugs etc. Globalization has unleashed a plethora of problems by undermining state sovereignty. Globalization which was supposed to encourage cosmopolitan politics and cooperation ended up creating more divisions.
Mary Kaldore, professor at London School of Economics, is among the scholars who have acknowledged the impact of globalization on the character of war. In her book, New and Old Wars: Organized Violence in a Global Era, she highlights this change in character of war. Highlighting the difference she wrote that new wars are different from old wars because of who fight these wars, for what reason these wars are fought, how these wars are financed and the way these wars are fought. Old wars were fought by states, financed by states, were waged for ideological purposes and battles were the defining character. However, in new wars; actors are networks of state and non-state actors, which are to a greater extent privately financed and direct confrontation between opposite forces is rare. Kaldor is of the view that this change in character of war is caused by globalization. Kaldor is of the view that this transformation is a consequence of globalization and disintegration of state.
Along with globalization, clash of symmetrical opponents can destroy the world. Advent of nuclear weapons has changed the traditional military logic. In fact, any war according to old military logic is simply not beneficial anymore. War between nuclear powers will leave neither party at benefit. Since the costs of such victory cancel the benefits it holds. Avoiding direct war serves the political interest better than waging one. This change in military logic is evident from the change in tactics of wars of today. Today's wars are fought through Guerilla and counter insurgency tactics are the tactics. Majority of the conflicts involves one state and one or more than one non-state actor. These are battles between wolves and shepherds where wolves attack the flock while shepherds try to save the sheep.
However, it is not the change in military logic and innovation of new types of weapons that have transformed the character of war. Rather transformation in politics is the defining element of this change. Politics of 'new wars' is Identity politics which is very different from politics of old wars. Old wars were largely driven by ideological politics whereas new wars are driven entirely by identity politics. In words of Professor Kaldor, "identity politics is about right to power in the name of a specific group whereas ideological politics is about winning power in order to carry out a particular ideological programme". Globalization prompted groups to securitize their identity. War for these actors is either a mean for keeping their identity or claiming in lands in the name of that identity.
Another dimension of problems caused by globalization for the concept of war is proliferation of capitalism. The ideas of capitalism and free market motivated such actors who saw potential for profit in war. These actors established private security firms and were up for grab for the highest bidder. Companies like Titan and Blackwater are profit-maximizing companies whose only motivation is the accumulation of wealth. These institutions induced the concept of war with further complexities and legitimacy of violence further degenerated. These developments underline the need for a new conceptualization of war. To address these complexities and set the basis for future exploration, Kaldor defines war as a "mutual enterprise" rather than a "contest of wills". The reason illustrated by Kaldor is that the latter makes the elimination of enemy the ultimate objective of war whereas former suggests that both sides are interested "in the enterprise of war rather than winning and losing for both political and economic ends". Although it is very difficult to discern what means one employs for what ends, the protracted conflicts all around the world and the industry which these wars fuel paints a different picture a picture very close to the concept of war as mutual enterprise rather than a contest of wills.
War in nuclear age, where symmetry in capabilities will, eventually, lead to MAD, cannot have the same character it once had. Mankind frightened by the destructiveness of these weapons and compelled by their natural instinct to clash is trying to fight the new wars with new weapons according to old principles. This is commendable but not practical as this undermines the capabilities of new weapons by considering them just another weapon of war. Concepts of limited war show the appreciation of this reality. There political, technological and economical developments highlight the need for evaluation of old ideas and encourage the need for new ideas. As the aphorism goes "modern problems require modern solutions", wars of today are modern and they require modern solutions as the traditional ones are not adequate enough.
SCO: Potential and Challenges to Regional Integration
The modern system of the world is facing the state of imbalance as it passes through the phase of change and evolutionary development. Globalization has emerged as a main trend in international relations and deepens the interdependency between countries of the world. The rapid increasing interdependency contributes for countries to get close one another and to protect their interests. The desire of extending economic and trade activities, access to capital market and the contracts for investment are encouraging countries to work together and to cooperate. The cooperation for economic activities, trade, transportation, information, communication and transmission are making the countries and regions unite.
Regionalization has emerged as a new form and process of interaction among the countries of the world. Many countries are striving to establish a system of cooperation with their neighbors to enhance their potential and also to facilitate each other for solution regional issues. Thereby, the regionalization has taken diverse form of regional integration including the establishment of multinational regulatory system and flexible model of cooperation and partnership in different areas and at different levels. The Shanghai Cooperation Organization (SCO)is an outstanding example of regionalization and hybrid and new mixed model of interstate multifaceted cooperation.
SCO established in 2001 to meet the objectives of regional security and stability. Since the establishment the organization continued evolutionary path of multifaceted and multilateral cooperation. It does not desire to achieve a specific target level of collaboration, but it move systematically along the path of finding the common attribute in resolving the regional issues. The SCO also has potential of unique perimeters, new opportunities and directions of further development in the areas of security, economics and other mutual interests. The organization comprises of 43 percent of world population and 25 percent of global GDP. Similarly, it covers 80 percent area of Eurasia. Although the Shanghai Cooperation Organization is a young organization than the other international associations but it has the ability to achieve mutually beneficial solution of political, economic and security issues and it also leads to accumulation of unresolved issues of the region. However, the size never conflates with influence and effectiveness. In fact, the SCO is also facing hamstring by major regional economies and powers with their own interests in the region and mistrust between member states.
The Shanghai Cooperation Organization is often stated as a club of autocrat powers. The members follow the principle of noninterference in the internal affairs of other states. However, China and Russia adhere this principle rhetorical basis but not in reality. Both the countries have history of interference and violence of neighboring countries. The member states rely on the principle to push back at Western and local civil society effort to promote responsible governance, human rights and democratic norms in the region. Since the formation, the organization holds a broad goal of fighting against terrorism, extremism and separation. Furthermore, the convention of the Shanghai Cooperation Organization invokes the principle of United Nation charter to help clock the organization's founding document with international legitimacy identifying all three equal threats to state security, public order and the safety of citizen. The member states also have commitment to share information about terrorist activities and threats and to make request to act against individuals or organization. Subsequent declaration of the Shanghai Cooperation Organization and agreements of the member states have simply added to the list of principles and their responsibilities. Since the surveillance of new technology the member states moved beyond the simple method of information exchange to best practice of monitoring and tackling.
On the other hand, the Shanghai Cooperation Organization has had very little achievements to strength domestic security despite the convergence of member states. The RATS (Regional Anti-Terrorism Structure) based in Tashkent Uzbekistan has been coordinating to combat these three evils Terrorism, Extremism, Separation). The RATS provides a platform and services to member states particularly Central Asian States of Kyrgyzstan and Tajikistan for sharing intelligence but it made very little progress. Furthermore the RATS shares intelligence with member states but the terrorist threats are increasing.
Since the SCO framed, the high hopes of diplomatic relations, effective economic and security cooperation were made by the founding members. It was also expected that the organization may bring regional cohesion to Central Asia and it would create great opportunities for the regional states of mutual trade and economic activities, and it will lead towards security promotion of the region. The founding partners of the SCO had ambitious plan for the transforming the organization in to a cohesive bloc with political and economic integration. There was also a hope that the organization may counter influence of EAEU and CSTO and will maintain its own influence in the region. But Russia wanted to dilute Chinese influence within the organization by advocating its expansion in to south Asia and other neighboring states.The SCO has organized many joint military exercises and efforts but could get any significant level of achievements because they were symbolic and political moves. To encounter any kind of security crisis and military operation in the region, there is a need of political logistical and operational system. For example during the unrest in Kyrgyzstan in 2010, the organization delivered an anodyne statement for peace; security and stability, additionally, China and Russia were hesitating to get involved. While, the other states and powers tried to play their role to tackle the crisis.
China and Russia are the primary drivers of the Shanghai Cooperation Organization but have different visions for this organization. Although they share common interest of regional stability within the organization but at the same time their geopolitical interests pull them in different directions. These differences are a big question mark, how the organization would achieve their objective and would evolve? Russia thinks of SCO as a security to prevent encroachment by outside powers NATO, UE and United States, and also a tool to maintain its geopolitical domination on the region and less than a partnership in Central Asia.
Since the post-cold war, the economic imbalance has increased between China and Russia. China is increasing its economic influence in Central Asia while Russia is worrying about its security issues. Moscow hopes that the Pakistan and Indian including in Shanghai Cooperation Organization may bind Beijing to more work for the security and stability of the region than to enhance its own economic influence in the region. As the issues of uncertainty in Afghanistan, Pakistan-India confrontation and instability on China-India border are a clear threat to the interests of all member states. China is also suspected about the Russian ability to act as the security manager in an area where china has invested and is investing billions of dollars. On the other hand, Beijing may not be able rely on extra regional powers to secure and prevent Central Asia from the security deteriorated environment. However, SCO has not made any mechanism or approach to play a decisive security role in Afghanistan post withdrawal United States and NATO force.
China thinks that economic activities and investment can mitigate instability. Shanghai Cooperation Organization also a tool to promote Chinese soft power and economic influence in Central Asia. Therefore, Beijing has been continued its investment in the region and through OBOR and SCO. Although the Central Asian States are receptive to these Chinese overture but they are also keen to prevent SCO to become an anti-western bloc because the states feel the need of Western powers to counterbalance their powerful neighbors. Moscow already has upended its relationship with West over the Ukraine issue, thus, in these circumstances; Russia has no other choice to acquiesce Chinese increasing economic influence in the region. Moscow may pull itself from the Chinese efforts to multiply its security role in the region. The current clash on border between China-India put Russia in to awkward position. Russia does not like tension between China and India but it suggests dialogues and appears to have little interest mediating. Russia never wanted that China convert SCO in to an economic and trade bloc while China never wanted that Russia transform the organization into a military alliance. It is hard to imagine that Shanghai Cooperation Organization may be able to deliver its original goals eradicate extremism, terrorism and separation through mutual cooperation because it appears with the major focus on economic integration across the Eurasian region.
Now the Shanghai Cooperation Organization is coexisting with other regional initiatives like OBOR, AIIB, CSTO and EAEU. Both China and Russia have expressed their intentions to work within these institutions. Since the formation, the SCO is facing many structural and organizational challenges. All members have their own interests and values of independence and sovereignty, which are difficult to reconcile with collective security particular Pakistan and India, China and India have mutual mistrust and all Central States also have territorial issues with one another.
Possibility of an alliance in Sino-Russian Relations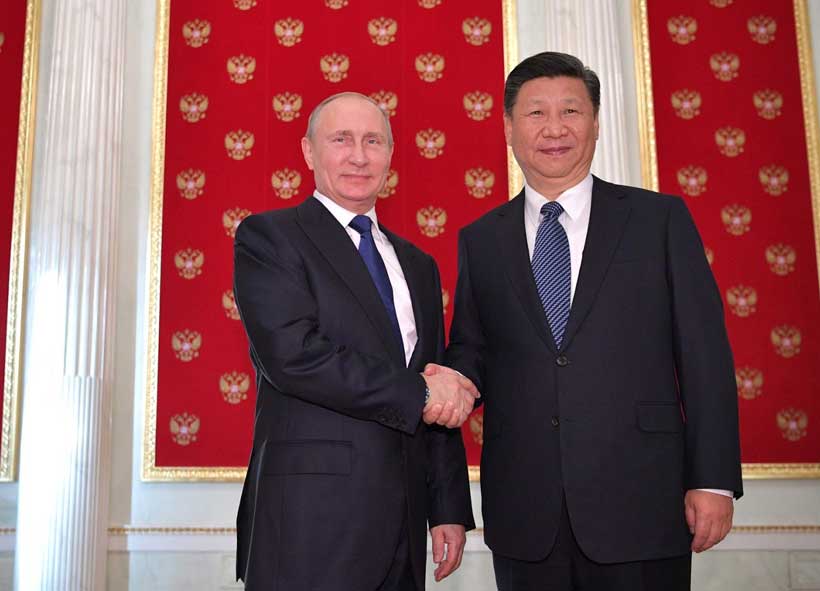 The defense ministers' meeting of NATO member states was held in video format a few days ago (17/2/2021). During the period, the discussion focused on the topic of "China-Russia threat" and believed that a "global approach" should be adopted to curb China-Russia expansion." At the same time, this meeting also attracted widespread attention from outsiders.
Senior Russian researcher, Vasily Kashin published an article in which he emphasized that when there is a risk of military conflict with the United States, China and Russia should immediately form a military alliance. And share the missile early warning data collected by themselves.
According to the article, Sino-Russian military technology cooperation has always been quite secretive, and because Russian companies have participated in the development of China's ballistic missile early warning system, China and Russia are fully able to establish data sharing on this basis and establish their own global Missile defense network. Russian media subsequently reported on it and said that Russia has repeatedly proposed the formation of a Sino-Russian military alliance, and even President Putin himself has conveyed the idea of ​​an alliance with China.
It should be noted that the containment and suppression of China and Russia by Western countries do not stop there. To provoke the territorial sovereignty of China and Russia, US aircraft and warships have already on the doorstep of China and Russia, carrying out under the banner of freedom of navigation (FON).
Intensive reconnaissance activities, this behavior has seriously threatened the national security of China and Russia but also undermined global peace and stability. To build a global encirclement of China, the United States is also actively wooing other countries to join its anti-China front in an attempt to reorganize the eight-nation coalition forces to contain China.
It can be said that Western countries are pressing on with China and Russia step by step. As the US continues to escalate its suppression, the security situation around China and Russia will deteriorate again in the future, and the two sides may even break out head-on conflict.
Faced with the complex situation in the Indo-Pacific, China and Russia also need to strengthen cooperation in the field of national defense. After all, the two countries are originally a comprehensive strategic partnership of cooperation in the new era. In recent years, the strategic mutual trust between the two sides has been deepening and several rounds of military exercises have been jointly conducted.
Therefore, the opinions of Russian experts are in line with the future development trend of Sino-Russian relations. As a friendly country, Sino-Russian relations will only continue to develop for the better, and the possibility of China and Russia forming a military alliance in the future is not ruled out. The Chinese people also have extremely high expectations for the future direction of Sino-Russian relations. Chinese Foreign Minister Wang Yi once stated that Sino-Russian cooperation "has no end, no restricted zone, and no upper limit" (2/1/2020).
Foreign media believe that this means China's non-aligned position or non-alignment Applying the Sino-Russian relationship again means that Wang Yi recognized the possibility of China and Russia forming a military alliance. Both China and Russia are peace-loving world powers and have always been committed to maintaining the peace and stability of the regional situation.
Therefore, even if a military alliance is concluded in the future, they will never follow a hegemonic line. In the final analysis, how China and Russia cooperate depends on changes in the international situation. Instead of worrying about the "threat" brought by the rise of China and Russia, Western countries should stop deteriorating the regional situation and work with China and Russia to maintain world peace and stability. Otherwise, this "heart disease" will never be eliminated.
It is worth noting that the Western countries, led by the United States, have a very playful attitude towards Sino-Russian cooperation. They have been using various means to sow discord between China and Russia in an attempt to prevent the establishment of a Sino-Russian military alliance.
However, the continuous deepening of cooperation between China and Russia is a historical development. The inevitable result of this is that no matter how obstructed by Western countries, Sino-Russian relations will continue to develop for the better, without any interference from external forces.