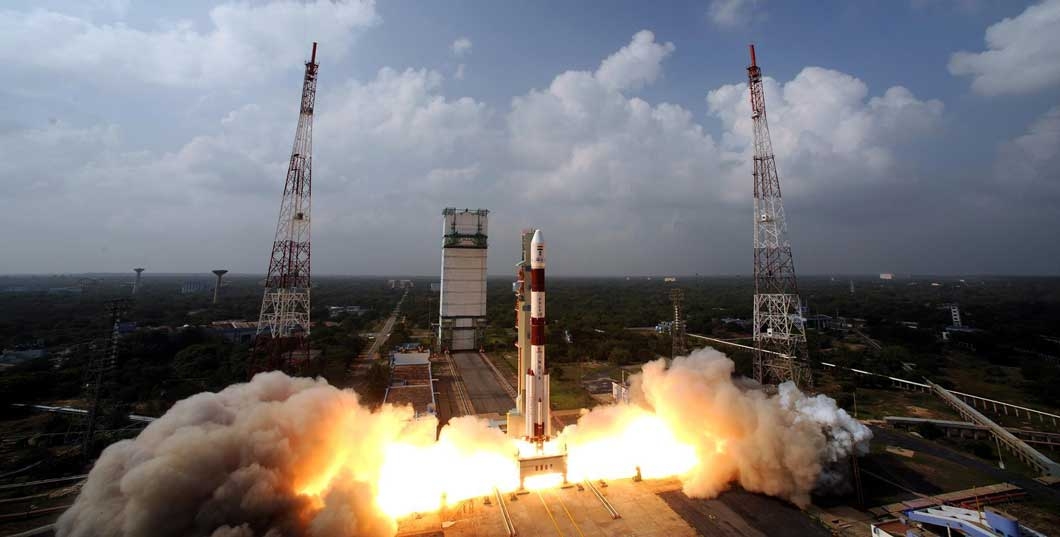 Amid the Panama leaks, Pakistan's Prime Minister Nawaz Sharif came up with an idea of addressing 'Jalsas' (rallies) in the whole country. Starting from KPK province, he is offering double numbers of laptops and millions of rupees for development projects to save his seat from tax payers' money.
While the leader of opposition party, Imran Khan has a dream of becoming Prime Minister with no prior experience of running a government is asking us for 'Dharnas' and this time in Raiwind, Lahore.
Whereas, the COAS General Raheel Sharif initiated the idea of across the board accountability and sacked twelve army officers over corruption. Several actors again analyzed this situation as a clash between civil and military policies.
Well isn't that a story!
Allow us to tell you another story from the neighboring Eastern border country, India. On April 28, 2016 Indian Space Research Organisation (ISRO) has launched seventh and final satellite to complete its own (Indian) Regional Navigation Satellite System (IRNSS) which will be called NAVIC (Navigation with Indian Constellation) as announced by their Premier Narendra Modi.
It all started when Indian army failed in monitoring Pakistani troops and denial of the U.S. to give access of its GPS system to India during Kargil War. Though recently senior fellow at Institute for Defence Studies and Analyses (IDSA), Ajey Lele has denied this Kargil story by saying there is no official confirmation.
However, several Indian newspapers second this fact that the main objective was military use and chief beneficiary of this system is the Indian military. The total cost of the project was US $ 211 million and will provide accurate information regarding surveillance, reconnaissance, imaging, navigation and communications in India as well as from the extended area of 1500 km in the region.
This system will offer two types of services, Standard Positioning Service (SPS) for civilian users and Restricted Service (RS), which is an encrypted service for military and agencies. Along with NAVIC, India is already working on fourth generation GSAT dedicated military communication satellites.
In this respect, ISRO successfully launched GSAT-6 in August 2015 which transmits five spot beams over the Indian mainland with help of a very exceptional huge antennae. In modern network centric warfare a large antennae will assist Indian strategic forces to communicate with each other on a secure band.
Similarly, India's GSAT-7 satellite successfully launched in August 2013 that will assist Indian Navy to enhance its blue water combat skills. Surely, it is imposing security challenges for Pakistan while strengthening the Indian battlefield strategy, robust system for location identification and navigational support will be strengthened.
It will connect all three domains that are sea based assets (warships, nuclear submarines and air craft carries), land based assets (troops formation, conventional war tech, ballistic and cruise missiles) and air force assets (combat aircrafts).
Besides, Indian surveillance capabilities with better than 20 m eye will then be able to get accurate information on Pakistani territory, its China-Pakistan Economic Corridor (CPEC), logistics, sensitive naval, air force, military installations and deployment, etc.
Pakistan established its space program eight years earlier than the Indian space organization, but SUPARCO is now nowhere near to ISRO. It is so obvious that Pakistan governments' priorities are off the beam in term of emphasis on space technology. Today Indian department of space has budget of round about 1 billion dollars whereas SUPARCO size in terms of monetary funds is 30.6 million dollars. India signed a framework agreement with NASA for future cooperation in 2008 and recently in 2016 inked agreements for launching satellites from UK and Singapore.
The Indian Defence Ministry has already hinted that space warfare is a priority area till 2025 under "Technology Perspective and Capability Roadmap". Its aims to assure key technology requirements of Indian Armed Forces and integrated warfare by reducing the risk in the battlefield with the capable system of delivering information on real time basis.
Pakistan should also explore such avenues to create a platform that SUPARCO can also deliver indigenous navigational satellite system. For instance, we developed the tactical nuclear weapons (TNWs) to successfully counter the so called proactive strategy of Indian Cold Start Doctrine (CSD). We are proud of our scientists and engineers yet the decision of its deployment and use is reserved with the National Command Authority.
By this mean, we will get an alternative way of shadowing Indian military strategy, troops and assets deployment in case of CSD is implemented and we can also assure effective maneuverability to deploy TNWs, ballistic and cruise missiles. Considerably the civil uses and benefits of the navigational system are huge which will also improve our disaster management expertise.
Even though, our fragile economy is main hurdle in the way of social and technological development. Still the government, opposition and military establishments must plan to allocate appropriate budget for the employment of advance technology is the need of time.
---
What was the success-rate of the April 14th missiles against Syria?
The U.S. and Russia provide diametrically opposite accounts of the percentages of U.S.-and-allied missiles that hit their targets in Syria on the night of April 13th-14th.
On the 14th, Russia's military said that 71 of the 103 U.S.-and-allied missiles were shot down by Syria. But on this very same day, the U.S. announced that 105 missiles had been launched and "none intercepted." So: Was the U.S. side's success-rate 100%, as America claimed; or, instead, 31%, as Russia claimed? This difference is, obviously, huge.
During the subsequent days, U.S.-and-allied media celebrated their side's alleged victory; for example, on April 22nd, USA Today bannered "105 to 0: Why Syria's air defenses failed to intercept a single incoming missile", and reported that:
U.S., French and British forces launched 105 missiles from aircraft and ships at three chemical weapons facilities in Syria last weekend in response to a suspected chemical weapons attack launched by the regime of Syrian President Bashar Assad.
Russia claimed that Syrian defenses knocked down many incoming missiles, but the Pentagon said every weapon hit its intended target, dismissing the Russian comments as a disinformation campaign.
As of yet, the Russian side has not accused the U.S. side of a "disinformation campaign" about this. However, it has stuck to its guns and not backed down about its own, directly opposite, assertions; for example, Russia on April 16th gave a detailed breakdown of the results of the U.S.-and-allied bombing, and reported at https://www.youtube.com/watch?v=vrLvhJnvZJQ (at 1:32:30), "a total of 103 cruise missiles were targeting the Syrian targets, and 71 [missiles] were taken out." That claim would be a 69% Syrian-and-allied (defensive) success-rate, and a 31% U.S.-and-allied (aggressive) success-rate, on this event, which was the biggest direct military confrontation between Russian and American (and French and UK) forces, ever. This was also, therefore, arguably, the actual start of World War III.
The issue in the wake of the U.S. side's invasion here — the crucial issue — is the relative functionality of the two sides' conventional weaponries, and perhaps even more broadly of their militaries: the functionality of, and preparedness for, the conventional stage, preceding the strategic nuclear stage, in WW III. Presumably, after the conventional phase will have its ultimate winner and loser, the loser will suddenly unleash its nuclear forces against the other, so as to avoid defeat. The first side to attack will have the advantage to achieve a nuclear victory. The nuclear phase of the war will be over within around 30 minutes. In military matters, to 'win' means simply suffering less damage than does the opponent; and the first to attack will destroy some of the opponent's retaliatory strategic weapons. Only conventional weaponry is involved at the present stage, the conventional-war phase; but, if things do reach the nuclear stage between these two sides, then even the side that 'wins' the war will be far more totally destroyed than even the loser has been in any prior war in history.
On April 25th, a Russian news-site headlined (as autotranslated) "The Russian military showed the remains of downed Coalition missiles in Syria" and reported that:
The Russian Defense Ministry showed the wreckage of the American Tomahawk missiles and European TOOL, the Storm Shadow. At the disposal of the military were large fragments of the engines and control systems, parts of the fuselage. And many of them show visible marks from shrapnel. This proves the fact that the missiles were intercepted by air defense systems.
Although the truth about this matter might not be of much interest to voters in any country, it will matter a great deal to the ruling aristocracies in any countries, such as Turkey, which are now making decisions between buying weapons made by the U.S. side, or else buying weapons made by the Russian side. And those decisions, in turn, will factor heavily into the choosing-up-of-sides in WW III, if neither the U.S nor Russia backs down so that a full-fledged hot war between U.S. and Russia results.
Consequently, the question as to which of these two sides is lying, is geostrategically very important. If Russia is telling the truth, then the sway will be favorable to Russia; if America is telling the truth, America will benefit.
Also: ever since the U.S. misrepresented the evidence regarding "Saddam's WMD" in the lead-up to America's 2003 invasion-and-occupation of Iraq, the question as to whether or not the assertions by the U.S. Government are lies is at least as severe as is the question as to whether the Russian Government lies. Presumably, both sides do (though one side might be lying far more than does the other); but, the question here concerns, in particular, military matters, and even the fate of the world. Lying in order to 'justify' an invasion is as serious a matter as exists, anywhere, anytime; and, if the Organization for the Prevention of Chemical Weapons will determine that the U.S.-and-allied invasion of Syria on April 14th was likewise based upon lies, then the consequences of what happened in that invasion will be even larger than merely the military competencies of the two respective sides.
On April 25th, Russia's Sputnik News bannered "OPCW Finds No Chemical Weapons at Syrian Facilities Bombed by US – Russian MoD", and so it's not only the U.S. side's military competency that is yet to be determined, but — again, as had happened in 2003 Iraq — whether or not the U.S. now routinely lies in order to 'justify' its invasions. That might turn out to be an issue of interest not only to the ruling aristocracies, but to their respective subjects.
Perhaps neither of the two sides will back down as between there having been an American missiles-success-rate of 100%, or of 31%, but the OPCW represents a higher authority than does any nation; it represents, in fact, 192 nations. If the finding by the OPCW turns out to confirm the U.S. Government's accusation (that Syria's government had used chemicals on April 7th against its own people) which was used to justify the April 14th invasion, then the invasion will retroactively thereby receive at least some degree of moral, if not legal, confirmation. But if the finding turns out to disconfirm that accusation, then the April 14th invasion will be seen instead as a smaller version of George W. Bush's and Tony Blair's clearly illegal and unjustified 20 March 2003 invasion of Iraq. Repeating that type of invasion, now, even though far smaller than happened in 2003, would indicate to the entire world that the United States is an enduring and systematic threat to world peace. The stakes are high for both sides, regardless of what the finding by the OPCW turns out to be.
The war of words between India and Pakistan's militaries prove that both South Asian nuclear states are intertwined in a traditional security competition. Indian Army Chief Gen. Bipin Rawat, while delivering the annual Army dinner, stated:"We will call the (nuclear) bluff of Pakistan. If we will have to really confront the Pakistanis, and a task is given to us, we are not going to say we cannot cross the border because they have nuclear weapons. We will have to call their nuclear bluff." Such statements of calling the 'nuclear bluff', 'increased cross- border firing by Indian forces, which coupled with the proclamation of surgical strikes can lead to crisis instability in the region.
Director General Inter-Services Public Relations (ISPR) Major General Asif Ghafoor responded to the Indian army chief's 'nuclear bluff' assertion by saying that such statements are unbecoming from a person of a responsible stature. He further stated that "Well, it's their choice. Should they wish to test our resolve they may try and see it for them..…Pakistan's credible nuclear deterrence is the only thing stopping India from a war." Such statements by the Indian military officials, and a quick calculated response from Pakistan, have raised the concerns of security analysts regarding the regional security and strategic dynamics.
It could be an appropriate tactic of General Bipin for securing finances for the modernization of the Army, but an absurd and destabilizing statement for the strategic stability in South Asia. According to the analysts, such statements by Indian military officials can lead to crisis instability and force the Pakistan to hasten its evolution towards war fighting nuclear doctrine. Another alarming reality is that General Bipin has failed to realize the repercussions of misreading Pakistan's nuclear weapon capability and too much confidence in India's Cold Start Doctrine. Hence, Pakistan's successful test of the 'submarine-launched cruise missile Babur (SLCM Babur)' can be viewed as a befitting response to India.
According to Pakistan's Inter Services Public Relations (ISPR), Babur is submarine-launched cruise missile with range of 450 km. It was fired "from an underwater dynamic platform" and "successfully engaged its target with precise accuracy; meeting all … flight parameters". The development of Babur (SLCM) is a significant component of a "credible second-strike capability" and a step towards reinforcing Pakistan's policy of Credible Minimum Deterrence through self-reliance and indigenization.
Previously, on January 9, 2017, Pakistan conducted its first successful test of indigenously developed submarine launched cruise missile Babur-III.  Babur-III is also advanced, mature and indigenously developed series of cruise missiles. The First test of Babur-III was considered by Pakistan' security planners as a major milestone and a right step in right direction towards reliable second strike capability. After the successful test of  Babur-III, Prime Minister Muhammad Nawaz Sharif, while congratulating the nation and the military on the first successful test-fire of the Submarine Launched Cruise Missile stated: "The successful test of Babur-3 is a manifestation of Pakistan's technological progress and self-reliance." He added: "Pakistan always maintains policy of peaceful co-existence but this test is a step towards reinforcing policy of credible minimum deterrence." Therefore successful test of Babur-III, submarine launched cruise missile finalized the triad of Pakistan's nuclear forces and second test of Babar on March 9, 2018 has enhanced Pakistan's deterrence based on Second Strike Capability.
Another significant factor which forced Pakistan to acquire Second Strike Capability is India's doctrinal transformation as it is clearly transforming its Nuclear Doctrine. New trends are emerging in India's nuclear strategy as it is moving towards a 'first-use' or even a 'first-strike nuclear strategy'. India's nuclear doctrine is based on the 'strategic ambiguity', therefore it has been anticipated that India is shifting its nuclear strategy towards 'counterforce targets' rather than 'counter value targets'. The second emerging trend is that India is moving towards the strategy of "First Use" or "Preemptive strike" from the "No-First Use strategy". The abandoning of no first-use, development of missiles defense shield, fake claims of surgical strikes and calling the nuclear bluff are developments that are perilous for the regional security. Indeed, such events have forced Pakistan to maintain deterrence through qualitative and quantitative developments in nuclear forces. In the strategic landscape of South Asia, the presence of Pakistan's credible second-strike capability is imperative for the continuity of the strategic stability between/among strategic competitors: India and Pakistan.
Subsequently, harsh statements by Indian military, its shifting nuclear doctrines and maturing sea based/ballistic missile defense developments capabilities are threatening for Pakistan. Such developments by India have been countered by Pakistan by carrying out two tests of nuclear-capable missiles, 'Babur-3' submarine-launched cruise missile (SLCM) and 'Babar'. Pakistan's tests of SLCM has further reinforced the debate on South Asian maritime security, second-strike capability and missile defense technologies in the regional landscape. To conclude, it's impossible for the Indians to alter the strategic equilibrium between India and Pakistan. Though Islamabad is not matching the Indian conventional military buildup, yet it is gradually advancing its nuclear arsenal. Hence, Pakistan's successful test of indigenous Submarine Launched Cruise (SLC) Missile 'Babur' has negated India's desire to call Pakistan's 'nuclear bluff' and has augmented the credibility of Pakistan's nuclear deterrence strategy. Addition of 'Babur' in Pakistan's military inventory confirms that Pakistan armed forces are prepared to thwart any kind of Indian armed forces military adventurism.
A Likely Path to Nuclear Annihilation
U.S. President Donald Trump asserted on the morning of April 12th, "Never said when an attack on Syria would take place. Could be very soon or not so soon at all!" This statement from him is interpreted here as constituting a public promise from him to start the overt phase of America's invasion of sovereign Syrian territory, no longer just continue the prior phase, which has relied instead upon America's proxy forces, which originally were the ones that were led by (U.S.-Saudi-Qatari-UAE supplied and armed) Al Qaeda in Syria, but increasingly now are Syria's Kurds, which have taken control over a third of Syrian territory, in Syria's northeast. This area includes the oil-producing region, from Deir Ezzor northward, and the conquest would cripple Syria's economic future, so that U.S-Saudi control of the entire country would be only a matter of time.
On April 4th, Emily Burchfield, a program assistant at the Atlantic Council — NATO's leading PR agency — headlined the following, in order to explain the U.S. military's (i.e., NATO's) objectives in Syria (and the whole headline-bloc is quoted here, because it succinctly states the article itself): Analysis: Washington Still Has Work to Do in Former ISIS Territories
Before the U.S. pulls out of Syria, Washington needs to address a governance gap left in some former ISIS territories. Otherwise, marginalized Arab communities will likely ally with the Syrian government or extremist forces, writes Emily Burchfield of the Atlantic Council.
The U.S. military, in other words, cannot accept that "marginalized Arab communities" will "ally with the Syrian government." Analogous within the United States itself would be if some foreign power refused to accept that "marginalized White communities" will "ally with the U.S. government." In other words: this is clearly a military demand (a demand that came to be expressed here by a paid employee of NATO's top PR agency, the Atlantic Council) to break up the country.
Whereas the prior U.S. President, Barack Obama, had tried everything short of all-out direct military invasion — as contrasted to indirect invasion by U.S. proxy armies of jihadist mercenaries — in order to conquer or at least to break up Syria, the current U.S. President, Trump, is resorting now to the direct military invasion route: he's taking the path that Obama had declined to take.
Syria's allies are Iran and Russia. These allies have enabled Syria to survive this long, and they all would be capitulating to the U.S. if they accepted the U.S. military invasion of Syria. For them to do that, would be for them to display, to the entire world, that the United States is their master. The U.S. Empire would, in effect, be official, no longer merely aspirational.
In the case of Russia, since it is the other nuclear super-power, this would be not just a surrender to the other nuclear super-power, but also Russia's doing that without even waging a conventional-forces war against the U.S. Empire. That is extremely unlikely.
Consequently, Russia is probably now (on April 12th) coordinating with Iran, and with its allies, such as Hezbollah in Lebanon, a conventional-forces war against the invaders.
If that conventional-forces war inflicts more damage to U.S.-and-allied forces than they inflict against Syria, that would, in military terms, constitute a "military defeat" for the U.S.
This would leave the U.S. only two options:
Either accept that Russia is another nuclear super-power (which the U.S. Deep State has refused to accept), and end the previously subterranian war to conquer it that was started by George Herbert Walker Bush on the night of 24 February 1990, or else blitz-attack Russia itself in order to eliminate enough of Russia's retaliatory weapons so as to 'win' the nuclear war — i.e., inflict even more destruction upon Russia than Russia would still possess and control the surviving weaponry to inflict against America in response.