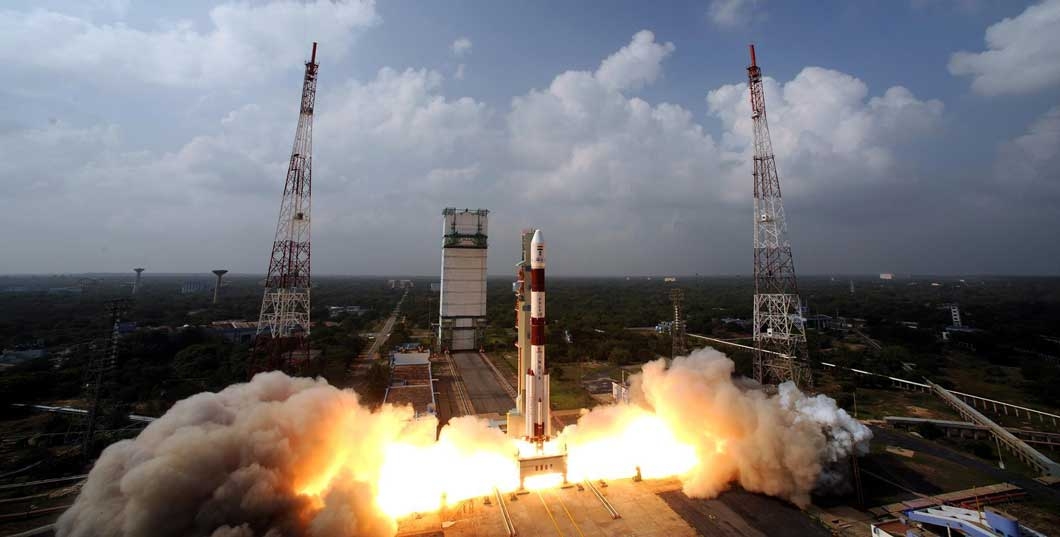 Amid the Panama leaks, Pakistan's Prime Minister Nawaz Sharif came up with an idea of addressing 'Jalsas' (rallies) in the whole country. Starting from KPK province, he is offering double numbers of laptops and millions of rupees for development projects to save his seat from tax payers' money.
While the leader of opposition party, Imran Khan has a dream of becoming Prime Minister with no prior experience of running a government is asking us for 'Dharnas' and this time in Raiwind, Lahore.
Whereas, the COAS General Raheel Sharif initiated the idea of across the board accountability and sacked twelve army officers over corruption. Several actors again analyzed this situation as a clash between civil and military policies.
Well isn't that a story!
Allow us to tell you another story from the neighboring Eastern border country, India. On April 28, 2016 Indian Space Research Organisation (ISRO) has launched seventh and final satellite to complete its own (Indian) Regional Navigation Satellite System (IRNSS) which will be called NAVIC (Navigation with Indian Constellation) as announced by their Premier Narendra Modi.
It all started when Indian army failed in monitoring Pakistani troops and denial of the U.S. to give access of its GPS system to India during Kargil War. Though recently senior fellow at Institute for Defence Studies and Analyses (IDSA), Ajey Lele has denied this Kargil story by saying there is no official confirmation.
However, several Indian newspapers second this fact that the main objective was military use and chief beneficiary of this system is the Indian military. The total cost of the project was US $ 211 million and will provide accurate information regarding surveillance, reconnaissance, imaging, navigation and communications in India as well as from the extended area of 1500 km in the region.
This system will offer two types of services, Standard Positioning Service (SPS) for civilian users and Restricted Service (RS), which is an encrypted service for military and agencies. Along with NAVIC, India is already working on fourth generation GSAT dedicated military communication satellites.
In this respect, ISRO successfully launched GSAT-6 in August 2015 which transmits five spot beams over the Indian mainland with help of a very exceptional huge antennae. In modern network centric warfare a large antennae will assist Indian strategic forces to communicate with each other on a secure band.
Similarly, India's GSAT-7 satellite successfully launched in August 2013 that will assist Indian Navy to enhance its blue water combat skills. Surely, it is imposing security challenges for Pakistan while strengthening the Indian battlefield strategy, robust system for location identification and navigational support will be strengthened.
It will connect all three domains that are sea based assets (warships, nuclear submarines and air craft carries), land based assets (troops formation, conventional war tech, ballistic and cruise missiles) and air force assets (combat aircrafts).
Besides, Indian surveillance capabilities with better than 20 m eye will then be able to get accurate information on Pakistani territory, its China-Pakistan Economic Corridor (CPEC), logistics, sensitive naval, air force, military installations and deployment, etc.
Pakistan established its space program eight years earlier than the Indian space organization, but SUPARCO is now nowhere near to ISRO. It is so obvious that Pakistan governments' priorities are off the beam in term of emphasis on space technology. Today Indian department of space has budget of round about 1 billion dollars whereas SUPARCO size in terms of monetary funds is 30.6 million dollars. India signed a framework agreement with NASA for future cooperation in 2008 and recently in 2016 inked agreements for launching satellites from UK and Singapore.
The Indian Defence Ministry has already hinted that space warfare is a priority area till 2025 under "Technology Perspective and Capability Roadmap". Its aims to assure key technology requirements of Indian Armed Forces and integrated warfare by reducing the risk in the battlefield with the capable system of delivering information on real time basis.
Pakistan should also explore such avenues to create a platform that SUPARCO can also deliver indigenous navigational satellite system. For instance, we developed the tactical nuclear weapons (TNWs) to successfully counter the so called proactive strategy of Indian Cold Start Doctrine (CSD). We are proud of our scientists and engineers yet the decision of its deployment and use is reserved with the National Command Authority.
By this mean, we will get an alternative way of shadowing Indian military strategy, troops and assets deployment in case of CSD is implemented and we can also assure effective maneuverability to deploy TNWs, ballistic and cruise missiles. Considerably the civil uses and benefits of the navigational system are huge which will also improve our disaster management expertise.
Even though, our fragile economy is main hurdle in the way of social and technological development. Still the government, opposition and military establishments must plan to allocate appropriate budget for the employment of advance technology is the need of time.
---
United States Donates $9 million in Weapons, Equipment to Support Somalia National Army
Official reports here said the United States through its diplomatic office in Mogadishu has presented $9 million in weapons, vehicles, medical supplies and other equipment to the Somali National Army (SNA). The ceremony was attended by Minister of Defense Abdulkadir Mohamed Nur Jama and U.S. Ambassador Larry André.
Aside from heavy weapons, equipment included support and construction vehicles, explosive ordinance disposal kits, medical supplies, and maintenance equipment for vehicles and weapons. Most of the supplies are already on their way to Hishabelle and Galmudug States to support SNA troops.
"We cheer the success achieved by Somali security forces in their historic fight to liberate Somali communities suffering under al-Shabaab," said Ambassador André. "This is a Somali-led and Somali-fought campaign. The United States reaffirms commitment to support country's efforts."
Minister of Defense Abdulkadir Mohamed Nur Jama thanked the United States, saying, "Allow me to convey the appreciation of the Federal Government of Somalia to the Government of the United States of America for the continued support to Somalia's peacebuilding process and the support for the fight against terrorism. This support comes at a critical time for our forces as we boost their capabilities to combat al-Shabaab."
The Minister was joined by Chief of Defense Forces Brigadier General Odowaa Yusuf Rageh for the ceremony.
The weapons, including light and heavy machine guns were purchased with U.S. Department of Defense funding. They are marked and registered pursuant to the Federal Government of Somalia's Weapons and Ammunition Management policy, designed to account for and control weapons within the Somali security forces and weapons captured on the battlefield.
Notification to the UN Security Council is conducted by the Federal Government of Somalia in close coordination with the Office of Security Cooperation of U.S. Embassy Mogadishu in accordance with UN Security Council resolutions.
The weapons will support SNA-Danab battalions, including battalions currently participating in operations in Hirshabelle and Galmudug. The weapons will provide a significant increase in the lethality and mobility of the SNA-Danab units participating in these operations. Somalia and its neighbouring States have come under frequent heightened militant attacks in the Horn of Africa.
From Strategic depth to Strategic Threat
On 30th December, in broad daylight, the hub of Peshawar and administrative center was targeted by the militants with the explosion of a deadly bomb, leaving behind 59 dead. the attack was claimed by the TTP Mohmand faction, whose leadership is allegedly residing in Afghanistan.
The issue of Afghanistan has occupied a consequential part of the strategic culture of Pakistan. Following the partition, with the specter of Pashtun Nationalism looming large on the horizon, policymakers in Pakistan opted for a policy of Islamic Nationalism, which became a cornerstone of strategic thinking during the era of General Zia-ul-Haq in the wake of the Afghan Jihad War in 1979.
Islamic nationalism was seen as only the means through which Pashtun Nationalism could be confronted and subdued.
With the adoption of this policy, swiftly and generously, aid from US, UAE and KSA began to inundate the territory of Pakistan, carrying each their national interests with it.
Within a short period, thousands of new madrassas were established, cultivating youngsters by inculcating the concept of Jihadism.
This formation of an alliance with the US in the Afghan Jihad war was driven by two factors; first, to subdue the dominant Pashtun Nationalism with Islamic Nationalism, and second, to establish an Islamabad-friendly regime in Afghanistan so that any terrorist group could not use Afghan territory while keeping New Delhi at bay, by not letting her establish any foothills in Afghanistan.
Fast forward to 2023, the facts on the group are now telling a different story. Islamabad's once "strategic depth" is now becoming a distant dream as Pakistan is now confronted by insurmountable problems from all sides
According to the data collected by the Pak Institute of Peace Studies, Islamabad, in the past two years, Pakistan has encountered 100 terrorist attacks, and yet, the recent surge of terrorist activities shows no signs of cooling down in the formidable future. This is clearly evident from the news coming from the casualties on the daily basis of the security forces of Pakistan, mostly on the border areas, and the havoc it caused to the infrastructure. Officially, it is estimated that in the last six months, around 350 military personnel have lost their lives, while the outlawed group has claimed even more than that. These occurrences elucidate the failure of the Pakistani state to effectively persuade the Taliban regime not to let the Afghan territory be used against Pakistan's territorial sovereignty.
Now, who is to be blamed, if not our flawed policies, and the masters of shortsightedness. Lately, upon leaving his office, the ex-COAS scapegoated Imran Khan who initiated the dialogue with the outlawed group, TTP. While Imran Khan, on the other hand, said that the army was on board when the negotiation decision with the TTP was taken. These inconspicuous but powerful statements clearly reveal the uncertainty of our policymakers while dealing with a sensitive topic. Besides that, it also shows how the wizards of policy making and governance are not on the same page while dealing with the Afghanistan issue.
Recently, a document was released by the National Counter Terrorism Authority and presented to the senate committee where discoveries pertaining to the ceasefire between the government of Pakistan and TTP were made. According to the report, the truce initiated by the PTI-led government last year had utterly emboldened the TTP.
With careful planning and shrewd utilization of resources, they were able to revive themselves both logistically and materially. Once the truce between the two parties was over, yet again, a surge in violent attacks was documented.
Beside the challenge of TTP, the Afghan Taliban shows no signs of a positive stance for the Durand line issue. In an interview, the information minister, Zabiullah Mujahid, said, "The issue of the Durand line is still an unresolved one, while the construction of fencing itself creates rifts between a nation spread across both sides of the border. It amounts to dividing a nation".
Another prominent concern is the time to time border shelling. On Dec 11, 2022, the Taliban forces heavily shelled a town on the outstrips of the Pakistani border leaving behind seven civilian casualties. A few days later, on Dec 15, another exchange of fire took place, claiming one more life. Although, not much heed has been given to such reports, it seems the genie is out of the bottle now.
Last but not least, the Taliban had even scapegoated Pakistan through which the US drone was flown that killed the top Al Qaeda leader, Ayman Al Zawahiri.
The cherry on top happens to be the readiness of the new system to exhibit the disposition of candour in their interactions with India. The Taliban defense minister, Mullah Yahoob, has expressed his desire for the training of Afghan troops by Pakistan's arch-rival India. If this goes according to the plan, the dependent policy of Afghanistan on Pakistan will diminish and create new challenges for Pakistan. India, by using Afghan soil, can embolden and logistically support the liberation movements in Balochistan and Sindh, thus exacerbating the already precarious situation.
It's high time to call a spade a spade!
Our Policymakers must accept that the old strategic depth policy inside Afghanistan has begun to fail. Taliban 2.0 are entirely in contrast to its 1.0 version in terms of statecraft. They are more pluralistic in their policies, and economically, they are far more independent compared to the 90s. This time, they want to cut deals directly with the regional states. It may appear unilateral, but rather it's a mutually desired engagement as other states have expressed interests in establishing relations with Afghanistan while considering them a new and inevitable reality.
Meanwhile, China is feathering its own nest, and is more concerned about the East Turkmenistan Islamic Movement (ETIM). She does not want Afghanistan to be used as a pawn by an insurgent group in the great game against China.
Considering these dynamic global realities, Pakistan must abrogate its old policy towards Afghanistan and focus on a unanimous policy towards Afghanistan. For the success of a cohesive and effective anti-terrorism strategy it is contingent for policymakers to align their viewpoints against the new resurgent groups. And last but not the least , a collective action by the military, politicians and society is necessary.
Deciphering Quad's expanding agenda in the Indo-Pacific
Here, I try to throw light on Quad's expanding regional agenda and where it is headed to.
The third in-person Quad summit took place in Japan's Hiroshima, the rendezvous of this year's G7 summit. Following each annual summit, regional observers eagerly look forward to big announcements from the four-nation grouping, via its joint statements. The Hiroshima statement mentions, "Harnessing our collective strengths and resources, we are supporting the region's development, stability, and prosperity through the Quad's positive, practical agenda. Our work is guided by regional countries' priorities and responds to the region's needs."
Every Quad summit since 2021 had seen new initiatives or collaborative ventures being announced that are further carried ahead in the subsequent years. At the same time, Quad has also supported the leadership role of regional institutions of the broader Indo-Pacific region such as the Association of Southeast Asian Nations (ASEAN), the Pacific Islands Forum (PIF), and the Indian Ocean Rim Association (IORA). The grouping also welcomed the Indo-Pacific vision statements of these organisations and also of extra-regional countries and organisations like the European Union (EU).
An oft-repeated sentence in all Quad joint statements is "the promotion of free, open and inclusive Indo-Pacific with respect for a rules-based order and international law", which hints that the grouping has a "balancing character" against coercive behaviour by any regional power. However, the tangible areas of cooperation of the grouping had kept hard security at bay, until recently.
Even though the Quad is not a collective security alliance, the meeting of military chiefs of the four Quad nations in California, United States, earlier this month, in a clear indication of enhanced security cooperation with apparently China in mind. Moreover, they have participated in the Malabar naval exercise four times – in 2007, 2020, 2021 and 2022. Later this year, Australia will host the 2023 edition of Malabar naval exercise. Meanwhile, Quad's Maritime Security Working Group held its first meeting in Washington earlier this year.
Hiroshima 2023
The Hiroshima joint statement further goes on to mention, "We seek a region where no country dominates and no country is dominated – one where all countries are free from coercion, and can exercise their agency to determine their futures. Our four countries are united by this shared vision." However, this vision has its limitations as long as Quad exists short of an alliance. At the same time, the grouping has charted for itself a wide-ranging area of mutual cooperation.
A new 'Quad Partnership for Cable Connectivity and Resilience' was launched in Hiroshima, recognising the urgent need to support quality undersea cable networks in the Indo-Pacific. The leaders, via the joint statement, also announced a 'Clean Energy Supply Chains' initiative and its allied set of principles for accelerating the region's clean energy transition along with a fellowship scheme to boost infrastructure expertise across the region.
The Quad has agreed on a set of principles to augment cybersecurity in the Indo-Pacific along with a new Space Working Group to explore avenues to deliver Earth Observation data and other space-related applications to assist nations across the region to strengthen climate early warning systems and better manage the impacts of extreme weather events. The existing Vaccine Partnership has been elevated to a broader Health Security Partnership.
In a first in the Pacific, the Quad has agreed to join hands with the island nation of Palau to establish Open Radio Access Networks (Open RAN), with the aim of expanding and modernising telecommunications networks in the crucial subregion. A private sector-led Quad Investors Network (QUIN) is also launched to facilitate investments in strategic technologies such as clean energy, semiconductors, critical minerals, and quantum computing.
The first Quad summit
Two years ago, the White House became the venue for the first in-person Quad leaders' summit. In fact, there was one more summit-level meeting that year, in March, but in virtual mode. The joint statement following the March 2021 virtual summit was titled "Spirit of the Quad". It saw the initiation of three key working groups – on vaccine distribution, on climate change, and on critical & emerging technologies – the earliest areas of cooperation since the grouping was elevated to the apex level.
Other than the initiation of the aforementioned working groups, the leaders also pledged "to respond to the economic and health impacts of Covid-19 and address shared challenges in the cyber space, counterterrorism, quality infrastructure investment and HADR…" Moreover, the March 2021 summit specifically took cognizance of issues such as the role of international law in the maritime domain, challenges to rules-based order in the East and South China Seas, de-nuclearization of North Korea and the need for restoring democracy in junta-ruling Myanmar.
In September 2021, in their first in-person deliberations, Quad leaders extensively looked into how vaccine distribution progressed since their first virtual meeting six months ago and what more can be done in this regard by making use of each other's comparative advantages and strengths. The leaders also launched the 'Quad Principles on Technology Design, Development, Governance, and Use' to guide responsible innovation, a fellowship scheme for science and technology students from Quad nations, and has enhanced partnership in the fields of infrastructure, cybersecurity, outer space and humanitarian support to Afghanistan.
Tokyo 2022
March 2022 saw an emergency virtual meeting by Quad leaders in the wake of the Ukraine crisis. Two months later, in May, they met in person in Tokyo and called for demonstrating that Quad is "a force for good, committed to bringing tangible benefits to the region". In this regard, they launched a new partnership for maritime domain awareness in the Indo-Pacific (IPMDA) to work with regional partners in combating illegal fishing and responding to disasters by making use of information fusion centres in the Indo-Pacific sub-regions of the Indian Ocean, Southeast Asia, and the Pacific Islands and by providing near-real-time, integrated and cost-effective data to maritime agencies in these sub-regions.
Tokyo also saw the announcement of a new HADR partnership to further strengthen collaboration in effectively responding to disasters in the region. A new working group on counterterrorism was announced during the Quad foreign ministers' meeting in March 2023 in New Delhi, India. The next summit was scheduled to be held in Sydney, Australia. But the U.S. President's inability to attend the summit led to its cancellation and instead the four leaders met in Hiroshima on the sidelines of the G7 summit. Japan, thus, got to host two Quad summits in a row. In 2024, it will be India's turn to host the leaders' summit.
All Quad countries, along with several other regional countries, chose to participate in the U.S.-led Indo-Pacific Economic Framework for Prosperity (IPEF) launched in Tokyo, just ahead of the 2022 Quad summit. This gives Washington an expanded economic footprint in the region at a time when Chinese economic engagement with regional actors is increasing steadily and progressively. 2022 also saw the launch of the 'Quad Climate Change Adaptation and Mitigation Package' (Q-CHAMP) and the 'Quad Clean Hydrogen Partnership'.
A partnership that predates its name itself
In fact, cooperation among the United States, India, Australia and Japan predates the idea of the Quad itself. Nearly two decades ago, when the Boxing Day tsunami of 2004 wreaked havoc in the Indian Ocean, the four nations came together to coordinate humanitarian assistance and disaster relief (HADR) operations by forming a 'Tsunami Core Group' and acted as first responders to the looming humanitarian crisis and their collective effort continued till mid-January 2005 before handing over the mission to the United Nations.
So, even before the idea of Quad as such took shape, the four-nation grouping had its first item in its agenda – HADR. The phrase "Quadrilateral Security Dialogue" (QSD), predecessor of the present-day Quad, and the maritime construct of "Indo-Pacific" made its entry into the politico-diplomatic lexicon only three years later, led by the persuasive leadership of former Japanese prime minister Shinzo Abe. The first QSD was held in May 2007 on the sidelines of the ASEAN Regional Forum in Manila, only to get disbanded the following year due to Australia's withdrawal and differences on what the grouping's aims and objectives should be in the years ahead.
Australia backed off primarily due to the diplomatic pressure and the prospect of a promising economic relationship with a rising China. Together with unfavourable regime changes in Canberra and Tokyo in the end of 2007, the Quad remained in a dormant state for about a decade from 2008 to 2017. The fact that China successfully managed to persuade Australia to come out of the Quad just a year after its formation says a lot about Beijing's negative perceptions of the grouping, or to be precise the perception of it as a U.S.-led attempt to build an "Asian NATO" to contain its rise.
The grouping was given a new life in 2017 when the Donald Trump Administration in the United States (January 2017 to January 2021) took a special interest in reviving it by initiating a working group for 'consultations on issues of common interest in the Indo-Pacific region'. From November 2017 to March 2021, senior officials from the four Quad nations met seven times and the foreign ministers met thrice, one each in 2019, 2020, and 2021 respectively.
The grouping was finally upgraded to the summit-level in 2021 and then it was followed by in-person summits in 2021, 2022 and 2023, while the foreign ministers continue to meet annually as a precursor to the summits. Today, there is a greater convergence of interests between the Quad partners, which is unlikely to shrink any time soon. The disruptive nature of China's rise has been a constant factor that has influenced, and is influencing, agenda-setting within the grouping, particularly as a "balance of power" mechanism.
Today, the broad range of areas where the Quad countries cooperate on, as mentioned earlier, happen to be arenas of wider strategic competition with Beijing, even though they don't wish to acknowledge it explicitly. Taking into account the current trajectory of conflictual nature of geopolitics in the Indo-Pacific, these areas of cooperation and arenas of competition are poised to expand further and further with time. However, what needs to be seen in the years to come is the extent to which Quad dares to tread when it comes to the realm of hard security outside of a formal alliance.