Natural Gas – A Game Changer for European Geopolitics
In 1945, Europe became bifurcated along two ideological camps; communism and capitalism. As the iron curtain-shrouded Europe, the geopolitical divide was defined. Nowhere was this ideological demarcation more explicit than the Berlin Wall; a city divided by two superpowers.
European politics were defined for almost half a century along this divide. After the fall of the Soviet Union, the state of European geopolitics appeared to be in flux but that trepidation was short-lived. With the premise of a "European Union", the continent for once appeared to be evolving towards an economic structure similar to the US. As the global economy began to thrive, it needed oil and gas to fuel the prosperity, Europe was no exception. Russia once again found an influential bargaining chip; its energy supplies.
Liquefied Natural Gas (LNG)
Natural gas is a hydrocarbon energy source principally comprised of methane. It is a fossil fuel used primarily for heating, cooking, and electricity. To make it economically feasible and readily available for mass transport, the gas is liquefied. By liquefying natural gas, a dramatic reduction in volume is achieved. Thus, LNG becomes cost efficient to traverse over long distances especially in areas where pipelines do not exist.
The Russian LNG Radius
Russia has been a vast country always yearning for access to warm water ports and protection of its vast western frontier from mainland Europe. Russia always feared that its hinterland has been vulnerable to invasion by large armies from Europe. In the 20th century, Russia's anxieties materialized into two world wars that resulted in large deaths and destruction of its country. West of the Ural Mountains, Russia's flat plains lay wide open for any to easily enter. Undergoing such death and destruction, Russia (or at the time the Soviet Union) decided to create a buffer zone on its western border by occupying the Eastern Europe nations from Estonia down to Ukraine. But with the dissolution of the Soviet Union, Russia had become exposed on its western border once again.
As the Cold War became a relic of history, the European economic machine began to propel forward. The energy needed to lubricate the titans of European industry was oil and gas. Russia found a new method of defense for its border through the carbon obsession of the European nations. As such, Russia began to flow natural gas into the European economic vein. What began as a symbiotic relationship turned into a European addiction. The European obsession became a nightmare when Russia turned the spigot off resulting into the European gas crisis. This reliance on Russian energy exposed the vulnerabilities of the European economies. Thanks to its natural resources, Russia has been able to create spheres of influence throughout the European continent. The Russian LNG radius reflects the level of dependency. The further away a nation is from Russia, the less they are dependent on its energy sources. Even Great Britain with a sizable gas industry, still relies on gas supplies from Russia. The figure below illustrates this periphery of dependence.
Source: http://uk.reuters.com/article/uk-centrica-gas-deals-idUKKBN0NY1FH20150513
Gas Politics
As the US becomes the world's largest producer of hydrocarbon energy, it finds itself less and less reliant on foreign sources. With its new found means, America is able to not only export its LNG but use it to transform European geopolitics. This year, the US began to allow American natural gas producers to export LNG internationally for the first time. This ability granted the US a new stature as a major energy exporter. The ability to export LNG provides Europe with an alternative to Russian LNG, hence breaking the Russian yoke that has chained Europe thus far. This influence was witnessed in the Ukrainian civil conflict. Certain European nations have wavered or been reticent to fully express their opinions due to their reliance on Russian gas. Such dependency creates pseudo-vassal states based on a Russian periphery system. Even though in certain cases it may be cheaper to import Russian LNG over American LNG, Europe still prefers to pay the higher premium to ensure the dependency periphery is broken. Thanks to American innovation in the oil and gas industry, the US is able to free itself from foreign imports and balance Russian influence in Europe. As a result, the US has made LNG exports an imperative aspect of its Russian geopolitical calculus.
Conclusion
After the fall of the Soviet Union, Russia was able to appease its apprehension about its border insecurities through the creation of a carbon fuel peripheral system. The closer a nation is to Russia, the more reliant the nation is on its natural gas distribution system. However with innovation in fracking and other technological breakthroughs, the US has established itself as an energy powerhouse. Using this resource, the US has decided to break the European continent from its inveterate addiction to Russian LNG. As the first shipment of LNG ships abroad from the US, European geopolitics are in its initial stages of a radical transformation.
Energy is at the heart of the sustainable development agenda to 2030
Three years ago, all countries of the world adopted 17 ambitious policy goals to end poverty, protect the planet, promote gender equality, or ensure prosperity, as part of the United Nations Sustainable Development Agenda, and vowed to achieve specific targets by 2030.
Energy is at the heart of many of these Sustainable Development Goals – from expanding access to electricity, to improving clean cooking fuels, from reducing wasteful energy subsidies to curbing deadly air pollution that each year prematurely kills millions around the world. One of these goals – commonly known as SDG 7 – aims to ensure access to affordable, reliable, sustainable and modern energy for all by the end of the next decade.
All these topics are fundamental to the work of the International Energy Agency. As the world's leading energy authority, the IEA has unmatched analytical capabilities based on its unique data collection, technological network, research, and policy recommendations, which we put in the service of understanding the energy system. As I have often said – in the world of energy, data always wins.
The adoption of energy specific sustainable development goals was a milestone in moving the world towards a more sustainable and equitable system. The IEA continues to support this critical goal with unbiased data and projections. This has long been a personal and professional priority for me. Fifteen years ago, we recognized this basic fact when we first compiled data for electricity access and mapped out a scenario for delivering universal electricity access by 2030 in the World Energy Outlook, the IEA's benchmark publication.
As a result, the IEA has been tracking country-by-country progress on energy access (SDG 7.1) on an annual basis since 2002. As the world's most authoritative source of energy statistics, the IEA is also the lead custodian agency for reporting progress towards substantially increasing the share of renewables in the global energy mix (SDG 7.2) and doubling the global rate of improvement in energy efficiency (SDG 7.3).
The United Nations will have the first in-depth review of SDG 7 goals at the High-level Political Forum on Sustainable Development organized in New York, in July this year. This will be a good time to assess where we stand with our global energy goals, where existing national policies are taking us, and how to steer the global energy system towards a more sustainable path. To assist this critical process, the IEA has decided to create a new online resource to centralize all of our data and scenario projections in support of the 2030 Agenda.
It is clear that the energy sector must be at the heart of efforts to lead the world on a more sustainable pathway. But our data and analysis show that the current and planned policies fall well short of achieving our critical energy-related sustainable development objectives.
There has been tremendous progress in delivering universal electricity access (SDG 7.1.1) in Asia and parts of sub-Saharan Africa, with the number of people without access declining to 1.1 billion in 2016, from 1.7 billion in 2000. But on the basis of current progress, more than 670 million people are still projected to be without electricity access in 2030. Much work remains to be done in this field.
The picture is even dimmer when it comes to access to clean and modern cooking facilities (SDG 7.1.2). About 2.8 billion people rely on polluting biomass, coal and kerosene to cook their daily meals, a number which has not changed since 2000. Without greater ambition, 2.3 billion will still remain without clean cooking access in 2030, with grave health, environmental and social consequences.
The share of modern renewables in global final energy consumption (SDG 7.2) has been growing steadily in the past decades, reaching nearly 10% in 2015. However, to achieve a truly sustainable energy system, this share needs to more than double to 21% by 2030. But while wind and solar deployment has accelerated, thanks to falling costs and policy support in many parts of the world, this goal is still out of reach under current policies.
Finally, 2015 was an impressive year for energy efficiency (SDG 7.3), with global energy intensity falling by 2.8%, the fastest annual improvement since 1990. However, the average improvement between 2000 and 2015 of 2.2% still falls short of the 2.6% target needed to achieve the SDG target, and the 3.4% annual improvement needed to meet more ambitious long-term climate objectives.
Tracking progress towards these goals is only one aspect of our sustainable development work. Through our new Sustainable Development Scenario, introduced in 2017, we also seek to map an integrated path for achieving critical global goals in the next three decades: delivering universal energy access by 2030, an early peak in carbon emissions (SDG 13), and reducing deadly air pollution (SDG 3). One of the main finding of this new scenario is that these three goals are not incompatible. Indeed, our analysis shows they can successfully be met together.
But there is an urgent need for action on all fronts, especially on renewables and energy efficiency, which are key for delivering on all three goals – energy access, climate mitigation and lower air pollution. The IEA is committed to keep leading this agenda, and stepping up efforts to support the clean energy transition. We will do so with our unparalleled data, unbiased analysis, and our determined policy support to help move the world towards delivering the 2030 Agenda.
Reducing Greenhouse Gas Emissions through Energy Efficiency – and Learning from One's Peers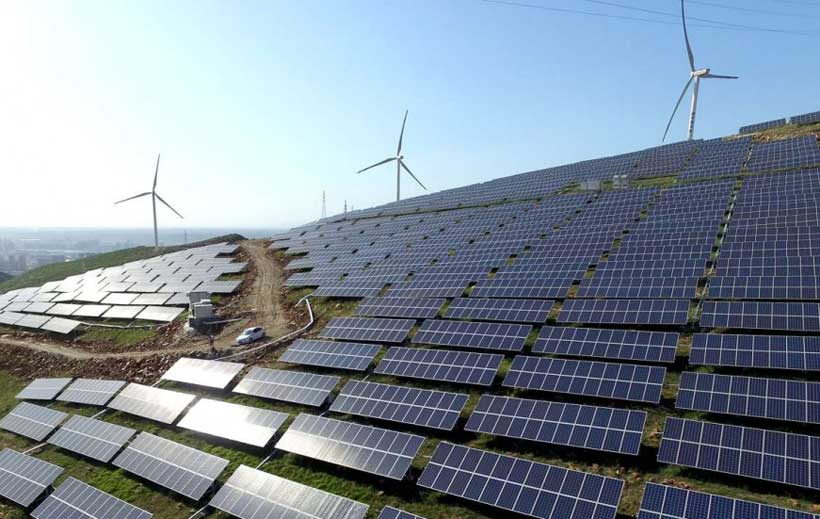 China, India, Indonesia, the Philippines, Pakistan, and Vietnam are critical for global climate action. Why? Among other reasons, because three-fourths of all new coal-fired power plants to begin operations before 2020 globally will be in these six Asian countries. Fostering more energy efficiency will be imperative in the countries' efforts to adopt a low carbon energy path.
One initiative that supports efforts to scale up energy efficiency and clean energy – and lower greenhouse gas emissions – in these six countries is the Energy Transition in Asia program managed by the Energy and Extractives Global Practice.
Comprising of knowledge exchange and capacity building on key issues, the program recently held a workshop in Singapore to share lessons learned on energy efficiency, following last year's learning forum on solar auctions, also held in the city-state. Participants agree that peer-to-peer learning works. After sharing best practice efforts in China, India, Japan, Korea, Mexico, the United Kingdom, and host country Singapore, team spirit and friendships strengthened, along with confidence, productivity and learning outcomes.
By the end of the three-day workshop, participants from governments not only requested follow-up assistance but also to learn more from their newfound friends about conserving more energy. "We were able to advance country engagement with the clients on energy efficiency," explained Xiaodong Wang, team leader for the Energy Transition in Asia initiative. "Conducive policies that combine mandatory regulations with financial incentives are essential drivers to create market demand for catalyzing investments in energy efficiency."
Results are already encouraging. China is a leading example. From 1990 to 2010, more than half of global energy savings took place in China, thanks to the government's ambitious targets, stringent regulatory policies, generous financial incentives, and effective institutions – all of which reiterate strong commitment to energy efficiency. Reducing energy intensity was made a mandatory target, allocated to each province and 17,000 energy intensive enterprises. Efficiency standards for appliances, buildings, and vehicles were upgraded and complemented with billions of dollars of financial incentives in output-based subsidies, rebates for energy efficient consumer products, and compensation for the phase-out of inefficient stocks. All these efforts were monitored across the country.
India also led by example. Energy savings targets – at least for energy intensive industries – were made mandatory with the Perform, Achieve, and Trade scheme (PAT), which also allows the trade of Energy Savings Certificates to achieve targets in a least-cost way. Non-compliance at the end of the three-year cycle incurs a financial penalty. The results of the first phase surpassed targets. The second phase began in April 2017.
Workshop participants from India reminded, however, that these are early years. Following a visit to the district cooling system under Marina Bay Sands – the world's largest underground facility and its most efficient – S.P. Garnaik, Chief General Manager of India's Energy Efficiency Services Ltd. (EESL), a joint venture under the Ministry of Power, envisioned replicating such a system in India. But while a policy framework is being prepared to support the use of district cooling systems in rapidly urbanizing India, Garnaik admits that substantial results may take time, as "these are very new concepts."
In addition to the mandatory output-based target approach in China and India, participants also noted Singapore's green mark program, which combines mandatory building codes with financial incentives from the government for auditing and investment costs, as a model to emulate.
Indeed, the knowledge gap between participating countries is large. Yet even countries in the 'nascent' phase are eager to make progress.
Energy intensity in Asia is highest in Vietnam, with energy consumption by industry accounting for almost half of the country's total energy use. Current efforts towards energy efficiency are encouraging. Labeling schemes have been established and energy management systems now require energy managers and auditors in large energy users. Indonesia is implementing a similar  system.
Learning from one's peers can be galvanizing. As Trinh Quoc Vu of Vietnam's Energy Efficiency and Sustainable Development Department at the Ministry of Industry and Trade explains, Vietnam is eager to learn from China's and India's shift to a mandatory target approach. Indonesia's delegates were inspired by their peers' experience in expanding pilot programs. The Bank is providing advisory services to both Indonesia and Vietnam in their efforts to scale up energy efficiency.
The workshop also highlighted the critical role of strong government support in developing the ESCO business. ESCOS are energy service companies which design and implement energy savings projects.  Energized by his peers, Trinh is now intent on exploring mechanisms for promoting and incentivizing the ESCO business in Vietnam.
The World Bank Group supports many energy efficiency financing mechanisms worldwide, including through credit lines, risk sharing facilities, dedicated funds, program-for-results (PforR), and development policy loans. Critical to success is a strong pipeline for deal flows, as well as technical assistance.
In India, the Partial Risk Sharing Facility for Energy Efficiency initiative, financed by the Clean Technology Fund (CTF) and Global Environment Facility (GEF) resources,  is supporting private sector ESCO-implemented energy efficiency projects through partial credit guarantees. The proposed new US$300 million India Energy Efficiency Scale Up Operation with EESL is expected to leverage over $1.5 billion of demand side energy efficiency investments across residential and public sectors. Similarly, the China Energy Efficiency Financing Project has leveraged the original World Bank financing eight times over, with a total investment of US$2.6 billion. The project has led to an annual reduction of 11 million tons of CO2 emissions.
Such figures may seem ambitious, but workshop participants were unfazed. Many are confident they will accomplish similar achievements. When learning from one's peers, who all face challenges in their respective development journey, anything can seem possible.
The Sustainable Energy Forum for East Africa 2018
The Sustainable Energy Forum for East Africa, a key event for promoting access to renewable energy sources in the region, will take place between 19 and 21 March 2018 in Kigali, Rwanda.
Leaders from governments, businesses, civil society and international organizations are expected to attend the Forum and exchange ideas on how to improve access to clean energy sources in East Africa. The event comes at a crucial moment when the international community is focused on improving progress on Sustainable Development Goal 7 and the goals set by the Paris Climate Agreement.
Off-grid renewables, clean cooking fuels, and energy financing and policies are among the many issues that will be discussed in the plenaries. The Forum will also feature sessions on sustainable cities, East Africa's geothermal projects and future potential, and gender mainstreaming in energy access.
Speakers attending the Forum include: Rachel Kyte, CEO of Sustainable Energy for All; Ambassador Libérat Mfumukeko, Secretary General, East African Community (EAC); Tareq Emtairah, Director of Energy, United Nations Industrial Development Organization (UNIDO); Robert Zeiner, Director International Cooperation, Austrian Development Agency; Upendra Tripathi, Director General, International Solar Alliance (ISA); and Sakari Oksanen, Deputy Director General, International Renewable Energy Agency (IRENA); Monojeet Pal, Manager, African Development Bank (AfDB).
This year's Forum will take place in Kigali, Rwanda. The city is a very special location since it hosted one of the most successful international treaties in human history, the Kigali Amendment to the Montreal Protocol.
The Sustainable Energy Forum for East Africa 2018 is organized by the East African Centre for Renewable Energy and Energy Efficiency (EACREEE) in collaboration with the United Nations Industrial Development Organization (UNIDO), the EAC Secretariat, the Austrian Development Agency (ADA), Sustainable Energy For All (SEforALL), and the Ministry of Infrastructure of the Republic of Rwanda (MININFRA), and is hosted by the government of Rwanda.
The organizers welcome participants from the public and private sectors, including sub-national entities, development finance institutions, domestic and international enterprises, international organizations, industry associations, and experts from academia.