FSB's Snowden War:Using the American NSA against Itself
Russia's understanding of information warfare must be understood in the context of Russian statism. Russian leaders, particularly President Vladimir Putin, view state power as essential to national health and broadly-defined state power. The state attempts to maintain absolute privilege over rights, ownership, and power, and often confers these things to others as gifts or presents. (Jurevicius, 2015)
Since Putin's rise to power, exclusive private ownership within the state has been weakened and the state has increasingly used its now massive media industry as a means of influencing both the domestic population as well as foreign audiences. (Kiriya & Degtereva, 2010) In terms of foreign influence, information plays a critical role in Russian political and military strategy. The Russian military divides information operations into two means of attack: "information-technological means," which include attacks on national critical infrastructure and cyber-attaches; and information-perceptual means, which include propaganda, perception management, disinformation, psychological operations, and deception. (Liaropoulos, 2007) Russia's exploitation of US intelligence disclosures falls within this second set of means as a form of propaganda. While the Russian state has always used propaganda as a means of ensuring Russian security, examination of this tactic is under-appreciated in the modern day. (Stewart, 2014)
In relation to the West, Russian information operations, often called Information Warfare by Russian strategists, fill a critical strategic role in all phases of conflict. In a conflict involving kinetic operations, information warfare is used as a force multiplier "whose purpose is to guarantee the achievement of the goals of the operation" and is often seen as most effective in targeting enemy command and control structures, as well as enemy decision-making. (Thomas, 1996) Tellingly however, the Cold War notion of information warfare as a low-intensity form of conflict targeting the enemy's civilian population and its public awareness, as well as "state administrative systems, production control systems, scientific control, cultural control, and so forth" remains a key feature of Russian thinking today regarding information operations. (Thomas, 1996) It is not that other nations do not accept this anymore as a part of modern warfare, but rather only Russia is so openly adamant about the properness of such techniques. In 2013, the Russian Chief of the General Staff wrote that modern conflict includes the "broad use of political, economic, informational, humanitarian, and other non-military measures." (Jones, 2014) Russian information warfare thinking has thus evolved beyond Soviet-era concepts into a fully modern doctrine, particularly in the more intense forms of conflict.
Critical to the effective use of Russian propaganda are its intelligence agencies, particularly the FSB. One high profile example of FSB media manipulation is the allegation that the FSB controls "troll armies," a term used to describe an estimated 200,000 FSB employees who are tasked with flooding social networks, Internet forums, and media comment sections with pro-Russian content. (Jurevicius, 2015) It is worth noting that this is but one aspect of the FSB's control of Russian media. While it is difficult to ascertain precisely what links exist between the FSB and Russian media corporations formally, the FSB's extensive power makes it clear that FSB-directed propaganda is likely a critical component of many Russian media operations.
In response to the expansion of US intelligence because of the Global War on Terror, Paul Todd and Jonathan Bloch wrote "just as the Cold War provided a legitimizing framework for the unprincipled and often counterproductive waging of covert warfare, so the dangers of a new era of intelligence 'blowback' are all too clear." (Todd & Bloch, 2003) Russian media propaganda against US intelligence services makes use of such allegations – of vastly expanded and illegal American power to collect information against foreign and domestic targets. While it is possible to draw from a range of incidents the disclosures of Edward Snowden, a former NSA system administrator, has arguably been the most controversial and impactful.
Reporting on the NSA's requirement to end its collection of telephony metadata as stipulated by the USA Freedom Act, one grouping Russia Today articles highlighted the conflict between privacy advocates and US lawmakers, writing "while privacy advocates described the change as only a single step with the prospect of more progress to come, lawmakers adopted a tone of finality." (RT, 2015) Another grouping of articles aimed at demonstrating the loophole the NSA technically used to continue collection against US citizens. Finally a third implied that the vast metadata collection program did not provide the NSA with any operational or analytic value. (RT, 2015) These article groups demonstrate not only Russia's main aim in reporting on the Snowden leaks so as to undermine American image on the international stage, they are also an abstract attempt to achieve an important Russian foreign policy goal: using the expansive NSA collection effort targeted against US citizens to positively contrast with Russian maneuvers on the global stage. In the context of America always making charges against Russia for using draconian measures to limit its citizens' rights and invade their privacy, these reports are designed to highlight US hypocrisy and sow the seeds of discord and doubt among American allies about any so-called US moral supremacy.
Falling approval ratings of the US Government also help determine the impact of FSB propagandizing the Snowden leaks. After Snowden leaked the disclosures, US President Barack Obama's approval ratings plummeted. (CNN, 2014) Gallup poll data show now that American confidence in all three branches of the US Government is declining, with the Supreme Court and Congress being at all-time lows in 2015. (McCarthy, 2014) In contrast, a recent Economist/YouGov poll found that 78% of Americans view President Putin as a stronger leader than President Obama. (The Economist/YouGov, 2014) A final area of impact to consider is European reactions to the leaks. As with the American public, European publics were outraged. Not only by the perceived US hypocrisy, but also by the alleged NSA collection against European diplomats and elites. (Network of European Union Centers of Excellence, 2014) These disclosures have had a negative impact on US-European relations, as the EU has become increasingly reluctant to impose further economic sanctions on Russia despite US pressure. (Harress, 2015) Furthermore, European leaders are showing an increased willingness to cooperate with Russia with regard to military operations and objectives in Syria. (Bloomberg, 2015) While the reasons for these developments are complex and multi-level, the damage done to US-European relations has absolutely been impacted by explicit Russian intelligence efforts to 'refocus' media perception on American image and global status.
It is important to note that this form of intelligence media propaganda is not effective in isolation. It was not Russian propaganda that caused widespread distrust of the US government. However, the FSB and Russian media conglomerates are able to effectively profit from the damning Snowden disclosures by casting the US in a suspicious, negative light, while at the same time minimizing its own supposed flaws and political sins. More study should be devoted in future to this softer but still significant aspect of US-Russian relational conflict.
Non-State Actors in Today's Information Wars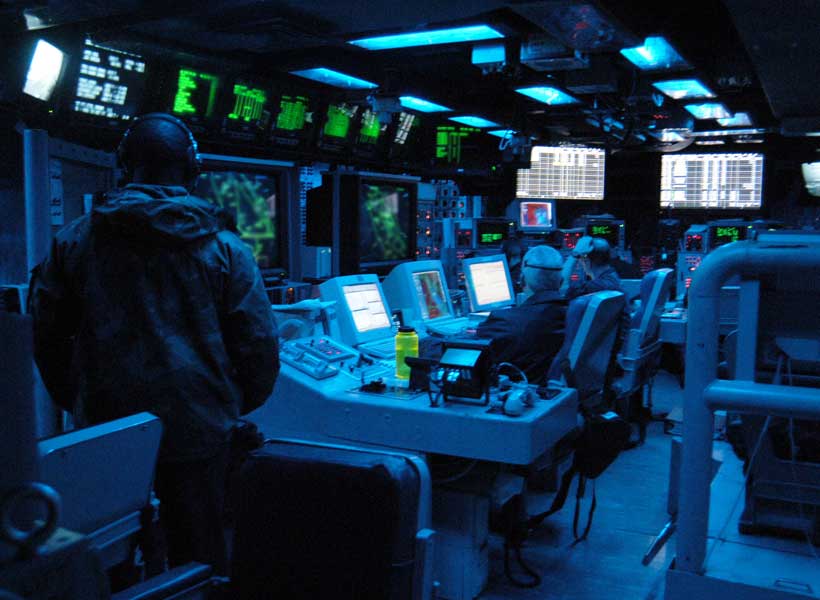 Rivalries and confrontations between states in the information space are a feature of today's international relations. Information is becoming one of the priority instruments in fighting for global domination.
We agree with experts who believe that there exist two principal forms of information warfare, technological and psychological, the former targeting information systems and communication channels and the latter, people's minds and public opinion.
We can detect a trend toward growing non-state involvement in information wars. There are various interconnected reasons for this.
One of them is the latent character of information warfare: governments launching information attacks are careful to keep them undetected or to try to gloss over their own involvement if such attacks are detected. Another reason is that it is difficult to find out who carried out the information attack and what the objective was. Yet another reason are resources that some Internet users and associations of users apply to conduct for cross-border attacks.
International terrorist and extremist organizations make extensive use of information and communication technology (ICT) for propaganda and recruitment.
A report for 2017 by Group-IB, one of the leading international companies dedicated to the prevention and investigation of high-tech crimes, speaks of "state-sponsored hackers" as well as "financially motivated" ones. Geopolitical disputes between nations "are being accompanied by an increase in cyber espionage and sabotage campaigns," the report says.
Investigative reporters and individual civic activists have recently been forming powerful international associations, which mainly owe their emergence to the global information and communication resources of the Internet. However, they are often drawn into information wars because of powerful effects their investigations may have.
Global media remain the most influential source of information, and therefore they inevitably get drawn into information wars.
Media, especially state-financed media organizations, predominantly act as agents of governments in information wars.
American NGOs are widely known for their key role in organizing "color revolutions" over the past two decades. They worked with opposition parties and their youth units, with central government elites, and with local government bodies. They also supported media groups and Internet resources that were involved in subversive activities and local NGOs that later organized protests.
Prestigious international NGOs publish reports assessing specific developments or containing development ratings for various countries in specific fields. Such reports are powerful vehicles for influence.
Commercial organizations that take part in information wars mainly do so indirectly, under outsourcing agreements, fulfilling tasks such as monitoring the information space and cyber intelligence, and information security tasks, including defense of critical facilities in information infrastructures.
It has been a trend for a few decades for governments to hand over some of their military and security functions to commercial organizations, which has manifested itself best in the emergence of private military corporations. It would be logical to expect the emergence of private companies organizing information offensives, both technological and psychological, on a commercial basis, which would mean commercializing information warfare.
First published in our partner International Affairs
The risk of a new Islamic State on China's Western Border
China is in the process of cracking down on what it claims are separatist elements among its Muslim-minority Uighur community who live in its western Xinjiang province. The Uighurs are ethnically Turkic and perceive themselves as being separate from the majority Han Chinese community. As the gateway of China's Belt and Road Initiative (BRI), Xinjiang province in north-western China is vital to the country's economic future. Its importance lies not only in its key geographical location, bordering Kazakhstan, Kyrgyzstan, Tajikistan, Afghanistan, Russia, Mongolia and Pakistan, however, but also in its huge energy and mineral resources also constitute a large part of China's total resources. The province is witnessing a crackdown, however, which targets its Uighur Muslim population. A United Nations human rights panel suggests that hundreds of thousands, possibly even millions, of Uighurs are in "re-education" internment camps.
Questions are increasingly being asked about the lack of any reaction or condemnation by officials and religious leaders of Muslim-majority countries in South-East Asia, Central Asia and the Middle East. In fact, the topic is barely mentioned in the media of Muslim-majority countries. That could be due to the growing Chinese influence in those countries, which is, in turn, an outcome of their increasing economic ties. Associated with this, and as an instrument to upgrade the relationship to a strategic partnership, China assigned $23 billion in loans and financial aid to the Middle East after meeting 21 foreign ministers of Arab nation at the China-Arab States Cooperation Forum (CASCF) in Beijing in July this year. This was, in the main, China's attempt to ensure the stability of the region in its attempt to ensure the success of President Xi's legacy project, the Belt Road Initiative.
Apart from its strategic location near the countries mentioned above, Xinjiang's geographical location should also be examined from the perspective of its proximity to the Afghan and Pakistani borders, regions where large numbers of insurgent and radicalised groups are located. Probably the most important entity in this regard is the Islamic State in Khurasan (ISK). As a militant group, ISK follows the model used by Islamic State in Iraq and Syria (ISIS), recruiting fighters through an extremist rendition of Islamic teachings. Its goal is to re-unite Muslims under the banner of a caliphate in Khurasan, a historic region that includes parts of Central Asia, in addition to Pakistan and Afghanistan. All of these areas share a border with Xinjiang.
Since 2016, some of the measures taken by the Chinese authorities against the Uighur community include: hindering prayer and fasting during Ramadan; forcing them to abandon their beliefs in God and to comply with the rules of the Communist Party; and spreading Islamophobia. Many Uighur leaders believe that those measures aim to eliminate the Islamic faith in the province.
Those actions are not limited to the province, however, as they echo among the public of the countries that border Xinjiang and who share religious and family ties with the Xinjiang Uighurs. They find the lack of condemnation by Muslim entities frustrating and, in addition, the absence of reaction by the Muslim public in other parts of the world leaves the Uighurs feeling abandoned. This feeling of abandonment could be the trigger that transforms Xinjiang into a rallying call that attracts radicalised and radical-leaning individuals to a group with a hard-line ideology like the ISK's. Those hard-line groups could use the suffering of the Uighurs as a reason to unite near the Chinese borders.
The case of Osama bin Laden and Al Qaeda is reasonably similar. In his perspective, the war he fought was against the "foreign crusaders" in the Muslim world, as well as what he saw as domineering Middle Eastern regimes. When the Soviets invaded Afghanistan in 1979, locals resisted, using the arms and funds provided by an international coalition. For bin Laden, participating in this fight was not necessarily so much against the Soviets, as it was to join the fight beside "Islamist brothers". Accordingly, he resided in Peshawar, in the Pakistani province near the Afghan border, and set up camps where volunteers who embraced his ideology came to join the fight.
Osama bin Laden resented the absence of Muslim unity against what he saw as "foreign crusaders" on Muslim soil. Furthermore, in 1992 he sought to promote a true Muslim country in Sudan, because at that time the adviser to the Sudanese President, Hasan Al Turabi, was advancing a political agenda based on Islamic beliefs. That agenda attracted bin Laden and he moved to Sudan, where he worked to enhance the country's farming sector and build roads, in addition to establishing training camps for fighters. Therefore, his expulsion from Sudan left a bitter taste in his mouth. That setback pushed him further towards achieving his goal in Afghanistan, and to overcome what he considered a betrayal by the United States. After that, Al Qaeda co-ordinated its deadliest attacks on American interests around the world. In September 2001, it went further, striking inside America's borders.
China's actions, similarly, coincide with a growing Pan-Turkism movement in Central Asia. As a political movement, Pan-Turkism calls for the unification of all Turkic people in the area stretching from the eastern Mediterranean Sea to Iran, Afghanistan, China and parts in South of Russia. This ideology, and its overlaps with the aspired-to Khurasan, could prove to be another way of attracting those who see the Uighurs as an oppressed Turkic population. Accordingly, the possibility of a more militant Pan-Turkism must be taken into consideration; it would not be the first time that the idea of a state predicated on a theocratic and Turkic identity emerged from the region. The creation of the Islamic State of Yettishar (1865 – 1878), with its capital at Kashgar, came about as the result of a series of uprisings in Xinjiang and the East Turkestan Islamic Republic, also known as the Republic of Uighuristan, rose in the 1930's, albeit that it was short-lived.
The consequences of China's policies in Xinjiang, combined with the silence of Muslim countries brought about for economic reasons and the growing Pan-Turkism, have the potential to spread across the borders of a region in turmoil. For a terrorist group with an ideology like ISK, which is currently struggling for power, the Uighur situation could be utilised to draw not only who were once members of ISIS but also affiliates of other groups that operate in the region, mainly in Pakistan and Afghanistan. Furthermore, supporters of Pan-Turkism can be attracted, and possibly radicalised, to take part in defending the Uighurs.The aim would be to unite them under one ideological umbrella: to help fellow Muslims across the border by fighting their oppressors.
Global watchdog takes Saudi Arabia to task for lax anti-terrorism finance measures
A Financial Action Task Force (FATF) report criticizing Saudi Arabia's anti-money laundering and terrorism finance measures puts the kingdom on the spot 17 years after the 9/11 attacks and casts a shadow over its diplomatic and economic boycott of Qatar on the grounds that the Gulf state supports militants.
In a nod to the kingdom, the international watchdog described as "understandable" the fact the kingdom's "almost exclusive focus of authorities on domestic (terrorist financing) offences means the authorities are not prioritizing disruption of support for threats outside the kingdom."
The 246-page report contrasted starkly with US President Donald J. Trump's assessment expressed in his address to the United Nations general assembly. "Following my trip to Saudi Arabia last year, the Gulf countries opened a new centre to target terrorist financing. They are enforcing new sanctions. They are working with us to identify and track terrorist networks and taking more responsibility for fighting terrorism and extremism in their own region, Mr. Trump said.
Mr. Trump, by design or default, did not take into account the flow of substantial amounts of Saudi money to militants in the Pakistani province of Balochistan that borders on Iran. Mounting indications suggest that the Islamic republic's detractors may be moving to stir unrest among Iran's ethnic minorities in a bid to change the regime in Tehran.
The flow of funds leaves open the possibility that the kingdom's laxity in cracking down on funds flowing to extremists beyond its frontiers may be deliberate.
To be sure, Saudi Arabia has been strengthening its anti-money laundering and terrorism finance regime ever since the 9/11 attacks on New York and Washington in which the perpetrators were primarily Saudi nationals and Al Qaeda attacks in the kingdom itself in 2003 and 2004.
Writing in Forbes, journalist Dominic Dudley noted that the FATF report may not have taken into account new anti-money laundering and terrorism finance-related laws adopted last year by Saudi Arabia. "The new laws were coming in just as the FATF was conducting its research for this report and it is too soon to judge how effective they have been," Mr. Dudley said.
Even so, it was only with the ascendancy to the throne of King Salman in 2015 and the rise of his son, Crown Prince Mohammed bin Salman, that the kingdom began to review its more than four decades long global funding of intolerant, anti-pluralistic, supremacist, ant-Shiite and anti-Iranian ultra-conservative Sunni Muslim groups and institutions.
While financing has been severely curtailed and funding vehicles like the Muslim World League have been refashioned to propagate moderation and inter-faith dialogue, the kingdom, as in the case of Balochistan, continues to support ultra-conservatives where it serves its geopolitical goals.
In what apparently reflected frustration with the kingdom's progress in countering money laundering and terrorism, FATF did not mince its words in its report. "Saudi Arabia is not effectively investigating and prosecuting individuals involved in larger scale or professional (money laundering] activity" and is "not effectively confiscating the proceeds of crime," the report said.
FATF suggested that the problem was the kingdom's implementation of anti-money laundering and terrorism finance measures rather than its legal infrastructure.  "Saudi Arabia has a legal framework that provides it with an adequate basis to investigate and prosecute ML (money laundering) activities… Saudi Arabia is not effectively investigating and prosecuting individuals involved in larger scale or professional ML activity. Investigations are often reactive rather than proactive, and tend to be straightforward and single layered.," the report said.
The report's wording left the possibility open that poor implementation was the result of either a lack of political will or the fact that there is widespread criticism of Prince Mohammed's reforms within the bureaucracy and the kingdom's religious establishment despite a crackdown on any form of dissent.
That possibility gains currency given the fact that FATF acknowledges that "Saudi Arabia has demonstrated an ability to respond to the dynamic terrorism threat it faces in country. Saudi Arabian authorities have demonstrated that they have the training, experience and willingness to pursue TF (terrorism finance) investigations in conjunction with and alongside terrorism cases."
The report noted that Saudi Arabia seldom convicted funders of political violence who were not directly involved in attacks.  "This includes TF cases in relation to funds raised in the Saudi Arabia for support of individuals affiliated with terrorist entities outside the kingdom, particularly outside the Middle-East region, which remains a risk. Saudi Arabia's overall strategy for fighting terrorist financing mainly focuses on using law enforcement measures to disrupt terrorist threats directed at the kingdom and its immediate vicinity," the report said.
FATF's criticism is embarrassing for a country that ever since the 9/11 attacks has been attempting to shed its image of having fuelled militancy, position itself as a leader in the struggle against militancy and extremism, and project itself as a 21st century knowledge hub by liberalizing its strict social and cultural norms, including the recent lifting of the ban on women's driving.
It is also awkward because the report puts Saudi Arabia in the position of the pot calling the kettle black when it comes to the 15-month-old Saudi-United Arab Emirates-led boycott of Qatar because it allegedly funds and supports militancy. Saudi Arabia's failure to garner widespread international support for its boycott or force Qatar to concede heightens the awkwardness.
That is even more the case given that Saudi Arabia together with the UAE, Bahrain and Egypt is demanding among other things that Qatar "consent to monthly compliance audits in the first year after agreeing to the demands, followed by quarterly audits in the second year, and annual audits in the following 10 years" – something the kingdom would be unlikely to accept if hypothetically asked in the wake of the FATF report to submit to a similar regime.