Indian politics: regional polls 2016: Fall of Congress party amid shaky rise of Hindutva BJP
The long wait for poll outcomes and political trends in 5 Indian states viz Tamil Nadu, Kerala, West Bengal, Pondicherry and West Bengal that went to poll in May recently to elect new assemblies is finally over and results are the most disappointing for the Congress party.
When the counting for all seats in the five states have been ended and results have been announced, the trends indicate that the Indian voters are now more matured than ever before, especially in Tamil Nadu where the ruling AIADMK won the poll again while DMK has also won sufficient number of MLAs to apply pressure on the ruling dispensation. Post poll predictions said Tamil Nadu may have a hung assembly. But the AIADMK won the poll.
To put it straight away, the ruling AIADMK has retained power in Tamil Nadu while the leftists have returned to power in Kerala by defeating the ruling Congress led UDF, while DMK- Congress alliance won in Puducherry, BJP got Assam, Mamata Banerjee's TMC has comfortably thrashed Congress-CPM alliance in West Bengal. Congress and CPM had ruled the state for decades until TMC replaced it last time and since then both have failed to make their presence felt in the state and now they decided to fight the poll jointly. And again they have failed now.
In the Union Territory of Puducherry, Congress-DMK alliance was ahead in the 30-member assembly closely followed by AINRC headed by Chief Minister and former Congressman N Rangaswamy. J Jayalalithaa has won from RK Nagar constituency in Chennai. .AIADMK won Hosur seat by 22,964 votes, wrests the seat from the Congress that held the seat for three terms.
A major casualty of the just occurred in assembly polls in 5 Indian states, as speculated, is the Indian National Congress party with longest history in the country fairing baldy in most of these states, while Hindutva BJP, though also in a bad shape, is trying to find new spots to expand its Hindu vote bank agenda into new states as part of RSS ideology. And the steady fall of Congress signifies existential crisis for the party as its electoral alliance strategy with Communists has also failed in West Bengali, while it lost power to left parties in Kerala and BJP in Assam and it plays subordinate role to DMK in Pondicherry and also in Tamil Nadu where it made some gains as part of DMK led alliance.
When ruling Congress lost Kerala to Communist parties with which it forged alliance in West Bengal only to lose again, the BJP has stormed the North Eastern state Assam for the first time, unseating the clueless Congress. Even before the polls Assam has been on the road to making history with BJP set to get its first government in the North East by dislodging Congress which has been in power for three consecutive terms.
West Bengal has re-elected Trinamool Congress led by CM Mamata Banerjee in a big way. The Congress could take solace from its projected victory in the tiny Union Territory of Puducherry where it is likely to get power in alliance with the DMK. DMK chief and former CM, Karunanidhi has won by over 60,000 votes over AIADMK's A N R Paneerselvam in Tiruvarur constituency.
In Kerala the defeat of corrupt and scams ridden Congress led UDF was rather expected but now there is a strong feeling among Congress men that had Oommen Chandy quit CM post and let state Congress chief Sudheeran or Ramesh Chennithala, perhaps UDF would have come back. The Muslim League has made enough success in Muslim dominated districts but cannot be in the new government.
In Kerala, the Left Front dislodged Congress from power in an anti-incumbency wave against the corrupt UDF government keeping up the tradition of voting out the incumbent government. Also, because of the strong effect of anti-incumbency and RSS Hindu vote mobilization strategy, BJP has opened an account for the first time in its political history in Kerala as its candidate and former central railway minister Rajagopal defeated the sitting CPM MLA in Nemom constituency in the capital. This the first ever win of Rajagopal who so far has never won an election in the state though he contested poll after poll in Kerala during his entire political career and this win uplift his image as loser. He was made a Rajya Sabha MP by the Vajpayee government and also inducted into his cabinet as rail minister. PM Modi did not adopt the Vajpayee method and Rajagopal remained jobless. Kerala corporate lords are eager to see a Kerala politician to be made a minister in Modi government but have failed.
CPI (M) veteran V S Achuthanandan won from Malampuzha constituency by a margin of 23,142 votes, defeating C Krishna Kumar of BJP. As it has become clear that her party will retain power, Jayalalithaa has thanked the voters: "I convey my heartiest thanks to voters who have reaffirmed their faith on me and given me another chance. False campaigning by DMK has been defeated. People of Tamil Nadu have rejected family politics carried out by our opponents".
It argued that there would be change in the attitude and performance of the ruling AIADMK governance and the party faced a serious threat from its arch rival DMK which has got 89 seats against the AIADMK's 131 seats in the assembly to apply a pressure on the government constantly. Jaya will end liquor culture in a phased manner.
In Kerala outcomes reveal a strong anti-incumbency wave against the ruling Congress led UDF and people voted to oust the corrupt Congress party led government and this explains how BJP also could open an account in the state.
There could be reasons, including the Vijayakanth factor, why Jayalalithaa and her party were elected back to power by the people of Tamil Nadu. We will discuss this in another article.
The TN elections witnessed a multi-cornered fight with the AIADMK, DMK, BJP, PMK and the PWF as the major parties. But it is AIADMK chief and Chief Minister J Jayalalithaa who has emerged triumphant and swept the polls. Jayalalithaa has made history as she is the second chief minister after MGR to be elected for a second consecutive term.
Interestingly, the Hindutva BJP has suffered a complete rout in the assembly poll for the first time in years, though it could send an MLA to Kerala assembly and hopes to replace Congress party there in course as per its ideology to make a India free of and without Congress.
Though BJP has won in Assam, it is also on the decline at national and state levels, albeit at a moderate speed. People who had voted for BJP earlier, thinking they are honest and sincere about people's causes, have rejected the party in the next poll, because they found the Hindutva parties also a bunch of fakes and a copy of the corrupt and dishonest Congress party.
While the BJP is for all practical purposes out of Tamil Nadu, Congress somehow has managed to stay on in the state thanks to its poll alliance with DMK. BJP says since the major parties refused to agree for an alliance with it, the Hindutva could be crushed by DMK-AIADMK rivalry.
DMK is down but not out. Although Karunanidhi became the chief minister of the state at a reasonably young age of 45 in 1969, his run continued only till 1977, that too with two interruptions. Since then, it was three consecutive terms of MGR until he died in 1987. In fact, Karunanidhi had to wait for more than a year since MGR's passing. Since he returned to power in 1991, it was never a continuous run. Karunanidhi and Jayalalithaa have been taking turns and by past trend and the verdicts of majority of exit polls, he should have been in office this time. But Jayalalithaa has successfully bucked the trend, and five years will be too long a wait for 91-year-old Karunanidhi. This decade-long banishment from power will be bad not just for Karunanidhi, but for his son Stalin and the DMK as well.
Vijayakanth's DMDK is a classic example. He had allied with AIADMK in 2011 and notched up more than 8 percent vote-share while winning 29 seats. Soon, he fell out with Jaya and exited the AIADMK front and remained a lone ranger. He, however, continued to be very active in politics, fighting Jaya and energizing his support-base. Recognising his vote-share and popularity, the DMK was very eager to have him in its front in 2016 elections, but he refused. The DMK made repeated overtures, but he wouldn't pay attention reportedly because of his chief ministerial ambition. Instead, he joined the ragtag team of MDMK and VCK called PWF. The man who had 29 MLAs last time couldn't win a single seat, including his own. And his mythical vote-share fell to a dismal 2.4 percent.
The story is the same with the PMK as well. It's a victim of the same grand illusion that the state has space for a non-Dravidian alternative. Unlike in the past, it refused to ally with not only the Dravidian parties, but also others, and ended up playing solo scoring nothing except a lone seat. The leader of the party and the man who claimed to be the most suitable to become the chief minister, Anbumani Ramadoss couldn't even win his seat.
It's rather strange that both the DMDK and the PMK did not realize about the inevitability of electoral compromises. Both the DMK and AIADMK are strong cadre-based parties and have historically polarized the state. Although it was the DMK which reaped the initial benefits of the Dravidian ideology, there was enough space for MGR, who was also endowed with a cult following, to split this support base.
Assam Chief Minister Tarun Gogoi has tendered his resignation to Governor PB Acharya following Congress' defeat in the just-concluded Assembly polls. Congress could manage to win only 26 seats while the BJP-led alliance swept to power in the state winning 86 seats in the recently concluded Assembly polls. The three-time Chief Minister did not speak to media persons waiting outside the Raj Bhawan after tendering his resignation.
In West Bengal the victory of incumbent TMC led by Mamata Banerjee is indeed historic as it defeated the formidable alliance of Congress-Communists- both have got disillusioned now.
In Tamil Nadu the ruling AIADMK could win the poll almost all alone and defeated DMK-Congress led airbus alliance. While PMK has got a MLA in the new assembly the PWA, which has given a lot of hopes of the youth, has failed to make it to the assembly. The issue would be debated in public.
Interestingly, Congress has promoted the BJP to blackmail Muslims voters to vote for the Congress party if they want to protect themselves form the Hindutva forces live in the country and used it to target and control Muslims in India but now BJP wants to finish off the Congress party and consume its vote banks.
While Congress has nothing to show to the world as its 'record' in the regional polls, the BJP has managed the show in Assam by harping on foreigners' issue (Bangladeshis). Hindutva parties cannot think of positive politics and one wonders if it can change its communal agenda any time in future for fear of losing Hindu votes
Congress-BJP nexus
There is no doubt that Congress and BJP play, like their product IPL, a joint game in the country's politics even as they pretend to be fighting one another for power at national and regional levels.
The truth is that the BJP was the creation of the Congress party to target Muslims vote banks so that Muslims fearing the Hindutva crimes simply vote for the Congress party, not knowing the hidden nexus between them. The way both Congress and BJP delay the Supreme Court judgment to get back the Babri mosque for worshipping Allah the almighty, has finally opened the eyes of Indian Muslims – at least many of them if not all – about the hidden anti-Islam agenda of these tow national parties. They have stopped voting both Congress and BJP and that resulted in the fall of Congress and BJP parties in Delhi state where a new party Aam Aadmi party AAP of Arvind Kejriwal swept the polls with a huge mandate. In order avoid the BJP's Hindutva agenda, Muslims vote for Congress. While the Congress is helping BJP to get more Hindu votes, Muslims help Congress take away major chunk of Muslim votes.
Essentially both Congress and BJP, covertly linked to Hindutva RSS, have common roots and Congress indirectly supports BJP as wherever Congress rules or ruled, BJP comes to take over. BJP has replaced Congress in several Indian states and Indian parliament, and it now rules Goa state with Christian majority. In other words, Congress, seeking to insult and contain, if not undermine importance of, Muslims in the country, makes way for the Hindutva party to replace it.
It appears the era of Congress party is over in India while BJP would enjoy the status of some more time until a national party with sincerity and commitment emerges to save the nation and people.
Corruption ridden Congress thrives and makes a comeback each time after the debacle, due mainly to the fact that Indian politics is not honest enough and bribery and corruption are rampant in the country. No ruling political party, except perhaps the AAP, is above corruption and they are not sincere and committed to people's concerns.
So far, it is impossible to make it out of existence in Indian politics. Of course, each time an obituary was written about the Congress party, it always made a comeback by cleverly playing on the weaknesses of other parties that are equally corrupt. Anti-incumbency of other parties helps the Congress to win polls.
In fact, there is no political party in the country, at national and state levels, that has pursed honest politics.
Congress Surgery?
Poll outcomes in the high-stakes assembly elections in West Bengal, Tamil Nadu, Assam, Kerala and Puducherry are shocking for Congress ad not pleasing for the BJP. In West Bengal and Tamil Nadu, where the incumbent Trinamool Congress and AIADMK respectively were surging ahead right from the initial rounds of counting, and they have drowned their foes and established their hold on to the people.
Congress high command led by Sonia Gandhi and Rahul Gandhi are deeply worried about the unexpected fate of the senior most party in the country. There is a suggestion to make Rahul as the president of the party but Rahul may not be interested in snatching party power from his mother.
The 2016 poll in Tamil Nadu and West Bengal has indeed further strengthened the respective ruling party's hold over the populations. Kerala has displayed poor account of the Congress party.
The state elections have clearly shown that Indians have clearly disapproved the Congress party as their rulers and also they are not in a mood to trust the BJP either. In West Bengal where the Congress and Communist parties made poll alliance to defeat the CM Mamata Banerjee's ruling party TMC, the opposition parties have been decimated as minor parties. It is doubtful if CPM and/or Congress can win elections in the state any time in the near future.
The poll debacle of BJP or DMK misfortunes in Tamil Nadu is not as serious fall as of Congress suffered in most of the states that went to poll in May. Similarly, the debacle of the new alliance PWA or PMK in TN is also could be temporary but BJP's is a serious concern for the BJP leadership because all their campaigns have ended in disaster for the party. But both the PWA and PMK have done their initial work as alternative political parties, though they could not win seats or increased their vote shares against the powerful DMK and AIADMK.
One does not know how would Tamil voters have reacted has the DMK declared MK Stalin as the DMK's CM candidate. There is a suggestion that people would have seen the development as a positive trend in DMK and even the poll outcomes would have been different. Not very sure!
There have been no changes in the AICC secretariat since the last Lok Sabha polls in which the party had its worst ever performance by securing just 44 seats in the 543-member House.
Congress leader Digvijaya Singh has made a pitch for a 'major surgery' in the organisation after the party's poor performance in the assembly polls. With the Congress losing power in Assam and Kerala, party President Sonia Gandhi has said it would introspect over the causes of the debacle and work with 'greater vigour' for the services of the people. However, taking to micro-blogging site, AICC General Secretary Digvijaya Singh said, "Today's results disappointing but not unexpected. We have done enough Introspection shouldn't we go for a Major Surgery?"
The Congress rejected suggestions that the party Vice President or President Sonia should accept blame for its debacle in four states. Digvijay's suggestion has come at a time when there is talk of the much-delayed reshuffle in the AICC secretariat likely to be carried out soon and indications are that Rahul Gandhi could be elevated as party chief. He also added that since the party was under the overall leadership of Sonia Gandhi and Rahul Gandhi, they are the ones who have to take steps to rejuvenate the party and build up a regional leadership. Even Congress leader Shashi Tharoor MP said it is now a time for action, not giving any idea about what exact change they want.
Over all confusion in the party about the future of the party is so strong there is no credible solution to make the party look healthy. Rampant corruption, insensitive misrule, promotion of RSS/BJP to blackmail the Muslim voters have created deep rooted crisis in the party which the BJP is taking full advantage in polls.
Is Congress era is over so early?
Can India Balance Between Beijing and Washington?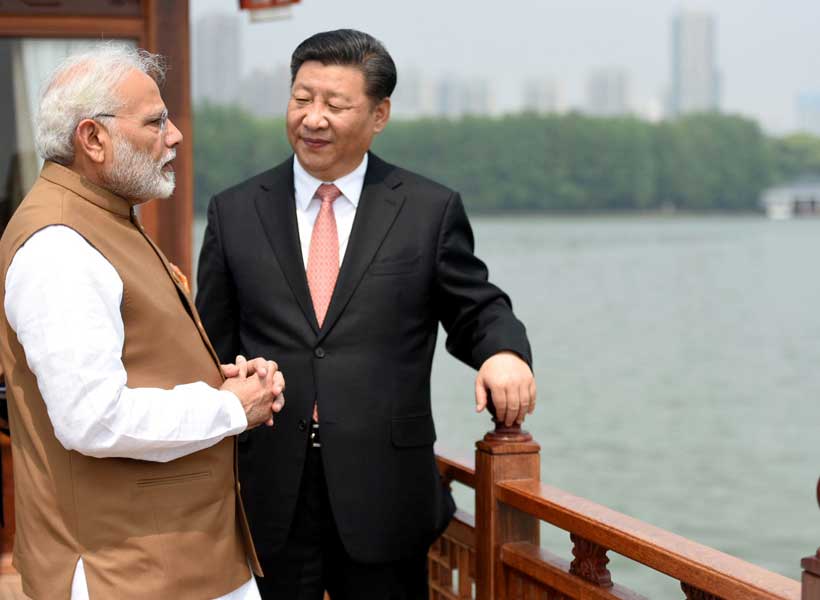 On October 10, 2018, a Senior Chinese Diplomat in India underscored the need for New Delhi and Beijing to work jointly, in order to counter the policy of trade protectionism, being promoted by US President, Donald Trump.
It would be pertinent to point out, that US  had imposed tariffs estimated at 200 Billion USD in September 2018, Beijing imposed tariffs on 60 Billion USD of US imports as a retaliatory measure, and US threatened to impose further tariffs. Interestingly, US trade deficit vis-à-vis China reached 34.1 Billion USD for the month of September (in August 2018, it was 31 Billion USD). Critics of Trump point to this increasing trade deficit vis-à-vis China as a reiteration of the fact, that Trump's economic policies are not working.
Ji Rong, Spokesperson of the Chinese Embassy in India said that tariffs will be detrimental for both India and China and given the fact that both are engines of economic growth it is important for both to work together.
The Chinese diplomat's statement came at an interesting time. US President, Donald Trump on October 2, also referred to India as 'tariff king'. Even though the India-US strategic relationship has witnessed a significant upswing, yet the US President has repeatedly referred to India imposing high tariffs on US exports to India (specifically Harley Davidson motorcyles).
It also came days after, after India signed a deal with Russia (October 5, 2018) for the purchase of 5 S-400 Air Defence system, during the visit of Russian President Vladimir Putin. The Chinese envoy's statement also came days before India attended the China dominated Shanghai Cooperation Organization (SCO). Significantly, India and China also began a joint training programme for Afghan Diplomats on October 15, 2018 (which would last till October 26, 2018).
Trilateral cooperation between India, China and Afghanistan was one of the main thrust areas of the Wuhan Summit, between Chinese President, Xi Jinping, and Indian PM, Narendra Modi, and this is one of the key initiatives in this direction.
There are a number of factors, which have resulted in New Delhi and Beijing seeking to reset their relationship. The first is difference between New Delhi and Washington on economic ties between the former and Iran and Russia. Washington has given mixed signals with regard to granting India exemptions from Countering America Through Sanctions Act (CAATSA).
US ambiguity on providing waivers to India
While sections of the US establishment, especially Jim Mattis, Defence Secretary and Secretary of State, Michael Pompeo have been fervently backing a waiver to India, there are those who oppose any sort of waiver even to India. NSA John Bolton has been warning US allies like India, that there will be no exemption or waiver from US sanctions targeting Iran's oil sector. On October 4th, Bolton while briefing the press said:
"This is not the Obama administration … is my message to them (the importers),
Trump himself has not been clear on providing India a waiver, when asked about this issue, he said India would  know soon about the US decision (Trump has the authority to provide a Presidential waiver to India from the deal with Russia). A State Department Spokesperson also stated, that the US was carefully watching S-400 agreement with Russia, as well as India's decision to import oil from Iran, and such steps were 'not helpful'. With the US President being excessively transactionalist, it is tough to predict his final decision, and with growing differences between him and Mattis, one of the ardent advocates of waivers for India, it remains to be seen as to which camp will prevail.
US protectionism and New Delhi's discomfort
Differences between Washington and New Delhi don't end on the latter's economic ties with Tehran and Moscow. India has on numerous occasions stated, that while strengthening strategic ties with the US, it was concerned about the Trump administration's economic policies. This was clearly evident from the Indian Foreign Minister Sushma Swaraj's speech at the SCO Meet (October 12, 2018) held at Dushanbe, Tajikistan where she pitched for an open global trading order. Said Swaraj:
"We have all benefited from globalization. We must further develop our trade and investment cooperation. We support an open, stable international trade regime based on centrality of the World Trade Organization,"
Even if one to look beyond Trump's unpredictability, there is scope for synergies between New Delhi and Beijing in terms of economic sphere and some crucial connectivity projects.
Economic Opportunities
For long, trade has been skewed in favour of China, and this is a growing concern for India. Trade deficit between India and China has risen from 51.1 Billion USD in 2016-2017 to 62.9 Billion in 2017-2018 (a rise of over 20 percent).
The imposition of US tariffs has opened up opportunities for China importing certain commodities from India. This includes commodities like soybeans and rapeseed meal. In a seminar held at the Indian embassy in Beijing in September 2018, this issue was discussed and one on one meetings between potential importers (China) and sellers (India) was held. India urged China to remove the ban which had imposed on the import of rape meal seeds in 2011.
Connectivity and Afghanistan
Another area where there is immense scope for cooperation between India and China is big ticket connectivity projects. During his India visit, Uzbekistan President, Shavkat Mirziyoyev invited India to participate in a rail project connecting Uzbekistan and Afghanistan.
Afghanistan has welcomed this proposal, saying that this would strengthen cooperation between China and India in Afghanistan. India-China cooperation on this project is very much in sync with the China-India Plus Model proposed by China at the BRICS Summit in July 2018.
India and China can also work jointly for capacity building in Afghanistan. New Delhi has already been involved in providing assistance to Afghanistan in institution building and disaster management, and if Beijing and New Delhi join hands this could make for a fruitful partnership. The India-China joint training program for Afghan diplomats is a significant move in this direction. India and China can also look at joint scholarships to Afghan students where they can spend part of their time in China and the remaining time in India.
Both India and New Delhi for any meaningful cooperation in Afghanistan can not be risk averse, and will have to shed their hesitation. Beijing for instance has opted for a very limited 'capacity building' , where it will work with India in Afghanistan. While Kabul had expected that both sides will invest in a significant infrastructure project, Beijing with an eye on its ally Islamabad's sensitivities opted for a low profile project.
Conclusion
New Delhi should not be too predictable in it's dealings with Washington DC, and has to do a fine balancing act between Beijing and Washington DC. While on certain strategic issues are synergies between India and the US, on crucial economic and geo-political issues, there are serious differences, and India's ties with Beijing are crucial in this context. New Delhi and Beijing should seek to expand economic ties, and the latter should give more market access to Indian goods. Apart from this, both countries should work closely on connectivity projects. If both sides build trust, the sky is the limit but it will require pragmatism from both sides. Beijing should not allow the Pakistani deep state to dictate it's links with India (especially in the context of cooperation in Afghanistan). New Delhi on its part, should not make any one issue a sticking point in its complex but very important relationship with Beijing.
The "Neo-Cold War" in the Indian Ocean Region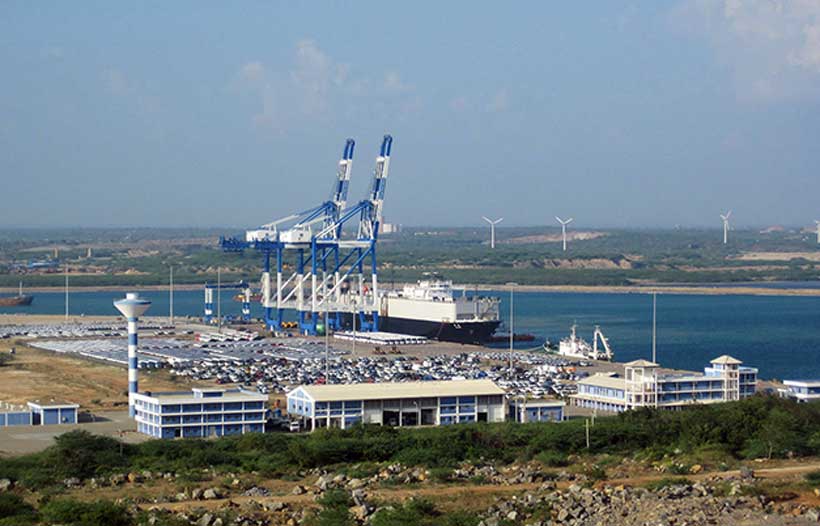 Addressing an event last week at London's Oxford University, Sri Lankan Prime Minister Ranil Wickremesinghe said some people are seeing "imaginary Chinese Naval bases in Sri Lanka. Whereas the Hambantota Port (in southern Sri Lanka) is a commercial joint venture between our Ports Authority and China Merchants – a company listed in the Hong Kong Stock Exchange."
Prime Minister Wickremesinghe has denied US' claims that China might build a "forward military base" at Sri Lanka's Hambantota port which has been leased out to Beijing by Colombo. Sri Lanka failed to pay a Chinese loan of $1.4 billion and had to lease the China-developed port to Beijing for 99 years. Both New Delhi and Washington had in the past expressed concerns that Beijing could use the harbor for military purposes.
The USA, China, and India are the major powers playing their key role in the "Neo-Cold War" in Central Asian landmass and the strategic sea lanes of the world in the Indian Ocean where 90% of the world trade is being transported everyday including oil. It is this extension of the shadowy Cold War race that can be viewed as the reason for the recent comment made by the US Vice President Mike Pence that China is using "debt diplomacy" to expand its global footprint and Hambantota "may soon become a forward military base for China's expanding navy".
According to some analysts, the deep-water port, which is near a main shipping route between Asia and Europe, is likely to play a major role in China's Belt and Road Initiative.
In his book "Monsoon" Robert D. Kaplan (2010), a senior fellow at the Centre for a New American Security notes the following:
[…] the Indian Ocean will turn into the heart of a new geopolitical map, shifting from a unilateral world power to multilateral power cooperation. This transition is caused by the changing economic and military conditions of the USA, China and India. The Indian Ocean will play a big role in the 21st century's confrontation for geopolitical power. The greater Indian Ocean region covers an arc of Islam, from the Sahara Desert to the Indonesian archipelago. Its western reaches include Somalia, Yemen, Iran, and Pakistan — constituting a network of dynamic trade as well as a network of global terrorism, piracy, and drug trafficking […]
Two third of the global maritime trade passes through a handful of relatively narrow shipping lanes, among which five geographic "chokepoints" or narrow channels that are gateway to and from Indian ocean: (1) Strait of Hormuz (2) Bab el-Mandab Passage (3) Palk Strait (4) Malacca and Singapore Straits and (5) Sunda Strait.
While Lutz Kleveman (2003), argues that the Central Asia is increasingly becoming the most important geostrategic region for the future commodities, Michael Richardson (2004) on the other hand explains that the global economy depends on the free flow of shipping through the strategic international straits, waterways, and canals in the Indian Ocean.
According to the US Energy Information Administration (EIA)  report published in 2017, "world chokepoints for maritime transit of oil are a critical part of global energy security. About 63% of the world's oil production moves on maritime routes. The Strait of Hormuz and the Strait of Malacca are the world's most important strategic chokepoints by volume of oil transit" (p.1). These channels are critically important to the world trade because so much of it passes through them. For instance, half of the world's oil production is moved by tankers through these maritime routes. The blockage of a chokepoint, even for a day, can lead to substantial increases in total energy costs and thus these chokepoints are critical part of global energy security.  Hence, whoever control these chockpoints, waterways, and sea routes in the Indian Ocean maritime domain will reshape the region as an emerging global power.
In a recent analysis of globalization and its impact on Central Asia and Indian Ocean region, researcher Daniel Alphonsus (2015), notes that the twists and turns of political, economic and military turbulence were significant to all great players' grand strategies:
(1) the One Belt, One Road (OBOR), China's anticipated strategy to increase connectivity and trade between Eurasian nations, a part of which is the future Maritime Silk Road (MSR), aimed at furthering collaboration between south east Asia, Oceania and East Africa; (2) Project Mausam, India's struggle to reconnect with its ancient trading partners along the Indian Ocean, broadly viewed as its answer to the MSR; and (3) the Indo-Pacific Economic Corridor, the USA's effort to better connect south and south east Asian nations. (p.3)
India the superpower of the subcontinent, has long feared China's role in building outposts around its periphery. In a recent essay, an Indian commentator Brahma Chellaney wrote that the fusion of China's economic and military interests "risk turning Sri Lanka into India's Cuba" – a reference to how the Soviet Union courted Fidel Castro's Cuba right on the United States' doorstep. Located at the Indian Ocean's crossroads gives Sri Lanka the strategic and economic weight in both MSR and Project Mausam plans. MSR highlights Sri Lanka's position on the east-west sea route, while Project Mausam's aim to create an "Indian Ocean World" places Sri Lanka at the center of the twenty-first century's defining economic, strategic and institutional frameworks. Furthermore, alongside the MSR, China is building an energy pipeline through Pakistan to secure Arabian petroleum, which is a measure intended to bypass the Indian Ocean and the Strait of Malacca altogether.
A recent study done by a panel of experts and reported by the New York Times reveal that how the power has increasingly shifted towards China from the traditional US led world order in the past five years among small nation states in the region. The critical role played by the strategic sea ports China has been building in the rims of Indian Ocean including Port of Gwadar in Pakistan, Port of Hambantota in Sri Lanka, Port of Kyaukpyu in Myanmar and Port of Chittagong in Bangladesh clearly validates the argument that how these small states are being used as proxies in this power projection.
This ongoing political, economic and military rivalry between these global powers who are seeking sphere of influence in one of the world's most important geostrategic regions is the beginning of a "Neo-Cold War" that Joseph Troupe refers as the post-Soviet era geopolitical conflict resulting from the multipolar New world order.
IMF bail-out Package and Pakistan
Pakistan may approach IMF to bail-out the current economic crisis. It is not the first time that Pakistan will knock the doors of IMF. Since 1965, Pakistan has been to IMF 17 times. Almost all of the governments has availed IMF packages. Usually, IMF is a temporary relief and provide oxygen for short time so that the patient may recover and try to be self-sustained. The major role of IMF is to improve the governance or reforms, how the ill-economy of a country may recover quickly and become self-sustained. After having oxygen cylinder for 17 times within 5 decades, Pakistan's economy could not recover to a stage, where we can be self-sustained and no more looking for IMF again and again. This is a question asked by the common man in Pakistan to their leadership.  People are worried that for how long do we have to run after IMF package? The nation has enjoyed 70 decades of independence and expects to be mature enough to survive under all circumstances without depending on a ventilator.
The immediate impact of decision to approach IMF, is the devaluation of Pakistani Rupees. By depreciating only one rupee to US dollar, our foreign debt increases 95 billion rupees.  Today we witness a depreciation of rupee by 15 approximately (fluctuating), means the increase in foreign debt by 1425 billion rupees. Yet, we have not negotiated with IMF regarding depreciation of Rupees. Usually IMF demand major depreciation but all government understands the implications of sharp devaluation, always try to bargain with IMF to the best of their capacity. I am sure, Government of Pakistan will also negotiate and get the best bargain.
IMF always imposes conditions to generate more revenue and the easiest way to create more income is imposing tax on major commodities including Gas, Electricity and Fuel. Pakistan has already increased the prices of Gas, Electricity and Fuel. It has had direct impact on basic necessities and commodities of life. We can witness a price hike of basic food, consumer items and so on. Except salaries, everything has gone up. While negotiating with IMF formally, we do not know how much tax will be increased and how much burden will be put on the common man.
We believe, our rulers know our capacity and will keep in mind the life of a common man and may not exceed the limit of burden to common man beyond its capacity. We are optimistic that all decisions will be taken in the best interest of the nation.
It is true, that Pakistan has been to IMF so many times, so this might be a justification for the PTI Government to avail IMF package. But, there are people with different approach. They have voted for change and for "Naya" (new) Pakistan. They do not expect from PTI to behave like previous several governments. If PTI uses the logic of previous governments, may not satisfy many people in Pakistan.
Especially, when Pakistan was in a position to take-off economically, we surrendered half way, may not be accepted by many people in Pakistan.
The government has explained that other options like economic assistance from friendly countries was also very expensive, so that they have preferred IMF as more competitive package. I wish, Government may educate public on the comparison of available options, their terms and conditions, their interest rate, their political conditions, etc. There might be something confidential, Government may avoid or hide, one may not mind and understand the sensitivity of some of the issues. But all permissible information on the terms and conditions of all options in comparison, may be placed on Ministry of Finance's website or any other mode of dissemination of knowledge to its public.
Against the tradition, people of Pakistan have voted Imran Khan, who so ever was given ticket of PTI, public has voted him or her blindly in trust to Imran Khan. A few of his candidates might not be having very high capabilities or very good reputation, but, public has trusted Imran Khan blindly. Imran Khan is the third most popular leader in Pakistan, after Jinnah the father of nation, and Zulfiqar Ali Bhutto, the Former Prime Minister of Pakistan in 1970s.
People of Pakistan have blindly trusted in Imran Khan and possess very high expectations from him. I know, Imran Khan understands it very well. He is honest, brave and visionary leader and I believe he will not disappoint his voters.