Evil and Suffering, Atheism and Humanism, within the Philosophy of Religion
"Is he [God] willing to prevent evil, but not able? then he is impotent. Is he able, but not willing? then he is malevolent. Is he both able and willing? whence then is evil?" (Epicurus) –Found in Hume's Dialogues Concerning Natural Religion
The above quote by David Hume is in turn a quote from the ancient atheist Greek thinker Epicurus. It encapsulates in a short sentence the atheists' argument against theism within the philosophy of religion.
Epicurus and Hume basically assert here that it is logically incompatible to posit both the existence of an omnipotent and benevolent God and the reality of evil. Since evil undoubtedly exists, God must not exist. The argument seems logically unassailable, at least at first sight, until one looks at the hidden premises or assumptions. What might those be? They are these at a minimum: (a) an omnipotent God could create any world, (b) a benevolent God would prefer a world without evil over a world with evil, and (c) God would create the world he prefers.
But several questions challenging those premises arise here: is (a) indisputably true, given that a world with free agents is more valuable than a world with no free agents? Can those free agents be caused or determined to do only what is morally right and good, even by God? For God to create agents who are capable of moral good, he had to create agents who are capable of moral evil as well. Morality, after all, is based on freedom and personal responsibility. Is premise (b) also necessarily true? For all we know, could God be using evil to achieve some good end, such as bringing about the virtues of compassion and mercy? As long as (a) and (b) remain possibly false, is the seemingly unassailable conclusion of the argument any longer necessarily true? That is to say, does it lose its deductive force?
One form of the evidential argument from evil is based on the assumption, often agreed on by theists and atheists alike, that an omnipotent, omniscient, benevolent being would prevent the existence of significant amounts of gratuitous and pointless evil and suffering. Here the question arises: is there a point to each of the seemingly gratuitous evils such as the unnecessary suffering of animals caught in a forest fire? The theistic traditions historically have affirmed the inscrutability of God and the ways of God: because of human cognitive limitations we are unable to judge as improbable the claim that there are various goods secured by God's allowing the evils in the world. But here another crucial question arises has this so called "inscrutability" created a chasm between human and divine knowledge?
But there is a third option as stated by Paul Draper. He argues that the world as it is, with its distribution of pains and pleasures, is more likely given what he calls a "hypothesis of indifference," by which he means that the existence of sentient beings (including their nature and their place) is neither the result of a benevolent nor a malevolent nonhuman person. There is no intentionality for evil and suffering. Contrast this with the theistic account in which, since God is morally perfect, there must be morally good reasons for allowing biologically useless pain, and there must be morally good reasons for producing pleasures even if such pleasures are not biologically useful.
In response, Peter van Inwagen (1942) maintains that this argument can be countered by contending that for all we know, in every possible world which exhibits a high degree of complexity (such as ours with sentient, intelligent life) the laws of nature are the same or have the same general features as the actual laws. We cannot assume, then, that the distribution of pain and pleasure (including the pains and pleasures reflected in biological evolution) in a world with a high degree of complexity such as ours would be any different given theism. We are simply not epistemically capable of accurately assigning a probability either way, so we cannot make the judgment that theism is less likely than the hypothesis of indifference.
When assessing arguments of this sort, some important questions for consideration are these: What is the claim probable or improbable with respect to? And what is the relevant background information with respect to the claim? The plausibility of the claim "God's existence is improbable with respect to the evil in the world" considered alone may well be very different from the plausibility of the claim "God's existence is improbable with respect to the evil in the world" when considered in conjunction with, say, one or more of the arguments for God's existence. Furthermore, the theist can offer other hypotheses which may raise the probability of evil given God's existence. For example, the major theistic traditions affirm the belief that God's purposes are not restricted to this earthly life but extend on into an afterlife as well. In this case, there is further opportunity for God to bring moral good out of the many kinds and varieties of evil in this life. Thus the full scope of the considerations and evidences for and against theism may well raise the probability of God's existence above that of taking into account only a part. Nevertheless, the evidential problem of evil remains a central argument type against the plausibility of theism.
A theodicy, unlike a defense, takes on the burden of attempting to vindicate God by providing a plausible explanation for evil. The theodical approach often takes the following general form: God, an omnipotent and benevolent being, will prevent/eliminate evil unless there is a good reason or set of reasons for not doing so. There is evil in the world. Therefore God must have a good reason or set of reasons for not preventing/eliminating evil. There are various attempts to demonstrate what that good reason is, or those good reasons are. Two important theodicies are those that appeal to the significance and value of free will, and those that appeal to the significance and value of acquiring virtuous traits of character in the midst of suffering.
This latter case is made by Victor Frankel in his popular book Man's Search for Meaning, but the very first fully developed theodicy was crafted by Augustine in the fifth century A.D. For Augustine, God is perfect in goodness, and the universe, God's creation, is also good and exists for a good purpose. Since all creation is intrinsically good, evil must not represent the positive existence of any substantial thing. Evil, then, turns out to be a metaphysical privation, a privatio boni (privation of goodness), or the going wrong of something that is inherently good.
Both moral and natural evil, for Augustine, entered the universe through the wrongful use of free will. Since all creatures, both angels and humans, are finite and mutable, they have the capacity to choose evil, which they have done. Thus, while God created everything in the world good, including angels and humans, through the use of their wills these free agents have ushered into the world that which is contrary to the good. Much of what is good has become corrupted, and this corruption stems from these free creatures, not from God. The Augustinian theodicy concludes with the culmination of history entailing cosmic justice. For God will, in the eschaton (the end of time), usher all who repent into the eternal bliss of heaven and castigate to hell all those who, through their free will, have rejected God's gift of salvation.
One objection to Augustine's theodicy is that a number of evils are brought about by natural events, such as disease and natural disasters, including earthquakes and tsunamis. These evils do not seem to occur because of the free choices of moral creatures. The free will theodicy, then, is ineffectual as a solution to arguments from evil that include natural events such as these. C. S. Lewis, Alvin Plantinga, and others have proposed that supernatural beings may ultimately be responsible for evils of this kind, but most theodicists are skeptical of such a notion.
The soul-making (or person-making) theodicy was developed by John Hick and Pierre Teilhard de Chardin, utilizing ideas from the early Christian thinker and bishop Irenaeus (c.130–c.202 C.E.). According to this theodicy, as advanced by John Hick, God created the world as a good place, but no paradise, for developing morally and spiritually mature beings. Through evolutionary means, God is bringing about such individuals who have the freedom of will and the capacity to mature in love and goodness. Individuals placed in this challenging environment of our world, one in which there is epistemic distance between God and human persons, have the opportunity to choose, through their own free responses, what is right and good and thus develop into the mature persons that God desires them to be—exhibiting the virtues of patience, courage, generosity, and so on. In some way, this is Aristotelian virtue ethics with a vengeance.
Evil, then, is the result of both the creation of a soul-making environment and of the human choices to act against what is right and good. While there is much evil in the world, nevertheless the trajectory of the world is toward the good, and God will continue to work with human (and perhaps other) persons, even in the afterlife if necessary, such that in the eschaton everyone will finally be brought to a place of moral and spiritual maturity. This seems to be part of Pierre Teilhard de Chardin's anthropological theology of man's evolutionary process or the spiritualization of matter aiming at its telos or purpose, at what de Chardin calls the Omega point.
One objection to this soul-making theodicy is that it appears deterministic, radically progressive and almost a denial of free will and the possibility of utter failure on the part of man in reaching this avowed destiny. Furthermore, there are many evils in the world that seem to have nothing to do with character development. Gratuitous evils appear to be in abundance. There is no empirical support for the claim that the world is structured for soul making. Many persons appear to make no moral progress after much suffering; in fact, some persons seem to be worse off by the end of their earthly life.
In reply, it can be argued that apparently pointless evils are not always, in fact, without purpose and merit. The compassion that is evoked from such seemingly indiscriminate and unfair miseries, for example, is a great good, and one which may not arise without the miseries appearing as unfair and indiscriminate. While God did not intend or need any particular evils for soul-making purposes, God did arguably need to create an environment where such evils were a possibility. Thus, while each individual instance of evil may not be justified by a particular greater good, the existence of a world where evil is possible is necessary for a world where soul making can occur. In any case, the attitude—be it the right one or the wrong one–that man assumes toward suffering remains his choice under the aegis of free will.
Obviously, with this kind of theodicy a positive doctrine of life after death is central, for there are cases in which difficulties in an individual's life breed bitterness, anger, and even a reduction of virtuous character. So in these instances, at least, the soul-making process would need to continue on in the afterlife. Hence the need for Purgatory within Christianity or reincarnation in Eastern religions.
The free will and soul-making theodicies share a common supposition: that God would not permit evil which is not necessary for a greater good. Many theists maintain that some evils are not justified, that some horrors are so damaging that there are no goods which outweigh them. Elie Weisel seems to so argue in his books when, within the Jewish tradition, he seems to be quarrelling with God and his purposes; for if there are such evils (the Holocaust being the foremost example), the question can be raised why God would allow them. It may be that standard theism or deism, theism unaccompanied by other religious claims, is inadequate to provide a response. In fact, some philosophers of religion have so argued: an adequate reply requires an expanded theism which incorporates other particular religious claims.
One such approach, in some way challenging Wiesel's approach, has been offered by Marilyn McCord Adams (1943–). Utilizing the resources of her own Christian religious tradition, Adams pushes theodicy beyond a general theism to an expanded Christian theism utilizing a Christocentric theological framework. She focuses on the worst sorts of evils, which she calls "horrendous evils." These are evils which, when experienced by a particular person, give that person reason to doubt whether her life could, considered in its totality, be taken to be a great good to her. Adams argues that the Christian theodicists should abandon the widely held assumption that responses to evil can only include those goods that both theists and atheists acknowledge. She maintains that goods of this sort are finite and temporal, whereas the Christian has infinite and eternal goods at her disposal. An intimate, loving, eternal relationship with God, for example, may well be a good that is infinite and incomparable with any other kind of good. She further argues that taking a "general reasons-why" approach to theodicy in which some general reason is provided to cover all forms of evil does not seem to be the kind of help we need. As a Christian philosopher, she believes a more adequate response can be provided which involves the coexistence of God and the evils in the world. Rather than focusing on the possible reasons why God might allow evils of this sort, she maintains that it is enough to show how God can be good and yet permit their existence.
Adams argues that there is good reason for the Christian to believe that all evils will ultimately be defeated in one's life and that God will ultimately engulf all personal horrors through integrating participation in the evils into one's life with God. Given this integration, she argues, all human beings, even those who have experienced the most horrific evils on earth, will in the eschaton be redeemed and thus find ultimate meaning and goodness in their lives. Such a view does, of course, presuppose one particular religious tradition and one interpretation of that tradition. Universal salvation remains a possibility; for, after all, the Church itself while asserting that some people are already enjoying God's company (they are dubbed saints), has never declared that any human soul is in undoubtedly in hell, and this despite Dante's fanciful portrayal and conversations with dozens of his Inferno's sojourners.
Another recent approach to the problem of evil, similar in some respect to that offered by Victor Frankel, is the one offered by Eleanor Stump. She considers the problem to be not an intellectual one attempting to solve a logical puzzle, but rather a deeply personal one involving interpersonal relations, the central relations of which are between God and God's creatures. She treats the problem of evil as centrally a problem of suffering and utilizes an account of second-person experiences and second-person biblical narratives to make her case.
Stump suggests a possible world, one grounded in the worldview of Thomas Aquinas, in which love is central. The proper object of love is God, which, on Aquinas's doctrine of divine simplicity, is identical to God's goodness. This goodness is also within human beings, and so a proper object of love includes love of other human beings (as well as oneself). Fallen human beings prefer pleasure and power over the greater goods, and as such human beings are not properly internally integrated around the ultimate and proper good. One must be redeemed in order to have proper internal integration.
Using the biblical story of Job, Stump sees several levels of second-person accounts, including God's interactions with Job and a dialogue between God and Satan. Job, she suggests, received what he needed: an assurance of God's goodness. But the way Job received this assurance, the way he knows that his suffering is under the providence of a good and loving God, occurs through a second-person experience that is difficult to explain to one who did not have the same experience. What we have in these accounts, then, are second-person stories relating God's personal interaction with his creatures. What we learn from such biblical stories is that God will produce goods from one's suffering for the one suffering—goods which would otherwise have not been produced. One such story is that of Joseph and his brothers expressed in Joseph's famous words to his brothers: "You meant it for evil, but God meant it for good." One objection to Stump's defense is that, in many cases, suffering seems to produce no growth or goods in the individual who is suffering. In fact, in some cases, suffering seems to predictably diminish the sufferer. Furthermore, much evil and suffering seems to be indiscriminate and rather gratuitous.
A related problem is that of divine hiddenness tied in some way to that of inscrutability. Many people are perplexed and see as problematic that, if God exists, God does not make his existence sufficiently clear and available. The problem, concisely stated, can be put this way. If God exists as the perfect, loving, benevolent being that theists have generally taken God to be, then God would desire the best for his creatures. The best for God's creatures, at least in the Christian religion and to some extent in all of the Abrahamic traditions, is to be in relationship with God. However, many people, both non-theists and sometimes theists themselves, claim to have no awareness of God; they find him absent and distant; some mystics have talked about "the dark night of the soul" when God is totally absent. Christ himself on the cross cried out "My God, my God, why have you abandoned me?" So the question arises naturally: Why would God remain hidden and elusive, especially when individuals would benefit from being aware of God?
John Schellenberg has argued that the hiddenness of God provides evidence that God does not in fact exist. Using a child-parent analogy, an analogy which is often used in the Abrahamic traditions themselves, Schellenberg notes that good parents are present to their children, especially when they are in need. But God is nowhere to be found, whether one is in need or not. So God, at least as traditionally understood, must not exist.
Schellenberg offers several different forms of the argument. One version can be sketched this way. If God does exist, then reasonable non-belief would not occur, for surely a perfectly loving God would desire that people believe in God. And if God desires that people so believe, God would work it out so that persons would be in a reasonable position to believe. However, reasonable non-belief does occur. There are persons who do not believe in God, and they are reasonable in doing so. Even after studying the evidence, examining their motives of belief, praying and seeking God, they still do not believe and see no good reason to believe. But a perfectly loving and good God, it seems, would ensure belief in God by all such persons. God would make himself known to them so that they would believe. Since there is reasonable non-belief, then, we have solid evidence that God, as a perfectly loving, caring being does, not exist.
Shellenberg's argument can be stated concisely this way: If there is a God, he is perfectly loving; If a perfectly loving God exists, reasonable non-belief does not occur; reasonable non-belief occurs; so no perfectly loving God exists. Various replies can be made to this argument. While not a common move by theists, one could deny the first premise. Dystheists maintain that God is less (maybe much less) than omnibenevolent and that he may be evolving too. This view of God is certainly not consistent with traditional theism whereby, as Anselm put it, God is "that than which nothing greater can be conceived." Indeed to conceive of something greater is to make oneself God. It turns out that narcissism may be the original sin, not a sexual transgression.
Another reply is to deny premise two, and several reasons might be offered in support of its denial. First, it may be that those persons who do not believe are, for one reason or another, not ready to believe that God exists, perhaps because of emotional or psychological or other reasons. So God hides out of love and concern for the person. Second, it could be that God's revealing himself to some people would produce the wrong kind of belief or knowledge of God or could cause one to believe for the wrong reasons, perhaps out of fear or trepidation or an egoistic desire for success. In cases like this, God's hiding would, again, be due to God's love and concern for those who are not yet ready to believe.
A third reply is to deny the third premise. Some theists have, in fact, maintained that any non-belief of God is unreasonable—that every case of non-belief is one in which the person is epistemically and morally culpable for his non-belief. That is, while such persons do not believe that God exists, they should so believe. They have the requisite evidence to warrant such belief, yet they deny or suppress it; they are intentionally disbelieving. For many philosophers of religion, these replies to the issue of divine hiddenness are highly unsatisfactory. The elusiveness, inscrutability and hiddeness of God continues to be a problem for both theists and non-theists.
We may conclude this brief excursus into atheism and the philosophy of religion by asserting that, contrary to what many assume in our Western secularist culture, philosophy of religion has always been and remains even today a flourishing field thriving even among avowed atheists and agnostics. There are also a number of important currents emerging which include feminist approaches underpinned by an ethics of care and human responsibility, as championed by the likes of Emanuel Levinas, renewed interest in medieval Thomistic philosophy of religion, and an emphasis on the environment, on race, on ethnicity, and science and its relationship to religion which we have recently explored more thoroughly elsewhere.
Philosophy of religion is an exciting field which needs urgent restoration and cultivation and will undoubtedly experience a resurrection of sorts in the near future; one not experienced since the 13th and 14th centuries, the centuries of faith and Christian humanism. Only the indifferent and the ignorant will remain ready and willing to throw the baby (religion) out the window with the dirty water (the corruption of religion). But as both Vico and Jung have well taught us, religion is such a constitutive part of human nature and of humanism from its very beginnings, that to throw it out the window mindlessly, is to ensure that it will come back from the back door as a as a depraved anti-democratic cult or extreme ideology. It becomes a vicious circle. There is a better choice and it is that of reflecting on religion and what it means for our lives, perhaps reinterpret it or return to its original interpretation, perhaps reform it radically. The choice remains ours.
Seven Out of 10 Top School Systems Are in East Asia Pacific
The East Asia and Pacific region has seven of the top ten performing education systems in the world, with schools in China and Vietnam showing significant progress, according to a new World Bank report released today. This is a major accomplishment that offers important lessons to countries around the world. In the rest of the region, however, up to 60 percent of students are in under-performing schools that fail to equip them with the skills necessary for success.
Growing Smarter: Learning and Equitable Development in East Asia and the Pacific argues that improving education is necessary to sustain economic growth and highlights the ways that countries in the region have been able to improve learning outcomes. Drawing on lessons from successful education systems in the region, it lays out a series of practical recommendations for key policies that promote learning so that students acquire foundational skills in reading and math, as well as more complex skills that are needed to meet future labor market demands.
"Providing a high-quality education to all children, regardless of where they are born, isn't just the right thing to do. It's also the foundation of a strong economy and the best way to stop and reverse rising inequalities," said Victoria Kwakwa, World Bank Vice President for East Asia and Pacific.
A quarter of the world's school-age children – some 331 million – live in East Asia and the Pacific. Up to 40 percent of them attend school in education systems whose students are ahead of the average students in OECD countries. These schools are not only in wealthy countries such as Singapore, Korea and Japan, but also in middle-income countries such as China and Vietnam. And, as the report highlights, student performance isn't necessarily tied to a country's income level. By age 10, for example, the average Vietnamese student outperforms all but the top students in India, Peru and Ethiopia.
But many countries in the region are not getting the results they want. In Indonesia, for example, test scores showed students were more than three years behind their top-performing peers in the region. In countries such as Cambodia and Timor-Leste, one-third or more of second graders were unable to read a single word on reading tests.
Another key finding of the report is that across the region, household incomes do not necessarily determine children's educational success. In Vietnam and China (Beijing, Shanghai, Jiangsu and Guangdong provinces), for example, students from poorer households do as well, if not better, in both math and science, as compared to average students in the OECD.
"Effective policies for the selection, motivation, and support of teachers as well as sound practices in the classroom are what determine how much students learn. For policymakers looking to improve their school systems, allocating existing budgets efficiently, coupled with strong political commitment, can make a real difference in the lives of children across the region," said Jaime Saavedra, the World Bank's Senior Director for Education.
The report lays out concrete steps for improving learning for lagging systems in the region and beyond, starting with ensuring that institutions are aligned so that objectives and responsibilities across the education system are consistent with each other. The report also urges a focus on four key areas: effective and equity-minded public spending; preparation of students for learning; selection and support of teachers; and systematic use of assessments to inform instruction.
The report found that top-performing systems spend efficiently on school infrastructure and teachers, have recruitment processes to ensure the best candidates are attracted into teaching, and provide a salary structure that rewards teachers with proven classroom performance. It also found that schools throughout the region increased preschool access, including for the poor, and have adopted student learning assessment into their educational policies.
The report complements and builds on the World Bank's World Development Report 2018: Learning to Realize Education's Promise, which was released in September 2017 and found that without learning, education will fail to deliver on its promise to eliminate extreme poverty and create shared opportunity and prosperity for all.
UN women's commission opens annual session at 'pivotal moment' for gender equality movement
Taking place at "a pivotal moment for the rights of women and girls," the United Nations body dedicated to gender equality and women's empowerment opened its annual session on Monday hearing calls to help women, especially those in rural communities, secure an end to the male-dominated power dynamic that has long marginalized their participation and muted their voices.
"Across the world, women are telling their stories and provoking important and necessary conversations – in villages and cities; in boardrooms and bedrooms; in the streets and in the corridors of power," said Secretary-General António Guterres, opening the 62nd session of the UN Commission on the Status of Women (CSW62).
"From 'MeToo' to 'Time's Up' and 'The Time is Now' […] women and girls are calling out abusive behaviour and discriminatory attitudes," he added.
Under the Commission's theme 'Challenges and opportunities in achieving gender equality and the empowerment of rural women and girls,' the UN chief observed that although a marginalized group, they were often the backbone of their families and communities, managing land and resources.
Mr. Guterres said that supporting these women is essential to fulfilling our global pledge to eradicate poverty and to create a safer, more sustainable world on a healthy planet – 2030 Agenda for Sustainable Development.
Mr. Guterres painted a picture of a male-dominated world with a male-dominated culture in which centuries of patriarchy and discrimination have left a damaging legacy.
Calling it "the greatest human rights challenge of our time," he said "progress for women and girls means changing the unequal power dynamics that underpin discrimination and violence."
"Discrimination against women damages communities, organizations, companies, economies and societies," he continued. "That is why all men should support women's rights and gender equality. And that is why I consider myself a proud feminist."
The President of the UN Economic and Social Council (ECOSOC), Marie Chatardova pointed to the Commission, as a critical instrument to strengthen the global normative framework for women's empowerment and the promotion of gender equality.
The body is also as a key driver of ECOSOC's work, with the Commission's outcomes as bolstering the 2030 Agenda's implementation and that of its 17 Sustainable Development Goals (SDGs), which seek to end poverty and ensure prosperity for all on a healthy planet.
Noting that gender equality and the empowerment of women and girls is a theme that cuts across all the Goals, Ms. Chatardova said the Commission's focus on rural women and girls was both timely and well-aligned with the 2030 Agenda.
According to the ECOSOC President, inclusion is a key element in all efforts.
Noting that the Commission has long provided a roadmap for the UN's work in women's empowerment and gender equality, she announced a special Council session in May to build sustainable, inclusive and resilient societies.
Gender perspective is critical
For his part, the President of the UN General Assembly, Miroslav Lajčák, noted that past challenges were approached without a gender perspective, which "has had a particularly damaging effect on rural women."
Mr. Lajčák underscored that this needs to stop, and that women must be taken into account in all actions, from access to water to closing pay gaps.
Drawing attention to rural women as a major source of innovation, he explained that their empowerment would benefit everyone.
"These kinds of women do not need our help, in finding solutions," he stated. "What they need is our support, in turning their ideas into reality."
Calling gender equality "an urgent priority," Mr. Lajčák he encouraged the Commission to carry on with its important work "until every woman, sitting in this room today has the same rights, and the same opportunities, as the man sitting beside her.'
"Thank you for continuing your calls. Let's make them stronger than ever," he concluded.
UN Women Executive Director Phumzile Mlambo-Ngcuka highlighted the importance of this year's focus on rurual women.
"It speaks to our commitment to fight some of the biggest challenges of our time: poverty, inequality, intersectionality and an end to violence and discrimination against women and girls, no matter where they live, or how they live, so that we 'leave no one behind,'" she stated.
Calling it "a tipping point moment," the UN Women chief urged the forum to seize the opportunity to secure and accelerate progress, build consensus and share best practices to serve "the poorest of the poor."
"It has never been so urgent to hold leaders accountable for their promises for accelerating progress" on the SDGs, she said.  An unprecedented hunger for change in women's lives was being seen around the world, as well as a growing recognition that when women banded together, "they can make demands that bite."
"Women are fighting to take steps that change their lives, and they are refusing to accept the practices that have normalized gender inequality, sexual misconduct, exclusion and discrimination across all walks of life," she argued.
She urged everyone to unite around the common cause, as set out in the principles of equality in the UN Charter, "to make this a moment of real acceleration, change and accountability."
The chair, Geraldine Byrne Nason, said the current session is a key moment on the path to ending discrimination against women and girls once and for all.  Indeed, "time is up" on women taking second place around the world, she said, challenging the Commission to do more and do better.
CSW functions under ECOSOC, acting as the UN organ promoting gender equality and the empowerment of women.  CSW62 runs until 23 March.
UNESCO Rewards Outstanding Teacher Initiatives in Chile, Indonesia and the UK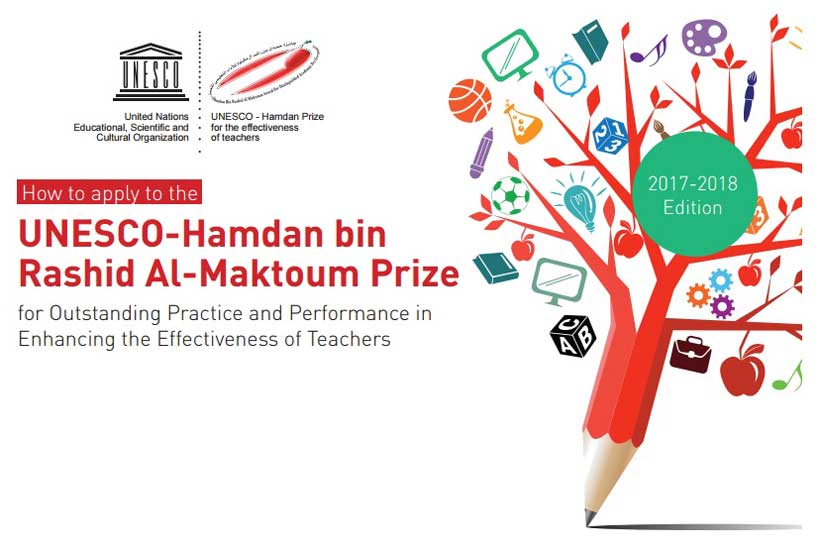 Three programmes designed to empower teachers have been named as winners of the 2017-2018 UNESCO-Hamdan bin Rashid Al-Maktoum Prize: The Center for Mathematic Modeling of the University of Chile, the Diklat Berjenjang project of Indonesia and the Fast-track Transformational Teacher Training Programme of the United Kingdom of Great Britain and Northern Ireland.
The Prize for Outstanding Practice and Performance in Enhancing the Effectiveness of Teachers will be awarded on 5 October as part of World Teachers' Day celebrations at UNESCO Headquarters in Paris when the each winner will receive $100,000.
The Center for Mathematic Modeling of the University of Chile (Chile) is rewarded for its Suma y Sigue: Matemática en línea (Adding it up: Mathematics online) programme which was developed to address the performance gaps in mathematics between students from different socioeconomic backgrounds and improve the quality of maths teaching in general. It is a 'learning by doing' programme organized by grade levels and curricula, enabling teachers to focus on their specialized area of mathematics teaching. It blends face-to-face sessions with intensive virtual instruction. The programme is scaleable, easily accessed by teachers in remote areas, and it promotes inclusion.
The Diklat Berjenjang project from Indonesia is rewarded for bringing quality professional development to early childhood teachers, notably in the poorest and most remote areas. It helps meet Indonesia's need for teachers skilled in creating stimulating learning environments for young learners. It helps identify potential teacher trainers and provides step-by-step written guides, follow-up assignments and exchanges.
The Fast-track Transformational Teacher Training Programme from the United Kingdom of Great Britain and Northern Ireland was selected for its highly innovative and impactful approach to training teachers in various professional environments in Ghana. It promotes child-centred and play-based pedagogy in early education to replace traditional talk chalk disciplinarian methods. Practicing teachers receive a two-year training, combining workshops with smaller peer group meetings in which they are paired on the basis of their complementary strengths to engage in classroom observations and in class coaching.
The three winners were selected from 150 nominations submitted by the Governments of UNESCO's Member States and UNESCO partner organizations on the recommendation of an International Jury of education professionals.
Established in 2009 with funding from Sheikh Hamdan bin Rashid Al-Maktoum of Dubai, the Prize is awarded every two years to projects that have made outstanding contributions to improving the quality of teaching and learning, especially in developing countries or within marginalized or disadvantaged communities.
More information on the prize: https://en.unesco.org/teachers/Hamdan-prize