Global economic & military rivalries causing environment deterioration
The very uneasy & unbearable weather and the overall deteriorating environmental conditions in coastal areas all over the world have become the new trend of our planet's environment. The economic & military rivalries among different countries around the world are to be blamed.
Such rivalries have been causing excessive industrialization and increasing trend of production & usage of military hardwares for conflicts & wars that are further causing environment of our planet to deteriorate drastically.
The global & regional economic rivalries are pushing the rival states to thrust for an unprecedented & unchecked militarization of different geopolitical hotspots of our globe and to propel for producing, acquiring & using destructive weapons. Such economic & military rivalries have been the reason behind worsening weather conditions in victim countries with flat & low-lying coastal areas.
Geo-economic rivalries & the resulting pollution
The "industrialized" countries had already done enormous damage to our planet's environment in each of their attempt to supersede the other in industrial revolution and in terms of the size of economy. The same is happening in case of "young industrialized" economies and in case of the current "industrializing" economies. In the race of economic might, the victims have always been the environment and the human beings.
The effects of industrial competition among the economic powers are far reaching and liable to affect the eco-system for many years to come. One particularly damaging effect is the dumping of harmful used-water from industrial sites into open oceans, seas or rivers, damaging many of the water sources around the globe and, thus, causing health issues to the people who use such water for different purposes. For instance, the same water is used by the farmers for irrigation purpose which affects the quality of food that is produced, causing health issues to the people who consume those foods. Moreover, industrial competition among the economic powers have pushed them to increase their industrial capacities to an excessive level and, thus, causing immense air pollution which has taken toll on the environment and the health of the human being. The human and the environment are at risk from exposure to radiation from different sources, including radioactive materials, accelerators, electrical installations, mobile broadcasting centres etc. The most alarming effect of this economic competition among the economic powers is the global warming, which result from the smoke and greenhouse gases that are being released by industries into the air.
Environmental impacts of militarization
The heavy economic competitions among the global & regional economic powers are resulting in geopolitical rivalries among themselves. These countries, therefore, are resorting to heavily arming their arsenals with weapons, from light firearms to heavily destructive firearms, to barrel bombs and chemical weapons, to nuclear missiles. Some state-players are also resorting to wars & proxy wars.
The wars around the globe have been seriously impacting the natural environments of not only the war-torn countries, but also most of the countries around the globe. The weaponry & military vehicles used in the war zones have been producing many hundreds of thousands of tons of carbon dioxide, carbon monoxide, nitrogen oxides, hydrocarbons and sulphur dioxide – all of which are immensely injurious to our planet's environment. Air pollutions from weaponry & military vehicles have, over the years, adversely affected human health. Increase in cancer, birth defects, and other adverse health conditions are associated with war-related environmental damage.
Rise in temperatures & sea-level
The urge for economic supremacy among the powerful economies around the globe has increased the human activities of burning fossil fuels such as coal, oil and natural gas. Such a trend is altering the relatively stable and liveable environmental conditions of our planet. Such burning of fossil fuels, which release carbons that have previously been locked up in coal, oil and natural gas for millions of years, cause gradual rise in average global temperatures. Such gradual rise in average global temperatures (global warming) poses a number of threats: (i) the threat to human health increases by many times, (ii) ecosystem is damaged due to higher temperatures, (iv) changing weather patterns cause irreversible damage to agriculture, (iv) coastal areas are vulnerable to the lethal combination of "rising sea level" and increasing number of severe ocean storms that are caused by the melting of mountain-ice and polar glaciers.
The effects of the continuation of the rise in sea-levels are deep. It would submerge under water many areas around the globe, especially the coastal ones; and perhaps it will not take decades for the coastlines to change. The rise in sea-levels has been causing more floods, especially during storms. Higher sea-levels have increased the size of the flow of water that the super-storms generally bring into inland from the ocean. Some short term impacts of rise in sea-level are regularly experienced these days by many victims around the globe. The Tsunami is an ideal example of what sort of disaster the rise in sea-level could lead us up to.
Developing countries with flat & low-lying coastal areas
The global & regional economic & military rivalries have been causing environmental deterioration around the globe and developing countries having flat & low-lying coastal areas are among the victims of such deteriorating environmental conditions. Besides the major problems of poverty and illiteracy, these countries' vulnerability to environmental deterioration is very alarming. The overall economic developments of these countries have been troubled to a considerable extent by the adverse effects of deteriorating global environmental conditions.
With flat and low-lying landscape, the coastal areas of these countries are highly vulnerable to floods and storms. Among the major impacts of the environmental deterioration – particularly of the global warming – the increasing rise in sea-level every year has been the most alarming one so far, with the possibility of submerging a substantial percentage of the total coastal landmass of these countries under water.
A prediction made in 2007 by the UK Department for International Development suggests that there is the possibility that 6-8% of 'flood-prone' Bangladesh may be submerged under water by 2030. From the 4th assessment report published by the International Panel on Climate Change or IPCC, it appears that a substantial portion of coastal areas of Myanmar is predicted to be submerged under water by 2050.
In long run, the coastline and coastal cities of many developing countries having flat & low-lying landscape will be lost because of rise in sea-level. But in the short term, sea-level rise will cause more damage through floods and powerful storms that might bring water into inland with them, causing devastation like that of the Tsunami. Substantial portion of the total population of these countries live in the coastal areas, where majority of the population are affected, directly or indirectly, by coastal floods or tidal flows, salinity, tropical cyclones, erosion of river-bank etc. With the rise of sea-level "even by a metre", these countries could lose a substantial percentage of their total landmass under water, turning millions of inhabitants living in the coastal areas into climate refugees.
Observations
German scholars from Potsdam Institute for Climate Impact Research (PICIR) warned that if incentives of the global warming are not reduced immediately worldwide, a series of unstoppable events will be triggered, causing dramatic rise in sea-levels and the total annihilation of coastal cities inhabited by millions of people. Therefore, in line with the suggestion from PICIR, the incentives of global warming, which, among others, includes the worldwide economic & military competition, must be reduced. Otherwise, millions of coastal inhabitants around the globe would face a survival threat.
Developing countries with flat & low-lying coastal areas are likely to experience more 'immediate' adverse impacts of environmental deterioration. Agriculture, industry, school, hospitals, roads, bridges, livelihoods, marine resources, forestry, biodiversity, human health and other utility services will suffer severely.
All in all, it is high time for "affected" & "to be affected" countries to start working together on real solutions with utmost urgency in the global & regional level.
Warm Winters and Global Warming: Does the COP work?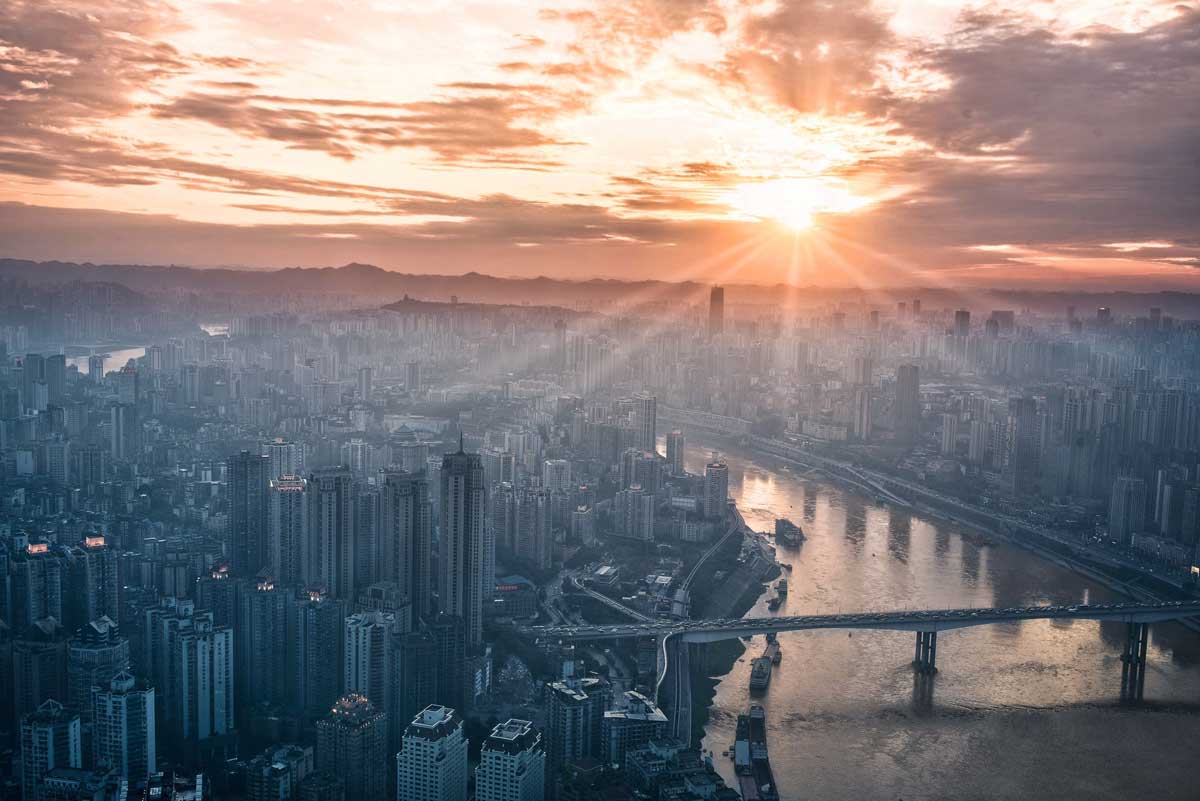 We have passed 2022 with many environmental problems and the impact of a changing climate, natural disasters that cannot be avoided, wars that are still happening, and social habituation with the COVID-19 outbreak. However, more than the things that have been mentioned, humans who are in this anthropocene period need to be more cautious in responding to their environment. The loss of many animals and the increase in seawater temperature are indications that the real threats from the environment are no longer in "alert" or "alert" status but are already at the "danger" level. Some scientists are predicting a worst-case scenario of the earth in the next few years.
In early 2023, the news was shocked by the fact that the Saudi Arabian desert had become green due to the incessant rains in recent months. Saudi Arabia, a desert country, has become a green land, something that has never existed in history, violating its natural laws. It's different in Arabia and Europe, which go through the winter and experience a temperature rise so that the ice is no longer present in some parts of Europe this year. Although there are numerous traditions and sports practiced by the community that can only be practiced in winter, for example, ski sports,
In 2022, the warmest weather record was broken into different parts of the world, including England, where it was recorded above 40 degrees Celsius. The cause of this increase in temperature is triggered by many factors, of course; for example, severe forest fires that hit parts of Europe and Australia are related to hot weather. During this time, the weather in Pakistan and India is very warm because the temperature reaches 51 degrees Celsius.
In a range of studies, scientists have concluded that the increase in temperature is probably due to climate change. Rising temperatures are expected to negatively impact humans and nature, including frequent droughts and diseases caused by warm weather.
The British Meteorological Office predicts that the Earth's temperature will rise in 2023, making it one of the warmest years in the world.
Temperatures are forecast to rise for the 10th consecutive year, when global temperatures have risen at least one degree Celsius above average.
The world is about 1.1 degrees Celsius hotter compared to the period before the Industrial Revolution in 1750–1900, when humans started using large amounts of fossil fuels and released emission gases into the atmosphere.
Temperatures on Earth in 2023 are expected to be 1.08 to 1.32 degrees Celsius warmer than the pre-industrial or pre-industrial average.
COP and its myths
Meanwhile, countries around the world are committed to reducing emissions to keep temperature rises below 1.5 degrees Celsius to prevent the worst impacts of climate change. Many countries around the world have come to an agreement on that commitment since 2015. Similarly, the real actions that have been achieved However, the reality is that global temperatures also become warmer each year without being able to avoid it. The existence of the COP, which aims to slow the rate of increase in the earth's temperature, actually needs to be questioned again, starting from the formation of the COP itself, the procedures for implementing decisions, and the time-consuming implementation.
Among the things that make the COP less reliable in efforts to control the earth's temperature, there are:
Firstly, the fact that the COP, which is under the umbrella of the UN, is not a suitable place for efforts to reduce carbon emission commitments because, basically, the UN was originally designed to bring about peace between people, while climate change must be designed for humans to face an environment that cannot be negotiated like humans.
Secondly, the UN has a voluntary system. There is no obligation to follow and obey the rules that are in place. Not all countries in the world have participated in the 2015 COP Paris Agreement. Countries of the world can leave the UN at any time if they are deemed inappropriate and are no longer sought after. There is no ultimate coercive law; it's all voluntary.
The third, the COP was designed inappropriately based on the needs of nature and the environment, because the environment cannot speak like humans do, but the agendas and communiqués in the COP are prepared based on the needs and interests of the countries in the COP, where the votes are the most and are considered most profitable; that's how the agenda and the rules of the COP were made. This is clear from previous COPs 26 and 27.
At COP26, the phrase "stop" the use of fossil fuels was modified to "periodically decrease" the use of fossil fuels. With regard to COP27, the discussion focused on financing and the financing system established by developed countries for developing countries. The grants that were issued during the Paris agreement were considered to have not been on target; there was a lot of suspicion in the flow of grants, not to mention that developed countries like America were considered to not be keeping their promises to spend climate change funds as promised at the beginning of the agreement. China, which produces the second-largest gas emissions after America, is considered not entitled to climate compensation funds, but as the second-largest economy, it should contribute funds.
Indirectly, every year, the COP even looks like a myth because they say that if you do this, it's going to produce this. All the agendas which have been agreed are but temporary human consolations. It's not that the COP under the umbrella of the United Nations is not functioning properly; all plans and aspirations are actually logical and can be implemented; it's just who and how these commitments are carried out that makes everything feel like a myth.
An insight into the climate disaster in the future
The IPCC released its most recent report in August 2021 by analyzing 14,000 studies, 234 experts from 65 countries concluded that the earth's temperature will rise 1.5 degrees Celsius compared to pre-industrial times of 1800–1850 in 2040.
The temperature increase is faster than forecast for 2050. According to this 4,000-page report over seven years, rising global temperatures cannot be avoided even if each country achieves net-zero or net-zero emissions by 2050.
The meaning of this research is that certain countries will run out of water, some lands will sink, diseases from ancient viruses will return to life and attack humans more than COVID-19, there will be no ice in winter, and predictions of extinction or the genetic transformation of humans will occur.
A bright light in the dark
Human instinct will always seek to prevent catastrophes, hunger and fear. Even though the rate of change on the earth is getting worse day by day, several new breakthroughs have still been successfully created by humans to meet their needs in order to survive. Examples such as air conditioners are created by people to cope with warm summers. Cell farms that can cut livestock production costs, carbon bankers for energy, and even plans to occupy the moon and discover new habitable planets All efforts outside of climate agreements and negotiations will always be a way of life for the good hopes of human life in the future, especially for today's young generation, which will inherit the earth in the future. However, it is important to understand that regardless of the quality of existing discoveries, they will not be the same as the clean air that still exists today. Similarly, whatever the quality of the house in the future, it will not necessarily be as comfortable as the land we live on today.
Seals, Satellites and Dung Beetles -What Links Them?
Imagine hunting for a fish dinner in the middle of the ocean, in the middle of the night without flashlight, compass, or iPhone . . . and then to find a way back to land. This is what seals must accomplish on a regular basis to survive. These pinnipeds, so often seen posing with a ball balanced perfectly on a whiskered nose or bowing gracefully for a circus display, have skills that cannot be seen on the stage. In fact, they give our close relatives the chimpanzees something to envy.
One sign of intelligence is an ability to recognize and respond to human gestures. Chimpanzees have difficulty doing this. Dogs are one of a few species capable of doing so. It turns out seals, too, can recognize human gestures and, surprisingly, perform even better than dogs at these tasks, as has been demonstrated through research. The grey seal outshone almost all the other animal contestants.
A dog resting comfortably by the fireplace after a nice meal is a familiar sight for many of us, and it does not take a stretch of the imagination to picture a seal doing the same on a bit of rock or sand after a dinner of fish. The intelligence of the two creatures is comparable, and to some degree, the look of their furry heads, pointy noses, and soulful eyes. Perhaps it's time to extend a little of the love we feel for our pets to their oceanic counterparts far out in the sea. There is a good reason.
Seals face many threats in the wild — loss of habitat, loss of food, pollution, numerous climate change impacts. But there may be a new one. Seals hunt for food at night and must find their way back to shore. Studies have demonstrated that harbor seals can navigate using a lodestar and learned star courses. What would happen if this vital star map was disrupted?
Low Earth orbit (LEO) satellites are brightly visible in the night sky, and could interfere with star navigation. SpaceX, the largest producer of LEO satellites to date, has launched over 3,000 Starlink satellites with plans to launch as many as 42,000. And while SpaceX is the the largest producer of LEO satellites, it is not the only one.
Astronomers have raised concerns that low Earth orbit satellites are visible and inhibit scientific research. The International Association of Astronomers has set up a Centre for the Protection of the Dark and Quiet Sky from Satellite Constellation Interference as a response. The astronomer Meredith Rawls has described the plans of launching thousands more satellites in the coming years as "an unsustainable trajectory".
In addition to creating streaks in photos and hampering astronomical observations, satellites will also handicap creatures like seals, migratory birds, and even the humble dung beetle, all who use stars for navigation.
Among birds, Indigo buntings prefer to travel at night during migration. Scientists studying the buntings found that the birds rely on star patterns to determine north. European robins and yellow underwing moths also use the stars in travel.
If the Milky Way map is disrupted by a projected 65,000 satellites as is expected in a few years, they will light up the sky. They will not only affect astronomy research, but may also affect the survival of many creatures large and small. There are likely many more species that rely on stars beyond the ones discussed in this article – scientists have only scratched the surface of star navigation research.
Global Internet is a necessary purpose, but if it costs species their lives, then perhaps we could have global internet that is just a tad slower — with satellites not quite so low in orbit.
There is another aspect of LEO satellites that is a cause for concern. It is one that threatens not only the survival of other species but also our own. Starlink satellites burn up in the atmosphere leaving a residue (aluminum oxide) that reflects sunlight and could deplete the ozone layer. Furthermore, the full effects of aluminum in the atmosphere are unknown and could be severe. SpaceX might argue that meteoroid material comes in every day – but it is made up mostly of oxygen, magnesium, and silicon. Satellites, by contrast, are made primarily of aluminum. Aluminum can burn to reflective aluminum oxide, which may alter the climate to worsen warming of the planet. Scientists are also concerned that aluminum oxide could create a hole in the ozone layer.
As recently as February 2022, about 40 Starlink Satellites burned up in the atmosphere. And burning up is the ultimate fate for all of them — all 42,000 plus.
The Federal Communications Commission (FCC) is at present examining whether satellite licensing should require environmental review under the National Environmental Policy Act (NEPA), but it may take considerable time, from months to years, for a decision to be reached, and the decision may not end up affecting satellites already approved and in space. Since 1986, the FCC has enjoyed a categorical exclusion from NEPA. One can only hope for a prompt determination that can have a preventive effect.
An uncontrolled aluminum experiment capable of creating holes in the ozone layer and exacerbating global warming is highly risky because we may not have a second chance.
We used to think lead paint was a great idea. Years later, we discovered health risks and began removing it. The trouble is, if we find out a few years from now that aluminum is destroying the atmosphere, we cannot dispense with it as easily as the lead paint.
The seals are enduring the consequences of human activity in more than one way. Is it too much to ask that we give them a chance?
Author's note: This piece first appeared in CommonDreams.org.
Climate change and food security in the 21st century
Climate change is one of the many factors that influence food security. Worldwide, levels of hunger remain alarmingly high. In 2021, they exceeded all earlier records, as stated by the Global Report on Food Crises. Food is not distributed evenly around the world, so most of the world will not go hungry; however, the poorest parts of the world will be hungrier than they are now. More people are going hungry than ever before, and the UN warns that the number is growing. The latest UN report on global hunger shows that we are regressing. No fewer than 828 million people went hungry one way or another every day last year. Natural disasters, conflicts, and rising temperatures are alarming for food security. Prices of crops and wheat have amplified dramatically and will continue to do so. To avert a global food catastrophe Billions of dollars are needed. Apart from the fact that it is too late, what can we do?
There is no doubt that COVID-19 has exacerbated the problem, but even before the pandemic, hunger was on the rise because of poverty, conflicts, a growing population, disease, and climate change. According to the IPCC report, climate change could lead to an extra 183 million people on the edge of acute hunger by 2050. A warmer planet affects how food is grown and distributed around the world. Extreme heat waves, floods in northern Europe, droughts in China, and extreme wildfires in Spain and France are examples.
By 2021, global hunger will have reached nearly 830 million people. According to the UN report; Food insecurity has also increased the gender gap. At least 45 million young children go through wasting (the noxious form of malnutrition).
According to a report in Kenya, people wait for cash payouts from Kenya's government money to cope with the rising food crisis, and how much they receive depends on how vulnerable their families are. In northern Kenya, savings are held in livestock; a man without livestock cannot provide food to their family; drought wipes out a family's fortunes and it takes years to recover, so they have to make sure that their herd stays alive; it's their priority.
How have Russia and the Ukraine war triggered the situation?
Conflicts have emerged, as have the effects of climate change on food structures. Nations have not made progress since COVID 19, and climate change is exposing how vulnerable global food systems are; additionally, the war in Ukraine has caused inflation and food insecurity, and numerous forms of climate disaster have occurred around the world, primarily in the global south. As Russia's war rages around them, Ukrainian farmers go hard at work, which is critical as Ukraine is a chief supplier of grains, cooking oils, and other food items to the rest of the world. However, both making food and receiving it from the rest of the world are becoming increasingly difficult for Ukraine. Some farmers fear that it will rapidly become unbearable. When big nations get sanctioned, particularly unilaterally, then everybody suffers especially poor nations where there is still a food crisis, let alone commodities and other such things.
It is no doubt that the war has led to a massive and deteriorating food security situation in Ukraine, disrupting livelihoods during the agricultural growing season, creating limitations for physical access to inputs, and destroying homes, productive assets, agricultural and forest land, and roads. Russia and Ukraine export approximately one-third of the world's wheat and barley, as well as more than 70% of their sunflower oil and are major corn traders. Russia is the largest global fertilizer producer. World food prices were already rising, and the war has made things worse, blocking some 20 million tons of Ukrainian grain from getting to the Middle East, North Africa, and parts of Asia. Due to Russian obstructions of the Black Sea coast, almost 90 percent of the wheat and other grains from Ukrainian fields that are transported to world markets by sea have been affected. Some grain is being redirected through Europe by rail, road, and river, but the quantity is a drop in the bucket compared with sea routes. The consignments are also backed up as Ukraine's rail gauges don't match those of its nationals to the west. The costs of supply chain disruptions have both accelerated and slowed global economic recovery. Several parts of the world are facing labor shortages, further postponing transport networks. Due to a lack of truck drivers, unloaded ships have become congested.
How can we prevent food insecurity from becoming the next global pandemic?
Climate change is a far more serious issue and threat than the nuclear threat. What makes this bigger is that the majority of us do not consider this a threat because there is no Hiroshima of climate change. The government should levy taxes on more carbon emission businesses to raise awareness about environmental issues because we pollute most of the water that is available to us. Anytime we go to Sea View, people throw litter there. To alleviate climate change, keep it at levels where it is still possible to ensure and maintain everyone's food security and nutrition. In that effort, agriculture also has a role to play, keeping in mind that food security is the priority. Adaptation to climate change in agriculture and food systems for food security and nutrition will require enabling investments, policies, and institutions in various areas where changes on the ground are needed. For the world's poor, becoming accustomed to climate change and ensuring food security go hand in hand. Food can be grown at a higher density and quality with additional hands-on processes than with existing commercial farming practices. Effectiveness has taken precedence over quality and quantity. Commercial farming practices are harsh on the environment. Permaculture and other maintainable methods can together increase the food supply and help the environment at the same time. Of course, that would involve a complete modification of the lifestyle and economy of the world. If everyone grew their food and gave back to nature, we would be good.