Global economic & military rivalries causing environment deterioration
The very uneasy & unbearable weather and the overall deteriorating environmental conditions in coastal areas all over the world have become the new trend of our planet's environment. The economic & military rivalries among different countries around the world are to be blamed.
Such rivalries have been causing excessive industrialization and increasing trend of production & usage of military hardwares for conflicts & wars that are further causing environment of our planet to deteriorate drastically.
The global & regional economic rivalries are pushing the rival states to thrust for an unprecedented & unchecked militarization of different geopolitical hotspots of our globe and to propel for producing, acquiring & using destructive weapons. Such economic & military rivalries have been the reason behind worsening weather conditions in victim countries with flat & low-lying coastal areas.
Geo-economic rivalries & the resulting pollution
The "industrialized" countries had already done enormous damage to our planet's environment in each of their attempt to supersede the other in industrial revolution and in terms of the size of economy. The same is happening in case of "young industrialized" economies and in case of the current "industrializing" economies. In the race of economic might, the victims have always been the environment and the human beings.
The effects of industrial competition among the economic powers are far reaching and liable to affect the eco-system for many years to come. One particularly damaging effect is the dumping of harmful used-water from industrial sites into open oceans, seas or rivers, damaging many of the water sources around the globe and, thus, causing health issues to the people who use such water for different purposes. For instance, the same water is used by the farmers for irrigation purpose which affects the quality of food that is produced, causing health issues to the people who consume those foods. Moreover, industrial competition among the economic powers have pushed them to increase their industrial capacities to an excessive level and, thus, causing immense air pollution which has taken toll on the environment and the health of the human being. The human and the environment are at risk from exposure to radiation from different sources, including radioactive materials, accelerators, electrical installations, mobile broadcasting centres etc. The most alarming effect of this economic competition among the economic powers is the global warming, which result from the smoke and greenhouse gases that are being released by industries into the air.
Environmental impacts of militarization
The heavy economic competitions among the global & regional economic powers are resulting in geopolitical rivalries among themselves. These countries, therefore, are resorting to heavily arming their arsenals with weapons, from light firearms to heavily destructive firearms, to barrel bombs and chemical weapons, to nuclear missiles. Some state-players are also resorting to wars & proxy wars.
The wars around the globe have been seriously impacting the natural environments of not only the war-torn countries, but also most of the countries around the globe. The weaponry & military vehicles used in the war zones have been producing many hundreds of thousands of tons of carbon dioxide, carbon monoxide, nitrogen oxides, hydrocarbons and sulphur dioxide – all of which are immensely injurious to our planet's environment. Air pollutions from weaponry & military vehicles have, over the years, adversely affected human health. Increase in cancer, birth defects, and other adverse health conditions are associated with war-related environmental damage.
Rise in temperatures & sea-level
The urge for economic supremacy among the powerful economies around the globe has increased the human activities of burning fossil fuels such as coal, oil and natural gas. Such a trend is altering the relatively stable and liveable environmental conditions of our planet. Such burning of fossil fuels, which release carbons that have previously been locked up in coal, oil and natural gas for millions of years, cause gradual rise in average global temperatures. Such gradual rise in average global temperatures (global warming) poses a number of threats: (i) the threat to human health increases by many times, (ii) ecosystem is damaged due to higher temperatures, (iv) changing weather patterns cause irreversible damage to agriculture, (iv) coastal areas are vulnerable to the lethal combination of "rising sea level" and increasing number of severe ocean storms that are caused by the melting of mountain-ice and polar glaciers.
The effects of the continuation of the rise in sea-levels are deep. It would submerge under water many areas around the globe, especially the coastal ones; and perhaps it will not take decades for the coastlines to change. The rise in sea-levels has been causing more floods, especially during storms. Higher sea-levels have increased the size of the flow of water that the super-storms generally bring into inland from the ocean. Some short term impacts of rise in sea-level are regularly experienced these days by many victims around the globe. The Tsunami is an ideal example of what sort of disaster the rise in sea-level could lead us up to.
Developing countries with flat & low-lying coastal areas
The global & regional economic & military rivalries have been causing environmental deterioration around the globe and developing countries having flat & low-lying coastal areas are among the victims of such deteriorating environmental conditions. Besides the major problems of poverty and illiteracy, these countries' vulnerability to environmental deterioration is very alarming. The overall economic developments of these countries have been troubled to a considerable extent by the adverse effects of deteriorating global environmental conditions.
With flat and low-lying landscape, the coastal areas of these countries are highly vulnerable to floods and storms. Among the major impacts of the environmental deterioration – particularly of the global warming – the increasing rise in sea-level every year has been the most alarming one so far, with the possibility of submerging a substantial percentage of the total coastal landmass of these countries under water.
A prediction made in 2007 by the UK Department for International Development suggests that there is the possibility that 6-8% of 'flood-prone' Bangladesh may be submerged under water by 2030. From the 4th assessment report published by the International Panel on Climate Change or IPCC, it appears that a substantial portion of coastal areas of Myanmar is predicted to be submerged under water by 2050.
In long run, the coastline and coastal cities of many developing countries having flat & low-lying landscape will be lost because of rise in sea-level. But in the short term, sea-level rise will cause more damage through floods and powerful storms that might bring water into inland with them, causing devastation like that of the Tsunami. Substantial portion of the total population of these countries live in the coastal areas, where majority of the population are affected, directly or indirectly, by coastal floods or tidal flows, salinity, tropical cyclones, erosion of river-bank etc. With the rise of sea-level "even by a metre", these countries could lose a substantial percentage of their total landmass under water, turning millions of inhabitants living in the coastal areas into climate refugees.
Observations
German scholars from Potsdam Institute for Climate Impact Research (PICIR) warned that if incentives of the global warming are not reduced immediately worldwide, a series of unstoppable events will be triggered, causing dramatic rise in sea-levels and the total annihilation of coastal cities inhabited by millions of people. Therefore, in line with the suggestion from PICIR, the incentives of global warming, which, among others, includes the worldwide economic & military competition, must be reduced. Otherwise, millions of coastal inhabitants around the globe would face a survival threat.
Developing countries with flat & low-lying coastal areas are likely to experience more 'immediate' adverse impacts of environmental deterioration. Agriculture, industry, school, hospitals, roads, bridges, livelihoods, marine resources, forestry, biodiversity, human health and other utility services will suffer severely.
All in all, it is high time for "affected" & "to be affected" countries to start working together on real solutions with utmost urgency in the global & regional level.
Satellites record second lowest Arctic sea ice extent since 1979
The polar oceans are among the most rapidly changing oceans in the world. The yearly cycle of the build-up and melting of Arctic sea ice is one of the earth's vital signs and a key climate variable monitored by scientists.
While they may be far from the world's major population centres, changes in the polar regions have global implications: they affect the world's climate through carbon storage and/or release, heat balance, and other environmental and ecological impacts.
One of the most visible indicators of this change is the reduction in the extent of Arctic sea ice by the end of September each year.
Since 1979, scientists have observed a decrease in the extent of Arctic sea ice in all months of the year. The September minimum extent is 36.5 per cent smaller in the period 2010–2019 than it was in the 1980s.
In a recent Intergovernmental Panel on Climate Change report (IPCC, 2019), scientists observed a reduction trend of 12.8 per cent (± 2.3 per cent) per decade. With 4.1 million square kilometres, the 2019 minimum arctic sea ice extent is the second lowest (after the record low of 2012) since the beginning of satellite monitoring in 1979. This rate of decline is likely (between a 66 per cent and 90 per cent probability) to be unprecedented in at least the past 1,000 years.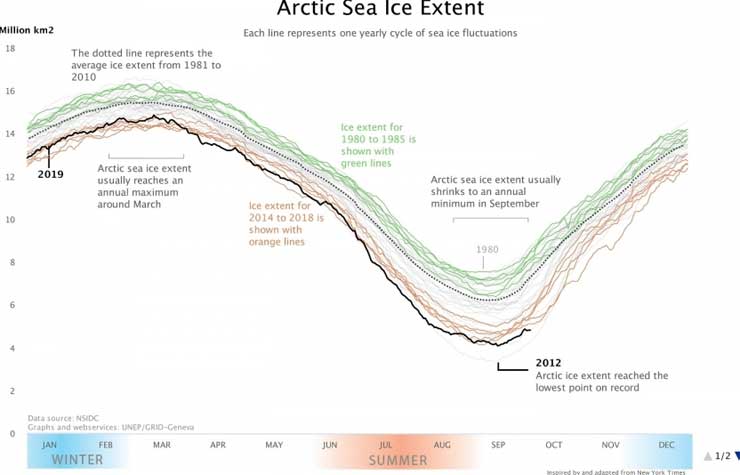 Under a scenario of global heating of 1.5°C above pre-industrial levels, by the end of the 21st century, the Arctic ocean would only be ice-free in September once in every 100 years. Under a global warming scenario of 2°C, this would occur as much as one year in three, according the IPCC.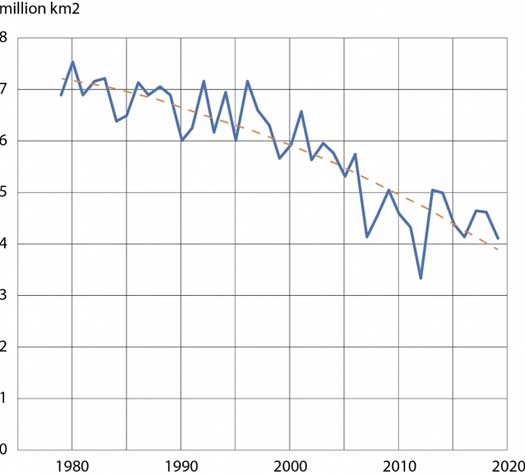 Loss of sea ice increases global heating. White snow reflects sunlight, whereas water absorbs it. Declining Arctic sea ice, therefore, amplifies the warming up of the Arctic. Temperatures increased by around 0.5°C per decade between 1982 and 2017, primarily due to increased absorbed solar radiation accompanying sea ice loss since 1979. This is twice as fast as the global average.
Thinner ice
Not only is the extent of Arctic sea ice reducing, but it is also much thinner, and scientists observe a transition to younger ice. Five-year-old sea ice has declined by about 90 per cent since 1979.
This has several impacts. It reduces the reflection of light, thus contributing to thermal expansion of the oceans. The change in Arctic sea ice extent may influence mid-latitude weather, and it may affect the regional composition of species, their spatial distribution, and the abundance of many marine species, with impacts on the structure of ecosystems.
For instance, reduced ice cover is adversely affecting the habitat of polar bears which now need to travel greater distances and swim more than previously, particularly threatening young cubs.
While the science tells us that global heating is happening, the exact impacts on fragile habitats and ecosystems are much harder to predict.
"There is an urgent need to reduce our greenhouse gases emissions," says Peduzzi.
Dying Wildlife on a Warming Planet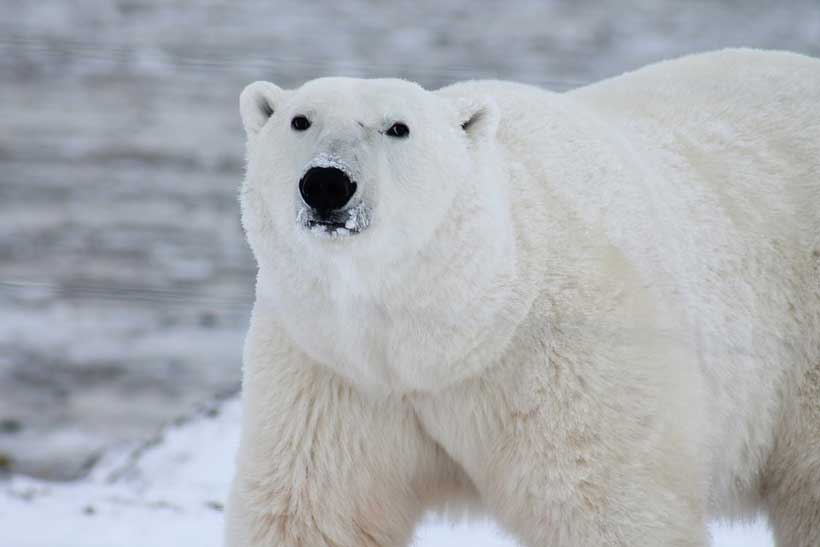 Authors: Meena Miriam Yust and Arshad M. Khan
The emaciated polar bear, a sorry remnant of magnificence, raiding garbage cans in an iconic, even infamous photo, is one consequence of global warming. As the September (2019) National Geographic cover story displays depressingly, Arctic ice collected over winter is sparser, thinner, and now disappears completely during summer in parts of Canada. If the effects of global warming are staring us in the face, then only the woefully or willfully ignorant – like Trump – can ignore them.
One more aspect of warming on Arctic ice has been reported recently. As we know, two-thirds of an iceberg lies under water. As sea water warms, melt increases and scientists have made measurements to discover that submerged parts of icebergs and glaciers entering the sea are melting significantly more than was previously believed, contributing to rising sea levels.
Researchers are warning that permafrost collapse in the Arctic is releasing nitrous oxide, methane, and carbon dioxide. The store is vast: nearly 1,600 billion tonnes of carbon lies trapped in the frozen soils of the permafrost region as a result of decaying organic matter over millennia. That is almost double the quantity in the atmosphere.
The environmental costs of global warming appear in yet other unexpected ways. A new paper in Science reports the threat to coral reef reproduction. Free-spawning marine species synchronize spawning as a way to ensure reproduction. In this way the gametes developed are so numerous that some escape their predators, ensuring species survival. Global warming is now affecting this reproductive synchrony, threatening coral reef recovery.
Rising ocean temperatures impact fish, plankton and crustaceans, in turn affecting the creatures that feed on them. So now sea birds, like the puffin, are struggling to stay alive. These are striking birds with black and white plumage, bright orange legs and feet, and, during the mating season, orange beaks. This past May, it was estimated that between 3,150 and 8,500 puffins starved to death in the Bering Sea, their emaciated bodies washing ashore on the Pribilof Islands, some 300 miles west of mainland Alaska. Prior to the mass deaths, there was a documented period of elevated sea surface temperatures in the eastern Bering Sea according to scientists. The unfortunate result was a shift in zooplankton composition and in forage fish distribution, both food sources for the puffin.
In Iceland, too, puffins are in trouble. Researchers discovered that thousands of puffin chicks had died from starvation in the summer of 2018. It turns out rising ocean temperatures have pushed cold-water fish farther north leaving the baby pufflings with little to eat. The International Union for the Conservation of Nature (IUCN) has categorized the Atlantic puffin (Fratercula arctica) as vulnerable on its red list.
Rising ocean temperatures are also affecting food availability and the habitat of many Arctic creatures, including the walrus, polar bear, gray whale, arctic fox, and ice seal. Some are starving to death, some wandering long and far in search of food. Polar bears rely on sea ice to hunt seals at their breathing holes. When the sea is not covered in ice, breathing holes become unnecessary as the seals can come up anywhere for air, and are no longer easy for polar bears to snatch up. The World Wildlife Fund has reported a 40% drop in number of the southern Beaufort Sea polar bears between 2001 and 2010. Worse still, scientists forecasting global polar bear populations estimate a high probability that 30% of polar bears worldwide will be gone by 2050.
Declining sea ice is also harming seals. Baby harp seals lie on the ice during their fragile first few weeks of life. Without a thick and stable span of ice, seal pups may drown or be crushed by broken ice. In 2007, a then surprising 75 percent plus of pups died due to thin ice conditions; in 2010, nearly all. "Some years, when there's poor ice in a given pupping ground, essentially all of the pups don't make it," says Duke marine biologist David Johnston. As temperatures continue to rise, seal survival becomes precarious.
The Pacific walrus population is in decline with only 129,000 animals left. Due to climate change, the floating summer ice that walruses used to haul themselves upon to rest is now way up north. Consequently the animals are swimming ashore and taking to land in huge numbers. Unfortunately their feeding grounds are far away from shore, forcing a 250 mile round trip. In addition to exhaustion from traveling long distances and food scarcity, walruses also face threats from being on the beach in vast crowds. In 2014, 35,000 walruses were seen together on the shore near Point Lay, Alaska. The animals, which can weigh as much as 1.5 tons, can be frightened easily by loud noises like airplanes, causing stampedes and mass deaths by trampling, especially of young calves – as many as 500 in one incident. If ice continues to diminish, their future looks bleak.
Then there are the gray whales. Their favorite crustacean is the amphipod – a small flat morsel with segments and antennae resembling a grasshopper. These lipid-rich crustaceans are devoured by whales in bulk. Over the past 30 years, as currents have warmed and sea ice has melted, amphipod populations have declined in the Bering Sea whale feeding area. As a result, gray whale mothers and babies have had no choice but to swim north through the Bering Strait and far into the Arctic Ocean in search of an alternate food supply. They are so hungry they are eating krill and mysid shrimp, but as it takes an enormous quantity to match the calories of lipid-rich amphipods, the whales remain hungry.
The North Atlantic right whale, a species federally classified as endangered, is also affected by the rising ocean temperatures. The Smithsonian reports that right whales eat more than 2,000 pounds each day, mostly copepods. Their favorite copepod, the Calanus finmarchicus, has dramatically declined because some of the deep waters of the north Atlantic have warmed almost 9 degrees Fahrenheit since 2004, forcing right whales to migrate elsewhere in search of food. Several right whales have been found dead in Canadian waters in recent months, and a sixth dead whale was found in the Gulf of St. Lawrence in July of this year. The steep rise since 2010 in the deaths of these whales from shipping vessel strikes as well as entanglement with fishing gear is attributed to the animals moving into new and unexpected areas where speed restrictions for vessels are not in place. With some 400 right whales left (out of 500 in the early 2000s) and about 100 breeding females, the species may face extinction if these trends continue. Researchers are hoping to use satellite technology to detect whales in new territory, allowing for faster responses in moving fishing nets and large vessels.
Creatures large and small face threats from melting ice. Lemmings are like hamsters of the tundra – small, furry rodents with faces and whiskers as adorable as the childhood pet. In winter, northern Norway lemmings burrow under the snow for insulation and protection from prey. During good snow seasons, they reach population peaks and their young prosper. But in Norway in recent years, rising temperatures are causing repeated thawing and icing periods resulting in poor snow conditions for the lemmings. The resulting altered and reduced population cycles mean lemmings are no longer reaching population peaks.
The arctic fox relies on lemmings as a primary food source, and scientists believe lemming decline has contributed to sharp declines and breeding failures in the arctic fox population of Norway. Arctic foxes also face threats from the red fox, a larger more aggressive animal, which historically lived south of the arctic fox habitat. Due to climate change and warming of the Arctic, however, the red fox is encroaching on arctic fox areas. Warming is also converting the tundra to shrublands, a habitat the red fox desires. The poor arctic fox faces loss of habitat, decreased food availability, increased competition for food, and possible displacement by the red fox. And with the Arctic continuing to warm, these changes will only become more extensive. Small wonder then that the arctic fox often has to travel long and hard to find food. One female captured all our hearts as it traveled 3,500 km from Norway to Canada in 76 days, its remarkable journey including 1,512 km on sea ice.
These few examples demonstrate the impact of global warming on diverse forms of life — from coral reefs and lemmings to the right whale. We learn that changes in plankton and tiny crustaceans can starve a giant whale and diminishing ice cover can cause polar bears to lose their primary food source, and we begin to register the intimate interconnectedness in the web of life. Human well-being too is tied to this chain of life. If fish decline, so does a food source for humans and the water birds that feed on fish, and as insect pollinators decline, so do our crops and the plants around us. A study suggests that 40% of insect species are in decline. And the U.S. and Canada have lost three billion birds since 1970. In this anthropocene age, humans are not rapacious owners but stewards of our planet, holding it in trust for succeeding generations. It is what the young led by Greta Thunberg are forcefully making clear to their elders.
Author's note: This piece first appeared in CommonDreams.org.
The Climate Action Summit Fiasco
No one could fail to be touched by the fear (for the future) and urgency in Greta Thunberg's young voice as she broke down while addressing world leaders on the last day of the UN Climate Summit. The IPCC (Intergovernmental Panel on Climate Change) Special Report on the oceans showed a worse prognosis, the patient is clearly worse.
Sad to say, despite all Greta's efforts, nothing happened — no commitment by any of the major polluters. Trump sauntered by before going on to mock her in his address — a grown man bullying a 16-year old girl!
UN Secretary General Antonio Guterres wanted a commitment to the higher ambition of limiting global warming to 1.5C instead of 2C. He got excuses, and of course no promise of net zero by 2050 from any major polluter. Net zero implies balancing carbon emissions with carbon removal. He also wanted a commitment to no new coal plants beyond 2020. Instead China, India and Turkey will be shamelessly expanding coal power well beyond that date.
China wanted the developed nations to take the lead due to their long history of emissions and consequent responsibility. It refused to make concrete commitments unless the US and EU did so. The EU blames Poland, a coal exporter; the US has Mr. Trump. In the end none of the major polluters (China, India, EU, US) did although 80 other countries pledged to reach net zero by 2050.
Included in the 80 who pledged were 47 least developed countries (LDCs) although they are the least responsible for the emissions. They have also been victimized by past colonialism, slavery, and for many the IMF's notorious structural adjustment programs.
The climate data from the World Meteorological Organization (WMO) presented at the summit is sobering: Global temperatures are up 1.1C since 1850 of which a 0.2C (or near 20 percent) rise occurred from 2011 to 2015. The five-year period from 2014 to 2019 is the hottest on record while carbon emissions over the same period are up 20 percent from the previous five years. Sea level rise since 2014 has averaged 5mm annually while the 10-year average up to 2016 was only 4mm.
One consequence of the sea level rise and warmer temperatures has been the human catastrophe from the unprecedented storms in Mozambique and the Bahamas recently.
Ninety percent of the excess heat from climate change is absorbed by water, and the WMO recorded the highest ocean heat content on record in 2018. It poses a special danger for the Greenland ice sheet and the Arctic. New research (July 2019) also finds melt under the water surface from glaciers reaching the sea and icebergs is 'orders of magnitude' greater than previously believed. It threatens a dramatic sea level rise by the end of the century.
Professor Brian Hoskins, a meteorologist from Imperial College London warns, "Climate change due to us is accelerating and on a very dangerous course," adding "We should listen to the loud cry from the school children …" No one is listening Professor, despite human-induced warming exacerbating storms, wildfires, heatwaves, coastal flooding, etc. No, not a single major polluter stood up to make a commitment. The EU blames Poland which relies on coal exports and has veto power over any EU-wide policy; the US, Brazil and Saudi Arabia scrupulously avoided the event as if it were a plague.
The IPCC officially adopted its report on oceans and the cryosphere (those portions of Earth's surface where water is in solid form, including sea ice, lake ice, river ice, snow cover, glaciers, ice caps, ice sheets, and frozen ground). Compiled by 100 scientists, it forecasts a catastrophic rise in sea levels, coastal flooding and worsening disasters. It moved none of the implacables — not even the terrifying fact that Greenland's ice sheet alone can raise sea levels by 20 feet. All of it was ignored and instead of a breakthrough, the IPCC was left touting its evidence and reports at the end of the summit.
To summarize, nothing happened. The climate action summit became a climate inaction summit, and the climate can was kicked down the road to Chile for the next IPCC meeting in December.