Global economic & military rivalries causing environment deterioration
The very uneasy & unbearable weather and the overall deteriorating environmental conditions in coastal areas all over the world have become the new trend of our planet's environment. The economic & military rivalries among different countries around the world are to be blamed.
Such rivalries have been causing excessive industrialization and increasing trend of production & usage of military hardwares for conflicts & wars that are further causing environment of our planet to deteriorate drastically.
The global & regional economic rivalries are pushing the rival states to thrust for an unprecedented & unchecked militarization of different geopolitical hotspots of our globe and to propel for producing, acquiring & using destructive weapons. Such economic & military rivalries have been the reason behind worsening weather conditions in victim countries with flat & low-lying coastal areas.
Geo-economic rivalries & the resulting pollution
The "industrialized" countries had already done enormous damage to our planet's environment in each of their attempt to supersede the other in industrial revolution and in terms of the size of economy. The same is happening in case of "young industrialized" economies and in case of the current "industrializing" economies. In the race of economic might, the victims have always been the environment and the human beings.
The effects of industrial competition among the economic powers are far reaching and liable to affect the eco-system for many years to come. One particularly damaging effect is the dumping of harmful used-water from industrial sites into open oceans, seas or rivers, damaging many of the water sources around the globe and, thus, causing health issues to the people who use such water for different purposes. For instance, the same water is used by the farmers for irrigation purpose which affects the quality of food that is produced, causing health issues to the people who consume those foods. Moreover, industrial competition among the economic powers have pushed them to increase their industrial capacities to an excessive level and, thus, causing immense air pollution which has taken toll on the environment and the health of the human being. The human and the environment are at risk from exposure to radiation from different sources, including radioactive materials, accelerators, electrical installations, mobile broadcasting centres etc. The most alarming effect of this economic competition among the economic powers is the global warming, which result from the smoke and greenhouse gases that are being released by industries into the air.
Environmental impacts of militarization
The heavy economic competitions among the global & regional economic powers are resulting in geopolitical rivalries among themselves. These countries, therefore, are resorting to heavily arming their arsenals with weapons, from light firearms to heavily destructive firearms, to barrel bombs and chemical weapons, to nuclear missiles. Some state-players are also resorting to wars & proxy wars.
The wars around the globe have been seriously impacting the natural environments of not only the war-torn countries, but also most of the countries around the globe. The weaponry & military vehicles used in the war zones have been producing many hundreds of thousands of tons of carbon dioxide, carbon monoxide, nitrogen oxides, hydrocarbons and sulphur dioxide – all of which are immensely injurious to our planet's environment. Air pollutions from weaponry & military vehicles have, over the years, adversely affected human health. Increase in cancer, birth defects, and other adverse health conditions are associated with war-related environmental damage.
Rise in temperatures & sea-level
The urge for economic supremacy among the powerful economies around the globe has increased the human activities of burning fossil fuels such as coal, oil and natural gas. Such a trend is altering the relatively stable and liveable environmental conditions of our planet. Such burning of fossil fuels, which release carbons that have previously been locked up in coal, oil and natural gas for millions of years, cause gradual rise in average global temperatures. Such gradual rise in average global temperatures (global warming) poses a number of threats: (i) the threat to human health increases by many times, (ii) ecosystem is damaged due to higher temperatures, (iv) changing weather patterns cause irreversible damage to agriculture, (iv) coastal areas are vulnerable to the lethal combination of "rising sea level" and increasing number of severe ocean storms that are caused by the melting of mountain-ice and polar glaciers.
The effects of the continuation of the rise in sea-levels are deep. It would submerge under water many areas around the globe, especially the coastal ones; and perhaps it will not take decades for the coastlines to change. The rise in sea-levels has been causing more floods, especially during storms. Higher sea-levels have increased the size of the flow of water that the super-storms generally bring into inland from the ocean. Some short term impacts of rise in sea-level are regularly experienced these days by many victims around the globe. The Tsunami is an ideal example of what sort of disaster the rise in sea-level could lead us up to.
Developing countries with flat & low-lying coastal areas
The global & regional economic & military rivalries have been causing environmental deterioration around the globe and developing countries having flat & low-lying coastal areas are among the victims of such deteriorating environmental conditions. Besides the major problems of poverty and illiteracy, these countries' vulnerability to environmental deterioration is very alarming. The overall economic developments of these countries have been troubled to a considerable extent by the adverse effects of deteriorating global environmental conditions.
With flat and low-lying landscape, the coastal areas of these countries are highly vulnerable to floods and storms. Among the major impacts of the environmental deterioration – particularly of the global warming – the increasing rise in sea-level every year has been the most alarming one so far, with the possibility of submerging a substantial percentage of the total coastal landmass of these countries under water.
A prediction made in 2007 by the UK Department for International Development suggests that there is the possibility that 6-8% of 'flood-prone' Bangladesh may be submerged under water by 2030. From the 4th assessment report published by the International Panel on Climate Change or IPCC, it appears that a substantial portion of coastal areas of Myanmar is predicted to be submerged under water by 2050.
In long run, the coastline and coastal cities of many developing countries having flat & low-lying landscape will be lost because of rise in sea-level. But in the short term, sea-level rise will cause more damage through floods and powerful storms that might bring water into inland with them, causing devastation like that of the Tsunami. Substantial portion of the total population of these countries live in the coastal areas, where majority of the population are affected, directly or indirectly, by coastal floods or tidal flows, salinity, tropical cyclones, erosion of river-bank etc. With the rise of sea-level "even by a metre", these countries could lose a substantial percentage of their total landmass under water, turning millions of inhabitants living in the coastal areas into climate refugees.
Observations
German scholars from Potsdam Institute for Climate Impact Research (PICIR) warned that if incentives of the global warming are not reduced immediately worldwide, a series of unstoppable events will be triggered, causing dramatic rise in sea-levels and the total annihilation of coastal cities inhabited by millions of people. Therefore, in line with the suggestion from PICIR, the incentives of global warming, which, among others, includes the worldwide economic & military competition, must be reduced. Otherwise, millions of coastal inhabitants around the globe would face a survival threat.
Developing countries with flat & low-lying coastal areas are likely to experience more 'immediate' adverse impacts of environmental deterioration. Agriculture, industry, school, hospitals, roads, bridges, livelihoods, marine resources, forestry, biodiversity, human health and other utility services will suffer severely.
All in all, it is high time for "affected" & "to be affected" countries to start working together on real solutions with utmost urgency in the global & regional level.
Bicycle comeback amongst initiatives to help Hangzhou cut air pollution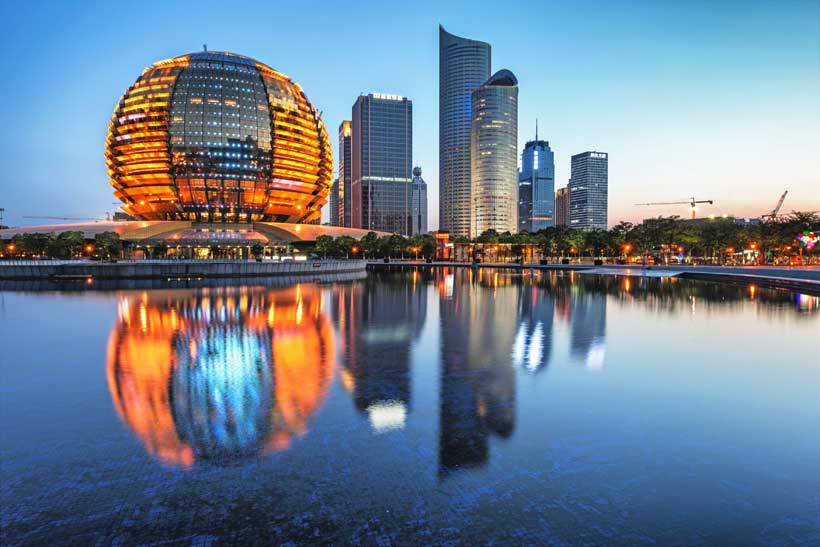 The city of Hangzhou in eastern China was once described by the Italian explorer Marco Polo as the, "finest and most splendid city in the world". Today it is once again on the map thanks to a range of initiatives to cut air pollution and increase the livability of the city.
Indeed, many cities across China have suffered from the effects of air pollution. To remedy the situation, China introduced an Air Pollution Action Plan in 2013 to reduce dangerous particulate matter (PM) 2.5 levels.
For the city of Beijing, the solution has been to drastically eliminate the use of coal: the city closed its coal-fired power stations and banned people in surrounding areas from burning coal for heat. The city's efforts were so effective that, while in 2013, Beijing ranked as the 40th worst city for PM 2.5 by the World Health Organization, it ranked in 187th place in 2018. As part of nationwide efforts to curb air pollutants, other cities in China followed suit and dramatically reduced their PM 2.5 levels.
The new 2018-2020 Three-year Action Plan for Winning the Blue Sky War, announced in July 2018, is the successor of the original air pollution action plan. It calls for a reduction of sulfur dioxide and nitrogen oxide by more than 15 per cent compared with 2015 levels by 2020.
Hangzhou's bike-sharing success
The bustling city of Hangzhou, home to nearly 10 million people, is world-famous for being home to the high-tech industry, including the world's leading e-commerce group, Alibaba.
However, like other cities in China, Hangzhou has had to tackle the scourge of air pollution. Since most of the Hangzhou's PM 2.5 pollution comes from vehicle emissions, Hangzhou city authority started China's very first public bike-sharing scheme. Launched in 2008, the primary purpose of this initiative was to a provide a convenient public service for short journeys in the city. They ended up with two knock-on benefits: less traffic and a reduction in air pollution.
In 2017, when the number of bikes hit a peak, a total of 10 companies, including commercial ones, operated more than 882,000 bikes. The number of bike trips is estimated in the range of hundreds of millions since 2008.
Furthermore, the integration of the public bike-sharing scheme with other public transport in the city has increased its attractiveness and ease-of-use. "This healthy transport has made our city better and its air quality is good," says Tao Xuejun, general manager of the Hangzhou Public Bicycle Service.
China was known as the "Kingdom of the bicycle" in the 1980s. With economic progress, many people moved to motorized forms of transport. The re-emergence of the bicycle in Hangzhou since 2008 may have been somewhat unexpected but its contribution to helping reduced air pollution is undeniable.
In 2017, the Hangzhou bike-sharing scheme won an award from the Ashden charity which said that "the combination of convenient and free bicycles, well separated bicycle lanes and good public transport appears to have led to reduced use of cars and their associated congestion, pollution and greenhouse gas emissions".
"Hangzhou is a great example of how cities can introduce initiatives like bike sharing to encourage people to get out of their cars and reduce air pollution," says Rob de Jong, Head of UN Environment's Air Quality and Mobility Unit. "We really need to encourage city governments and planners around the world to design cities for people, and not cars – leading to safer and cleaner living spaces".
Switching to non-polluting vehicles an international priority
Tackling air pollution by removing cars from the road is the focus of UN Environment's Share the Road Programme. The Programme is centered around the concept that everyone begins and ends their journeys as pedestrians, and in cities, some people rely almost exclusively on walking and cycling. Yet, investors and governments continue to prioritize road space for cars. To make the switch to more eco-friendly means of transport, UN Environment supports governments and other stakeholders in developing countries to systematically prioritize and invest in infrastructure for pedestrians and cyclists.
Bike-sharing schemes have not been without criticism, however. As the number of bicycles grew rapidly across China, many found their way to massive dumps, as companies went bankrupt because of insufficient demand. Vast piles of impounded, abandoned or broken bicycles have become a familiar sight in many big cities.
Hangzhou itself has had to cut the number of bikes. Cities around the world are learning from this example and ensuring they have full control over the number of bikes released into the city within their bike-sharing schemes.
Other initiatives in Hangzhou to reduce air pollution
Conscious of the risk air pollution poses to health, Hangzhou has implemented many other measures to improve air quality. It expanded its metro system to reduce traffic and invested in thousands of electric buses and taxis.
The city also developed an innovative battery-swapping mechanism for the its electric taxi fleet, allowing one electric taxi to travel for 230 kilometers on two to three fully charged batteries every day. Hangzhou's goal is to reach a total fleet of 1,000 electric taxis, ultimately aiming at a zero-emission taxi fleet.
Putting the brakes on fast fashion
Fashion revolves around the latest trends but is the industry behind the curve on the only trend that ultimately matters – the need to radically alter our patterns of consumption to ensure the survival of the planet.
The fashion industry produces 20 per cent of global wastewater and 10 per cent of global carbon emissions – more than all international flights and maritime shipping. Textile dyeing is the second largest polluter of water globally and it takes around 2,000 gallons of water to make a typical pair of jeans.
Every second, the equivalent of one garbage truck of textiles is landfilled or burned. If nothing changes, by 2050 the fashion industry will use up a quarter of the world's carbon budget. Washing clothes also releases half a million tonnes of microfibres into the ocean every year.
Then there is the human cost: textile workers are often paid derisory wages and forced to work long hours in appalling conditions. But with consumers increasingly demanding change, the fashion world is finally responding with A-listers, like Duchess Meghan Markle, leading the way with their clothing choices and designers looking to break the take-make-waste model.
"Most fashion retailers now are doing something about sustainability and have some initiatives focused on reducing fashion's negative impact on the environment," says Patsy Perry, senior lecturer in fashion marketing at the University of Manchester. For example, last year, Britain's Stella McCartney teamed up with the Ellen MacArthur Foundation to launch a report on redesigning fashion's future.
"However, there is still a fundamental problem with the fast fashion business model where revenues are based on selling more products, and therefore retailers must constantly offer new collections. It would be unrealistic to expect consumers to stop shopping on a large scale, so going forward, I would expect to see more development and wider adoption of more sustainable production methods such as waterless dyeing, using waste as a raw material, and development of innovative solutions to the textile waste problem," she says.
Pioneering solutions to address environmental challenges will be at the heart of the fourth UN Environment Assembly next March. The meeting's motto is to think beyond prevailing patterns and live within sustainable limits—a message that will resonate with fashion designers and retailers seeking to reform their industry.
At the March meeting, UN Environment will formally launch the UN Alliance on Sustainable Fashion to encourage the private sector, governments and non-governmental organizations to create an industry-wide push for action to reduce fashion's negative social, economic and environmental impact and turn it into a driver for the implementation of the Sustainable Development Goals.
Across the United Nations, agencies are working to make fashion more sustainable, from the Food and Agricultural Organization protecting arable land, to the Ethical Fashion Initiative set up by the International Trade Centre to the work of UN Environment in fostering sustainable manufacturing practices.
And some entrepreneurs are already designing the fashion of the future:
Spain's Ecoalf creates shoes from algae and recycled plastic as part of its Upcycling the Oceans collection. Founded by Javier Goyeneche in 2012, Ecoalf collects ocean plastics from 33 ports and turns the trash into shoes, clothing and bags.
In Amsterdam, GumDrop collects gum and turns it into a new kind of rubber, Gum-tec, which is then used to make shoes in collaboration with marketing group I Amsterdam and fashion company Explicit. GumDrop says around 3.3 million pounds of gum end up on Amsterdam's paths every year, costing millions of dollars to clean. It takes around 2.2 pounds of gum to make four pairs of sneakers.
Outdoor gear retailer Patagonia, based in California, has been producing fleece jackets using polyester from recycled bottles since 1993, working with Polartec, a Massachusetts-based textile designer. Patagonia also encourages shoppers to buy only what they need, and mends and recycles older items.
Gothenburg-based Nudie Jeans uses organic cotton for its jeans and offers free repairs for life. Customers also get a discount if they hand in their old jeans.
Cambodia-based Tonlé uses surplus fabric from mass clothing manufacturers to create zero-waste fashion collections. It uses more than 97 per cent of the material it receives and turns the rest into paper.
In the Netherlands, Wintervacht turns blankets and curtains into coats and jackets. Designers Yoni van Oorsouw and Manon van Hoeckel find their raw materials in secondhand shops and sorting facilities where donations are processed. San Francisco- and Bali-based Indosole turns discarded tyres in Indonesia into shoes, sandals and flip-flops, while Swiss firm Freitag upcycles tarpaulins, seat belts and bicycle inner tubes to make their bags and backpacks.
In New York, Queen of Raw connects designers, architects and textile firms with dead stock of sustainable fabrics from factories, brands and retailers. Queen of Raw says more than US$120 billion worth of unused fabric sits in warehouses, waiting to be burned or buried.
Novel Supply, based in Canada, makes clothes from natural and organic fabrics and is developing a take-back programme to find alternative ways to use garments at the end of their life. For founder Kaya Dorey, winner of UN Environment's Young Champion of the Earth award in 2017, the aim is to create a zero-waste, closed-loop fashion model.
Retailer H&M has a successful garment collection scheme and in October, lifestyle brand and jeans manufacturer Guess said it was teaming up with i:Collect, which collects, sorts and recycles clothes and footwear worldwide, to launch a wardrobe recycling programme in the US. Customers who bring in five or more items of clothing or shoes, will receive discounts. Wearable items will be recycled as secondhand goods, while unwearable items will be turned into new products like cleaning cloths or made into fibres for products like insulation.
Some argue that recycling is itself energy intensive and does not address our throwaway culture—the number of times a garment is worn has declined by 36 per cent in 15 years. An alternative might be found in a viable rental market for clothes. Pioneers in this field include Dutch firm Mud Jeans, which leases organic jeans that can be kept, swapped or returned, Rent the Runway, Girl Meets Dress and YCloset in China.
"The rental model is clearly a winner for the higher end of the market where consumers may have no intention of wearing an occasion dress more than once… but at the lower end, it's all too easy to go online and be able to buy outright any trend or item," says Perry. "For rental to be a success at this market level, companies need to offer sufficient choice of brands and styles that would engage consumers and tempt them away from outright purchase, and the rental service needs to be smooth and faultless."
Her best fashion advice? Less is always more.
"Keep your clothing in use for longer to reduce its environmental footprint, as well as reducing the amount of new stuff you need to buy and the consequent use of resources. This also reduces the impact of the disposal of perfectly good but unwanted clothes."
New e-portal for the protection of the Caspian marine environment
A new, upgraded, online platform was launched on 8 November 2018 to support joint action under the Framework Convention for the Protection of the Marine Environment of the Caspian Sea, also known as the Tehran Convention. The objective of the completely revamped Caspian Environment Information Center is to provide the Parties to the Tehran Convention with an online collaborative information-sharing tool, making it easier for different stakeholders from the Caspian littoral states to collaborate on environmental issues. The platform has been developed by GRID-Arendal with the support of British Petroleum Exploration (Caspian Sea) Limited in Baku, Republic of Azerbaijan.
A major step forward was made in 2003, when the Tehran Convention was signed as the first legally binding agreement among the Caspian littoral states. The expanding work under the UN Environment-hosted Convention identified the need for a reliable and easy way to exchange information. An initial portal was set up in 2012 to facilitate collaboration across the region. Six years later, the Caspian countries have been provided with an enhanced version with a broader data base and an expanded array of tools.
"The Caspian Environmental Information Center is a portal that is a kind of library where you can find information related to the Caspian environment, biodiversity, monitoring, the economic potential of the region, etc. The portal also contains information on activities carried out in the Caspian littoral countries", said Nurgul Tastenbekova, a 23-year-old user from Kazakhstan. "The portal is very convenient to use and well thought-out", she added.
Portal features
The online portal contains a series of functions that enable easy access to Caspian Sea environmental data. Stakeholders such as governments, administrators, academia, private companies and non-governmental organizations can become users and join different groups, contributing to public and private information sharing. It has been pivotal in the ongoing process of preparing the Second State of the Environment Report for the Caspian Sea. Even for the casual viewer, the site provides access to a wide range of information included in the collections of documents, news, events, forum discussions and maps.
Supporting implementation of the Sustainable Development Goals
The portal aims at contributing to the achievement of several Sustainable Development Goals (SDGs), particularly number 17 "Partnerships for the goals" and 16 "Peace, justice and strong institutions". This online tool provides the Caspian countries with a technological means for regional cooperation and information sharing, promoting policy and institutional coherence. Furthermore, by encouraging private, public and civil society engagement on the platform, it contributes to increased openness and public awareness on environmental issues in the Caspian region. The portal is set up for inclusive and participatory knowledge creation, aimed at informing decision makers, scientists and civil society stakeholders. Ultimately, this will contribute to achieving goal 14 "Life below water" by supporting the sustainable use and conservation of the sea and its marine resources.
The Tehran Convention Interim Secretariat (TCIS) is located within UN Environment's Europe Office, in Geneva, Switzerland. The Secretariat supports the Conference of the Parties and the implementation of the Tehran Convention in organizational, administrative and technical matters.
GRID-Arendal is a center collaborating with UN Environment, which provides support to monitoring, assessment, reporting, information exchange, back-up networking and research, and environmental management and administration-related work.