An Imaginary Conversation on Myth, Reason and Religion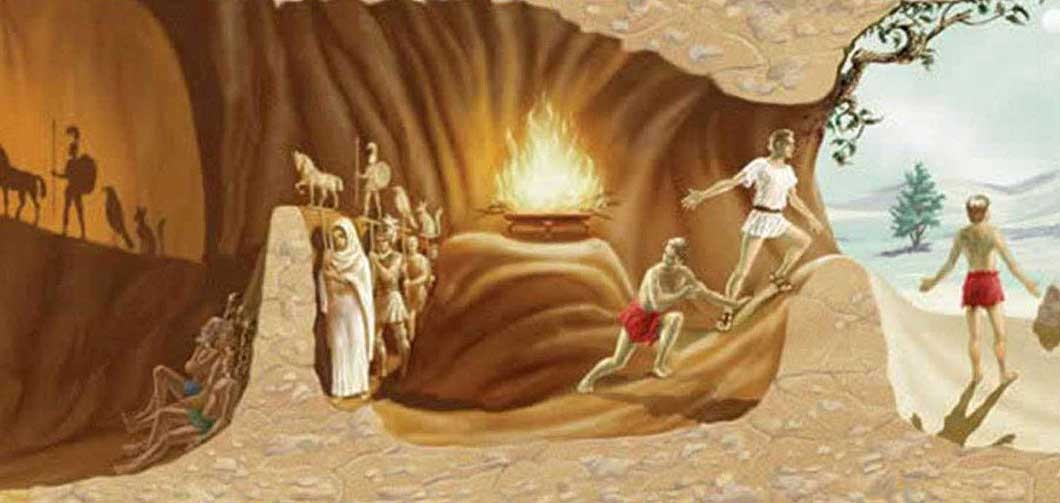 "According to Greek mythology, humans were originally created with four arms, four legs and a head with two faces. Fearing their power, Zeus split them into two separate parts, condemning them to spend their lives in search of their other halves."― Plato, The Symposium
"Life is like arriving late for a movie, having to figure out what was going on without bothering everybody with a lot of questions, and then being unexpectedly called away before you find out how it ends." ― Joseph Campbell, Creative Mythology
Author's Preface: What follows is a spirited, imaginary conversation across time, between a two well-known scholars: one an ancient philosopher and the other the foremost modern authority on myths and symbols, at a café in Athens overlooking the acropolis. While the conversation is purely imaginary, not overly academic, and rather colloquial at that, the integrity of the thought of its interlocutors on myth, reason and religion has been scrupulously respected, for not to do so would be to fail at arriving at the truth and run the danger of falling into the worst kind of sophistry as described by the ancients.
Plato: Good morning Professor Campbell!
Campbell: Good morning Professor Plato! I trust you don't mind the title, even though you are so famous that your nick name would suffice to identify you. After all, you were the founder- director-manager, the first professor so to speak, of the ancient Greek Academy; a supreme intellectual institutional achievement which lasted a thousand years.
Plato. Oh, yes, yes, why don't we simply dispense with formal academic titles? May I just call you Joe and you call me Plato? After all, we are not at a formal symposium or at a formal academic conference; we're just sipping cognac and chatting at a café in modern Athens in view of the acropolis.
Campbell. By all means, Plato. In modern America, in fact, we prefer to dispense with too many social formalities and pomposity as you seem to prefer in Europe. Perhaps later we may even engage in a chess game and a pipe smoke, should you have the time. Those are pastimes suitable to reflective minds such as ours. I could teach you, if you are unfamiliar with those pastimes.
Plato. Sounds like a good idea, Joe. That way, while we may be discussing transcendent ideas beyond time and space unfamiliar to most ordinary people, we shall not give the false impression to passerby that we are two of those stereotypical unpractical philosophers with a beard, with their heads in the clouds of Mount Olympus, exchanging recondite abstract theories and reveries while smoking a pipe in an club's armchair; rather, that we are practical men of the world, clever and democratic enough to mingle with the people while putting theory ahead of practice.
Campbell. Indeed, Plato, indeed. Human nature being what it is, it cannot have been a piece of cake for you to manage the logistics of the administration of a great academy and keep discipline among rowdy students and petty competing professors and their contemptuous ad hominem antics and juvenile slanderous attacks on each other. I know something about that. I am an insider at the academy, where I have sojourned all my life, but in reality, intellectually and spiritually that is, I have always felt like an outsider, a non-conventional academic who did not even bother to finish his Ph.D. dissertation, albeit I am presently widely known as the foremost mythology expert and scholar of the Western world.
Plato. Ah yes, I know your reputation, I have also heard about "the Ph.D. octopus," the essay on the subject made famous by our colleague, your fellow countryman, William James. Excellent insightful essay; an exposé of sorts, it almost made me ashamed of having been the source of the term "academic."
Campbell: Oh, well. Tell me Plato, do you think we moderns are justified in recognizing you as the first philosopher who brought to a head the conundrums of myth/history, reason/myth, religion/myth; all the more since you yourself repeatedly utilizes mythology and concocted myths galore in your dialogues and treatises, the best known of course being the myth of the cave as found in The Republic?
Plato: Indeed, Joe. The Myth of the Cave, whose narrative occurs in the Republic is a fantastical story, but it does not deal explicitly with the beyond, and is thus different from the traditional myths I myself used and invented. Strictly speaking, the Cave is an analogy, not a myth. Also in the Republic, Socrates says that until philosophers take control of a city "the politeia whose story we are telling in words (muthologein) will not achieve its fulfillment in practice". The construction of the ideal city itself may be called a "myth" in the sense that it depicts an imaginary polis where we imagine the happy state.
In the Phaedrus I use the word muthos to name the rhetorical exercise which Socrates carries out, but this seems to be a loose usage of the word. In any case, when I inveighed against the bad poets I certainly did not have the likes of Homer and his Odyssey or Iliad in mind. I respect and revere the likes of Homer, or Shakespeare or Dante. What I was critiquing was the mind-set of those banal mediocre poets, the poets who write poems for wedding receptions and then lay claim to the title of great poet; those with no poetical vision who couldn't even write a decent novel, never mind an epic poem. Did you know that in my youth I had aspirations toward poetry; an aspiration that never left me?
Campbell: Yes I know, Plato, and it doesn't surprise me a bit judging from the complex beauty of your ancient Greek prose which depicts your myths so well and fit harmoniously the form and the content. But what I am particularly interested in is finding out why you included myths such as "the myth of the cave" in the Republic? How did that help your rational philosophical discourse about good governance, democracy, justice? You seem to conceive of myth as a clue to the search for life's meaning. I, on the other hand, see them as a clue to the spiritual potentialities of human life. For me myths are the ongoing search for "the experience of life," to "finding one's bliss." They seem to tell us that the meaning of life is the experience of life, that eternity isn't some later time, or a long time; that in fact it has nothing to do with time! It is that dimension of here and now which thinking and time usually cuts out. I may be wrong but it seems to me that if you don't get it here, you won't get it anywhere; that the experience of eternity and transcendence right here and now is the function of life.
Plato: Oh well. Frankly, I am a bit surprised that you should even ask such a question as the eminent mythologist that you are. As you well know, mythology as well as drama sprang directly from the realm of the religious and the symbolical as stories about the gods and their all too human and petty interactions with humans and the universe and nature, stories which at first sight resemble children's fairy tales, but when looked at closely reveal certain universal truths which later on a psychologist like Jung dubbed "archetypes of the human condition"; the journey archetype, for instance, being one of those. Jung also discovered that those archetypes are universal and occur among people who have had precious little cultural interaction with each other.
This origin from the religious and the symbolical is often overlooked in modern theories on mythology. Dante's journey in the Divine Comedy is one concrete example of a mythological journey which remains tied to its religious origins, so is Homer's in the Odyssey, so is Captain Picard journey on the Enterprise space ship; the journey is always a journey into the self looking for its origins and its final destination. They are not historically documented journeys; they are more in the realm of the subjective, the imaginative and even that of the prophetic, more in the way of a myth, but a myth that repeats itself in many forms and among many people, revealing a hidden deeper truth, a truth that goes beyond a mere empirical positivistic explanation of the visible material phenomena. They may not be historically or empirically verifiable but they are certainly real since they exist in the realm of the intelligible just as logic, or mathematics, or astronomy are imbedded in the realm of the intelligible even when utilized for concrete material necessities arising from the positivistic realm of what is empirically verifiable. This akin to belief in the gods or religious faith which remains subjectively even when we are unable to prove it empirically.
Campbell: Well put Plato; you sound quite modern; sometimes I wonder if we moderns have not reinvented the wheel. I couldn't agree with you more. In fact, I would say that you have caught up and even surpassed us moderns in the understanding of the essence or nature of myth: it is not to be considered a lie, or as the mere sugaring of the bitter pill of truth, as you put it when you criticized the bad poets, but a deeper truth to be decoded, interpreted and reflected upon. That's basically what I try to do in my various books on mythology, especially the one titled "The Hero with a thousand Faces."
Plato: I have read all your books and they are quite illuminating on the subject of mythology. They invariably expand one's intellectual-spiritual horizon on the relationship of myth religion and reason.
Campbell: thank you for your kind words Plato, but could you indulge me a bit more by explaining to me your summation of ancient Greek mythology mentioned by you, of Zeus splitting the human being in half so that from then on one half has been searching for the other half? Most scholars, including Jung, interpret that statement of yours via a biological metaphor as the masculine in search of the feminine looking for wholeness, but I suspect that there is much more to it.
Plato: your suspicion is well founded, Joe. The Janus face represents the split which occurred when rationality, beginning with Socrates, my mentor, overpowered the poetical and the mythological so that the poetical began to be defined as the deceptive which lies and puts sugar on the bitter truth of rationality to make it more bearable. Your modern philosopher Pascal points to this error with his statement that "the heart has reasons that reason knows not." Also there is another highly insightful philosopher of history, Giambattista Vico, from the 18th century, who identified the mistake of much of Western philosophy beginning with me alas, not only in its totalizing tendencies but in the attempt to subside the imaginative and the poetical under the rational and the empirical. The two realms really belong together and have been searching for each other since they were split asunder by Positivism in modern times. He expresses all this in his masterpiece The New Science (1725). When myth is split from the rational it becomes harmful, it ends up in myths such as that of "the master race."
When reason is split from myth and the poetical it begins to rationalize and justify what ought never be rationalized and tolerates unethical behaviour. Indeed Pascal's and Vico's corrections, the corrections of those two Christian humanists were very much needed within the ethical Western tradition, as Emmanuel Levinas has also pointed out in the 20th century via his concept of "the other."
As you know, in the Protagoras I make a distinction between muthos and logos, where muthos appears to refer to a story and logos to an argument. This distinction is also echoed in the Theaetetus and the Sophist. In the Theaetetus Socrates discusses Protagoras' main doctrine and refers to it as "the muthos of Protagoras." Socrates there calls a muthos the teaching according to which active and passive motions generate perception and perceived objects. In the Sophist, the Visitor from Elea tells his interlocutors that Xenophanes, Parmenides and other Eleatic, Ionian (Heraclitus included) and Sicilian philosophers "appear to me to tell us a myth, as if we were children".
By calling all those philosophical doctrines muthoi I do not claim that they are myths proper, but that they are, or appear to be, non-argumentative. In the Republic I may come across as fairly hostile to particular traditional myths. And in many dialogues I condemn the use of images in knowing things and claim that true philosophical knowledge should avoid images. But I ask you: does Book X of the Republic offer a single repudiation of the best poets of the Hellenic world? Try as you may, you will not find one. What you will find is a complicated counterpoint in which resistance and attraction to their work are intertwined, a counterpoint which (among other things) explores the problem of whether, and in what sense, it might be possible to be a 'philosophical lover' of poetry" a la Vico.
I wanted to persuade a wider audience, so I had to make a compromise. Sometime I use myth as a supplement to philosophical discourse Most importantly, in the Timaeus, I actually attempt to overcome the opposition between muthos and logos: human reason has limits, and when it reaches them it has to rely on myth. That is to say, the telling of stories is a necessary adjunct to, or extension of, philosophical argument, one which recognizes our human limitations, and—perhaps—the fact that our natures combine irrational elements with the rational."
Consider the fact that I chose to express my thoughts through a narrative form, namely that of the dialogue. So you may say that the use of a fictional narrative form (the dialogue, such as the prosaic one we are having right now) will mean that any conclusions reached, by whatever method (including that of academic 'rational argument'), may themselves be treated as having the status of a kind of myth. So, a sense of the fictionality of human utterance, as provisional, inadequate, and at best approximating to the truth, pervade my writing at its deepest level. It is not that myth fills in the gaps that reason leaves, but that human reason itself ineradicably displays some of the features we characteristically associate with story-telling.
Campbell: Wow! This is interesting stuff indeed! Perhaps we moderns need to reinvent the wheel since we seem to have forgotten how it came about. It partly explains, to me at least, what a Catholic theologian expressed to me in a dispute we were having on "religion as myth." He told me that it may be true that religions are based on certain archetypes of human nature and myths of the human condition but to say that Christianity is just another myth to be disposed as all the other myths as lies and falsehoods, to put a point across as we do with children's fairy tales, to be superseded by the scientific mind-set, is to have misunderstood the very nature of mythology which is there to help us better understand transcendental-revealed truths. That is to say, to use mythology as an excuse to dump religion as retrograde, obscurantist, and unenlightened, is to run the risk of throwing the baby out the window with the dirty bathwater.
He also pointed out that Zeus or Atlas are impersonal ideas personified which when worshipped renders us idolaters or narcissists, but the concept of a benevolent providential creator God who takes on human nature to experience the human condition and enters physical reality historically and materially to redeem it is not a philosophical abstract idea to be found in any mythology; I dare say that not even brilliant philosophers like yourself ever thought of it; it is however the stuff of reality and historical events for which 12 ignorant fishermen from Palestine (no experts in Platonic or Socratic philosophy for which they'd be willing to die) were in fact willing to die because their allegiance was not to an idea but to a person who spiritually won the whole continent of Europe in a couple of centuries and gave it its ultimate identity as Judeo-Greco-Roman civilization; a religion this which makes a synthesis between the human and the divine and not only at an abstract theoretical level but at an existential level, and therefore it is humanistic to the core; that at its best advocates tolerance of other traditions, mythology itself, freedom of speech and democratic governance, given that we are all children of the same benevolent father and are commanded to love each other as brothers and sisters.
I must confess to you that I am still chewing on what that theologian provided for me on that day. I felt as if I had been check-mated in a chess game, but I don't think now that he was playing chess with me, out to win some kind of sophistic debate or diatribe. To the contrary, he simply challenged some of the common assumptions of "enlightened" positivistic modernity which I had inherited uncritically.
Plato: well you should have Joe, well you should have. I myself am already ruminating on this whole conversation. While I do so, why don't we order another cognac, light up a pipe and start a game of chess? Perhaps even take in a soccer game in the afternoon, since it happens to be Sunday?
Campbell: Indeed Plato, soccer games are now the new religion of the brave new world of the EU in which we live and have our being. Some call it the world of globalization. Some, perhaps more wisely, call it "reinventing the wheel," which come to think of it, can itself be a myth (the myth of Sisyphus?) and an archetype of the human condition. Have you ever noticed that the world of dreams has no Kantian rational categories of the understanding; it is not linear, nor strictly logical and rational and it needs plenty of interpretation once it is recollected? Could the Hindus, who are not even Westerners in their thinking, have it on track when they say that we are all dreaming and when we die we will wake up to Reality, to the point of it all (the Word)?
Plato: I understand the concept of logos, but there are other things such as revealed truth and the need for forgiveness and the theological virtue of charity which I find difficult to grasp as an ancient; plenty of food for thought here; but perhaps it's only the antipasto announcing the main course still to come. In any case, let the debate go on.
The 'Beauty Premium' and other forms of stereotyping are real, and they're a workplace problem
People say "seeing is believing", but that's wrong. The truth is, "I will see it when I believe it".
As an academic psychologist I have spent years, and run dozens of experiments, looking at unconscious or implicit bias and its consequences. I consider factors such as looks, ethnicity, age and gender, to see if they influence world-of-work decisions such as hiring, promotion, salary. 
The short answer is that all these factors make a difference, even though they play no real role in the evaluated person's performance. Beliefs guide the facts we see. They shouldn't, it's unfair. But they do. The so-called 'Beauty Premium' is real, as are a host of other biases.
Taking decisions this way is not unnatural.  Evolution has fashioned us to infer, to fill in knowledge gaps. Is that rustle in the grass the wind, or a snake? Assume, infer, and take the conservative decision. That's how we survive.
But using inference or stereotypes to guide staffing decisions is not effective because the right candidate may be overlooked and the 'right-looking' but wrong candidate selected.
The point is we are very quick to size people up – age, sex, appearance, even height. We fill in the blanks and give them a price tag in a stereotypically consistent way. The problem is that once we decide about something we try to justify it because we don't like to admit we were wrong.
One study I know asked people to vote on the basis of photos, as if they showed candidates running for public office. Afterwards, the voters were given information about the 'candidates' (e.g., political preferences, values, etc.) and then asked to vote again. Despite now having relevant information the voters hardly changed their opinions.
I thought this might be due to past experience – perhaps people have a learned stereotype of what a 'Leader' should look like? So I repeated the experiment with small children, too young to have learned bias, showing them pairs of photos and asking who would make the best captain of a boat (a position of responsibility they could understand). I asked some adults to do the same test. The children and the adults chose the same photos. No experiential factor could explain the choices, it had to be nature.
But, perhaps the motivation or education level of the testers played a role? So I did a similar experiment with kids using photos of candidates for elected positions at the Association of Psychological Science (APS). All the voters and candidates were scientific psychologists. But results were the same. When no photo was available in the original ballot material the APS members voted on the basis of publication record (a reasonably good proxy for the knowledge, status, and success of the candidates). However, when there had been photos included in the ballot materials nothing mattered but the face.
Maybe business people would take decisions in a more rational way? So, we asked experimental subjects to look at photos of managers in a large multinational company, and then asked them to judge the mangers for competence and personality. We accounted statistically for everything possible – age, qualifications, and so forth. Those managers who rated higher on looks earned more.
Implicit bias is even worse for women. Factors such as being overweight count against women even more than they do for men. And it's not just appearance. I worked with a Swiss multinational looking at the transcripts of their internal performance evaluations, and statistically controlled for everything possible.  Men had a much higher likelihood of being described in a positive way; for example, "he really knows how to put his foot down" compared to a similar woman, who "really knows how to use her elbows".
Age discrimination was also rife across the board, even though for high-level, cognitively complex jobs there is zero correlation between performance and age. In short, age and being male predicted future job and salary levels.
So women (and anyone else who does not fit role expectations) are walking on eggs. It's a double bind. They must demonstrate exceptional competence to be seen as equal in ability to men, but must also avoid threatening them with competence and apparent lack of warmth, or behaviour that violates social stereotypes.
An experiment run by a professor at Yale University demonstrated the penalty for violating these social norms. One male and one female actor were each asked to record two versions of the same interview, one where they were calm and one showing some anger. Their answers were the same so rationally, the man and woman should have been ranked the same in the same condition. But it turns out that if a man shows anger it is interpreted completely differently. Men can show their "guts." Women are not allowed to show anger because they are supposed to be nice, nurturing and kind. When subjects were asked to rank the two actors, the man was seen as higher status and more competent, and offered 50 per cent higher salary. The woman was seen as out of control.
There are ways to reduce bias in the workplace. The first is to be aware of your own biases. Then you can take steps to eliminate them and so reduce discrimination.
Second is accountability.  Decisions need to be justified, with objective indicators. Be aware that every piece of information can introduce bias. How the call for applications is made – certain words will attract or discourage women. What information applicants are asked for, including photos, can matter. Who does the initial screening, and is it objective or just personal opinion?  Are the screeners different from the interview panel?  Are the same interview questions asked of all candidates and is the information aggregated independently? Are validated psychometric tests used (e.g., the most used test in the business world, the MBTI, is actually useless; it has no predictive validity).
Data is also key, it allows us to track what is happening, reveals unconscious bias and creates awareness.
Finally – men. We are part of the problem but also part of the solution. If we champion the cause we can reduce these biases. This is our problem too, not just a problem for women or minorities. Taking decisions correctly is not only the ethical thing to do, in the long run it is the economical and rational thing to do.
Source: ILO
Rising human trafficking takes on 'horrific dimensions'
A new UN report published on Monday shows that human trafficking is on the rise and taking on "horrific dimensions", with sexual exploitation of victims the main driver. Children now account for 30 per cent of those being trafficked, and far more girls are detected than boys.
The study from the United Nations Office on Drugs and Crime (UNODC, draws on information from 142 countries, examining trafficking trends and patterns. Yury Fedotov, Executive Director of UNODC, said that "human trafficking has taken on horrific dimensions as armed groups and terrorists use it to spread fear and gain victims to offer as incentives to recruit new fighters," citing child soldiers, forced labour and sexual slavery as examples.
While the average numbers of reported victims had fluctuated during the earlier years for which UNODC had collected data, the global trend has shown a steady increase since 2010. Asia and the Americas are the regions which have seen the largest increase in the numbers of victims detected, which may be explained by improved methods of detecting, recording and reporting data on trafficking – or a real increase in the number of victims.
Most victims of trafficking detected outside their region of origin are from East Asia, followed by sub-Saharan Africa: whilst there has been an increase in the number of convictions for trafficking in these regions, the study concluding that large areas of impunity still exist in many Asian and African countries, and conviction rates for trafficking remain very low.
Trafficking for sexual exploitation is the most prevalent form in European countries, whilst in sub-Saharan Africa and the Middle East, forced labour is the main factor driving the illicit trade. Women and girls make up most trafficking victims worldwide: almost three-quarters of them are trafficked for sexual exploitation, and 35 per cent (women and girls) are trafficked for forced labour.
Armed conflict the focus
The main focus of the report is on the impact of armed conflict on trafficking. In conflict zones, where the rule of law is weak, and civilians have little protection from crime, armed groups and criminals may take the opportunity to traffic them. One example given in the study is the phenomenon of girls and young women in refugee camps in the Middle East being "married off" without their consent and subjected to sexual exploitation in neighbouring countries.
Addressing human trafficking is a key part of the UN Sustainable Development Agenda, requiring Member States to monitor progress in tackling the problem, and report the number of victims by sex, age and form of exploitation.
However, significant gaps in knowledge remain, with many countries in sub-Saharan Africa, South Asia and some parts of East Asia still lacking sufficient capacity to record and share data on trafficking in persons. "This report shows that we need to step up technical assistance and strengthen cooperation, to support all countries to protect victims and bring criminals to justice, and achieve the Sustainable Development Goals," said Mr. Fedotov.
Human Trafficking: An ordeal to reckon
Our globe is prey to the multiple ordeals – terrorism, surging poverty, soaring unemployment, global warming, conflicts among the countries, and refugee crisis are the names to few. Every individual is mindful of such calamities. However, amongst most appealing tribulations that our planet is confronting, which is mostly depreciated, or even obscure to many is of human trafficking. In the contemporary world, human trafficking is tantamount to modern slavery. Slavery is forced labor under a threat of brutality that traces its lineage from the era of colonialism and imperialism. Racism, which was the subliminal base of slavery, is still very much active in the present times and strengthens the ethnic perplexity.
Human trafficking usually refers to a process under which individuals are placed or maintained in an exploitative condition for economic upkeep and violation of human rights. Every country in the world is vulnerable to human trafficking. Millions of kids, adult females, and men remain to be trafficked every year in all regions and in many countries of the world. Victims may be trafficked within the country or across a border for various uses. It includes forced and manipulative labor in agricultural fields, farms and private homes; forced marriage; sexual exploitation, and organ dismemberment. Around 40 million people are shackled in the chain of modern slavery worldwide, in which the Asia-Pacific region has almost 56% of trafficked persons. Women and girls are the prime victims of the market for human trafficking. According to 2018 report of Global Slavery Index, the countries which are home to the modern slaves are North Korea with 10% of its population, Eritrea (9.3%), Burundi (4%), Central African Republic (2.2%), Afghanistan (2.2%), Mauritania (2.1%), South Sudan (2%), Pakistan (1.7%), Cambodia (1.7%), and Islamic Republic of Iran (1.6%) respectively. These countries suffer from income inequality, discrimination in class, sects, and entrenched corruption.
So, one's mind must be curious that why this menace has clutched the world with such an immense extent. The answer has multiple driving factors behind it, as human trafficking is a highly lucrative crime and produces $150 billion per year. Human trafficking takes place on many purposes, such as demand for cheap labor including the child or forced labor, demand for sexual exploitation, and demand for organs removal to name few.
The United Nation Office on Drugs and Crime (UNODC) report identifies that the most vulgar strain of human trafficking is sexual exploitation. Sex trafficking prey is maneuvered or forced against its consent to absorb in the sex exploit or to be prostituted for the money. Sex traffickers often use threats, violence, and the promise of love and affection to lure the victims. Such exercises frequently transpire at motels, rest areas, individual halls, street corners, and truck stops. Out of $150 billion, sex trafficking within the prostitution industry yields $99 billion.
Forced or cheap labor occurs in many forms, like the application of coercion or deception or force. The victims are induced to work for mere less or no money as their earnings. Labor traffickers often make hollow commitments of a high-paying job or impressive education or travel possibilities to entice people into awful working conditions. These victims can be found in manufacturing plants, farms, brick kilns, and building sites.
Multiple factors lead to human trafficking and vary from country to country according to the conditions and affairs of the state. Though, on common ground; privation of human rights, poverty, disequilibrium in social and economic affairs, political upheaval, natural disasters, and, civil unrest attribute to human trafficking. Wars, conflicts between countries, civil strife commence displacements of masses making children orphans and leaving them susceptible to human trafficking. Most of the times, parents contribute to human trafficking too. On the score of impending poverty, parents merchandise their children with this notion that their children might access the bright future.
The menace of human trafficking accommodates devastating repercussions economically and socially. On societal fronts, it undermines family ties and child neglect, and the victims who manage to escape from the trafficking often plague stigmatization. From the economic aspect, the countries which are reeling under the vicious cycle of human trafficking they lose the human resource. According to the US Department of State, child labor negatively influences their future productivity which would otherwise be put into good use.
Human trafficking affects not only the social and economic specters but also affects the health of individuals which undergo it. Adult females and children trafficked for the intentions of Sexual exploitation are at the risk of HIV/AIDS; with this when they are exposed to violence and barbarism, they sustain severe injuries which impede their mental and physical development.
To curb human trafficking the UN and the world countries have taken multiple steps. The Global Action to Prevent and Address Trafficking in Persons (GLO.ACT) and the smuggling of migrants is a four-year (2015-2019) joint initiative by the European Union (EU) and the United Nations Office on Drugs and Crime (UNODC). It is implemented with a conglomeration of the International Organization for Migration (IOM) and the United Nations Children's Fund (UNICEF). The UNICEF accepts donations and provides training manuals on the subject of human trafficking.
Along with it, there are several functioning organizations worldwide that help citizens fight against human trafficking. However, despite the active roles of numerous organization of the world, the menace of human trafficking persists. To eradicate this menace, individuals and their government must cooperate with each other, so that future generations can be saved.