Trump's 'spoiler' campaign for the Clintons is turning into a fierce feud for the US Presidency
Over the years, the New York Billionaire property developer and TV personality famous for The Apprentice Donald Trump has made a number of remarks about running for US President.
Until 2015, many close to Trump have interpreted these remarks as being in jest, with little seriousness. When trump flirted with running for President in 2012, CNN reported that he donated $541,650 to the Federal Democratic Campaign.
However within a period of just over a year, Trump relatively new to the Republican Party, with no previous political experience, and holding views outside the mainstream Republican movement, has demolished the other Republican candidates for the republican Presidential nomination. Trump now stands on the verge of gaining Republican nomination in what is shaping up to be one of the most unusual and potentially bitterly fought presidential election campaigns in recent history.
What makes this current situation even more strange and ludicrous is the close relationship that the Clintons have enjoyed with Trump, and the number of mutual acquaintances who are also involved in this coming Presidential campaign that have worked for both political sides.
The events of the last twelve months point circumstantially to the possibility that Trump originally intended to be a spoiler within the GOP. The BBC went further and called Trump a Democratic secret agent. The Nation Review called Trump a 'bogeyman' , stating that 'he couldn't help the Democrats more if he were trying".
According to The Washington Post, former President Bill Clinton had a private telephone conversation early 2015 with Donald Trump about a run for the Republican candidacy for the US Presidency. Insiders said that Clinton strongly encouraged Trump to run for Republican nomination. Although Clinton's personal office confirmed the discussion took place, the Clinton spokesperson was silent on what was discussed other than generalities of the current political landscape.
The Washington Post stated that according to four Trump allies, the call was about Trump's final decision to make a run for the Republican Presidential nomination. The Trump allies according to The Washington Post mentioned Clinton's desire to rouse the GOP base. One person who had knowledge about the Clinton side of the call said that Clinton was "upbeat and encouraging during the conversation".
This was one of many calls and meetings over the years between Clinton and Trump, who have a close working relationship. Clinton and Trump have played golf together, Trump had donated to the Clinton Foundation, and the Clintons had attended Trump's 3rd wedding in the front row to Melania Knauss way back in 2005.
Thus circumstantial evidence points to the Trumps close ties with the Clintons.
Hillary Clinton's own announcement that she would seek the democratic nomination for the US Presidential race on June 16th leads to many questions about Bill Clinton's discussions with Donald Trump. These questions have never really been asked by the media, so remain unanswered.
Donald Trump is by no means a traditional Republican, and only joined the party in 2009 after being registered as a democrat back in 2001. He may best be described as a 'New York liberal' with a smattering of extremist views. Many Republicans like House Speaker Paul Ryan as a consequence have actually held back their support for Donald Trump, only giving a lukewarm promise to support him if he wins the nomination. Republican Party elders George W. Bush, George H.W. Bush, Mitt Romney, and Bob Dole, have not given any support to Donald trump.
Nevertheless, Trump has had a rapid and almost comical rise among the ranks of the Republican Party in what some pundits describe as a 'hostile takeover.'
His harsh views on immigration are likely to cost votes within the Mexican community. He has changed his views regularly on issues like abortion. Trump is also advocating increasing social security with cuts from military spending. Trump is staunchly against trade agreements like Nafta, and may put to bed forever the fairy-tale of the TPP, if elected.
However his views on immigration aren't too far away from Ted Cruz who favours the strengthening of the border and upholding of the law on immigrants. Like Trump, Cruz in his official webpage also talks about illegal immigrants being drug smugglers, child abusers, murderers, and other dangerous criminals entering the United States. Opinion within the Republican movement itself is changing towards allowing legal abortion. Trump shows out his pragmatism in social security, where cuts are deeply unpopular with voters. In trade, Trump is actually going back to old traditional republican values of tariffs to balance trade and isolationism in foreign affairs that were prevailing within the Republican Party pre-WWII.
So how is Trump helping the Hillary campaign?
Trump's Primary campaign was so successful that he took away all the oxygen from the other candidates in the debate. His outrageous statements sucked up all the media time, letting the other candidates suffocate.
Trump was figured as a Republican candidate that the Clintons could easily defeat. That was in the early reckoning. However the Trump bandwagon has become the biggest media asset in the campaign so far.
Trump's outlandish statements often came at times when the Hillary campaign was floundering. His media focus saved the democrats when they were in trouble a number of times. According to Noah Rothman of Commentary Magazine Trump's outlandish comments always came when the democrats landed in controversy.
This was figured that Trump's behaviour would help Hillary escape close scrutiny over the email and Benghazi issues, as well as flaws in some of her decisions and outright allegations of corruption dating back to the Little Rock days when her husband Bill Clinton was Governor. Trumps personality flaws would cover the character issues that Hillary must hide if she is to win the 2016 US Presidential election.
However, the biggest assistance Trump has been providing Hillary is 'putting her in the victim's position. As Jeb Bush claimed "she is good at playing the victim". Trump's attacks on Hillary would seem to give her a political advantage. This could help rallying women to the Hillary side according to Democratic Strategist Steve McMahon. Hillary can use these attacks to seek empathy from professional women, something she did very successfully back in 2000 and 2008.
Then there are the campaign personnel connections. The George Soros connection is interesting as he is both close to Trump and the Clintons. Trump's new finance chairman Steve Mnuchen supported Hillary Clinton against Obama and is very close to George Soros.
Justin Raimondo in his blog Antiwar.com was the first to raise the hypothesis that Trump was running as a 'spoiler' candidate to run havoc within the GOP ranks during the primaries. Debra J. Saunders claimed that Trump's role in the GOP was to disrupt party harmony in the lead up to the democratic Presidential Nomination Convention due to be held in July 2016. Republican Congressman Carlos Curbelo of Florida called Trump a "phantom candidate ….to create a political circus."
Trump's original motivation could have been ego and the chance to play a national role through the media. Trump loves to play presidential. At first this could have been seen as the ultimate TV role, which he enjoys. The primaries and attention have been a 'buzz' for Trump, who as enjoyed being the non-politician politician. His personal imperfections have made human acceptably human and the messages he has been sending out are hitting raw nerves within the electorate.
Although Trump's actions were meant to benefit his good friend Hillary Clinton, Trumps sudden electoral popularity in his own right has complicated things. Trump's persona has been enlarged through the primaries into a force that cannot easily be contended with. Trump originally wanted to help Hillary, but know realizes he can carry away this election in his own right, and thus go against the informal understanding with the Clintons.
The Clintons are now facing-off with a monster persona they helped deliver to the US electorate.
Over the first few months of the primary season, Trump's electoral popularity was low compared to Clinton. In July 2015 Trump polled 34% to Clinton's 53%. However in September and December last year Trump came within 2 percentage points of Clinton in national polling.
Ronald Reagan was seen as a joke when he first made his run for the presidency. And as in the Reagan experience, Trump is shoring up in the opinion polls to where on 13th may he was just 2 percentage points nationally behind Hillary Clinton. The One America and Gravis Marketing poll shows the democratic presidential front-runner with 48% support while the GOP nominee at 46% in a head to head general election fight. Some polls actually put Trump in front. This is a position from where Trump can win.
With Trump showing overall strength in the California primary and Clinton struggling to gain a strong lead over Sanders, the momentum for Trump is rapidly growing. Trump is also winning over the conservative professional women vote, winning 57% of the women's vote in the recent New York primary.
Hillary so far has campaigned on traditional Democratic issues such as Obamacare, guns, free speech, progressive policies, the economy and climate change. These issues aren't working this time round as the Obama era was a great disappointment for many voters. Hillary is just not connecting to the electorate this time round. There is an air of change away from the failure of the Obama era towards something new, which Hillary has failed to grapple with.
In addition the Clinton-Sanders primary fight has divided the Democratic Party, where Sander's supporters may not fall behind Clinton if she clinches the Democratic Nomination outright with a majority of delegates. Exit polls suggest that almost half of Sanders supporters will defect to Trump in a general election.
Trump has been abrasive during the primary season, which worked well for him. Trump is attacking the corrupt Hillary. However Trump also knows that too much negativity towards Clinton will benefit her. Trump is comical in his attacks, but he is also well disciplined.
Hillary is also in a quandary. She is living in a 'glass house' where attacks on Trump could backfire, even though Trump has provided her with so much material to potentially attack with, i.e., immigration. Consequently, she cannot attack Trump on women, policy, or integrity without expecting very damaging retaliation from the Trump camp.
Clinton's attacks on Trump have been weak and haven't had much effect to date. In addition Clinton personally doesn't look comfortable attacking Trump on the hustings.
Trump has control over the campaign and has led it towards personalities, rather than policy. This is where Hillary is at her weakest, with many personal character negatives with a massive integrity gap to overcome. Trump is well armed with information from Edward Klein who wrote a number of unflattering books about the Clintons.
Trump has only personality negatives to overcome. The leaked recording of Trump advisor Paul Manafort's presentation to Republican Party insiders revealed that the Trump campaign is undergoing a major strategy change that will not insult or polarize.
Trump worked successfully on the fears of working class voters. These people have great anxieties about change and Trump's comments about Mexicans sending rapists and criminals over the border and banning all Muslims has tugged at the emotions of this segment of the electorate.
To the electorate, Trump doesn't sound like a politician. The fact that many of the GOP leaders don't support Trump can actually be seen as a positive for him out on the hustings. He is not establishment and doesn't talk like a politician.
Trump's biggest asset is waiting for the presidential debates which will be head to head with Hillary. Trump's business rather than diplomatic language will be refreshing to the electorate this time round. Trump has a lot of ideas that can be considered new in defence, foreign policy, and in social-economics. Trump will appear the liberal and Hillary the conservative if she pushes the same directions as Obamaism.
Trump has some new directions in policy which should appeal to the electorate. His views on foreign policy are visionary and modern in contrast to the establishment views. If he wins this could set a new long term direction in US foreign policy. The branding of 'America first' is powerful and overturns old directions recognizing that the US doesn't have the resources to be the world policeman and other countries should also do their fair-share of work in keeping world order. This is a major paradigm shift and will affect how the US conducts its international relationships with countries like China and Russia for many years in the future.
If Trump is successful in November, he may bring in a neo-Republican philosophy that actually encapsulates and modernizes Republican thinking in the 21st century. Let's see if Trump the visionary comes out during the presidential debates. If he does, then the Clinton campaign could be shattered.
One will expect the members of the Republican Party quickly falling behind Trump at and after the republican Convention. Former Californian Governor Schwarzenegger is expected to lend his support at the convention. He is a winning brand who can give the Republicans another four years in the Whitehouse.
The Clintons have to think very hard about their future strategy. Her battle for the Democratic nomination is not over yet and she must be sure that this does not damage her. When she faces off with Donald Trump, it's going to be close up and personal. Trump has outsmarted the Clintons from the very beginning. He has become their worst nightmare, where Trump has transformed from being the most unlikely to being the favourite to win the presidency.
This is going to be a very interesting presidential campaign.
Latin America – Russia: An Agenda for Constructive Cooperation in the Post-COVID-19 Era
On Tuesday, August 4, the outstanding video-conference "Latin America – Russia: an Agenda for Constructive Cooperation in the Post-COVID-19 Era" was held organized by the Valdai Club , the Russian Embassy in Guatemala, the American Chamber of commerce (AmCham), the Central American Parliament (Parlacen) the SIECA(Central American Secretariat for Economic Integration), the United Nations Conference on Trade and Development (UNCTAD) and the CRIES of Argentina (Regional Coordination of Economic and Social Research).
The video conference was attended by Alexis Rodzianko as moderator (president of AmCham Russia). And an outstanding panel of speakers with:
Russian Deputy Foreign Minister Sergei Ryabkov; Nadia de León (chairman of PARLACEN) Melvin Redondo (general secretary of the SIECA); Yaroslav Lissovolik (programme director at Valdai Club); Richard Kozul Wright (director of division on globalization and development strategies UNCTAD); Daniel Russell (Ceo of USRBC) and Lila Roldan Vásquez (head of the CARI –Argentina- Eurasian studies group)
After a brief presentation and comments by the moderator Alexis Rodzianko (president of the Russian-American Chamber of Commerce) on the nature of the video-conference and the panelists in it, Russian Deputy-Minister of Foreign Affairs Sergey Ryabkov started the dialogue expressing his satisfaction with the existence of this kind of spaces for reflection in such difficult global times. We quote some of his more outstanding phrases:
" Russia and the United States continue their dialogue on joint efforts to combat the pandemic, and this is good news".
"Washington, however, does not abandon its claims for global hegemony. This poses a threat to international stability and security.".
He stated the need to increase channels of cooperation when the coronavirus is ravaging the entire planet, for the first time in humanity, it faces a threat that affects the entire planet, this poses a dramatic challenge, the frustrating statistics of Covid- 19 have the same effects as a war, this era requires the consolidation of international efforts together and that Russia hopes that large-scale cooperation can act as a vector for a more multipolar world.
He also denounced international actors, the countries that privilege self-interest over those of the international community in times of crisis due to the pandemic. He cataloged irresponsible and short-sighted countries that ignoring the UN declarations, mainly the western powers, continue with sanctions measures to other countries, sanctions that hinder the acquisition of medical supplies and assistance, including Latin American countries, without even foreseeing the lifting of sanctions even for the time of the pandemic.
He was also very critical of the attitude of the United States in various multilateral fields such as its withdrawal from the Open Skies treaties; missile weapons treaties such as INF and START II; the North-American withdrawal from the World Health Organization.
On the cooperation agenda of Latin America – Russia, he highlighted the negative factors that Latin America faces in its current situation:
"Latin America continues to face dramatic social inequalities and political de-stabilizations: The US continues its efforts to redraw the political map of Latin America to serve its interests."
He stressed that:
"From Russia with much disappointment and concern some time ago we observed how the Monroe Doctrine and all the ideology linked to it was officially reintroduced by the United States.".
As positive factors he pondered that for Russia, Latin America has always been a region of political tolerance, economic opportunities and cultural affinity:
"For Russia, the relationship with Latin America is a value in itself of its foreign policy and bases its cooperation agenda in the region based on a pragmatic and de-ideological vision, Russia does not seek to engage its partners in geopolitical dilemmas where they must choose between friends and enemies".
"And these links have always had a positive dynamic in energy, communications, technology, medicine, logistics and transportation. We seek technological and commercial alliances, diversifying their bases".
"A paramount of Russian cooperation with Latin America was the activation in 2019 of the Latin American Institute of Biotechnology (in Managua, Nicaragua) that produces, insulin and interferon and vaccines for Latin American consumption".
Despite the delicate situation worldwide, the deputy-minister remained optimistic that crises improve prospects for international cooperation, and that Russia-Latin America cooperation will continue to consolidate.
"During this pandemic, Russian assistance has been received by: Costa Rica, the Dominican Republic, Nicaragua, Venezuela, Cuba, in testing teams and personal health protection, in addition to humanitarian aid."
The possibility of assistance to other countries in the region such as Paraguay, Colombia, and Peru has been addressed.
The Russian Direct Investment Fund announced the signing of an agreement under which 150,000 Avifavir packages will be sent to seven Latin American countries: Argentina, Bolivia, Ecuador, El Salvador, Honduras, Paraguay and Uruguay. In addition, Russia will also send supplies of the antiviral drug to South Africa and transfer the technology to Bolivian firm Sigma Corp SRL in order for it to be produced locally.
Closing of the presentation
The deputy-minister Ryabkov cerró su presentación marcando que en las difíciles circunstancias actuales es fundamental evitar la politización de la situación de la pandemia, un verdadero desafío global, que requiere esfuerzos conjuntos entre todos los Estados, y que Rusia está preparada para hacer su aporte y que lo está haciendo.
The deputy-minister Ryabkov closed his presentation by stating that in the current difficult circumstances it is essential to avoid politicizing the situation of the pandemic, a true global challenge, which requires joint efforts between all States, and that Russia is ready to make its contribution, and it's doing it.
Questions and Answers Section
In the questions and answers section of the dialogue, he answered a question about the role of Russia in the binomial-dilemma that would appear to present itself to Latin America in the strategic competition between the US and China:
"Russia won't be part of that geopolitical game"
He made it clear that Russia will surely not be part of a possible geopolitical triangular game with the US and China in Latin America, since it does not have the same capabilities as the other two actors (US-China) and that from the strategic vision of Russia relations with Latin America should be characterized by a cooperative logic of mutual benefit (win-win) and pragmatism, the relationship with this region should not emulate previous models of relations between center and periphery and he highlighted the Russian-Argentine relationship as an example of a link of mutual benefit.
Russia will not act for Latin America as an actor to support itself in a counterbalance, to offset the competition between Beijing and Washington in the region, but it will continue to maintain cooperative relations with Latin America, although he clarified that trilateral cooperation, as in the case of the Covid-19 pandemic should not be ruled out.
"Those practices go against the core elements and principles of international law and the United Nations Charter."
It was his answer to the question about Russia's position on the persistent US policies of imposing economic sanctions unilaterally (such as in the blockades against Cuba and Venezuela) that impede the fluidity of international cooperation (in times of pandemic, necessary international aid) and that Russia has also been suffering the same extortionary measures since the referendums that consecrated the return of the Crimean territories to Russia in 2014, and in which in this aspect Russia has not found a "common ground" with the United States for dialogue.
"We have to find ways to ensure relief to the countries most in need and with the fewest resources"
He argued that it is the responsibility of institutions such as those of the Breton Woods system, the G20, the Club de Paris, the economic powerhouses to find coherent strategies to achieve this objective. Macroeconomic policies of expansion, not austerity, should be promoted globally.
My own questions
As an observer-participant of the digital event, I was able to ask the Deputy-Minister two questions:
"is there any prospect from Russia to collaborate with South American efforts to "catch up" with the latest technology?"
In this response, he expressed his wish that such cooperation be carried out, since Russia has a lot to contribute, he said regarding the digitization of public services, of special interest today in public health services, other axes of technological cooperation could include biotechnology, pharmaceuticals, and he stated that Russia is not exaggerating by claiming that it has made important advances in the development of drugs that help combat Covid-19 in the near future. Regarding this, he highlighted the observations of his presentation, where he mentioned that Russia has significantly promoted the installation of technology in Central America (the Latin American Institute of Biotechnology).Other areas of cooperation of interest mentioned were telecommunications and the peaceful use of nuclear power, agricultural technology.
These cooperation dynamics, he argued, will always be guided by pragmatic visions; Russia will not subject its partners to geopolitical dilemmas.
is there any interest from Russia to improve Argentina's naval capabilities in fishing, hydrocarbons, naval surveillance, etc?
In this regard, he pointed out that initial contacts had taken place in the Macri administration and that he is sure that under the administration of President Alberto Fernández these contacts would continue.
He quoted the slogan: "it is the economy, stupid" when explaining the interest that exists between both governments and their respective businessmen to associate in relation to the naval field, but the contacts are still distant.
Regarding fishing exploitation, he acknowledged his lack of knowledge about any Russian-Argentine association project on the subject, but he stressed that this doesn't mean that it is not an interesting area of cooperation to continue advancing the in the bilateral agenda.
For the last, he emphasized that when travel and contacts will be reestablished, all those axes of cooperation can be discussed further, without major impediments.
From our partner International Affairs
Hiroshima and the Peace of the Bomb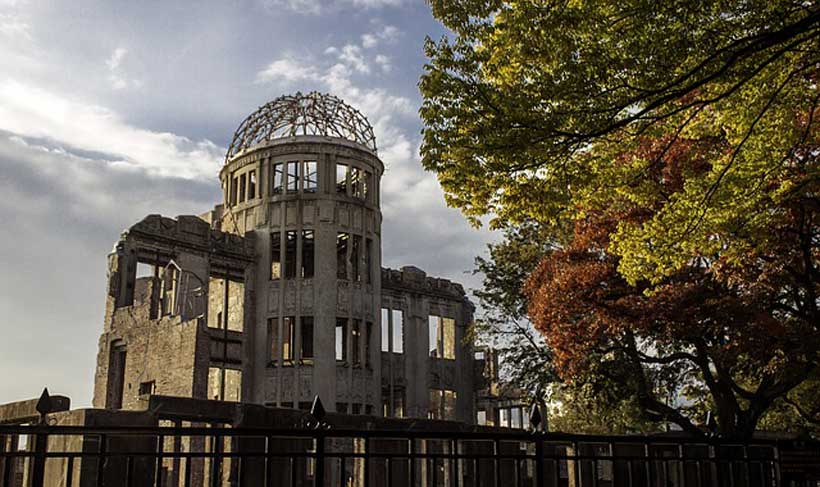 Seventy five years ago this week, the world witnessed a cataclysm that was to change the nature of war forever: The atom bomb was dropped on Hiroshima, and worse — while the Japanese argued among themselves about whether and how to surrender — a second bomb was dropped on Nagasaki three days later on August 9th. Now there was no other rational choice, and the Japanese gave up.
If anything good ever came out of a war, it was the generous peace. The US helped in the reconstruction of the defeated nations. As a teenaged student in London, I remember visiting Germany a dozen years after the war ended. Major centers had been flattened by the bombing. In Hamburg, one would see a few residential buildings and then ruins as far as the eye could see as if a massive earthquake had hit. A never ending horror across all major cities and a shortage of labor. So the Turks came … and stayed. Welcome then, not so much now.
The Germans were humble — a humility that would gradually diminish with the country's resurgence as one observed over succeeding decades. Cleanliness and order are part of the national psyche, particularly the latter. Everything in order — 'Alles in ordnung'. It even applies on a personal level as someone might ask exactly that if you appear disturbed. It then means, 'Everything okay?'
A grease spot on the otherwise fresh tablecloth at breakfast, my fastidious six-year old daughter complained. It was whisked away with apologies and immediately replaced. Order restored. Ordnung muss sein says the German proverb.
In dollar terms, Germany is now the world's fourth largest economy, Japan the third. The world has not ended despite economic interests being often cited as a cause of war. In fact, we are grateful for their products judging by the numbers of their automobile names in the US. Japan appears to have eclipsed the famed auto giants of the past, GM, Ford and Chrysler and UK icons long forgotten. And Donald J. Trump has a beef with both countries and is busy pulling out troops from Germany. Of course the giant dragon of exporters to the US, namely China, is for President Trump our public enemy number one.
The bombs on Hiroshima and Nagasaki were not the end, merely the beginning, and at the back of our minds remains the terrifying hope that it is not the beginning of the end.
Following the US, there soon were other nuclear powers: the UK and the Soviet Union followed by France, then China. After China, India was not to be left behind, and after India the same logic applied to Pakistan. Then there is Israel seeking external security while like diseased fruit, it rots from the inside. And let us not forget nutty North Korea.
When the US and the Soviet Union faced off with thousands of nuclear weapons, the strategists produced the theory of mutually assured destruction. Its acronym MAD was closer to the truth than its Pentagon proponents could ever have imagined for they would have destroyed not just each other but the world.
Even India and Pakistan with 100-plus weapons each could cause a nuclear winter from the fall-out and the dust covered skies. The subsequent crop losses and famines would kill many more across the world than the devastation wrought by the bombs. It is just one more reason why nation states could eventually become obsolete.
Fortunately, for the human race, nuclear war is more potent in the threat than in the execution; the latter would certainly certify MAD. The response to a military threat carrying the phrase 'by all means necessary' is enough to cool things down quickly. It was Pakistan's reply to India's threat to expand an incident in the disputed Kashmir region with an attack on mainland Pakistan. In that sense, nuclear weapons have become a sort of insurance policy. Pakistan and India have fought several major wars but none since both sides acquired nuclear weapons. The cost is unthinkable, and one hopes will remain so in the minds of strategists.
Such is the world my generation is leaving to you: flawed but holding together all the same.
China Replacing Russia as the Boogeyman in the U.S. Presidential Campaign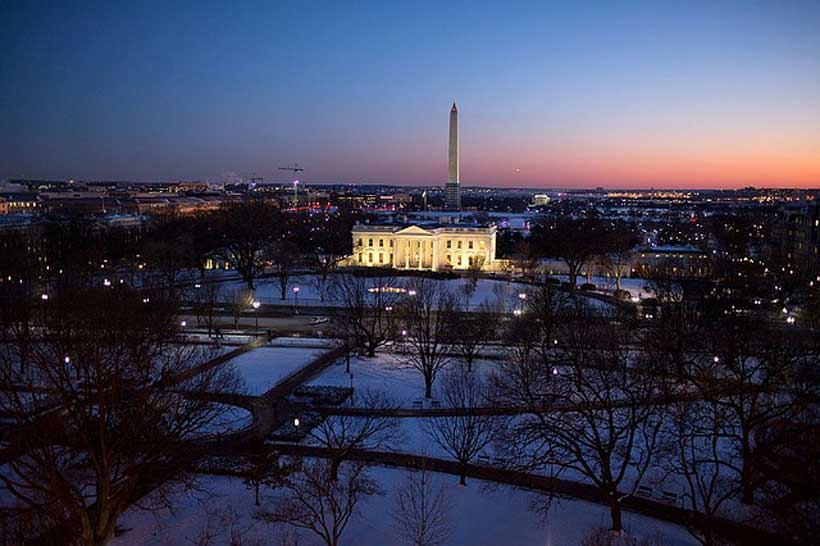 During the 2016 U.S. Presidential bid, Russia was picked as a scapegoat to justify the loss endured by the Democratic party candidate. Moscow was vilified for interfering in the election via the dissemination of false information. After the election, a judicial investigation was launched, ending with no evidence of the collusion.
Despite that fact, in 2017 and 2018, the U.S. imposed economic sanctions against Russian entities. This led to the further aggravation of already sour ties undermined by the Ukrainian crisis in 2014. As an act of reprisal for Moscow's alleged meddling into the conflict, U.S. Congress initiated new economic sanctions.
Russia became what can be regarded as a boogeyman to be reprimanded for whatever misfortune happens — be it ex-spy Sergei Skripal's poisoning in 2018 or Russia's alleged bombings of peaceful residents in eastern Aleppo. Russia got blamed for everything, even though the evidence was missing.
In 2017 the U.S. and Russia crossed swords in a diplomatic row by cutting staff numbers and closing each other's consulates. Since then, both countries have been experiencing alienation from one another, culminating in the recent cancellation of several arms control agreements (i.e., INF, Open Skies).
By the same token, the U.S. has recently upped the ante in handling thorny issues with China, which came under the spotlight during the American presidential campaign. Both candidates — J. Biden and D. Trump — appeal to their supporters using China, competing for the reputation of leaders with the toughest stance towards Beijing.
China is an obvious target of criticism for the U.S. President, who is adamant about securing his second term in office. It is hard to find any other positive agenda as soon as he failed to deliver an efficacious response to the pandemic, which has already put the country's economy at risk of recession with a gloomy long-term economic outlook.
Russia can no longer alone serve as a scapegoat for misdoings of U.S. politicians. Such rhetoric has been present in American media for such a long time that it has eventually lost some of its appeal to the U.S. audience.
Following a blueprint tailored for Russia, the U.S. has resorted to a maximum pressure campaign against China. In 2018 a full-scale trade war erupted and was followed by sanctions introduced against the most vital industry for China's global rise — the hi-tech sector. Huawei and ZTE were swiped from the U.S. market. The U.S. also has been widely applying its longer-used instrument of sanctions not solemnly limited to hi-tech giants. Chinese officials in Xinjiang and foreigners doing business in Hong Kong also fell under various restrictions.
As for now, the pendulum has swung from economic agenda to geopolitics and ideology — with the latter being a novelty for U.S. policy towards China. Despite that, China and Russia were already labelled "rival powers … that seek to challenge American values" in 2017, Trump's national strategy.
In January 2020, Secretary of State M. Pompeo called the Communist Party of China (CPC) the "central threat of our times." As for Russian ideology, the country was already eloquently described as an "evil state" during the 2016 U.S. presidential campaign. In July 2020, Mr. Pompeo called on the Chinese people to help "change the behavior" of their government. Thus, he designated CPC as an ideological and independent entity separate from Chinese citizens.
In order to sharpen the rhetoric, U.S. politicians stopped addressing Xi Jinping as "president," calling him "general secretary" instead — an act which deprives Mr. Xi of political legitimacy usually bestowed upon the elected leader. Another menacing sign is that the U.S. is reportedly reviewing a proposal to ban CPC members from traveling to the U.S., which would basically mean the start of an active phase of ideological confrontation.
Similar to the 2017 Russian-American diplomatic row, today the U.S. and China are also exchanging attacks on each other's diplomatic missions. For example, from geostrategic perception, in mid-July, the U.S. officially recognized China's claims in the South China Sea as "unlawful" and made it clear that its strengthening of the policy with regard to SCS is aimed at halting China's use of coercion.
Both countries do not want to play alone in a tit-for-tat game. The U.S. has already summoned its allies to form a group of democratic countries to oppose the CPC. France and Britain have recently bowed to long-term U.S. pressure to convince allies to steer clear of the Chinese 5G technology.
China is also gearing up by upholding contacts with its tried and tested partners — namely Russia. Despite a minuscule slide in bilateral trade (a 4% decline compared to 2019) amid COVID-19, political cooperation has been developing. In early July, both countries demonstrated close coordination in high-level international organizations by vetoing extension of cross-border aid in Syria. During a telephone call to Vladimir Putin on July 8, President Xi vowed to intensify coordination with Russia internationally, including in the UN.
Russia and China currently maintain close and regular cooperation. According to the Russian ambassador to China A. Denisov, up to now, both presidents have held four telephone conversations and are currently working on preparation for a state visit of the Russian President to China, as well as on the participation of Xi Jinping in SCO and BRICS forums in Russia with open dates.
A new trend in China-Russia cooperation can be noted in the sphere of coordination of bilateral actions to oppose Western ideological pressure in the media. On July 24, spokespeople of the Ministries of foreign affairs held a video-conference on the information agenda. The parties recognized Western powers' attempts to interfere in the internal affairs of China and Russia by disseminating fake news and placing restrictions on journalists' work.
U.S. attempts to alienate and isolate China provide Beijing with no other choice but to seek further expansion of cooperation with like-minded states, be it Russia or any other country open for cooperation.
From our partner RIAC