Trump's foreign policy rhetoric under revision
Known for aggressive controversial rhetoric, Donald Trump, feeling sure of not just republican nomination but also becoming the next president of US super power to control the world, has made a major policy statement as he vowed to improve relations with Russia, China if elected US president. This is important as it is the only positive rhetoric he has made during his entire campaign for presidency.
After the bogus terror wars launched following the Sept -11 hoax to destabilize Arab nations and Afghanistan, by republican Bush Sr. and Jr. and accelerated by democratic Barack Obama, targeting Muslim nations, resources therein, Muslims and Islam, now Americans are clearly heading towards another tragedy – the rise of a monstrous Republican presidential aspirant Trump who has declared he would cause more calamities to the humanity if elected to White House.
Controversial rhetoric
Donald Trump, who courted global controversy with remarks on "temporarily" banning Muslims from entering the US, today appeared to be slightly softening his hardline stance saying the proposal was "just a suggestion" until the issue is worked out. Trump said he would grant exemption to the Pakistani- origin mayor to come to the US under his presidency though he was critical of Khan who won the Mayoral poll of London u in UK, by defeating the opponents who spread Islamophobia to make the voters hate Khan and Islam. Trump had called for "a total and complete shutdown of Muslims entering the USA. While he says there is Islamic 'radical terrorism' all over the world right now, he does not admit the cause of terrorism and who is using the misguided so-called 'Muslims' for terror exercises.
Trump had called for "a total and complete shutdown of Muslims entering the United States An interview to CNN, Khan joined the issue with him saying: "My message to Donald Trump and his team is that your views of Islam are ignorant. It is possible to be a Muslim and live in the West. It is possible to be a Muslim and love America".
Trump's anti-Muslim rhetoric seems to have worked miracle among the republican voters who see him as a powerful trump card against Islam to save Bush-Obama co from any possible punishments for their cumulative crimes against humanity in Mideast. His persistent calls to bar Muslims from entering the United States are welcome by every fanatic American with anti-Islam mindset. And, the trend clearly shows he is almost at the White House a s per the hidden agenda of imperialist policymakers in Washington wanting the next president also to dutifully continue to advance US global interests by showcasing advanced militarism to advance imperialist-capitalist objectives globally.
Trump seems to be sure of presidential chances as he is in control of poll campaign to emerge as Republican candidate and he is trying to make amendments to his arrogant polemics. . In a major shift in rhetoric, a strong New York billionaire and Republican front-runner Donald Trump vowed to seek better relations with Russia and China if elected president in November and said he would make US allies bear more of the financial burden for their defense. In a major speech, Trump delivered a withering critique of Barack Obama's foreign policy, saying the Democratic president has let China take advantage of the United States and has failed to defeat Islamic State militants. He pledged to "shake the rust off America's foreign policy."
Earlier Donald Trump annoyed all NATO members in Europe with his 'America first' slogan. Trump's first major foreign policy address alarmed American allies, who view the Republican front runner's repeated invocation of an "America first" agenda as a threat to retreat from the world, leaving Europe to its own fate. While most governments were careful not to comment publicly on a speech by a US presidential candidate, Germany's foreign minister veered from that protocol to express concern at Trump's wording. "I can only hope that the election campaign in the USA does not lack the perception of reality," Frank-Walter Steinmeier said. "The world's security architecture has changed and it is no longer based on two pillars alone. It cannot be conducted unilaterally," he said of foreign policy in a post-Cold War world. "No American president can get round this change in the international security architecture…. 'America first' is actually no answer to that."
Carl Bildt, a former Swedish prime minister and foreign minister who served as UN envoy to the Balkans in the aftermath of the Yugoslav wars of the 1990s, said he heard Trump's speech as "abandoning both democratic allies and even democratic values". "Trump had not a word against Russian aggression in Ukraine, but plenty against past US support for democracy in Egypt," Bildt said, referring to lines from Trump's speech that criticized the Barack Obama administration for withdrawing support for autocrat Hosni Mubarak during a 2011 uprising.
Trump's speech, uncharacteristically read out from a teleprompter, seemed aimed at showing a more serious side of a politician who has said he intends to act more "presidential" after months of speaking mainly off the cuff. He promised "a disciplined, deliberate and consistent foreign policy" in contrast to the "reckless, rudderless and aimless" policies of Obama and former Secretary of State Hillary Clinton, Trump's likely Democratic opponent if he secures the Republican nomination. The speech included no dramatic new policy proposals that might generate headlines, such as his past calls to bar Muslims from entering the United States or to build a wall on the frontier with Mexico.
Rhetoric shift
As he is gaining in self confidence, Trump has begun talking some sense for the first time the campaign. He questions the exploitative tactics of attacking the NATO members and also supportive Russia and China- the first time an American leader has done it.
Trump, a real estate magnate, spoke about new relations with Russia and China the day after victories in five Northeastern states that moved him closer to capturing the Republican Party presidential nomination for the Nov. 8 election. With USA-Russia relations strained over numerous issues including Moscow's support for Syrian President Bashar al-Assad, Trump said an easing of tensions with Russia from a position of strength is possible.
Interestingly, Trump said he would use US economic leverage to persuade China to rein in North Korea's nuclear program. He says China respects strength and by letting them take advantage of us economically we have lost all their respect and he would call separate summits of NATO and Asian allies to discuss a rebalancing of the US financial commitment to their defense.
Trump also turned against the NATO allies for exploiting their leader USA to their advantage. He was stern in charging that American allies have benefited from a US defense umbrella to protect from any possible Russian aggression but have not paid their fair share. "The countries we defend must pay for the cost of this defense. If not, the USA must be prepared to let these countries defend themselves. We have no choice, we can't go on feeding them" Trump said.
Trump, also a reality TV star, has never held elected office and has built support – particularly among white working class voters – with a no-nonsense style and populist pledges to "make America great again." He set aside his rancorous campaign rhetoric for his address on foreign policy. Trump usually speaks in an off-the-cuff manner, but he delivered FP speech with the aid of a teleprompter as he sought to make himself appealing to more Republican voters.
Where he was specific, like rejecting the terms of last year's nuclear deal with Iran, calling for more investment in missile defense in Europe and accusing the Obama administration of tepid support for Israel, he was firmly within the Republican mainstream.
A major theme — that more NATO allies should spend at least 2 percent of their economic output on defense — is one that has also been taken up by the Obama administration itself, including repeatedly during the president's visit to Europe last week. Nevertheless, Trump's rhetoric raised alarm in allied countries that still rely on the superpower for defense, particularly the phrase "America first", used in the 1930s by isolationists that sought to keep the United States out of World War Two.
Former South Korean Vice Foreign Minister Kim Sung-han, who now teaches at the Korea University in Seoul, said Trump would be "the first isolationist to be US presidential candidate, while in the post-war era all the US presidents have been to varying degrees internationalists." "Saying the USA will no longer engage in anything that is a burden in terms of its relationships with allies, it would be almost like abandoning those alliances," he said. "It will inevitably give rise to anti-American sentiment worldwide and the speech suggests Trump would make America's allies less secure rather than more. He talked about allies being confident but all of his rhetoric suggested that America should be unpredictable and that America's allies needed to stand up for themselves.
America's allies are now less secure rather than more. Trump talked about allies being confident but all of his rhetoric suggested that America should be unpredictable and that America's allies needed to stand up for themselves.
Linking foreign policy with economy
Donald Trump wants to take care of US economy and protect it from being misused for the protection of other countries. In his run for the White House, Trump has threatened to slap tariffs on imports from China, in almost-certain violation of international rules. He has threatened to confiscate money that immigrants from Mexico wire home to their families, in order to force the Mexican government to pay for a border wall. This week, he suggested that, in an economic crisis, the government might repay only some of the money it owes to certain holders of its debt. Those threats reflect an economic philosophy that is at odds with the traditional economic belief that markets cannot function well outside the rule of law. America has built 200 years of prosperity on a foundation of people agreeing to rules in business transactions, and then sticking to them. Trump appears willing to break those rules in the name of cutting better "deals" for American workers.
Trump's pledge to take extraordinary steps to help left-behind American workers has powered his campaign and made him the presumptive Republican nominee. But he has worried many economists, on the right and the left, who warn that breaking laws and commitments could undermine America's credibility with trading partners, raise its borrowing costs and potentially spark global financial panic.
The debt issue, which Trump raised repeatedly, but hazily, this week, especially troubles economists. Trump suggested in interviews Thursday that he would be open to a form of renegotiating the bonds issued by the government to fund deficit spending. Bondholders expect to be paid the value promised by the bond they purchased; Trump seemed to indicate that he might attempt to compel bondholders to accept a lower value. The mere suggestion that holders of U.S. Treasury might not be paid in full — a practice sometimes referred to as "haircutting" for bondholders — would be "insane" for Trump to make as president. It would lead to a financial crisis larger than 2008 if they went and haircutted US Treasury, which is supposed to be the safest asset in the world. If one person agrees to buy a pizza from a second person at a set price, the buyer needs assurances that the pizza will arrive. If it doesn't, and the seller takes her money anyway, the buyer needs to be able to do something to get her money back. The legal system provides those assurances.
Several economists said Trump sees markets differently, more in line with his career in commercial real estate. In that view, transactions are "deals," typically with a winner on one side and a loser on the other. Trump's own real estate career suggests the rules that govern those deals are often negotiable; lending terms can be renegotiated when a borrower is close to default, for example.
Nations, though, are not real estate moguls. Countries that default or come close to defaulting on their debt, such as Greece, are punished by lenders with much higher borrowing costs for future loans. Countries that agree to the World Trade Organization's rules for trade, and then break them, can be penalized harshly. Such would very likely be the case if the United States levies the sort of tariffs Trump has threatened.
Perhaps most importantly, at a time when companies are increasingly able to spread their cash around the world, the rule of law is one of America's great remaining advantages over rivals such as China and Russia. The consensus of modern growth economics is that property rights, rule of law, good institutions are more important than you might even think to keep growth going. The difference between the United States and a lot of much poorer countries comes down to things like; can you do a zoning change without bribing the guy? Legal limitations give companies faith that they can invest and create jobs in America.
Holtz-Eakin said that, after the fall of communism in Europe a quarter-century ago, the countries that installed credible laws and government institutions were the ones that attracted the most investment and growth. He worried that Trump's threats could destroy such credibility — and backfire on Trump's presidency.
Observation
Like Trump getting ready to become republican candidate, in the Democratic race, Hillary Clinton, 68, won most of the contests, building a virtually insurmountable lead over rival Bernie Sanders, a 74-year-old US senator from Vermont, who vowed to keep fighting until the July convention.
Trump and Clinton are set to face each other to begin the race for the White house and who will reach the target first would not be known until the elections are held. The highly powerful power brokers will play pivotal role in determining the best choice for the US capitalism, Zionism and imperialism.
It is, however, makes no difference who win the presidential poll because as irrespective of who wins the presidency, the new incumbent at White House would advance only Americo-Israeli joint interest globally that includes shielding the Zionist crimes against humanity as part of defending the crimes committed against humanity jointly by the leaders of USA and Europe, Australia, etc.
If one thinks as a woman with a charming daughter Mrs. Clinton would be kind to humanity and wind down all terror wars and withdraw all forces from foreign soil, they are mistaken. She has already declared USA would stand solid behind fascist Israel and shield all its crimes against humanity.
What Trump has said thus far cannot be taken seriously as he has been only trying get fanatic Americans to support the Republican Party. As real president Trump would different as he will have to follow the 'traditions' of US presidency.
Hardened US and Iranian positions question efficacy of parties' negotiating tactics
The United States and Iran seem to be hardening their positions in advance of a resumption of negotiations to revive a 2015 international nuclear agreement once Iranian President-elect Ebrahim Raisi takes office in early August.
Concern among supporters of the agreement to curb Iran's nuclear program which former US President Donald J. Trump abandoned in 2018 may be premature but do raise questions about the efficacy of the negotiating tactics of both parties.
These tactics include the Biden administration's framing of the negotiations exclusively in terms of the concerns of the West and its Middle Eastern allies rather than also as they relate to Iranian fears, a failure by both the United States and Iran to acknowledge that lifting sanctions is a complex process that needs to be taken into account in negotiations, and an Iranian refusal to clarify on what terms the Islamic republic may be willing to discuss non-nuclear issues once the nuclear agreement has been revived.
The differences in the negotiations between the United States and Iran are likely to be accentuated if and when the talks resume, particularly concerning the mechanics of lifting sanctions.
"The challenges facing the JCPOA negotiations are a really important example of how a failed experience of sanctions relief, as we had in Iran between the Obama and Trump admins, can cast a shadow over diplomacy for years to come, making it harder to secure US interests," said Iran analyst Esfandyar Batmanghelidj referring to the nuclear accord, the Joint Comprehensive Plan of Action, by its initials.
The Biden administration may be heeding Mr. Batmangheldij's notion that crafting sanctions needs to take into account the fact that lifting them can be as difficult as imposing them as it considers more targeted additional punitive measures against Iran. Those measures would aim to hamper Iran's evolving capabilities for precision strikes using drones and guided missiles by focusing on the providers of parts for those weapon systems, particularly engines and microelectronics.
To be sure, there is no discernable appetite in either Washington or Tehran to adjust negotiation tactics and amend their underlying assumptions. It would constitute a gargantuan, if not impossible challenge given the political environment in both capitals. That was reflected in recent days in Iranian and US statements.
Iranian Spiritual Leader Ayatollah Ali Khamenei suggested that agreement on the revival of the nuclear accord was stumbling over a US demand that it goes beyond the terms of the original accord by linking it to an Iranian willingness to discuss its ballistic missiles program and support for Arab proxies.
In a speech to the cabinet of outgoing President Hassan Rouhani, he asserted that the West "will try to hit us everywhere they can and if they don't hit us in some place, it's because they can't… On paper and in their promises, they say they'll remove sanctions. But they haven't lifted them and won't lift them. They impose conditions…to say in future Iran violated the agreement and there is no agreement" if Iran refuses to discuss regional issues or ballistic missiles.
Iranian officials insist that nothing can be discussed at this stage but a return by both countries to the nuclear accord as is. Officials, distrustful of US intentions, have hinted that an unconditional and verified return to the status quo ante may help open the door to talks on missiles and proxies provided this would involve not only Iranian actions and programs but also those of America's allies.
Mr. Khamenei's remarks seemed to bolster suggestions that once in office Mr. Raisi would seek to turn the table on the Biden administration by insisting on stricter verification and US implementation of its part of a revived agreement.
To achieve this, Iran is expected to demand the lifting of all rather than some sanctions imposed or extended by the Trump administration; verification of the lifting; guarantees that the lifting of sanctions is irreversible, possibly by making any future American withdrawal from the deal contingent on approval by the United Nations Security Council; and iron-clad provisions to ensure that obstacles to Iranian trade are removed, including the country's unfettered access to the international financial system and the country's overseas accounts.
Mr. Khamenei's remarks and Mr. Raisi's anticipated harder line was echoed in warnings by US officials that the ascendancy of the new president would not get Iran a better deal. The officials cautioned further that there could be a point soon at which it would no longer be worth returning to because Iran's nuclear program would have advanced to the point where the limitations imposed by the agreement wouldn't produce the intended minimum one year 'breakout time' to produce enough enriched uranium for a bomb.
"We are committed to diplomacy, but this process cannot go on indefinitely. At some point, the gains achieved by the JCPOA (Joint Comprehensive Plan of Action) cannot be fully recovered by a return to the JCPOA if Iran continues the activities that it's undertaken with regard to its nuclear program…The ball remains in Iran's court, and we will see if they're prepared to make the decisions necessary to come back into compliance," US Secretary Antony Blinken said this week on a visit to Kuwait.
Another US official suggested that the United States and Iran could descend into a tug-of-war on who has the longer breath and who blinks first. It's a war that so far has not produced expected results for the United States and in which Iran has paid a heavy price for standing its ground.
The official said that a breakdown in talks could "look a lot like the dual-track strategy of the past—sanctions pressure, other forms of pressure, and a persistent offer of negotiations. It will be a question of how long it takes the Iranians to come to the idea they will not wait us out."
Wendy Sherman's China visit takes a terrible for the US turn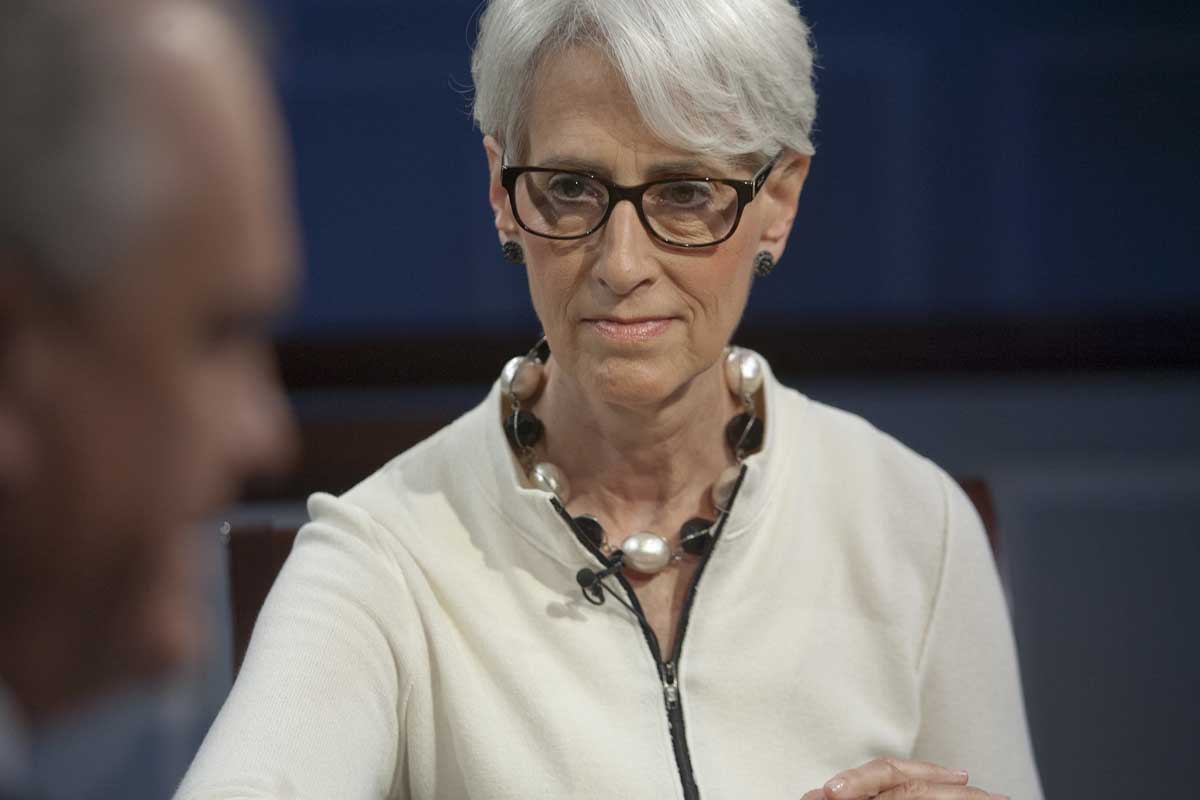 US Deputy Secretary of State, Wendy Sherman, had high hopes for the meeting in China. At first, the Chinese side did not agree to hold the meeting at all. The reaction had obvious reasons: Antony Blinken's fiasco in Alaska left the Chinese disrespected and visibly irritated. This is not why they travelled all the way.
So then the State Department had the idea of sending Wendy Sherman instead. The US government actually needs China more than China needs the US. Sherman was in China to actually prepare the ground for Biden and a meeting between the two presidents, expecting a red carpet roll for Biden as if it's still the 2000s — the time when it didn't matter how the US behaved. Things did not go as expected.
Instead of red carpet talk, Sherman heard Dua Lipa's "I got new rules".
That's right — the Chinese side outlined three bottom lines warning the US to respect its system, development and sovereignty and territorial integrity. In other words, China wants to be left alone.
The bottom lines were not phrased as red lines. This was not a military conflict warning. This was China's message that if any future dialogue was to take place, China needs to be left alone. China accused the US of creating an "imaginary enemy". I have written about it before — the US is looking for a new Cold War but it doesn't know how to start and the problem is that the other side actually holds all the cards.
That's why the US relies on good old militarism with an expansion into the Indo-Pacific, while aligning everyone against China but expecting the red carpet and wanting all else in the financial and economic domains to stay the same. The problem is that the US can no longer sell this because there are no buyers. Europeans also don't want to play along.
The headlines on the meeting in the US press are less flattering than usual. If the US is serious about China policy it has to be prepared to listen to much more of that in the future. And perhaps to, yes, sit down and be humble.
Why Jen Psaki is a well-masked Sean Spicer
When Sarah Huckabee Sanders showed up on the scene as White House Press Secretary, the reaction was that of relief. Finally — someone civil, normal, friendly. Jen Psaki's entry this year was something similar. People were ready for someone well-spoken, well-mannered, even friendly as a much welcome change from the string of liars, brutes or simply disoriented people that the Trump Administration seemed to be lining up the press and communications team with on a rolling basis. After all, if the face of the White House couldn't keep it together for at least five minutes in public, what did that say about the overall state of the White House behind the scenes?
But Psaki's style is not what the American media and public perceive it to be. Her style is almost undetectable to the general American public to the point that it could look friendly and honest to the untrained eye or ear. Diplomatic or international organization circles are perhaps better suited to catch what's behind the general mannerism. Jen Psaki is a well-masked Sean Spicer, but a Sean Spicer nevertheless. I actually think she will do much better than him in Dancing With The Stars. No, in fact, she will be fabulous at Dancing With The Stars once she gets replaced as White House Press Secretary.
So let's take a closer look. I think what remains undetected by the general American media is veiled aggression and can easily pass as friendliness. Psaki recently asked a reporter who was inquiring about the Covid statistics at the White House why the reporter needed that information because Psaki simply didn't have that. Behind the brisk tone was another undertone: the White House can't be questioned, we are off limits. But it is not and that's the point.
Earlier, right at the beginning in January, Psaki initially gave a pass to a member of her team when the Politico stunner reporter story broke out. The reporter was questioning conflict of interest matters, while the White House "stud" was convinced it was because he just didn't chose her, cursing her and threatening her. Psaki sent him on holidays. Nothing to see here folks, move along.
Psaki has a level of aggression that's above average, yet she comes across as one of the most measured and reasonable White House Press Secretaries of the decade. And that's under pressure. But being able to mask that level of deflection is actually not good for the media because the media wants answers. Style shouldn't (excuse the pun) trump answers. And being able to get away smoothly with it doesn't actually serve the public well. Like that time she just walked away like it's not a big deal. It's the style of "as long as I say thank you or excuse me politely anything goes". But it doesn't. And the American public will need answers to some questions very soon. Psaki won't be able to deliver that and it would be a shame to give her a pass just because of style.
I think it's time that we start seeing Psaki as a veiled Sean Spicer. And that Dancing with the Stars show — I hope that will still run despite Covid.