Trump's foreign policy rhetoric under revision
Known for aggressive controversial rhetoric, Donald Trump, feeling sure of not just republican nomination but also becoming the next president of US super power to control the world, has made a major policy statement as he vowed to improve relations with Russia, China if elected US president. This is important as it is the only positive rhetoric he has made during his entire campaign for presidency.
After the bogus terror wars launched following the Sept -11 hoax to destabilize Arab nations and Afghanistan, by republican Bush Sr. and Jr. and accelerated by democratic Barack Obama, targeting Muslim nations, resources therein, Muslims and Islam, now Americans are clearly heading towards another tragedy – the rise of a monstrous Republican presidential aspirant Trump who has declared he would cause more calamities to the humanity if elected to White House.
Controversial rhetoric
Donald Trump, who courted global controversy with remarks on "temporarily" banning Muslims from entering the US, today appeared to be slightly softening his hardline stance saying the proposal was "just a suggestion" until the issue is worked out. Trump said he would grant exemption to the Pakistani- origin mayor to come to the US under his presidency though he was critical of Khan who won the Mayoral poll of London u in UK, by defeating the opponents who spread Islamophobia to make the voters hate Khan and Islam. Trump had called for "a total and complete shutdown of Muslims entering the USA. While he says there is Islamic 'radical terrorism' all over the world right now, he does not admit the cause of terrorism and who is using the misguided so-called 'Muslims' for terror exercises.
Trump had called for "a total and complete shutdown of Muslims entering the United States An interview to CNN, Khan joined the issue with him saying: "My message to Donald Trump and his team is that your views of Islam are ignorant. It is possible to be a Muslim and live in the West. It is possible to be a Muslim and love America".
Trump's anti-Muslim rhetoric seems to have worked miracle among the republican voters who see him as a powerful trump card against Islam to save Bush-Obama co from any possible punishments for their cumulative crimes against humanity in Mideast. His persistent calls to bar Muslims from entering the United States are welcome by every fanatic American with anti-Islam mindset. And, the trend clearly shows he is almost at the White House a s per the hidden agenda of imperialist policymakers in Washington wanting the next president also to dutifully continue to advance US global interests by showcasing advanced militarism to advance imperialist-capitalist objectives globally.
Trump seems to be sure of presidential chances as he is in control of poll campaign to emerge as Republican candidate and he is trying to make amendments to his arrogant polemics. . In a major shift in rhetoric, a strong New York billionaire and Republican front-runner Donald Trump vowed to seek better relations with Russia and China if elected president in November and said he would make US allies bear more of the financial burden for their defense. In a major speech, Trump delivered a withering critique of Barack Obama's foreign policy, saying the Democratic president has let China take advantage of the United States and has failed to defeat Islamic State militants. He pledged to "shake the rust off America's foreign policy."
Earlier Donald Trump annoyed all NATO members in Europe with his 'America first' slogan. Trump's first major foreign policy address alarmed American allies, who view the Republican front runner's repeated invocation of an "America first" agenda as a threat to retreat from the world, leaving Europe to its own fate. While most governments were careful not to comment publicly on a speech by a US presidential candidate, Germany's foreign minister veered from that protocol to express concern at Trump's wording. "I can only hope that the election campaign in the USA does not lack the perception of reality," Frank-Walter Steinmeier said. "The world's security architecture has changed and it is no longer based on two pillars alone. It cannot be conducted unilaterally," he said of foreign policy in a post-Cold War world. "No American president can get round this change in the international security architecture…. 'America first' is actually no answer to that."
Carl Bildt, a former Swedish prime minister and foreign minister who served as UN envoy to the Balkans in the aftermath of the Yugoslav wars of the 1990s, said he heard Trump's speech as "abandoning both democratic allies and even democratic values". "Trump had not a word against Russian aggression in Ukraine, but plenty against past US support for democracy in Egypt," Bildt said, referring to lines from Trump's speech that criticized the Barack Obama administration for withdrawing support for autocrat Hosni Mubarak during a 2011 uprising.
Trump's speech, uncharacteristically read out from a teleprompter, seemed aimed at showing a more serious side of a politician who has said he intends to act more "presidential" after months of speaking mainly off the cuff. He promised "a disciplined, deliberate and consistent foreign policy" in contrast to the "reckless, rudderless and aimless" policies of Obama and former Secretary of State Hillary Clinton, Trump's likely Democratic opponent if he secures the Republican nomination. The speech included no dramatic new policy proposals that might generate headlines, such as his past calls to bar Muslims from entering the United States or to build a wall on the frontier with Mexico.
Rhetoric shift
As he is gaining in self confidence, Trump has begun talking some sense for the first time the campaign. He questions the exploitative tactics of attacking the NATO members and also supportive Russia and China- the first time an American leader has done it.
Trump, a real estate magnate, spoke about new relations with Russia and China the day after victories in five Northeastern states that moved him closer to capturing the Republican Party presidential nomination for the Nov. 8 election. With USA-Russia relations strained over numerous issues including Moscow's support for Syrian President Bashar al-Assad, Trump said an easing of tensions with Russia from a position of strength is possible.
Interestingly, Trump said he would use US economic leverage to persuade China to rein in North Korea's nuclear program. He says China respects strength and by letting them take advantage of us economically we have lost all their respect and he would call separate summits of NATO and Asian allies to discuss a rebalancing of the US financial commitment to their defense.
Trump also turned against the NATO allies for exploiting their leader USA to their advantage. He was stern in charging that American allies have benefited from a US defense umbrella to protect from any possible Russian aggression but have not paid their fair share. "The countries we defend must pay for the cost of this defense. If not, the USA must be prepared to let these countries defend themselves. We have no choice, we can't go on feeding them" Trump said.
Trump, also a reality TV star, has never held elected office and has built support – particularly among white working class voters – with a no-nonsense style and populist pledges to "make America great again." He set aside his rancorous campaign rhetoric for his address on foreign policy. Trump usually speaks in an off-the-cuff manner, but he delivered FP speech with the aid of a teleprompter as he sought to make himself appealing to more Republican voters.
Where he was specific, like rejecting the terms of last year's nuclear deal with Iran, calling for more investment in missile defense in Europe and accusing the Obama administration of tepid support for Israel, he was firmly within the Republican mainstream.
A major theme — that more NATO allies should spend at least 2 percent of their economic output on defense — is one that has also been taken up by the Obama administration itself, including repeatedly during the president's visit to Europe last week. Nevertheless, Trump's rhetoric raised alarm in allied countries that still rely on the superpower for defense, particularly the phrase "America first", used in the 1930s by isolationists that sought to keep the United States out of World War Two.
Former South Korean Vice Foreign Minister Kim Sung-han, who now teaches at the Korea University in Seoul, said Trump would be "the first isolationist to be US presidential candidate, while in the post-war era all the US presidents have been to varying degrees internationalists." "Saying the USA will no longer engage in anything that is a burden in terms of its relationships with allies, it would be almost like abandoning those alliances," he said. "It will inevitably give rise to anti-American sentiment worldwide and the speech suggests Trump would make America's allies less secure rather than more. He talked about allies being confident but all of his rhetoric suggested that America should be unpredictable and that America's allies needed to stand up for themselves.
America's allies are now less secure rather than more. Trump talked about allies being confident but all of his rhetoric suggested that America should be unpredictable and that America's allies needed to stand up for themselves.
Linking foreign policy with economy
Donald Trump wants to take care of US economy and protect it from being misused for the protection of other countries. In his run for the White House, Trump has threatened to slap tariffs on imports from China, in almost-certain violation of international rules. He has threatened to confiscate money that immigrants from Mexico wire home to their families, in order to force the Mexican government to pay for a border wall. This week, he suggested that, in an economic crisis, the government might repay only some of the money it owes to certain holders of its debt. Those threats reflect an economic philosophy that is at odds with the traditional economic belief that markets cannot function well outside the rule of law. America has built 200 years of prosperity on a foundation of people agreeing to rules in business transactions, and then sticking to them. Trump appears willing to break those rules in the name of cutting better "deals" for American workers.
Trump's pledge to take extraordinary steps to help left-behind American workers has powered his campaign and made him the presumptive Republican nominee. But he has worried many economists, on the right and the left, who warn that breaking laws and commitments could undermine America's credibility with trading partners, raise its borrowing costs and potentially spark global financial panic.
The debt issue, which Trump raised repeatedly, but hazily, this week, especially troubles economists. Trump suggested in interviews Thursday that he would be open to a form of renegotiating the bonds issued by the government to fund deficit spending. Bondholders expect to be paid the value promised by the bond they purchased; Trump seemed to indicate that he might attempt to compel bondholders to accept a lower value. The mere suggestion that holders of U.S. Treasury might not be paid in full — a practice sometimes referred to as "haircutting" for bondholders — would be "insane" for Trump to make as president. It would lead to a financial crisis larger than 2008 if they went and haircutted US Treasury, which is supposed to be the safest asset in the world. If one person agrees to buy a pizza from a second person at a set price, the buyer needs assurances that the pizza will arrive. If it doesn't, and the seller takes her money anyway, the buyer needs to be able to do something to get her money back. The legal system provides those assurances.
Several economists said Trump sees markets differently, more in line with his career in commercial real estate. In that view, transactions are "deals," typically with a winner on one side and a loser on the other. Trump's own real estate career suggests the rules that govern those deals are often negotiable; lending terms can be renegotiated when a borrower is close to default, for example.
Nations, though, are not real estate moguls. Countries that default or come close to defaulting on their debt, such as Greece, are punished by lenders with much higher borrowing costs for future loans. Countries that agree to the World Trade Organization's rules for trade, and then break them, can be penalized harshly. Such would very likely be the case if the United States levies the sort of tariffs Trump has threatened.
Perhaps most importantly, at a time when companies are increasingly able to spread their cash around the world, the rule of law is one of America's great remaining advantages over rivals such as China and Russia. The consensus of modern growth economics is that property rights, rule of law, good institutions are more important than you might even think to keep growth going. The difference between the United States and a lot of much poorer countries comes down to things like; can you do a zoning change without bribing the guy? Legal limitations give companies faith that they can invest and create jobs in America.
Holtz-Eakin said that, after the fall of communism in Europe a quarter-century ago, the countries that installed credible laws and government institutions were the ones that attracted the most investment and growth. He worried that Trump's threats could destroy such credibility — and backfire on Trump's presidency.
Observation
Like Trump getting ready to become republican candidate, in the Democratic race, Hillary Clinton, 68, won most of the contests, building a virtually insurmountable lead over rival Bernie Sanders, a 74-year-old US senator from Vermont, who vowed to keep fighting until the July convention.
Trump and Clinton are set to face each other to begin the race for the White house and who will reach the target first would not be known until the elections are held. The highly powerful power brokers will play pivotal role in determining the best choice for the US capitalism, Zionism and imperialism.
It is, however, makes no difference who win the presidential poll because as irrespective of who wins the presidency, the new incumbent at White House would advance only Americo-Israeli joint interest globally that includes shielding the Zionist crimes against humanity as part of defending the crimes committed against humanity jointly by the leaders of USA and Europe, Australia, etc.
If one thinks as a woman with a charming daughter Mrs. Clinton would be kind to humanity and wind down all terror wars and withdraw all forces from foreign soil, they are mistaken. She has already declared USA would stand solid behind fascist Israel and shield all its crimes against humanity.
What Trump has said thus far cannot be taken seriously as he has been only trying get fanatic Americans to support the Republican Party. As real president Trump would different as he will have to follow the 'traditions' of US presidency.
A Deceitful Trump Has Difficulty Filling Administration Jobs
A politician on center stage calls Mexican immigrants rapists and killers for those people send their bad guys here; says Syrian refugees are snakes and they and other Muslims could harbor ISIS among them; says African countries are sh*tholes and Haitian immigrants carry aids … .  Then without a hint of irony or embarrassment — except a permanently red face — he proclaims, "I am the least racist person anybody is going to meet."  What would a rational individual call him?
The Washington Post ran an op-ed by Bella De Paulo on Donald Trump's lies and lying, drawing on her research work and the Post's Fact Checker.  It turns out he is an inveterate liar and, worse, a cruel one for his lies are often malicious.  The op-ed was also taken up by the right-leaning Chicago Tribune, the leading such organ in Chicago.
Bella De Paulo is a social scientist who earlier on in her career as a professor at the University of Virginia studied lies and liars jointly with some colleagues there.  Since October 2017, President Trump, she notes, "told a remarkable nine lies a day outpacing even the biggest liars in our research."  It gets worse.
Most of the lies (about half) in their study of college students and general community members in the area were self-serving intended to advantage the liars.  Less often they told kind lies, like the woman telling her mother she did not mind taking her shopping.  These constituted about a quarter.
One category was so small as to warrant just a footnote in their study.  This was the cruel lie intended to hurt or disparage someone.  Only 0.8 percent of student participants' lies and 2.4 percent of community members' lies fell in this category.
President Trump is different, shockingly different.  To use his favorite adjective, an amazing 50 percent of his lies were in the cruel category, the content hurtful or disparaging.  His kind lies were few, outnumbered 6.6 times by self-serving ones.  It is not surprising then that 58 percent of voters questioned in a Quinnipiac University poll last November thought he was not honest.  As most people tend to believe others, there has to be a good reason to label someone dishonest.  The old adage, one can't fool all of the people all of the time appears to be working — the people have caught on.
The departures from the Trump administration took in the most prestigious cabinet post.  Secretary of State Rex Tillerson was fired; Mr. Trump apparently furious at his enthusiastic support for the British in their reaction to the poisoning in Salisbury of Sergei Skripal and his daughter Yulia.  The pair remain in critical condition.  The nerve agent used, Novichok, was developed in Russia.  Mr. Skripal acted as a double agent for the UK in the 1990s and early 2000s betraying many agents.  Would that assemble enemies?
President Trump, therefore, had a point.  However, within a few days he had flip-flopped.  He is now projecting a united front with the British, the Germans and the French on the issue.  Clearly, there were also other reasons for his unhappiness with Mr. Tillerson, including the latter's reported pithy description of him as 'a f***ing moron'.  Disagreements on political appointees was another issue.  Moreover, Tillerson's radical reorganization efforts were not popular with career officials in his department.
Trump's chief economic adviser resigned last week.  His successor Larry Kudlow is a long-time media personality.  He is not what one would call a professional economist.  In fact, he does not even have an economics degree.  He is a journalist.  He is also an ardent supply-sider and trickle-downer though — no doubt to Trump's liking — and he played a role alongside the conservative Heritage Foundation's Stephen Moore on Trump's tax plan during his campaign.
So the arrivals and departures at Trump Junction continue, a busier place than almost any previous administration and with numerous government vacancies.  But then, are there many who want to risk a job with the mercurial Trump when it is also difficult to believe much of what he says?
What Results When U.S. Invades a Country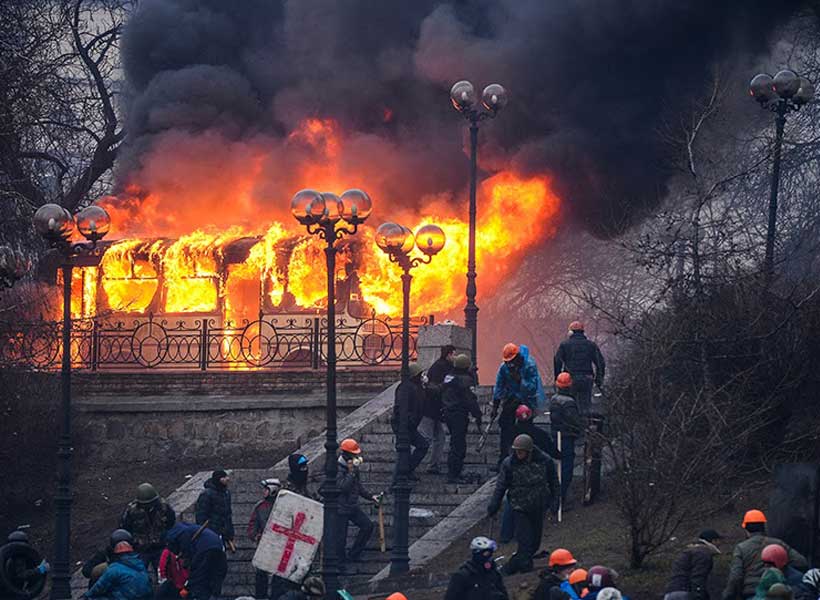 The U.S. Government certainly leads the world in invasions and coups. In recent years, it has invaded and occupied — either by military assault or by coup, but in either case followed by installing (or trying to install) a new regime there — a number of countries, especially Afghanistan, Iraq, Libya, Syria, Ukraine, and Yemen.
U.S. propaganda says that its invasions and military occupations (and it denies its coups) are to benefit the people in the invaded and militarily occupied countries, or to bring them 'democracy', and are not done merely to benefit the people who control the U.S. Government (which itself is not a democracy, and even the neoconservative — pro-invasion or "imperialistic" — American magazine The Atlantic has finally acknowledged this fact, even though it contradicts their continuing neoconservatism).
Polling and other evidences within the invaded/occupied countries shows the opposite of the U.S. claim: America's invasions/occupations (after World War II, and especially after 2000) destroy those countries, not help them.
The most authoritative such study that has yet been done on this matter was recently released, and its findings regarding this matter will here be presented, and then supplemented with other relevant data so as to provide a fuller picture.
The U.N./Gallup surveys of the happiness/misery of the residents in 155 countries, as reported in 2017, were physically in-person interviews in almost all countries, but there was at least one exception, as they explained: "In Libya, telephone survey methodology has been used since 2015 owing to the country's high rate of mobile phone coverage and ongoing instability which has made it too dangerous to use face-to-face interviewers." That's a highly euphemistic way of saying, actually: Libya was too dangerous, and perhaps too miserable, for opinions to be sampled by the ordinary methodology, the scientifically sound methodology, which is in-person interviews. It's a way of saying this without even mentioning the invasion and war there — as if those things don't even count. Therefore, the finding that Gallup reported about Libya is presumably being included in Gallup's otherwise excellent report purely for Western propaganda purposes — they know that it's not an actual scientific finding about Libya, not a finding that can reasonably be compared to the survey-findings in the other countries. As a result, Libya, which might have been the most miserable of all countries after the U.S.-UK-France-Canada invasion, scored in the top half of all countries, #68, 5.525. But, all of the other countries that the U.S. has recently invaded (the nations that are boldfaced below) scored at or below #132, 4.096 — Ukraine's score — as is shown here below from that U.N. report:
Following are the happiness-scores of the bottom 24 out of the 155 happiness/misery-rated countries. (Iraq, which the U.S. had destroyed in 2003, perhaps is now recovering, and it scored as #117, with a score of 4.497; but, here only the bottom 24, the most-miserable of all of the 155 countries, are shown.) Here they are:
132 Ukraine                                                        4.096
133 Uganda                                                        4.081
134 Burkina Faso                                              4.032
135 Niger                                                             4.028
136 Malawi                                                         3.970
137 Chad                                                              3.936
138 Zimbabwe                                   3.875
139 Lesotho                                                        3.808
140 Angola                                                          3.795
141 Afghanistan                                               3.794
142 Botswana                                    3.766
143 Benin                                                            3.657
144 Madagascar                                                3.644
145 Haiti                                                               3.603
146 Yemen                                                         3.593
147 South Sudan                                              3.591
148 Liberia                                                           3.533
149 Guinea                                                         3.507
150 Togo                                                              3.495
151 Rwanda                                                        3.471
152 Syria                                                              3.462
153 Tanzania                                                      3.349
154 Burundi                                                        2.905
155 Central African Republic        2.693
Ukraine is (other than #117 Iraq) the least-miserable of the recently invaded countries, and perhaps the reason for this is that Ukraine was taken over by means of a coup, instead of by means of an outright and direct military invasion.
(You can see this coup happening, here. The way that U.S. President Barack Obama set it up is documented here. You can hear there his agent instructing the U.S. Ambassador in Ukraine whom to place in charge of Ukraine's Government once the coup will have been culminated (which happened 22 days later, and that person did get the leadership-position). It's the full conversation. And here, you will see the phone-conversation in which top EU officials were shocked to find that it had been a coup instead of what Obama pretended, a 'revolution'.) (These evidences are some of the reasons why the head of the 'private CIA' firm Stratfor called it "the most blatant coup in history.")
The U.N. happiness surveys have been taken in Ukraine not only after the coup, which occurred in February 2014, but before it, in 2013. At happiness index you can see the happiness/misery scores shown by Ukrainians during the years 2013, 2015, 2016, and 2017 (there was no survey in Ukraine during 2014, perhaps because of the rampant violence at that time.) In 2013, Ukraine's happiness score was 5.057, but that steadily declined down to the 2017 score of 4.096, which placed Ukraine within the bottom 24 countries, all of which either were extremely poor, or at war, or both. You can also see there Ukraine's resulting "World Happiness Index" rank for each one of those four years, 2013, before the coup, and then 2015-2017, after the coup. As you see there, Ukraine, which was #132  in 2017, had been #87 in 2013 before the coup. So: within just three years after the coup, it declined 45 places in the global rankings.
Some people might retort against this by saying that "happiness" is meaningless or unimportant and only physical welfare is 'objective'," but even on the most crudely physical measures, Ukraine has been enormously harmed by the U.S. coup. In 2013, Ukraine's average annual household income was $2,601.40, and then it fell off a cliff and became $1,109.63 by 2015 and has stabilized at around that level since. Also, in 2013, Ukraine's GDP was $183.31 billion, and by 2015 that had become $91.03 billion and stabilized at that level. Furthermore, some figures aren't any longer even reported by the post-coup Ukrainian regime. For example, whereas the number of unemployed was shown in Ukrainian statistics in 2013, it disappeared in 2016 and subsequently. More information about the decline in Ukraine's economic rankings can be seen here. The U.S. regime has been toxic to the Ukrainian people, no matter how one looks at it. But happiness/misery is the real bottom-line.
Two researchers, Tom Coupe and Maxym Obrizan, published together two separate studies, both in leading economics journals, one article titled "The impact of war on happiness: The case of Ukraine", and the other titled "Violence and political outcomes in Ukraine — Evidence from Sloviansk and Kramatorsk". They reported, in "The Impact of war on happiness":
The average level of happiness declined substantially in zones that experience war directly. …
This decline is comparable to the loss of happiness a relatively well-off person would experience if he/she were to become a poor person. …
Regions that are not directly affected by the war are basically as happy as they were before the war.
In other words: all of the increase in misery occurred only in the regions that have been "directly affected by the war." The Ukrainians who reside outside those regions are "as happy as they were before the war." They're not happier than before the war; they haven't been helped by the war; but, the misery — so intense for them that it has already lowered the happiness-ranking of the entire nation, from 87 down to 132 — just hasn't bothered them, at all.
In "Violence and political outcomes in Ukraine" they reported:
We also find that property damage is associated with greater support for pro-Western parties, lower support for keeping Donbas in Ukraine and lower support for compromise as a way to stop the conflict.
In other words: Ukrainians who live close to the Ukraine-Donbass border; that is, who live inside Ukraine but close to Donbass and so are in the Ukrainian portion of the conflict-zone (not in Donbass, where the vast majority of the "property damage" is actually occurring), have "greater support for pro-Western parties" (i.e., for the Obama-installed regime), but "lower support for keeping Donbas in Ukraine." Although they endorse the overthrow that had been done of the pre-coup government (because they receive 'news'media only from the post-coup regime, in the Ukrainian language), they want to get on with their lives without the war that's since been causing them "property damage." (U.S. propaganda notes that "the separatist-controlled parts of Lugansk and Donetsk oblasts ([the two Donbass] provinces) only have access to Russian TV channels" but avoids noting that the Ukrainian regime's blocking of Russian-language media on the other side of that border — inside Ukraine — exists and is even more severe.) Apparently, Ukrainians near the border just want the war to end — no "compromise" — no negotiations, no Minsk process; they want their Government to simply quit trying to conquer Donbass, no negotiations about it, at all. And they're ignored.
Right now in Ukraine, the central political controversy is between the U.S.-puppet President of Ukraine, who promises to conquer both of the two breakaway provinces, Donbass and also Crimea — but who hasn't yet been able to do it — versus Ukraine's political parties, in western and northern Ukraine, that derived from the organizations which had supported Hitler against Stalin in World War II and who still crave to kill Russian-speakers. Those passionately racist-fascist, anti-Russian, ideologically nazi, political organizations, are determined to actually carry out those additional invasions, no matter what the cost. However, according to this finding by Coupe and Obrizon, the Ukrainians who are suffering the "property damage" and whose personal scores on happiness have thus become so abysmally low as to have dragged the whole Ukrainian nation down to a 132nd ranking, are opposed to that nazi position, and they just want the war to end. And they're ignored.
Where, then, is the support for the war to be found (except amongst the U.S. Congress and President and the U.S. arms-makers whose products have been selling so well to Ukraine's government and which are now being used against the residents of Donbass)? That support is to be found as far away from the conflict-zone as possible: in Lviv and the rest of far-western and northern Ukraine, the areas that were cheering Hitler's forces in WW II, and where the 'news' media today are owned by U.S.-supported oligarchs and their NGOs.
Ukraine was a severely divided nation even before the coup. In the last Ukrainian election in which the residents within the Ukraine that then included both Donbass and Crimea voted, which was the election in 2010, the candidate who won Ukraine's Presidency and whom Obama ousted, had won 90% of the vote in Donbass, and 75% of the vote in Crimea. However, in far-western Ukraine, his opponent — whom Obama had been hoping that Ukrainians would elect as Ukraine's President in 2014 after the coup — won 90% of the vote. That's the candidate whose party (though not herself) now dominates (in conjunction with the two outright nazi parties) the Ukrainian Government. The man whom the residents in the rump Ukraine chose, was the more moderate candidate, and he is increasingly being challenged by the nazis. (Ukraine is the world's only nation that has two nazi political parties. Both of them have been clients of the U.S. Government ever since the end of World War II, but only with Obama did they win control of the country — that is, of its non-breakaway regions.) For example, on 18 January 2018, the AP headlined "Ukraine passes bill to get occupied regions back from Russia" and reported that, "Ukraine's parliament on Thursday passed a bill that aims to reintegrate the eastern territories currently controlled by Russia-backed separatists, and goes as far as to declare support for taking them back by military force if necessary." Though that position is a minority position amongst the Ukrainian public, it authentically represents the position that Obama wanted. In fact, he even overrode his own Secretary of State, John Kerry, to push for it. That's the position of Ukraine's two nazi parties, which are trying to replace the existing President. (Trump hasn't yet made clear whether he backs them, but he is expected to.)
So: that's Ukraine — the happiest of the nations that the U.S. has recently invaded.
——
UPDATE: On March 15th, the "World Happiness Report 2018" was issued, and here are the bottom-scoring countries:
Ukraine (4.103)
Togo (3.999)
Guinea (3.964)
Lesotho (3.808)
Angola (3.795)
Madagascar (3.774)
Zimbabwe (3.692)
Afghanistan (3.632)
Botswana (3.590)
Malawi (3.587)
Haiti (3.582)
Liberia (3.495)
Syria (3.462)
Rwanda (3.408)
Yemen (3.355)
Tanzania (3.303)
South Sudan (3.254)
Central African Republic (3.083)
Burundi (2.905)
first published at The Saker
Leading the Way to Latin America's Future
Leaders need to do two things, and do them very well: create a vision and mobilize people around it, said Ngaire Woods, Dean of the Blavatnik School of Government, University of Oxford, United Kingdom, in the closing session of the 2018 World Economic Forum on Latin America.
"A leader is someone who takes you farther than you thought you could go," noted Luiza Helena Trajano, Chairwoman of the Board of Directors, Magazine Luiza, Brazil. In a business you lead people by connecting to their minds by letting them participate; their hearts by recognizing their worth; and their pocketbook by letting them participate in the profits, she added.
Several panellists cited different polls about "most-respected professions" that show leaders in labour, business and politics as "cellar dwellers". This may help explain the anti-establishment mood that has created space for populists with simplistic ideas. Trust in institutions, politicians and democracy is on a downslide.
Alejandro Ramírez, Chief Executive Officer, Cinepolis, Mexico, cited a poll showing that a large majority of Latin Americans believe that life is worse now than it was 50 years ago despite improvements in objective indicators such as GDP per capita, infant mortality and life expectancy. He ascribes this "cognitive dissonance" to "the lack of the rule of law". Of the world's 50 most violent cities, 42 are in the region. The problem can be traced in large part to a "failed drug policy," he said. "It is not working." In addition, business and political leaders have focused excessively on reforms designed to encourage economic growth and not enough on inclusiveness and equality.
Woods outlined three elements of a good leader. First, listen. If a populist candidate says he is going to give everyone a gun, it might seem absurd. But it demonstrates that the candidate understands their concerns about security. This is the opposite of how most politicians operate with their spin doctors.
The second element on Woods' list is communications. Populist messages may seem simplistic. "But simple doesn't need to be simplistic," she said. "Learn to take the time to communicate clearly." Clear messages help citizens hold officials accountable.
Leaders also need to transmit a "transformational message," Woods concluded. Talk about "balancing the budget is not transformative". What vision will speak to the people?
Comparing the politician-citizen link to customer relationships in business, Candido Botelho Bracher, Chief Executive Officer, Itaú Unibanco, Brazil, suggested that political leaders pay more attention to the problems of their constituents. "Good leaders are able to listen and understand the pain points that people have when they are looking for services in education, health or transportation," he said.
Accountability of leaders extends not only to what they do, but also to what they fail to do, noted Paul Bulcke, Chairman of the Board, Nestlé, Switzerland. "Leadership is not about your tenure but what you leave for the next people," he added.
"There is no room for electoral con artists anymore," said Maria Cristina Frias, Member of the Board and Columnist, Folha de São Paulo, Brazil. "Candidates need to listen."
Outcomes of the meeting included:
The World Economic Forum and the Inter-American Development Bank (IDB) strengthened efforts to accelerate gender parity in Latin America. A Gender Parity Task Force is set to launch in Peru to increase gender parity in the labour market, following earlier announcements by Argentina, Chile and Panama. This is the fourth such task force in Latin America, resulting from collaboration with the IDB to narrow gender gaps in labour force participation, leadership, remuneration and investment.
With the changing nature of work, the meeting focused on solutions for human capital development, particularly for youth. Closing the Skills Gap 2020 was launched at the World Economic Forum Annual Meeting 2018 in January was expanded to Latin America. The Adecco Group, Barclays, EY, SAP, Mercer and Nestlé announced founding commitments. The project calls on businesses to lead training, reskilling and upskilling initiatives for 10 million people by 2020.
The Forum and the Government of Colombia have in the last year run a public-private partnership to transform and modernize the country's electricity system so that it benefits from cutting-edge technology and regulation. The successes are highlighted in a white paper launched at the meeting in São Paulo, entitled Frameworks for the Future of Electricity. Sessions explored how to create similar partnerships in other Latin American countries. This forms part of the Forum's System Initiative on Shaping the Future of Energy.
The Fostering Effective Energy Transition global framework and index were launched at the meeting. They were developed within the Forum's System Initiative on Shaping the Future of Energy to benchmark the performance and readiness of 114 countries to support an effective energy transition.
The Brazilian Ministry of Industry, Foreign Trade and Services (MDIC) and the Global Alliance for Trade Facilitation announced a new partnership aimed at increasing Brazil's competitiveness in international trade and boosting economic development. The partnership will see the Alliance, the Brazilian government and the local and international private sector work together to develop and implement targeted trade facilitation reforms.
The Forum's New Vision for Agriculture initiative brought ministers of agriculture and senior leaders of Brazil, Colombia, Mexico and Paraguay together with global and regional CEOs, technology innovators, civil society and regional organizations to define new strategies to accelerate large-scale impact. Country and regional partners committed to action on raising productivity, improving environmental sustainability and land-use, boosting efficient value-chains and shaping consumer demand as part of a systems agenda to realize Latin America's role as the breadbasket of the world.
The World Economic Forum and the International Finance Corporation (IFC) brought 50 Latin American start-ups together in São Paulo to pave the way for the necessary reforms to enable regional entrepreneurs to thrive. The selected start-ups shared the stage with ministers and CEOs for a frank and honest discussion about the challenges start-ups face in Latin America.
The Forum's Partnering Against Corruption Initiative (PACI) launched Tech for Integrity , a digital platform that
leverages emerging technologies from 96 global innovators and partnerships with multistakeholders, including Citi, the IDB, Transparency International and others, to accelerate the impact of anti-corruption efforts for public, private and civil society leaders.
An outcome of a session hosted by PACI was the agreement with the Chair of B20 Argentina to co-curate a joint meeting between G20/B20/C20 stakeholders to accelerate the adoption of leading practices and policies in addressing corruption in the private sector. The meeting will be hosted after the Summit of the Americas in Buenos Aires in late April 2018.
Siemens signed a memorandum of understanding with APEX aiming to support potential economic growth in Brazil. Siemens plans to triple its investments in Brazil over the next five years to $1 billion. They expect this commitment to catalyse a new cycle of sustainable growth, with an impact equivalent to 3.1% of GDP and the creation of up to 1.2 million jobs.