The Libyan Failure: Obama and Clinton's Forgotten War
On February 17th, 2011 the Arab Spring swept Libya. Within a couple of weeks, Tripoli had fallen and the National Transitional Council was established as a parallel government to the ruling Gaddafi regime. Shortly thereafter, France and other European nations began to recognize the new government.
As Libya began to descend into chaos, Gaddafi attempted to respond militarily to repel the uprising. By October 2011, Gaddafi had been killed, the rebels had succeeded taking most of the country and the civil war came to an end.
Libya overthrew its dictator and democracy was in the air or was it? As soon as the media shifted its focus elsewhere, everyone disregarded Libya but the war had just begun. Foreign intervention and support for the uprising helped turn a stable nation into a hornet's nest of chaos, discord, and terror. Today, despite the neglect by the media, Libya is engaged in an existential battle for its identity. With tribes fighting one another for power and ISIS using the disarray to expand its caliphate of terror, the future of Libya appears to be bleak at best.
Gadaffi's Libya
In order to understand the present-day situation in Libya and evaluate NATO's success, one must understand the pre-intervention history of the country. Early in the 20th century, Libya was an Italian colony. Typical of most European colonies, Libya was an artificial construct from three distinct areas; Cyrenaica, Fezzan, and Tripolitania. It is along these three areas that the country is now divided, more or less. After Italy's World War II defeat, the British and French administered Libya until 1951 when Libya declared independence under King Idris . Idris established a constitutional monarchy. With the discovery of major oil reserves, Libya became a wealthy state but unfortunately most of the wealth had been concentrated in the hands of the king and other elites. Around this time, many former colonial nations were swept by secular revolutions, Libya was no exception. Muammar Gaddafi and a group of fellow officers launched the Al-Fateh revolution in 1969.
Similar to other Arab revolutionaries, Gaddafi claimed to create a democratic system, only to disguise his dictatorial government. Using the massive wealth from petroleum sales and a relatively small population, Libya was able to become a wealthy nation in Africa. Gaddafi used the money to purchase arms to supply allies and terrorist groups around the world. But unlike King Idris or other Arab dictators, Gaddafi also modernized Libya. He developed Libya's education system, infrastructure, healthcare, etc. He achieved the highest human development index in Africa and surpassed nations in the Midd le East including Saudi Arabia in terms of development. The GDP rose leaps and bounds reaching the top five (5) in Africa, financial support for university education became universal, employment programs helped train people for skilled jobs, and freshwater was made readily available in a country overwhelmingly buried in a desert.
Despite being a dictator and making many enemies abroad including the US, Gaddafi had worked intently to develop his nation. The living standard was relatively great in Libya compared to other nations of the region. While lacking civil liberties, most Libyans did well in the oasis of stability the ostentatious Libyan dictator had created.
Gaddafi fell out of favor with the international community after his involvement in the bombing of Pan Am 103 and of a Berlin nightclub frequented by US service members. From the 1990s through early 2000s, the UN had sanctioned Libya. After witnessing the downfall of fellow dictator Saddam Hussein, Gaddafi gave up his pursuit of weapons of mass destruction and began a rapprochement with the West. For a short while everything seemed to be going well. It was not until the Arab Spring and the Libyan uprising that everything turned upside down. Vowing to depose the uprising against his government, Gaddafi did not expect a NATO intervention. President Obama and Secretary of State Hilary Clinton claimed that it was imperative for the US and its allies to intervene on the grounds that a humanitarian crisis of epic proportions would occur.
Veni, Vidi, Vici
The basis for the intervention was that the world, especially the US, cannot sit idly by as a dictator massacred its own people. Under such pretenses, the UN Security Council passed Resolution 1973 with abstentions from Russia, Germany, Brazil, China, and India. The resolution established no-fly zones and authorized any necessary actions to protect Libyan civilians. NATO led the campaign to enforce the resolution with the US, France, and the UK being the largest proponent for it. The civil war ended with approximately 30,000 dead. Despite the request by Libya's interim government to extend NATO's mission for another year, NATO ceased its mission and declared victory.
After the withdrawal of NATO and the media, Libya had become a failed state. Different tribes battle one another for territory while Islamists attempt to carve out their fiefdom and on top of all this; ISIS has managed to establish a foothold in the country. Libya is another strategic territory for ISIS to expand its tentacles into. It is geographically situated at the doorstep of Europe and contains a vast amount of petroleum reserves that ISIS hopes to use as an asset to finance its campaign of terror. Simultaneously, Libya can become the safe haven that ISIS needs to expand its burgeoning ties with Boko Haram in Nigeria, potentially Al-Shabaab in Somalia, Islamists in Mali, and other groups on the continent. On top of all this travesty and strategic blunder, neither President Obama nor Secretary Clinton has ever totally owned up to one of their larger foreign policy disasters. Instead Secretary Clinton is famous for her saying "We Came, we saw, he died."
The disaster in Libya, while neglected by most mainstream media outlets and characterized as a minuscule nuisance, can become the fuse that reduces the entire North African region into chaos, disarray, and war. To make matters worse, recently declassified emails by Secretary Clinton demonstrates that she was the one who spearheaded the campaign for Gaddafi's ouster. Furthermore, Secretary Clinton was the main catalyst in fomenting the chaos and extremism that currently exists in Libya due to the vacuum created by the ousting of Gaddafi. Recent emails outline that there was not any real threat to the Libyan civilian population from Gaddafi, instead the Secretary had hyped up the threat of mass murder and rape to get the UN resolution passed through the Security Council.
One of the main rationales behind the war appears to be revealed in an email exchange between Sidney Blumenthal, her top adviser, and Hilary Clinton. Blumenthal stresses the vitality of achieving a "final win" by removing Gaddafi to help President Obama boost his low approval rating at the time. Moreover, Blumenthal discussed the necessity of removing Libya in terms of counterbalancing Iran and establishing security in North Africa but ignoring the potentially disastrous outcomes.
Outcome
With almost 5 years since the ouster of Gaddafi, Libya is a failed state with infighting, killing, and terror-related activities at an all-time high. While many in the media typically and understandably point to the failed Bush policies of Iraq as a leading cause of instability in the Middle East, the omission of the failed Obama/Clinton policies in Libya ignores the rise of extremism and chaos in North Africa. The consequence of Obama's failed war in Libya has not fully materialized, but with time the world will endure more problems as a result of this war. Thus far, the consequences have been:
A Nation Destroyed – Without a shadow of a doubt, Gaddafi was a dictator and a one-time supporter of terror organizations globally. But all was forgiven by the US and EU as they began to mend their ties and move to closer relations. Whatever one may think of Gaddafi, it cannot be denied he developed the tattered desert villages of Libya into a nation and provided services for the people. Nevertheless, today Libya is without any infrastructure thanks to infighting and foreign intervention.
Immigration to Europe – While Americans do not feel the consequences of their actions in Libya directly, Europe's participation in the war has affected them. The recent migration wave into Europe has people from Libya who are attempting to escape the dire and horrific scene in their nation thanks to the European intervention.
ISIS – Aside from Donald Trump's recent acknowledgment of ISIS's growing capabilities in Libya, the media has largely been moot on the topic. Perhaps one of, if not worst, imminent consequences from this entire tragedy is the expansion of ISIS's territorial holdings into Libya. They have managed to find local support and solidify their influence. Libya will be used as a springboard for ISIS to garner more influence into Nigeria, Somalia, Chad, Mali, Egypt, Algeria, Morocco, and eventually Europe itself.
Disaffected Generations – Something that is almost never discussed in most analyses of these wars is the effect of death, and mayhem on the younger generations. Any conflict always brings with it trauma, disillusion, hopelessness and an array of psychological issues. After these countries spiral into destruction, there are not any sorts of institutions to help these children and youth to cope with the death and destruction around them. As a result, they fall prey to extremist recruiters. As these children mature, what will begin to emerge are Taliban-style nations.
The removal of Gaddafi, for whatever reason, was an illogical misstep that resulted in a much more unstable world. Even though the failures in Iraq were a lesson for all, President Obama and Secretary Clinton appear to have neglected it in their preparation for war in Libya. Even worse, President Obama came to power on the basis of ending "useless" wars. As the world continues to be fixated on ISIS and Syria, the forgotten conflicts such as Libya will not always remain in the background, sometimes sooner than later it will rear its head in an unpleasant way. While the world neglects Libya, the cou ntry has become an inhumane dystopia thanks to the "humanitarian" intervention.
Turkey plays Khashoggi crisis to its geopolitical advantage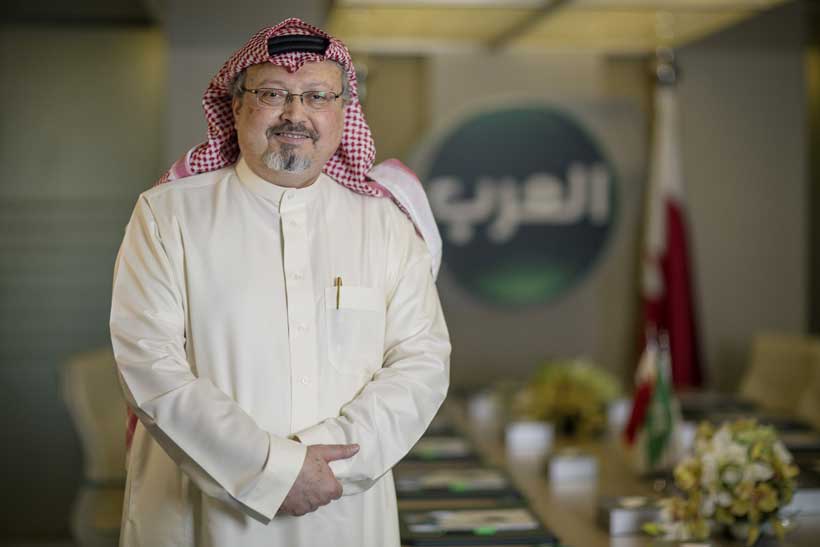 With Turkish investigators asserting that they have found further evidence that Saudi journalist Jamal Khashoggi was killed when he visited the kingdom's consulate in Istanbul two weeks ago, Turkey appears to be leveraging the case to enhance its position as a leader of the Islamic World and reposition itself as a key US ally.
To enhance its geopolitical position vis a vis Saudi Arabia as well as Russia and Iran and potentially garner economic advantage at a time that it is struggling to reverse a financial downturn, Turkey has so far leaked assertions of evidence it says it has of Mr. Khashoggi's killing rather than announced them officially.
In doing so, Turkey has forced Saudi Arabia to allow Turkish investigators accompanied by Saudi officials to enter the consulate and positioned President Recep Tayyip Erdogan as the kingdom's saviour by engineering a situation that will allow the kingdom to craft a face-saving way out of the crisis.
Saudi Arabia is reportedly considering announcing that Mr. Khashoggi, a widely-acclaimed journalist critical of Crown Prince Mohammed bin Salman who went into self-exile because he feared arrest, was killed in either a rogue operation or an attempt gone awry to forcibly repatriate it him back to the kingdom.
US President Donald J. Trump offered the Turks and Saudis a helping hand by referring this week to the possibility of Mr. Khashoggi having been killed by rogues and dispatching Secretary of State Mike Pompeo to Riyadh and Ankara.
Mr. Khashoggi, seeking to obtain proof of his divorce in the kingdom so that he could marry his Turkish fiancé, visited the consulate two weeks ago for the second time after having allegedly received assurances that he would be safe.
Turkey emerges as the crisis moves towards a situation in which an official version is agreed that seeks to shield Prince Mohammed from being held responsible for Mr. Khashoggi's disappearance and likely murder with its international status significantly enhanced.
Turkish leverage is further boosted by the fact that Saudi Arabia — its image in government, political and business circles significantly damaged by the crisis — and the Trump administration that wants to ensure that the kingdom's ruling family emerges from the crisis as unscathed as possible, are in Ankara's debt.
As a result, the denouement of the Khashoggi crisis is likely to alter the dynamics in the long-standing competition between Turkey and Saudi Arabia for leadership of the Islamic world.
It also strengthens Turkey's position in its transactional alliance with Russia and Iran as they manoeuvre to end the war in Syria in a manner that cements Bashar al-Assad's presidency while addressing Turkish concerns.
Turkey's position in its rivalry with Saudi Arabia is likely to also benefit from the fact that whatever face-saving solution the kingdom adopts is likely to be flawed when tested by available facts and certain to be challenged by a host of critics, even if many will see Turkey as having facilitated a political solution rather than ensuring that the truth is established.
Already, Mr. Khashoggi's family who was initially quoted by Saudi Arabia's state-controlled media as backing Saudi denials of responsibility, insinuations that his fate was the product of a conspiracy by Qatar and/or Turkey and the Muslim Brotherhood, and casting doubt on the integrity of the journalist's Turkish fiancée, has called for "the establishment of an independent and impartial international commission to inquire into the circumstances of his death."
Turkey and Saudi Arabia differ on multiple issues that divide the Muslim world. Turkey has vowed to help Iran circumvent Saudi-supported US sanctions imposed after Mr. Trump withdrew in May from the 2015 international agreement that curbed the Islamic republic's nuclear agreement.
Turkey further backs Qatar in its dispute with a Saudi-United Arab Emirates-led alliance that has diplomatically and economically boycotted the Gulf state for the last 16 months. The credibility of the alliance's allegation that Qatar supports terrorism and extremism has been dented by the growing conviction that Saudi Arabia, whether in a planned, rogue or repatriation effort gone wrong, was responsible for Mr. Khashoggi's killing.
Mr. Khashoggi's death, moreover, highlighted differing approaches towards the Brotherhood, one of the Middle East's most persecuted, yet influential Islamist groupings. Saudi Arabia, alongside the UAE and Egypt, have designated the Brotherhood a terrorist organization.
Many brothers have sought refuge in Turkey with Mr. Erdogan empathetic and supportive of the group. A former brother, Mr. Khashoggi criticized Saudi repression of the group.
The Saudi-Turkish rivalry for leadership of the Muslim world was most evident in the two countries' responses to Mr. Trump's recognition of Jerusalem as the capital of Israel and his as yet unpublished plan to resolve the Israeli-Palestinian conflict.
Turkey emerged as the leader of Islamic denunciation of Mr. Trump's move of the US embassy from Tel Aviv to Jerusalem and recognition of the city as Israel's capital after Prince Mohammed tried to dampen opposition. Ultimately, King Salman was forced to step in a bid to clarify the kingdom's position and counter Turkish moves.
No matter how Turkey decides to officially release whatever evidence it has, Saudi Arabia figures out how to respond and halt the haemorrhaging, and Mr. Pompeo holds talks with King Salman and Mr. Erdogan, Turkey is likely to emerge from the crisis strengthened despite its increasingly illiberal and increasingly authoritarian rule at home,
Turkey's success is all the more remarkable given that it has neither Saudi Arabia's financial muscle nor the mantle the kingdom adopts as the custodian of Islam's two holiest cities, Mecca and Medina.
A successful political resolution of the Khashoggi crisis is likely to earn it the gratitude of the Trump administration, Saudi Arabia, and its other detractors like the UAE who support the kingdom even if it may help it to regain popularity in the Arab world lost as a result of its swing towards authoritarianism, alliance with Iran and Qatar, and support for Islamism.
One immediate Turkish victory is likely to be Saudi acquiesce to Mr. Erdogan's demand that Saudi Arabia drop its support for Kurdish rebels in Syria that Ankara sees as terrorists – a move that would boost Turkey's position the Turkish-Russian-Iranian jockeying for influence in a post-war Syria. Turkey is also likely to see Saudi Arabia support it economically.
Turkey may, however, be playing for higher stakes.
Turkey "wants to back Saudi Arabia to the wall. (It wants to) disparage the 'reformist' image that Saudi Arabia has been constructing in the West" in a bid to get the US to choose Ankara as its primary ally in the Middle East, said international relations scholar Serhat Guvenc.
Turkey's relations in recent years have soured as a result of Turkish insistence that the US is harbouring a terrorist by refusing to extradite Fethullah Gulen, the preacher it accuses of having engineered the failed 2016 coup; detaining American nationals and US consulate employees on allegedly trumped up charges, cosying up to Russia and purchasing its S-400 surface to air missile system, and aligning itself with Iran. Relations were further strained by US support for Syrian Kurds.
Mr. Trump, however this week heralded a new era in US-Turkish relations after the release of unsubscribeAndrew Brunson, an evangelist preacher who was imprisoned in Turkey for two years on charges of espionage.
Mr. Guvenc argued that Turkey hopes that Saudi Arabia's battered image will help it persuade Mr. Trump that Turkey rather than the kingdom is its strongest and most reliable ally alongside Israel in the Middle East.
Said journalist Ferhat Unlu: ""Turkey knows how to manage diplomatic crises. Its strategy is to manage tensions to its advantage,"
MbS: Riding roughshod or playing a risky game of bluff poker?
A stalemate in efforts to determine what happened to Saudi journalist Jamal Khashoggi is threatening to escalate into a crisis that could usher in a new era in relations between the United States and some of its closest Arab allies as well as in the region's energy politics.
In response to US President Donald J. Trump's threat of "severe punishment" if Saudi Arabia is proven to have been responsible for Mr. Khashoggi's disappearance while visiting the kingdom's consulate in Istanbul, Saudi Arabia is threatening to potentially upset the region's energy and security architecture.
A tweet by Saudi Arabia's Washington embassy thanking the United States for not jumping to conclusions did little to offset the words of an unnamed Saudi official quoted by the state-run news agency stressing  the kingdom's "total rejection of any threats and attempts to undermine it, whether through economic sanctions, political pressure or repeating false accusations."
The official was referring to the kingdom's insistence that it was not responsible for Mr. Khashoggi's disappearance and assertion that it is confronting a conspiracy by Qatar and/or Turkey and the Muslim Brotherhood.
"The kingdom also affirms that if it is (targeted by) any action, it will respond with greater action," the official said noting that Saudi Arabia "plays an effective and vital role in the world economy."
Turki Aldhakhil, a close associate of Saudi Crown Prince Mohammed bin Salman and general manager of the kingdom's state-controlled Al Arabiya news network, claimed in an online article that Saudi leaders were discussing 30 ways of responding to possible US sanctions.
They allegedly included allowing oil prices to rise up to US$ 200 per barrel, which according to Mr. Aldhakhil, would lead to "the death" of the US economy, pricing Saudi oil in Chinese yuan instead of dollars, an end to intelligence sharing, and a military alliance with Russia that would involve a Russian military base in the kingdom.
It remains unclear whether Mr. Aldhakhil was reflecting serious discussions among secretive Saudi leaders or whether his article was intended either as a scare tactic or a trial balloon. Mr. Aldakhil's claim that a Saudi response to Western sanctions could entail a reconciliation with the kingdom's arch enemy, Iran, would make his assertion seem more like geopolitical and economic bluff.
Meanwhile, in what appeared to be a coordinated response aimed at demonstrating that Saudi Arabia was not isolated, Oman, Bahrain, Jordan, Palestine, Lebanon, the United Arab Emirates and Egypt rushed to express solidarity with the kingdom. Like Turkey, Bahrain, Egypt and the UAE have a track record of suppressing independent journalism and freedom of the press.
Ironically, Turkey may be the kingdom's best friend in the Khashoggi crisis if its claims to have incontrovertible proof of what happened in the consulate prove to be true. Turkey has so far refrained from making that evidence public, giving Saudi Arabia the opportunity to come up with a credible explanation.
Turkish president Recep Tayyip "Erdogan wants to give Saudis an exit out of #Khashoggi case, hoping the Saudi king/crown prince will blame 'rogue elements' for the alleged murder, then throwing someone important under the bus. This would let Erdogan walk away looking good & prevent rupture in Turkey-Saudi ties," tweeted Turkey scholar Soner Cagaptay.
The Saudi news agency report and Mr. Aldakhil's article suggest that Prince Mohammed believes that Saudi Arabia either retains the clout to impose its will on much of the international community or believes that it rather than its Western critics would emerge on top from any bruising confrontation.
Prince Mohammed no doubt is reinforced in his belief by Mr. Trump's reluctance to include an arms embargo in his concept of severe punishment. He may also feel that Western support for the Saudi-UAE-led war in Yemen and reluctance to credibly take the kingdom to task for its conduct of the war was an indication that he was free to do as he pleased.
Prince Mohammed may have been further strengthened in his belief by the initial course of events 28 years ago, the last time that the fate of a journalist was at the centre of a crisis between a Western power and an Arab country.
At the time, British prime minister Margaret Thatcher, similar to Mr. Trump's inclination, refused to impose economic sanctions after Iraqi president Saddam Hussein ordered the arrest, torture and execution of Farhad Barzoft, a young London-based Iranian journalist who reported for The Observer.
Since declassified British government documents disclosed that Mrs. Thatcher's government did not want to jeopardize commercial relations despite its view of the Iraqi government as a "ruthless and disagreeable regime."
The comparison between the Khashoggi crisis and the case of Mr. Barzoft goes beyond Western governments' reluctance to jeopardize commercial relationships.
Mr Barzoft was executed months before Mr. Hussein's military invaded Kuwait prompting US-led military action that forced his troops to withdraw from the Gulf state, crippling economic sanctions, and ultimately the 2003 Gulf War that, no matter how ill-advised, led to the Iraqi leader's downfall and ultimate execution.
Prince Mohammed's ill-fated military intervention in Yemen, of which Mr. Khashoggi was critical in one of his last Washington Post columns, has tarnished the kingdom's international prestige and sparked calls in the US Congress and European parliaments for an embargo on arms sales that have gained momentum with the disappearance of the Saudi journalist.
To be sure Saudi Arabia enjoys greater leverage than Iraq did in 1990. By the same token, 2018 is not 1973, the first and only time the kingdom ever wielded oil as a weapon against the United States. At the time, the US was dependent on Middle Eastern oil, today it is one of, if not the world's largest producer.
More fundamentally, Prince Mohammed appears to show some of the traits Mr. Hussein put on display, including a seeming lack of understanding of the limits of power and best ways to wield it, a tendency towards impetuousness, a willingness to take risks and gamble without having a credible exit strategy, a refusal to tolerate any form of criticism, and a streak of ruthlessness.
"We're discovering what this 'new king' is all about, and it's getting worrisome. The dark side is getting darker," said David Ottaway, a journalist and scholar who has covered Saudi Arabia for decades.
Mr. Hussein was public and transparent about Mr. Barzoft's fate even if his assertion that the journalist was a spy lacked credibility and the journalist's confession and trial were a mockery of justice.
Prince Mohammed flatly denies any involvement in the disappearance of Mr. Khashoggi and appears to believe that he can bully himself out of the crisis in the absence of any evidence that the journalist left the kingdom's Istanbul consulate of his own volition.
Mr. Hussein miscalculated with his invasion of Kuwait shortly after getting away with the killing of Mr. Barzoft.
Prince Mohammed too may well have miscalculated if the kingdom is proven to be responsible for Mr. Khashoggi's disappearance.
Mr. Hussein's reputation and international goodwill was irreparably damaged by his execution of Mr. Barzoft and invasion of Kuwait.
Mr. Khashoggi's disappearance has dealt a body blow to Saudi Arabia's prestige irrespective of whether the journalist emerges from the current crisis alive or dead.
King Salman and the kingdom appear for now to be rallying the wagons around the crown prince.
At the same time, the king has stepped into the fray publicly for the first time by phoning Turkish president Erdogan to reaffirm Saudi cooperation with an investigation into Mr. Khashoggi's fate.
It remains unclear whether that phone call will pave the way for Turkish investigators to enter the Istanbul consulate as well as the Saudi consul general's home and whether they will be allowed to carry out forensics.
The longer the investigation into Mr. Khashoggi's fate stalls, the more Saudi Arabia will come under pressure to put forth a credible explanation and the harder Western leaders will be pressed by public opinion and lawmakers to take credible action if Saudi Arabia is proven to be responsible.
A Saudi decision to act on its threats to rejigger its security arrangements and energy policy, even if overstated by Mr. Aldhakhil, in response to steps by Western nations to penalize the kingdom,  could prove to have not only far-reaching international consequences but, in the final analysis, also equally momentous domestic ones.
"Looks like #Saudi royal family is coming together to protect the family business. Eventually there will be internal reckoning with what transpired. Not now. Now is the time to save the family reign," tweeted Middle East scholar Randa Slim.
Said former US State Department and White House official Elliott Abrams: "Jamal Khashoggi lost control of his fate when he entered the Saudi consulate in Istanbul. Mohammed bin Salman must act quickly to regain control of his own."
Syrian Kurds between Washington, Turkey and Damascus
The recent turmoil over Idlib has pushed the developments in Syrian Kurdistan out of political and mass media spotlight. However, it's Idlib that will most likely host the final act of the drama, which has become known as the "civil war in Syria".
The self-proclaimed Democratic Federation of Northern Syria (DFNS), or Rojava, was formed in 2016, although de facto it has existed since 2012. Added later was the hydrocarbon-rich left bank of the Euphrates, which had been cleared of militants of ISIL (an organization banned in the Russian Federation), and now the jurisdiction of the unrecognized DFNS extends to almost a third of the country's territory.
From the very start the main threat to the existence of this predominantly Kurdish quasi-state came for obvious reasons from Turkey, where Turkish Kurds were set on securing autonomy. In addition, the most influential political force in Rojava, the Democratic Union Party, is affiliated with the Kurdistan Workers' Party, and the latter has officially been declared a terrorist organization and unofficially – a number one enemy – in Turkey.
In January-March 2018, the Turkish army, backed by the Arab and Turkomanen allies, occupied part of the territory of Rojava (canton Afrin). And it looks like Ankara plans to settle on these territories: recently, Turkish President Recep Tayyip Erdogan reiterated that Afrin will be transferred to its residents "when the time comes" and that "this time will be set by us". In the meantime, according to local media reports, the demographic situation in the canton is changing rapidly. Taking advantage of the fact that many Kurds left their homes at the approach of the Turkish army, the local (in fact, Turkish) administration is bringing in Arabs here, who, in many cases, are not Syrian Arabs.
Kurdish politicians, fully aware of the fact that amid Turkey, Iran and Syria maintaining statehood without outside assistance is hardly possible, opted for the patronage of Washington. And, as it seems, they lost.
In Syria, the Americans decided to replay the "Kosovo scenario", by turning part of a sovereign state into a political structure, which is allied to them. Washington, which only recently excluded the People's Protection Units (the armed wing of the Democratic Forces), from the list of terrorist organizations, argues, like Ankara, that its military personnel will remain in the region "for an indefinite period" to protect Kurdish territories from "aggression" on the part of Damascus. And from Ankara's ambitions as well. But this is read between the lines.
All this enabled Turkey to accuse the United States of supporting terrorism and relations between the two countries quickly deteriorated into a crisis. As mutual accusations, occasionally supported by political and economic demarches, persist, the parties, however, are beginning to look for common ground. Talks on June 4, 2018 in Washington between Turkish Foreign Minister Mevlut Cavusoglu and US Secretary of State Michael Pompeo resulted in a "road map" for the withdrawal of Kurdish forces from predominantly Arab Manbij, which Kurds regained control of from ISIL (an organization banned in Russia) two years ago. The next day, the Turkish minister announced that the Kurdish troops "… would retreat east of the Euphrates. However, this does not mean that we will agree that they stay there. " On September 24, 2018, upon arriving at the UN General Assembly, Erdogan confirmed: Turkey will expand its sphere of influence in Syria, by including areas that are under control of the Kurdish armed units.
If Turkey does not change its rhetoric, then the assurances of the American authorities that the US troops will remain in Syria are intermingled with statements about the need for the withdrawal of its forces from this country. In any case, it is unlikely that the United States will choose to leave the region "to its own devices". We can recall how Washington trumpeted the withdrawal of its troops from Afghanistan! But things haven't budged an inch since then. The Afghanistan example demonstrates that the Americans will not move out of Syria that easily – they will not pull out in full, at least not of their own free will. US instructors and pilots will remain here "for an indefinite period." But who will they care of and support? Here are the options:
Firstly, it could be a hypothetical "Arab NATO" with Saudi Arabia in the lead. But there are serious doubts as to the effectiveness of such a structure – even if we forget about the level of combat readiness of these kinds of coalitions (in Yemen, for example), Arab countries could unite only on an anti-Israeli platform. And that, as history shows, is unlikely to yield success. In addition to this, it is still unclear how Kurds, the majority of whom are not religious, will react to Wahhabi commanders.
Secondly, the United States could choose to strengthen the Arab sector of the "Syrian Democratic Forces" (Rojava militia) at the expense of the Kurds. In mid-September, a number of media outlets, citing sources in the Syrian opposition, reported that Saudi emissaries had already suggested this option while meeting with leaders of the Arab tribes living east of the Euphrates. However, this development is also fraught with the Kurdish-Arab confrontation.
Thirdly, Washington persists in its attempts to improve relations with Turkey,  distancing it from Russia and Iran, and instruct it to "maintain order" in the region: the Americans did not intervene in the Operation Olive Branch and made concessions on Manbij. Even though this might seem strange amid the hostile American-Turkish rhetoric, military and political contacts between Washington and Ankara have been on the rise in recent months. Moreover, President Erdogan has already stated that he believes in an early improvement of relations with the United States despite the "inconsistency" and "economic aggression" of Washington.
Meanwhile, we need to remember that the US control over Kurds is far from unlimited. The "people's protection units" are ideologically close to the Kurdistan Workers' Party (or could even be seen as its "branch" in Syria), and the PKK itself, grown on the Marxist ideas, would normally support the Soviet Union and "by inertia" – Russia. For this reason, the Americans have to threaten the Kurdish allies with a cessation of military and financial support. Reports say the US and Turkish troops are already operating in the Manbij area, having dislodged the Kurdish YPG militia from the area.
These threats, along with the self-withdrawal of the United States during the capture of Afrin by Turkish troops, have made Kurds doubt the reliability of their patron. The result is a move towards rapprochement with Damascus. In late July, the Kurdish leadership announced an agreement with the Syrian authorities on the creation of a "road map" for the formation of a decentralized Syria.
The Americans are not sitting idle either, though it looks like they have no concrete plan of action. Such a conclusion comes from Donald Trump's somewhat incoherent answers to questions from a correspondent of the Kurdish media group Rudaw (09/27/2018):
Question: What are you planning to do for (Syrian – AI) Kurds?
Answer: We will offer them a lot of help. As you know, we are good friends to them, we fought shoulder to shoulder with ISIL (an organization banned in the Russian Federation), we recently defeated ISIL (an organization banned in the Russian Federation). We accomplished this with the support of the Kurds. They are great warriors. You know, some nations are great warriors, and some are not. The Kurds are great warriors, they are a wonderful people. We are currently negotiating this.
Question: So what will you do to support them?
Answer: As I said, we will negotiate this, we have begun negotiations. The Kurds have helped us a lot to crush ISIS (an organization banned in the Russian Federation).
Most likely, the hot phase of the protracted inter-Syrian conflict is nearing its end, and the preferences of the Kurds will determine the outcome of future elections, a referendum, or another form of will expression of the Syrian people, when the political situation allows it. Moscow has always called for involving Kurds in the negotiation process and on ensuring their full participation in the life of post-war Syria. "Russia insists that Kurds should participate in the process to determine the post-conflict future of Syria on a parity basis with other ethnic and religious groups of this country," Foreign Minister Sergey Lavrov said in an interview with the Italian magazine Panorama.
Until recently, Damascus did not particularly pedal negotiations with Rojava, but being aware that the capture of Afrin by Turkish troops was not in its interests, it has adjusted its approach to the self-proclaimed territorial entity. It looks like Syrian leaders have opted for softening their stance, which was previously set on the revival of the country on the basis of unitarism. Otherwise, an agreement with the Kurds will be nowhere in sight.
First published in our partner International Affairs