Understanding the Efficacy of Learning Organizations in Contemporary Indian Education
In the present era of globalization, organizations are expected to work with a creative rather than a reactive perspective and grow to be flexible, responsive and capable organizations in order to survive. In the existing scenario people are exposed to diverse knowledge through internet, there is much to learn and more to assimilate.
Senge's (1990) model of the five disciplines of a learning organization emphasizes on the concept of systems thinking, personal mastery, mental models, building shared vision and team learning. This points on continuous learning for individuals and organizations, with a great stress on the idea of bringing change with innovation and creativity. If the future organizations are driven by individual and collaborative learning, it is advisable to transform schools also into learning organizations, instead of school education being restricted merely to the process of acquiring facts and loads of numerical information to reproduce in examination using rote learning methodologies (current scenario in Indian schools).
In line with the needs of education system in India, schools should become more effective learning organizations that ultimately increase the leadership capacity and support the personal development of every individual at the institution. In chalking out the aims of education in India, Kothari commission report (1964-66) stressed that 'education has to be used as powerful instrument of social economic and political change. The blending of conservative trend and progress is the basic characteristics of a healthy society. In a modern society individuals learn about intricate changes that are occurring around them. School of course is an important agency to usher in the changes'. However, years after these recommendations, the Indian schools are still perceived as institutions; transferring knowledge, fulfilling educational tasks and realizing educational objectives. They reflect upon syllabus, and follow a set of educational objectives framed to show them direction of activity at particular stages of education. There is hardly any effort to bring change in the system of education. Our education system is not governed with new educational tasks and essential new ideas for the educational organizations. Instead schools in their effort to become learning organizations are already feeling the tidal wave of change in many ways and this has resulted in confused, exhausted and disappointed school leaders who are unable develop the capacity of the school and every individual therein to manage change.
Indian Schools and Challenges
As educator Roland Barth has said, "Relationships among educators within a school range from vigorously healthy to dangerously competitive. Strengthen those relationships, and you improve professional practice." Indian schools fail to develop themselves into true learning organizations due to; the existing school culture, amount of competition and working in isolation. In our schools there is little or no resistance against isolation and unproductive school competitions. Teachers teach in isolation, rarely does a teacher have the opportunity to go beyond her classroom to visit the pedagogic worlds of her peers, to learn from their classrooms. Improving school and community cooperation is another important area for learning organization. There is hardly any interaction between our schools and community. Little efforts are seen from schools to encourage children to get an access to learning resources in the community, to meet outstanding members of the community or involving parents in actively organizing extracurricular activities. One way of building connect with community is involving community elders in developing curriculum, but hardly our schools take suggestions from community elders on the topics to be included in the curriculum. There are negligible efforts to remove traditional education boundaries. It is becoming clear that schools can be re-created, made vital, and sustainably renewed not by fiat or command, and not by regulation, but by taking a learning orientation. This means involving everyone in the system in expressing their aspirations, building their awareness, and developing their capabilities together. Senge calls this the rudder that can keep the organization on course during times of stress. Not to mention, stress among teachers and leaders is a common scenario in majority of Indian schools today.
The way forward
The learning organization approach is capable of making an organization more competitive and adaptive in response to change in a school context. Thus, existence of teacher practices conducive to environment of strong learning environment supported by transformational leaders will enable schools to achieve continuous improvement and excellence in terms of student and teacher learning. The powerful pathway to becoming a better practitioner is to observe an expert peer in action, to reflect and improve upon one's own practice as a result. When professionals like doctors, engineers or architects can do it then why not our teachers? Why can't we bring teachers' rich 'knowledge-in-practice' from the confines of their classrooms into the public domain? The reason that we are unable bring this change is because our teachers do not have the opportunity to go beyond classrooms to visit the pedagogic worlds of their peers or learn from their classrooms. Neither do the schools organize regular on the job staff development programs for teachers to promote shared vision. On the positive side, today, majority of school teachers and Principals are finding themselves involved in professional learning activities. School and curriculum reforms have necessitated regular review of practices and attitudes. This is for the reason that schools are finding it difficult to resist the pressures of change and improvement especially in response to the demands of professionalism and accountability. It is high time our schools realize that the goal of learning organizations is not the occasional burst of professional activity each time new demands are made of the school, curriculum or practices. Schools and their staff need to be ahead of the change game. Thus, the philosophy of a learning organization must be that learning is a way of working just as it is a way of living.
Last word
The 'learning organization' management approach is capable of making an organization more competitive and adaptive in response to change. The unit of innovation in Indian schools has usually been the individual teacher, the individual classroom, or a new curriculum to be implemented individually by teachers. But the larger environment in which innovation is supposed to occur is neglected. So few innovations occur and in the meantime either the innovative teacher is siphoned for few more bucks by other schools or a teacher who successfully innovates becomes threatening to those around him or her. Thus our fundamental challenges in education involve cultural changes that will require collective learning. By involving people at multiple levels and thinking together about significant and enduring solutions we can bring a positive change in the system. However, the role of our schools as learning organization can only be furthered when the school leadership is committed to transform schools by getting engaged with the learning process themselves. At the same time our teachers also must make effort to develop themselves and be updated before they show high expectations from students. All these constraints have apparently become a hindrance to the transformation of schools into strong learning organizations.
Women outnumber men in higher education but gender stereotyped subject choices persist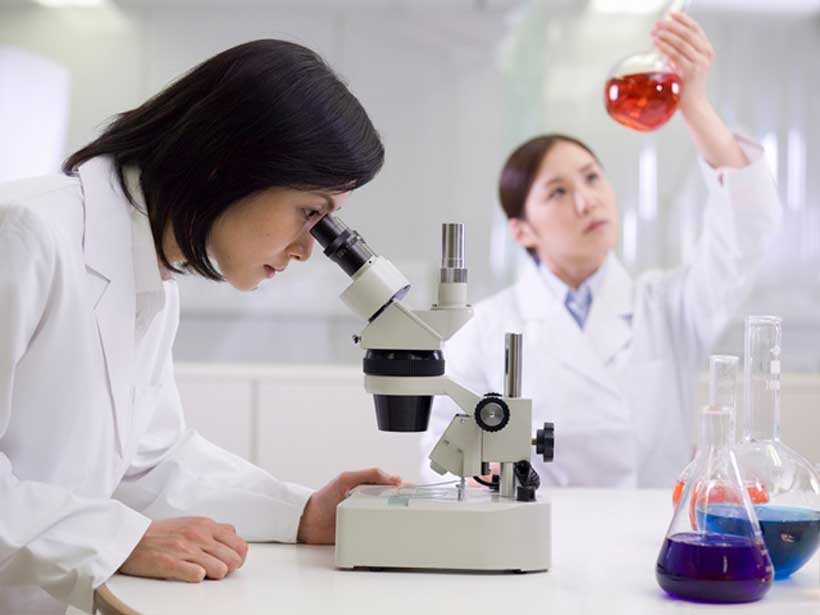 Education is essential to achieving gender equality. From the earliest schooling to the highest levels of post-graduate study, education influences the opportunities that can shape people's lives.
This is why education and training of women is one of the 12 critical areas of concern in the Beijing Platform for Action, while target 4.5 of the Sustainable Development Goals (SDGs) calls for the elimination of gender disparities in education by 2030.
In the UNECE region girls tend to outperform boys in terms of learning outcomes in schools, and women outnumber men in tertiary education (university level and beyond) in almost all countries of the region.
Women remain in the minority, however, as students of stereotypically "masculine" subjects such as ICT and engineering, although in recent years they have begun slowly gaining ground.
Tertiary level graduates
In 39 out of the 47 UNECE countries with data, more than 55 per cent of tertiary graduates are women. Iceland has the highest share, with 66 per cent women. Seven countries are close to gender parity, with the share of women ranging from 48 to 55 per cent, and only in Uzbekistan are women in a clear minority, with 38 per cent of tertiary graduates.
After decades of increase in women's participation in higher education, women substantially outnumbered men among tertiary level graduates in most countries by 2012. Since then, women's share has declined in 32 out of the 47 countries with data. Whilst in Azerbaijan and Turkey fewer than half of tertiary graduates were women in 2012, more women have entered tertiary education in these countries since and the 2017 data already show gender parity there.
Subject choices of women and men
The subjects studied at tertiary level by women and men can reflect stereotypes of "masculine" and "feminine" subject areas. Some subjects may be preferred by potential employers and may affect occupational segregation once graduates enter the labour market. Information and Communication Technologies (ICT) and Engineering, Manufacturing and Construction (EMC) are two broad groups of subjects where male students have historically predominated.
Women remain a minority among ICT students in the UNECE region, with percentages ranging from 11 in Belgium to 33 in Greece. The four countries with the largest share of women among ICT students are all in the Balkan region. Among students of EMC, the share of women is somewhat higher, but still falls far short of parity, ranging from 14 per cent in Georgia to 44 per cent in North Macedonia.
In both of these subject groups, the recent trend shows small gains for women in some countries but reductions in others. Overall, progress towards gender equality in these two typically male-dominated subject areas is uneven and slow.
UNECE Beijing+25 Regional Review Meeting
Progress in achieving gender equality in education will be one of the areas in focus at the upcoming Beijing+25 Regional Review Meeting for the UNECE region, with a particular emphasis on how women and girls can enter currently male-dominated fields.
The Beijing Declaration and Platform for Action of 1995 (Beijing Platform for Action) is the most ambitious road map for the empowerment of women and girls everywhere. In 2020, it will be 25 years since the Beijing Platform for Action outlined how to overcome the systemic barriers that hold women back from equal participation in all areas of life.
The Beijing+25 Regional Review Meeting (29-30 October 2019) will take stock of where the UNECE region stands on keeping the promises of the Beijing Platform for Action. Bringing together government representatives and key stakeholders from the UNECE region, the meeting will tackle a number of obstacles that keep girls and women from realizing their full potential. UNECE is joining forces with the UN Women Regional Office for Europe and Central Asia to deliver a two-day multi-stakeholder meeting to exchange concrete policies to accelerate the realization of gender equality. The outcomes of the meeting will feed into the global review of the Beijing Platform for Action taking place at the sixty-fourth session of the Commission on the Status of Women in New York from 9 to 20 March 2020.
Call for Action from Leaders and Business on Violence against Women
Spiralling levels of violence against women in Africa require immediate action from governments and businesses, including tangible measures to create safe spaces, experts from across the continent told the World Economic Forum on Africa today.
Protesters in South Africa have taken to the streets and social media to demand action, following the rape and murder of a Cape Town university student who was attacked in a post office. Uyinene Mrwetyana was just the latest of many victims of brutal assaults in a region where approximately 45% of women and girls over 14 years have experienced physical or sexual violence.
"I'm dumbfounded by the idea that we can continue with business as usual," said Namhla Mniki-Mangaliso, Director of African Monitor, who urged technology companies to take a lead in delivering solutions. "It would take a click of a finger for a tech company to say we are going to deploy a software that can assist us with an emergency response system for poor women in South Africa free of charge."
The potential for technology to help in the fightback highlights the need for businesses to think creatively, given that cyberbullying can also contribute to discrimination in the first place. Mniki-Mangaliso said the wider business community should also step up to the plate by backing a gender-based fund to address the deep-rooted problems behind the rising tide of physical and sexual assaults.
Hafsat Abiola-Costello, President and Chief Executive Officer of the Women in Africa Initiative, said Africa could learn from China, where decisive action was taken to ban harmful practices like foot binding and polygamy. African governments, by contrast, too often fail to enforce bans on polygamy or genital mutilation, thereby reinforcing a culture of discrimination against women that becomes embedded from childhood.
The failure to protect women is not just a moral issue; it also comes with a high economic cost. "Who drives African communities? It's our women. Our women can drive Africa's development, if given the chance, if protected, if their rights are respected," Abiola-Costello said. "Africa missed the first industrial revolution, we missed the second, we missed the third. If we don't address this issue, we will miss the fourth."
Obiageli Katryn Ezekwesili, who spearheaded the #BringBackOurGirls campaign in Nigeria and is a fellow of the Robert Bosch Academy, said calls for women to help drive African development will simply ring hollow if violence is not addressed. "The world lacks the moral pedestal to stand on to ask girls to aspire if we cannot have the back of those who are vulnerable," she said.
With 16,000 deaths due violence against in women every year in South Africa alone, Akudo Anyanwu, Associate Dean at Johns Hopkins University, said: "Our presidents and the leaders in government need to come out and take a position. We need to have our leaders come out and call crimes a crime."
Young women learn government fundamentals in nationwide leadership program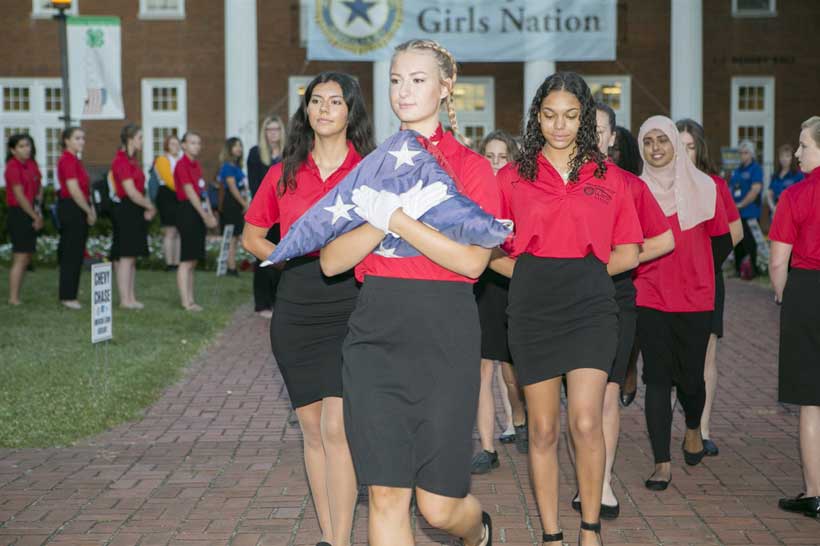 This July, two teenage girls from every state in the country met in Washington, D.C., for the 73rd annual American Legion Auxiliary Girls Nation. This one-week government-in-action leadership development program is designed to educate future leaders on U.S. government fundamentals and the rights, privileges and responsibilities of citizens.
The girls selected to go to ALA Girls Nation are chosen from week-long ALA Girls State programs in each state. The young women become "senators" for a week and participate in mock political campaigns and debates, visit historical sites, and meet their real-life counterparts on Capitol Hill. For a number of the participants, the program's impact extends beyond the weeklong event: Many go on to serve in the military and credit ALA Girls Nation as their source of inspiration.
New ALA member and U.S. Army Capt. Virginia Clark, stationed at Fort Benning in Georgia, is an ALA Girls Nation alumna. Though she says she has always been patriotic, her experiences at ALA Girls State and ALA Girls Nation helped her realize she wanted to serve her country. "Being around really motivated people made me realize I wanted to be around people who were spending their time doing things rather than looking for the next great party," Clark said.
Reflecting on where she has been and where she is going, Clark says she owes it all to the American Legion Auxiliary. "I wouldn't have gotten into West Point without ALA Girls State and ALA Girls Nation … I 100 percent owe, I think, my current life and my career — I met my husband at West Point — to the fact that I went to ALA Girls State and ALA Girls Nation."
For some girls, the Washington, D.C., leadership program is their first opportunity to connect with peers with common interests. For others, it is the first time they encounter students whose perspective differs from their own. For all, it is a moment in time where similarities and differences come together to symbolize strength, democracy and freedom.
Former ALA Girls State and ALA Girls Nation attendee Allyson Snelling, who is attending the U.S. Military Academy at West Point, chose a career in the military because she "loves everything it represents." She adds, "The values and lessons I've learned during my short time at West Point have made me a better person and leader." Snelling said the program taught her the power of one voice and the importance of communicating with others. "Being able to communicate with someone you may completely disagree with is becoming a lost art," she said. "ALA Girls Nation taught me that it doesn't matter if you agree; it matters that you understand."
ALA Girls Nation alumnae have gone on to hold leadership roles in industries spanning government, media, education and law, and many have become high-ranking members of the military.
Notable alumnae include Jane Pauley, national media personality; Susan Bysiewicz, lieutenant governor of Connecticut; retired Lt. Gen. Michelle D. Johnson, former superintendent of the U.S. Air Force Academy and former Air Force aide to the President; Ann Richards, former governor of Texas; and Susan Porter-Rose, former chief of staff to First Lady Barbara Bush, among many others. ALA Girls Nation is proud to be a foundation of support to the future strong women of this great nation.
The American Legion Auxiliary (ALA) is a nonpartisan organization committed to advocating for veterans' issues, mentoring America's youth and promoting patriotism. They advance the mission of The American Legion, incorporated by Congress in 1919 as a patriotic veterans organization founded on four pillars: Veterans Affairs & Rehabilitation, National Security, Americanism and Children & Youth.