The Russian military posture
The big parade organized on May 9, 2016 to commemorate the 71st anniversary of the USSR victory in the Great Patriotic War – as the Soviet struggle against Nazi invaders was called – was an opportunity for Russia to display its new or recent Russian weapons and, above all, to understand their strategic use.
10,000 soldiers, 135 units of military hardware and 71 aircraft paraded.
An evident show of strength and a clear, but hidden, threat to the Russian Federation's enemies.
There was, at first, the Yars RS 24 long-range nuclear missile (the one that NATO currently calls SS 27 Mod.2), a MIRV system (that may contain multiple independent warheads, probably ten in this case) which is deployed in a regiment consisting of three battalions.
A missile needed to ward off the United States and its allies from the traditional areas of interest for the Russian Federation, such as Ukraine or the Western border following the Cold War.
But also needed to make it difficult to manage any anti-Russian tensions in the Middle East, in Central Asia and in the peripheral seas.
Many years ago, Zbigniew Brzezinski had already assumed that Ukraine was basically close to the West and, therefore, it would become an unacceptable vulnus for Southern Russian security.
All the Russian weapons showcased in the parade are powerful weapons for strategic deterrence, which will enable Russia to have a "free hand" where the Westerners' less heavy threats cannot arrive.
Also the new National Guard security force, recently created by President Putin to combat terrorism and organized crime, paraded.
The National Guard, of which we have already spoken, is armed with the new AK74M assault rifle.
The parading tanks included also the new T-14 Armata battle tank, which has an unmanned remote control of the various guns and is now considered superior to the Leopard and Abrams 2 tanks – and this, too, is a clue.
Furthermore the T-14 tank is supposed to be shortly fully robotised.
Here the issue lies in making any escalation along the old Cold War borders dangerous.
The old aircraft which flew over the sky during the military parade were the solid Su-25, but also the new Sukhoi T-50 PAK-FA was showcased, namely the 5th generation aircraft which is said to be superior to the F-22 and, above all, to the US F-35, which is still a generation 4++ aircraft.
The new Sukhoi aircraft features excellent stealth characteristics, high attack speed and radar equipment using original nanotechnologies.
Another aircraft displayed was the Tupolev Tu22M3, that NATO called backfire, which is operating optimally in Syria.
Two other missile systems were showcased, namely the S-400 and Pantsir.
The former, the S-400 "Triumph" (NATO code SA 21 Growler) is a new generation anti-aircraft/anti-missile SAM, already sold to China and Iran, which can simultaneously intercept 36 missiles and planes (indeed, 80 in the latest versions) flying at a speed of up to 17,000 kilometres.
The Pantsir S1 (NATO code SA Greyhound) is a combined system of surface-to-air missile launching and anti-aircraft artillery.
They are both already operating in Syria, especially in the Latakia base.
In his speech before the 71st military parade, President Putin called for an international system not based on opposing blocs, but overcoming the tendency – present in many Western countries – to resume the Cold War.
In other words, Vladimir Putin wants, at first, to dissuade Western countries from trying to split Eurasia which, in Russia's opinion, should feature geopolitical continuity from Moscow up to most of the European peninsula and China, as well as geopolitical continuity between Europe and the great Central Asian Heartland, the area of the largest economic growth in the future.
Furthermore, Russia does not want US single supremacy at global level – a US supremacy that Russia wants to divide into new and different geopolitical areas: Japan, China, the Shi'ite region with Iran and Iraq, the large African areas, Latin America.
Furthermore, while the Americans adapt every area over which they have supremacy to the same uniform political and cultural model, the Russians plastically conform to the various economies, strategic threats and cultural patterns.
From this viewpoint, suffice to recall Russia's actions in Syria.
All strategic areas already mentioned in which the Russian Federation wants to expand its power and, above all, to show for each of them a possible alternative to the US hegemonic policy.
Hence Russia thinks that, in the future, no country will be in a position to gain clear military superiority: in its opinion, security regards also economic, mass health and social order issues.
These are the factors that Russia can currently interpret as a direct threat to its stability and, above all, to its sovereignty.
In fact, Russian analysts were impressed by the initial effectiveness of the "colour revolutions" and the "democratic" ones in the Maghreb region.
Obviously the results have gradually proved to be disastrous, but the management of non-military techniques to destabilize a country, together with Gene Sharp's old theories which were a study subject of study for the Muslim Brotherhood during Mubarak's fall, are the focus of the current Russian strategic thinking.
These are the Russian themes to respond to non-military subversion: 1) to immediately avoid the "cultural contagion"; 2) to strengthen the national identity and, where possible, the Welfare State; 3) to steadily increase the level of the possible military threat; 4) to develop strategies designed to avoid hidden hostile actions against Russia on the financial or commodity markets – and this holds true also for China.
The economic and financial destabilization has been well studied by Russian analysts and even military superiority is needed to avoid it.
Moreover, there is also what I would call the identity strategy: the rejection of the ideological globalist mix designed to protect the Russian symbols, traditions and popular culture from the attack of the US pop culture.
This goal, too, is reached with the great military parades, the soldiers' joyful and proud faces, as well as with a credible strategic threat.
Moreover, Russian strategic thinkers know all too well that the modern strategy is full spectrum and regards the economy, the political and cultural stability and the technological evolution at the same time.
The reason why Russia maintains a superpower's military structure, with some technologies largely superior to its competitors', is that President Putin wants to make the whole new Russian hegemony to be inferred from military power.
This is the primary theme raised by Russia against NATO's enlargement: Russia is opposed to it and it is even ready to block it, as happened with Ukraine and Crimea, as well as with the network of NATO radar stations surrounding the Russian Federation, from Poland up to Romania.
Any limitation to the Russian autonomy and sovereignty will always be fiercely opposed, at first with non-military actions, and later even with surgical military strikes.
The US analysts' idea of repeating the old Cold War game, in the current strategic imbalance situation, unfavourable to the United States, will be the harbinger of many difficulties for the Americans.
Why At Least Two Nuclear Super-Powers Are Essential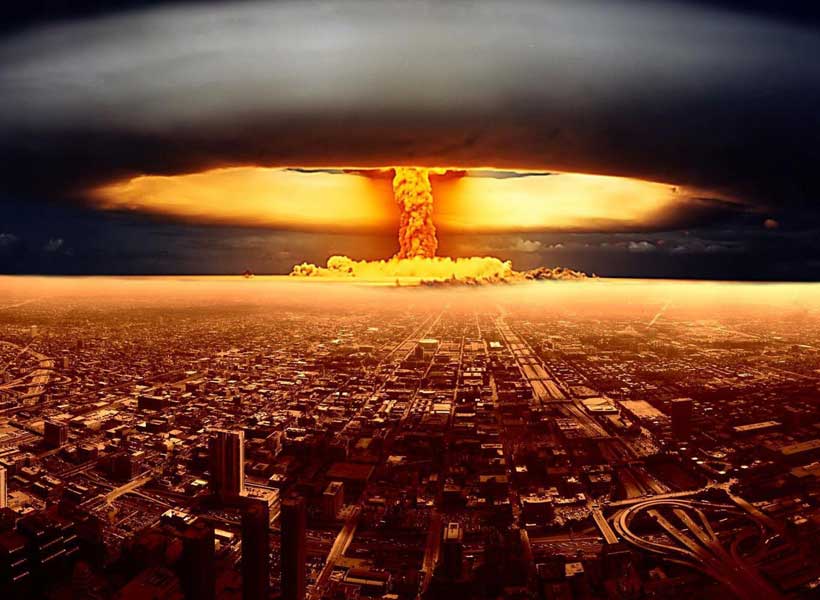 My distinguished colleague at Strategic Culture Foundation, Federico Pieraccini, has recently argued that "nuclear-armed powers decrease the likelihood of a nuclear apocalypse", and this is a response to that:
Obviously, if there were no nuclear-armed powers, then the possibility of a "nuclear apocalypse" would be zero; so, that statement is false on its very face. However, in a carefully modified form, I agree with something not too far different from it; and here is that form:
In the nuclear-weapons era, at least two nuclear super-powers are essential in order for there to be any realistic possibility of warding off a nuclear apocalypse, global annihilation.
Here, the concept of "nuclear super-power" is absolutely core (merely "nuclear-armed power" is not): a nuclear super-power is a nation that possesses second-strike capability, the ability to retaliate so effectively against a nuclear attack from any other nuclear power so as to annihilate that attacking country, even though this responding power might be annihilated by the attacking one.
As I have documented in prior articles (such as here), the United States, ever since at least 2006, has been virtually officially pursuing the goal of achieving "Nuclear Primacy" so as to be able to 'win' a nuclear war and conquer Russia — the prior military geostrategic system, called Mutually Assured Destruction or "M.A.D.," being ended on the American side. (Russia's Vladimir Putin says that it had actually ended when U.S. President George W. Bush made the — as was brilliantly explained here — "decision in 2001 to withdraw from the Anti-Ballistic Missile Treaty, and the bipartisan failure by both the Bush and Obama administrations to engage meaningfully with the Russians over their concerns about American missile defenses."
However, I have argued that, in essence, the U.S. regime had already made the decision for nuclear primacy and secretly imposed that decision upon its allied or vassal-regimes as being henceforth the U.S. side's aim, back on 24 February 1990, and that decision was made by George Herbert Walker Bush but has continued ever since. Putin is politic; so, he needs to filter what he says through a political screen, in which he refers to the United States as being a 'partner,' which I — myself an American and no politician at all and not representing any country at all — do not need to do.
Whereas the U.S. regime has been committed for a long time to achieving nuclear primacy (regardless whether it's since 2006, or since 2001, or since 1990 — the initial decision was actually made on 24 February 1990, and has merely been in its execution-phase on the American side from that time till now), Russia has been responding to that decision as best it has been able to. A crucial effort on the part of Russian President Boris Yeltsin in the 1990s to deal with it produced the so-called "NATO Founding Act," but the U.S. regime trashed that in 2016. President Putin recognized as soon as George W. Bush trashed the ABM Treaty, that unless Russia would somehow block the U.S. from achieving nuclear primacy (if any side even is capable of achieving nuclear primacy now or in the future), then a surprise intended planned nuclear first-strike against and annihilating Russia would be the outcome (given the U.S. regime's by-then clear record on the matter); so, he has carefully worked, ever since that time (2002), so as to not only block it, but, finally, on 1 March 2018, announced to the entire world, that Russia is now able, reasonably and with evidence, to say that Russia is securely in a position so that if the United States attempts a surprise nuclear attack against Russia, then the United States will also be annihilated.
What is crucial here, during the nuclear-military age, is that there be at least two nuclear super-powers, not just one.
As I have argued elsewhere under the heading "The Three Global Suerpowers": "There are currently three global superpowers, three nations that lead the world: China, Russia, and US." However, this is true regardless of whether or not China is a nuclear super-power (I don't think it is), because China is clearly a leading economic power, and may come to lead above the United States in other fields as well. In economic matters, the trend-lines are watched with at least as much and close attention as are the absolute or current numbers, and China, in any case, is clearly one of the three global super-powers already, regardless of whether it's a military super-power.
What, then, will be the result if China comes to be a third nuclear super-power? The problem, if any, is not whether there will come to be a third nuclear super-power: the problem is whether there will, ever again, be a nuclear super-power that is attempting military conquest of the entire world. This was the point that Putin was making in his March 1st speech.
first published at strategic-culture.org
Why Super-Rich Rush to Buy Nuclear-Proof Bunkers
The rush amongst the super-rich started after the key event of 2014; this single stunning event suddenly sparked that rush by the super-rich to buy nuclear-proof bunkers, and the rush has been nonstop since that event. Though many news-media in The West have reported on the existence of this suddenly booming market for luxurious and supposedly nuclear-proof bunkers, none has reported on what actually caused it — the event that had sparked it. In fact, that event is still a secret in The West — not publicly mentioned here; it is, practically speaking, banned from being publicly even mentioned, in The West. So: since that event is necessarily mentioned in this article, and is even linked-to here, so that the reader can see videos of it that were posted of it online while it was happening, and there is even "smoking gun" evidence showing government officials actually planning it, and covering it up, and blatantly lying about what they had done, this report, explaining why the super-rich rush now to buy nuclear-proof bunkers, violates that ban. As a consequence, probably none of the hundreds of major news-media in The West that this news-report is being submitted to for publication, will publish it. But perhaps a half-dozen of the small ones will publish it. After all: a few small news-media cannot have much impact. The government and media don't need to fool everyone in order to succeed, but only to fool the vast majority of people. (However, maybe now they don't any longer even need to continue worrying about public opinion, at all. So: maybe they no longer need to continue such bans. But they do continue them, perhaps simply out of institutionalized bad habit.)
Wherever you're so fortunate as to be reading this: here is the reason why the market for luxurious deep-underground nuclear-resistant bunkers has so suddenly blossomed:
In February 2014, an extremely violent, and US-engineered but 'democracy'-masked, coup in Ukraine on Russia's very doorstep, was successfully culminated by its overthrowing Ukraine's neutralist and democratically elected leader, and then by its installing there a rabidly anti-Russian government, out for Russian blood, just like Hitler had been, and, in fact, strongly inspired by him, in many ways, including an ethnic-cleansing campaign. Within less than a month, Russia responded to that coup by accepting the still predominantly Russian Crimea back into Russia. (Crimea had been part of Russia until the Soviet dictator had arbitrarily transferred it to Ukraine in 1954.) For Russia's having done that, US President Barack Obama (and America's foreign vassals) slapped economic sanctions against Russia and mobilized NATO troops and weaponry onto and near Russia's borders — as if they wanted to out-do 1962's Cuban Missile Crisis, which they are doing, but in reverse direction (against not America, but, this time, against Russia).
Ever since that singular 2014 event — that coup (which destroyed Ukraine) — the hottest market amongst the super-rich has been nuclear-resistant bunkers deep underground: such as here, and here, and here, and here, and here, and here, and here, and here, and here, and here, and here, and here, and here, and here, and here, and here, and here, and here, and here, and here, and here, and here, and here, and here.
I think that the three best of these articles about luxury nuclear bunkers, are this (with the best pictures of one of these facilities) and this (with the best commentary about the entire phenomenon), and this, which discusses the increasing number of builders of these facilities. Some billionaires, however, are instead moving to New Zealand.
So: ever since 2014, private planning to survive a nuclear war is the most booming field amongst the super-rich. This is a real-estate market that no ordinary person could afford to buy into. These people are either principals themselves in the aristocracy, or else prime agents for them and thus likewise extremely wealthy and already well on their own personal ways to entering the aristocracy — the aristocracy of extreme wealth. They're thus all well-connected; they've got the best contacts and sources inside governments. And, since 2014, they are rushing to prepare: to prepare for a nuclear war.
If these people aren't well-informed about the global situation, then no one is. And they're investing accordingly. Lots of people invest in stocks, bonds, gold, etc, but only the richest few can afford to invest in nuclear-resistant bunkers, and that's where the boom nowadays especially is, amongst only the super-rich. (We're not talking here about high government-officials; they've got their Spartan nuclear bunkers long-since paid for by US taxpayers; but these are all just private and extremely wealthy individuals.) Maybe their attitude is: if you've got three-or-more homes, then at least one of them should be designed for the post-WW-III world and near enough to your main home so that maybe you can reach it before any missiles will be flying.
A nuclear war between US and Russia would be over within less than 30 minutes, start-to-finish; so, there won't be any time to plan if the nuclear phase of the NATO-v.-Russia (plus, maybe China) war appears to be imminent — waiting that long in order to depart for one's private bomb-shelter would already be too late. A quick 'vacation' to the secret location would thus necessarily be of the unplanned sort, which means that the system by which the owner will reach the spot, needs to be operational 24 hours every day, and needs to be maintained continuously, until — if and when — the nuclear exchange starts. Therefore, these facilities have airports and helicopter-access, and are continuously staffed, so that the richest people in the US and its allied countries, can arrive there at any moment's notice and receive the full range of services that they are accustomed to.
Any of these billionaires and centi-millionaires could have chosen instead to establish (either alone or in combination with one-another) the first foundation or other propaganda-operation to publicize the fraudulence of the US-and-allied case for sanctions against Russia, and the fraudulence of NATO's continuing assertions after 1991 that it's a 'defensive' military alliance (it's no longer that, at all), and the fact (contrasted against that fraud) of NATO's being nowadays purely an alliance for aggression against Russia and China, as if the Cold War had never ended (and it never really did end except on the Russian and Chinese side, which now recognize that the US and its allies had lied in 1990); so, all of these billionaires rather buy private nuclear-bomb shelters, than establish a foundation to expose to the public the US side's apocalyptic lies, which actually cause the danger that's heading to destroy the entire world.
America's own leading scientists on strategic weaponry have recently (on 1 March 2017) documented that the US nuclear-weapons-modernization program against both Russia and China is "planning to have the capacity to fight and win a nuclear war by disarming enemies with a surprise first strike." Obviously, only the most-insiders of insiders will know in advance about this "surprise first strike." (Otherwise, it wouldn't be a surprise, and the advantage of being the first to attack will be gone.) However, nuclear-proof bunker-space is presumably so limited so that the people who are buying these few spots will be amongst those few. (Of course, high federal officials will be taken care of elsewhere.)
Ever since at least 2006, America's Establishment — its billionaires and their agents — have been virtually unanimously and actively supporting the abandonment of the "Mutually Assured Destruction" concept that had long dominated nuclear thinking on both sides (not only on the Soviet and continuing under the Russian side, but also on that of America and its NATO military alliance) and have been replacing that paradigm, the "M.A.D." paradigm (which has staved off WW III ever since 1945). They replaced it by the US-NATO paradigm (ever since at least 2006) of "Nuclear Primacy," in which The West's nuclear weapons are to be used not to stave off WW III, but instead so as to achieve 'victory' in an actual US-v.-Russia nuclear war. Ever since 2014, US-and-allied military moves cannot be coherently explained on any other basis than that the US and NATO are planning a blitz nuclear attack against at least Russia — and perhaps also against China.
Clearly, whoever are buying these luxury-pads for the post-apocalypse, are hoping for a NATO 'victory' in WW III, and are certainly not favorably inclined to preventing that armageddon, which they know is based on lies (unless they're too stupid to be able to distinguish between their own propaganda versus the actual historical reality, which is documented in the links here, which links show that any decent billionaire in The West would instead be publicly exposing the horrific fraud that's perpetrated by all of themselves, not trying to protect themselves from that fraud's immediate global consequences).
Unfortunately, these people are the ultimate "conformists." It's clear by their 100% unity on this. They've become so gated-community, one-way-glassed, that they've no concern remaining (if they ever did) for the billions of people (not to mention entire planet) that they're placing into the severest form of danger: global annihilation. Instead, their only concern (quite evidently) is to be 'winners'. (Like I had said at that last link: "In military parlance, the side that suffers the less harm is the 'winner', regardless of any other factor. That's the basic reality of military strategy: it's inevitably win-lose, not win-win." However, M.A.D. was the first-ever exception to that strategic principle; and, now, it's gone — as of 2006 in US, and by now also in Russia (if not also in China). M.A.D. is gone; it's been replaced by a real insanity, which is clearly psychopathic and clearly pervasive amongst the super-rich: "Nuclear Primacy".
The psychological reality that had long staved off a WW III is completely gone. And the people who have caused it to end are now buying all these nuclear bunkers for themselves.
In a rare exception to the unanimity of the US aristocracy's voices regarding what's behind this change (which cause is the stifling nazi or racist-fascist ideology at the top in America), the capitol-hill newspaper, The Hill, allowed to be published on 9 November 2017, an article — even with numerous links to high-quality sources — titled "The reality of neo-Nazis in Ukraine is far from Kremlin propaganda". An indication of just how extraordinarily thorough the takeover of the US Government by nazis has become, is that both under President Barack Obama and under President Donald Trump, the US has been among the only 3 countries (in Obama's case) and the only two countries (in Trump's) that officially stood up at the United Nations in support of nazism, even of its Holocaust-denial. On both occasions, Ukraine joined with the US on that vote. On one occasion, Canada also did (thus being the third). This scandal was virtually entirely ignored in the Western 'news' media.
This is the world we are living in today. How many 'news' media are reporting this reality? How many have reported it? Just one billionaire standing out from the pack, so as to reach the masses with these truths, could make a whole world of difference. But, instead, perhaps they're all just buying nuclear bunkers, so as to be amongst the few 'winners', in a war on behalf of the global regime that represents, actually, only themselves.
This is the catastrophe of our times.
First published at strategic-culture.org
5 Missile Test in Two Months: India's Attempt to create Credible Minimum Deterrence in South Asia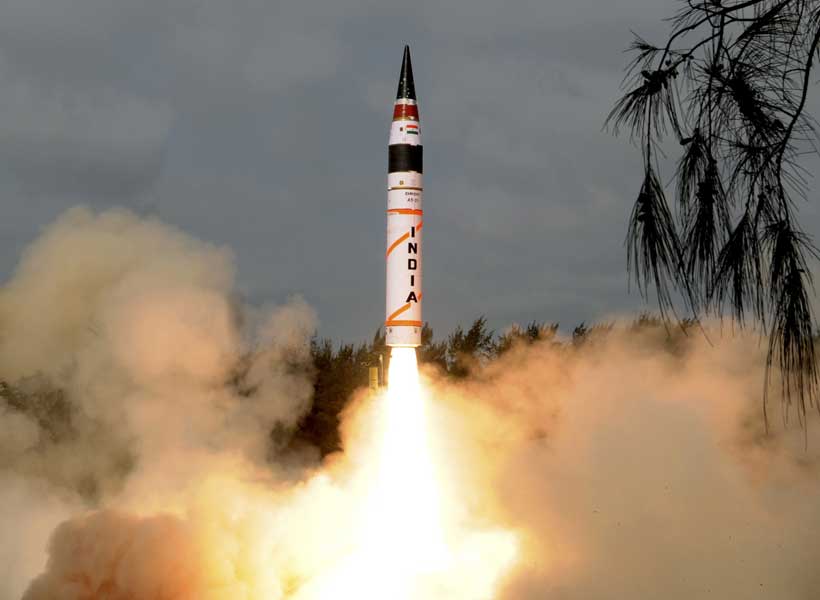 In 2018, the world is more concerned about nuclear issues that the Trump administration is generating whether it is regarding fast growing capabilities of North Korea or infamous Nuclear Posture Review by residing government in Capitol Hill. The focus of all nuclear issues around the globe is the US, which is of the view that its total inventory of 6800 nuclear warheads is not enough to deter North Korea whose total stock of nuclear weapon is not more than 2 dozen.
With all the limelight on the US, continuous and rapid nuclearization by South Asian dark horse is ignored completely. May be this ignorance is a pathway provided to India, to sail freely in the ocean of arms buildup to seize every possible opportunity. India is also not shy of taking advantage of deliberate ignorance of international community on arms race in South Asia. It is improving its nuclear arsenals inventory with rapid speed before Trump administration loses its charm of capturing wider attention. By giving hype to Trump administration's foolish ideas many international issues of significance are sidelined which requires a lot more attention and efforts for greater peace. One of the most important issues is arms race in South Asia and inability of conflicting parties to control it.
Year 2018 is also not very different for South Asia's nuclear pattern, that started two months ago and so far, one side has tested 5 missiles including 4 nuclear capable missile tests and one anti-tank missile tests. This series of test was started by India with rather big explosion by testing its intercontinental ballistic missile Agni V. Agni V is a three-stage solid fueled missile with an estimated operational range of 5,500 to 5,800 km. it is capable of carrying 1,500 kilotons of nuclear payload and is declared as an Indian attempt to strive for credible minimum deterrence against China. Since 2012 it was the fifth time Agni V was tested; it was a developmental test to induct ICBM into operational service.
After the test of ICBM Agni V in January 2018, India tested three more nuclear capable missiles in the month of February. On 6th February 2018, Agni-I which is a short range ballistic missile was test fired by India's Strategic Force Command at annual training cycle to test the operational readiness of India's missile force. Range of Agni-I is 700 to 900 km and can be armed with 1000 kilograms of conventional or nuclear payload. After testing its long range and short-range missile systems India was not satisfied with the effect of these tests and went further ahead with some more display of its credible minimum deterrence. On the very next day of testing Agni-I, India test fired third nuclear capable ballistic missile of 2018. This time India's weapon of choice was surface to surface short range tactical ballistic missile with 350 km range which is single stage, liquid fuel missile capable of carrying 500-1000 kilogram of nuclear or conventional payload and is already in service since 2003.
Then on February 20, 2018 India again tested it's another nuclear capable ballistic missile Agni-II which is medium or intermediate range from Integrated Test Range on Abdul Kalam Island in Bay of Bengal. Agni-II is a two stage, solid fueled with estimated range of 2000-3000 km which can carry conventional or nuclear warhead of 1000 kilogram. Agni-II is considered as a backbone of India's land based deterrent force. Thus, it is road, rail mobile and according to media reports entire trajectory of trial was tracked with sophisticated radars, telemetry observation stations and two naval ships located near impact point in the down range area of Bay of Bengal.
After tests of nuclear capable ballistic missiles ranging from ICBMs to short range, it was not enough and India went one step ahead in display of credibility of its nuclear arsenals and tested its third generation anti-tank guided missiles in desert condition against two tanks.
Testing its nuclear arsenals to display the credibility of its nuclear deterrence to ward off the enemy is the right of every state. However, India's display of its nuclear capability in such massive and fast manner must not be compared to credible minimum deterrence. As on India's part testing all kinds of nuclear missiles and hurrying to operationalize them is the quest for credible deterrence rather than credible minimum deterrence. When India's former National Security Advisor, Shivshankar Menon mentioned in his book "Inside the Making of India's Foreign Policy" that India's nuclear doctrine is much flexible than it is given the credit for, was right. So, even after testing 5 missiles India is linking credible minimum deterrence to military ambitiousness and declaring that these threats are its lowest possible efforts in response to the two tier threat originating from China and Pakistan
Alarming in this regard is silence of international community that is preoccupied with issues Trump administration is causing to seek attention. Moreover, lack of interest by international spectators to resolve the issues in South Asia is triggering the arms race in the region. Another significant aspect of conflict resolution approach suggested by international scholars is the imposition of a lot of conditions on Pakistan which is not a sensible approach for attaining peace and stability as peace and stability are hardly acquired on the basis of discrimination.