Africa's Growth Story Is Only Beginning
Falls in economic growth rates do not spell the end of the "Africa Rising" story, but rather provide an opportunity for countries on the continent to regroup, refocus and make themselves more resilient to external shocks, said Uhuru Kenyatta, President of Kenya, on the opening day of the 26th World Economic Forum on Africa, taking place for the first time in Kigali.
"It is a wake-up call, not a point of gloom," Kenyatta said. One lesson to be learned from recent growth declines in many sub-Saharan African countries is that they need to diversify their economies to avoid global commodity price falls having such a devastating effect.
Kenyatta added that his own country shows the value of diversity. Kenya is not heavily reliant on mineral resource extraction, with agriculture, tourism and financial services making significant contributions to growth. Kenya's growth rate has remained relatively steady at around 6%, whereas the figure for the subcontinent as a whole has dropped a couple of percentage points to 3%.
David A. Lipton, First Deputy Managing Director, International Monetary Fund (IMF), Washington DC, agreed that growth rates in Africa are likely to recover as the right economic fundamentals are still in place. He likened this recovery to running in a marathon. "In the Boston Marathon, at the 18-mile marker, there is Heartbreak Hill. This is where the good runner adjusts stride and then powers on," said Lipton.
In terms of fostering growth, such a change of stride would include, among other things, a greater drive for regional integration – of trade, communications, infrastructural projects – to build local demand in the face of falling international demand.
Tony O. Elumelu, Founder, The Tony Elumelu Foundation, Nigeria, and Co-Chair of the World Economic Forum on Africa, said he has never lost his appetite for investing in Africa. "In fact, African investment into Africa is rising despite the downturn," he noted.
The key to making African investment contribute more strongly to economic growth is to ensure that the money goes into the processing of raw materials – as opposed to simply extracting and exporting. He mentioned the coffee being exported from Côte d'Ivoire and oil from Nigeria, only for those materials to return as chocolate and petroleum imports, with all value-add processes taking place elsewhere.
Elumelu also said that infrastructure needs urgent re-engineering, as most transport and communication routes were built decades ago and were intended to simply export raw materials. "Fix the infrastructure through public-private partnerships and we will build our processing capacity," he said.
The need to invest strategically in the continent's young people is a pressing growth issue, said Elumelu. Building entrepreneurship and the skills base would lead inevitably to inclusive growth.
The need to link economic growth to poverty reduction was emphasized by Winnie Byanyima, Executive Director, Oxfam International, United Kingdom. She pointed out that, between 2003 and 2009, strong oil-driven growth in Nigeria only benefitted 10% of the population – the number of poor people in the country actually increased during that period.
Byanyima called for governments to better police multinational companies to curb tax dodging and "tax competition", where potential investing companies bid down rival governments in terms of tax incentives – thus depriving the fiscus of billions in potential revenue.
Situation in central Mali 'deteriorating' as violence, impunity rise
The growing violence has contributed to a deteriorating security situation in central Mali, with impunity being one of the aggravating factors, an independent UN human rights expert warned on Friday.
"In central Mali, I observed an accumulation of security, judicial and administrative failures that facilitates mass violence with impunity. The Malian Armed Forces and MINUSMA (UN Multidimensional Integrated Stabilization Mission in Mali) have failed to provide adequate security for the civilians of the region," Alioune Tine, the UN Independent Expert on the human rights situation in Mali, said in a statement following his visit to the country.
He said that civilians have been victimized by transnational criminal organizations, terrorist groups and armed militia which are grasping control of the region.
The human rights expert was told that the perpetrators of previous attacks in different regions have not been held accountable, thus making impunity as one of the aggravating factors of the current violence.
The slow judicial process is due to the security situation, which makes arresting the alleged perpetrators complicated, as well as the climate of fear, with witnesses and victims afraid of reprisals.
"The current violence is increasingly difficult to control and could become a major threat to the entire sub-region," Mr. Tine warned, adding that the Economic Community of West African States (ECOWAS) and the African Union must urgently find effective remedies to end violence and serious human rights violations in central Mali.
He also urged the UN Security Council to reassess the situation and adjust the mandate of the MINUSMA accordingly.
Improvement in northern Mali a 'major turning point'
Despite the worsening situation in central Mali, there has been some positive progress in the north.
"The implementation of the Algiers Agreement in 2015 in northern Mali, with the gradual redeployment of the rebuilt Malian Armed Forces (FAMA) in Kidal and Timbuktu and their upcoming deployment in Menaka and Taoudeni, is an important step towards the return to peace," said Mr. Tine.
Calling this improvement "a major turning point", the UN expert also commended the efforts of the Malian state, armed groups and MINUSMA throughout this process.
"The resolutions currently being implemented bring a new hope for peace and for a gradual return to a peaceful political process in northern Mali, through the organization of legislative elections," he said.
The 2015 Algiers Agreement is an Algerian-brokered agreement for peace and reconciliation in Mali, signed among the Government of Mali, the Coordination of Movements of Azawad and the Plateforme armed group.
Independent experts are appointed by the Geneva-based Human Rights Council to examine and report back on a specific human rights theme or a country situation. The positions are honorary and the experts are not UN staff, nor are they paid for their work.
Escalating Burkina Faso violence brings wider Sahel displacement emergency into focus
Deadly attacks on villages in Burkina Faso have forced 150,000 people to flee in just the last three weeks, the UN refugee agency (UNHCR) said on Friday, warning of a displacement emergency in the wider Sahel region.
Amid a devastating surge in terrorist attacks against civilian and military targets which the UN says have risen five-fold in Burkina Faso, Mali and Niger since 2016, UNHCR spokesperson Andrej Mahecic said that survivors needed safety, shelter, food and water "everywhere".
Help is particularly needed in northern Burkina Faso, where displaced families are staying with host communities who have little in the way of resources themselves.
Some 4,000 people a day flee violence
The new arrivals are "occupying whatever space is available", the UNHCR official explained, stressing that more than 4,000 people a day have fled attacks in Burkina Faso, since 1 January.
"So far, 765,000 people have already been displaced, of whom more than 700,000 in the past 12 months," he noted.
Those forced to flee "report attacks on their villages by militant groups, killing, raping, and pillaging," the UNHCR official said. "Terrified of these attacks, residents have left everything behind to find safety."
A similar pattern of violence has driven people from their homes in Mali and Niger, adding to the longstanding insecurity crisis further afield in the Lake Chad region, where the UN humanitarian coordination office (OCHA) estimates that 2.3 million people are displaced.
Following a recent string of attacks in Niger's Tillaberi and Tahoua regions, UNHCR reported that 4,400 people have fled into neighbouring Mali, while the same wave of violence has displaced around 11,000 people inside Niger.
"They have found refuge in nearby towns of Banibangu and Ouallam, where assistance is being provided," Mr. Mahecic said, noting that the regions of Tillaberi and Tahoua host 58,000 refugees from Mali and nearly 81,000 displaced people.
In central Mali, the UNHCR official noted that the latest attacks on the village of Ogossagou on 14 February had claimed 30 lives.
'Too afraid to move'
"Safety is needed for these people," he said. "In some of these situations, people are so afraid of the insecurity and violence around them that even though they are under attack or fearing of an attack, they do not dare to move."
The Sahel region encompasses an area south of the Sahara Desert spanning 10 countries from Senegal in the west to Eritrea, in the east.
Violence there intensified after the 2011 revolution in Libya, and an uprising in Mali a year later. As a result, terrorist groups, organized criminal groups and others took advantage of weak governance and ethnic tensions to move across borders and terrorize local populations.
Highlighting severe challenges in accessing the needs of victims of violence throughout the Sahel region, Mr. Mahecic explained that safety, shelter food and water were a priority.
Clothing and other basic items, including dignity kits for women and girls, were also urgently needed, he said, along with counselling for survivors of atrocities.
"What we know right now, is that the violence and the frequency of these attacks have increased, the intensity has increased, and we know that this is the key reason behind this massive displacement," he said.
Safe access vital to traumatized communities
UNHCR and its partners have stepped up their response, including by strengthening health and education facilities for communities, Mr. Mahecic added, before appealing for safe access for humanitarians to deliver assistance.
According to the UN Special Representative and Head of the UN Office for West Africa and the Sahel (UNOWAS), violence in the Sahel claimed more than 4,000 lives in 2019, compared to 770 in 2013.
In a briefing to the Security Council last month, Mohamed Ibn Chambas described "relentless attacks" that had shaken public confidence in the authorities.
"Most significantly," he said, "the geographic focus of terrorist attacks has shifted eastwards from Mali to Burkina Faso and is increasingly threatening West African coastal States."
Mr. Chambas also explained how the attacks were often perpetrated by extremists looking to engage in illicit activities that included capturing weapons and illegal artisanal mining.
"Extremists provide safety and protection to populations, as well as social services in exchanged for loyalty", he said.
Violence in North and West Africa increasingly targeting civilian and border areas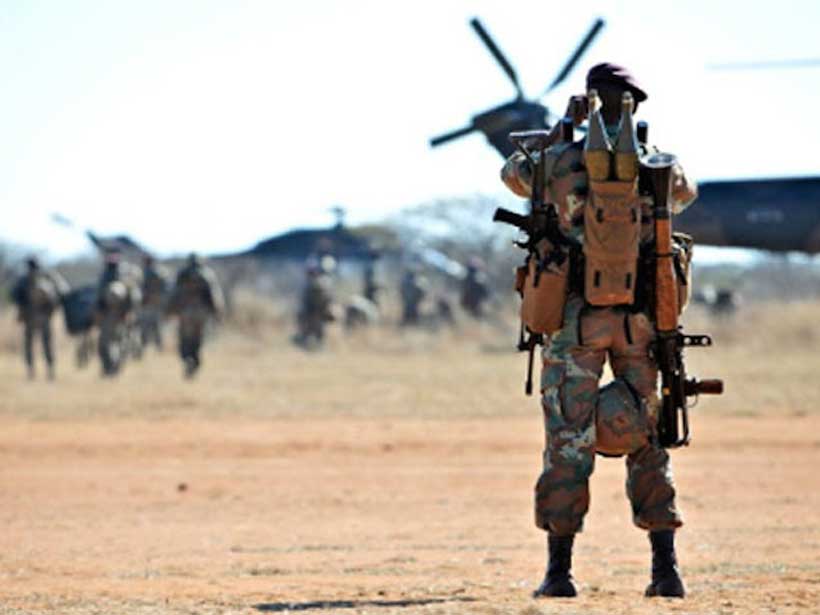 Violence in North and West Africa is increasingly targeting civilian and border regions as today's conflicts involve non-state actors with diverging agendas, according to a new report by the OECD's Sahel and West Africa Club (SWAC).
The report uses granular data to assess the intensity and geographical distribution of violence in the region since 1997. It finds that the last five years have been the most violent recorded in North and West Africa, with more than 60,000 people killed between January 2015 and the end of 2019. More than 40% of violent events and fatalities occur within 100 km of a land border, and 10% of deaths from political violence occur less than 10 km from a border. Civilians are increasingly specific targets of violence, rather than just being caught in cross fire.
The report uses a "Spatial Conflict Dynamics Indicator" to show which regions of North and West Africa experience the most conflict, how conflicts evolve geographically over time and how military interventions affect the intensity and spread of violence. It notes that attempts to stabilise the region are complicated due to the number of players involved and their shifting alliances.
"Paying close attention to the geography and dynamics of these deadly conflicts and the complex interactions between the large numbers of actors involved may help to find ways to resolve this worsening insecurity," said OECD Secretary-General Angel Gurría, presenting the report at the Munich Security Conference.
The Sahara-Sahel region is suffering from exceptional levels of political instability involving a combination of rebellions, jihadist insurgencies, coups d'état, protest movements and illegal trafficking of drugs, arms and migrants. Conflicts tend to regionalise across borders as armed groups defeated by counter-insurgency efforts relocate to other countries. The geographic spread and opportunistic relocation of conflicts is exacerbated by a lack of controls on many African borders that facilitates the circulation of fighters, hostages and weapons.
The study calls for states in the region and the international community to promote regional initiatives to restore state legitimacy, increase investment in border regions and improve protection of civilians — creating secure regions where inclusive forms of policies are put in place and a strong dialogue between states, local actors and populations is reinforced.