The Scourge of Islamic Slavery
Slavery is not an Islamic invention. Slave trade was an accepted way of life, fully established in all societies. Most of these slaves were white people, the word 'slave,' comes probably from the people of Eastern Europe, the Slavs. Without exception, the ancient world accepted slavery as normal and desirable.
The great civilizations of Babylon, Egypt, Greece, Rome, were built upon slave labor. The Greeks, from whom we derive so many humanistic ideas, were dependent on slavery. Three quarters of the population of Athens were slaves. Even Plato's Republic was based on slave labor. This was also the case of Rome. Under the Roman law, when a slave owner was found murdered, all his slaves were to be executed. In fact, half of the population of the Roman Empire were slaves.
However, Islam is unique concerning slavery, as it is legally and religiously permitted and endorsed. Slavery persisted in the Arab-Muslim world for centuries, from its beginning. Islam itself means "submission," as in being a slave to Allah's will. Slavery has been justified by Mohammed's example, as laid out in the Hadith.
The main occupation of Arab tribes before Islam was raids on others (Ghazawat) in order to take booty (Ghan'im). They were not farmers nor traders, nor scientists or intellectuals. They were raiders. For the Arabs, warfare was an economic benefit to achieving human spoils of war: captives. Becoming Muslims has brought only a marginal change: instead of raiding on one another as a social-economic way of life, now came the religious order to raid on the infidels' territories and the prize was to take much more valuable booty: fertile lands, rich property and huge amount of captives.
Muslims conquered, invaded, controlled countries and took spoils and prisoners as slaves. Islam allows Muslims to make slaves out of anyone who is captured among the infidels. Islam allows for the children of slaves to be raised as slaves. Islam allows for Christians and Jews to be made into slaves if they are captured in war. Muhammad and many of his companions bought, sold, freed and captured slaves. So it stands to reason that the Qur'an, the Hadith, and classical Islamic law have a notorious doctrine and practice of slavery. Islam perpetuated the institution.
While on a military campaign, Muslim soldiers had sex with their female captives, even though the women were married to polytheists. It is also permitted to have sex with prepubescent slave-girls. This is the attitude of Sahih Muslim, 008.3432. They also asked Muhammad about coitus-interruptus with their captive female slaves. Narrated Abu Said Al-Khudri: We got female captives in the war booty and we used to do coitus interruptus with them. So we asked Allah's Apostle about it and he said, 'Do you really do that?' repeating the question thrice, 'There is no soul that is destined to exist but will come into existence till the Day of Resurrection' (Sahih Bukhari, 7:62:137; 5:59:459; 3:46:718; The Muwatta' of Imam Ahmad, p. 240).
As Islam spread out across the globe, Muslims captured huge amount of slaves. Islam enslaved any nation or ethnic group that it conquered, from blacks in Africa to white men, and especially women from the Balkan, Hungary and Ukraine. Muslims also kidnapped young children, boys and girls, and Islamized them, the notorious one was the Ottoman Empire in the Balkans of the Devshirme system. Muslims also raided the European Mediterranean societies, from the 16th century on from North Africa, robed the inhabitants and kidnapped children and women, an era known as the naval piracy.
Slavery and the sexual exploitation of women are deeply ingrained in Islamic cultural tradition and religious commandments. Muslim slave owners were entitled by the Shari'ah to sexually exploit their slaves. Muslim nations had engaged in the slave trade for over 600 years before Europe became involved in the Trans-Atlantic slave trade. Almost 200 years after the British outlawed the slave trade Muslim markets continue in many countries the sale of slaves. There are persistent, credible reports that slavery exists in many Muslim countries in large numbers.
Muhammad owned slaves. He also traded with slaves, mainly women, and exchanged women concubines with others. He even asked his adopted son, Zayd, to give him his wife. Above all, he never decreed slavery as abolished. The institution was too lucrative and deeply rooted during the entire Islamic history. According to Ibn Qayyim al-Jawziyyah (Zad al-Ma'ad, 1:160), Muhammad had many male and female slaves. He used to buy and sell them, but he purchased more slaves than he sold.
After Muhammad fought the 'Battle of the Trench,' he slaughtered the Jewish men of Banu Qurayzah tribe and sold the women and children into slavery: verse 33:26-27: "And he drove down those of the People of the Book who backed them from their fortresses and He cast terror into their hearts; some of them you killed and some you took captive." Ibn Ishaq records Muhammad's massacre of the Jewish tribe, Banu Quraythah (pp. 465-66). Then the apostle dug trenches, and he sent for them and struck off their heads in those trenches as they were brought out to him in batches… There were 600 or 700 in all, though some put the figure as high as 800 or 900… Then the apostle divided the property, wives, and children among the Muslims. Some of the captive women he sent to Najd and sold them for horses and weapons.
The same happened when Muhammad attacked Khaybar, where the women were distributed amongst the Muslims.' Muhammad (then about 60 years old) obtained for himself the very beautiful teenage girl, Safiya who appealed for her freedom. Instead he had sex with her (Ibn Ishaq, p. 511; Sahih Bukhari, 4:52:143; Sahih Muslim, 8:3326; Sunan Abu Dawud, 2:11:2118). Sahih Bukhari (5:59:512) records the occupation of Khaybar: "Khaybar is destroyed. The inhabitants of Khaybar came out running on the roads. The Prophet ordered their warriors killed, their offspring and woman taken as captives" "We conquered Khaybar, took the captives, and the booty was collected. Dihya came and said, 'O Allah's Prophet! Give me a slave girl from the captives.' The Prophet said, 'Go and take any slave girl'" (1:8:367).
The same horror occurred with beautiful Juwairiyah, after her peaceful tribe was attacked as they watered their cattle. The men were killed and the women and children enslaved and shared amongst the Muslims (Sahih Bukhari, 3:46:717; Sahih Muslim, 19:4292; Sunan Abu Dawud, 29:3920).
In many cases Muhammad gave girls to two of his sons-in-law and to a friend just to enjoy them (Ibn Ishaq, p. 593; al-Tabari, vol. 8, pp. 29-30). On pp. 592-3 we read that Muhammad enslaved 6000 women and children plus innumerable sheep and camels. As for Ali he said "Women are plentiful, and you can easily change one for another.
The Qur'an includes multiple references to slaves, slave women, slave concubines. Islam accepts the institution of slavery. It was also perceived as a means of converting non-Muslims to Islam. Slaves are mentioned in at least twenty-nine verses of the Qur'an. Muslims are allowed to have sexual relation with slave-girls. Slaves are called in the Qur'an as Mulk al-Yamin, "the right hand possesses" (4:24). All Islamic Schools of Jurisprudence agree about the enforcement of this verse. 'What your right hand possesses' refers to slaves and is found in many places: 4:3,24,25,36; 16:71; 23:6; 24:31,33,58; 30:28; 33:50,52,55; 70:30.
The verse (4:24) says: And forbidden to you are wedded wives of other people… except those whom your right hands possess. Ibn Kathir, one of the most authoritative and highly regarded classical commentators of the Sunni world, writes of these female captives of war: "except those whom you acquire through war, for you are allowed such women after making sure they are not pregnant. Imam Ahmad recorded that Abu Said Al-Khudri said, "We captured some women from the area of Awtas who were already married, and we disliked having sexual relations with them because they already had husbands. So, we asked the Prophet about this matter, and this Ayah was revealed… Consequently, we had sexual relations with these women."
Thus, women captives are forced to have sex with their Muslim masters, regardless of the marital status of the women. That is, the masters are allowed to break their marriage and have sex with them. Other verses maintains: "…you may marry other women who seem good to you: two, three, or four of them. But if you fear that you cannot maintain equality among them marry one only or any slave-girls you may own" (4:3). "Prophet, we have made lawful for you the wives to whom you have granted dowries and the slave-girls whom Allah has given you as booty…" (33:50).
In 33.50, Allah gives Muhammad and all Muslim men the right to take slaves and have sex with female slaves. These are Allah given religious rights. See also 23:1-7; 70:29-30; 4.24. The Hadith contains many hundreds of descriptions of Muslims raping women captured in battle or having sex with their household slaves. This is their right ordained by Allah. Many descriptions of sex with slaves is also found dealing with 'Azl. Coitus interruptus, withdrawing the penis before ejaculation (Sahih Muslim, 22:8; Sahih Bukhari, 8:77:600; Sunan Abu Dawud, 11:2166).
So, A Muslim men were allowed to have sex anytime with slave females (4:3, 4:29, 33:49). A Muslim could not be put to death for murdering a slave (2:178). Verse 33:52 says: "You [Prophet] are not permitted to take any further wives, nor to exchange the wives you have for others, even if these attract you with their beauty. But this does not apply to your slave-girls. Muhammad took a slave woman right immediately after his massacre of the Qurayza Jews, taking an extra-beautiful one from them.
Beheading the men and dividing up the boys as human spoils of war carry on Muhammad's policy seen in Quran 33:26-27, in which he enslaved the women and children of the Qurayzah tribe of Jews. Tabari (vol. 11, p. 55), describes conquests during the caliphate of Abu Bakr (632-634) that represent many others throughout Islamic history. In Ayn al-Tamr, Iraq, Khalid bin al-Walid, Sayf al-Islam, "beheaded all the men of the fortress and took possession of all that their fortress contained, seizing as spoils what was in it… Khalid found in their church forty boys who were studying the Gospels behind a locked door, which he broke down in getting to them. He asked, "Who are you?" They replied, "Hostages." He divided them among the Muslims who had performed outstandingly in battle.
In Islam Jihad to occupy the world and to force it to follow or be subjugated under Islam encompasses the 'institutions' of Dhimmitude and slavery. The major source of slaves was the constant Muslim raids into infidel areas, which were depopulated. Islam's slavery was genocidal as males were generally slaughtered, while females and children were taken. The children were removed from their family and culture, forcibly converted, and used as soldiers. Slaves and their offspring were owned by the master and passed on as part of his property to inherit. Under Islam slaves have no legal rights at all – they are just a property.
Dhimmis were also forced to hand over their women and children either to pay their taxes or under laws demanding them as tribute so they became slaves and concubines. Hence the entire occupied populations were destroyed.
Most important the Shari'ah legalizes slavery, and if it is permitted in the Scriptures, nobody can abolish or even change it. All Schools of Islamic Jurisprudence traditionally accepted the institution of slavery. Slaves are regarded as inferior in Islamic law. They are not permitted to possess or inherit property, or conduct independent business. The testimony of slaves is not admissible in court; slaves cannot choose their own marriage mate, and can be forced to marry who their masters want. Slave women were required mainly as concubines and menials. A Muslim slaveholder was entitled by law to the sexual enjoyment of his slave women. There is no limit on the number of concubines a master may possess. The Islamic market demand for children was much higher than adults. Organized slave traders smuggled children into Islamic markets where they are enslaved, mutilated, and also serve as male concubine.
The Shari'ah sets Jihad laws as 'warfare to establish the religion' (Reliance of the Traveller, o9.0 p. 599), specify the enslavement or death if they resist, of women and children (o9.10 p. 603). Captured women and children become slaves and the woman's previous marriage is immediately annulled (o9.13 p. 604). Vassal states were forced to supply thousands of their children annually as 'tribute' and these people became slaves.
Ibn Rushd compiled a compendium of the opinions of jurists up to his time. He summarizes various legal opinions about slavery: it is allowed to harm the enemy's life, property and personal liberty, enslavement and ownership. There is a consensus about slavery, their men and women, old and young, the common people and the elite. For Ibn Rushd the example of Muhammad was extremely important for establishing the Shari'ah concerning slavery.
Bernard Lewis has put it correctly: the essence of the Shari'ah is three key elements: a) Muslim superiority over non-Muslims; b) male superiority over females; c) the legitimacy of violence to extend Islam to occupy the world. In his Race and Color in Islam, he brings many quotations and historical examples as to introduce the high need for slaves, whether acquired by violence or by commercial exchange. It was also legitimized by Islamic Scriptures and by racist felling of the Arabs, being superior species compare to the inferiority of blacks.
According to Peter Hammond, Slave Raids into Africa, the overall toll of black Africans who were transited to American and Muslim slave markets, is estimated at least 112 million, and more than 50%, in some areas and eras even 80% of those killed in the raids or died in transit. Over a million of white Europeans also ended up in the Islamic slave markets, women being a particular favorite of Arab slavers.
Humphrey J. Fisher, in his book, Slavery in the History of Muslim Black Africa, shows the ever cruel history of Islamic slave trade in Africa. The tribes' territories were harshly Islamized, while 120 million blacks were captured as slaves, almost half of them were perished while driven on the routes to be shipped to America and the Middle East markets.
Ronald Segal in his Islam's Black Slaves documents that from its emergence Islam has established and institutionalized slavery and slave trade. When Islam conquered the Persian Sassanid Empire and much of the Byzantine Empire, female slaves were required in considerable numbers as concubines and domestic workers. The harems of rulers became enormous in size, and castration of male slaves was common place.
Segal records: In the 1570's, a Frenchman visiting Egypt found many thousands of blacks on sale in Cairo markets. In 1665 Father Antonios Gonzalis, a Spanish/Belgian traveler, reported 800-1000 slaves on sale in the Cairo market on every single day. In 1838, it was estimated that 10000 to 12000 slaves were arriving in Cairo each year. He also observed that "White slaves from Christian Spain, Central and Eastern Europe' were also shipped into the Middle East and served in the "palaces of rulers and the establishments of the rich."
Even as late as the 19th Century, it was noted that in Mecca "there are few families that do not keep slaves, and they all keep mistresses in common with their lawful wives." Even Ronald Segal, who was most sympathetic to Islam and prejudiced against Christianity, admits that well over 30 million black Africans have died at the hands of Muslim slave traders or ended up in Islamic slavery.
The Islamic slave trade took place across the Sahara Desert, from the coast of the Red Sea, and from East Africa across the Indian Ocean. The Trans Sahara trade was conducted along six major slave routes. As for the 19th Century alone, of which we have more accurate records, 1.2 million slaves were brought across the Sahara into the Middle East, 450000 down the Red Sea and 442000 from East African coastal ports. That is a total of 2 million black slaves. At least 8 million more were calculated to have died before reaching the Muslim slave markets.
For John Alembillah Azumah, Legacy of Arab Islam in Africa, "…the worst, most inhumane and most diabolical institution of the black African slave trade was initiated, refined, perpetrated and implemented by the Mohammedan Arabs and later aided and abetted by the black converts to Mohammedan Islam."
Robert O. Collins and James M. Burns in their A History of Sub-Saharan Africa, prove that "The advent of the Islamic age coincided with a sharp increase in the African slave trade." Africa has become a major supplier of slaves for North Africa and Islamic Spain. The other route was through the shores of East Africa to the Americas. The earliest Muslim account of slaves crossing the Sahara to Tripoli on the Mediterranean coast was written in the seventh century. From the ninth century to the nineteenth slave trade was the biggest Islamic industry in Africa. In fact it was the only industry.
By the Middle-Ages, the Arab word 'Abd' was in general use to denote a black slave while the word "Mamluk" referred to a white slave. Ibn Khaldun (1332–1406) wrote: "The Negro nations are as a rule submissive to slavery, because they have attributes that are quite similar to dumb animals." When the Fatimid came to power in Egypt they slaughtered all the tens of thousands of black military slaves and raised an entirely new slave army. From Persia to Egypt to Morocco, slave armies became common-place. After Muslim armies attacked and conquered Spain, they took thousands of slaves back to Damascus. The key prize was 1000 virgins as slaves. They were forced to go all the way back to Damascus.
Robert C. Davis, in his Christian Slaves, Muslim Masters: White Slavery in the Mediterranean, the Barbary Coast and Italy, 1500-1800, estimates that North African Muslim pirates abducted and enslaved more than 1 million Europeans between 1530 and 1780. Thousands in coastal areas were seized every year to work as galley slaves, laborers and concubines for Muslim slave masters in what is today Morocco, Tunisia, Algeria, Libya, Oman and Saudi-Arabia. He indicates that perhaps one and one-quarter million white European Christians were enslaved by Barbary Muslims. Jihad piracy and slave raids were a fact of life in the Mediterranean and Black Sea regions for the better part of a thousand years.
Hugh Thomas, The Slave Trade, records. In 1796, a British traveler reported a caravan of 5000 slaves departing from Darfur. Just in the Arabic plantations off the East Coast of Africa, on the islands of Zanzibar and Pemba, there were 769000 black slaves. In the 19th Century, East African black slave trade included 347,000 slaves shipped to Arabia and Persia.
Suzanne Everett, in her History of Slavery records: In 1818, al-Mukani ruler in Tripoli "waged war on all its defenseless neighbors and annually carried off 4000 to 5000 slaves. The traders speak of slaves as farmers do of cattle. Murders, tortures and rape abuse were day by day habits. Records in Morocco in 1876 show that the market prices for slaves varied from £10 to £30; female slaves comprised vast majority of sales with 'attractive virgins' £40 to £80. "A considerable majority of the slaves crossing the Sahara, were destined to become concubines in North Africa and the Middle East."
Murray Gordon records: "Muhammad took pains in urging the faithful to free their slaves as a way of expiating their sins. Some Muslim scholars have taken this to mean that his true motive was to bring about a gradual elimination of slavery. Far more persuasive is the argument that by lending the moral authority of Islam to slavery, Muhammad assured its legitimacy. Thus, in lightening the fetter, he riveted it ever more firmly in place."
He analyzes the sexual aspects of slavery. "For a better part of the Middle-Ages, Europe served as a valuable source of slaves who were prized in the Muslim world as soldiers, concubines, and eunuchs." It is important to note that this pattern was established long before the European colonial period. In fact, "Eunuchs commanded the highest prices among slaves, followed by young and pretty white women… White women were almost always in greater demand than Africans, and Arabs were prepared to pay much higher prices for Circassian and Georgian women." This was also the Fate of Slav women from the Balkans and Hungary. Abyssinian (Ethiopian) girls were considered the "second best."
Slave taking rapidly advanced into a full-scale industry, with a disastrous impact that was apparent at the time and for centuries to come. Giles Milton in his White Gold, has noticed that the seventeenth century represented a dark period out of which Spanish and Italian societies emerged as mere shadows compare to the past. Arab slavery raids of kidnapping women and young children continued just below the surface of the coastal culture of the European Mediterranean even into the first years of the twentieth century.
The Indian historian, K. S. Lal, in his books, Theory and practice of Muslim state in India, and Islamic Jihad: the Legacy of forced conversion, imperialism and Slavery, brings horrible data of how Islamic Jihadists conquered India, butchered its inhabitants by millions, and developed a huge peculiar system of slavery there. Raiding non-Muslim territories became a constant phenomenon. Five centuries after Muslims came to power in the territory, the animist hill peoples completely disappeared as a result of their conversion through enslavement into the Muslim populace of Malaya, Sumatra and Borneo. By the raiding system, especially of children, these areas has become Islamic. In many places of Southeast Asia, the enslavement was so entrenched so that the entire population, polytheistic Hindu, Buddhist and Animist creeds, became Muslim or exterminated.
Marcia Andrade Braga: A 'stellar example' of why more women are needed in UN peacekeeping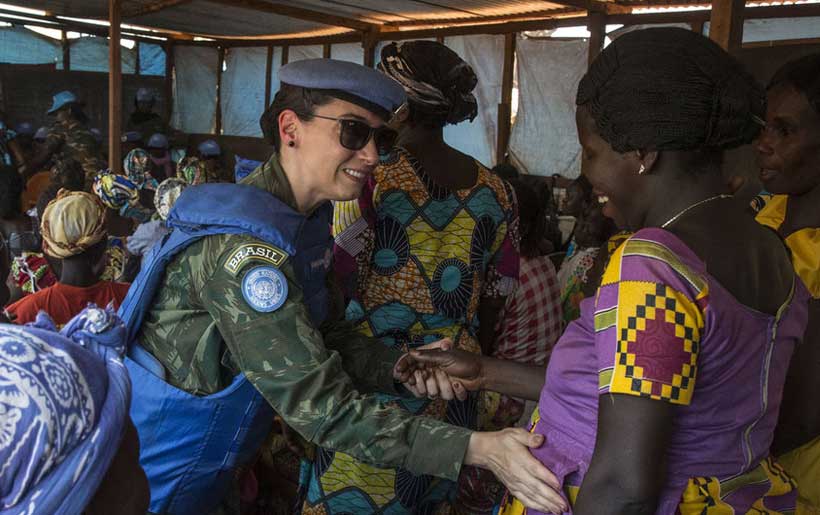 Training gender advisors and focal points in the Central African Republic (CAR) has earned a Brazilian United Nations peacekeeper a special gender advocate award, it was announced on Tuesday.
Secretary-General António Guterres will bestow naval officer, Lieutenant Commander Marcia Andrade Braga, with the UN Military Gender Advocate of the Year Award during the 2019 Peacekeeping Ministerial conference due to be held at UN Headquarters in New York this Friday.
"UN Missions need more women peacekeepers so local women can talk more freely about the issues that affect their lives", said Lt. Cdr. Braga.
"I am so proud to be selected", she said, upon receiving news of her award, also expressing gratitude to her colleagues in the UN Stabilization Mission in the Central African Republic (MINUSCA).
Serving as the Military Gender Advisor at MINUSCA Headquarters since April 2018, Lt. Cdr. Braga has helped to build a network of trained gender advisors and focal points among the Mission's military units and promoted mixed teams of men and women to conduct community-based patrols around the country.
These "Engagement Teams" were able to gather critical information to help the Mission understand the unique protection needs of men, women, boys and girls, which in turn helped develop community projects to support vulnerable communities.
Projects include the installation of water pumps close to villages, solar-powered lighting and the development of community gardens to cut down the distances women have to travel, to tend their crops.
Lt. Cdr. Braga is also a driving force behind MINUSCA leadership's engagement with local women leaders, making sure that the voice of Central African women is heard throughout the ongoing peace process.
Moreover, as a former teacher she has also helped train and raise awareness among her peers on gender dynamics within the Mission.
Jean-Pierre Lacroix, who heads the UN Department of Peace Operations, spelled out: "Marcia Andrade Braga is a stellar example of why we need more women in peacekeeping: Peacekeeping works effectively when women play meaningful roles and when women in the host communities are directly engaged".
Created in 2016, the UN award recognizes the dedication and effort of an individual peacekeeper in promoting the principles of UN Security Resolution 1325 (UNSCR 1325) on women, peace and security, which underscores the "3 Ps", to prevent conflict; protect women and their rights during and after conflict; and to increase the numbers of women participating in all mechanisms, to prevent and resolve conflict.
Davos: The Other Side of the Mirror
It has been a couple of months since I was hanging out in Davos learning about this year's World Economic Forum. Perhaps I have a unique view, because I am the founder of Peppr and Ohlala, described as "the one dating app where everyone's intentions are very clear." and the person said to be responsible for the #escortgate controversy, in which paid escorts showed up at one of the world's most exclusive investor conferences in Berlin in 2016. I am also the author of the statement that "We all have sexwork to do," I follow up on all conversations related to escorting and sexwork, which I deliberately call "paid dating."
I have been following up on the conversations ever since: about world leaders said to be not acting as role models (or acting as bad role models), about the hypocrisy over sustainability, philanthropic models or the proposals to adjust taxes for the wealthier among us to secure a basic standard of living for all, a conversation the ones directly affected seemed to be avoiding.
Davos, as we know, brings together so many of the world's most powerful leaders –parleys occur, deals are made and opportunities appear that likely don't ever arise elsewhere. And among these deal makers are people whose drive takes other avenues.
As one woman was quoted as saying: "It's the kind of place where if a woman turns away to exit a conversation and looks back just quickly enough, she'll find her posterior aesthetic being carefully dissected by the man who just asked her for her business card — even if he is the CEO of a major bank. When we weren't being asked how we got here, we were constantly being stared up and down by CEOs, hedge fund managers, finance ministers and embassy heads."
However, I am still a bit confused about the opinionated statements that were going on this year after Davos. It's the same debates and thoughts we had around #escortgate.I have been wondering how to productively progress the conversation around this morally, emotionally loaded topic, because clearly we are running around in circles.
What I have seen is a whole lot of personal, subjective judgments of people sometimes labeled as "escorts" and how they are not supposed to be around in places like Davos. I had hoped for a more deliberate thought-through conversation, a dialogue, but mostly what I read stigmatizes and judges people on their very personal choices and agreements: how they want (or have to — as most of us do) to make money, to afford a living.
"I don't want to be mistaken for a prostitute"
You might wonder which conversations or statements I was so confused about. First, about the existence of escorts at the Forum, by a young woman named Baillie Aaron:
"And then I heard the whispers of what happens at night, at the parties, in the hotel lobbies and at the famous Piano Bar where it was an unspoken understanding that some men 'took off their wedding rings.' Almost all my male colleagues commented on the presence of female escorts at these venues, many of which were guest-list only, or required a hotel badge to access. A quick online search displayed a number of articles confirming that the existence of and easy access to escorts at Davos is nothing new, and what for some delegates, could be a strong motivator to attend." Statement found here.
Demand creates supply. It's as simple as that and from an economic standpoint, I do understand wo/men going there to seek business, in any sense. Also, on that particular one.
However, I wonder: What is so bad about the "existence of and easy access of escorts" in the first place? Why shouldn't there be men or women who get paid to date at the World Economic Forum? If it's true, maybe some men took off rings because they are in an open marriage? Why would you care about someone else's choice? (Unless you are the wife of that person and you have a personal private agreement to stay physically faithful and not take the ring off.)
In Switzerland, at least, if there really were some men or women paid to have sex, it would be legal and regulated — not even a breach of law. For me, these workers should be as much part of the conversation as anyone else in Davos.
Actually, given the current political environment in the US around the topic of sexwork, they should definitely be part of the conversations, because this industry screams:"Please reinvent me and improve circumstances for those who are not protected. Make it safer for everyone involved."
Some politicians already seem to be having a change of heart. Decriminalization is their way forward. Going along with all the standing proposals of Amnesty International.
What else has been subject of the realm on feeling "unsafe" or "discriminated" at Davos.
I look and check bodies all the time myself, with men and women. I can appreciate a beautiful person without having the urge to hook up. We do checkout people all the time — on Instagram and Facebook. But we are not allowed to look in real life? Everyone does it. Recently, I have found myself with other people in the office kitchen wondering how cute the new intern is. #Wetoo do it.
Third quote about warnings regarding sexual harassment
"At the Davos opening Women's Reception, with some male allies in attendance, I asked a question: Why is it that in 2019, young female delegates are forewarned about sexual harassment — as if it's our responsibility to protect ourselves — but the delegates themselves aren't given training on how (or why) not to harass? There was no answer, other than a murmuring recognition that it was a known issue: many of the women who attended in past years had personal experience of sexual harassment."
What is actually sexual harassment?Can we come up with a definition?Does sexual harassment go both ways?Where does it start?Where to draw the line?
There is always two sides of the story and I feel like, in the realm of the "gender narrative debate" (certain traits assigned to genders because of a gender), we need to let both parties speak in order to find a common ground. What one attempt-to-hit-on-someone finds okay, another may feel totally offended.
Of course we could be confused anyway. Every third relationship evolves in a work-related context. So that means, including these events, it could be a dating market as well, right? Personally, 90 percent of my time, I am surrounded by people with whom I somehow work together. The chances that I meet someone that I want to partner up with is high. So naturally, events like this also create a space where I might get to know someone for a night, maybe more.
I understand, there are certain limits: If someone runs up to someone during the day time event in a straightforward business context and does a pussy or penis grab (Presidential style?), I understand negative sentiment. But if people (yes, men AND women) hit on each other in a Piano Bar to romantic music at 2 in the morning, after a couple of glasses of wine or even four gin and tonics, where people go to hang loose and left the laptop in their hotel room, you cannot possibly be surprised that this is happening.
Again, it goes both ways. We all forget our manners sometimes, when we are drunk (or high, or whatever). On a personal note: The most aggressive hit on me ever was by a drunken woman, not a man.
"I think about what I wear more because there are a lot of prostitutes in Davos, especially at the Piano Bar," one woman said, referencing the popular late-night hot spot. "I don't want to be mistaken for a prostitute."
When we gender mainstream almost everything, even adjust anthems of countries, toilet signs, why don't we just get rid of that particular word too? Or best: all of them: escort, prostitute, whore. Those devaluating terms are connected directly to women. We will not evolve in any of the conversations if we use preconceived terms. We need to let go of these terms.When we talk empowerment, we need to empower all women (or people in general). That certainly includes also those who get paid to date.
I would like to start proposing a couple of solutions and quick fixes.Here are some ideas that I would like to propose as to how to progress in this entire discussion:
Power of perception: Could you, instead looking down toward this type of entrepreneur, take it as a compliment?Flip the coin. Be bold and brave. So what? Maybe that person misread the signs? If he/she thinks you want to be paid to date: just say. 'No, I don't'. This way you are still respecting other people, especially women who do this — as a personal choice entering into an agreement — and you maintain your own integrity. Problem solved. That I find acting out of a position of power, instead of victimizing yourself.
Let's stop gender blaming!People can have female and male traits. This makes the whole gender debate almost irrelevant. This is "how men are" or this is "how women are" is simply stereotyping our way to further separation. Even the Davos Vanity Fair – as my legendary professor Anis H. Bajrektarevic calls the WEF – advocates the gender neutrality.
This whole finger pointing and mansplaining doesn't solve anything but create negative sentiment because we simply sometimes don't know anymore as to how to behave in certain contexts. I feel like the whole dynamic is ruled by fear, as to what we are not supposed to do, instead of relearning how we can handle each other in certain contexts. Reframe it in a positive way. Look at it as a chance or opportunity.
And it goes both ways, this #metoo. We have to find a common ground towards a #wetoo. From he said, he did, she said, she did. We need to evolve to a "#wetoo are going to solve this together."
3. Education is key.We need proper training of all sorts on how to handle each other. Why not invest in our (work) relationships?
Maybe we need to elaborate a guideline. We could design a new sort of "Knigge" or a Code of Conduct on how to behave in a work-related context. This could help navigate through some uncertainties, especially if cultures vary across borders and continents.
Or maybe even a defense class to train people for difficult situations. For example: I had a compulsory defense class in middle school. We were trained by really big guys to defend ourselves. The impact in my life? I always feel/felt safe, because though I might be physically inferior, I know some really important tricks. It gave me a lifelong confidence.Maybe that's what we all have to learn at the end of the day: articulate our intentions properly and (be able to) show the limits.
Imagine a world, free from personal judgement, where "it" would be decriminalized. People active in this field could seek help if they needed it and would pay taxes. The proceeds of the taxes could be used to combat negative forces within this market.
That for me, is a desirable future. One I would like to help shape.What do you think?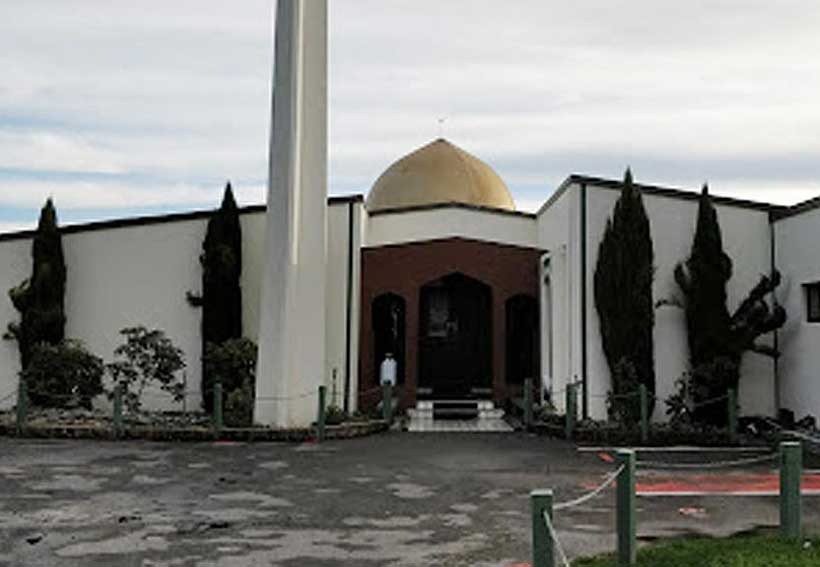 Something is infinitely wrong in the picture, a juxtaposition of polar opposites: New Zealand, a country of unfailingly courteous and kind people, and an extremist terrorist killing 40 Muslims at prayer. Of course, modern guns made it possible, a hate-filled extremist of Australian origin set the stage, and a country not familiar with such violence — thus an easy target. All together they broke the proverbial camel's back.
My own experience of New Zealand — visiting universities and delivering the occasional lecture as academics do — was uniformly pleasant. It was as if a piece of 1950s England had been sliced off and transported to the Pacific, down to the egg, sausage, bacon and tomato breakfast. The numerous small kindnesses of the people one met left a warm glow.
I was therefore, quite unprepared for Australia, the only country where I have been taken aside into a room to be grilled by an immigration official for what seemed an eternity. People are people: The hotel receptionist was welcoming and helpful.
At the Sydney Opera House, Joan Sutherland was appearing in The Daughter of the Regiment to a sold-out first night. As luck would have it, a ticket return was my ticket in . Quenching a thirst during intermission, the withering looks of fashionably-dressed matrons is now an aide-memoire. Otherwise, I might have forgotten, as I have, for example, the performance at Schloss Schonbrunn outside Vienna.
Universities are different of course, and students and professors tend not to harbor such prejudices or exhibit them within the ivory towers. The conference was much like others. Australians in person seem friendly, unselfconscious and lacking the class prejudice common in England. I must add that I have counted quite a few as friends and academic colleagues over the years.
President Recep Tayyip Erdogan's outburst at New Zealand following the shooting was a trifle premature. Of Turkish origin, 40-year old Gorkmen Tanis opened fire inside a tram in Utrecht, Netherlands killing 3 and wounding 3 others. Hate and more hate in a world of conflicting values and customs, coming into sharper focus as people travel outside their own countries (and comfort space) in quest of greater economic reward. Necessity or greed, opportunism or adventure, each individual has his own motivation for leaving home.
The situation is not improved by jingoist politicians exploiting it during elections or otherwise (Modi in India or Trump in the US) trying to boost standing with their base support.
Calamities other than from the barrel of a gun but perhaps not unaided by human hand gave us an historic deluge mid-March, flooding almost the whole state of Nebraska. Rich countries have the resources to limit deaths in these catastrophes but not the devastation and the ruined lives of those who have to start all over again. In Mozambique, however, President Felipe Nyusi fears the death toll will be far higher than the present 200 estimate in the aftermath of cyclone Idai which hit the port city of Beira. We are told it is possibly the worst storm ever to hit the southern hemisphere; its path of destruction enveloped Zimbabwe, Malawi and of course Mozambique. In addition to the deaths in the latter, another 150 at least have perished in the other two countries, and thousands injured. The inundation and loss of crops are expected to impact the lives of more than 2.6 million people.
Calamities engineered by man or by nature aided by man are the story this week. Can we change?