Why opposing Religion via a Politico-Secular Discourse is a Blunder
The current stratagem, quite popular in the West, of opposing intolerant social norms as practiced by some Muslim communities vis a vis women, gays, human rights and freedom in general (be it of speech, or political, or artistic); that is to say, opposing certain religiously condoned intolerances and orthodoxies with a libertarian "enlightened" secular discourse (which usually advocates the liquidation of religion per se, at best tolerating a mere vapid cafeteria-style sort of "spirituality") is an inadequate, clever by half, solution to the problem at hand.
It makes those who feel that their faith is under attack all the more determined to defend it zealously. In Islam they call that kind of extreme defense Jihad and it has been carried in one form or another for centuries now.
What usually happens is that the table adroitly gets turned around and the "enlightened" "progressive" secularist alleging human rights violations that need to be abolished ends up accused of intolerance, of trying to impose his particular brand of intolerance, i.e., his extreme secularism and enlightenment, on believers. It all turns into a vicious circle. This is particularly true in those modern societies where religion has been abandoned as just another myth or lie, long superseded by modernity progressive positivistic science. The best example of that is the EU. Not to be modern is to be medieval, obscurantist, retrograde, undesirables who cannot be accommodated in a modern progressive society based on the tenets of the Enlightenment, a la Voltaire.
This strategy usually misfires and ends up producing more animosity and intolerance with accusations of zealotry and extremism on both sides of the fence. There is however a much better approach and it is that advocated by the influential philosopher Jurgen Habermas in his essay "A post-secular Europe" and that of the Ugandan born Canadian Muslim Irshad Manji, author of two best-selling influential books: The Trouble with Islam Today (translated into 30 languages), and How to Reconcile Faith and Freedom.
She has received an honorary degree in the history of ideas from the University of British Columbia, and a governor general medal as a top humanities graduate; initiated the TV project Moral Courage with Professor Cornell West becoming a critic of mainstream Islam, and participated in the TV series America at a Crossroads titled "Faith without Fear." Moreover, she has addressed numerous audiences at the UN and at Amnesty International.
At NYU Wagner, Irshad teaches a course titled "Moral Courage and Your Purpose." Among the professional skills that students can expect to learn: articulating how you want to serve your society, identifying your core values, turning your values into action, knowing when to step up or step back, and staying motivated to deliver on your vision.
Let's take a brief look at her thinking as regards the reforming of Islam. In the first place she points out that she is in no way advocating the abolishing of Islam but its reform, or better, its re-interpretation. The words of the Koran are not to be abolished or rewritten, but what is written gets re-interpreted as it was meant to be all along. What does that mean? That the Torah, the Bible and the Koran need to be interpreted by the mere fact that they contain symbolical language: poetry, parables and stories that need to be constantly interpreted in the light of the existential events of human history in order for them to have any meaningful application for our existential situation. In other words, she is far from advocating a throwing away of the baby (faith) with the dirty water (the corruption within a religion) as many secular humanists end up doing when they suggest that religion does not properly belong in the public agora and ought to be muzzled and relegated, with other myths, to the dustbin of history.
Manji arrived at this conclusion when she began comparing various religious beliefs after being expelled from the Moslem religious school she was attending as a teenager eight hours a week, for simply asking too many questions. She found her faith anew by leaving her faith for a while and freely researching other faiths. For example she discovered that the image many misguided Muslims, Jews and Christians have of God was that of a stern law-giver bent on enforcing the law with a vengeance. That is not her interpretation of who this being really is as per holy scriptures. Far from being malicious and brutish, in the image of litigious man, he/she seems to her to be benevolent and merciful. Manji writes that since this God created all there is, or had a plan for all creatures when he created, not excluding Lesbians and Gays, it remains to be explained how he can then act against the logic of his own creation.
Of course the atheist has no problem here: he rejects the existence of God to begin with, but then he logically falls into the trap of declaring that the universe created itself with a ready made evolutionary plan so precise that a millionth of second too early or too late would have obviated its existence; or that the universe is eternal which in effect means he has made the Universe God and he in it is a little god, which sounds like idolatry and narcissism. Plenty of food for thought.
To recapitulate, there is an intriguing paradox at work here: the above discourse exposes the hypocrisy of Scandinavian progressive anti-nationalistic, liberal societies so proud of their progressive liberalism but that are now slowly beginning to tolerate Islamophobia and Xenophobia. Perhaps it would be a much wiser strategy on their part to identify the intolerances and abuses of human rights found in religions such as Islam and Christianity and Judaism, that is to say, not in the religions per se but in their misinterpretations, and advocate their reform rather than their obliteration. One can wager that most reasonable Muslims would be willing to listen to the voice of a reasoned discourse that does not begin with the premise that religion is off the table to be substituted with a vapid cafeteria style spirituality disrespectful of particular religious traditions. Irshad Manji offers us a great example on how this can be accomplished.
In conclusion, as that wise man in Palestine who started a new religion in the Middle East which then came to Rome and Athens and ended up becoming perhaps the best component of Europe's cultural identity after the fall of the Roman Empire, used to quip: "let those who have ears, let them hear."
Author's note: this essay has already appeared, in a slightly modified form in Ovi magazine.
Modernizing Higher Education for Economic Growth
Malawi has fewer affordable universities than it has students who want to go to them, leaving college out of reach for many. Enrollment in tertiary education is low, but more and more Malawians hunger for it. With IDA financing from the World Bank, Malawian citizens now have more options.
The five-year, $51 million Skills Development Project is helping public universities to strengthen and increase public access to programs that cater to sectors critical to Malawi's economic growth. These include engineering, natural resources extraction, agriculture, construction, health services, tourism, and hospitality.
Beyond the establishment of the National Council for Higher Education, project funding supports a range of activities at institutions, including improving course offerings and staff skills, renovating infrastructure, and setting up satellite facilities.
Market-relevant course offerings
To expand the range of scientific skills and mid-level technicians needed to fuel Malawi's economy, 39 new programs have been developed by universities, with the participation of the private sector ensuring their relevance to the economy. By 2017, these programs contributed 44 percent of the new student intake to public universities.
Diploma programs at universities have also been bolstered to increase the training of mid-level career personnel needed by various trades. For example, the University of Malawi's Polytechnic now offers 10 technician-level engineering diploma programs in subjects like mining, telecommunications, and health. By 2019, these programs are expected to have enrolled 750 diploma students.
Modernized facilities
One of the major constraints to increasing student enrollment at public universities has been space. At Chancellor College, where most of Malawi's secondary school science teachers are trained, more and better infrastructure is expected to make it possible to boost student intake by 65 percent. This includes modernized laboratories and four new lecture halls seating 350 students each.
This will go a long way toward meeting an increase in the demand for science teachers, following the introduction of physics and chemistry as separate subjects in the secondary school curriculum.
Mzuzu University is heading to be the country's center of excellence in tourism training. It is constructing a purpose-built tourism and hospitality facility that will produce graduates who are industry-ready.
Online and distance learning
The Lilongwe University of Agriculture and Natural Resources (LUANAR) and Mzuzu have introduced online and distance learning (ODL), resulting in increased enrollment at both. At LUANAR, online students make up 10 percent of the total student population. Between 2014 and 2016, Mzuzu increased its intake of online students tenfold. With more affordable fees and flexible options, the ODL system has helped to open access to higher education for many people nationwide.
"I enrolled through ODL because of its flexibility. I continue with my everyday life and yet I am studying at the same time. This is wonderful," says 45-year-old Joe Mwenye, a father of five and a teacher in Ngabu in Chikwawa district. He is studying at LUANAR for a Bachelor of Science in Agricultural Extension.
LUANAR has three ODL centers: one in the town of Mzuzu, another in Lilongwe, and another in Blantyre. Mzuzu University is opening satellite centers in Balaka, Karonga, Mulanje, and Lilongwe.
The Depth of Taboo: Social Issues in South Asia
Rarely does a geopolitical handbook also make such large and important contributions to uncomfortably critical social issues. This handbook is that rare example. The author Aryal takes our MD readers deep into some disturbing discussions – caste systems, systematic violence against women, rape, honor killings, gender stigmatizing, and societal sexism – not to just anecdotally expose people to some of the continued living horrors afflicting important regions of the world but to systematically analyze such atrocities so that their long-term political, economic, social, and diplomatic consequences are revealed.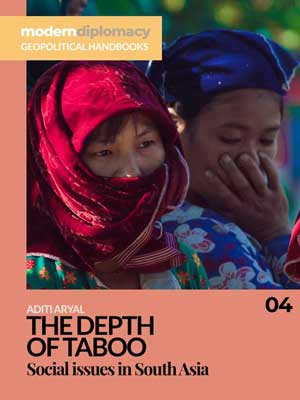 What many around the world do not realize is how crippling these gross abuses of human decency can be for a nation and region writ large: these are not just individual crimes to be noted and then forgotten. The failure of societies, the failure of GLOBAL society, to make more effective progress and take a more rigid stand against injustice is a black mark on all countries, on all of us. This handbook in its own small way strives to be a light within that darkness and as such it is both informative and courageous. While the readers of MD will not find the content of this particular handbook for the faint of heart, the importance of acquiring this knowledge, of becoming more aware of the world that we live in as it truly is in so many places, should be considered a duty of all those fortunate enough to not be born into states where such systemic violence still exists and largely goes unchallenged.
The title of this work is no accident and no shameless marketing attempt to attract more readers. Rather, it is exposing in a single word the reason why overcoming systemic violence based on gender is so difficult. Social taboos run deep in every region, state, city, town, village. We will likely not succeed in eliminating them from the social conscience of people. But the attempt to ameliorate the power of taboo, its power to push rationality out and pull insanity in, is a noble one that all of us at the editorial staff at MD recognize as silently essential for the cause of future peace on so many different levels. The battle against taboo is the secret front end of the war against gender violence and oppression. Ultimately, the criminal justice systems of societies must improve to remedy those actions not prevented from occurring. But the real long-term comprehensive solution will be the effort to eliminate the fear of social taboos, to eliminate the stigma that drives many to commit ignorant violence in the first place.
Women and girls with autism must be empowered to overcome discrimination they face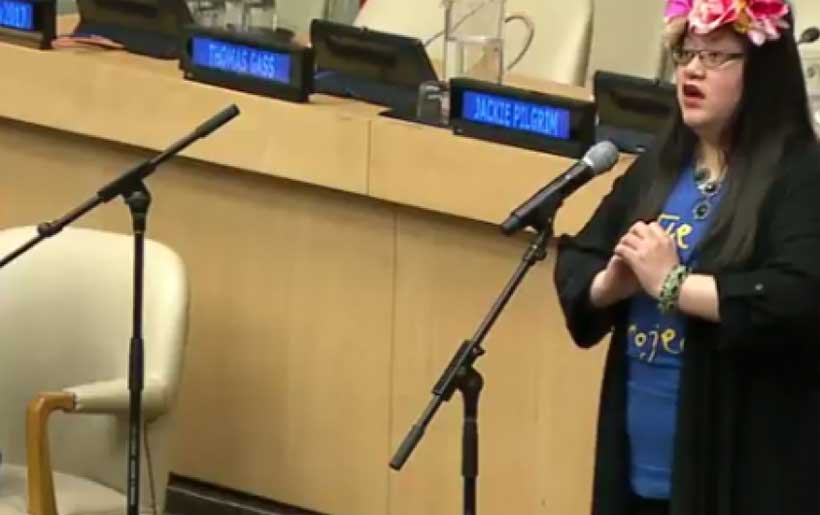 On World Autism Awareness Day, United Nations Secretary-General António Guterres has joined the global call to empower women and girls with autism and involve them and their advocates in policy and decision-making to address the discrimination and other challenges they face.
"They face […] barriers to accessing education and employment on an equal footing with others, denial of their reproductive rights and the freedom to make their own choices, and a lack of involvement in policy making on matters that concern them," said the Secretary-General in his message on the Day.
Emphasizing that "our work for gender equality and women's empowerment must reach all the world's women and girls," he stressed that the international community's efforts to achieve the Sustainable Development Goals (SDGs) must uphold the 2030 Agenda's core promise to leave no one behind.
The Goals and the landmark framework from which they emerged were adopted by UN Member States three years ago. Together they aim to wipe out poverty and boost equality by putting the world on a more sustainable economic, social and environmental path by 2030.
"On World Autism Awareness Day, let us reaffirm our commitment to promote the full participation of all people with autism, and ensure they have the necessary support to be able to exercise their rights and fundamental freedoms," concluded the Mr. Guterres.
Autism is a lifelong neurological condition that manifests during early childhood, irrespective of gender, race or socio-economic status. The term Autism Spectrum refers to a range of characteristics.
Autism is mainly characterized by its unique social interactions, non-standard ways of learning, keen interests in specific subjects, inclination to routines, challenges in typical communications and particular ways of processing sensory information.
The rate of autism in all regions of the world is high and the lack of understanding has a tremendous impact on the individuals, their families and communities.
The World Day is marked annually on 2 April, and this year's official UN commemoration will be on Thursday, 5 April, with a half-day programme in New York entitled Empowering Women and Girls with Autism, that will feature a keynote address from Julia Bascom, Executive Director, Autistic Self Advocacy Network.