Why opposing Religion via a Politico-Secular Discourse is a Blunder
The current stratagem, quite popular in the West, of opposing intolerant social norms as practiced by some Muslim communities vis a vis women, gays, human rights and freedom in general (be it of speech, or political, or artistic); that is to say, opposing certain religiously condoned intolerances and orthodoxies with a libertarian "enlightened" secular discourse (which usually advocates the liquidation of religion per se, at best tolerating a mere vapid cafeteria-style sort of "spirituality") is an inadequate, clever by half, solution to the problem at hand.
It makes those who feel that their faith is under attack all the more determined to defend it zealously. In Islam they call that kind of extreme defense Jihad and it has been carried in one form or another for centuries now.
What usually happens is that the table adroitly gets turned around and the "enlightened" "progressive" secularist alleging human rights violations that need to be abolished ends up accused of intolerance, of trying to impose his particular brand of intolerance, i.e., his extreme secularism and enlightenment, on believers. It all turns into a vicious circle. This is particularly true in those modern societies where religion has been abandoned as just another myth or lie, long superseded by modernity progressive positivistic science. The best example of that is the EU. Not to be modern is to be medieval, obscurantist, retrograde, undesirables who cannot be accommodated in a modern progressive society based on the tenets of the Enlightenment, a la Voltaire.
This strategy usually misfires and ends up producing more animosity and intolerance with accusations of zealotry and extremism on both sides of the fence. There is however a much better approach and it is that advocated by the influential philosopher Jurgen Habermas in his essay "A post-secular Europe" and that of the Ugandan born Canadian Muslim Irshad Manji, author of two best-selling influential books: The Trouble with Islam Today (translated into 30 languages), and How to Reconcile Faith and Freedom.
She has received an honorary degree in the history of ideas from the University of British Columbia, and a governor general medal as a top humanities graduate; initiated the TV project Moral Courage with Professor Cornell West becoming a critic of mainstream Islam, and participated in the TV series America at a Crossroads titled "Faith without Fear." Moreover, she has addressed numerous audiences at the UN and at Amnesty International.
At NYU Wagner, Irshad teaches a course titled "Moral Courage and Your Purpose." Among the professional skills that students can expect to learn: articulating how you want to serve your society, identifying your core values, turning your values into action, knowing when to step up or step back, and staying motivated to deliver on your vision.
Let's take a brief look at her thinking as regards the reforming of Islam. In the first place she points out that she is in no way advocating the abolishing of Islam but its reform, or better, its re-interpretation. The words of the Koran are not to be abolished or rewritten, but what is written gets re-interpreted as it was meant to be all along. What does that mean? That the Torah, the Bible and the Koran need to be interpreted by the mere fact that they contain symbolical language: poetry, parables and stories that need to be constantly interpreted in the light of the existential events of human history in order for them to have any meaningful application for our existential situation. In other words, she is far from advocating a throwing away of the baby (faith) with the dirty water (the corruption within a religion) as many secular humanists end up doing when they suggest that religion does not properly belong in the public agora and ought to be muzzled and relegated, with other myths, to the dustbin of history.
Manji arrived at this conclusion when she began comparing various religious beliefs after being expelled from the Moslem religious school she was attending as a teenager eight hours a week, for simply asking too many questions. She found her faith anew by leaving her faith for a while and freely researching other faiths. For example she discovered that the image many misguided Muslims, Jews and Christians have of God was that of a stern law-giver bent on enforcing the law with a vengeance. That is not her interpretation of who this being really is as per holy scriptures. Far from being malicious and brutish, in the image of litigious man, he/she seems to her to be benevolent and merciful. Manji writes that since this God created all there is, or had a plan for all creatures when he created, not excluding Lesbians and Gays, it remains to be explained how he can then act against the logic of his own creation.
Of course the atheist has no problem here: he rejects the existence of God to begin with, but then he logically falls into the trap of declaring that the universe created itself with a ready made evolutionary plan so precise that a millionth of second too early or too late would have obviated its existence; or that the universe is eternal which in effect means he has made the Universe God and he in it is a little god, which sounds like idolatry and narcissism. Plenty of food for thought.
To recapitulate, there is an intriguing paradox at work here: the above discourse exposes the hypocrisy of Scandinavian progressive anti-nationalistic, liberal societies so proud of their progressive liberalism but that are now slowly beginning to tolerate Islamophobia and Xenophobia. Perhaps it would be a much wiser strategy on their part to identify the intolerances and abuses of human rights found in religions such as Islam and Christianity and Judaism, that is to say, not in the religions per se but in their misinterpretations, and advocate their reform rather than their obliteration. One can wager that most reasonable Muslims would be willing to listen to the voice of a reasoned discourse that does not begin with the premise that religion is off the table to be substituted with a vapid cafeteria style spirituality disrespectful of particular religious traditions. Irshad Manji offers us a great example on how this can be accomplished.
In conclusion, as that wise man in Palestine who started a new religion in the Middle East which then came to Rome and Athens and ended up becoming perhaps the best component of Europe's cultural identity after the fall of the Roman Empire, used to quip: "let those who have ears, let them hear."
Author's note: this essay has already appeared, in a slightly modified form in Ovi magazine.
Women outnumber men in higher education but gender stereotyped subject choices persist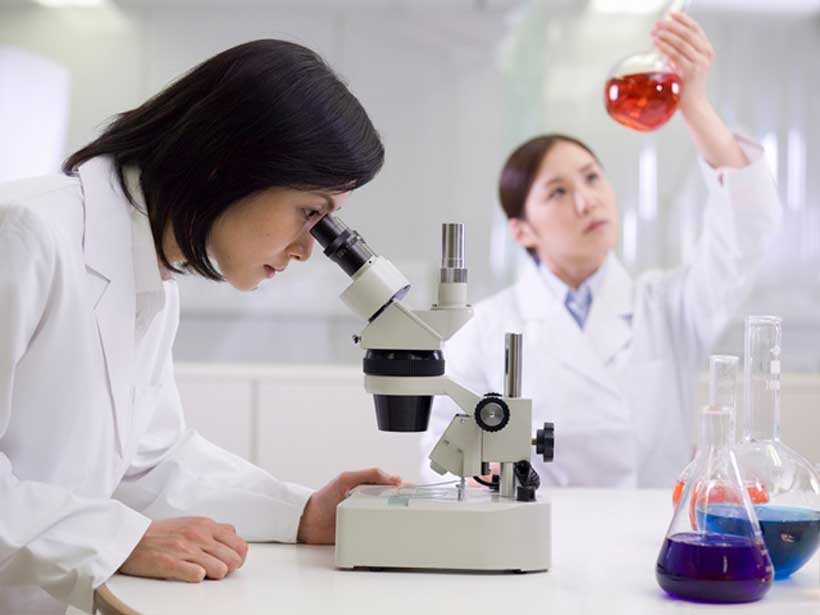 Education is essential to achieving gender equality. From the earliest schooling to the highest levels of post-graduate study, education influences the opportunities that can shape people's lives.
This is why education and training of women is one of the 12 critical areas of concern in the Beijing Platform for Action, while target 4.5 of the Sustainable Development Goals (SDGs) calls for the elimination of gender disparities in education by 2030.
In the UNECE region girls tend to outperform boys in terms of learning outcomes in schools, and women outnumber men in tertiary education (university level and beyond) in almost all countries of the region.
Women remain in the minority, however, as students of stereotypically "masculine" subjects such as ICT and engineering, although in recent years they have begun slowly gaining ground.
Tertiary level graduates
In 39 out of the 47 UNECE countries with data, more than 55 per cent of tertiary graduates are women. Iceland has the highest share, with 66 per cent women. Seven countries are close to gender parity, with the share of women ranging from 48 to 55 per cent, and only in Uzbekistan are women in a clear minority, with 38 per cent of tertiary graduates.
After decades of increase in women's participation in higher education, women substantially outnumbered men among tertiary level graduates in most countries by 2012. Since then, women's share has declined in 32 out of the 47 countries with data. Whilst in Azerbaijan and Turkey fewer than half of tertiary graduates were women in 2012, more women have entered tertiary education in these countries since and the 2017 data already show gender parity there.
Subject choices of women and men
The subjects studied at tertiary level by women and men can reflect stereotypes of "masculine" and "feminine" subject areas. Some subjects may be preferred by potential employers and may affect occupational segregation once graduates enter the labour market. Information and Communication Technologies (ICT) and Engineering, Manufacturing and Construction (EMC) are two broad groups of subjects where male students have historically predominated.
Women remain a minority among ICT students in the UNECE region, with percentages ranging from 11 in Belgium to 33 in Greece. The four countries with the largest share of women among ICT students are all in the Balkan region. Among students of EMC, the share of women is somewhat higher, but still falls far short of parity, ranging from 14 per cent in Georgia to 44 per cent in North Macedonia.
In both of these subject groups, the recent trend shows small gains for women in some countries but reductions in others. Overall, progress towards gender equality in these two typically male-dominated subject areas is uneven and slow.
UNECE Beijing+25 Regional Review Meeting
Progress in achieving gender equality in education will be one of the areas in focus at the upcoming Beijing+25 Regional Review Meeting for the UNECE region, with a particular emphasis on how women and girls can enter currently male-dominated fields.
The Beijing Declaration and Platform for Action of 1995 (Beijing Platform for Action) is the most ambitious road map for the empowerment of women and girls everywhere. In 2020, it will be 25 years since the Beijing Platform for Action outlined how to overcome the systemic barriers that hold women back from equal participation in all areas of life.
The Beijing+25 Regional Review Meeting (29-30 October 2019) will take stock of where the UNECE region stands on keeping the promises of the Beijing Platform for Action. Bringing together government representatives and key stakeholders from the UNECE region, the meeting will tackle a number of obstacles that keep girls and women from realizing their full potential. UNECE is joining forces with the UN Women Regional Office for Europe and Central Asia to deliver a two-day multi-stakeholder meeting to exchange concrete policies to accelerate the realization of gender equality. The outcomes of the meeting will feed into the global review of the Beijing Platform for Action taking place at the sixty-fourth session of the Commission on the Status of Women in New York from 9 to 20 March 2020.
Call for Action from Leaders and Business on Violence against Women
Spiralling levels of violence against women in Africa require immediate action from governments and businesses, including tangible measures to create safe spaces, experts from across the continent told the World Economic Forum on Africa today.
Protesters in South Africa have taken to the streets and social media to demand action, following the rape and murder of a Cape Town university student who was attacked in a post office. Uyinene Mrwetyana was just the latest of many victims of brutal assaults in a region where approximately 45% of women and girls over 14 years have experienced physical or sexual violence.
"I'm dumbfounded by the idea that we can continue with business as usual," said Namhla Mniki-Mangaliso, Director of African Monitor, who urged technology companies to take a lead in delivering solutions. "It would take a click of a finger for a tech company to say we are going to deploy a software that can assist us with an emergency response system for poor women in South Africa free of charge."
The potential for technology to help in the fightback highlights the need for businesses to think creatively, given that cyberbullying can also contribute to discrimination in the first place. Mniki-Mangaliso said the wider business community should also step up to the plate by backing a gender-based fund to address the deep-rooted problems behind the rising tide of physical and sexual assaults.
Hafsat Abiola-Costello, President and Chief Executive Officer of the Women in Africa Initiative, said Africa could learn from China, where decisive action was taken to ban harmful practices like foot binding and polygamy. African governments, by contrast, too often fail to enforce bans on polygamy or genital mutilation, thereby reinforcing a culture of discrimination against women that becomes embedded from childhood.
The failure to protect women is not just a moral issue; it also comes with a high economic cost. "Who drives African communities? It's our women. Our women can drive Africa's development, if given the chance, if protected, if their rights are respected," Abiola-Costello said. "Africa missed the first industrial revolution, we missed the second, we missed the third. If we don't address this issue, we will miss the fourth."
Obiageli Katryn Ezekwesili, who spearheaded the #BringBackOurGirls campaign in Nigeria and is a fellow of the Robert Bosch Academy, said calls for women to help drive African development will simply ring hollow if violence is not addressed. "The world lacks the moral pedestal to stand on to ask girls to aspire if we cannot have the back of those who are vulnerable," she said.
With 16,000 deaths due violence against in women every year in South Africa alone, Akudo Anyanwu, Associate Dean at Johns Hopkins University, said: "Our presidents and the leaders in government need to come out and take a position. We need to have our leaders come out and call crimes a crime."
Young women learn government fundamentals in nationwide leadership program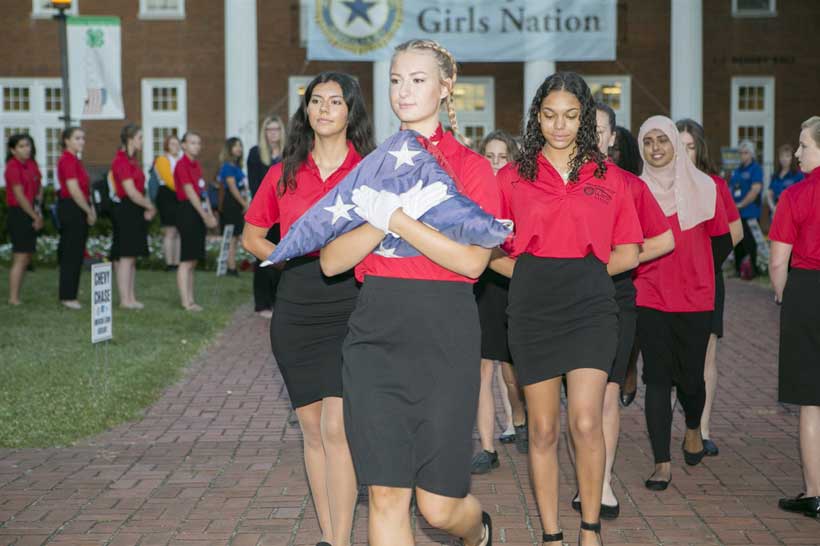 This July, two teenage girls from every state in the country met in Washington, D.C., for the 73rd annual American Legion Auxiliary Girls Nation. This one-week government-in-action leadership development program is designed to educate future leaders on U.S. government fundamentals and the rights, privileges and responsibilities of citizens.
The girls selected to go to ALA Girls Nation are chosen from week-long ALA Girls State programs in each state. The young women become "senators" for a week and participate in mock political campaigns and debates, visit historical sites, and meet their real-life counterparts on Capitol Hill. For a number of the participants, the program's impact extends beyond the weeklong event: Many go on to serve in the military and credit ALA Girls Nation as their source of inspiration.
New ALA member and U.S. Army Capt. Virginia Clark, stationed at Fort Benning in Georgia, is an ALA Girls Nation alumna. Though she says she has always been patriotic, her experiences at ALA Girls State and ALA Girls Nation helped her realize she wanted to serve her country. "Being around really motivated people made me realize I wanted to be around people who were spending their time doing things rather than looking for the next great party," Clark said.
Reflecting on where she has been and where she is going, Clark says she owes it all to the American Legion Auxiliary. "I wouldn't have gotten into West Point without ALA Girls State and ALA Girls Nation … I 100 percent owe, I think, my current life and my career — I met my husband at West Point — to the fact that I went to ALA Girls State and ALA Girls Nation."
For some girls, the Washington, D.C., leadership program is their first opportunity to connect with peers with common interests. For others, it is the first time they encounter students whose perspective differs from their own. For all, it is a moment in time where similarities and differences come together to symbolize strength, democracy and freedom.
Former ALA Girls State and ALA Girls Nation attendee Allyson Snelling, who is attending the U.S. Military Academy at West Point, chose a career in the military because she "loves everything it represents." She adds, "The values and lessons I've learned during my short time at West Point have made me a better person and leader." Snelling said the program taught her the power of one voice and the importance of communicating with others. "Being able to communicate with someone you may completely disagree with is becoming a lost art," she said. "ALA Girls Nation taught me that it doesn't matter if you agree; it matters that you understand."
ALA Girls Nation alumnae have gone on to hold leadership roles in industries spanning government, media, education and law, and many have become high-ranking members of the military.
Notable alumnae include Jane Pauley, national media personality; Susan Bysiewicz, lieutenant governor of Connecticut; retired Lt. Gen. Michelle D. Johnson, former superintendent of the U.S. Air Force Academy and former Air Force aide to the President; Ann Richards, former governor of Texas; and Susan Porter-Rose, former chief of staff to First Lady Barbara Bush, among many others. ALA Girls Nation is proud to be a foundation of support to the future strong women of this great nation.
The American Legion Auxiliary (ALA) is a nonpartisan organization committed to advocating for veterans' issues, mentoring America's youth and promoting patriotism. They advance the mission of The American Legion, incorporated by Congress in 1919 as a patriotic veterans organization founded on four pillars: Veterans Affairs & Rehabilitation, National Security, Americanism and Children & Youth.