Indian Military Modernization: Growing Dust
"If we don't make a dollar but we change the world in a meaningful way… the returns are going to be the exhaust of that." Ashton Kutcher
Among all the imminent actions the recent meeting of Parrikar and US secretary of defense with their rapid and uneven defense procurement is something new in the box. This visit is seen very closely in certain quarters by neighboring countries because of their continuous military modernization and nuclear arms procurement stimulates massive and growing impacts-creating unrest in Asia in the past and may do so in future as well.
This new found access to boost defense ties seems to be a welcoming effort to this unending race of achieving massive military assets. The problem, however, is the Indian long haunted increase in defence spending which threatens to upset and upsurge the delicate military balance.
With expanded India/US defense relationship with co-production of US defense system in India, if ever there was a question about Indian continuous hike to 6.3 percent in defense spending every year, suffice for any volatile situation. Accelerating at a fast-track, where these deepening ties between New Delhi and Washington also allowed both partners to commerce a civil nuclear deal where former is a non-signatory to NPT, which is not a stable geometry for region.
These classifications validate that being the largest buyer for conventional weaponry, it has plans to develop and modernize its defense forces. Even as regional tensions continue to mount, these new developments and allocations would enable their forces to move forward in the direction of their fresh acquisition that still thought of themselves as the lost decade of defense modernization surrendering crores.
Following a cross-border attack, it is prudent to turn back the pages where a raid was taken out by Indian forces in Myanmar on July 2015, an actual operation by paramilitary and army Special Forces. It hardly can be over-ruled where same tactics can be used against neighbouring countries like Pakistan following the induction of proactive strategies like Cold Start Doctrine (CSD) which is a tactics under wrap.
CSD to my knowledge is more about inflicting as much damage as one can to enemies forces and infrastructure within no time. It is more or less like a hit and run tactics giving no time to enemy to react. So keeping in mind the manifold forces of Indian army as compared to Pakistan, it poses serious security threats to Pakistan besides increasing the arms race which enables Pakistan to reserve the rights to defend itself in every possible manner.
Cautiously, to understand Indian military mindset which is reflected in retired Indian military officer named Rathor's interview through igniting rhetoric which stated, "We will strike when we want to."
Compounded with varying difficulties, Pakistan being a developing country has restricted possessions to counter the growing challenges of geo-strategic, political, social, economic, environmental and technological changes.
Consequently, keeping in mind all the developments that India has in its pockets, the induction of Tactical Nuclear Weapons (TNW's) by Pakistan– a concern exaggerated by different analysts and strategic theorists which in real terms is acknowledged by Pakistan to chalk out triggering conflicts and proactive strategies inducted by Indian forces. So the core challenges run much deeper than what the prevailing strategic environment has forced Pakistan to balance the strategic equilibrium in the region.
Referring to the development of TNW's, our outstanding disputes and conflicts, our history of trust deficit, Indian continued advancements of conventional and nuclear capabilities has forced Pakistan to act in a way which can brush out all their options to inflict any damage to us.
In relation to this, the remarkable increase in Indian defense budget is another danger to this mix which is set to hike on $40billion comparing neighboring country Pakistan's basic and military budget devoted at a tail ratio of roughly $7billion. Therefore, such advancement by Indian counterparts i.e. rudimentary defense spending is the basic foundation of apprehensions in the region.
Talking of criticalities, their nuclear 'shopping spree' is also a major catalyst for the region to be chained in arms race among neighbours. This new dawn of Modi's modification has set the stage for which the international community must be concerned. As this all modification is on its way to fetter the region in fright of war and nuclear apocalypse alike First World War
In a similar vein, their determination to lease second nuclear submarine from Russia is also a cause of concern for vertical proliferation infers that global challenges and threats would now require new approaches. Russia being state party to START is also violating both the treaty obligations of START and NPT. These fleshy developments continuously in nuclear and strategic weapon domain are not merely an issue for the whole Asian region but will keep lurking the common security of all nations.
It seems that the adage international treaties and norms are constantly adjusting to the dynamic diplomatic relations that states have to manipulate where relations are now transformed to mutual suspicions of militarism machinery.
To further pursue the hegemonic designs to be a leader in the region the Modi government relaxes norms for foreign direct investment in its civilian and defense industry which will create India's military industrial complex. This all implies moving towards the dangerous weaponization of Indian society where companies like TATA is engaged in collaborating Indian aerospace and defense manufacturing and potential integrated systems development opportunities, including unmanned aerial vehicles creating a neo-military complex in India. This can fuel long term cross border conflicts to sell the weapons they will make where spread of nuclear weapons to more states will be an obnoxious risk to global security.
Lastly, spending crores would further escalate existing disputes making South Asia a more trouble spot with high cost and increased threat of strategic volatility. The broader lesson would be to set a precedent where peace can flourish because the greater spending in military modernization could escalate into a nuclear war very quickly.
Sleepwalking Toward Nuclear War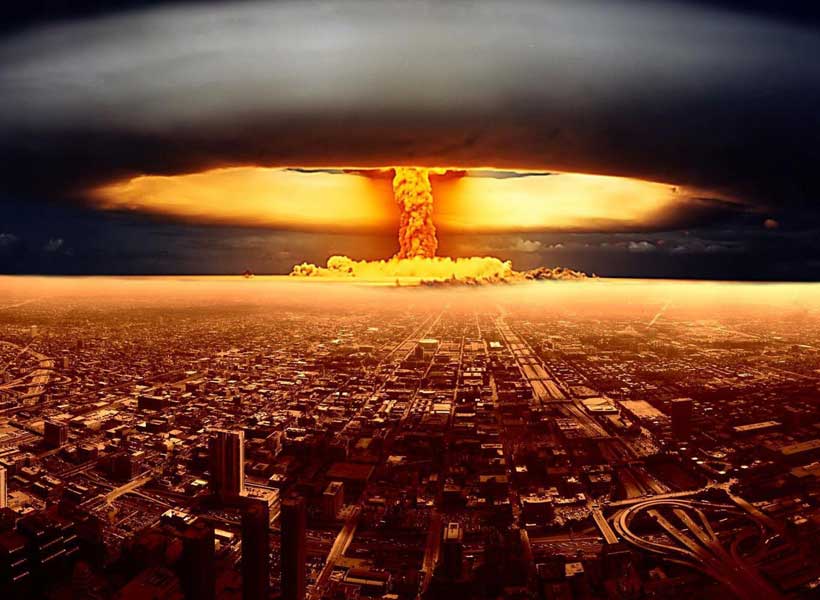 Authors: Des Browne, Wolfgang Ischinger, Igor S. Ivanov, Sam Nunn
This weekend marks the 100th anniversary of the end of the First World War, one of the world's most horrific conflicts.  One of the best accounts of how this tragedy began, by the historian Christopher Clark, details how a group of well-meaning European leaders—"The Sleepwalkers"—led their nations into a war with 40 million military and civilian casualties. Today, we face similar risks of mutual misunderstandings and unintended signals, compounded by the potential for the use of nuclear weapons—where millions could be killed in minutes rather than over four years of protracted trench warfare. Do we have the tools to prevent an incident turning into unimaginable catastrophe?
For those gripped with complacency, consider this scenario. It is 2019. Russia is conducting a large military exercise in its territory bordering NATO. A NATO observer aircraft accidentally approaches Russian airspace, and is shot down by a Russian surface to air missile. Alarmed, NATO begins to mobilize reinforcements. There is concern on both sides over recent nuclear deployments in the wake of the collapse of the Intermediate-Range Nuclear Forces (INF) Treaty. Suddenly, both NATO and Russia issue ultimatums—each noting their respective nuclear capabilities and willingness to use them if vital interests are threatened. Europe is edging towards a conventional conflict, and the risk of escalation to nuclear use is very real.
Each of the strands in this hypothetical scenario is visible in the wind today, exacerbated by new threats—such as cyber risks to early warning and command and control systems, which can emerge at any point in a crisis and trigger misunderstandings and unintended signals that could accelerate nations toward war. This is all happening against a backdrop of unease and uncertainty in much of the Euro-Atlantic region resulting from the Ukraine crisis, Syria, migration, Brexit, new technologies, and new and untested leaders now emerging in many Euro-Atlantic states.
What can be done to stop this drift toward madness?
When leaders from across Europe meet in Paris on 11 November to mark the 100th anniversary of the conclusion of World War I, those with nuclear weapons—President Donald Trump, President Vladimir Putin, President Emmanuel Macron and Prime Minister Theresa May—should reinforce the principle that a nuclear war cannot be won and must never be fought.  This principle, articulated at the height of the Cold War by the presidents of the United States and Russia, was embraced then by all European countries. It would communicate that leaders today recognize their responsibility to work together to prevent nuclear catastrophe and provide a foundation for other practical steps to reduce the risk of nuclear use—including resolving the current problems with INF and extending the New START Treaty through 2026.
There remains the challenge of rebuilding trust between the United States, NATO and Russia so that it will again be possible to address major security challenges in the Euro-Atlantic region. This was done throughout the Cold War and must again be done today. This process could begin with a direction by leaders to their respective governments to renew a mutually beneficial dialogue on crisis management, especially in absence of trust.
Crisis management dialogue was an essential tool throughout the Cold War—used for managing the "day-to-day" of potentially dangerous military activities, not for sending political signals. Leaders should not deprive themselves of this essential tool today. Used properly, crisis management can be instrumental in avoiding a crisis ever reaching the point where military forces clash inadvertently or where the use of nuclear weapons needs to be signaled, let alone considered, by leaders with perhaps only minutes to make such a fateful choice.
In reviewing the run up to past wars, there is one common denominator: those involved in the decision making have looked back and wondered how it could have happened, and happened so quickly? In Paris next week, 100 years after the guns across Europe fell silent, leaders can begin taking important steps to ensure a new and devastating war will not happen today.
Des Browne, a former British defense secretary, is Vice Chairman of the Nuclear Threat Initiative and Chair of the European Leadership Network.
Wolfgang Ischinger, former German Ambassador to the United States, is Chairman of the Munich Security Conference and Professor for Security Policy and Diplomatic Practice at the Hertie School of Governance in Berlin.
Igor S. Ivanov, former Russian Foreign Minister and Secretary of the Security Council of the Russian Federation from 2004 to 2007, is President of the Russian International Affairs Council.
Sam Nunn, a former Democratic US senator, is Co-Chairman of the Nuclear Threat Initiative.
First published in our partner RIAC
S-400: A Game Changer in South Asia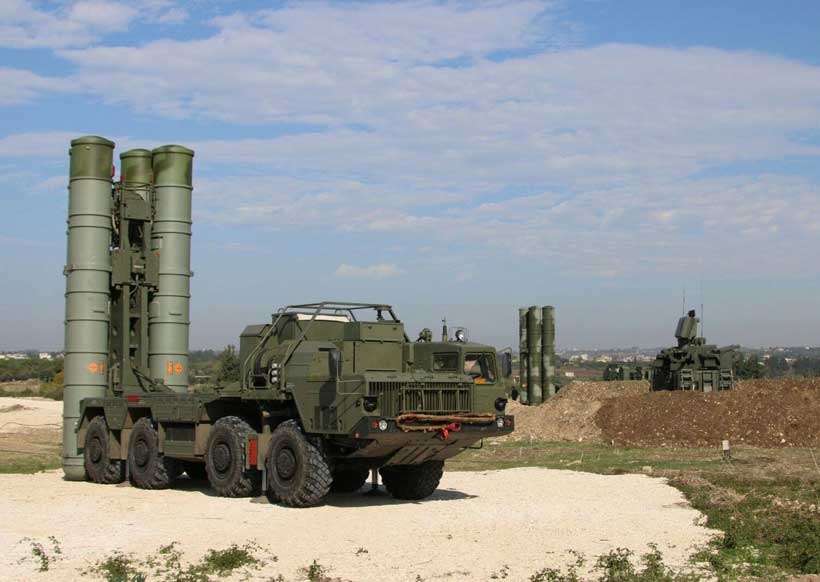 India and Russia have signed a US$5b deal, under which India will receive S-400 air defence missile system – that is poised to be game changer in South Asian strategic environment.
The Russians have definitely made a breakthrough with sales of weapons to some NATO countries with uncertain futures in the bloc (e.g. Greece, Turkey) and strong US client countries such as Saudi Arabia and other Gulf states such as the UAE. India's procurement of five S-400 regiments that is expected to be completed in 2020 is something that is giving a new dynamics to the issue.
The main usage of S-400 long-range missile is against stand-off systems including flying command posts and aircraft such as the E-3 Sentry Airborne Warning and Control System (AWACS). These aircraft, which are used by the US and its NATO allies with a squadron stationed in Japan at Kadena Air Force Base and in the UAE at al-Dhafra, are vulnerable to S-400 interceptors and lose their stand-off range protection.
The S-400 missile system is a state-of-the-art air defence and anti ballistic missile platform with a maximum range of 400km against aircraft while reportedly can engage ballistic missiles at 40km range. It is considered one of the best defense systems in existence. Russian-made Almaz-Antei S-400 Triumf air defense systems (NATO reporting name: SA-21 Growler) are expected to be fully integrated with the Indian Air Force's IACCS (integrated air command and control system). The IACCS is an automated command and control system for air defense, which integrates the service's air and ground-based air sensors and weapons systems.
The S-400 Triumph missile defense system is a significant strategic upgrade in India's military hardware and in its pursuit to become a global power. The development is particularly worrisome for Pakistan.  The system if deployed along Pakistan border will provide India an edge of 600kms radar coverage with option of shooting down incoming aircraft from 400kms from its territory.
However, India's purchase of S-400s and its option to acquire upgraded US Patriot systems remains on the table as well. This extensive arms shopping spree by Indian side includes C-17 Globemaster and C-130J transport aircraft, P-8(I) maritime reconnaissance aircraft, M777 lightweight howitzers, Harpoon missiles, and Apache and Chinook helicopters. The US will likely accept India's request for Sea Guardian drones, and American manufacturers including Lockheed Martin and Boeing are contenders for mega arms deals with India. This (S-400) will further destabilize strategic stability in South Asia, besides leading to a renewed arms race which is disadvantageous for the peace of entire region.
The Countering America's Adversaries through Sanctions Act (CAATSA) law tries to push back against Russia's malign activity around the world.
"We urge all of our allies and partners to forgo transactions with Russia that would trigger sanctions under CAATSA," a State Department Spokesperson said
When asked about India's plan to purchase multi-billion S-400 missile defense system from Russia.
"The Administration has indicated that a focus area for the implementation of CAATSA Section 231 is new or qualitative upgrades in capability – including the S-400 air and missile defense system," the spokesperson said.
Islamabad has from decades faced various stringent sanctions and severe political pressure from Washington. This all is evident from opposition over transfer of any sophisticated arms including the F-16s falcons.
The silence over such issue by Washington seems to be a part of its 'Pivot to Asia' policy, considering China as the next global adversary. Washington is in a difficult position where it is seeking to bolster ties with India to counter China's growing assertiveness while maintaining pressure on Russia. Whereas, China may not fret over the S-400 system deal provided to India but it will have implications for Pakistan's Air Force and missile program both.
Finally, it cannot be underestimated that most of Indian defense system is Pakistan centric. As far conventional weapons are concerned, the balance has always been in India's favor, because of India's better and larger economy. Therefore, Pakistan is concerned about this deal keeping in mind that it disrupts the equation of conventional weapons that exist in this region.
The induction of S-400 might lower the nuclear threshold to a new level that is already precarious with the waivers and blessings by big powers to India. These moves have the capacity to lead the region in a spiraling arms race which can bring about an increase in instability through the escalation of an already dangerous arms buildup in the region.
Revisiting the No First Use Policy of India Vis-À-Vis India's Nuclear Doctrine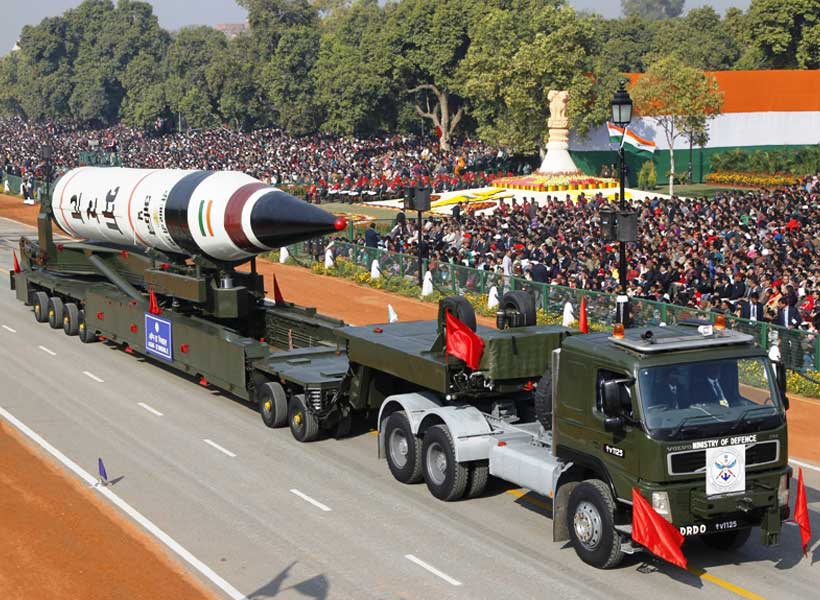 The object of deterrence is to persuade an adversary that the costs to him of seeking a military solution to his political problems will far outweigh the benefits. The object of reassurance is to persuade one's own people, and those of one's allies, that the benefits of military action, or preparation for it, will outweigh the costs.The object of reassurance is to persuade one's own people, and those of one's allies, that the benefits of military action, or preparation for it, will outweigh the costs.- Michael Howard
India's new political discourse on revisiting its nuclear doctrine has once again attracted transnational debate on the efficacy of no first use policies, despite the fact that India has repeatedly recapitulated that it is amenable to negotiate no first use treaties bilaterally or multilaterally with all nuclear weapons states including China and Pakistan. Foreign policy and strategic affairs are developed on the basis of a country's long-term national interests and soft-power and take into consideration both internal diaspora and external factors. The foreign policy of a country does not change when governments change, but the foreign diplomacy and strategic priorities undergo changes. The Narendra Modi government has so far not suggested any change in the nuclear doctrine or the No First Use (NFU) policy on which India's declaratory nuclear doctrine is based, but the BJP's election manifesto promised to "study in detail India's nuclear doctrine, and revise and update it, to make it relevant to challenges of current times." The debate was further fuelled when former Defence Minister Manohar Parrikar questioned NFU policy reckoning national responsibility and political independence. Former Commander-in-Chief of Indian Strategic Forces, Lt-Gen BS Nagal, questioned NFU doctrine by posting whether it was viable for India's political leadership to accept huge casualties by subduing its hand, realising that Pakistan was about to use nuclear weapons.
The Donald Trump administration's 2018 Nuclear Posture Review embellishes the range of significant non-nuclear strategic scenarios in which the United States may scrutinize nuclear weapons use. After the recent visit of Pakistan Prime Minister Imran Khan to China last week, China appreciated steps taken by Pakistan in strengthening the global non-proliferation regime.  The joint statement issued;"In this context, China supports Pakistan's engagement with the Nuclear Suppliers Group and welcomes its adherence of Nuclear Suppliers (NSG) Group Guidelines," while Beijing's political clout continues to barricade India's bid in becoming a member of the NSG, the 48-member crème da la crème league, which administers global nuclear trade. The Indian nuclear doctrine was articulated in 1999 and looking at the current geopolitical developments across the world especially the growing friendship of our neighbours, it is high time to review it.  The main features of India's nuclear doctrine as summarized by Cabinet Committee on Security (CCS) meeting in January 2003, held over four and a half years after the May 1998 tests are:(i)Establishing and maintaining a credible minimum deterrent; (ii) A "No First Use" policy, i.e. nuclear weapons to be used only "in retaliation against a nuclear attack on Indian territory or on Indian forces anywhere"; (iii)Nuclear retaliation to a first strike will be "massive" and designed to inflict "unacceptable damage" and such a nuclear retaliatory attack can be authorized only by civilian political leadership through the Nuclear Command Authority; (iv) No use of nuclear weapons against non-nuclear weapon states; (v) India to retain recourse of retaliating with nuclear weapons in the event of a major attack against it with biological or chemical weapons; (vi) Continuance of strict restrictions on the export of nuclear and missile-related materials and technologies, participation in FMCT negotiations, continued moratorium on testing; and (vii) Take measures for establishing a nuclear weapon free world, through global, verifiable and non-discriminatory disarmament.
It is a common misconception that the locution 'No first use' is China's contribution to international peace and stability. In actuality, the no first use formulation dates back to circa 1925 when the international community concluded a no first use treaty on chemical weapons and toxins in the Geneva Protocol. India's not so detailed nuclear doctrine based on the concept of NFU is ambiguously strengthen by a policy of assured massive retaliation. The intent of the active retaliatory provision is to convince warmongers that, any threat or use of nuclear weapons against India shall involve measures to counter the threat, and any nuclear attack on India and its forces anywhere shall result in massive retaliation, inflicting damage to the adversary. It means that if anyone dared use nuclear weapons against India, the nation would confidently retaliate and inflict unacceptable damage on the initiator. This is India's doctrine of credible deterrence. Picking up from this interpretation, it is clear that the Indian doctrine is hinged on the concept of deterrence by denial and not by punishment. This diplomacy is intended to put the adversary on notice that the use of nuclear weapons will imply massive retaliation. The nature of retaliation and the parameter to judge massiveness is still vague, while a policy of assured retaliation, combined with a small nuclear force built on the principle of sufficiency, could overall be characterised as minimum deterrence. China backed Pakistani government officials and diplomats have been explicitly critical of India's no first use doctrine on the grounds that it is only a declaratory policy and can be easily amended when the necessity arises.
The nuclear doctrine of a country decides a country's nuclear force structure, command and control system, alert status and its deployment posture. The prerequisites of the First use doctrine are hair-trigger alerts, launch-on-warning and launch-through-attack strategies and elaborate surveillance, early warning and intelligence systems with nuclear warheads loaded on launchers and ready to fire. Jaswant Singh in 'Against Nuclear Apartheid,'Foreign Affairs, vol. 77, no. 5, September/October 1998has written, "No other country has debated so meticulously and, at times, sinuously over the chasm between its sovereign security needs and global disarmament instincts, between a moralistic approach and a realistic one, and between a covert nuclear policy and an overtone." What our neighbours often deliberately ignore, is that India has at multiple times offered to negotiate a mutual no first use treaty with Pakistan that would be binding and verifiable. India has a very clean record of adherence to international norms. Unfortunately, a paradoxical approach has been followed by India's principal opponents, who have violated numerous treaties with impunity, including the NPT and the MTCR. Nuclear weapons are now becoming a mere political weapon rather than weapons of 'warfighting'. India's nuclear doctrine is foundationally drafted based on the concept of minimum deterrence, which means that the policy and strategy would be driven by the minimalist principle.  The concept of minimum deterrence is not completely a doctrine but is a nuclear force structure. The Indian doctrine can be interpreted to be framed on 'assured retaliation' and this is to be implemented by a minimalist nuclear force as an assured retaliation force structure is postulated on the dogma that no one will start a nuclear tussle if the adversaries are assertive of a nuclear retaliation.
In the book 'Dragon on our Doorstep: Managing China through Military power', authors Pravin Sawhney and Ghazala Wahab argued, "Let alone China, India cannot even win a war against Pakistan. And this has nothing to do with the possession of nuclear weapons- the roles of nuclear and conventional weapons are separate in the war planning of India, China and Pakistan. The reason India would be at a disadvantage in a war with Pakistan is that while Pakistan has built military power, India focussed on building the military force. In this difference lies the capability to win wars." Nonetheless, there lies an undeniable connection between nation's conventional military capabilities and its dominance over other nations. A nuclear-armed nation with low military capability as compared to its adversaries may find it absolutely necessary to espouse an in extremis first use strategy to impede a conventional military strategy that may threaten to undermine its territorial integrity. This in nutshell is the nuclear dilemma of Pakistan. This may be one of the reasons why Pakistan does not accept India's offer of a bilateral no first use treaty as a nuclear confidence building and risk reduction measure. On the other hand, India's existing defence machinery due to low investment is becoming outdated, as China is rapidly reindustrialising its armed forces, raising deployment units and improving the logistics infrastructure in Tibet with a subtle intransigence in resolving the outstanding territorial and boundary dispute with India.
Former National Security Advisor Shiv Shankar Menon in his book Choices argued, "There is a potential grey area as to when India would use nuclear weapons first against NWS. Circumstances are conceivable in which India might find it useful to strike first, for instance, against an NWS that had declared it would certainly use its weapons, and if India were certain that adversary's launch was imminent." Many analysts have argued that India has gained nothing and has unnecessarily elected to bear the horrendous costs of a nuclear strike by choosing to adopt a purely retaliatory nuclear policy. India's tempestuous relationship with its neighbours, changing paradigm of Indian Ocean diplomacy and its desire to be a global power is shaping the framework of its nuclear weapons programme and policy. In order to engage global nuclear powers in a productive positive dialogue, there has to be a special diplomatic effort from the Ministry of External Affairs to strengthen its position as a responsible partner in the nuclear stability dialogue.The domain of Nuclear security has always been the prerogative of the Prime Minister Office, and it is the right time for India to revisit the existing framework and articulate and advocate for an international consensus to draft a new policy taking into account the geopolitical changes in South Asia.