China's new strategy in South China Sea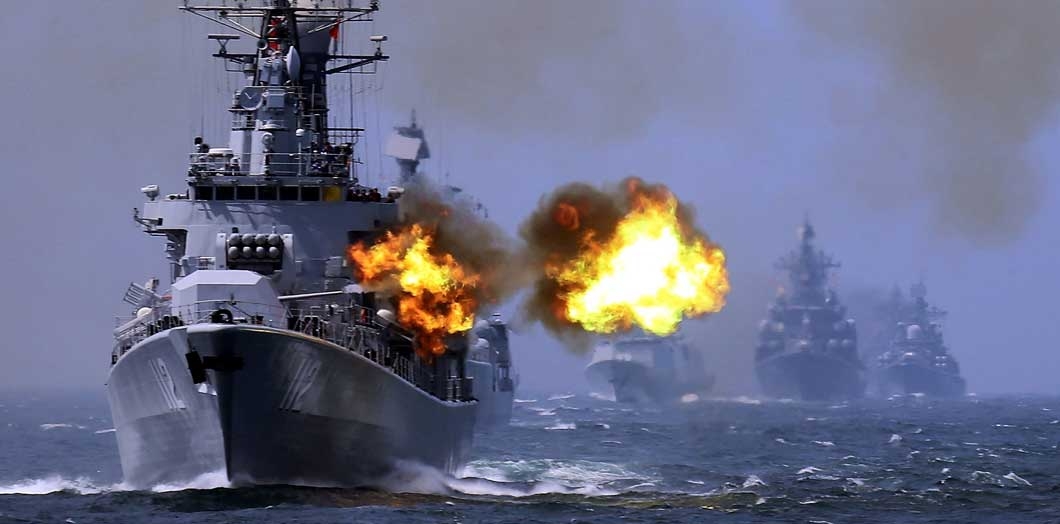 Clearly, Obama's pivot to Asia to contain China (as well as Russia) came as a timely warning to Beijing to take precautionary measures against US mischief in the South China Sea.
China is determined to block American that might obstruct the Chinese navigation of trade vessels to Middle East and Central Asia in the South China Sea (SCS). The South China Sea is an open ocean and doesn't appear at first glance to be a geographical bottleneck. Washington said China can, however, effectively create a strait by locating sufficient military assets on two sets of land it controls. Beijing is busy making a new strategic strait in the region.
The South China Sea, several hundred nautical miles wide, doesn't appear at first glance to be a geographical bottleneck. China can, however, effectively create a strait by locating sufficient military assets on two sets of land it controls: the Paracel Islands in the north and the Spratly Islands in the south. Rapp-Hooper said she did not think the situation in the South China Sea was close to reaching the level of a strategic strait. China's current outposts could "greatly complicate US operational planning in the region, but it is hard to see" the country locking down the region with the island bases it now operates.
There are few circumstances where China would want to restrict commercial movement in the area, but the real problem is that Beijing could readily exercise that capacity in times of crisis or conflict. And that's where the United States comes into play: The U.S. Department of Commerce estimates the USA exported $79 billion in goods to the countries around the South China Sea in 2013, and imported $127 billion from them during that period. The region accounted in 2011 for $5.3 trillion in bilateral annual trade — $1.2 trillion of which is tied to the USA. Free access for commercial trade is a vital interest of the United States, so when one country has the capability to shut other countries off" when it chooses. Such a Chinese "strategic strait" to the Strait of Hormuz — a critical choke point for global trade. A full 90 percent of East Asian energy imports travel through the South China Sea.
China has already constructed artificial islands for missile launch on the South China Sea. Construction of Fiery Cross Reef located in the western part of the Spratly Islands group in the South China Sea has been completed. That decision is important for a number of reasons, but among them is that China's island-grabbing campaign may be designed to give Beijing a strategic headlock on one of the planet's most critical waterways.
China may have basically calculated that it will take some near-term, rather assertive actions in the South China Sea, and pay short-term reputation costs in exchange for what it believes to be longer-term strategic gains.
Beijing's real rationale for risking its global reputation over a handful of tiny islands remains open for debate. Most agree that China truly believes it has a historic right to the region — but the South China Sea's relatively paltry energy resources- especially with oil now so cheap – hardly justify such an assertive grab on a realpolitik basis.
Rather, many point to the geostrategic value of the South China Sea. "The logical conclusion drawn from China's adding islands in the southern part of the South China Sea with military-sized runways, substantial port facilities, radar platforms and space to accommodate military forces is that China's objective is to dominate the waters of the South China Sea at will. Building the islands is therefore a significant strategic event and they leave the potential for the South China Sea to become a Chinese strait, rather than an open component of the global maritime commons.
Taiwan, Vietnam, Malaysia and Brunei also lay claim to the waters in the South China Sea. Within the next three months, a tribunal at the Permanent Court of Arbitration in The Hague is expected to rule on China's expansive and somewhat ambiguous territorial claims in the South China Sea, which the Philippines contends are invalid under international law.
A major test for the future of Asia is on the horizon, and it's centered on the South China Sea. Nations in the region are feeling the pressure from both China and the USA over South China Sea. The USA has been pressuring Asean members over the disputes.
China is intensifying its global diplomatic campaign to win ¬support ahead of an imminent international court ruling over the South China Sea disputes. Beyond the geographical claims themselves, the tribunal is also looking into whether Beijing is overstating the types of territory it controls — the air and maritime rights associated with rocks are different than those of reefs or islands — and the legality of other Chinese actions near the Philippines.
The State Oceanic Administration said Beijing was working on a five-year cooperation plan in the disputed waters between China and the Association of Southeast Asian Nations. The defense ministry said China would send missile ¬destroyer Lanzhou and Special Forces for a maritime security and anti-terror exercise next month with the bloc in waters between Singapore and Brunei.
The development came as ¬Beijing vowed greater cooperation and to proceed with multinational military exercises with Southeast Asian nations, but also called on countries to back its stance on the territorial disputes – putting many in a dilemma as they have to side with either China or the USA.
Beijing is also keen to ¬approach nations in Europe and Africa to consolidate its diplomatic base ahead of the ruling by the UN Permanent Court of Arbitration at The Hague, in a case launched by the Philippines. China says the court has no jurisdiction in the matter. Beijing says it has agreed with Cambodia, Laos and Brunei that the disputes would not affect Sino-Asean ties. But Cambodian government said his country had reached no new agreement with China over the dispute. Mainland media reported that more than 10 nations were on China's side, and that a statement issued by China, Russia and India said the dispute should be resolved through negotiation.
Recently Chinese President Xi Jinping told a group of foreign ministers from Asia and the Middle East that the regional disputes should be resolved peacefully through negotiations among the countries directly involved. Beijing also said it had reached a consensus with Belarus and Pakistan – which are not claimant states – that said they respected China's stance on the issue, after separate meetings with the two nations' foreign ministers on the sidelines of the Conference on Interaction and Confidence Building Measures in Asia.
The Chinese diplomatic move has sparked concern over whether Beijing is taking the dispute to the international stage – in contrast to its stance that the matter is a bilateral issue – and may backfire. Countries in the region want to be able to cooperate with China and have good relations with Beijing; they don't want to face coercion or intimidation on matters of security or economic policy. "Claimants would much prefer a peaceful resolution of disputes," Paul Haenle, director of the ¬Carnegie-Tsinghua Centre, said. Beijing has "no choice" as the USA was also doing the same, referring to an earlier statement made by G7 foreign ministers that expressed opposition to Chinas "provocative unilateral actions" in disputed waters.
Experts say that China will likely lose some elements of the Hague case, "Philippines v. China." The world's most populous nation has already denounced the process, and opted not to participate, but the tribunal's decision will technically still be binding under international law. Experts who closely watch developments in the South China Sea sayl that they expect China to lose at least some of the elements of the case, but the real test will come in how Beijing reacts to a ruling. It's possible that China will back off from its broadest claims, but it may also demonstrate a willingness to buck the international legal system.
It is argued that a part of the Chinese buildup in the area may come from Beijing's own fears that other powers may attempt to shut down commerce in the South China Sea. But whatever the rationale for China's island-building, the tribunal's coming ruling is a real trigger for the future of the region and it may be causing China to build up its capabilities in the region faster. China realizes the pickle that they're in, so they're taking actions at sea to emphasize their physical control. It's operational coercion to change the power dynamics in their favor — in response to a peaceful dispute resolution process.
China and Russia have been coordinating their security action to counter the US pivot in Asia. Both are ramping up their advanced hypersonic glide vehicle programs to counter a US plan to deploy an anti-missile system in South Korea and its push towards a leaner but tougher military. China's latest hypersonic vehicle test seen as 'nuclear deterrent' amid US interference The hypersonic tests by China and Russia are aimed at causing a threat to the USA, which plans to set up a missile defence system in South Korea, known as the Terminal High Altitude Area Defence (THAAD), which the US says is needed to protect its regional allies from North Korea. Beijing views the deployment as a threat to its military. Beijing carried out the seventh successful test-flight of its DF-ZF glider last week. The Pentagon sources said that the glider was mounted on a ballistic missile fired from the Wuzhai launch centre in Shanxi province, it said. Three days earlier, a US report says, Russia carried out the second test of its 3M22 Zircon glider, according to the Beacon. China mounts third hypersonic 'Wu-14' missile test. Last week, Beijing tested its newest intercontinental ballistic missile, the DF-41 which has a range of at least 12,000km – on April 12.
USA, China and Russia – all veto members and top possessors of nukes have indeed kicked off a new arms race. China and Russia were also concerned about the US' shift towards the "Third Offset" strategy. The approach calls for the Pentagon to do more with less, as its traditional military advantages – such as a larger army and navy, as well as technological superiority – are steadily eroded.
The key areas where the Pentagon will focus its budget under this strategy are anti-access and area-denial, guided munitions; undersea warfare; cyber and electronic warfare; and new operating concepts. The USA hopes this will provide ways to neutralise threats from China and Russia's militaries, which are growing increasingly sophisticated but continue to rely heavily on conventional weapons.
The Third Offset strategy and glide vehicle tests by China and Russia were signs that the three countries have kicked off a new arms race", He said. China said in its annual defence white paper last year it would not engage in an arms race in outer space or with nuclear weapons. Beijing-based military expert Li Jie said China was trying to use the DF-ZF test to warn the US that the PLA had another powerful weapon capable of countering the THAAD system.
China's second hypersonic glider test fails as PLA trials nuclear weapons delivery system. "China has no other choice, especially as the US has taken a series of provocative moves to get involved in China's territorial disputes with other Asian countries in the South China Sea," Li said. He pointed to the US deployment of six powerful A-10 Thunderbolt fighter jets to conduct a drill near the Scarborough Shoal, which China occupies but Manila also claims. "The DF-ZF is so far one of the offset weapons owned by China that could break the THAAD system," Li said. The glider can travel up to 11,300km/h, said the Beacon, citing Pentagon officials familiar with details of the test.
China hails first test of hypersonic nuclear missile carrier
The Pentagon has kept a close eye on the development of the DF-ZF since it was first tested in January 2014. The programme was progressing rapidly and could be ready for deployment by 2020, according to the latest annual report submitted to congress by the Sino-US Economic and Security Review Commission. A more powerful version was also in development and could be fielded by 2025, it said. Russia's 3M22 vehicle was expected to enter into production in 2018, according to the US diplomatic and defence magazine
On 15 January, 2014 China flight-tested a hypersonic missile delivery vehicle capable of penetrating any existing defence system with nuclear warheads, the Pentagon confirmed it.
In fact, the hypersonic glide vehicle (HGV), dubbed the "Wu-14" by the United States, was detected flying at 10 times the speed of sound during a test flight over China last week. A Pentagon spokesman later confirmed the report but declined to provide details. "We routinely monitor foreign defence activities and we are aware of the test," Marine Corpsc spokesman Lieutenant Colonel Jeffery Pool told the Beacon.
Chinese military experts hailed the test as a breakthrough. It makes China the second country after the USA to have successfully tested a hypersonic delivery vehicle capable of carrying nuclear warheads at a speed above Mach 10.
Such a weapon has long been seen as a game-changer by security experts as it can hit a target before any of the existing missile defence systems can react. Once deployed, it could significantly boost China's strategic and conventional missile force. It is designed to be carried by an intercontinental ballistic missile. Once it reaches an undisclosed sub-orbital altitude, the vehicle jettisons from the rocket and nose-dives towards the target at a speed of Mach 10, or 12,359km/h. In 2010, the US tested the Lockheed HTV-2 – a similar delivery vehicle capable of reaching speeds of up to Mach 20. Russia and India are also known to be working on such a weapon.
Last week's test shows that China has managed to close the gaps with the US. Chinese scientists said China had put "enormous investment" into the project. More than 100 teams from leading research institutes and universities have been involved in the project.
Purpose-built facilities test various parts of the weapons system. The Chinese Academy of Sciences, for instance, has recently built one of the world's largest and most advanced hypersonic wind tunnels to simulate flights at up to Mach 15 at the Institute of Mechanics in Beijing.
Researchers on hypersonic flight control at Nanjing University of Aeronautics and Astronautics said they were not surprised by the test last week because China was technologically ready. The objective of hypersonic vehicles was to outmaneuver and penetrate a missile defence system. "With a speed of Mach 10 or higher, it cannot be caught or tracked because defence systems don't have enough time to respond," one researcher Wang said. She said the US remained the indisputable leader in the field but no country was ready to deploy the first practical hypersonic missile as many technological challenges remained. One outstanding issue was how to achieve precise flight control at such high speeds.
Scientists are also trying to develop a better "super material" that can withstand the high temperatures during hypersonic flights. "I am sure many tests will be carried out after last week's flight to solve the problems," Wang said. "It's just the beginning." Li Jie , a Beijing-based naval expert, said hypersonic weapons were of strategic and tactical importance to China. "Many technical issues have not been solved and no country has made it ready for use in the field," he said. "But it is a challenge we must surmount, and we are throwing everything we have at it." Ni Lexiong , a Shanghai-based naval expert, said China might still need some time to catch up with the US but the day could arrive sooner than many expect. "Missiles will play a dominant role in warfare and China has a very clear idea of what is important."
Trump's Ambassador to China
In spite of all the economic and strategic differences between the US and China, personal relationships play an important role in bilateral relations between Washington DC and Beijing.
One of the first appointments made by US President Donald Trump was that of Terry Branstad as US Ambassador to China. The key reason was Branstad's personal rapport with Chinese President Xi Jinping. This began in 1985, when Branstad was Governor of Iowa, while Xi Jinping an official from Hebei was visiting Iowa. In 2011, Branstad visited Beijing, and met with Xi at the Great Hall of the People. In February 2012, when he was vice-president, Xi stopped in Muscatine, Iowa, where he met not just Branstad but with big industrialists and farmers from the states.
The US President commenting on the reason for appointing Branstad, stated: 'Governor Branstad's decades of experience in public service and long- time relationship with President Xi Jinping and other Chinese leaders make him the ideal choice to serve as America's ambassador to China,'
During US President's China visit in November 2017, Branstad, who shares a good rapport with Trump, did the ground work for the visit. While in recent weeks, tensions between both countries have escalated, with Trump imposing tariffs on Chinese goods worth 60 Billion USD. Trump was delighted with the welcome he had received during his trip and had even told the Chinese President, "My feeling towards you is incredibly warm'.
It would be pertinent to point out, that Trump's decision to appoint Branstad as Ambassador to China (December 2016) came as a relief to the Chinese, given the fact that the US President took Taiwanese President Tsai-Ing Wen's phone call, much to the chagrin of Beijing (since this went against established US policy).
If one were to look beyond the role of personal relationships in the very complex, but important Beijing-Washington relationship, China lays a lot of emphasis on experience (educational, professional) in the US.  If one were to examine the credentials of some of the top officials in Xi Jinping's administration, US education as well as experience in dealing with economic issues pertaining to the US, has played a key role in some of the Chinese President's appointments.
Liu He whom Xi Jinping has appointed as a Vice Premier for overseeing the economy and financial sector, for instance is US educated. Liu, who speaks fluent English, obtained a master's degree in public administration from the Kennedy School of Government (Harvard University) in 1995. Apart from his in depth understanding of the Chinese economy, Liu has also been involved in important discussions with US leaders.
Another significant appointment by Xi Jinping is that of Yi Gang, who has been named as Governor of the People's Bank of China (PBOC). Yi Gang obtained a business degree from the Hamline University in St. Paul, Minnesota, and a Ph.D. in economics at the University of Illinois, before moving to Indiana University at Indianapolis as a professor in 1986. He taught later at the Peking University in Beijing, before moving to the PBOC in 1997.
While economic and strategic issues are too complex and can not be driven by personal relationships or chemistry (though Trump seems to be a keen believer in personal chemistry given the emphasis he lays on individual ties) an in depth  understanding of the culture, politics, and economics of one's interlocutors is especially handy. Given the current tensions between both countries over tariffs, this dynamic may prove to be especially useful.
The ambition of China and its democratization issue
Historical events are always astonishingly similar. In the early Korean War, China ruled by the Chinese Communist Party(CCP) frequently publicly warned the U.S. not to go beyond the 38th  parallel north to invade North Korea or China would send troops into North Korea in reaction. The U.S. arrogantly turned a blind eye to these admonitions. The outcome was that shortly after the U.S. military invaded, China resolutely honored its promise, with tens of thousands of troops rushing into the country. In the end, the war culminated with no winner.
Now, the same situation occurs again and with the U.S.'s disregard of China's aspiration for world hegemony and the result would be more severe by far if the kind of disregard didn't stop.
A historical narrative of China's ambition
As early as in the mid and late 50s and early 60s, founder and supreme leader of the People's Republic of China (PRC) Mao Zedong constantly and openly suggested that China catch up with or outstrip the U.S. by 50 to 60, 20 to 30, or as-such years. To that end, he even launched the disastrous Great Leap Forward campaign to mushroom China's agricultural and industrial productivity.
Mao's successor, Deng Xiaoping, according to documents and records, never put up such direct proposals. But this doesn't mean that he didn't have analogous ideas or ambition. In 1987, Deng said that by the middle of the 21st century, China would be able to reach the economic levels of developed countries, but then lowered the target to levels of medium-developed countries. Deng also held firm to the principle that sovereignty is over human rights and time after time propounded setting up a new international political and economic order against hegemonism. However, it was his reform and opening-up policy that, until recently, brought China's economy average annual double-digit growth for over 30 years.
Deng's substitute, Jiang Zemin, in addition to reaffirming the new international political and economic order, first officially presented two other notions: Two Centenary Goals and The Revival of the Chinese Nation. In the face of these  perceptions, Jiang and leaders of five other nations first created a regional geopolitical international institution in China's territory, the Shanghai Cooperation Organization (SCO), to safeguard the peace and stability of Central Asian regions and to fight cross-border crimes.
Jiang's replacement, Hu Jintao, in large measure, just echoed Jiang and Deng's same expressions, especially Jiang's two thoughts. Yet, it was in Hu's times that China began to eclipse Japan to become the world's second largest economy. And it was in this time that China and four other nations, Russia, India, Brazil, and South Africa, formed the BRICS bloc, a new international economic body and potential rival to the Group of 7(G7). Concurrently, it was in Hu's times that the idea of being on a level with the U.S. overtly came up again. Hu's prime minister, Wen Jiabao, at a welcoming banquet hosted by then Secretary of State Colin Powell, said that China took 50 years to run as well as medium-developed countries, needing about 100 years to be on a par with the U.S.
Incumbent President Xi Jinping, Hu's surrogate, seems to be both a partisan of all the apprehensions above and an unwavering practitioner of them. Since taking office as China's president, not only has Xi proponed to build a new style of great power relationships with the U.S., but he has stressed the belief that Asia is Asians' Asia and a new Asian security notion: that Asian affairs should be handled by Asian countries themselves. Moreover, to manifest his regnal signature, he has integrated Jiang's two notions into one, namely his China dream to resurrect the Chinese nation. Specifically, he demanded that China be a medium-developed nation by the centenary of the establishment of the CCP in 1921 and realize the splendid resuscitation of the Chinese nation by the centenary of the foundation of the PRC in 1949.
To Xi, achieving the China dream or the great revival of the Chinese nation is in fact just an euphemism for being the world's first power; soon after Xi took over as General Secretary of the CCP, the state-controlled prestigious Chinese Academy of Sciences (CAS) issued a report showing that by 2049, the centenary of the foundation of the PRC, China would completely outstrip the U.S. . The diversion is that the same institution published a dissimilar report back in Hu's time and two years after Wen's speech, saying that China would be ahead of developed nations by 2100 in economic modernization and then be the equivalent to the U.S. around in 2110 in this aspect.
To actualize this dream, Xi has constituted the National Security Commission, a counterpart to the U.S. National Security Council (NSC), to manage overall national security affairs. And by order of Xi, China has also single-handedly created the Silk Road Fund, a state-owned financial institution, to subsidize the construction of infrastructure in countries along the Silk Road and the 21 Century Maritime Silk Road (One Belt And One Road), two modern versions of a pair of trade passages in China's ancient times, to again link China to Southeast Asia, South Asia, West Asia, North Africa, and Europe. More noteworthy, a regional international financial organization advanced by Xi to put up and be led by China, the Asian Infrastructure Investment Bank (AIIB), though still in the making, has drawn in more than 50 countries, even including many western nations, for instance, Britain, France, Germany, and Italy and so on. For the CCP's China, this is indubitably an enormous victory, at least on the surface, and seems to have dwarfed in gambits another kindred institution in building by the BRICS nations, the New Development Bank (NDB).
At the same time, China under Xi is intensifying its territorial claims as well: In the East China Sea, to more effectively handle disputes with Japan over the Diaoyu islands, or the Senkaku islands, China has erected its own Air Defense Identification Zone (ADIZ) and has required that all aircraft furnish self-identification information and flight plans when flying across its ADIZ, a rule clearly against international aero-custom. In the South China Sea, besides placing oil rigs in Vietnam's exclusive economic zone in 2014 sparking oil-rig crises, China has been reinforcing its construction and reclamation in contested waters, for instance, Gaven Reef, Johnson Reef, and the Fiery Cross Reef; and now all three reefs have become a sizeable man-made island, with the first having had an addition of a 114,000-square-meter land, the second, a submerged feature previously, having turned to a 100.000-square-meter island, and the third having enlarged to over 11 times its original size.
The U.S., as part of the Asia-Pacific region, has repeatedly called for a multilateral agreement on South China Sea issues and suggested that China work under such an agreement to solve territorial disputes that could further inflame tensions with countries in the sea, especially the Philippines and Vietnam. But such a proposal has bluntly been refused by China for the reason that the sea originally belongs to it or that what is within its nine-dash-line, including virtually the whole South China Sea, is just part of China's territory. This is visibly a challenge to the current international political order built on international law as its AIIB and NDB have called into question the present international economic order founded on the International Monetary Fund (IMF), the World Bank, and the World Trade Organization (WTO).
Today's China isn't already China in the past: with an average annual double-figure economic growth for more than 30 years and a status as the world's second largest economy or the world's largest one according to IMF's purchasing power parity calculation as well as an annual double-figure growth in military spending for the last decade and a place as the world's second largest nation in military spending, China has come to believe that it has the capability to change the existing world order at its discretion or that at least it should be included as one of the makers of world order. For China, this is just a result of a long-term strategic pursuit of all the five-generation leaders of the CCP from Mao and also a vivid embodiment of the diplomatic strategy guidelines from Deng to develop yourself and bide your time.
U.S. integration policy on China
For the U.S., this is a gnawing moment: it has to face up to the fact that the rise of the China resulted from its own blunders or ignorance and overlook. Surely, in large part, there wouldn't be the chance for China to burgeon and present-day China's that aggressive and assertive behaviors without the U.S.'s integration policy. The kind of chance has been called"strategic window opportunity" in China, a strategic development luck in the tranquil circumstances.
It seems that while the U.S. has contrived integration policy with the aim of eventually converting China into a liberal democracy and a responsible stakeholder by inviting it to join the liberal international system orchestrated by the West and helping it to bolster the economy, it has underestimated the CCP's stamina and resolve against liberalization and democratization and overlooked the catastrophic failure of the Tiananmen Democracy Movement.
As early as 1989, then leader of the CCP Deng accentuated more then once that China needed to adhere to the socialist path and proletarian dictatorship, steadfastly resisting capitalist liberalization. Shortly thereafter he attested by action in the year how serious his words were, with masses of troops being deployed there and hundreds of people being killed while the democratic remonstrance erupted in and around Tiananmen Square. Never has democratic protest or demonstration come to the nation since then with the continuous tight control of the Chinese government; even if data show that the nation's mass incidents had risen from ten thousand in 1993 to about 0.14 million in 2011 and was always in a continual and steady augmentation, none of them has been of democracy and freedom.
On the other hand, the U.S. could have missed China's peculiar authoritarian cultural tradition while creating such a policy: the tradition itself would make any such policy seem to have an overly slim prospect of success. In over two thousand years from 221 BC to date of Chinese history, there have been solely two types of political systems: totalitarianism with socialism and communism as its main ideological characteristics and absolutism featuring Confucianism, a philosophy highlighting hierarchical relationships, observance, and compliance, as its primary ideological attribute. And the two kinds of ideologies are imposed on people as the two sorts of political systems are and at the expense of the freedoms of thought and speech. This wreaks havoc on the nation's brainpower so badly that until the terminations of two Opium Wars, Chinese people didn't still know what science, democracy, equality, and freedom are.
China's this kind of authoritarian tradition with ideology has never broken. Before Mao, as a single official ideological thought, Confucianism had almost never received any pungent challenges. But when Mao, as a communist revolutionary, took on power, he launched all-out attack on it and then threw away it for his own thought and Marxism and Leninism as topmost ideological theories for the nation and from then to date, the three isms have always been part of the CCP and the nation's fundamental ideology, irreplaceable.
Be that as it may, there are signs that, as a part of the China dream and a method of governance, Confucianism is coming back to the heart of the country's cultural activity. Current president Xi has many times effectuated confidence in China's traditional culture and presented himself as an ardent fan of it, oftentimes citing creeds from Confucian classics on many public occasions. More important is that the past Confucianism has been edited into schoolbooks again for present students from elementary to high school. This is a departure from Mao's thought and for modern Chinese people, this is also the reappearance of an old specter.
The U.S. strategy intention is sowing the seeds of democratic revolution or reform in China in the economic way. But U.S decision-makers and their think tanks seem to forget that to make these seeds grow healthily, there needs to be suitable cultural soil. China isn't such a soil: its heritage and civilization are nurseries for authoritarianism. So the secret to turn China into a liberal democracy isn't by economic activities but by teaching and disseminating democratic and liberal thoughts to alter its tradition. Leaders of the CCP need to ameliorate the nation's economy to consolidate their rule whereas the U.S.'s such policy just plays into their hands. Accordingly, integration policy, when being applied to a country like China, could produce a setback.
China's developmental direction and course
In Deng's age, as Deng himself said, China was still in a developmental state of feeling stones to wade across the river, namely a condition of lacking a crystalline national development strategy. China of the day is no longer in such a state; its leaders have expressly known how and where the country should be led.
In the next half of the 19th century, owing to humiliating defeat in the First and Second Opium Wars against western powers Britain and France, rulers of the Qing dynasty afterward mounted a reform campaign for rendering the nation prosperous and powerful to learn and introduce western sciences and technology, especially military technology. The reform campaign also first set up and develop western-style military and civilian industries and schools in China, but it failed to touch at all the ruling base of the dynasty, namely its absolutism with Confucianism. This was an immense emasculation: After the reform drive lasted 35 years, China lost the Sino-Japanese War; about 17 years after this, the Qing dynasty, the last dynasty in Chinese history, came to an end with people's revolution for democracy.
Now, the CCP is following the same lines to run the nation: focusing on economy and trade, sciences and technology and military strength; refusing demorcratic reform bluntly and clamping down on freedom of thought and speech continuously; and renewing its totalitarianism with Confucianism again. Markedly, Xi is rebuilding an old empire and building it into a sphinx monster, a hybrid of part westernization, part socialization, and part revivalism. No one can know for sure whether or not such a China will be a huge threat to the whole world, but it certainly will be a fearsome foe to the liberal world. Oddly, it is some countries of the world that have been giving the state a leg-up.
The serial report by Reuters, "Breakout: Inside China's military buildup", has lucidly revealed how western countries, especially Britain, France, and Germany, have bypassed arms sanctions to help China to construct a bigger, more sophisticated weapon system. According to the report, it is inconceivable how China's advanced military equipment, like stealth fighters and navigation satellites, would be possible without cutting-edge and precise gadgets, components, and apparatus from these nations.
Same true, the West is the cardinal exporter of knowledge to China. Data from the Institute of International Education show that in the 2013/2014 academic year, China sent over 0.27 million students to the U.S. for study and was the leading sender of students to the country for the fifth year in a row. At once, data from the Ministry of Education of the PRC indicate that in 2014, around 0.46 million Chinese students in total were studying abroad. Therefore, on count, during the time, some 60% of these students were receiving education in the U.S. Moreover, 82% of the Chinese students studying abroad in 2013 were being instructed in western nations and from 1978, the first year China started reform and opening-up policy, to 2014, over 3.5 million Chinese students were learning overseas and over half of them have returned to China now. These numbers show how crucially China rests on foreign knowledge and there is reason to believe that in the predictable future, western nations will still the central exporter of knowledge to China if they themselves don't change policy.
China's deadliest shortcoming is short of vital scientific and technological innovation capacity while it is bent on being the first power in the world; the kind of ability is the common stamp of all world powers in modern history. This puts the country at an acuter disadvantage in the struggle for the standing of the world's first power than other powers in history, for instance, Germany and Japan. Yet, this is a prerequisite bitter pill it has to swallow: this is the inescapable adverse effect of its own everlasting ideological tradition strangling freedom of thought. As to its traditional ideology, Confucianism, it is still a question whether or not it itself would be welcome if it weren't imposed on Chinese people.
Yet, to make the catchphrase "the splendid resuscitation of the Chinese nation" or "the China dream" more credible, China has also rewritten its history depending on some disputable researchs, for instance ones by British scientific historian Joseph Needham and French economic historian Paul Bairoch. In the new historical story, China is represented as a nation that was not only the world's most powerful nation but the world's most advanced state in science and technology in the course of a long time ago; for example, in 2014, Chinese Foreign Ministry spokesperson Qin Gang said that China had led the world in the past for over 100 years in response to Obama's remark that the U.S. would continue to shepherd the world for 100 years and in 2015, Chinese Ministry of Science and Technology vice-minister Wang Zhigang, in an interview, gave a speech saying that China had been ahead of the world in scientific and technological creation as early as in the late Ming dynasty and the early Qing dynasty.
The CCP's target is very explicit: just effectuating China into a world's number one power of Confucian tradition through western sciences and technology. In the predictable future, no visible strength can hamper it from fulfilling the target except western countries change existing policy. At home, the CCP even has no discernible oppositional force yet. And the failure of the last two ruling classes in Chinese history, the Qing dynasty and the Nationalist Party, is closely connected with the foreign invasion and occupation of China; today's China isn't in such a case. By calculation, the average life expectancy of a dynasty in the nine dynasties uniting China from the Qin to Qing dynasties is some 170 years. Hence, there is reason to believe that the liberal world will still be facing an authoritarian China for about 104 years if relevant policy doesn't shift.
Sino-U.S. struggle
While China has vicious defects in scientific and technological creation, the U.S. doesn't have overwhelming advantage in the Sino-U.S.struggle, specially in disposing of problems on China. The South China Sea issue is just a paradigm. In international relationships, no evidence illustrates that a developing or underdeveloped country heavily banking on other countries'sciences and technology and abundantly using simulated technological apparatus must not be able to beat at their own game a developed nation like Japan or the U.S.. China's own history has well shown that this is possible: in the Korean War, an extremely underdeveloped China tested the U.S. and its allies' strength and will and in the end, won a tie. The Vietnam War afterward has further proven that the potential is true, in which a badly impoverished Socialist Republic of Vietnam successfully defeated and expelled the U.S. military from its domain.
So, China has the reason to believe that it has potence to withstand, even overcome the U.S. in the future conflict; particularly when it encounters a U.S. that has been tired of and tried its damnedest to stay away from war, the kind of case is more likely to transpire. This is the reason why China would turn down the U.S.'s peaceful suggestion on the South China Sea issue and it also hints that the U.S. has no means but by concession, blockades, democratization, or war to stop China from annexing the whole South China Sea.
The U.S.'s weakness lies in it always putting its back into avoiding conflicts between major powers. This makes many international issues, for instance, the North Korea nuclear and missle issue and the Iran nuclear program issue, unable to be solved in an effective way. In the North Korea issue, on account of China's backing for North Korea, U.S. sanctions against North Korea to hinder it from developing nukes and ballistic missiles are almost feeble. In the Iran issue, as Iran itself is a major economy in Asia, U.S, economic sanctions against it to force it into giving up its nuclear program has slight impact too. The U.S., as the present world's sole superpower, when not able or willing to deal with international disputes on its strength all the way, looks like a paper tiger, or at least not so purportedly muscular on the surface.
At heart, the Chinese nation is an ethnic group admiring and pursuing power and influence; in Chinese history, the transitions of all dynasties and ruling classes were completed by force. So, in Chinese history, force was the source of the legality of everything, including power. This is an invariant Chinese tradition. Most of western scholars make a mistake in construing the Chinese power legitimacy source issue. They often think that Chinese rulers need to unravel what the legitimacy of their power comes from. In fact, in China, this is a false issue: in here, the law of the jungle is just the real origin of power and thus the main source of law. Therefore, according to tradition, the CCP doesn't need to bear witness to the legality of its power as long as it has strength to seize power and keep the power. So, what it needs to do is how to manage the country well in its own way and at its own discretion; law, for it, is only a tool able to be used for its rule.
In Chinese history, corruption and poverty were two indiscerptible root causes of the collapses of all dynasties and ruling classes. In Mao's age, very destitute as China was, it had little or no corruption; therefore, no revolution or uprising arose at the time. Rampant as corruption is in current China, present China is by far more affluent than then China; thus, it is very difficult for revolution or rebellion to come up in the time, if not impossible. So, in a sense, U.S.'s that kind of integration policy of wishful thinking is actually the momentous cause of present-day China not having democratic revolution or movements. And in another sense, a sense of international relationships, the U.S., over its such policy, also puts itself in a situation in which it is helping its rival to surpass itself. This is exactly the opposite of its post-Cold War number one defense strategy objective, to prevent the emergence of a rival superpower
By war is the critical, most efficacious, but most detrimental way to convert the old situation or order and originate the new situation or order at a nation's or some nations' discretion. Two Opium Wars decisively put an end to the closure of China lasting nearly 2000 years; World War Ⅱdirectly leads to much part of today's international order. The Cold War isn't a real war but only a rivalry between two superpowers the U.S. and the former Soviet Union. So, though its end vitally changes the old international order, the "war" doesn't beget the new order at the U.S.'s discretion.
In international relationships, not a nation would launch or fight a war for the causes of democracy and freedom of another country. Thus, it is foreseeable that the U.S. won't stage a war for China's these causes. Yet, in the U.S.'s own national interests, it needs to prepare itself for a military conflict with future China. The kind of conflict becomes more likely specially over current China's unrestrained ambition for regional and global hegemony. Nevertheless the U.S. has chances to shun the likely armed contest. With the same view of values and respect for human rights and the rule of law, democracies are more willing to solve contention and strife between or among them over peaceful approaches and never war has broken out between two democracies. So, if China is able to be transmuted into a liberal democracy, this will be a best way to avoid the China-U.S. war and in the U.S.'s permanent national interests. Thus, the kind of way deserves the U.S. trying with the most possible effort.
In the Sino-U.S. relationship, the U.S. should try its best to show the muscle matching its status as the present world's single superpower and exercise it if need be but not always and excessively underline dialogue and contact. U.S.-China human rights dialogue has been held 18 times , but the result is that many western mainstream media's websites that had been able to be visited in China, for instance, The New York Times' and The Wall Street Journal's, now have been already blocked.
A piece of advice 
To settle the Chinese democratization issue, the U.S. should first plant the seeds of democracy and freedom in Chinese's minds. This is a thing that is right off able to embark on in the U.S.'s own home: since every year sees hundreds of thousands of Chinese students studying in the U.S., the students are just the very objects of cultivation. The U.S. should teach the students some subjects on democracy politics, democracy history, and/or democracy philosophy but not impart only some science and technology to them and if possible, such education should be compulsory. Occasion is very simple: these subjects are generally prohibited in China. Hence, the students will have little or no opportunity to learn or know the subjects before coming to the U.S. and thus will have little or no fortune to choose by their own knowledge of democracy whether to study the subjects or not further and whether to join democratic movements or not.
The kind of the lack of room flowing from the control of the nation can be made up for farthest and most effectively only by state action; for instance, in the Qin dynasty in China, Confucianism was ever atrociously forbidden and squelched by emperors to near disappearance, but in the Han dynasty therewith, it became emperors' focus of attention and was recognized as a state belief at last. Since then until the Qing dynasty, with the continuous upholding of rulers, Confucianism was always in an universal popularity.
Resultingly, the students, if there isn't an obligatory educational system requiring them to learn and know the subjects, will still be in innocence with democracy, largely as in the ages before the First Opium War, Chinese intelligentsia knew only Confucius, Lao Tzu, or some other Chinese thinkers of those days but not Plato, Kant, or any other western scholar or thinker of those times. Therefore, even just for its own national interests, the U.S. should help China with its democratization issue.
If Marco Polo were alive today, what tales would he tell about China and Tibet?
In 1298, Marco Polo told astonishing stories about a marvellous land he called Cathay, modern-day China which was ruled by the Yuan dynasty. During his extraordinary journey, Marco Polo also visited Tibet, which was also under the Yuan dynasty. He was the first Westerner to refer to Tibet as a part of China, and nobody objected. Marco Polo had no idea how his observations might change the face of the globe.
Since those days, world events have gathered speed. Columbus discovered America, at first believing it was Asia; disaffected and persecuted Europeans began to populate the shores of the new continent, squeezing further inland the indigenous population. Empire builders sought new colonies ever further afield. New lands to conquer, new resources to appropriate, new riches to seize…
Societies were subjected to similar upheavals. Old forms of exploitation were reinvented, with slavery giving way to feudal serfdom; ancient and new religious beliefs spread across the planet, to capitalism and communist ideologies divided the globe and its peoples.
Following the Second World War, the US saw in Tibet a religious patent that could be exploited against communism as an ongoing propaganda campaign. It started with an armed uprising in 1959 against the People's Republic of China, followed by the exile of the 14th Dalai Lama in India and the establishment of the Government of Tibet in Exile ruling over about 100,000 Tibetan refugees settled mainly in northern India.
Ever since, China has considered all Tibet's pro-independence movements as part of a strategic propaganda operation abetted by Western imperialists who want to destabilize China. This view was bolstered, for example, by the CIA's backing of Tibetan insurgencies during the 1950s and 1960s, the support of Western NGOs for the "pro-Tibet" riots of 2008 when China hosted the Olympic Games, and the continuing self-immolations by Tibetans and Buddhist monks promoted since 2009 by the Government of Tibet in Exile, praised as courageous by the 14th Dalai Lama – although he questioned their effectiveness – and glorified by NGOs advocating human rights for Tibet.
There have been intermittent expectations of formal negotiations between the principal parties to the Tibet issue, but their zero-sum view of Tibet's political status, reciprocal accusations and mutual suspicion have been persistent barriers. The participation of other actors has also had an effect. Many foreign states acknowledge Tibet as a part of China, while none formally recognizes the Government of Tibet in Exile – also known as the Central Tibetan Administration (CTA) – yet a number of them sustain the cause of the exiles in other ways. Thousands of supporters of Tibetan independence, encouraged by Western NGOs have also rallied to this cause, including members of the world's parliaments, rights activists, actors, musicians, and ordinary converts to Tibetan Buddhism in the West.
In reality, communications on Tibet are persistently disseminated by the CTA, Western NGOs and the Chinese government as part of well-planned and organized propaganda campaigns serving contrasting geopolitical and military interests. China is in a particularly difficult position, since it is surrounded by topographical features that make it difficult for major armies to pass through. In the southwest there is Tibet: from a military point of view, it is a solid wall that has to be held. China has a fundamental security interest in retaining Tibet as well as an economic interest in its enormous natural resources, because Tibet is also the Chinese anchor in the Himalayas with its huge and still virtually untapped reservoir of minerals, metals, water and energy. From this perspective Tibet can be considered as a major Achilles' heel for China.
In the context of decades of propaganda during and after the Cold War, serving the different geopolitical and military interests, the concept of Shangri-La is particularly important to our understanding of how Tibet is presented. Shangri-La is a fictional place described in the 1933 novel Lost Horizon by the British author James Hilton. Hilton describes it as a mystical, harmonious Himalayan valley, serenely guided by a monastery of lamas or spiritual masters. Shangri-La has evolved in the Western collective imagination into a modern surrogate of the lost Garden of Eden: a mythical utopia, a permanently happy land, isolated from the outside world, dedicated to the preservation of peace, spirituality and nature. It is an ideological fantasy representing the last refuge of Western societies from their present and historical sins of consumerism, atheism, capitalism and colonialism. The Shangri-La notion is the central constituent for manoeuvring popular opinion in the propagandistic exploitation of the collective imagination in Western countries.
The narrative of the Tibetan Government in Exile
Leaders of the Central Tibetan Administration (CTA) have opportunistically adopted parts of the myth of a pre-1951 Shangri-La in Tibet to promote a theocracy, from which the rulers gain legitimacy and to whose members secular Tibetans should pay obeisance, rather than being controlled by them. In promoting this idea, they use only that part of the Western idealization of Tibet, as Shangri-La, that is useful in legitimizing their status in the eyes of the West, however cementing their de-facto theocratic power within the exiled diaspora.
Because of the need for Western support of the exiled government and the significant role played by externally-based NGOs supporting Tibetan independence, Western hegemony is accepted in the diaspora's discourses concerning Tibet and the Tibetan identity. A strategic essentialism that simplifies Tibetan identities for Westerners in the context of Shangri-La also impacts the self-identities of exiled Tibetans, many of whom accept Westernized notions of the Tibetan identity. Thus, although a modern sense of nationhood was absent in pre-1951 Tibet, CTA representations cast Tibetan nationhood as an historical reality. To gain legitimacy in the West, democratizing elements have been added to self-governance in exile, and the vocabulary of human rights, development, environmental protection, and so forth has been deployed by the CTA and supported by Western NGOs. Representations that directly fulfil the established Western image of Tibetans as inherently spiritual and peaceful have been especially prominent, forged by the personification of this utopia in the figure of the 14th Dalai Lama as a symbolic icon.
In reality, spirituality and sovereignty are linked through Tibet's traditional system of theocratic government, in which politics and religion were tightly knit. Many exiled government officials continue promoting this system as ideal for Tibet and as an alternative to the atheistic Communist system of China. On the other hand, China has over the last three decades relaxed draconian and brutal Mao-era rules, by opening the door to private sector capitalism and by allowing individuals to practice a religion of their choice. There are now almost three times as many Buddhists in China as there are Communist Party members – there are 90 million members of Communist Party of China, some 250 million Buddhists and 200,000 registered Buddhist monks.
While the Chinese government's approach to Buddhism has been liberal, it clearly takes the religion's influence seriously, given its importance in Chinese society. The Chinese government is also acutely sensitive to the possibility of what it sees as external interference, especially on the delicate subject of Tibet and Tibetan Buddhism.
A particularly divisive issue for the Buddhist community, both within Tibet and in the exiled communities is devotion to the Dorje Shugden deity, a 400-year old practice that began in the 17th century and has become a major tradition in Tibetan Buddhism. At the origin of the controversy lies a de facto ban on the religious practice issued by the 14th Dalai Lama decades ago. The CTA sees the religious practice of Dorje Shugden as a competing and heretical movement that may undermine their notion of the spiritual leadership of the 14th Dalai Lama inside Tibet and among Tibetan Buddhists.
The de-facto ban issued by the 14th Dalai Lama has generated considerable social tension and division in the diaspora, as well as in Tibetan society within China, leading the Chinese government to consider the Dorje Shugden controversy an important front for undermining what it says are efforts promoted by the 14th Dalai Lama aimed at destabilizing China. The religious hostility has been fed by considerable propaganda and counterpropaganda efforts during the last two decades and it is still an open battlefield that may escalate at any time. In historical terms, the implications could be reminiscent of Martin Luther's reformation of Christianity centuries ago.
Significantly sensitive are the methodical efforts of the exiled government to silence opposing voices in the controversy, using systematic defamation and coercive methods, including the use of modern disinformation means like coordinated troll campaigns on social media and fake news campaigns. Such methods seem out of place in the peaceful Shangri-La narrative that is usually promoted, but rather more suited to an atmosphere of historical crisis like the period of the Inquisition. Additionally, it has been continuously observed that Dorje Shugden followers, monks and monasteries in Tibet and abroad are portrayed as heretic, demonic and sectarian, and are branded as Chinese Communist Party supporters or Chinese spies by most NGOs advocating in western countries for the exiled Government's goals.
The role of the Western human rights NGOs
The Western NGOs present pre-1951 Tibet as Shangri-La in a way that serves to reinforce Tibet's claim for sovereignty in the international community by capitalizing on the yearnings of Western activists for a lost social and ecological harmony. For them China is demonized as an evil force which invaded Tibet in 1951, destroying a previously harmonious, peaceful, ecological and spiritual society. While the 14th Dalai Lama has stated that "all Tibetans want more prosperity, more material development", those material developments realized by China in contemporary Tibet are seen by the Western NGOs as an immoral cultural regression and a mean of implementing brutal oppression which primarily benefits the Chinese state and Han migrants in Tibet.
The discussion on human rights has been added and elaborated by the exiles and their NGO supporters and has a close fit with similar concerns emerging in international politics generally. While exiled critics see a human rights strategy as detracting from a focus on Tibet's lack of independence, Chinese officials regard it as the heart of the exiles' campaign to internationalize the Tibet issue. However, the expression of the Tibet issue as a human rights problem – the mainstay of the exiled Government's strategy since the mid-1980s – has garnered support from across the political spectrum and provides the exiled Government and their supporting NGOs with a visibility in global politics they would not otherwise have. It stands, moreover, as a challenge to the forced dichotomy of the real versus the ideal and the hegemony of realism in politics generally.
In the last two decades, a statistical table of causalities among Tibetans from 1951 through the 1970s has been widely circulated by Western NGOs. Its total of 1.2 million deaths is based solely on unconfirmed refugee estimates, but is cited often by Western politicians and media. Such figures are characterized by unsubstantiated assertions and improbabilities criticised also by established NGOs advocating for Tibetan independence: for example the head of the Free Tibet Campaign NGO based in UK, examined the refugee interview documents and found large-scale duplications.
The official 1953 census recorded the entire population residing in Tibet at 1.3 million. Other census counts put the population within Tibet at the time at about two million. If the Chinese killed 1.2 million in the early 1960s then almost all of Tibet would have been depopulated, transformed into a killing field dotted with death camps and mass graves of which no evidence exists. Other demographic studies show that, as claimed, battle deaths would have been several times the ratio for the main belligerents in the two World Wars; alleged prison deaths would have required that one-tenth of all Tibetans were imprisoned during each year of a three-decade-long period.
While there were unquestionably substantial causalities in Tibet due to violent actions of the Chinese in the Mao era, as there were everywhere in China, the spread of misleading statistics regarding Tibet seems a clear effort to manipulate public perceptions about the real situation.
While the US has formally agreed that Tibet is an integral part of China, its Congress has nonetheless politically and financially supported the Tibetan independence movement driven by the NGOs and the exiled Government. So did the Nobel Prize Committee when it presented the peace award to the 14th Dalai Lama in 1989. Such recognitions and support ignore Chinese contributions to economic development in Tibet: the welfare policy adopted by the central government of China since the 1980s has markedly improved the life of the average Tibetan, and religious freedom has been restored.
Instead of praising the efforts of the Chinese government, the US Congress has criticized any progress made as an attempt to erase Tibetan culture, defining such a process as "cultural genocide". This terminology has been widely exploited by the NGOs in their propaganda effort since the end of the 1980s, even after several failed attempts to apply the term of "genocide", whose adequacy has been largely contested in the post-Mao era.
Of particular importance is one of the main propaganda tools used by the NGOs and the CTA to generate media attention and political discussion: the campaign of self-immolation in protest against Chinese rule in Tibet. This campaign has intensified since 2009, but has its roots in a few isolated cases that began around 1998 outside Tibet.
The NGOs state that self-immolation acts of Tibetans are an affirmation of the Tibetan identity in the face of "cultural genocide". This proclamation however disregards the fact that suicide is forbidden in Buddhism. The campaign is heavily exploited around the world. In some cases acts of self-immolation are even used to promote fundraising activities, and particularly in the US, to obtain governmental subsidies, with wide support from cultural exponents like Hollywood actors or famous musicians.
Only very few of Tibet's Buddhist clerics or exponents of the human rights community have dared to speak out in Western countries against glorifying, praising and promoting acts of self-immolation for political gain. When asking exponents of the NGOs about the justification for this practice, the answer is always evasive, with vague references to obscure roots of self-immolation traditions in the Tibetan culture.
The linking of the Tibet issue to human rights has been traced to the decision of the 14th Dalai Lama and the exiled government to internationalize in the late 1980s. The foundation of the human rights position is the principle of nonviolence, an important aspect of the public face of the exiled government, and fundamental to its policies and its exploitation of the Shangri-La myth. This has facilitated a seamless incorporation of a human rights consciousness into the approach of supportive NGOs, while simultaneously making it plausible and credible to vast popular audiences, especially to non-Tibetan observers in the West.
Human rights and other transnational issues such as the environment have attracted consent for marginalized identity groups across the globe, popularizing their political concerns and aspirations. Popular movements that pivot on "rights" challenge not only state authority, but more recently, the authority of multinational corporations as well. The effect is that many activists have been mobilized to sympathize with the NGOs advocating for Tibetan independence.
Such activists usually have different ideologies but shares principles close to the Shangri-La utopia, like for example anti-globalists or anarchists, but also ecologists or socialists or vegans… In reality, the concept of human rights diplomacy itself implies the corruption of human rights as an ideal; it is a defective concept from the standpoint of idealists, because it reflects the imperfect fit between their goals and national, political and military hegemonies. It also reflects the gap between popular, state and geo-political interests, particularly when applied with double standards. In the ideal world, rights should be above interests, but in the "real" world, they are merely ideals.
Worldwide there are about a thousand associations, foundations or charity organisations that revolve around the subjects of Tibetan independence, human rights for Tibet or the 14th Dalai Lama. A complete overview has not been established yet. However, the following NGOs (some registered as charities, some as foundations) play a crucial role in this discussion:
INTERNATIONAL CAMPAIGN FOR TIBET is an NGO (website savetibet.org), based in Washington, US. It is endowed with a 4 million USD annual budget and supports the goals of the 14th Dalai Lama and the CTA. The NGO says it promotes human rights and democratic freedom in Tibet and is active in lobbying US Congressional committees. It networks with other exiled Chinese democracy NGOs, promotes news coverage of issues in Tibet, like for example self-immolation, "cultural genocide" or anti-Dorje Shugden campaigns. Additionally it publishes two newsletters, the Tibet Press Watch and Tibetan Environment & Development News, and speaks to academics, journalists, and civic and community groups. Its main public exponent is the actor Richard Gere.
TIBET HOUSE (aka Tibet House US Cultural Center of H. H. the Dalai Lama, website tibethouse.us) was founded in 1987 by Columbia University professor Robert Thurman (father of actress Uma Thurman), actor Richard Gere and modern composer Philip Glass (among others) at the behest of the 14th Dalai Lama. It operated initially only in New York. The organisation now has affiliates in India, Mexico, Germany, Spain, the UK and Russia. Besides the preservation of the Tibetan culture, the organisation is active in supporting the political views of the 14th Dalai Lama and is very active in propaganda against Chinese rule in Tibet and China. In the US it has annual revenue of 2.5 million USD and accumulated assets of 6.5 million USD.
FREE TIBET (website freetibet.org) is a small NGO based in London, UK with an annual budget of 500,000 USD. In spite of its small budget the NGO has a strong online presence in social media. The group's political views are aligned with those propagated by the CTA.
STUDENTS FOR A FREE TIBET is an NGO based in New York, US with a declared annual budget of 700,000 USD. The NGO says it is a network of 35'000 students working toward social justice and freedom in Tibet. Students for a Free Tibet educates young people propagating a message of Tibetan independence and works on translating that awareness into action through political, economic, and social campaigns. Students for a Free Tibet say they recognize the legal and historical status of Tibet as an independent country. This NGO was the main organizer of Tibetan protesters who disrupted the Summer Olympic ceremony, the Olympics torch relay in Beijing, 2008.
TIBET FUND (website tibetfund.org) is a foundation based in New York, US. The entity has an annual budget of about 6 million USD and cumulative assets of 8 million USD. The Tibet Fund, founded in 1981, is the principal fund raising organization working very close with the CTA. The fund partner is the organisation OFFICE OF TIBET, the official agency of the 14th Dalai Lama and the CTA based in Dharamsala, India. OFFICE OF TIBET is present in 13 countries, with bases in New Delhi, Kathmandu, Geneva, New York, Tokyo, London, Paris, Moscow, Brussels, Canberra, Pretoria, Taipei and Budapest. They are in charge of bilateral relations with different countries as well as with European Union institutions and the United Nations Organisation. The organisations have several substructures registered as Foundations in the US and abroad, like for example the OFFICE OF TIBET US or the TIBETAN COMMUNITY DEVELOPMENT FUND INC. The OFFICE OF TIBET US also has a managerial function with respect to the current president of the CTA, Dr. Lobsang Sangay, who is a US citizen living in Boston.
THE DALAI LAMA TRUST (websites dalailama.com, dalailamatrust.org) is the foundation of the 14th Dalai Lama based in New York and India which administers the royalties and revenues from his intellectual properties and public events. It was filed in 2009 and in the US the foundation has annual revenues of 2 million USD with accumulated assets of 7 million USD. The trust has several substructures registered as foundations in the US and India and possibly abroad. The total assets or revenue of all structures is not known at present.
INDEPENDENT TIBET NETWORK (formerly CAMPAIGN FREE TIBET) is today a rather obscure network of activists propagating radical separatist political views (called "rangzen") on Tibetan independence. Its website is tibettruth.com. Formed in 1988 it was a lobbying network which campaigned for justice, human rights and independence for Tibet and East Turkestan. The NGO is today linked to a partner organisation called RANGZEN ALLIANCE, registered in New York and led by Tibetan separatists. The political views of both organisations are presently close to anarchism and against the theocracy of the lamas. They are clear opponents to the CTA, which they consider unsuited to true Tibetan independence. The organisation INDEPENDENT TIBET NETWORK appeared to be originally registered in London and had possible links to the UK intelligence services. Today it has links to the Anonymous hacking group. INDEPENDENT TIBET NETWORK was very active in the 1990s, forging the notion of "cultural genocide" and birth control issues in Tibet. Since 2008, partnering with RANGZEN ALLIANCE, it also glorifies the self-immolation campaigns in Tibet.
TIBETAN CENTER FOR HUMAN RIGHTS AND DEMOCRACY (website tchrd.org) is an NGO based in Dharamsala, India, closely working with the CTA, also based in Dharamsala. The NGO says it investigates human rights issues in Tibet and amongst Tibetan minorities throughout China. Its budget is unknown. The main focus of the NGO is the coverage of issues in Tibet, like for example self-immolation, political prisoners in China and "cultural genocide".
The response of the Chinese Government
The Chinese government portrays pre-1951 Tibet not as Shangri-La but as a feudal house of horrors, among the darkest and most backward regions in the world, and one of the regions where human rights violations were most serious. For them the mission in contemporary Tibet is considered as fulfilling a long-term civilizing assignment.
Before the Chinese invasion of Tibet in 1951, the region was ruled by a theocracy and had a social hierarchy similar to pre-feudal times. Tibet was characterized by a form of institutionalized inequality that can be called serfdom: an ancient form of slavery preceding the development of the feudal system. It existed in Tibet until 1959. Exploitation was not through land-rent like in the Middle Ages in Europe but through enslavement to the aristocrats, clerics or manor owners. In return for working the land, the slaves were provided with minimal lodging, clothing and food. This form of slavery was finally abolished in Tibet only in 1959. Until that year, when China cracked down on Tibetan rebels and the 14th Dalai Lama fled to northern India, around 98% of the population was enslaved in serfdom. For example, the Drepung monastery, on the outskirts of Lhasa, was one of the world's largest landowners with 185 manors, 25'000 serfs, 300 pastures, and 16'000 herdsmen. High-ranking lamas and secular landowners imposed crippling taxes, forced boys into monastic slavery and pilfered most of the country's wealth – torturing disobedient serfs in a variety of brutal ways. In feudal Tibet, torture and mutilation – including gouging out eyes, pulling out tongues, severing hamstrings and amputation of limbs – were favoured punishments inflicted upon thieves, and runaway or obstructive serfs. Many materials and photos showing the limbs of serfs amputated by serf-owners in those years are kept in the Tibetan Social and Historical Relics Exhibition in the Beijing Ethnic Cultural Palace.
Earlier Western visitors to Tibet commented on the country's theocratic despotism. In 1895, an Englishman, Dr. A. L. Waddell, wrote that the populace was under the "intolerable tyranny of monks" and the devil superstitions they had fashioned to terrorize the people. In 1904, the English traveller and writer Perceval Landon described the then Dalai Lama's rule as "an engine of oppression." At about that time, another English traveller, Captain W.F.T. O'Connor, observed that "the great landowners and the priests… exercise each in their own dominion a despotic power from which there is no appeal," while the people are "oppressed by the most monstrous growth of monasticism and priest-craft." Tibetan rulers "invented degrading legends and stimulated a spirit of superstition" among the common people.
Serf-owners literally possessed the living bodies of their serfs. Since serfs were at their disposal as their private property, they could trade and transfer them, present them as gifts, use them as collateral against debts and exchange them. Before 1951, Lhasa's downtown area had a population of around 20'000. It was surrounded by some 1'000 tattered tents, homes of poverty-stricken people and beggars. The average life expectancy was only 35.5 years. In Tibet there was not a single school in the modern sense. The enrolment rate of school-age children was less than 2 percent, and the illiteracy rate reached 95 percent.
Over the centuries the Tibetan lords and lamas had seen the Chinese come and go and had enjoyed good relations with them. When the 14th Dalai Lama was first installed in Lhasa, it was with an armed escort of Chinese troops and an attending Chinese minister, in accordance with a centuries-old tradition. What upset the Tibetan lords and lamas in the early 1950s was that these latest Chinese were Communists. It would be only a matter of time, they feared, before the Communists started imposing their collectivist egalitarian schemes upon Tibet.
The issue flared up in 1956-57, when armed Tibetan bands ambushed convoys of the Chinese People's Liberation Army. The uprising received extensive assistance from the US Central Intelligence Agency (CIA), including military training, support camps in Nepal, and numerous airlifts. Meanwhile in the US, the American Society for a Free Asia, a CIA-financed front, energetically publicized the cause of Tibetan resistance, with the 14th Dalai Lama's eldest brother, Thubtan Norbu, playing an active role in that organization. The 14th Dalai Lama's second-eldest brother, Gyalo Thondup, established an intelligence operation with the CIA as early as 1951. He later upgraded it into a CIA-trained guerrilla unit whose recruits parachuted back into Tibet later in the decade. Many Tibetan commandos and agents whom the CIA dropped into the country were chiefs of aristocratic clans or the sons of chiefs.
Whatever the oppressions introduced by the Chinese after 1959, they did eradicate slavery and the Tibetan serfdom system of unpaid labour. They eliminated the many crushing taxes, started work projects, and greatly reduced unemployment and begging. They established secular schools, thereby breaking the educational monopoly of the monasteries. And they constructed running water and electrical systems. Chinese authorities also claim to have put an end to flogging, mutilation, skinning and amputation as forms of criminal punishment.
They themselves, however, have been charged with acts of brutality by exiled Tibetans. The Chinese authorities admit to such acts, particularly during the 1966-76 Cultural Revolution when the persecution of religious beliefs reached an apex in both China and Tibet. Prior to that, after the uprising in 1959, thousands of Tibetans were incarcerated. And during the Mao-era "Great Leap Forward", forced collectivization and grain farming were imposed on the Tibetan peasantry, sometimes with disastrous effect on production, which led to famine and substantial related causalities.
Then, in the late 1970s, China began relaxing controls and tried to undo some of the damage inflicted during the previous two decades. In 1980, the Chinese government initiated reforms reportedly designed to grant Tibet a greater degree of self-rule and self-administration. Tibetans would now be allowed to cultivate private plots, sell their harvest surpluses, decide for themselves what crops to grow, and keep yaks and sheep. Communication with the outside world was again permitted, and frontier controls were eased to permit some Tibetans to visit exiled relatives in India and Nepal.
By the mid-1980s many of the principal lamas had begun to shuttle back and forth between China and the exiled communities abroad, restoring their monasteries in Tibet and helping to revitalize Buddhism there, including the popular religious practice of worshipping the deity Dorje Shugden. This exchange of religious teaching and movement of clerics across the Chinese border in the Tibetan communities has generated, among the CTA and the 14th Dalai Lama, fears of an accelerating loss of spiritual authority with respect to rival monastic doctrines, leading to the de-facto ban of Dorje Shugden devotion and consequent religious tensions.
In the 1990s, large numbers of Han, the ethnic group comprising over 95 percent of China's immense population, began migrating into Tibet. Demographic issues in Tibet have always been strongly affected by conflict, migration and family planning. However, the NGO Tibetan Youth Congress has compared China's migration of Han Chinese to Tibet to the Nazi extermination of Jews. Exiled leaders contend that the Tibetan population was 6 million in 1951 (in contrast of the figures of around 2 million of the 1953 census) and the same a half-century later, because the Chinese government killed al least 1.2 million Tibetans through war, imprisonment, execution, or famine. The figure is cited in Western media, but has been challenged by demographers. The 14th Dalai Lama has accused China of demographic aggression. Tibetan exiles and NGO supporters argue that family planning restrictions contribute to "cultural genocide" and assert that coercive birth control is applied. In reality, according to the 2000 census, there are 6 million Tibetans and 1.5 million non-Tibetans migrants in Tibet; additionally there are 5.4 million Tibetan migrants in Chinese territories outside the Tibetan plateau.
In spite of the demographic factors, Tibetan exiles and NGO supporters argue that the Chinese government carries out development in Tibet with little regard for the views of Tibetans, and that the Chinese Treasury profits exploit the region through state enterprises in sectors such as in mining and timber that operate in Tibet. It is argued that infrastructure in Tibet is constructed to facilitate military operations and the central Chinese government's exploitation of resources, while most Tibetans, who are peasants and herders, are shut out of development or at least have benefited from it much less than the Han Chinese migrants in Tibetan areas.
In reality, the Chinese government sustains a net loss from Tibetan areas because it heavily subsidizes infrastructure development and government services. It argues that Tibetans are the principal beneficiaries of Tibet's development, which provides opportunities and facilities open to all, including elements of preferential policies for Tibetans. Government statements emphasize that most Han Chinese in Tibet are temporary migrants engaged in small trade and thus should not be the most significant elements in any assessment of who, among long-term residents of Tibet, benefits from development.
This includes most rural Tibetans, who have experienced significant increases in income levels, education, health care, transport, environmental protection and communications over the past decades. For example the education system has been tailored to the cultural specificities of Tibetans by developing primary level schooling in the Tibetan language and secondary level schooling on a bilingual basis, adding Chinese languages and supplementary English lessons. Another example is the environment: it is argued that it is best preserved using world standards as a baseline, and is a major asset for the development of tourism in the region as well as in the safeguarding of cultural assets.
What would Marco Polo say?
Marco Polo once said of his travels: "I have not told the half of what I saw because I knew I would not be believed". Tibet seems like a celestial paradise held in chains, but the west's tendency to romanticise the country''s Buddhist culture has distorted mainstream Western views. Popular belief is that under the lamas, Tibetans lived contentedly in a spiritual, non-violent culture, uncorrupted by lust or greed: but in reality society was extremely brutal, comparable to the cruelty of the Islamic State which devastated the Middle East societies in recent years. As much as we might wish it to be otherwise, feudal theocratic Tibet was a far cry from the romanticized Shangri-La so enthusiastically promoted by Western human rights NGOs.
What additional tales would Marco Polo have told today? Maybe that Tibet has become a major tourist destination for idealists? Or that only a handful of Tibetans would welcome a return of theocratic and aristocratic clans? That the Shangri-La myth is an ideological projection for offering redemption from the sins of consumerism? Or that the whole purpose of promoting the Shangri-La myth is to trade indulgences like Pope Leo X did in 1517? That maybe one day a Buddhist "Martin Luther" will come and nail a Manifesto on the gates of the Potala palace in Lhasa? Or that the Government of Tibet in Exile is a puppet of the CIA, or a relict of the Cold War? We don't know, nor do we know what effect his words would have had. As the great navigator himself noted: "I speak and speak, but the listener retains only the words he is expecting. It is not the voice that commands the story: it is the ear".