The emergence of a new patrimonial art
Kovach Imre Barna* and Murray Hunter
Metaphorically, new art trends are like volcanoes. They erupt along the tectonic fault lines of colliding and shifting cultures. No one can predict when an eruption will occur. Nor can the length and magnitude be known until after the event.
Art goes through violent changes when cultures shift, leading to new trends and paradigms, due to the tectonic nature of cultural vista.
Today's art world is a very well mapped out universe consisting of a few thousand leading galleries, museums, a few hundred influential curators and art fair organizers, writers and critics, wealthy collectors and institutions, and of course, the artists themselves.
The artwork is a USD 64 billion a year industry. It mirrors socio-economic trends and itself has become globalized, with different regions within.
Contemporary art is considered a financial asset class, where the promotion, investment, and protection of this asset has taken on priority within the art industry.
Art has become financialized. Financial institutions and fund managers have joined art collectors in creating their respective portfolios of art. Today's definition of good art is that it is saleable and the definition of a good artist is that he or she is marketable.
The prices of contemporary art have grown to spectacular heights, where the million dollar range for art pieces is very common, and some artists sell their works for tens of millions dollars.
However, if somebody buys a painting for millions dollars, what they are actually buying is a stretched canvas and paint. The actual material value of a painting is a tiny fraction of the purchase price. The price of the art work is based on and justified by opinions within the art community which give a certain value and importance to the artist as a brand. The artist becomes a brand with a price tag.
Within the art world, stability is an important factor because nobody wants a cultural shift which can suddenly devalue art assets. However such devaluations happen from time to time and affect whole periods of historical art.
The large difference in valuation cannot be justified by artistic quality. Its real cause is the pressure on the existing paradigm for change. Certain periods of arts and their paradigms can "fall out of favour", where the drop in interest leads to falling prices for that particular category. Consequently, art works from this category which were highly priced in their period of popularity can be bought today at 'give away' prices. At the same time artists whose work in some way is compatible with the emerging paradigm change, may see their art receive much greater appreciation. This would result in revaluation, resulting in the acknowledgement of their importance and higher price for their works. For instance academic painters, who are almost completely forgotten today, were well known and popular in the 19th century, where they commanded praise and high prices for their works.
The impressionists were not considered to be serious artist in their time. For example, Manet's painting caused a scandal at the annual exhibition in Paris. However, today Manet, Monet, Cezanne, Pisarro and other impressionists (and post impressionists) command sky high prices. The once so famous academicians then lost their prestige, where their prices went down. Consequently, there is no real interest in them from collectors, art writers and museums. They wait for the moment of rediscovery if it ever happens.
The authors believe that within the art world today, innovation is carefully contrived to keep the market buoyant to make sure that the 'stars' of yesterday are the 'stars' of today.
From the beginning of the 20th Century there was a revolt against the academic style, where the concept of art for art prevailed. The modernists added two more concepts, that of creating art from art and art about art.
Today's contemporary artists don't really look at nature or reflect upon their inner feelings. Rather, they are much more interested in the global dialogue than taking a look at the inner world.
A new tectonic shift is coming
The familiar images of today's modernist art works which are art for art, art about art, and art from art creations will soon be seen in a new perspective. A tectonic shift in culture and globalization will stir up art movements based upon traditions, scared philosophies and teachings, with its symbols and colours embedded within cultural themes. Patrimonial art which is embedded within cultural themes of traditional lifestyles and beliefs will collide with contemporary art, the art of global capitalism.
By patrimonial art, we mean contemporary art with the intent and knowledge of transmitting sacred tradition.
However, the two art paradigms are not compatible.
Sacred tribal patrimonial art most often consists of thousands of year old symbols and teachings which provide advice and guidelines for all aspects of life.
Patrimonial art is not art for art. It has a much higher goal of seeking to maintain the heritage of harmony and balance of traditional rite, rituals, and spirituality. Patrimonial art is embedded within nature itself. Patrimonial art has a teaching and healing function and establishes the values of humanistic community.
In contrast, contemporary modernist art is a financial asset class. Its goal is to establish a saleable brand, being the artist's name, which creates a high valuation based upon a consensus between the players of the art world.
There is also a mythology about contemporary art. The assumption that contemporary art is one of the highest social achievements of people within society. Thereby placing the discipline on a cultural plane that is viewed as something pure and uncorrupted.
Contemporary art is consequently seen as being one of the most valued artefacts of society, being collected in art galleries, museums, and in private collections around the world, unquestionably considered to be at the pinnacle of human prowess.
In such an environment of closely connected curators, critics, gallery owners, artists, and fund managers, value is created and maintained in the interests of small select groups.
In contrast, patrimonial art doesn't yet have a plane of entry into the art establishment. The deep meanings contained within and the sacredness of patrimonial art may not help in creating financial value. However a patrimonial art work may have deep cultural value within the community, religion or spiritual schools it originates from. Ultimately, this may translate into monetary value as well.
An eruption is coming from within the ranks too. Many contemporary artists are not completely signed up to the modernist paradigm. Many have interest in art outside the bounds of modernism. They often admire sacred patrimonial art influenced by it and resort to embedding the ideas of patrimonial art into their own works.
One example here is Picasso and his fancy of African tribal art.
There are also indicatory trends in the culinary arts and gastronomy which have parallels to the art world. Australia is going through a small renaissance of traditional bush foods and fusion gastronomy, bringing together food influences from different culinary cultures, is now the order of the day within restaurants and food malls all over the world. Traditional herbal remedies are now more popular than ever.
There are many modernist artists now working within Indian, Asian, African, and South American indigenous communities , where local artists are influencing them with intellectual and style inputs within modern art pieces.
A special case which should be followed is Australia. Community artists have transformed sacred ancient patrimonial designs into modern art where gallery valuations went through the roof in recent years.
There were many 'natural nations' in existence before colonialism and its child globalism. Many of the natural nations are still here upholding their culture and art traditions which influenced contemporary art. Working within these two paradigms requires contemporary artists to start looking within once again.
This is beginning to affect the appearance of modernism.
A new patrimonial art is emerging with global outreach nurtured by sacredness and cultures of 'natural nations', like the indigenous communities in the Americas, Africa, Asia, and Australia. This trend will meet modernism and collide with it.
When these two tectonic plates collide, a process happening now, sacred patrimonial art will break the plate of modernism. Along the break lines a number of eruptions will occur in the form of new patrimonial art centres emerging across the globe.
This will cause a paradigm shift in the art world similar to the one which happened when modernism started.
The result will be a new patrimonial art paradigm that will incorporate the values and sacredness of many cultures that have been unable to express themselves in the globalized community of today. Art in the not too distant future will reflect some of the old traditions of the past and present.
The age of modernism is barely more than 100 years and thus has a minuscule timeframe when compared to patrimonial art. Patrimonial art has been in existence for thousands of years.
When we see modernism reflecting age old patrimonial art, we will come to our senses. We will stop believing that art is for art, art is about art, and art is from art. This will challenge the concept of art as a financial asset, that the best pieces of art are the ones that sell for the most.
Every artist knows deep down that his or her talent and dedication is not for developing financial assets.
The greatest art ever produced by humankind was never produced for sale or profit. Art was not pegged down by its potential of creating value, except for the intrinsic values of perfection, culture and spirituality.
The tectonic shift in the art world and the emergence of new patrimonial art styles across the globe carries with it the potential to make art free once again by unshackling creativity.
Ultimately the reason for making art and owning art will be rethought. The concept of branding and price tags developed by the organized artists of the modern era who have reverted into factory production of their pieces for profit will be challenged.
The new patrimonial art will provide a venue for valuable traditions, spiritual and aesthetic that are quickly disappearing off the face of the earth today due to globalization. By serving the community providing it with its symbols, identity and self-esteem, by making a people's tradition alive and active again new patrimonial will have a much wider acceptance and more functions than modernist art could ever have.
* Kovach Imre Barna is an independent spiritual teacher, thinker, calligrapher, painter, and sculptor.
100 years of history: Historic hotel celebrates worker heritage
If you're the curious sort who enjoys exploring historic sites in your free time, you're far from alone.
Because people are fascinated with learning more about how Americans lived, thought and dreamed in the past, many seek out such cultural enclaves anytime they travel. That helps explain the $762 million in revenues logged by U.S. historic sites in 2013, according to Statista. Other research predicts the revenues realized by U.S. museums and historic sites will more than double between 2018 and 2022.
"Historic places create connections to our heritage that help us understand our past, appreciate our triumphs and learn from our mistakes," the National Trust for Historic Preservation recently noted. "Historic places help define and distinguish our communities by building a strong sense of identity. When you visit a historic site, you learn from their stories."
One fascinating and culturally rich historic site you may not have visited is The American Club, a Forbes Five-Star and AAA Five-Diamond resort hotel in the heartland of Kohler, Wisconsin. The iconic hotel owned by Kohler Co., global leader in plumbing, was built in 1918 as a dormitory for its immigrant workers. This year the multifaceted national attraction celebrates its centennial anniversary in grand style, with even more activities and offerings for its guests.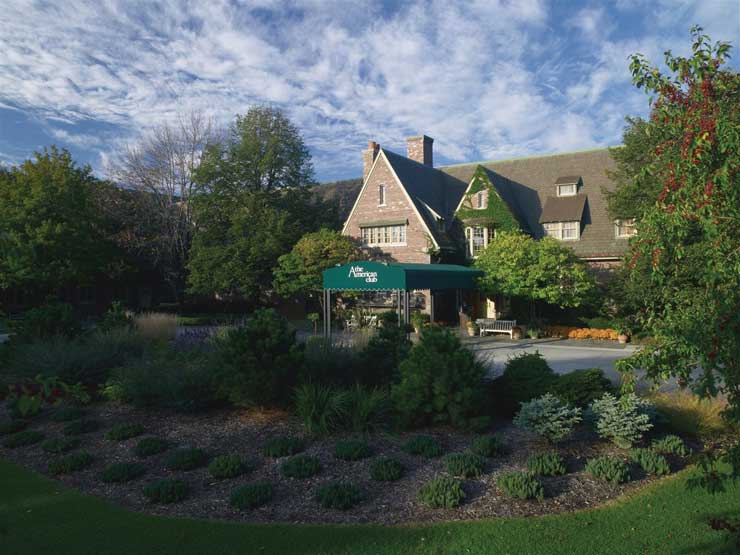 Year-long features of the celebration include a new history exhibit, guided tours and a new cast iron sculpture installation, "The Immigrant," created by artist Stephen Paul Day. Day took part in the Arts/Industry program and was inspired by the company history. The four-star restaurant, The Immigrant, will offer a tasting menu featuring dishes from France, the Netherlands, Germany, Normandy, Denmark and Great Britain — the primary homelands of original Kohler employees. Group Director Lodging for Kohler Co., Christine Loose explains, "The concept of gracious living and creating a sense of belonging has always been important to the company and our heritage."
With its trademark red brick, striking Tudor architecture and soaring roof peaks and slate tile, the landmark is recognized by both the Historic Hotels of America and the National Register of Historic Places.
Aside from the historic elements of The American Club, visitors and guests can partake of several other features offered in or near the surrounding resort known as Destination Kohler. Key attractions include the Forbes Five-Star Kohler Waters Spa; a lakeside boutique hotel known as the Inn at Woodlake; cycling and yoga studios; four championship golf courses (Blackwolf Run and Whistling Straits, the latter hosting the revered 2020 Ryder Cup); 12 dining establishments, renovation inspiration at the Kohler Design Center, and daily factory tours led by retired Kohler employees spotlighting the evolution of day-to-day manufacturing operations.
Destination Kohler is an hour north of Milwaukee and 2.5 hours north of Chicago. Learn more about its many attractions at DestinationKohler.com.
Weaving profits in Azerbaijan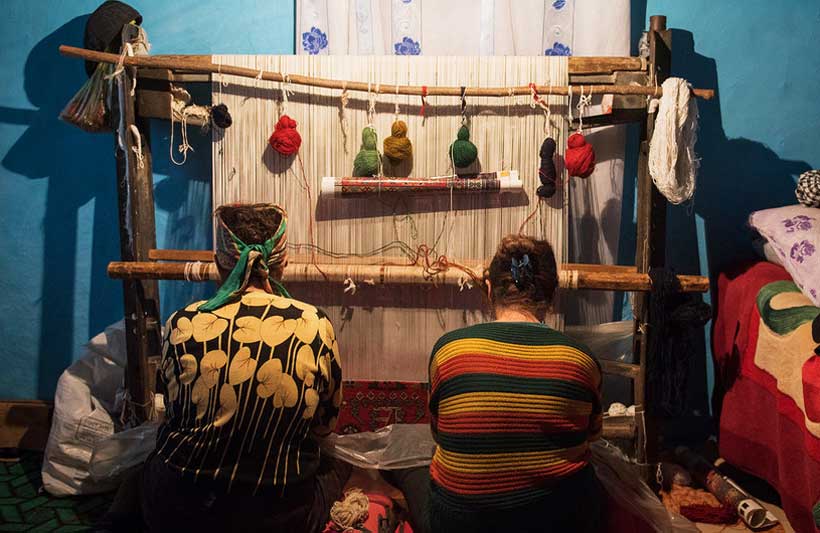 Artisans in Azerbaijan who practice the traditional art of carpet making are being provided with new business opportunities thanks to a project supported by the UN Development Programme (UNDP).
Weaving carpets is a skill that has been passed down through the generations and in the central Asian country is largely the work of women.
Although Azerbaijan is located on the ancient trading route known as the Silk Road, many artisans, especially those living in mountainous areas, are finding it increasingly difficult to get their carpets to market.
Small and Medium sized enterprises, like the carpet weavers of Azerbaijan, account for 60-70 per cent of global employment, according to the UN.
As the International Micro-, Small and Medium-sized Enterprises Day is marked across the world on June 27, the Azerbaijani authorities, with the support of UNDP, are boosting efforts to help artisans sell their goods.
New interactive Story Maps make Europe's cultural heritage more accessible
On the occasion of the first ever European Cultural Heritage Summit, the European Commission has released a set of interactive maps which will help to raise awareness of cultural heritage in Europe.
Speaking at the European Cultural Heritage Summit in Berlin today, Tibor Navracsics, Commissioner for Education, Culture, Youth and Sport, responsible for the Joint Research Centre, said: "Making cultural heritage more accessible to everyone is one of my main goals for the European Year. The Story Maps will play an important role in this, offering valuable information in a user-friendly way. The Joint Research Centre has already developed a number of tools that help us preserve cultural heritage, such as 3D scanning technologies that can be used to map heritage sites as well as smart materials for their reconstruction. Now the interactive Story Maps will help open up opportunities for Europeans to explore our shared heritage and get involved in safeguarding it for the future."
The Story Maps, developed by the Joint Research Centre, the Commission's science and knowledge service, inform in an easily accessible way about several initiatives across Europe linked to cultural heritage. These include actions like the European Heritage Days, the EU Prize for Cultural Heritage or the European Heritage Label, funded by Creative Europe, the EU programme that supports the cultural and creative sectors. The website also contains links to the digital collections of Europeana – the EU digital platform for cultural heritage. This platform allows users to explore more than 50 million artworks, artefacts, books, videos and sounds from more than 3500 museums, galleries, libraries and archives across Europe. These maps will be updated and developed, for example taking into account tips from young people exploring Europe's cultural heritage through the new DiscoverEU initiative.
The online tool was launched by Commissioner Tibor Navracsics at the European Cultural Heritage Summit in Berlin today. This Summit is one of the main events of the 2018 European Year of Cultural Heritage and is attended by high-level representatives of EU Institutions, civil society organisations and Member States, including German Federal President Frank-Walter Steinmeier. to protect, promote and raise awareness of cultural heritage in Europe. to protect, promote and raise awareness of cultural heritage in Europe. to protect, promote and raise awareness of cultural heritage in Europe.
Background
The Story Maps were presented to a wider audience at the European Cultural Heritage Summit, co-hosted by Europa Nostra, the Prussian Cultural Heritage Foundation and the German Cultural Heritage Committee. The Summit is one of the key events of the European Year of Cultural Heritage taking place in Berlin from 18 to 24 June. It will see the adoption of the "Berlin Call to Action – cultural heritage for the future of Europe", which supports the idea of a European Action Plan on Cultural Heritage, announced by the Commission in the New Agenda for Culture proposed in May. The Call to Action asks citizens, institutions and organisations to build on the momentum of the European Year, to recognise the positive and cohesive power of shared cultural heritage and values to connect Europe's citizens and communities and to give a deeper meaning to the entire European project.
The purpose of the European Year of Cultural Heritage is to raise awareness of the social and economic importance of cultural heritage. Thousands of initiatives and events across Europe will give citizens from all backgrounds opportunities to discover and engage with cultural heritage. The aim is to reach out to the widest possible audience, in particular children and young people, local communities and people who are rarely in touch with culture, to promote a common sense of ownership.