SPYMKR-PCEMKR: The Possible Future of American-Iranian-Saudi Triangulation
Dear Iran,
Forgive the presumptuousness of thinking a mere American Intelligence Studies professor is able to give a few lessons about innovative geostrategy to a foreign state, but sometimes it takes eyes on the outside, far away from the forest, to be able to see unique young saplings that have the potential to grow into great redwoods, even though they may currently be completely ignored.
I believe this is just such the case today when we look at the global position of Iran as it considers the many different paths and perspectives moving forward after the JCPOA. If I am being honest, so far the outlook appears less-than-rosy, as the same old-same old seems to be dominating. For the sake of the greatest future of Iran and a more peaceful global community, status quo orthodoxy should be discarded.
Sometimes it must seem utterly comedic trying to navigate the relationship waters with the West. Since the signing of the JCPOA there have been half a dozen accusations from EACH side protesting how the spirit if not the letter of the accord has been breached. America, for its part, seems to exhibit something akin to 'signer's remorse,' more obsessed about finding areas to critique the Islamic Republic rather than emphasizing how to work successfully within this new and exciting dialogue. Iran, for its part, feels strain from all sides, inside and out: internally, the domestic authorities want to tightly manage and maximize the success to be gained out of the accord in a competent and non-chaotic way (without any major political change); externally, many different foreign sides not-so-secretly hope the accord becomes the actual undoing of the government, a facilitator of local unrest and creator of a new regime, exorcising for America at least the ghosts of 1979.
And thus, the frustrating banality of politics: over-determined to make the status quo immutable. American worries about not trusting Iran are as common and inane as Iranian worries about not trusting the United States. The JCPOA could and should be a spur for new thinking and new engagement. So far, on that note, it has been basically irrelevant. It is perhaps even understandable why that is so: Iran sees the greatest capitalization of the accord to be about increasing its economic stability and prosperity. It no doubt will do just that. But it could also do so much more. But that will require both sides, American and Iranian, to be willing to see the future in a more innovative geostrategic light and be less enslaved to the old orthodoxy where the two simply must remain adversaries. It does not have to be that way. In fact, if people on either side could take a moment to step back and breathe, then the INEVITABILITY of this transformation would be more apparent. Yes, I said 'inevitability' and meant it: a new day will come. The only real question is will the leaders in Washington and Tehran take advantage of it?
One of the biggest relationship elephants in terms of making such change between Iran and America is Saudi Arabia. Indeed, the 'special' relationship between the US and Saudi royal family now goes back decades. While both sides have always emphasized the strategic defense aspects of the relationship – how the Saudis have been a de facto 'silent affirmer' of American interests in the region, the Islamic partner Americans can work with – this has come with a steep cost: the political development of Saudi society, the evolution of its governmental system and emergence of civil liberties and citizen rights has been, to put it kindly, abysmally glacial. While many military figures would characterize this as a necessary evil to maintain a major power Islamic partner in the area, the true reality is that this moral turpitude is better explained by the economic energy dependence from which America has been unable to wean itself away and which the Saudis have brilliantly maintained and managed. Until now. And this is where the biggest opportunity sits hidden for Iran. America has finally managed to position itself to where it is at least realistic to see a near future where it is not overly dependent on foreign fossil fuels. This means the 'special' relationship with Saudi Arabia is inevitably going to undergo great change. Trust me. When the day comes that the United States no longer sees Saudi Arabia as an essential lynchpin in feeding the energy needs that power its global economic primacy, then the very next day will mark the rewriting of the Saudi-American relationship. Saudi Arabia seems to recognize this better than most: just observe some of its more self-injurious oil pricing decisions over the last several years and most recent declarations about the country's need to push away from natural resource dependency and be more economically 'diverse.' So what will you do, Iran, when this comes to pass? Do you see this for the immense opportunity that it is or have you been ignoring it, determined to remain stuck in a status quo where America remains the so-called 'Great Satan' while you remain the hub of a supposed 'axis of evil?' Rightly or wrongly, the responsibility to create that new future with America rests on your shoulders. But will you take it?
As America moves off away from this foreign economic energy dependence, a political and diplomatic vacuum will emerge in the Islamic world. Who is going to fill it? Who will be the next great Islamic partner for America? Who can be? There are few true contenders. Honestly, there really have been only two: Iran and Saudi Arabia. Political relevance, military capability, economic potential, and cultural influence have always made you two the natural rivals for regional hegemony and American attention. One only need look at the situation in Yemen to understand how much this is true and dangerous when mismanaged. The unique economic relationship between Saudi Arabia and America in the post-Cold War basically shut you out, Iran, and your resentment over that fact (along with the endless sanctions) did not exactly encourage your best or most innovative behavior to enact change. That same reality has also powered an American blindness to certain disturbing behaviors from the Saudi side, whether that be reckless suppression domestically, clumsy maneuvers against civilian areas in Yemen, or the Faustian bribing of local radical extremists that basically meant the Kingdom de facto exported terrorism abroad in order to keep greater calm at home. But as I said, those days are the old orthodoxy. Maintaining it is egregiously short-sighted and a bit bull-headed. This is of course how most governments in the world tend to initially behave even when a new, better path appears before them. Oh how we rely on our status quo. Can you do differently, Iran, or are you just as much a slave to it as everyone else?
I am not naïve. I know that the only way an initiative from you, Iran, would be received more promisingly from the United States is if you worried just a little bit less about political change within your own borders. It is a disconcerting prospect, most assuredly. On the one hand, you have China as an example of how change can be embraced and fostered without tremendous political upheaval. While the United States criticizes that pace of change, that is just America being America. Sometimes it cannot get out of its own way. But on the other hand, you have what was once the Soviet Union, an example of what happens when change dictates to a state rather than the other way around. You probably surmise: if we cannot guarantee the Chinese path for ourselves, we cannot risk the Soviet one. It is a damnable conundrum, no doubt. But your great progress and positive change on the global stage can only come through such risks, by endeavoring to navigate through such conundrums and emerge on the other side. Your current path, where you think you can maximize the JCPOA while maintaining an adversarial relationship with the United States (and thus, consequently, guaranteeing American resistance to your very progress), is untenable. More importantly, it's unnecessary. So here I sit, in the odd position of suggesting how two 'enemies' should actually look beyond their respective noses to see how much better off each will be as partners moving forward. Many assume that those of us within Intelligence Studies deal only in subterfuge, in deceit and deception. 'Spymakers' cannot be trusted, after all. But that is Hollywood hyperbole, where the real world suddenly thinks it is a mirror reflecting the fake world of Bond and Bourne. In truth, the best form of Intelligence Studies is simply gaining new insights from information and thus opening up new pathways to inflict LESS damage, not more. In the end, our mission is not to create chaos but curtail it. An American-Iranian partnership would be the best curtailing.
And so, Supreme Leader, if a 'spymaker' can be a peacemaker without contradiction or hypocrisy, then why can't Iran be a partner to America? It can. It should. Seize the opportunity.
Upon closer inspection, it appears that the Islamic Republic of Iran has a relative near dearth of human rights organizations operating freely within that country.
Although Iran has apparently allowed the International Atomic Energy Agency and the United Nations, as all as some foreign nations to inspect from time to time its weapons facilities and nuclear power apparati, there does not seem to be a corresponding level of interest generated both externally or internally in investigating the various human rights complaints and abuses within Iran.
To be sure, this is the ultimate Achilles Heel of Iran – and a massive glaring fact that Western powers such as the United States, Israel, and other nations seize on to justify bombing the current government of Iran into oblivion.
On a more sick and hypocritical level the fact that Gulf States nations such as Saudi Arabia and Bahrain also constantly issue clarion calls for regime change or war with Iran, when they themselves host numerous and countless violations of human rights against women, minorities, religious organizations, and "heretics," still this only underscores the geopolitical reasons that these aggressive nations want to change or destroy the current Iranian regime.
In order to both diffuse and defray these attacks, Iran has no other real choice other than to augment and increase their internal human rights organizations to both monitor as well as organically implement change in their country, subject to the will of their governed people.
By doing so, Iran could effectively accomplish 2 goals: (1) maintain their current government with relative stability; and (2) organically grow and develop to adequately and accurately transform their government into one that faithfully represents the interests and aspirations of its people, rather than appearing to subjugate and suppress them.
To be sure, Iran would be giving up some of its internal and external sovereignty by allowing more human rights monitoring agencies to actively police and report on its internal human rights conflicts and complaints, but it would go miles towards placating its enemies, removing their arguments for regime change/outright disastrous war, and would also allow for Iran to approach modernity with the rest of the world, rather than being trapped in a society/culture which really has nothing in common with the rest of the civilized world, any more.
In a similar vein, if the Iranian regime is truly serious about joining the league of modern nations, then they should not be afraid or closed off with regards to implementing this.
A nation must be confident in itself, its government, and its own culture, but should also evolve and reflect global change as it presents itself by and for the will of its people, not repressing them as such.
Iran has apparently had a troubling history with appointing human rights organizations in the past, as is reflected by its handling and treatment of the Human Rights Activists in Iran (also known as "HRAI" and "HRA") which is a non-political non-governmental organization composed of advocates who defend human rights in Iran, which was founded in 2006.
This HRAI organization supposedly was set up to keep the Iranian community and the world informed by monitoring human rights violations in the country and disseminating the news about such abuses.
Additionally, HRAI was allegedly enacted to strive to improve the current state of affairs in a peaceful manner and support strict adherence to human rights principles.
However, the Islamic Republic of Iran has apparently moved to both dismantle and arrest many of the organization's leaders and representatives, beginning in 2010.
Specifically, on March 2, 2010, the government of Iran moved to break up HRAI.
During the subsequent reconstruction of the organization, the organization apparently registered as a United States non-profit organization and was invited to attend the annual NGO Conference sponsored by the United Nations.
While the Iranian government may have a reason to distrust the impetus/motivations of the United States, Israel and the Gulf States, it really has no reason to distrust the United Nations, which has historically been its only real honest broker/ally.
Adding insult to injury, the HRAI has also been invited to join the World Movement for Democracy and to participate in the human rights events sponsored by the governments of Canada, the United States and the European Union.
The Islamic Republic of Iran can not (and should not) avoid this issue any further.
Merely parroting the mantra that "Saudi Arabia engages in more (or less) human rights abuses" is no longer adequate to stave off and prevent the war drum that is heading Iran's way.
There are simply too many financial, oil and gas, military industrial complex, geopolitical, and human rights reasons and powers fixated on either regime change or outright war with the Islamic Republic of Iran.
If Iran is truly a confident nation that values it past history and desired future, it must drastically increase and augment its human rights organizations (to get on par with the United States, Europe, and Israel) and move forward to finally embrace its place in the sun as its leaders supposedly state that they want.
If not, then it deserves exactly what it is probably going to get, more war, destabilization, destruction, disorientation, and disarray, similar to what happened to Libya, Syria, Iraq, Yemen and other nations with closed door human rights policies.
The new strategic axis between the Russian Federation and Iran
On February 11 last the Iranian Foreign Minister, Mohammed Javad Zarif, arrived in Beirut, shortly after the establishment of a new Lebanese government that, although led by an old friend of Westerners, namely Hariri, is certainly one of the recent governments closest to Hezbollah.
Minister Javad Zarif offered the Iranian support to the new government – "support in all sectors".
Besides the Foreign Minister, the Iranian delegation was composed of a select group of 30 Iranian businessmen, who met Lebanese and Palestinian businessmen.
It is the first sign of an Iranian "grip on the Lebanon" by the Shiite Republic of Iran, which will lead to many strategic, geopolitical and economic changes.
It is obvious that, at the end of clashes in Syria, Iran wants to secure a stable centre of power in the Mediterranean region, in close contact with Israel and towards the East Mediterranean gas area which – as often noted – will be very important in the future.
Nor should we forget that Zarif's visit was scheduled precisely on the day of the 40thanniversary of Imam Khomeini's Shite revolution – a political symbol which should certainly not be overlooked in a country with a large Shite population.
Same religion, same political leadership – this seems to be the meaning of this careful choice and coordination of dates.
Hence both Russia and Iranthink that the new stability in the Syria led by Bashar al-Assad is based above all in the Lebanon.
Both Russia and Iran, however, have indicated – at least indirectly in the case of Russia – Hezbollah, in particular, as their primary point of reference in the Lebanon.
For the Russian Ambassador to Beirut, currently only the United States can trigger a conflict with Iran, given its regional policy.
As to the probable future conflict between Israel and the Lebanon, Ambassador Zasypkyn believes that the situation is much more unstable and even more controllable.
In other words, Russia still relies on its power of political and military deterrence in Syria to avoid a clash between Hezbollah and Israel – a war that would put a strain on both its new hegemony in the Middle East and stability in Syria.
Just one day before Zarif's visit to the Lebanon, the Russian envoy to Jerusalem had reassured the Israeli government that Hezbollah was a "stability force" throughout the region.
Probably Russia cannot yet do without Iran, both in Syria and in the Lebanon, and accepts – like it or not – that the primary link in the Lebanon is between the "Party of God" and the new government led by Hariri.
But how long can it last?
If Hezbollah decided to exert new pressure on Israel, Russia could quickly lose its grip on Southern Syria and miss its primary goal of becoming the rotating platform of the Greater Middle East.
Inter alia, the signals coming from the Lebanese Shiite military group are very clear: on February 7 last, Hassan Nasrallah openly called for the rearming of Lebanese forces (obviously) only by Iran and later made it clear that, in a possible US future attack to support Israel, Hezbollah would immediately fight on the Iranian side.
Nasrallah also asked to make the new Iranian "advanced" missiles available to the Lebanon, as well as sensor systems and tactical and signals intelligence.
It is therefore the request for a real strategic parity between Southern Lebanon and Israel.
This means that the Lebanese Shiites' aim is to eliminate all kind of US interference in the region and later put pressure – not just at military level – on the Jewish State that, without the US support, would be forced to accept a downward and uncertain peace.
This is the first goal of both Iran and Hezbollah, but certainly not of the Russian Federation.
Nevertheless, in his Lebanese meetings, Javad Zarif – who implicitly accepted Hezbollah's request for help – also made it clear that Bavar 373 – a missile launching and air defence system very similar to the Russian S-300 – was ready for the forces of the "Party of God", but also for the Lebanese regular army.
"Bavar" means "belief", albeit in a strictly religious sense, while the number 373 reminds of the soldiers belonging to the final ranks of the Twelfth Imam.
Iran is full of political symbols that must always be taken into account.
Bavar 373 is a well-copied surface-to-air missile system – probably from the Russian S-300 system that appeared in Iran for the first time in 2015.
The system uses the Iran-made missile called Sayyad-4 having a range of 150 kilometres. It also uses advanced radars that – as the analysts who saw Bavar 373 at work maintain – can saturate at least sixty targets at the same time.
It is therefore obvious to imagine what will immediately happen: sooner or later Israel will have the opportunity of destroying the Iranian networks in the Lebanon with a surgical operation. In all likelihood, however, Hariri's government will refuse Iran's offer, thus allowing Russian weapons and, above all, the S-300 missiles to arrive in the Lebanon.
It should be recalled that the S-300 missiles will be carefully monitored both from the Russian bases in Syria, which will never be abandoned by Russia, and simultaneously from the Russian missile site.
Obviously Iran does not object to the transfer of Russian weapons to the Lebanon. Quite the reverse.
Furthermore, the Shite regime will soon maintain that, since the United States still arm and train the Kurds against the so-called Caliphate, it also regularly and lawfully arms their Hezbollah units against the same enemy, and with equivalent devices and systems.
Hence Iran's and Russia's primary goal is the total expulsion of the United States from Syria and from the Lebanese and Israeli Mediterranean coast.
Once completed this operation, Russia will ask Israel for a new deployment of its potentials against Hezbollah and the Palestinian jihad forces, which are also in Iran's calculations.
And possibly, in the future, in Russia's calculations.
However, as far as we currently know, the final US withdrawal from Syria should be completed by the end of April.
But, again, what is the reason underlying this new Russian interest in the "Party of God"?
It is already clear that Russia does not want to remain alone in Syria.
The Russian Federation, however, does not even want Iran to undermine its regional hegemony, since it believes that everything Iran can ask is the stability of its "corridor" from Iraq to the Lebanon, but only under Russia's control.
Hence taking Hezbollah away from Iran's hands is vital for the Russian Federation, which desperately needs strategic buffers to control Syria by isolating Iran's primary instrument, namely Hezbollah.
As already seen, also on February 11 last, in its talks with Netanyahu's government, Russia maintained that "Hezbollah was a peace force".
This also makes us understand that President Putin has no interest in stopping the Israeli operations against the tunnels of the Shiite military organization.
Again, for Russia, the possible conflict between Israel and Lebanon can only break out because of the United States, considering that Hezbollah supported only the lawful government of Damascus, unlike what the United States did since the beginning of hostilities.
Hence Russia believes that the United States should tone down its attacks on Iran, with a view to reducing the Shiite Republic's pressure on Hezbollah and the current Lebanese government.
Is this hypothesis reasonable? Both yes and no.
Certainly, if the United States wants a prolonged war (this is the sense that Iran attributes to the US statements), the most likely reaction will be an Iranian attack that will set fire to the whole "corridor" and destabilize the Golan region.
Nevertheless, is it not equally probable that the US Presidency's brags were just a strategic "trial balloon" and boasts for internal use?
As is currently probable, it is precisely Russia that wants the "Party of God" shift from a clear Iranian dominance to a stable (and hegemonic) Russian protection.
If this happened, Russia would avoid paying too high a Syrian price to Iran. It would also have a military organization at its disposal that could well secure the East Mediterranean region and keep – again on Russia's behalf – peace and stability of Bashar al-Assad's regime, whose Armed Forces it never liked much.
Three important considerations shall be made in this respect: the S-300 operating systems that Russia has left in Syria since last October are not yet operational.
This means that Russia has not yet decided what to do with them in Syria.
Furthermore, Iran has not yet completed the factory and has not yet started the production of "advanced" missiles on the Syrian territory.
It was, in fact, mere psyops to show to Israel and the USA a greater development stage than the real one and to underline the impending  danger of an Israeli attack.
Finally, Iran has not yet accepted the pressing Russian request to quickly move the centralized command of its forces in Syria, which operates from the Damascus International Airport area.
All Iranians are still there and they will stay there for a long time.
Therefore, in essence, Russia believes that all these post-truths are the result of an American and Israeli psywar operation, designed to clearly separate the Iranian, Russian and Lebanese interests and hence rebuild a security network in Syria and in the Lebanon.
Precisely in response to said alleged psyops, Russia is currently trying to place the whole "Party of God" movement under its wing, at a time when it knows very well that the Iranian support for Hezbollah is weak and economically unpredictable.
Hence a new Hezbollah, which would act as a watchdog in Syria and ensure the security of the coasts south of Latakia and Tartus. It would also enable Russia to have access to the wide universe of Sunni and Shite "resistance" movements opposing the Israeli expansion.
Russia wants a stable Israel, but small and less powerful than it currently is.
We have already seen important signs of this operation during the Sochi meeting between Putin, Erdogan and Hassan Rouhani held on February 14 last.
On that occasion President Putin clearly reaffirmed his support for Hezbollah, i.e. his "grip on the group", and the possible use of this new protection for both Turkey and obviously Iran.
Probably Russia knows that Iran can no longer afford to support the very expensive "Party of God", as well as the whole jihadist network south of Israel.
According to Russian plans, however, Iran and Turkey will never be able to use the new arrangement of the "Party of God" on their own.
In addition, Rosneft has already penetrated the complex and largely autonomous Lebanese natural gas market which, as already noted, has left the sphere of the Cairo Conference.
A twenty-year agreement between the Russian natural gas giant and the Lebanese government is already in place for a storage site in Tripoli.
As soon as the USA leaves the Middle East, Russia will immediately occupy the oil and gas sites and positions.
But it will do so on its own, without parallel agreements with Syria or Iran.
Moreover, from now on, the Lebanon explicitly wants Russia to manage the relations between the Lebanon and Syria that, as is well-known, have never been particularly peaceful.
The variable of the Lebanese real independence from Syria is the central point of Russia's current posture and, hence, of its specific focus on Hezbollah.
The one billion US dollar agreement of military transfers from Russia to the Lebanon, which has been much discussed in Western capitals, is a first sign showing that Russia does not want Iran in the Lebanon, but can accept it among the other secondary players, above all in Syria.
The Russian-Lebanese trade has risen from 423 million in 2016 to the current 800 million, with a market dominated by Russian energy transfers to the Lebanese market.
In all likelihood, in the future Russia will support Hezbollah's request that the Israeli deep-sea Leviathan gas field illegally acquires some of the resources of the Lebanese gas fields.
The threat is clear: if Russia fully supported the Lebanese requests, there would be the possibility of a beginning of hostilities between the "Party of God" and Israel. At the end of a short, but harsh confrontation, said hostilities would be mediated exactly by the Russian Federation.
Suicide attack in Iran frames visit to Pakistan by Saudi crown prince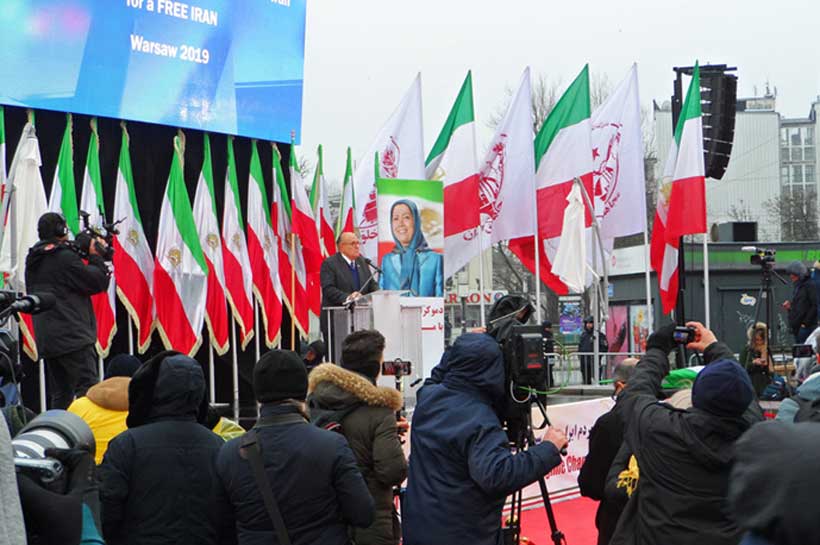 This week's suicide attack on Revolutionary Guards in Iran's south-eastern province of Sistan and Baluchistan, the second in two months, could not have come at a more awkward moment for Pakistani prime minister Imran Khan.
The assault on a bus carrying the guards back from patrols on the province's border with the troubled Pakistani region of Balochistan killed 27 people and wounded 13 others. It occurred days before Saudi crown prince Mohammed bin Salman was scheduled to visit Pakistan as part of a tour of Asian countries.
While Baluchistan is set to figure prominently in Prince Mohammed's talks with Mr. Khan, the attack also coincided with a US-sponsored conference in Warsaw, widely seen as an effort by the Trump administration to further isolate Iran economically and diplomatically.
Inside the conference, dubbed The Ministerial to Promote a Future of Peace and Security in the Middle East, Secretary of State Mike Pompeo insisted that US policy was designed to force Iran to alter its regional and defense policies and not geared towards regime change in Tehran.
Yet, US President Donald J. Trump appeared to be sending mixed messages to the Iranians as well as sceptical European governments with his personal lawyer, Rudolph Giuliani, addressing a rally outside the conference organized by the Mujahedeen-e-Khalq, a controversial Iranian exile group believed to enjoy Saudi backing.
Mr. Giuliani told the protesters who waved Iranian flags and giant yellow balloons emblazoned with the words, "Regime Change" that "we want to see a regime change in Iran."
Mr. Trump appeared to fuel suspicion that Mr. Giuliani represented his true sentiment by tweeting on the eve of the Warsaw conference in a reference to the 40th anniversary of the Islamic revolution: "40 years of corruption. 40 years of repression. 40 years of terror. The regime in Iran has produced only #40YearsofFailure. The long-suffering Iranian people deserve a much brighter future."
In a statement, the Revolutionary Guards blamed the attack on "mercenaries of intelligence agencies of world arrogance and domination," a reference to Saudi Arabia, the United States and Israel.
Jaish-al-Adl (the Army of Justice), a Pakistan-based splinter group that traces its roots to Saudi-backed anti-Shiite groups with a history of attacks on Iranian and Shiite targets, has claimed responsibility for the attack.
The group says it is not seeking Baloch secession from Iran. Instead, it wants to "force the regime of the guardianship of jurisconsult (Iran) to respect the demands of the Muslim Baloch and Sunni society alongside the other compatriots of our country."
Militants targeted a Revolutionary Guards headquarters in December in a rare suicide bombing in Chabahar, home to Iran's Indian-backed port on the Arabian Sea, a mere 70 kilometres from the Chinese supported port of Gwadar, a crown jewel in the Pakistani leg of the People's Republic's Belt and Road initiative.
The attacks coupled with indications that Saudi Arabia and the United States may be contemplating covert action against Iran using Pakistani Balochistan as a launching pad, and heightened Saudi economic and commercial interest in the province, frame Prince Mohammed's upcoming talks in Islamabad.
During his visit, Prince Mohammed is expected to sign a memorandum of understanding on a framework for US$10 billion in Saudi investments.
The memorandum includes a plan by Saudi national oil company Aramco to build a refinery in Gwadar as well as Saudi investment in Baluchistan's Reko Diq copper and gold mine.
The investments would further enhance Saudi influence in Pakistan as well as the kingdom's foothold in Balochistan.
They would come on the back of significant Saudi aid to help Pakistan evade a financial crisis that included a US$3 billion deposit in Pakistan's central bank to support the country's balance of payments and another US$3 billion in deferred payments for oil imports.
Taken together, the refinery, a strategic oil reserve in Gwadar and the mine would also help Saudi Arabia in potential efforts to prevent Chabahar from emerging as a powerful Arabian Sea hub.
Saudi funds have been flowing for some time into the coffers of ultra-conservative anti-Shiite, anti-Iranian Sunni Muslim madrassahs or religious seminars in Balochistan. It remains unclear whether they originate with the Saudi government or Saudi nationals of Baloch descent and members of the two million-strong Pakistani Diaspora in the kingdom.
The funds help put in place potential building blocks for possible covert action should the kingdom and/or the United States decide to act on proposals to support irredentist activity.
The flow started at about the time that the Riyadh-based  International Institute for Iranian Studies, formerly known as the Arabian Gulf Centre for Iranian Studies, an allegedly Saudi government-backed think tank, published  a study that argued that Chabahar posed "a direct threat to the Arab Gulf states" that called for "immediate counter measures."
If executed, covert action could jeopardize Indian hopes to use Chabahar to bypass Pakistan, significantly enhance its trade with Afghanistan and Central Asian nations and create an anti-dote to Gwadar.
Pakistani analysts expect an estimated US$ 5 billion in Afghan trade to flow through Chabahar after India in December started handling the port's operations.
Iranian concerns that the attacks represent a US and/or Saudi covert effort are grounded not only in more recent US and Saudi policies, including Mr. Trump's withdrawal last year from the 2015 international agreement to curb Iran's nuclear program despite confirmation of its adherence to the accord and re-imposition of harsh economic sanctions against the Islamic republic.
They are also rooted in US and Saudi backing of Iraq in the 1980s Gulf war, US overtures in the last year to Iranian Kurdish insurgents, the long-standing broad spectrum of support of former and serving US officials for the Mujahedeen-e-Khalq and in recent years of Prince Turki al-Faisal, a former head of Saudi intelligence and ex-ambassador to the United States and Britain.
Said Ali Vaez, the International Crisis Group's Iran analyst: "The concern was never that the Trump admin would avert its eyes from Iran, but rather that is in inflicted by an unhealthy obsession with it. In hyping the threat emanating from Iran, Trump is more likely than not to mishandle it and thus further destabilize the Middle East."