Hungry of Hungary – One (senti)mental journey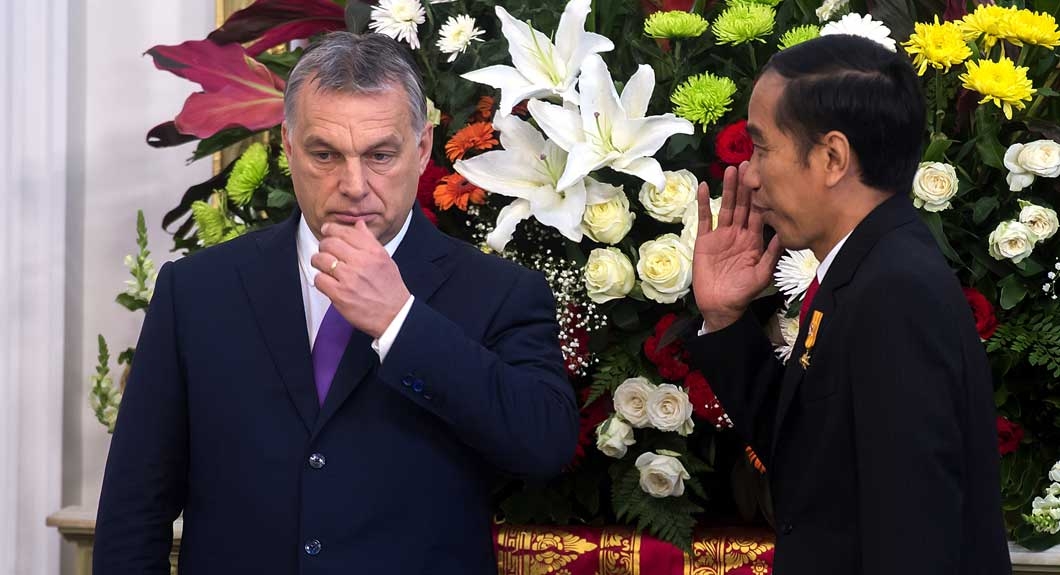 Some days ago, I achieved historical continuity between Hungary and Indonesia — well, at least in connection to my father and me. How so? In the early 1960s, my father was assigned to set up the Indonesian Embassy in Budapest. Indonesia had already established diplomatic relations with Hungary in 1955, but did not actually have a physical embassy.
During my father's time there as chargé d'affaires, he met with many high-ranking officials. Among the old photos from those times, there is one of him shaking hands with János Kádár, Hungary's prime minister at the time. Kádár was PM from 1956 to 1988. Thirty-two years, just like Indonesia's Soeharto.
As dad's daughter, I was invited to a luncheon at the State Palace on Feb. 1 — hosted by President Joko "Jokowi" Widodo naturally — in honor of Victor Orban, the current Hungarian prime minister who was here for an official visit. I had my photo taken with him. Cut-to-cut: in 1962 my dad with the then Hungarian PM, in 2016, me with the current Hungarian PM.
While 54 years have lapsed, my fond memories of Hungary have not. My father passed away in 2006, so unfortunately he could not witness the historical continuity his daughter created, albeit only as a snapshot (pun unintended!).
When we lived there, we first stayed at the famous Gellert Hotel, built between 1916 and 1918 in Art Nouveau style. Situated at the foot of Gellert Hill and on the right bank of the River Danube, it was probably one of the most beautiful places to start our life in Hungary.
Indeed, it's still one of the most famous historic hotels in Europe.
We eventually moved to a house in Lepke Utca (Butterfly Street) on the Buda side of the city, which had a huge garden, two swimming pools and about 100 apple trees. Our household staff consisted of Mariko and Ibolya, and their families became our Hungarian family. The embassy chauffeur, Mr. Bologni, was my favorite because his taste in dolls and clothes that my mum would sometimes ask him to buy for me and my sister was great.
One day, while driving my mother, he pointed to a beautiful mansion. "Madam, that used to be my house". A former aristocrat, after the Hungarian revolution of 1956, his property and wealth were seized by the Communist government that came into power. Changes in political power unfortunately do tend to have their victims. Sometimes, lots.
What do Indonesia and Hungary have in common? It's mostly an exercise in contrasts: one is archipelagic, the other landlocked, Indonesia's population is 256 million, Hungary's is less than 10 million; geographically, Indonesia is more than 20 times the size of Hungary; Indonesia predominantly consists of Muslims while Hungary of a variety of Christian denominations.
Indonesia has lots of natural resources, Hungary has some, but nothing compared to Indonesia.
In terms of social indicators, Hungary is way above Indonesia. It has a Human Development Index of 44, while Indonesia's is 110. Hungary's maternal mortality rate and infant mortality rate are, respectively, 17/10,000 live births and 5/1,000 live births, while Indonesia's is 126/10,000 and 24.29 /1,000 live births. Last but not least, Hungary has 13 Nobel Prize winners, and Indonesia — none!
Being in the presence of the two leaders at the luncheon, and even chatting with them briefly, I couldn't help thinking of their leadership styles. Both are close in age —Jokowi being born in 1961 and Orban in 1963, but like the countries they lead, they too are a study in contrasts.
Jokowi is sometimes said to be a karbitan (artificially ripened) leader. Karbit is Indonesian for calcium carbide, which produces acetylene gas used to artificially ripen fruit. His meteoric rise from mayor of Surakarta (2005-2012), to governor of Jakarta (2012-2014), then (narrowly) winning the 2014 presidential elections is the reason for this epithet.
After the initial euphoria, indeed it was often painful to watch him in his first year. So far he has survived, still with his "mild and gentle" leadership style, except when it comes to the death penalty.
The recent disbanding of the Red-and-White Coalition (KMP), led by Prabowo Subianto's Gerindra party certainly helps, giving Jokowi a majority in the House of Representatives.
Orban is anything but karbitan – he's a seasoned, skilled and consummate politician. At age 14-15 he was secretary of the communist youth organization KISZ. In 1988, he was founding member of the Fidesz party (Alliance of Young Democrats), rising up the ranks until in 1993 he became the first president of the party. Under his leadership, Fidesz gradually transformed from being a radical liberal student organization to a center-right people's party.
Those were turbulent years and fall of communism, in Eastern Europe – region that my friend prof. Anis H. Bajrektarevic calls "the world's last underachiever".
However, every rule has an exception. Orban was only a remarkable 35 years old when he became prime minister, serving between 1998 and 2002. From 2002 to 2010 he was in opposition, and won his second premiership in 2010, winning 53 percent of the popular vote and a two-thirds majority of seats.
In the media Orban has been described as right wing and populist, even fascist. In July 2014 he announced his plans to make Hungary an "illiberal state", citing Russia and China as examples. He also stated that it was important to secure his nation's borders from mainly Muslim migrants "to keep Europe Christian".
Orban is said to be the new brand of politics in Europe, i.e. right-wing veering to ultra nationalist: France's National Front, Poland's new conservative leaders, and the Tories in Britain.
Even in Nordic countries, extreme right wing political movements are also emerging. Denmark and the Netherlands are examples of ultra-liberal societies having a backlash.
Love him or hate him, Orban is a force to be reckoned with. He's had a long and winding career, "Orban shapes as much as fits the European Zeitgeist," as the Politico news website states, with migration being just one example.
Jokowi, reckon you can pick up a few leadership tips from your Hungarian counterpart?
Can BRICS Underpin a New World Order?
Amid an unprecedented spike in global geopolitical risks, the world is becoming increasingly aware of the fact that the architecture that underpins the old world order is giving way to a new configuration of international relations and regional blocs. The countries of the Global South are establishing their own institutions, alliances of regional integration, and payment systems, with them turning into a crucial force in the transforming global economy. The largest developing markets, primarily the nations of BRICS, are among the leaders here. In March 2022, Deputy Minister for Foreign Affairs Sergey Ryabkov said that BRICS will form the foundation of a new world order, saying "I think that the BRICS states, totaling almost half of the world's population and accounting for a large chunk of the global GDP, will be among the backbones of the new emerging world order."
However, for the BRICS states to become the foundation of a new world order, the bloc has to offer other countries in the world economy new paradigms of development on a global scale. Such areas in the new economic architecture may include relaunching globalization on a platform of new states and regions, establishing a new institutional system for modernizing nations engaged in the global economy, agreeing on a new reserve currency pool with currencies of developing countries, creating a global development track as an alternative to the one promoted by the West, and forming new regional blocs and platforms to coordinate and develop those blocs.
Virtually all possible global-scale paradigms could be implemented within the broad BRICS+ format that offers BRICS states various options for cooperating with other states in the global economy. Spearheaded by China in 2017, BRICS+ still has to acquire its tangible development outlines in many ways, although some possible models for cooperation within BRICS+ have already been announced by representatives of the BRICS states. China's 2022 BRICS presidency forms a favorable foundation for facilitating BRICS+, with China's representatives having stated that they are considering the options of developing the BRICS+ concept within interactions, among other things, between regional integration alliances of the countries of the Global South.
As regards the idea's implementation, a format that appears most suitable for BRICS+ is an alliance of three pancontinental alliances: the African Union, CELAC (the community of Latin American states), and the SCO/SCO+ in Eurasia. Such an alliance spans the largest possible number of countries across the Global South, while it requires no in-depth and complex economic integration or alignment of economic interactions across all three continents. Such an extended format offers developing countries an opportunity to coordinate interaction on the international stage, advancing the Global South's priority agenda in sustainable development.
This year, we are seeing quite favorable conditions for the emergence of such an extended circle of interactions between developing states: Argentina, currently presiding in CELAC in Latin America, has recently stepped up its efforts to set up interactions with BRICS. Brazil suspending its CELAC involvement in 2020 is a limiting factor, though, but it will mostly likely be temporary. Uzbekistan, now presiding in the SCO throughout 2022, is increasingly involved in integration processes in Eurasia following a period of being closed off. The African Union presidency of 2022 has passed to Senegal, a nation that actively promotes coordination and cooperation of regional integrational alliances and builds tangible interactions with BRICS states, primarily with China.
A platform for interactions between regional integration blocs involving BRICS states could become another track of interaction within BRICS+. Such a platform could include priority projects of regional integration involving BRICS states, such as MERCOSUR, SACU, BIMSTEC, the EAEU, as well as the RCEP or the ASEAN-China Free Trade Area. All these regional blocs could cooperate in coordination, moving toward aligning their standards and creating a more open economic space for trade and investment by BRICS states and their regional partners. It is important to notice that most BRICS states currently choose to shape their foreign policies in the form of regional integration blocs (Russia – the EAEU, Brazil – MERCOSUR, South Africa – the SACU), and, consequently, BRICS+ based on "integration of integrations" is the only possible format for economic integration and for opening markets between BRICS states.
The spirit of multilateralism and of building a new architecture that suits the interests of the entire Global South is important in establishing such platforms. Attempts to base BRICS solely on the narrow national interests could adversely affect the development prospects of BRICS+ as such and of other multilateral initiatives spearheaded by BRICS states. As a new format of interaction between BRICS states, BRICS+ hinges for its success on multimodal interaction formats within BRICS+ that would account for the entire range of national interests and priorities for BRICS states and their regional partners.
Therefore, BRICS+ could shape two tracks for interaction between nations of the Global South: the SCO + the AU + CELAC, the most inclusive one geared toward broad interactions between developing states within international organizations; such a format may possibly reflect predominantly China's vision its Minister for Foreign Affairs Wang Yi announced back in 2017 when he proclaimed BRICS+ to be the most inclusive interaction platform for developing states. A platform for "integration of integrations" between regional economic groups led by BRICS states may become another development track for BRICS+. This format is a better reflection of Russia's BRICS+ concept that Sergey Ryabkov announced in early 2018, "We suggest that our partners consider BRICS+ as a platform for developing what could be termed an 'integration of integrations,'" Ryabkov said. If China's vision of BRICS+ provides the broadest horizontal span of the Global South, Russia's vision of BRICS+ prioritizes the depth and alignment of integrating BRICS states' priority regional projects.
Generally, the number of tracks and formats for interaction between developing countries may be far greater, reflecting the globalizing vision of every BRICS member. In other words, unlike the unipolar approach to integration in developed states, BRICS+ may serve as a foundation for diversifying the models and platforms of development and economic integration. In this regard, in order to develop BRICS+ as part of diversifying development models, it is important for India, Brazil, and South Africa to also present their visions of BRICS+ and of globalization in the Global South and outside it. It is possible that India, Brazil, and South Africa see a more appealing option in expanding the membership in BRICS' New Development Bank by admitting regional partners; this paradigm has been used after Egypt was admitted to the NDB as South Africa's partner in the African Union, Uruguay was admitted as Brazil's partner in MERCOSUR, and Bangladesh as India's partner in BIMSTEC and the South Asian Free Trade Area.
Improving the functioning of BRICS Provisional Monetary Reserves Pool (PMRP) could also be a direction of ramping up international activities of BRICS. Recently, BRICS' PMRP has stepped up coordination with other regional financial organizations (RFOs) within regular consultations the IMF holds with RFOs. At the same time, BRICS' PMRP was significantly less active in its responses to crisis phenomena in BRICS states compared to BRICS' NDB. Another option is considering, as part of BRICS+, the possibility of bolstering BRICS' PMRP's mandate to monitor the macroeconomic situation in BRICS' states, to develop coordinated anti-crisis measures, and to interact with other RFOs from developing states and BRICS states' regional partners. In particular, there could be formed a regular coordination mechanism including BRICS' PMRP, the Eurasian Fund for Stabilization and Development (EFSD), ASEAN's Chiang Mai Initiative and their regional partners (CMIM), and Latin American RFO FLAR. Another area here could be expanding BRICS' PMRP membership by admitting BRICS states' regional partners, including several states admitted to BRICS' NDB.
On the whole, the prospects of transforming the world economy today are tightly bound to coordinating the activities of the largest countries of the Global South, primarily the BRICS states. However, a global restart of global economic development requires a larger interaction format, BRICS+, that will make it possible to engage other developing countries in the process. In this case, the process of reformatting the world economy will become truly inclusive and stable. The "integration of integrations" format involving cooperation between regional integration blocs of the Global South may become an important tool in scaling the global economic transformation. China's 2022 BRICS presidency may give an additional impetus to building platforms for interactions between regional groups of developing states.
Progress achieved by the BRICS nations in moving toward new platforms for cooperation between alliances of developing states may form the foundation of a common cooperation platform for all the states of the Global South. This expanded platform could advance inclusivity and openness in the development of the Global South countries, accelerate dynamics and structuring of the integration processes, could fill the gap and the lacunae on the map of integration processes in the developing world. So far, we can but state that developed countries are far better provided with dynamic and well-structured integration alliances than the countries of the Global South.
From our partner RIAC
Understanding The Strategy and Use of Military Diplomacy by Nepal
Authors: Harsh Mahaseth and Ananya Shukla*
From the very inception of Nepal as a modern nation state, its geopolitical status was clear and in response, the role of military diplomacy in securing Nepali sovereignty from the Great Powers of the time was anticipated by its founders. The predominance of Military Diplomacy in Nepal's foreign policy naturally arose from Nepal position as a buffer state landlocked between the two Great Asian Military Powers of India and China. The Gorkha Kingdom, the precusor state to modern Nepal was founded by Prithvi Narayan Shah, who established the Kingdom in 1768 with the conquest of the dominant power in the region at the time, the Kingdoms of the Kathmandu valley.
King Shah famously quipped that the unified kingdom that he had founded was "a yam between two boulders". Shah's aphorism contrasts the small squishy starchy tuber of Nepal against the two massive boulders of the Qing Empire and an ascendant British Raj. Though the internal political structure of Nepal has shifted dramatically several times since its founding, Nepal's status as the proverbial yam persists though the boulders have morphed into modern day India and China. Though the two massive boulders to the North and South seem like they will eventually absorb the soft vulnerable yam, not only has Military Diplomacy played a leading role in securing Nepal's sovereignty in the Colonial Context, it has also served the Nepali National Interest in the Post- Colonial Era.
From a purely geopolitical perspective, Nepal exists only as a buffer state between the two historical military powers of the Asian Continent, India and China. The Himalayas being the highest peaks on the planet have separated these two great powers for millenia though the himalayan branch of the silk route served to connect their peoples through trade. While the Chinese remained a unified political polity under the Mandate of Heaven for millenia, the Indian Sub-Continent was a patchwork of Kingdoms of vastly differing sizes, cultures, languages, religions until they were forcibly consolidated by the Mughals and the British, giving rise to modern day India, Bangladesh and Pakistan. While rule of over India was slowly and effectively consolidated by the British Colonialists, the Chinese were going through what they refer to as "the Century of Humiliation", in which Chinese supremacy was toppled. A resurgent China in seek of "National Rejuvenation" will naturally come in conflict with the national security interests of India.
However, after reform and opening up of the Chinese Economy under Deng Xiaoping, India has found itself with a powerful geopolitical, ideological, economic rival to its North for the role of the Asian Hegemon. The Point of contention lies in the nebulous terms of the 1950 treaty, especially considering the Since Nepal was declared a Federal Democratic Republic by first Constituent Assembly in 2008, Nepal-China defense co-operation has increased significantly.
Being landlocked, Nepal has suffered many trade embargoes for political reasons. The Indian hegemony has made Nepal turn to China for trade diversity, which has been wrongly interpreted by the Indian establishment as Nepal playing China card. With India too facing the same adverse situation of salami-slicing tactics by China on its Ladakh border, it has been a realization for both countries that relations had to be prevented from going down further.
Military diplomacy is a very important concept for the Nepalese Army especially in the Buffer zone of Nepal. When it comes to Nepal's military diplomacy towards the neighborhood and beyond, it's better to acknowledge the fact that Nepali Army has been conducting joint military drills with different countries, most importantly with the USA, India, and China for many years. Essentially, Nepal's vibrant role in exercising military diplomacy with the great and emerging powers is immensely triggered by neutrality and non-alignment, which are also the foreign policy objectives of Nepal. Unforgettably, having almost six decades of experience in peacekeeping operations around the world, the Nepali Army has effectively enhanced the image of Nepal through the UN peacekeepers.
*Ananya Shukla is a penultimate year law student of Chanakya National Law University. She is an executive member of CNLU Pro Bono Club which provides legal support to the underprivileged and underrepresented. 
Where Have The Soft Powers Of Western Nations Gone?
Labeled as 'soft power' and measured in terms of "culture, politics and foreign policy" within a given nation; Joseph Nye introduced the concept of "soft power" in the late 1980s. Today, where have all the soft powers of Western nations gone? Which free democracy or Western nation is a shiny example?
The term, "culture" already in the meat grinders, squeezing out into casings of 'political correctness' sandwiched between mesmerized and hypnotized folklores in styles of riots or metaverse
The term, "Politics" mostly about licking self-inflicted fresh wounds of mismatched promises, costumed and rehearsed leadership parades in the house of cards.
The term, "Foreign Policies" mostly about how to crush down local citizenry or how to hurt overall humankind when proclaimed as vision.
Ignoring humanity, diversity and tolerance, without civility and respect while dancing in costumes is not culture, it is circus. Ignoring citizenry while selling national policies to highest bidders is not politics, it is tyranny. Ignoring humankind, while destroying other nations is not foreign policies it is stealing, where deception rules and fakery respected.
New definitions and new measurements are now mandatory; after all, when dumbness silences the smartness but accepted as social victory, when critical analysis becomes offensive, as it demands comprehension, when visible idiocy refuses to dialogue or discuss options to change, a global transformation must occur.
There are 36 nations having a National Election in 2022… a new world with unstoppable new economic thinking is emerging.
As a new world is awakening, the "soft power of a nation" is now melting into "people power of a nation" it is all about real value productivity, national grassroots prosperity in hands of local citizenry, where governments have already let them down. People Power is the most valuable power of any nation.
Within the earlier decades of this century alone, in places, culture, like a historic pearl, nicely saved inside an oyster, politics like a library of manifestos and institutionalized practices, and foreign policies designed to expand national and global prosperity. Is there where all the soft powers of the western nations and free democracies disappeared?
In time, masses treated as herds, populations as hungry mouths, and local public opinion only as noise. Just observe how such thinking helped Machiavellian fantasies morphed into constant live streaming of chaos, fragmented tribalism, divide, and conquer doctrine to shakedown the foundations of humankind.
Observe the proclaimed hallucinations of creating global democracy during the last century. Nations must align their priorities and declare their own nation building as top priority over exporting armed-democracies to disturb other nations.
The "soft power of a nation" now melting into "people power of a nation" but how?
As technology advances, nations surrender to digital intellectualism and virtualization of economies, as the digitized 24x7x365 live platforms forcing bureaucracies into meritocracies. The citizenry starts to turn into trained armies of entrepreneurial out of box thinkers with the job creator mindsets. The world already have enough resources for every single person, it is the fair distribution this is jammed.
After all, nations with most digital platforms on global highways, upskilled government agencies, and talented entrepreneurial citizenry, with upskilled manufacturing and high-speed create the citizenry to cope with the future with productivity power to claim 'people power' as their biggest assets.
Never imagined before, now, growth hidden in digitization, robotization and commercialization, along with liberalization of borderless human talents create brand new models. Especially, when multiplied by five billion connected alpha dreamers, eager to form the largest group of informed mindshare ever assembled, such triangulations become the more powerful reservoir greater than of all the soft powers of the world combined.
How does this translate into simple applicability? What such ideas translate into national prosperity? What it takes to mobilize national entrepreneurialism on digital platforms to upskill exporters and reskill manufacturers and quadruple small medium business economy. Study more on Google. The rest is easy