Pakistan's improving relations with Iran amid Pakistan's urge for national & energy security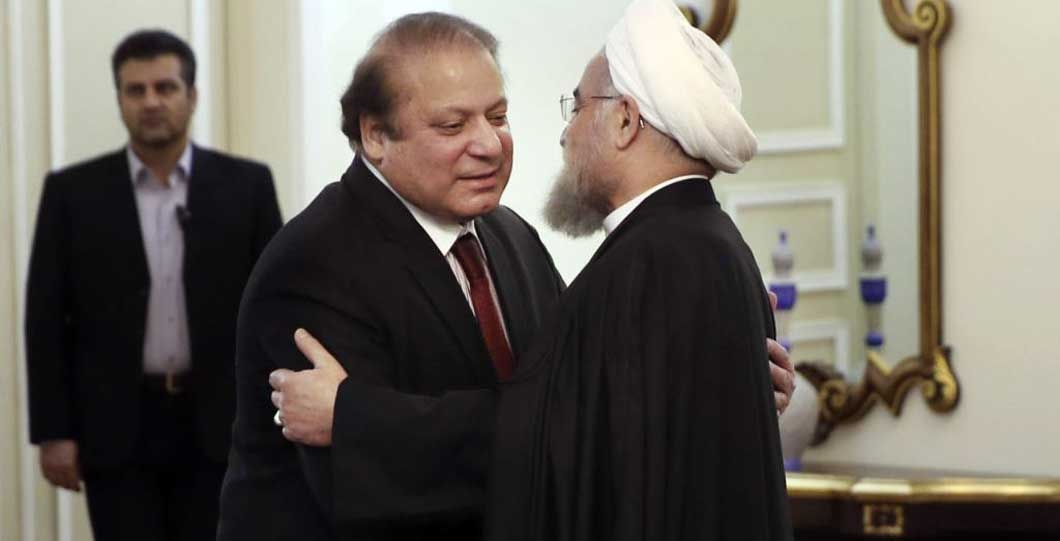 Besides its suffocation from the ongoing internal insurgencies in Waziristan, Baluchistan and other areas, Pakistan is also suffocating in terms of its foreign relations. Pakistan is already facing an unpleasant situation regarding Saudi-Iran rivalry.
Saudi Arabia, along with its fellow Arab-Sunni states, is using its sunni brand in order to rally the sunnis around the world behind its back against its rival Iran. On the other side, Iran is playing the same game by using the card of shia-ism in pulling the shias around the world towards its cause of portraying Saudi Arabia an evil power. While Pakistan is traditionally allied with Saudi Arabia, its need for national security and energy security has been pushing Pakistan into changing its foreign policy by moving away from 'all-out influence' of Saudi Arabia and taking a more lenient approach with regard to Iran. In other words, Pakistan has been attempting to draw a balance between its relations with Saudi Arabia and its relations with Iran.
Traditional Pakistan-Saudi relations
Saudi Arabia and Pakistan are decades old friends. Saudi Arabia was at Pakistan's side whenever Pakistan needed a warm friend. Saudi Arabia stood beside Pakistan in Pakistan's effort to counter its arch rival India's major moves, including Pakistan's nuclear race against India. Saudi Arabia has been literally showering 'economically weak Pakistan' with billions of dollars in financial aid.
A protocol was signed between Pakistan and Saudi Arabia in 1982 following Saudi Arabia's request for military manpower assistance. Pakistani military presence in Saudi Arabia continues till the day, providing Saudi Arabia support against internal and external regional threats. Naeem Khan, Pakistan's former ambassador to Saudi Arabia, stated that Pakistan considers Saudi Arabia's security as a "personal matter".
Saudi Arabia needs Pakistan by its side in order to geopolitically counter Iran for three reasons: (i) Pakistan is a nuclear-armed state; (ii) Pakistan is a strong and big-in-size military power; and, (iii) Pakistan, with a Sunni majority population, is Shia majority Iran's next door neighbour. On the other hand, Pakistan needs Saudi Arabia by its side for several reasons, but the most important ones are: (i) Saudi Arabia showers Pakistan with economic aid (funds, resources, etc), and (ii) Saudi Arabia provides aid for a large portion of Pakistan's military spending.
Traditional Pakistan-Iran relations
Pakistan and Iran could not maintain a good relationship between themselves after 1979, when the accession of the Shia-clerics into the driving-power of Iran made the surrounding Sunni neighbours provoked against the newly formed Iranian regime. Pakistan and the Arabian-Gulf Sunni states' relations with Iran deteriorated drastically. During the last few years of cold-war period, Iran was more inclined to the Soviet Union, whereas Pakistan and the Gulf states were actively helping the West (led by the U.S.) to curtail Soviet influence in the Central Asia, especially in Afghanistan. From that period on, the successive Pakistani regimes and the Iranian regimes mostly maintained distance between themselves. Pakistan's increasing alignment with Saudi Arabia made the Pakistan-Iran relations worse. For decades, Saudi Arabia has been providing Pakistan with military funding and economic aid in return for nuclear-armed Pakistan's assurance of staying aligned with Saudi Arabia and also in order to help Saudi Arabia militarily whenever it requires.
Iran's position after the Iran Nuclear Deal
Iran is a country having land access to multiple regions and access to multiple water ways. Borders with South Asia, Central Asia, the Arab region and Europe, and coastlines with the Caspian Sea, Persian Gulf, Gulf of Oman and Indian Ocean make Iran an ideal location for commercial and geostrategic purposes. Iran, despite having these advantages, had been suffering economically because of the sanctions imposed on it by the international community for decades. These sanctions on Iran have helped the Arabian-Gulf Sunni states, especially Saudi Arabia, to remain as the major oil exporter in the world without any annoyance.
However, it seems that the developing incidents in this regard are tempting the equation of the region to change altogether. The Iran nuclear Deal was signed, and started to be implemented, by and between Iran and five permanent members of the UN Security Council along with Germany on the most talked-about geopolitically important Iranian nuclear programme. Under this deal, international economic sanctions against Iran have already started to be lifted one by one. The lifting of the international sanctions means that Iran's economy would be, in a matter of years, competing shoulder to shoulder with that of Saudi Arabia, which is Iran's major rival in all aspects. With a booming economy, Iran would want not only to strengthen its military might, but also to increase its political influence over the region and the globe, especially over the Muslim world.
Pakistan's improving relations with Iran
Through Chinese led Silk Route Economic Belt (One Belt One Route) initiative, Shanghai Cooperation Organization, Asian Infrastructural Investment Bank and other mechanisms, Pakistan and Iran along with China, India and Russia have been actively trying to establish a political, security and economic system for cooperation in order to avoid all sorts of probable conflicts among these countries, most of which have, or previously had, volatile relations with one another.
Both Iran and Pakistan know well that China-Pakistan Economic Corridor (CPEC), which is part of China's initiative to revive the ancient Silk Route, has the potential to transform the economies of Pakistan and, if accommodated, of Iran, India and Afghanistan. CPEC is most likely to bring peace and prosperity not only in Pakistan's conflict-torn Baluchistan, but also in the Pakistan's neighbourhood – South Asia and Central Asia.
Pakistan is now concentrating on neutralizing all the insurgencies inside its territory and on shaping up a business friendly Pakistan. Pakistan's economy is likely to become huge because of the Silk Route Economic Belt initiative led by China. Pakistan will soon, therefore, need huge supply of fuel-energy in order to fuel its economy; and Iran, after withdrawal of economic sanctions, is now able to supply the energy that Pakistan requires. From Pakistan's recent moves, it seems that Pakistan is too keen to import oil and gas from Iran in order to enjoy easily accessible energy-supply-destination as Iran is Pakistan's next door neighbour. That is why, Pakistan seems to be moving away from the traditional 'all-out influence' of its decades old ally Saudi Arabia and trying to balance between relations with Saudi Arabia and relations with Iran.
Pakistan is already facing an unpleasant situation regarding Saudi-Iran rivalry, particularly in respect to Saudi led coalition's war on Yemen's Houthi militants. Saudi Arabia asked Pakistan for supporting the coalitions' war through sending ground-troops to fight the Houthis in Yemen. Pakistan responded by asking Saudi Arabia to excuse it for not involving in the Yemeni war. But Pakistan assured Saudi Arabia that it would do anything and everything possible to counter any "direct" threat to Saudi Arabia's sovereignty. In short, Pakistan denied Saudi Arabia's request to send its own troops to fight a war side by side with Saudi Arabia, disregarding Saudi Arabia's heavy investments in Pakistan and Saudi's backing of Pakistan for decades in its dispute with India.
Observations
Pakistan knows very well that sending troops to Yemen would invite Iranian attempts to destabilise Pakistan internally as Iran may take advantage of the facts that (i) more than 20 percent of Pakistan's total population are shia and (ii) Iran is Pakistan's next door neighbour. And India, Pakistan's arch rival, would not fall short of using such a destabilized situation to its advantage — Pakistan is aware of this too. Moreover, an army (Pakistan army) that is already waging an internal war against the militants inside its territory cannot afford to lend its troops to fight a foreign war.
Pakistan is substantially moving away from the West bloc to the East & South bloc.
While Pakistan previously had good relations with the U.S., Saudi Arabia and China, it had awful relations with Russia, former Soviet Union, India and Iran. However, shifts in its balance of foreign relations have been taking place. Pakistan seems to be moving away from the U.S. and Saudi Arabia in its attempt to coming closer to China and Iran. Even Russia's relation with Pakistan is improving gradually. Whether good or bad, this shifts in foreign relations put Pakistan into image crisis in two ways. First, it shows that Pakistan never remains a friend (or foe) forever. Secondly, such shifts in foreign relations show that Pakistan lacks the capacity and capability to shape and design a single foreign policy for itself. Every changing government in Pakistan, civilian or not, engages with a foreign policy which is different from that of its predecessor.
An Indian perspective on Afghan peace-process
Afghanistan is staring at a massive political uncertainty with the United States preparing to exit the war-torn nation by 2021. America's withdrawal from Afghanistan could ultimately end up in the coronation of the Taliban in Kabul, hence returning to the despotic times of the Islamic Emirates of Afghanistan. Even though the ongoing intra-Afghan peace talks involving the nominees of the Afghanistan civilian government and the members of Taliban are pacing up in Doha, chances of materialising these assurances are slim. Due to the emergence of factions within the Taliban and other terrorist outfits trying to establish their bases in Afghanistan, there are possibilities of a prolonged civil war once the American forces are pulled out. The result of peace-process will have a massive impact on the region itself. Therefore the Taliban's possible access to power in Afghanistan has worried New Delhi since Pakistan could make this an opportunity to create fresh troubles in the region to further expedite their doctrine of 'bleed India with a thousand cuts'.
The United States entered Afghanistan in 2001 to avenge the killings of 2,977 of its citizens by an Al-Qaeda attack on the World Trade Centre. Al-Qaeda had the patronage of the Taliban and was operating from Afghanistan. America's military invasion had lead to the removal of the Taliban government. Later Hamid Karzai got appointed as the president of the Islamic Republic of Afghanistan with the blessings of U.S. For the past two decades, U.S troops were in constant encounters with the Taliban terrorists and lost over 2,441 soldiers to the rebel onslaught. Even after the U.S indulging in fully-fledged warfare and spending billions, the Taliban still controlled around 20% of districts in Afghanistan. They were in constant fights with the allied forces for taking the procession of another 50% districts. The U.S was successful in exterminating the prominent terrorists of Taliban, Al-Qaeda and the Islamic State of Khorasan Province (ISKP), new leadership kept on popping up regularly. Hence, the ultimate motto of cleansing Afghanistan from the Jihadi elements was never met.
President Obama was keen on exiting Afghanistan from the later part of his first presidency. Even though the number of troops decreased gradually, the process had to be stalled multiple times due to various terrorist attacks. But back home there was a rising rage among the public for spending their money in a far off land yielding nothing. At this juncture, the U.S government was quick to realise that that they had no military solution to put on the table. Thus through interlocutors, the American government reached out to the Taliban to formulate a respectable exit plan for the U.S. This plan reached a milestone when the Taliban and the United States signed an agreement on February 29, 2020 paving way for the Intra-Afghan talks beginning from September 12, 2020.
Afghan government released 5,000 Taliban rebels in exchange of 1,000 Afghan soldiers who were held as hostages by the Islamic radicals. With the peace talks gaining progress, there could be a demand for the release of more rebels. These people are trained in modern warfare and have the experience of combating U.S troops in strenuous mountainous terrain. Following the abrogation of Article 370, there has been a military crackdown on the terrorists and their affiliates in Kashmir. Many of the terrorist organisations operating in the valley face leadership vacuum since the Indian military is quick to identify prominent terrorists and then neutralises them. Pakistan, which is known for its proximity with the Taliban, might use them to create trouble in Kashmir. It was during the Taliban's regime Indian Airlines flight 814 was hijacked by the terrorists and taken to Kandahar in Afghanistan. India had no option but to free terrorists like Maulana Masood Azhar, Mushtaq Ahmed Zargar and Ahmed Omar Saeed Sheikh in return of 160 passengers. Also, Afghanistan is notorious for the production of Cannabis, Opium and other drugs. Taliban earns around $200 million a year selling Opium alone. Pakistan has been using narcoterrorism as an instrument to create social unrest in India. The Indian state of Punjab, which shares international borders with Pakistan, has been thoroughly affected by the drugs menace. Taliban's total control over the drug production and its supply can be smuggled to India through ISI backed channels, further deteriorating the existing situation.
Afghanistan is of immense strategic importance as far as India is concerned. This landlocked country is seen as India's pavement to Central Asia since Pakistan cannot be a trusted ally for historical reasons. India has contributed more than $3 billion for the reconstruction of Afghanistan which includes their Parliament, Dams, Schools and many other projects. India had even allotted Lucknow's Ekana Stadium as the home ground for the Afghanistan national cricket team. Bollywood movies are still popular in Afghanistan. What needs to be seen is the Taliban's approach towards India. The Spokesperson of Taliban, Suhail Shaheen's tweet read "The statement published in the media about Taliban joining Jihad in Kashmir is wrong…. The policy of the Islamic Emirate is clear that it does not interfere in the internal affairs of other countries." This tweet caught the diplomatic community by surprise. It is a known fact that the Taliban's deputy leader Sirajuddin Haqqani operates the Haqqani network which has organic bonding with the Kashmiri separatist groups.
Sirajuddin Haqqani, in a recent op-ed piece that he wrote for the New York Times shared the vision that the Taliban has for Afghanistan. He wrote "liberated from foreign domination and interference, we together will find a way to build an Islamic system in which all Afghans have equal rights, where the rights of women that are granted by Islam." What Taliban did to the minorities and women in Afghanistan during their 5 year rule was brutal and condemned by the global community. But Haqqani concluded this essay on a positive note by saying that "the new Afghanistan will be a responsible member of the international community". But it needs to be seen whether the Taliban relinquishes its claim for strict Sharia laws and makes concessions on democracy which they consider as a western poison.
For all these years, India was hesitant to deal directly with the Taliban. But an evolving approach towards the Taliban is on cards with the Indian External Affairs Minister Dr S Jaishankar virtually attending the Intra-Afghan peace talks. He even gave India's warning to the rebels that "Afghanistan's soil shouldn't be used for anti-India activities". It will be interesting to see how China deals with the Taliban after wooing Iran with a $400 billion deal. With the possibility of enormous political changes after the signing of the agreement between the Afghanistan government and the Taliban, its after-effects will be experienced in the entire South Asian region. India has no other choice but to engage with the about to be formed dispensation in the Kabul.
Rohingya repatriation: Has the world forgotten about the Rohingya crisis?
In August 2017, the Myanmar army committed atrocities to the Rohingya people in Arakan state of Myanmar including rape, torture, burning the houses, killing. To escape from death, the Rohingya people fled to Bangladesh. The Rohingya crisis has been identified as one of the worst humanitarian crisis in the world.The United Nations (UN) has defined the crisis as the 'textbook case' of ethnic violence.
And considering the sufferings of the Rohingya refugees, Bangladesh opened doors for them from a humanitarian ground. Bangladesh is hosting more than 1.1 million Rohingya refugees, including the Rohingyas who came earlier (before August 2017) in the country. Notably, Bangladesh is providing shelter, food, medicare and other facilities/services to the Rohingyas for a long time. The local people of Cox's Bazar also showed great sympathy to those refugees sacrificing their lands, forests and other resources. Bangladesh has made tremendous sacrifices, including the forests. Initially, the country made Rohingya camps in 6,500 acres of land. It is already three years passed. But a successful Rohingya repatriation seems a dream to many given the current contexts. In this article, I attempt to show why successful repatriation is essential, why it failed, and the role of the international community in this regard.
Why repatriation necessary?
First, Rohingyas are creating an extra burden for Bangladesh, given the socio-economic realities of the country. Notably, being one of the densely populated countries in the world with limited resources, it becomes a daunting task for Bangladesh to continue its wholehearted supports for the Rohingyas in the days to come.
Second, Rohingya refugees have clear security implications for Bangladesh and beyond. It is reported that Rohingya criminals are becoming involved in the deterioration of the law and order situation in Cox's Bazar, which becomes a grave concern for the locals. The local people who showed wholehearted support to the Rohingyas are worried now due to the increased criminal activities by the Rohingya criminals. It is reported that there are instances of murders in the Rohingya camp. In addition, after the murder of Jubo League leader Farooq by the Rohingya criminal, there were tensions among the locals.
It is argued that the longer the refugees stay in the refugee camps, the more likely they become a threat to peace (cited in Bariagaber, 1999: 605). Thus, prolonging the Rohingya repatriation will be problematic for Bangladesh, which merits serious attention from the international community. In this context, successful repatriation of the Rohingyas becomes essential.
Third,one can also argue that there are regional and international security implications of the Rohingya crisis. The international community can also consider this factor and take significant steps to resolve the Rohingya crisis and provide a better and secure life to the Rohingyas.
Finally, as a human being, Rohingyas deserve a better and secured life with dignity and fundamental human rights. Thus, ensuring their basic human rights becomes a moral responsibility of the international community.
Why Rohingya repatriation failed?
Bangladesh-Myanmar signed a repatriation deal on November 23, 2017, though no progress has been observed in making repatriation successful. On July 29, 2019, Bangladesh handed over a list of 55, 000 Rohingyas for verification for repatriation. Myanmar only cleared 3,450 Rohingyas for beginning the repatriation. Notably, Rohingya refugee repatriation to Myanmar has been failed twice, one in November 2018 and another in August 2019. Against this backdrop, one can ask: What factors have accounted for to the failures of Rohingya refugee's repatriation to Myanmar? To answer this question, one can identify the following factors.
First, the absence of conducive conditions/environment in Myanmar is the major hindrance to the successful repatriation of the Rohingyas. Myanmar government showed apathy towards repatriation. One can also argue that the Myanmar government did not show firm commitments in the repatriation process. Though in the declaratory postures they are showing the international community that they are interested in the repatriation, when it comes to operational policies, they are reluctant in the repatriation process through not creating favourable conditions/ conducive environment for the Rohingyas. Rohingyas are scared that if they are back, the Myanmar army will kill them.
Second, the failure of the international community to repatriate the Rohingya refugees in Myanmar becomes another critical factor.It seems that international community has confined its role in providing reliefs, foods, healthcare services, money to the Rohingya refugees and sometimes made an occasional visit to the Rohingya camp in Cox's Bazar and took photographs and shared those (photos) in the social media and beyond. To a larger extent, the international community has bypassed their key responsibility to repatriate the Rohingyas to their homeland through pressurizing Myanmar. Thus, it will not be wrong to claim that the international community has totally failed to create a conducive environment in Myanmar which makes security concerns among the Rohingyas. Thus, those Rohingyas are not interested in to repatriate in Myanmar.
The most concerning is that it seems that the Rohingya issue is losing interest in the international community. There is already shrinkage of funds for the Rohingya camps in Cox's Bazar. If the international community totally fails to repatriate the Rohingyas, it will create a disastrous situation for Bangladesh. It is well known that Bangladesh is a densely populated country in the world with limited resources, as noted earlier. Thus, the country cannot afford to continue its supports to the Rohingyas. In addition, there is a stronger possibility of conflicts between the Rohingyas and local people in the days to come given the socio-economic realities of the society.
One can argue that the United Nations has so far failed to pressurize Myanmar and create a conducive environment for the repatriation. Considering the narrowly defined self-interest, Russia, China, India whole-heartedly supports the Myanmar government. Though China and India bear dissimilarities in many issues, in the case of Rohingya issue, they maintain a similar stand, supporting the Myanmar government. Notably, Myanmar is a crucial state for China's Belt and Road Initiative project, while the country is key to India's act east policy. In addition, the UNHCR, ASEAN, EU, USA, Japan also failed to pressurize the Myanmar government and facilitate the Rohingya repatriation.
Third, the political economy of the refugees/NGOs is also responsible for the failure of the repatriation process of the Rohingyas. Khaled Muhiuddin (2019) writes that foreign aid 'is prolonging the crisis. It is common sense that if Rohingya refugees are having a better life in Bangladeshi camps than the one they experienced in Myanmar, they will see little reason for going back to Myanmar. That is why efforts to ensure safety for Rohingyas in Myanmar are more important than providing comfort to them in the Bangladeshi camps'. Thus, foreign aid is benefiting both the NGOs and the refugees.
Around 150 international and local NGOs are working in the 34 Rohingya camps in Cox's Bazar. It is claimed that the political economy of the NGOs also works as a major hindrance to the Rohingya repatriation process. A resident of Cox's Bazar, Rafiqul Islam Rafiq claims that various NGOs, including the UN agencies, demotivate the Rohingyas to repatriate (Bangla Vision, August 25, 2019). Fazlul Quader Chowdhury, president of BAPA and CAB, Cox's Bazar contends that both international and local NGOs are telling the Rohingyas that this [Cox's Bazar] is your place, it was once your place, a part of Arakan State. Since this is your place, you do not need to leave this place (Bangla Vision, August 25, 2019). A. N. M. Helal Uddin, president, civil society forum, Cox's Bazar claims that if these Rohingyas leave, their (NGOs) business will be stopped. They are motivating the national crisis. The government should find out those NGOs and take actions against them (Bangla Vision, August 25, 2019).
Fourth, the economic interest of some local people also works as a hindrance to the repatriation. A resident called Jasim Uddin points out that the Rohingya refugees have created a huge business for the hotel, restaurant, flat owners who do not want that Rohingyas leave Cox's Bazar(Bangla Vision, August 25, 2019). He claims that economic interest is the main factor of these owner classes, who devoid of patriotism. Notably, 1000 locally made weapons including knifes were seized from the NGO office SHED (Society for Health Extension and Development) who was working in the Rohingya camp (Osmany, 2019). Notably, SHED failed to provide any legal documents i.e. operating license to use these weapons (Aziz, 2019). Thus, it becomes important to monitor vigorously and ensure the accountability of the local and international NGOs who seek greater profits from prolonging the Rohingya crisis.
Fifth, one can also look at the role of the scholars and scholarship critically to resolve the Rohingya crisis. The Rohingya refugee crisis did not receive serious attention from the intellectual community. Even the role of Bangladeshi scholars is minimal in producing serious scholarship on the issue. The scholars cannot avoid their responsibility to resolve the crisis.
Finally, international media also failed to internationalize the issue and influence the policy formulations regarding the crisis. In the initial days, though the mainstream global media provided enough attention to the issue, in the latter days, they totally forgot the crisis. I wonder, if the same thing happens in the developed world, would the global media response be the same?
To conclude, Bangladesh, alone cannot resolve the Rohingya crisis. Sheikh Hasina, the Prime Minister of Bangladesh strongly contends in addressing the 75thUnited Nations General Assembly that the Rohingya crisis has been created by Myanmar and thus has to resolve the crisis by Myanmar. In this case, since Myanmar is not interested in resolving the crisis, it is the international community that can pressurize the Myanmar government and facilitate successful repatriation. In fact, the role of the international community, including the major powers, international media becomes essential to encourage Rohingya repatriation. The role of the scholars and scholarship also becomes necessary. The bottom line is that for the greater cause of humanity, the international community must come forward to pressurize Myanmar government and facilitate successful repatriation. The world needs to remember that Bangladesh has already done a lot to the Rohingya refugees. Now, it is the responsibility of the international community. Isn't it?
A Way Forward – Neutralizing the Surge in Insurgency With Diplomatic Empathy in Kashmir
Nationalismis slowly losing its emancipatory value as the progressive inclusion of minority groups in public policy decision making has become a myth in itself. I have always maintained that the politics and carnage of minorities, especially Muslim identity in India, goes beyond the constructed rationalization of religiously prescriptive and deconstructed narrative of legislative Islamic discourse. It is, by its normative birth, focus on the knotty issue of electoral manifestation, and the violence on both, the psyche and body of the minorities has become an active semiotic territory of political narrative, which, when aggravated, creates a 'psycho-political ripple effect.' This article will elucidate the ripple effect created by the deeply ingrained inter-regional and inter-generational sense of injustice and trauma transmuted within and among Kashmiris, because of the 'Armed Forces Special Powers Act (AFSPA)'; a policy that provides complete impunity to the armed forces in Kashmir, and how diplomatic empathy can work as a successful catalyst in neutralizing the surge in insurgency and civil unrest in Kashmir.
Armed Forces Special Powers Act
The history of breeding insurgency in Kashmir goes back to the 1980's, and since then, Jammu and Kashmir have been a propagating ground of separatist ambitions, demanding either complete independence or seeking ascension and amalgamation with Pakistan. Often called 'Kashmir Intifada', this insurgent group is a manifestation of the failure of Indian governance and inter-state diplomacy at the root of the initial disaffection and the coercive policies imposed on Kashmiris. Today, with more than 6 lakh security personnel (Army, Border Security Force (BSF) and the Central Reserve Police Force (CRPF) deployed in J&K hinterlands, Kashmir has become the most militarized zone in the world, surpassing the combined presence of Israeli Defence Forces in Gaza strip and West Bank alone. The Indian security personnel have been implicated in multiple reports for torture, extrajudicial killings, enforced disappearances of thousands of Kashmiris, and rape and sexual abuse of women in the valley with absolute impunity under the Armed Forces Special Powers Act (AFSPA); a policy that provides impunity to any member of the armed forces without the permission of the central government. This act legitimizes and normalizes routine violence on Kashmiris, while parturiating victims with dissipating subjective agency and no legal mechanism to seek justice.
Countless incidents of extrajudicial killings have been reported, and multiple unmarked graves have been witnessed; all with absolute impunity given to military personals involved. For example, a State Human Rights Commission inquiry in 2011 had confirmed that there were thousands of bullet-ridden corpses buried in unmarked graves in Kashmir. Of the 2,730 bodies uncovered, 574 bodies were identified as missing locals, in contrast to the Indian government's confirmation that all the graves belonged to foreign militants. In the most haunting military violence imposed on Kashmiris, personnel of the 4 Rajputana Rifles of the Indian Army were involved in gang rape of at least 40 women in Kunan and Poshpora villages in north Kashmir(February 1991), as they conducted an anti-insurgency operation in the region. Although the Press Council of India committee led by BG Verghese and K Vikram Raovisited the villages post the violence, but gave a clean chit to the soldiers, and the countless consecutive mass rapes by Indian soldiers followed – Chak Saidpora (1992), Wurwun (1995), Bihota (2000), Gujjardara-Manzgam (2011) etc. Post the abrogation of Article 370 in 2019; the situation has worsened.
The Psycho-political Ripple Effect – Violence with absolute impunity begets violence with stern liability
"You lock us up during the day. You lock us up at night," a middle-aged man shouts angrily, wagging his finger. As the policeman ordered the man to go inside his house as Kashmir was under the longest lockdown of a union territory in the history of the Indian constitution, the diminutive old man stands his ground and challenges him again. "This is my only son. He's too small now, but I will prepare him to pick up a gun too," he said. This man belonged from Khanyar, a local town in the heart of Srinagar, which is famous for protests against military violence and Indian hegemonic rule in Kashmir. In the same report, Mr. Malik, a Kashmiri native, predicts that every Kashmiri will join them. "It was said that in every family one brother is with the separatists and the other is with the [Indian] mainstream. The Indian government has united the two." To understand the unwavering commitment of locals – who are teachers, vegetable vendors, workers in local manufacturing outlets, fruit sellers, etc., and their determination to prepare their future generations to become insurgents, is mandatory. This is a direct result of the internalized trauma and feeling of injustice that has transmuted in and within Kashmiris– both inter-regional and inter-generational. But, what has caused this transmutation? To know this, it becomes imperative to explore the phenomenon of 'psycho-political ripple effect'.
A ripple effect, in a simple term, refers to the indirect effect that expands out from the organic source and reaches areas or populations far positioned from its intended purpose. To understand this phenomenon in a political-social environment, one needs to deconstruct the psychological effects of the 'initial political disturbance' created within the system of a targeted group of civilians and how it propagated outward to disturb an increasingly larger portion of the population within the system. This 'initial political disturbance' is a manifestation of normalized violence by placing the Indian military under an impunity umbrella, which has methodized and regularized routine violent acts against Kashmiris, including detention of small children, curfews, extrajudicial killings, torture, gang rapes, kidnapping of civilians, etc. The trauma is no longer confined to the victims of Konan and Poshpora mass rape or restricted to the pain of the community of human rights activists like Jalil Andrabi, Zafar Mehraj, Burhan Wani and Farooq Sheikh, who were brutally killed by the military forces, or limited to the medical community who are attacked for providing medical care to the insurgents, or to the families of Kashmiris who has been a victim of extrajudicial execution or reprisal killing, alone.
The effects of this violence and the internalization of trauma has impregnated the psyche of most Kashmiris and has given birth to what I call is a 'psycho-political ripple effect' for future formations of popular resistance against Indian rule in Kashmir. With the institutional denial of justice, loss of subjective agency due to trauma, and erosion of indigenous Muslim culture, the mass-suffering has reshaped the response of Kashmiris towards military and political power. Here, military violence with absolute impunity is begetting violence with stern liability from the local Kashmiris, and the surge in insurgency activities is a testament of it. Apart from mass carnage and destruction like Pulwama attack (2019), Srinagar attack (2013), Amarnath Yatra attack (2017), Uri attack (2016), carried out by Islamist terrorist groups against the Indian militancy presence in Kashmir, many quasi-violence incidents has become a methodized way to confront Indian security forces. The effect of the political ripples is so deeply ingrained in the psyche of the locals that indulgence in the act of reciprocation against military force has become more imperative than the strategy to execute the 'act' itself. These incidents often involve collective participation of local Kashmiris demonstrating acts of resistance, which orthogonally represents assertiveness and visible symbolism rather than clandestine nature. The most common forms of this quasi-violence involve stone pelting at security forces, causing hindrance and interdiction of military operations to help the insurgents, attending insurgent funerals, etc. Although the participants are usually unarmed, the employed tactics are methodologically designed to incite, provoke, and coerce Indian security forces to dismantle the central government's legitimacy and control over Kashmir. These quasi-violent ripple effect can be seen in Palestine as well, where Palestinians deploy the rock-throwing method as a mechanism to display resistance against IDF presence in their land. Psycho-political ripple effect can be witnessed in both of these conflict-infested geographies, where internalized trauma and feeling of injustice have transmuted among and within the native population – both inter-regional and inter-generational.
Incorporating Diplomatic Empathy to neutralize the surge in insurgency
It has been a year post the abrogation of Article 370. The surge in military brutality, human rights violations, increased unemployment, and a Rs 40,000 crore hole in the economy, has aggravated the spread of the psycho-political ripple effect. With Kashmir precariously poised between the two extremes, and an efflux of quasi-violent and strategic insurgent attacks on Indian security forces, it orthogonally points towards one thing – inter-state diplomatic failure. What diplomats and central lawmakers must consider is that the principle of "no negotiation with insurgents", although seems logical, but fails to understand the primordial foundation of fortification of – what is terrorism? If insurgents and quasi-violent Kashmiri locals are willing to go against a robust military force and governance of BJP in power and risk the lives of self and other civilians, it only reflects that the cause of their insurgent activities is not being effectively addressed and is being alienated from mainstream political policies. The deeply ingrained inter-regional and inter-generational sense of injusticecaused due to impunity given to the Indian security forces in Kashmir has created psycho-political ripples that is manifesting into insurgent activities.
On the other hand, this internalization of trauma and conflict has also created a negotiating space of diplomatic activity through transmittal of empathy and the development of trust. For this reason, the traditional consultative decision-making process of negotiation from 'top-to-bottom' should be replaced by a 'bottom-to-top' diplomatic strategy where the principle of inclusion should be propagated, lessening the distance between the self and the other. Validating this, Marcus Holmes and Keren Milo (2016) writes, "Fisher and Ury's (1983) classic work in negotiation theory notes the importance of what is now termed cognitive empathy in order to derive the interests that motivate one's positions. Since negotiators do not have perfect information about their counterparts' interests, those who do not try to take the other side's perspective may fail to find rational conflict-resolution. Put another way, in order to rationally find a zone of possible agreement, both sides must understand the interests and positions of the other, including their best alternative to a negotiated agreement".
Diplomats and lawmakers must derive a solution that not only neutralizes the surge in the insurgency, restore human rights, but also stagnate the spread of psycho-political ripple effect within the Kashmiri community to restore civil rest and prosperity. To achieve the optimum conflict-resolution that modern diplomacy seeks to attain, empathy with the interlocutor is opulent. Re-structuring the Armed Forces Special Powers Act by ensuring that security forces – the army, the Border Security Force (BSF), and the Central Reserve Police Force (CRPF), are trained in using lawful use of force in accordance and alignment with international standards, and those who breach these parameters would legally held accountable. To gain credibility and trust among the civilians, it is crucial that a sense of justice is restored within the system, which would neutralize their inter-regional and inter-generational sense of injustice and trauma. This can be effectively achieved by the central BJP government, if they publicly commit to bring justice to all victims involved in human rights violations, which should involve legally prosecuting Indian armed forces, whether involved actively or participated in permitting the violations to be covered up.I remember reading an article about an elderly woman , who was one of the victim of Kunan Poshpora mass rape, and had died as she awaited justice to be served to her. Ghulam Mohidin, her son-in-law said, alleged that , "She died in 2010 as she was waiting for justice till her last breath, but nothing happened. The culprits are still roaming freely. Our family is still suffering " he said. This psychologically intimate narrative reveals what I have been discussing throughout the article – the psycho-political ripple effect caused due to inter-generational and inter-regional transmutation of deeply ingrained sense of injustice and trauma, can itself become a synthesis to the initial theistic problem , which is the surge in insurgency in Kashmir ; if diplomatic empathy is tactfully and humanely deployed to neutralize these ripple effects by fortifying and preserving their human and constitutional rights. And, if diplomats and law makers fail to do so, these psycho-political ripples will multiple and increase exponentially, only to proliferate the psyche of the many generations to come by.