Another Western Stupidity: "Why Do They Hate Us?"
The Western world is ignorant, unacquainted, and in fact stupid concerning Islam. For so many years and so many Islamic attacks, its leaders still reiterate the Pavlovian question: "why do they hate us?" On March 22, 2016 Matthew Karnitsching ran an op-ed in Politico, titled "Why Do They Hate Us So Much? How the Brussels attacks strike at the heart of Europe and shake its political foundations."
It's time to stop asking this question. It is confusing and embarrassing, let alone being stupid and shows ignorance. Like battered spouses, victims of Islamic violence continue trying to alter their own behavior, to appease and to blaming themselves in futile attempts to make the Muslims to love "us." It's time to stop asking this question and to start understanding Islam. It is Islam, which is culturally so different, being tribal and ascriptive (suspicion and mistrust). It is the Islamic Sharī'ah, which includes the entire Scriptures (Qur'ān Hadīth and Sīrah). It is Islamic doctrine, the centrality of al-Walā' wal-Barā', the total loyalty to Islam and the total animosity and hatred to the other. It is the main part of Islamic education, socialization and indoctrination (at home, in schools, in the mosques, through the media, and by Muslim clerics).
This hatred to the other is cultural, religious, and ideological. It is out of the educational realm and part of the public surroundings and lifestyle. It is not and never has been economic. It is not and never has been out of poverty and lack of education. It has nothing to do with inferior feelings or psychological frustrations. Above all, it is not out of Western blames, of colonialism and imperialism and guilt remorse.
So when Fareed Zakaria asked in October 15, 2001, in Newsweek, "The Politics of Rage: Why Do They Hate Us?" he blames the victim: the US support of "Israel's iron-fisted rule over the occupied territories;" having "neglected to press any regime there to open up its society," and by supporting "oppressive police states" in the Arab world. This view was reiterated by John Powers, in LA Weekly, on September 19, 2001, that American support for "brutal, undemocratic Middle Eastern regimes" is the root of the problem. Bill Maher returned to this on November 13, 2015, concluding that "we still don't know the answer," and Hisham Melhem has debated the same question on December 7, 2015, in Politico, blaming the poor assimilation and rampant Islamophobia.
The Western world has learned nothing, and still ask this stupid question when the answer is crystal clear? It is only when it faces up to its delusions and actions and stop torturing itself and silencing Islam critics, it will be able to take itself out of darkness. Islam is totally different culturally. Muslims don't want to assimilate and to integrate. It is not Islamophobia but Islamophilia, even Islamification. Islam is defined as the total submission and devotion to Allah.
Islam is a political religion, more political than religion that acts in a continuous expansion without political borders, until the entire humanity proclaims "there is no God but Allah, and Muhammad is his messenger." The focus of Islam is the occupation of the world employed in dynamic means. This is the natural reality of Islam to control and not being controlled; to impose its religious doctrine on all the nations of the world; and to be superior on all the infidels (4:141; 7:158; 9:33, 123; 21:107; 63:8). At the same time, it is the interest of humanity to come under Islamic rule (7:158; 21:107). Islam has the eternal divine wisdom from the beginning of history to the end of the world, and the Muslims are the best of nations who believe in Allah, doing but the good and denying evil (3:110; 3:114; 5:3; 9:71; 9:112). The objective is the establishment of world Islamic Ummah under the Caliphate. It is so inclusive that all human history, from Adam to the end of the world is Islamic (12:109). Heaven and Earth and all in-between would have been collapsed unless they are controlled by Allah (5:17; 10:68; 21:22; 40:62; 46:33; 48:14).
This ideological call and action of Islam is imperative, and those who oppose this natural world order become immediately the enemy, including other Muslims, and deserve death. It is so simple. When one learn the Islamic doctrine and its objectives, there are no doubts about the question. One has to clearly understand the al-Wala' wal-Bara' doctrine, which is second in importance, after the Tawhīd, the oneness of Allah. Loyalty to Islam and animosity to the Kuffār are an integral part of the strict adherence to the Sharī'ah, and are demanded by all the Muslims.
The Qur'ān says that all other religions as such are cursed by Allah. All those who join idols, or false gods to Allah, or invent lies about him, or deny Allah, or change even one word of Allah's Book, or does not believe in Muhammad — are to be "seized wherever found and slain with a slaughter." The second aspect of al-Walā' wal-Barā' is when the Muslims solemnly declare the Tawhīd: La Illāh ila-llâh (there is no god but Allah), it means they clearly state that all other religions are denied, sinful and unlawful. According to Ibn Taymiyah: it is not possible to achieve complete happiness by loving Allah, except by the full rejecting all other things. This is what the words, "There is no god but Allah" mean; this is the spirit of Dīn.
On many verses, the Qur'ān reiterates the commandment that it is forbidden to associate other gods with Allah, and Islam should be adhered to become the only legitimate religion on earth. It is followed by the swear-belief that Muhammad is his messenger, that his conduct embodied Islam and Qur'ān. Muhammad's words are absolutely the best to follow, being religiously unassailable. Moreover, the mission of Muhammad is to all humanity, so actually humanity must obey Muhammad as much as Allah. Those who disobey Allah and his messenger will be led into the torment of Hell-fire to live forever. Tawhīd will never be achieved on earth until the believers apply the doctrine of al-Walā' wal-Barā', by total following of Muhammad's way of life, al-Sirāt al-Mustaqīm.
The al-Walā' wal-Barā' doctrine also relates to the prayer. In each of the five daily prayers, Muslims declare the total allegiance and submission to Islam and objection to the other, between 17 to 100 times a day, as appears in al-Fātihah, 1:5-7: "Guide us to the straight path, the path of those whom you have favored, not of those against whom there is wrath, nor of those have gone astray." Those who have incurred Allah's wrath are the Jews, and those who go astray are the Christians.
The last aspect of al-Walā' wal-Barā' is related the issue of war and peace (Siyār). Since the world is divided into two distinct realms: Dār al-Islām and Dār al-Harb, the normal and only justified relationship is a state of infinite war. There is no peace in Islam toward the other but temporary, elaborated by Majid Khadduri. Islam has no concept of "Just War," since any war directed against the Kuffār, whatever are its grounds and circumstances is morally justified and religiously legitimized. A lasting peace between Dār al–Islām and Dār al–Harb is impossible, until Dār al–Harb no more exists. When the entire world becomes Dār al–Islām, submission to Allah will be the law of the whole universe, and Jihad al-Akbar reigns. Until then, war is the normal and lasting state of affair (Jihād al-Saghīr).
The issue of Walā' wa-Barā' has also a domestic framework. Salafi-Jihadi groups and the Wahhabi Muslims believe they are the Saved Sect (al-Tā'ifah al-Mansūrah), the only group that has the correct Islamic beliefs. They are the real Ahl al-Sunna wal-Jamā'ah, while all other manifestations of Islam have deviated from the 'straight path' (Sirāt al-Mustaqīm), and by that destined for hell as 'apostates'. This principle is the basis of Takfīr doctrine the Jihadists use to identify their domestic Muslim enemies and to justify their elimination, as we see in Dawlat al-Khilāfah al-Islāmīyah.
Ibn 'Abd al-Wahhāb's concept of Takfīr, includes the command that anyone who does not show sufficient levels of Walā', allegiance to 'true Muslims', and adequate Barā', rejection of 'sinners', is at risk of committing apostasy. Abū Qatāda, the Jordanian-Palestinian preacher, has written on the subject. al-Tā'ifah al-Mansūrah reinforces Jihadists' self-belief being righteous; strengthen their mutual solidarity; and allows them to fight opposition to their views.
The Fitrah doctrine is the Islamic concept of human nature, as the right action of submission to Allah, and it is associated with the Dīn, as how Allah has created mankind and universe. Islam is called Dīn al-Fitrah, the religion of human nature, because its laws and its teachings are relevant to all universe and human beings. Therefore, actually all mankind from eternity are Muslims. Allah, having created humankind, took a covenant with them that they all will believe only in Islam and obey only him and his messenger.
The implementation of al-Walā' wal-Barā' is operated through Jihad. To clarify the term and to oppose the Islamic Da'wah, propagation, in the West: Jihad comes from the third Arabic Conjugation, meaning to fight, to make war (Mujāhadah and Jihād are the nouns). It has nothing to do with the first Arabic Conjugation, meaning to make an effort, to exhort struggle. Jihad is the tool of the Islamic imperative to subjugate the world and to make Islam the only legitimate religion in the world, mainly by force (if the infidels resist accepting it willfully). Muslims totally believe engaging in Jihad is the only way to remain faithful to Muhammad's example. Jihad is always offensive and aggressive, but at the same time it is always portrayed by Muslims as defensive and waged against the political and ideological encroachments emanating from the Kuffār to continue their control and subjugation.
The religious sources of Jihad prove very clearly: Jihad is the Islamic war against the Kuffār. Polytheism (Kufr, Ishrāk); hypocrecy (Nifāq, Munafiqûn), and apostasy (Irtidād) on the one hand, and Islam on the other, cannot co-exist under any terms. Jihad appears 41 times in 18 chapters in the Qur'an, mostly coupled with Fī-Sabīlillāh, for the sake of Allah, which gives it a religious sanctity. All four Schools of Jurisprudence (Madhāhib: Hanbali; Shāfī`i; Māliki; Hanafi) and Islamic important authoritative exegetes agree: Jihad means eliminating the barriers to the spread of Allah's truth and establishing Islamic justice on universe in its entirety.
All four Islamic Schools of thought (Madhāhib) and most of Islamic exegetes agree that the aims of Jihad are meant to removing the infidel's oppression and injustice; eliminating the barriers to the spread of Allah's truth; and establishing Islamic justice, well-being, and prosperity all over the world. The elevation of Allah's word cannot be achieved without Jihad, which is actually the protector of all Muslim deeds (2:251; 4:75; 8:39; 57:25). They divide the world into two spheres variously called the Dār al-Islām against Dār al-Hārb. There can be no peace between the two until Dār al-Islām conquers the enemy. Accommodation and compromise are permissible only temporarily, and fighting them is obligatory.
They all have agreed that Jihad means "to fight in the Path of Allah: Māliki Fiqh: "The Muslims are to fight with the Kuffār to advance Allah's religion." Shāfī'i Fiqh: "The meaning of Jihad is to make utmost effort in fighting the Kuffār in the Path of Allah." Hanafi Fiqh: "Jihad means to be involved in fighting for the sake of Allah by one's life, wealth, and speech." The aim is "to call the Kuffār toward the true religion of Islam and to fight against them, if they are unwilling to accept this true religion." Hanbali Fiqh: "Jihad means to fight against the Kuffār by all means" (Fadā'il al-Jihād).
The main manual Sharī'ah codex are as follows: Ibn Rushd rests his analysis of the laws justifying Jihad on the following Qur'an Sûwar: 2:190, 2:216, 4:95, 8.1, 8:39, 8:41, 8:61, 8:67, 9:5, 9:29, 9:122, 17:17, 40:25, 47:4, 48:17, 59:6, and 59:10. Misri rests his analysis on the following Qur'an Sûwar: 2:216, 4:89, 4:95, 9:29, 9:36, 9:41, 9:111, and 61:10–13. Yahya, rests its analysis of the laws justifying Jihad on the following Qur'an Sûwar: 2:216, 4:95-96, 9:36, 9:41, 9:111, and 61:10–13.
Ibn Rushd, Misri, and Yahya clearly identify Jihad with military combat, including support and service roles in the battlefield for the sake of Muslim community. In the Sharī'ah there is unambiguous legal guidance upon whom Jihad and support to Jihad is obligatory; identification of the persons to be fought; conditions for the declaration of war. The reasons for waging Jihad war against the infidels are two: to force the conversion to Islam and to secure the payment of the Jizyah. This is also the view of al-Hidāyah of Shaikh Burhanuddin (1135–96) that represents the Hanafi school of thought.
On page 599 of Reliance of the Traveler, one can find the following passage: o9.0 JIHAD. Jihad means to war against non-Muslims, and is etymologically derived from the word Mujāhadah, signifying warfare to establish the religion. (1) "Fighting is prescribed for you" (Koran 2:216); (2) "Slay them wherever you find them" (4:89); (3) "Fight the idolaters utterly" (9:36); and such Ahādīth: "I have been commanded to fight people until they testify that there is no god but Allah and that Muhammad is the Messenger of Allah, and perform the prayer, and pay zakat. If they do so, they have saved their blood and possessions from me, except for the rights of Islam over them. And their final reckoning is with Allah."
Ibn Rushd, the Maliki master of philosophy and Islamic law, offers the following rulings on Jihad: Scholars agree that the Jihad is a collective not a personal obligation. The compulsory nature of it is founded on 2:216: "Fighting is prescribed for you, though it is distasteful to you." It is not personal according to 9:112: "It is not for the believers to march out altogether." The obligation to participate in the Jihad applies to adult free men who have the means at their disposal to go to war and who are healthy. There is no controversy about the latter restriction, because of 48:17: "There is no blame upon the blind, or upon the lame, or upon the sick," and because of 9:91: "No blame rests upon the frail or upon the sick or upon those who find nothing to contribute." All sorts of infidels should be fought. This is founded in 8:39: "Fight them until there is no persecution and the religion is entirely Allah's."
The Shahīd is one who is killed and achieved martyrdom in the battle of Jihad against the enemies of Islam. In its primary source Shahīd is an eye witness, even one of Allah's names. He is called Shahīd because Allah and the angels are witnesses that he deserves Paradise, and that his means and motives were pure. This is very different from the Jewish and Christian notion of martyrs, as those who voluntarily endure torture and death rather than renounce their belief. According to the Islamic tradition, there is a typology of three kinds of Shuhadā' in the battleground. The one is the warrior that goes to the battle, but not to kill and not to be killed; the second is the warrior who wishes to kill and risk his life in the way of Allah but wishes to stay alive; and the third is the warrior that wishes to kill and be killed, to sacrifice his life in the way of Allah (Talab al-Shahādah), which is the best rewarded ideal Islamic action. This is according to the tradition that on the Day of Judgment Allah will smile to those warriors who had not looked behind and went to their death willingly, with open heart.
There are many Qur'anic "sword verses:" fighting all infidels (9:5); fighting the People of the Book, Ahl al-Kitāb (9:29); fighting the hypocrites (Munāfiqûn) (9:64-73, 3:86:91); fighting the enemies of Islam whenever they are found (47:4). The Muslims are not allowed to befriend idolaters even they are nearest relatives (9:23, 58:22). Muslims are commanded to terrorize their enemies wherever and whenever they are found (3:151, 8:12, 8:60, 33:26, 59:2). Beheadings (8:12, 47:4) are of the most important and practiced acts in Islamic history. It is so pervasive that it becomes a model for the best Islamic deed.
These acts are not without rewards: first, the Shuhadā' immediately gain the glorious gardens of Eden with "… rivers of wine and streams of purifies honey, and fruits of every kind of them…" Second, they enjoy the black-eyed virgins in paradise (44:51-4, 52:17-20, 56:22-4), and young boys, beautiful like a pearl in a shell are there to serve all the Shuhadā' needs. However, the most important reward of Jihad is the fact they are not dead. This is so important so that it must be quoted from the source: 2:154: "Do not think that those who are killed in the way of Allah are dead, for indeed they are alive, even though you are not aware (wa-La Takûlû Liman Yuktalu Fī-Sabīlillāh Mawtan, bal Ahyā' wa-Lakin la Tash'arûn). 3:169-71: Never think of those who are killed in the way of Allah are dead. They are alive with Allah…rejoicing at what Allah has given them of his grace, and happy for those who are trying to overtake them… They rejoice the kindness and mercy of Allah…" (La Tahsabāna al-Lathina Kutilû Fī-Sabīlillāh Amwāan, bal Ahyā', 'Inds Rabuhum Yurzakûn).
The concept of Shahīd in the Hadīth. He is granted seven gifts: he is forgiven at the first drop of his blood; he is dressed in clothes of Imām and sees his status in paradise; he is protected from the punishment of the grave; he will be safe from the great fear of the Day of Judgment; a crown of glory will be placed on his head; he will intercede on behalf of 70 members of his family; he will be married to 72 virgins.
From the Hadīth, here are few examples of the importance of Jihad.
"Know that Paradise is under the shades of swords… whoever amongst us is killed, will go to Paradise… and their enemies will go to the Hellfire."
"…I have been made victorious with terror, and while I was sleeping, the keys of the treasures of the world were brought to me and put in my hand."
"Nobody who dies and finds good from Allah would wish to come back to this world even if he were given the whole world and whatever is in it, except the shahid who, on seeing the superiority of Jihad, would like to come back to the world and get killed again because of the dignity he receives."
"I have been ordered to fight against the people until they testify that none has the right to be worshipped but Allah and that Mohammad is Allah's apostle, and offer the prayers perfectly and give obligatory Zakāh."
"Allah's Apostle said: No doubt I wish I could fight in the way of Allah and be a Shahīd and come to life again to be Shahīd and come to life once more."
"There is no group of people on earth in which you cannot bring me from them Muslims. And the best I like that you bring their wives and sons and kill their men."
One of the ingredients of Jihad is the doctrine of homicide bombing (Istishhād). It is mistaken to allude Islamic Istishhād to Christian Martyrdom. While the Martyr testifies his faith through his personal sacrifice; the Shahīd testifies his faith through his homicide terrorism against the infidels, as the most exalted expression of faith. The Martyr tortures and kills himself out of religious devotion to God. The Shahīd, kills other for not converting to Islam, or worse, just for being infidels.
People misunderstand homicide terrorism by thinking that only hatred could cause Muslims to act in deep inhumane activity. This in fact is basically wrong, because it is part of Islamic belief that Islam wins because the Muslims love death while peoples of the West love life. This distinction is not "out of depression and despair" as Islamic propagation claims in its politics of deception, and Western ignorant apologists adhere to. It is cheerfully carried out to the service of Islam, for the sake of Allah. That is why Palestinian homicide bombers detonate themselves, while their families celebrating their wedding to dark-eyed virgins in heaven. It is as if accompanying the groom to his wedding; it is joyful event, the Shahīd is alive, together with Allah.
Instead of asking the stupid question "why do they hate us?", the Free World must realize that it is facing the greatest national security existential threat ever in history, far beyond and above the 20th century two World Wars and the horrors of the cold war era. The Free World has already been in the midst of a third world war, formally conducted by Islam as a religious war, a war that is so different from the previous wars in the 20th century; a war that is conducted not in the battleground and not by planes and tanks. This is a war of totalities is perpetuated by three Islamic arms: a total war of inhumane Jihad terrorism that is sweeping the entire states in the world to chaos; a total war of Hijrah, a huge unprecedented immigration to the Free World's lands that threatens to change the demography, the culture, and the way of life of its indigenous peoples; and a total war of Da'wah, a strategy of propagation and sophisticated diplomacy to deceive and mislead the Free World, called the Kuffar, the infidels, by controlling their minds and changing their awareness about the situation.
On this war of totalities, the Free World has no coherent plan, in fact it has no plan at all to battle the enemy. This complicated reality starts with misunderstanding and misreading the situation. Moreover, there is no concrete definition of the lethal threat and no comprehension of its essence. As a result, the Free World is unable to act, in fact, is led by its own free will and full awareness to civilizational distinction. By its large scale and by its huge repercussions, this lethal existential threat and of conscious suicide has become unprecedented in history.
Therefore, the Free World's leaders have to ask the right correct question: how do we define and understand the situation? And the answer is meant to mobilize all the political powers possible internationally and the abilities to fight for their existence.
Why FATF treats India as a protégé and Pakistan as a bête noire?
Indian media is never tired of describing Pakistan as hub of money laundering and terror financing in the world. Indian representatives echoed their babble in recent United Nations' meeting also.
India makes no bones in declaring its intention to link Pulwama blasts with money trail to Pakistan. By doing so India hopes to get Pakistan blacklisted by Financial Action Task Force.
Little focus on money laundering and terror financing by India: Nowadays, Major powers' geo-political and economic interests have forced them to ignore suspicious financial transactions by India. However, not long ago, the world was more concerned about money laundering in India than in Pakistan.
Even the USA called upon India to do more to prevent financing of terror networks. USA's Assistant Secretary of State for Economic and Business Affairs Anthony Wayne told the Senate Banking Committee, 'In India, two accounts belonging to terrorist individuals/entities have been identified, but the Government of India has not frozen any assets to date. It is aware of the UN 1267 Committee List, however', Wayne noted that India's Prevention of Money Laundering Act `criminalises money laundering and requires banks and other financial institutions and intermediaries to report individual transactions valued over US$ 23,000 to the financial-investigation unit'. Wayne added, 'India has also indicated it wants to join the Financial Action Task on Money Laundering. However, at a recent FATF plenary meeting in Paris, concerns were raised regarding its ability to provide effective international cooperation in a timely manner and to extend mutual legal assistance'.
Here is a glimpse of corrupt India. World Bank estimated that capital flight of Rs 50 to 100 crore took place in four fertilizer plants projects via Italian firm Snam Projetti. Minimum commission of seven percent was charged on imports of the public sector. Indian government paid no regard to the recommendations adopted by the Financial Action Task Force on money laundering, set up in July 1989 by the Paris summit of the seven most-developed countries. The conventional money-laundering techniques (smurfing, cover companies, etc.) are used to the hilt in India. The average amount stashed away from India during 2002-06 is US$27.3 billion (about 136,466 crore). It means that during the 2007-2018 period, the amount stashed away is 27.3×15=US$ 4, 095 billion. Just imagine the volume of money stashed abroad since 1947, including Nehruvian era when Birlas and Tatas gave blank cheque to Congress.
Lid on laundered money lifted: To what end, the laundered money is put is anyone's guess. However, a recent document-based report by the International Consortium of Investigative Journalists has blown the lid off the suspicious financial transactions by Indian banks, public and private sector companies.
The ICIJ report based on Financial Crimes Enforcement Network (FinCEN) files "represent less than 0.02% of the more than 12 million suspicious activity reports that financial institutions filed with FinCEN between 2011 and 2017."
Earlier a study, conducted by Conflict Armament Research, had confirmed that seven Indian companies were involved in the supply chain of over 700 components including fuses or detonating cords used by the Islamic State to construct improvised explosive devices .Even the Sri Lanka blasts were linked to terrorists hiding in Indian Southern States. As an eye wash, India arrested Islamic State moles. To bypass banking channels, even gold and diamond are `legal tender' for money laundering.
How the FATF favoured India: In both India and Pakistan, money laundering is popularly known as hawala, or hand –to-hand-transaction. The Financial Action Task Force was scheduled to review India's money laundering and terrorist financing regime, a ten year cycle, in September-October 2020. But, it has been tentatively postponed to January February 2021 ostensibly `in view of COVID19 pandemic in India. The year-long review evaluates `Indian legal system against financial crimes at its plenary meeting in February 2022 and subsequently issue a statement and recommendation about the country.
The FATF happily agreed with India that `it is impossible for assessed jurisdictions and asssessories alike to conduct on-site visits and in-person meetings' (no relaxation for Pakistan).
How India hoodwinked the 2013 FATF team: In the 2013 review, India managed to hoodwink the FATF by pleading that `it has set up a joint working group comprising 22 central investigation, intelligence-gathering and regulatory agencies to check illegal financial transactions. The agencies include the Central Bureau of Investigation. Enforcement Directorate, Income Tax Department, Directorate of Revenue Intelligence, Financial Intelligence Unit, Customs, Market regulator, Securities and Exchange Board of India, banking regulator and insurance regulator TRDAL.
The 2013 review team was much impressed by Rahul Navin, a 1993-batch Indian Revenue Service Officer of the Income Tax Department deputed with the Enforcement Directorate. Navin who had earlier worked with the Organisation for Economic Cooperation and Development had authored a book Information Exchange and Tax Transparency: Tackling Global Tax Evasion and Avoidance.
How the ICIJ blew lid off India's US$ 2 trillion money laundering and terror financing: The International Consortium of Investigative Journalists based its report on two million Suspicious Activity Reports filed by prestigious banks with Financial and Crime Enforcement Network (FinCEN). The ICIJ report is just tip of the iceberg. Its revelations are based on `only 0.02% of the more than 12 million suspicious activity reports that financial institutions filed with FinCEN between 2011 and 2017'. The US banks who filed reports include Deutsche Bank Trust Company Americas, BNY Mellello, Citibank, Standard-Chartered and JP Morgan. The reasons mentioned in the reports include `high-risk jurisdiction for money laundering or other financial crimes, adverse media or public information on the client', unidentified parties, and the fact that source of funds and purpose of transaction could not be ascertained'. Not only the banks but also the public and private sector companies were the culprits. They include Hindustan Aeronautics Limited, Bhushan Steel Limited, Bharti Airtel and Essar. Heretofore is a bird's-eye view of the findings.
Indian banks figure in over 2000 transactions, linked to Indian entities, valued at over US$ 1 billion (Rs. 7, 369 crore) between 2011 to 2017. These banks include State Bank of India, Punjab National Bank, Canara Bank, HDFC Bank, Kotak Mahindra Bank, Axis Bank, and Indus Ind Bank.
Open Question: While the ICIJ has shared the information with Buzzword and 108 other media outfits, India's `Special Investigation Team on Black Money' stays mum. The SIT was formed on the directions of India's Supreme Court.
Inference: The FATF should undertake an even handed investigation to India's multi-facetred money laundering and terror financing.
Stateless and Leftover ISIS Brides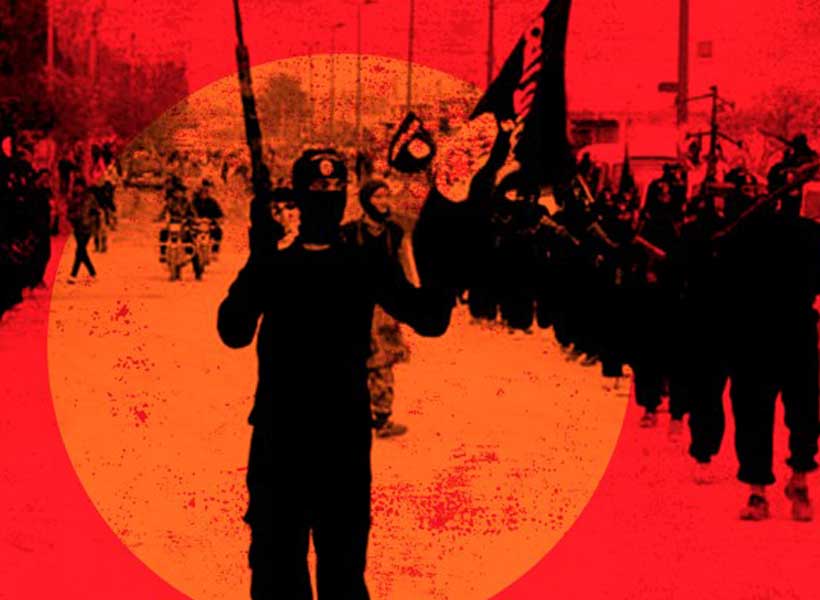 While the World is busy fighting the pandemic and the economic devastation caused by it, one of the important problem that has been pushed to dormancy, is the status of the ISIS(Islamic State of Iraq and Syria) brides. The Pandemic has crippled the capacity of the law enforcement and exploiting this the ISIS executed attacks in Maldives, Iraq, and the Philippines. The United Nations Secretary-General Antonio Guterres has warned that terrorists are exploiting the COVID-19 Pandemic. Albeit the ISIS has been defeated, approximately ten thousand of them are in ISIS detention centres in Northern Syria under Kurds. Most of these detention centres are filled by women and children, who are relatives or widows of the ISIS fighters. With their native states denouncing them, the status of the stateless women and children is unclear.
As it stands today states' counter-terrorism approach has been primarily targeting male militants but women also have played a role in strengthening these terrorist organizations. Women involvement in militant organizations has increased as they perform several activities like birthing next-generation militants/jihadists, managing the logistics and recruiting the new members to the organizations. The world did not recognize women as key players in terrorist organizations until the 1980s when females held major roles in guerilla wars of southern America. Women have either willingly or unwillingly held a variety of roles in these extremist organizations and Islamist terrorist organizations like Hamas and al-Qaeda women do simply provide moral support.
According to the media reports since the US withdrawal from Iraq in 2006 female suicide attacks have been increased and they have been extensively part of ISIS. The ISIS had a female brigade which they called as Al-Khansaa which was established to perform search activities in the state. Both foreign and domestic recruits in the Islamic state have participated in brutal torture. A recently acquired logbook from a guesthouse in Syria provides important information about 1100 females who joined the organization, the western women who are called as 'the muhajirat'.
When the people from rest of the world joined organizations such as ISIS, they burnt their passports and rejected their national identity. Especially women from western countries who were radicalized online based on their phenomenon 'ISIS brides/Jihadi brides' to marry terrorists. Since Islamic State isnot recognized by the world these marriages are not legally valid, apart from this a number of these brides have experienced sexual torture and extreme violence.
While the erstwhile members of the extremist organizations like ISIS and others are left adrift the one challenging question remaining is should states and their societies keep them and reengage or rehabilitate or prosecute them. How firmly the idea of their erstwhile organization is stuck in their minds and especially the followers who crossed the world to join remains a concern to many. The U.S backed Kurdish forces across turkey border hold thousands of these left-behind women and children in their centre. Hundreds of foreign women and children who were once part of an aspirant state, The caliphate are now floating around the concentration camps in Syria, Turkey and Kurdish detention centres and prisons. Many are waiting to return to their origin countries. They pose a unique challenge to their native states like whether to include them or not and even if they include how to integrate adults who at least for a time part of these terrorist organizations and what to do with children who are too young to understand the politics and obstacles keeping them in camps and detention centres where resources are scarce. Women present a problem because its hard to know what kind of crimes they have committed beyond the membership of the terrorist organization.
It is no secret that women also have been part of insurgency across the world, like in ISIS,LTTE,PIRA and PFLP. The responsibility of women in ISIS includes wife to ISIS soldiers, birthing the next generation of jihad and advancing ISIS' global reach through online recruiting. The International Center for Study of Radicalization (ICAR) estimates that out of 40000 people joined ISIS from 80 different countries nearly 8000 are women and children. After the defeat of ISIS and such extreme organization those who are left behind possess the ideological commitment and practical skills which again a threat upon return to home countries.
The states across the world are either revoking the citizenship or ignore their responsibility. The most famous case of Shamima Begum a UK citizen married to an ISIS fighter whose citizenship was revoked by the UK government. In other cases like HodaMuthana of the USA and Iman Osman of Tunisia have been the same case. As recently as Tooba Gondal an ISIS bride who now in a detention camp in northern Syria begged to go home in the UK in a public apology.
The American president Donald Trump issued a statement saying women who joined ISIS cannot return. The NATO deputy head said "…returning ISIS fighters and brides must face full rigours of the law". Revoking the citizenship and making someone stateless is illegal under international law and it is also important to know how gendered these cases are because the UK have successfully prosecuted Mohammad Uddin and the USA has also done it so. Stripping off their citizenship itself a punishment before proper trail and the only good out of it would state can take their hands off in dealing with cases. Samantha Elhassani the only American who repatriated from Iraq so far and pleaded guilty for supporting ISIS. Meanwhile, France is trying to route its citizens who joined the ISIS and extradited few who are under trial in Bagdad.
As experts and political analysts say "countries should take responsibility for their own citizens" because failure to do so will also make the long term situation more dangerous as jihadists will try to a hideout and turn into militant groups for their protection. The children, the second-generation ISIS need cultural centres and rehabilitation centres and this is an international problem. These women known as jihadists brides suffer from a post-traumatic stress disorder and many are pregnant or multiple children born in ISIS territory.
In some countries travelling abroad to join the insurgencies in North Africa and Syria was not always a criminal act, Sweden criminalized such act recently but to prosecute them proof of offences committed in the conflict zone is difficult to collect and most countries in the world do not allow the pre-trial detention for more than 14 days. With problems of different national Lawson extradition and capital punishment and to prosecute them in conflict countries is also a challenge for states. Since Kurdish forces have signalled that they cannot bring all the prisoners into justice the home countries will have to act or else it might create a long term dangerous situation. With the civil war in Syria is about to end it is time to address these issues because since there are more ISIS fighters in Kurdish prisons and detention centres they could be influenced to join rebels who are fighting the regime of Assad in last standing province of Idlib.
If the governments reject the repatriation applications then they will be signalling that their action is essential for national security and thus asserting that failed or poorly resourced states are better equipped to handle potential extremists. The criminal system in Iraq is corrupt and human rights violations have been reported and which creates the risk of further radicalization. One should not forget that even citizenship of Osama bin laden was also stripped but which did not stop him from forming al-Qaeda in Afghanistan. If the citizens commit crimes and forget their responsibility then the states must bring them to justice instead of stripping citizenship. The states must come with a solution for this problem before its too late, setting up an international tribunal to deal with these cases would be a great start but these tribunals are time-consuming and expensive.
States must act as a responsible actor in the international system. Jihadist terrorism is a global problem and states must act together to deal with it because with nearly 40000 fighters joining caliphate from across the world it only shows how global and deeply rooted the phenomenon is. Instead of stripping their citizens' citizenship, states must find a way to act together for the peace and security of the international community.
COVID-19: Game-changer for international peace and security
The world has "entered a volatile and unstable new phase" in terms of the impact of COVID-19 on peace and security, the UN chief told a virtual meeting with world leaders on Wednesday.
Speaking at one of a series of international meetings among heads of State to enhance global cooperation in fighting terrorism and violent extremism, as part of the Aqaba Process, Secretary-General António Guterres said the pandemic was more than a global health crisis.
"It is a game-changer for international peace and security", he spelled out, emphasizing that the process can play a key role in "promoting unity and aligning thinking" on how to beat back the pandemic.
Warning lights flashing
Mr. Guterres maintained that the coronavirus has exposed the basic fragility of humankind, laid bare systemic and entrenched inequalities, and thrust into the spotlight, geopolitical challenges and security threats.
"The warning lights are flashing", he said, pointing out that as the virus is "exacerbating grievances, undermining social cohesion and fueling conflicts", it is also likely to "act as a catalyst in the spread of terrorism and violent extremism".
Moreover, international tensions are being driven by supply chain disruptions, protectionism and growing nationalism – with rising unemployment, food insecurity and climate change, helping to fuel political unrest.
A generation in crosshairs
The UN chief also noted that a generation of students is missing school.
"A whole generation…has seen its education disrupted", he stated. "Many young people are experiencing a second global recession in their short lives."
He explained that they feel left out, neglected and disillusioned by their prospects in an uncertain world.
Wanted: Global solidarity
The pandemic has highlighted vulnerabilities to emerging threats such as bioterrorism and cyber-attacks on critical infrastructure.
"The world faces grave security challenges that no single country or organization can address alone", upheld the Secretary-General, "there is an urgent need for global unity and solidarity".
Recalling the UN's Virtual Counter-Terrorism Week in July, he reminded that participants called for a "reinvigorated commitment to multilateralism to combat terrorism and violent extremism".
However, a lack of international cooperation to tackle the pandemic has been "startling", Mr. Guterres said, highlighting national self-interest, transactional information sharing and manifestations of authoritarianism.
'Put people first'
The UN chief stressed that "we must not return to the status quo ante".
He outlined the need to put people first, by enhancing information sharing and technical cooperation "to prevent terrorists exploiting the pandemic for their own nefarious goals" and thinking "long-term solutions rather than short-term fixes".
"This includes upholding the rights and needs of victims of terrorism…[and] the repatriation of foreign terrorist fighters, especially women and children, and their dependents to their countries of origin", he elaborated.
Closing window
Meanwhile, the risk of COVID-19 is exacerbating the already dire security and humanitarian situation in Syrian and Iraqi camps housing refugees and the displaced.
"The window of opportunity is closing so we must seize the moment", the UN chief said. "We cannot ignore our responsibilities and leave children to fend for themselves and at the mercy of terrorist exploitation".
He also expressed confidence that the Aqaba Process will continue to "strengthen international counter-terrorism cooperation, identify and fill capacity gaps, and address evolving security threats associated with the pandemic", and offered the UN's "full support".
Post-COVID rebuilding
The Secretary-General also addressed the Centenary Summit of the International Organization of Employers (IOE) on how private and public sector cooperation can help drive post-COVID change.
He lauded the IOE's "significant contributions" to global policymaking for economic and social progress, job creation and a mutually beneficial business environment, calling it "an important pillar of the International Labour Organization (ILO) since its earliest days".
"Today, our primary task is to defeat the pandemic and rebuild lives, livelihoods, businesses, and economies", he told the virtual Summit.
In building back, he underscored that workers and small business be protected, and everyone be given the opportunity to fulfil their potential.
Businesses input
The UN chief urged businesses to engage with the multilateral system to create a "conducive global environment for decent work, investment, and sustainability"; and with the UN at the national level, to help ensure that multilateralism "works on the ground".
He also encouraged them to actively participate in national and global public-private dialogue and initiatives, stressing, "there must be space for them to do so".
Tripartite cooperation
ILO chief Guy Ryder highlighted the need for "conscious policy decisions and tripartite cooperation to overcome transformational challenges", such as technological change and climate change, as well as COVID-19.
Mr. Ryder also flagged that employers must continue to collaborate in social dialogue and maintain their commitment to both multilateralism and the ILO.
The IOE represents more than 50 million companies and is a key partner in the international multilateral system for over 100 years as the voice of business at the ILO, across the UN, the G20 richest countries and other emerging forums.