Another Western Stupidity: "Why Do They Hate Us?"
The Western world is ignorant, unacquainted, and in fact stupid concerning Islam. For so many years and so many Islamic attacks, its leaders still reiterate the Pavlovian question: "why do they hate us?" On March 22, 2016 Matthew Karnitsching ran an op-ed in Politico, titled "Why Do They Hate Us So Much? How the Brussels attacks strike at the heart of Europe and shake its political foundations."
It's time to stop asking this question. It is confusing and embarrassing, let alone being stupid and shows ignorance. Like battered spouses, victims of Islamic violence continue trying to alter their own behavior, to appease and to blaming themselves in futile attempts to make the Muslims to love "us." It's time to stop asking this question and to start understanding Islam. It is Islam, which is culturally so different, being tribal and ascriptive (suspicion and mistrust). It is the Islamic Sharī'ah, which includes the entire Scriptures (Qur'ān Hadīth and Sīrah). It is Islamic doctrine, the centrality of al-Walā' wal-Barā', the total loyalty to Islam and the total animosity and hatred to the other. It is the main part of Islamic education, socialization and indoctrination (at home, in schools, in the mosques, through the media, and by Muslim clerics).
This hatred to the other is cultural, religious, and ideological. It is out of the educational realm and part of the public surroundings and lifestyle. It is not and never has been economic. It is not and never has been out of poverty and lack of education. It has nothing to do with inferior feelings or psychological frustrations. Above all, it is not out of Western blames, of colonialism and imperialism and guilt remorse.
So when Fareed Zakaria asked in October 15, 2001, in Newsweek, "The Politics of Rage: Why Do They Hate Us?" he blames the victim: the US support of "Israel's iron-fisted rule over the occupied territories;" having "neglected to press any regime there to open up its society," and by supporting "oppressive police states" in the Arab world. This view was reiterated by John Powers, in LA Weekly, on September 19, 2001, that American support for "brutal, undemocratic Middle Eastern regimes" is the root of the problem. Bill Maher returned to this on November 13, 2015, concluding that "we still don't know the answer," and Hisham Melhem has debated the same question on December 7, 2015, in Politico, blaming the poor assimilation and rampant Islamophobia.
The Western world has learned nothing, and still ask this stupid question when the answer is crystal clear? It is only when it faces up to its delusions and actions and stop torturing itself and silencing Islam critics, it will be able to take itself out of darkness. Islam is totally different culturally. Muslims don't want to assimilate and to integrate. It is not Islamophobia but Islamophilia, even Islamification. Islam is defined as the total submission and devotion to Allah.
Islam is a political religion, more political than religion that acts in a continuous expansion without political borders, until the entire humanity proclaims "there is no God but Allah, and Muhammad is his messenger." The focus of Islam is the occupation of the world employed in dynamic means. This is the natural reality of Islam to control and not being controlled; to impose its religious doctrine on all the nations of the world; and to be superior on all the infidels (4:141; 7:158; 9:33, 123; 21:107; 63:8). At the same time, it is the interest of humanity to come under Islamic rule (7:158; 21:107). Islam has the eternal divine wisdom from the beginning of history to the end of the world, and the Muslims are the best of nations who believe in Allah, doing but the good and denying evil (3:110; 3:114; 5:3; 9:71; 9:112). The objective is the establishment of world Islamic Ummah under the Caliphate. It is so inclusive that all human history, from Adam to the end of the world is Islamic (12:109). Heaven and Earth and all in-between would have been collapsed unless they are controlled by Allah (5:17; 10:68; 21:22; 40:62; 46:33; 48:14).
This ideological call and action of Islam is imperative, and those who oppose this natural world order become immediately the enemy, including other Muslims, and deserve death. It is so simple. When one learn the Islamic doctrine and its objectives, there are no doubts about the question. One has to clearly understand the al-Wala' wal-Bara' doctrine, which is second in importance, after the Tawhīd, the oneness of Allah. Loyalty to Islam and animosity to the Kuffār are an integral part of the strict adherence to the Sharī'ah, and are demanded by all the Muslims.
The Qur'ān says that all other religions as such are cursed by Allah. All those who join idols, or false gods to Allah, or invent lies about him, or deny Allah, or change even one word of Allah's Book, or does not believe in Muhammad — are to be "seized wherever found and slain with a slaughter." The second aspect of al-Walā' wal-Barā' is when the Muslims solemnly declare the Tawhīd: La Illāh ila-llâh (there is no god but Allah), it means they clearly state that all other religions are denied, sinful and unlawful. According to Ibn Taymiyah: it is not possible to achieve complete happiness by loving Allah, except by the full rejecting all other things. This is what the words, "There is no god but Allah" mean; this is the spirit of Dīn.
On many verses, the Qur'ān reiterates the commandment that it is forbidden to associate other gods with Allah, and Islam should be adhered to become the only legitimate religion on earth. It is followed by the swear-belief that Muhammad is his messenger, that his conduct embodied Islam and Qur'ān. Muhammad's words are absolutely the best to follow, being religiously unassailable. Moreover, the mission of Muhammad is to all humanity, so actually humanity must obey Muhammad as much as Allah. Those who disobey Allah and his messenger will be led into the torment of Hell-fire to live forever. Tawhīd will never be achieved on earth until the believers apply the doctrine of al-Walā' wal-Barā', by total following of Muhammad's way of life, al-Sirāt al-Mustaqīm.
The al-Walā' wal-Barā' doctrine also relates to the prayer. In each of the five daily prayers, Muslims declare the total allegiance and submission to Islam and objection to the other, between 17 to 100 times a day, as appears in al-Fātihah, 1:5-7: "Guide us to the straight path, the path of those whom you have favored, not of those against whom there is wrath, nor of those have gone astray." Those who have incurred Allah's wrath are the Jews, and those who go astray are the Christians.
The last aspect of al-Walā' wal-Barā' is related the issue of war and peace (Siyār). Since the world is divided into two distinct realms: Dār al-Islām and Dār al-Harb, the normal and only justified relationship is a state of infinite war. There is no peace in Islam toward the other but temporary, elaborated by Majid Khadduri. Islam has no concept of "Just War," since any war directed against the Kuffār, whatever are its grounds and circumstances is morally justified and religiously legitimized. A lasting peace between Dār al–Islām and Dār al–Harb is impossible, until Dār al–Harb no more exists. When the entire world becomes Dār al–Islām, submission to Allah will be the law of the whole universe, and Jihad al-Akbar reigns. Until then, war is the normal and lasting state of affair (Jihād al-Saghīr).
The issue of Walā' wa-Barā' has also a domestic framework. Salafi-Jihadi groups and the Wahhabi Muslims believe they are the Saved Sect (al-Tā'ifah al-Mansūrah), the only group that has the correct Islamic beliefs. They are the real Ahl al-Sunna wal-Jamā'ah, while all other manifestations of Islam have deviated from the 'straight path' (Sirāt al-Mustaqīm), and by that destined for hell as 'apostates'. This principle is the basis of Takfīr doctrine the Jihadists use to identify their domestic Muslim enemies and to justify their elimination, as we see in Dawlat al-Khilāfah al-Islāmīyah.
Ibn 'Abd al-Wahhāb's concept of Takfīr, includes the command that anyone who does not show sufficient levels of Walā', allegiance to 'true Muslims', and adequate Barā', rejection of 'sinners', is at risk of committing apostasy. Abū Qatāda, the Jordanian-Palestinian preacher, has written on the subject. al-Tā'ifah al-Mansūrah reinforces Jihadists' self-belief being righteous; strengthen their mutual solidarity; and allows them to fight opposition to their views.
The Fitrah doctrine is the Islamic concept of human nature, as the right action of submission to Allah, and it is associated with the Dīn, as how Allah has created mankind and universe. Islam is called Dīn al-Fitrah, the religion of human nature, because its laws and its teachings are relevant to all universe and human beings. Therefore, actually all mankind from eternity are Muslims. Allah, having created humankind, took a covenant with them that they all will believe only in Islam and obey only him and his messenger.
The implementation of al-Walā' wal-Barā' is operated through Jihad. To clarify the term and to oppose the Islamic Da'wah, propagation, in the West: Jihad comes from the third Arabic Conjugation, meaning to fight, to make war (Mujāhadah and Jihād are the nouns). It has nothing to do with the first Arabic Conjugation, meaning to make an effort, to exhort struggle. Jihad is the tool of the Islamic imperative to subjugate the world and to make Islam the only legitimate religion in the world, mainly by force (if the infidels resist accepting it willfully). Muslims totally believe engaging in Jihad is the only way to remain faithful to Muhammad's example. Jihad is always offensive and aggressive, but at the same time it is always portrayed by Muslims as defensive and waged against the political and ideological encroachments emanating from the Kuffār to continue their control and subjugation.
The religious sources of Jihad prove very clearly: Jihad is the Islamic war against the Kuffār. Polytheism (Kufr, Ishrāk); hypocrecy (Nifāq, Munafiqûn), and apostasy (Irtidād) on the one hand, and Islam on the other, cannot co-exist under any terms. Jihad appears 41 times in 18 chapters in the Qur'an, mostly coupled with Fī-Sabīlillāh, for the sake of Allah, which gives it a religious sanctity. All four Schools of Jurisprudence (Madhāhib: Hanbali; Shāfī`i; Māliki; Hanafi) and Islamic important authoritative exegetes agree: Jihad means eliminating the barriers to the spread of Allah's truth and establishing Islamic justice on universe in its entirety.
All four Islamic Schools of thought (Madhāhib) and most of Islamic exegetes agree that the aims of Jihad are meant to removing the infidel's oppression and injustice; eliminating the barriers to the spread of Allah's truth; and establishing Islamic justice, well-being, and prosperity all over the world. The elevation of Allah's word cannot be achieved without Jihad, which is actually the protector of all Muslim deeds (2:251; 4:75; 8:39; 57:25). They divide the world into two spheres variously called the Dār al-Islām against Dār al-Hārb. There can be no peace between the two until Dār al-Islām conquers the enemy. Accommodation and compromise are permissible only temporarily, and fighting them is obligatory.
They all have agreed that Jihad means "to fight in the Path of Allah: Māliki Fiqh: "The Muslims are to fight with the Kuffār to advance Allah's religion." Shāfī'i Fiqh: "The meaning of Jihad is to make utmost effort in fighting the Kuffār in the Path of Allah." Hanafi Fiqh: "Jihad means to be involved in fighting for the sake of Allah by one's life, wealth, and speech." The aim is "to call the Kuffār toward the true religion of Islam and to fight against them, if they are unwilling to accept this true religion." Hanbali Fiqh: "Jihad means to fight against the Kuffār by all means" (Fadā'il al-Jihād).
The main manual Sharī'ah codex are as follows: Ibn Rushd rests his analysis of the laws justifying Jihad on the following Qur'an Sûwar: 2:190, 2:216, 4:95, 8.1, 8:39, 8:41, 8:61, 8:67, 9:5, 9:29, 9:122, 17:17, 40:25, 47:4, 48:17, 59:6, and 59:10. Misri rests his analysis on the following Qur'an Sûwar: 2:216, 4:89, 4:95, 9:29, 9:36, 9:41, 9:111, and 61:10–13. Yahya, rests its analysis of the laws justifying Jihad on the following Qur'an Sûwar: 2:216, 4:95-96, 9:36, 9:41, 9:111, and 61:10–13.
Ibn Rushd, Misri, and Yahya clearly identify Jihad with military combat, including support and service roles in the battlefield for the sake of Muslim community. In the Sharī'ah there is unambiguous legal guidance upon whom Jihad and support to Jihad is obligatory; identification of the persons to be fought; conditions for the declaration of war. The reasons for waging Jihad war against the infidels are two: to force the conversion to Islam and to secure the payment of the Jizyah. This is also the view of al-Hidāyah of Shaikh Burhanuddin (1135–96) that represents the Hanafi school of thought.
On page 599 of Reliance of the Traveler, one can find the following passage: o9.0 JIHAD. Jihad means to war against non-Muslims, and is etymologically derived from the word Mujāhadah, signifying warfare to establish the religion. (1) "Fighting is prescribed for you" (Koran 2:216); (2) "Slay them wherever you find them" (4:89); (3) "Fight the idolaters utterly" (9:36); and such Ahādīth: "I have been commanded to fight people until they testify that there is no god but Allah and that Muhammad is the Messenger of Allah, and perform the prayer, and pay zakat. If they do so, they have saved their blood and possessions from me, except for the rights of Islam over them. And their final reckoning is with Allah."
Ibn Rushd, the Maliki master of philosophy and Islamic law, offers the following rulings on Jihad: Scholars agree that the Jihad is a collective not a personal obligation. The compulsory nature of it is founded on 2:216: "Fighting is prescribed for you, though it is distasteful to you." It is not personal according to 9:112: "It is not for the believers to march out altogether." The obligation to participate in the Jihad applies to adult free men who have the means at their disposal to go to war and who are healthy. There is no controversy about the latter restriction, because of 48:17: "There is no blame upon the blind, or upon the lame, or upon the sick," and because of 9:91: "No blame rests upon the frail or upon the sick or upon those who find nothing to contribute." All sorts of infidels should be fought. This is founded in 8:39: "Fight them until there is no persecution and the religion is entirely Allah's."
The Shahīd is one who is killed and achieved martyrdom in the battle of Jihad against the enemies of Islam. In its primary source Shahīd is an eye witness, even one of Allah's names. He is called Shahīd because Allah and the angels are witnesses that he deserves Paradise, and that his means and motives were pure. This is very different from the Jewish and Christian notion of martyrs, as those who voluntarily endure torture and death rather than renounce their belief. According to the Islamic tradition, there is a typology of three kinds of Shuhadā' in the battleground. The one is the warrior that goes to the battle, but not to kill and not to be killed; the second is the warrior who wishes to kill and risk his life in the way of Allah but wishes to stay alive; and the third is the warrior that wishes to kill and be killed, to sacrifice his life in the way of Allah (Talab al-Shahādah), which is the best rewarded ideal Islamic action. This is according to the tradition that on the Day of Judgment Allah will smile to those warriors who had not looked behind and went to their death willingly, with open heart.
There are many Qur'anic "sword verses:" fighting all infidels (9:5); fighting the People of the Book, Ahl al-Kitāb (9:29); fighting the hypocrites (Munāfiqûn) (9:64-73, 3:86:91); fighting the enemies of Islam whenever they are found (47:4). The Muslims are not allowed to befriend idolaters even they are nearest relatives (9:23, 58:22). Muslims are commanded to terrorize their enemies wherever and whenever they are found (3:151, 8:12, 8:60, 33:26, 59:2). Beheadings (8:12, 47:4) are of the most important and practiced acts in Islamic history. It is so pervasive that it becomes a model for the best Islamic deed.
These acts are not without rewards: first, the Shuhadā' immediately gain the glorious gardens of Eden with "… rivers of wine and streams of purifies honey, and fruits of every kind of them…" Second, they enjoy the black-eyed virgins in paradise (44:51-4, 52:17-20, 56:22-4), and young boys, beautiful like a pearl in a shell are there to serve all the Shuhadā' needs. However, the most important reward of Jihad is the fact they are not dead. This is so important so that it must be quoted from the source: 2:154: "Do not think that those who are killed in the way of Allah are dead, for indeed they are alive, even though you are not aware (wa-La Takûlû Liman Yuktalu Fī-Sabīlillāh Mawtan, bal Ahyā' wa-Lakin la Tash'arûn). 3:169-71: Never think of those who are killed in the way of Allah are dead. They are alive with Allah…rejoicing at what Allah has given them of his grace, and happy for those who are trying to overtake them… They rejoice the kindness and mercy of Allah…" (La Tahsabāna al-Lathina Kutilû Fī-Sabīlillāh Amwāan, bal Ahyā', 'Inds Rabuhum Yurzakûn).
The concept of Shahīd in the Hadīth. He is granted seven gifts: he is forgiven at the first drop of his blood; he is dressed in clothes of Imām and sees his status in paradise; he is protected from the punishment of the grave; he will be safe from the great fear of the Day of Judgment; a crown of glory will be placed on his head; he will intercede on behalf of 70 members of his family; he will be married to 72 virgins.
From the Hadīth, here are few examples of the importance of Jihad.
"Know that Paradise is under the shades of swords… whoever amongst us is killed, will go to Paradise… and their enemies will go to the Hellfire."
"…I have been made victorious with terror, and while I was sleeping, the keys of the treasures of the world were brought to me and put in my hand."
"Nobody who dies and finds good from Allah would wish to come back to this world even if he were given the whole world and whatever is in it, except the shahid who, on seeing the superiority of Jihad, would like to come back to the world and get killed again because of the dignity he receives."
"I have been ordered to fight against the people until they testify that none has the right to be worshipped but Allah and that Mohammad is Allah's apostle, and offer the prayers perfectly and give obligatory Zakāh."
"Allah's Apostle said: No doubt I wish I could fight in the way of Allah and be a Shahīd and come to life again to be Shahīd and come to life once more."
"There is no group of people on earth in which you cannot bring me from them Muslims. And the best I like that you bring their wives and sons and kill their men."
One of the ingredients of Jihad is the doctrine of homicide bombing (Istishhād). It is mistaken to allude Islamic Istishhād to Christian Martyrdom. While the Martyr testifies his faith through his personal sacrifice; the Shahīd testifies his faith through his homicide terrorism against the infidels, as the most exalted expression of faith. The Martyr tortures and kills himself out of religious devotion to God. The Shahīd, kills other for not converting to Islam, or worse, just for being infidels.
People misunderstand homicide terrorism by thinking that only hatred could cause Muslims to act in deep inhumane activity. This in fact is basically wrong, because it is part of Islamic belief that Islam wins because the Muslims love death while peoples of the West love life. This distinction is not "out of depression and despair" as Islamic propagation claims in its politics of deception, and Western ignorant apologists adhere to. It is cheerfully carried out to the service of Islam, for the sake of Allah. That is why Palestinian homicide bombers detonate themselves, while their families celebrating their wedding to dark-eyed virgins in heaven. It is as if accompanying the groom to his wedding; it is joyful event, the Shahīd is alive, together with Allah.
Instead of asking the stupid question "why do they hate us?", the Free World must realize that it is facing the greatest national security existential threat ever in history, far beyond and above the 20th century two World Wars and the horrors of the cold war era. The Free World has already been in the midst of a third world war, formally conducted by Islam as a religious war, a war that is so different from the previous wars in the 20th century; a war that is conducted not in the battleground and not by planes and tanks. This is a war of totalities is perpetuated by three Islamic arms: a total war of inhumane Jihad terrorism that is sweeping the entire states in the world to chaos; a total war of Hijrah, a huge unprecedented immigration to the Free World's lands that threatens to change the demography, the culture, and the way of life of its indigenous peoples; and a total war of Da'wah, a strategy of propagation and sophisticated diplomacy to deceive and mislead the Free World, called the Kuffar, the infidels, by controlling their minds and changing their awareness about the situation.
On this war of totalities, the Free World has no coherent plan, in fact it has no plan at all to battle the enemy. This complicated reality starts with misunderstanding and misreading the situation. Moreover, there is no concrete definition of the lethal threat and no comprehension of its essence. As a result, the Free World is unable to act, in fact, is led by its own free will and full awareness to civilizational distinction. By its large scale and by its huge repercussions, this lethal existential threat and of conscious suicide has become unprecedented in history.
Therefore, the Free World's leaders have to ask the right correct question: how do we define and understand the situation? And the answer is meant to mobilize all the political powers possible internationally and the abilities to fight for their existence.
A Virus Yet to Be Eradicated
Much as everything in this world, human memory knows its limits. Increasingly receding into a background of the past, episodes of our life—be they thrilling at the thought or intensely dramatic—grow faint and fade, as they are gradually eclipsed by latest events and fresh experiences.
On September 11, 2001, I happened to be a first-hand witness to the most heinous terrorist attack in humanity's contemporary history—the hijacked passenger jets heading to crash into the towers of the World Trade Center in lower Manhattan. Twenty-one years later, I'm somewhat in doubt that all of this happened to me for a fact: blinding flares of orange against the backdrop of a blue September sky, swirls of smoke and dust slowly blanketing the city's downtown narrow streets, a high-pitched cacophony of fire-truck and police sirens, crowds of disoriented people having no idea where to run and what the next moment might bring.
In the wake of 9/11, international terrorism has predictably become a thing to bandy about. Like many of my colleagues, I was attending numerous conferences and seminars as well as partaking in various research projects on the subject. Besides, a stroke of fate gave me a rare opportunity to have personal conversations with such heavyweights of world politics as Vyacheslav Trubnikov, Richard Armitage, Thomas R. Pickering, Kofi Annan and others, who made their meaningful contribution to fostering cooperation in countering the terrorist threat. In a way, their efforts have borne fruit as the world has seen nothing similar to 9/11 since 2001.
Still, we have to admit that the war on terror has not ended in a decisive victory. Terrorist attacks no longer claim lives of thousands—however, hundreds have died in the massive attacks in Paris and in Madrid, in Bagdad and in Berlin, in Beslan and over Sinai, in Gamboru (Nigeria) and in Mumbai (India), with new names added to this tragic list every so often. Large-scale terrorist attacks are now few and far between in the United States, but there have been more of them in Europe, let alone in the Middle East. The recent suicide bombing near the Russian Embassy in Kabul is yet another reminder that the terrorist threat is still here. Why, then, is the goal to wipe out terrorism—now dating two decades—not achieved so far?
In the first place, the international community has failed to agree on a common definition of terrorism's origins, driving forces and character. What some actors explicitly dub as "terrorist" may look like a national liberation struggle for others. Bring up the issue of terrorism in Kashmir in a conversation with Indians and Pakistani, only to see there can hardly be a common denominator in this matter.
Second, any success in the fight against terrorism entails a high level of trust between the interacting parties—simply because they would have to exchange sensitive and confidential information. In today's world, trust is thin on the ground. An apparent and mounting deficit of this resource is not only present in the relations between Moscow and Washington; it also takes its toll on the relations between Beijing and Brussels, between Riyadh and Teheran, between Cairo and Addis Ababa, between Bogota and Caracas, and the list goes on.
Third, international terrorism is far from an issue that is set in stone. It is gradually changing and evolving to become more resilient, sophisticated, and cunning. Similar to a dangerous virus, the terrorist threat is mutating, generating ever new strains. Ironically, what is especially dangerous today is the kind of terrorism bred by anonymous mavericks and amateurs rather than the sort represented by well-known transnational extremist movements—individualists are the hardest to track and neutralize, while plans of amateurs are harder to reveal.
The current progress in military technology, coupled with other trends in the contemporary international arena, portend a new spike in terrorist activities in the coming years. Modern and increasingly complex social and economic infrastructure, especially in large metropolitan areas, is an enabling environment for hard-hitting terrorist attacks. Besides, international and civil conflicts—like the one raging in Ukraine—drastically heighten the accessibility of modern arms for would-be terrorists.
Add to this a comprehensive setback in the resilience of global economy, which may be fraught with more social tensions and an inevitable rise of pollical radicalism and extremism in a broad range of countries. An obvious foretelling: In this "nutrient broth", the virus of terrorism, which has not been wholly eradicated, stands all the chances for an "explosive" growth.
It may well be possible that all of us will in the years ahead be lucky enough to avoid a second edition of the events that shattered the world on September 11, 2001. Still, taking terrorism off the agenda is only possible if humanity effects a transition to a new level of global governance. It is either that the leading powers are wise and energetic enough for this, or the tax that international terrorism imposes on our common civilization will be progressively higher.
From our partner RIAC
ISIS Rises from the Dust in the Syrian Desert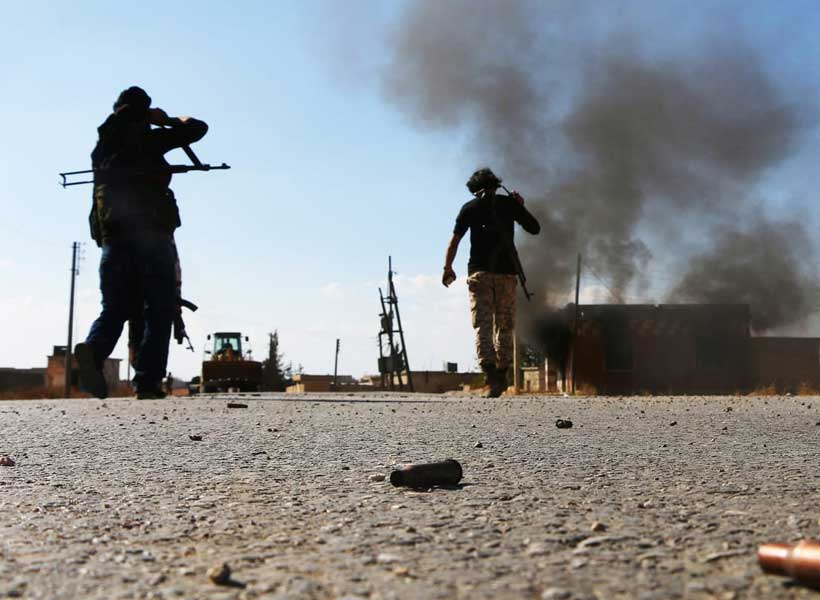 Over the last few months Syria's northeast has been spiraling downwards to chaos amid the surge of violence and terror attributed to Islamic State (IS). After almost five years of dormant existence the terror group is once again making its way to prominence in Syria. With the so-called territorial califate no longer viable, the IS members have switched to hit-and-run attacks on remote outposts and prolific use of improvised explosive devices (IED) against vehicles. These attacks target both US-supported Syrian Democratic Forces (SDF) and the Syrian army units operating in the northeastern provinces of Raqqa and Deir Ezzor. At the same time the terrorists managed to restore afinancial safety net by extorting money from local professionals, including small business owners, doctors and teachers. Those who refuse to pay are subjected to threats and torture. The resulting insecurity enables the terror group to widen the scope of its activities even further.
The deterioration of the security situation in Syria went almost unnoticed by the international community distracted by the Ukrainian conflict. Under these circumstances the U.S. has a window of opportunity to curb the Russian influence in Syria and undermine theimage of power projected by Moscow in the Middle East.
Indeed, the areas held by the Russians and the Syrian army in Deir Ezzor and Homs have witnessed an increase in bloody attacks, supposedly carried out by IS fighters. The terrorists were able to avoid retaliation by retreating to no man's land in the areas abutting the U.S. bases, namely Al-Shadadi, the Green Zone near Abu-Kemal border crossing and Al-Tanf base. Moreover, previously each IS attack in US-controlled areas had been followed by joint raids of SDF and the US special forces. It is no longer so. Considerable resources that might otherwise have been used for counterinsurgency operations are allocated to maintaining security in Al-Hol camp, where some 12,000 IS fighters and their family members are held. Add to that the imminent threat of Turkish invasion from the north. The SDF was led into a deadlock and is loosing the grip on the region. Meanwhile IS sleeper cells exploit the situation to their advantage and infiltrate territories controlled by the Syrian army.
These suspicions are confirmed by a high-ranking source in the Syrian intelligence. Speaking on the condition of anonymity, the source claimed that the U.S. helicopters transported 200 former IS fighters from prisons in Haseke to the 55-km security zone around Al-Tanf. The terrorists will be split up into groups of 10 – 15 people. These groups will be then sent to provinces with Russian presence including Homs, Latakia, Tartus and Damascus with the task of conducting terror attacks with IEDs at the Russian military sites. Most of the selected militants originate from Northern Caucasia or Central Asia and therefore are fluent in Russian.
The source added that the list of the primary targets of the terrorists includes the phosphate mines in Hneifis guarded by Russian security companies as well as Russian military bases in Lattakia, Tartus, Damascus and Aleppo.
Ultimately, the recruitment of IS members to create disturbance for the Russians would only become a logical development of the proxy policy adopted by the U.S. in Syria. After all, Washington is killing two birds with one stone by destabilizing the area of Russian influence and making use of the IS prisoners. However, there is another conclusion to be made: Washington has failed in its initial mission to defeat IS and is now resorting to the use of terror group splinters in its political power games.
Pakistan is a victim of terrorism
A High-Level Ministerial the first Session of the UN Global Congress of Victims of Terrorism was held on 8 September 2022, Pakistan's Foreign Minister Bilawal Bhutto Zardari's remarks:-
"I am honored to speak today at the first UN Global Congress of Victims of Terrorism. This subject has special resonance for me personally, having lost my illustrious mother, the first woman Prime Minister of Pakistan, in a dastardly act of terrorism.
2.​ The Government and the people of Pakistan pay solemn tribute to all those who have suffered at the hands of terrorists. I express my profound support and solidarity with the victims and families of those who have been affected by this scourge.
3.​ The international community has an abiding responsibility to protect and support victims of terrorism. This has to be the basic tenant of our efforts to promote peace and security in the world.
4.​ While waging kinetic efforts to eradicate terrorist groups is imperative, we cannot fully win the fight against terrorism without preserving the rights of millions of innocent, defenseless, and vulnerable people who have suffered immensely because of terrorism. There should be more focus on retribution and rehabilitation and justice. Equally important is the need to work together to prevent further attacks, hold terrorists to account, and adopt a uniform victim-centric approach while addressing the challenges faced in conflict zones.
5.​ It is also unfortunate that political expediency and real politick have been allowed to dictate international response towards terrorism. Our tolerance for terrorism must not be a function of our foreign and domestic policies. This selective approach toward terrorism is the biggest injustice to the victims of terrorism.
6. ​For the last two decades, Pakistan has been one of the worst victims of terrorism – with over 80,000 causalities and economic losses exceeding $150 billion. We pay tribute to the families of martyrs of our law enforcement agencies and armed forces, who have rendered invaluable sacrifices while defending our motherland.
7.​ If we are to chart a way forward for victims, we must look beyond narrow political interests and geo-political agendas. We must examine why, despite global strategies, the terrorist threats continue to proliferate and give rise to the number of victims.
8.​ To further debate this issue, I would like to make a few points: First, we must address the root causes of terrorism and conditions conducive to terrorism. Second, we must distinguish terrorism from legitimate struggles for self-determination. Third, we must address state-sponsored terrorism, especially in cases of foreign occupation, and reject occupying powers' propensity to use brute force against occupied people in the name of counter-terrorism operations. Fourth, we must have a consensus definition of terrorism and take into account new and emerging threats. Fifth, we must address challenges emanating from the use of new technologies by terrorists, especially on social media and the dark web. And finally, we must counter disinformation campaigns.
9.​ Pakistan condemns terrorism in all forms and manifestations including right-wing, Islamophobia, racially and ethnically motivated, and state-sponsored terrorism.
10.​ Terrorism can only be completely eradicated by fighting extremism and the mindset that breeds violent extremism. I would like to urge that this global problem requires continuing international cooperation without any prejudices or preconceived notions against any particular religion, race, civilization, or country.
11.​ I would also like to take this opportunity to pay special homage to the oppressed people of Indian Illegally Occupied Jammu and Kashmir (IIOJK) and Palestine who deserve our special attention for their continuing suffering as victims of the worst forms of state-terrorism. The international community must hold the perpetrators of such state terrorism, and crimes against humanity, to account.
12. ​Our inability to address these issues will continue to increase victims and add to their suffering. It will also add to the physical and psychological trauma that may outlive many conflicts. The international community owes it to the victims of terrorism to take effective steps to address terrorism, wherever it may be, in whatever form it exists, without political considerations. This is our moral as well as legal obligation."
Pakistan's sacrifices in the Afghan war are much more than the collective damages caused to the 46 nations alliance led by the US in Afghanistan. Pakistan suffered the loss of around 80,000 precious human lives and an economic loss of estimated worth US Dollars 250 billion, in addition to the menace of terrorism, drugs, and gun cultures. The international community should acknowledge Pakistan's sacrifices and compensate.